As an Amazon Associate, I earn from qualifying purchases. Read the full disclosure here.
Moist, spiced bundt cake made with real pumpkin and covered in a decadent brown butter buttercream.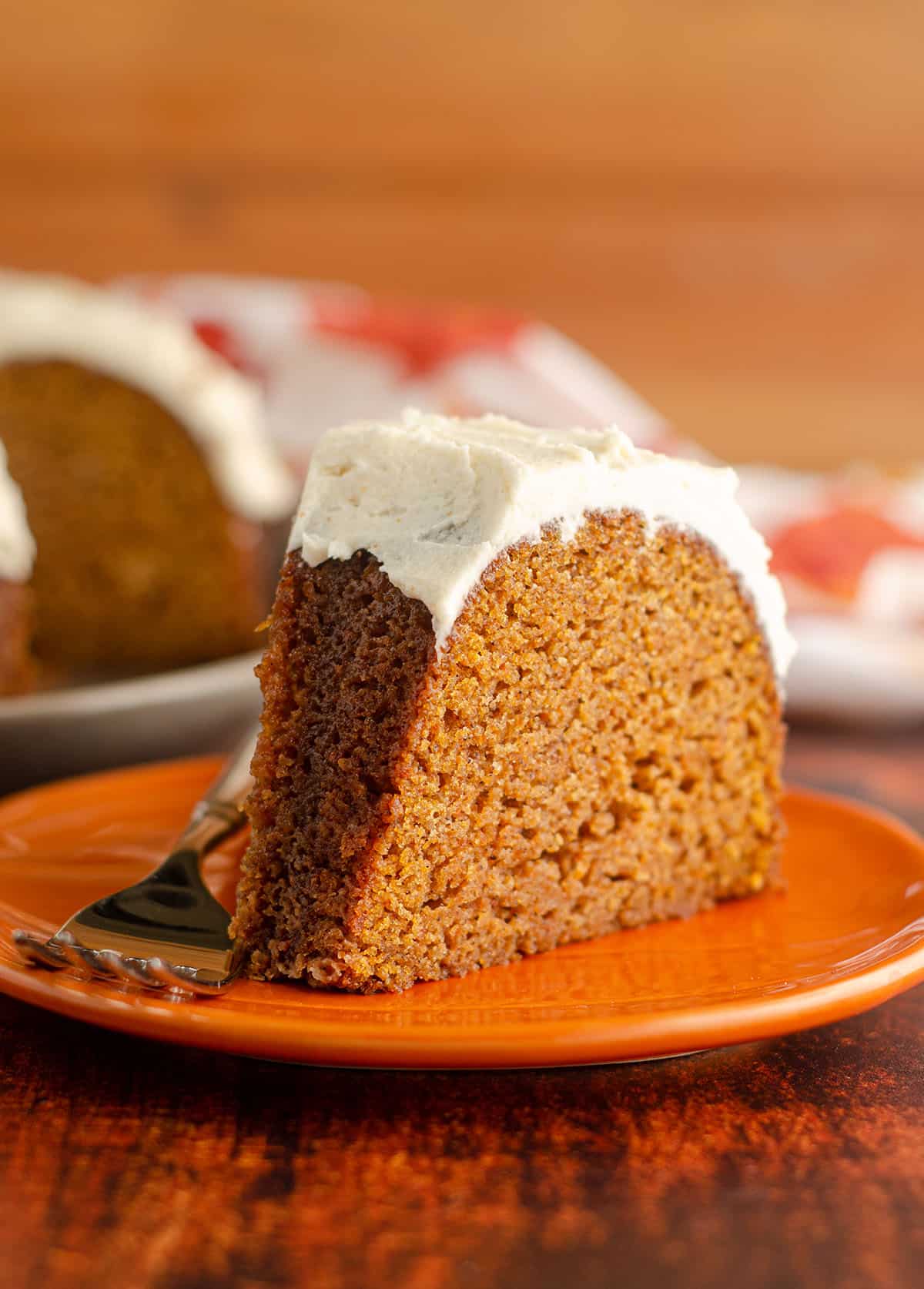 If there's one way to round out a week of pumpkin recipes, I think that some pumpkin cake is the way to do it, yeah?
We've visited lots of pumpkin treats this week, but I think this one was our favorite, and the one that lasted even fewer hours than the pumpkin Rice Krispies treats did. Which was… Umm… Less than 36 hours.
Now, granted, we shared this pumpkin bundt cake with several taste testers, but of the folks I personally gave slices to, I barely got done telling them what it was before they were licking the foil.
True story.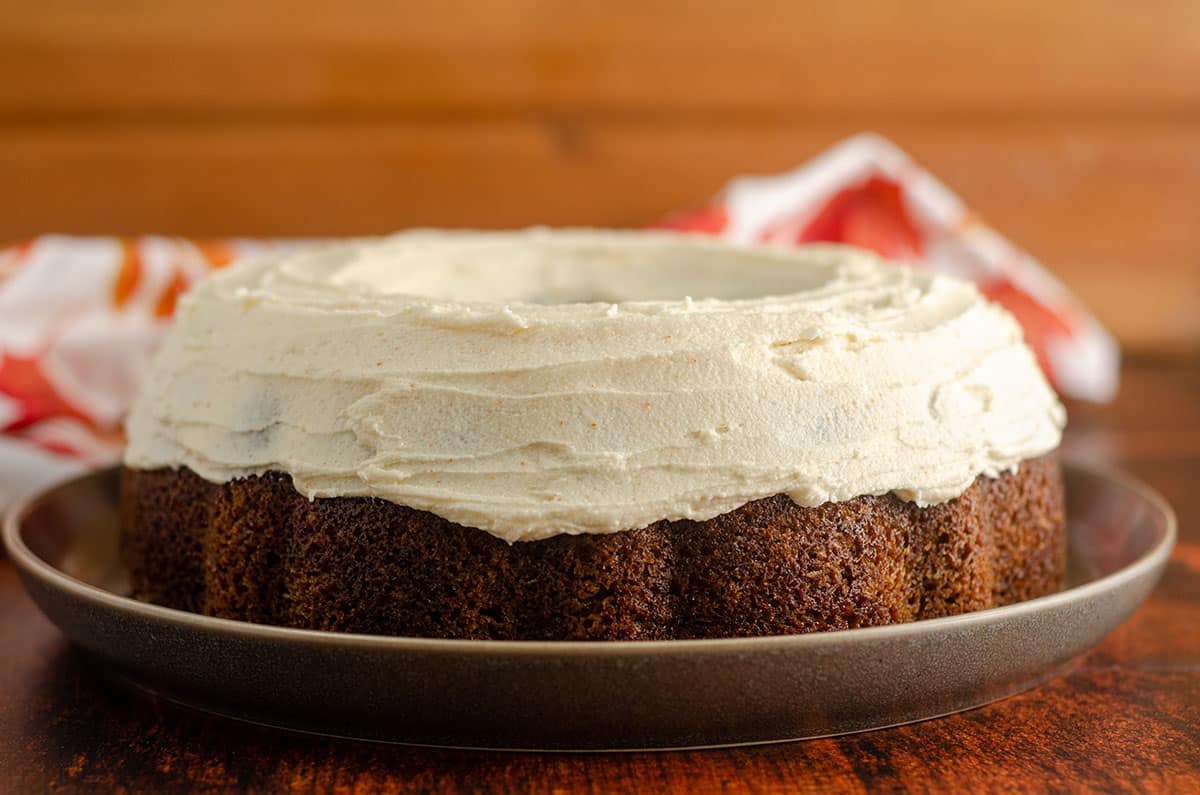 The cool part about this cake is that, like many recipes on my blog, you have seen this recipe before. In 2017, I did a Cake of The Month (just like I'm doing a Brownie of The Month this year), and for September, I did a browned butter layer cake with maple cinnamon cream cheese frosting.
That cake was BANGIN'.
And since I just love turning layer cakes into bundt cakes, I figured this was the perfect place to do it.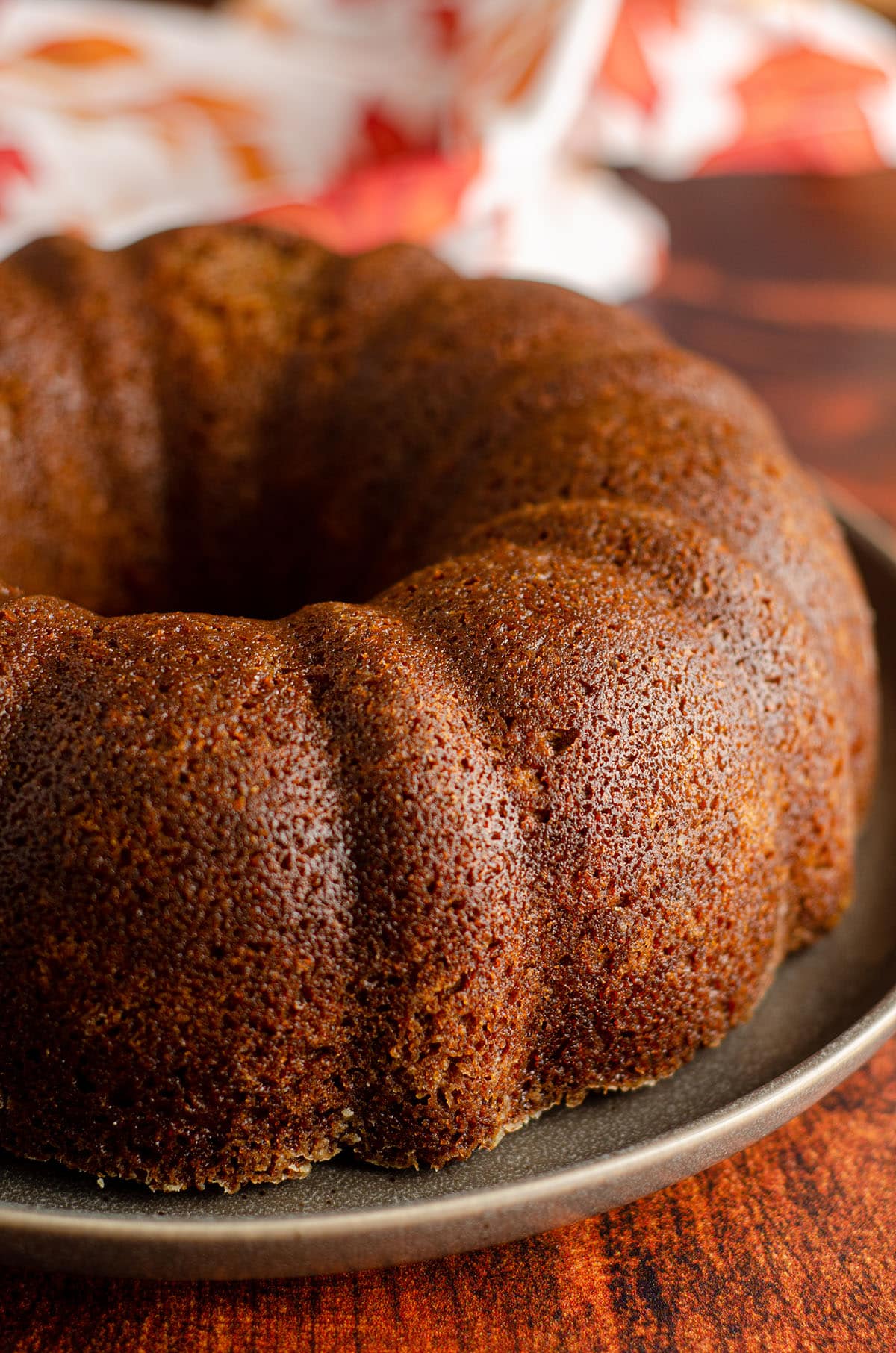 I did, however, change some things up, because I wanted to make a buttercream I hadn't tried yet.
I decided to pull the brown butter out of the cake batter and use it in the buttercream instead (I'll get to that), so I simply used melted butter in the cake batter.
Easy peasy cake batter! Simple and straightforward and bursting with pumpkin flavor.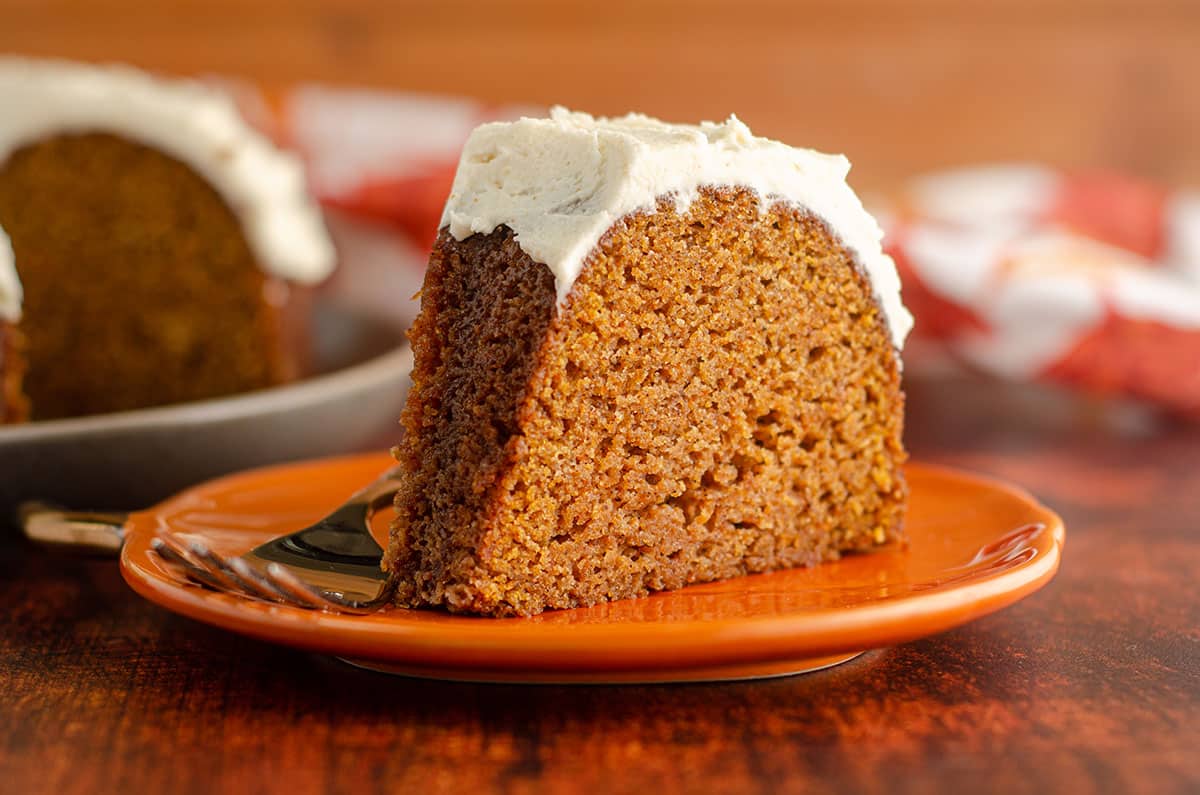 Now, for the brown butter buttercream… Have you browned butter before? It can be tricky to get at first, but it's pretty simple once you learn what you're looking for.
In that original brown butter pumpkin cake recipe, I mentioned that I liked to use a light colored pan to brown my butter because I could see it cooking better.
I no longer have to use a light colored pan, so that should tell you it's easier once you know other signs to look for!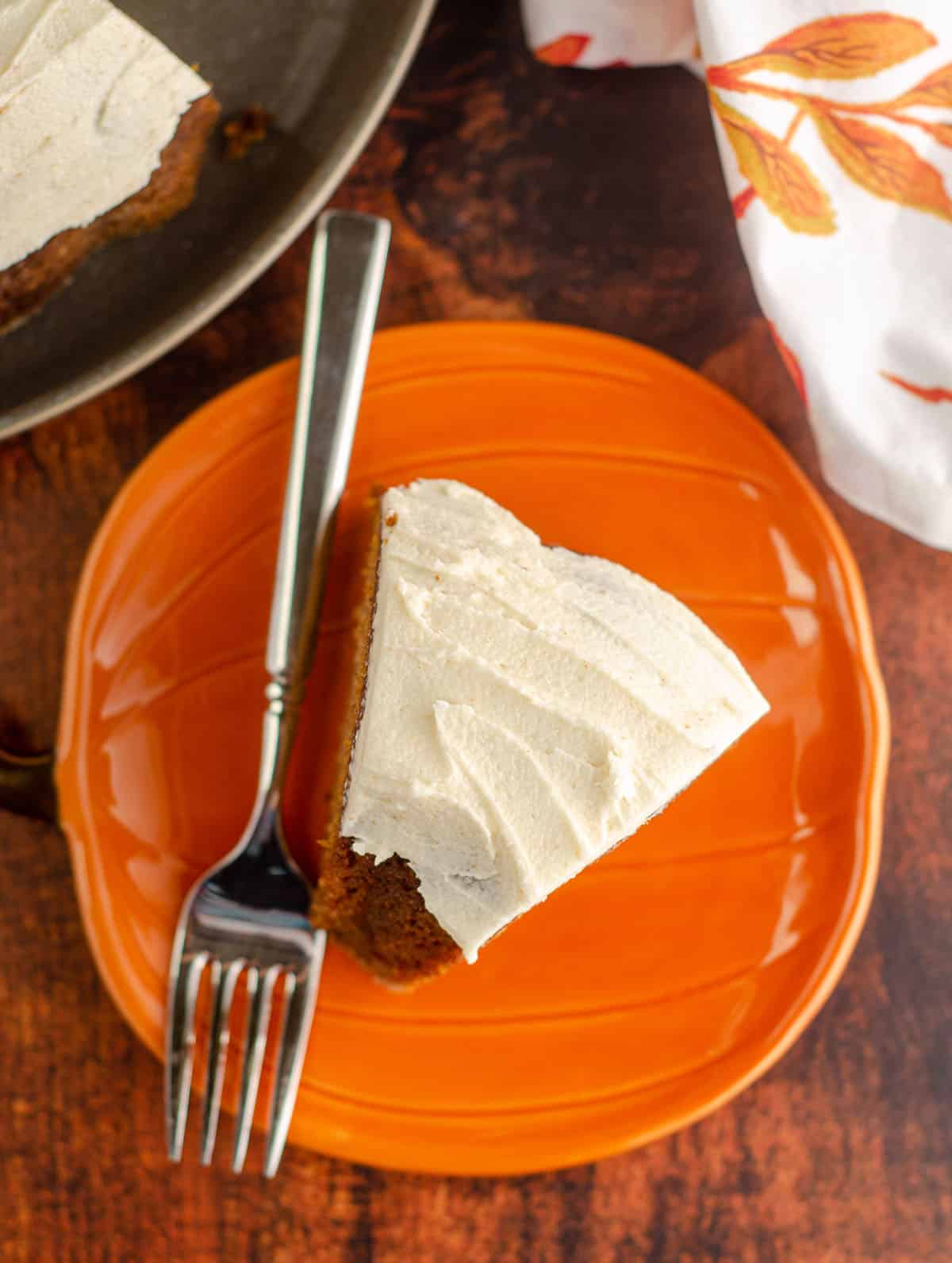 HOW TO BROWN BUTTER
You'll start by cutting your butter into 6-8 slices. Toss it into a saucepan over medium heat, and swirl the butter around.
As it melts, it will turn light yellow. As it cooks, it will turn lemon yellow, golden brown, and then be at its peak/finest moment when it becomes a beautiful amber color and emits a nutty aroma.
While the butter melts and cooks, the milk proteins in the butter separate out and start to cook in the bottom of the pan. These bits will brown faster than the butter, and that's exactly what we want to happen.
As the milk proteins cook, the butter will quickly transition and you'll need to remove it from the heat as soon as you see it starting to turn amber. These cooked milk proteins is where we get all the flavor we want in our buttercream.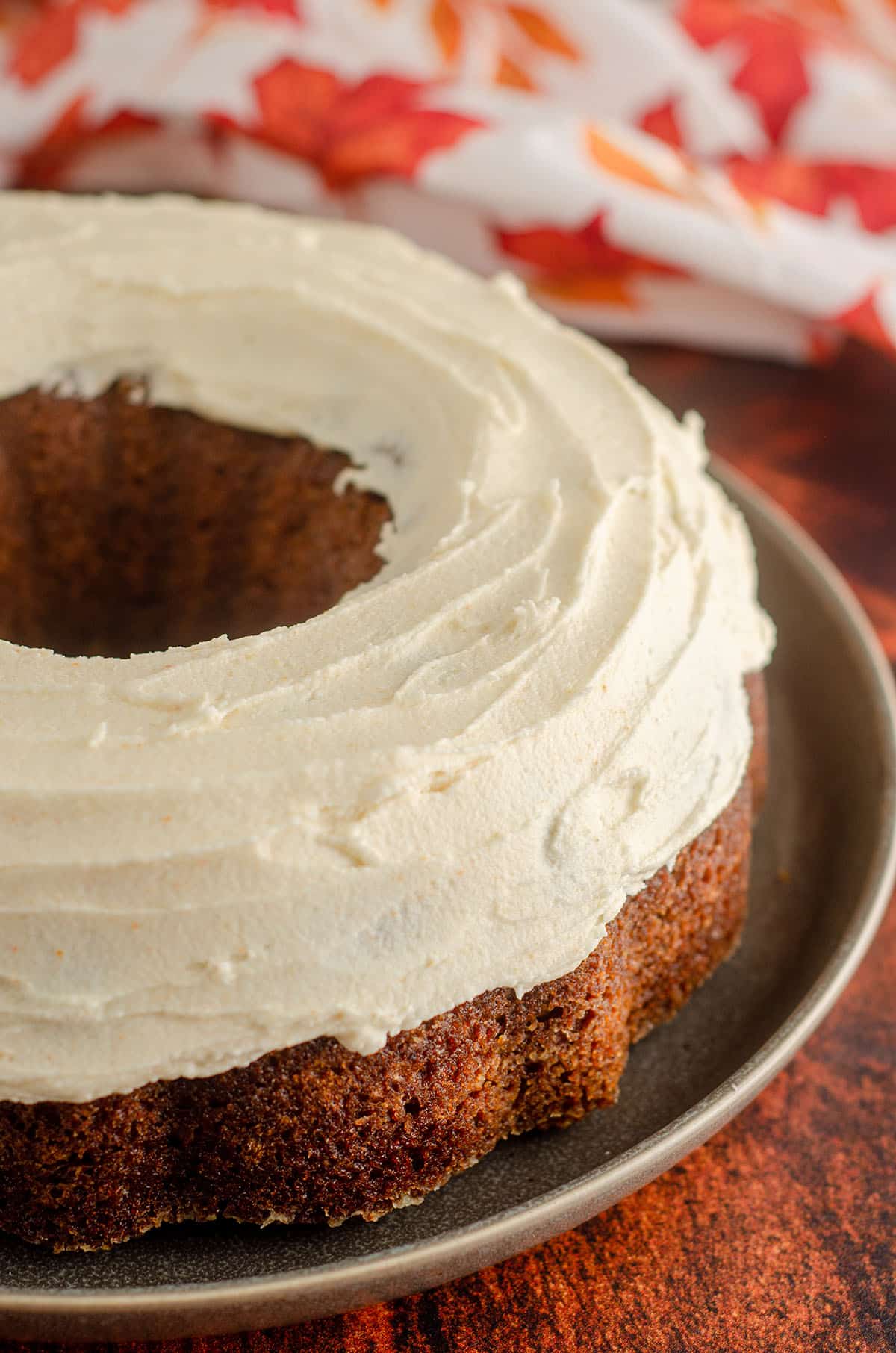 There is one super important step here that is crucial to having success with this brown butter buttercream. You'll need to let your butter cool down a bit before chilling it in the fridge for about an hour.
WHY DO I HAVE TO CHILL MY BROWN BUTTER?
Once you brown butter, you've melted it, and if your recipe calls for something other than melted butter, you'll need to get the butter back to that state in order to use it correctly.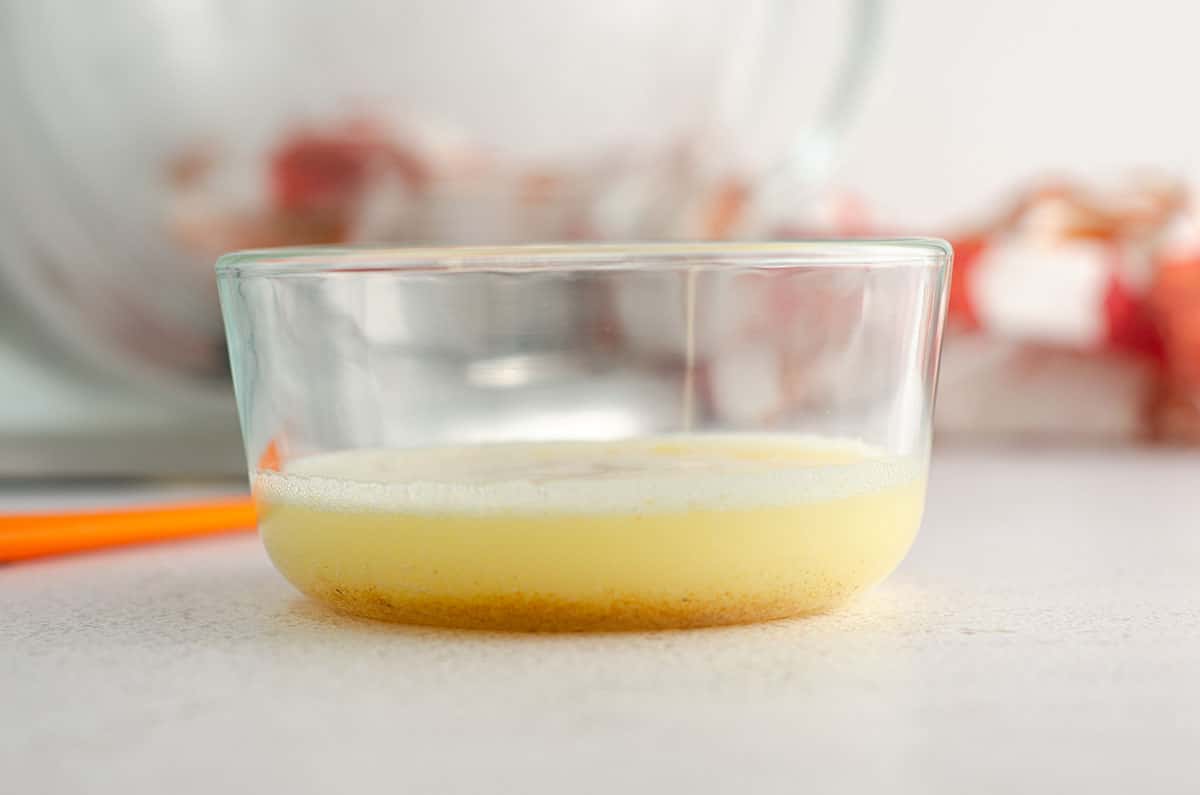 After about an hour of chilling the butter, it will be a little harder than "room temperature" which is what we like to start with for buttercream, but it will become a little looser than room temperature butter once you cream it (the first step in our brown butter buttercream recipe).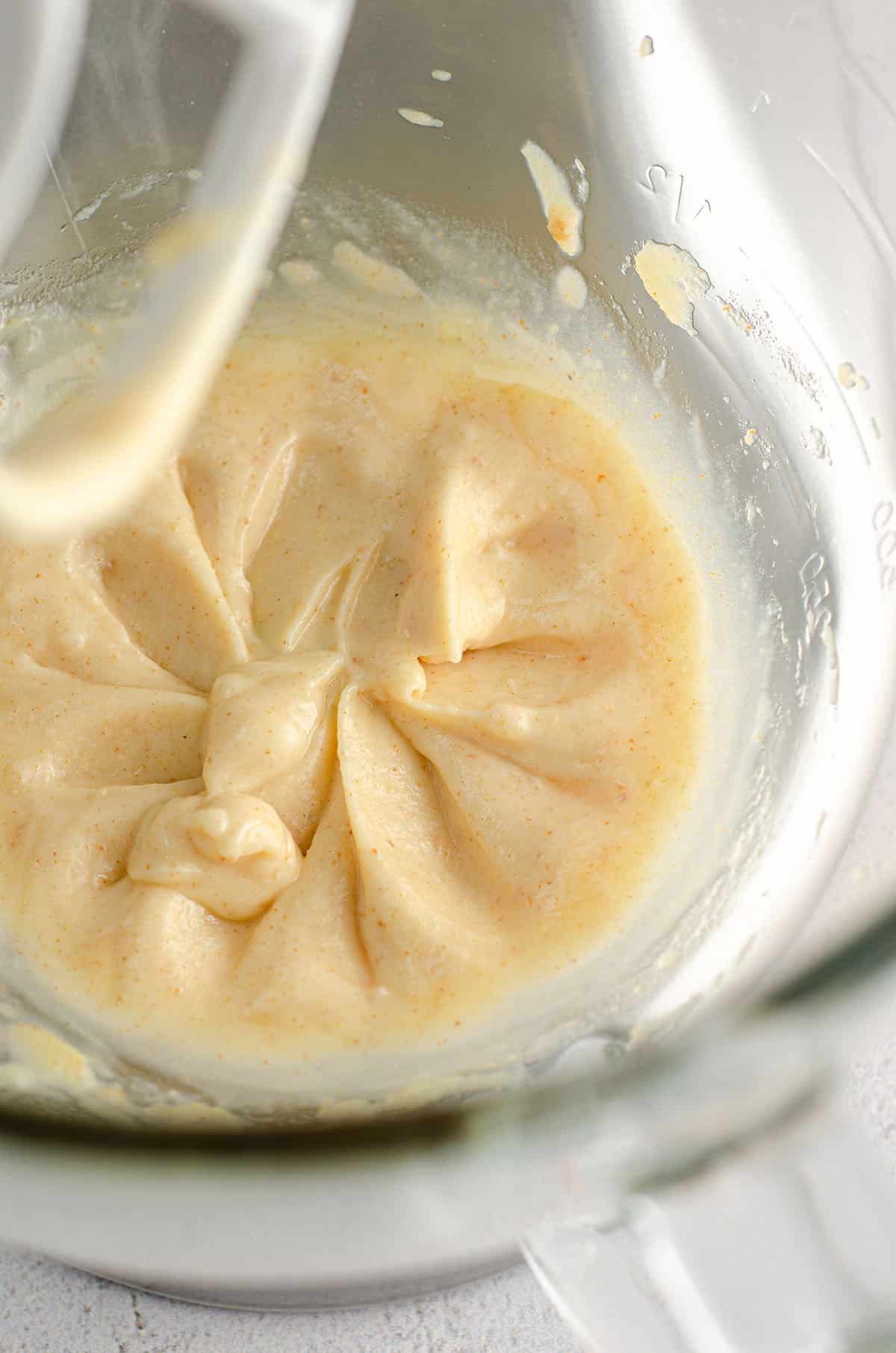 A bit of powdered sugar, vanilla extract, and a pinch of salt will give our buttercream some stability and sweetness, and you can thin out the consistency with milk or cream.
Because the butter will be so soft, you can add the milk or cream little by little so as not to make it too runny. Add more powdered sugar or liquid as you see fit to make the consistency you prefer.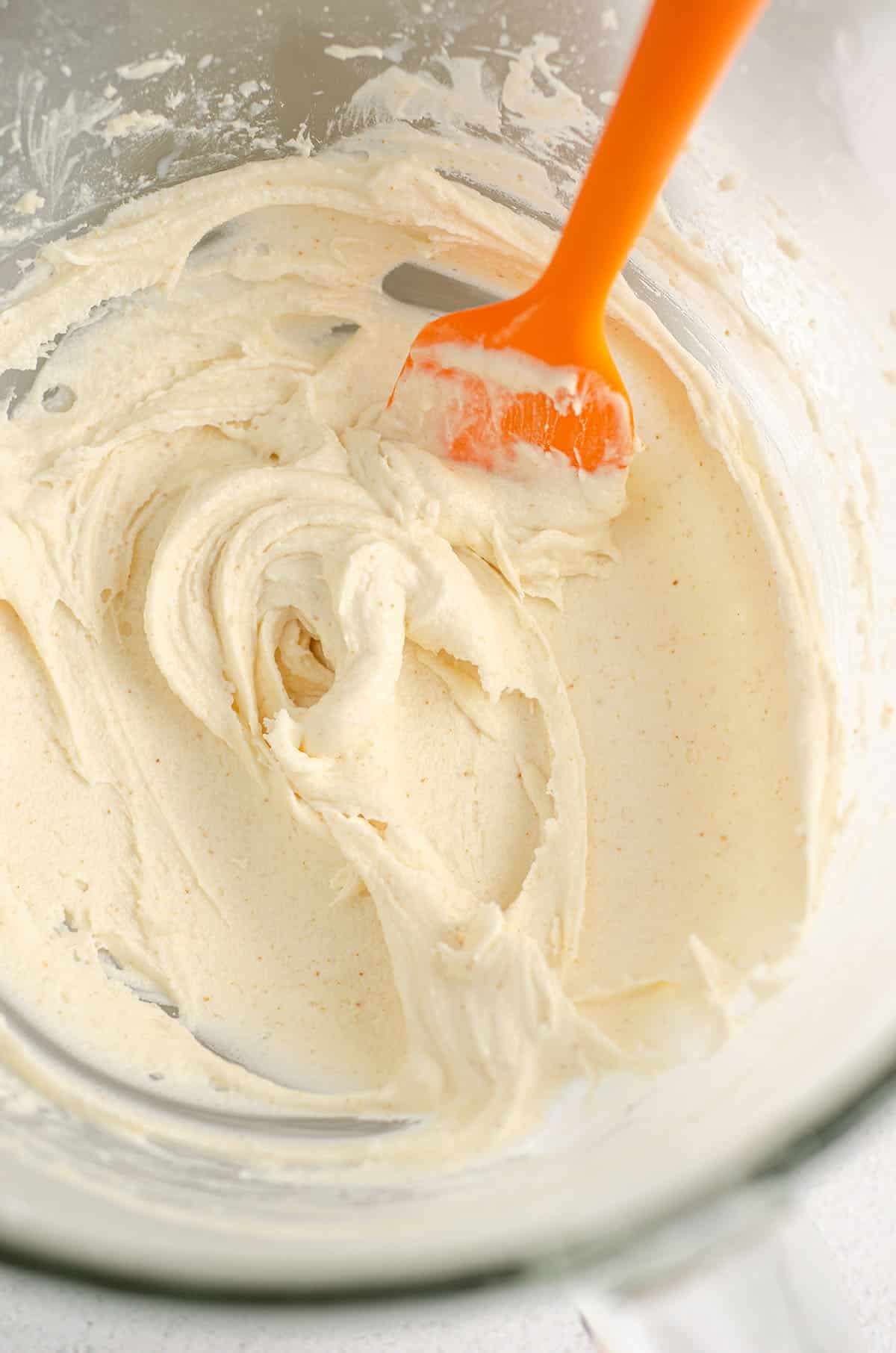 I've got to say, this brown butter buttercream is insanely good. I was not expecting it to be so good, but we kept eating little nibbles of straight up buttercream from what was leftover during my photoshoot.
Putting the brown butter into the buttercream was totally the best move ever, and pairing it with pumpkin cake was maybe the smartest confectionary choice I've made all of 2020.
Or at least a close second with sourdough cinnamon rolls.
I hope you've enjoyed this week of pumpkin recipes and will add some new bakes to your collection this fall.
Or, you know, as long as you want. Because I heard the rules of 2020 are "wash your hands, wear your mask, and eat pumpkin spice whenever the heck you want."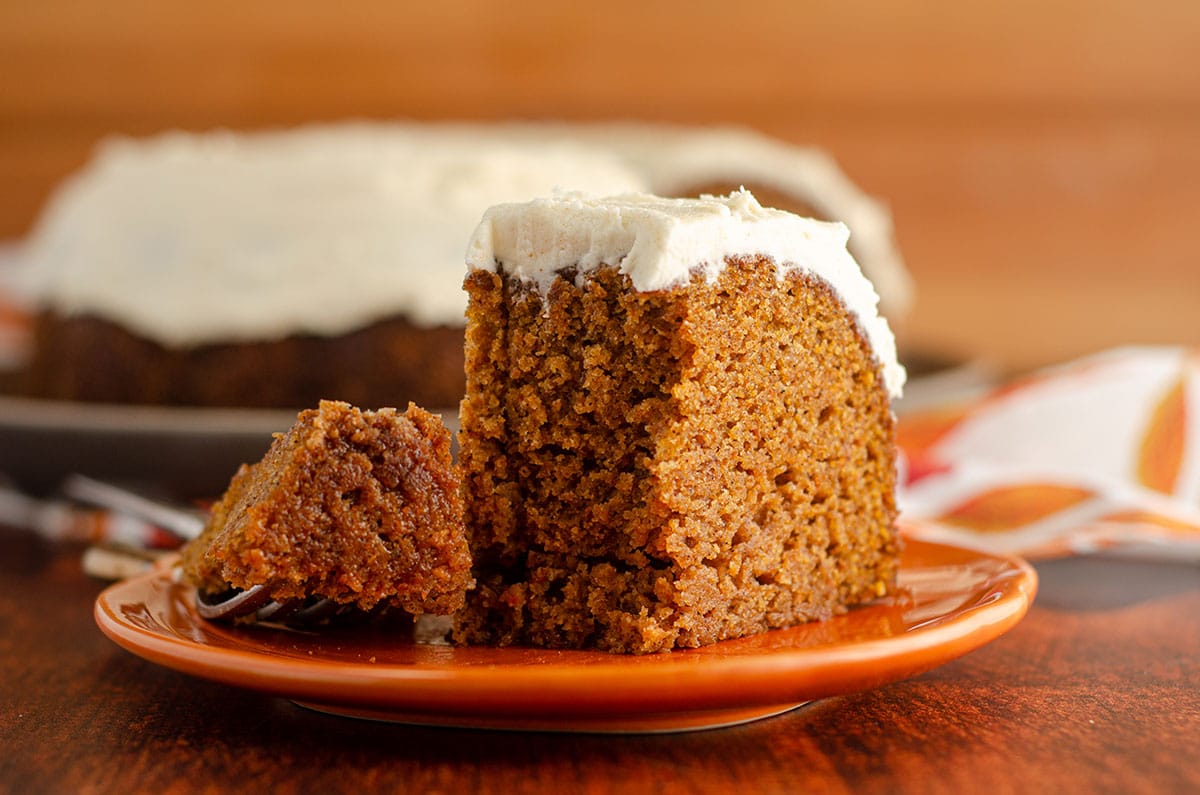 I'll drink eat pumpkin to that!
Pumpkin Bundt Cake
Moist, spiced bundt cake made with real pumpkin and covered in a decadent brown butter buttercream.
Ingredients
PUMPKIN CAKE
½

cup

(113g) unsalted butter

melted and allowed to cool

2 and ¼

cups

(270g) all-purpose flour be sure to measure properly

3

teaspoons

baking soda

2

teaspoons

ground cinnamon

1

teaspoon

ground ginger

½

teaspoon

ground nutmeg

1

teaspoon

salt

⅛

teaspoon

black pepper

1 and ½

cups

pumpkin purée1

1 and ½

cups

(150g) granulated sugar

⅔

cup

(132g) firmly packed light brown sugar

2

large eggs room temperature2

⅓

cup

buttermilk3
BROWN BUTTER BUTTERCREAM
½

cup

(113g) unsalted butter

cut into 6-8 slices

1 and ½

cups

(180g) powdered sugar

½

teaspoon

vanilla extract

pinch

of salt

1 to 2

Tablespoons

(15-30g) milk or cream
Instructions
PUMPKIN BUNDT CAKE
Preheat the oven to 350ºF (177ºC). Grease and flour (or use homemade cake release) a bundt pan. Set aside.

In a medium bowl, whisk together the flour, baking soda, cinnamon, ginger, nutmeg, salt, and black pepper. Set aside.

In a large bowl, whisk together the melted butter, pumpkin purée, granulated sugar, brown sugar, eggs, and buttermilk until smooth. Gently stir in the flour mixture until everything is just combined. Pour the batter evenly into the prepared pans.

Bake the cake for 32-36 minutes or until a toothpick inserted into the cake comes out clean. Remove from oven and allow to cool for 15 minutes on a wire cooling rack.

Using oven mitts, carefully flip the bundt cake onto your serving dish/platter. To do this: flip the serving dish/platter over and place on top of the cooling bundt pan. Flip everything over and allow cake to cool completely in the pan, sitting on the serving dish. When cake is completely cool, lift pan off of the cake. Note: while the cake cools, brown the butter for the buttercream, as it will need to be refrigerated before use.
BROWN BUTTER BUTTERCREAM
In a heavy-bottomed large saucepan, melt the butter over medium heat. Stir frequently with a spatula or swirl the pan to cook the butter evenly. It will turn lemon yellow, then golden brown, then deep amber. The milk proteins will separate out and start to brown faster than the butter. This is ok. When the butter is deep amber and smells nutty, remove from heat and pour into a small bowl. Allow to cool about 15 minutes before chilling in the refrigerator until firm, about 1 hour.

In a large bowl with a handheld or the bowl of a stand mixer fitted with a paddle attachment, cream the butter on high speed until smooth and creamy. It may seem very loose/melted, but this is ok.

With the mixer on low, add the powdered sugar, vanilla extract, and salt. Increase mixer speed to medium-high and beat for 2 minutes.

Test the consistency of the buttercream and add milk or cream little by little to achieve desired consistency.

Spread brown butter buttercream over the cake using a spatula and serve. Cake stays fresh covered in the refrigerator for up to 7 days. Cake freezes well, up to 2 months. Wrap in plastic wrap, then in foil, then place in a large freezer bag or freezer-safe container. Thaw in refrigerator overnight.
Notes
Pumpkin: I always measure pumpkin purée with measuring cups as the moisture content can wildly change the weight measurements, depending on the brand.
Room temperature eggs: it is important to use room temperature eggs when working with room temperature butter as it incorporates into batter much more evenly.
Buttermilk: if you don't have buttermilk, you can make your own: see my post about homemade buttermilk.
Adapted from brown butter pumpkin layer cake
Nutrition Disclosure
All nutritional values are approximate and provided to the reader as a courtesy. Changing ingredients and/or quantities will alter the estimated nutritional calculations.
Serving:
1
serving
|
Calories:
450
kcal
|
Carbohydrates:
73
g
|
Protein:
4
g
|
Fat:
17
g
|
Saturated Fat:
10
g
|
Polyunsaturated Fat:
1
g
|
Monounsaturated Fat:
4
g
|
Trans Fat:
1
g
|
Cholesterol:
69
mg
|
Sodium:
493
mg
|
Potassium:
135
mg
|
Fiber:
2
g
|
Sugar:
53
g
|
Vitamin A:
5293
IU
|
Vitamin C:
1
mg
|
Calcium:
44
mg
|
Iron:
2
mg