As an Amazon Associate, I earn from qualifying purchases. Read the full disclosure here.
Fluffy and moist white cake packed with a punch of real champagne and topped with a spiked buttercream.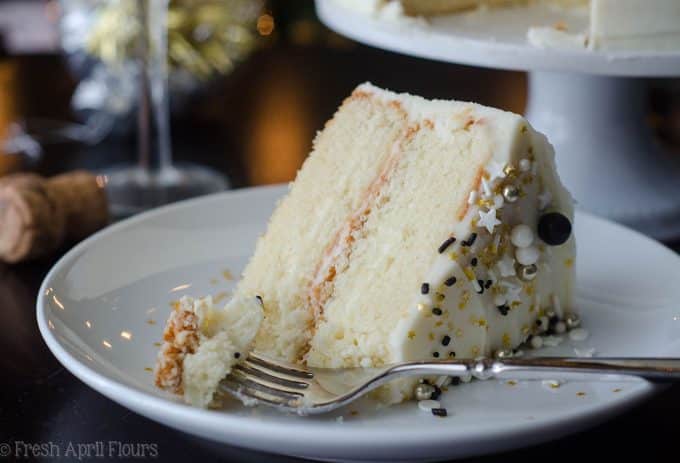 One more cake for ya, folks. We're sending 2017 off the right way and welcoming 2018 into our lives armed with 12 brand new cake (and frosting!) recipes to add to our baking arsenal.
I can hardly believe I actually stuck to my Cake of The Month goal, what with a toddler and general busy-ness of life to handle. Does this count as a New Year's Resolution resoluted?!
Let's say yes.
So before we get to this absolutely amazing bubbly cake, let's take a look at our Cakes of The Month posts over the whole year.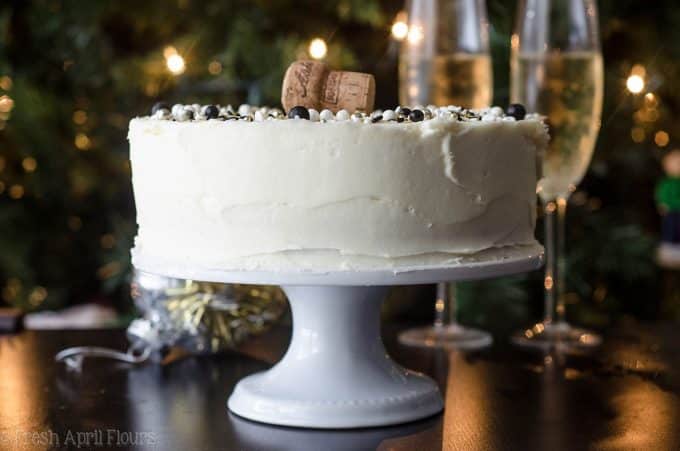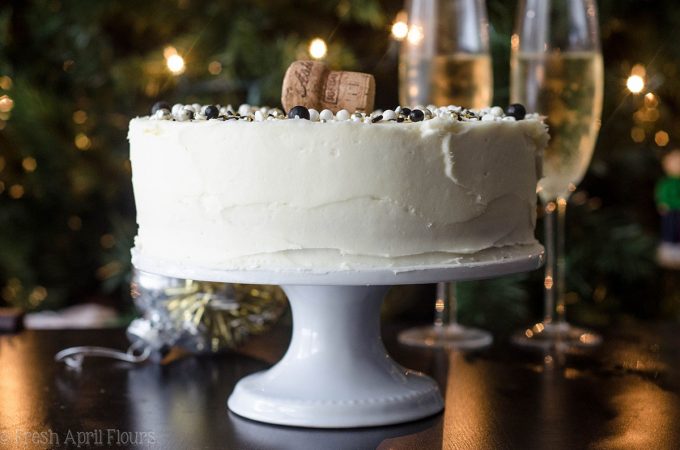 In January, we made a simple yellow cake with chocolate buttercream. You can never go wrong with having a classic yellow cake and classic chocolate buttercream in your back pocket. Mix and match with all kinds of cakes and frostings!
In February, it was all about looooove. Who doesn't adore chocolate and peanut butter together, really? Dark chocolate cake with peanut butter frosting hit the spot for the love birds this year. Never a bad time for choc + pb, eh?
In March, we did more simple with a basic white cake and whipped cream buttercream. This is the perfect combo for a fresh fruit filling, some sort of curd, or leaving as is for a simple flavor profile. This cake is one of my favorites, and it's actually making its third appearance today with this champagne cake. Appearance #2 in June's cake.
In April, it was a little something different with banana crumb snack cake. One pan, sort of like a sheet cake, and full of so much banana flavor, it will rival grandma's banana bread. And who can resist a crumb topping?! Oh, mama!
In May, a homemade ice cream sheet cake had us drooling at first sight. This was an unbelievable hit in our house, and bonus, there's a recipe in there for homemade magic shell, the sundae gift that keeps on giving!
Of course for June, we had to keep things patriotic for the impending 4th of July holiday. Like I mentioned, this wasn't exactly a new cake recipe, we turned an existing cake recipe (this white layer cake from March) into a red, white, and blue swirl bundt cake. And a tip hidden in there for when you'd like to make a simple 8 or 9 inch layer cake into a bundt!
July's cake was all about those fresh strawberries! Fresh strawberries all up in the cake and freeze dried ones in the frosting. This cake could not get any more strawberried up, and for that, we thank the cake gods.
In August, we did a s'mores layer cake, made with graham cracker cake, chocolate ganache filling, and a marshmallow buttercream topping. This cake was the perfect accompaniment to summertime.
Since my birthday is in September, we got 2 cakes out of the deal. The first one was an absolutely incredible brown butter pumpkin layer cake with maple cinnamon cream cheese frosting (OMG). That cake was to die for. The second was following suit of cookie cakes for my birthday celebrations (starting with my 30th and trending again for 31). Peanut butter cookie cake, plain and simple!
October was all about the BLACK VELVET. Similar to red velvet, just with a little gel food coloring swap. Perfect for those contrasting layers of colorful frosting between the layers. Consider whipping this one up with some red icing for Valentine's Day, perhaps??
November was prep for December so we put together a gingerbread cake with molasses buttercream. Ooooh, pair that molasses buttercream with the chocolate cake from February, and I think you have yourself a NEW THANG.
And here we are, celebrating our 12th installment with this champagne cake. And yes, there is champagne buttercream to go on top. We have so much champagne happening in this cake, friends. SO MUCH! It's just a beautiful thing.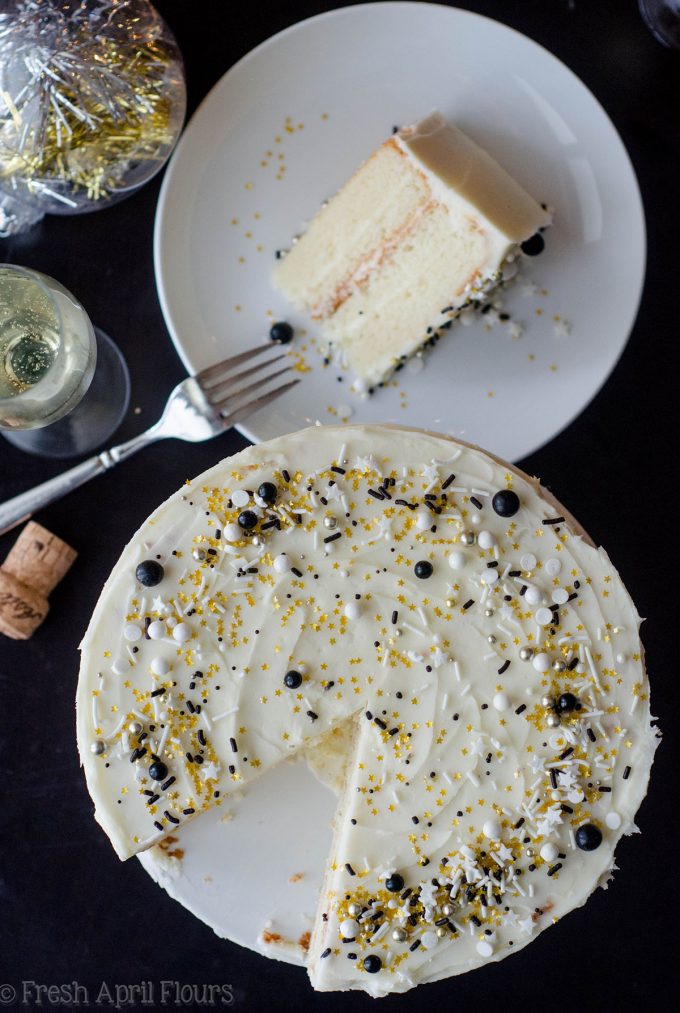 I mentioned in my IG post that I planned out my whole year of Cakes of The Month about a year ago, not really expecting to be pregnant when the next December rolled around.
So… I couldn't exactly indulge in the champagne the way I may have had I not been in this position, but I did have my fair share of tastes of cake.
And a tinyyyy taste of the champagne reduction I used not only in the cake but also in the buttercream.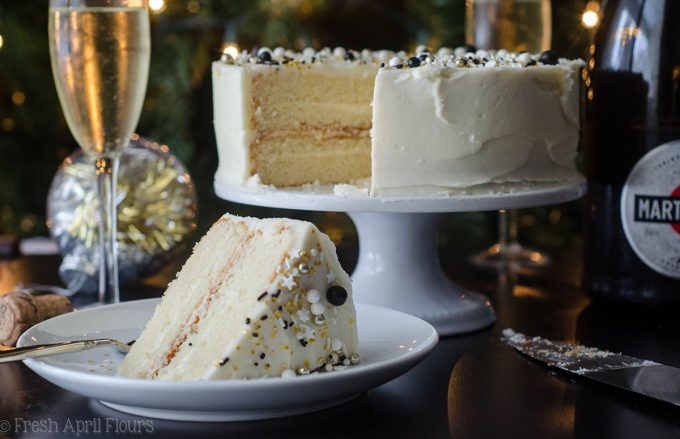 Speaking of, let's chat about that first, because it's pretty important.
In order to really pack in the champagne flavor in both the cake and the frosting, we want to work with a super concentrated form of it. If we just went with straight champagne in the cake, we could probably end up with a slightly champagne-y cake, but I really wanted the champagne flavor to shine through.
And then there's the frosting– since we only use about 1/3 cup of liquid in my classic buttercream recipe, I didn't want to use only 1/3 cup of champagne and skimp on flavor there either.
Enter champagne reduction.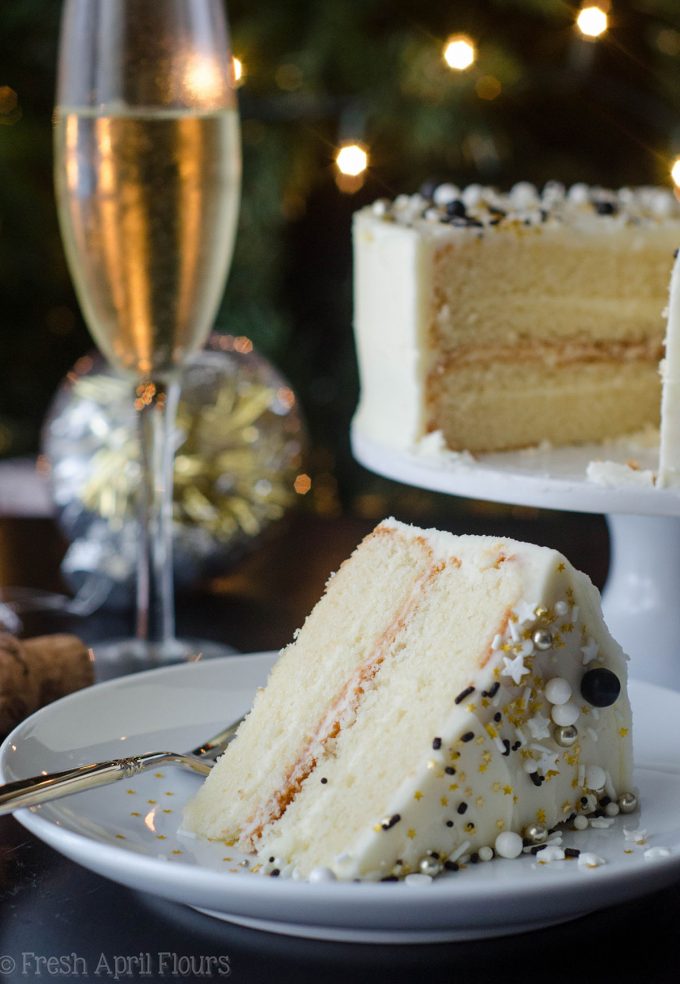 It sounds fancy, but it's really not. It's super simple! You'll start with 1 and 1/2 cups of champagne and reduce it down to about 1/2 cup in a small saucepan on the stove. This only takes about 8 minutes.
You'll split the reduction into two parts: 1/4 cup for the cake and 1/4 cup for the frosting. All that champagne cut down to about 1/3 of the original amount.
It is absolutely jam packed with flavor!
The cake recipe itself is one you've seen before, like I mentioned above. See this post from March for the whats, whos, hows, whys, and some helpful photos if you're interested.
This cake is the perfect choice for ringing in the new year, celebrating a bridal shower, or really, any occasion you see fit for champagne. We took it to Matt's gym holiday party, where the celebrating was abundant. This cake disappeared quickly!
A bubbly flavor with a tart and sweet buttercream to boot, this is surely one cake you'll want to keep in your back pocket for the next special occasion.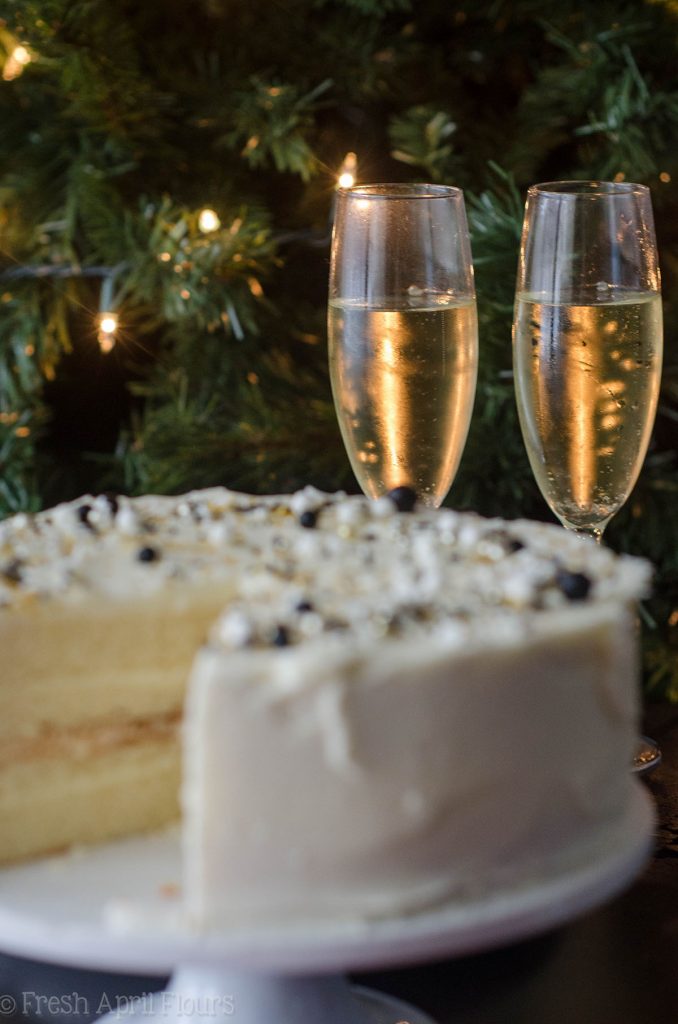 And I promise, if you wash it down with a glass of champagne (or a champagne Jello shot), I won't tell a single soul…

Champagne Cake
Fluffy and moist white cake packed with a punch of real champagne and topped with a spiked buttercream.
Ingredients
CHAMPAGNE REDUCTION
1 and ½

cups

(360mL) champagne of your choice

preferably a dry one
CAKE
2

cups

(240g) all-purpose flour be sure to measure properly

2

Tablespoons

(15g) cornstarch

1 and ¾

cups

(350g) granulated sugar

4

teaspoons

baking powder

1

teaspoon

salt

12

Tablespoons

(170g) unsalted butter softened to room temperature1

¾

cup

(180mL) heavy cream room temperature1,2

6

large egg whites room temperature1

2

teaspoons

vanilla extract
BUTTERCREAM
1

cup

(227g) unsalted butter

softened to room temperature

4

cups

(480g) powdered sugar

1

teaspoon

vanilla extract

1

Tablespoon

(15mL) milk or heavy cream
Instructions
CHAMPAGNE REDUCTION
In a small saucepan over medium-high heat, bring the champagne to a boil.

Once boiling, reduce to medium heat and allow to simmer until reduced down to ½ cup, about 6 to 8 minutes. Set aside to cool completely to room temperature.
CAKE
Place oven rack on the middle setting and preheat the oven to 350ºF (177ºC). Grease and flour (or use homemade cake release) two 8" or 9" round cake pans.

In a large bowl with a handheld mixer or the bowl of a stand mixer fitted with the paddle attachment, combine the flour, cornstarch, sugar, baking powder, and salt. Blend ingredients together on low until completely combined, about 1 minute. Add the room temperature butter and beat mixture on low speed until it resembles sand (see photo in post text). Scrape down the sides and bottom of the bowl with a spatula and mix again on low for a few seconds until thoroughly combined.

Combine ¼ cup (about half) of the champagne reduction, heavy cream, egg whites, and vanilla extract in a large container with a spout (like a 2-cup glass measuring cup) and mix gently with a fork until blended. With the mixer speed on medium-low, add half of the milk mixture (about 1 cup) to the crumb mixture and mix until blended. Add the remaining milk mixture to the batter and beat again on medium-low until everything is incorporated. Turn the mixer off, scrape down the sides and bottom of the bowl with a spatula, and increase mixer speed to medium. Beat the batter for about 30 seconds until batter is smooth.

Divide batter evenly between the two prepared cake pans. Bake cakes for about 26-28 minutes or until a toothpick inserted in the center comes out clean and the tops are lightly browned. Remove from oven and allow cakes to cool in the pans completely on a wire rack before removing and assembling.
BUTTERCREAM
In a large bowl with a handheld mixer, or a stand mixer fitted with the paddle attachment, beat the butter on medium speed until creamy, about 2 minutes.

With the mixer on low, add in the powdered sugar, vanilla, and remaining ¼ cup of the champagne reduction. Increase mixer speed to medium, and beat until completely smooth, about 3 minutes. Add the milk or cream and beat again. If frosting is too stiff, add more milk or cream. If it is too thin, add more powdered sugar.
ASSEMBLE THE CAKE
Trim cooled cake layers to create a flat surface. You can do this with a large serrated knife or a cake leveler. Place one layer on a plate or cake stand and cover the top with buttercream. Spread evenly with an offset spatula.

Place second layer on top, cut surface down. For a sturdier cake, refrigerate at this point for about 10 minutes. When cake is slightly chilled, remove from refrigerator and spread more frosting on the top and around the sides. Serve. Leftovers stay fresh, covered tightly, at room temperature up to 5 days and in the refrigerator up to 1 week.

Make ahead: prepare cakes and frosting up to 1 day in advance. Cover cakes tightly and keep at room temperature or in the refrigerator until ready to assemble. Refrigerate prepared frosting in an airtight container until ready to use. Unfrosted cake layers may be frozen, wrapped tightly, up to 2 months. Thaw overnight in the refrigerator before assembling. Frosted cake can be frozen, wrapped tightly, up to 2 months. Thaw overnight in the refrigerator and bring to room temperature before serving.
Notes
Room temperature ingredients: it is imperative to use room temperature ingredients in this recipe. Allow ingredients to sit out at room temperature at least 45 minutes before beginning.
Cream: I strongly encourage using cream in this recipe. It keeps the crumb moist and dense and adds a creaminess to the overall texture of the cake.
Nutrition Disclosure
All nutritional values are approximate and provided to the reader as a courtesy. Changing ingredients and/or quantities will alter the estimated nutritional calculations.
Serving:
1
serving
|
Calories:
608
kcal
|
Carbohydrates:
107
g
|
Protein:
5
g
|
Fat:
39
g
|
Saturated Fat:
24
g
|
Polyunsaturated Fat:
2
g
|
Monounsaturated Fat:
10
g
|
Trans Fat:
1
g
|
Cholesterol:
105
mg
|
Sodium:
445
mg
|
Potassium:
119
mg
|
Fiber:
1
g
|
Sugar:
36
g
|
Vitamin A:
1252
IU
|
Vitamin C:
0.1
mg
|
Calcium:
126
mg
|
Iron:
2
mg