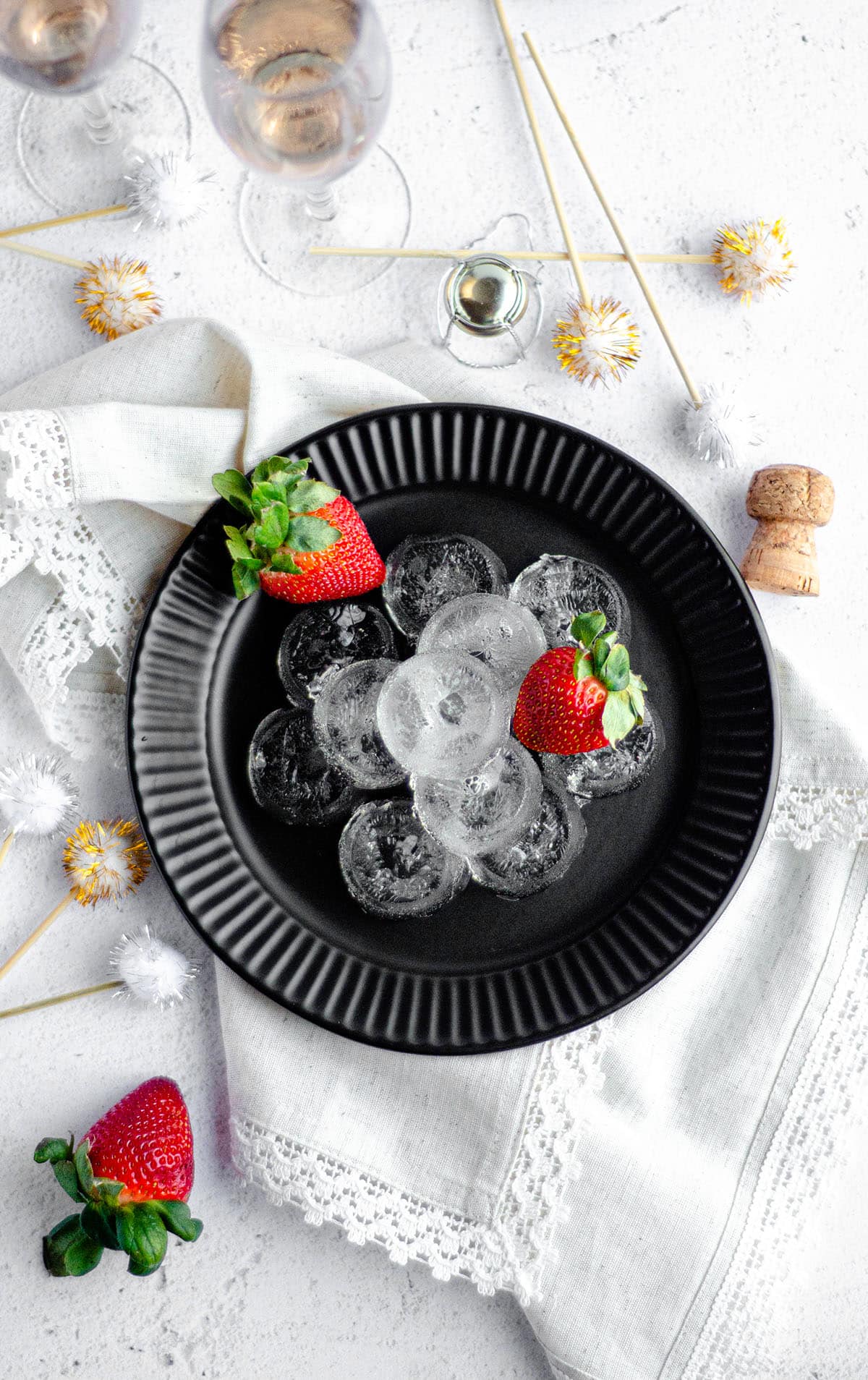 As an Amazon Associate, I earn from qualifying purchases. Read the full disclosure here.
Easy Jell-O shots made with flavored seltzer, champagne of your choice, and vodka.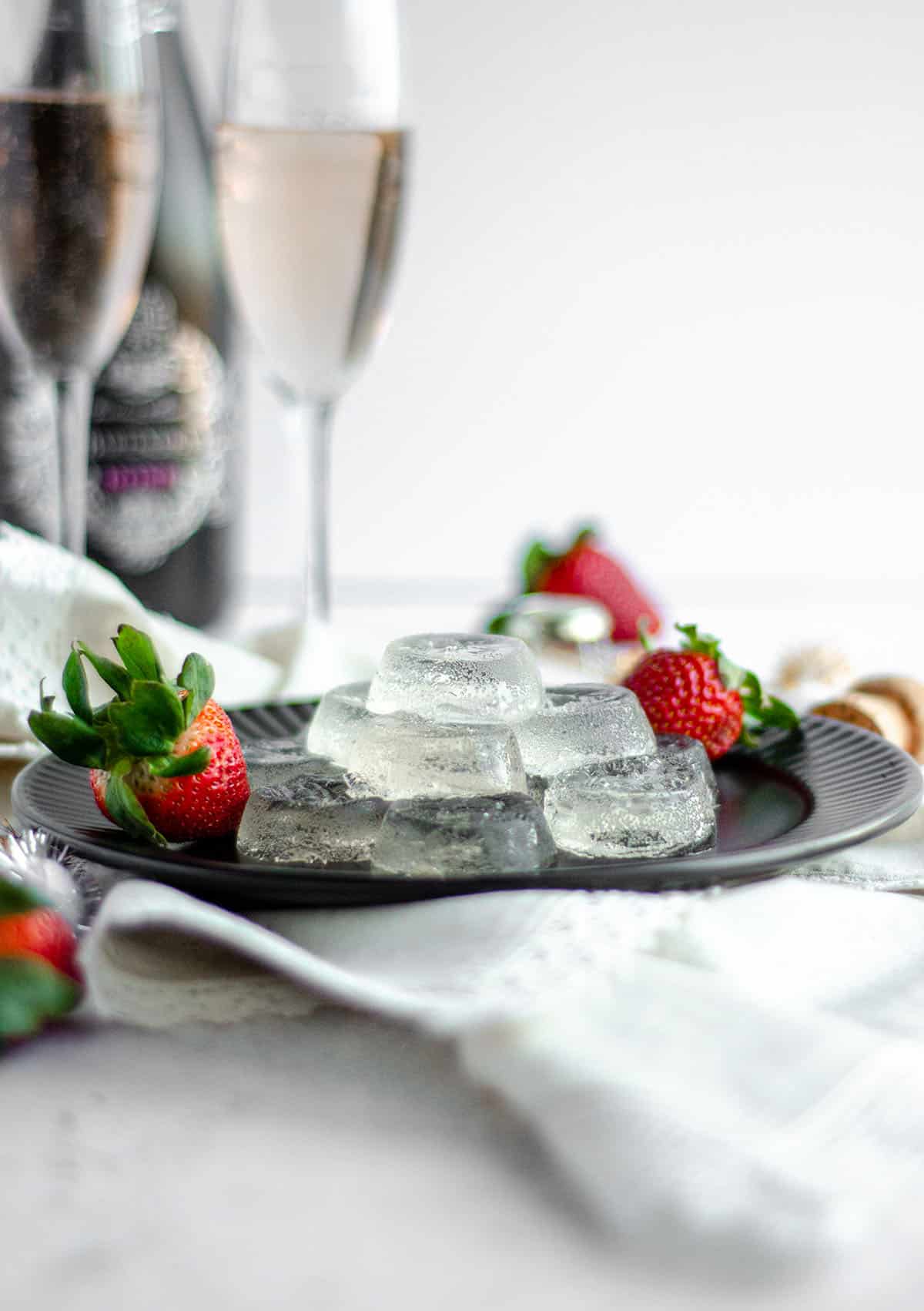 Contrary to popular belief when I posted this little number on my Insta stories, this is not a new recipe for ice (LOL).
Though this may look like a plate of ice cubes, this is actually a plate of your new favorite New Year's Eve (or any celebration) spiked treat– Jell-O shots made with champagne.
YEAH. Let's do this new year right, y'all.
I wanted to round out this year with something celebratory, and sometimes I like to do that with a recipe that includes champagne.
In 2017, the year of monthly cake recipes, I made a champagne layer cake with champagne buttercream. And it was bangin'.
In 2018, the year of monthly muffins, I made glazed mimosa muffins. Which were also bangin' and made breakfast a whole lot more awesome for a few days in December.
Because I wasn't too sure I could make a bread for the year of monthly bread recipes, I did want to send 2019 (the year I originally published this this easy champagne jello shot recipe) off with a celebration because that year was huge for me.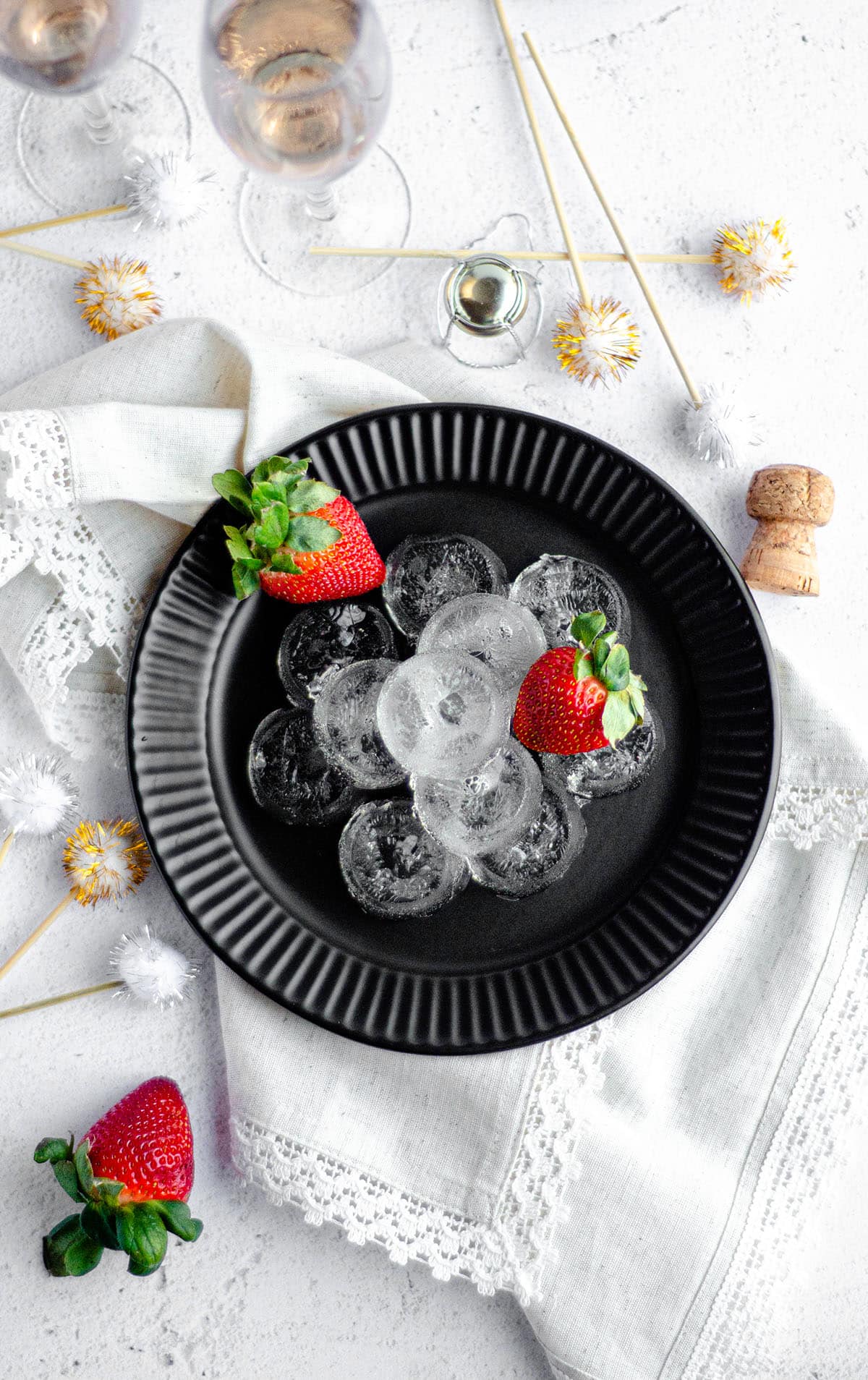 I mentioned in a post that year (my mini drop sugar cookies with sprinkles) that in October 2019, I was able to quit my full time job.
(Year later and I still can't believe that I was able to do that. I really can't.)
And because of that, I felt I really needed to post one last recipe that included champagne and that had "celebrate" written all over it.
It needed to be easy, I didn't want to do any more baking, and I am not lying when I say I was just dying to use those New Year's Eve drink stirrers I got in the $ bin at Target.
So Jell-O shots it was!!
Now I have to admit– these is not your typical university jello shots recipe. You know the kind… The ones that are brightly colored, super sweet, and also make you contort your face because they're so stuffed full of vodka.
Seriously. I know you know the kind.
These are, shall we say, classy jello shots. Mmmkay? Pinkies up, if you must!
INGREDIENTS
These champagne jello shots recipe is exactly as stated– they're flavored with champagne and not really much else.
I wanted to keep the flavor profile simple and really let champagne shine through, so we're using a few unflavored things here to insure champagne is the star of the show.
First, we're using some flavored seltzer as the base liquid. I went with strawberry because I thought it sounded appropriate with champagne, but really, any flavor you choose here will probably work.
We'll be using unflavored gelatin, again, so the flavor profile is simple. If you don't want to use unflavored gelatin, you're certainly welcome to use flavored.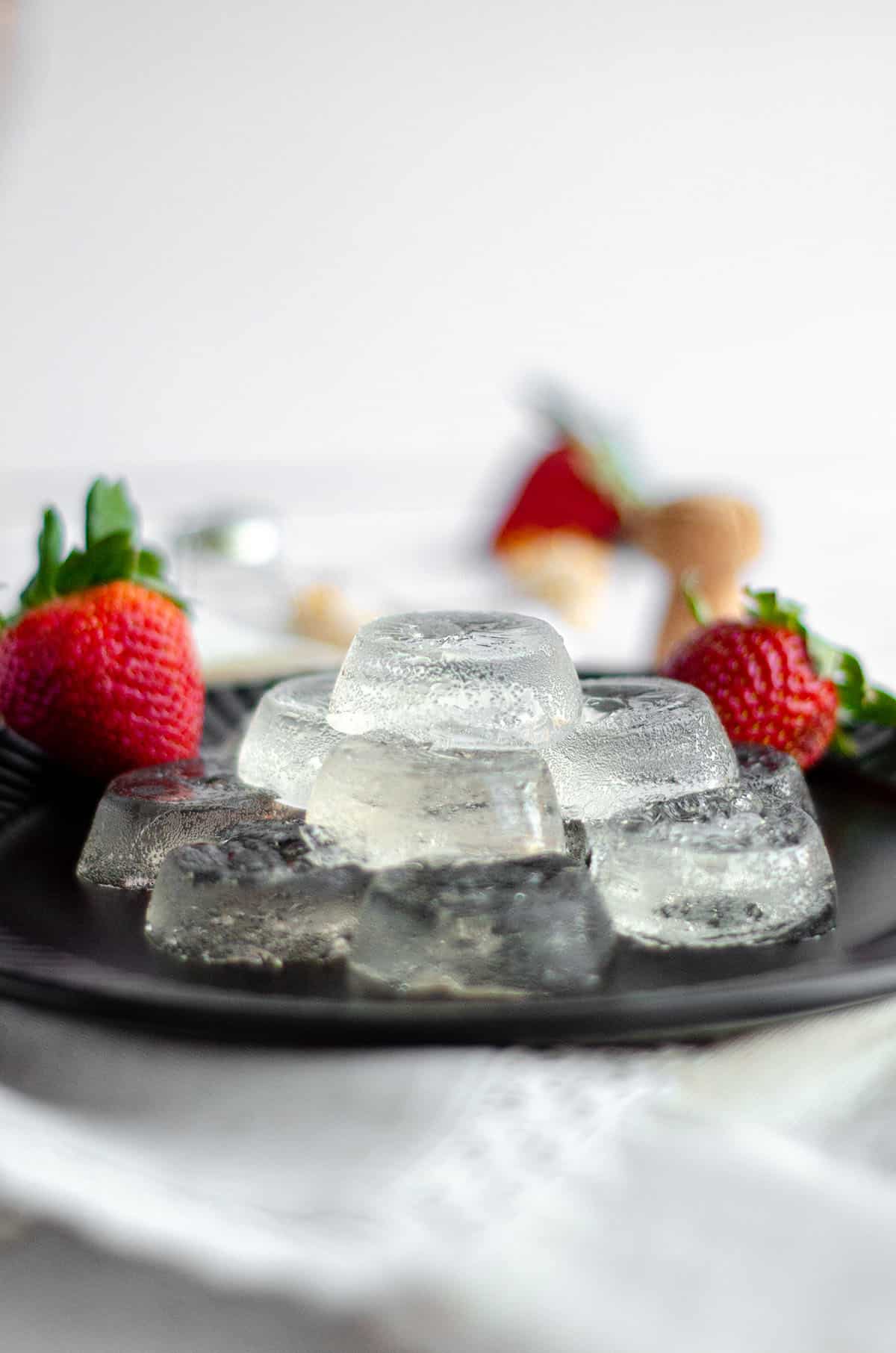 HOW TO MAKE JELLO SHOTS WITH UNFLAVORED GELATIN
My recipe calls for 0.5oz of gelatin, which is typically two-0.25oz packets of unflavored gelatin. They come in a box of 4 of them.
If you want to use regular flavored Jell-O for say, like, peach champagne Jello shots or raspberry champagne Jello shots, those smaller boxes are 3oz, and 0.5oz of that is about 1 and ¾ Tablespoons. OR… Use the whole box and 6x the recipe?!
Jell-O shots for dayssss! And dayssss!
HOW TO MAKE CHAMPAGNE JELLO SHOTS
As far as the vessel for your shots, you can really use anything you want here. You'll wind up with about 20 ounces of liquid for shots, which you can totally put into 20-1oz portions in little shot cups…
…or you can do what I did and use a silicone mini-muffin pan. It has spots for 24 shots, but they hold a little less than 1oz each, so you'll have a little bit leftover.
I took that opportunity to make 3 small cup shots for taste-testing.
I trust if you're making these champagne Jell-O shots, you're prepared to shoot them whichever way you prefer, but if you're coming here undecided, I suggest individual cups.
The mini-muffin mold worked great for me (and made for cute pictures!) but if you're serving them up at a party, it's much easier to distribute little cups.
Champagne shots in whatever style you want, my friend!
What we loved about these New Years jello shots was that they really were perfectly flavored like champagne. There was a little extra somethingsomething going on with that strawberry seltzer, but it was definitely not as sickeningly sweet as traditional Jell-O shots.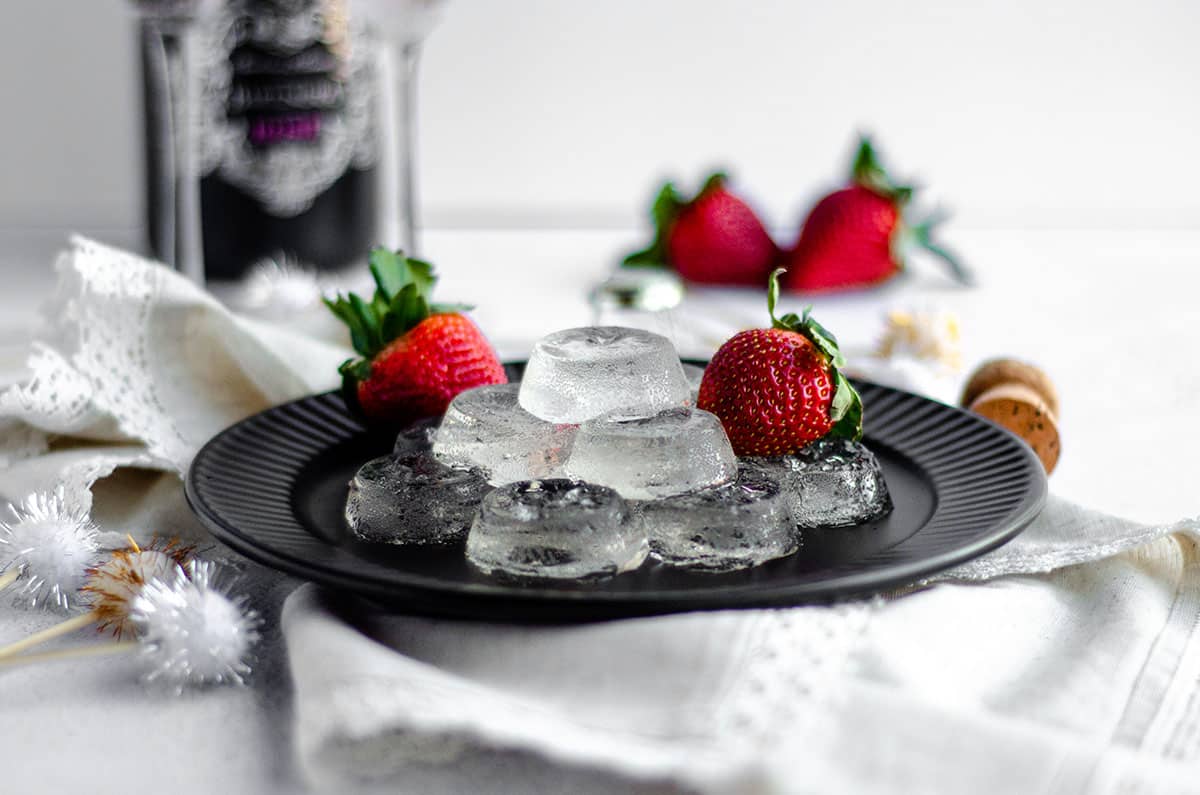 These jello shots with champagne are definitely the way to go to keep it classy.
So help me ring in this new year, and help me send off this year in the very best way.
As always, I am so grateful to have you here. For all of your sharing of my recipes, with your friends and family, and continuing to support me on all of your favorite social platforms.
If you are so inclined, please feel free to join the Fresh April Flours Baking Community on Facebook.
I love connecting with my readers and fans on a more personal level. It's been one of my favorite places to get up-close and personal with people who love baking (not just my recipes).
We've had some laughs, we've shared some favorite traditions, and we've built a little community on Facebook who loves to see what each other are baking. Join us, won't you?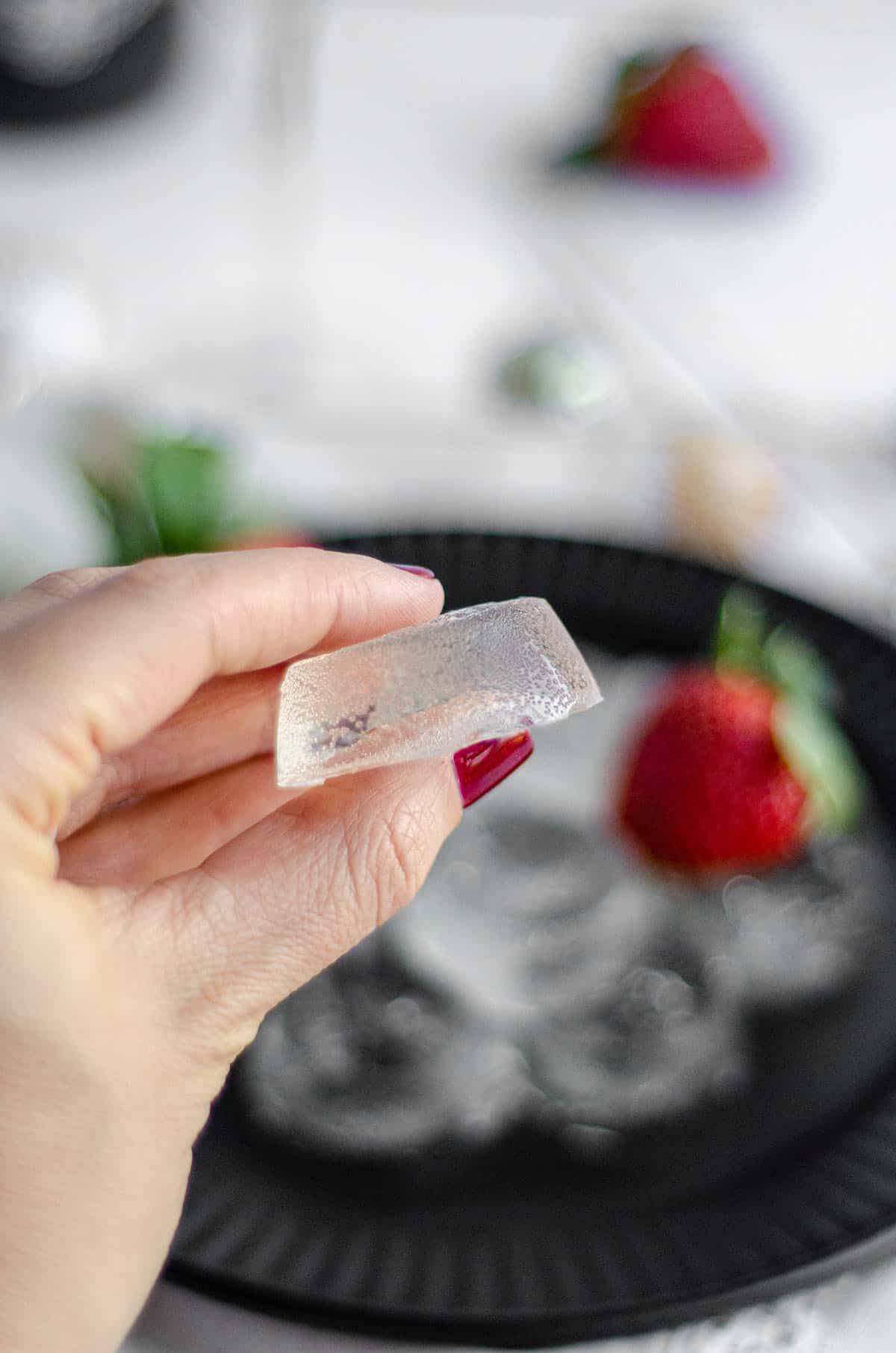 I hope you'll add this champagne Jello shot recipe to your NYE menu, but if you don't, I hope you'll ring in the New Year with a happy heart and wishes for your best year yet.
Champagne Jello Shots
Easy Jell-O shots made with flavored seltzer, champagne of your choice, and vodka.
Ingredients
1 and ½

cups

(360mL) flavored seltzer

2

packets

(0.5oz) unflavored gelatin1

¾

cup

(180mL) champagne2

¼

cup

(60mL) vodka3
Instructions
Pour the seltzer into a small saucepan. Sprinkle the gelatin over the liquid and allow it to soften, about 5 minutes.

Turn the heat on to medium-low and, while stirring constantly, dissolve the gelatin completely. Do not let boil. Remove from heat. Stir in the champagne and vodka.

Transfer mixture to a container with a spout, like a glass measuring cup. Pour mixture into prepared vessels and allow to chill in the refrigerator 3 to 4 hours before serving.

To serve: use a small spatula or butter knife to break the seal between the shot and the silicone mold. You may also dip the bottom of the mold into hot water for a few seconds to help loosen. Flip gelatin mold over onto serving tray or pop them out individually. Store leftovers in the refrigerator.
Notes
Gelatin: I did not want my shots to be overly sweet, so I went with unflavored gelatin. If you want to amp up the flavor or sweetness, use 1 and

¾

Tablespoons of flavored, sweetened gelatin (like Jell-O).
Champagne: I chose a sweet Rosé champagne.
Vodka: I chose plain, unflavored vodka. You may use flavored, if desired.
Please keep in mind, as written and without substitutions, your shots will taste exactly the way your champagne tastes (so as sweet or as dry as the one you choose). With unsweetened but flavored seltzer, unflavored gelatin, and unflavored vodka, our shots tasted just like the sweeter champagne we chose and they were perfect for us.
Nutrition Disclosure
All nutritional values are approximate and provided to the reader as a courtesy. Changing ingredients and/or quantities will alter the estimated nutritional calculations.
Serving:
1
shot
|
Calories:
12
kcal
|
Carbohydrates:
0.1
g
|
Protein:
0.1
g
|
Sodium:
5
mg
|
Potassium:
8
mg
|
Sugar:
0.1
g
|
Calcium:
2
mg
|
Iron:
0.04
mg