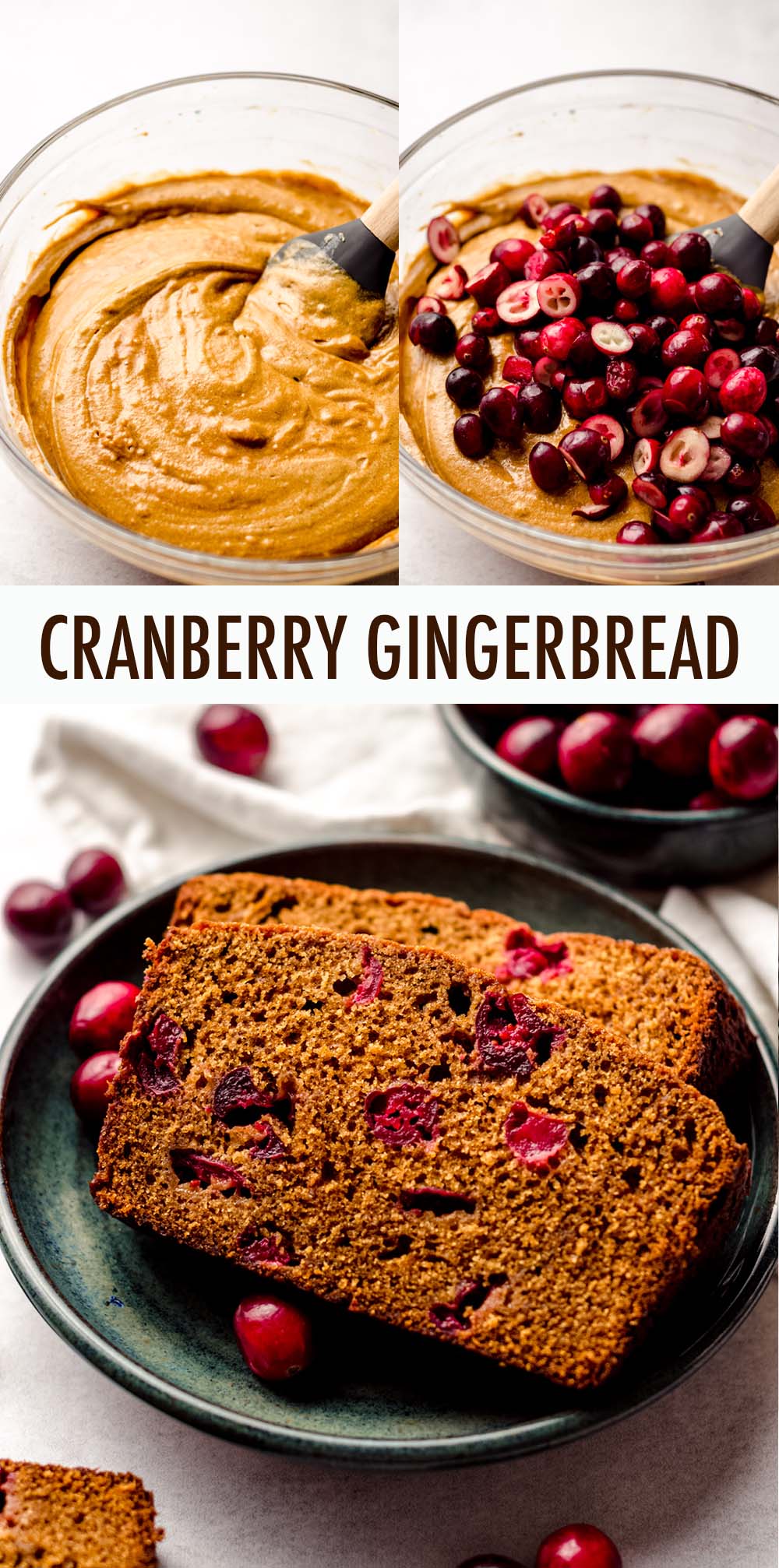 As an Amazon Associate, I earn from qualifying purchases. Read the full disclosure here.
Perfectly tender and spicy gingerbread quick bread studded with tart, juicy cranberries. Perfect for Thanksgiving, Christmas, or any day in between!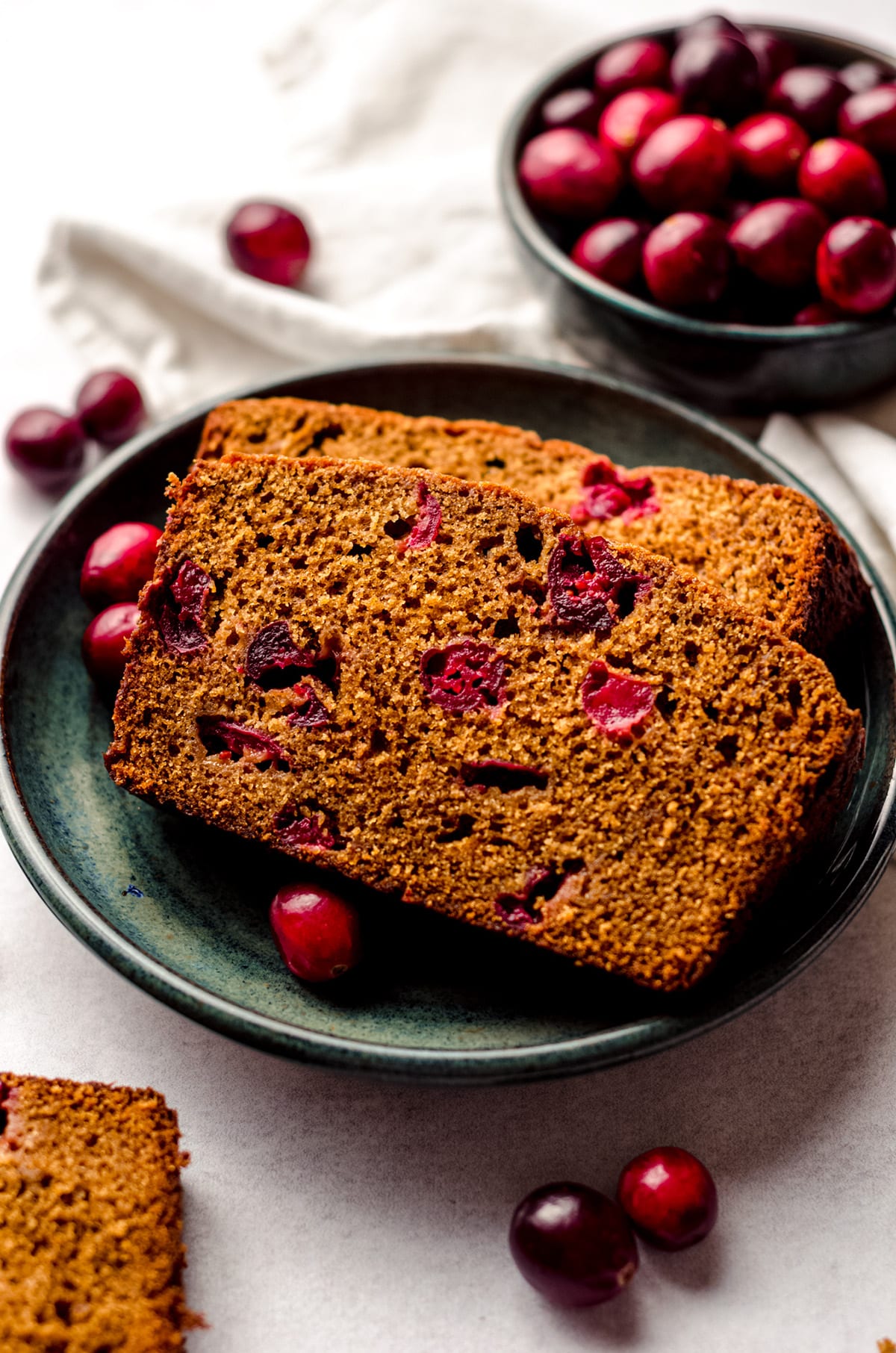 Memory is a funny thing, my friends. It can serve you really well or it can serve you really poorly, and I would say that for the most part, my memory serves me very well a lot of the time.
My friends joke with me that my memory is scary accurate sometimes, but it has its limits and specificities.
For example, I'm nearly a walking calendar. I can tell you the date weird things happened, for no apparent reason other than I really like numbers and they stick well in my brain.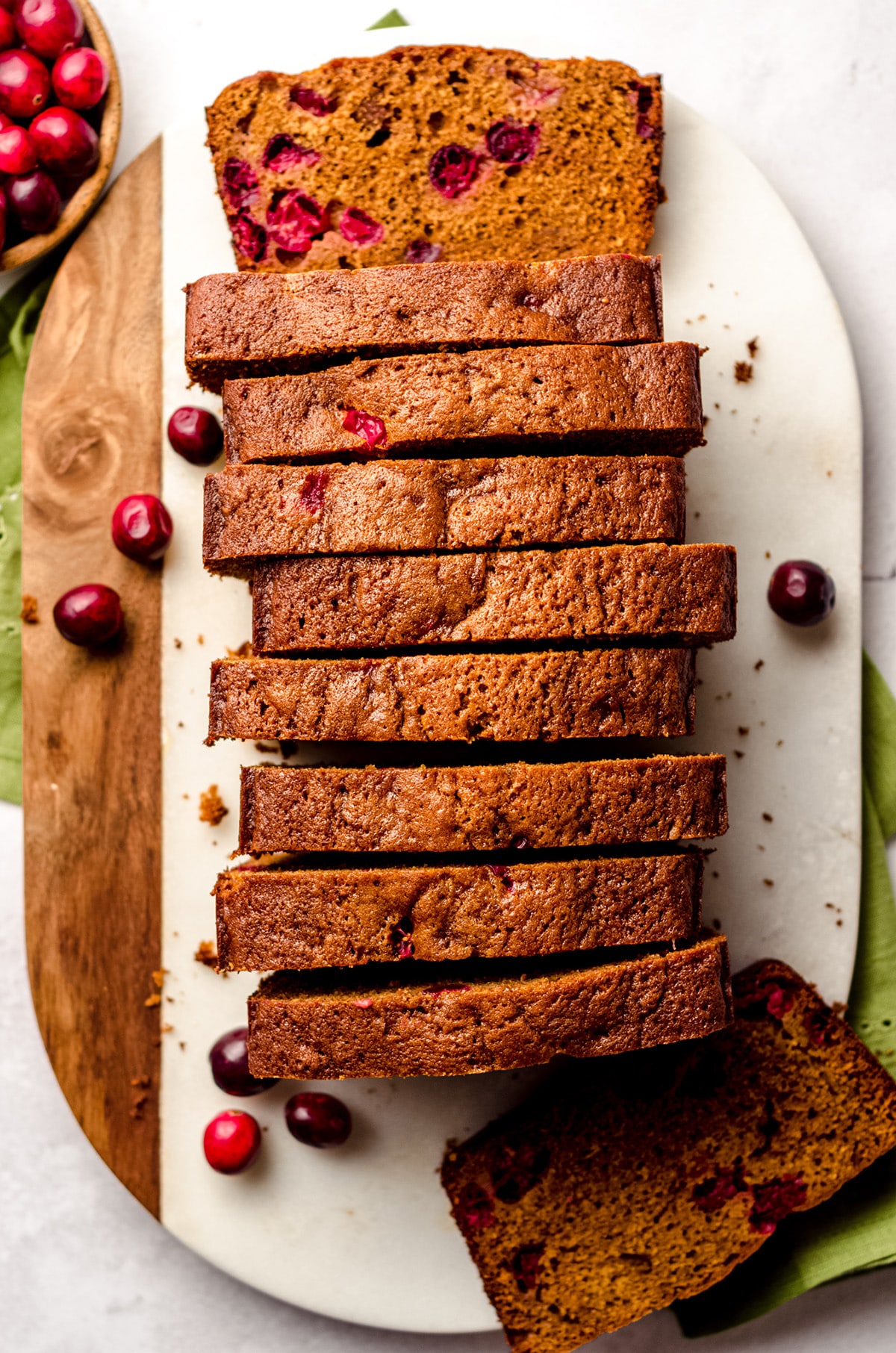 I also remember strange facts about my kids and their newborn schedules and eating habits (at least for now) even though those stages were literal years ago.
And I can almost always remember something specific about photographing a recipe.
Whether it's simply because of the sheer amount of time I spent with that food, that I remember batting a kids' hand away, or what music I was listening to during the photoshoot… Something usually sticks in my brain about it.
But it wasn't until I went back to read this post I had written in 2015 about this recipe for cranberry gingerbread that I remembered that I actually forgot just how much time I spent testing this dang recipe.
And then it all flooded back to me.
The original recipe was the 4th rendition of the test, and I recall going through so many cranberries trying to get it right and no ability to consume winter sangria because I was pregnant with our first son.
You might be thinking "but Lynn! Why on earth did you spend so much time and energy on one little recipe that seems so insignificant in the grand scheme of all of the goodies on your site?"
Because, dear reader, I have a problem. As do most recipe developers– just ask them (we cray cray, yo). We get stuck on an idea and it has to be perfect. Although in this case, it wasn't perfect. It was just pretty good.
You see, I always really liked this cranberry ginger quick bread, but I never quite loved it. So I put it on my list to revisit this year and I was determined to make it the best spiced cranberry bread I've ever made.
And I did it!
So let's talk about what makes this 5th-time-the-charm quick bread so easy and wonderful and why you need it in your life this holiday season.
First of all: quick breads. I love 'em. You might know this about me.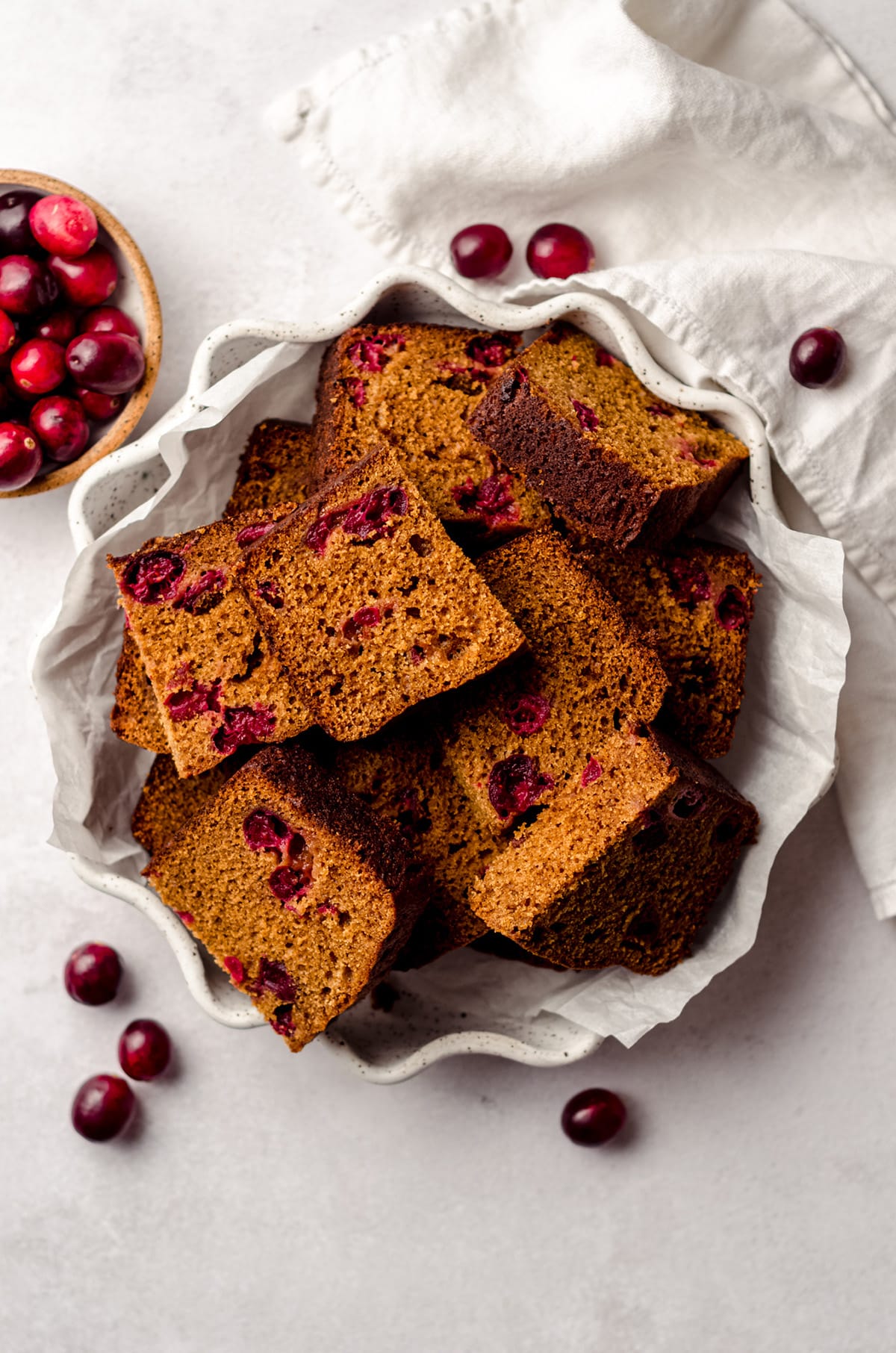 I love them because they're quick (shocking), easy, and usually require minimal dirtying of bowls and/or utensils. This cranberry gingerbread is no different.
INGREDIENTS
The ingredient list is simple. It looks slightly long, but I promise, that's mostly a slew of deliciously fragrant spices you'll be swooning over shortly.
The usual suspects are flour, leavening agents, butter, and deeply rich brown sugar, and the first thing I did to this revised recipe was add more flour.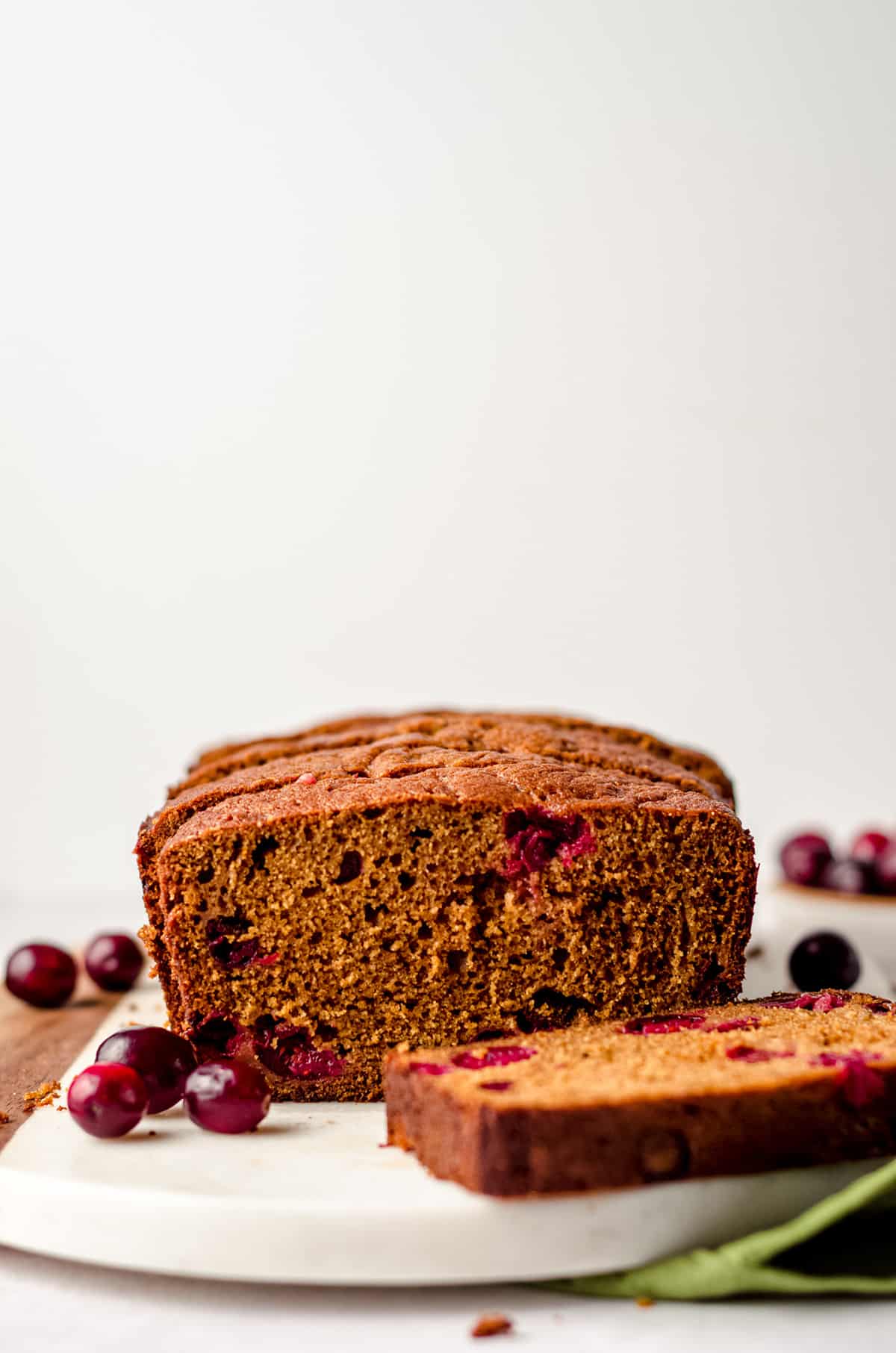 The first rendition of my cranberry gingerbread loaf always fell a little flat, so I gave it a bit more oopmh with some more flour.
SPICES
The spices I include in this gingerbread are ginger, cinnamon, cloves, and a surprise spice… Black pepper.
This is a spice combination I used first in my spiced gingerbread cut-out cookies and I've loved it ever since. No, you won't specifically taste the pepper, but you will get an extra kick of spice thanks to it.
MOLASSES AND CRANBERRIES
The stars of the show are, of course, the molasses and the cranberries.
Two things I did this time around that I didn't do for those first versions of this bread are 1) bloom the molasses and 2) coarsely chop the cranberries.
We'll get to why those steps are important and what exactly they do to this bread in a bit!
HOW TO MAKE CRANBERRY GINGERBREAD
To get started, you'll combine your flour, baking powder, baking soda, and salt.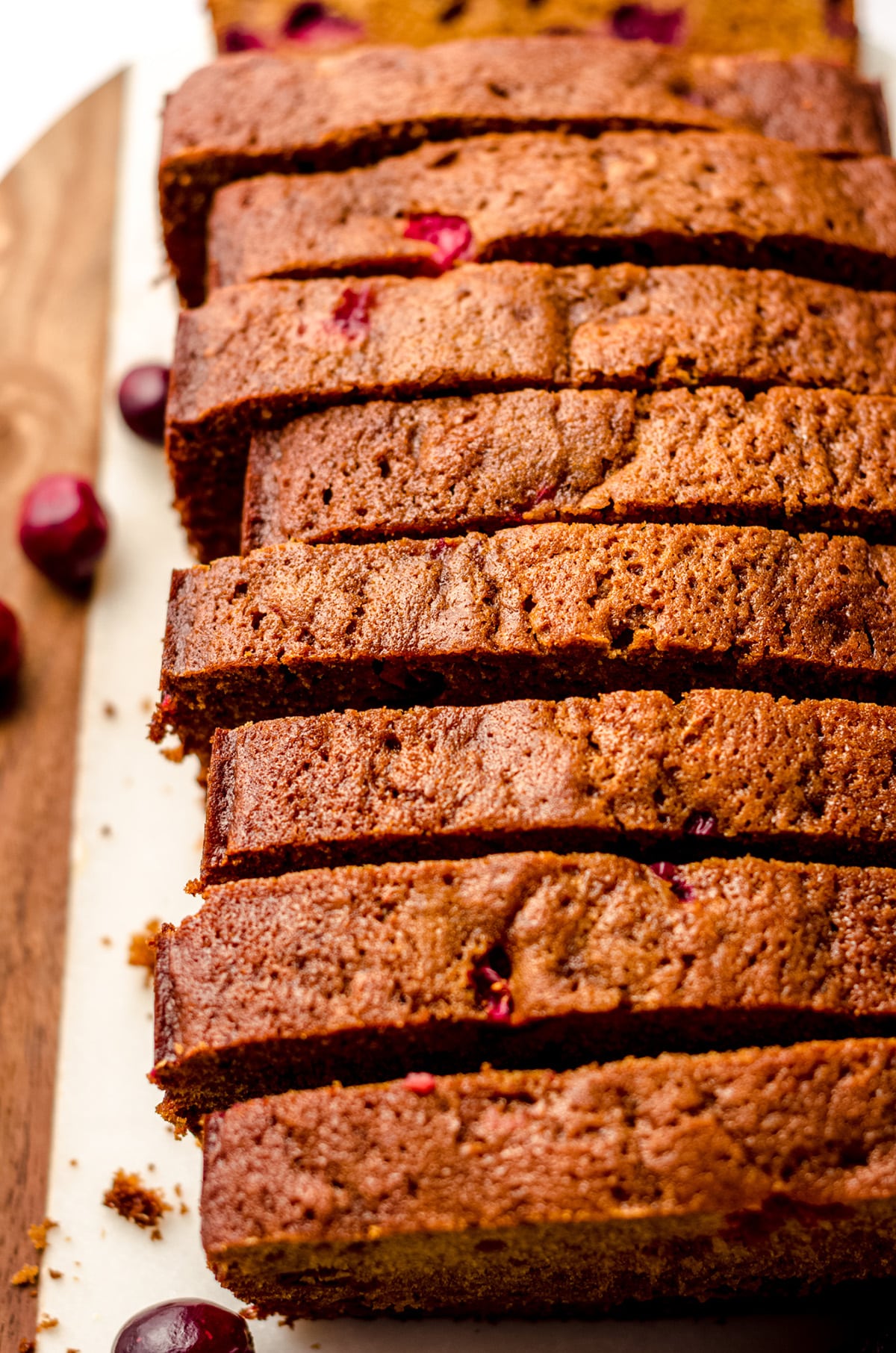 You'll often see spices thrown in here, but we're saving the spices for a special spot, so don't combine them with the other dry ingredients just yet.
Next, you'll cream together the butter and brown sugar until it is light and fluffy. The light and fluffy is key in bringing lift to this gingerbread loaf.
After the butter and brown sugar are nice and fluffy, you'll add your spice blend and cream everything together for a bit longer.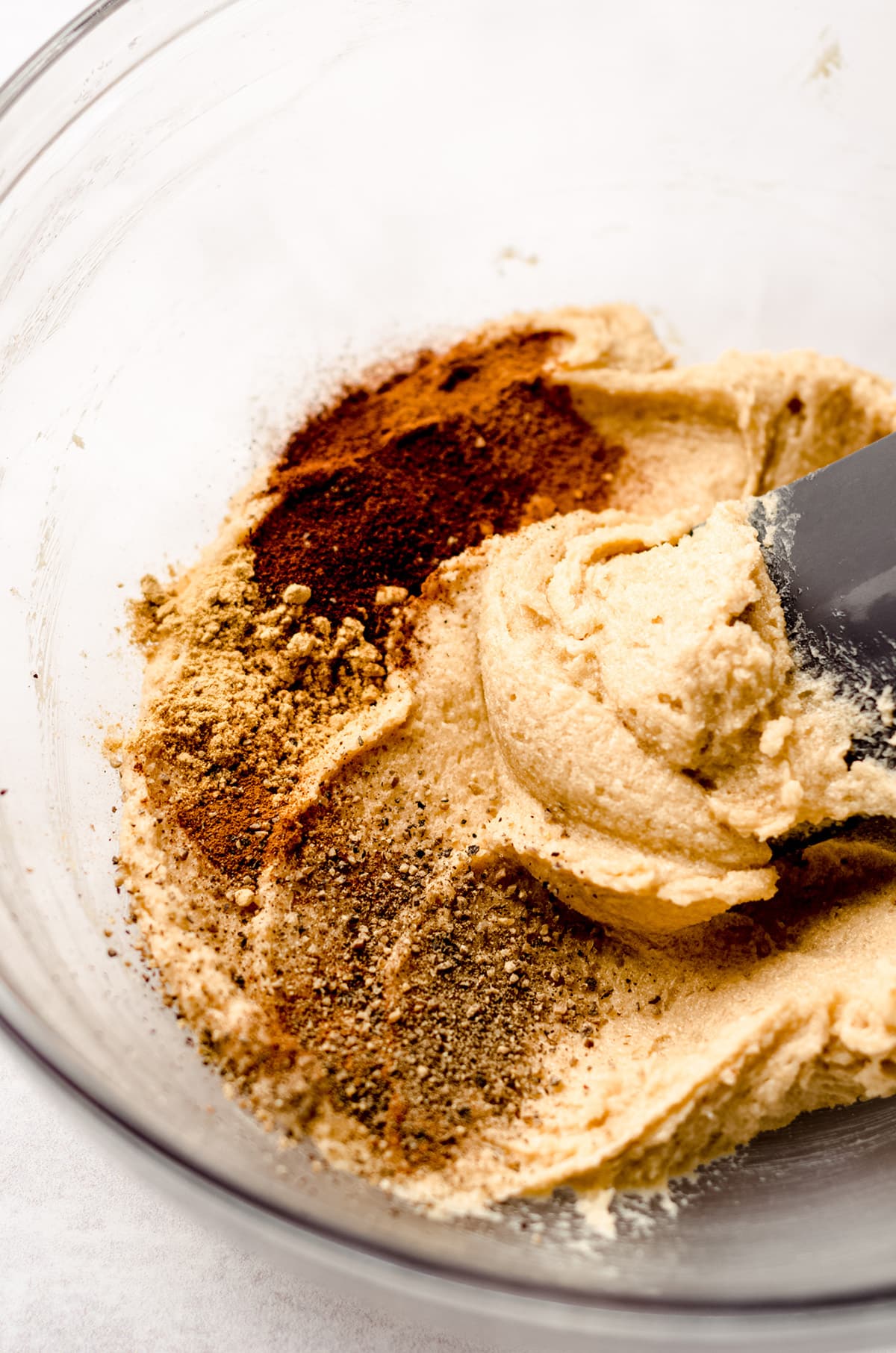 I use this method a lot with spices in a recipe that uses fat because it allows the flavors to marry into the fats to help boost the flavor once it's all together in the bread. Trust me– it makes a big difference!
Finally, the eggs go into your butter/sugar mixture as the final fat and "glue" for the batter, and then you'll do something a little different with your molasses than just add it to the batter.
BLOOM YOUR MOLASSES
If you've ever made my chocolate layer cake, you know that we add hot water to the batter to help bloom the cocoa. Blooming is a process that not only activates the leavener in a recipe, but also distributes the flavor particles of some ingredients.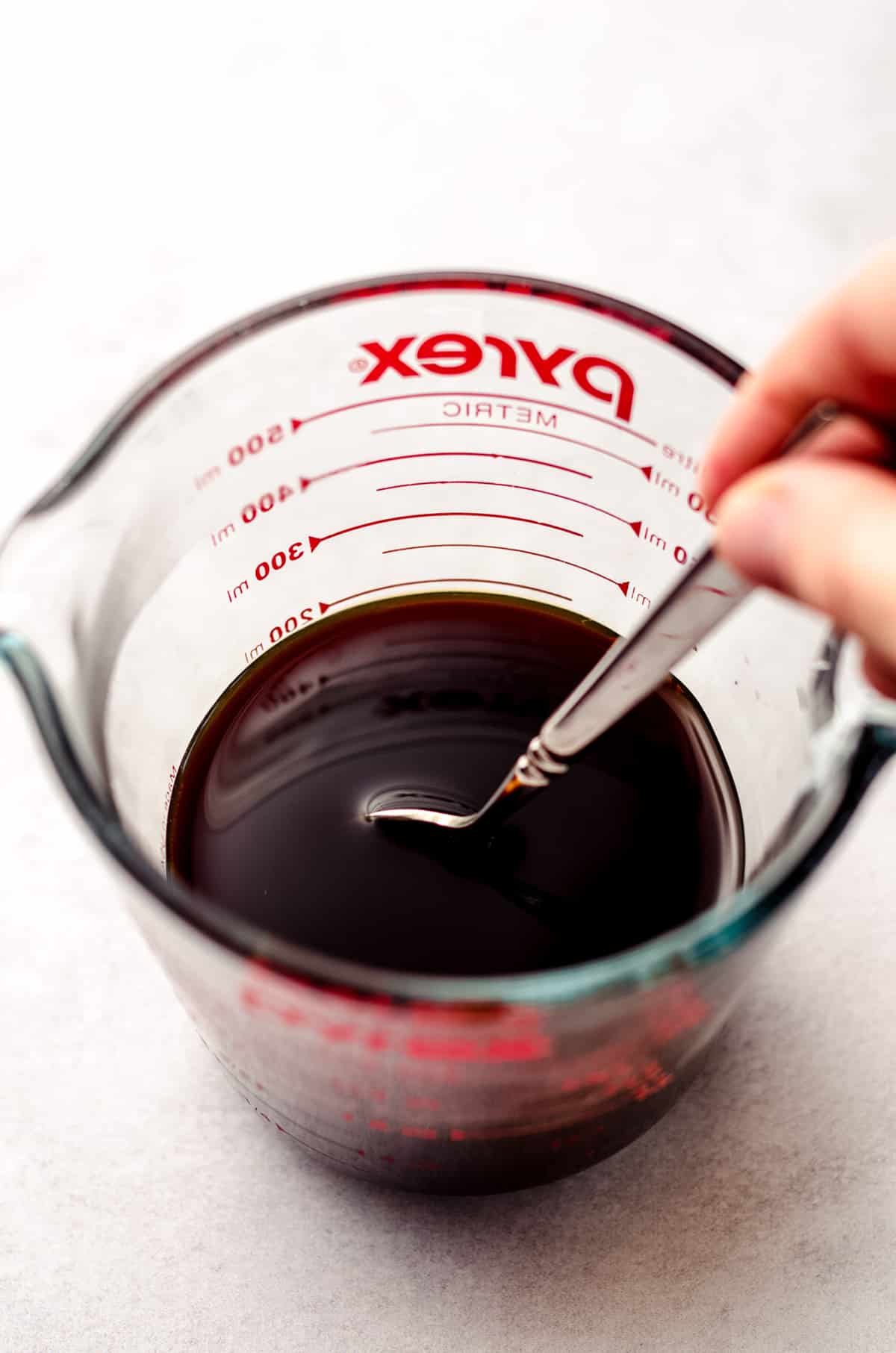 In order to add this blooming feature to your cranberry gingerbread, you'll simply mix the molasses with some hot water, stir it up, and add it to your batter.
ALTERNATE FLOUR MIXTURE AND BLOOMED MOLASSES
Instead of just throwing the dry ingredients into your quick bread batter, you'll add it in alternating with the molasses.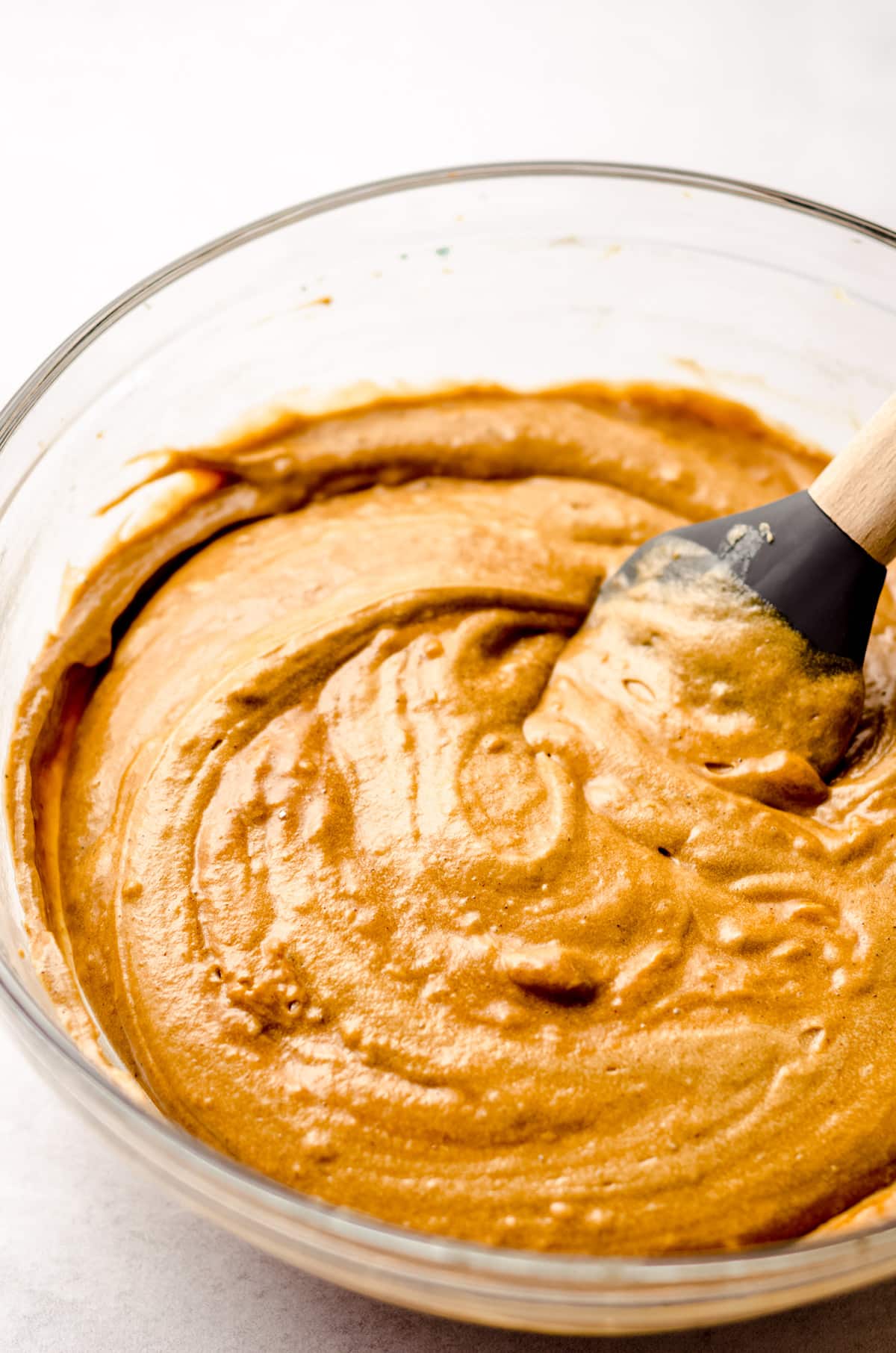 Slowly introducing these components allows the batter to gently accept each and keeps the lift of the creamed butter and sugar intact.
You'll mix the batter until it just comes together, then add in the last star of the show: the cranberries.
COARSELY CHOP THE CRANBERRIES
I chose to coarsely chop the cranberries this time around and I love the way it distributed more cranberries throughout the whole loaf.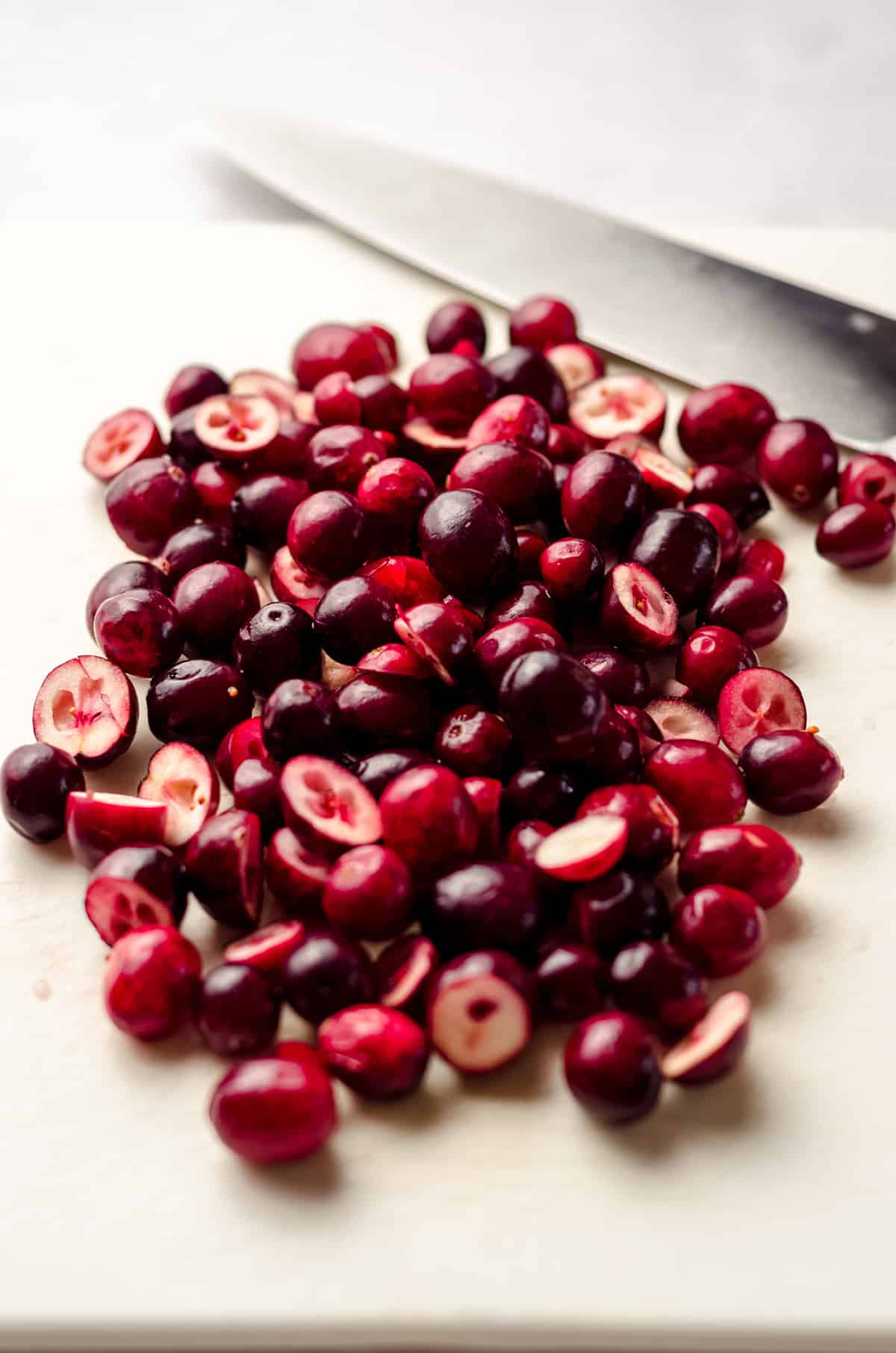 It also made it so there was little to no sinking of whole cranberries to the bottom of the loaf, so there was a much better distribution of those ruby red cuties in each slice.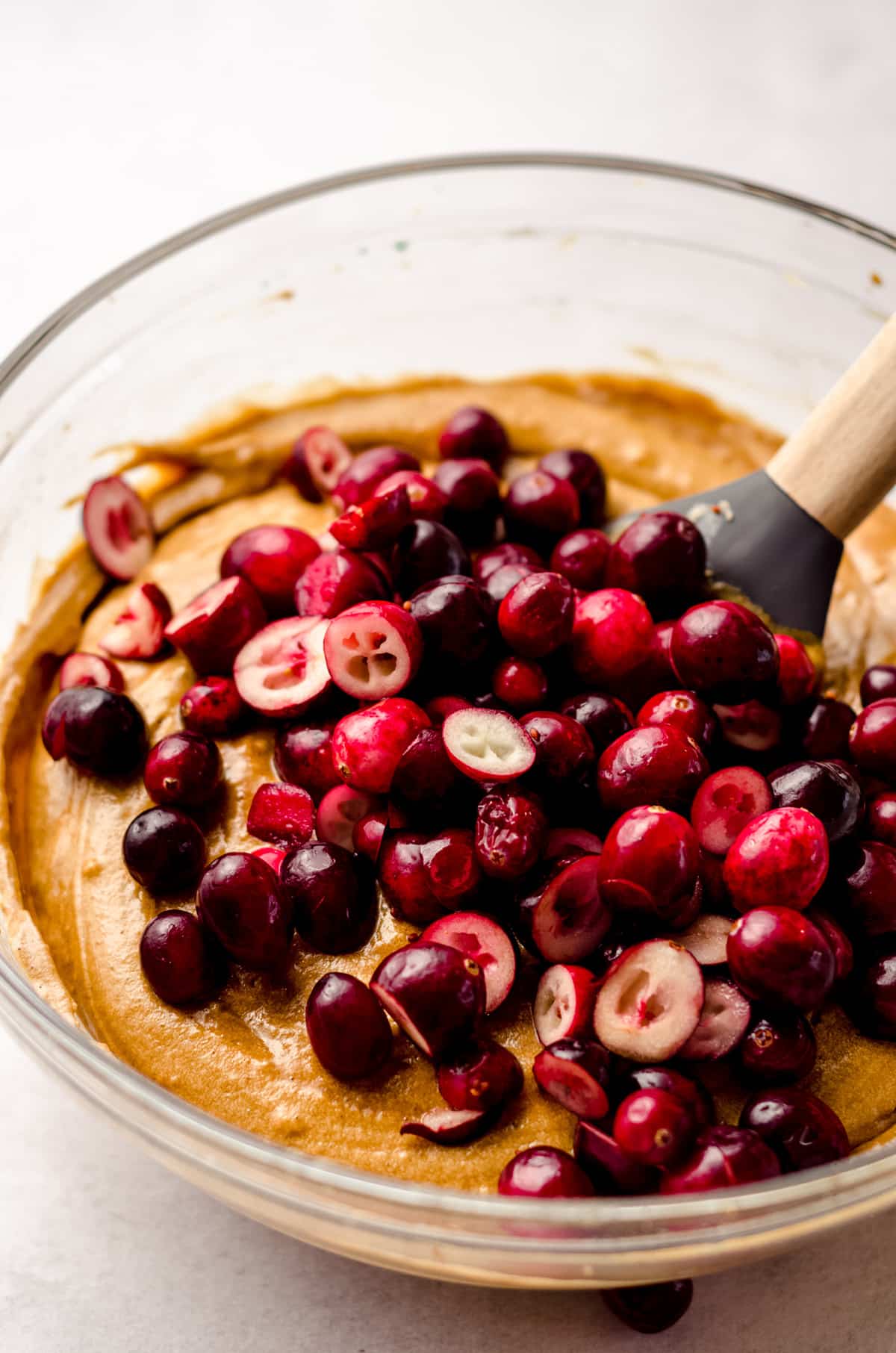 BAKE THE LOAF WITH TENTED FOIL
I don't always suggest tenting quick bread, but in this instance, it is very helpful in keeping a beautiful brown color to the top of the bread as opposed to a dark and almost black finish.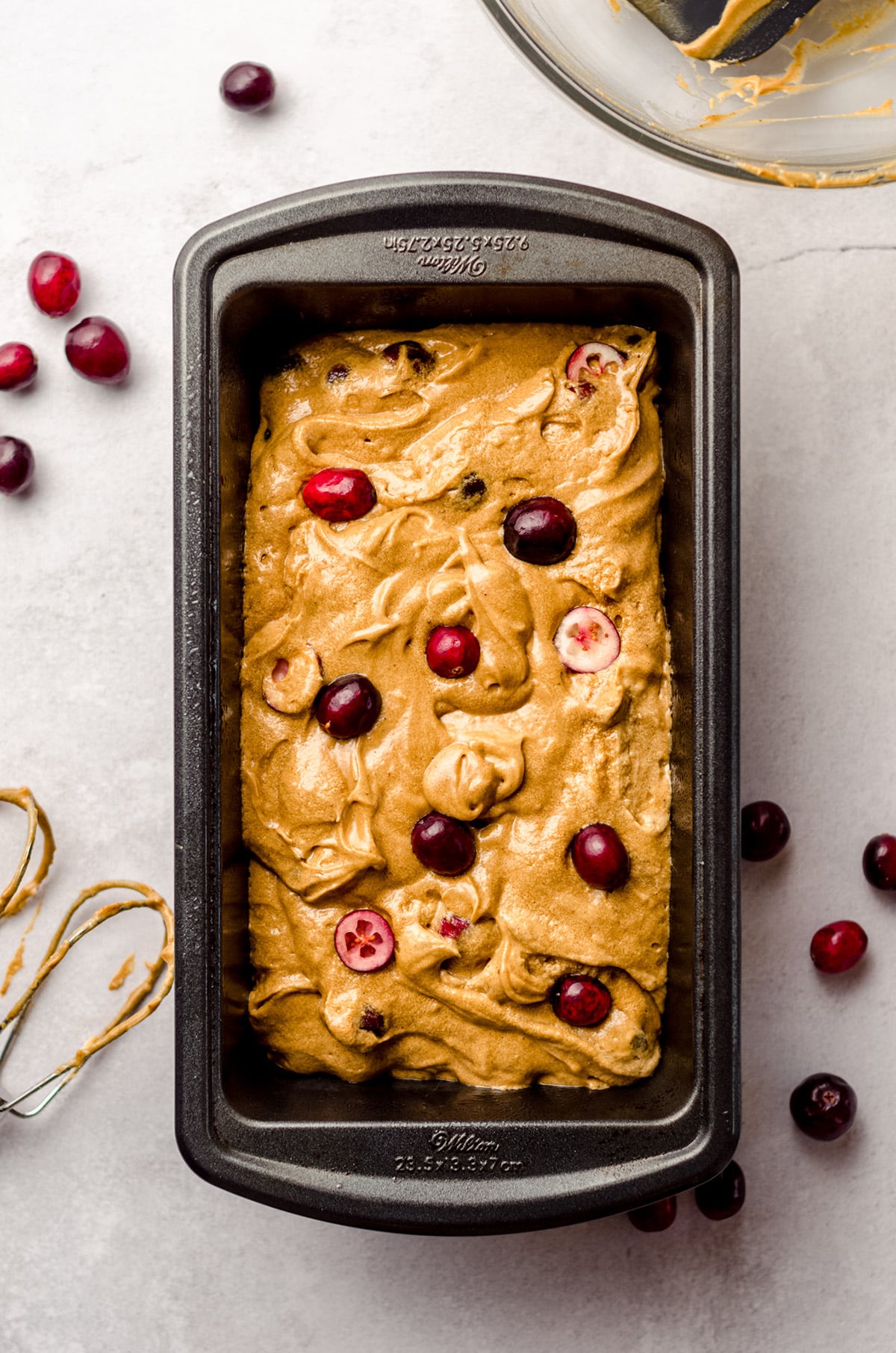 I remove the foil for the last 10 or so minutes, but this is just enough time to solidify that sparkly brown coating without giving it any char.
GREAT FOR THANKSGIVING AND CHRISTMAS
This cranberry gingerbread is one of my favorite go-to recipes for those end-of-the-year holidays. It's quick, it's easy, and it is a definite crowd pleaser anywhere it goes.
It's essentially my favorite things about Thanksgiving and Christmas together in one happy holiday mash-up recipe that could fit either holiday spread and all of the days in between.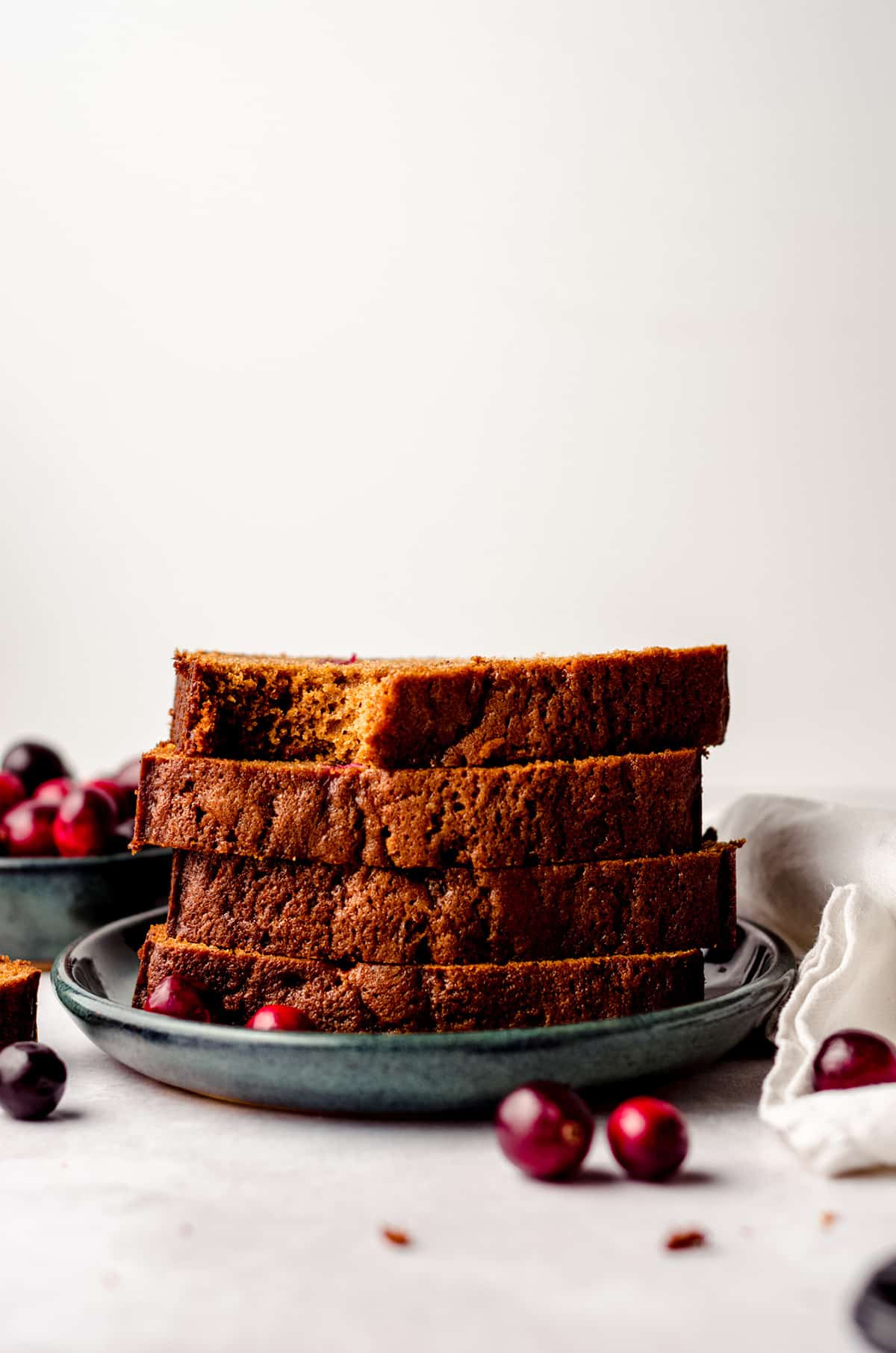 This bread freezes well, it travels well, and it even packages up beautifully for homemade holiday gifts or a host gift during your holiday entertaining rounds.
Not only is it perfectly tender and spicy, but the tart and juicy cranberries make for a delightful contrast of textures and flavors.
Plus… Just look how darn pretty it is!!
Serve for dessert, a snack, heck– even breakfast! There's fruit in there… So that means anything goes, right?!
More fresh cranberry recipes: homemade spiced cranberry sauce and winter sangria!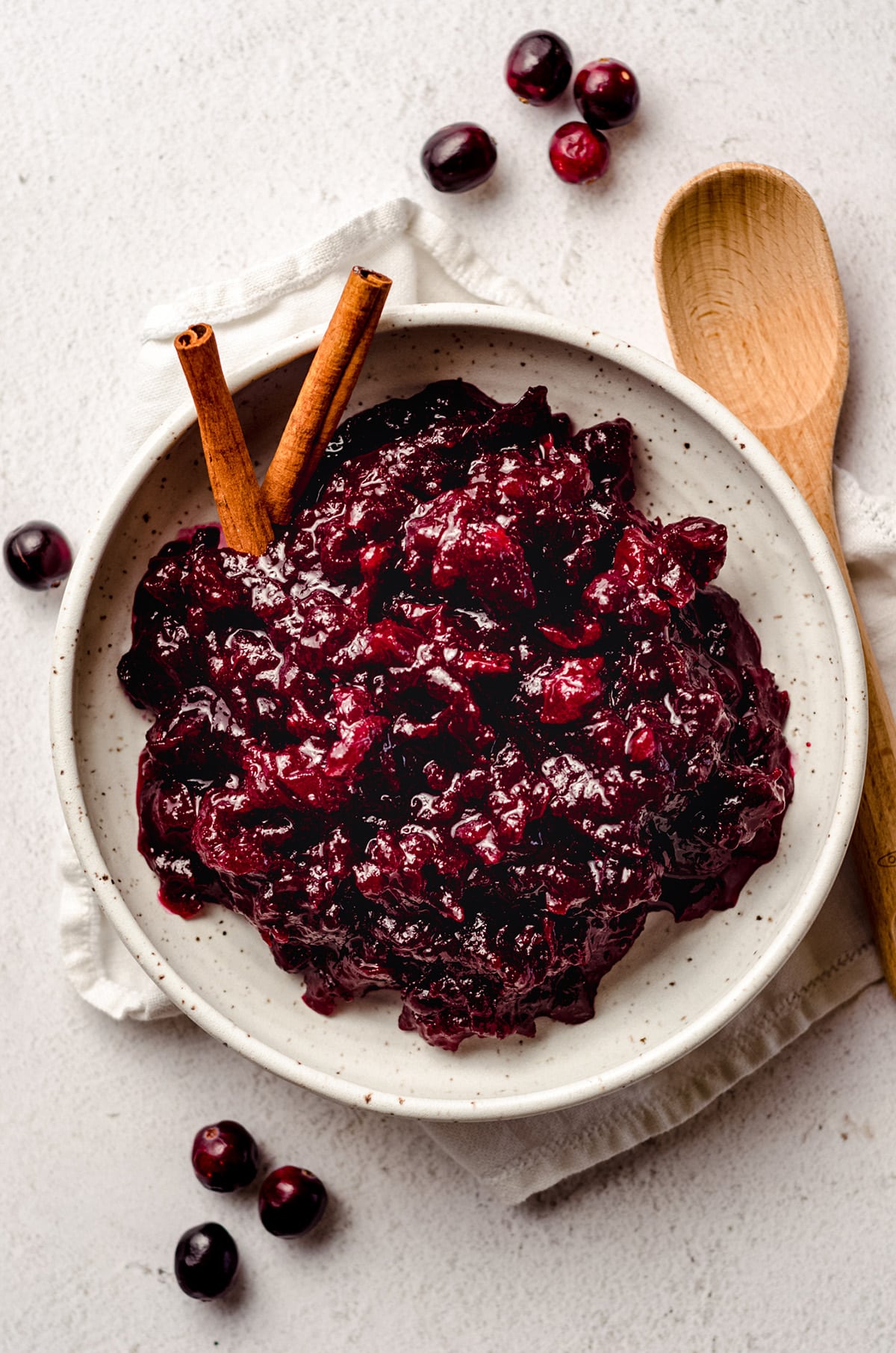 Cranberry Gingerbread
Perfectly tender and spicy gingerbread quick bread studded with tart, juicy cranberries. Perfect for Thanksgiving, Christmas, or any day in between!
Ingredients
2

cups

(240g) all-purpose flour be sure to measure properly

1 and ¼

teaspoons

baking powder

½

teaspoon

baking soda

½

teaspoon

salt

⅔

cup

(132g) firmly packed light brown sugar

½

cup

(113g) unsalted butter

softened to room temperature

¾

teaspoon

ground ginger

½

teaspoon

ground cinnamon

¼

teaspoon

ground cloves

⅛

teaspoon

black pepper

2

large eggs

room temperature

½

cup

(120mL) molasses

½

cup

(120mL) hot water

1 and ½

cups

(150g) cranberries

fresh or frozen*
Instructions
Preheat the oven to 375ºF (191ºC). Spray a 9" x 5" loaf pan with non-stick spray. Set aside.

In a medium size bowl, toss together the flour, baking powder, baking soda, and salt. Set aside.

In a large bowl with a handheld mixer or the bowl of a stand mixer fitted with the paddle attachment, cream together the brown sugar and butter on medium-high speed until light and fluffy (about 3 minutes). Add the ginger, cinnamon, cloves, and black pepper and cream again on medium-high for 1 additional minute.

Add the eggs one at a time, beating on medium-high speed after each until completely incorporated. Scrape down the sides and bottom of the bowl with a spatula as necessary. Turn off the mixer and set aside.

Add the molasses and hot water to a small bowl or measuring cup and mix together until combined.

With the mixer on low speed, slowly add the dry ingredients in two additions, alternating with the molasses and beat until the batter just starts to come together.

Turn off the mixer and stir in the cranberries with a spatula or wooden spoon until evenly dispersed.

Pour the batter into the prepared pan and add a few more cranberries to the top, if desired. "Tent" the pan with foil to prevent burning (I like to remove the tent for the last 10 minutes to lightly brown the top). Bake for 52-54 minutes or until a toothpick inserted in the center comes out clean. Allow to cool completely on a wire rack before serving. Bread will stay fresh covered tightly at room temperature up to 5 days or in the refrigerator up to 1 week. Loaf freezes well– up to 2 months. Thaw in refrigerator overnight.
Notes
*If using frozen cranberries, do not thaw.
Nutrition Disclosure
All nutritional values are approximate and provided to the reader as a courtesy. Changing ingredients and/or quantities will alter the estimated nutritional calculations.