Gingerbread Cut-Out Cookies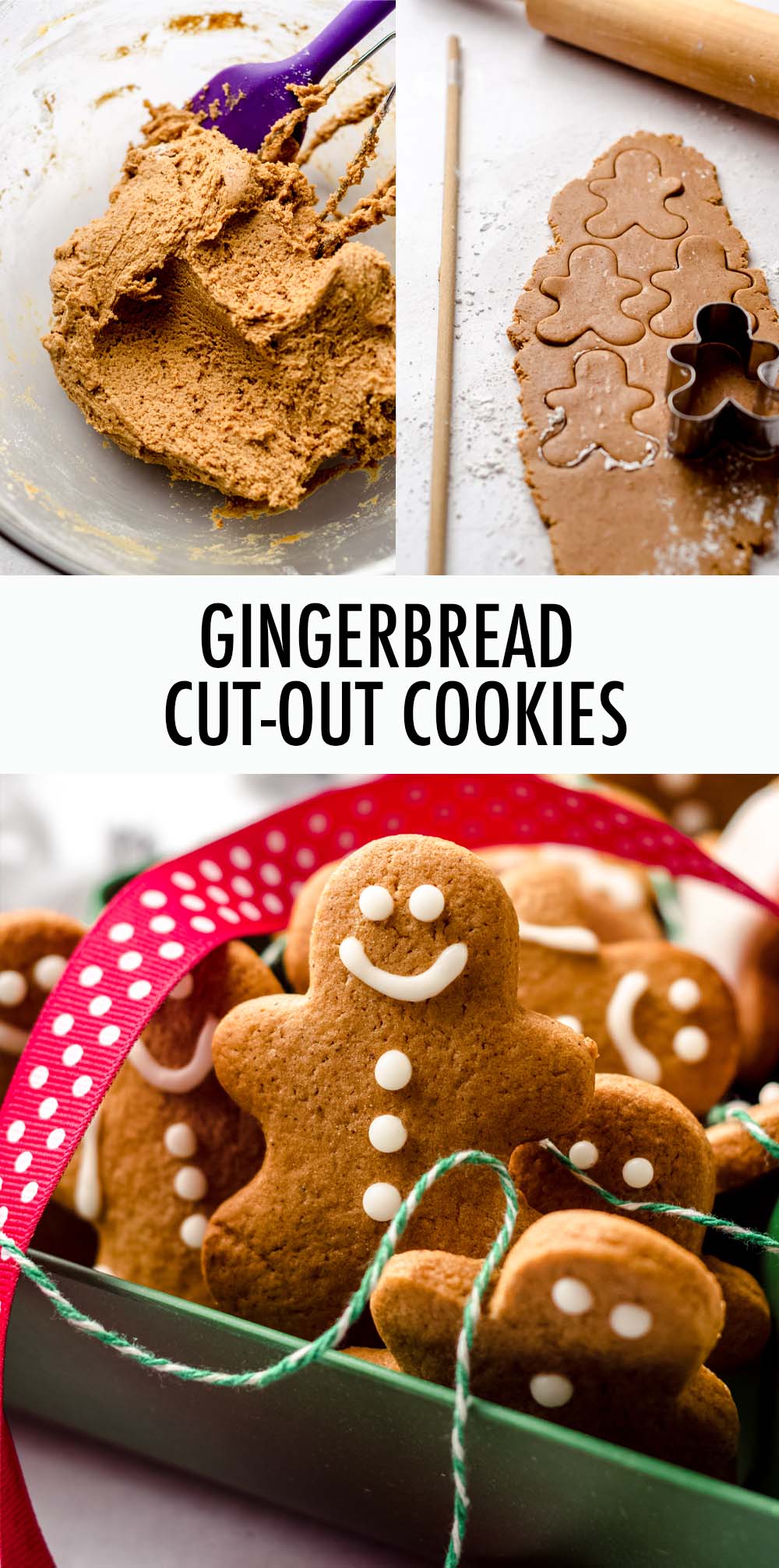 As an Amazon Associate, I earn from qualifying purchases. Read the full disclosure here.
Tender gingerbread cookies with crisp edges, lightly sweetened with brown sugar and completely loaded with spicy gingerbread flavors. Cut into your favorite holiday shapes and decorate with my go-to easy royal icing.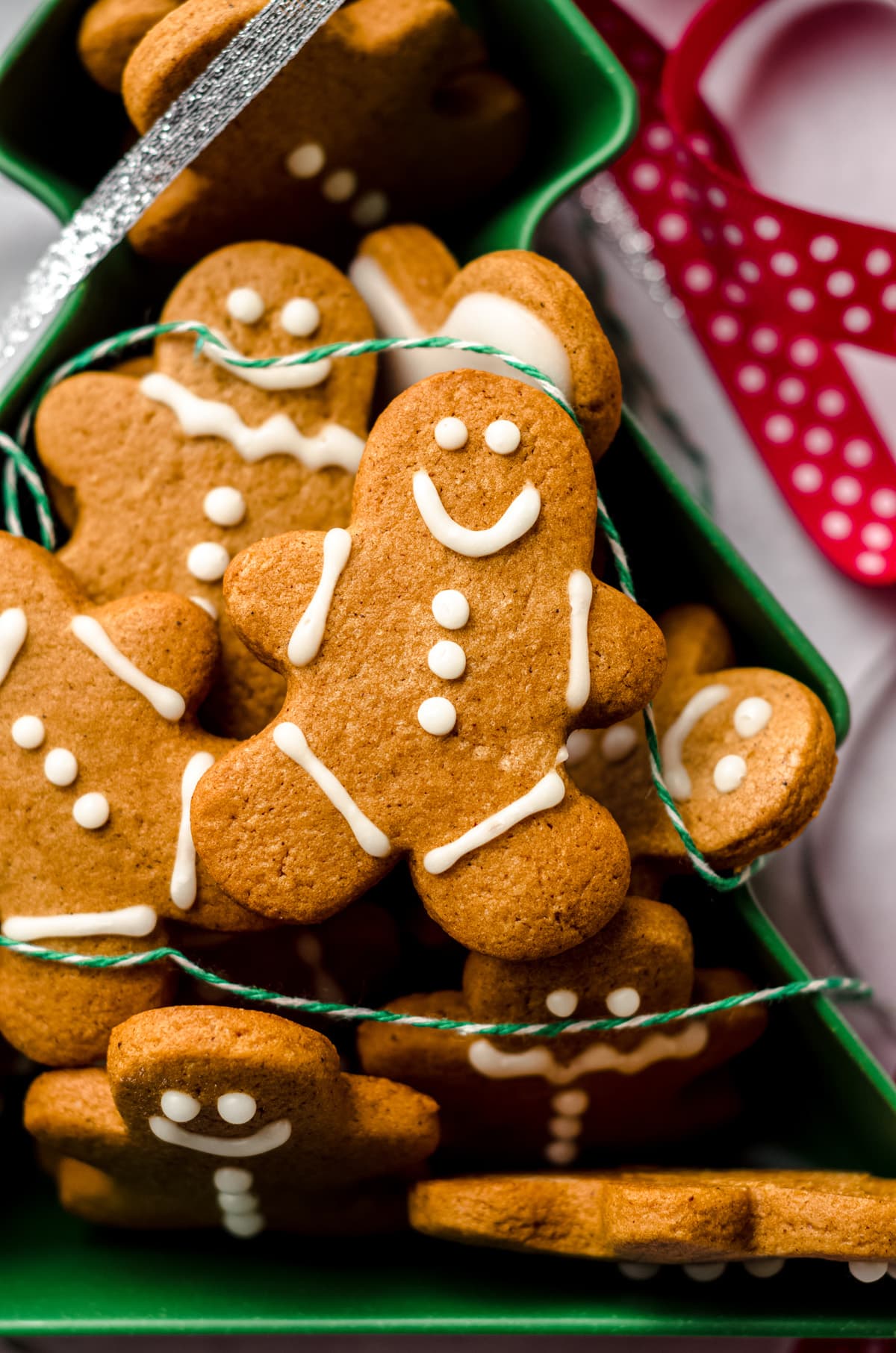 My friends, is it even the winter holiday baking season if you don't sink your teeth into some gingerbread? Whether it's in the form of actual bread like cranberry gingerbread, sipping on a cup of gingerbread coffee, or dunking gingerbread cutout cookies into said cup of coffee, is it even Christmas time?
The answer is no. No it is not. And if your house is anything like ours, you might find yourself making a batch of gingerbread cookies cut into Halloween shapes because that's what your kids ask to make for Santa every year.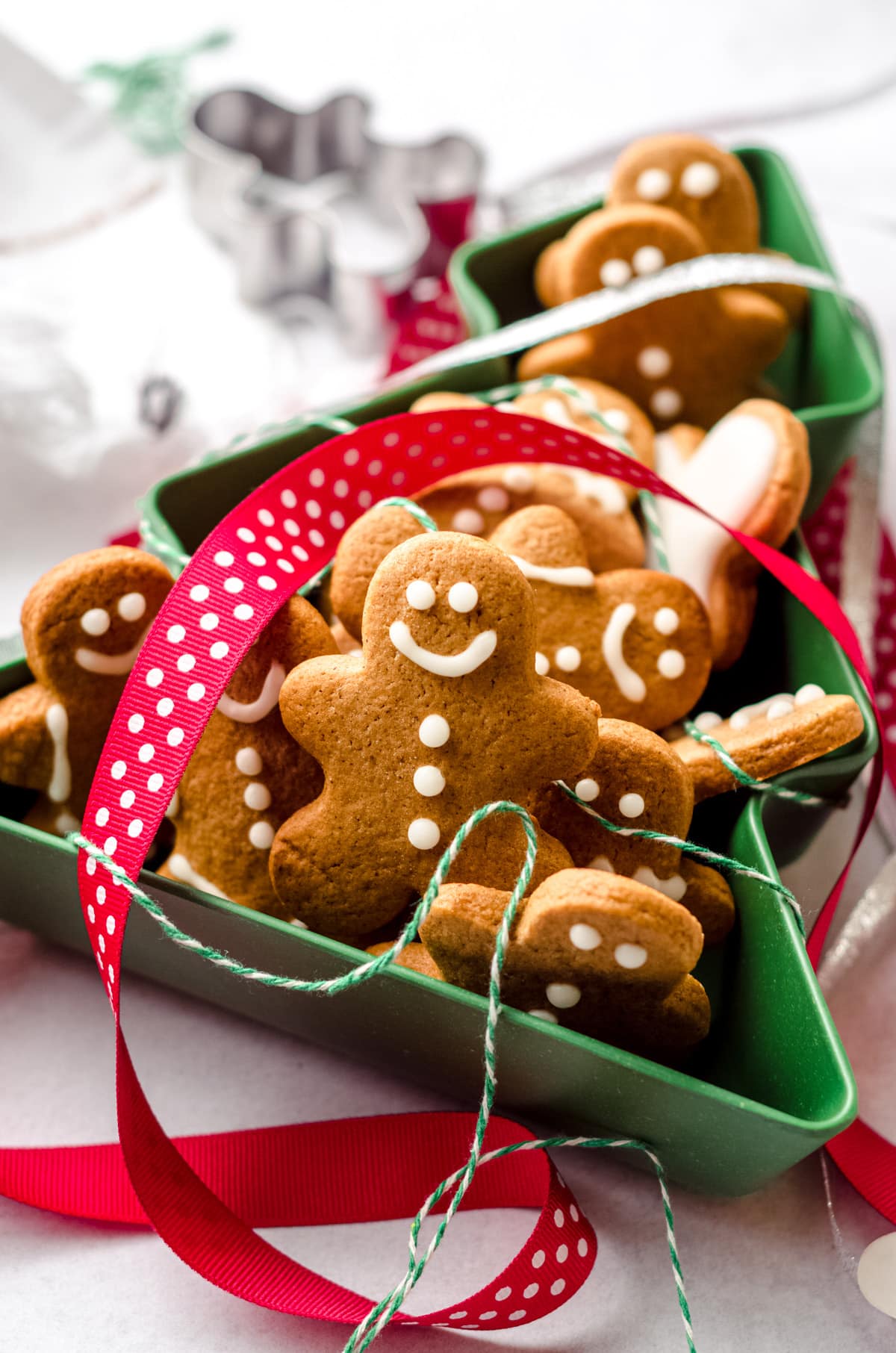 Or breaking out homemade gingerbread cookies and Easter shaped cookie cutters in the spring, because, again, kids.
Seriously. Our kids say I make the best gingerbread cookies so they jump at any chance to make them, gingerbread holiday season or not aside.
The truth is, these gingerbread cut out cookies have lived on my site since 2014 (my first 12 Days of Cookies!) and they have made the perfect holiday cookie every year since in our house and is always alongside whatever cookies I've made for my site, smiles and everything.
INGREDIENTS
The list of ingredients for the best gingerbread cookie recipe you'll ever have is a little on the longer side, but that's only because we have so many spices that bring the very best flavor to our cookies.
The main source of flavor comes from molasses (we've added it to homemade apple butter and oatmeal raisin cookies to create deep, rich flavors), but you're also going to add a whole slew of other spices to really make the gingerbread flavor pop.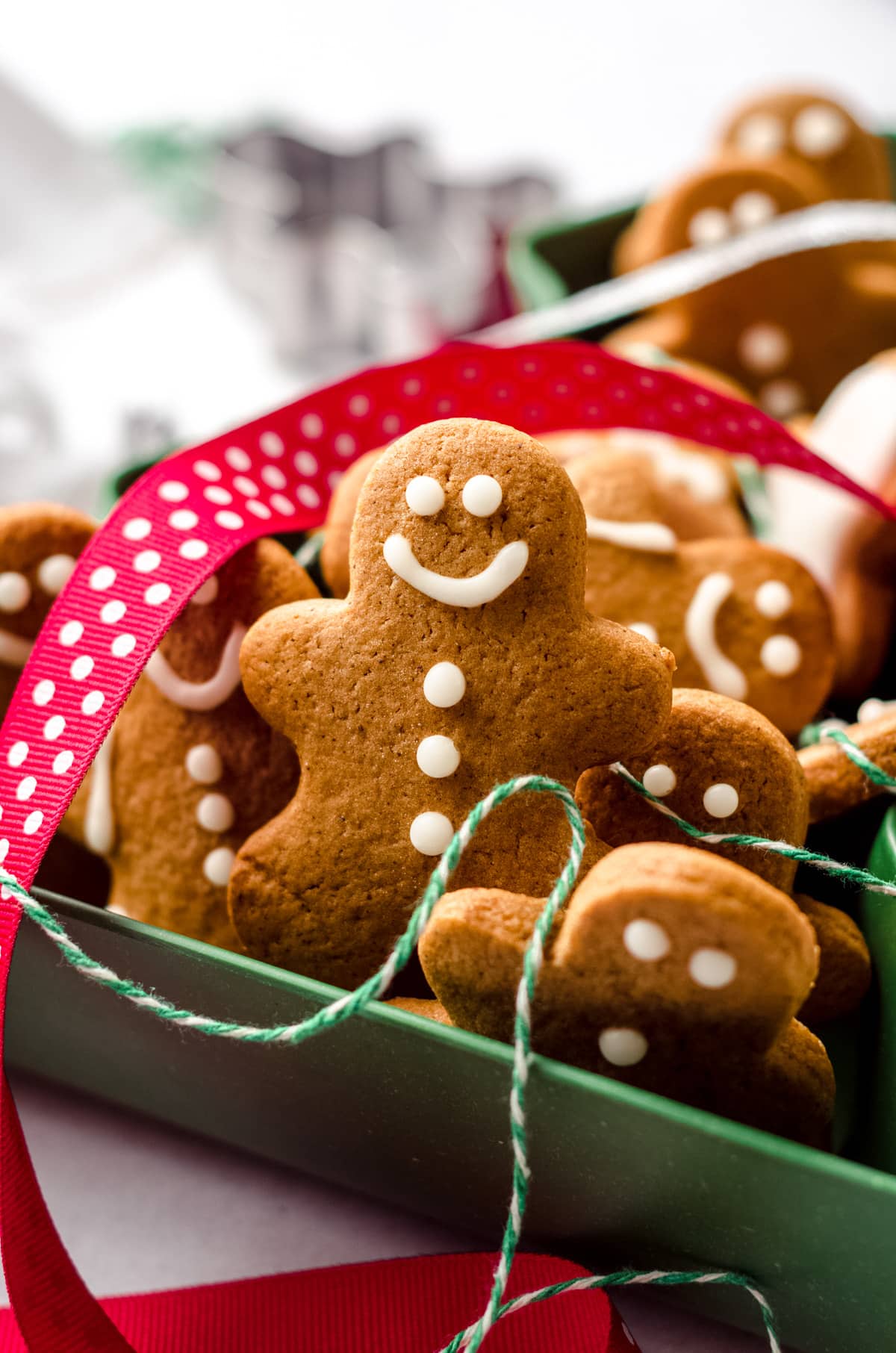 We've got our typical sources of spice (cinnamon, ginger, nutmeg, and cloves), but my secret weapon to the perfect gingerbread taste? Black pepper. Yes, you read that right. My favorite and most reliable recipe for gingerbread cut-out cookies has pepper in it.
I promise, this isn't weird. It's glorious. Just go with, mmkay?
Other dry ingredients we're working with here are flour, salt, baking soda, and baking powder.
As far as the wet ingredients go, we're working both unsalted butter as well as vegetable shortening. Why are we using both? Because gingerbread cookies are traditionally on the crunchier side.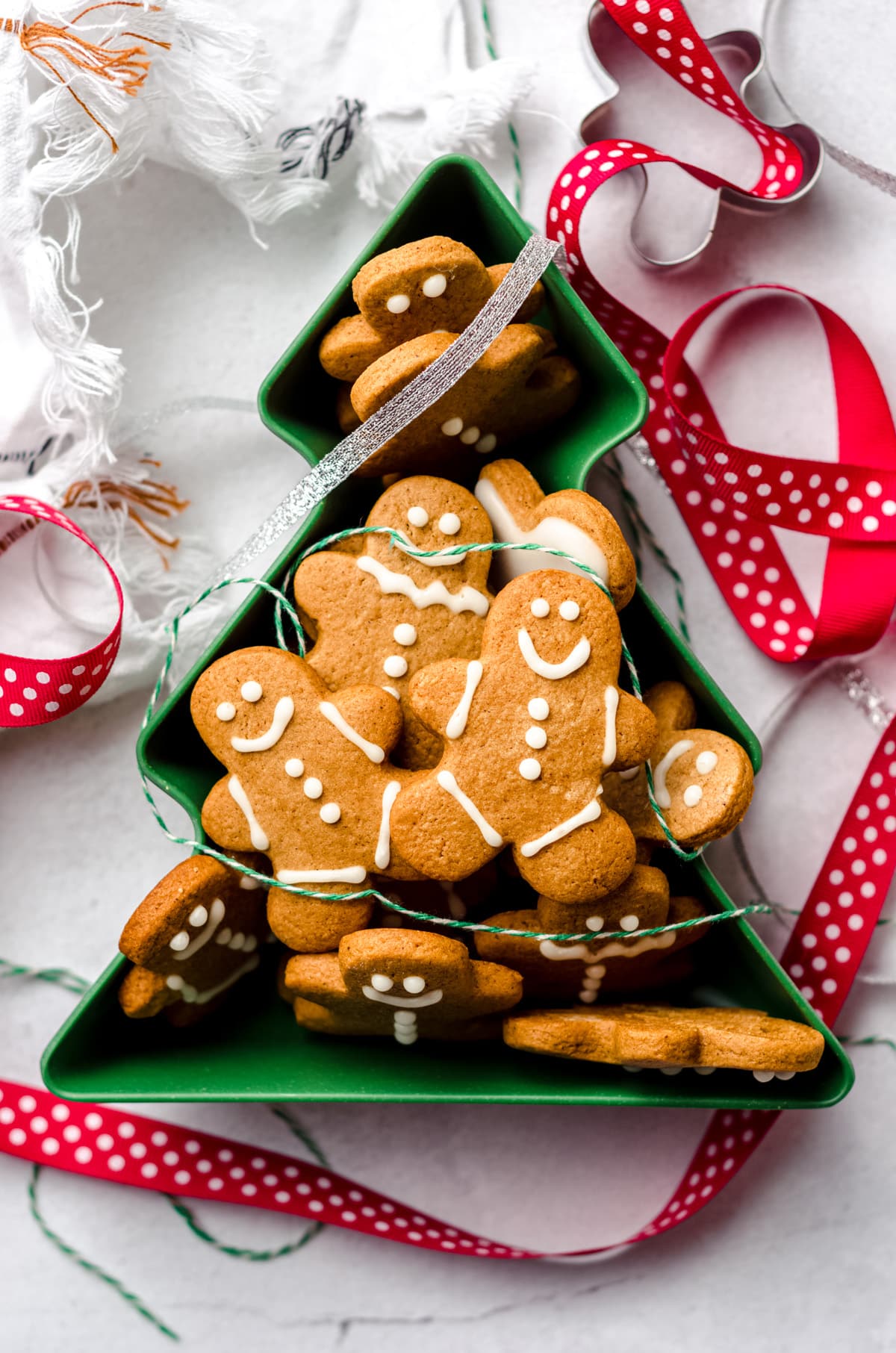 While I would not consider these crispy gingerbread cookies by any means, and I certainly wouldn't advise you to use them to make gingerbread houses, we do get a little more firmness and sharpness with the edges by adding in the shortening.
You'll see a touch of vanilla extract just to round out all the flavors, and one egg to hold the whole shebang together.
HOW TO MAKE THIS CLASSIC GINGERBREAD COOKIE RECIPE
As with all of my cut-out cookie recipes (see my classic cut-out sugar cookie recipe), we'll combine the salt and leavening agents with the smallest portion of flour suggested in the recipe, as adding extra flour to cut-out cookies can cause them to spread too much.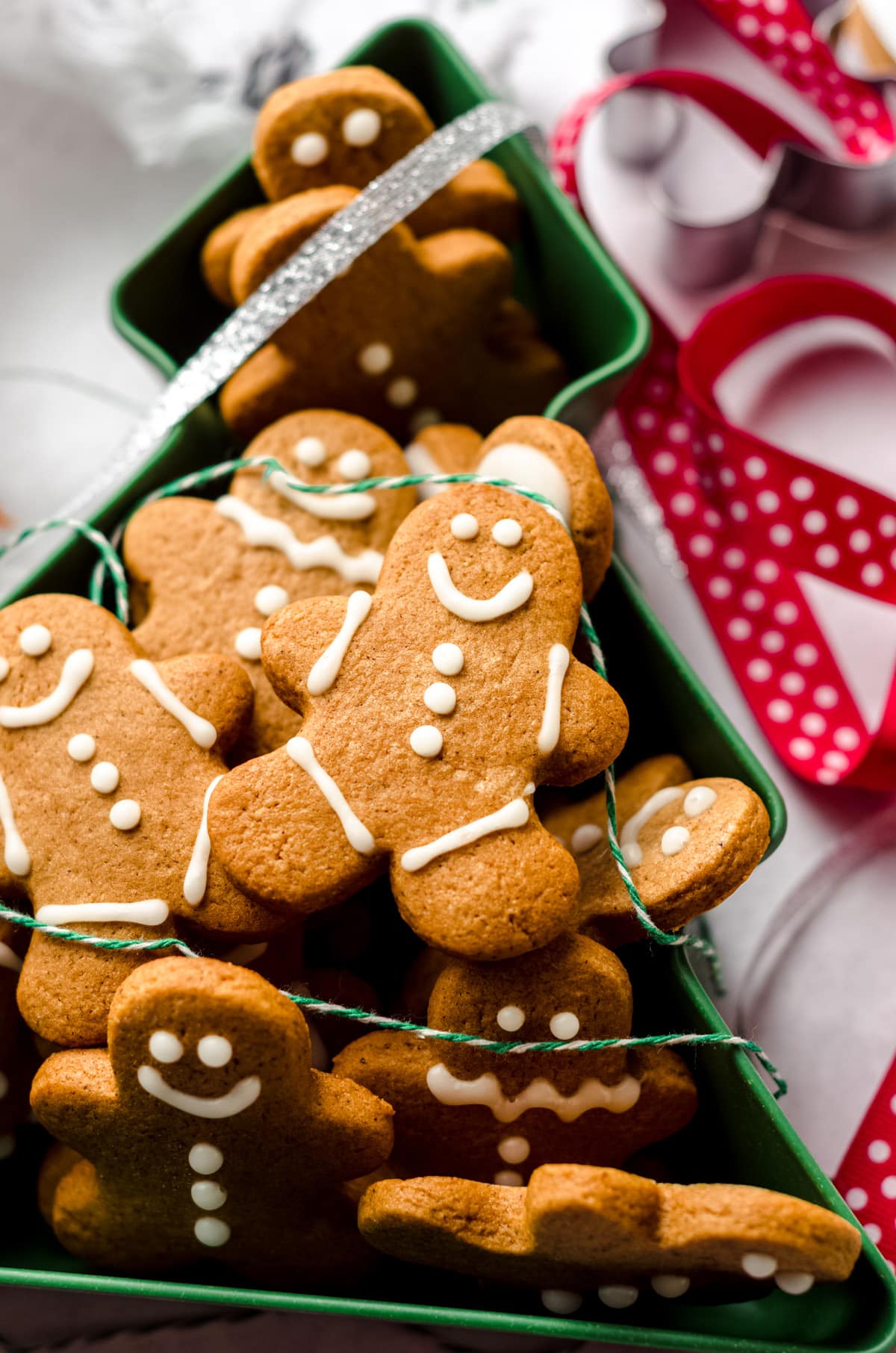 Ordinarily, I'd add spices alongside the dry ingredients, but in this case, we're adding all of the spices, including the molasses, to the butter/shortening for very good reason.
ADD THE SPICES TO THE FATS
Let's talk about fat and flavor.
Fats are what help you enjoy the taste of food. This is because fats can dissolve and concentrate flavor as well as scents. Heat releases tastes and smells into the air while cooking or baking, which then brings those molecules to your nose and mouth.
So when you smell bacon cooking, you can almost quite literally taste it. That's science, and we're using science to help us make these spicy gingerbread cookies absolutely burst with gingerbread flavor.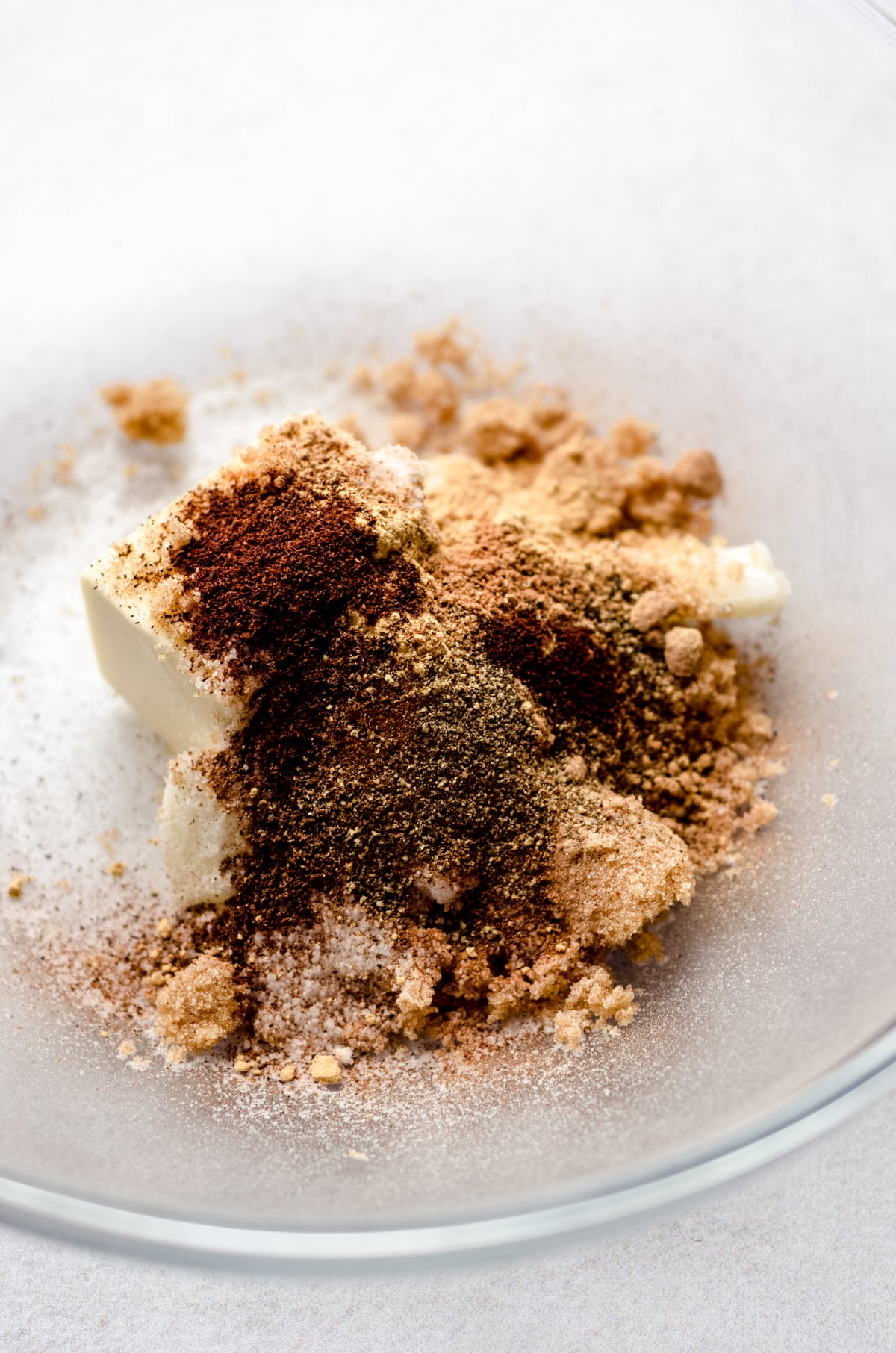 All that said, we'll be adding all of the spices to the butter and sugar mixture so that we can help get all those spices worked into the fat molecules to enhance all of the flavors that are going on.
Believe me when I say it makes a difference, and you will find these chewy gingerbread cookies have amazing texture, flavor, and make the perfect cookie for highlighting all that makes gingerbread so delicious.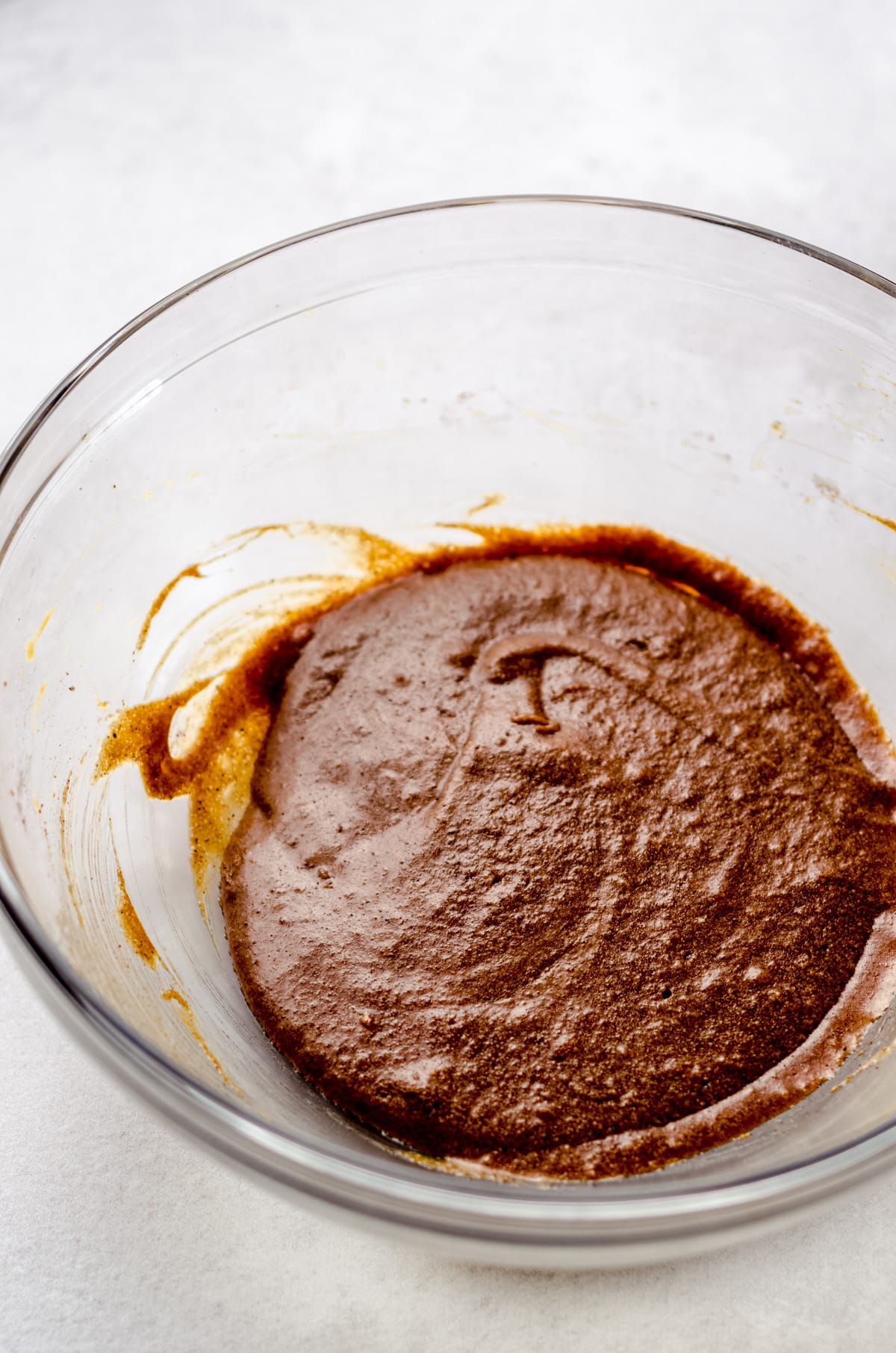 Once the spices are blended into the butter and sugar, we'll add the molasses, egg, and vanilla extract and be left with a beautiful golden brown mixture of spiced fats ready for all the dry ingredients.
BRING THE DOUGH TOGETHER
Once your wet ingredients are all together, you'll start to mix in the dry ingredients. Remember when I said we want to make sure we're not adding too much flour?
The recipe calls for 2 and ½ to 3 cups of flour, so that additional ½ cup of flour that isn't mixed in with the leavening agents and salt is only there if you need it.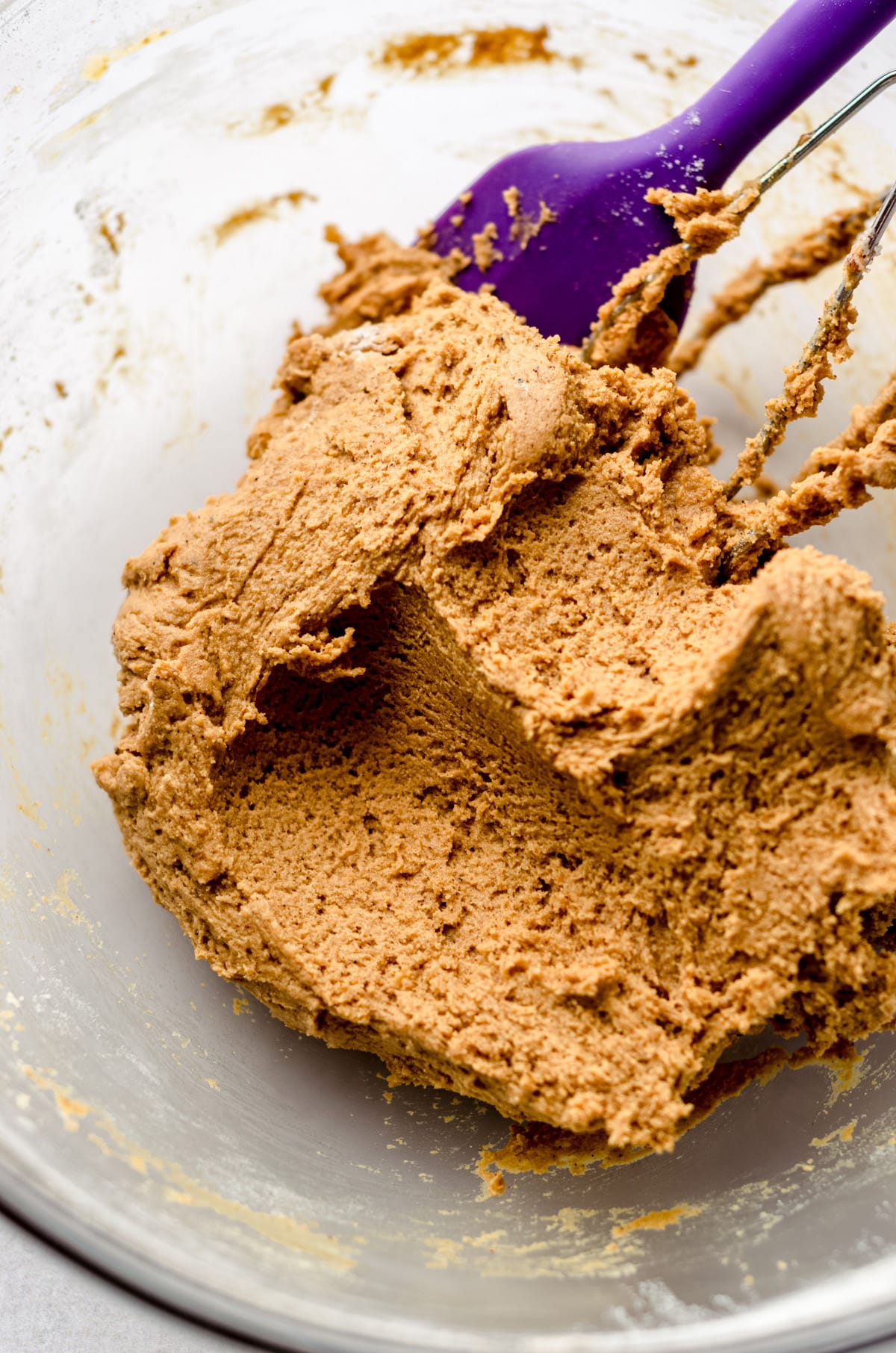 As you add the flour, you're looking for a texture of PlayDoh for the final dough: the dough will be on the thicker side when compared to rolled cookie dough batter, slightly tacky but not sticky, and firm. The dough shouldn't feel greasy, but if it does, add 1 Tablespoon of flour at a time, work it in, and test the dough again.
CHILL THE DOUGH
Once you're happy with your dough, it must chill in the refrigerator for at least 2 hours and up to 2 days.
To chill it, I prefer to split it in half, pat it into 1″ thick discs, wrap them in plastic, or cover them tightly with a kitchen towel.
I much prefer this method to putting the whole bowl in the fridge, because the discs are easier to roll out than are hunks of jagged dough.
ROLL AND CUT WITH COOKIE CUTTERS
When you're ready to roll and bake, lightly dust a flat surface with powdered sugar (my best cut-out cookie tip!) and roll your dough to ¼″ thickness and get to cutting!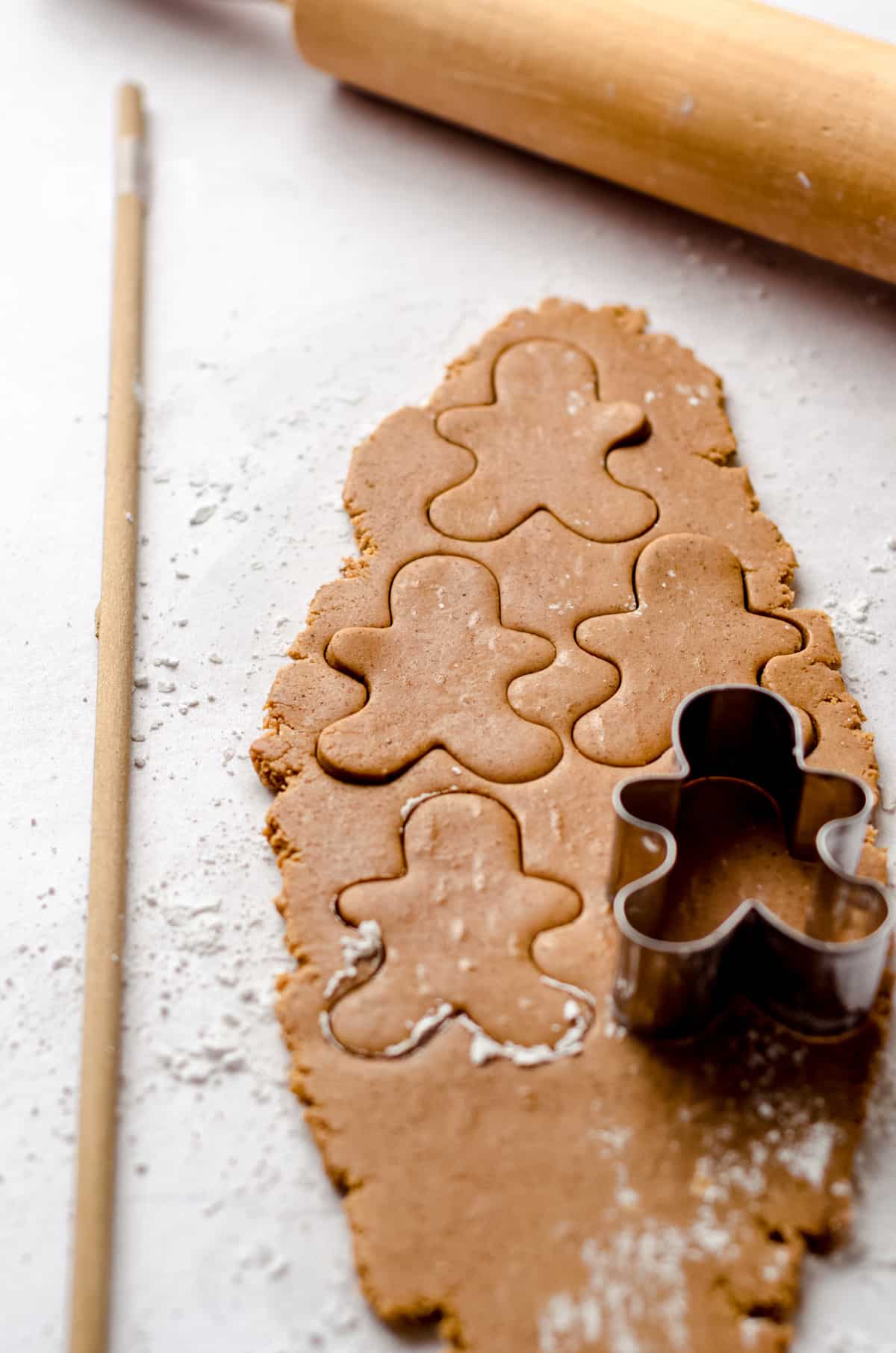 If you want your cookies on the crunchier side, you can either roll them to ⅛″ thickness or just bake your ¼″ cookies for a couple minutes longer.
Once they're cut out, put them on a baking sheet lined with parchment paper or a silicone baking mat and bake.
If your kitchen is especially warm or you're having trouble getting your cookies to keep their shape, refrigerate them on the baking sheet again for 10 minutes. If you prefer, the freezer for 5 minutes does the trick as well. Keep dough that isn't being rolled or already cut refrigerated.
BAKE TIMES
My large gingerbread people (about 3″) take 9 minutes.
Medium ones (2″) take 7 minutes.
Babies (1″) take 6 minutes.
Your best bet is to do a test run with 1 or 2 cookies. It's far better to ruin a teeny tiny batch than a big one if you find your baking times to be off from mine. If your cookies start to brown (well, dark brown), they're overdone. Or… Maybe you like them super crunchy. Like I said: test batch.
Decorate as you wish, sprinkle them with powdered sugar, or leave them plain!
DECORATE WITH EASY ROYAL ICING
For my gingerbread people, I used my famous and super easy royal icing recipe. I have a post and video all about it, and I think you'll be happy to know that icing doesn't have any meringue powder in it.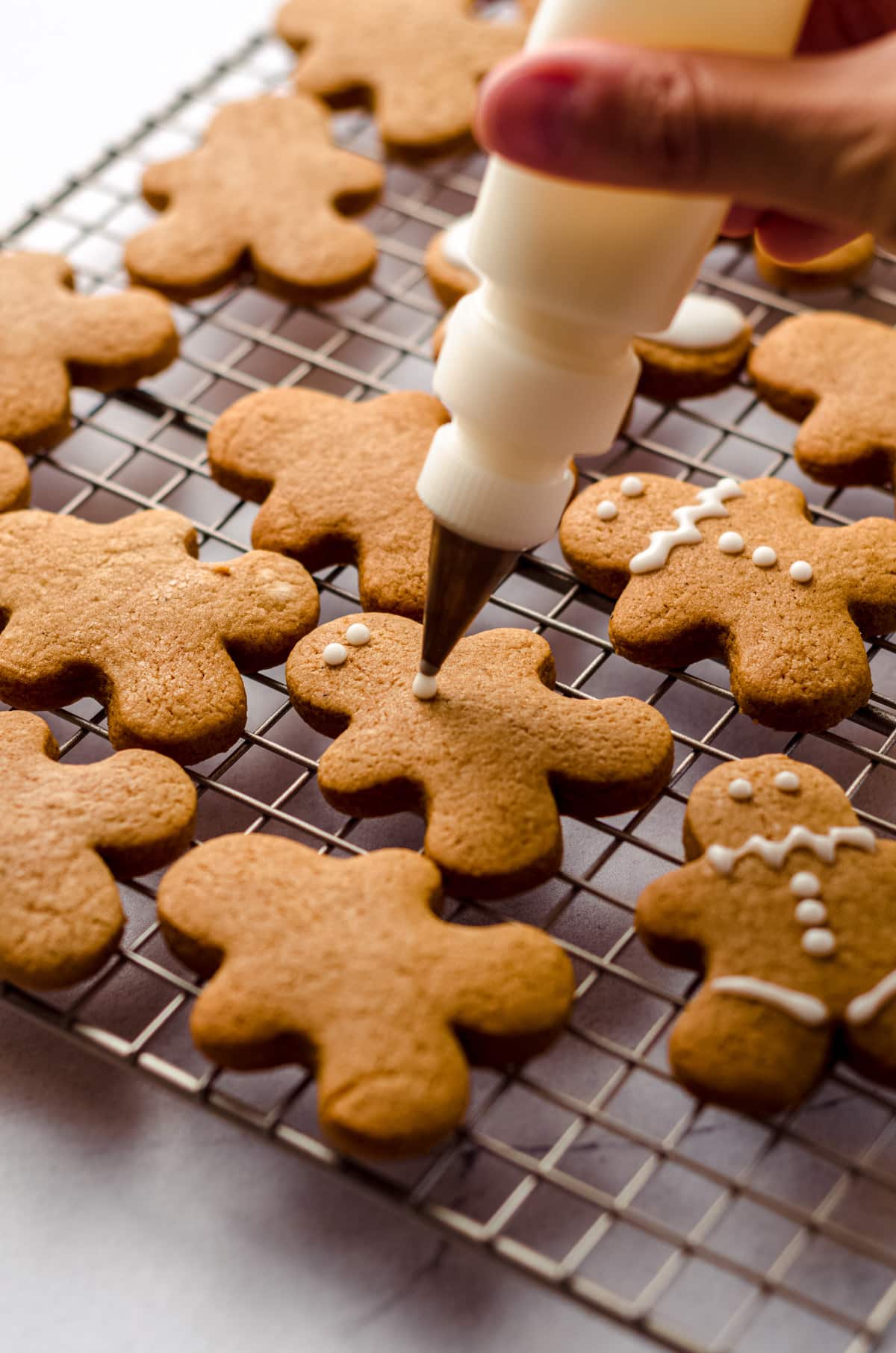 So so easy and dozens and dozens of 5-star reviews later, you'll never go back to the meringue powder kind!
WHY YOU'LL LOVE THESE COOKIES
Whether you're making gingerbread men, gingerbread women, gingerbread people, bells, Christmas trees, ghosts, or haunted houses (those last 2 might just be in our house), you're going to love the texture, flavor, and ease of this recipe.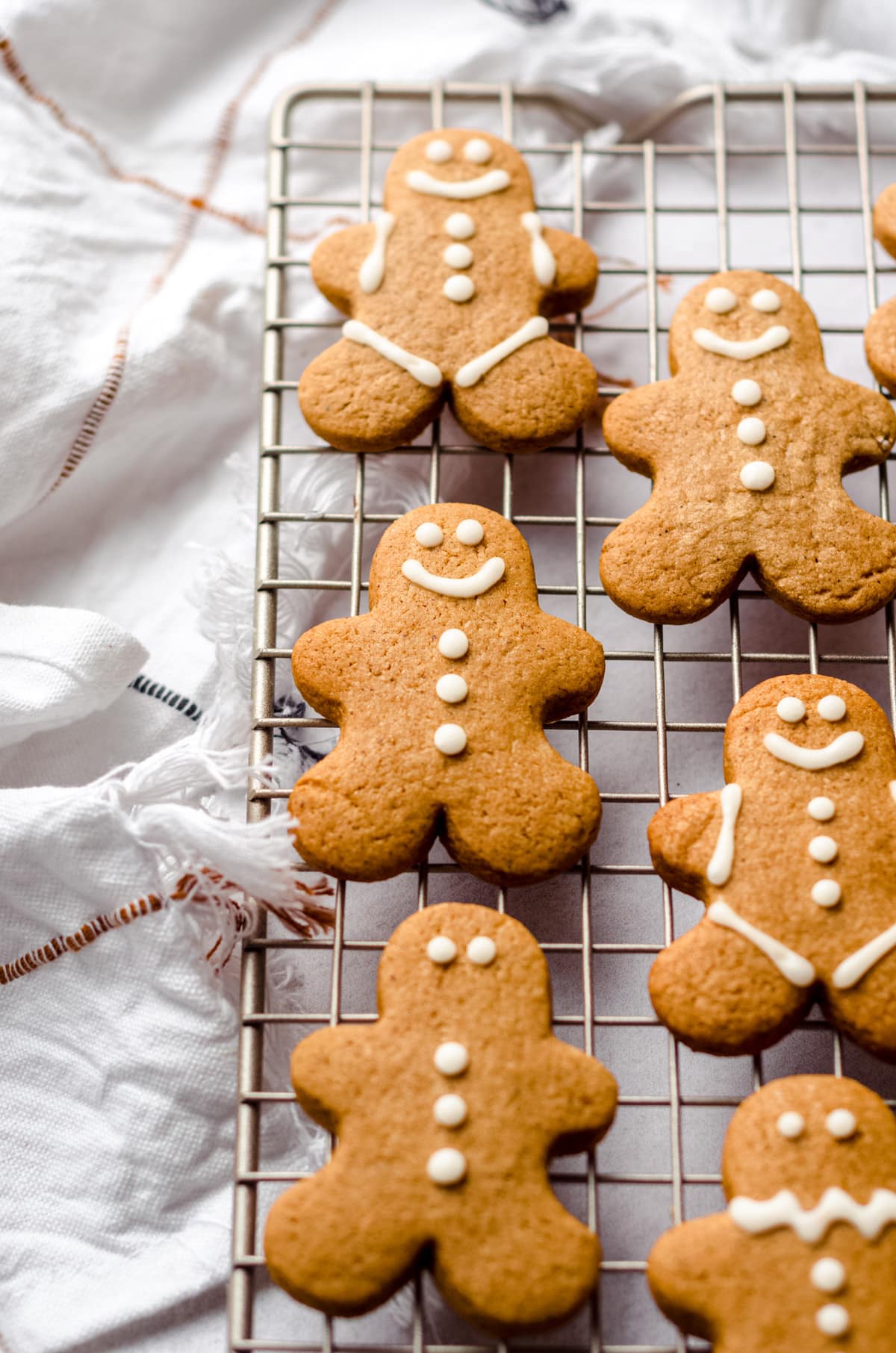 The edges are a tiny bit crunchy, and the middles are soft and slightly chewy.
It's been my favorite for a very long time and it never lets me down. I can't wait for you to enjoy it in your house, too!
The edges are a tiny bit crunchy, and the middles are soft and slightly chewy, but what I love most about them (aside from the fact that they are absolutely divine dunked in a hot cup of coffee or chai) is that they're not overly sweet.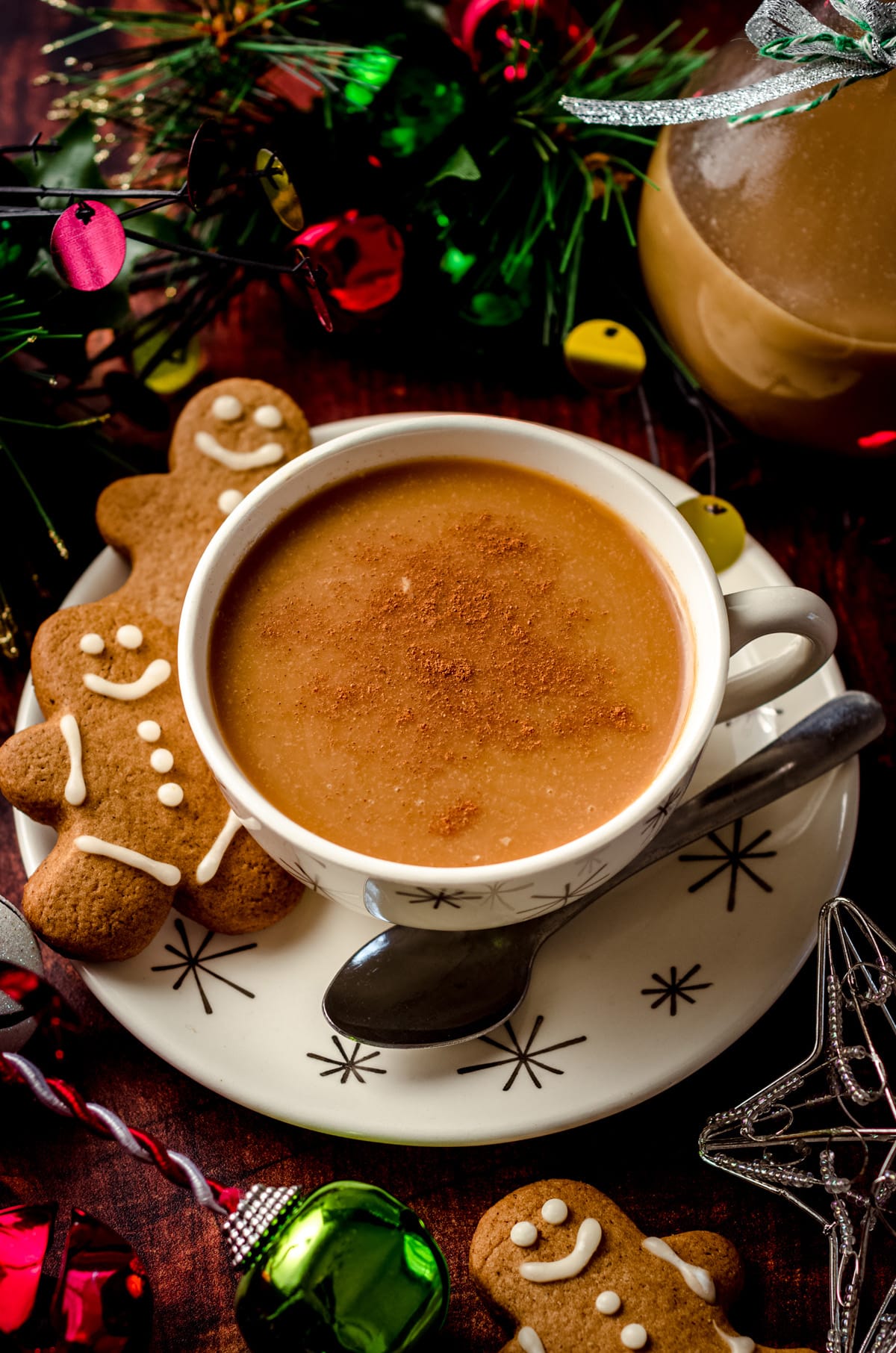 They have just the right amount of sugar to balance out the amazing spiciness that should definitely be present in a gingerbread cookie.
Love gingerbread as much as we do? Try these gingerbread recipes next: gingerbread coffee creamer, cranberry gingerbread, or gingerbread crinkle cookies.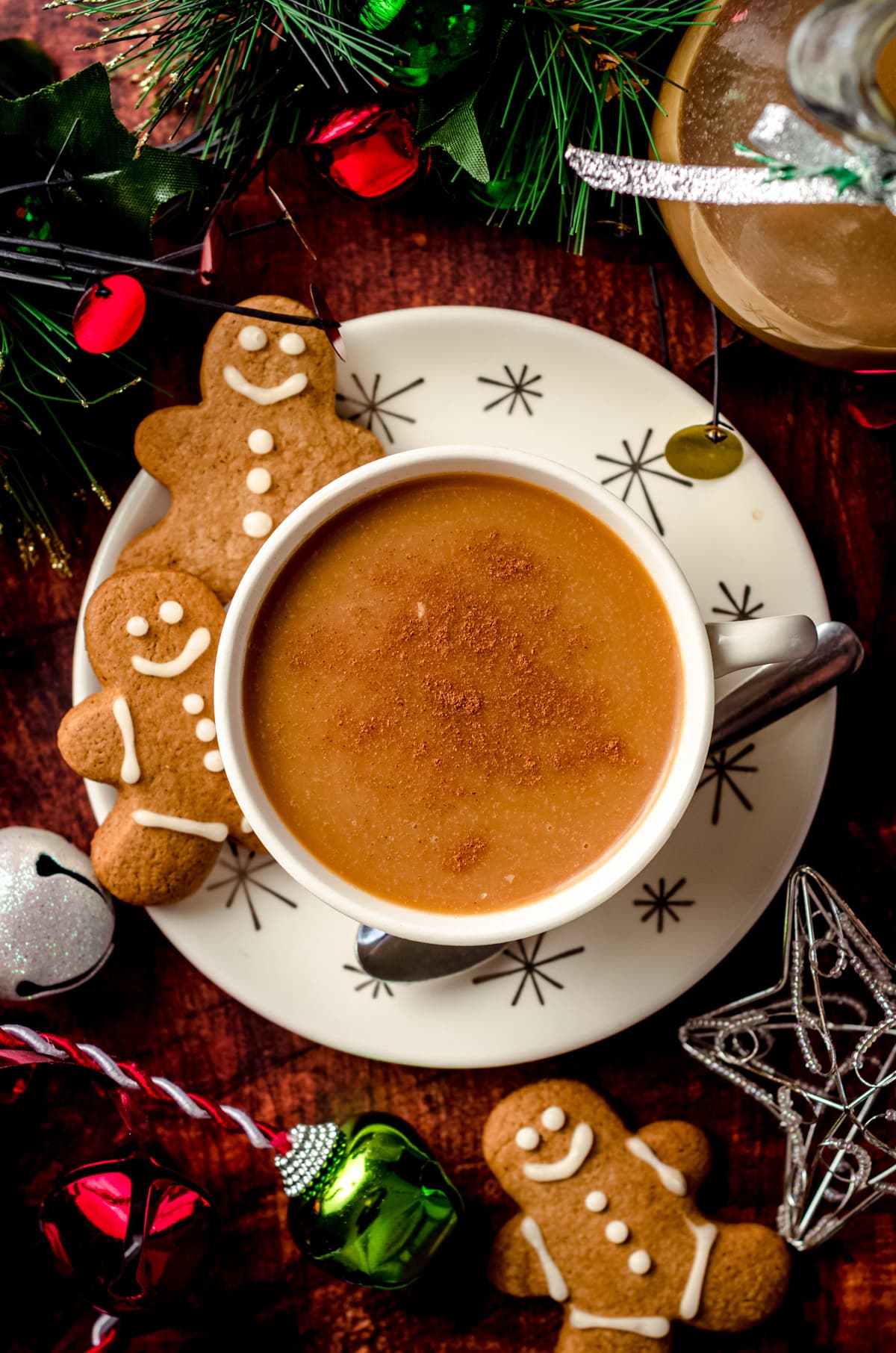 Gingerbread Cut-Out Cookies
Tender gingerbread cookies with crisp edges, lightly sweetened with brown sugar and completely loaded with spicy gingerbread flavors. Cut into your favorite holiday shapes and decorate with my go-to easy royal icing.
Ingredients
COOKIES
2 and ½ to 3

cups

(300-360g) all-purpose flour be sure to measure properly

½

teaspoon

salt

½

teaspoon

baking soda

¼

teaspoon

baking powder

6

Tablespoons

(85g) unsalted butter

softened to room temperature

2

Tablespoons

(24g) vegetable shortening

¼

cup

(50g) granulated sugar

¼

cup

(50g) firmly packed brown sugar

light or dark is fine

1 and ½

teaspoons

ground cinnamon

1

teaspoon

ground ginger

½

teaspoon

ground cloves

½

teaspoon

ground nutmeg

⅛

teaspoon

black pepper

1

large egg room temperature1

½

cup

+ 2 Tablespoons (90mL) unsulphered molasses

¼

teaspoon

vanilla extract
ROYAL ICING
2

Tablespoons

(30mL) warm water

½

Tablespoon

(10g) light corn syrup

⅛

teaspoon

vanilla extract

1 and ½

cups

(180g) powdered sugar
Instructions
COOKIES
In a medium bowl, sift together flour (beginning with 2 and ½ cups), baking soda, baking powder, and salt. Set aside.

In a large bowl with a hand mixer or the bowl of a stand mixer fitted with the paddle attachment, cream butter, shortening, and both sugars on medium speed until light and fluffy, about 3 minutes. Scrape down the sides of the bowl with a spatula. Add spices and beat again on medium speed for 1 minute.

Add the egg and beat well, scraping down sides of bowl as necessary. Add molasses and vanilla extract and beat on medium speed until everything is incorporated, scraping down sides and bottom of bowl to ensure all ingredients are combined.

Add the flour mixture slowly and mix on low speed. Add additional flour in increments of 1 Tablespoon. You may need more than 3 cups, but stop after 3 cups plus 2 Tablespoons. When dough is thoroughly mixed, separate into equal halves, pat into 1" discs, wrap with plastic wrap, and refrigerate for at least 2 hours (or up to 2 days).

When you are ready to bake your cookies, preheat oven to 375ºF (191ºC). Line 2 baking sheets with parchment paper or silicone baking mat. Set aside.

Lightly dust a flat surface with powdered sugar and roll dough to ¼" thickness (⅛" thickness if you prefer crunchy cookies). Use cookie cutters to cut out desired shapes and place on baking sheet. These cookies will not spread much, but do not crowd cookies. If your kitchen is particularly warm or you find that your cookies are spreading too much or losing shape, place baking sheet in refrigerator for 10 minutes or freezer for 5 minutes before baking.

Bake cookies for 9 minutes (3" cookies), 7 minutes (2" cookies) or 6 minutes (1" cookies). If your cookies start to turn dark brown, they're overdone. Add 2 minutes to baking time for crunchier cookies (⅛" cookies can follow listed baking times). It's best to run a "test batch" of 1 or 2 cookies to find the baking time that works best for you and your oven. Allow cookies to rest on baking sheet for 1 minute before transferring to wire rack to cool completely.

Once cookies are completely cool, decorate as desired. Cookies will stay fresh in an airtight container at room temperature up to 1 week. Cookies can be frozen up to 2 months.
ROYAL ICING
When you're ready to decorate2 your cookies, place powdered sugar in a medium bowl and set aside. In a small bowl, combine warm water, light corn syrup, and vanilla. Stir until corn syrup is dissolved.

Add sugar water to powdered sugar and stir until completely combined. Mixture will be thick. The consistency you're looking for is a slowly dripping icing that disappears into the bowl within about 12 seconds. Add water by drop if you think it's too thick. If it becomes too thin, add more powdered sugar by the teaspoon. Use immediately. If you need to wait to use your icing, cover tightly, and use within 1 day. You will need to stir it up again and possibly add more water before using.
Notes
Room temperature ingredients: when using room temperature butter, it is recommended you use room temperature eggs to ensure proper incorporation. To bring an egg to room temperature quickly, place in a cup of warm water for about 10 minutes.
Easy royal icing: see my detailed easy royal icing recipe for a video of exactly how to make this icing and what the drizzle test looks like.
Nutrition Disclosure
All nutritional values are approximate and provided to the reader as a courtesy. Changing ingredients and/or quantities will alter the estimated nutritional calculations.
Serving:
1
cookie
|
Calories:
83
kcal
|
Carbohydrates:
19
g
|
Protein:
1
g
|
Fat:
3
g
|
Saturated Fat:
1
g
|
Polyunsaturated Fat:
0.3
g
|
Monounsaturated Fat:
1
g
|
Trans Fat:
0.2
g
|
Cholesterol:
10
mg
|
Sodium:
55
mg
|
Potassium:
84
mg
|
Fiber:
0.3
g
|
Sugar:
7
g
|
Vitamin A:
65
IU
|
Vitamin C:
0.004
mg
|
Calcium:
16
mg
|
Iron:
1
mg