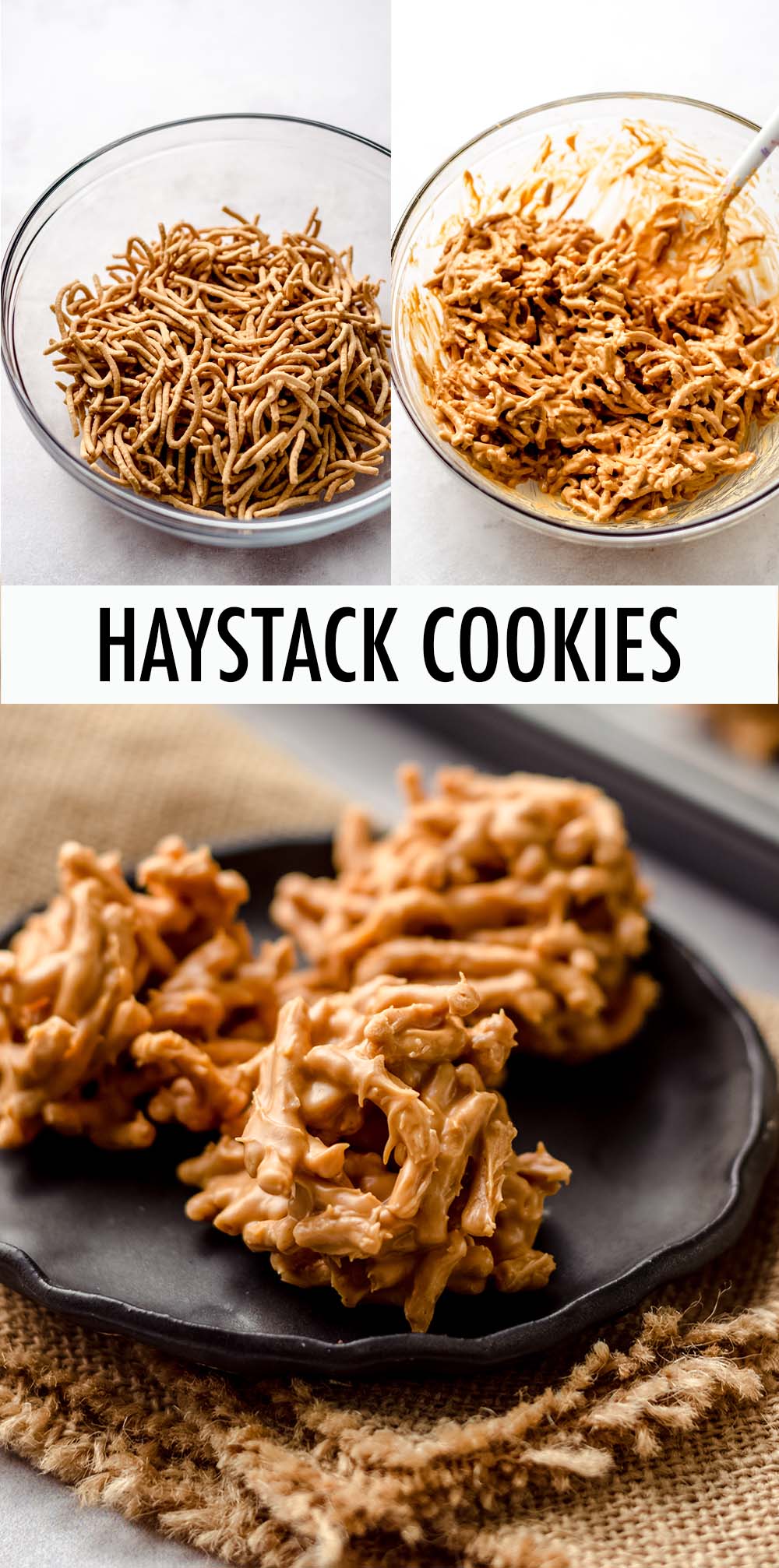 As an Amazon Associate, I earn from qualifying purchases. Read the full disclosure here.
These no bake haystack cookies are made with just three simple ingredients and are the perfect addition to cookie trays or for a quick and easy treat.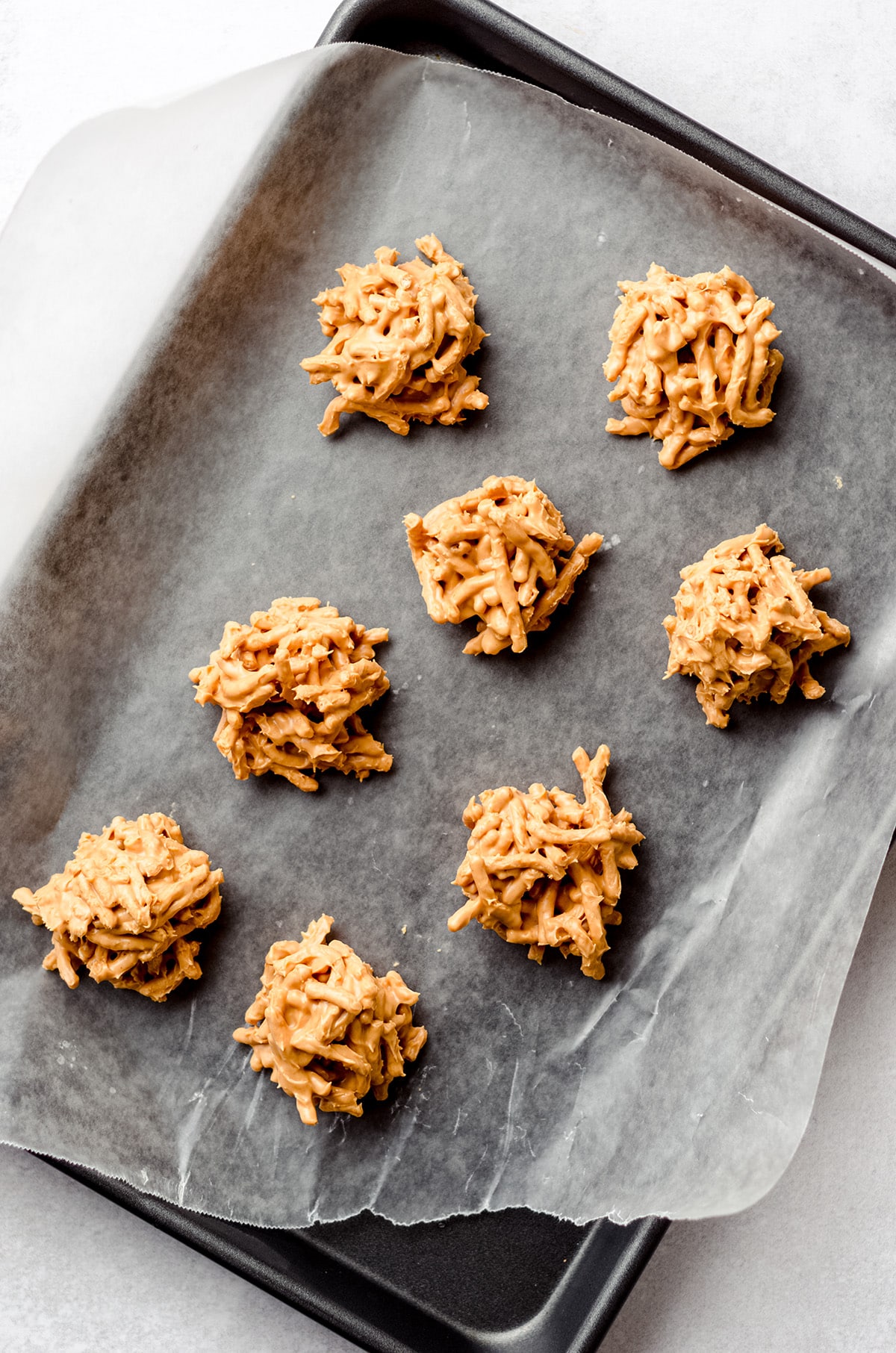 Who doesn't love the combination of sweet and salty? There is something special about the balance of the two that is just so delicious and addictive, bringing you in for more and more.
And while a few potato chips with a cookie on the side is totally delicious, the whole sweet and salty thing just gets so much better when you wrap it all up in a tiny and delicious package. Like these haystack cookies.
They get their sweetness from melted butterscotch chips, while they get their salty savoriness from the chow mein noodles and silky peanut butter. All in all, it creates the perfect balance of sweet and salty flavors that keep you coming back for more (truly– we ate these all in one day!).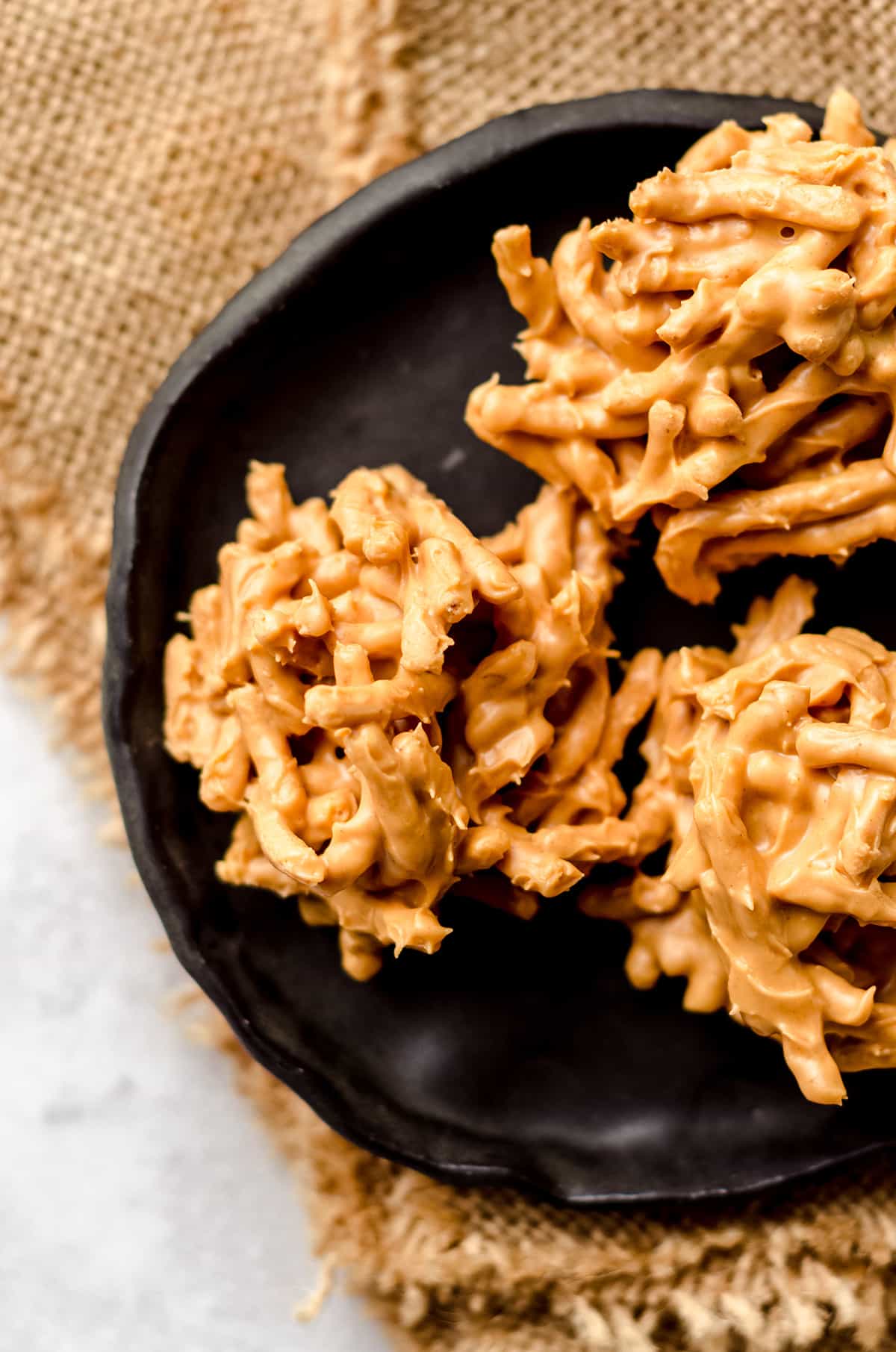 Oh and did I mention crunchy too? How can something be creamy yet crunchy, and salty yet sweet? Well, these haystack cookies make it happen (must be magic). And all with just 3 ingredients mind you!
They are the perfect addition to a cookie tray, a cookie exchange, or to melt away cravings that pop up from time to time.
And if you're a butterscotch fiend like I am, you'll want to try a few more of my butterscotch goodies. I feature butterscotch chips in my recipes for classic butterscotch cookies, copycat compost cookies, and of course, my pumpkin butterscotch bark. You may think the last one is more for Halloween/fall, but I believe pumpkin is a neutral flavor and therefore should be used year-round without question.
Capiche?
WHAT ARE HAYSTACK COOKIES?
Haystack cookies get their name from their appearance. They look like little stacks of unrolled hay, with pieces sticking out every which way. Thankfully, they taste nothing like hay, but it really is a cute name!
While this haystack cookie recipe typically rears its head as an addition to collections of Christmas cookies and the holiday season of baking, I have seen them be a huge hit year round.
Haystack cookies vary much by region or family tradition. Some haystacks recipes are more like what others might call a standard no bake cookie or a chocolate macaroon– a coconut, chocolate, and oat mixture that is mounded in a similar way to these butterscotch haystacks.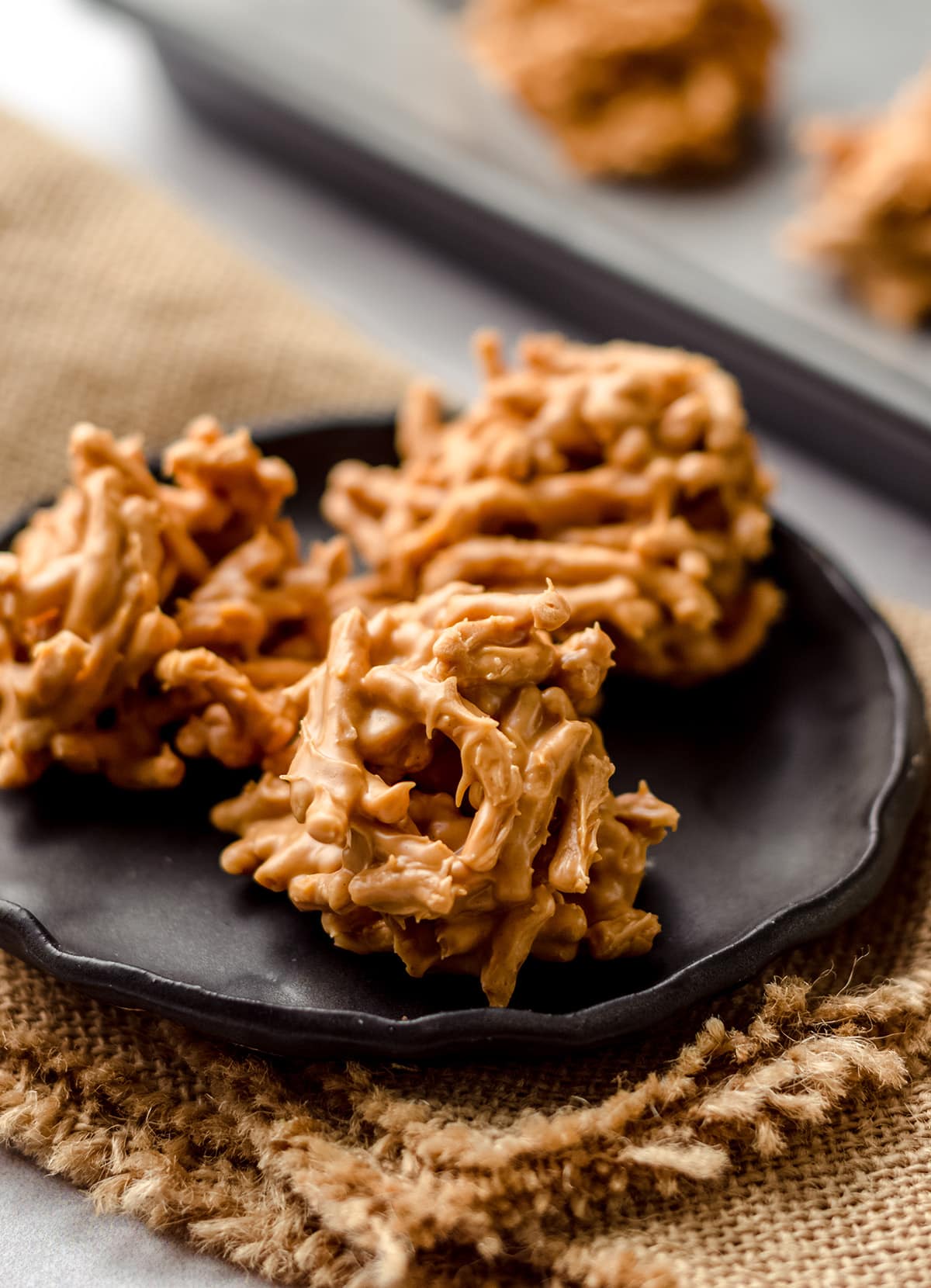 Others (like this one) use a combination of a creamy blend of melted chips and peanut butter to coat chow mein noodles. Some haystack recipes use butterscotch chips, others use chocolate chips or white chocolate chips, and some even use a combination of butterscotch and chocolate chips.
Today we're keeping it simple with this easy recipe for haystack cookies: butterscotch edition.
INGREDIENTS
As I've mentioned, you'll need just 3 simple ingredients to make these little haystacks. It really doesn't get any easier than that, does it?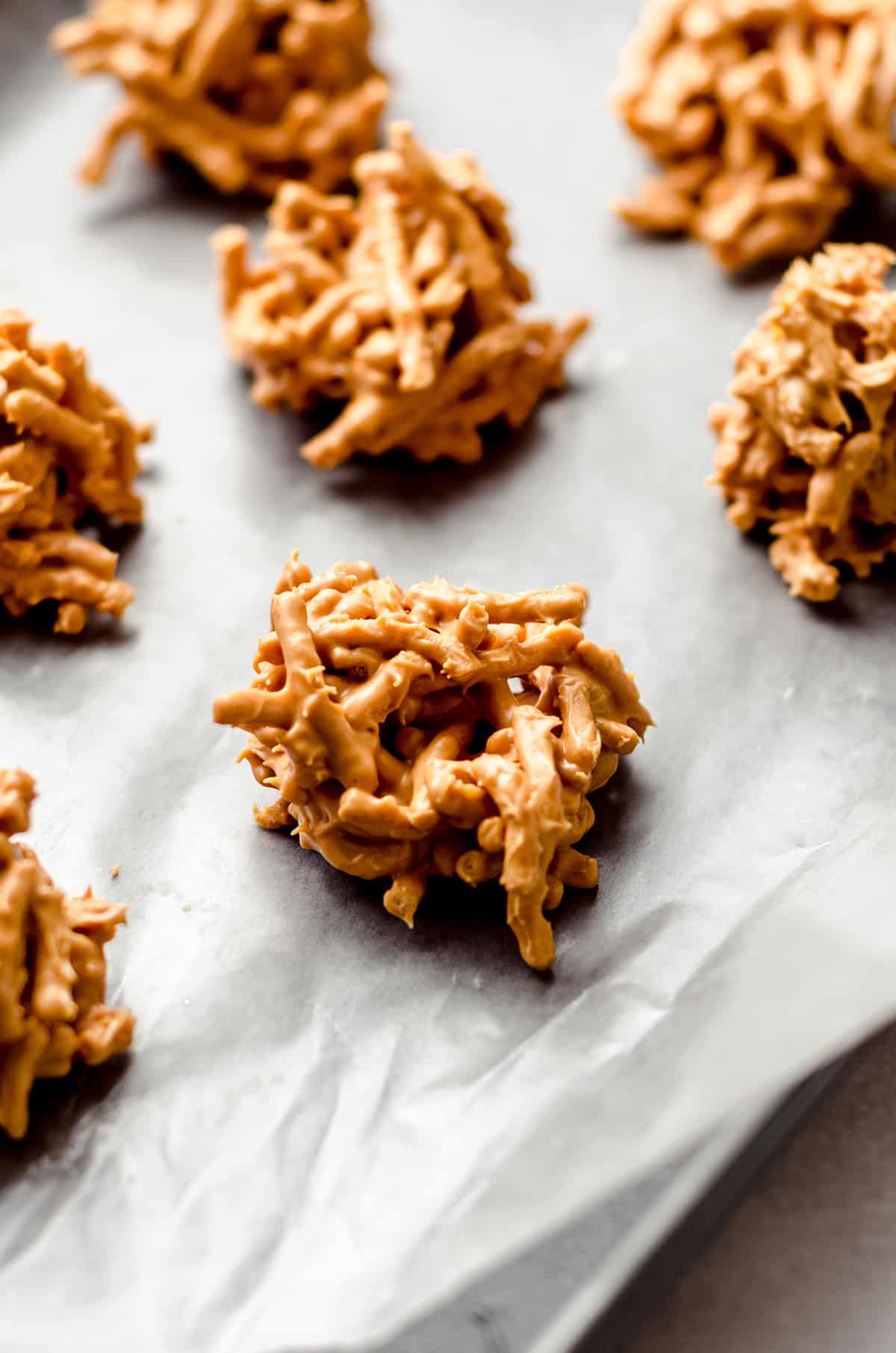 You'll need to grab some crunchy chow mein noodles, which are pretty simple to find at your major grocery chains. You'll need about 5oz (or 141g) to make a single batch of this recipe. Lucky for you, they come in 5oz canisters (in addition to other sizes).
You'll also need 1 cup of butterscotch chips and about 6 Tablespoons of your favorite creamy peanut butter (because the specific brand of peanut butter is very much a personal thing). You could actually even use crunchy peanut butter if you wanted to… And invite me over for a taste test of that one, mmkay?
And as far as equipment goes? Yeah, that's super simple too! Just a baking sheet, something to line it with, a silicone spatula, and a cookie scoop.
HOW TO MAKE HAYSTACKS
This is a no bake recipe, meaning it's pretty easy to pull together and doesn't require a lot of steps (or ingredients for that matter). There's really only one thing you need to do before getting started on your butterscotch haystack cookies, and that's line a large baking sheet with parchment, wax paper, or a silicone baking mat.
See? Easy peasy!
Once you've set your baking sheet aside, just add your chow mein noodles right into a large bowl. Then set that aside as we get started with the creamy peanut butter and butterscotch mixture.
Add your butterscotch chips to a small bowl that is safe to put in the microwave (or a glass measuring cup with a spout) and top with the peanut butter.
Heat this mixture in the microwave for 30 seconds on MEDIUM heat (you'll have to set it manually on your microwave) to prevent scorching. Then give it a stir to encourage the butterscotch chips and peanut butter to melt.
Return the bowl to the microwave and repeat in 30-second intervals until the mixture is smooth and creamy. Definitely stir way more than your instinct tells you because you can easily scorch the butterscotch chips if the heat isn't being distributed evenly.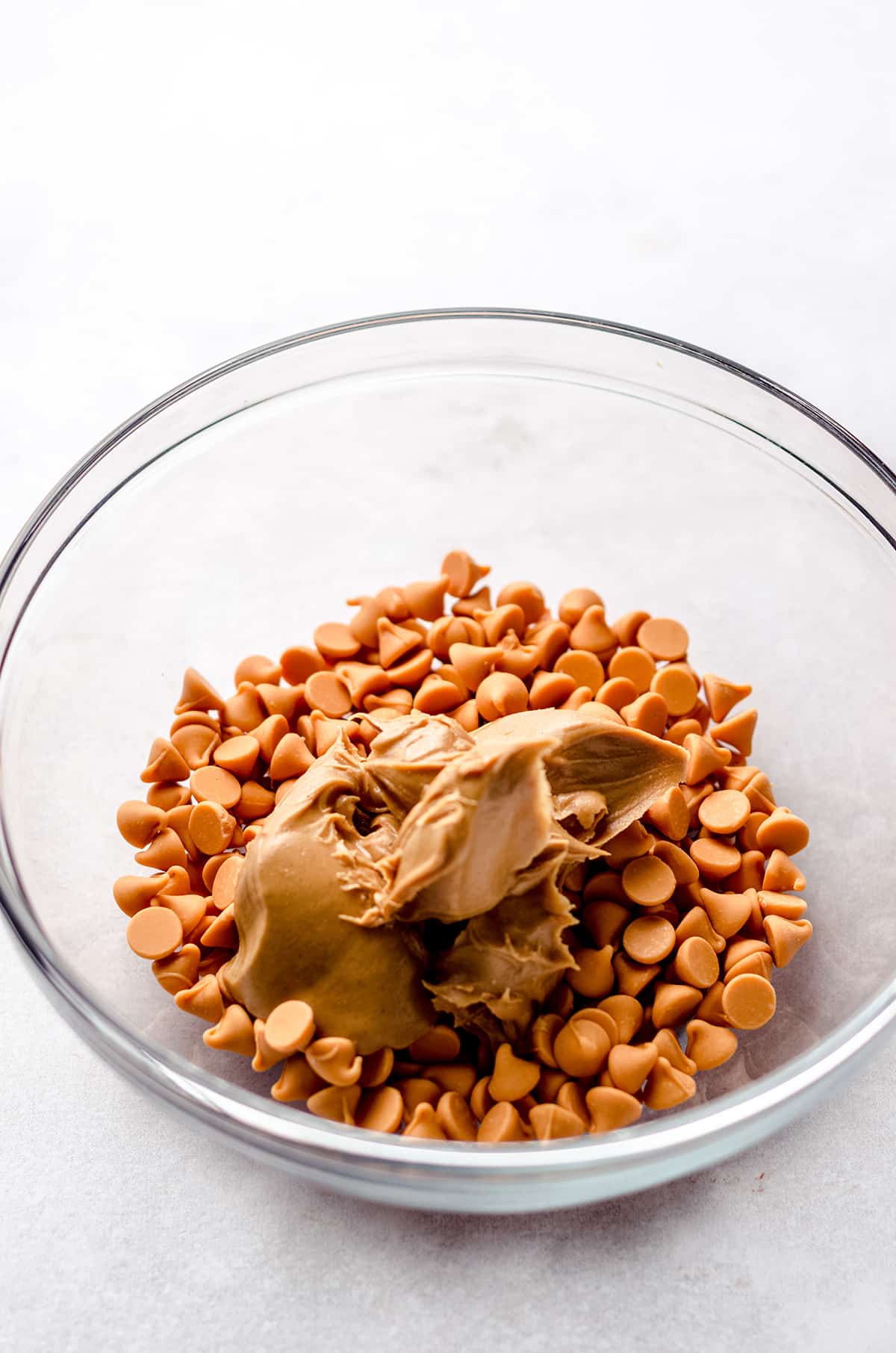 Add the butterscotch and peanut butter mixture to the bowl of chow mein noodles (and be forewarned– if you try to sneak some of that creamy goodness on your finger, you WILL be burned– ask me how I know).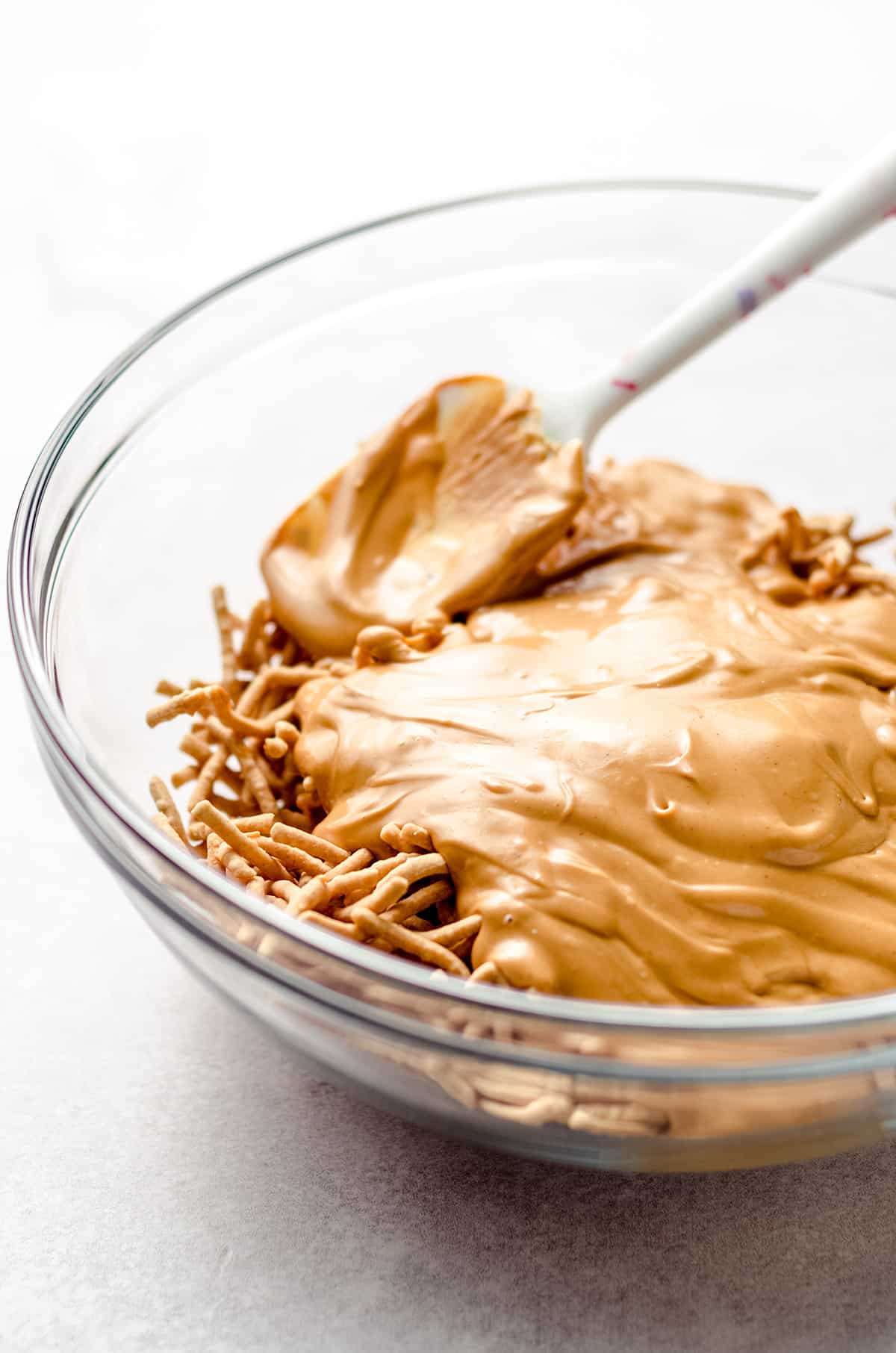 Then use a silicone spatula to stir everything together until all the noodles are coated and there are no large clumps of either noodles or peanut butter/butterscotch.
I recommend using the spatula to crush the noodles a bit as your stir, as breaking them into smaller pieces helps them scoop into cookies just a tad easier. You don't want to totally crush them, just break them down a little bit.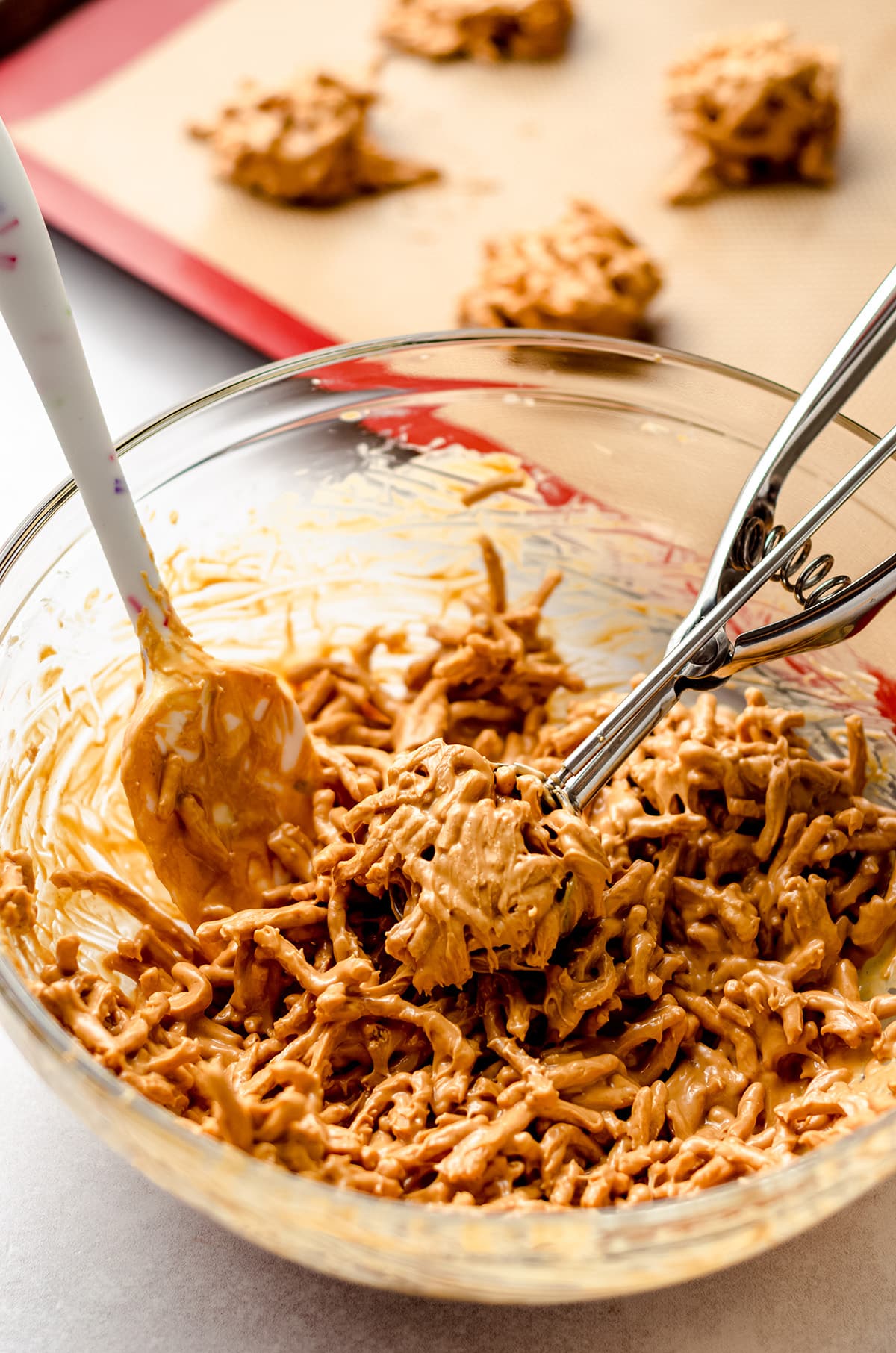 Use a cookie scoop with a trigger (I use this #50 large cookie scoop) to portion out mounds of the mixture onto the parchment-lined baking sheet. You could use a smaller cookie scoop if you like, but I like the larger cookies you get from using a large scoop.
Alternatively, if you don't have a cookie scoop, you can use a ¼ cup measuring cup or two Tablespoons' worth to give them a roughly similar shape (just make sure to grease it first).
Want to get festive? Add some holiday sprinkles to these easy cookies. You'd be surprised what some festive sprinkles can do for a vibe! Plus… Have them all year round and match your occasion. Yes. Do that.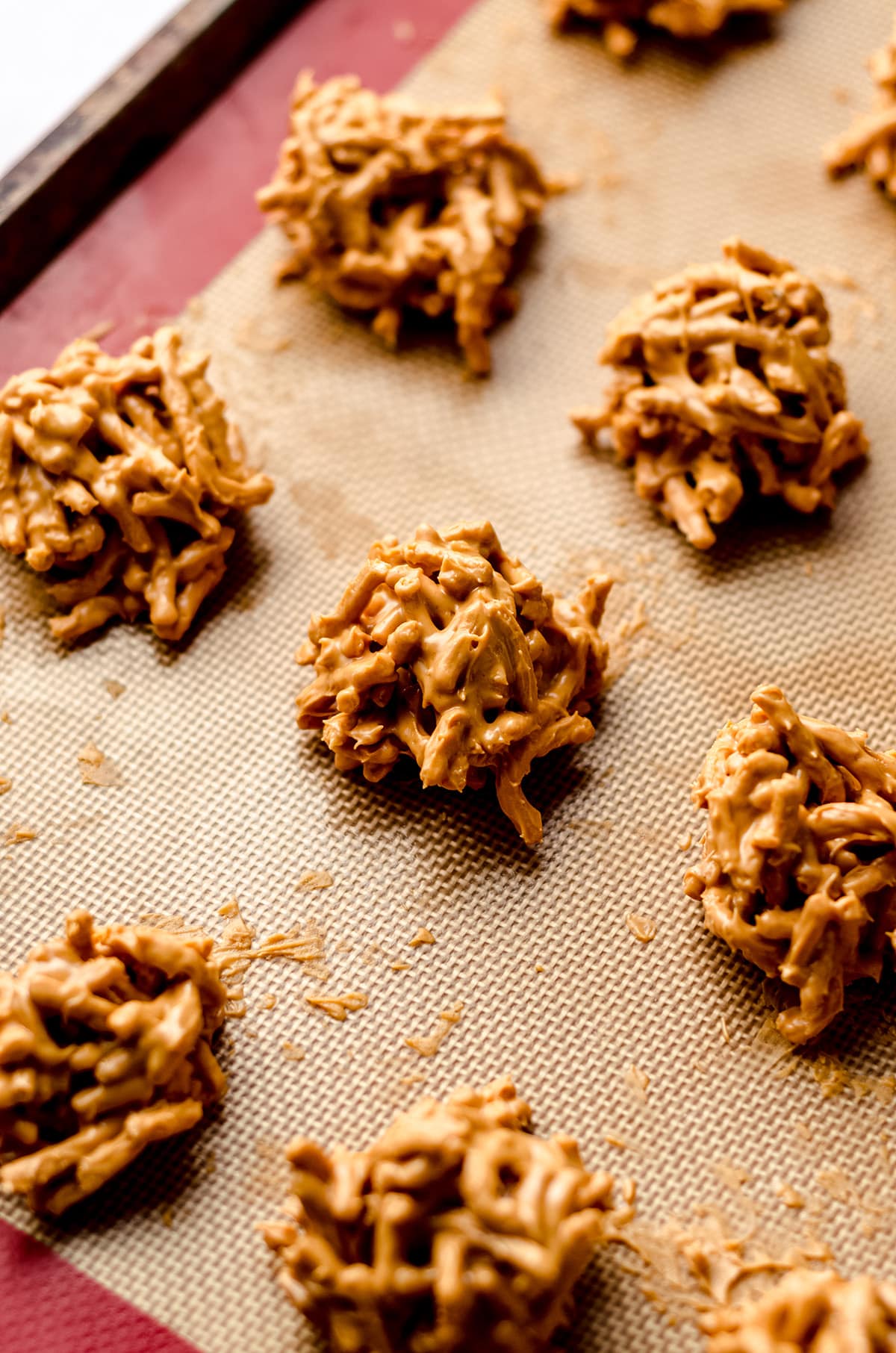 Since the cookies themselves aren't like traditional cookie dough, you'll need to press the mounds together a bit just to help them keep their shape. Otherwise, they can look a little odd there on the baking sheet and may not stay together quite as easily.
ALLOW TO HARDEN
After all of the cookies have been scooped and shaped, just allow them to set on the baking sheet to firm up. Once the coating is firm (about 2-3 hours), you can transfer them to storage containers (and sneak a few to enjoy).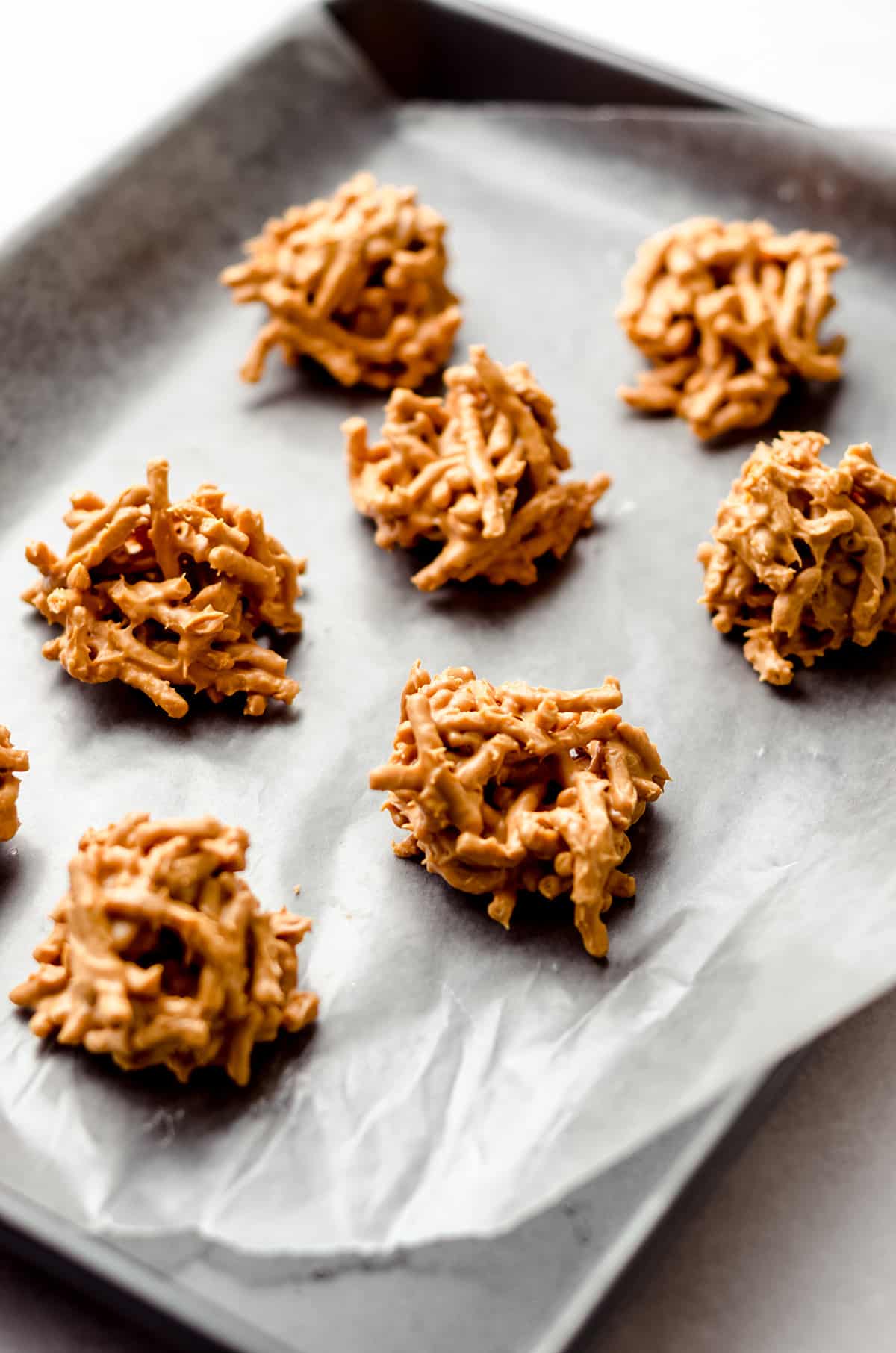 STORING YOUR COOKIES
I recommend storing your cookies in between layers of parchment or waxed paper just to prevent them from sticking together, but who really minds a big mutant cookie? Not I!
Once you've placed the hardened haystack cookies in containers, you can store them (covered tightly) at room temperature for up to 1 week. They do store longer in the fridge, but their texture is much better at room temperature so my recommendation is to keep them on the counter.
If now you've now fallen in love with the idea of easy no bake goodies, and you're looking for some more treats to fill your dessert trays, you have to try a few of my favorites. These include the ever-versatile cream cheese mints, my adorable no bake cheesecake bites, and of course decadent (and super easy) s'mores fudge.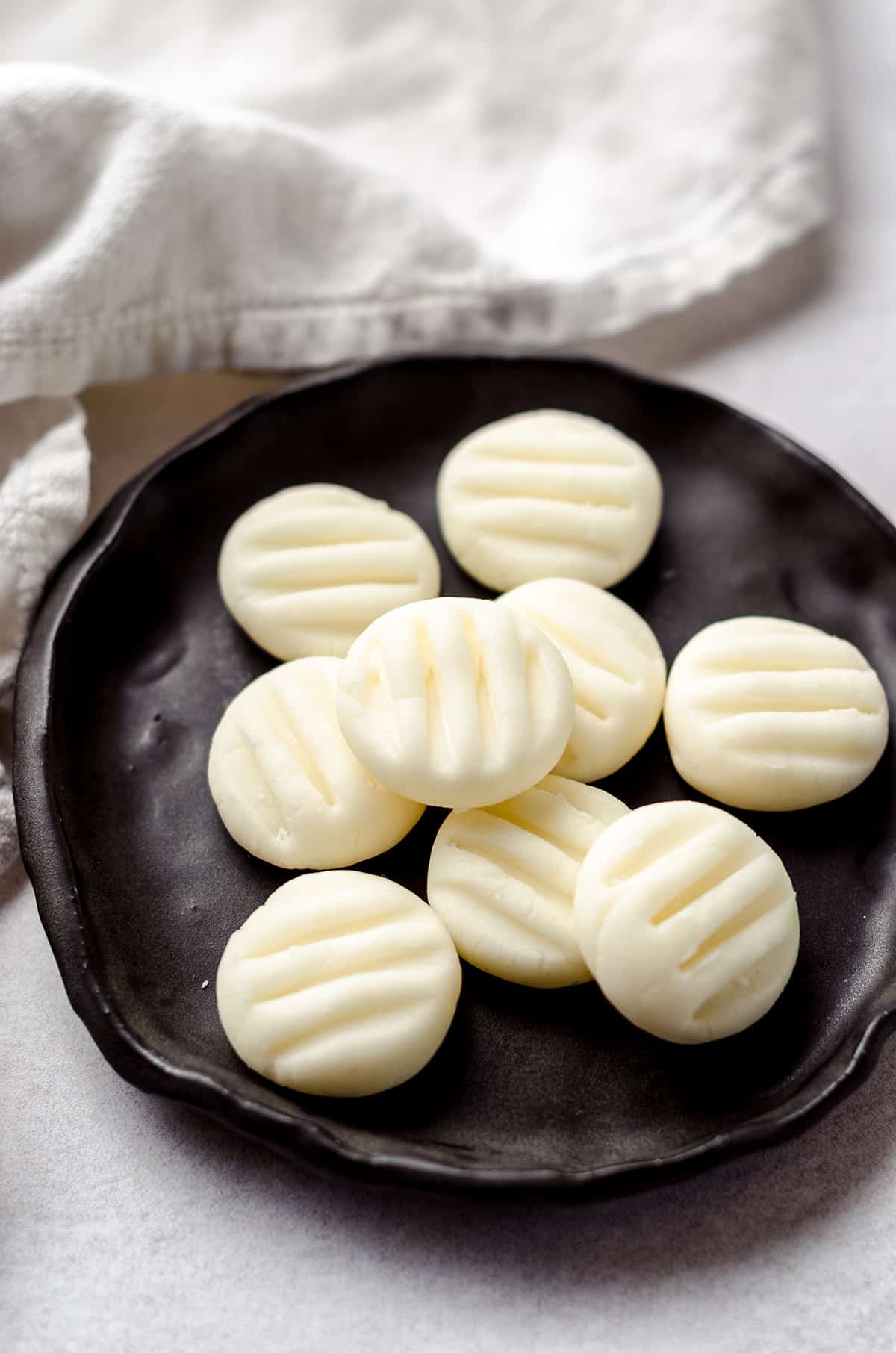 Haystack Cookies Recipe
These no bake cookies are made with just three simple ingredients and are the perfect addition to cookie trays or for a quick and easy treat.
Ingredients
5

ounces

(141g) chow mein noodles

1

cup

(170g) butterscotch chips

6

Tablespoons

(96g) creamy peanut butter1
Instructions
Line a large baking sheet with parchment paper or a silicone baking mat. Set aside.

Add the chow mein noodles to a large bowl. Set aside.

In a small microwave-safe bowl or a glass measuring cup with a spout, combine the butterscotch chips and peanut butter. Heat in the microwave in 30 seconds increments on MEDIUM heat, stirring after each increment, until mixture is smooth. Take care not to scorch the butterscotch chips by utilizing the stirring more than you think you need to (distributing the heat will help the chips melt).

Pour the butterscotch and peanut butter mixture over the chow mein noodles, then stir with a large spatula until everything is coated. Use the spatula to crush the noodles as you stir, breaking them into smaller pieces but not totally mashing them.

Use a cookie scoop to portion out mounds of the coated chow mein noodles onto the prepared baking sheet. You can use any kind of scoop size you like, but I used this #50 cookie scoop, which is what I use for all of my cookies. Press the mounds together a bit (they will land a little haphazardly on the baking sheet after scooping). Allow the haystack cookies to set on the baking sheet until coating is firm, about 2-3 hours. Store leftovers covered tightly at room temperature up to 1 week.
Notes
Peanut butter: do not use natural peanut butter. You can also use crunchy peanut butter if you want salty peanuts in the mix.
Nutrition Disclosure
All nutritional values are approximate and provided to the reader as a courtesy. Changing ingredients and/or quantities will alter the estimated nutritional calculations.
Serving:
1
haystack
|
Calories:
97
kcal
|
Carbohydrates:
15
g
|
Protein:
2
g
|
Fat:
3
g
|
Saturated Fat:
1
g
|
Polyunsaturated Fat:
1
g
|
Monounsaturated Fat:
1
g
|
Cholesterol:
1
mg
|
Sodium:
109
mg
|
Potassium:
30
mg
|
Fiber:
1
g
|
Sugar:
8
g
|
Vitamin A:
9
IU
|
Calcium:
3
mg
|
Iron:
0.3
mg