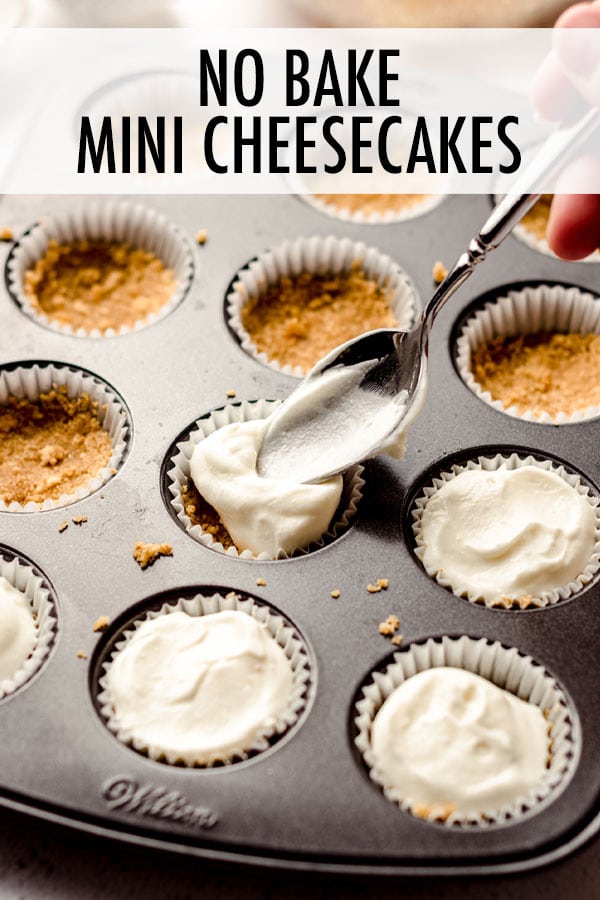 As an Amazon Associate, I earn from qualifying purchases. Read the full disclosure here.
These no bake mini cheesecake bites with crunchy graham cracker crusts are perfect for when you don't want to turn on the oven or just want to whip up quick bites of cheesecake for individual servings. Top with your favorite sauces, curds, jams, fruits, or whipped cream.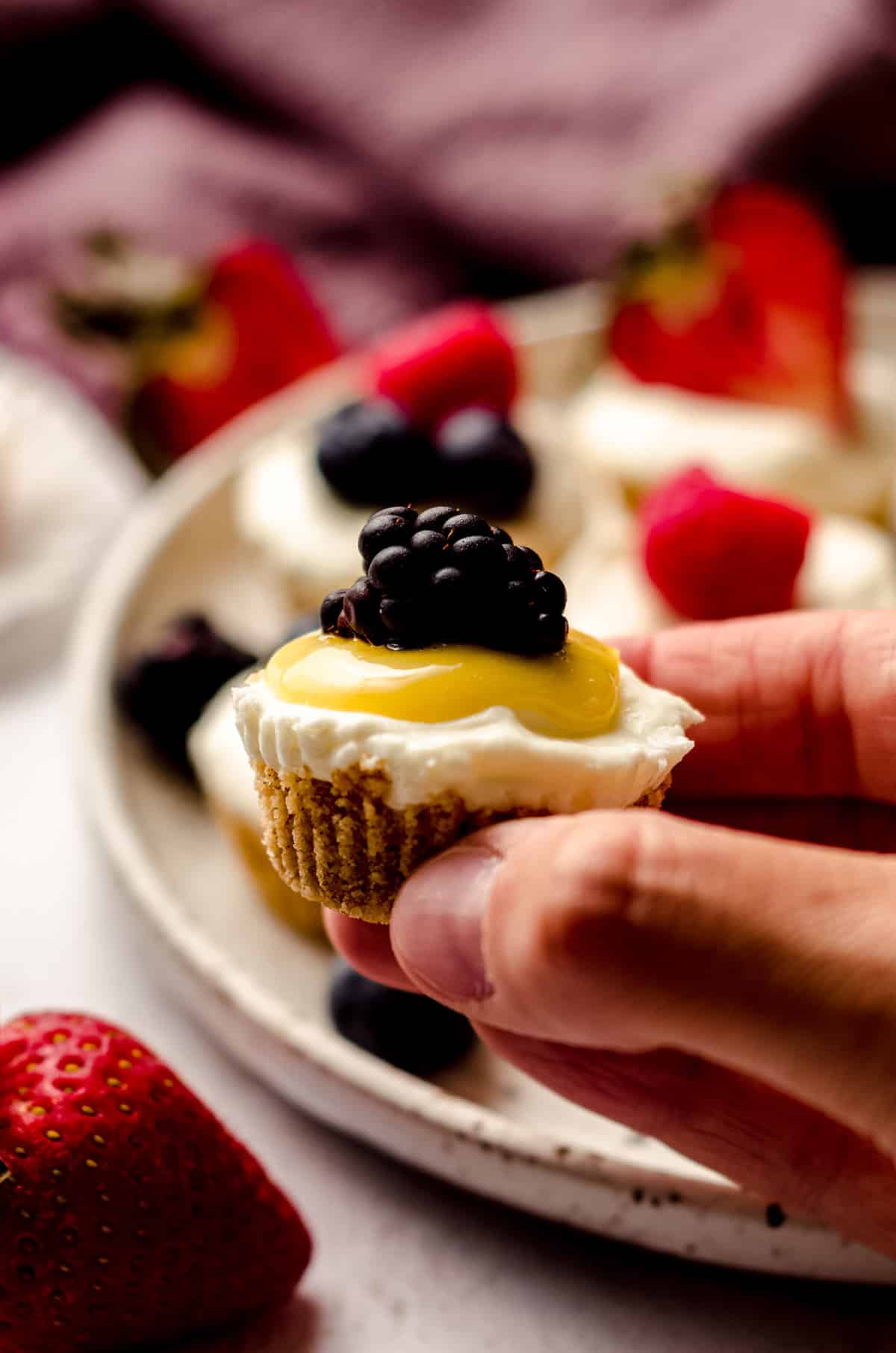 How unearthly hot is it where you live? I know we're not alone here in southeastern PA with scorching temperatures, and I think it's quite fitting that I chose no bake recipes for my monthly recipe series during this hottest summer ever.
Though I absolutely will turn on my oven right now because, well, you mostly just can't stop me from baking a cake or cookies or cupcakes OR A CHEESECAKE, this no bake cheesecake recipe (in the cutest little bite size form) is hitting the blog at the perfect time… Because no. Near 100ºF temps is not ok and we need no bakes more than ever right now. Agree?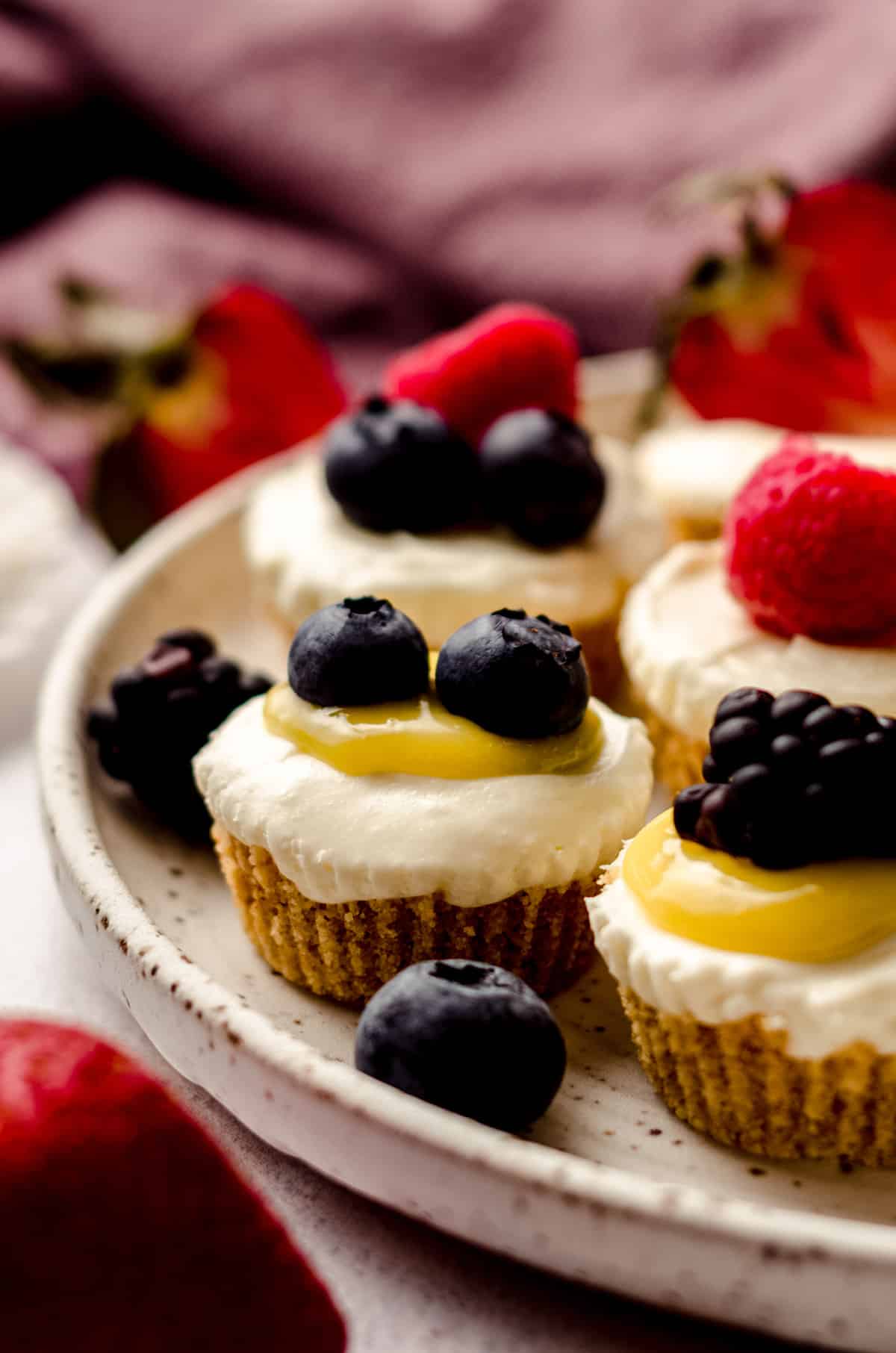 I whipped these mini no bake cheesecake cuties a few weeks ago when we had an abundance of fresh fruit on hand and a little bit of homemade lemon curd I needed to use up. I decided that some little cheesecakes would be the perfect vehicle for all of these things sitting in the fridge, and it helped that we had plans to see friends with kids a couple days later.
Helloooo, no bake cheesecake bites = perfect dessert for kids! Just ask both of mine!
Because these mini no bake cheesecake bites are, indeed, no bake, we get to keep the ingredient list small, and the fridge space for individual cheesecakes small, too.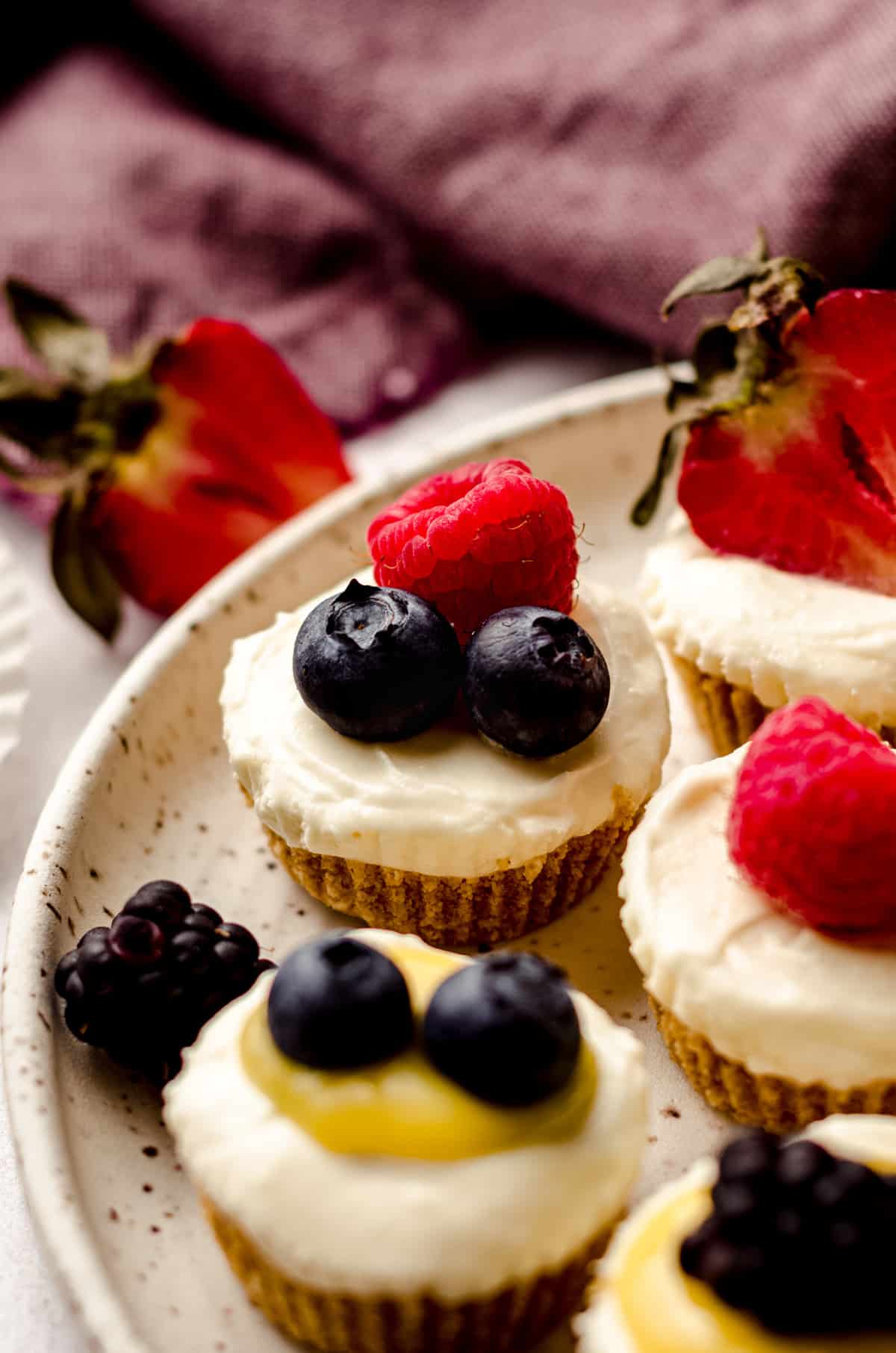 INGREDIENTS FOR CHEESECAKE BITES
We're starting these cheesecake bites with a graham cracker crust, just like a traditional cheesecake.
Graham cracker crumbs, melted butter, and some brown sugar. That's it for the crust.
Bonus: you can even leave out the added brown sugar if you want to go with cinnamon sugar graham crackers right off the bat.
For the filling, we're creating the base from full fat block cream cheese. We sweeten it with some granulated sugar, give it some depth of flavor with vanilla extract, and keep it nice and light with heavy whipping cream.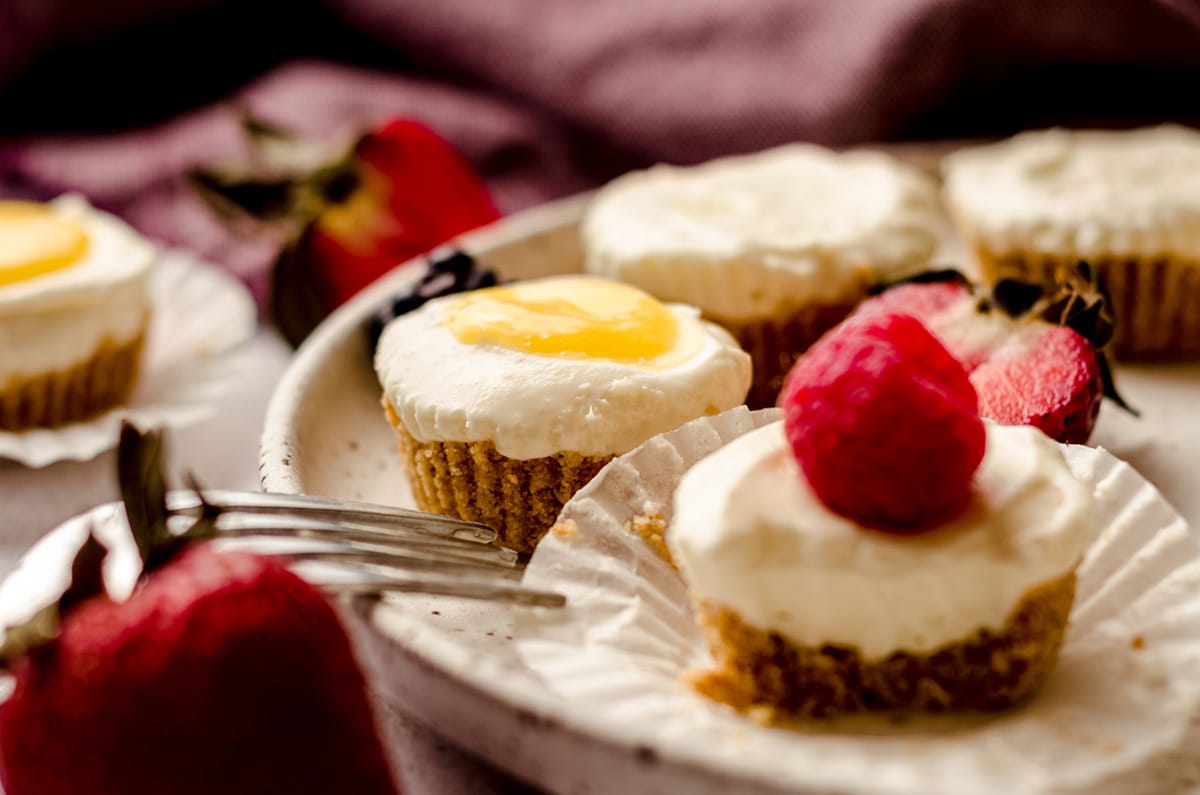 Though it is totally optional, a squeeze of fresh lemon juice really turns the tang up a notch. We almost always have lemons on hand, especially during the summer, so I highly suggest a little squeeze for you, too. But know that omitting it will have zero effect on whether or not your no bake cheesecake bites set up or not.
HOW TO MAKE NO BAKE CHEESECAKE BITES
Once your graham cracker crust is ready, creating individual crusts is as simple as pressing them into the lined wells of a mini-cupcake pan.
This recipe makes about 15 mini cheesecakes, so you'll either need two 12-count pans or one 24-count pan.
Press about 1 Tablespoon of the mixture into the liners with your fingers. It will look like way too much crust when you pour it into the wells, but I promise, those crumbs pack down pretty nicely. Don't be afraid to press hard!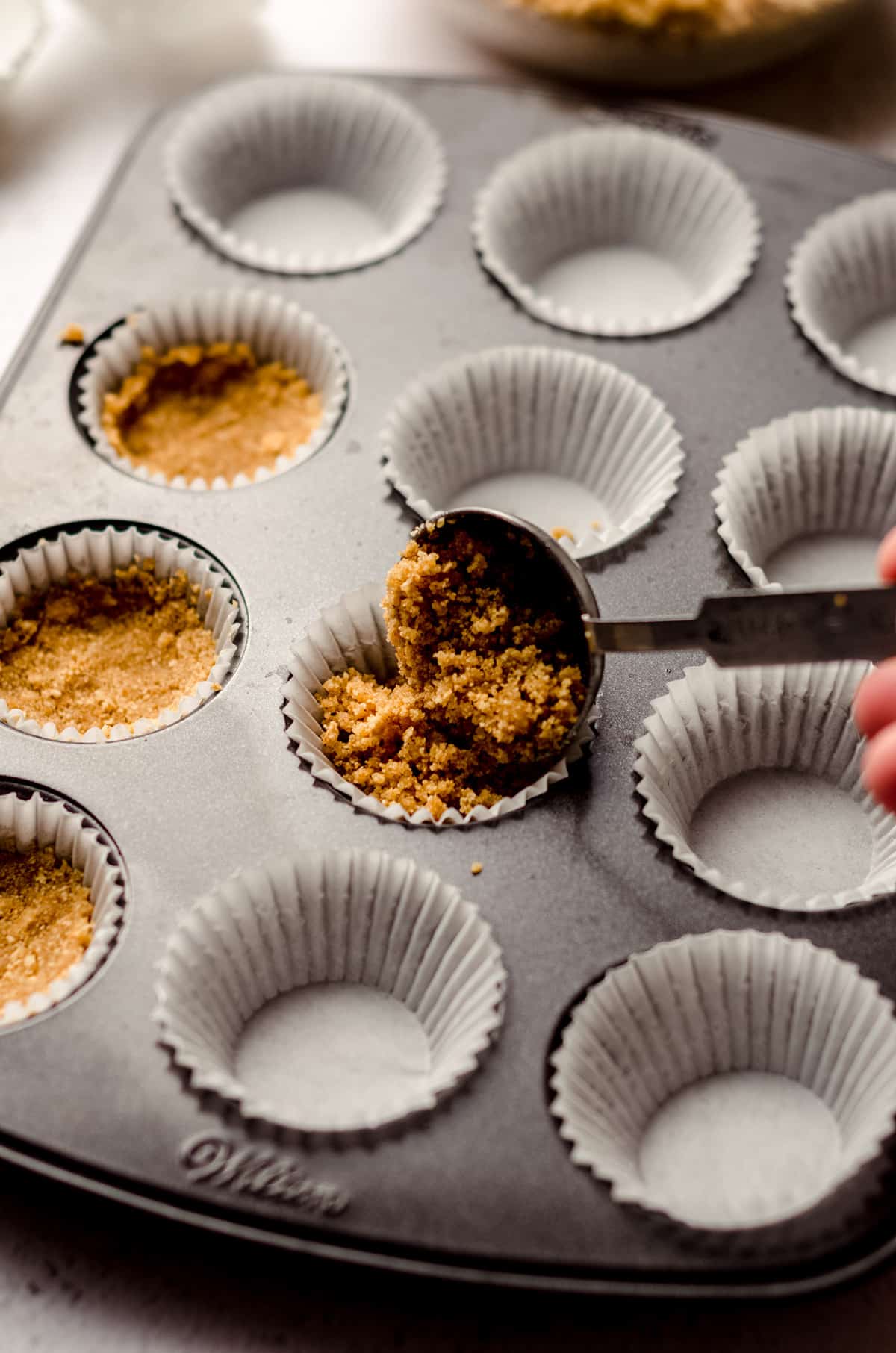 To keep these mini cheesecake bites no bake, this is it for the crust. They're ready for their filling.
You'll spoon the cheesecake filling into each well, filling it up to the top of the liner. Smooth it out with the back of a spoon, or you can pipe the filling in to keep everything nice and neat.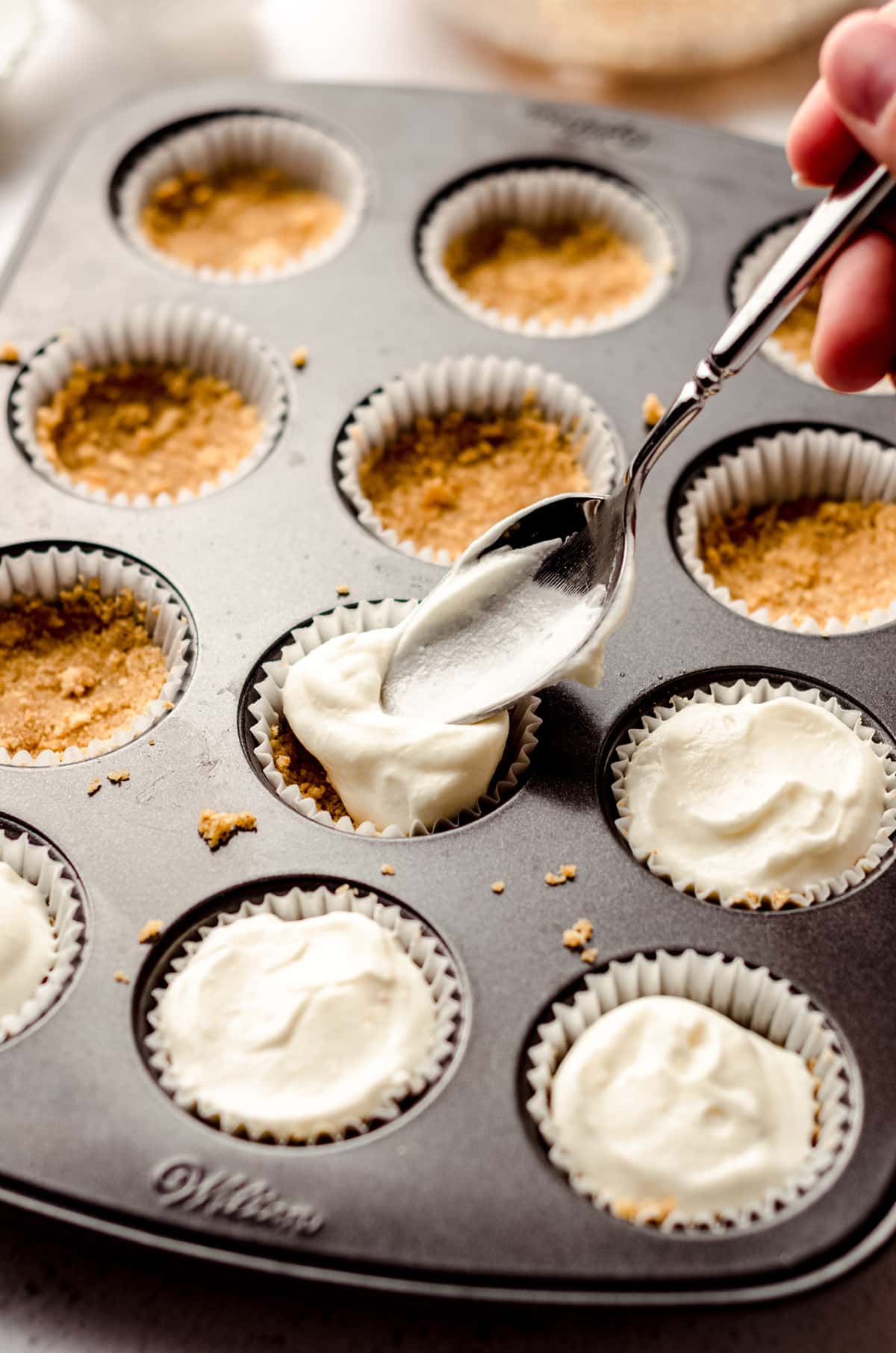 Your cheesecake bites will need to chill in the refrigerator for at least 2 hours before they're ready to eat. I suggest topping them right before serving, or setting up a topping bar if you're serving them at a party.
TOPPINGS FOR CHEESECAKE BITES
I strongly recommend some homemade lemon curd, other curds, nuts, chocolate chips, fresh fruit, salted caramel sauce, chocolate sauce, homemade whipped cream, or any other favorite jam/jelly/preserves/sauces you like on your desserts.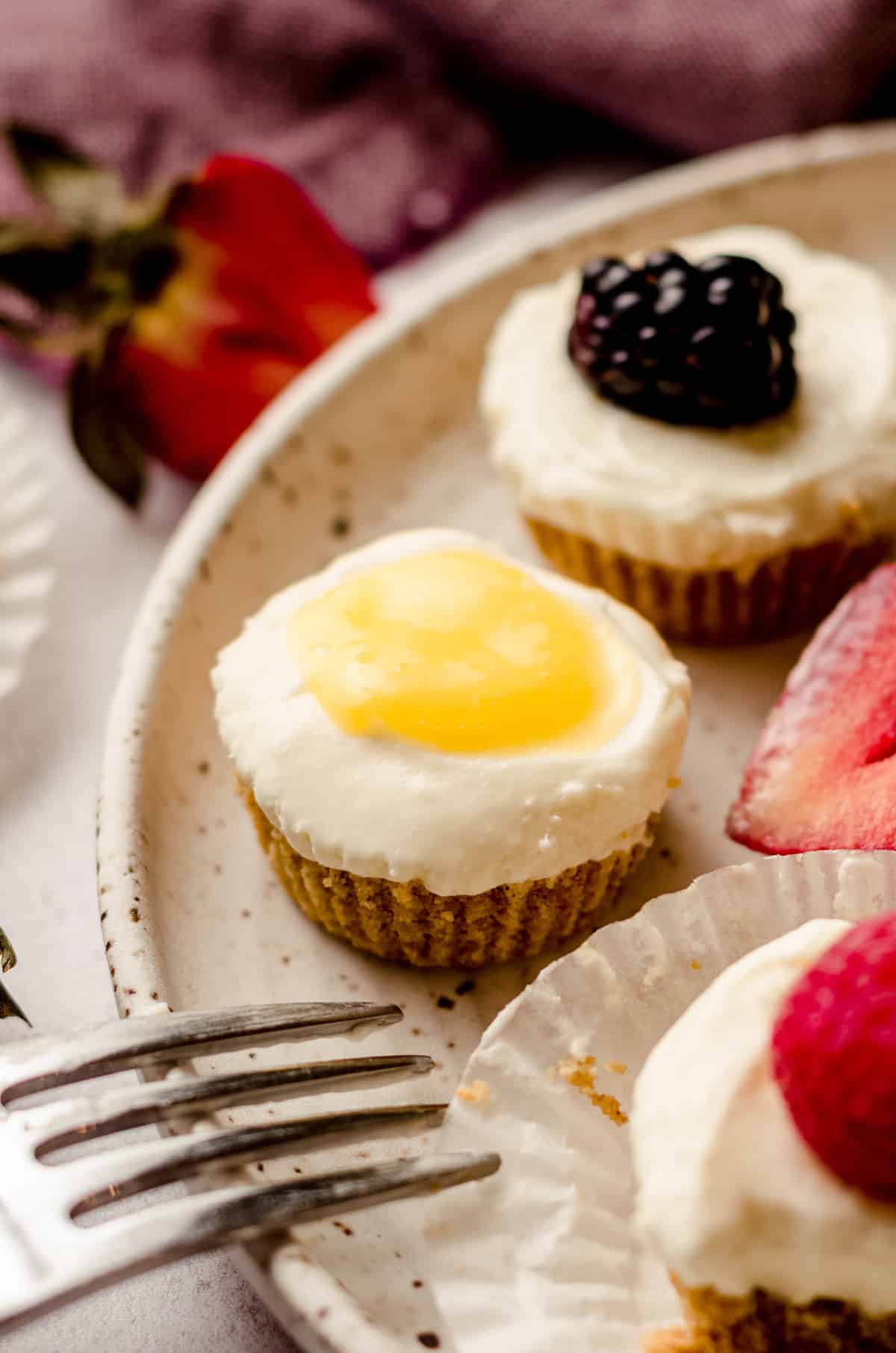 This no bake mini cheesecake recipe is plain and simple and pretty much welcomes any flavor pairing you desire. Of course, straight up with no topping is delish, too, if you're in the plain Jane cheesecake camp.
CAN I FREEZE THESE MINI CHEESECAKES?
Absolutely! In fact, we preferred them frozen because it made it easier for the kids to eat. They'll need to set up in the freezer for about 30 minutes. Quick and easy!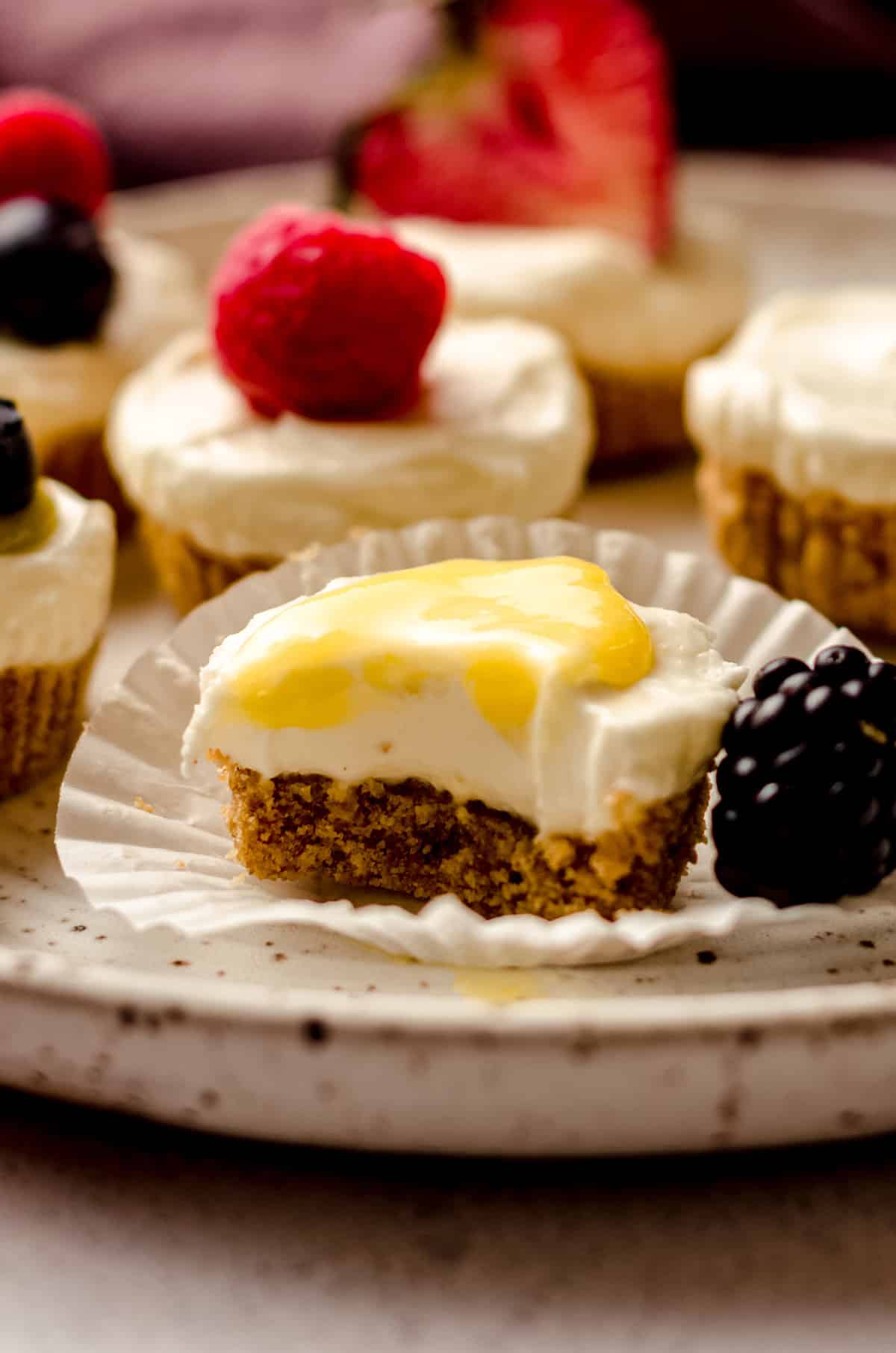 These no bake mini cheesecakes were a true knock-out-of-the-park dessert for us. They are the perfect little bite of cheesecake and since we aren't baking anything, there are no water baths or internal temperature checks or careful cooling to prevent cracks.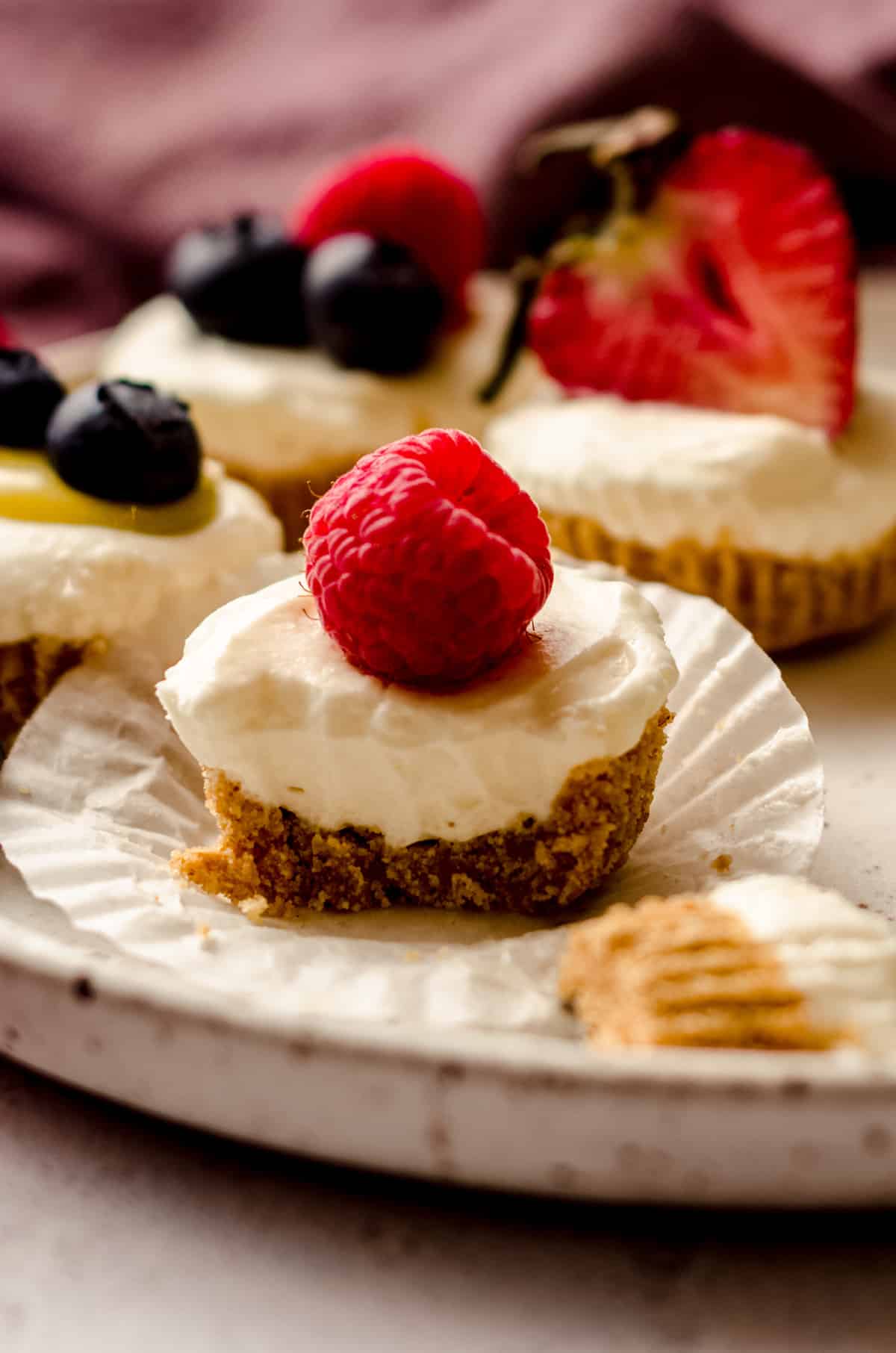 Straightforward, simple, no fuss cheesecakes in easy bite size form sound like the perfect addition to your summer (no bake) lineup. But of course, tuck this one in your back pocket because holiday gatherings are back in style this year, and who doesn't love a customized treat in their dessert selection?
No Bake Cheesecake Bites
These no bake mini cheesecake bites with crunchy graham cracker crusts are perfect for when you don't want to turn on the oven or just want to whip up quick bites of cheesecake for individual servings. Top with your favorite sauces, curds, jams, fruits, or whipped cream.
Servings:
15
cheesecake bites
Ingredients
GRAHAM CRACKER CRUST
¾

cup

(75g) graham cracker crumbs

about 5 full sheets of graham crackers

1 and ½

Tablespoons

(19g) firmly packed brown sugar1

3

Tablespoons

(43g) unsalted butter

melted
CHEESECAKE FILLING
¼

cup

(60mL) heavy whipping cream

4

ounces

(112g) full fat block cream cheese

softened to room temperature

2

Tablespoons

(25g) granulated sugar

½

teaspoon

vanilla extract
squeeze of lemon juice2

optional

OPTIONAL: desired toppings3
Instructions
Line 15 wells of a 24-count muffin pan4 with mini cupcake liners.
GRAHAM CRACKER CRUST
If your graham crackers aren't crumbs yet, use a food processor to pulse them into fine crumbs. Pour the crumbs into a medium size bowl, add the brown sugar and melted butter, and then stir to combine.

Spoon approximately 1 Tablespoon of the graham cracker crust mixture into each mini cupcake liner, then use your fingers to press the mixture tightly into the liner, covering the bottom and going up the sides a bit. Set aside.
CHEESECAKE FILLING
Using a handheld mixer or a stand mixer fitted with a whisk attachment, whip the heavy whipping cream on medium-high speed until it reaches stiff peaks, about 2-3 minutes. Set aside.

Add the cream cheese, granulated sugar, lemon juice (if using), and vanilla extract to a medium size bowl (if using a handheld mixer). If you want to use your stand mixer again, carefully transfer the whipped cream to another small bowl to set it aside. No need to clean the bowl or whisk attachment, just use them again. With the mixer on medium speed, beat the cream cheese and sugar together until smooth and creamy, scraping down the sides and bottom of the bowl as needed.

Turn the mixer down to low, or use a spatula, to gently fold the whipped cream into the cheesecake mixture until combined, being careful not to deflate the whipped cream.
FILL THE CRUSTS
Spoon or pipe the filling into each crust, then use the back of a spoon or your finger to flatten and smooth out the tops.

Refrigerate the mini cheesecakes in the pans for at least 2 hours5 and up to 2 days. If refrigerating for longer than 2 hours, I recommend covering them to prevent a film from forming.

Keep the cheesecakes refrigerated until ready to serve. Serve with optional toppings (see note number 3 in the recipe notes). Store leftovers in the refrigerator up to 5 days or in the freezer up to 2 months.
Notes
Brown sugar: if you want to use cinnamon sugar graham crackers, you can omit the additional brown sugar or just add sugar to taste.
Lemon juice: this is completely optional. I like the additional tang it adds to the flavor profile, and we almost always have lemons on hand.
Toppings: I highly recommend homemade lemon curd, homemade whipped cream, bourbon salted caramel sauce (leave the bourbon out, if you want to), fresh fruit, or other assorted candies/chips/nuts.
Mini-cupcake pan: you can use one 24-count cupcake pan, two 12-count mini-cupcake pans, or simply fill the 12 wells of one pan and make one additional mini cheesecake in a small bowl if you don't have a large pan or two small pans.
Refrigeration: since there are no eggs to give structure to the no bake cheesecake base, this is a very soft filling. If the cheesecakes are too soft for you, you can freeze them.
Nutrition Disclosure
All nutritional values are approximate and provided to the reader as a courtesy. Changing ingredients and/or quantities will alter the estimated nutritional calculations.
Serving:
1
cheesecake bite
|
Calories:
70
kcal
|
Carbohydrates:
7
g
|
Protein:
2
g
|
Fat:
4
g
|
Saturated Fat:
2
g
|
Polyunsaturated Fat:
0.2
g
|
Monounsaturated Fat:
1
g
|
Trans Fat:
0.1
g
|
Cholesterol:
11
mg
|
Sodium:
82
mg
|
Potassium:
35
mg
|
Fiber:
0.1
g
|
Sugar:
4
g
|
Vitamin A:
132
IU
|
Vitamin C:
0.02
mg
|
Calcium:
34
mg
|
Iron:
0.2
mg