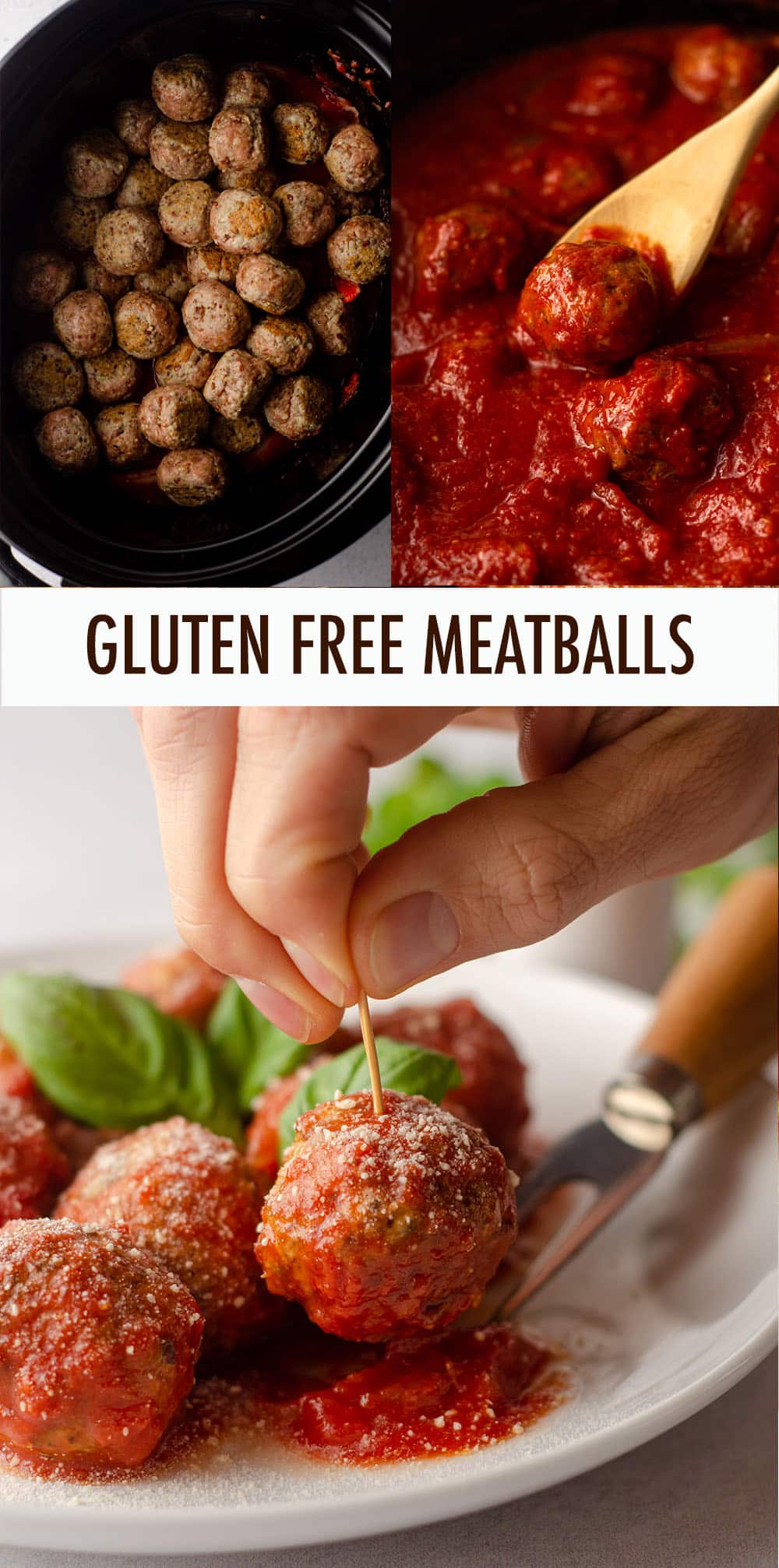 As an Amazon Associate, I earn from qualifying purchases. Read the full disclosure here.
Easy, flavorful gluten free turkey meatballs made with ground flaxseed in place of breadcrumbs.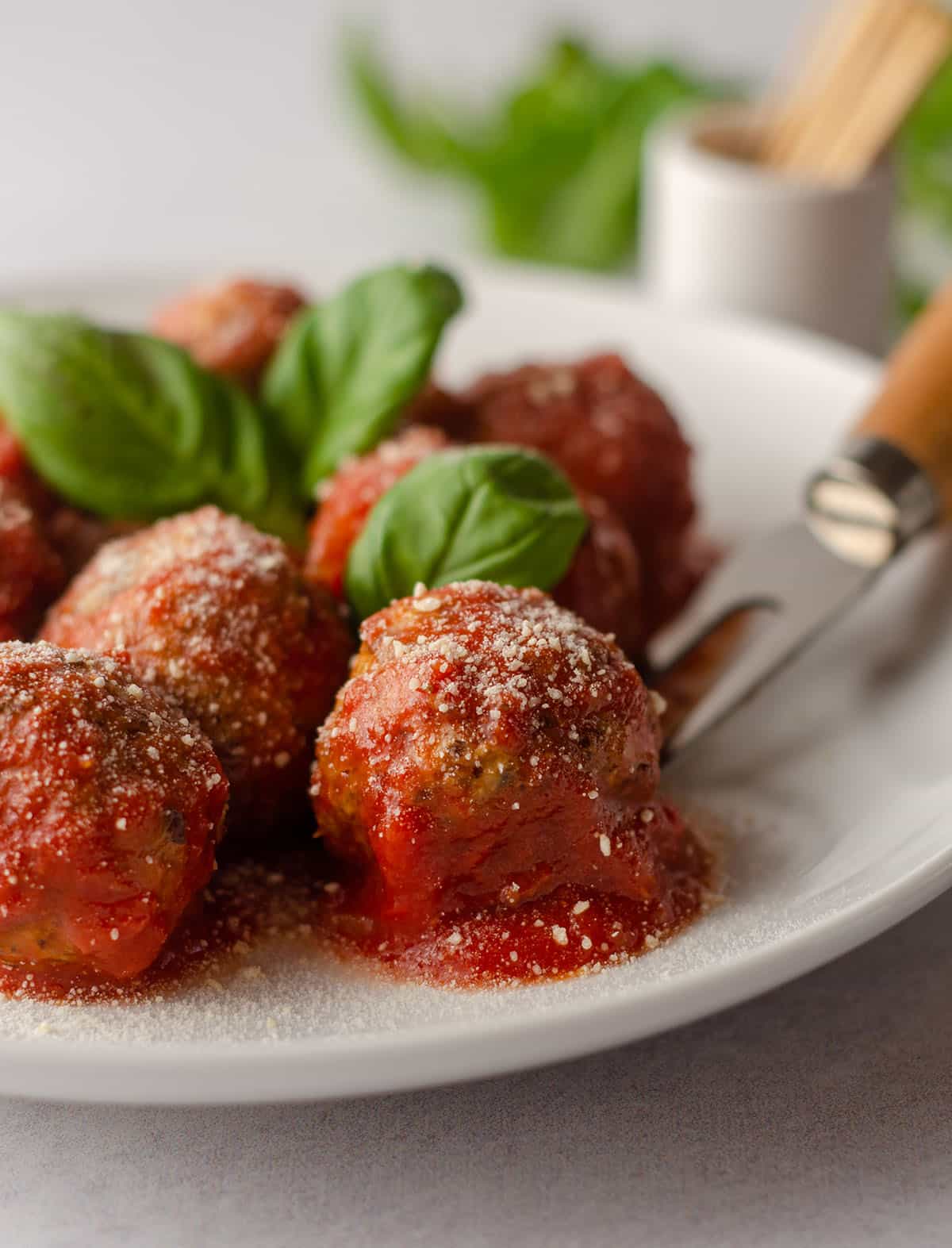 PHEW! Now that that's out of the way.
What's "that," you ask? Oh, that's 2020.
Bye, Felicia.
Hasta la vista.
No, scratch that– SEE YA NEVER.
New year, new recipes, new adventures. How about it?
So listen, this right here is a dessert heavy blog. You know this if you're a regular.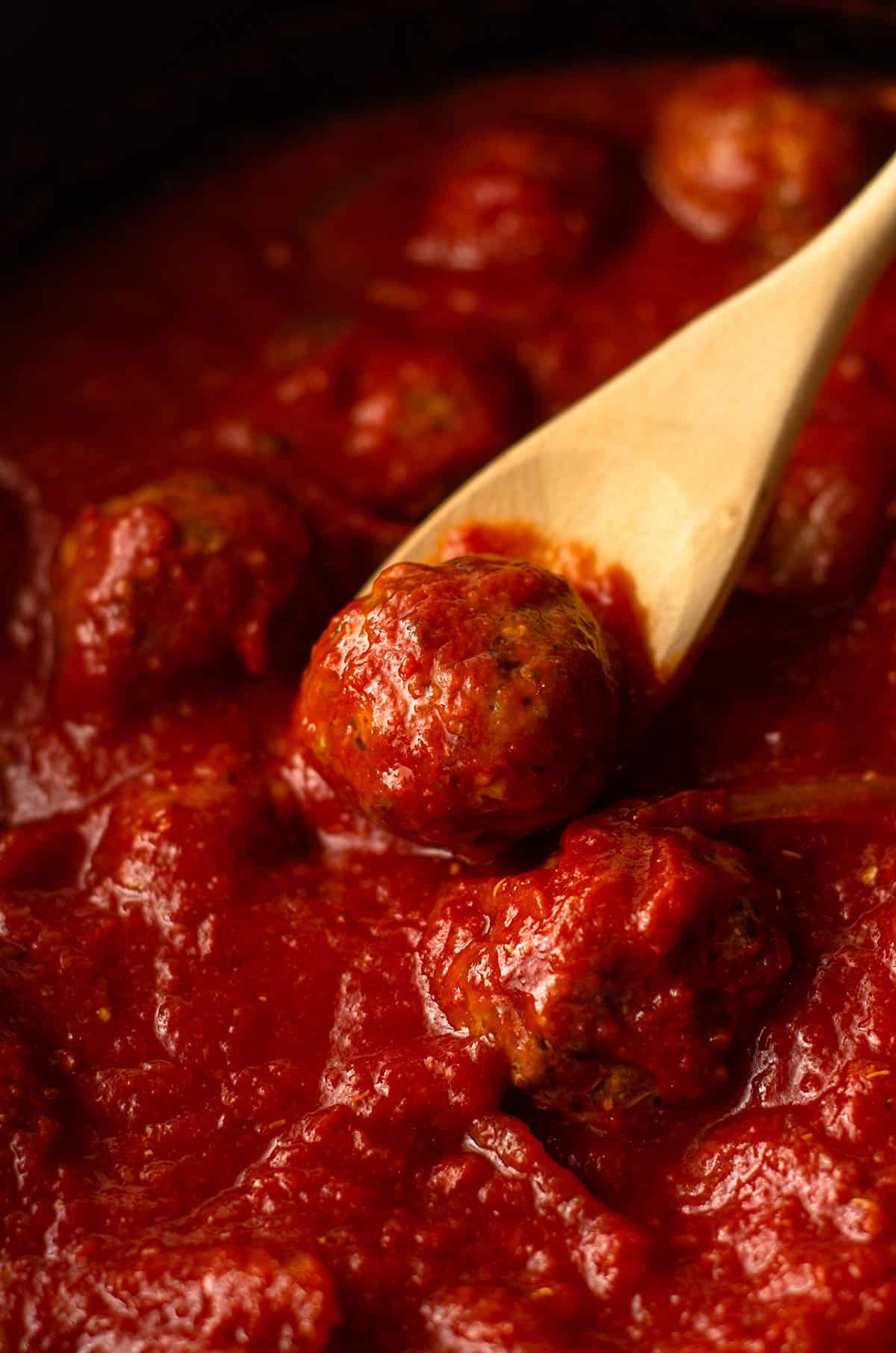 But I do love scattering my content with savory dishes, and you all love them too– my make ahead breakfast casserole, crustless caprese quiche, and tortilla pizza are all quite popular.
And, to be honest, are all staples in our house.
That said, I do always like to start January off on a "healthier" note every year, not because diet culture is anything I encourage, but I do also know that life isn't and can't be all about cookies, though I sometimes wish it could be.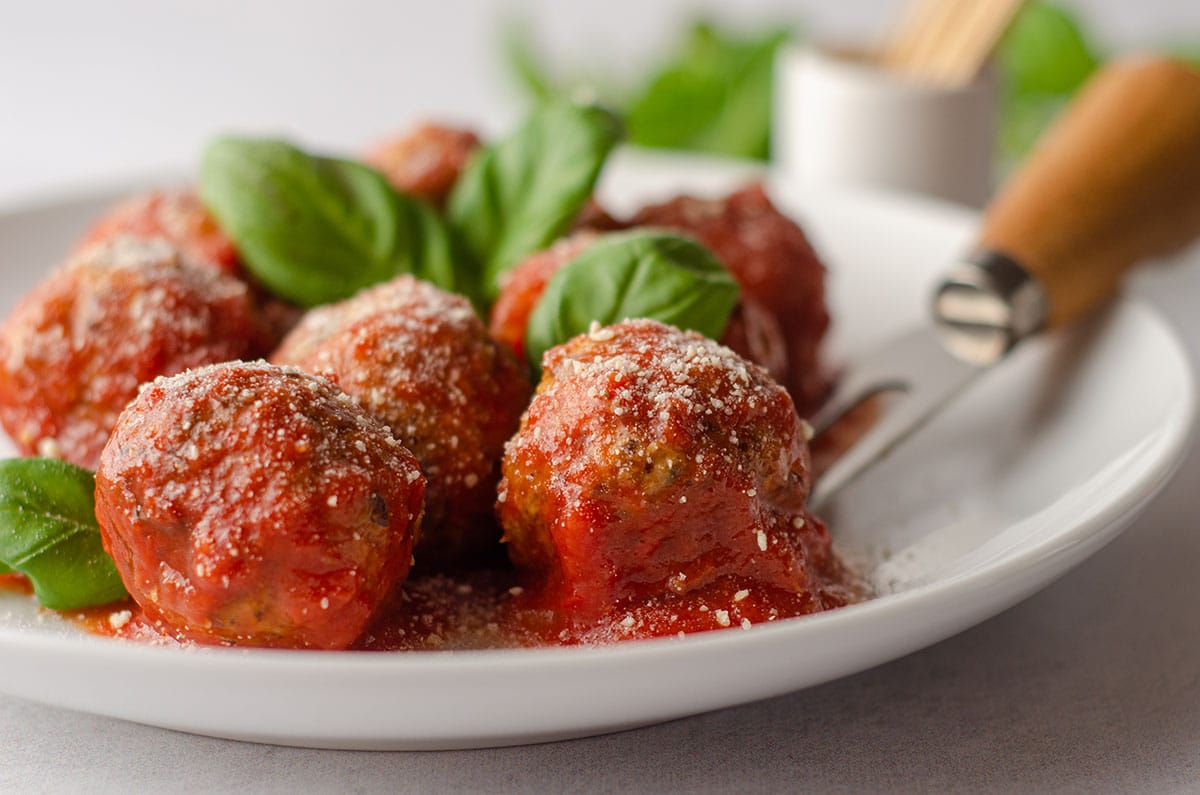 I promise that next week, I'll be sharing my first of the 2021 series (no bake desserts!).
But for now, let's get down to meatball business. It's a pretty tasty business, if I do say so myself, and I'm so happy to be bringing this new and improved recipe to you!
I have had these easy gluten free meatballs on my blog for 4 years. We've made them countless times, and because of that, I've been able to adapt them to several different situations and have updated the recipe with all of those details.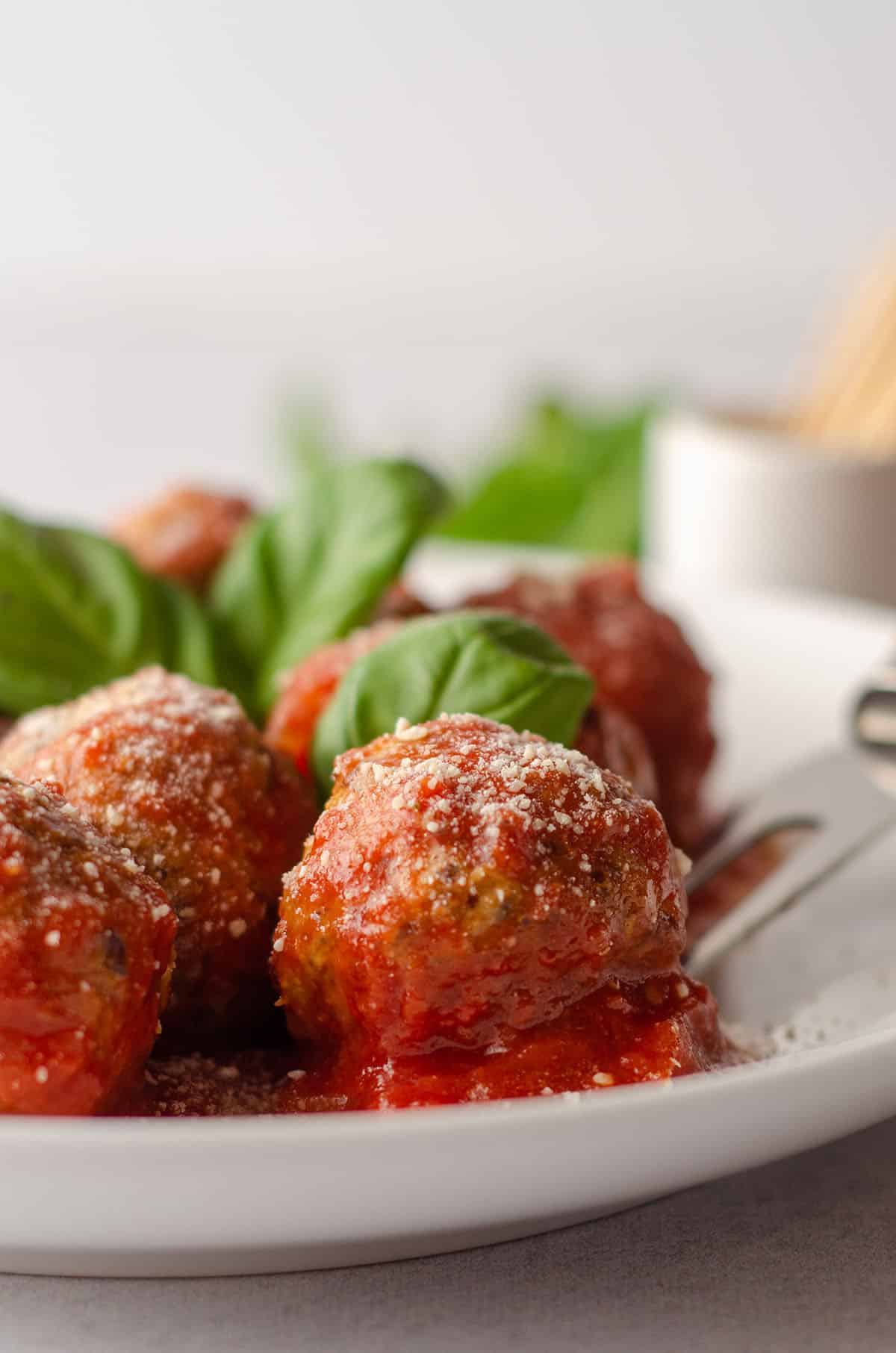 Though they've always been gluten free, we recently took on a dietary adjustment in our house– Matt is trying out dairy free!
So, to that, I've most recently made these gluten free meatballs to be dairy free meatballs as well. There are notes about that in the recipe.
Still delicious, still perfect, still my go-to gluten free meatball recipe.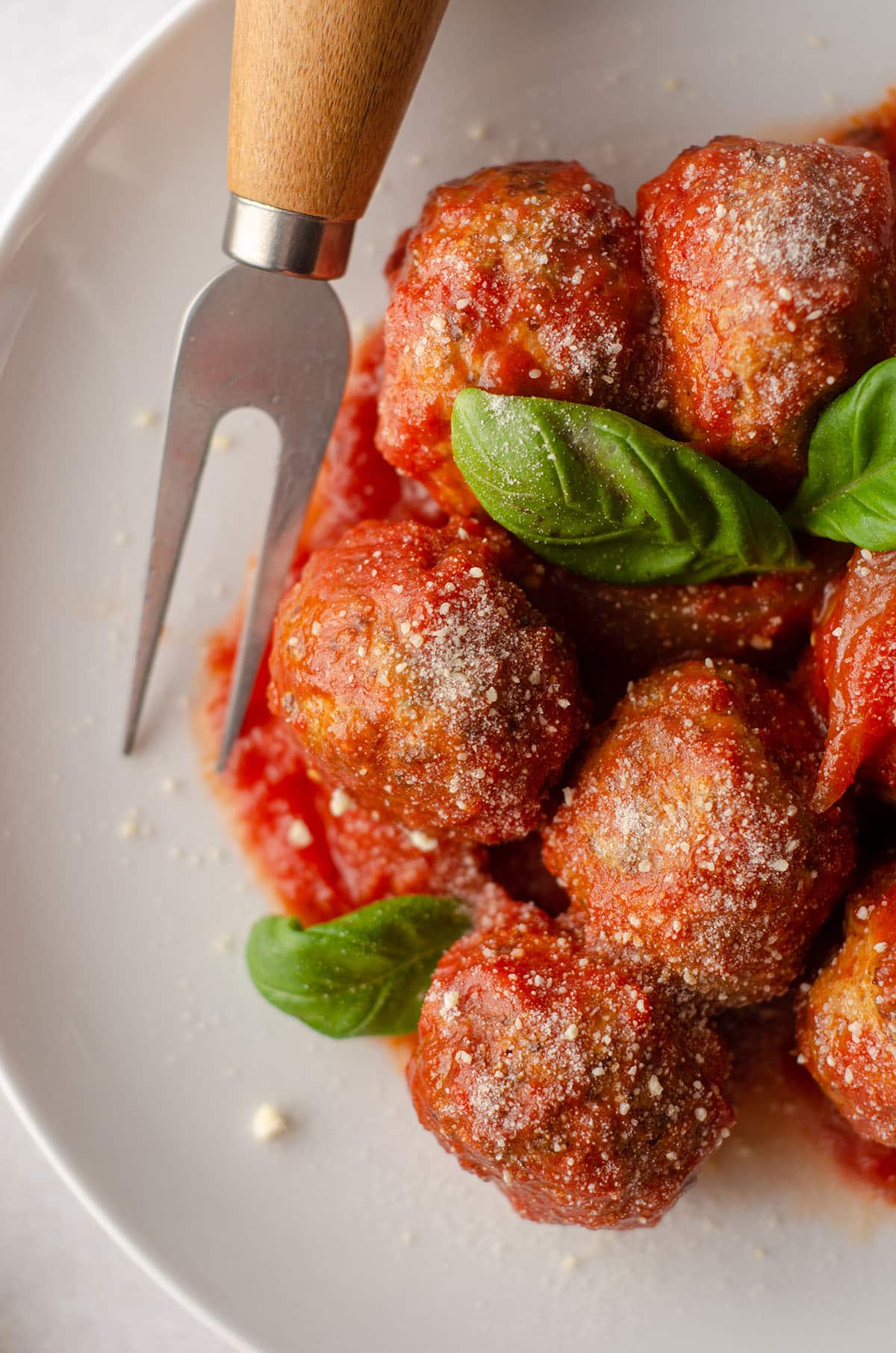 Here's the full disclosure: I adoreeeee spaghetti and meatballs (I mean, I am Italian, for goodness' sake!). In fact, I craved pasta during my first pregnancy, which is where this easy gluten free meatball recipe originated.
I wanted to satisfy my pasta craving, but also wanted to insure I was still getting lots of protein. So I swapped traditional breadcrumbs with ground flaxseed, and the texture, flavor, and sturdiness was never compromised.
I also love using ground flaxseed as a binder in my quinoa patties. Perfection!
Have you used ground flaxseed before? It's a wonderful ingredient. It's slightly nutty, flaky like breadcrumbs, and it packs quite a nutritional punch: omega-3 fatty acids, antioxidant qualities, fiber, and lots of protein.
I loveeee throwing it into smoothies, cereal, cookies, breads… You name it. Quite an impressive and versatile little ingredient!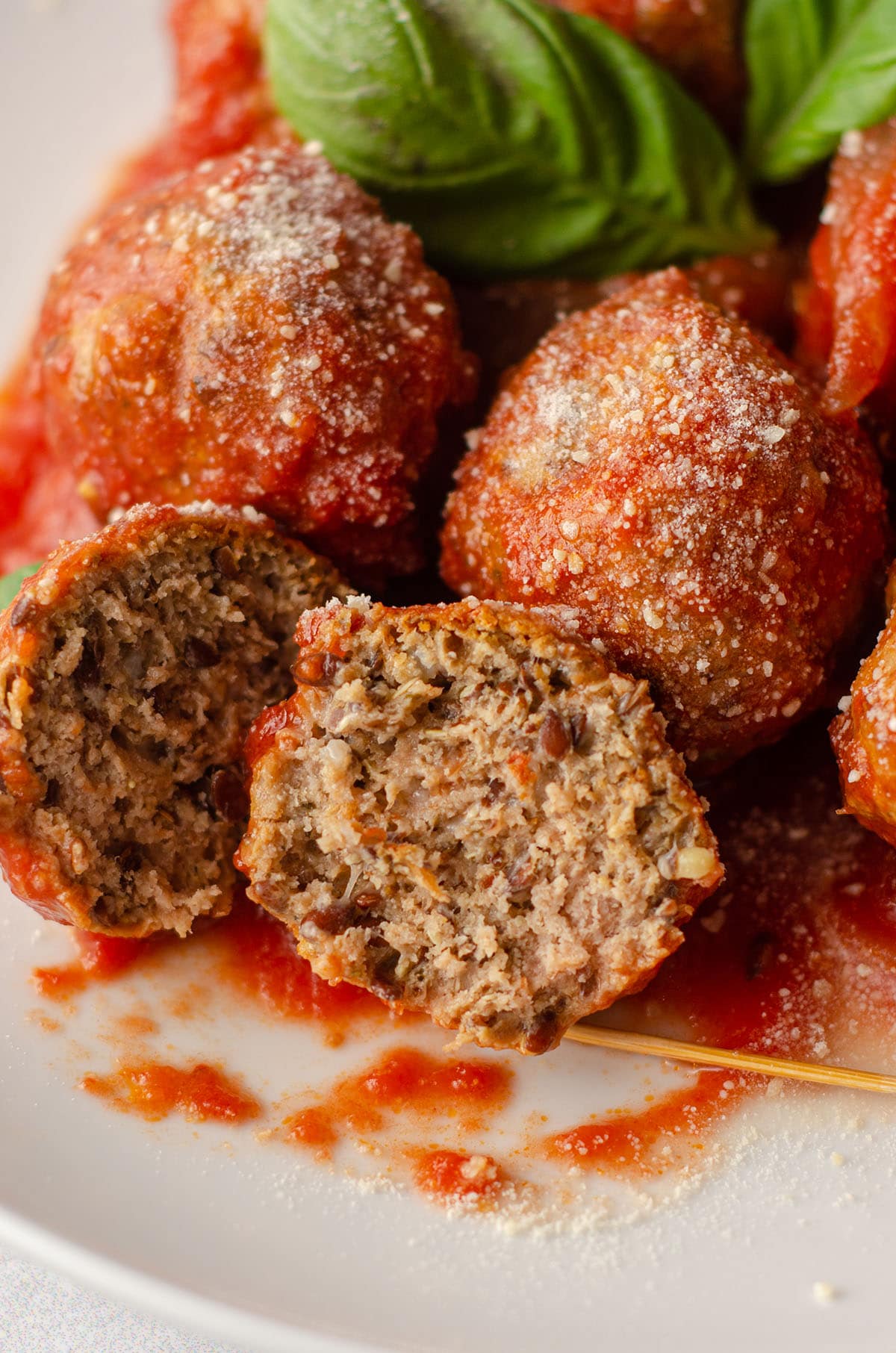 I like to use ground turkey for my meatballs because it's pretty low in fat. But you're welcome to use whatever kind of meat you'd like and whatever fat content. Ground beef, ground chicken… Your choice.
And no joke, these gluten free turkey meatballs are so simple. So simple, actually, that the hands-on time is virtually nothing when you compare it to all the work being done inside your slow cooker.
That's my kinda recipe, yeah??
Aside from the meat and ground flaxseed, you're going to need a bunch of spices (nothing too crazy), some Parm cheese (or– like I mentioned– see the recipe for dairy free options!), an onion, and two cans of crushed tomatoes.
To get started, mix all of your meat, flaxseed, cheese, spices, and one beaten egg and roll it all into balls. I like to use a cookie scoop or ice cream scoop to get the perfect, uniform size.
After they're all rolled, you'll lightly brown the meatballs for a couple reasons.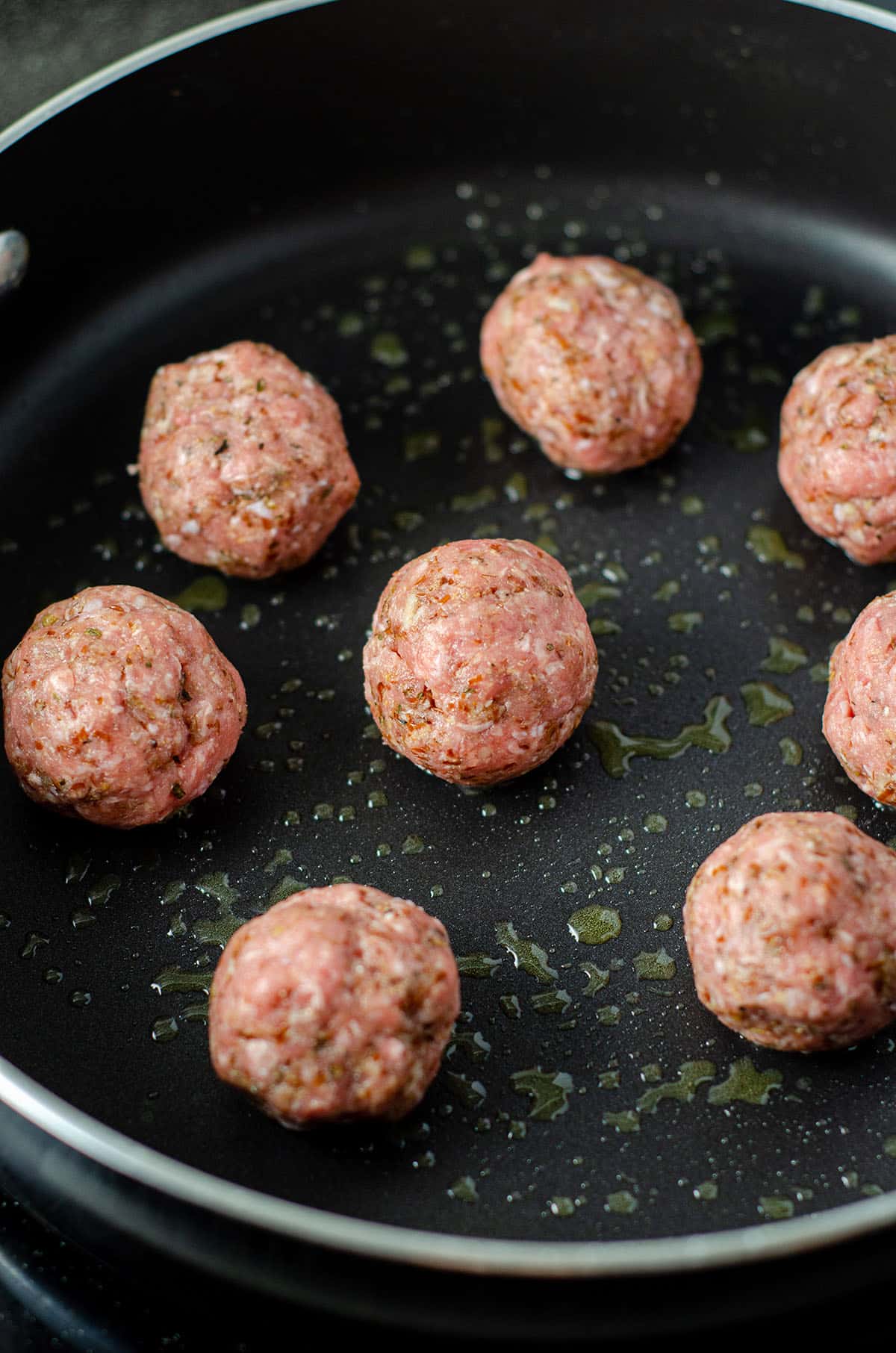 First of all, you need them to stay together in the slow cooker, otherwise they will all just fall apart.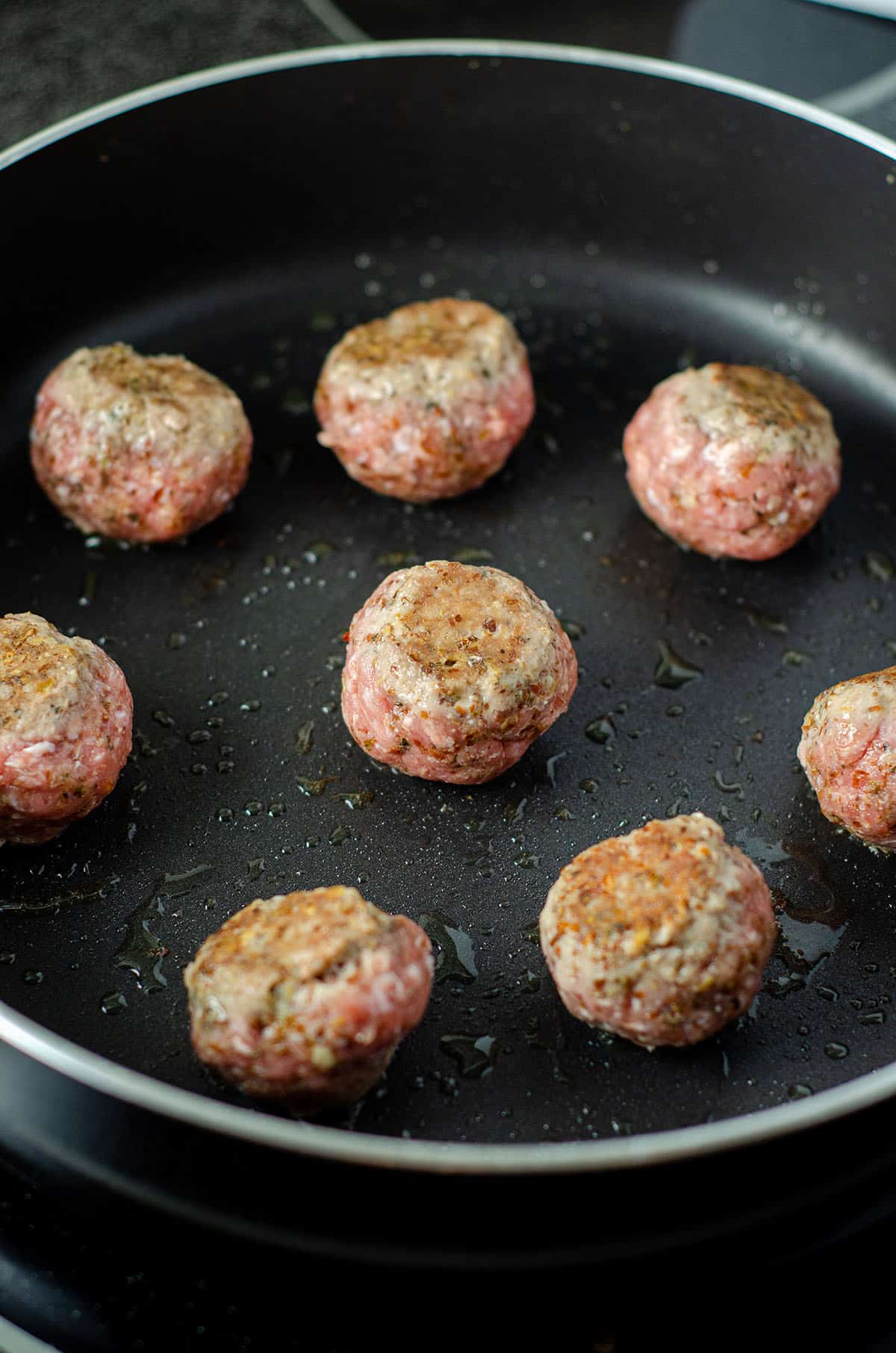 And second, you want to start the browning process and bring out all those lovely spices and flavors. Just about a minute or two on each side.
Once your meatballs are browned, transfer them to the slow cooker, which has been prepped with an onion and 1 can of crushed tomatoes.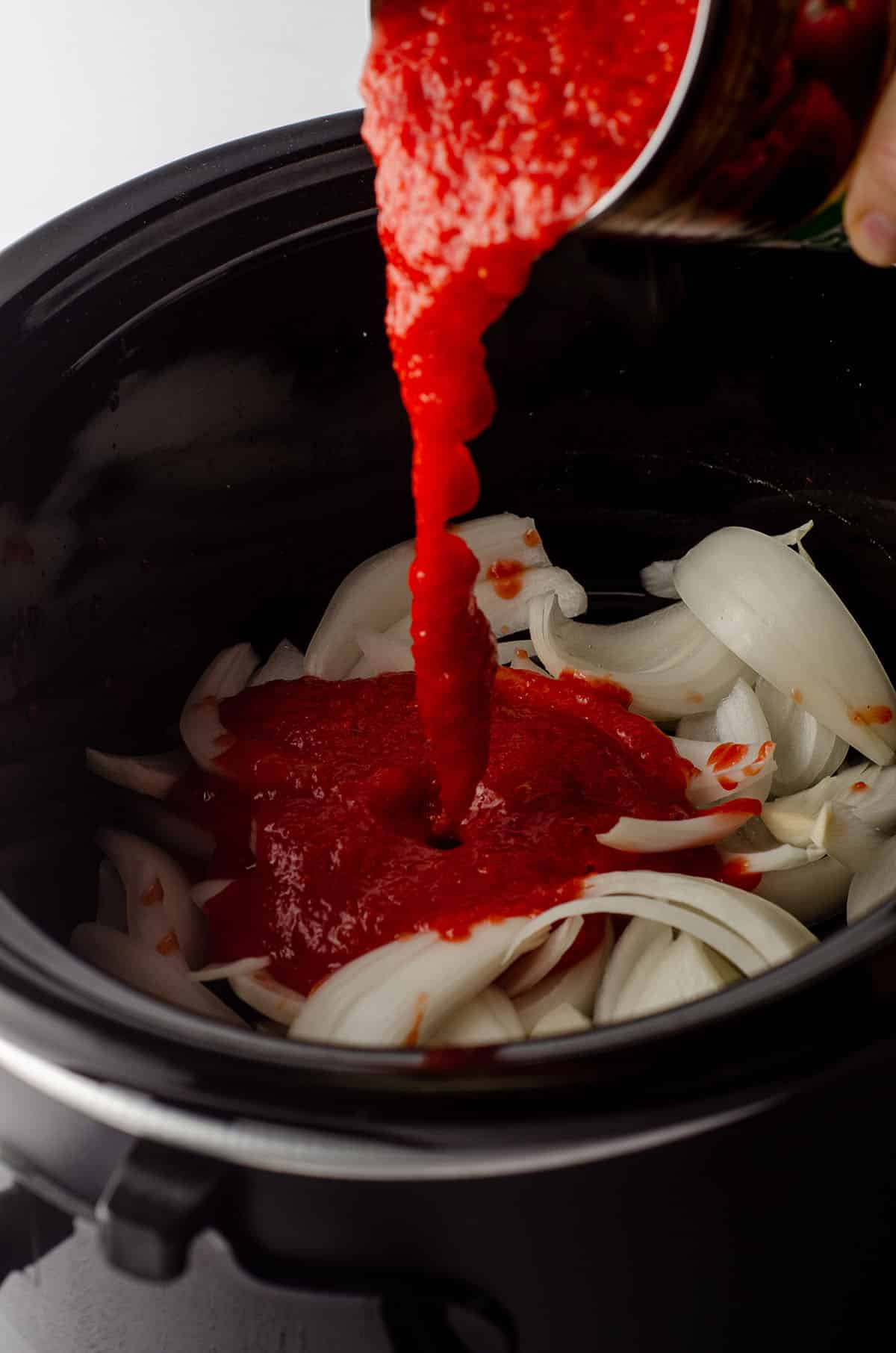 Continue browning the rest of your meatballs, cover all of the meatballs with more crushed tomatoes, and then set it and forget it!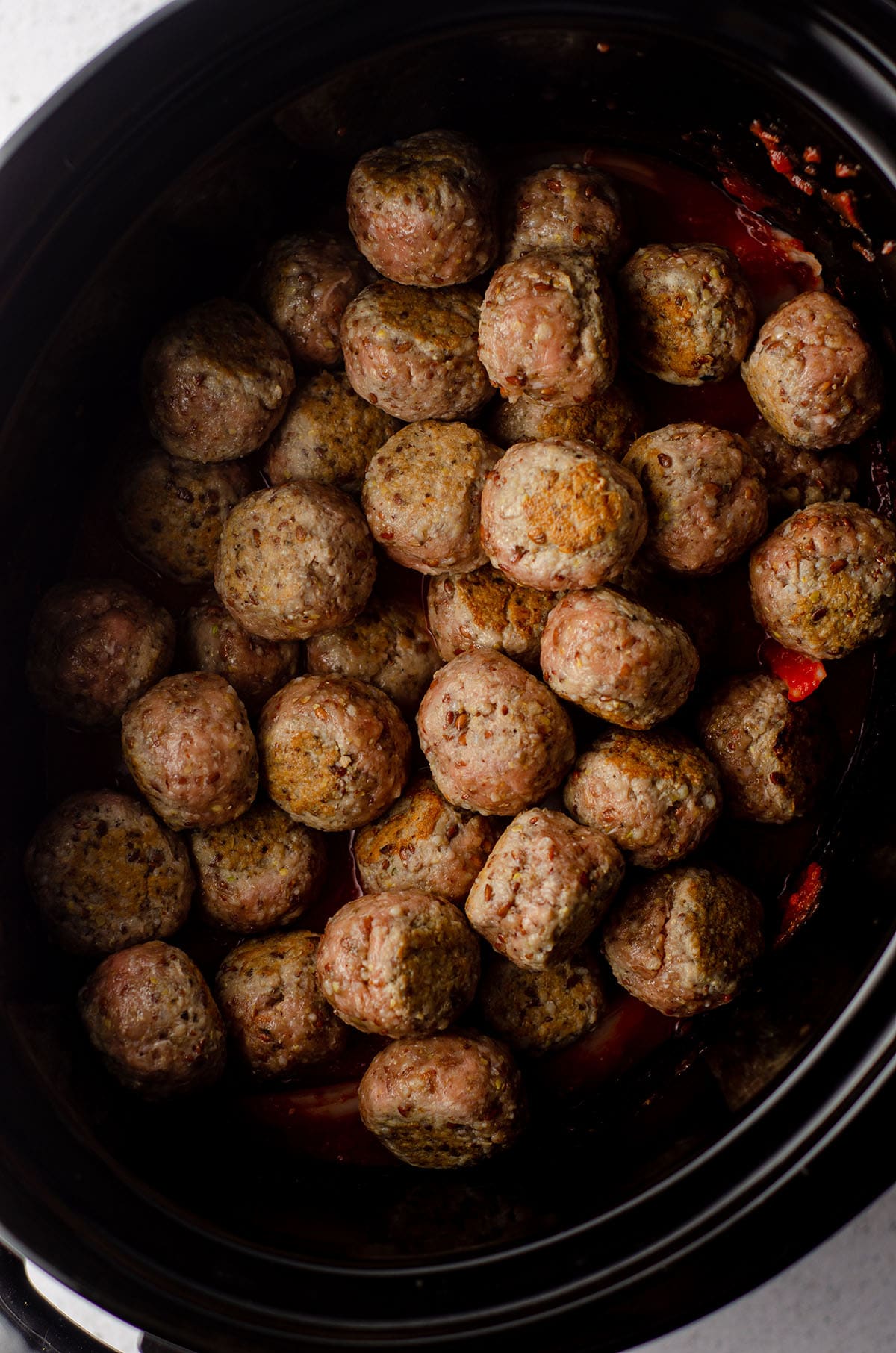 You'll need about 6-7 hours on low, 4-5 on high. I test a few meatballs with a meat thermometer to make sure they are done. You're looking for 165°F (74°C) for poultry.
When the meatballs are fully cooked, eat them straight up, throw them into a roll for a meatball sub, toss them on top of your plate of pasta, or eat them on a salad.
They are so versatile and so tasty, you'll want to put them on everything just to have an excuse to eat them. And I can say with confidence, they're totally toddler/kid-approved in our house!
Tender, flavorful meatballs, made totally gluten free with good-for-you ingredients. This is absolutely something January can get down with, amirite?! Try them out, I'm sure you'll find they're much easier than you think and waaaaaaay better than buying frozen.
Speaking of, see notes in the recipe for making ahead and freezing.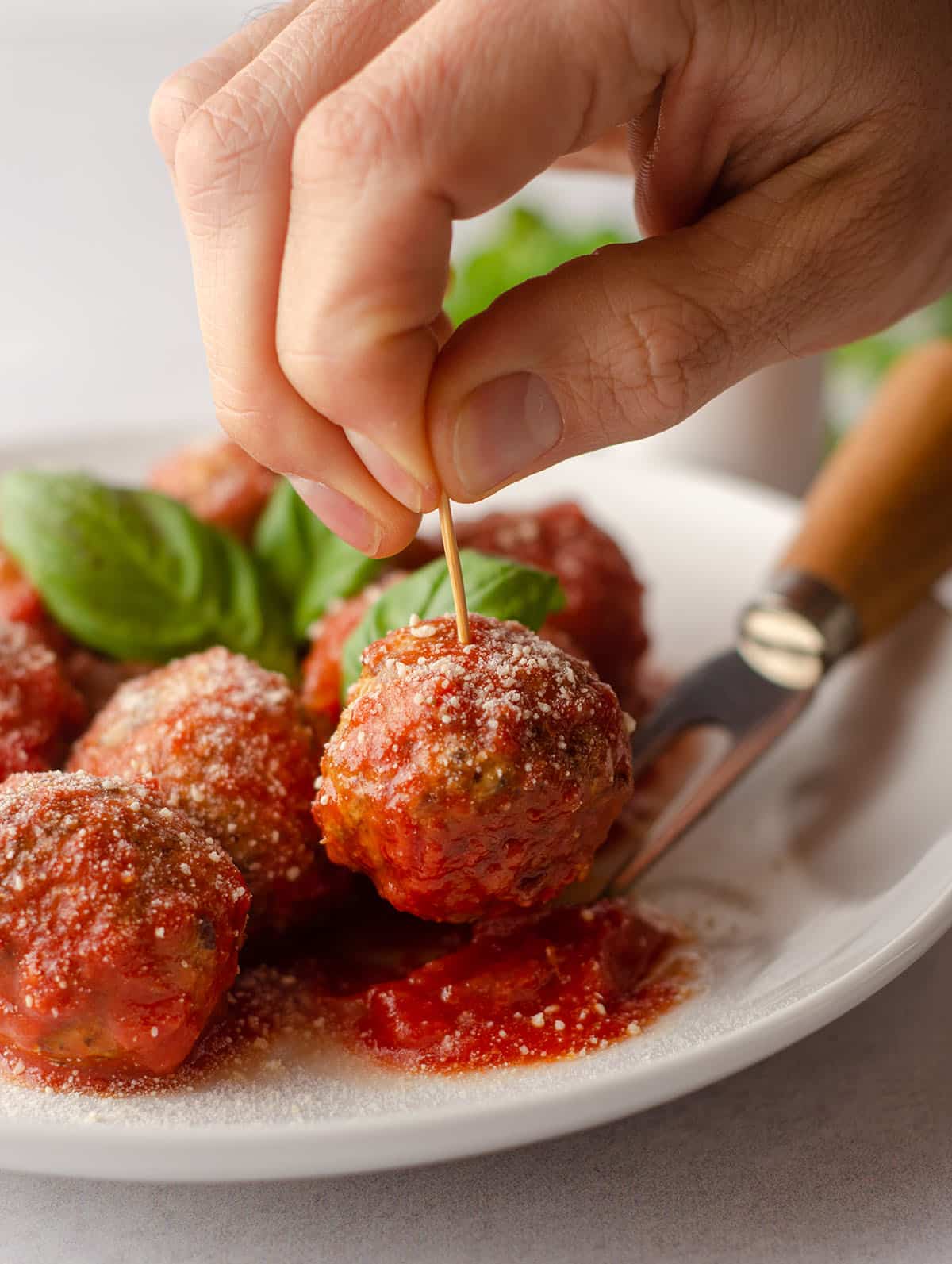 Homemade meatballs, for the win! Your Italian grandmother will be so proud.
Gluten Free Meatballs
Easy, flavorful gluten free turkey meatballs made with ground flaxseed in place of breadcrumbs.
Servings:
36
medium size meatballs
Ingredients
1

large egg

2

pounds

(907g) ground turkey1

any fat content

⅔

cup

(63g) ground flaxseed2

⅓

cup

(30g) grated Parmesan cheese3

2

Tablespoons

(30mL) olive oil

plus more for the frying pan

3

cloves

of garlic

minced

2

teaspoons

dried oregano

2

teaspoons

dried basil

1 and ½

teaspoons

salt

½

teaspoon

black pepper

1

large onion

roughly chopped

2

28-ounce cans

(1588g) crushed tomatoes
Instructions
In a large bowl, lightly beat the egg. Add the ground turkey, flaxseed, Parmesan cheese, olive oil, garlic, oregano, basil, salt, and pepper. Stir with a large spatula until completely combined.

Roll meat mixture into balls and place on a large plate or platter until you are ready to cook them. I like to use a cookie scoop (for medium size meatballs) or ice cream scoop (for larger meatballs). My meatballs are usually around 1oz in weight/size. Set aside.

Place the chopped onion in the bottom of a slow cooker4, then top with one can of the crushed tomatoes.

Heat a large skillet with olive oil over medium heat. Lightly brown the meatballs (about 8 at a time), about 1-2 minutes each side. Place each batch of browned meatballs into the slow cooker until all meatballs are browned. Cover meatballs with second can of crushed tomatoes.

Cover the meatballs and cook4 on low for 6-7 hours or high for 4-5 hours. Leftovers will stay fresh in the refrigerator, covered, up to 1 week.

Make ahead: prepare meatballs through the browning step, then cover and refrigerate up to 1 day or freeze up to 2 months. Add to slow cooker cold or frozen and cook as directed. Alternatively, fully prepare up to 1 day in advance, refrigerate, then reheat in the slow cooker on low for 1 hour. Cooked meatballs can be frozen in sauce up to 2 months. Defrost in refrigerator before reheating.
Notes
Meat: use any ground meat here.
Ground flaxseed: if you don't need or want these to be gluten-free, replace with the same amount of breadcrumbs.
Make them dairy-free: replace Parmesan cheese with

⅓ cup

gluten free breadcrumbs,

⅓ cup vegan cheese, or

⅓ cup additional ground flaxseed

. I like to change up the texture and use breadcrumbs.
No slow cooker? Use your stove top: follow the same preparation instructions, and simmer over medium-low heat until sauce thickens and meatballs are fully cooked, about 35 minutes.
Test for doneness: I check a few meatballs with a meat thermometer to ensure food safety. You're looking for 165°F (74°C) for poultry.
Nutrition Disclosure
All nutritional values are approximate and provided to the reader as a courtesy. Changing ingredients and/or quantities will alter the estimated nutritional calculations.