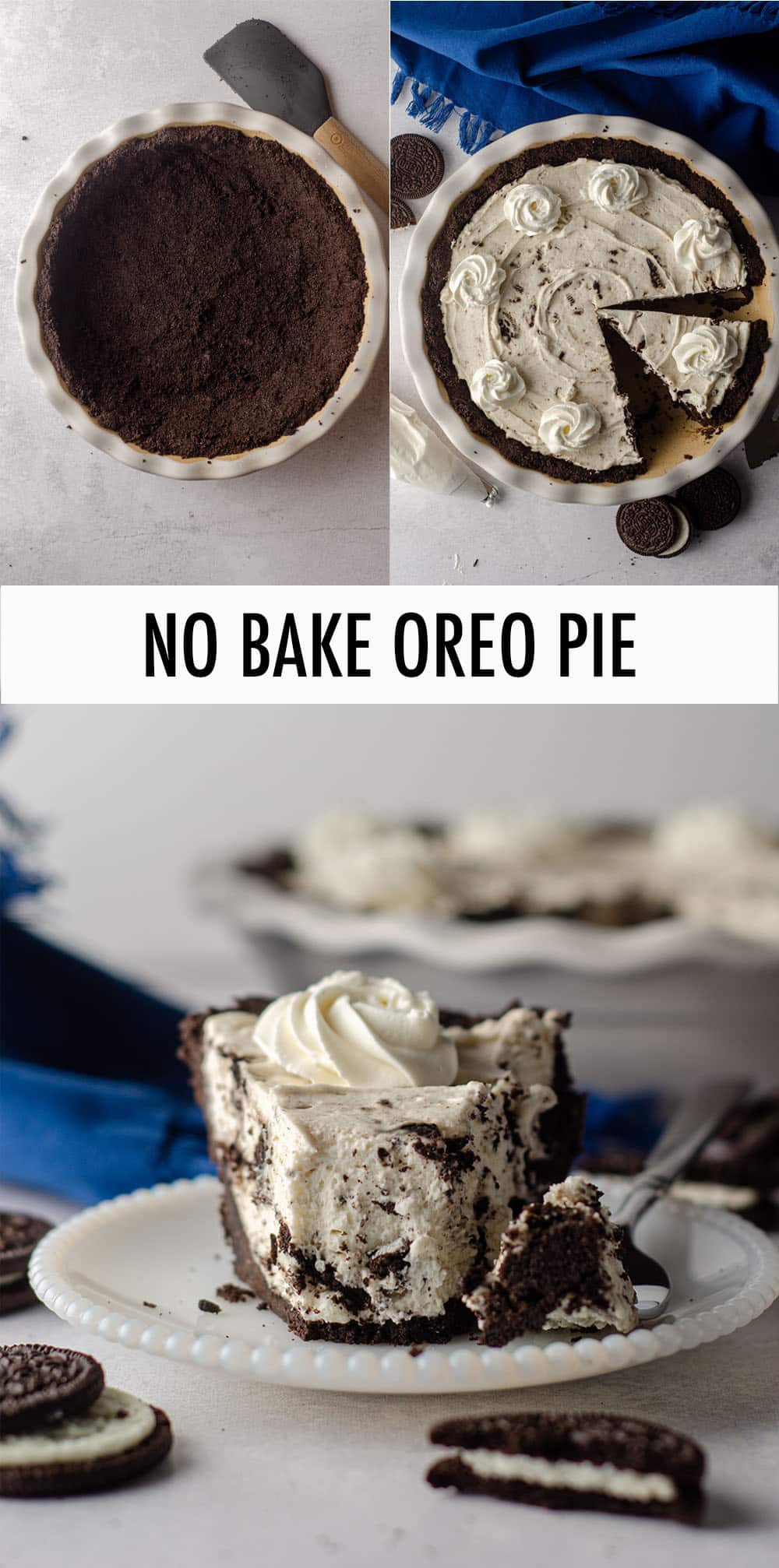 As an Amazon Associate, I earn from qualifying purchases. Read the full disclosure here.
An easy, creamy no bake pie made with a simple Oreo cookie crust and filled with chunks of Oreo cookies.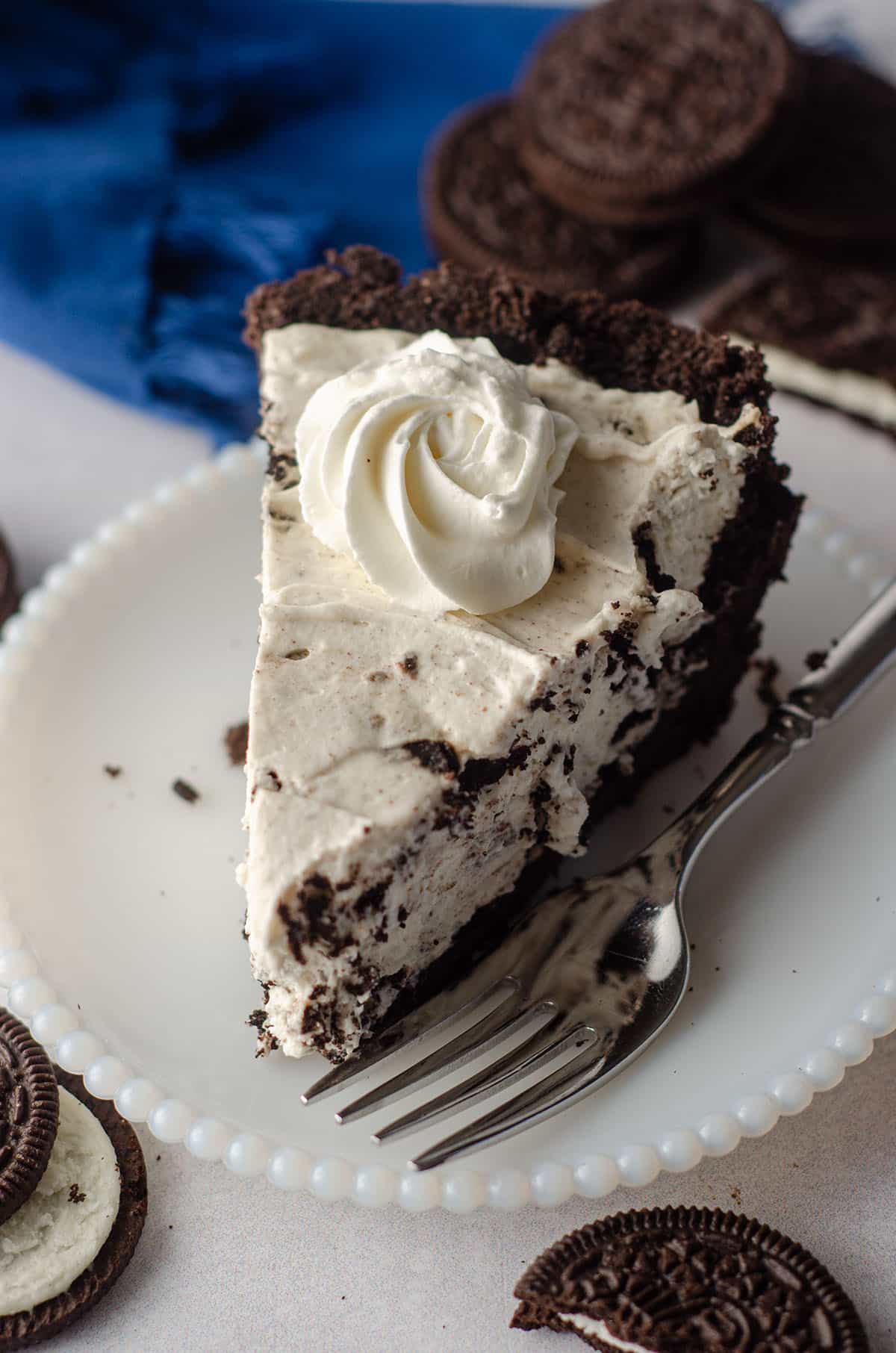 Week 2 of January, and we're already diving in deep to the desserts, because… That's how we do it on a (mostly) dessert blog.
Recall last week, we made gluten free meatballs, and I don't know about you, but I ate them daily until they were gone, and I washed them down with some of this pie. Because BALANCE.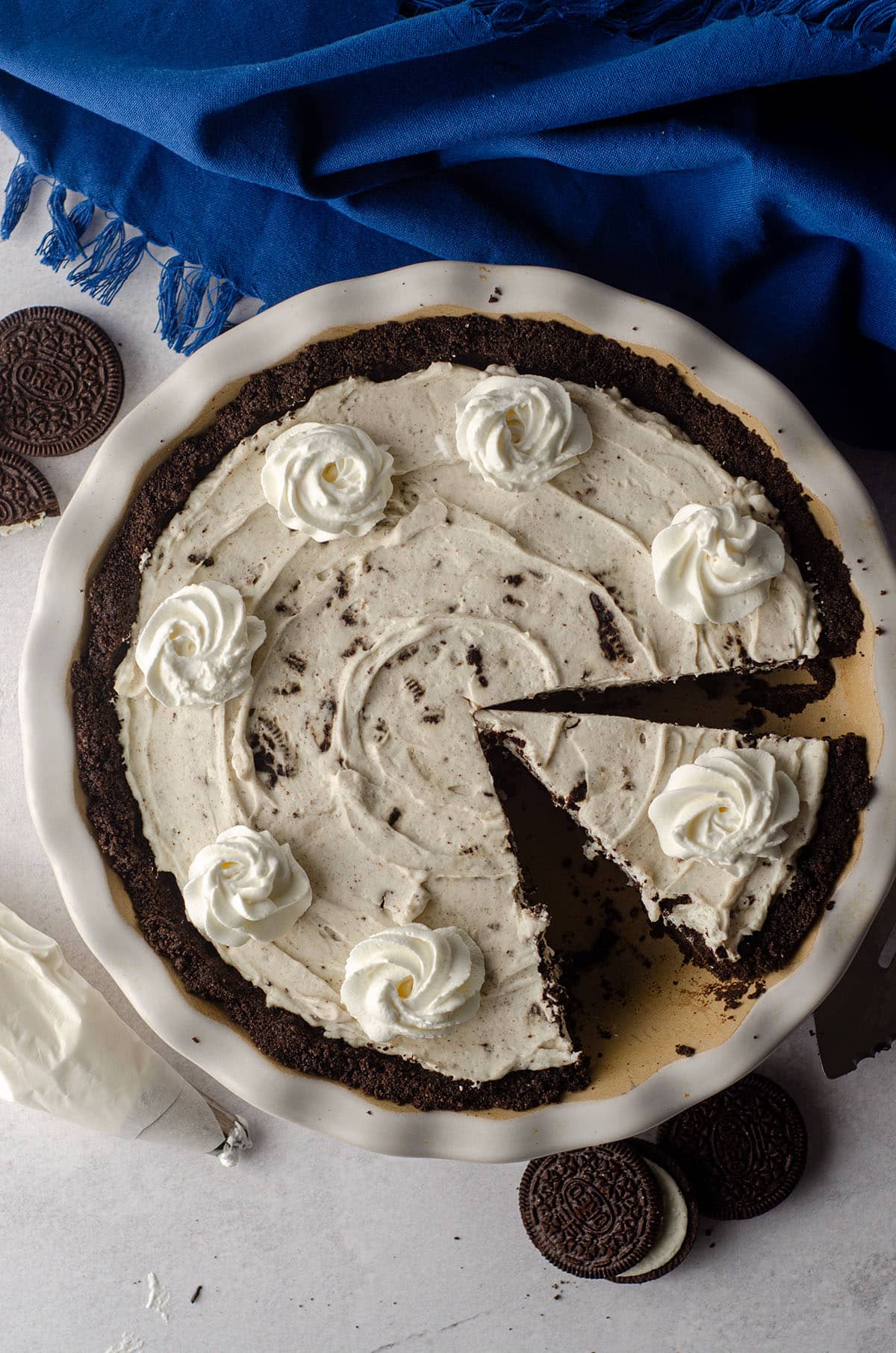 And since 2020 is now officially getting farther and farther away from us, it's time to kick off 2021's monthly recipe montage: NO BAKE DESSERTS!
I asked, and you answered. Several weeks ago, I asked you on Insta for 2021's monthly recipe ideas. I had an overwhelming response for cupcakes and no bake desserts, and when I broke it down and offered you the choice between the two, I honestly started brainstorming cupcake recipes.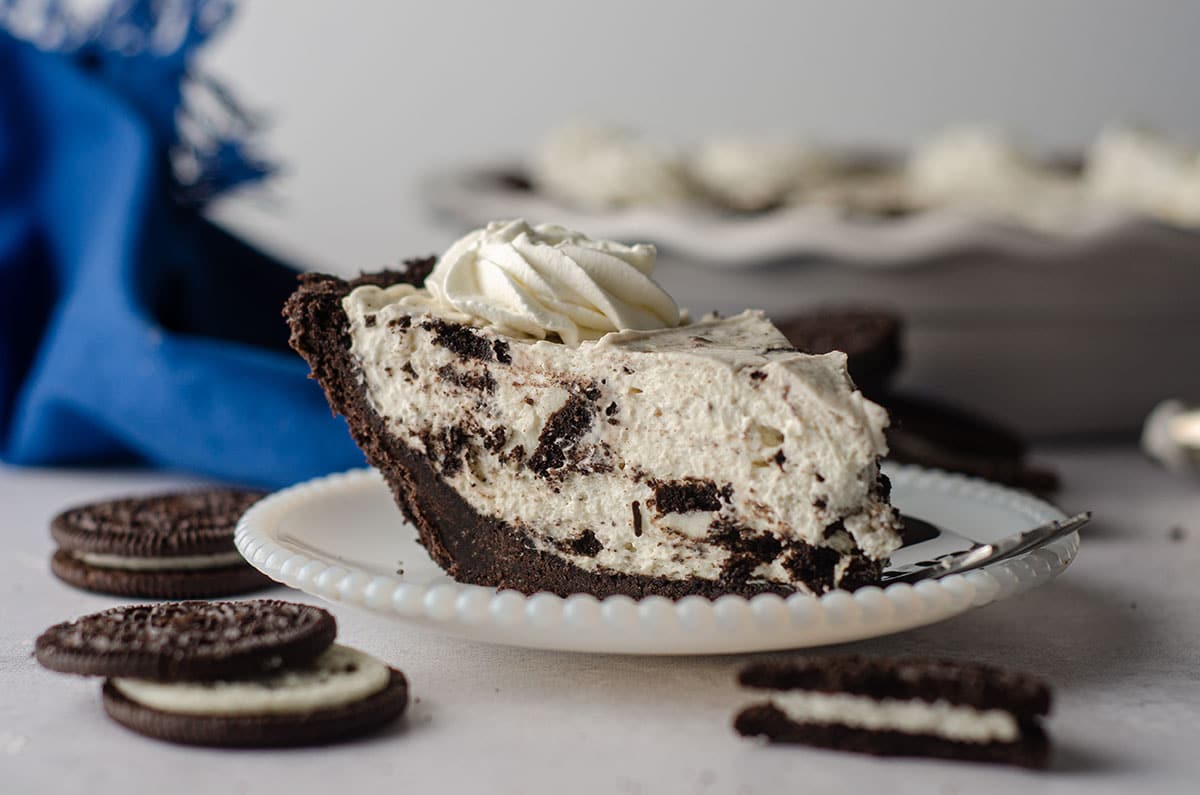 But, you all voted, and no bakes won in a LANDSLIDE. I couldn't believe it!
Don't worry, some of those cupcake recipes are still on the lineup for this year, but as for the monthly recipe goes? It's no bake all the way.
I've got snacks, dips, ice cream, chocolates, and pies all on the lineup, and we're kicking things off with one EPIC no bake pie.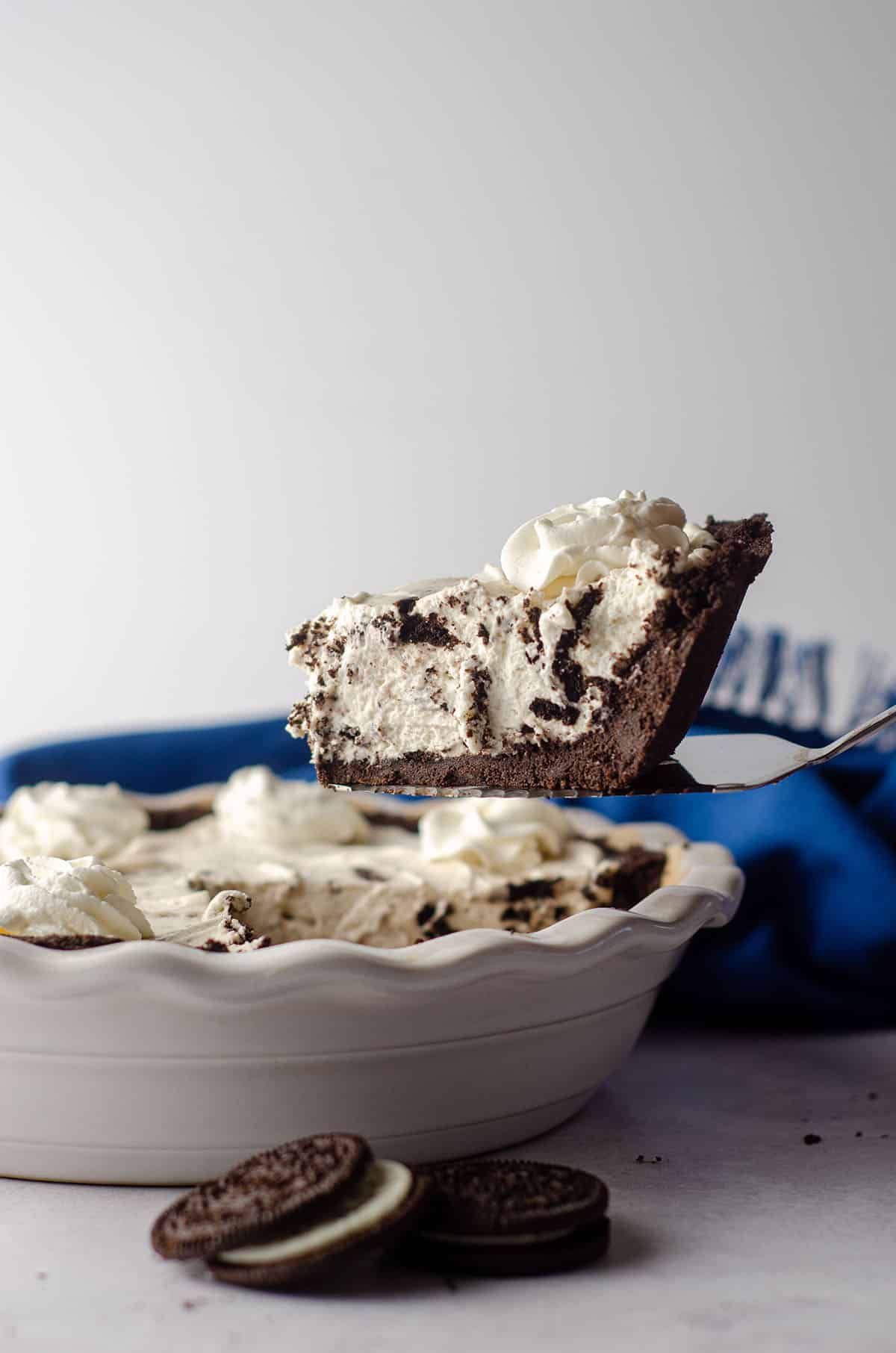 And when I say epic, I mean… Look at that slice.
Now, this pie is not new here. In fact, it's appeared in many different forms over the years.
It made its debut as a no bake mint chocolate chip pie long ago in 2016, and it formed into many remixes since: no bake candy cane crunch pie, no bake chocolate chip cookie dough pie, no bake peanut butter pie, and no bake Cadbury egg pie.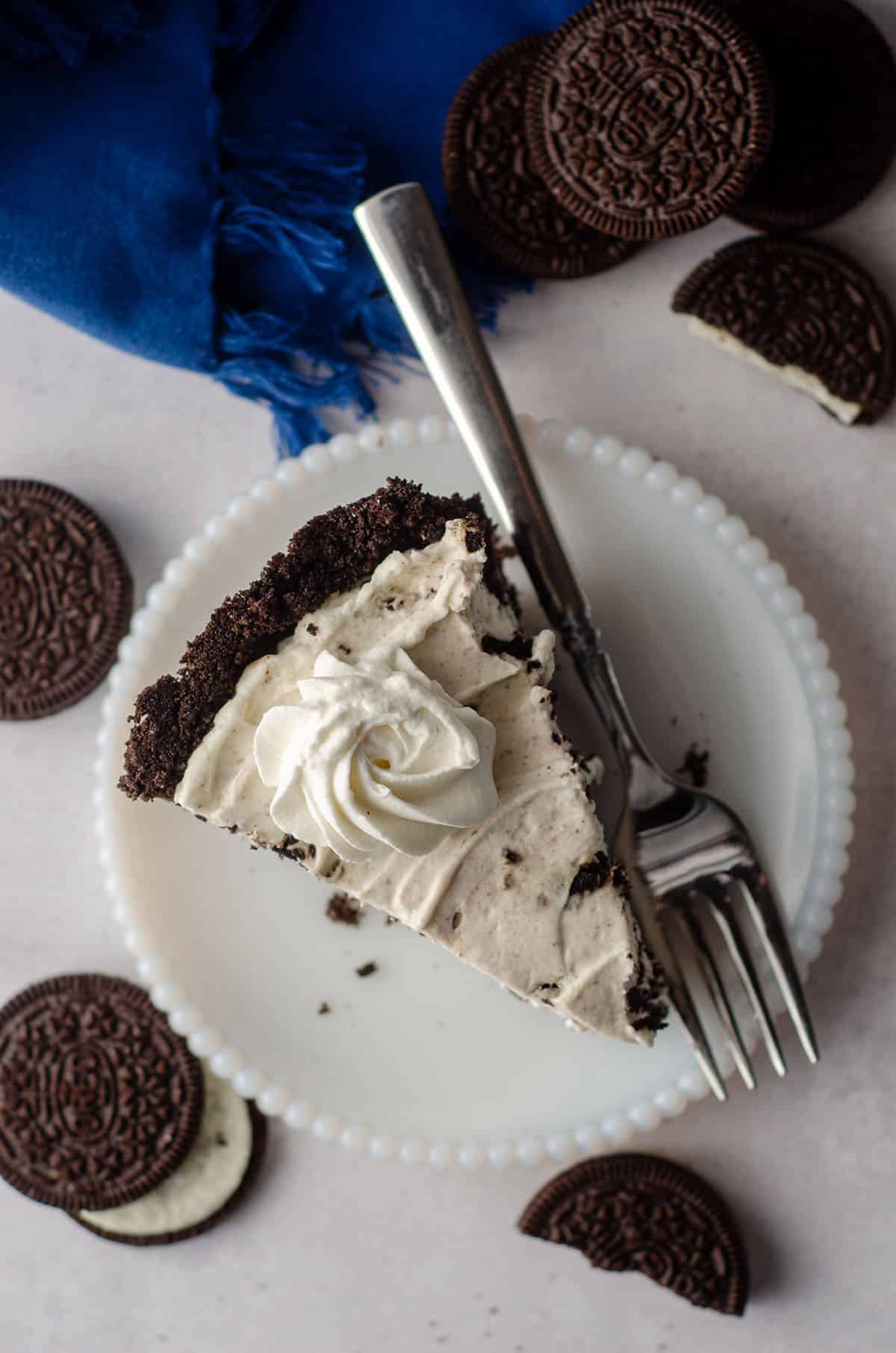 I've not really strayed from the original recipe much, but when I decided I wanted this easy Oreo pie in my no bake lineup, I wanted to make it REALLY Oreo-y.
I bumped up the number of Oreos in the crust from 18 to 26. This allows us to make a crust that not only covers the bottom of the pie, but also gives us enough crushed Oreos to go up the sides of the pie plate so each slice of no bake Oreo pie gets a giant Oreo hug.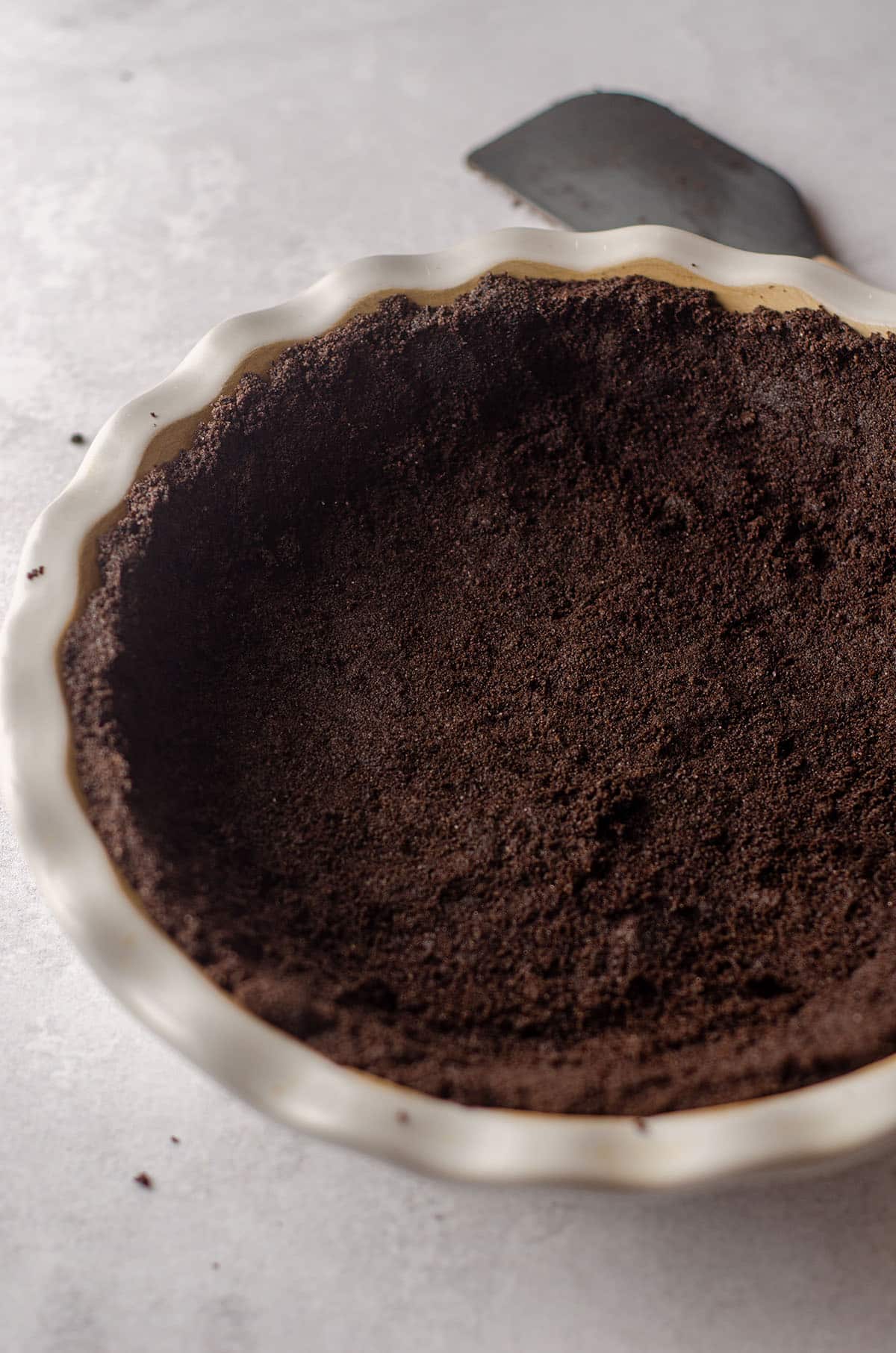 I also scaled back on the amount of powdered sugar in the filling, since we're filling the Oreo pie crust with more Oreo cookies. It's a lot of sweetness, and scaling back on the filling was the perfect adjustment.
I state it in the recipe/instructions that this whole Oreo pie recipe calls for a total of 38 Oreos. This is standard size Oreos, not DoubleStuf, of which there are 39 of in a regular pack. If you want more for taste-testing or dunking, go for the family pack of the standard Oreos.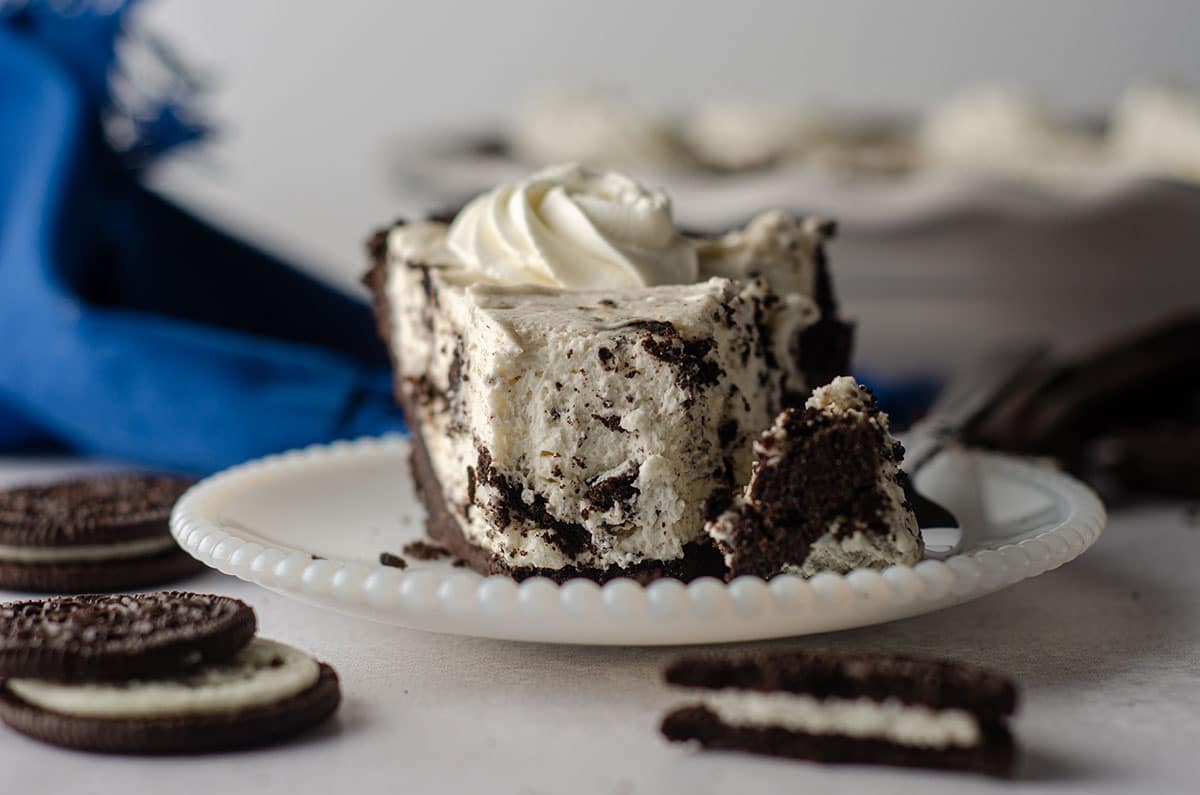 If you find yourself with fewer Oreos than needed, no sweat! Just cut back on the Oreos in the filling. Do not cut back on Oreos for the Oreo crust, otherwise your butter ratio will be off.
HOW TO MAKE OREO PIE
After pressing a simple Oreo pie crust made of Oreos + melted butter into a pie plate, you're ready to move onto the filling (yes, the Oreo crust recipe is that simple).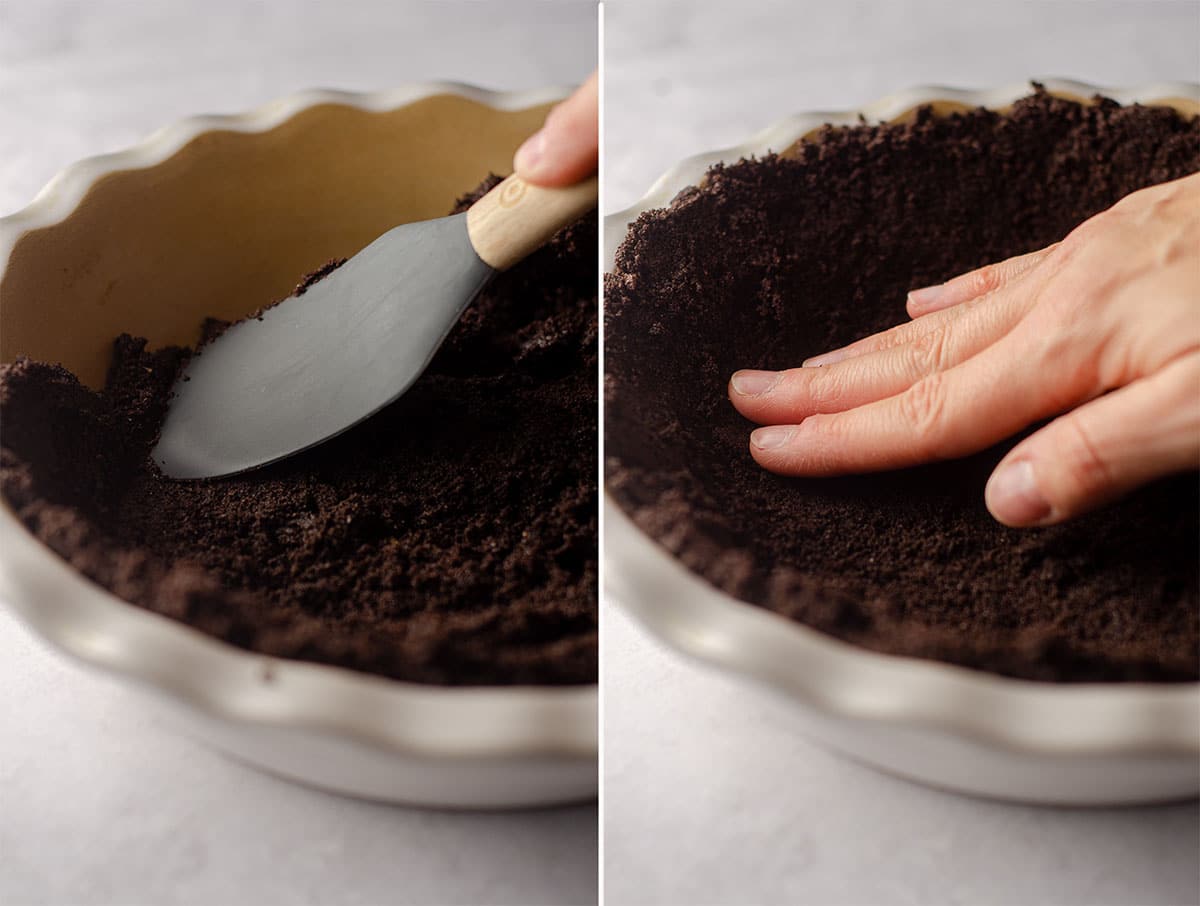 The filling for this no bake Oreo pie is made of 2 simple parts: homemade whipped cream (NO COOL WHIP YUCK GROSS) and cream cheese. This filling gets sweetened with powdered sugar and a touch of vanilla extract.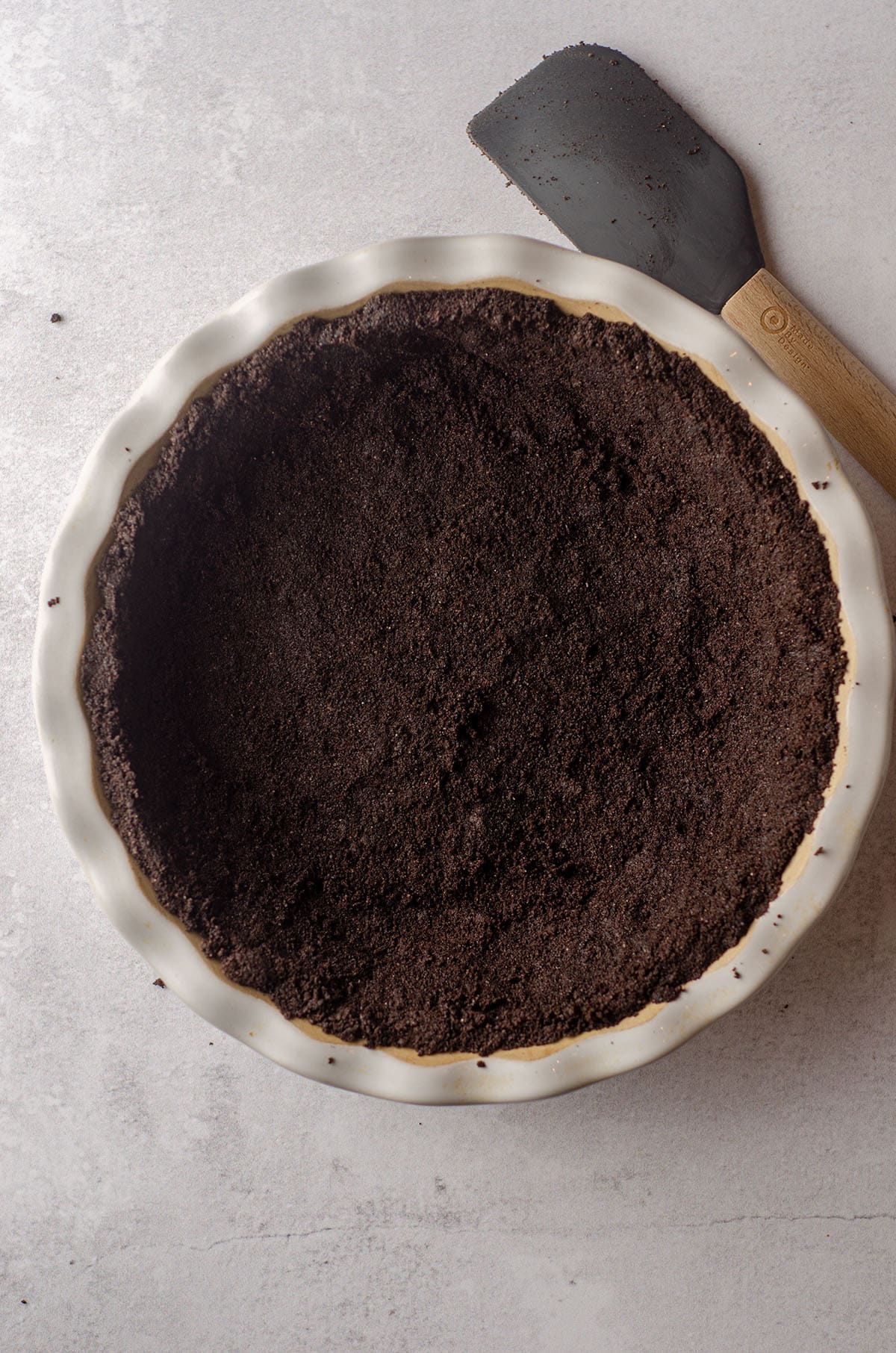 Please don't let the homemade whipped cream part scare you. It's simple, and I have an entire post dedicated to the process.
PRO TIP
One carton of heavy whipping cream will give you enough for the filling for the pie and a batch of homemade whipped cream for topping it… Or to, you know, eat with a spoon.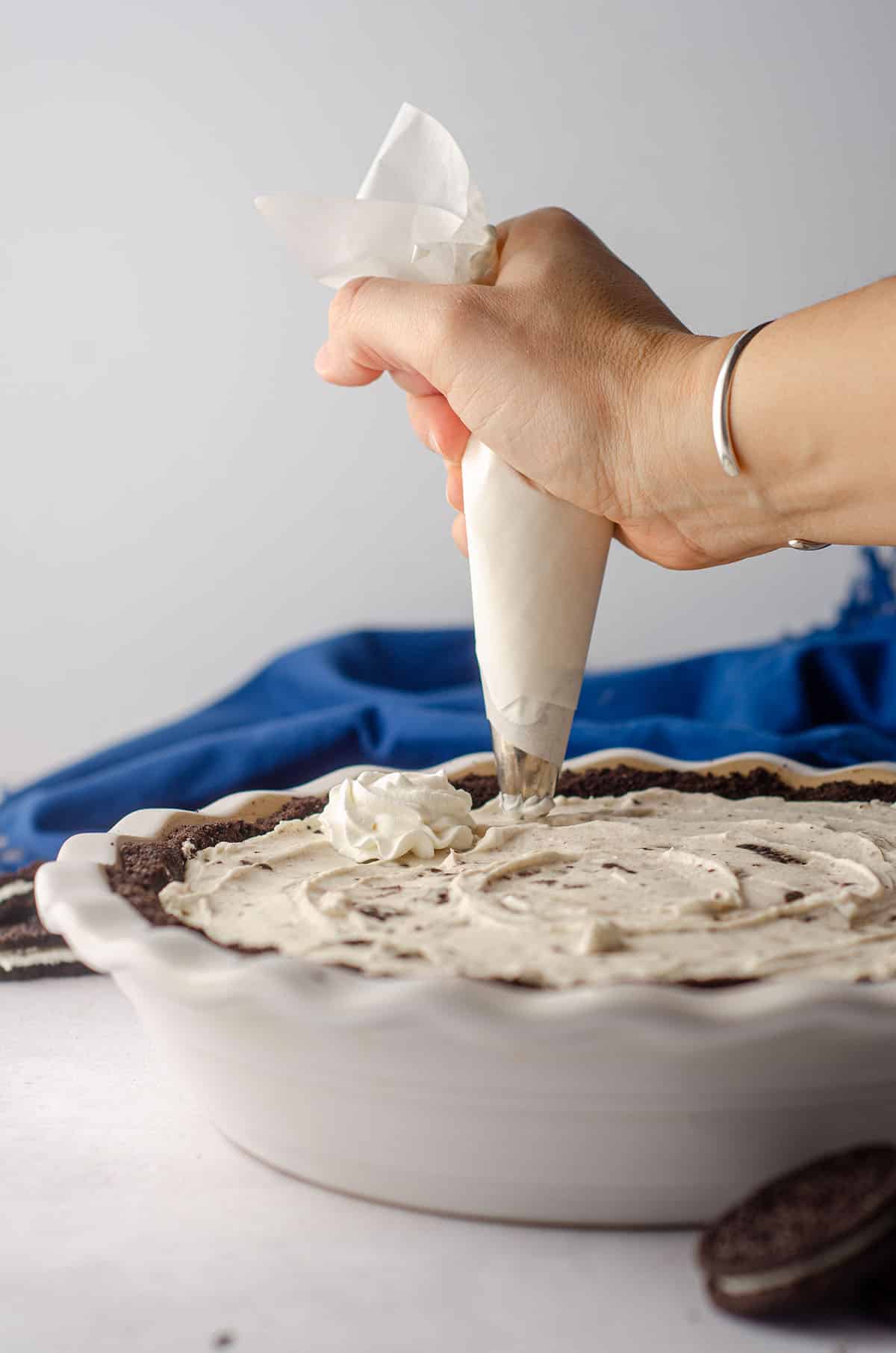 A simple refrigeration of at least 4 hours (though I find overnight to be the best) is all you need before you can dig into your Oreo pie and then perish from how delicious it is.
I had many taste testers for this pie: one toddler and 3 adults, one of whom is a self-proclaimed Oreo fanatic. The voice text I got from her was nearly incomprehensible. Just lots of "oh my gosh"s and "ohhhh mannnnn"s and things of the like.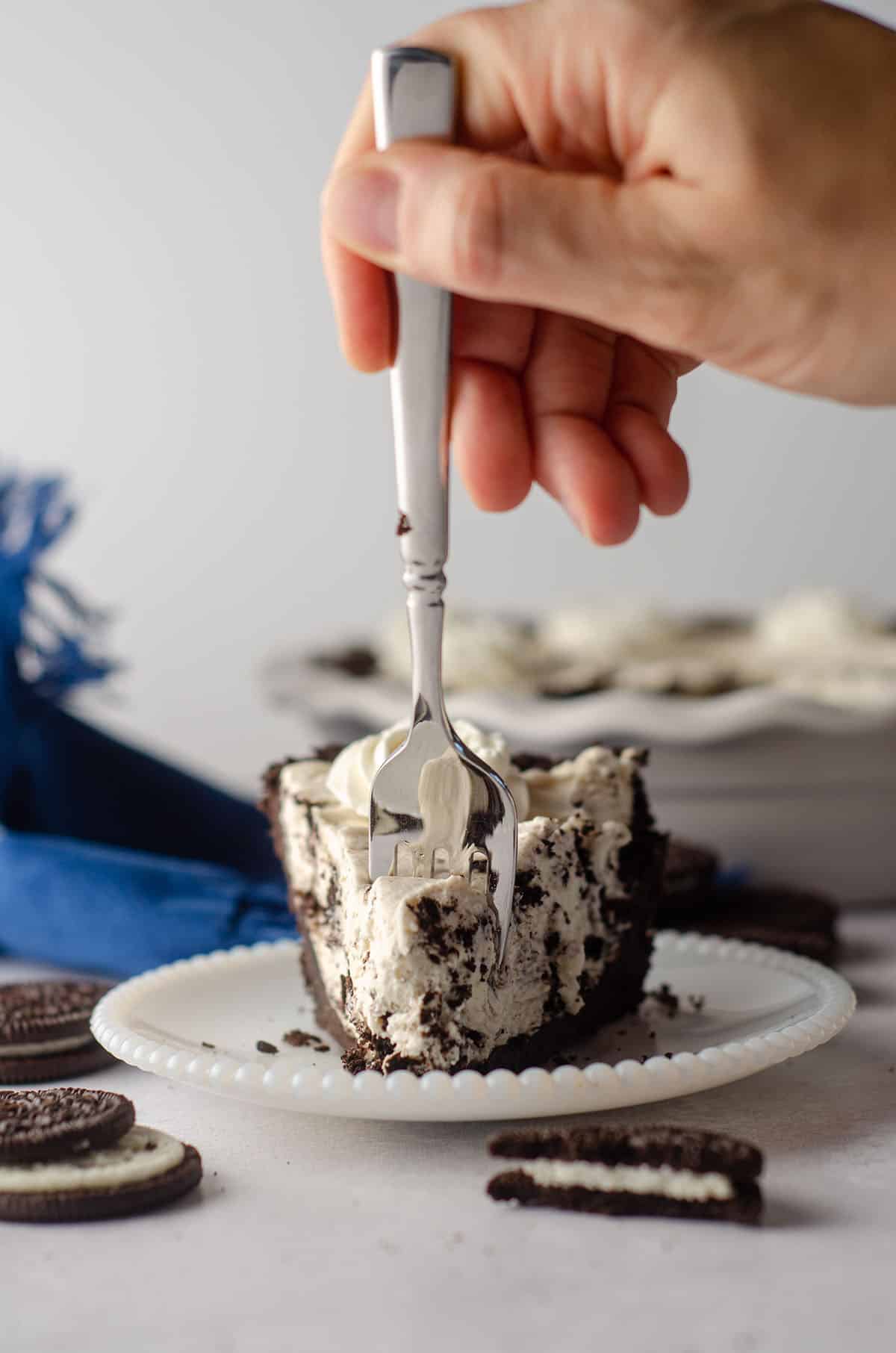 It's truly not for the Oreo faint of heart.
I am so excited to be bringing a no bake series to the blog, and I hope you find that this no bake Oreo pie recipe is a great way to kick it off.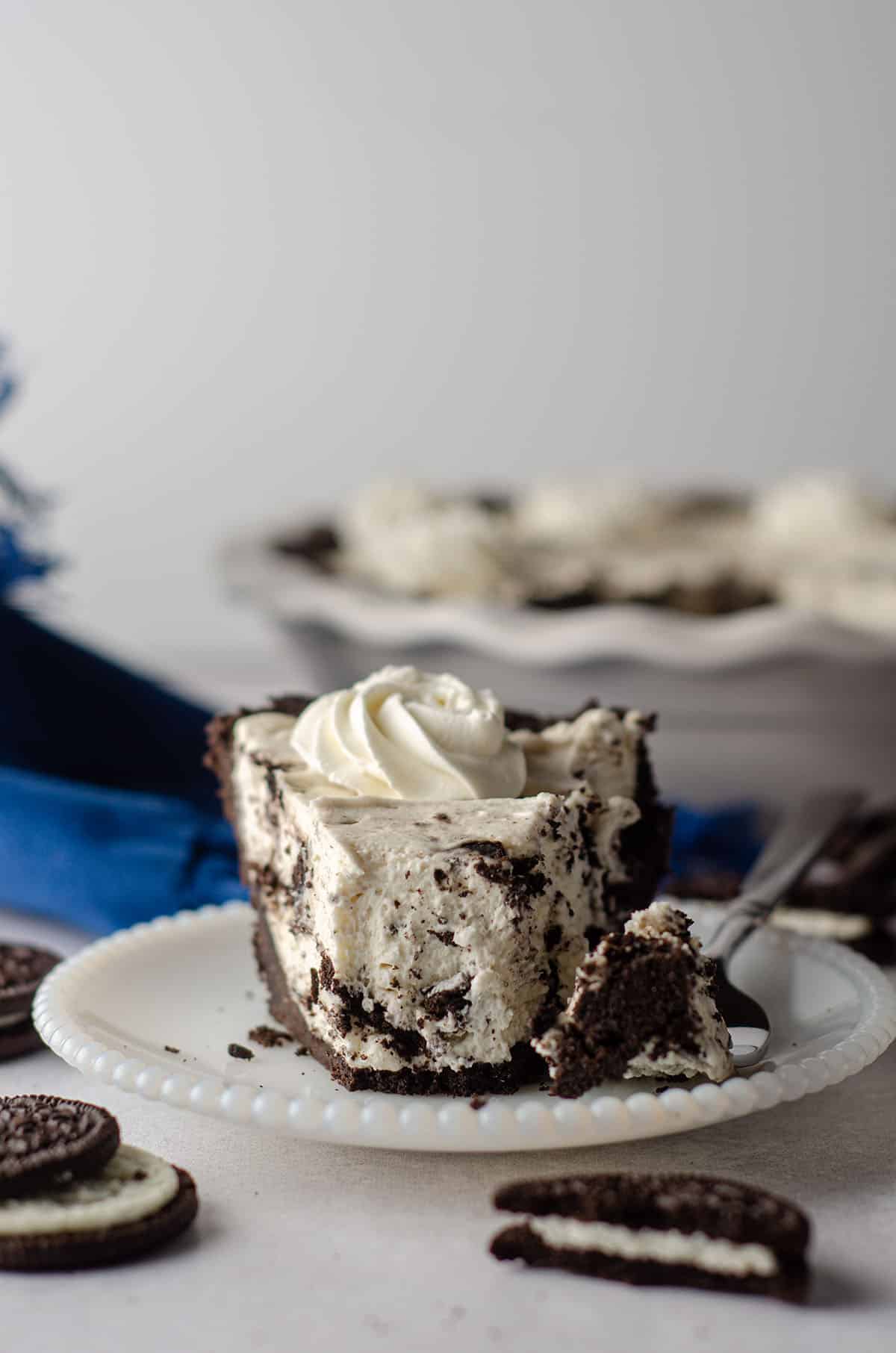 So tell me… What other no bake treats are you anxious to see? I have plenty of room left in the editorial calendar and would love to hear your suggestions!
No Bake Oreo Pie
An easy, creamy no bake pie made with a simple Oreo cookie crust and filled with chunks of Oreo cookies.
Ingredients
OREO CRUST
26

Oreos1 crushed2

6

Tablespoons

(85g) unsalted butter

melted
OREO FILLING
1

cup

(240mL) heavy cream plus more for topping3

8

ounces

(225g) cream cheese

softened to room temperature

¾

cup

(90g) powdered sugar

1 and ½

teaspoons

vanilla extract

12

Oreos

chopped
Instructions
OREO CRUST
Place the crushed Oreos in a medium size bowl and drizzle the melted butter evenly over the cookies.

Stir to mix completely, then press evenly into the bottom and up the sides of a 9" pie plate. Chill in the refrigerator for 30 minutes.
OREO FILLING
In a medium size bowl with a hand mixer or the bowl of a stand mixer fitted with the whisk attachment, beat the whipping cream until stiff peaks form (about 3-4 minutes; see this tutorial for step-by-step instructions for homemade whipped cream). Place bowl in the refrigerator (or transfer to smaller bowl if using a stand mixer) until ready to use.

In a large bowl with a hand mixer or the same bowl of the stand mixer (no need to clean) now fitted with the paddle attachment, beat the cream cheese on medium-high speed until smooth. Reduce mixer speed to low and add the sugar, increase the mixer speed to medium-high, and beat again until smooth. Add the vanilla extract and continue beating until smooth. Scrape down the sides as necessary.

Turn off the mixer and gently fold in the cold whipped cream with a large spatula until everything is combined. Pour in the chopped Oreos and mix again with the spatula until evenly dispersed.

Pour the filling onto the prepared crust and spread evenly with the spatula. Cover with foil or plastic wrap and chill in the refrigerator at least 4 hours (for best results, overnight) before serving. Store leftovers covered tightly in the refrigerator up to 5 days. Pie can be wrapped tightly and frozen up to 2 months. Thaw in refrigerator overnight.
Notes
Oreos: you will need 38 Oreos total for this recipe. There are 39 in a standard pack, however there are fewer in the DoubleStuf pack. My best suggestion is to get the family size pack, or put fewer Oreos into the filling. Do not sacrifice Oreos in the crust or the butter ratio will be off.
Crushed Oreos: I find it easiest to put the Oreos into a food processor than to do this step by hand.
Top with homemade whipped cream: one small carton of heavy whipping cream will give you enough for this recipe + a whole batch to top your pie with. See my linked tutorial for instructions.
Nutrition Disclosure
All nutritional values are approximate and provided to the reader as a courtesy. Changing ingredients and/or quantities will alter the estimated nutritional calculations.
Serving:
1
serving
|
Calories:
413
kcal
|
Carbohydrates:
44
g
|
Protein:
7
g
|
Fat:
24
g
|
Saturated Fat:
13
g
|
Polyunsaturated Fat:
2
g
|
Monounsaturated Fat:
8
g
|
Trans Fat:
0.3
g
|
Cholesterol:
48
mg
|
Sodium:
344
mg
|
Potassium:
195
mg
|
Fiber:
1
g
|
Sugar:
29
g
|
Vitamin A:
573
IU
|
Vitamin C:
0.1
mg
|
Calcium:
107
mg
|
Iron:
6
mg