No Bake Peanut Butter Pie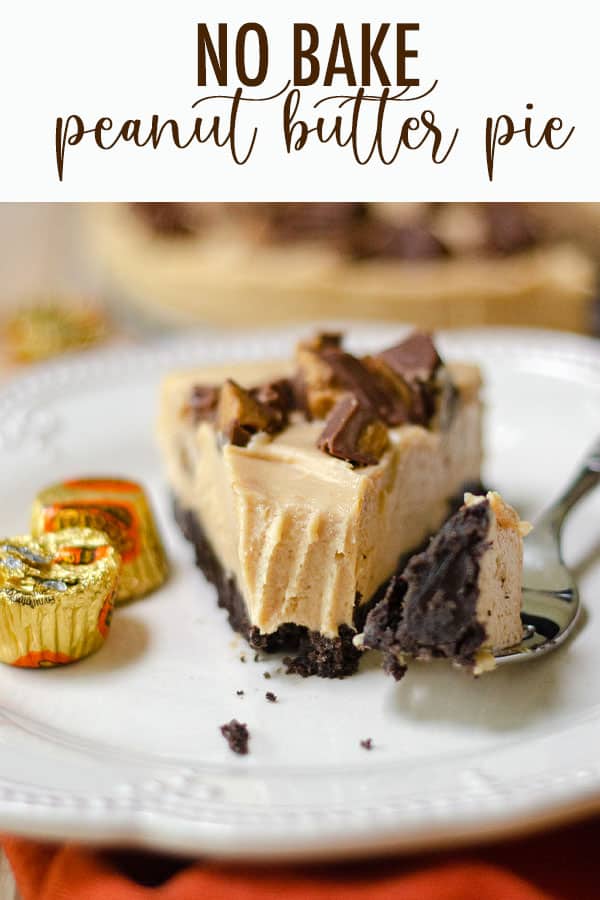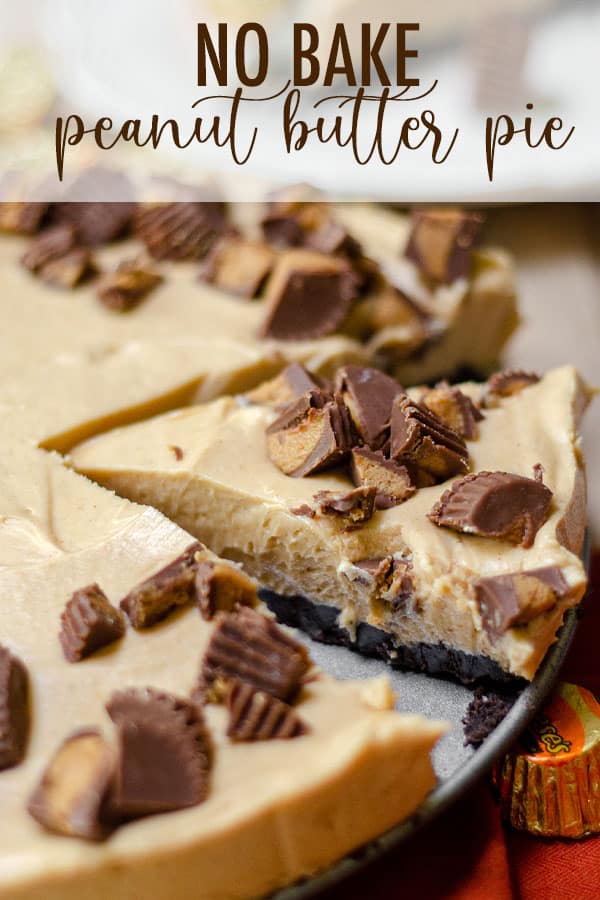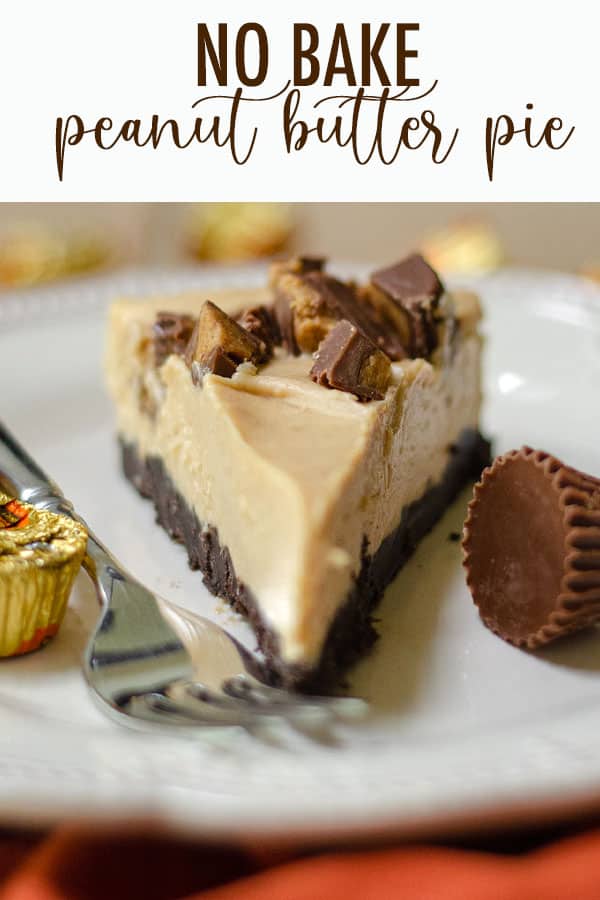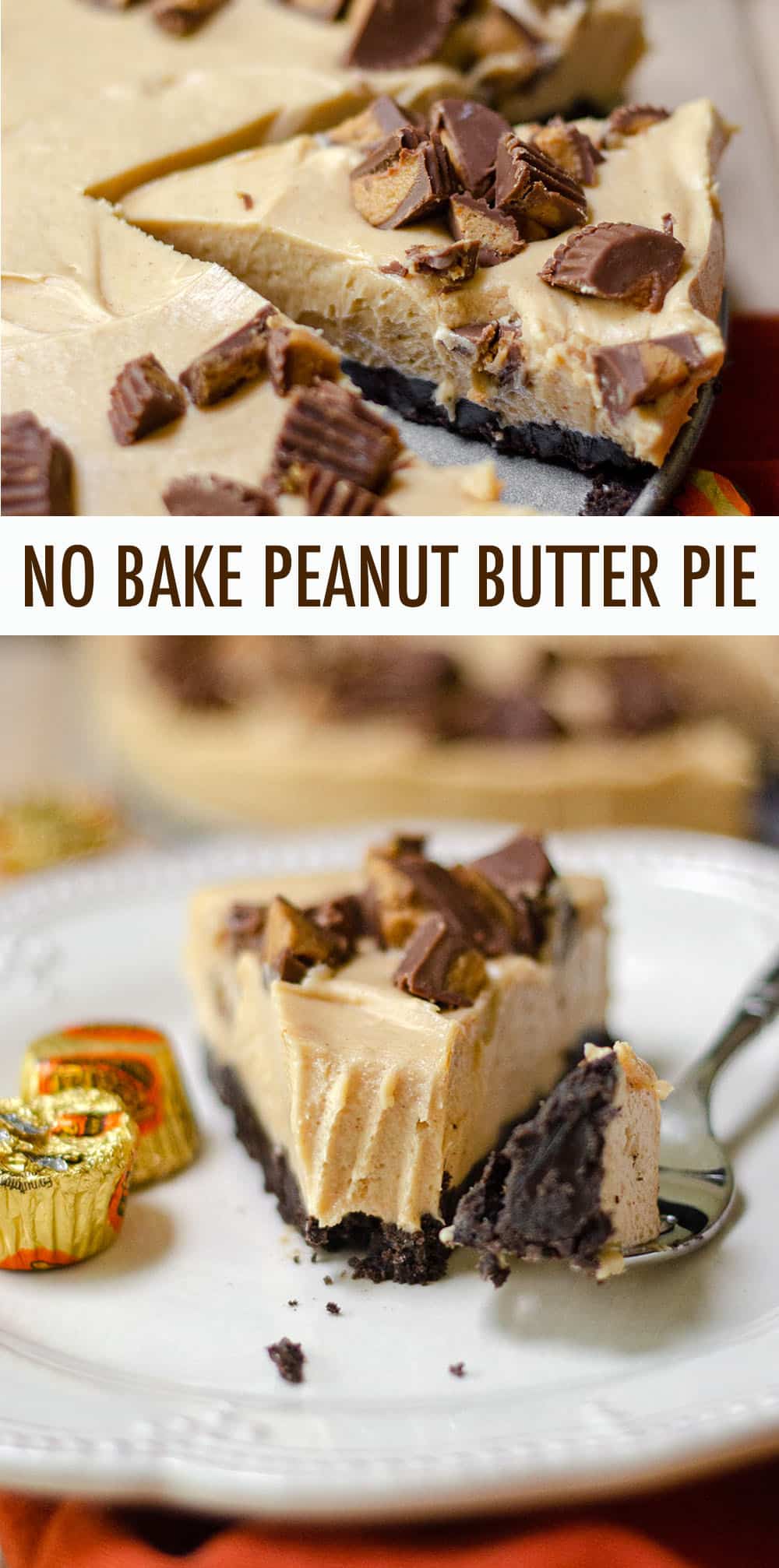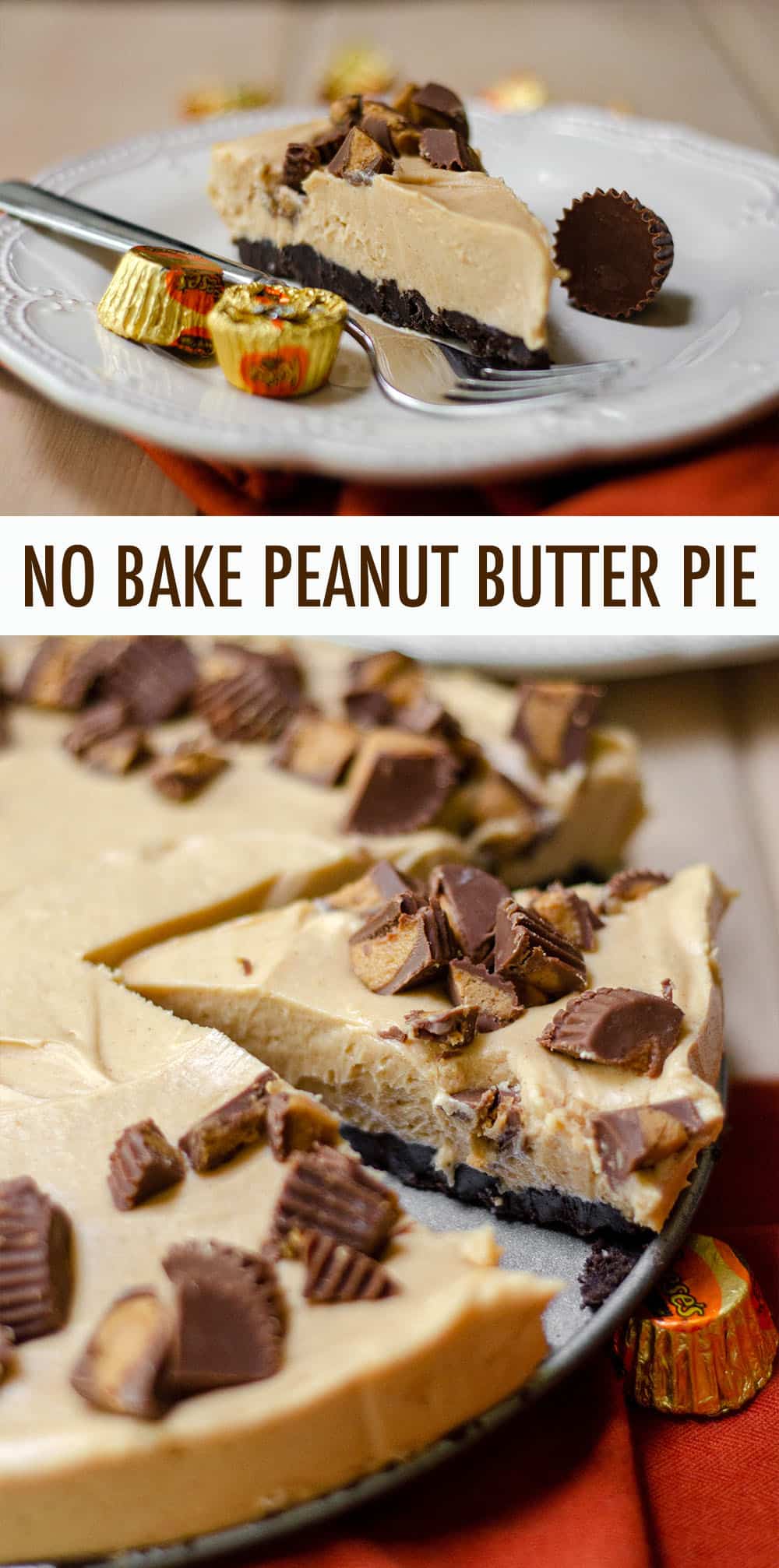 As an Amazon Associate, I earn from qualifying purchases. Read the full disclosure here.
A light and creamy peanut butter filling atop a crushed Oreo crust. The chopped peanut butter cups on top seal the deal for a perfect no bake pie!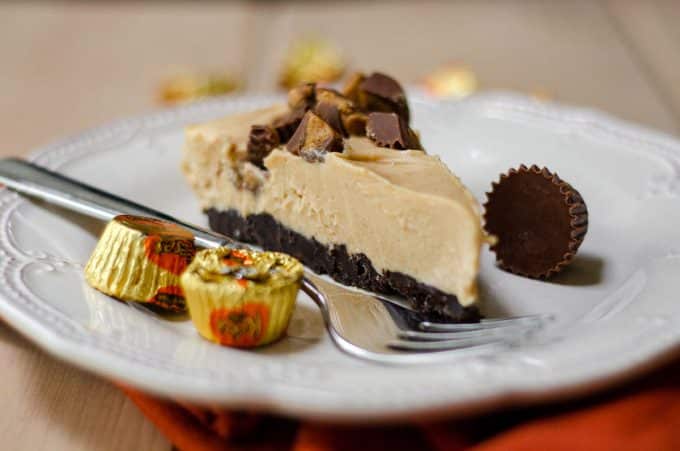 Hellooooo, beautiful peanut butter slice! I see you, with my googly heart eyes.
This is definitely a Friday-before-the-long-weekend recipe, don't you think? No bake? Chocolate and peanut butter? Perfectly light enough for a BBQ dessert but not lacking flavor or depth in the least?
Yes, this is a Friday-before-the-long-weekend recipe INDEED. So grab your peanut butter and your peanut butter cups and let's no bake this thang.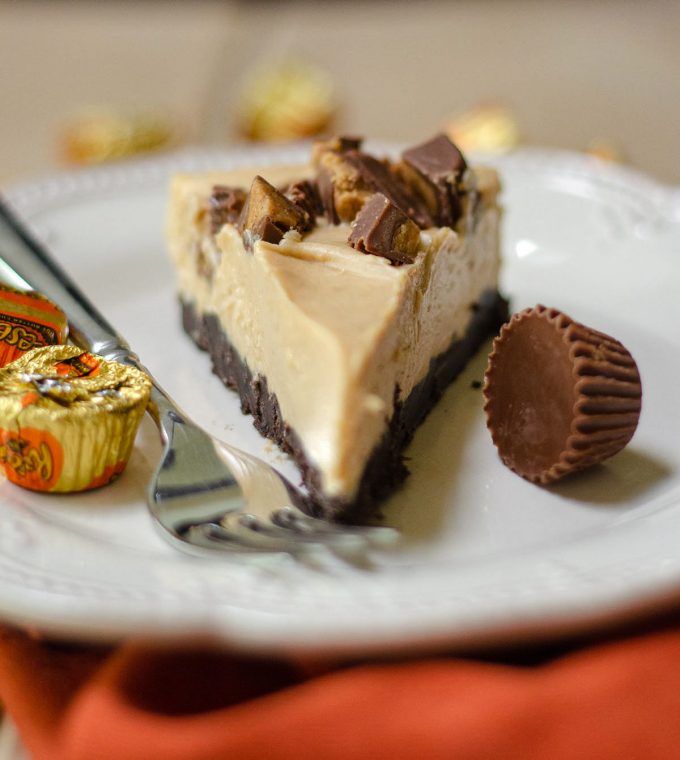 Would you believe I've been trying to make this recipe forEVer?? When I made my first no bake pie (mint chocolate chip style!), I knew it was the perfect base for several other versions. Since then, I've made a candy cane crunch one, a chocolate chip cookie dough one, and a mini Cadbury egg one.
But my dear husband Matt no longer eats peanuts (they and other legumes bug his belly), so it's rare I make peanut butter treats anymore, unless I have somewhere for them to go so that I don't wind up eating ALL of whatever it is.
I had a girls' night last weekend, and this no bake peanut butter pie was my contribution. It was SO well received (hello, choc + pb = love), and I sent the rest home for my next door neighbor as her birthday treat the next day.
She and her family savored every last crumb and I was just left with an empty spring form pan just 2 days after making the pie.
If you even remotely like peanut butter and chocolate together, this pie is going to need to find a permanent place in your baking arsenal filed under EASY, NO BAKE, SUPER YUMMY, CROWD FAVORITE, EXTRA DELISH, and MUST MAKE.
It's super simple, and if you don't believe me, please know that I made this from start to finish between the time my children went to bed at 7:30 and the time we sat down to watch Chernobyl (OMG THIS SHOW) at 8:30.
And those of you who saw my Insta story that night know that this is true info. Super easy peasy.
The base of this no bake pie is crushed Oreos and butter. I used regular Oreos, but you can definitely use Double Stuf OR EVEN the peanut butter ones.
Whatever you'd like to have leftover, because you'll only be using 18 of them, so that leaves you with about 1 and 1/3 sleeves of Oreos to do with what you wish.
If you're feeling adventurous, consider one of those other no bake pies!!
Or these cookies & cream brownies.
Or these cookies & cream cookies.
Or these mini cookies & cream cupcakes.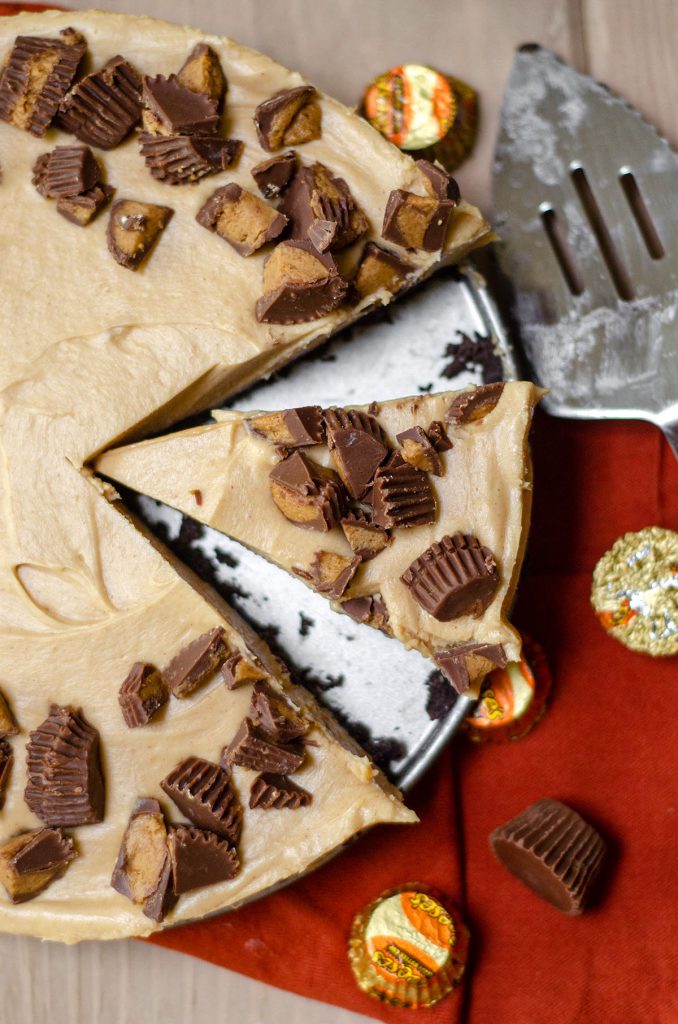 The filling is made of 4 simple ingredients: cream cheese, peanut butter, an unsweetened version of my homemade whipped cream, and powdered sugar.
Don't worry– the cream cheese is undetectable. It's purely there for texture, and the peanut butter pretty much masks the flavor anyway, so if you're worried this is like a cheesecake, it's totally not.
A hefty sprinkle of chopped peanut butter cups on top and an overnight chill in the fridge, this no bake pie will be the hit of the dessert table at your Memorial Day BBQ.
AND AND, if you're really feeling up to it, freeze this pie and you're in for somethin' else. I had it both ways, and truly, both ways tasted equally perfect, so it's really just your preference.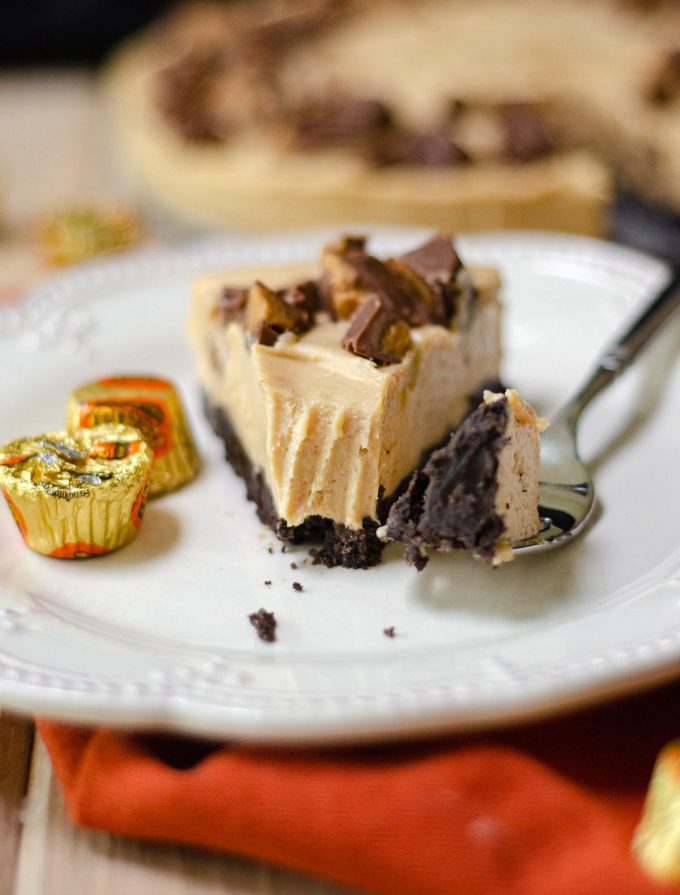 I honestly think a no bake peanut butter pie should be a staple in your collection of recipes, and though I may be biased toward choosing mine as your go-to, I also think you'll be 100% satisfied to call this one a keeper!
No Bake Peanut Butter Pie
A light and creamy peanut butter filling atop a crushed Oreo crust. The chopped peanut butter cups on top seal the deal for a perfect no bake pie!
Ingredients
18

Oreos

crushed (about 2 cups)

1/4

cup

unsalted butter melted

1

cup

heavy cream or heavy whipping cream

8

ounces

cream cheese

softened to room temperature

1

cup

powdered sugar

1

cup

creamy peanut butter

16

unwrapped mini peanut butter cups

chopped
Instructions
Place the crushed Oreos in a medium size bowl and drizzle the melted butter evenly over the cookies. Stir to mix completely, then press evenly into the bottom of a 9" springform pan (a regular 8" or 9" pie plate will work just fine as well). Chill in the refrigerator for 30 minutes.

In a medium size bowl with a hand mixer or the bowl of a stand mixer fitted with the whisk attachment, beat the whipping cream until stiff peaks form (about 3-4 minutes; see this tutorial for step-by-step instructions for homemade whipped cream). Place bowl in the refrigerator (or transfer to smaller bowl if using a stand mixer) until ready to use.

In a large bowl with a hand mixer or the same bowl of the stand mixer (no need to clean) now fitted with the paddle attachment, beat the cream cheese on medium-high speed until smooth. Reduce mixer speed to low and add the sugar, increase the mixer speed to medium-high, and beat again until smooth. Add the peanut butter and continue beating. Mixture may become clumpy-- this is ok. Scrape down the sides as necessary.

Turn off the mixer and fold in the cold whipped cream with a large spatula until mixture is smooth.

Pour the filling onto the prepared crust and spread evenly with the spatula (I prefer to use this small offset spatula). Sprinkle with chopped peanut butter cups. Cover with foil or plastic wrap and chill in the refrigerator at least 4 hours (for best results, overnight) before serving. Store leftovers covered tightly in the refrigerator up to 5 days. Pie can be wrapped tightly and frozen up to 2 months. Thaw in refrigerator overnight.
Nutrition Disclosure
All nutritional values are approximate and provided to the reader as a courtesy. Changing ingredients and/or quantities will alter the estimated nutritional calculations.