As an Amazon Associate I earn from qualifying purchases.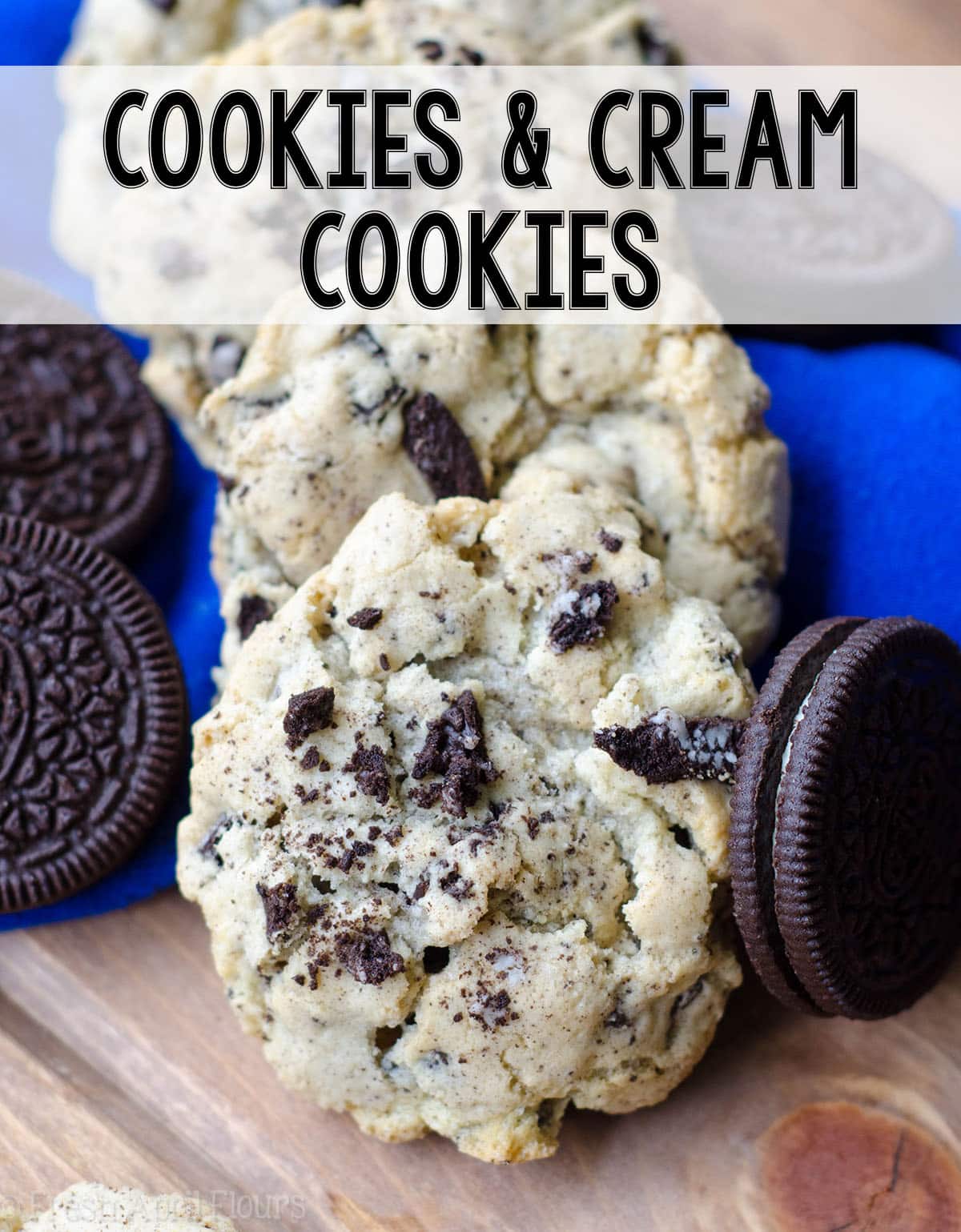 Easy and basic sugar cookies filled with chopped Oreos. Great for multi-colored holiday Oreos.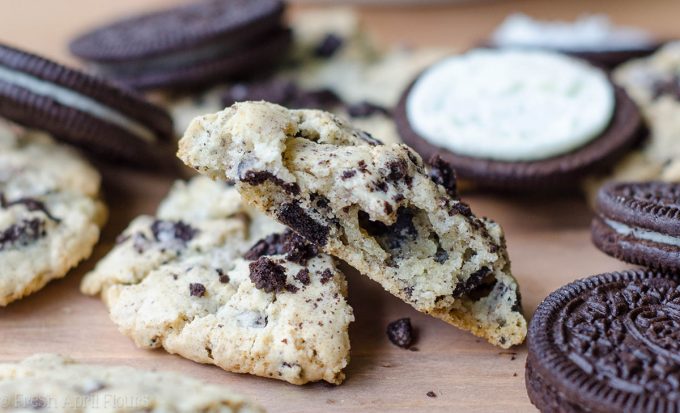 Raise your hand if you love Oreos. Raise your other hand if you love putting Oreos in something else (like CUPCAKES). Now put both of your hands back down so you can scroll to the recipe for these unbelievably Oreo-y cookies that you must must must make this cookie baking season!
It's as if the 12 Days of Christmas Cookies didn't have enough cookies and it needed to have a cookie within a cookie to feel complete.
Uhh yeah, I totally get that. Give me all the cookies.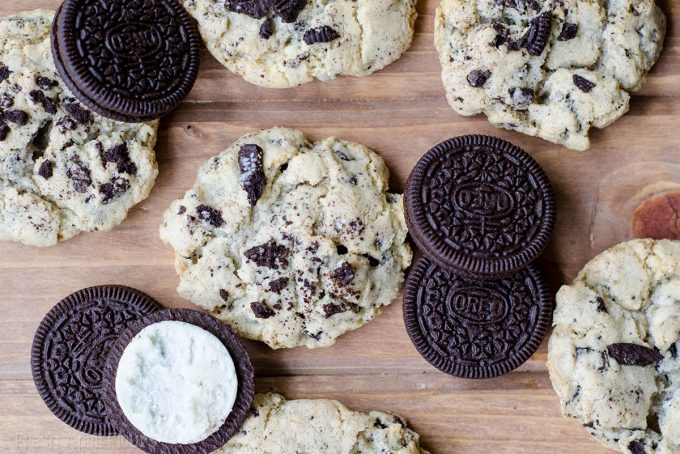 So let's talk cookies and cream cookies, also known as Oreo cookie cookies. We won't have to talk long because these cookies are so simple.
So simple, in fact, you might find yourself wiping out the Oreo section of the grocery store just because you can't stop baking. There is absolutely nothing wrong with that.
The base for these cookies is very basic: just some flour, butter, and sugar. There is also a touch of cornstarch in these cookies because I preferred the cookies with it than without it.
USE CORNSTARCH TO KEEP THE COOKIES SOFT
Cornstarch adds a bit of softness to cookie dough. Without it, the cookies are a little too crunchy for my liking.
You'd be surprised what just 1 teaspoon of cornstarch can do to the texture of a cookie. Don't leave it out!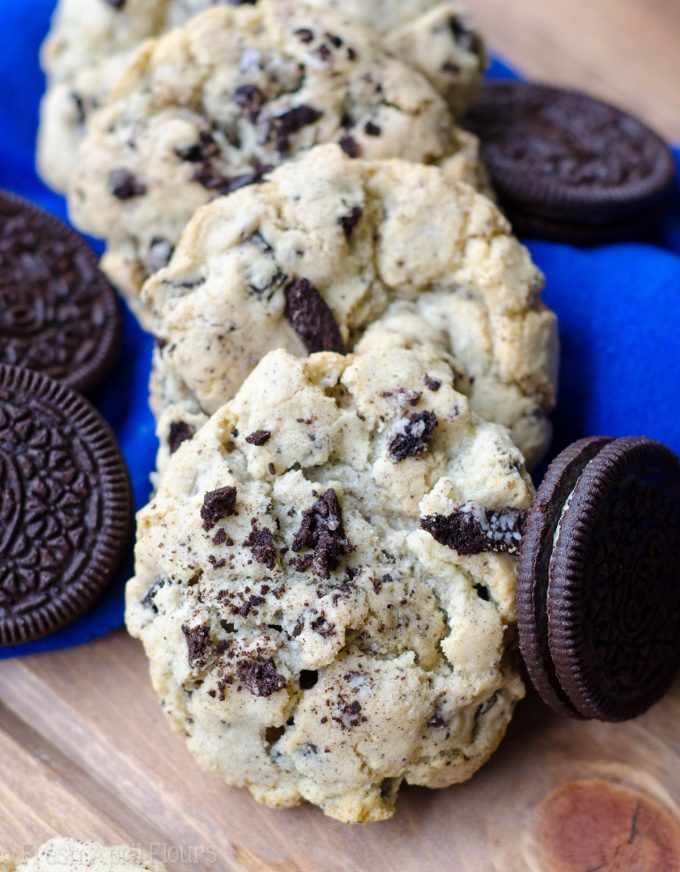 The star of the show is, of course, the Oreos. You'll need 10, coarsely chopped, which is great, because then you'll be left with about 40ish Oreos to dunk in milk.
Or to make more cookies.
Whatever.
Bottom line is: cookies make the world go 'round.
You don't need to chill this dough, and you also don't need to roll it into balls. Just drop rounded scoops right onto a baking sheet. I mean, can these cookies get any easier?
Yes, they can actually.
They disappear very easily. This is an experiment we tested 3 separate times in our house.
The results were 100% of the cookies easily disappeared in 100% of a very short, undisclosed amount of time. I am a scientist. This was very strictly studied and documented.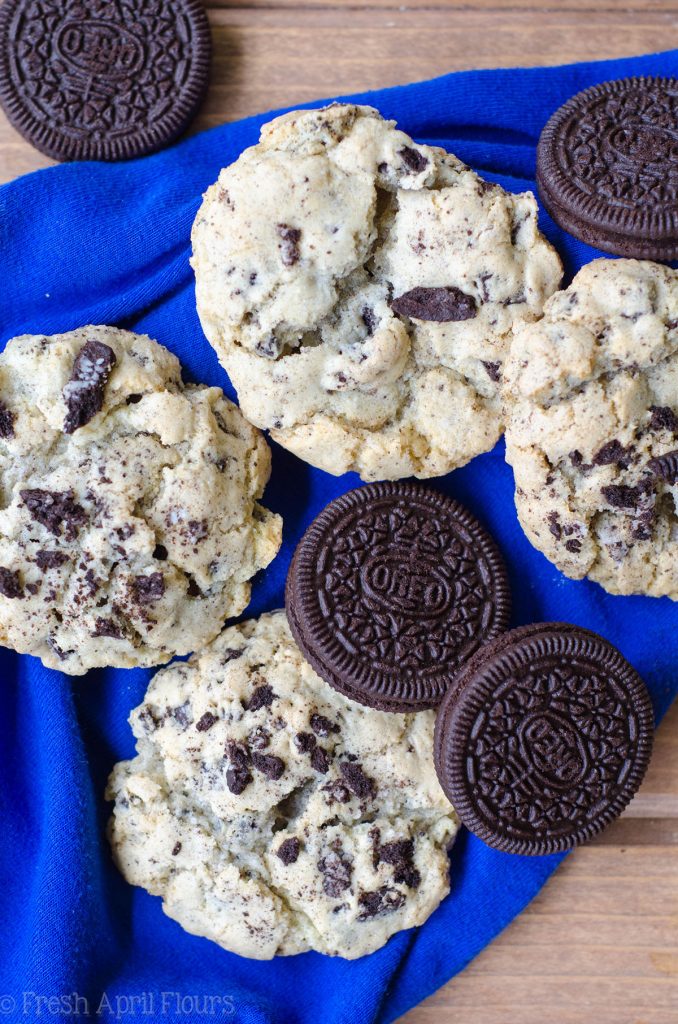 In fact, one of the 3 times we made these cookies and cream cookies, I threw in some Halloween sprinkles. Which were ADORABLE. Of course, I didn't take any pictures.
But Christmas sprinkles or really, any holiday sprinkles would be a great addition to these cookies. And holiday Oreos? Fantastic. Throw those in too.
These cookies are definitely for the Oreo lovers and cookie lovers alike.
Some of the Oreos stay crunchy while others, more so the ones in the center of the cookie, get soft with melty Oreo filling. So many textures, lots of flavor, and plenty of room for holiday jazziness.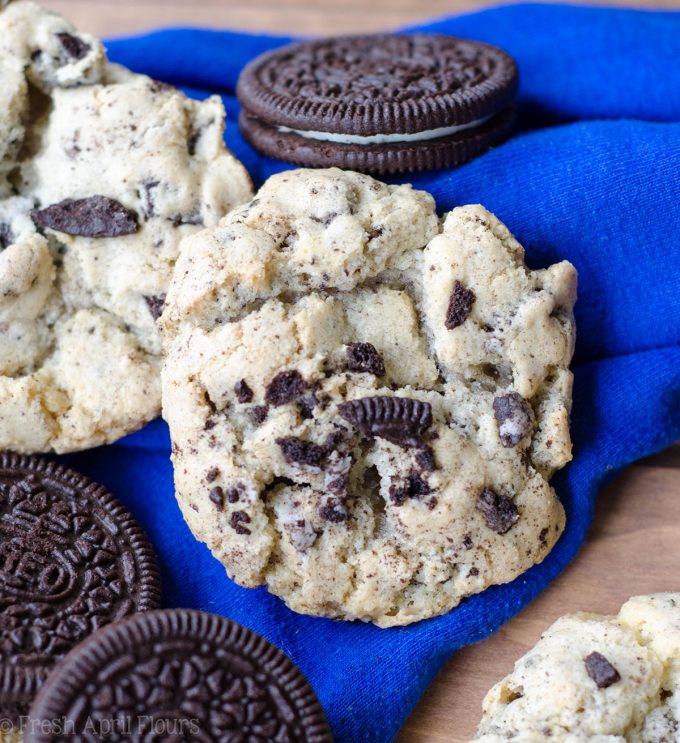 People… These are COOKIES MADE WITH OTHER COOKIES. COOKIES MADE WITH OREOS. AN OREO COOKIE LOVE AFFAIR. So much love.
Add some cookies and cream to your cookie trays this year and I guarantee they'll be some of the first to go!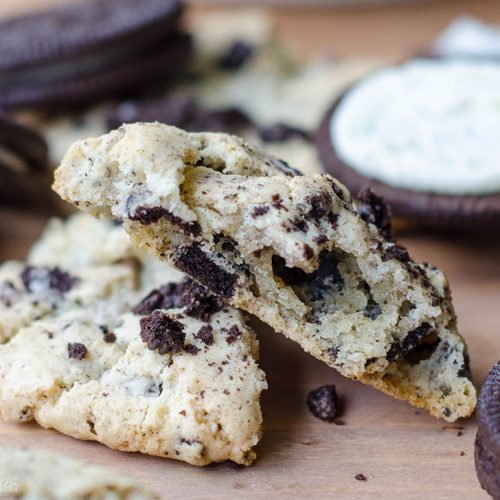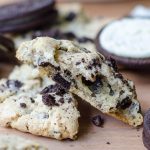 Print Recipe
Cookies and Cream Cookies
Easy and basic sugar cookies filled with chopped Oreos. Great for multi-colored holiday Oreos.
Ingredients
1

cup

+ 2 Tablespoons all-purpose flour

1

teaspoon

cornstarch

¾

teaspoon

baking powder

½

teaspoon

baking soda

½

teaspoon

salt

4

Tablespoons

unsalted butter

softened to room temperature

½

cup

+ 2 Tablespoons granulated sugar

1

large egg

1

teaspoon

vanilla extract

10

Oreo cookies

coarsely chopped
Instructions
Preheat oven to 350ºF. Line a baking sheet with a parchment paper or a silicone baking mat. Set aside.

In a small bowl, whisk together the flour, cornstarch, baking soda, baking powder, and salt. Set aside.

In a medium size bowl with a hand held mixer or the bowl of a stand mixer fitted with a paddle attachment, cream together the butter and sugar on medium speed. Scrape down the sides and bottom of the bowl with a spatula. Add the egg and vanilla extract, and beat again on medium speed until everything is combined and there are no lumps.

With the mixer on low, slowly add the dry ingredients to the wet ingredients and mix until dough forms. Beat in chopped Oreos until evenly dispersed.

Using a cookie scoop or a Tablespoon measuring spoon, drop rounded balls onto baking sheet. You may lightly round the dough balls with your hand, but this is not required. Dough is very soft. Bake for 13-14 minutes or until sides just begin to brown. Centers of cookies will look under baked. Remove from oven and allow to cool on the baking sheet for about 3 minutes before transferring to a wire rack to cool completely. Cookies stay fresh in an airtight container at room temperature up to 1 week. Baked cookies may be frozen up to 2 months. Rolled cookie dough can be frozen, up to 2 months. Bake frozen on baking sheet for 14-15 minutes.