Small Batch Chocolate Chip Cookies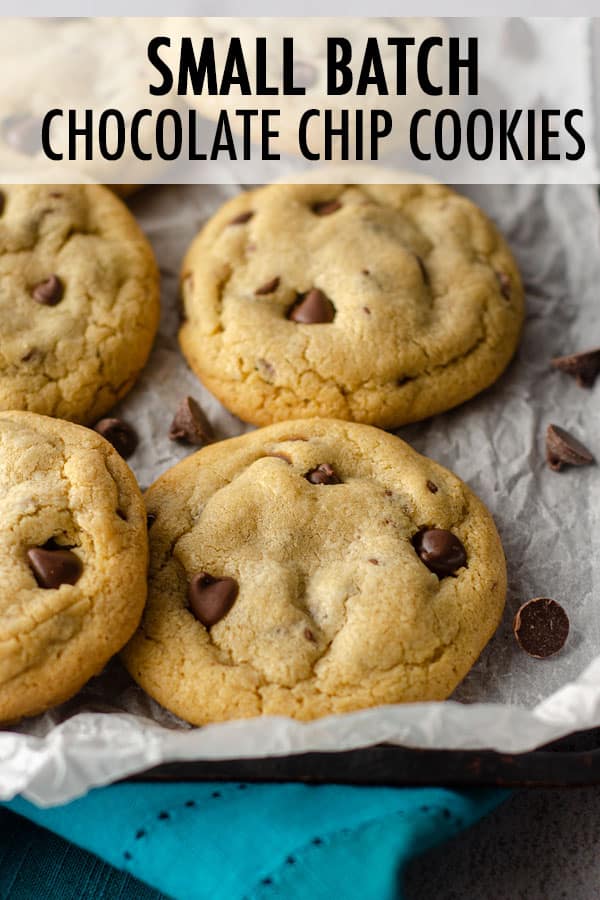 As an Amazon Associate, I earn from qualifying purchases. Read the full disclosure here.
An easy drop cookie recipe that requires no chilling and yields 6 thick and chewy chocolate chip cookies. Ready in 25 minutes from start to finish!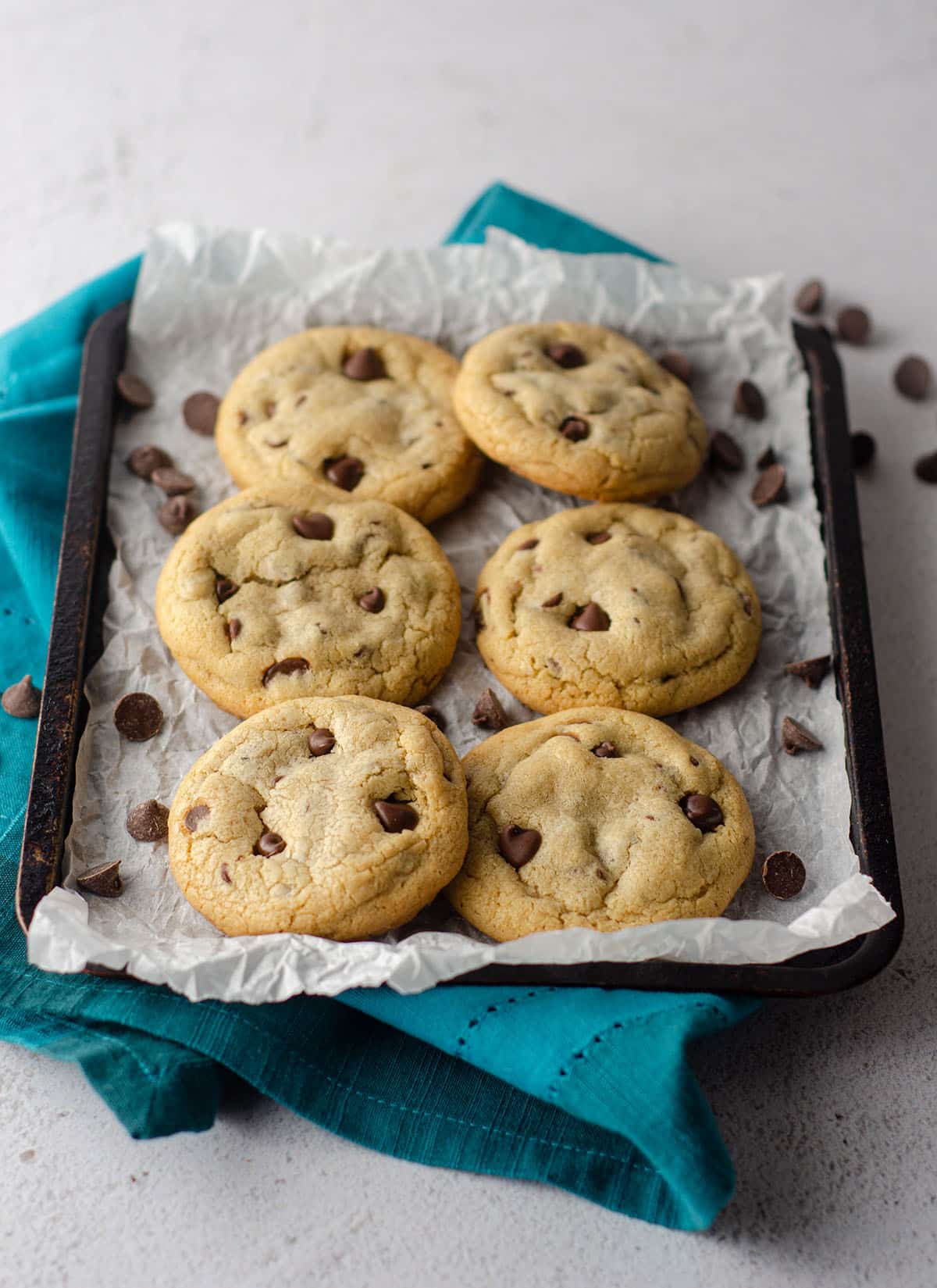 If ever there was irony when it comes to recipe development, it's when you (a food blogger) plan to bring a chocolate chip cookie recipe to your readers that yields just 6 fabulously thick, soft, and chewy cookies and wind up with almost 2 dozen when all is said and done.
That is real life, friends.
Many of you saw over in my Instagram stories last week that I spent a couple of days perfecting small batch chocolate chip cookies for you.
To put it simply, it was for sure an experiment, but thank goodness I am a former lab technician and experimentation (especially in the kitchen!) is my specialty.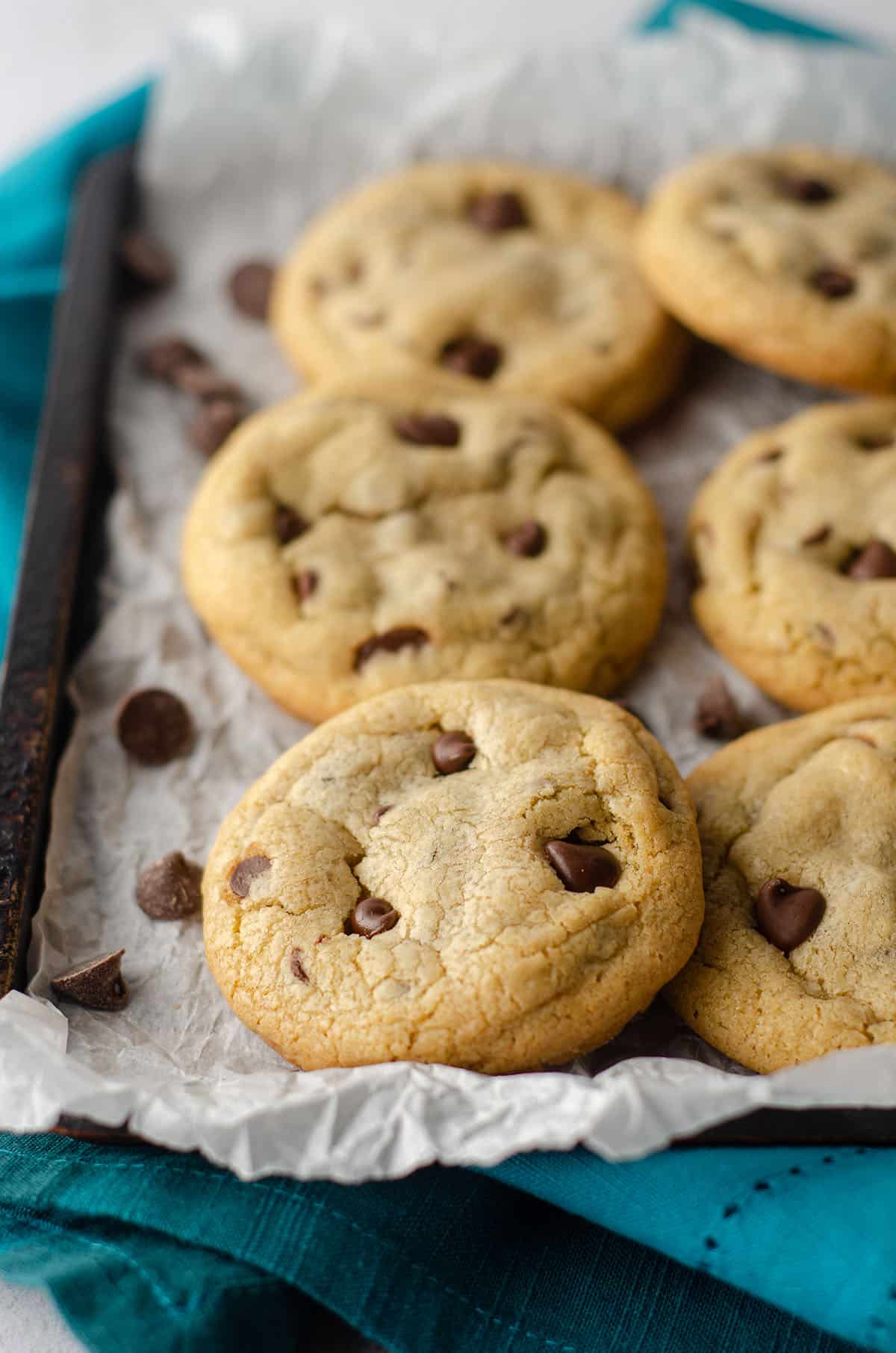 To begin my quest for a small batch of cookies, I needed a standard. Back in December, I brought you an updated version of my beloved classic chocolate chip cookies.
Those cookies are ridiculously good, often referred to as "cafeteria chocolate chip cookies," and they are the perfect combination of crisp edges, soft and chewy interiors, and a buttery taste.
They are my gold standard in chocolate chip cookies. Hands down.
I froze a few dough balls in preparation for this creation of small batch of chocolate chip cookies for visual, taste, and thickness comparisons. They were my baseline.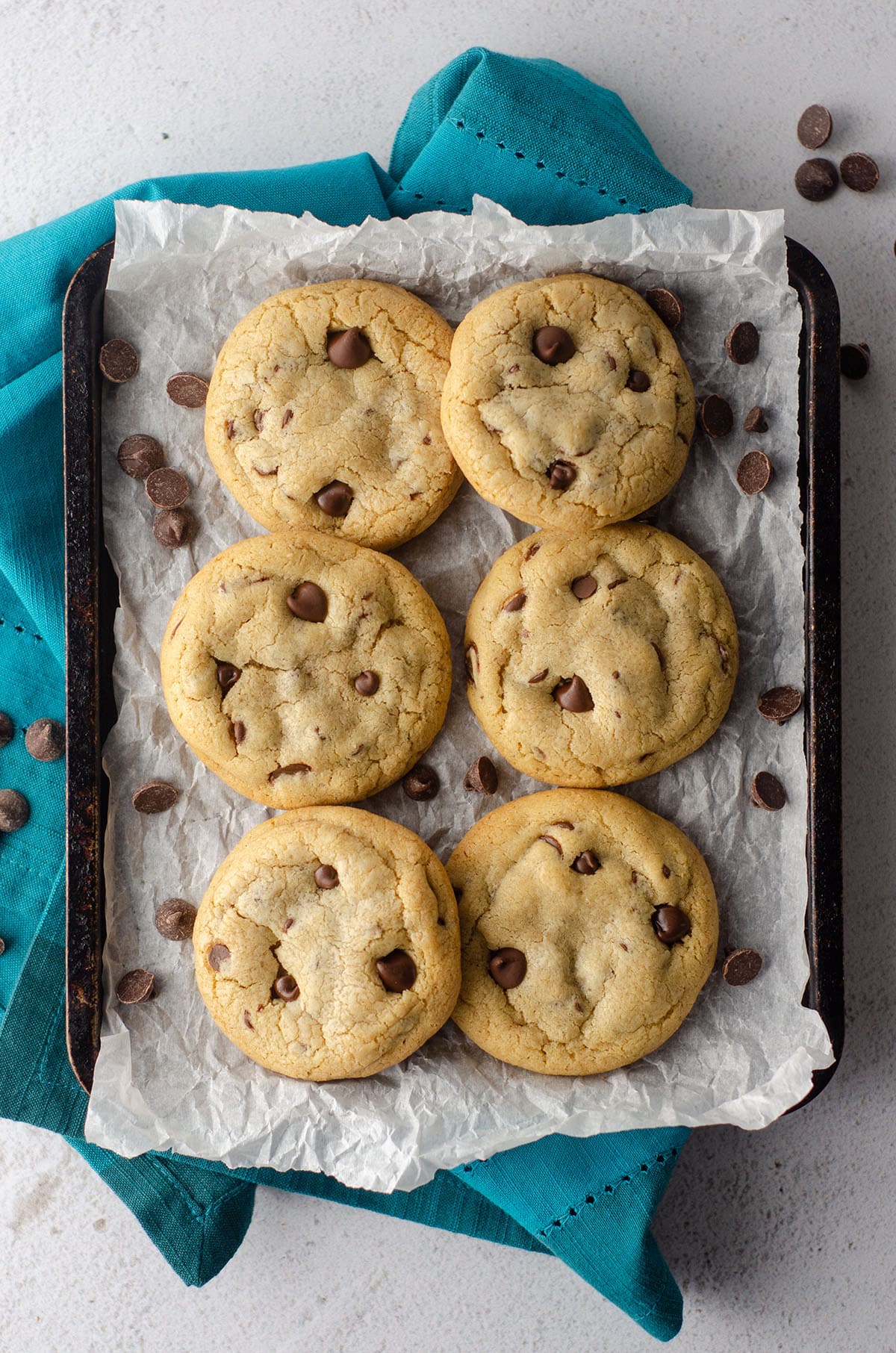 Things I love about my classic chocolate chip cookies: as I already said, they're perfectly textured, full of flavor, have tons of chocolate chips in them, and totally get rave reviews wherever they go or wherever they're baked.
What I don't love, at least for the purposes of when a chocolate chip cookie craving hits: the recipe makes about 36 cookies (even halved, that's 18 cookies), and the recipe requires chilling.
All well and good when you've planned to make cookies and want a larger batch. Not so awesome when it's 5pm and you think "wow, I could really use a chocolate chip cookie after dinner tonight."
So, friends… I'm here to say that after 3 unsuccessful batches, I landed on the perfect small batch chocolate chip cookie recipe, and I am so darn proud of it.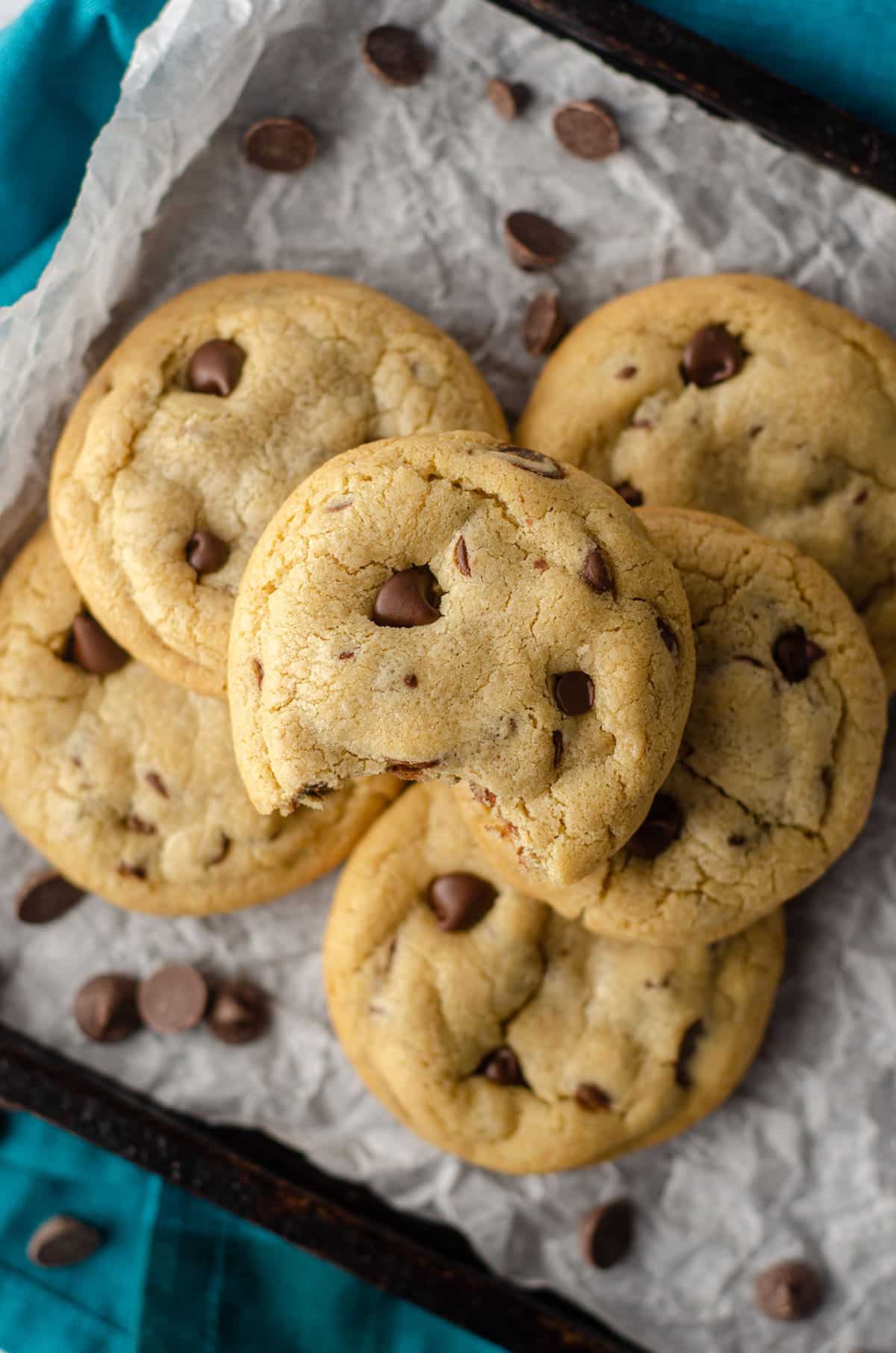 First and foremost, I know that one of the biggest drawbacks when wanting to make a recipe quickly is not having butter ready.
Sometimes we can combat this with melting butter, but that typically requires chilling of dough, so, I'm sharing one of my best tips for softening butter quickly so that you can indeed get these SIX chocolate chip cookies in your mouth even if your butter is cold.
HOW TO SOFTEN BUTTER QUICKLY
This method works any time you need cold butter to be softened quickly, so tuck it in your back pocket for safe keeping!
Microwave a cup of water to boiling.
Stop the microwave.
Place butter on a plate, and put the plate in the microwave.
Close the door but do not turn it on.
Allow the butter to sit in the microwave with the warm water for 10-15 minutes and, YAY, it will then be perfectly softened.
From start to finish, this recipe takes 20-25 minutes, if your butter is ready. Softening the butter obviously adds some additional time, but it's almost entirely hands-off.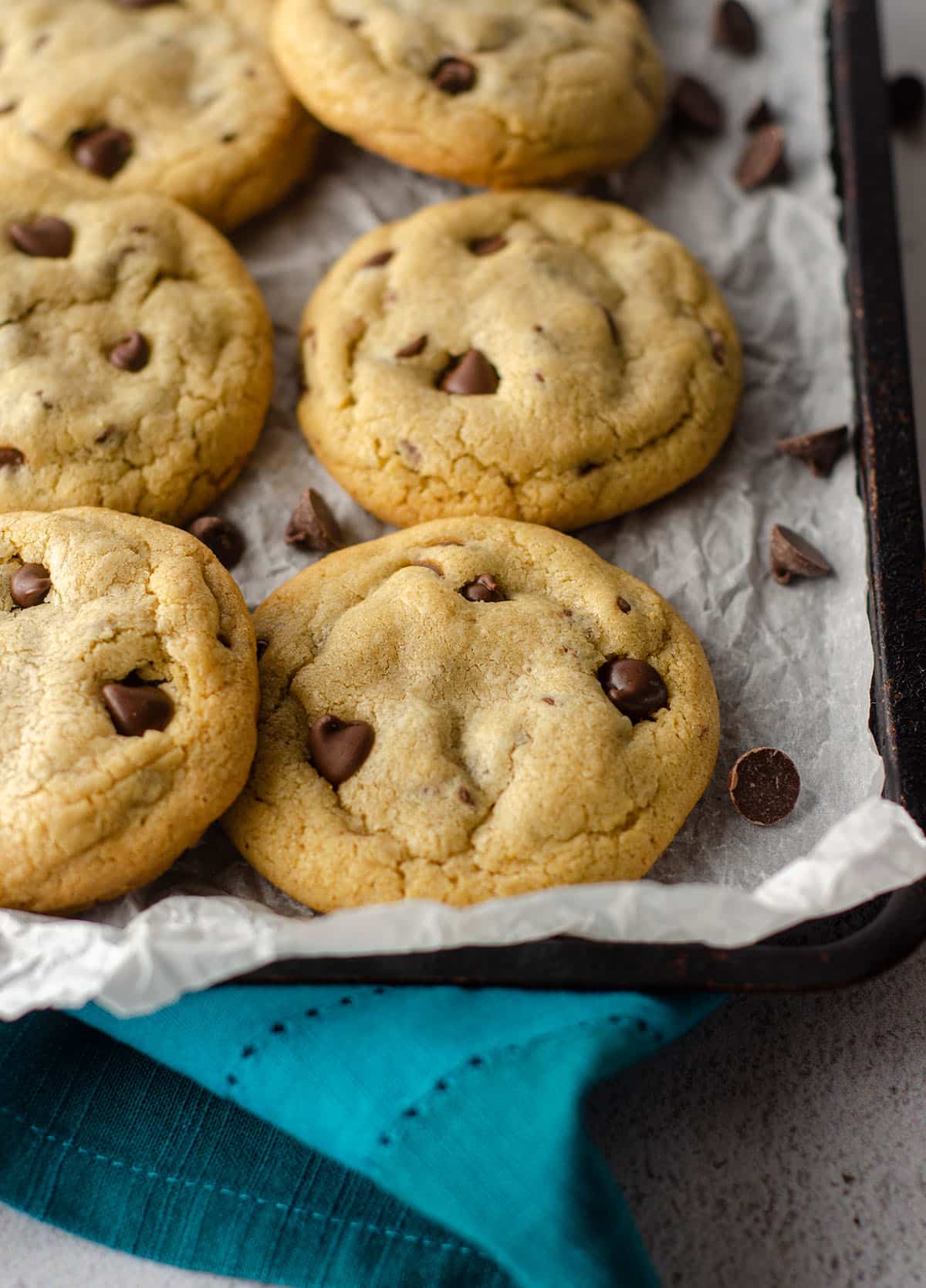 And totally worth it to get these small batch cookies underway.
THE PROBLEM WITH OTHER SMALL BATCH COOKIE RECIPES
While I was doing research about small batch chocolate chip cookies, I found that a lot of the recipes out there are for 10-12 cookies. This, to me, is not small batch. Especially if there are only 1-2 people in your house, and you truly don't want to be eating cookies for days.
And oftentimes, even half a batch of chocolate chip cookies is still too much (half of my classic is still 18 cookies!).
Personally, I feel that six cookies is totally manageable, and even better news, you can absolutely freeze rolled cookie dough and just bake one at a time if that's easier and less tempting for you.
Win win win.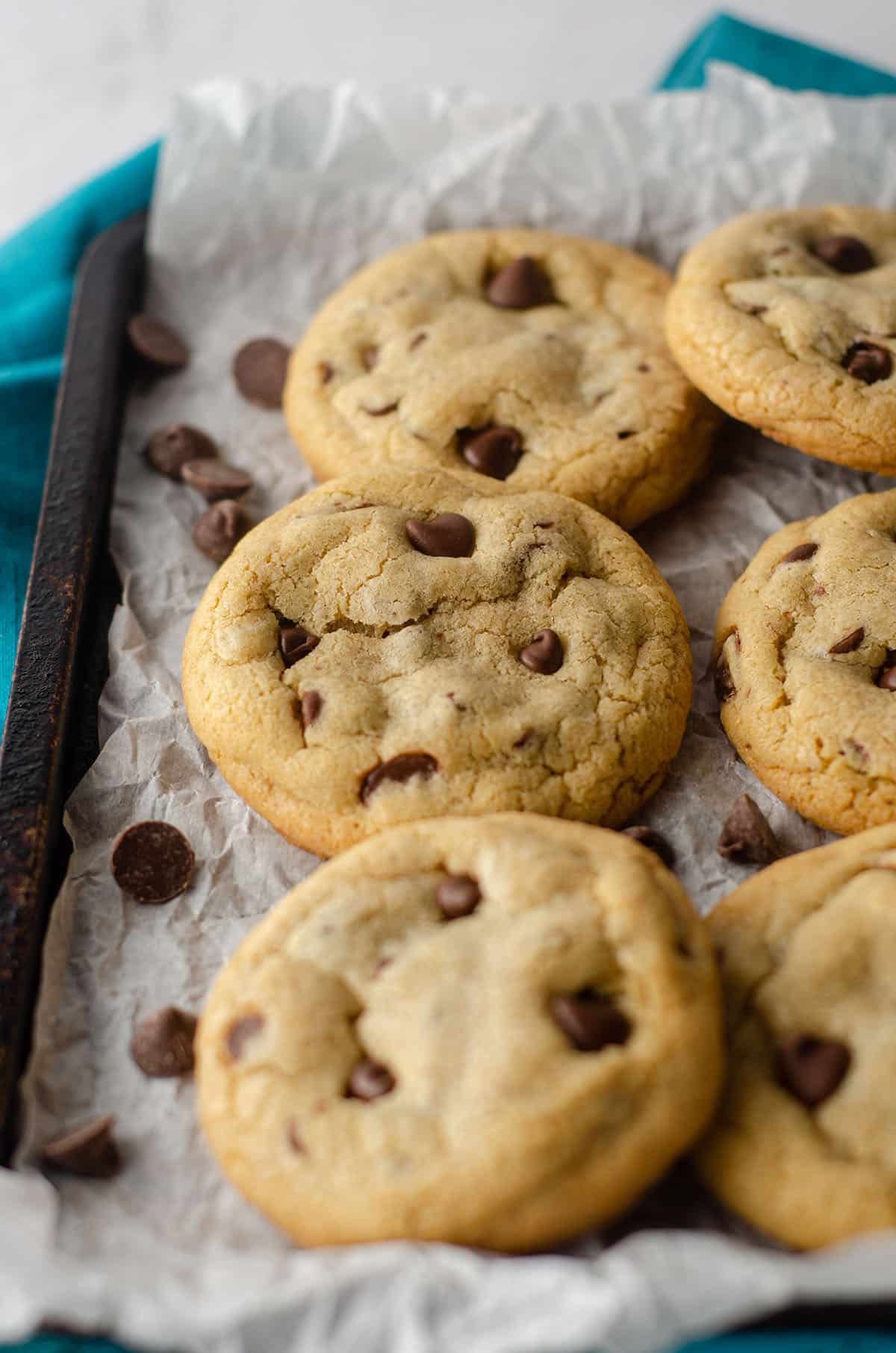 So now you may be wondering… "How do these small batch chocolate chip cookies stack up to the classic chocolate chip cookies you love so much?"
Well, they're pretty amazingly comparable. And this small chocolate chip cookie recipe is 100% worth saving for that reason alone.
The taste is absolutely buttery, the edges are crisp, and the centers are nice and soft. They definitely produce a thicker cookie, but this has a lot to do with the fact that we didn't melt the butter, which is something I mentioned we didn't do to insure this small batch cookie dough did not need to be chilled.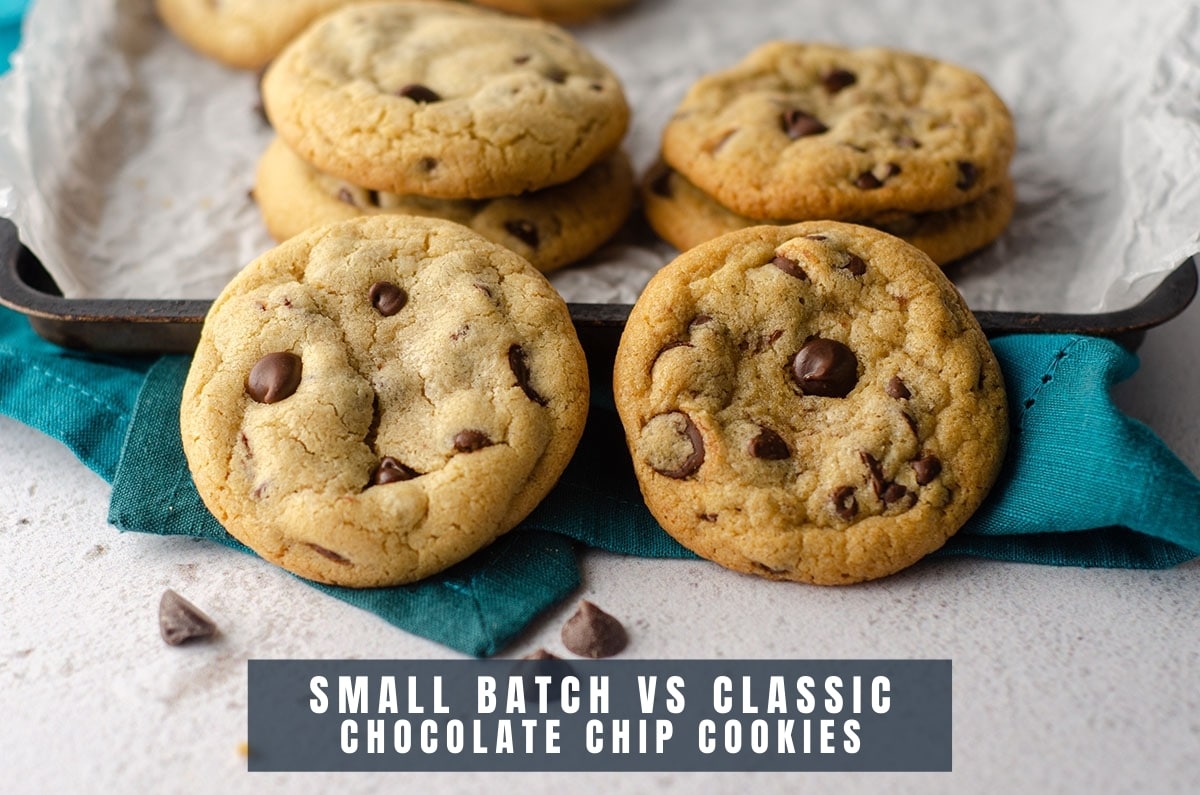 Aesthetically, you can see they look different, but again, different amounts of ingredients will produce completely different looking results. And if you ask me, they both look like a darn delicious choice.
Are my classic chocolate chip cookies still my gold standard? Absolutely 100% yes. And 100% worth the chilling.
Are these small batch of chocolate chip cookies a really comparable and equally lovable cookie? Absolutely 110%.
Will I have trouble choosing which one to make next time I am craving just 1 cookie? No way, because I know that the quickness, ease, and actual "small batch" nature of these cookies is going to fit the bill.
Will I still be putting in the work at Christmas next year or any time I want to wow people with a fabulous chocolate chip cookie? Oh, yes. Because I've said it a million times and I will say it another million, I am sure… Those classic chocolate chip cookies are where it's at.
But we don't always want 36 or even 18. We don't always want to wait.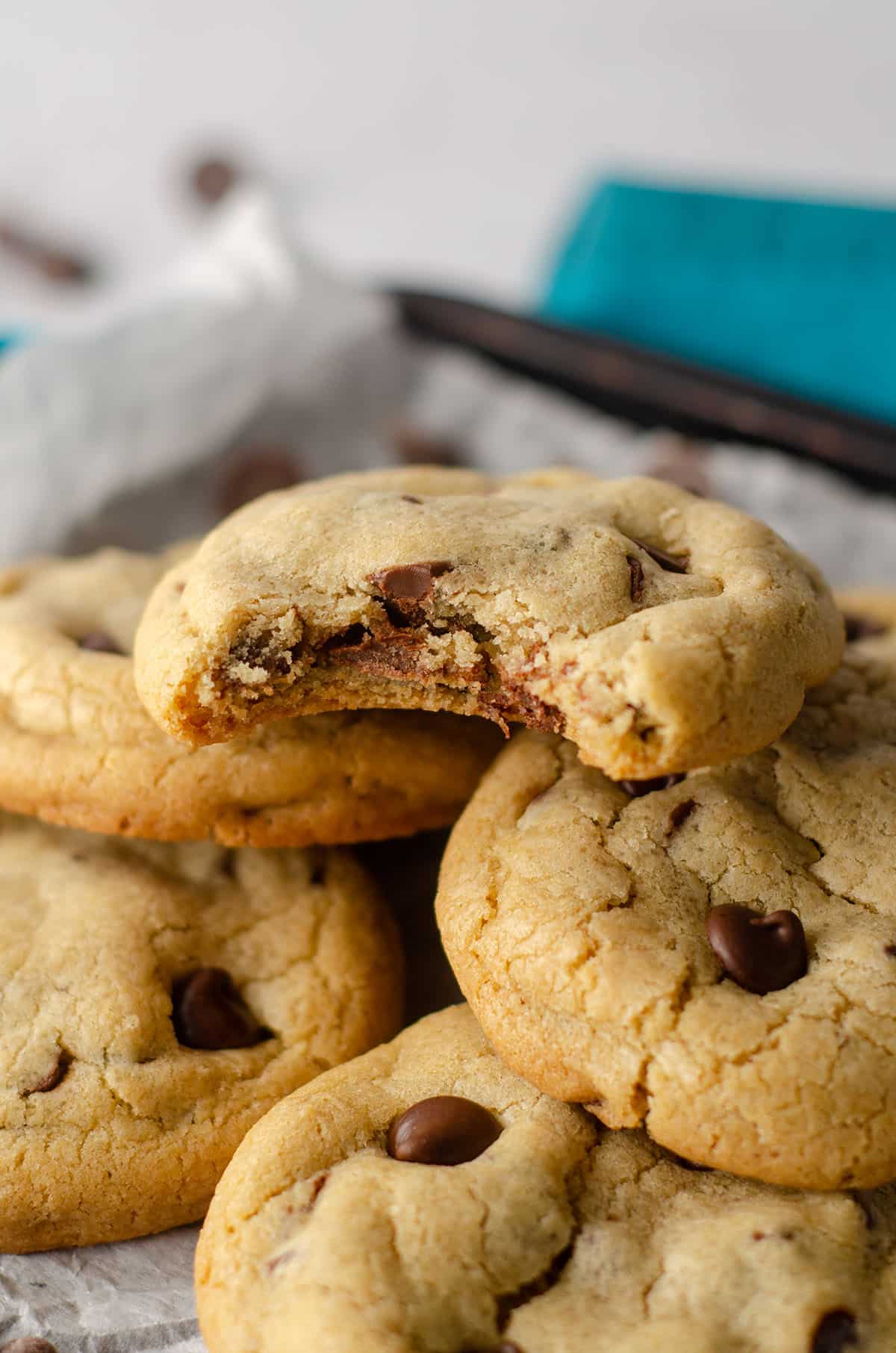 And sometimes, just sometimes, a warm chocolate chip cookie in your mouth 25 minutes after deciding you want one is a really beautiful thing.
Small Batch Chocolate Chip Cookies
An easy drop cookie recipe that requires no chilling and yields 6 thick and chewy chocolate chip cookies. Ready in 25 minutes from start to finish!
Ingredients
½

cup

+ 2 Tablespoons (75g) all-purpose flour be sure to measure properly

¼

teaspoon

baking soda

¼

teaspoon

salt

3

Tablespoons

(43g) unsalted butter softened to room temperature1

⅓

cup

(67g) firmly packed light brown sugar

1

large egg yolk

½

teaspoon

vanilla extract

⅓

cup

(57g) chocolate chips2,3
Instructions
Preheat oven to 350ºF (177ºC). Line a baking sheet with a parchment paper or a silicone baking mat. Set aside.

In a medium size bowl, whisk together the flour, baking soda, and salt. Set aside.

In a separate medium size bowl with a hand held mixer or the bowl of a stand mixer fitted with a paddle attachment, cream together the butter and brown sugar on medium speed until light and fluffy, about 2-3 minutes. Scrape down the sides and bottom of the bowl with a spatula. Add the egg yolk and vanilla extract, and beat again on medium speed until everything is combined and no lumps remain.

With the mixer on low, slowly add the dry ingredients to the wet ingredients, mixing thoroughly until completely combined. Add the chocolate chips and mix again on low until evenly dispersed.

Using a medium size cookie scoop (1 and ½ Tablespoon size) or a heaping standard cookie scoop (1 Tablespoon), drop rounded balls onto baking sheet. Bake for 11-13 minutes until sides just begin to brown. Remove from oven and allow to cool on the baking sheet for 5 minutes before transferring to a wire rack to cool completely. Cookies stay fresh in an airtight container at room temperature up to 1 week. Baked cookies may be frozen up to 2 months. Rolled cookie dough can be frozen, up to 2 months. Bake frozen on baking sheet for 12-14 minutes.
Notes
Softened butter: since this recipe is meant to be quick, if your butter isn't ready, use a shortcut to soften it quickly– microwave a cup of water to boiling, stop the microwave, place butter on a plate, and put the plate in the microwave. Close the door but do not turn it on. Allow the butter to sit in the microwave with the warm water for 10-15 minutes and it will be perfectly softened.
Chocolate chips: I like a combination of semi-sweet and milk chocolate chips, as well as standard size and mini chocolate chips. My best suggestion is 3

Tablespoons of standard size chips and 2 and ½ Tablespoons of mini chips.

Other add-ins: feel free to change up the chips/add-ins and use butterscotch chips, white chocolate chips, peanut butter chips, cinnamon chips, raisins, nuts, etc or use a mix of a few different kinds. Just be sure to use

⅓ cup total. I do not recommend changing up the base of the cookie dough (like adding peanut butter or oats).
Adapted from butterscotch cookies
Nutrition Disclosure
All nutritional values are approximate and provided to the reader as a courtesy. Changing ingredients and/or quantities will alter the estimated nutritional calculations.
Serving:
1
cookie
|
Calories:
203
kcal
|
Carbohydrates:
25
g
|
Protein:
2
g
|
Fat:
10
g
|
Saturated Fat:
6
g
|
Polyunsaturated Fat:
1
g
|
Monounsaturated Fat:
3
g
|
Trans Fat:
0.2
g
|
Cholesterol:
48
mg
|
Sodium:
149
mg
|
Potassium:
90
mg
|
Fiber:
1
g
|
Sugar:
16
g
|
Vitamin A:
223
IU
|
Calcium:
24
mg
|
Iron:
1
mg