The Best Chewy Chocolate Chip Cookies Recipe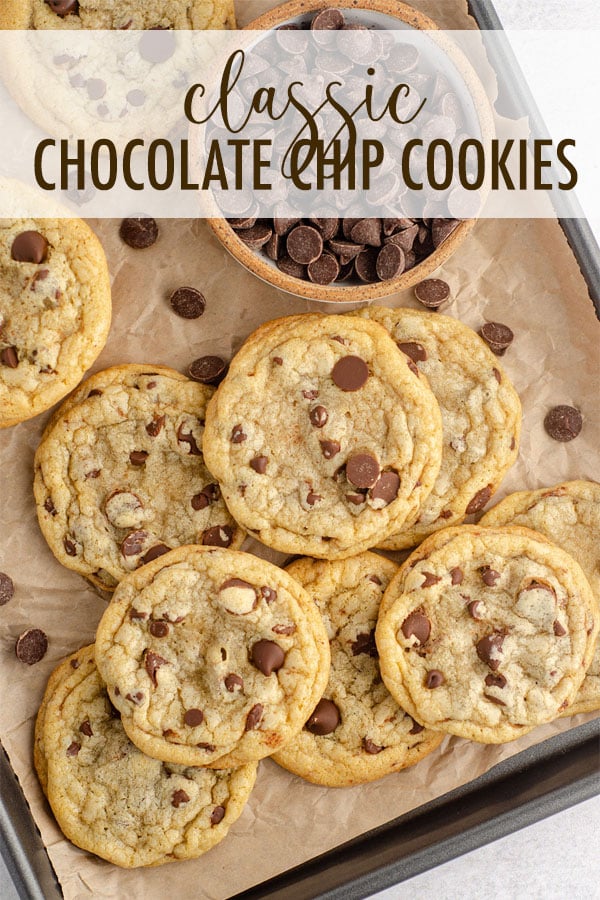 As an Amazon Associate, I earn from qualifying purchases. Read the full disclosure here.
This classic chewy chocolate chip cookie recipe features slightly crisp edges that lead to a soft and chewy interior. No mixer required!
It's amazing how much people love a classic chocolate chip cookie, and can you blame them? Sometimes, there's an itch only a delicious and full-of-chocolate-chips cookie can scratch. And with over 100 cookie recipes on my website, I hope you'll believe me when I say this recipe will be your new favorite if you give it a shot.
It was one of the first recipes I developed when I was just learning how to bake from scratch, and I did a little happy dance once I took the first bite of what came out of my oven. That can be you, too, if you struggle with getting chocolate chip cookies perfectly baked. We'll walk through everything together!
Why you'll love these Perfect Chocolate Chip Cookies
I love my chocolate chip cookies a little but crunchy on the edges and soft and chewy on the inside.
This stems from my high school days. Our cafeteria served amazing cookies, and every single day after I finished lunch, I would get 2 of them: one soft sugar cookie and one slightly crisp but chewy-on-the-inside chocolate chip.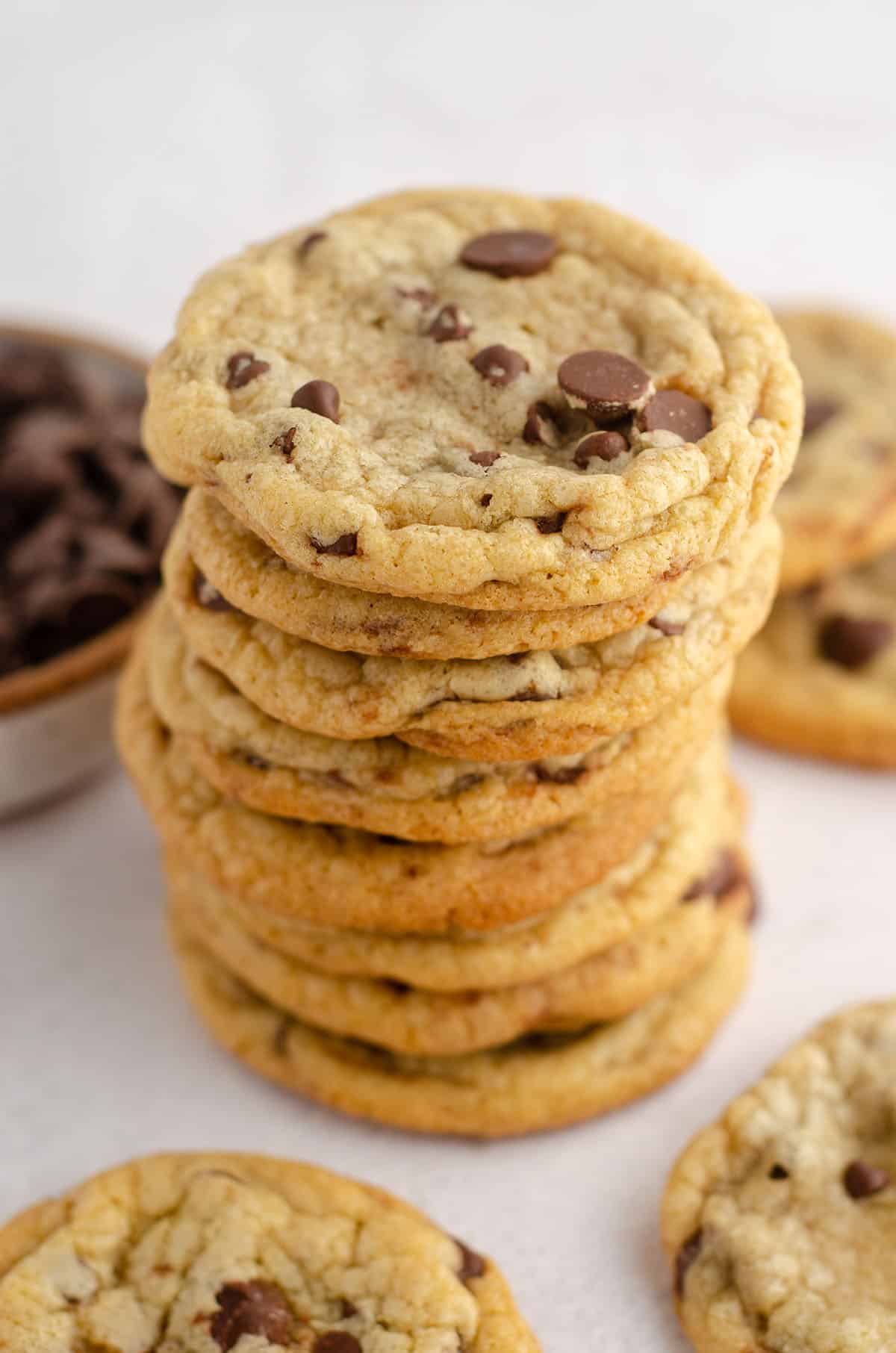 Chocolate chip cookies have been studied by bakers all over the world for a long time. The science behind what makes them crunchy or chewy or puffy or cakey or however in the world you prefer them to be… Is incredible.
I've read up on the science A LOT, and if you care to see the resources that I love and have read multiple times (true story), here is the lengthy version and here is a short one.
I am such a science geek, so I really love the long version. If you're not as big of a science geek as me or just prefer a concise version, check out the shorter one.
---
Ingredients for Chewy Chocolate Chip Cookie Recipe
There's not a whole lot of variety in the actual ingredients involved in chocolate chip cookie recipes. It's more about the why, which we will talk about in a bit.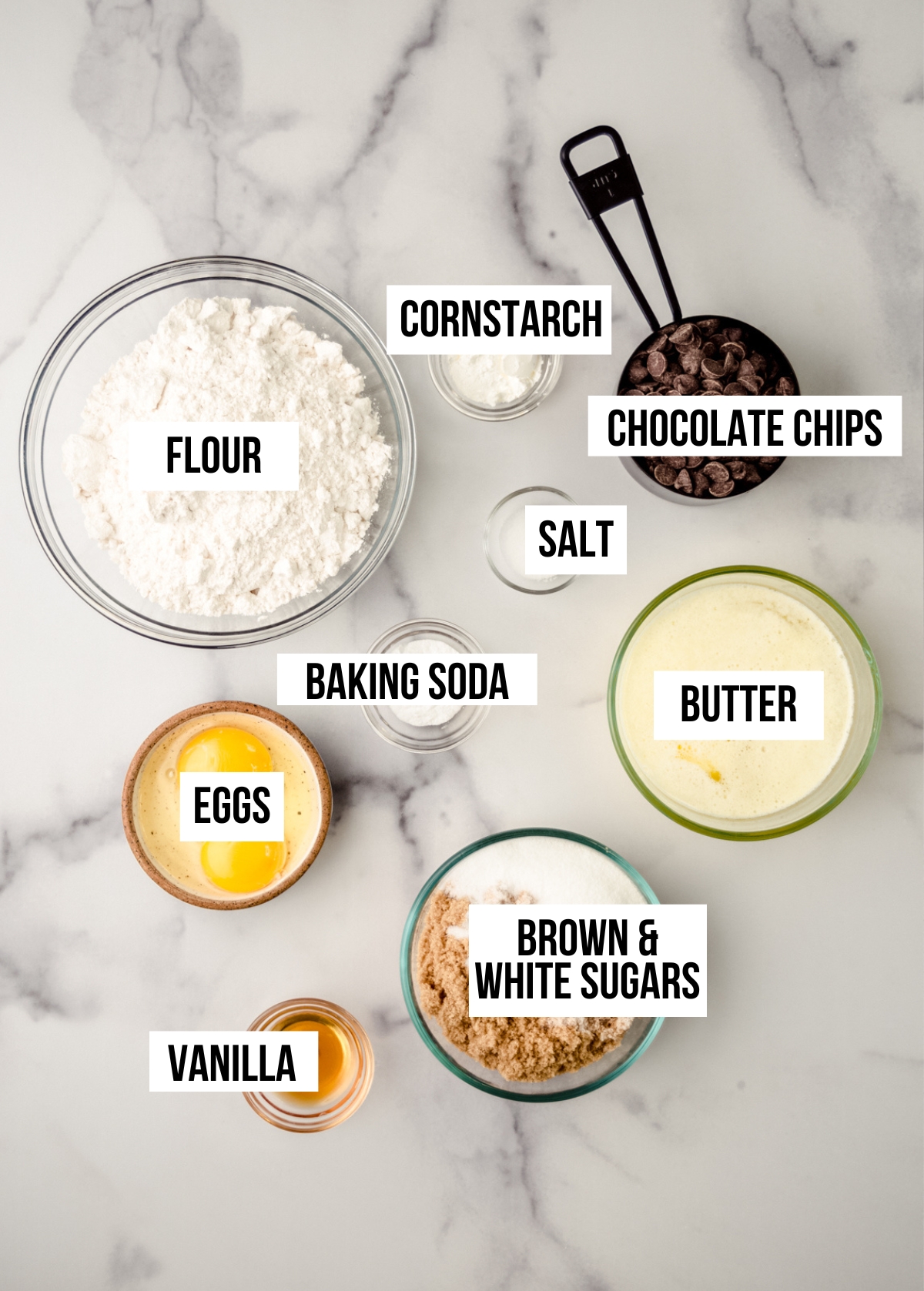 For these chocolate chip cookies, you will need:
• all-purpose flour
• baking soda
• cornstarch
• salt
• unsalted butter
• brown sugar
• granulated sugar
• an egg + an egg yolk
• vanilla extract
• chocolate chips (we'll use both milk and semi-sweet in these cookies)
But in order to create my absolute favorite texture in my chocolate chip cookies, there are a few things I like to change.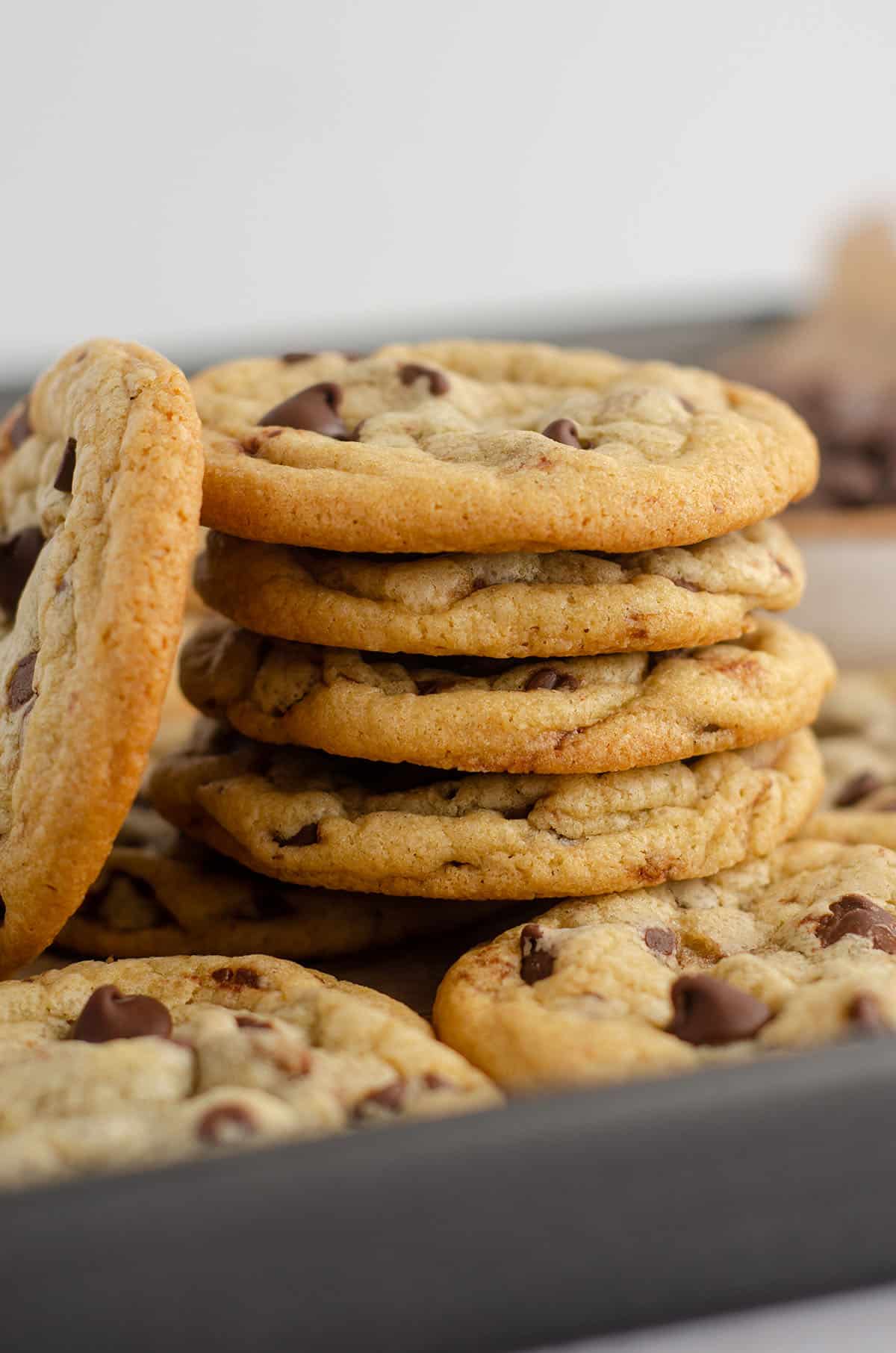 ADD SOME CORNSTARCH
Just the same way I add a little cornstarch to my red velvet donuts to give them a softer, cakey texture, I add some cornstarch to my classic chocolate chip cookies to help increase the chew factor but not so much that we start talking "cakey" cookies.
ADD AN EGG YOLK
What makes a cookie chewy vs soft? A lot of stock lies in eggs. Eggs, as a whole, add structure to baked goods and help them rise. Egg whites bring a large quantity of the moisture to a cookie, and yolks create a source of fat. With fat, we find a great vehicle for flavor and a lot of chew.
For my cookies, I remove one egg white (we'll add in more moisture in a second) and leave the yolk. Doing so brings a large source of fat to the cookie and helps keep the cookies fudgy (like brownies) and dense (fewer pockets of air).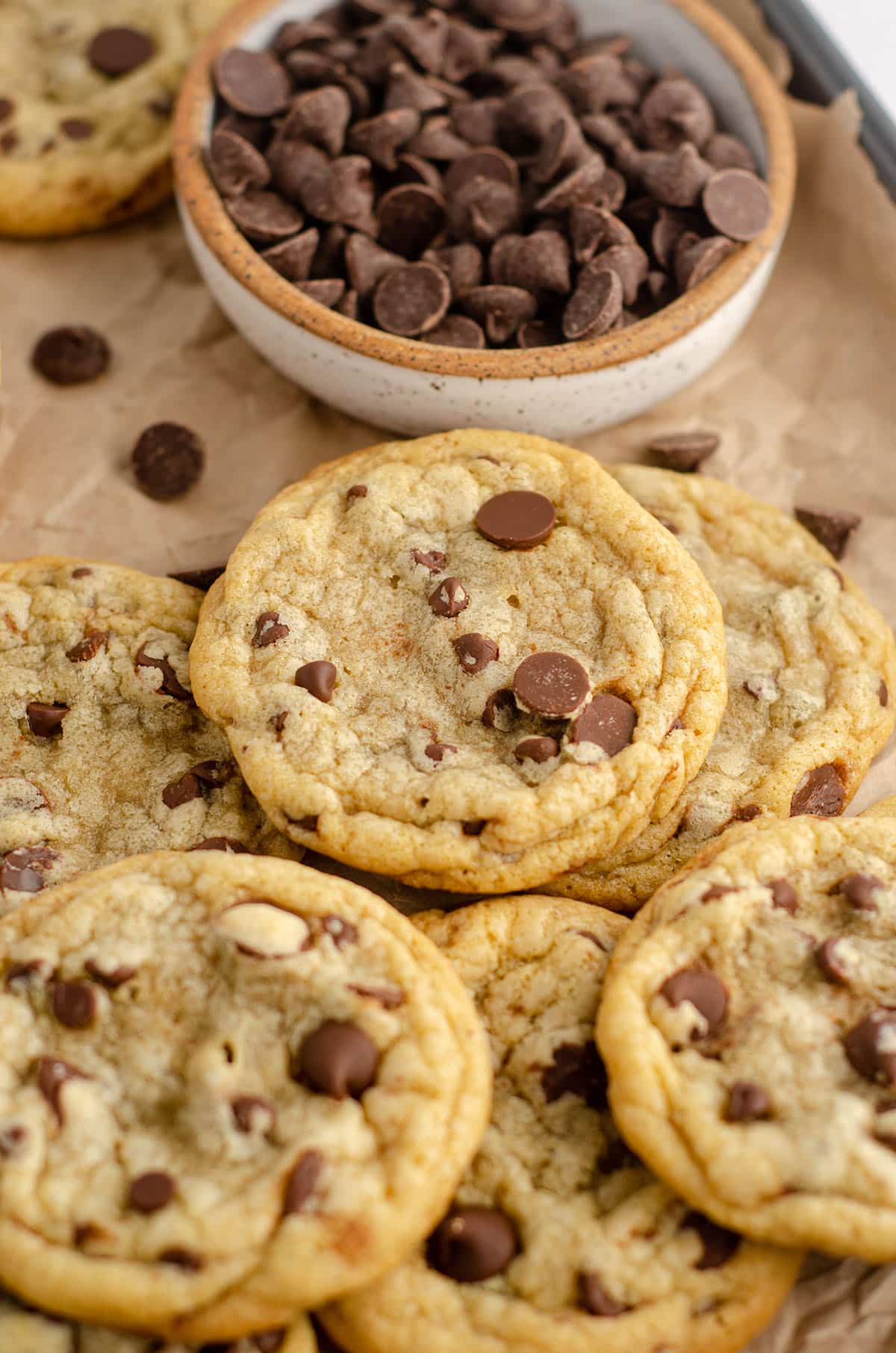 Denser cookies will cook from the outside faster (think flatter) creating crunchy edges and leaving the inside chewy.
MELT THE BUTTER
Butter, while imperative to the flavor of cookies, can cause cookies to spread a lot in the oven. Furthermore, using softened butter and creaming it with sugar incorporates air into cookie batter, bringing lift to cookies while they bake.
You would do this if you wanted your result to be a puffier cookie.
Classic Nestlé Tollhouse cookies require creaming of butter with the sugars.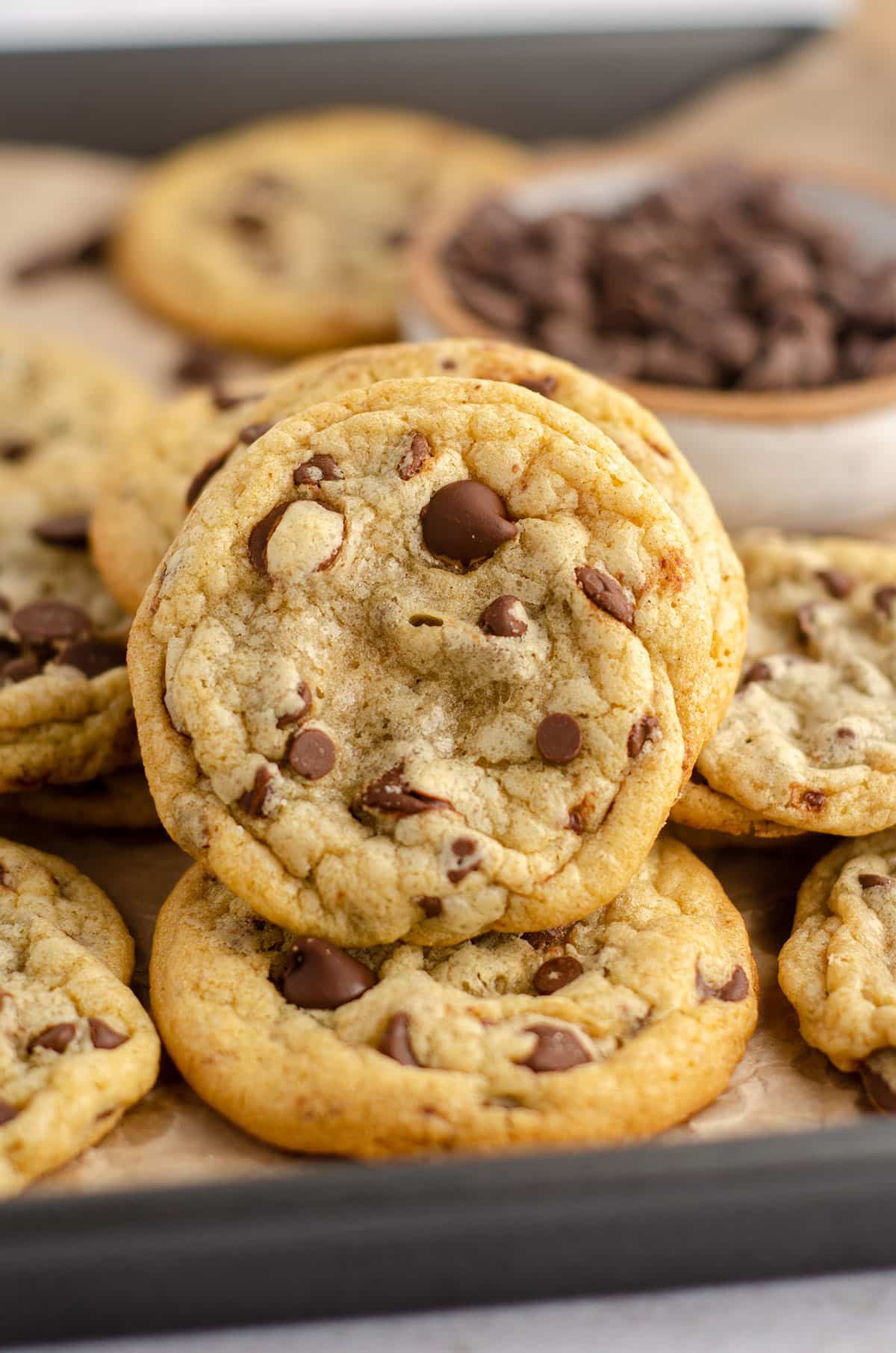 I like to melt my butter because it helps keep the cookies chewy and dense, and we will refrigerate the cookie dough once it's all mixed together to solidify the butter again, preventing greasy cookies.
INCREASE THE BROWN SUGAR
I've said it before (and before aaaand before) and I'll say it again– brown sugar brings super chew to baked goods. Brown sugar is white (granulated) sugar with molasses in it, so it automatically brings moisture with it when it's added to cookies (remember, we took some moisture out by removing that egg white).
Plus, it caramelizes faster, so the toffee/butterscotch flavors in the cookie are unparalleled vs a cookie made with all or mostly granulated sugar.
CHILL THE DOUGH
There is much debate over this in the chocolate chip cookie world, but I have made a lot of chocolate chip cookies in my life, and I am here to tell you…
Chilled cookie dough > non-chilled cookie dough.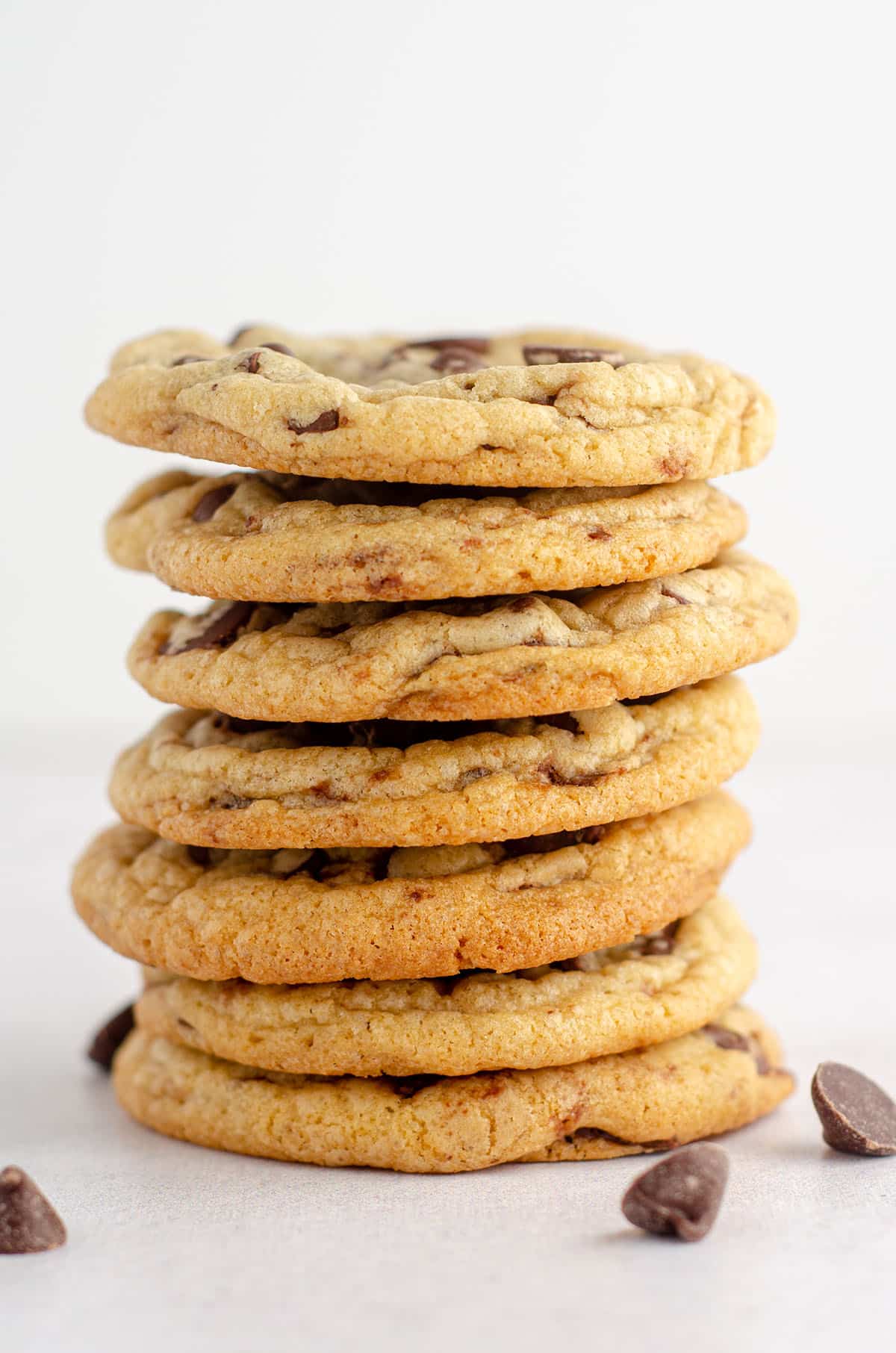 For one, since we are using melted butter in the dough, we need some time for the butter to solidify again so that our cookies don't end up as cookie puddles (although I'm sure those are delicious).
Secondly, the longer your cookie dough sits, the longer the flour has to absorb moisture from the butter, eggs, and brown sugar which leads to chewiness.
Lastly… Marriage of flavors. You can't argue with that one.
Classic Chocolate Chip Cookie Recipe substitutions and variations
While I wouldn't encourage you to stray too far from the original chocolate chip cookie recipe listed here, you can certainly change the chips to be any kind of chips you want. You can even play around with the extracts you use to add fun flavorings. If you are looking for specific variations on a chocolate chip cookie theme, here are all of my chocolate chip cookie recipes.
How to make the Best Chewy Chocolate Chip Cookies
Because I use melted butter in these cookies, you don't need your mixer (yay!).
It is as simple as combining the dry ingredients, setting them aside, combining the wet ingredients, then putting it all together. The chocolate chips go in last before you'll chill the dough.
I like to use a mixture of mini chips and regular chips, and also milk chocolate and semi-sweet chips.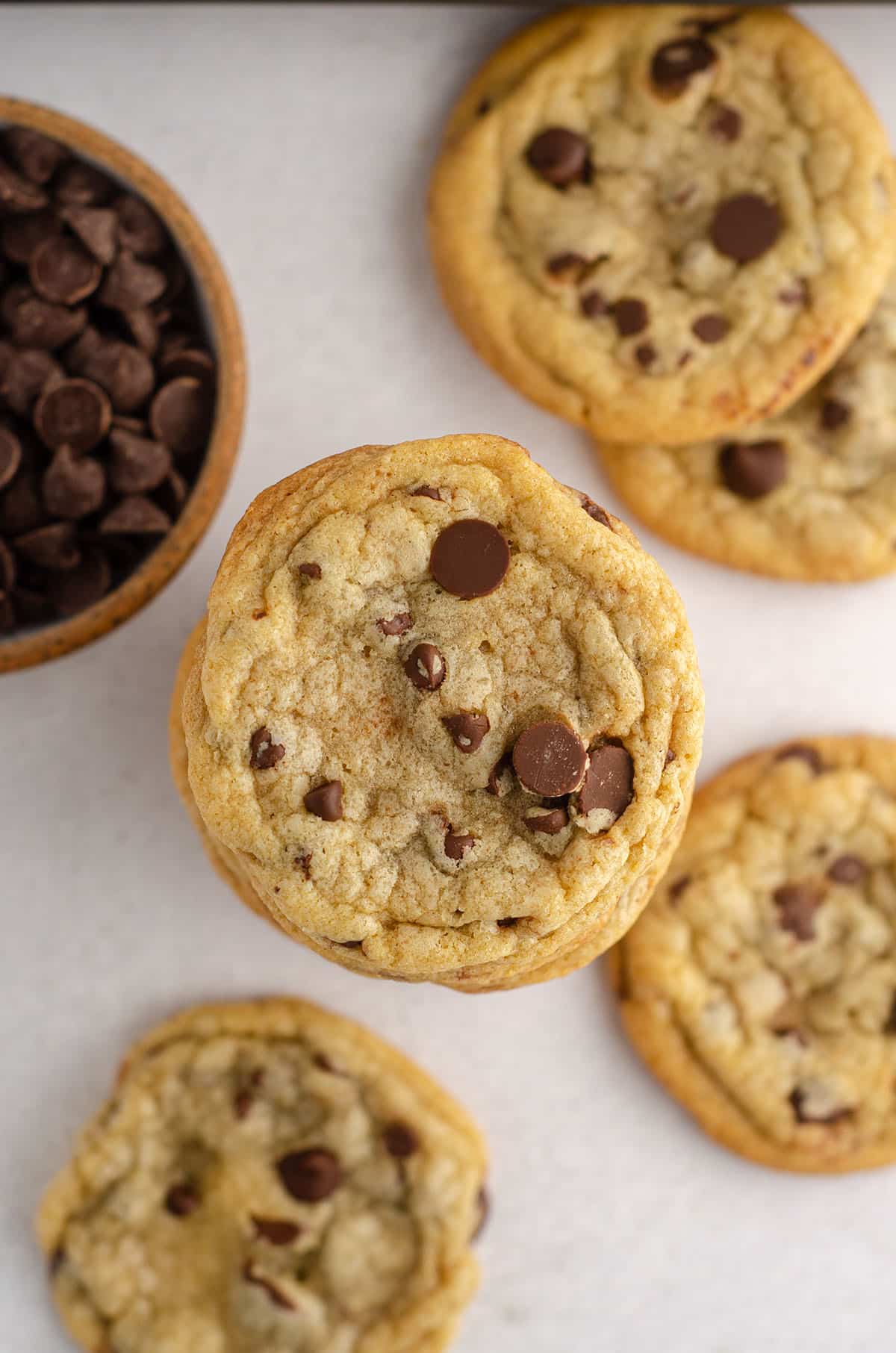 The size and flavor of your chips is totally up to you… This is just the way I prefer mine and I love the variety it brings to each bite.
Once your dough is chilled (at least 2 hours and up to 3 days), you'll roll it into balls that are 1 ounce in size (about 1 Tablespoon).
How to know when Classic Chocolate Chip Cookies are done
Bake for 10-11 minutes, remove from the oven when they juuuuust start to turn brown, and then allow them to cool on the baking sheet for 5 minutes.
Leaving them in the oven until they just start to brown will ensure you have a bit of crispiness to your edges. Allowing them to cool on the sheet continues to bake the bottoms and parts of the edges, caramelizing the sugars further and bringing more toffee/butterscotch notes to the overall flavor.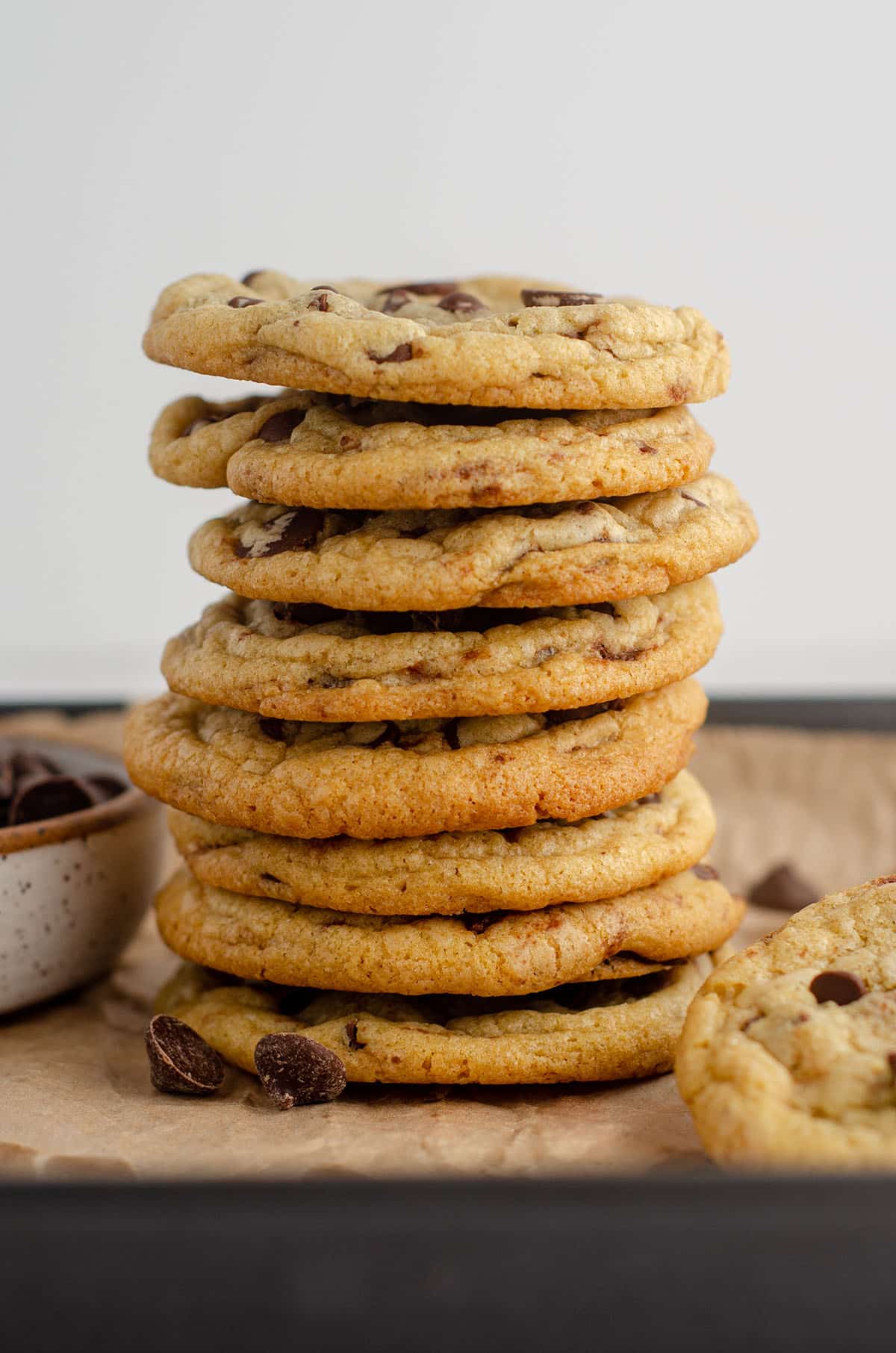 I told you… Chocolate chip cookie science is real.
I know it may seem like a lot to put into just simple chocolate chip cookies, but trust me, the work is worth the result.
And if you need another reason to make these cookies, taste testers have often related them to those cafeteria chocolate chip cookies I spoke about, so if that elicits any kind of nostalgic elementary/middle/high school memories for you and you'd like to recreate them in your own kitchen… This is your chocolate chip cookie recipe, my friend!
Fill them with chocolate chips, mini-m&m's, butterscotch chips, peanut butter chips… Whatever kind of chips you love!
A classic chocolate chip cookie recipe is something every baker should have in their repertoire.
Chewy Chocolate Chip Cookies Recipe storage
Store chocolate chip cookies at room temperature in an airtight container up to 1 week.
HOW LONG ARE CHOCOLATE CHIP COOKIES GOOD FOR?
For the most part, chocolate chip cookies are pretty resilient. They will keep their perfect texture pretty well stored properly, but you can add a slice of bread to the container if you think they are losing their soft chew too quickly.
HOW TO FREEZE CHOCOLATE CHIP COOKIES
You can freeze baked cookies for up to 3 months. Wrap them tightly and allow to thaw at room temperature before enjoying.
You can also freeze rolled dough for up to 2 months. Bake from frozen and add 1-2 minutes to the baking time.
HOW DO YOU MAKE COOKIES STAY SOFT AND CHEWY?
Proper storage is the key to keeping cookies soft and chewy. Be sure they're in an airtight container or zip bag and utilize the slice of bread if they're losing softness as they sit.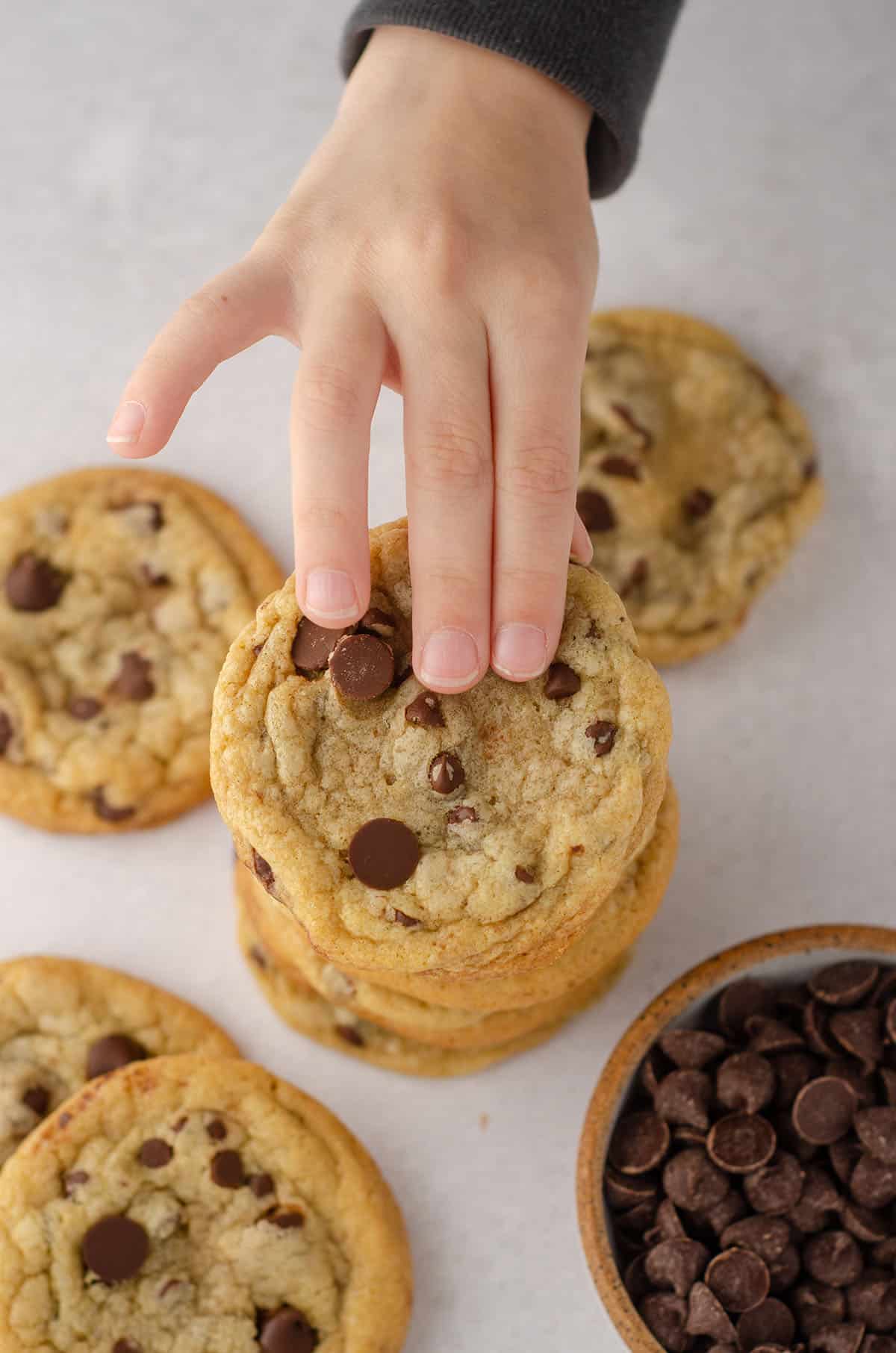 So with that, crunchy-edged-soft-centered-cookie lovers unite. I can't wait for you to fall in love with these cookies!
FAQs for the Best Chewy Chocolate Chip Cookies
Love chocolate chip cookies in different forms? Check out any of these chocolate chip cookie-based recipes next: chocolate chip cookie dough bites, chocolate chip cookie cake, cookie dough brownies, and chocolate chip cookie dough dip.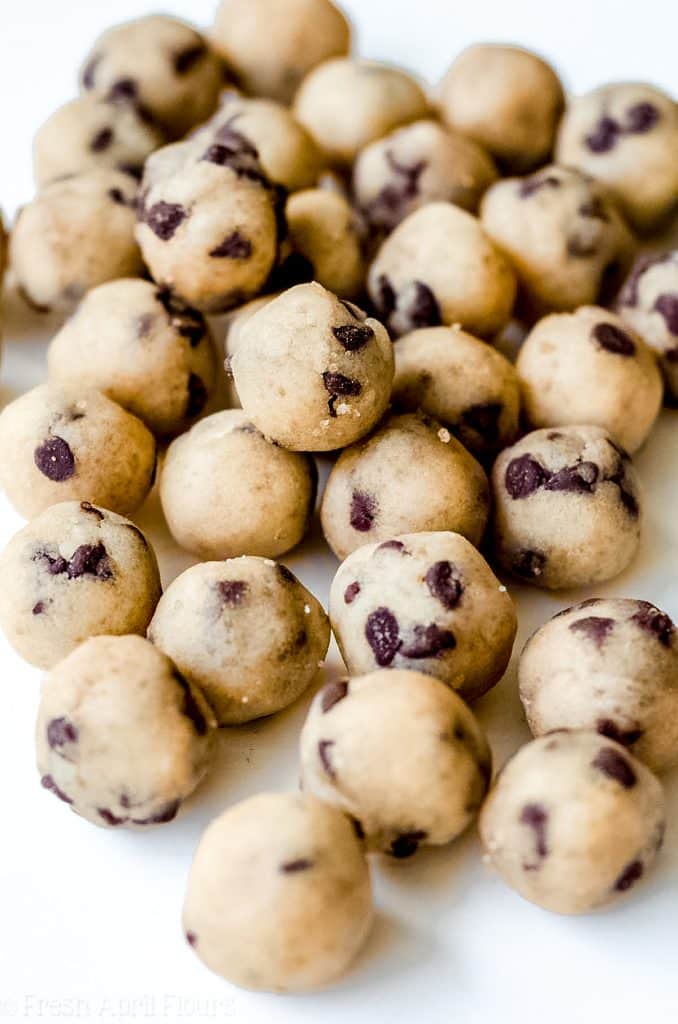 Classic Chocolate Chip Cookies
This classic chewy chocolate chip cookie recipe features slightly crisp edges that lead to a soft and chewy interior. No mixer required!
Ingredients
2 and ¼

cups

(270g) all-purpose flour be sure to measure properly

1

teaspoon

baking soda

2

teaspoons

cornstarch

1

teaspoon

salt

1

cup

(227g) unsalted butter

melted

1

cup

(200g) firmly packed brown sugar

½

cup

(100g) granulated sugar

1

large egg + 1 large egg yolk room temperature1

1 and ½

teaspoons

vanilla extract

1 and ½

cups

(255g) chocolate chips2
Instructions
In a large bowl, toss together the flour, baking soda, cornstarch and salt. Set aside.

In a medium sized bowl, whisk together the melted butter, brown sugar, and granulated sugar. When sugar clumps disappear, whisk in the egg, egg yolk, and vanilla.

Pour wet ingredients into dry ingredients and mix together with a large spoon or rubber spatula. Fold in the chocolate chips. Cover dough and chill in the refrigerator for at least 2 hours, or up to 3 days.

When you are ready to bake the cookies, preheat the oven to 350ºF (177ºC). Line two large baking sheets with parchment paper or silicone baking mats and set aside.

Roll the chilled dough into balls (I use this #50 cookie scoop for all of my standard size cookies) and place 8 balls of dough per cookie sheet. If you like, you can press a few more chocolate chips on top/sides of the dough balls for aesthetic purposes. Keep dough you are not rolling or baking in the refrigerator.

Bake the cookies for 10-11 minutes or until edges just start to turn brown. Remove from oven and allow cookies to cool on the baking sheet for 5 minutes before moving to a wire rack to cool completely. Store cookies in an airtight container at room temperature, up to 7 days. Baked cookies may be frozen up to 3 months. You may also freeze rolled cookie dough up to 3 months. Bake frozen for 11-12 minutes.
Notes
Room temperature eggs: these are preferred for even distribution into batter. As a rule of thumb, when a recipe calls for room temperature or melted butter, it's generally a good idea to use room temperature eggs as well. If you don't have time to let eggs come to room temperature, place them in a bowl of warm water for 5-10 minutes before using.
Chocolate chips:

I prefer 1 cup milk or semi-sweet chocolate chips and ½ cup mini semi-sweet chocolate chips.
Recipe adapted from Nestle
Nutrition Disclosure
All nutritional values are approximate and provided to the reader as a courtesy. Changing ingredients and/or quantities will alter the estimated nutritional calculations.
Serving:
1
cookie
|
Calories:
148
kcal
|
Carbohydrates:
20
g
|
Protein:
1
g
|
Fat:
7
g
|
Saturated Fat:
5
g
|
Polyunsaturated Fat:
0.2
g
|
Monounsaturated Fat:
1
g
|
Trans Fat:
0.2
g
|
Cholesterol:
18
mg
|
Sodium:
99
mg
|
Potassium:
41
mg
|
Fiber:
0.2
g
|
Sugar:
13
g
|
Vitamin A:
164
IU
|
Calcium:
14
mg
|
Iron:
0.4
mg