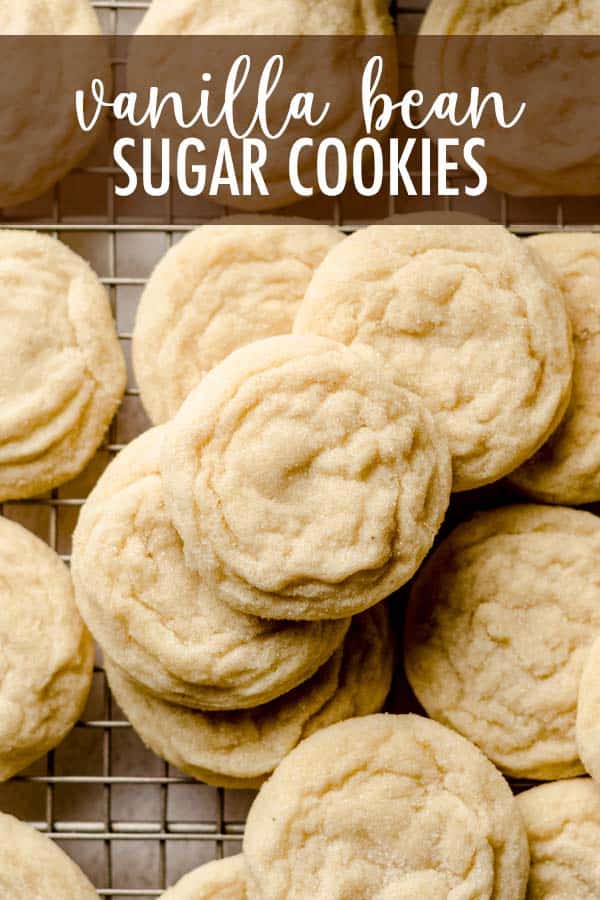 As an Amazon Associate, I earn from qualifying purchases. Read the full disclosure here.
Pillowy soft and chewy sugar cookies bursting with fresh vanilla flavor and dusted with a sweet sugar coating.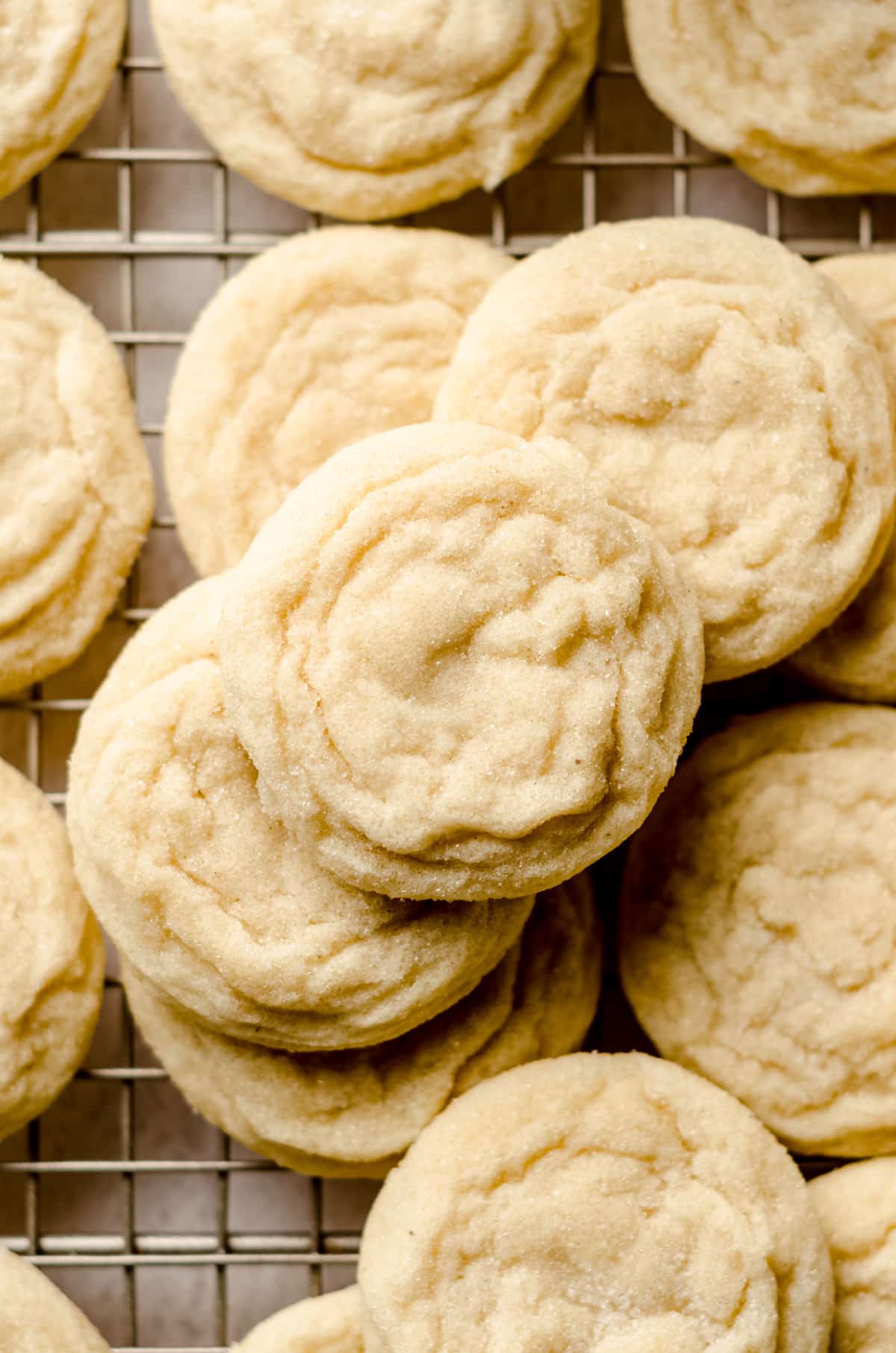 Vanilla Cookie vs Sugar Cookie
While vanilla cookies and sugar cookies have very similar (maybe even identical in some recipes) ingredients, we typically classify them differently. Sugar cookies refer to any kind of cookie that is flavored very basically with granulated (white) sugar. Furthermore, many people consider a cut-out cookie a sugar cookie.
A vanilla cookie may simply be a cookie that is flavored with vanilla, but could take any form (a drop cookie, a cut-out cookie, a slice and bake cookie), but these vanilla bean sugar cookies sort of combine both worlds.
This vanilla cookie recipe cannot be rolled and cut with cookie cutters, but it is definitely more flavorful than just a sugar cookie or a vanilla cookie. With the addition of the sparkly sugar coating and bold vanilla paste, we blend both cookie worlds for a soft, pillowy cookie that is unlike any other you've tried before.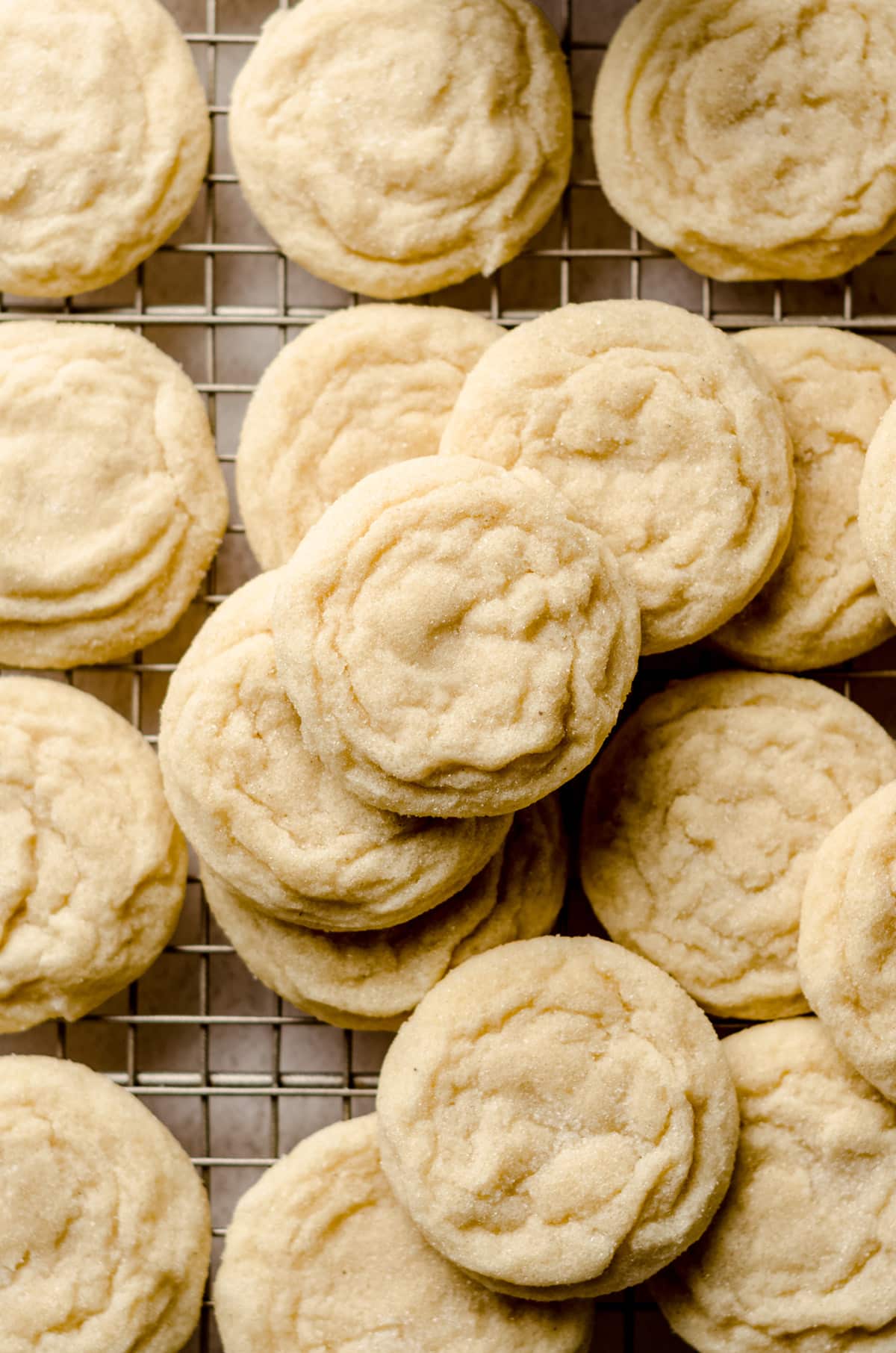 There are all kinds of cookie textures out there in the world, but I feel like most people fall into one of three main categories: people who like very crunchy cookies, people who like crisp on the outside/chewy on the insides (like my classic chocolate chip cookies), and people who like very soft cookies (like my pumpkin spice cookies).
I am typically in the middle camp, going for a cookie that has some texture to the edges, but is nothing but soft/chewy/gooey/melty in the center. This is why I turned my go-to classic chocolate chip cookie recipe into a small batch chocolate chip cookie recipe, so that I could have roughly the same texture in a much faster amount of time.
But there is one cookie flavor that I will only accept as all the way super soft, almost like a cloud or a pillow, and it's one of those textures you just know when you see it.
I had been wanting to add a super soft sugar cookie recipe to my collection for many years, but, you know, this is a very specific texture I was going for. And honestly, I was intimidated by going about it on my own.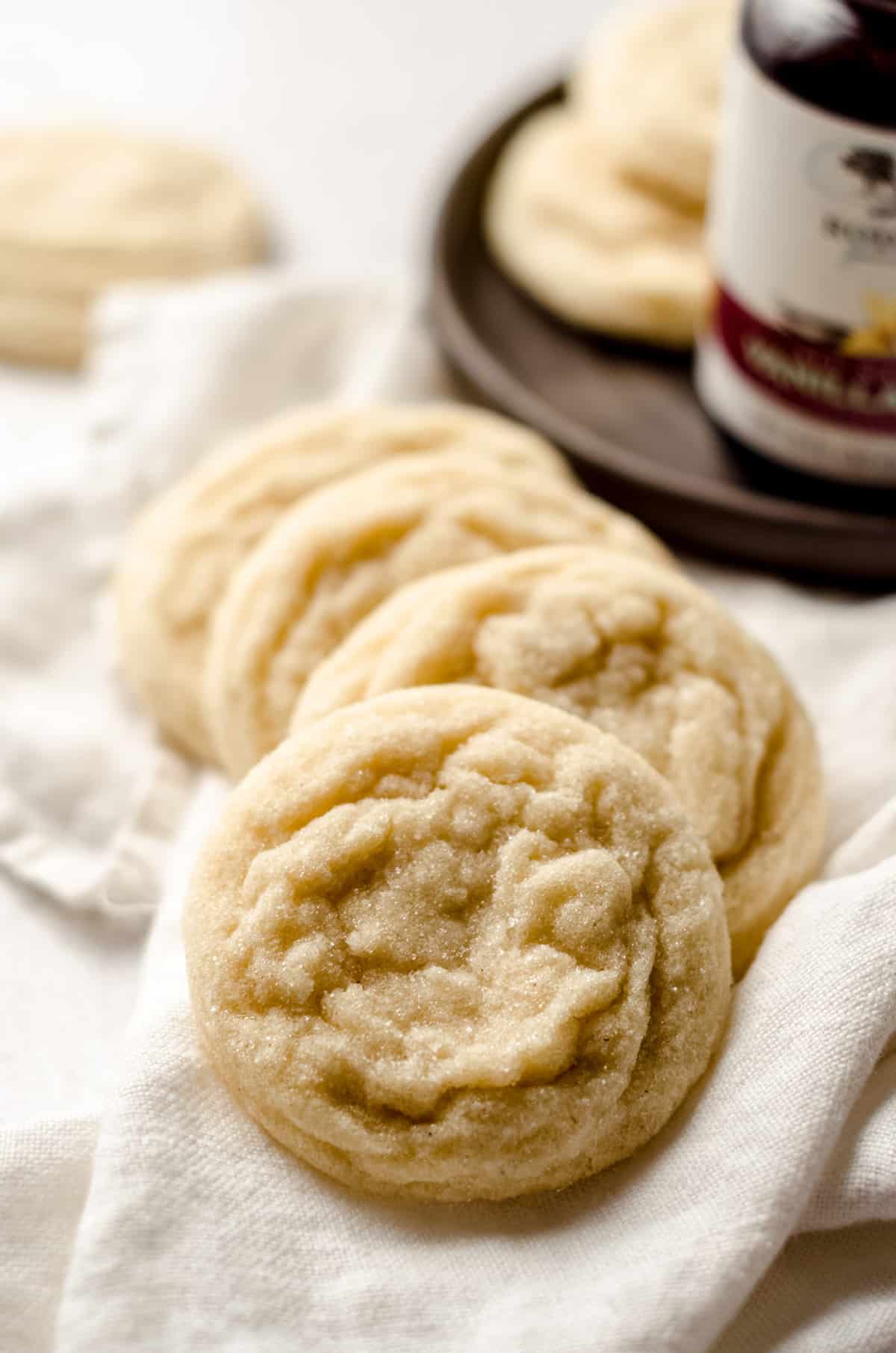 I have been patiently waiting the perfect sugar cookie recipe to come across my eyeballs, and when I collaborated with a bunch of bloggers for lemon week 2021, I knew that the lemon sugar cookie recipe my friend Rebecca from Devour Dinner contributed was it.
Like… I saw one picture of the cookies, my eyes got big, and I said aloud "oh my gosh, that's it." I could just tell by looking at them, this is what I had been searching for– a super soft sugar cookie that melts in your mouth, is unfussy in both ingredients and instruction, and was tested so that I didn't have to do any recipe perfecting of any kind.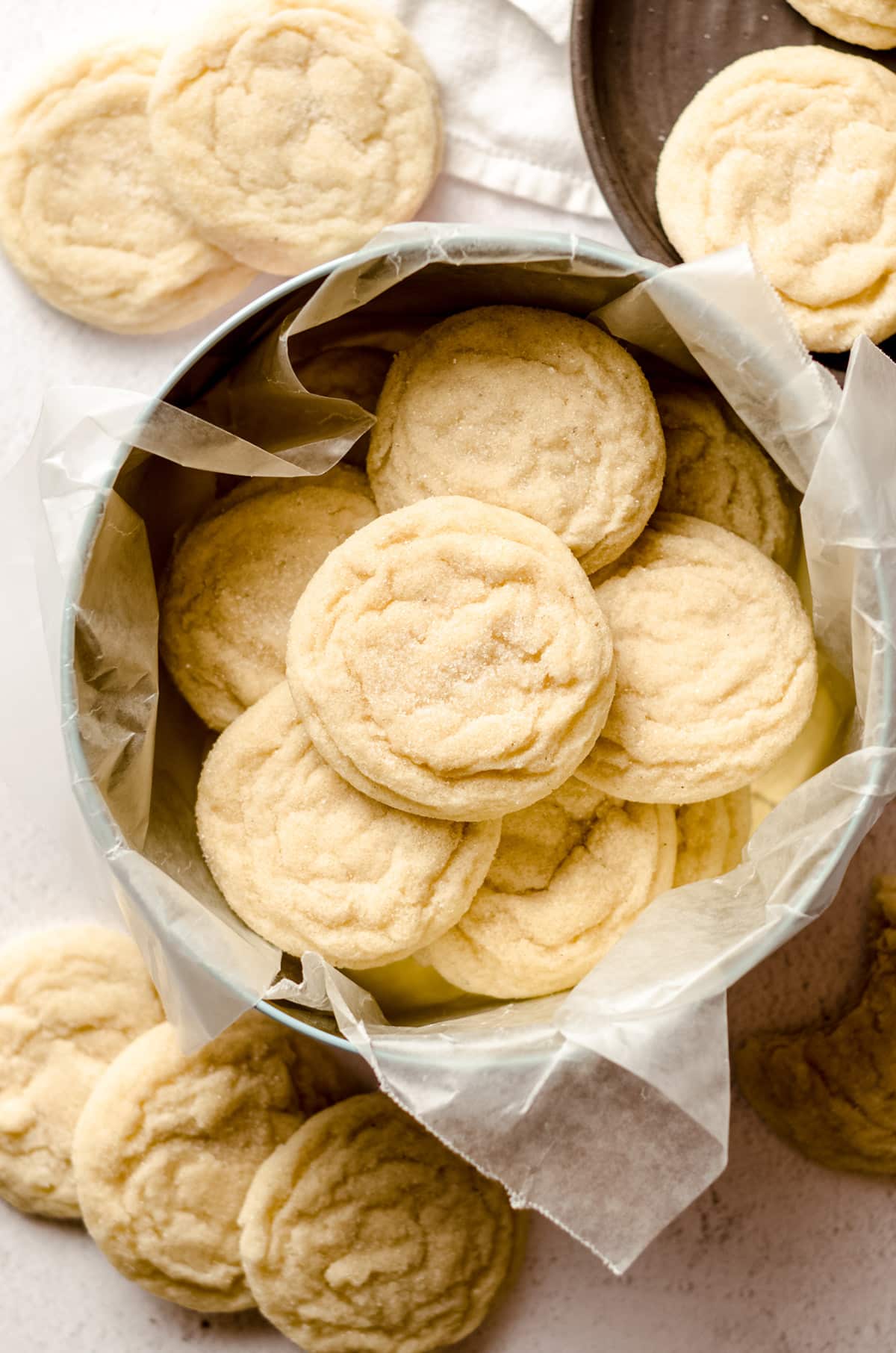 So, I made those, and I was SOLD. Signed, sealed, delivered, I'm yours.
And when Rodelle asked me to use their vanilla bean paste in a cookie recipe, I knew I had to recreate the recipe to make the soft vanilla cookies you are currently drooling over at this very moment (how did I know?).
Now, before I get to what exactly this chewy vanilla cookie recipe entails, I have to give a shoutout to Rodelle, who I have been working with since early 2016 (my first recipe with them was my peach almond streusel muffins!), before I even had our first son.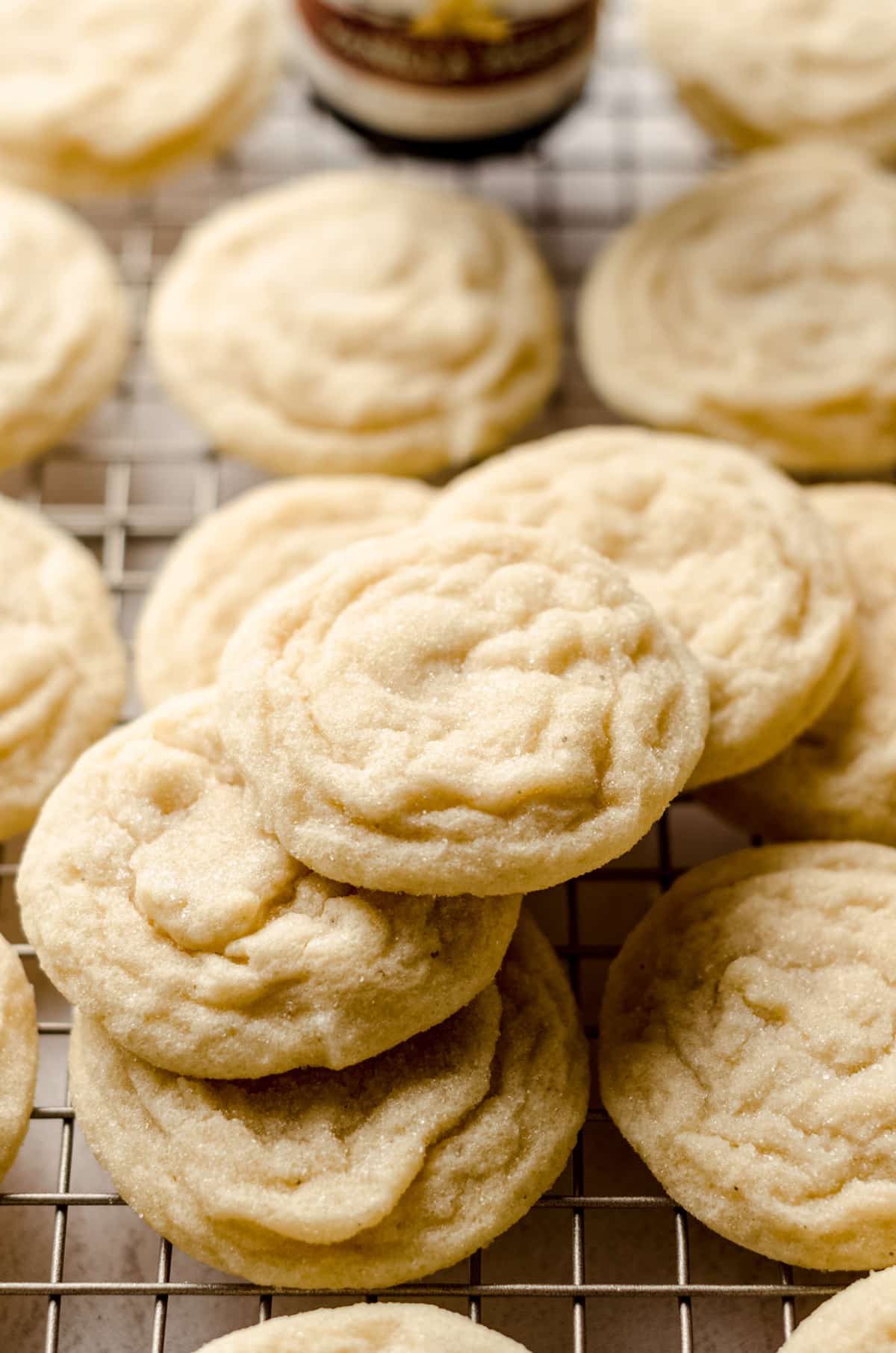 Rodelle carries an extensive line of baking ingredients, specializing in vanilla extracts and pastes that are of incredible quality and fair trade sourced from vanilla farmers.
I have been using Rodelle extracts (my favorite is almond!!) exclusively since I started working with them, and that's simply because I love them, I love their products, and they help me continue to bring you delicious goodies on the regular.
WHAT IS VANILLA PASTE?
Vanilla paste is an excellent alternative to fresh vanilla beans and vanilla extract that is not only low cost, but also incredibly convenient. Bakers looking to use vanilla in any amount in a recipe can use a 1:1 ratio in any recipe that calls for vanilla beans or extract.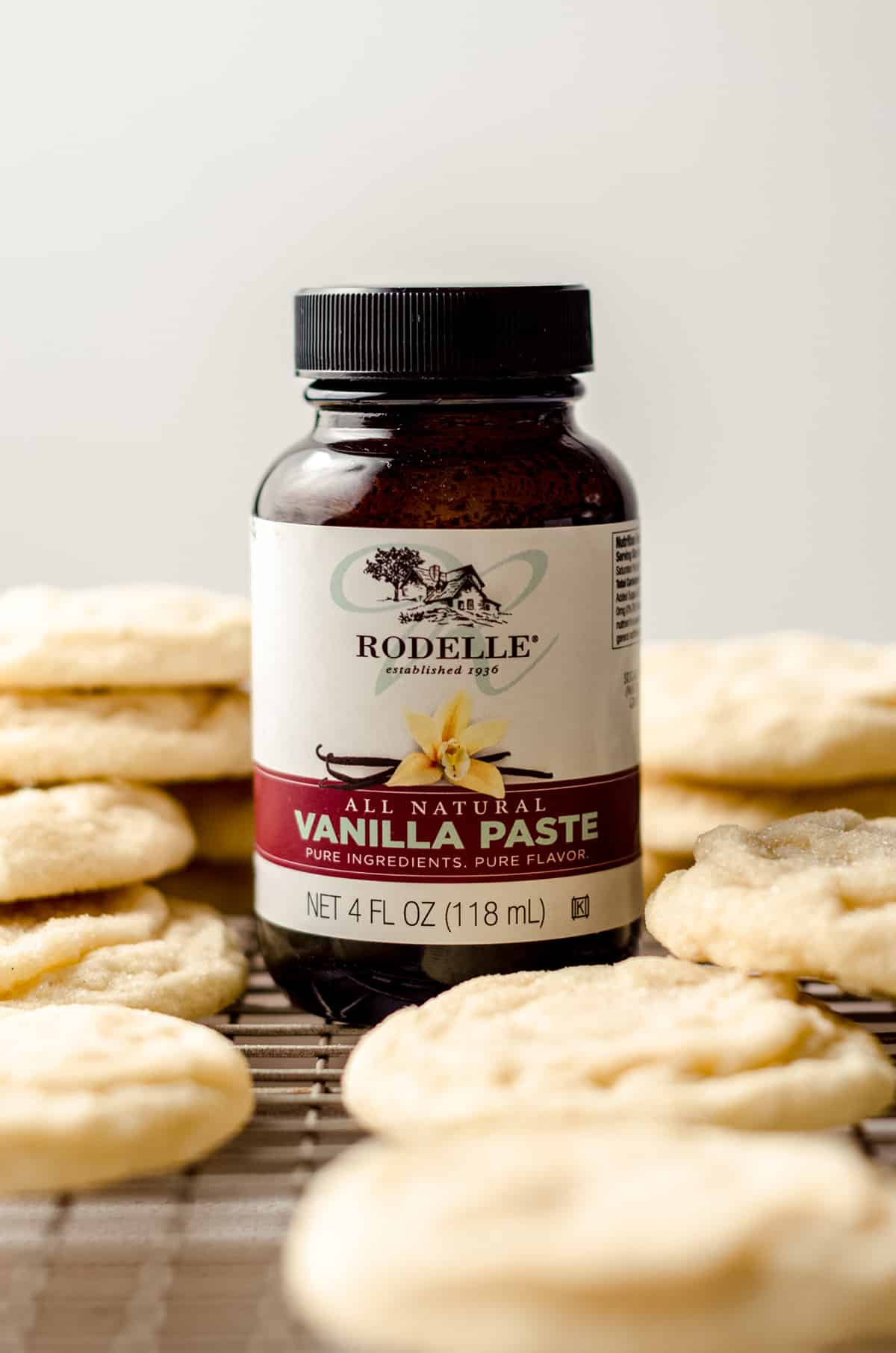 In fact, my vanilla bean cupcakes, which make an appearance in my kitchen pretty regularly, have been made with whole vanilla beans, vanilla extract, and vanilla paste at various times in my "what's available in my pantry?" baking. All delicious, all simple, all vanilla-y.
In addition to actually containing pure vanilla extract, vanilla paste also contains the flecks of vanilla beans that add to the draw of vanilla bean treats and give what might be a plain looking cookie a little extra something. Like little vanilla bean sprinkles!
All that said, you can find Rodelle's vanilla paste in select retailers in the U.S. as well as online, and this product page will give you the ability to track some down close to you (or find it online if it's not close to you).
Alternatively, you can simply use vanilla extract in place of the vanilla paste in these easy vanilla cookies, you just won't have those cute little flecks. I promise, they are still just as perfect in taste and texture if you go that route.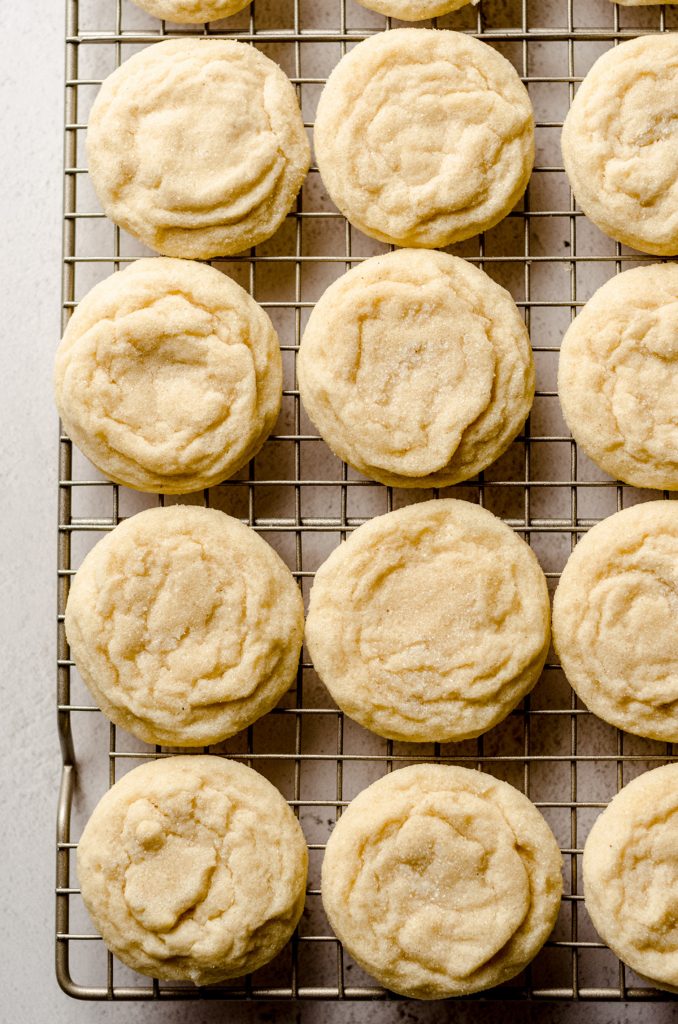 The other thing I really loved about Rebecca's original lemon sugar cookie recipe was that the cookie dough came together so quickly, and it didn't need to chill. GAME CHANGER. This means cookies in my mouth faster and less time in the kitchen.
Sorry, chilled cookie dough recipes. I still love you, but if I want cookies ASAP, I'm choosing a no-chill buddy to satisfy my craving or service my time crunch!
Vanilla Cookie Recipe Ingredients
You likely have all of the ingredients necessary to make these vanilla cookies today, as they are all pantry staples if you bake even semi-often!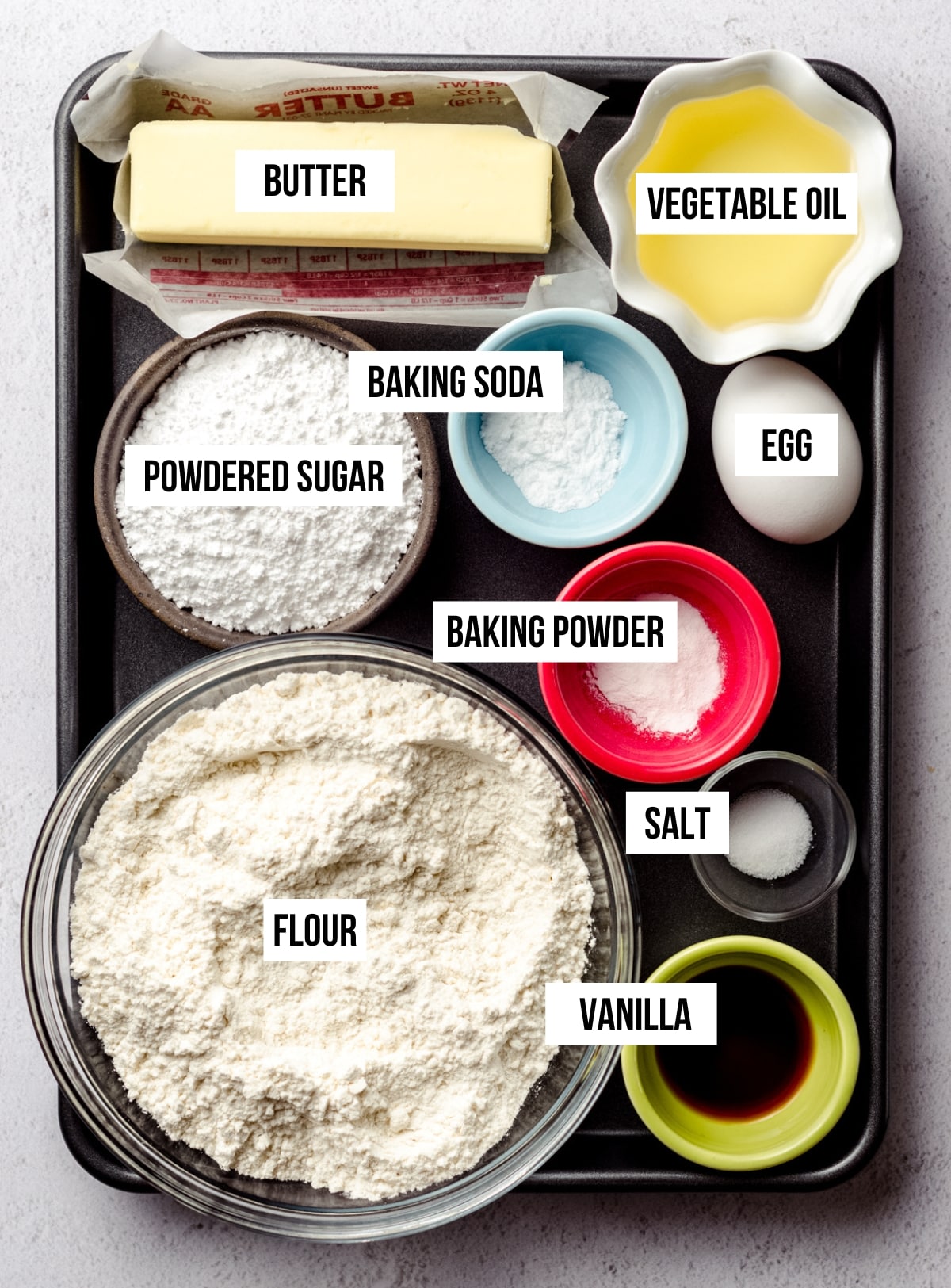 For these vanilla cookies, you will need:
• all-purpose flour
• baking powder
• baking soda
• salt
• butter
• powdered sugar
• egg
• vegetable oil
• vanilla paste
• granulated sugar
How to make Vanilla Cookies
I did adapt Rebecca's recipe a tiny bit, and I chose to use 100% powdered sugar as the sweetener for the cookie dough, just like I do in my cut-out sugar cookies. It gives the cookie dough a softer texture and leaves the dough far less sticky. It's a great trick for sugar cookies and it lends well to making these soft vanilla bean sugar cookies even softer.
WEIGH THE FLOUR ACCURATELY
An important note about the flour: it is imperative that you either fluff/spoon/level your flour or ideally, weigh it in grams. Two cups of all-purpose flour is 240g. Too much flour will result in a dense cookie.
COOKIE DOUGH WILL BE SOFT
At this point, your cookie dough will be soft but not sticky. Once you drop scoops of dough into the sugar, it will decrease in stickiness and you should not run into an issue of the dough being unworkable.
Once the dough is together, you'll drop scoops of dough right into a bowl of granulated sugar. Toss it around a few times to coat it in the sugar, then place it right onto a baking sheet.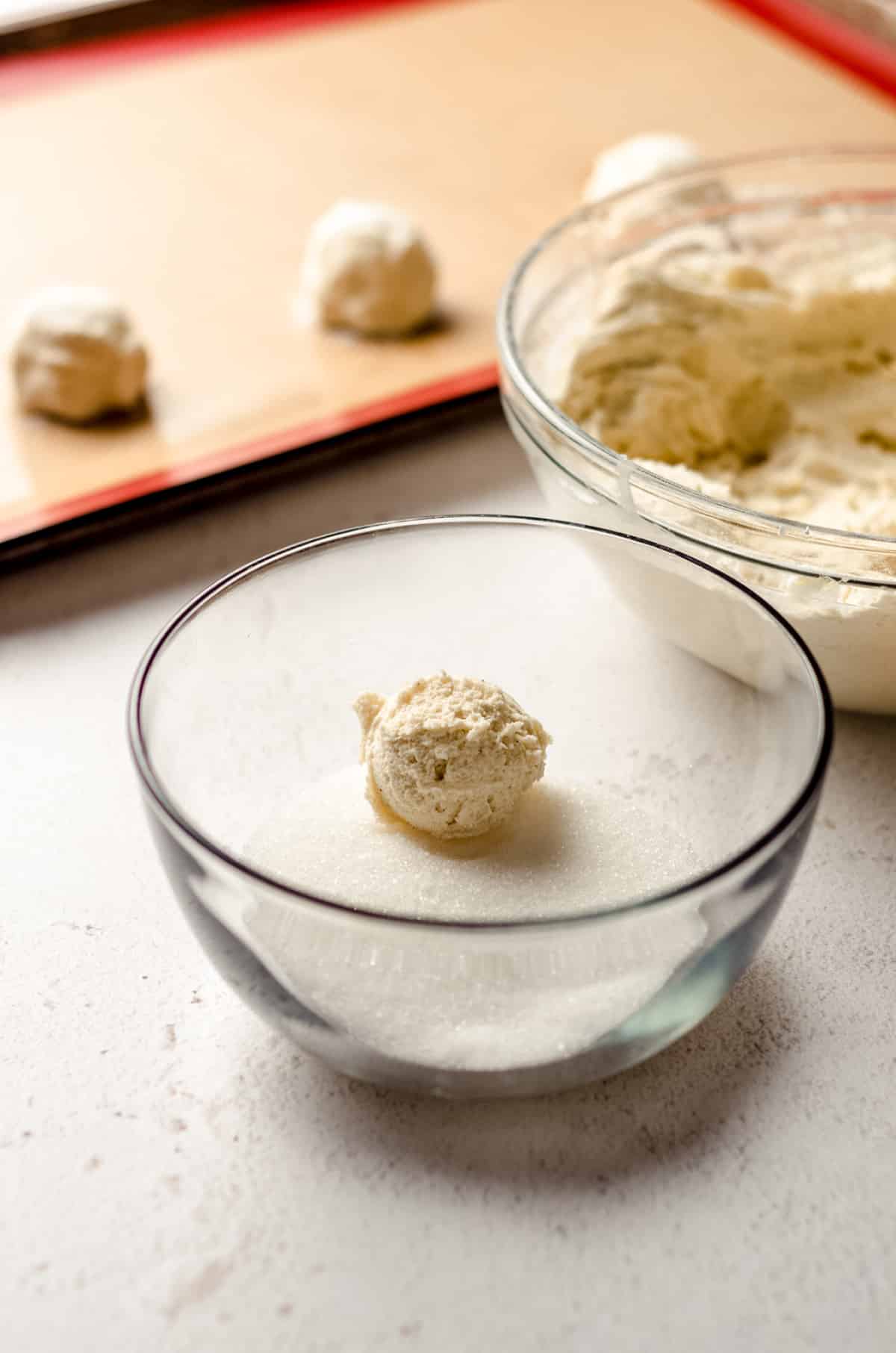 A quick bake of 8-9 minutes is perfect to set the edges, and that's exactly where you want to stop the baking with these cookies. We're not looking for any brown edges in order to get that super soft interior that is no joke just like eating a cloud.
Well, maybe not just like it. Because who has done that? We're getting off track.
Back to the vanilla bean cookie recipe.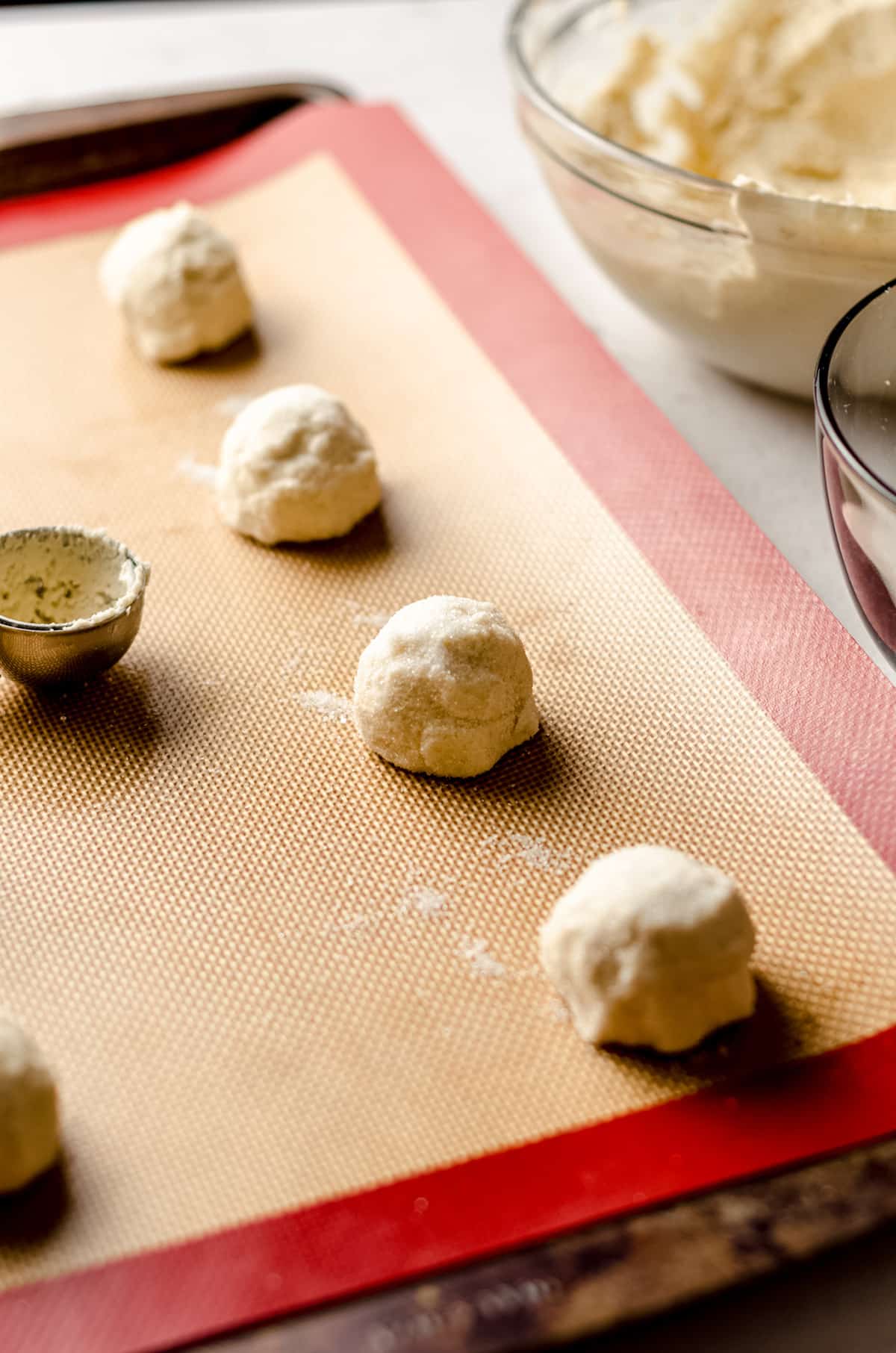 The end result after a bit of cooling is sincerely the best homemade sugar cookie I have ever had. It is reminiscent of what I remember in my high school cafeteria, but better, because those ones didn't have a sugar-coated outside and that, my friends, is where it's at in cookie land.
I am so glad I "met" Rebecca so that I could find her perfect sugar cookie recipe and turn it into my own fabulous vanilla bean sugar cookie recipe to share with you all in my beloved cookie recipe collection. The world works in mysterious ways, and sometimes those ways are so that we can get amazing cookie recipes into our reserve.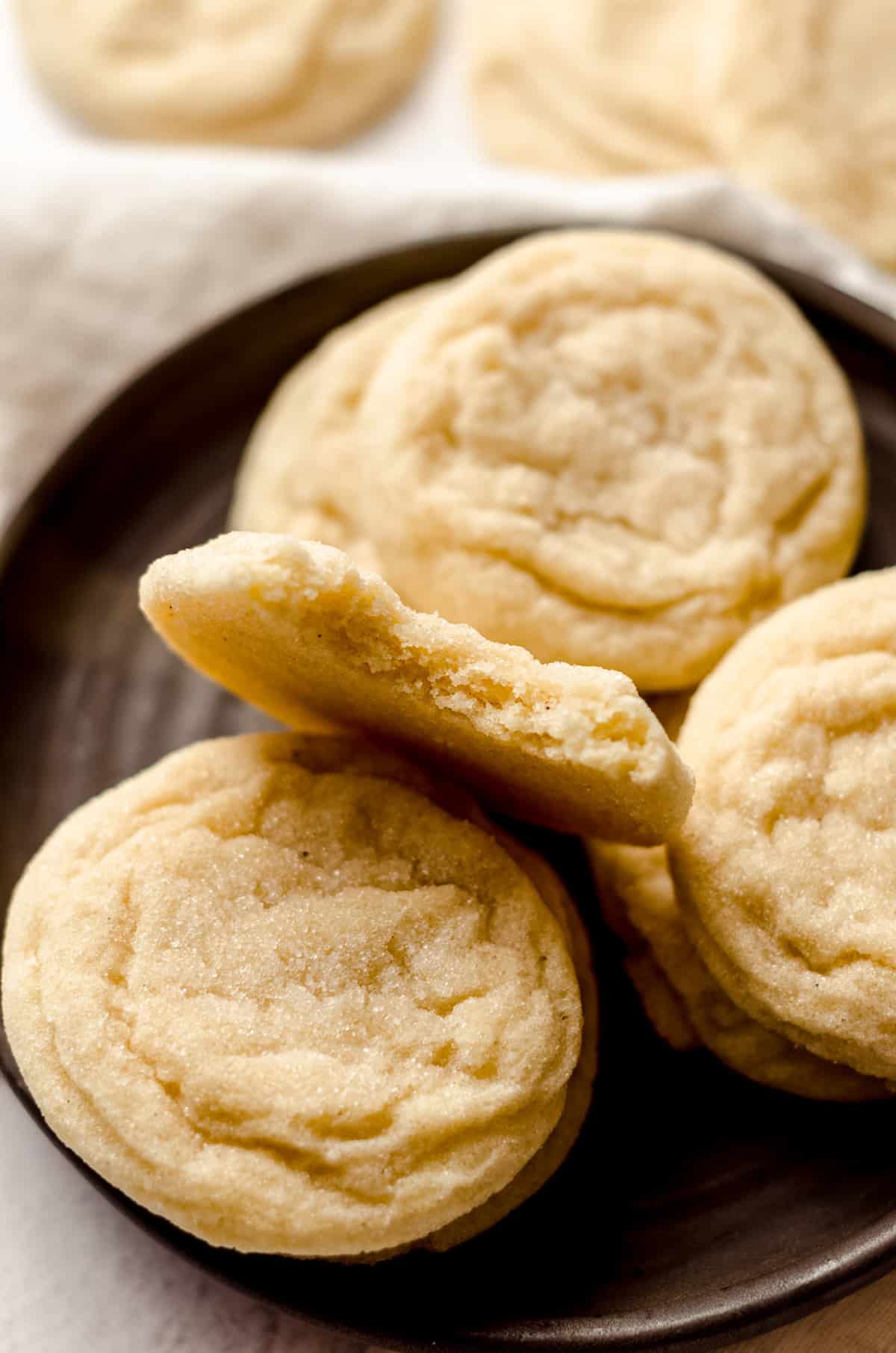 I hope that if you are a soft and pillowy sugar cookie lover like myself, you'll try out these vanilla bean cookies for yourself. They are exactly what I'd been search for for quite some time and I'm thrilled to be able to help you enjoy them in your kitchen, too!
Tips for making the best Vanilla Bean Cookies
In order to create the perfect vanilla cookie, it's important to follow a few rules of thumb.
First, it is imperative that you either fluff/spoon/level your flour or ideally, weigh it in grams. Two cups of all-purpose flour, which is what this recipe calls for, is 240g. Too much flour will result in a dense cookie, and that is the most common complaint I hear from readers when they've made this cookie. I always ask about how they measured their flour, and 9 times out of 10, it is a flour measuring issue.
Next, do not overbake these cookies. They will only need 8-9 minutes, and you just need the edges to be set. They will continue to bake on the baking sheet when they come out of the oven, and overbaking them can turn them crunchy.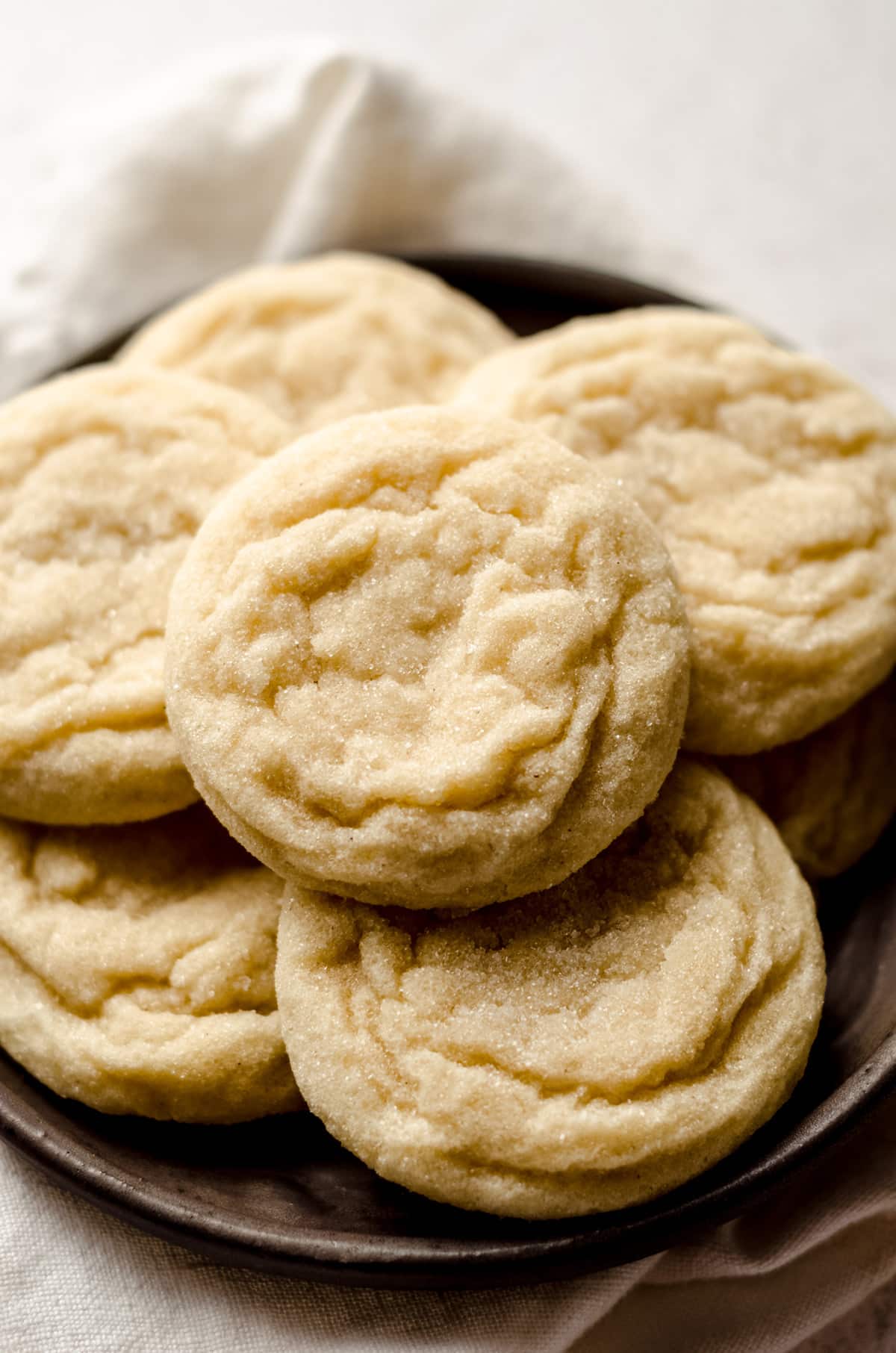 Serving Ideas for Vanilla Sugar Cookies
These cookies are the perfect canvas for some frosting, if you want to level them up. See my frosted sugar cookies recipe if you want to turn these vanilla sugar cookies into something extra special.
Vanilla Cookies Recipe FAQs
More of my favorite no chill cookie recipes: Andes mint cookies, cookies & cream cookies, soft & chewy snickerdoodles (without cream of tartar), and small batch chocolate chip cookies.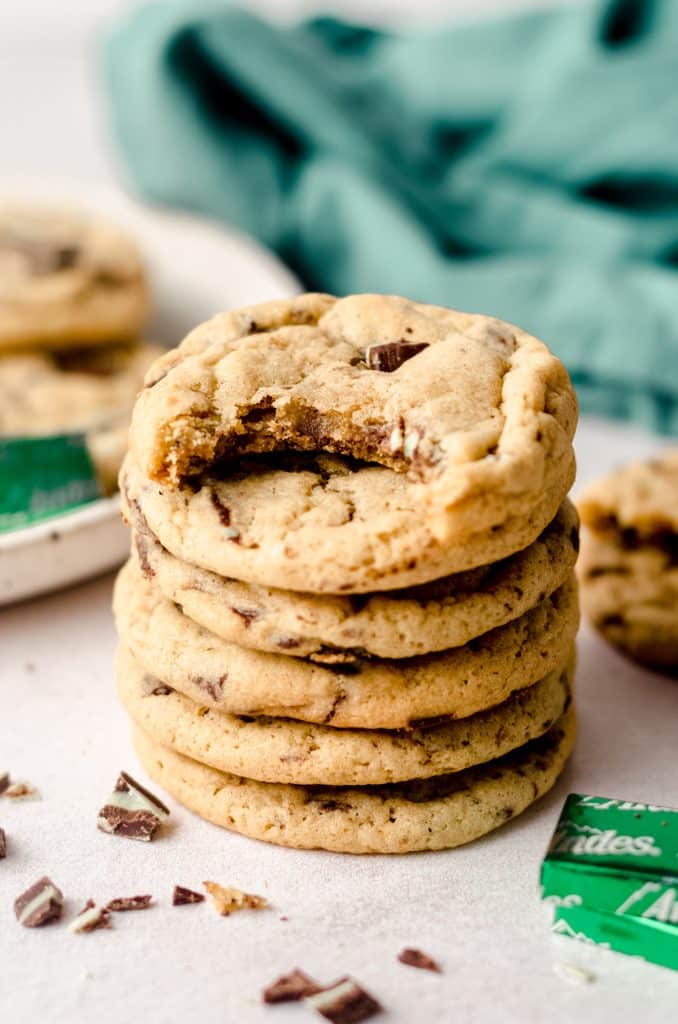 More Favorites from Fresh April Flours
Vanilla Sugar Cookies
Pillowy soft and chewy sugar cookies bursting with fresh vanilla flavor and dusted with a sweet sugar coating.
Ingredients
2

cups

(240g) all-purpose flour1

¾

teaspoon

baking powder

½

teaspoon

baking soda

½

teaspoon

salt

½

cup

(113g) unsalted butter

softened to room temperature

1

cup

(120g) powdered sugar

1

large egg room temperature preferred2

¼

cup

(56mL) vegetable oil

1

Tablespoon (21g)

Rodelle vanilla paste3

½

cup

(100g) granulated sugar
Instructions
Preheat the oven to 350ºF (177ºC). Line a large baking sheet with parchment paper or a silicone baking mat. Set aside.

In a medium size bowl, whisk together the flour, baking powder, baking soda, and salt. Set aside.

2 cups (240g) all-purpose flour1,

¾ teaspoon baking powder,

½ teaspoon baking soda,

½ teaspoon salt

In a large bowl with a handheld mixer, or the bowl of a stand mixer fitted with the paddle attachment, cream the butter and powdered sugar on medium-high speed until light and fluffy, about 2-3 minutes.

½ cup (113g) unsalted butter,

1 cup (120g) powdered sugar

Stop the mixer, add the egg, vegetable oil, and vanilla paste, then beat again on medium speed until everything is combined, stopping the mixer to scrape down the sides of the bowl as necessary.

1 large egg,

¼ cup (56mL) vegetable oil,

1 Tablespoon (21g) Rodelle vanilla paste3

Reduce the mixer speed to low, then add the dry ingredients in two additions, insuring the first addition is mostly incorporated before adding the second. Continue to beat on low until just combined. Dough should be soft but not very sticky, and you should be able to scoop it with a cookie scoop without issue. Once it is dropped into the sugar, it will decrease in stickiness.

Place the granulated sugar into a small bowl, then, using a cookie scoop (I use this #50 cookie scoop for all of my standard size cookies), drop balls of dough into the sugar and use your fingers to gently roll the ball in the sugar. When dough ball is completely covered in sugar, place on prepared baking sheet (8 per sheet).

½ cup (100g) granulated sugar

Bake the cookies for 8-9 minutes, just until edges are set. Allow to cool on the baking sheet for 2-3 minutes before transferring to a wire rack to cool completely. Store cookies covered tightly at room temperature up to 1 week. Cookies freeze well, up to 3 months. Unbaked dough balls also freeze well, up to 3 months. Do not roll in sugar, thaw in refrigerator overnight, and roll in sugar before baking.
Notes
Flour: it is imperative that you either fluff/spoon/level your flour or ideally, weigh it in grams. Two cups of all-purpose flour is 240g. Too much flour will result in a dense cookie.
Room temperature egg: it is always a good idea to use room temperature eggs when using room temperature butter, as it incorporates into batter much more easily. It is not required, just encouraged.
Vanilla paste: if you don't have vanilla paste, you can substitute 1 Tablespoon of vanilla extract. You will not have flecks of vanilla in your cookies unless you use homemade vanilla extract. You can also scrape out the seeds from 2 vanilla bean pods instead of using vanilla paste or vanilla extract.
Recipe adapted from Devour Dinner
Nutrition Disclosure
All nutritional values are approximate and provided to the reader as a courtesy. Changing ingredients and/or quantities will alter the estimated nutritional calculations.
Serving:
1
cookie
|
Calories:
133
kcal
|
Carbohydrates:
18
g
|
Protein:
1
g
|
Fat:
6
g
|
Saturated Fat:
3
g
|
Polyunsaturated Fat:
2
g
|
Monounsaturated Fat:
2
g
|
Trans Fat:
0.2
g
|
Cholesterol:
17
mg
|
Sodium:
88
mg
|
Potassium:
15
mg
|
Fiber:
0.3
g
|
Sugar:
9
g
|
Vitamin A:
128
IU
|
Calcium:
11
mg
|
Iron:
1
mg