Peach Almond Streusel Muffins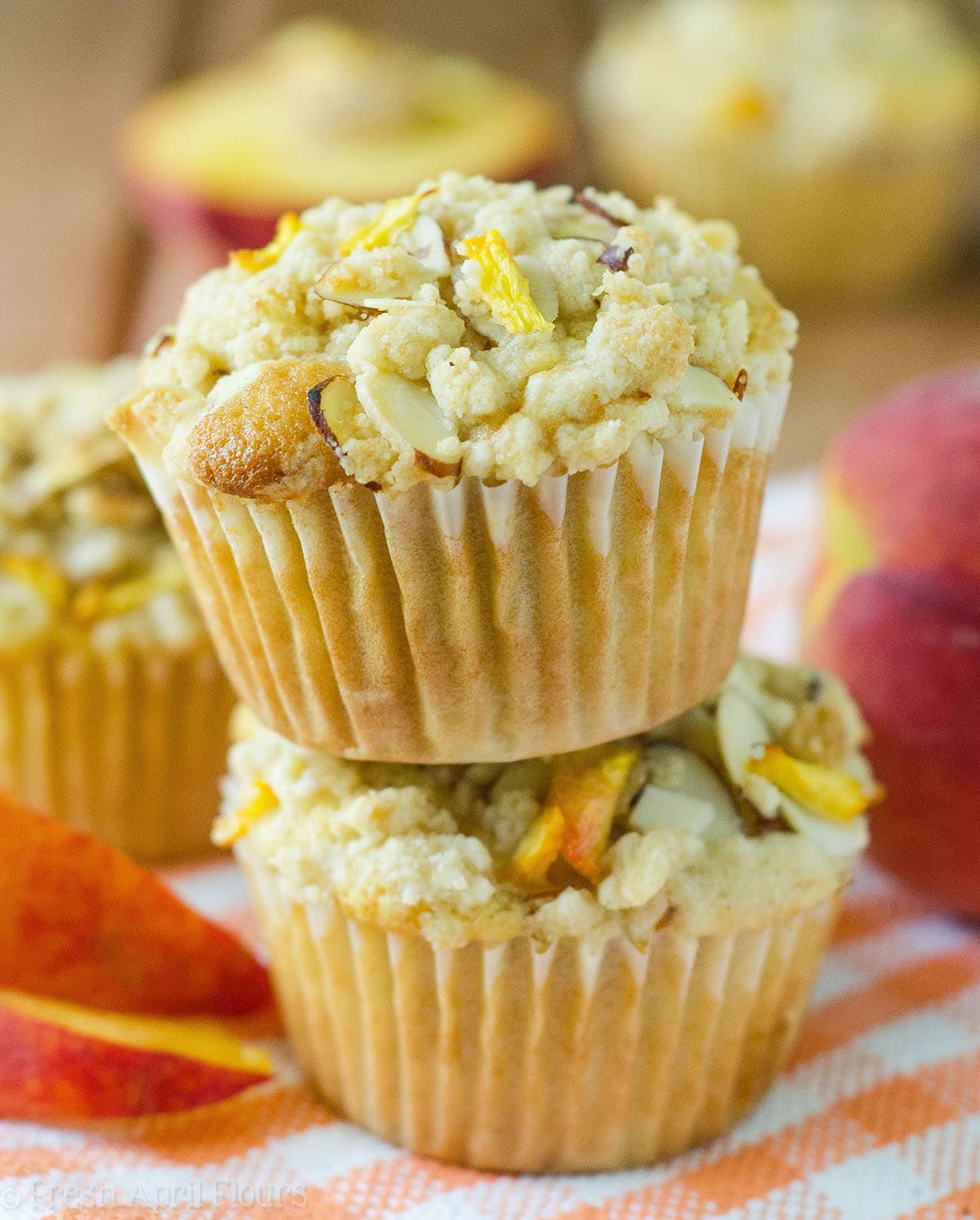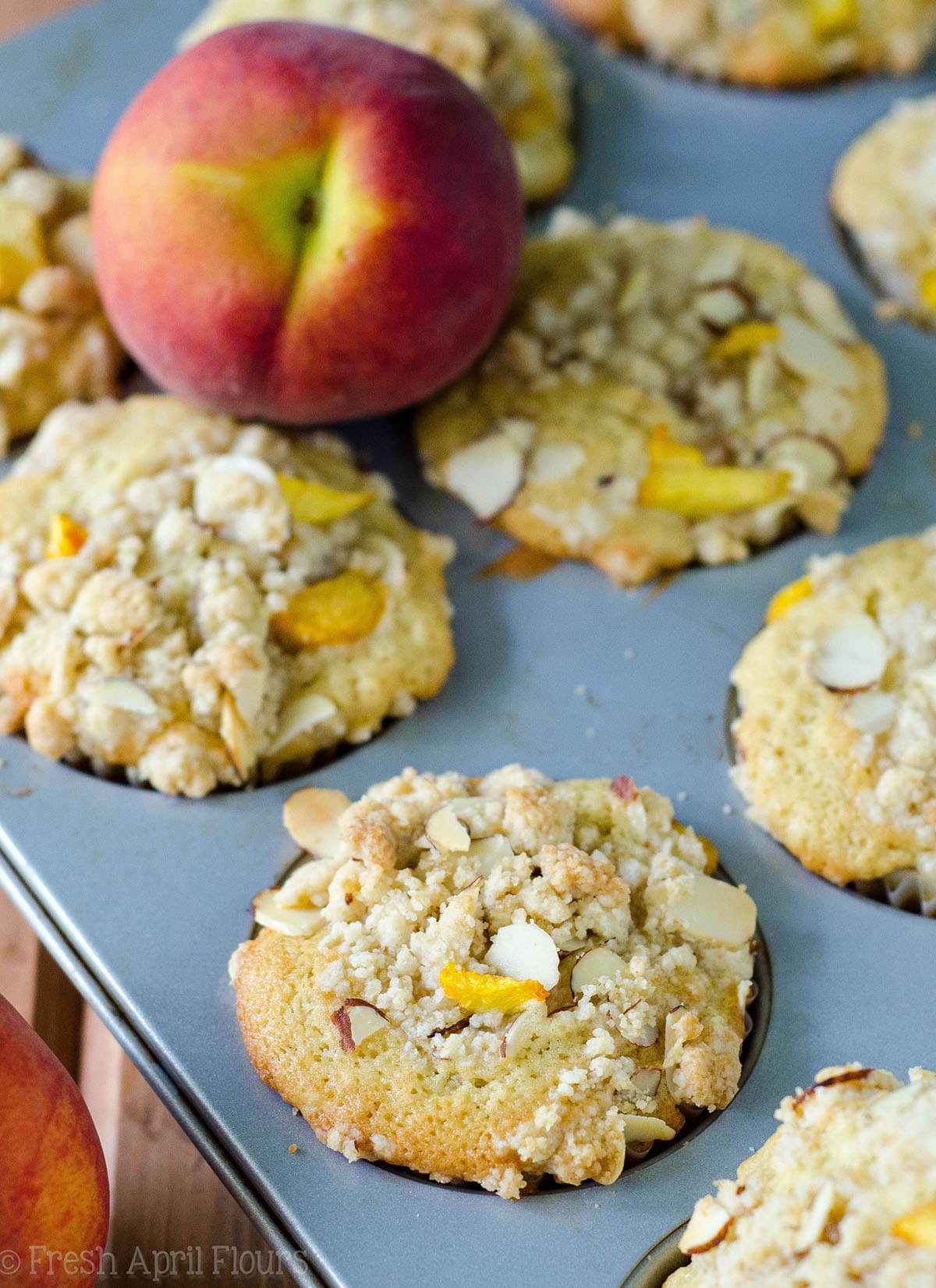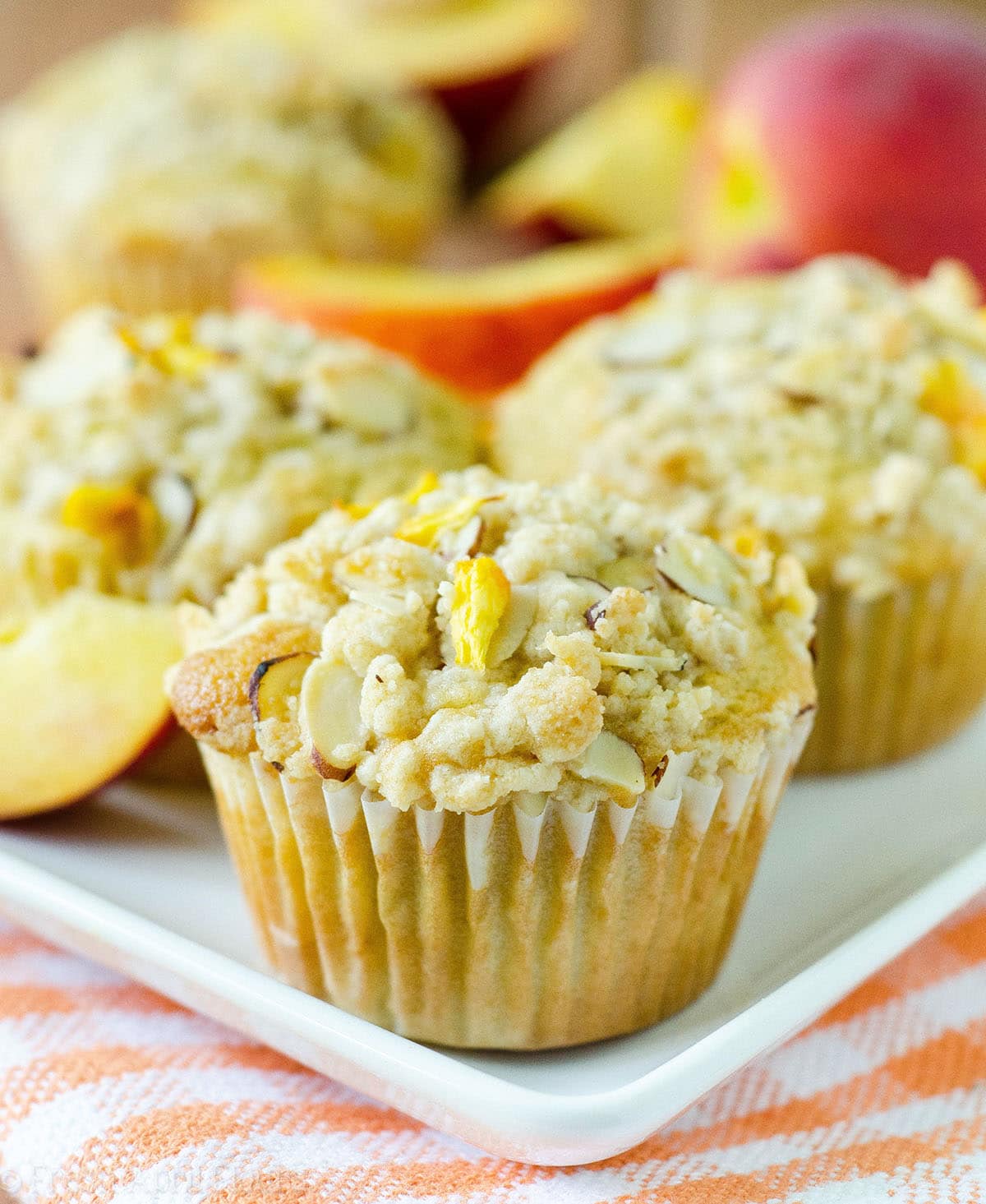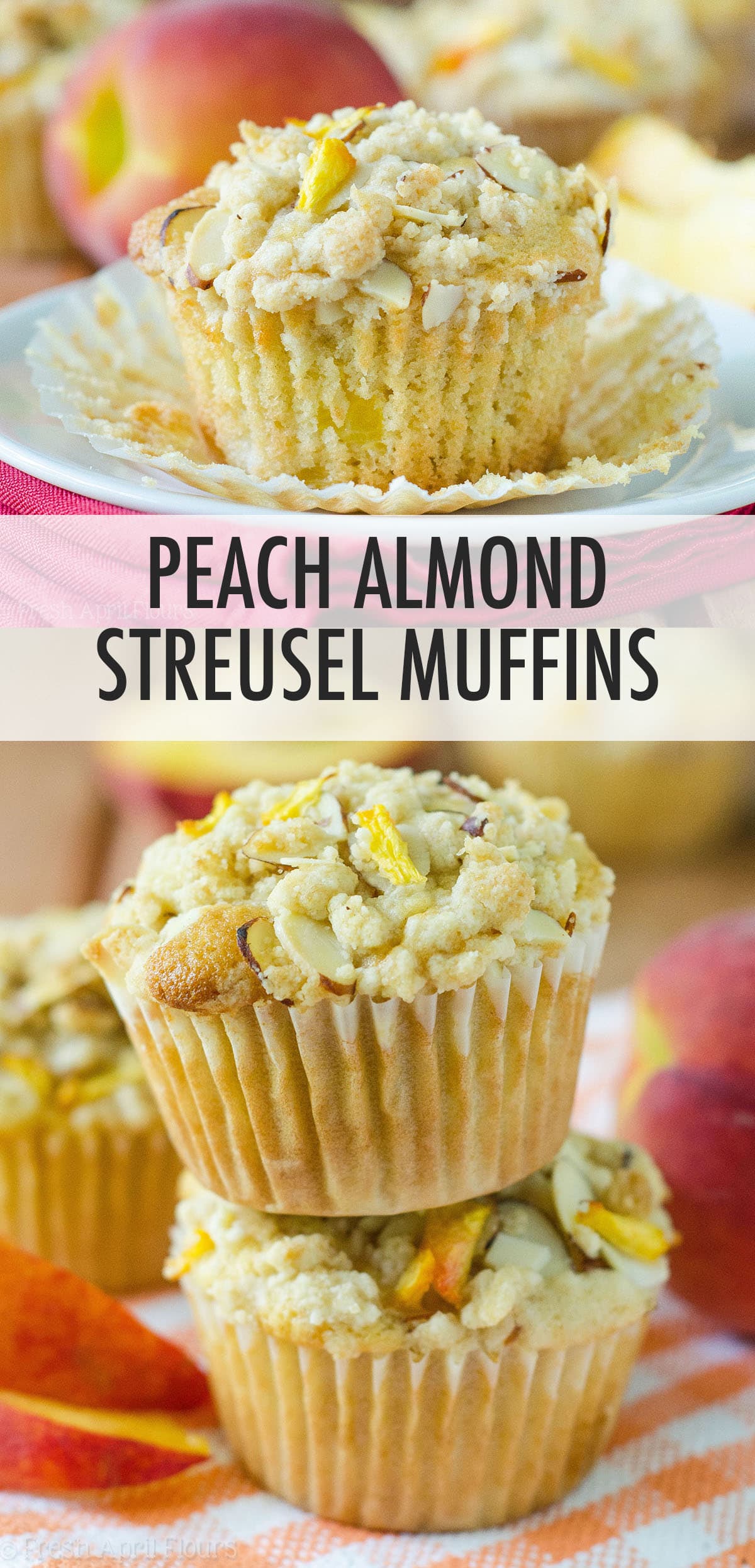 As an Amazon Associate, I earn from qualifying purchases. Read the full disclosure here.
Moist and tender peach muffins, accented with almond extract and topped with a sweet and crunchy almond streusel.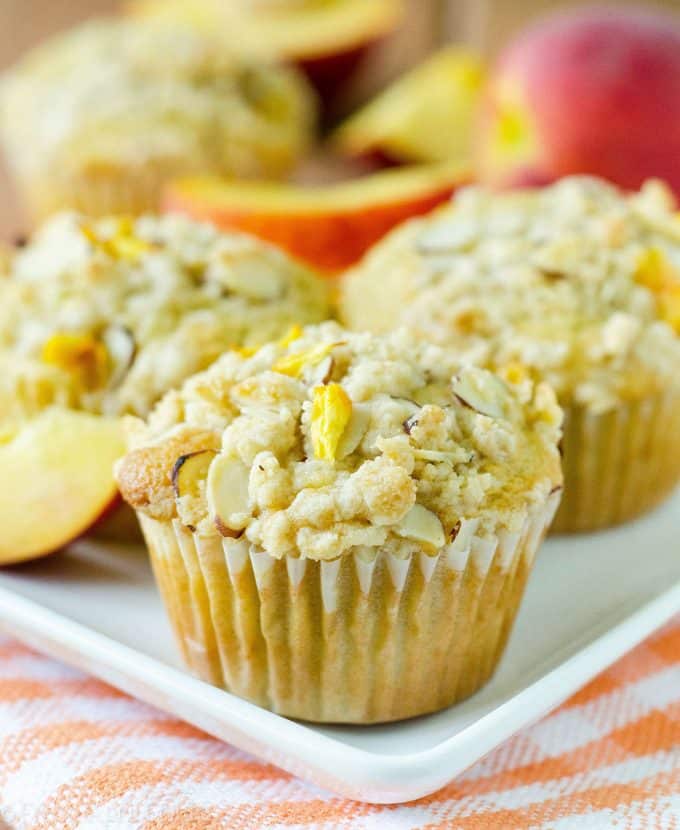 Well, it's the return of my beloved streusel topping, and this time, I've paired it with fresh, juicy peaches. And toasty almonds. On top of moist and tender peach muffins. Breakfast? Dessert? You decide. Either way, you're in for one delightful little treat, dear reader.
But I'm getting ahead of myself! Because we have to address the most important thing about today: we are officially one week away from summer. Halle-freaking-lujah, right?
This means bring on the fresh produce, beach trips, fire pits, bug spray, and no more sleeping, thanks to the newest addition to your family.
Oh wait, that last part will just be us.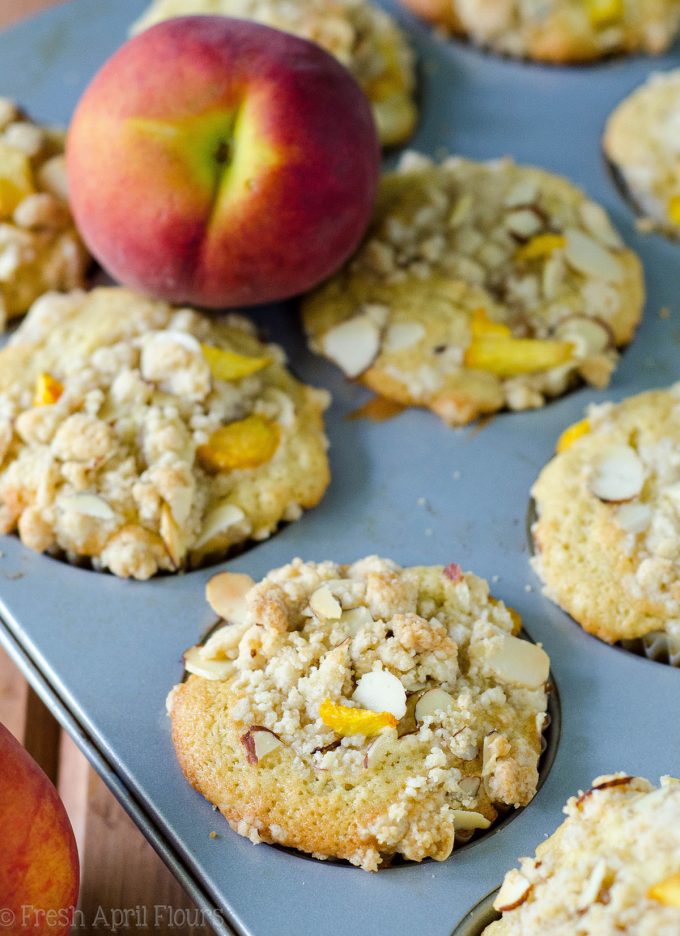 Thankfully, I made these muffins a few weeks ago in anticipation of having less time in the kitchen for a little while, and even more thankfully, I popped several in the freezer which, I'm betting, will save us some sanity and hanger very soon.
So let's get right down to muffin business. These are the real deal, no skinny business, but at the same time, I still don't think you'll feel you're eating cake for breakfast (<– no judgment if that's how you roll, friend).
While there is definitely sugar (both white and brown) in these peach almond streusel muffins, they are nowhere near too sweet.
We've got a hefty dose of fresh peaches in each bite that bring not only pure peach flavor but also add some natural sweetness to the whole muffin party. Oh and bonus: you can also use frozen peaches in these muffins!
See notes in the recipe.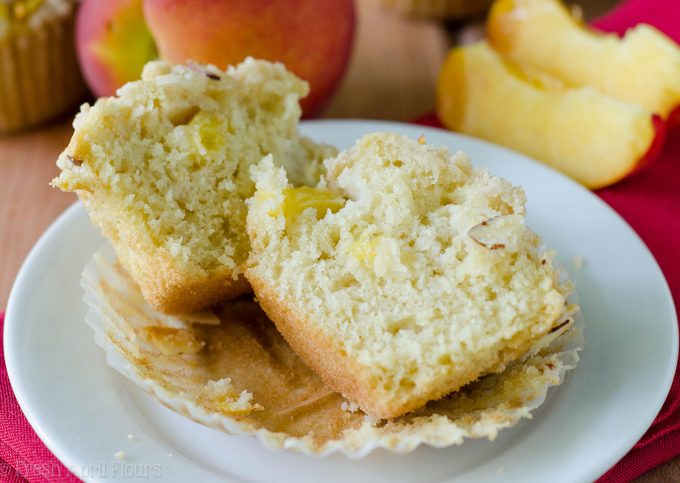 Also a big flavor player in these muffins? Almond extract. I am no stranger to almond extract. It is one of my favorite baking ingredients, as evidenced by the slew of recipes it's included in from the archives.
It brings that key flavor to cake batter/funfetti recipes, adds a unique twist to basic sugar cookies, and provides the perfect complement to fruit flavors like cherry and, today, peaches.
I consider myself an almond extract snob connoisseur, so I know a good one when I find one. I've tried several brands over the years, but it wasn't until I found an almond extract from Rodelle that I can say I found my favorite.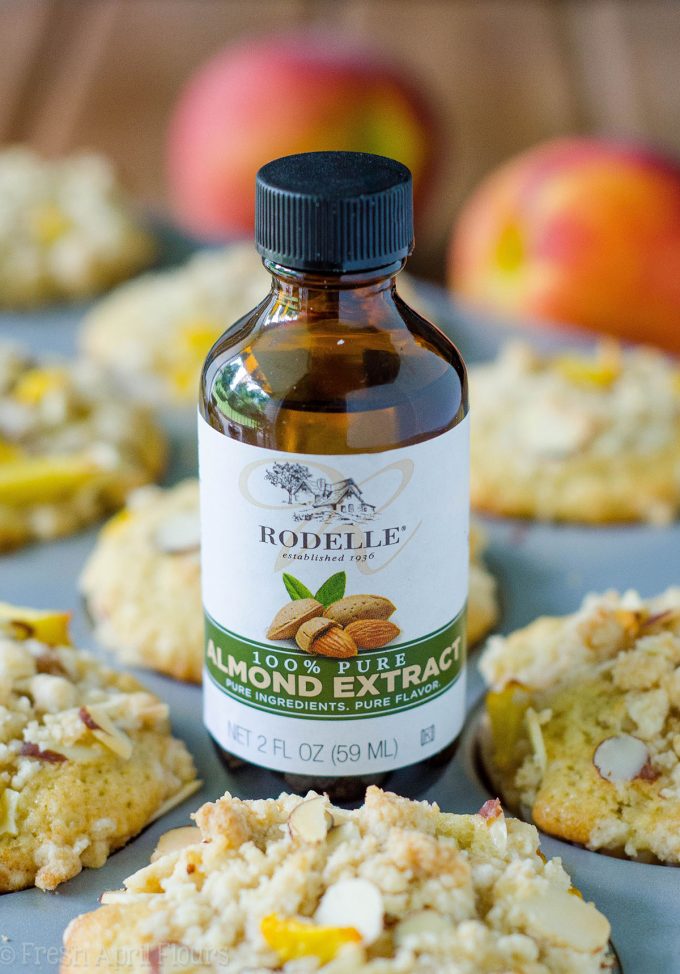 This almond extract is so rich and flavorful that I was surprised just 1 teaspoon of it in 18 muffins stood out as much as it did.
When you are a recipe developer, sometimes you have to prepare for a second or third round of a recipe, especially when you're looking for the ideal balance of flavors.
I am proud to say that the first round of these peach almond streusel muffins was perfection, and I really think the generous flavor of my almond extract was to thank.
Speaking of loads of flavor, the buttery streusel topping that graces each muffin is pretty much the cherry on top of each bite, and it's so simple to make.
Flour, butter, brown sugar, and a little salt make up the base, and then you'll add some sliced almonds to really jazz things up. Plus, those almond slices get toasty in the oven which is always an added bonus.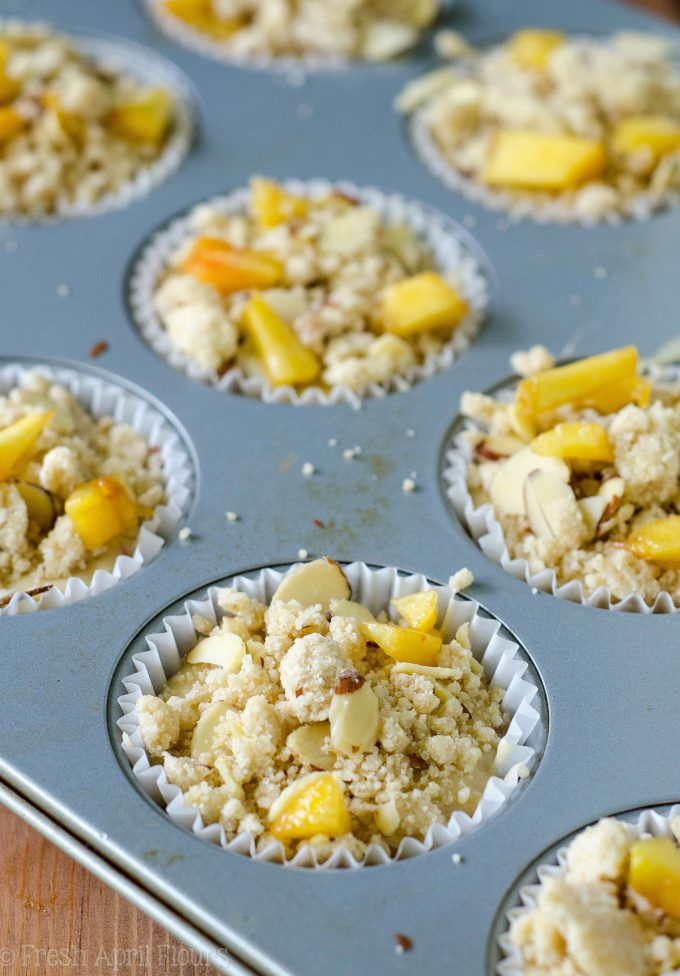 The rest of the ingredients in these peach almond streusel muffins are nothing too fancy. But I will, of course, have to drill into your head that buttermilk is key in this batter.
Nothing replaces it. You need that tang to accompany the sweet, and you'll need the acidity to balance out the baking powder that makes these muffins bake up nice and puffy.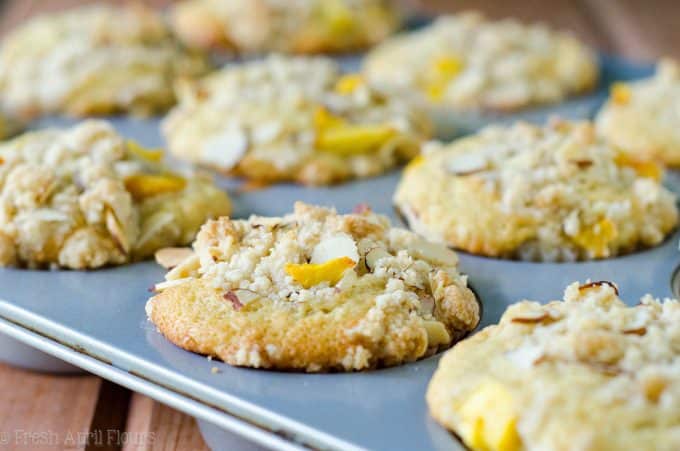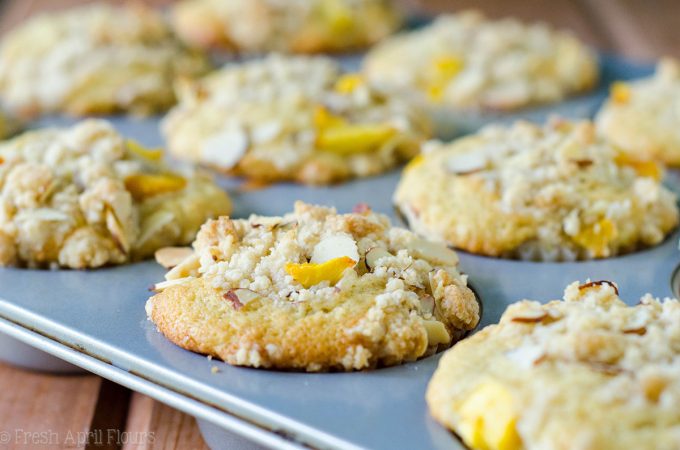 Another note on nice and puffy: you'll do something a little different with these muffins than simply throw them in the oven and walk away until the timer beeps.
You'll bake them at a high temperature of 400ºF for 5 minutes, then, while the muffins are still in the oven, you'll reduce the temperature to 350ºF and bake for the remaining 13ish minutes.
What this initial high heat will do is ensure your muffins bake up nice and tall. Trust me. It's a trick I learned from my dear friend Sally, and it works.
When I say that these muffins are a must make this summer, I'm doing you a favor by saying "you must make these muffins this summer." I wasn't sure that peach and almond would go together as well as I imagined, but I was incredibly impressed that they go together like chocolate and peanut butter.
Seriously. Might be one of my new favorite flavor combos.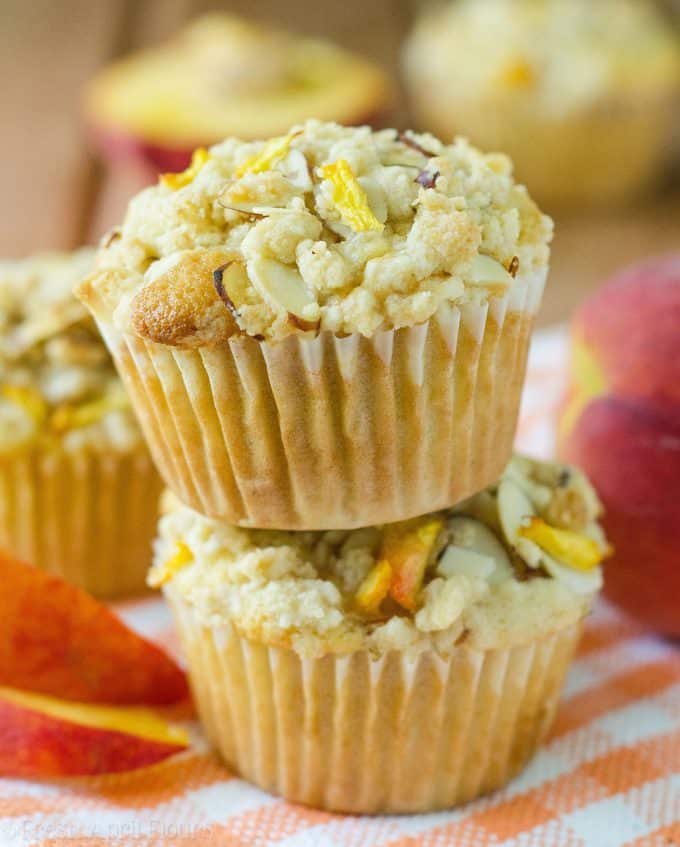 If you're looking for a fun new way to use up some peaches this summer, this is definitely the way to do it. And if you find yourself craving some summer sweetness in the off-season, this is also the way to do it.
Basically, add these peach almond streusel muffins to your baking arsenal and you're sure to have a new favorite breakfast/snack/dessert/addition to your freezer stash in no time.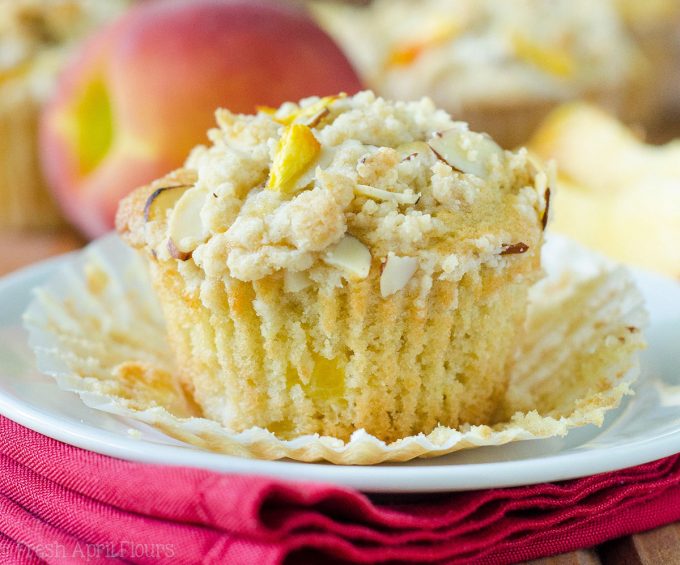 Bring on summer 2016!
Peach Almond Streusel Muffins
Moist and tender peach muffins, accented with almond extract and topped with a sweet and crunchy almond streusel.
Ingredients
STREUSEL
2/3

cup

all-purpose flour

1/4

cup

cold unsalted butter

cut into 16 pieces

3

Tablespoons

brown sugar

1/4

teaspoon

salt

1/4

cup

sliced almonds
MUFFINS
2 and 1/2

cups

all-purpose flour

2

teaspoons

baking powder

1/2

teaspoon

baking soda

1/2

teaspoon

salt

1/2

cup

packed brown sugar

1/2

cup

granulated sugar

1/2

cup

(1 stick) unsalted butter

melted

2

large eggs

room temperature1

1

cup

buttermilk2

1

teaspoon

Rodelle almond extract

1 and 1/2

cups

diced peaches

fresh or frozen3
Instructions
Preheat oven to 400ºF.

Spray 18 wells of two 12-count muffin pans with non-stick spray or line the wells with cupcake liners. Set aside.
STREUSEL
Place flour, butter, brown sugar, and salt into a small bowl.

Using a fork, press ingredients together until butter is in small chunks. Use your fingers to pinch pieces together until streusel is mostly small crumbles. Some large crumbles are ok. Stir in sliced almonds. Set aside in the refrigerator.
MUFFINS
In a large bowl, toss together the flour, baking powder, baking soda, and salt. Set aside.

In a medium size bowl, whisk together the brown sugar, granulated sugar, and butter until smooth. Add the eggs, buttermilk, and almond extract and whisk again until everything is combined.

Pour the wet ingredients into the dry ingredients and stir gently with a spatula until just combined. Fold in the diced peaches.

Spoon batter equally into prepared muffin pans. Add crumble to the top of each muffin, about 2-3 Tablespoons each. Bake muffins for 5 minutes, then reduce heat to 350ºF and bake for an additional 13-15 minutes until streusel starts to brown and a toothpick inserted in the center comes out mostly clean. Remove from oven and allow to cool completely on a wire rack. Muffins will stay fresh in an airtight container at room temperature up to 3 days or in the refrigerator up to one week. Muffins freeze well, up to 2 months. Thaw in microwave for 45-60 seconds before eating.
Notes
It is always a good rule of thumb to use room temperature eggs when using room temperature butter. To bring eggs to room temperature quickly, place in a bowl of warm water for 10 minutes.
If you don't have buttermilk, you can easily make your own: see my post about how to make your own buttermilk.
Equivalent of about 3 peaches. If using frozen peaches, do not thaw.
Nutrition Disclosure
All nutritional values are approximate and provided to the reader as a courtesy. Changing ingredients and/or quantities will alter the estimated nutritional calculations.
More summer recipes…
Mini Pineapple Upside-Down Cakes