As an Amazon Associate I earn from qualifying purchases.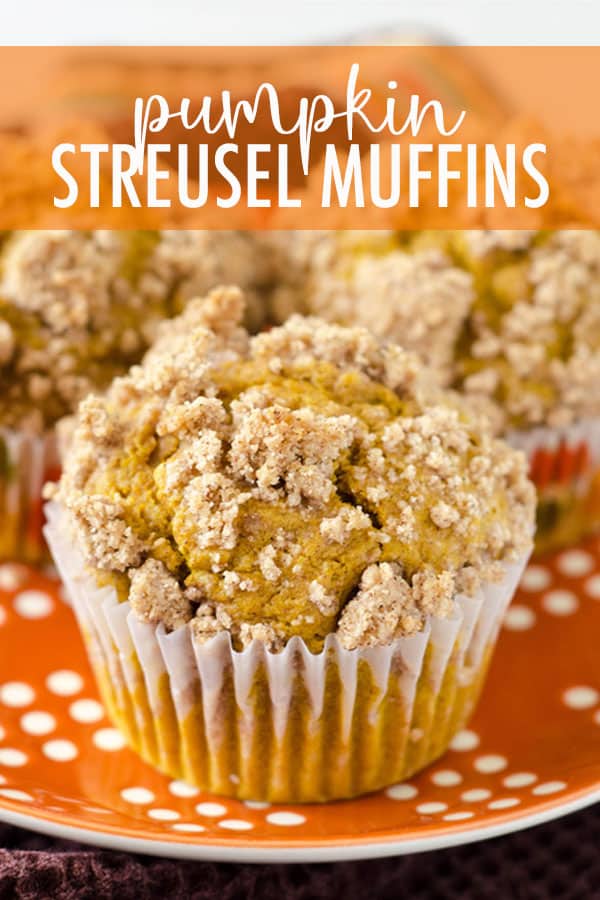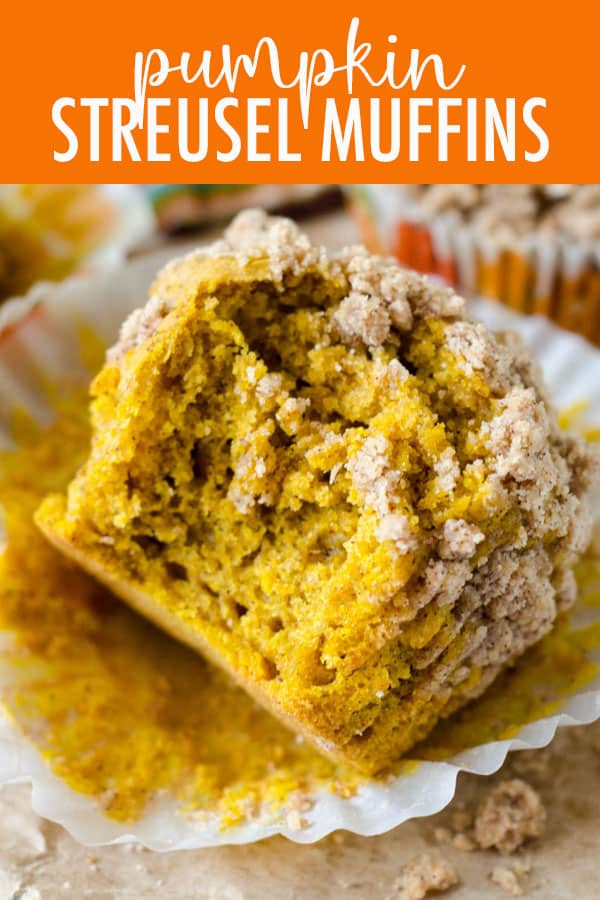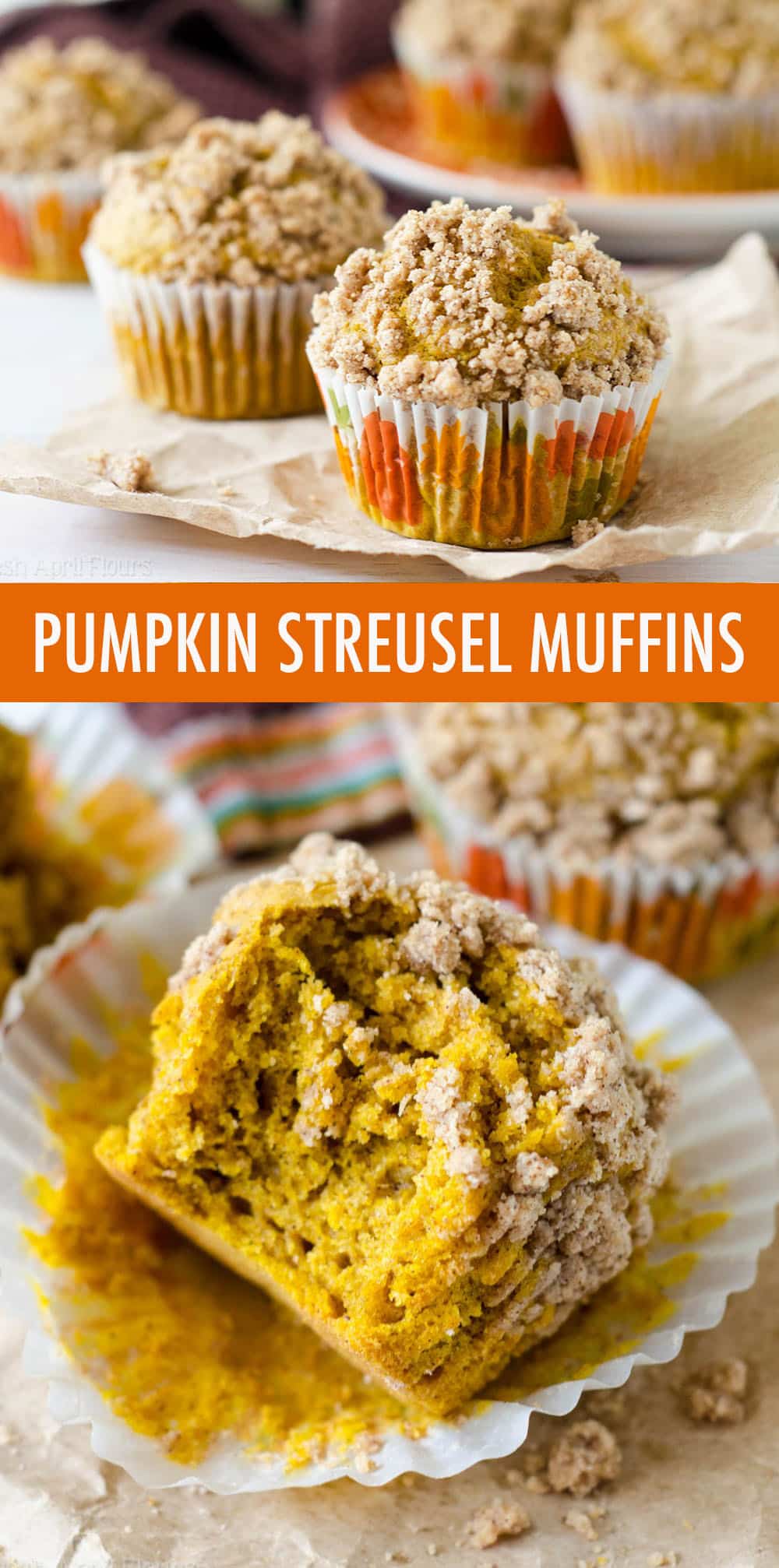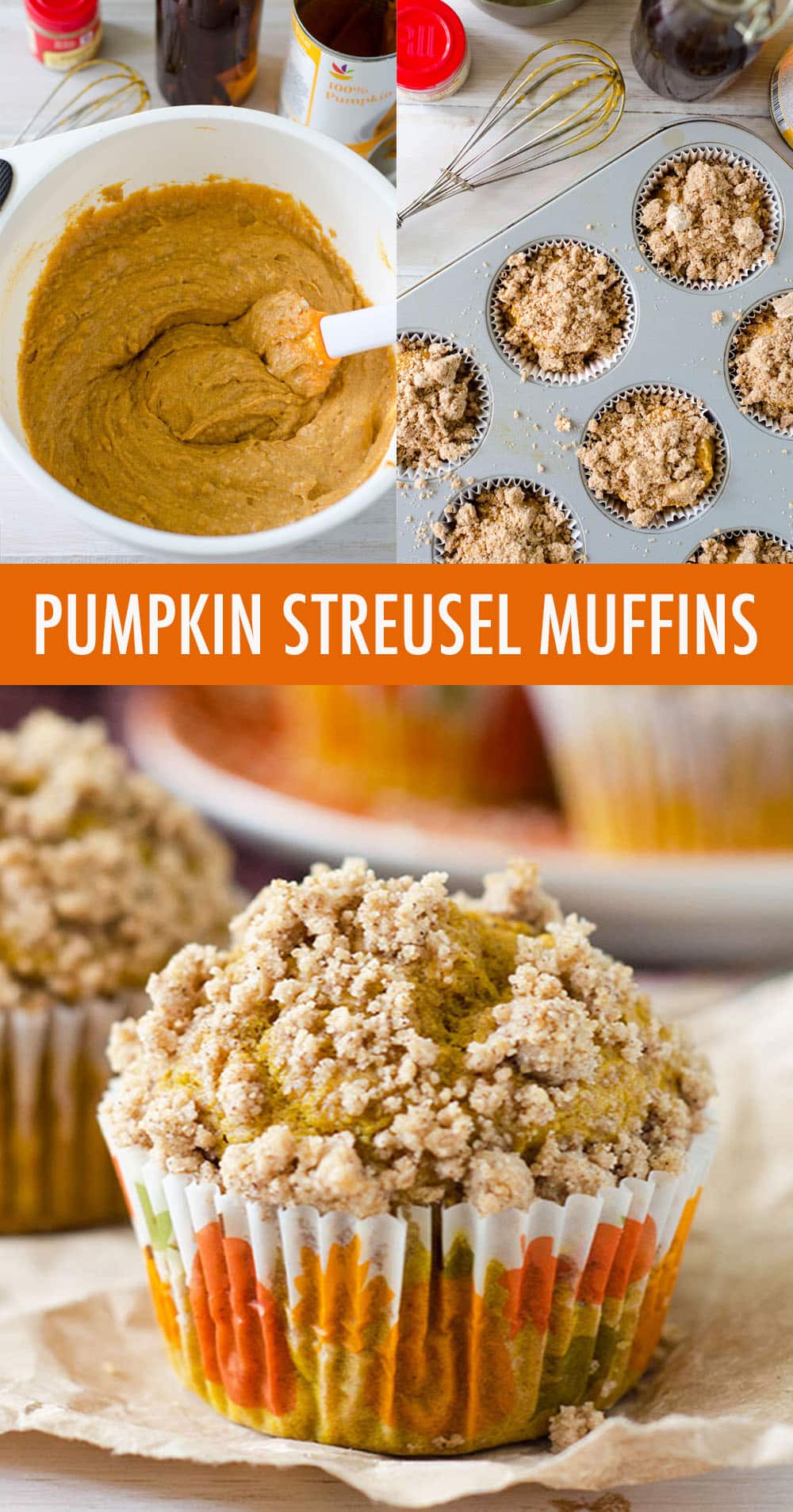 Moist and tender muffins made with real pumpkin and all the warm flavors of fall, topped with an irresistible pumpkin spice streusel.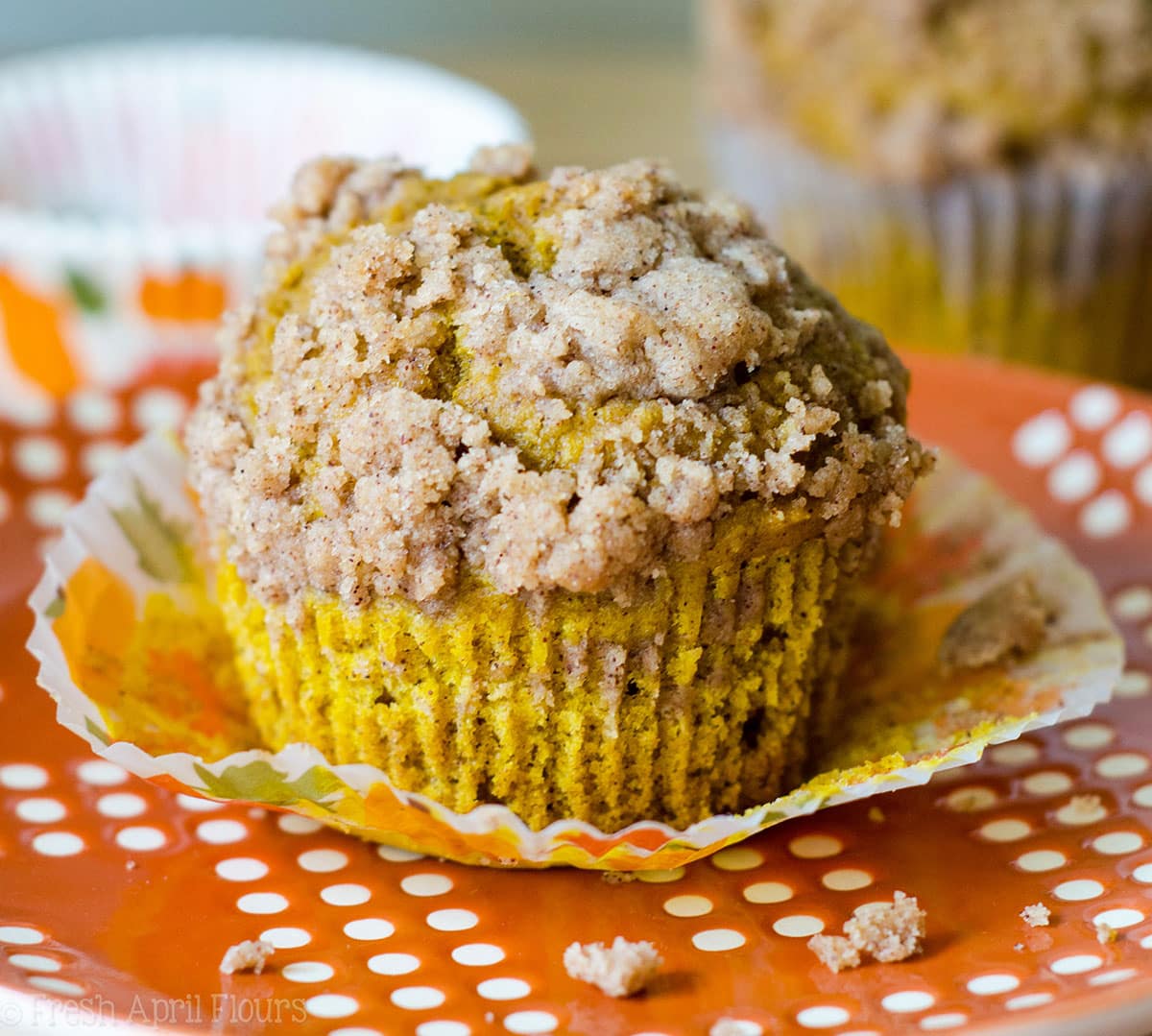 Let me tell you a little bit about me and muffins.
This summer, I had an absolute love affair with muffins.
It all started a few days after J was born in June when Matt brought me a lemon poppy seed muffin as a Sunday breakfast treat to have with my coffee (not only super convenient food while nursing but also easy calories since breastfeeding takes up, like, all of them!).
It was heavenly, and I asked him if he could get me another one when he went to the grocery store the next time.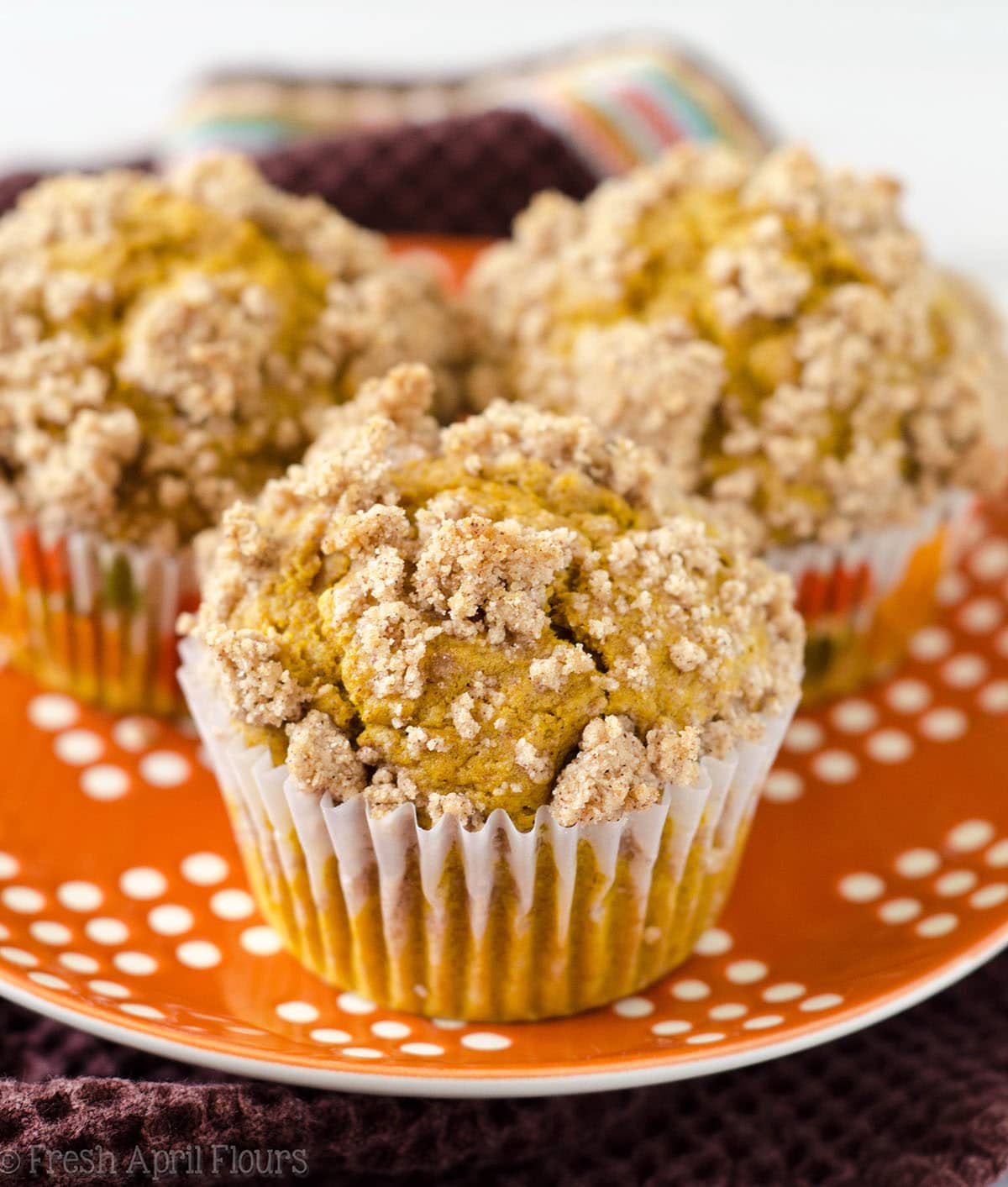 Well, one muffin one Sunday turned into a few a week, which turned into one a day, and has, admittedly, continued to be one a day since probably mid-July.
And remember how my birthday was last week?
I got a total of $40 to Dunkin Donuts and have been frequenting the DD that was put in right next door to our neighborhood since going back to work.
Seriously, friends. I've got a muffin problem. And I don't plan to stop any time soon. Or at least until I'm done nursing!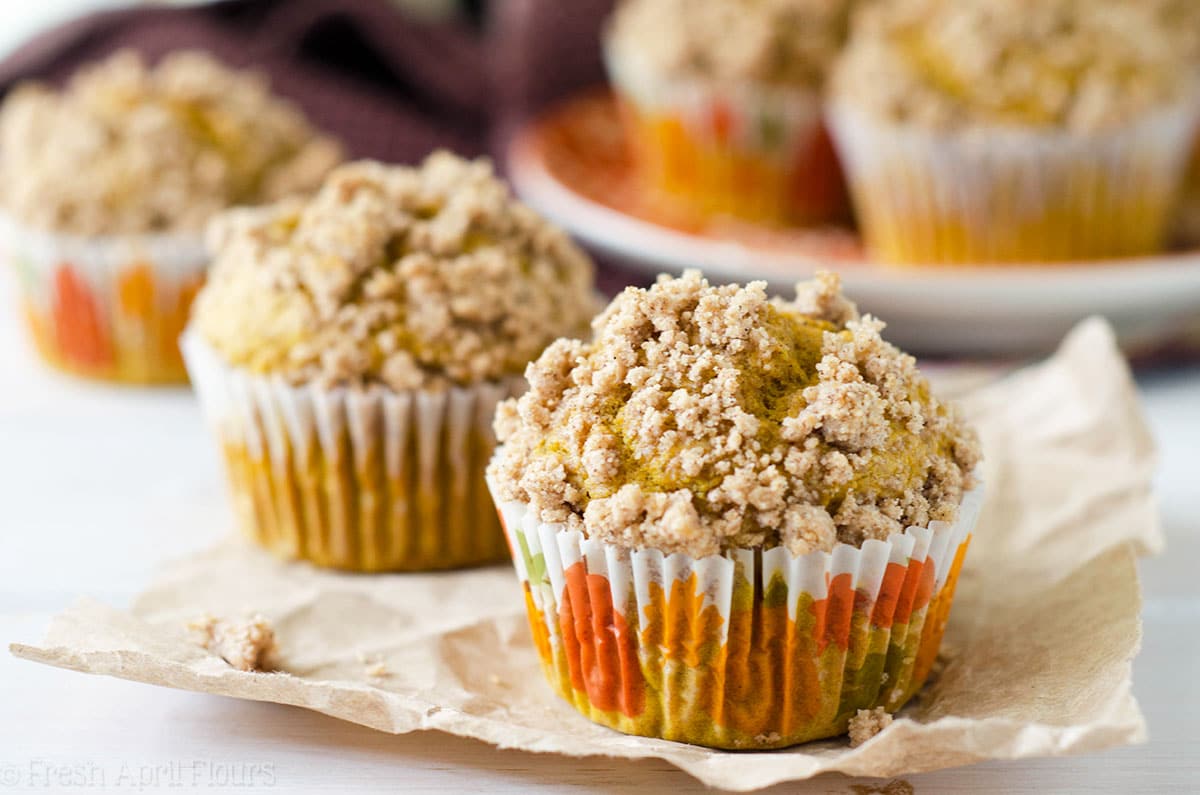 My return to work and my birthday coincided perfectly with the return of Dunkin's pumpkin muffins. I got one a couple weeks ago and was reminded of how amazing they are.
Like, UHHHHMAZING.
Not only are they perfectly moist, but they are also made with actual pumpkin. No really, I looked it up on their website. After flour, pumpkin is listed as the second ingredient.
Hooray for real, authentic pumpkin flavor and not just a blend of spices to get the job done (although there's nothing wrong with that either)!
The only thing I don't absolutely love about Dunkin's pumpkin muffins is the icing they put on top.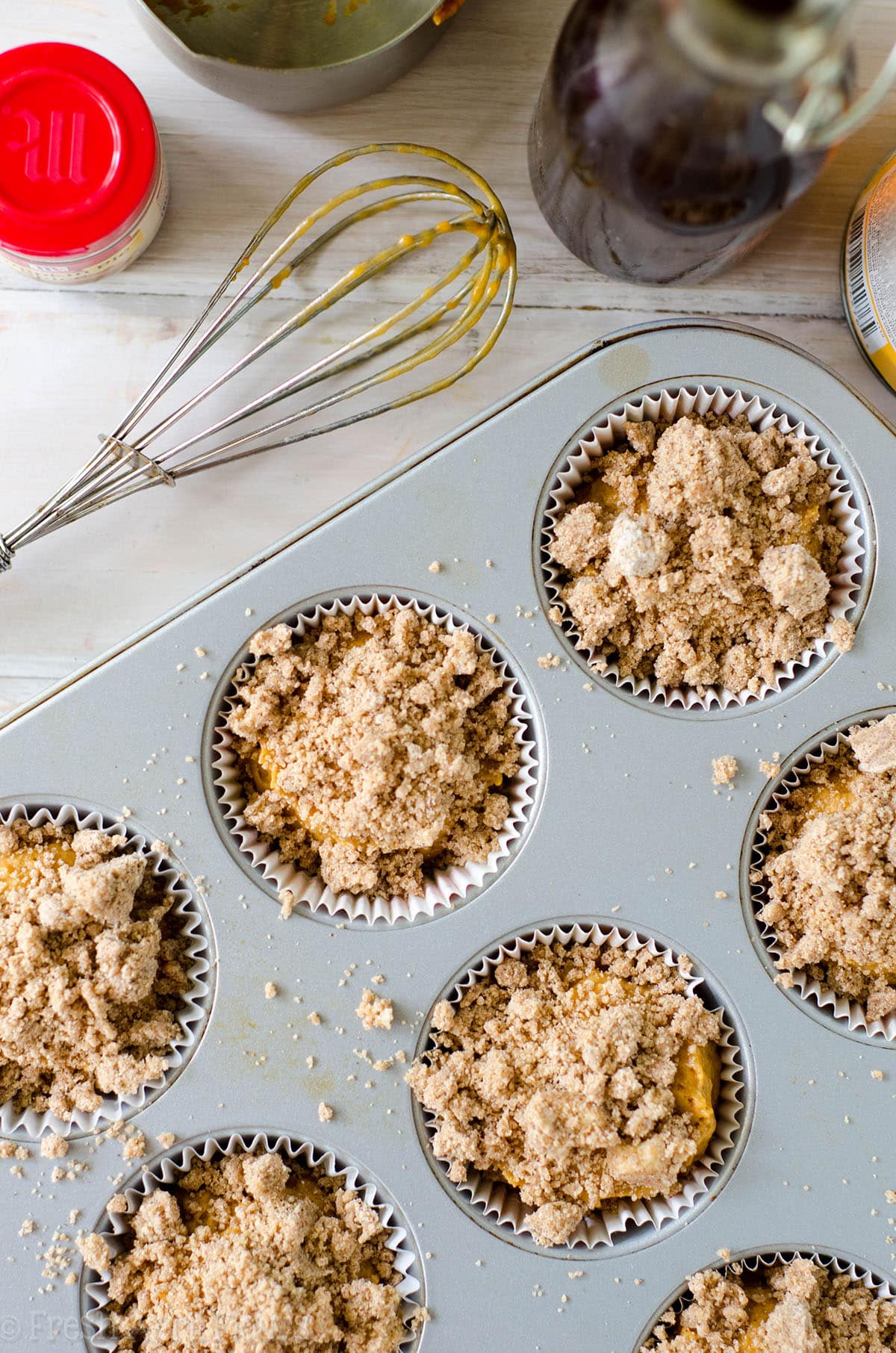 Don't get me wrong, I eat it, but I just don't love that super sweet icing against my spicy, tender, buttery muffin.
So I decided to get to work in my kitchen to recreate this fabulous muffin myself, sans the icing, but definitely with all that crunchy streusel on top.
I started with a base recipe that I knew was a winner: my peach almond streusel muffins. Those muffins are light and fluffy, supremely moist, and that streusel on top is just heavenly.
I used the same ingredients for the streusel on these pumpkin muffins except I didn't use any nuts and I spiced things up with both cinnamon and pumpkin pie spice.
For the muffins, I simply reduced the amount of milk in the recipe to allow for more real pumpkin. And you know how wet pumpkin puree is, right?
I didn't want these muffins to wind up a soggy mess, so less milk was a perfect swap.
Another generous dose of cinnamon and pumpkin pie spice make their way into the muffin itself to give the pumpkin flavor a little more "oomph."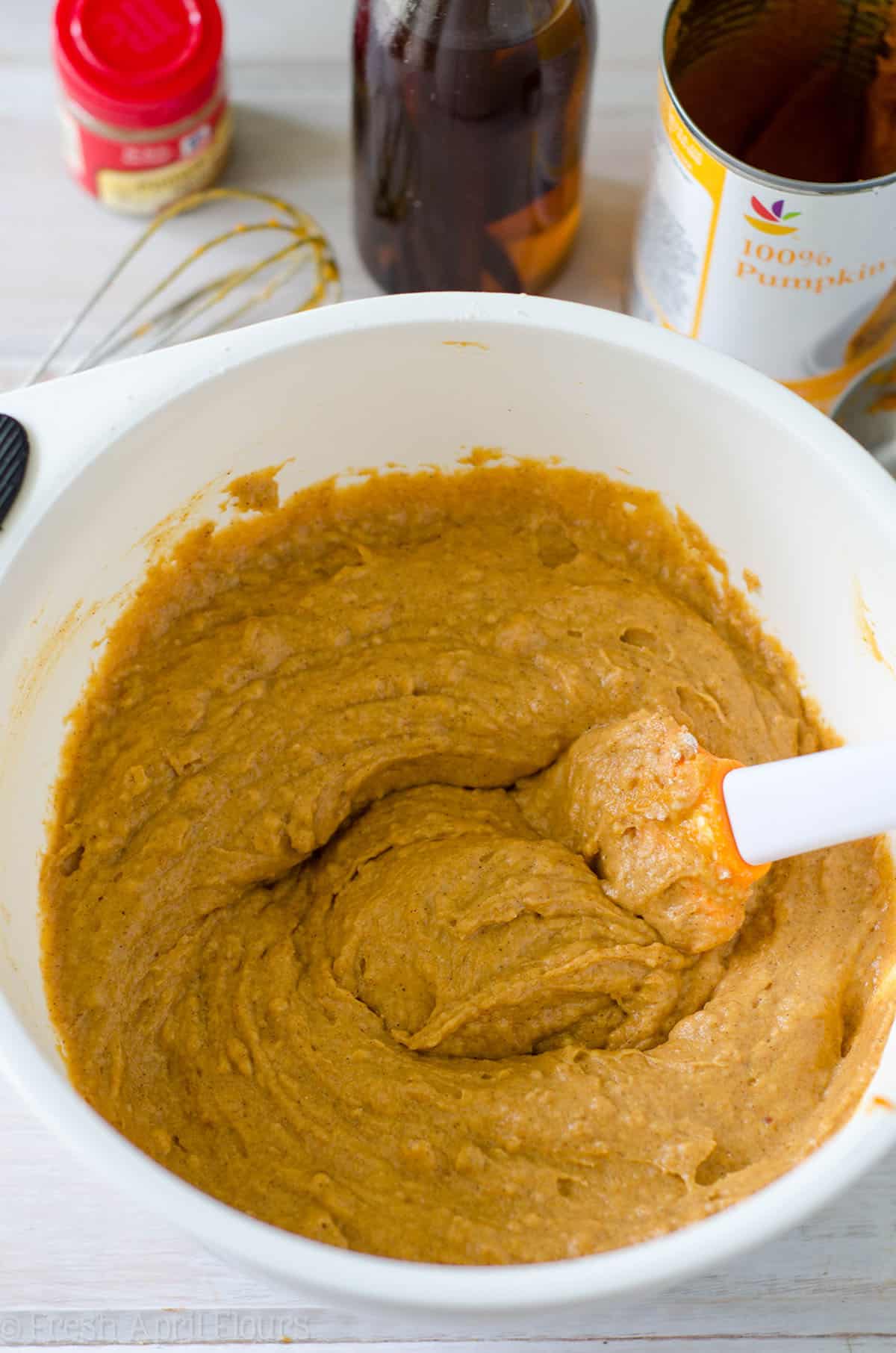 I was pleasantly surprised to find that my own pumpkin streusel muffins were every bit as tasty as the ones I can get from Dunkin Donuts.
The texture is perfectly moist, the crumb is tender, the streusel on top is loaded with buttery, spicy flavor, and the inside of the muffins taste like real pumpkin.
And, on the plus side, they're not too sweet in the slightest. Pure pumpkin flavor, sweetened just the right amount.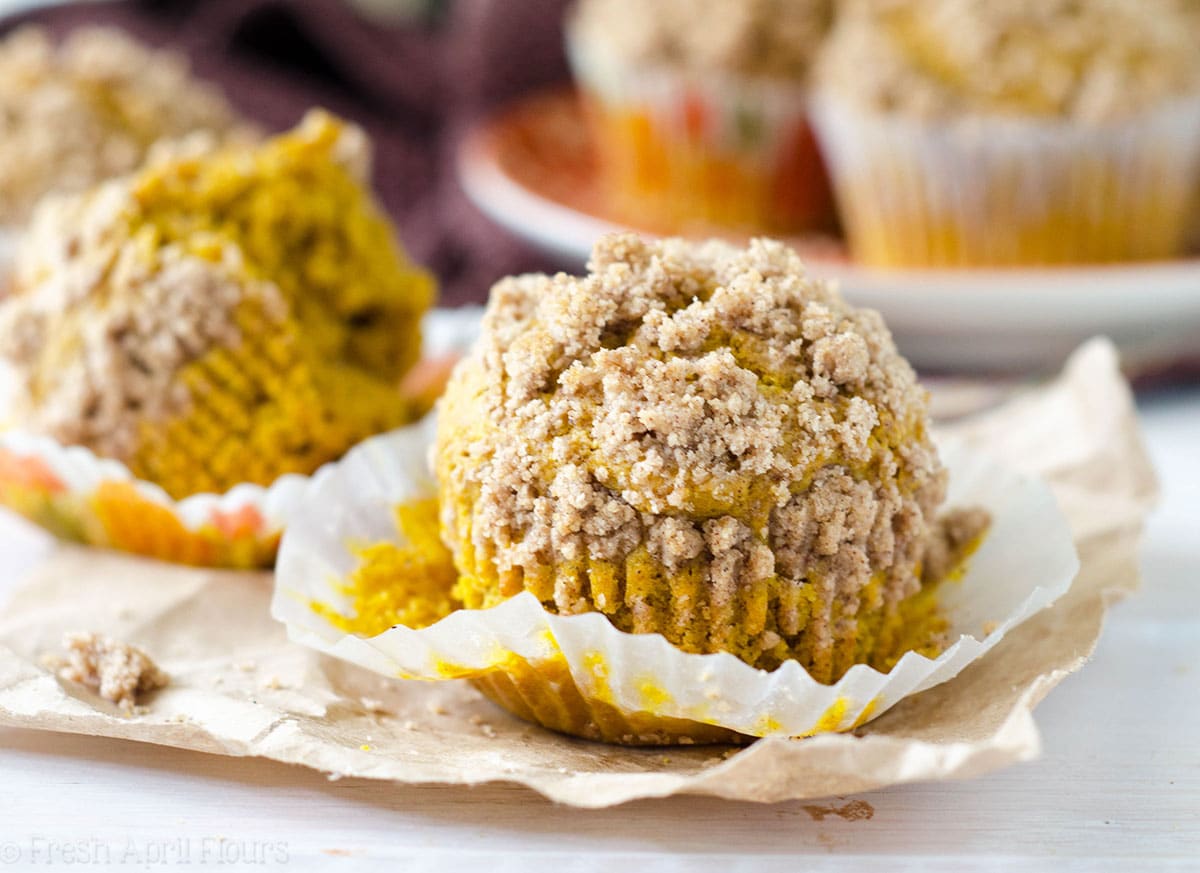 Now if you're into that icing on top, I don't blame you one bit, and you're welcome to keep going to Dunkin or whip up your own at home (my homemade royal icing from this easy cut-out sugar cookies recipe would be the perfect choice), but I urge you to get these muffins in your oven pronto.
I always feel such a win when I can get something to come out of my kitchen that is the same or better than something I can buy, because it's a win for my tastebuds and my wallet!
I don't see this muffin affair stopping any time soon, so don't be surprised if you see more muffin recipes popping up around here.
And while pumpkin is in season, I don't see why these pumpkin streusel muffins shouldn't be a staple on our kitchen counter.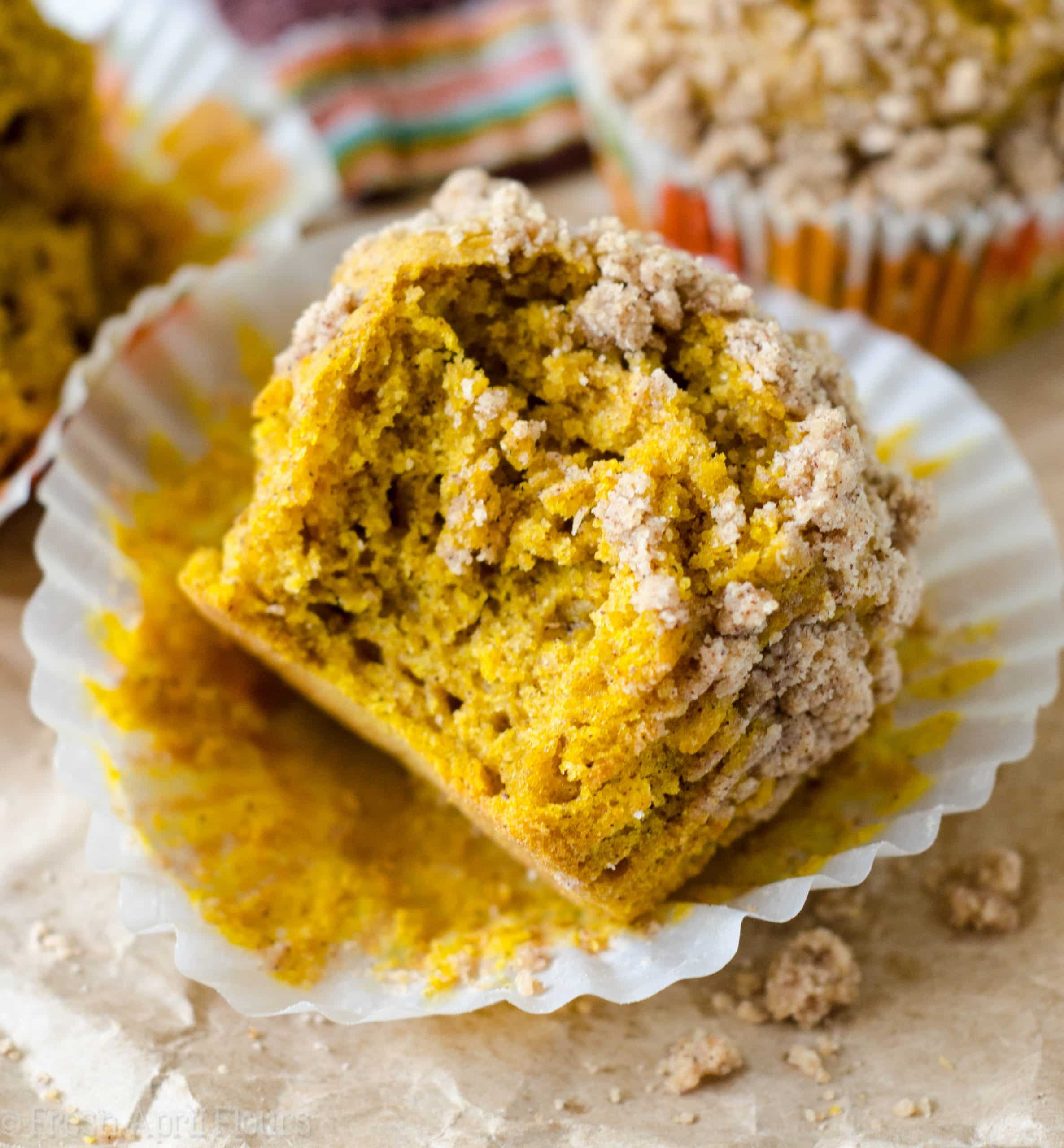 If you're a willing taste tester and in the area, I would be more than happy to spend every last minute of my free time baking muffins. I'll trade you 3.5 month old duty…
Pumpkin Streusel Muffins
Moist and tender muffins made with real pumpkin and all the warm flavors of fall, topped with an irresistible pumpkin spice streusel.
Ingredients
STREUSEL
2/3

cup

all purpose flour

1/4

cup

butter

cold and cut into pieces

3

Tablespoons

brown sugar

1

teaspoon

ground cinnamon

1/4

teaspoon

pumpkin pie spice

1/4

teaspoon

salt
MUFFINS
2

cups

all purpose flour

1 and 1/2

teaspoons

baking powder

1

teaspoon

baking soda

2

teaspoons

pumpkin pie spice

1

teaspoon

ground cinnamon

1/2

teaspoon

salt

2/3

cup

packed brown sugar

1/2

cup

unsalted butter

melted

2

large eggs

room temperature*

1

cup

pumpkin puree

1/3

cup

milk

1 and 1/2

teaspoons

vanilla extract
Instructions
Preheat oven to 400ºF.

Spray 14 wells of two 12-count muffin pans with non-stick spray or line the wells with cupcake liners. Set aside.
STREUSEL
Place flour, butter, brown sugar, cinnamon, pumpkin pie spice, and salt into a small bowl.

Using a fork, press ingredients together until butter is in small chunks. Use your fingers to pinch pieces together until streusel is mostly small crumbles. Some large crumbles are ok. Set aside.
MUFFINS
In a large bowl, toss together the flour, baking powder, baking soda, pumpkin pie spice, cinnamon, and salt. Set aside.

In a medium size bowl, whisk together the brown sugar and butter until smooth. Add the eggs, pumpkin puree, milk, and vanilla extract and whisk again until everything is combined.

Pour the wet ingredients into the dry ingredients and stir gently with a spatula until just combined.

Spoon batter equally into prepared muffin pans. Add crumble to the top of each muffin, about 2-3 Tablespoons each. Bake muffins for 5 minutes, then reduce heat to 350ºF and bake for an additional 10-12 minutes until streusel starts to brown and a toothpick inserted in the center comes out mostly clean. Remove from oven and allow to cool completely on a wire rack. Muffins will stay fresh in an airtight container at room temperature up to 4 days or in the refrigerator up to one week. Muffins freeze well, up to 2 months. Thaw in microwave for 45-60 seconds before eating.
Notes
*It is always a good rule of thumb to use room temperature eggs when using room temperature butter. To bring eggs to room temperature quickly, place in a bowl of warm water for 10 minutes.
More pumpkin favorites!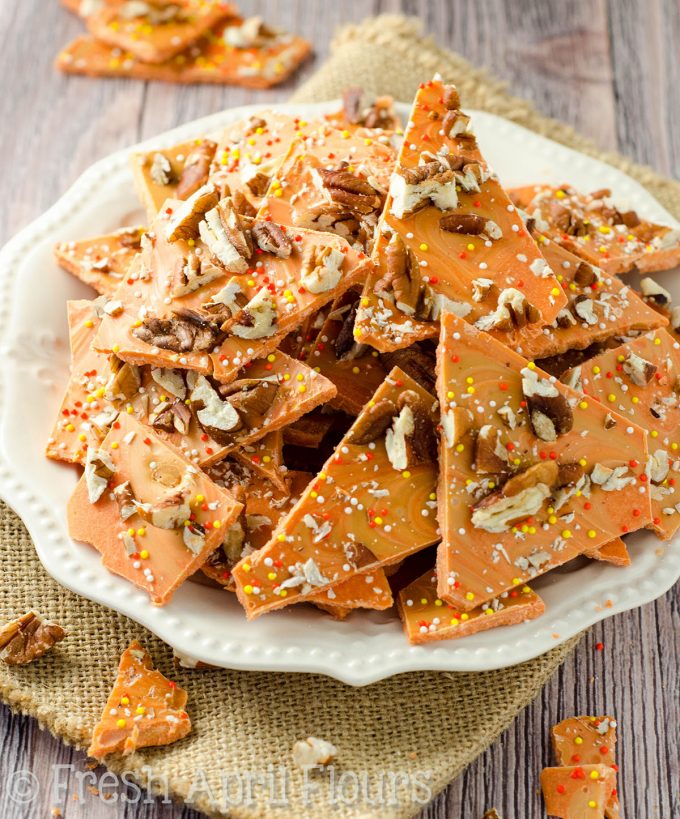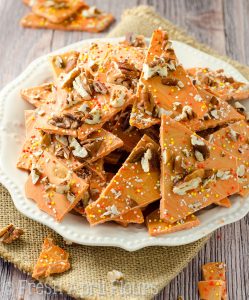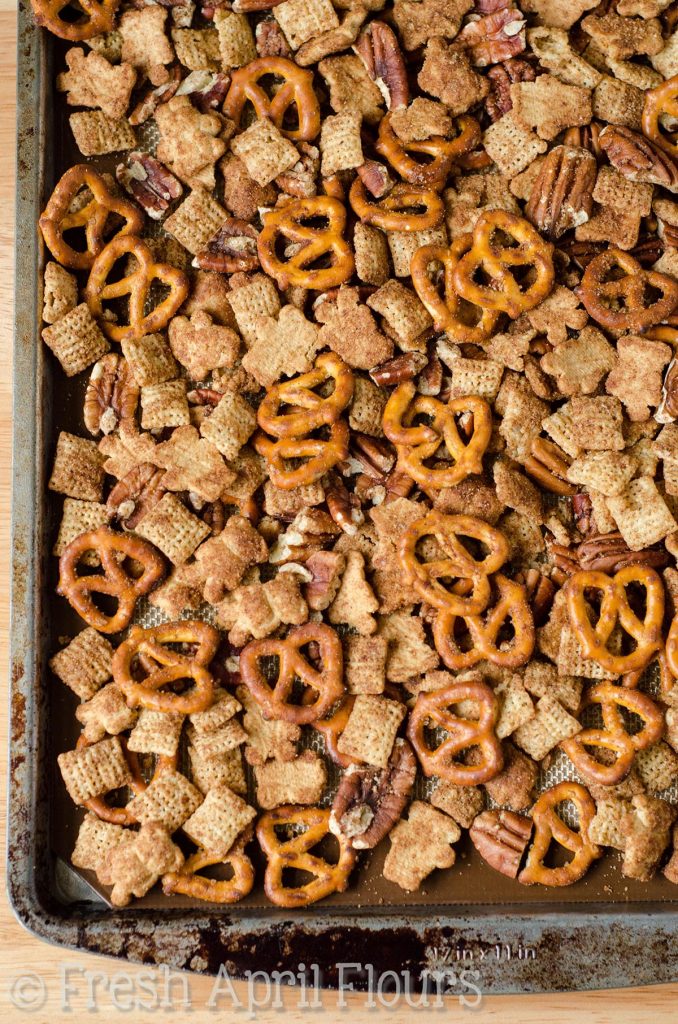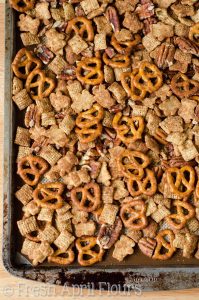 And the ever popular Pumpkin Spice Coffee Creamer!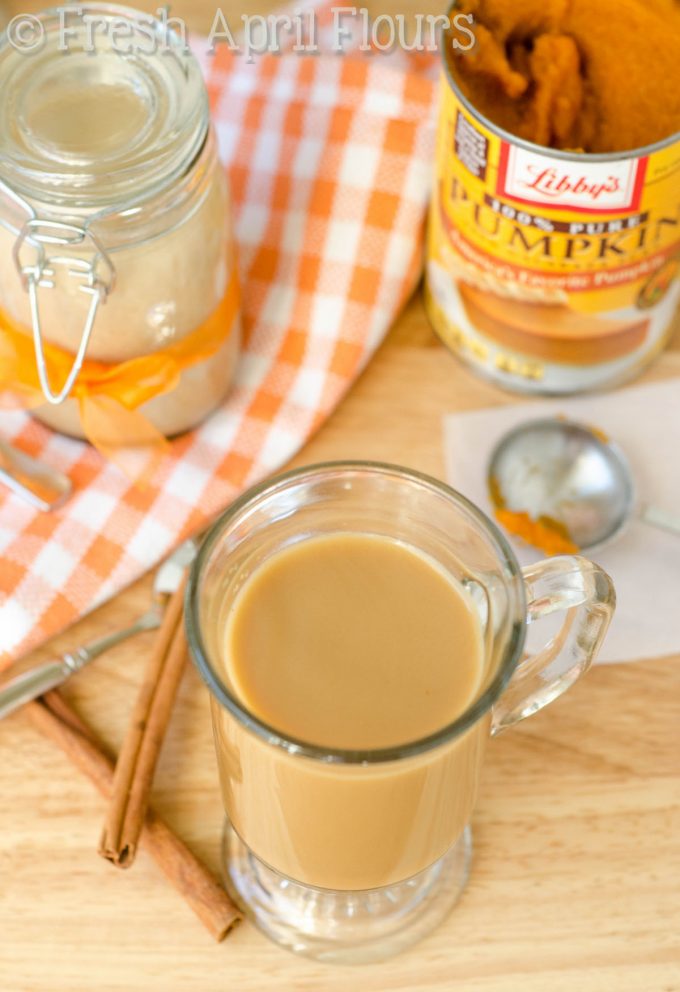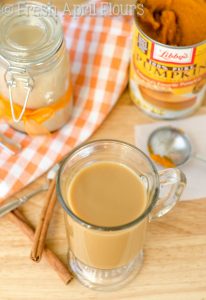 Recipes from FAF and some of my friends around the blogosphere!