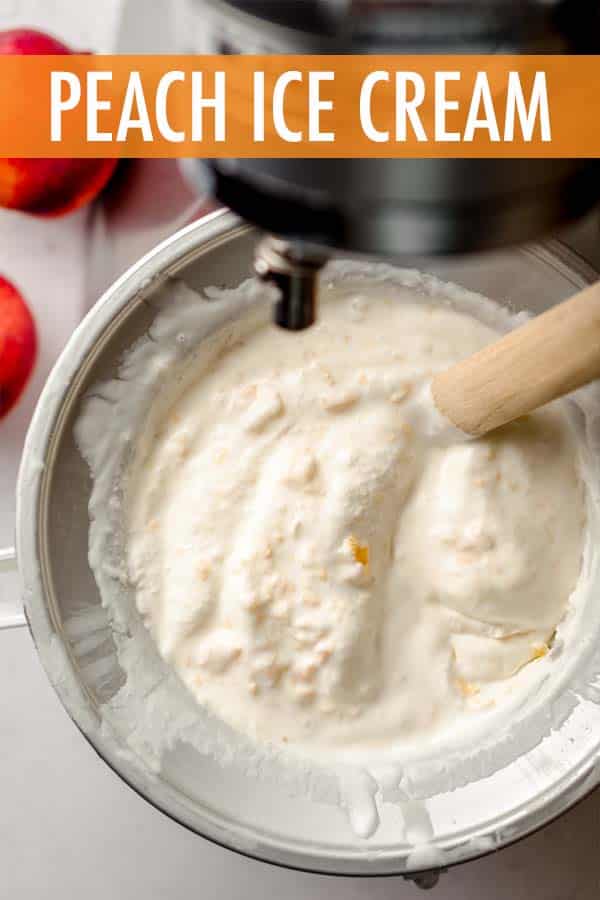 As an Amazon Associate, I earn from qualifying purchases. Read the full disclosure here.
Learn how to make homemade peach ice cream using fresh peaches, a few basic ingredients, and your ice cream maker.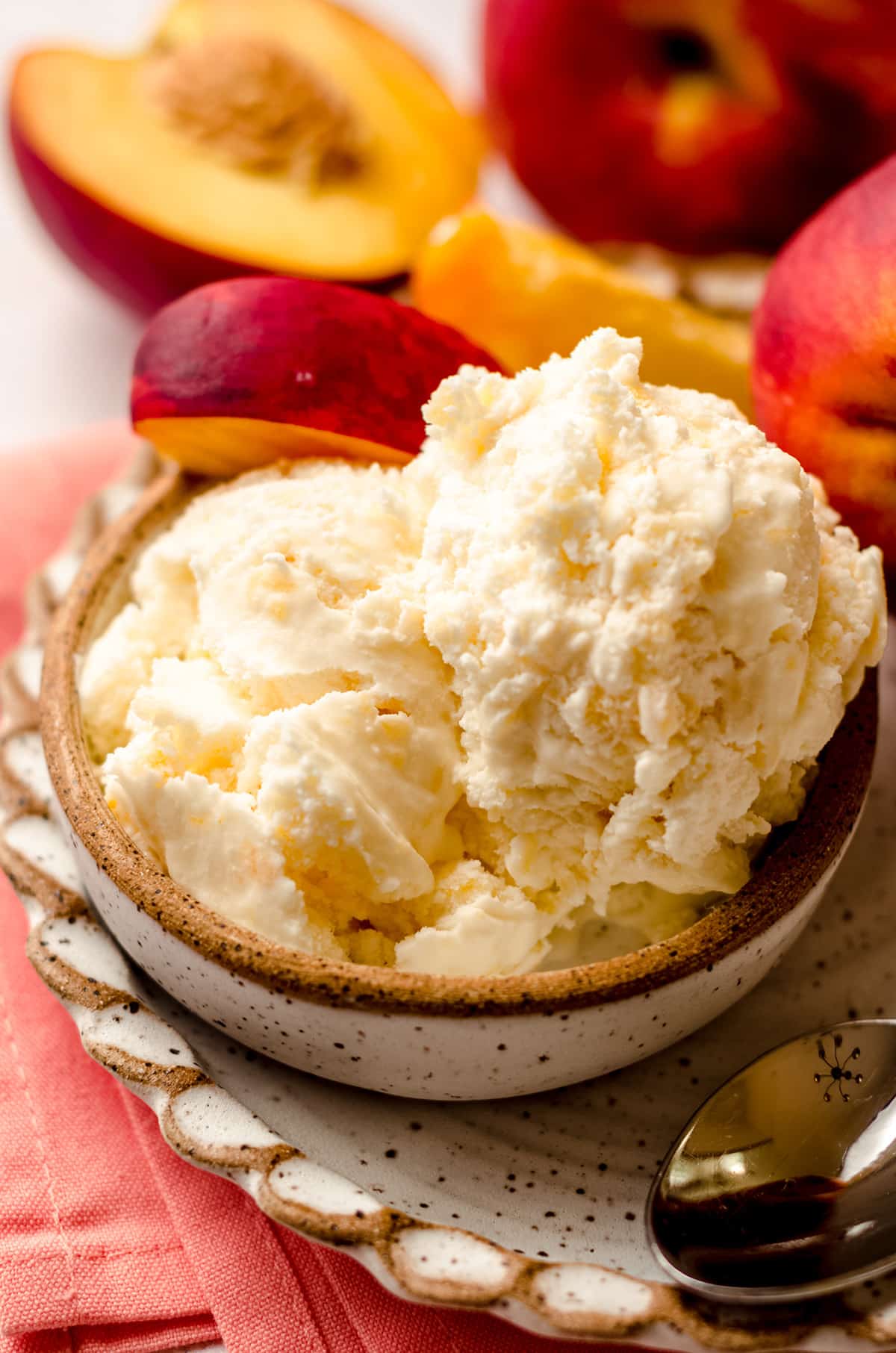 You Scream, I Scream, We All Scream For Ice Cream! Yes!
What else can help us chill off the summer? We are celebrating National Ice Cream Day in our #FestiveFoodies group hosted by Radha from Magical Ingredients. Join us for celebrating #NationalIcecreamDay with wonderful flavors of ice cream perfect for the summer.
If there's one homemade ice cream recipe I want you to put on your list for the summer time, it's this right here recipe for homemade peach ice cream. It's easy, it's flavorful, it's not always around in the grocery store, and it showcases one of summer's best produce: fresh, juicy, drippy peaches.
Are you drooling yet? I mean, I totally am.
This is the Best Peach Ice Cream Recipe!
Homemade ice cream is not new here as I've got a couple no churn ice cream recipes (no churn coffee ice cream and no churn peanut butter ripple ice cream), but when I wanted to add a summer-centric flavor, a peach ice cream recipe for ice cream maker folks took about 3 seconds of thought before I wrote that bad boy in pen on my editorial calendar!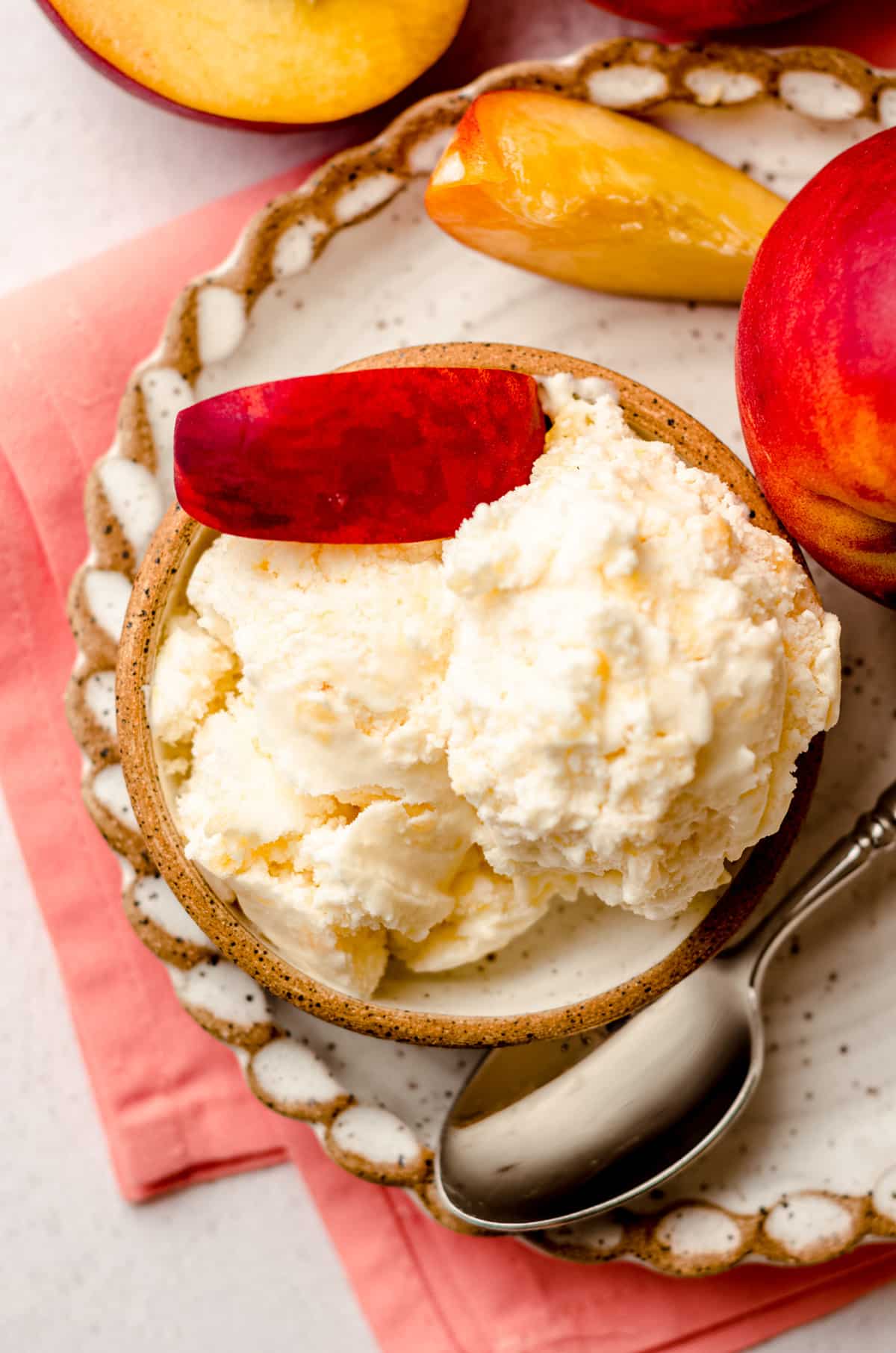 If you've never made ice cream in an ice cream maker, I'm here to tell you that it's very simple (just ask my praline ice cream fans). You just have to do one thing a bit ahead of time, and that's freeze your ice cream maker well in advance.
There's not much worse than gathering your ingredients for a homemade peach ice cream recipe only to discover your ice cream maker is still sitting in the basement. So plan ahead! It will be worth the prep!
What you'll need for this Peach Ice Cream Recipe (No Eggs)
This homemade peach ice cream uses very few ingredients.
Here is what you'll need to make this peach ice cream recipe:
• heavy cream
• whole milk
• granulated sugar
• vanilla extract
• salt
• lemon juice
• fresh peaches
But first, before mixing up the base, you need to get the stars of the show ready.
How to prepare peaches for the Best Peach Ice Cream
Fresh peaches are the key to this ultimate peach ice cream recipe. I do include instructions for using frozen peaches and cautions against canned peaches in the recipe notes if you need to make a substitution, but it's best to stick to fresh ones for this ice cream.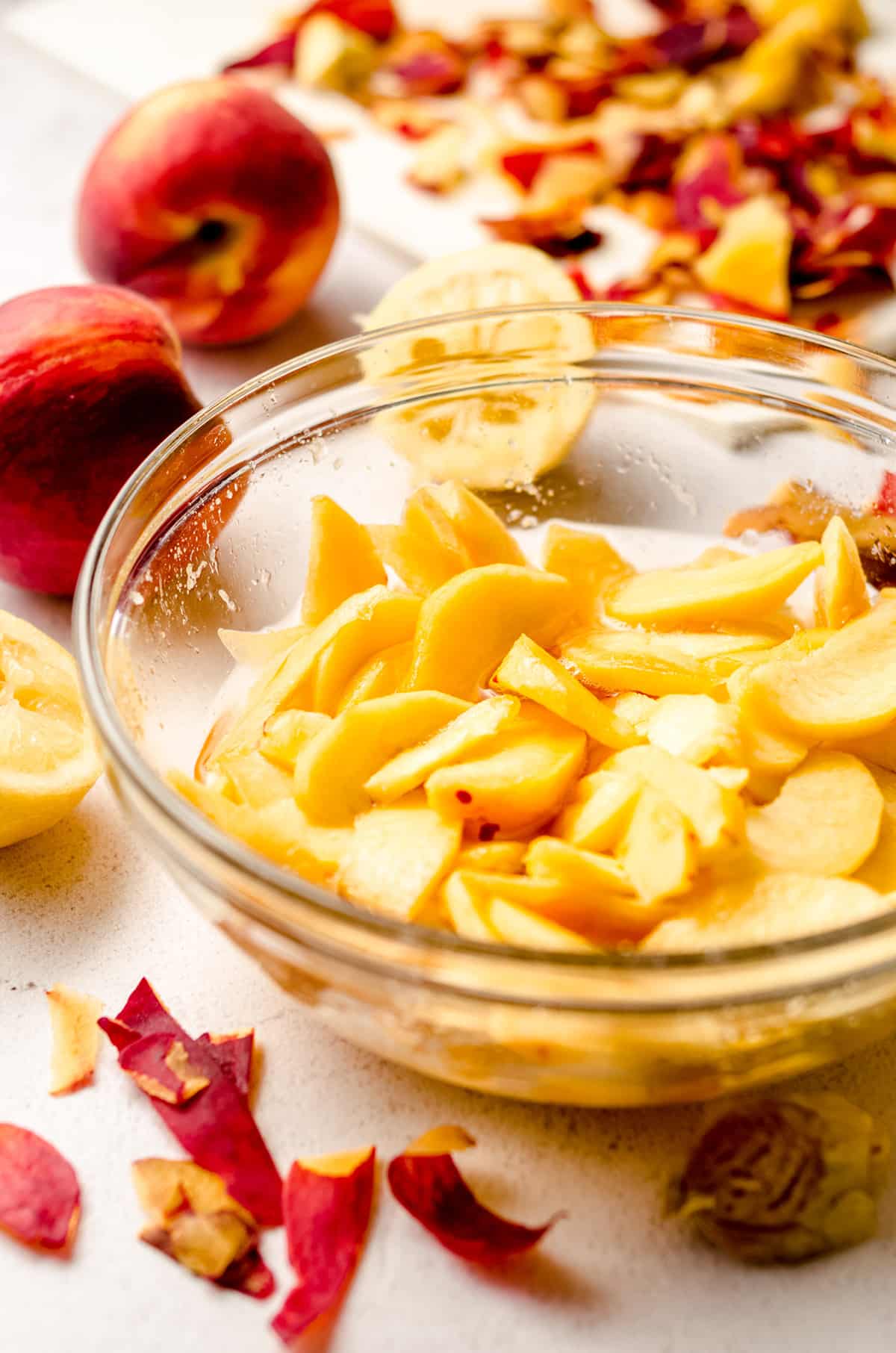 You'll peel and slice the peaches and then allow them to sit in a mixture of sugar and lemon juice for about an hour.
The lemon juice will help soften the peaches and bring out the juices, and the sugar will, well, sweeten the peaches.
Once they're all soaked and soft, you'll strain out the juice, which we'll put back in later to flavor the vanilla ice cream base.
Pulse the peach slices a few times in a blender or food processor. Depending on how soft they are, you might be able to mash them by hand with a fork or potato masher. Use your best judgement on their softness.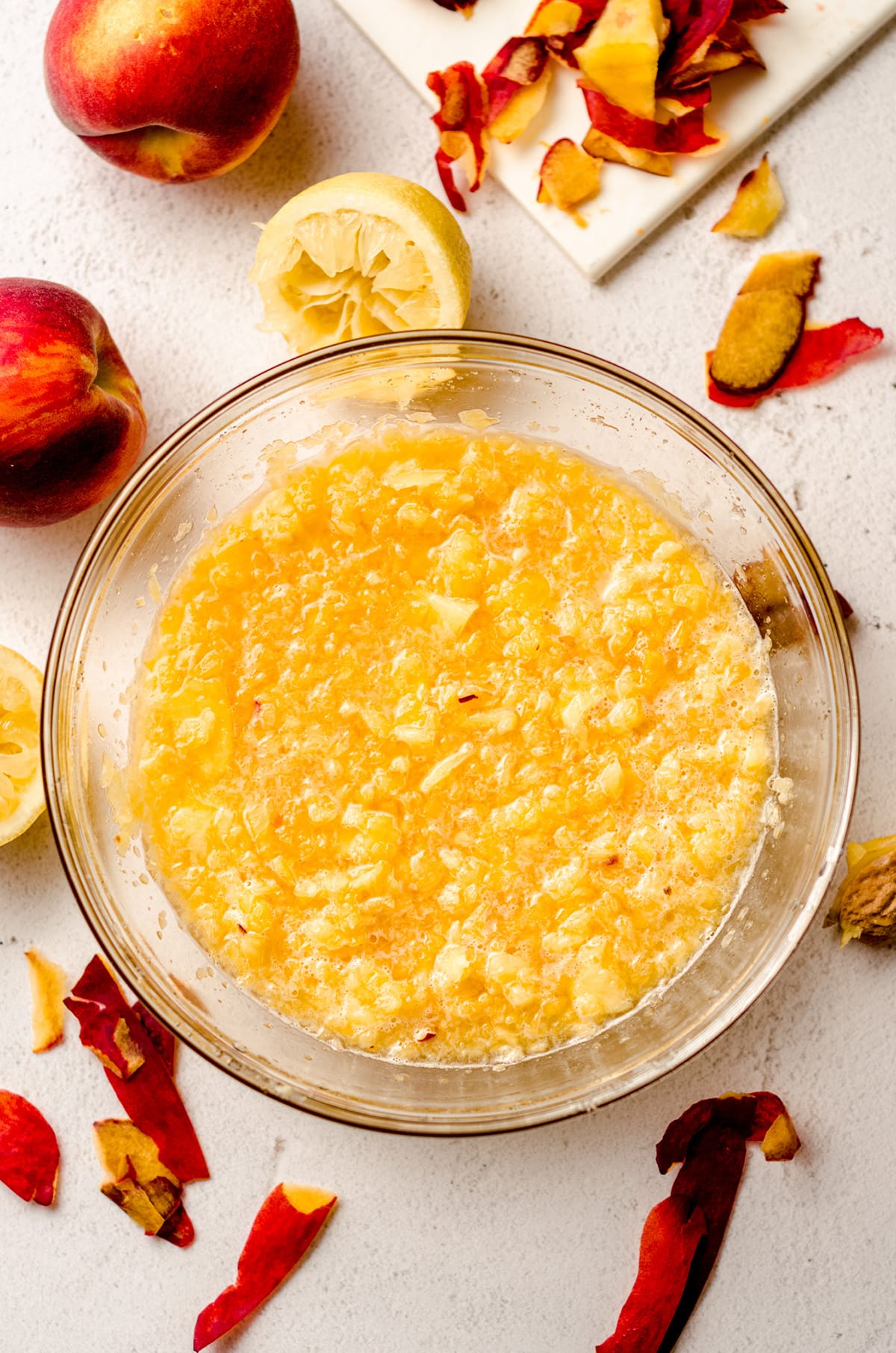 You just want to make sure you don't have too many large pieces of peach floating around in there. The larger peach pieces will freeze pretty hard in the freezer and be hard to bite into. A few are ok, but try your best to get the peaches somewhere between small pieces and not quite puree status.
Once your peaches are fully prepped, you can begin the ice cream base, which will only take about 20-30 minutes in the ice cream maker.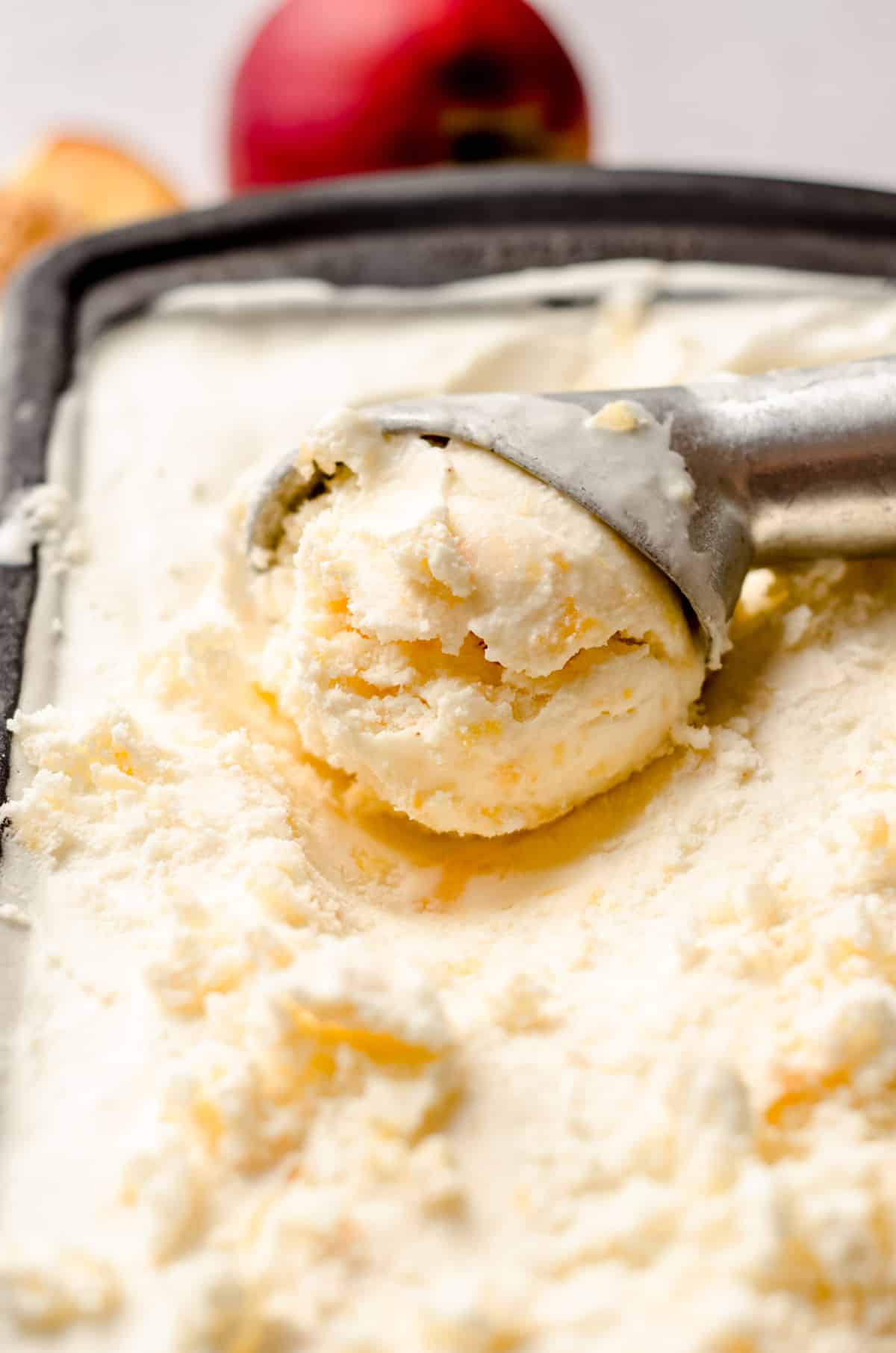 How to make Peach Ice Cream
The base for this easy peach ice cream is plain ol' vanilla, flavored completely by fresh peaches.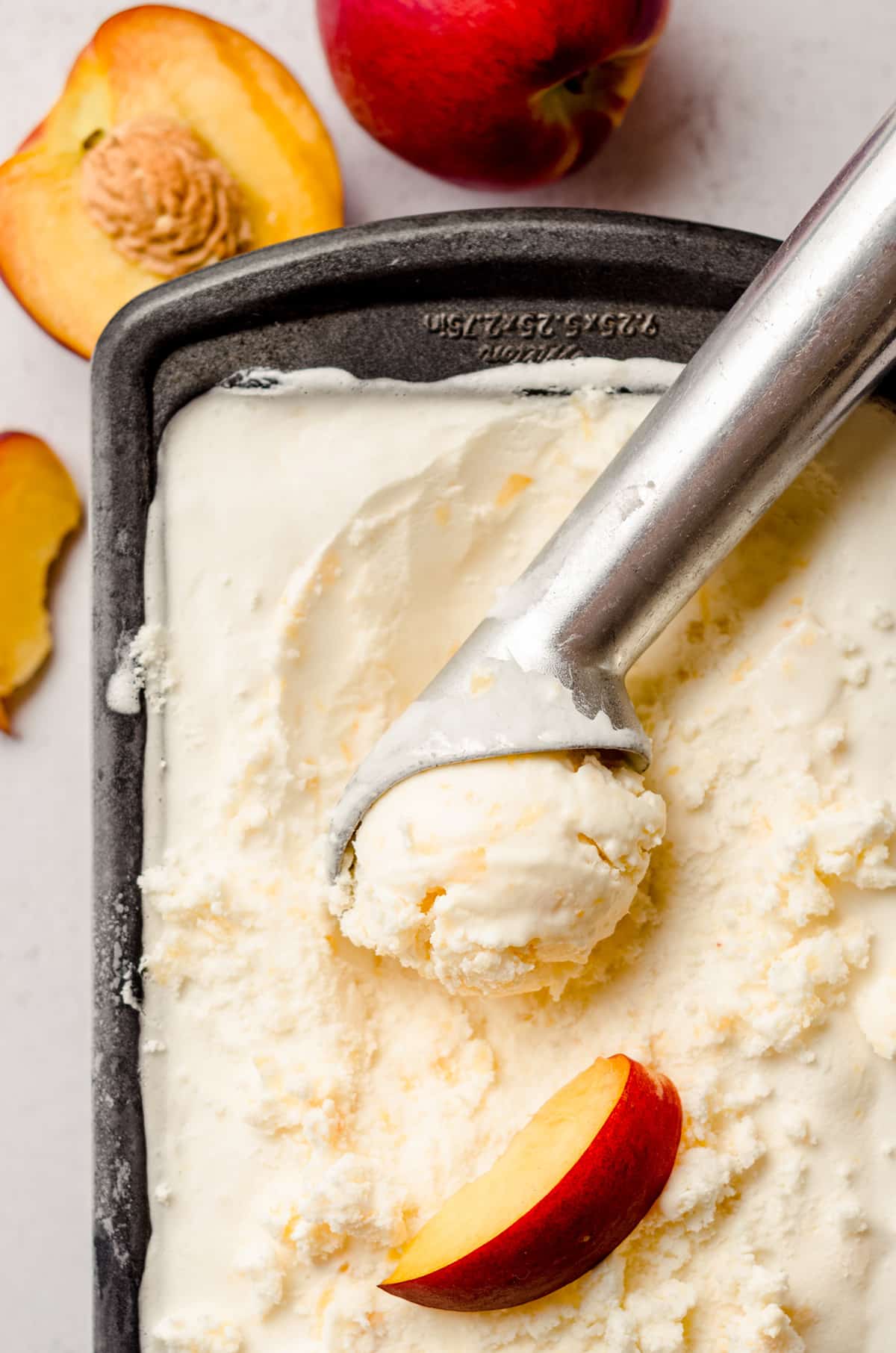 To your ice cream base, you'll add that reserved peach juice, which is nice and sweet and flavorful and perhaps full of some small peach bits already. This is all exactly what you want and really setting you up for the best homemade peach ice cream recipe on the block.
Once the ice cream base is finished, in go the peach pieces.
Give 'em a good few stirs to really distribute peach bits throughout the ice cream base, and then into the freezer it goes.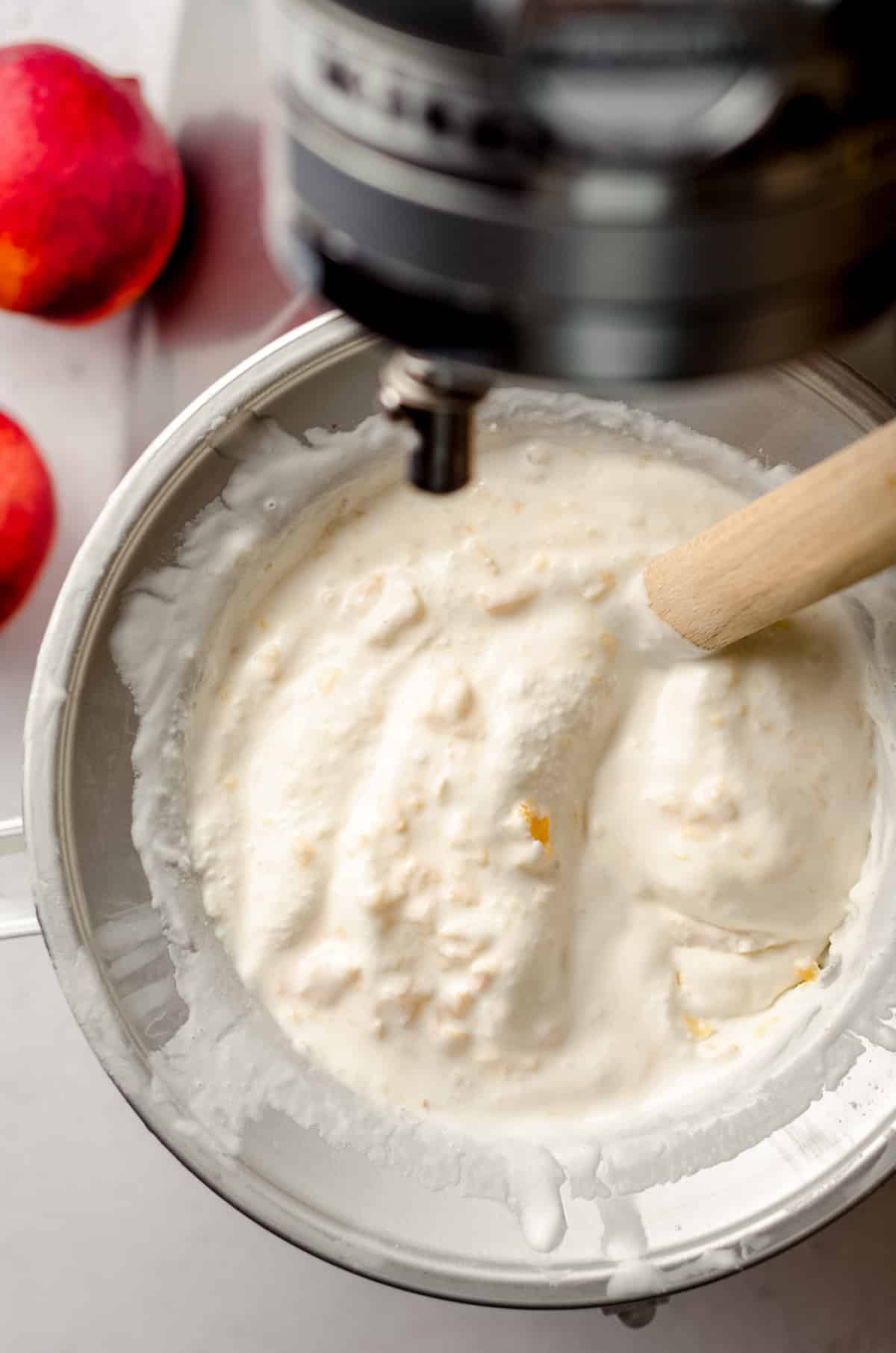 Your homemade peach ice cream should be ready in about 2 hours of freeze time, and then it's time to dig in!
What goes well with Peach Ice Cream?
I like to top my peach ice cream with homemade peach curd but if that's not what you're into, you can serve this ice cream with any cake! I high recommend a strawberry cake, lemon cake, orange creamsicle cake, or any other fruit flavored cake you like. Of course, you can pair it with my fresh peach pie for a real peachy treat!
You can also serve it alongside any treat with ginger or cinnamon, as those spices tend to complement fresh peach flavor very nicely.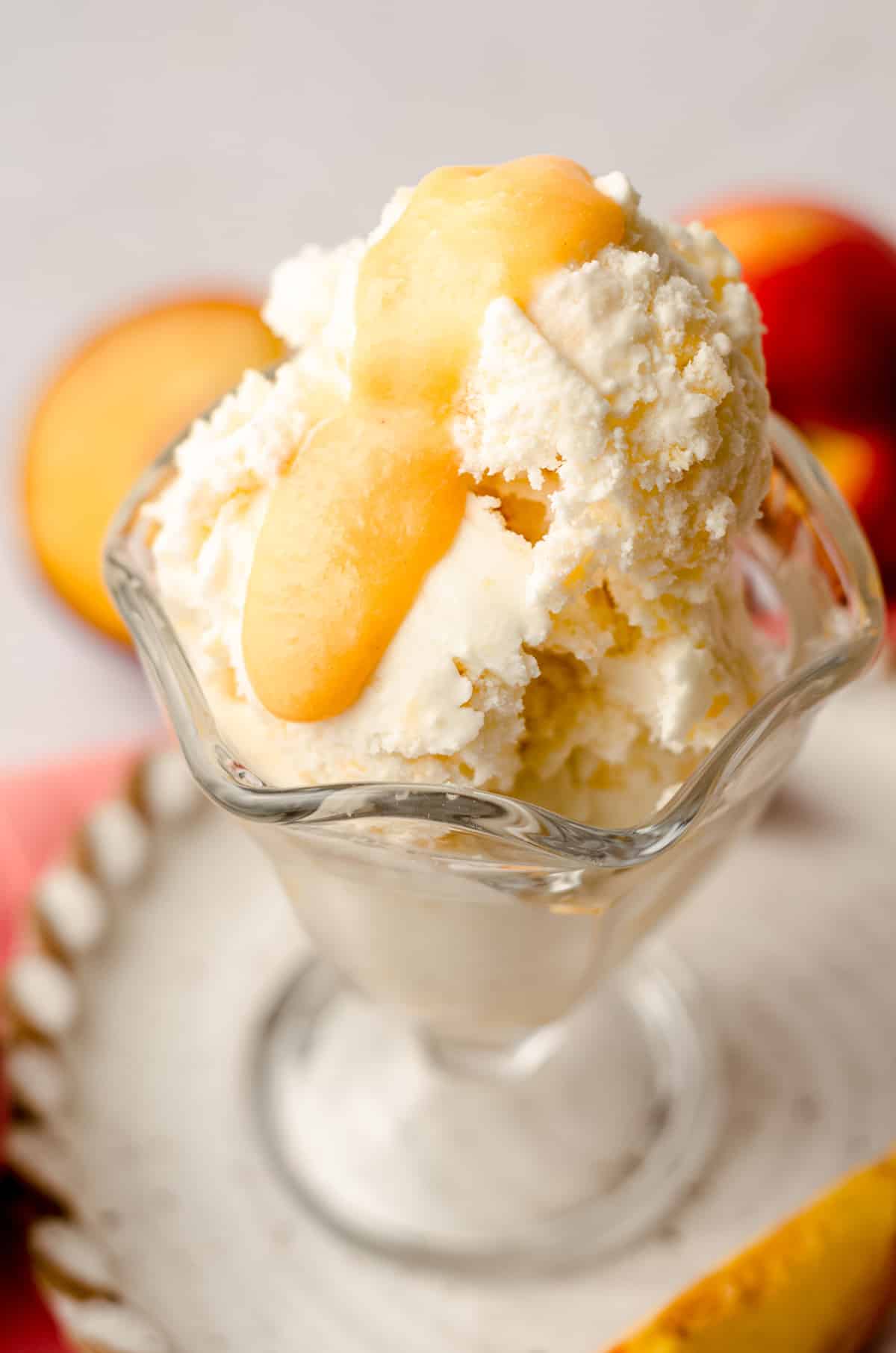 Storing Homemade Peach Ice Cream
Store homemade peach ice cream in the freezer, covered tightly, to prevent crystallization.
HOW LONG IS HOMEMADE ICE CREAM GOOD FOR?
Fresh homemade ice cream stores well in the freezer up to 3 months.
FAQs for this Peach Ice Cream Recipe for Ice Cream Maker
It's sweet and creamy and truly bursting with fresh peach flavor. And the little peach pieces are perfectly frozen enough to give a little texture without feeling bombarded with peach chunks in every bite.
We loved this easy homemade peach ice cream so much that it was gone, uhh, relatively quickly, just in time for me to make room for a batch of birthday cake ice cream.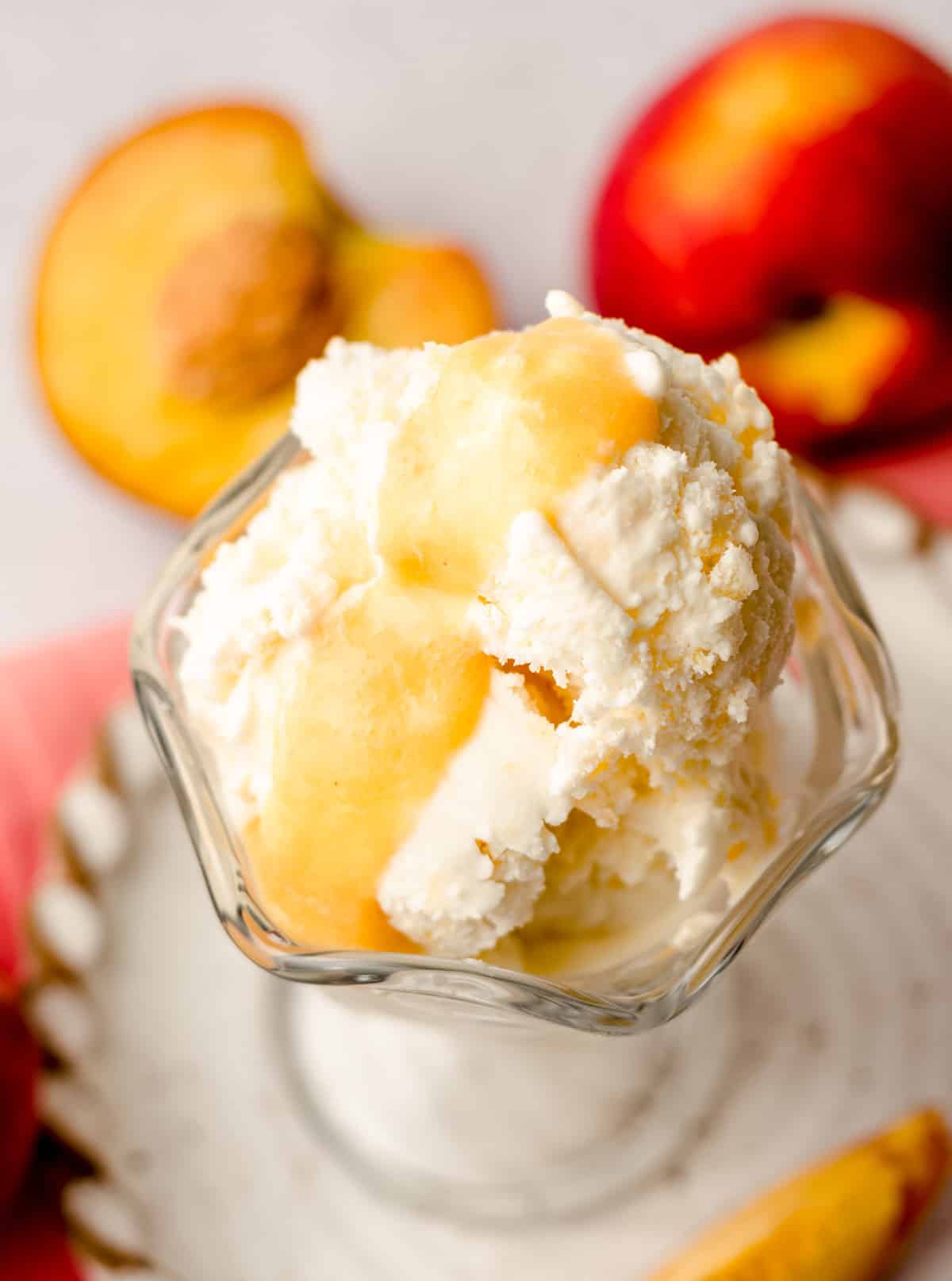 It's perfect for summer but also really great for those of you who do peach picking at the end of the year and then have peaches on hand through all the other seasons.
Plus, any way that I can have something reminiscent of summer/warm weather/sunshine in those darker months is welcome in my book.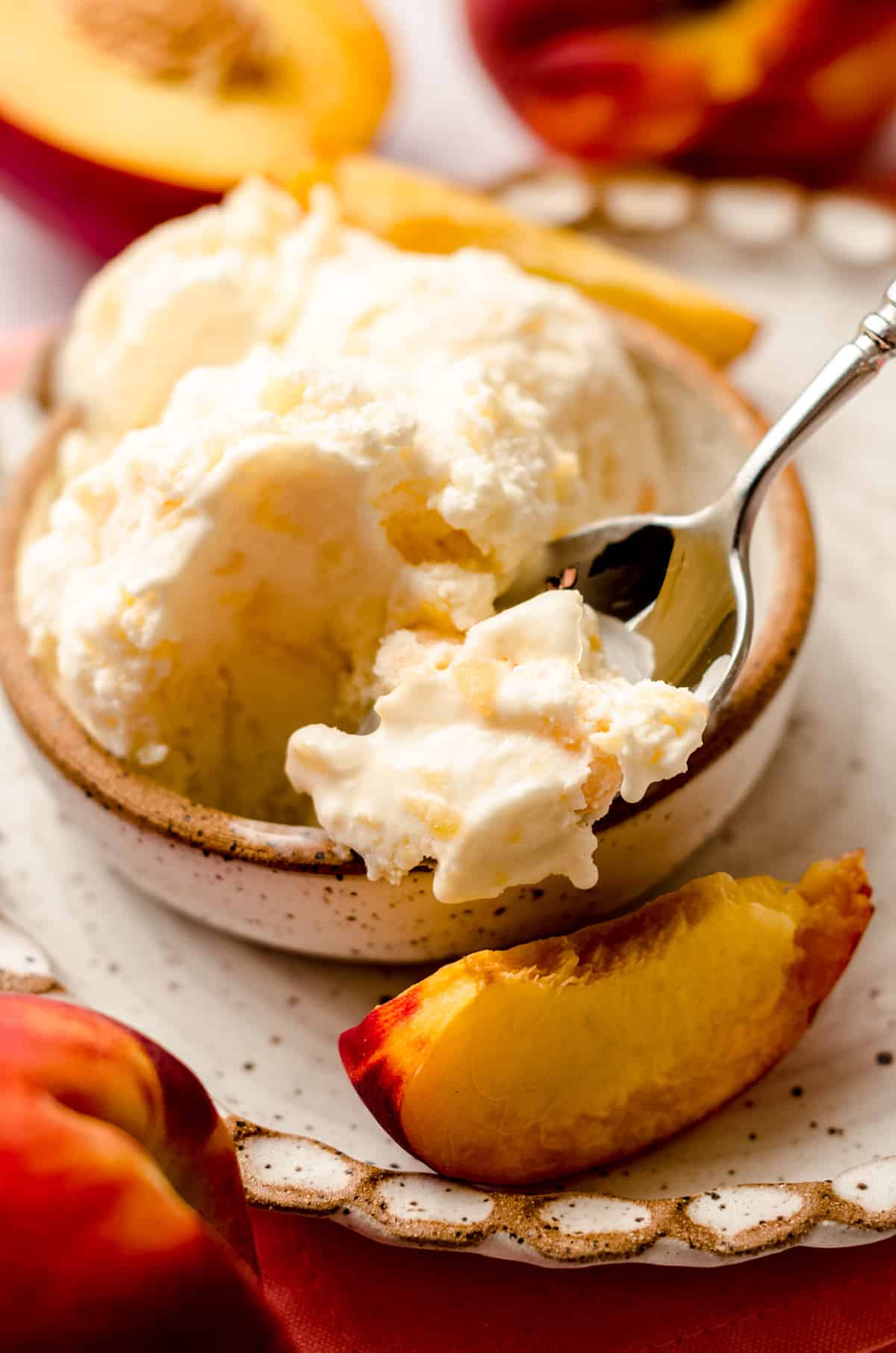 So how about sticking this easy peach ice cream recipe in your back pocket for safe keeping, in case you need to transport back to this time in the future? I'll be right there with you!
MORE #NATIONALICECREAMDAY RECIPES
Best Peach Ice Cream Recipe for Ice Cream Maker
Learn how to make homemade peach ice cream using fresh peaches, a few basic ingredients, and your ice cream maker.
Ingredients
PEACHES
4

large peaches1,2

½

cup

(100g) granulated sugar

1

teaspoon

fresh lemon juice
ICE CREAM
2

cups

(480mL) heavy cream

1

cup

(240mL) whole milk

¼

cup

(50g) granulated sugar

2

teaspoons

vanilla extract

⅛

teaspoon

salt
Instructions
Before beginning anything, make sure your ice cream maker is frozen and prepped!
PEACHES
Peel and slice the peaches, then place in a medium size bowl. Add the sugar and lemon juice and stir a few times to coat.

Cover the peaches loosely and allow them to sit at room temperature in the sugar and lemon juice for 1 hour to soften and release their juices.

Strain the peach syrup into a small bowl and set aside.

Add the peaches to a blender or food processor and pulse a few times to turn the peaches into small pieces. Large pieces will be too hard to eat frozen, but some larger pieces are ok. When the peach pieces are to your liking, remove them from the blender or food processor and set aside.
ICE CREAM
Place prepared ice cream maker attachment onto stand mixer fitted with the dasher.

In a large bowl, combine the reserved peach syrup, heavy cream, milk, sugar, vanilla, and salt and whisk until everything is combined and the sugar starts to dissolve.

Turn on the mixer so dasher is rotating and slowly pour ice cream mixture into the canister. Process according to manufacturer's directions (it should take about 20-30 minutes).

When ice cream is finished churning, remove the ice cream maker from the mixer, add the reserved peaches, and stir to distribute evenly.

Transfer the ice cream to a freezer-safe container and freeze for at least 2 hours.
Notes
Peaches: if using frozen peaches, allow to thaw completely before soaking and do not discard any juice.
Canned peaches: I do not recommend making this homemade peach ice cream with canned peaches (store bought or home canned), unless they have absolutely zero added ingredients.
Nutrition Disclosure
All nutritional values are approximate and provided to the reader as a courtesy. Changing ingredients and/or quantities will alter the estimated nutritional calculations.
Serving:
1
serving
|
Calories:
327
kcal
|
Carbohydrates:
30
g
|
Protein:
3
g
|
Fat:
23
g
|
Saturated Fat:
14
g
|
Polyunsaturated Fat:
1
g
|
Monounsaturated Fat:
6
g
|
Cholesterol:
71
mg
|
Sodium:
74
mg
|
Potassium:
196
mg
|
Fiber:
1
g
|
Sugar:
28
g
|
Vitamin A:
1169
IU
|
Vitamin C:
4
mg
|
Calcium:
80
mg
|
Iron:
0.3
mg