No Churn Peanut Butter Ripple Ice Cream

As an Amazon Associate, I earn from qualifying purchases. Read the full disclosure here.
Easy, two ingredient, no churn ice cream swirled with ripples of peanut butter.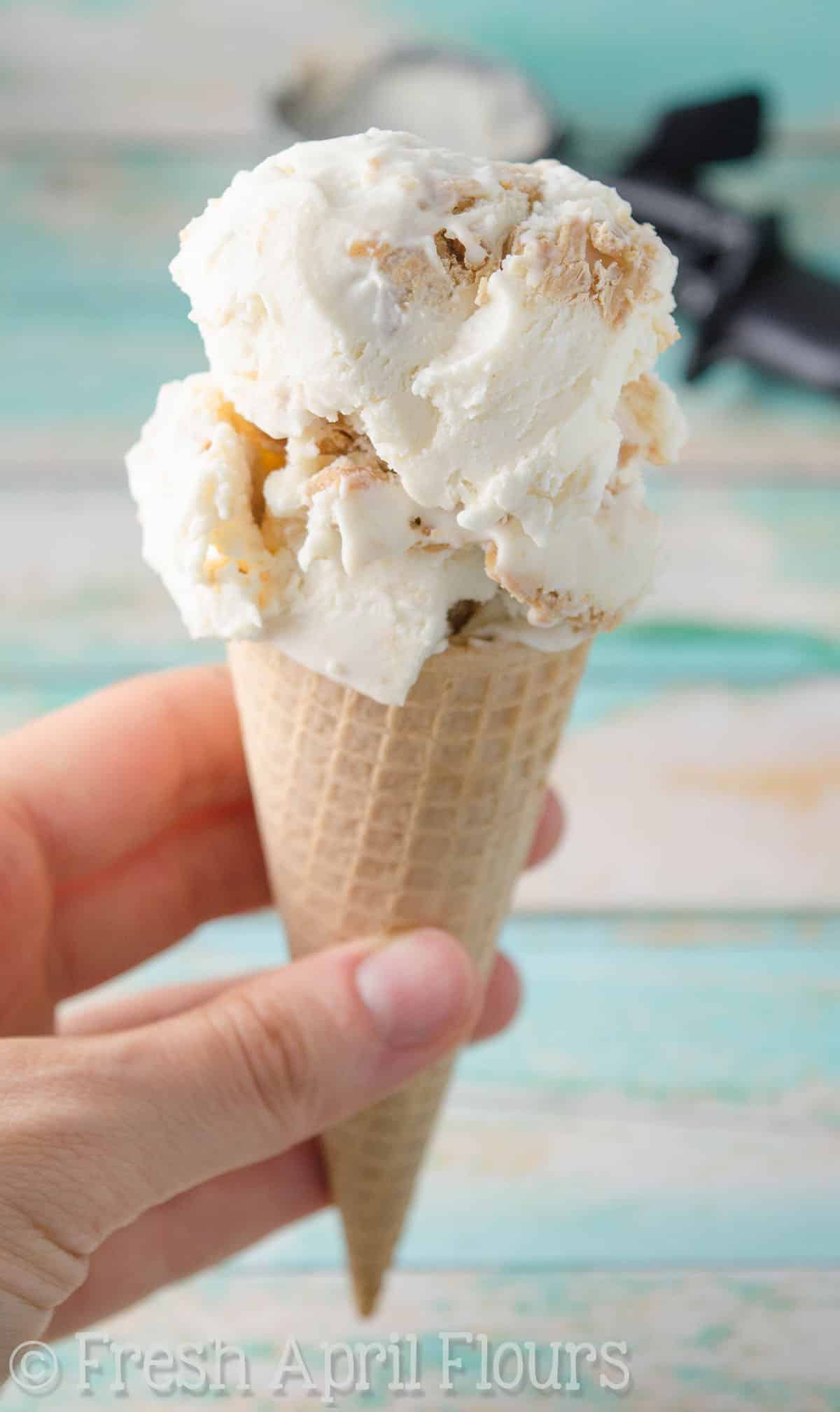 Ok… This stuff. THIS. STUFF. THIS STUFF is so exciting, I can barely find the words.
Also, my fingers may or may not be sticky from licking every last drop off of my kitchen island post-photo shoot of the most amazing concoction to grace my KitchenAid, making it difficult to find the right keys… But I'm trying.
I'm sure you've seen this "no churn, 2-ingredient ice cream" thing floating around Facebook and/or Pinterest, yes? If you haven't, you don't have the right friends (kiddinggggg). I'm not sure who started it, but Buzzfeed certainly did get me curious with its cute little video all about how to make ice cream from 2 simple ingredients.
I must say, I was suuuuper skeptical, but I kept seeing it over and over, and even some of my friends started making it… So, naturally, I had to try it.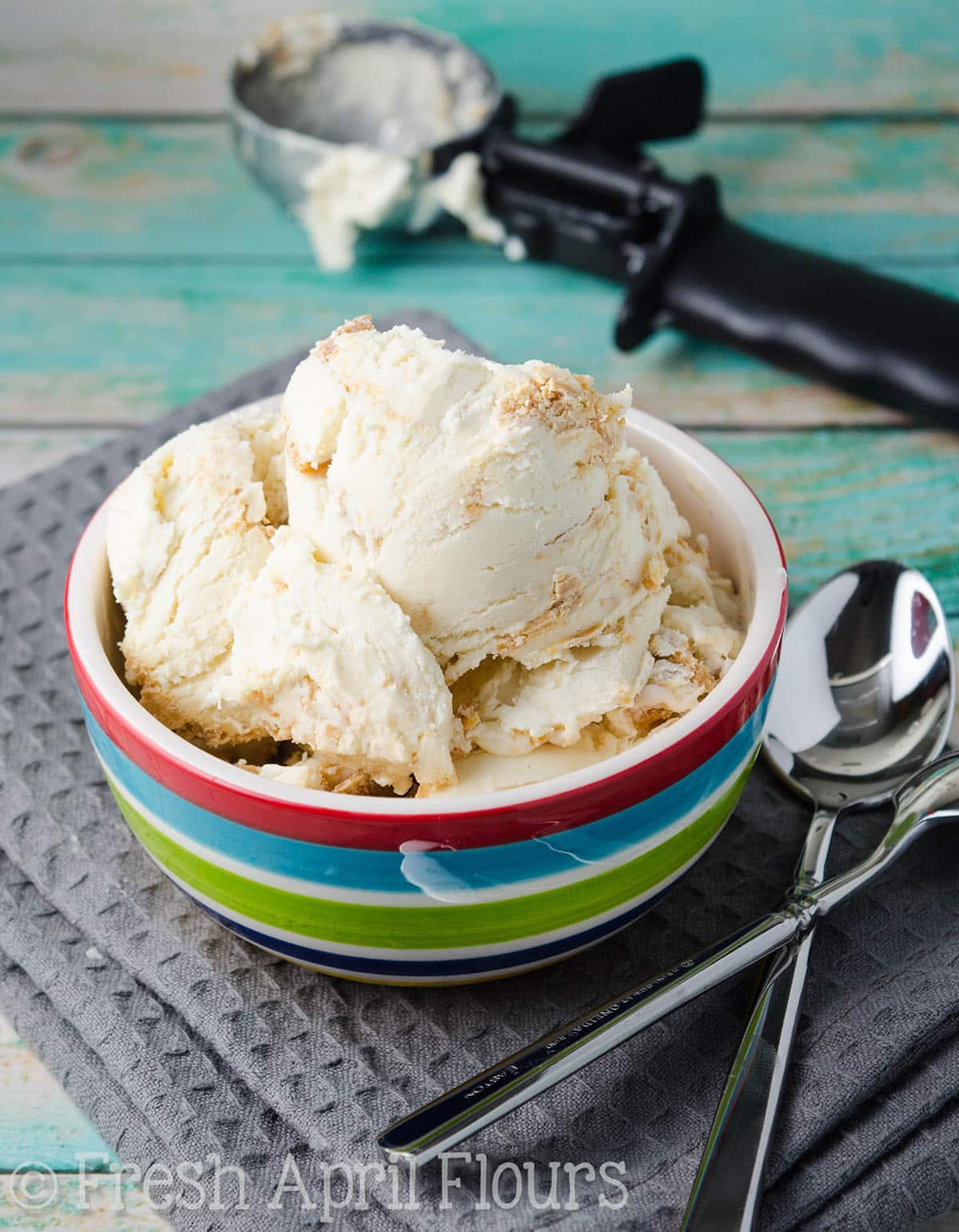 The basic recipe could not be simpler. All you need is a pint (2 cups) of heavy whipping cream and a 14 ounce can of sweetened condensed milk.
THAT'S IT.
No ice cream maker, no fancy churning equipment, just a big ol' bowl and your hand mixer or a stand mixer with the whisk attachment. Finally! A way we can all enjoy homemade ice cream in a snap!
To make this ultra creamy, ultra easy, ultra smooth ice cream, combine the heavy whipping cream and sweetened condensed milk in a bowl and whisk on high until it becomes smooth and almost fluffy.
This only takes about 3-4 minutes, TOPS. SO easy right? Easy peasy, you might say.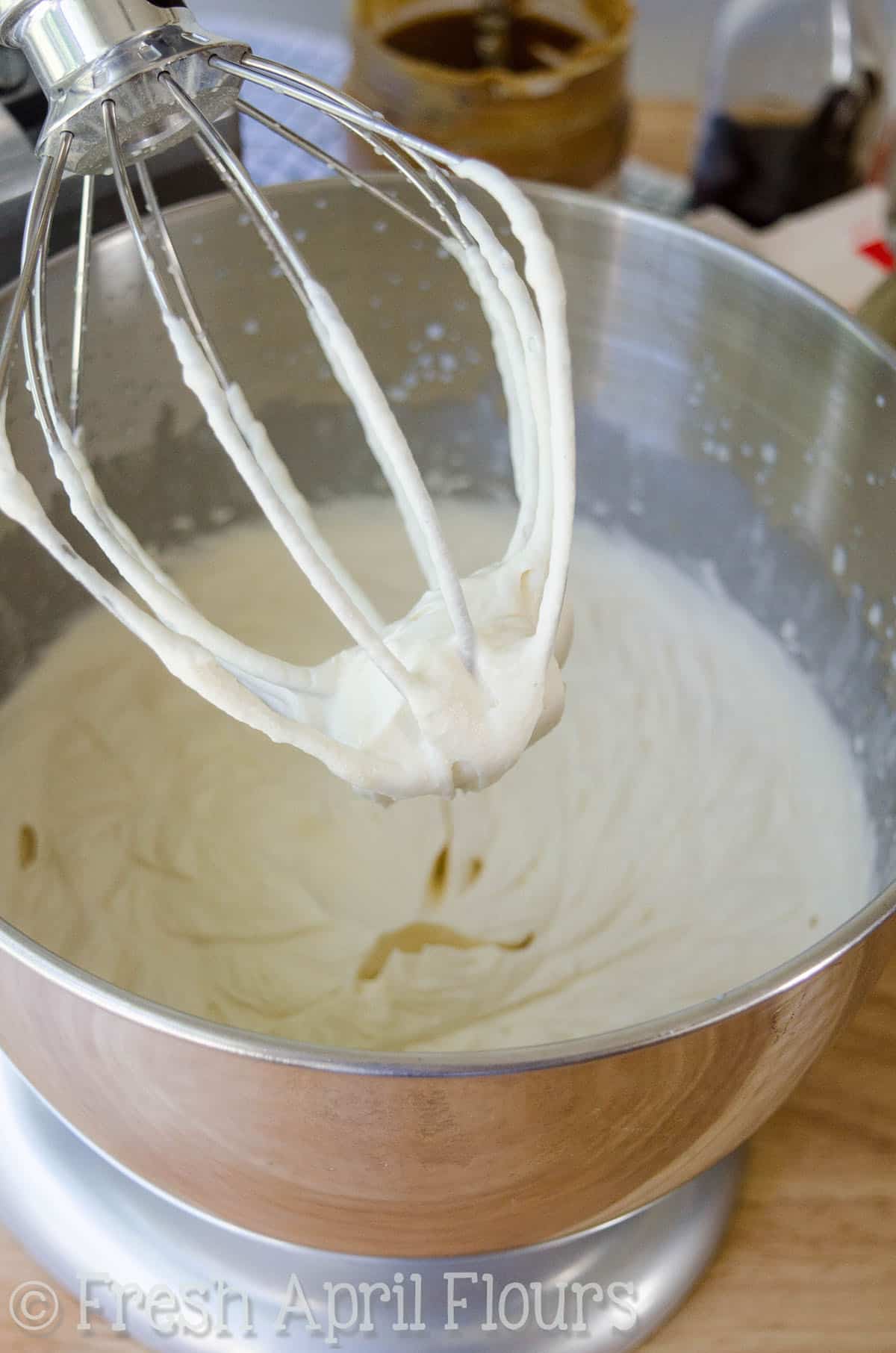 Once I knew how easy it was to create the base for this ice cream, I had a heck of a time trying to decide what flavor to make it. Should I use more of the ingredients I have leftover from my cookbook (like I did to create these Andes mint cookies and these Nutella swirled peanut butter chip cookies too)? Should I use some of my vanilla beans and go plain yet flavorful?
I decided on a peanut butter variety, because, helloooooo, peanut butter rules, and because ice cream is not typically my first choice when it comes to dessert, but I can be convinced if there is peanut butter involved.
Peanut butter persuasion.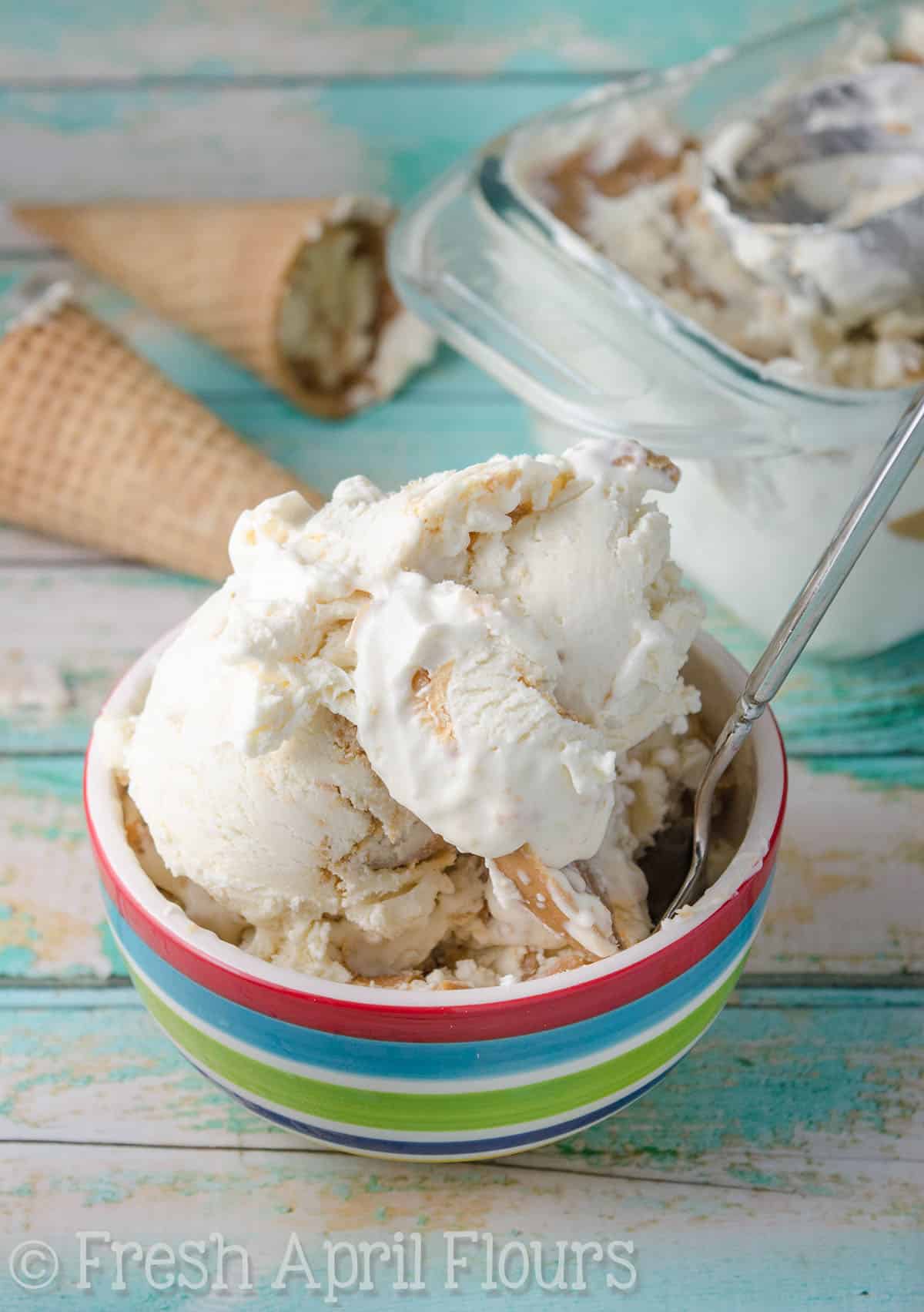 One of my criteria for ice cream is that it has GOT to have chunks. Cookies & cream, butter pecan, peanut butter cup, Ben & Jerry's Cherry Garcia (fav)… You get the idea. I wanted to recreate Peanut Butter Ripple, one of my very favorite varieties of the ice cream I grew up on.
It's full of chunky, swirly peanut butter, and it's just divine. Not too sweet, and just the right amount of peanut buttery. Frozen perfection.
To achieve the chunky swirls, I decided it would be best to melt some peanut butter chips rather than just let regular old peanut butter harden in the freezer. I wasn't convinced peanut butter alone would give me the texture I was looking for.
It turns out melting peanut butter chips and then letting that mixture freeze, sandwiched between layers of fluffy peanut butter ice cream is EXACTLY THE TEXTURE I was hoping to achieve in my super simple ice cream. Peanut butter swirl WIN.
So let's talk about how to combine these two things to make some creamy, dreamy peanut butter ripple ice cream. First, let's start with the peanut butter ripples. I added a bit of peanut butter to my peanut butter chips, melted all of it, and let it cool while I while I whipped up the ice cream. I added just a touch of peanut butter and also some vanilla extract to my ice cream to bump up the flavor just a tad.
Once the ice cream was nice and fluffy, I grabbed a loaf pan and poured about 1/3 of the ice cream mixture on the bottom of it.
I topped that with half of the melted peanut butter chips, spread it around a little, added another 1/3 of the ice cream mixture, another layer of peanut butter chips.
Then finally the last 1/3 of the ice cream.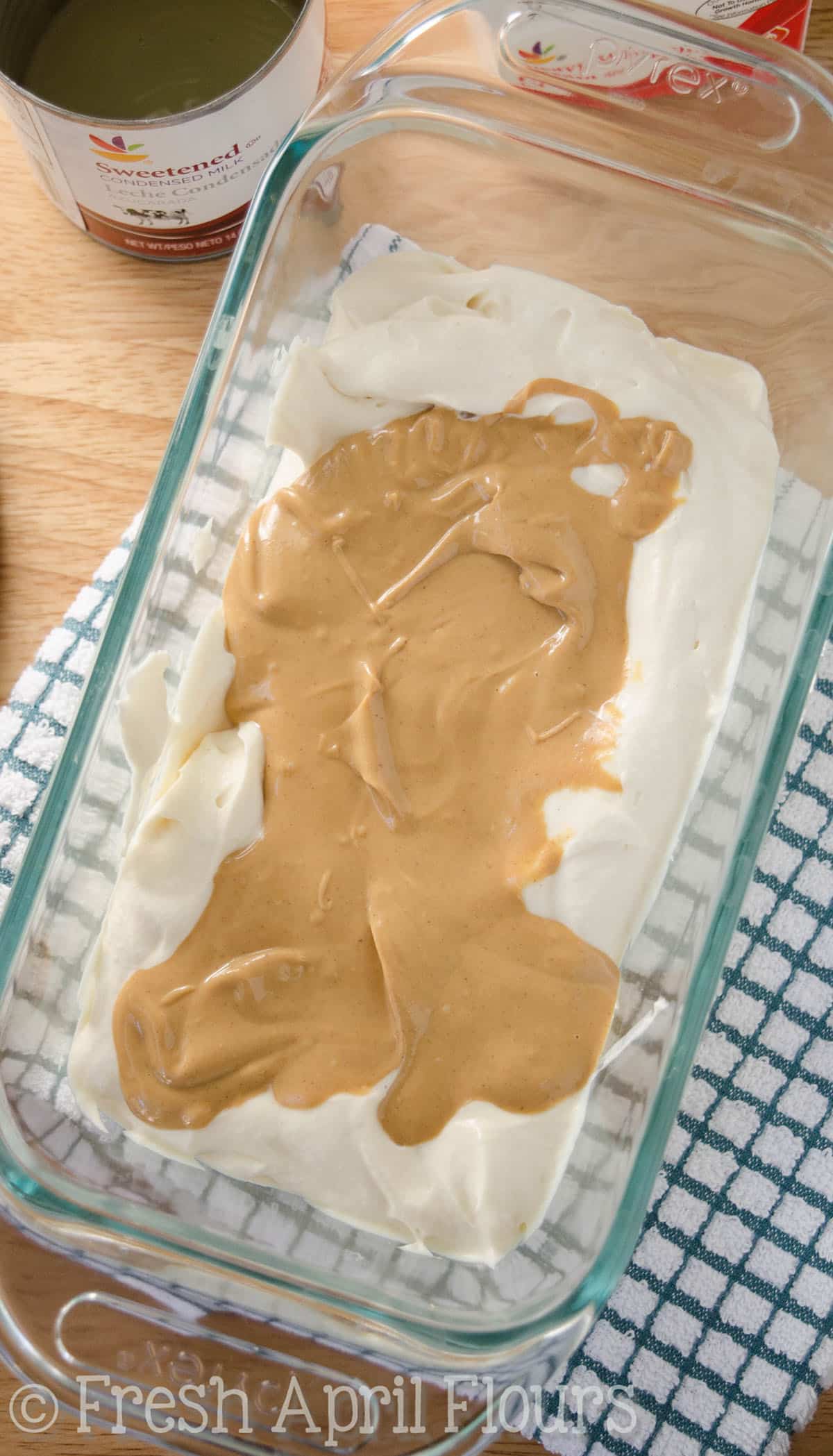 After all of my layers were assembled, I took a butter knife and just ran it up and down the length of the loaf pan to swirl the peanut butter around a bit. Nothing too fancy, just a little dispersing. And believe me, this does not need to be pretty.
In fact… Let's throw "pretty" out the window, because I realized there was nothing "pretty" to photograph while snapping some in process photos. Yikes.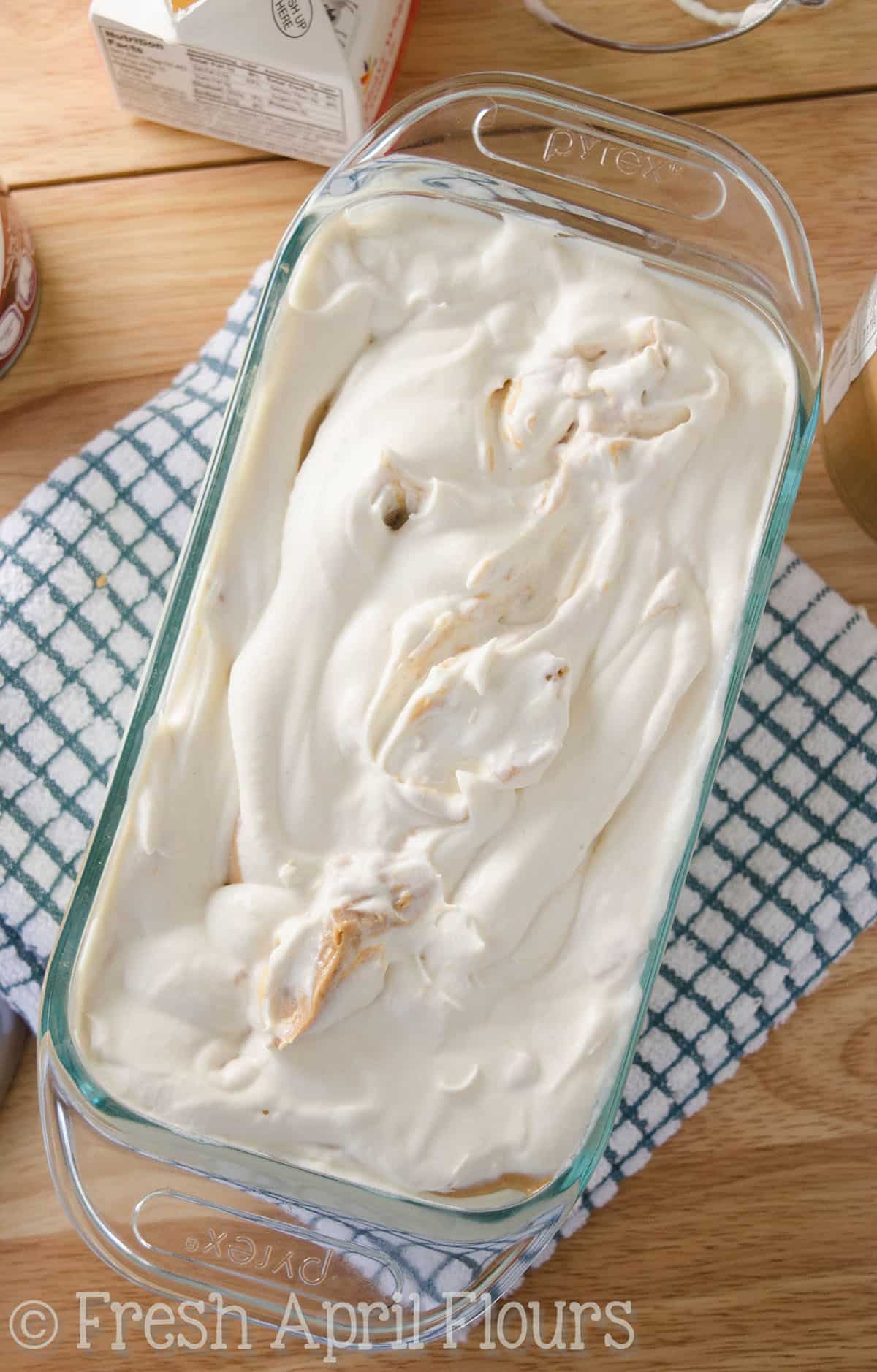 The texture of this ice cream is very much like soft-serve, so if you're looking for hand-dipped, harder ice cream, this is not for you. I will work on one of those for later this summer! This, my friends, is suuuuuper creamy and just… Ugh. You need it in your life.
Enough chatting, get to churning. Err… Not churning! Mixing!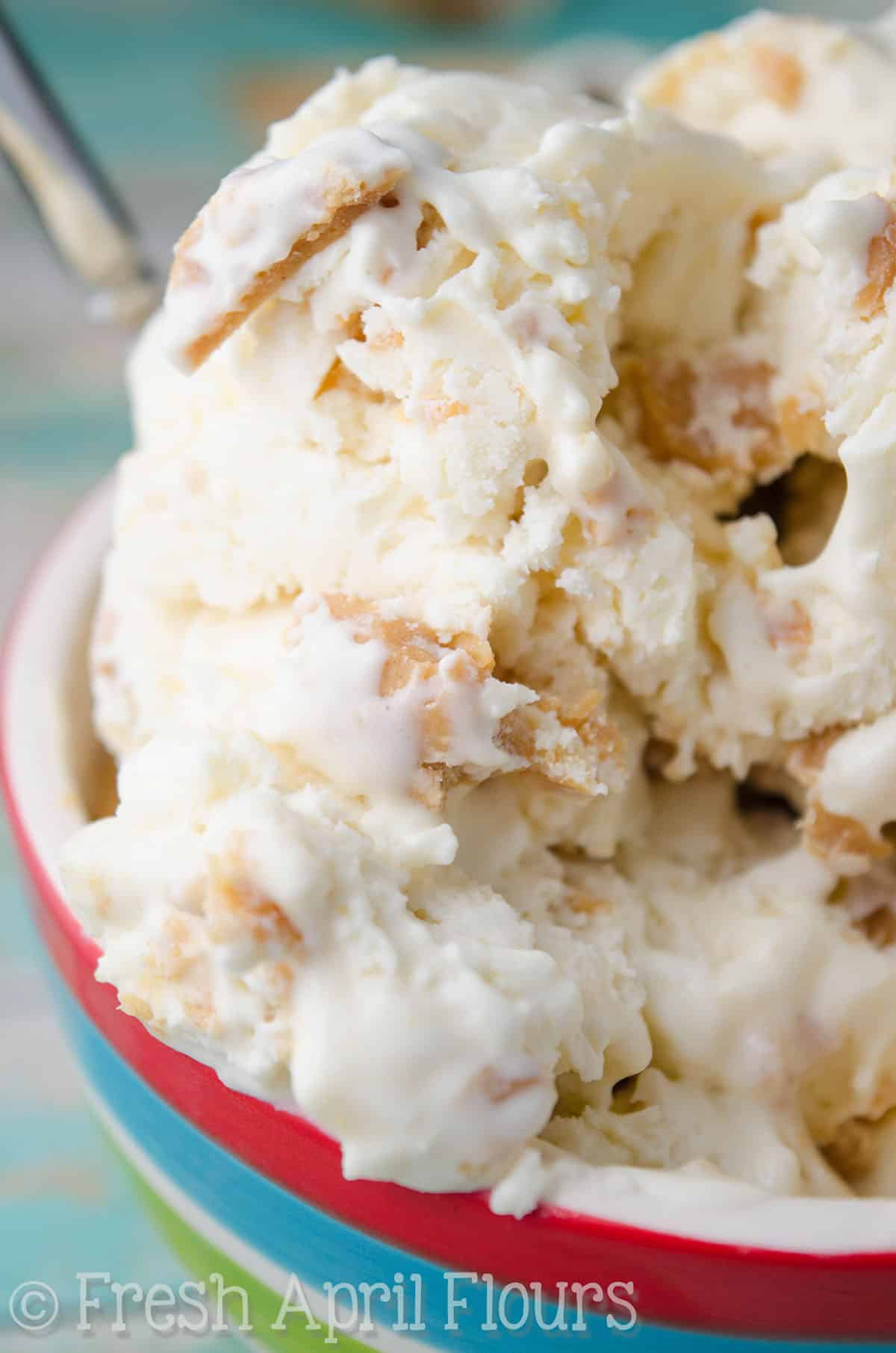 SERIOUSLY. THOSE CHUNKS.
You're gonna love it.
More ice cream flavors for your enjoyment: cookies and cream ice cream cake, pumpkin ice cream, birthday cake ice cream, homemade peach ice cream, and ice cream sheet cake.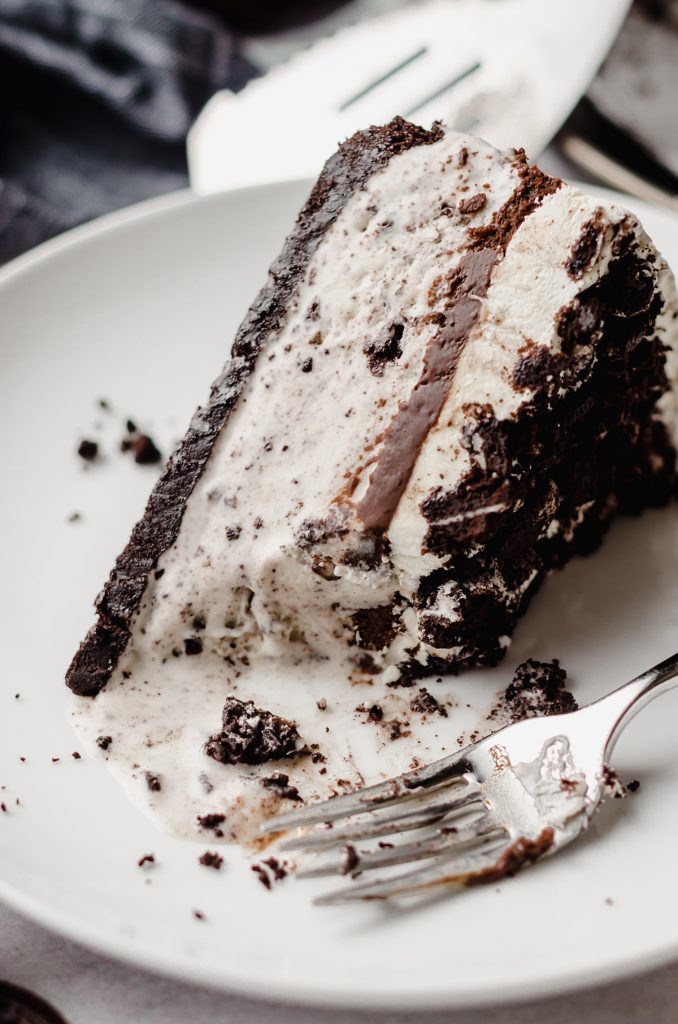 No Churn Peanut Butter Ripple Ice Cream
Easy, two ingredient, no churn ice cream swirled with ripples of peanut butter.
Ingredients
6

Tablespoons

creamy peanut butter

divided

1/4

cup

+ 2 Tablespoons peanut butter chips

2

cups

heavy cream

14

ounces

sweetened condensed milk

1/2

teaspoon

vanilla extract
Instructions
In a medium size saucepan, combine 4 Tablespoons (1/4 cup) of the creamy peanut butter and peanut butter chips. Heat over low heat until completely melted. Remove from heat and set aside to cool a bit.

In a large bowl using a hand mixer or the bowl of a stand mixer fitted with the whisk attachment, beat the heavy cream, sweetened condensed milk, vanilla extract, and remaining 2 Tablespoons of the peanut butter on high speed until smooth and thick (about 3-4 minutes).

Spoon 1/3 of the ice cream into the bottom of a freezer-safe container or bowl (I prefer a loaf pan). Layer half of the melted peanut butter chips evenly over the ice cream, using a spatula to spread it around. Spoon another 1/3 of the ice cream on top of the peanut butter layer, and repeat layering with remaining melted peanut butter chips and 1/3 of the ice cream. Submerge a butter knife into the container and run it up and down the length of the container to "swirl" the peanut butter. Cover tightly and freeze overnight, or at least 8 hours. Ice cream can be stored in the freezer for up to 2 weeks.
Nutrition Disclosure
All nutritional values are approximate and provided to the reader as a courtesy. Changing ingredients and/or quantities will alter the estimated nutritional calculations.