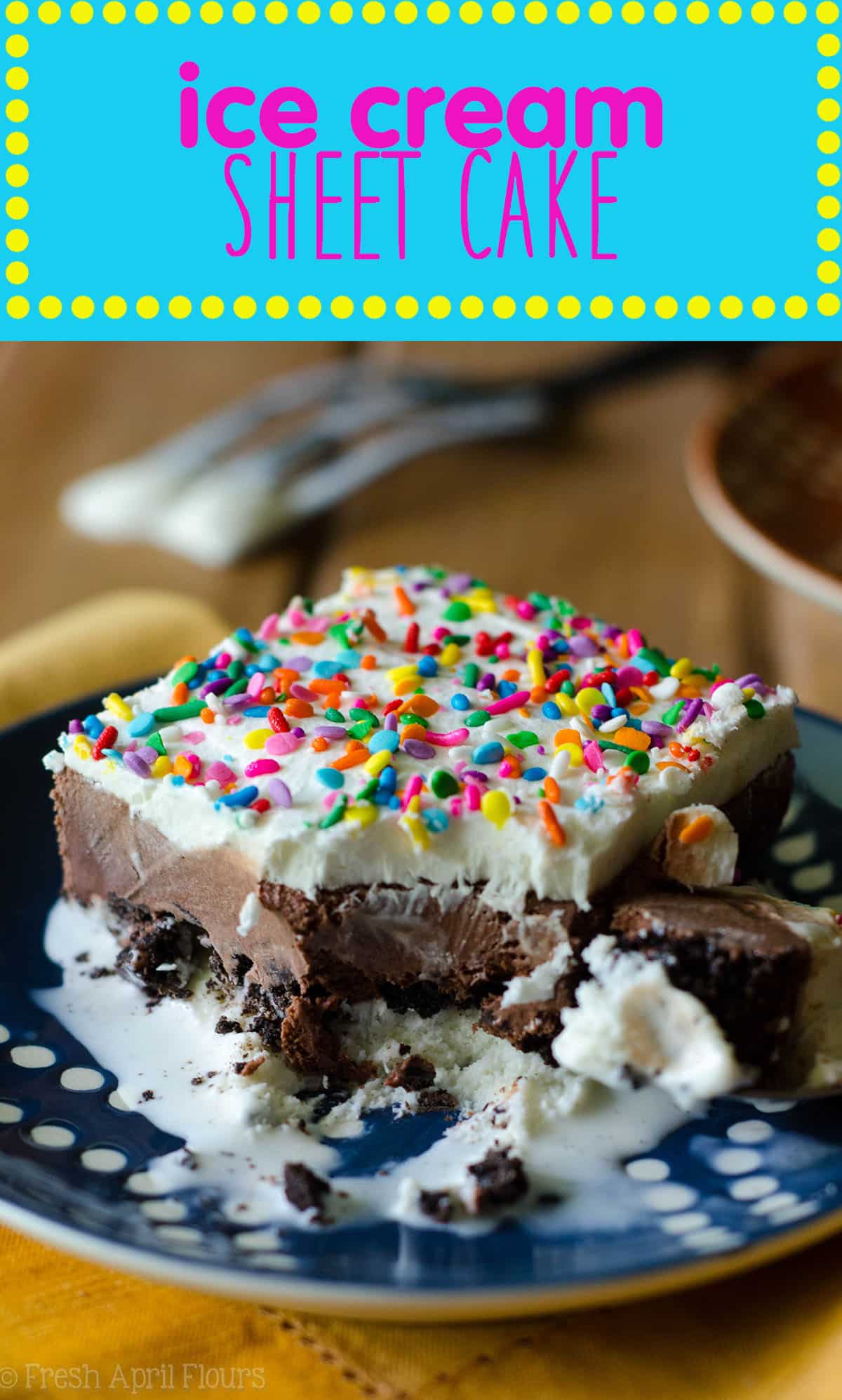 As an Amazon Associate, I earn from qualifying purchases. Read the full disclosure here.
An easy recipe for homemade ice cream cake, filled with a crunchy cookie layer. Mix and match your favorite ice cream flavors or be brave and use your own homemade ice cream!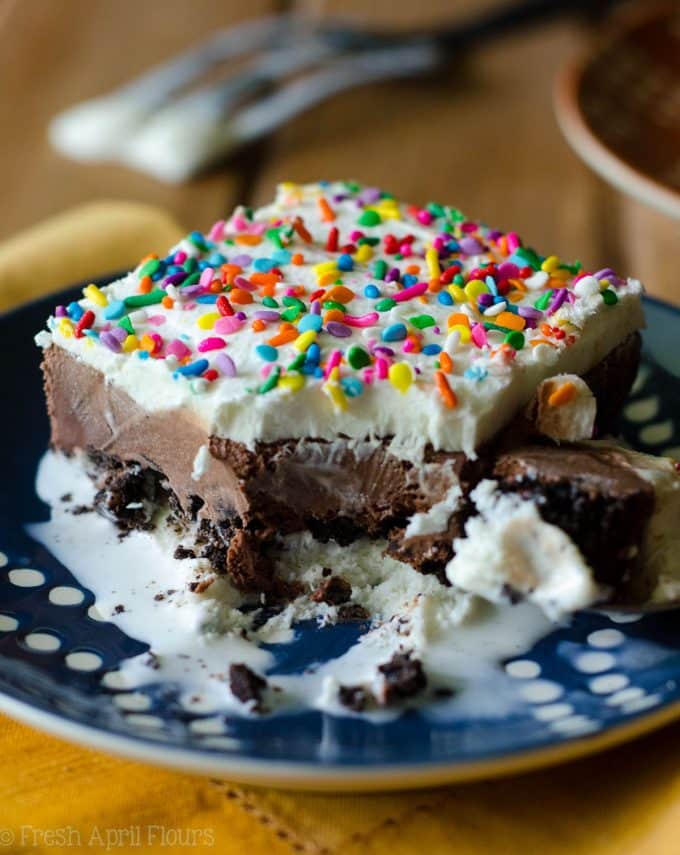 I need to give a big ole THANK YOU to Mother Nature for returning the warm weather to us! I knew that last week's offering of homemade magic shell was not in vain, and here we are, mid-May, sweating our tushies off just in time to make some awesome frozen treats to celebrate all the summer things!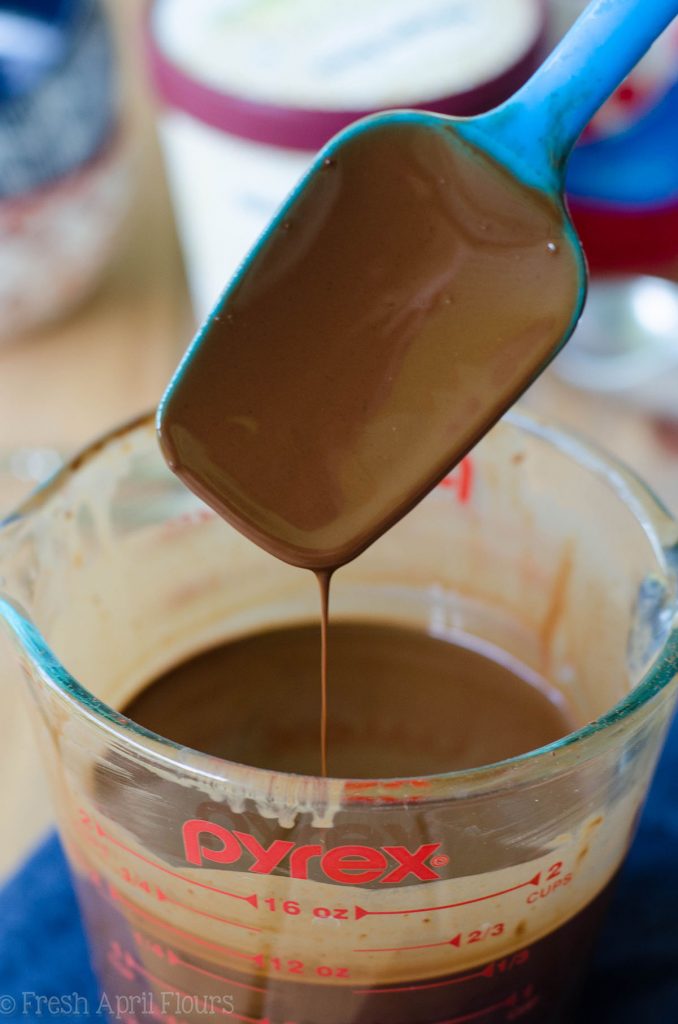 Graduations, holidays, 1st birthdays (OMG this cannot be happening), general gatherings, pool parties, beach trips… There's a lot to celebrate this summer, and you know what celebrating means, right? CAKE.
That's right. We're back at the Cake of The Month today, and this one is quite possibly my favorite installment thus far (which is saying something considering THIS dark chocolate layer cake with peanut butter frosting is a thing).
The idea for an ice cream cake has been floating around in my head for, umm, ever. I would really truly love to make an ice cream layer cake for you, but I wanted to start on a smaller, easier scale first, simply because I need to know some ins and outs of ice cream cake assembling before I go all layer cakey on it with a springform pan and try to decorate a frozen treat on a rotating cake stand.
That gives me cake decorator anxiety just typing it.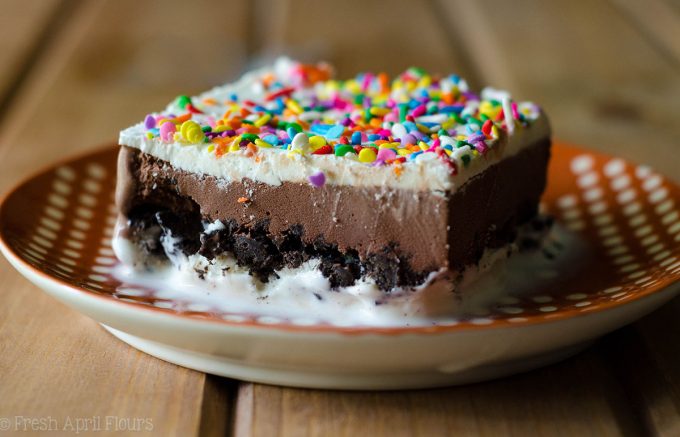 So yeah, let's stick to a sheet cake situation for this month, ok? Last month, we did a little something different with a snack cake, so this month (and next month too– stay tuned!), I'm focusing a bit on a more practical "sharing" cake.
Layer cakes are great. They really truly are.
But sometimes, I would prefer to transport or serve a cake that doesn't necessarily require a ton of work in the presentation department and that enables people to take small pieces.
Because undoubtedly, you try to take a small slice of a layer cake and it, womp womp, collapses.
Sheet cakes work a little bit more in the way a brownie would– you can take a small square and it doesn't upset the whole tray or destroy the integrity of your portion.
You feel me?
Now, as far as practicality goes with transporting a cake, you probably won't want to offer to bring the ice cream cake to Aunt Susie's house who lives an hour away. But hosting at your own home? A neighbor down the street?
Absolutely. Ice cream cake it up! Because you know there's nothing like a good ice cream cake.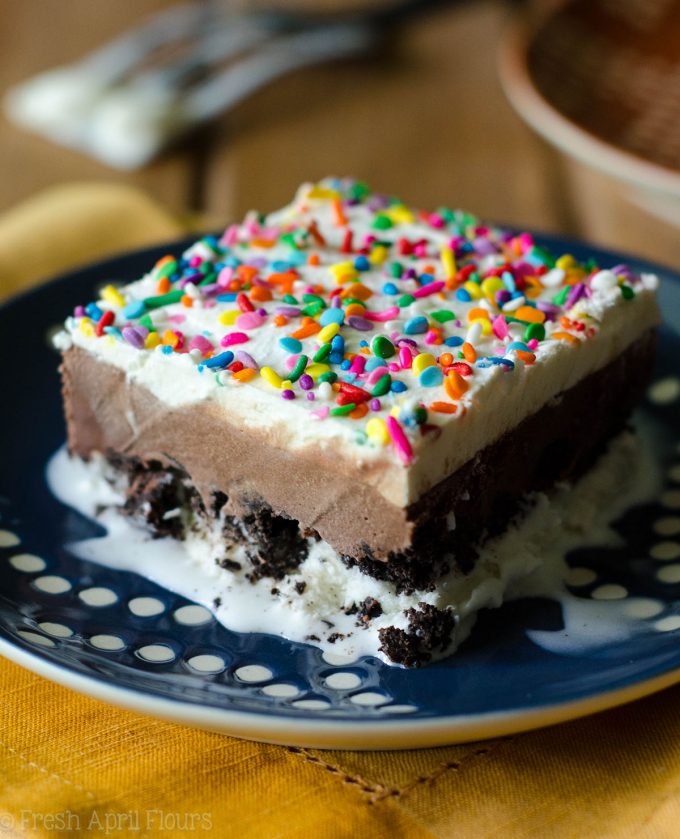 So let's break this down really quick, because honestly, if you can stir, you can make/assemble an ice cream cake. I promise.
The most involved steps of this ice cream cake are preparing the crunchy cookie layer and whipping up the homemade whipped cream topping. Both of which are incredibly easy.
You're going to use a whole package of Oreos for the middle cookie layer.
Yep. The whole package.
This cake is not for the faint of heart, friends. Not one bit. You'll pulse all of the cookies in a food processor before adding in the homemade magic shell you made last week to create a moist cookie mixture.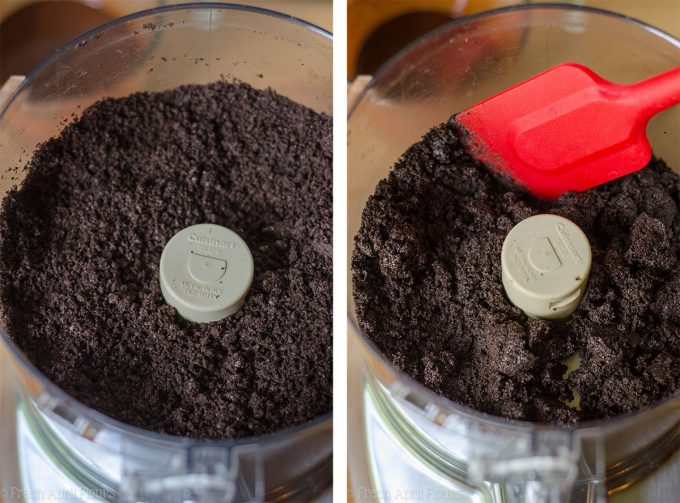 See? Simple. You're done with that. Set it aside.
You'll start this cake with a vanilla bottom layer. The key to getting the perfect consistency for spreading the ice cream into the baking dish is to smooth it out. You don't want it melted, but you want it uncomfortably frozen.
Like… It sat out too long and it's getting soupy, but you could still enjoy it if you wanted to… You'd just have to eat it pretty fast.
The best way to achieve this consistency is to put it into a large bowl and stir it around with a spatula. This will distribute the super cold spots and the warmer melted spots to create a uniform texture that is easily spread.
You'll do this with both layers.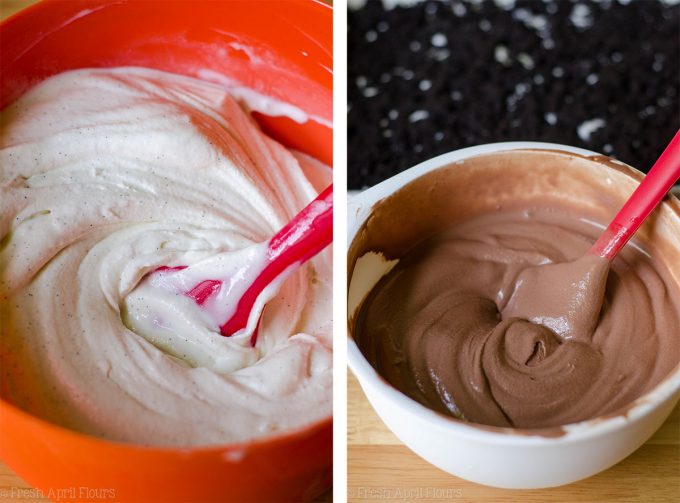 The cookie layer part comes next, on top of your vanilla (bottom) layer. You'll want to make sure that you break larger chunks into small ones, because once the large chunks sit in the freezer, they are like rocks trying to cut/bite/chew through. Best to break them up and avoid injury.
You'll only need about 20 minutes to let this layer firm up before you can put the next layer on.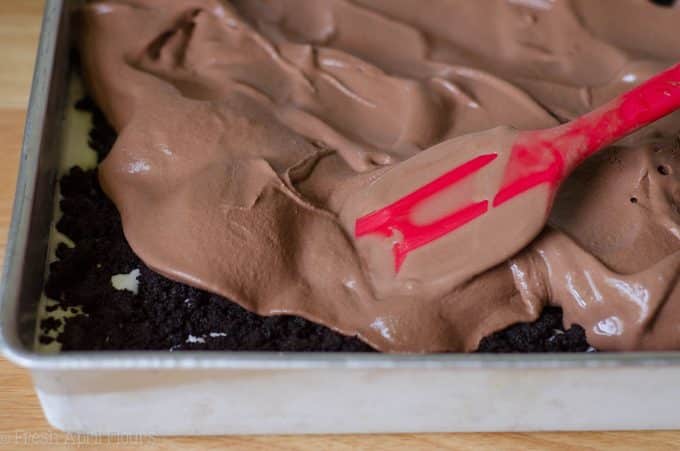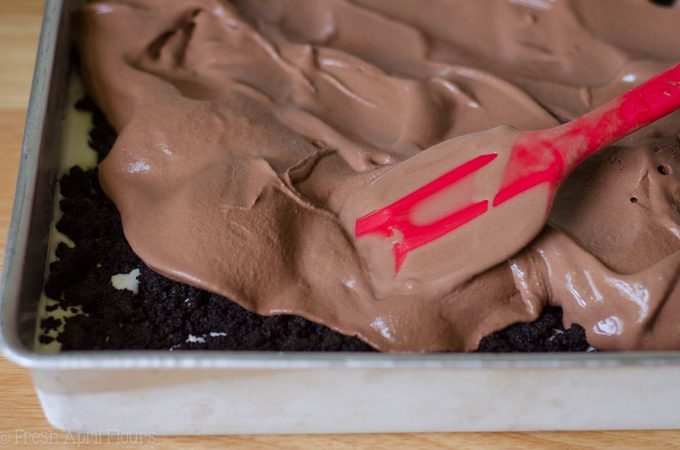 Another 20 minutes for that layer, a freshly whipped cream layer on top of that one, and then plenty of sprinkles for the top to make everything pretty.
The cake is finished and ready to serve once it's been frozen for at least 12 hours, so you'll need a bit of time to plan ahead if you want to serve this ice cream sheet cake at a specific time or event, but the great part is, you can make it well ahead of time– up to a month!
This cake, unlike all the other treats I make, did not make it to anyone else's tastebuds. Matt and I shamefully (?) ate the entire thing ourselves, and in about a week's time. That's embarrassing, people. But it truly is a testament to how good it is.
I've had my fair share of ice cream cakes from Carvel, DQ, even just the grocery store, and none of them compare to the one I made myself.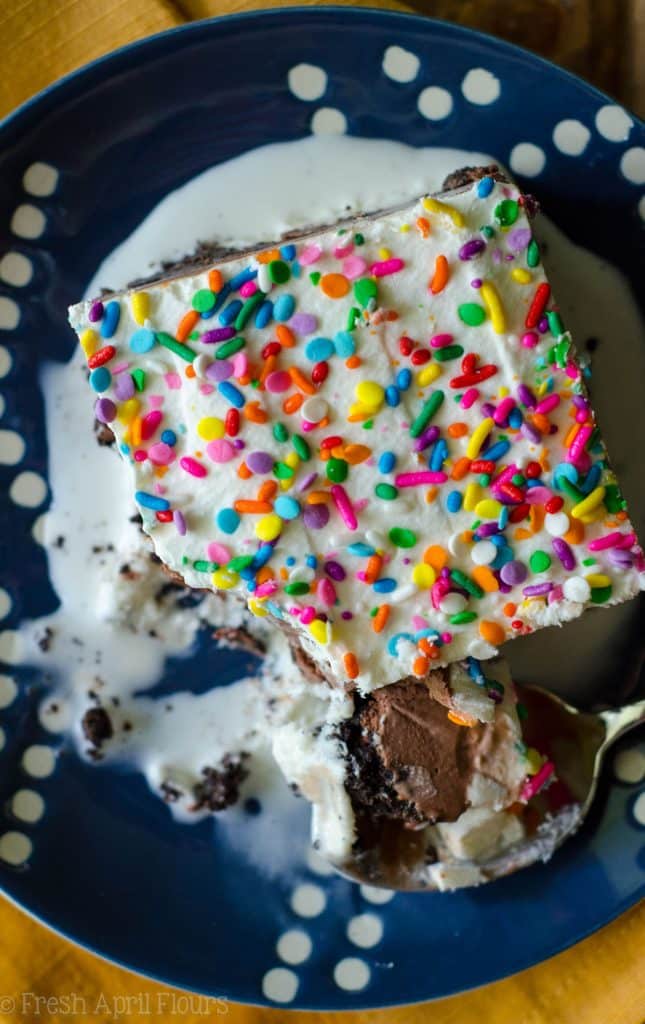 Customizable with different ice cream flavors, perfect for serving up a "different" kind of cake at a party… Seriously, you need this recipe and you can totally do this ice cream cake thing.
Jazz up your summer gatherings and impress your friends! I bet they will think you're so fancy!
Ice Cream Sheet Cake
An easy recipe for homemade ice cream cake, filled with a crunchy cookie layer. Mix and match your favorite ice cream flavors or be brave and use your own homemade ice cream!
Instructions
Make room in your freezer for a 9" x 13" baking dish**. Set out your vanilla ice cream at room temperature.

Place the entire package of Oreos into a food processor and pulse until cookies form a fine crumb. Drizzle in the homemade magic shell until cookies are moist. Set aside.

Once your vanilla ice cream has sat out about 15 minutes, pour it into a large bowl and stir it with a large spatula to smooth it out. Once it is smooth and easily stirred, pour it into your baking dish. Spread the ice cream evenly into the bottom of the baking dish, making sure to fill in any holes and push ice cream into the very corners of your dish.

Sprinkle the cookie crumbs evenly over the vanilla layer, making sure to break up large cookie clusters with your fingers. Once you have used up all of the cookie crumbs, place baking sheet in the freezer to firm up, about 20 minutes. Set out your chocolate ice cream at this time.

Repeat step 4 with the chocolate ice cream, spreading the ice cream evenly over the cookie layer. Allow to set in the freezer, about 20 minutes.

While you wait for the cake to freeze, make your homemade whipped cream topping. Set aside until ready to use.

When your cake is firm, use a spatula to smooth the whipped cream topping over the chocolate ice cream layer. Decorate with sprinkles if desired. Allow to freeze completely in the freezer at least 12 hours, preferably 1 day. When you are ready to serve the cake, allow to sit at room temperature for about 5 minutes and use a very sharp knife to cut. Cover leftovers and store in the freezer up to 1 month.
Notes
*You can use any flavors of ice cream you wish in this recipe.
**You will have the best results using a baking dish with a completely smooth bottom. I used one with ridges and the pieces on top of the ridges were very difficult to remove.
Recipe inspired by Food Network
Nutrition Disclosure
All nutritional values are approximate and provided to the reader as a courtesy. Changing ingredients and/or quantities will alter the estimated nutritional calculations.