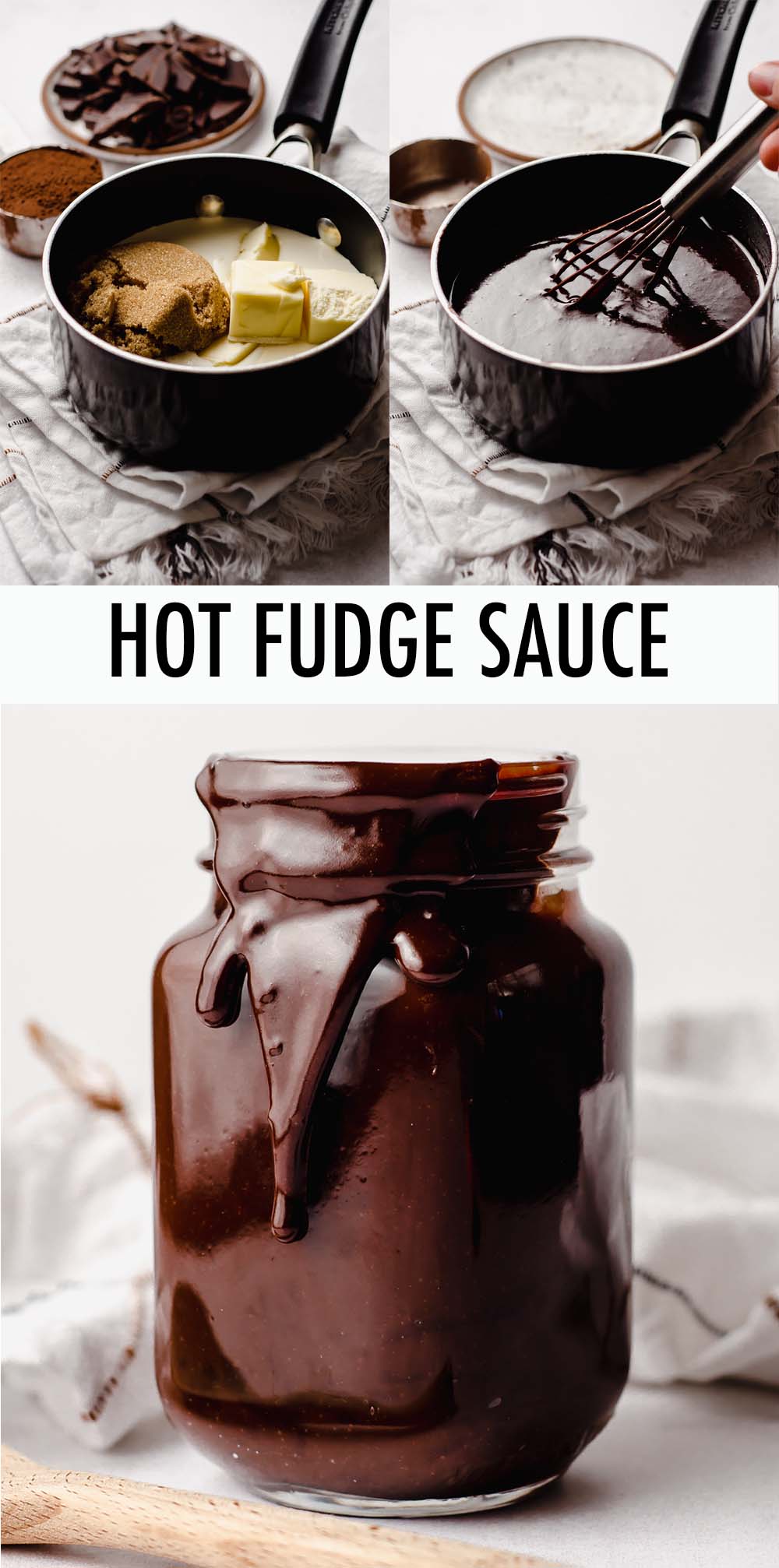 As an Amazon Associate, I earn from qualifying purchases. Read the full disclosure here.
You only need five major ingredients and less than 10 minutes to make your own rich and thick hot fudge sauce at home. Use as an ice cream topping, on top of your favorite baked goods, or to make chocolate milk or hot chocolate!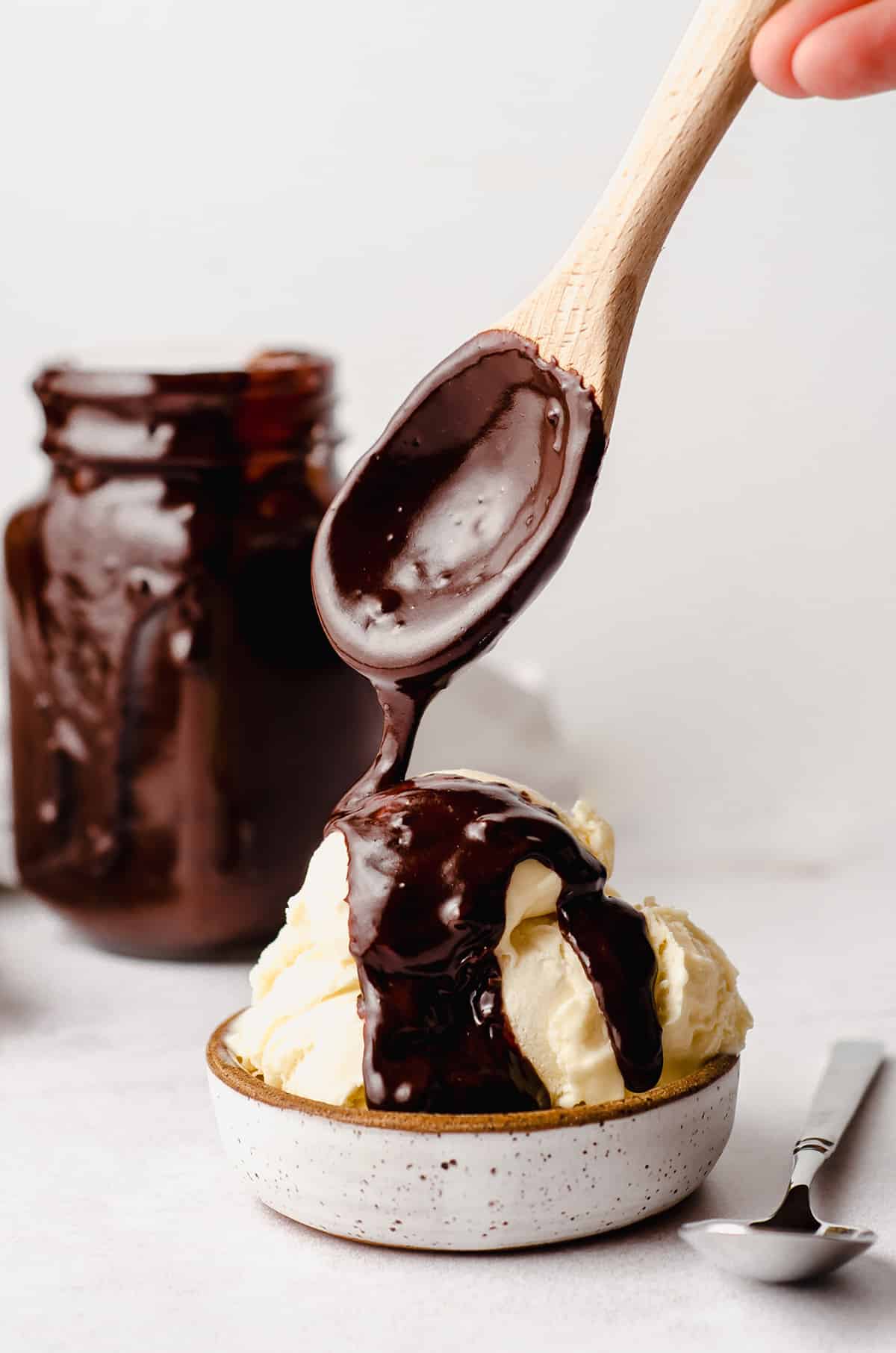 When it comes to ice cream, I am an ALL IN type of gal. I want chunks, I want toppings, I want everything.
That includes all the sauces, cherries, sprinkles, nuts… Don't hold back when it comes to my ice cream!
When I think about a solid ice cream sundae, I immediately think of hot fudge sauce. That contrast of cold, smooth ice cream with gooey, drippy chocolate sauce is everything this texture lover wants in a bite of ice cream.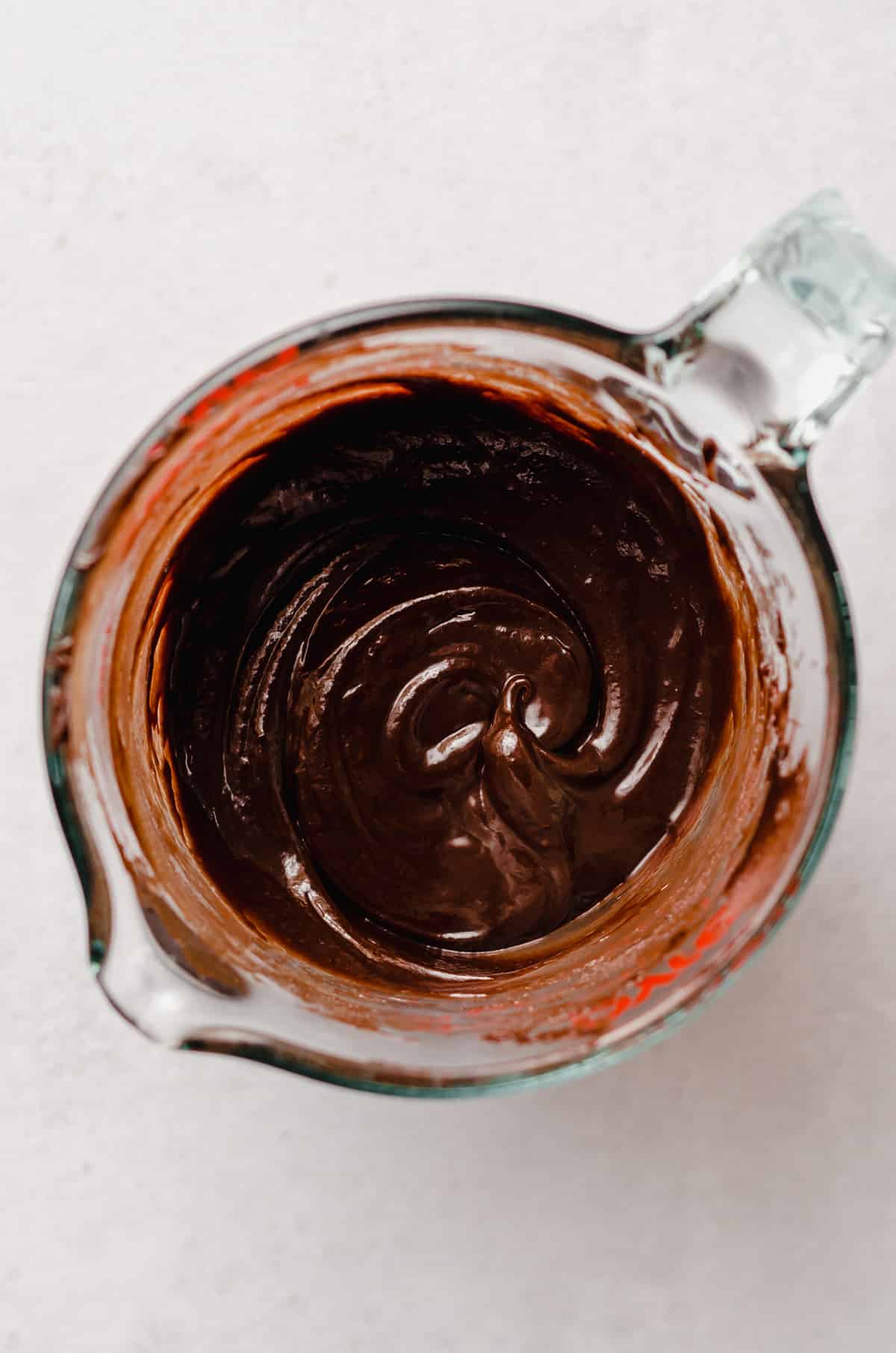 I mean, it's no surprise that some of the ice cream recipes that exist on my site are peanut butter ripple, birthday cake, praline, and peach. There are chunks in all of them, plenty of room for added goodies, and each spoonful has something to look forward to.
Once I learned that homemade fudge sauce is actually really simple to make, I had to try it myself, and I'll never go back to the jarred stuff.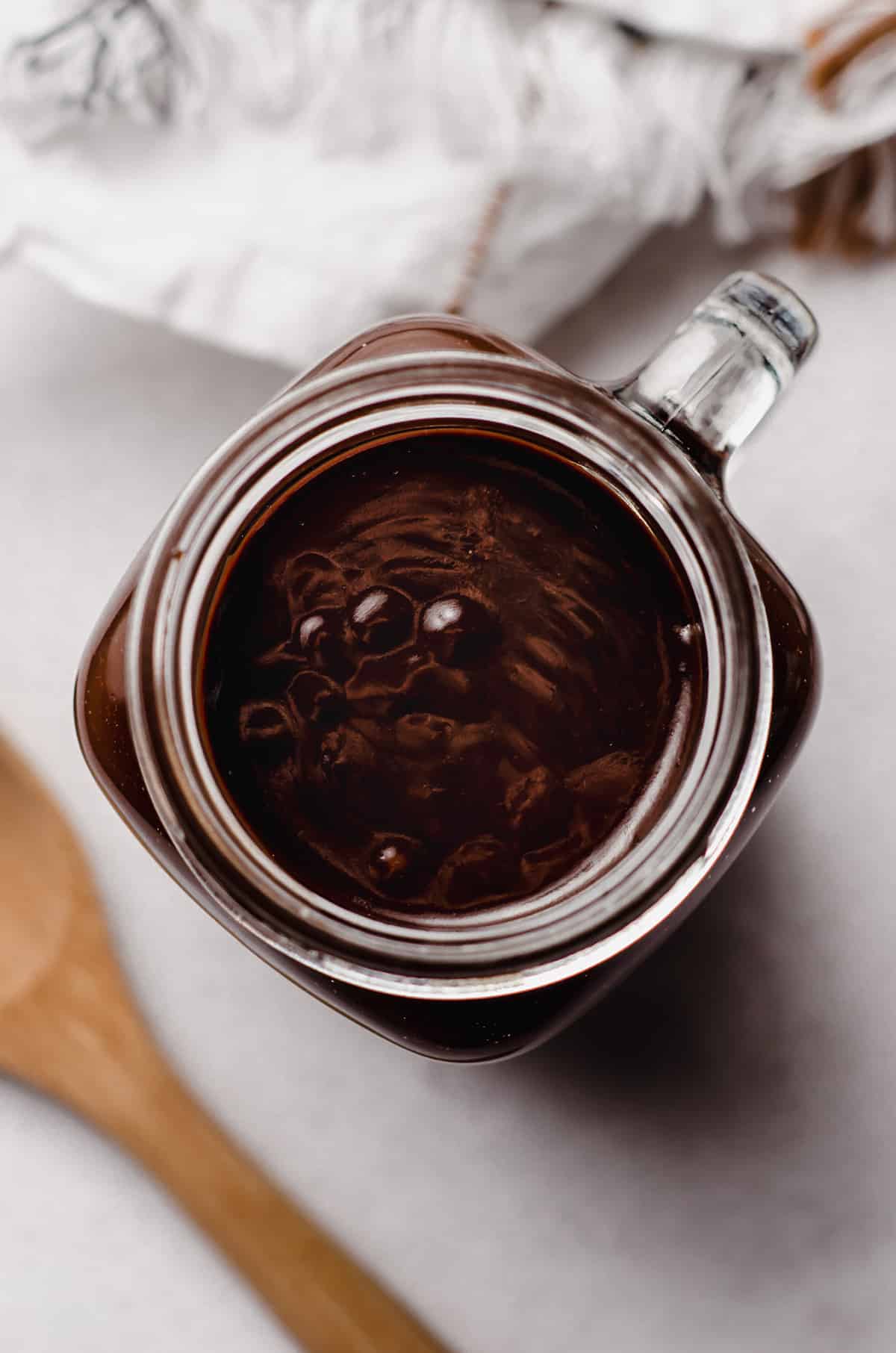 It's SO smooth, it's so creamy, and it's full of rich chocolate flavor that just can't be matched in a jar.
INGREDIENTS
The list of ingredients for this fudge sauce recipe is pretty short. If you look at a jar in the grocery store, you'll likely see lots of interesting additives for stability, viscosity, and preservation.
Not here! My hot fudge sauce ingredients are simple, and it's highly likely you have them all in your kitchen right now.
For this hot fudge, you'll need heavy cream, unsalted butter, brown sugar, salt, bittersweet chocolate, and cocoa powder.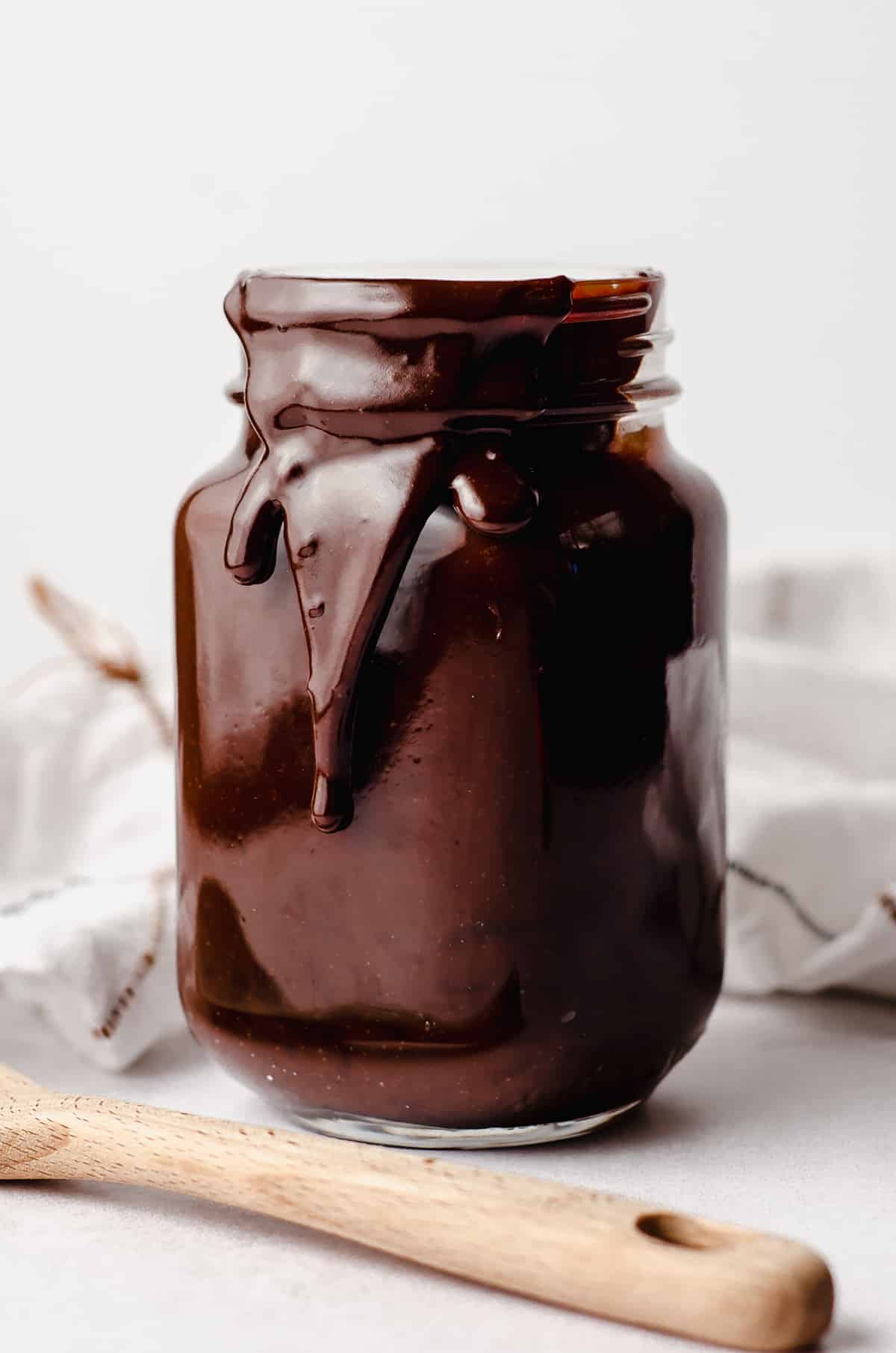 The type of cocoa powder is totally up to you. You can use natural unsweetened, special dark, or Dutch processed. I always have all 3 on hand (baker problems!), but usually reach for Dutch processed in something like this.
It's smoother in taste than the other two options, but if all you have is traditional/regular/basic unsweetened cocoa powder, don't feel like you need to make a special trip to the store. It'll still be top notch!
HOW TO MAKE HOT FUDGE SAUCE
The next thing you'll notice about this easy hot fudge sauce is, well, it's actually easy.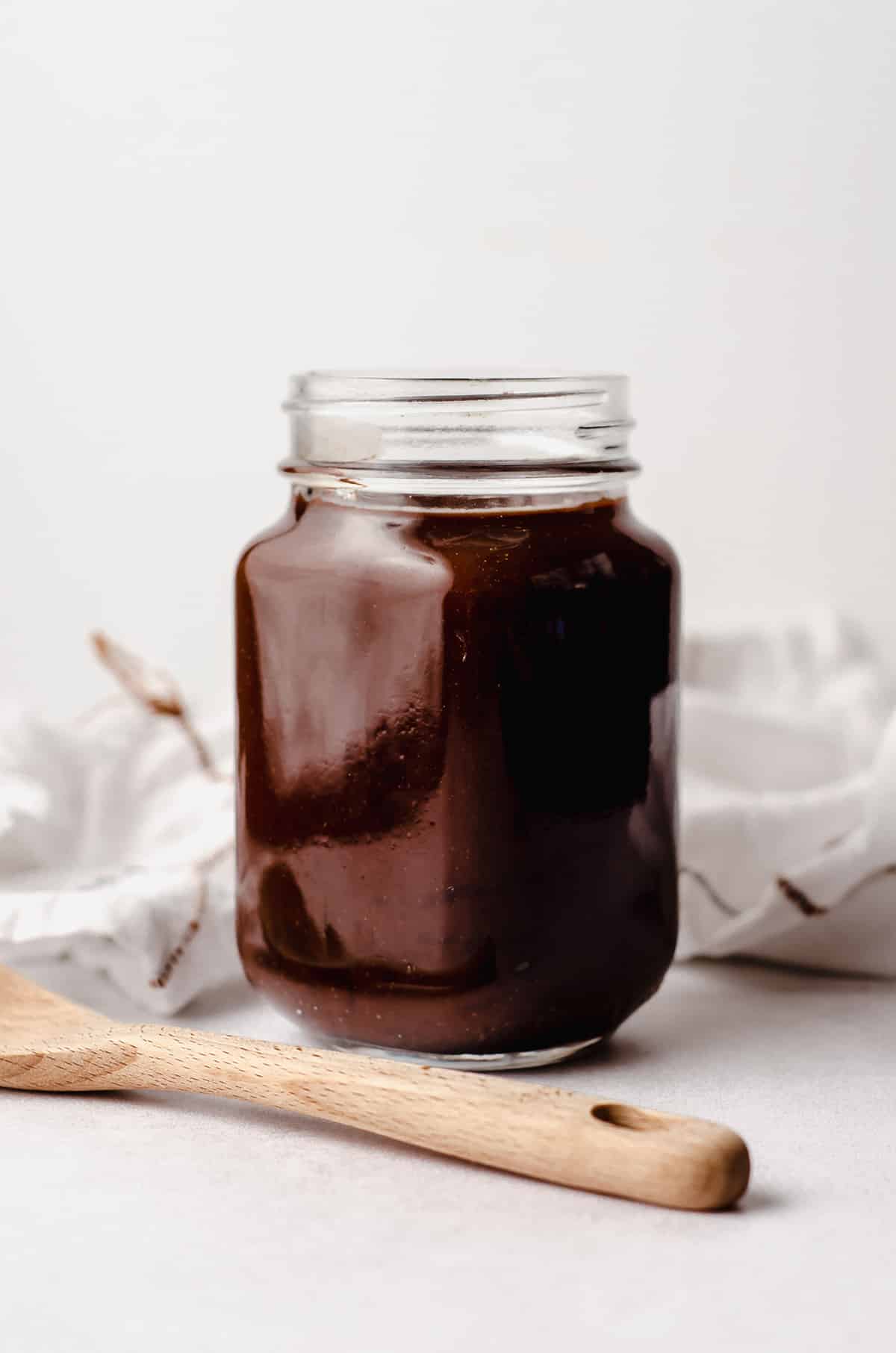 While we do do some crazy things around here sometimes like cook sugar for salted caramel sauce, we also do some really basic things like melt ingredients in a saucepan and stir it all together.
And the latter is true in this recipe for hot fudge!
You'll start by mixing and heating the heavy cream, butter, brown sugar, and salt. The mixture will be light brown and smooth once it's completely melted, and you'll cook this portion for only 1 minute.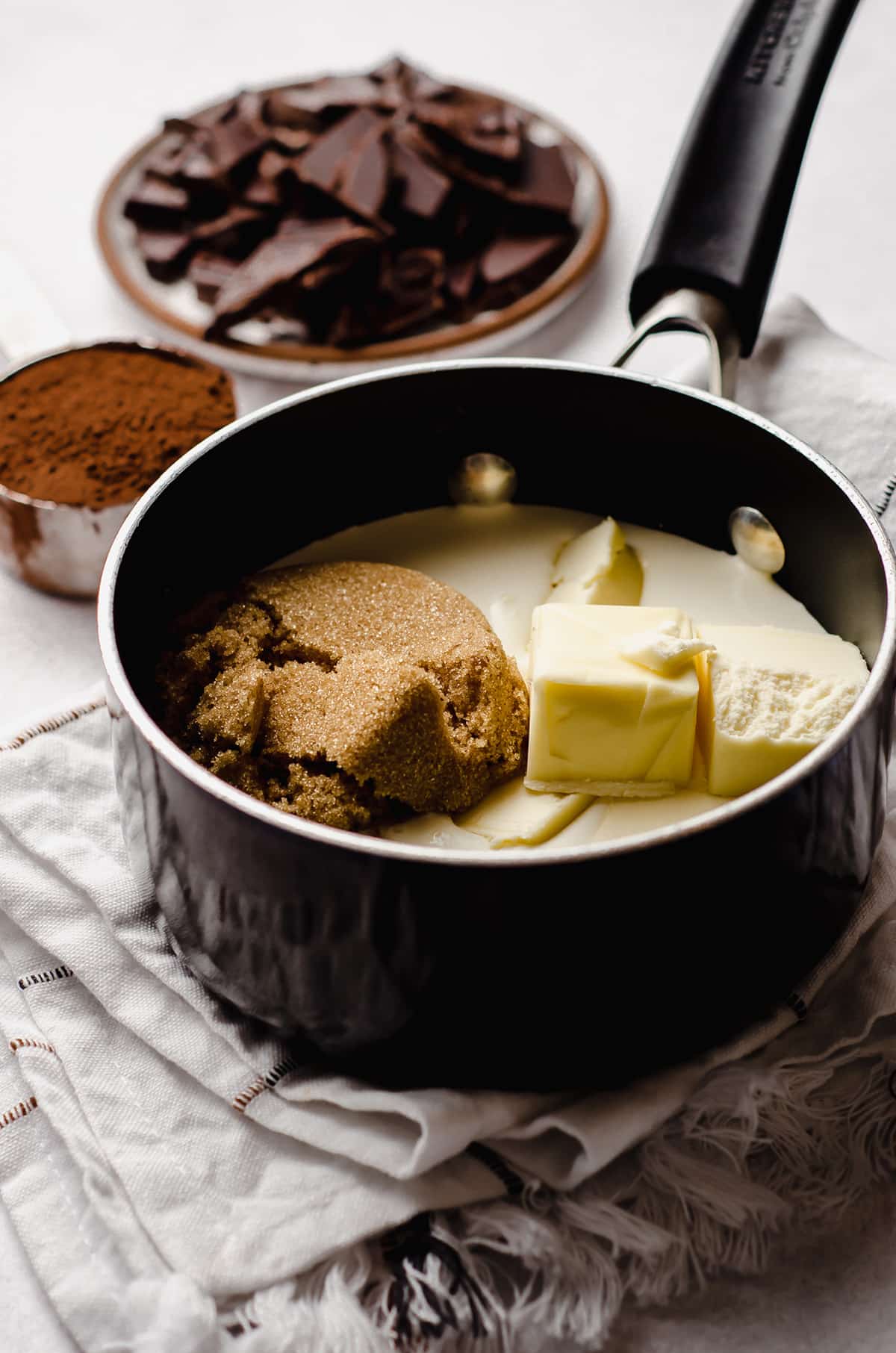 After that's been properly heated, you'll add the chopped chocolate.
I go with bittersweet chocolate here because we're bringing all of the sweetness with moist brown sugar. Bittersweet chocolate has a very low moisture content, so we can accommodate the additional moisture from the brown sugar by selecting bittersweet.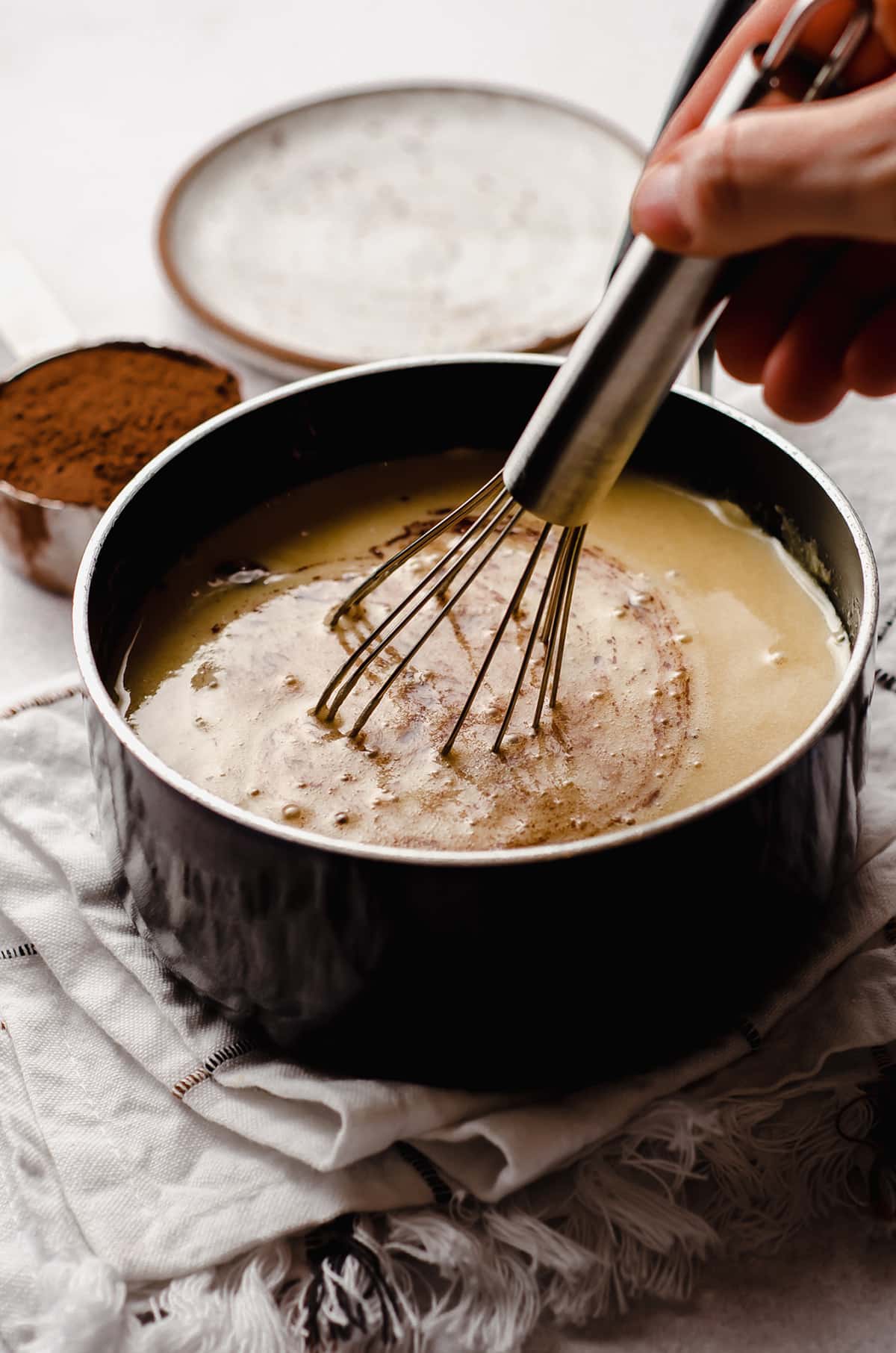 We also insure we're preserving that quality chocolate flavor and balancing it with the sweetness, since we're probably putting our homemade hot fudge on top of already-sweet ice cream.
And all those other toppings we love, remember.
Whisk all that chocolate in until it's completely melted and the mixture is nice and smooth.
Lastly, you'll add in the cocoa powder. This will help thicken the mixture a bit so it's a little less like chocolate sauce and more like thick, fudgy chocolate instead.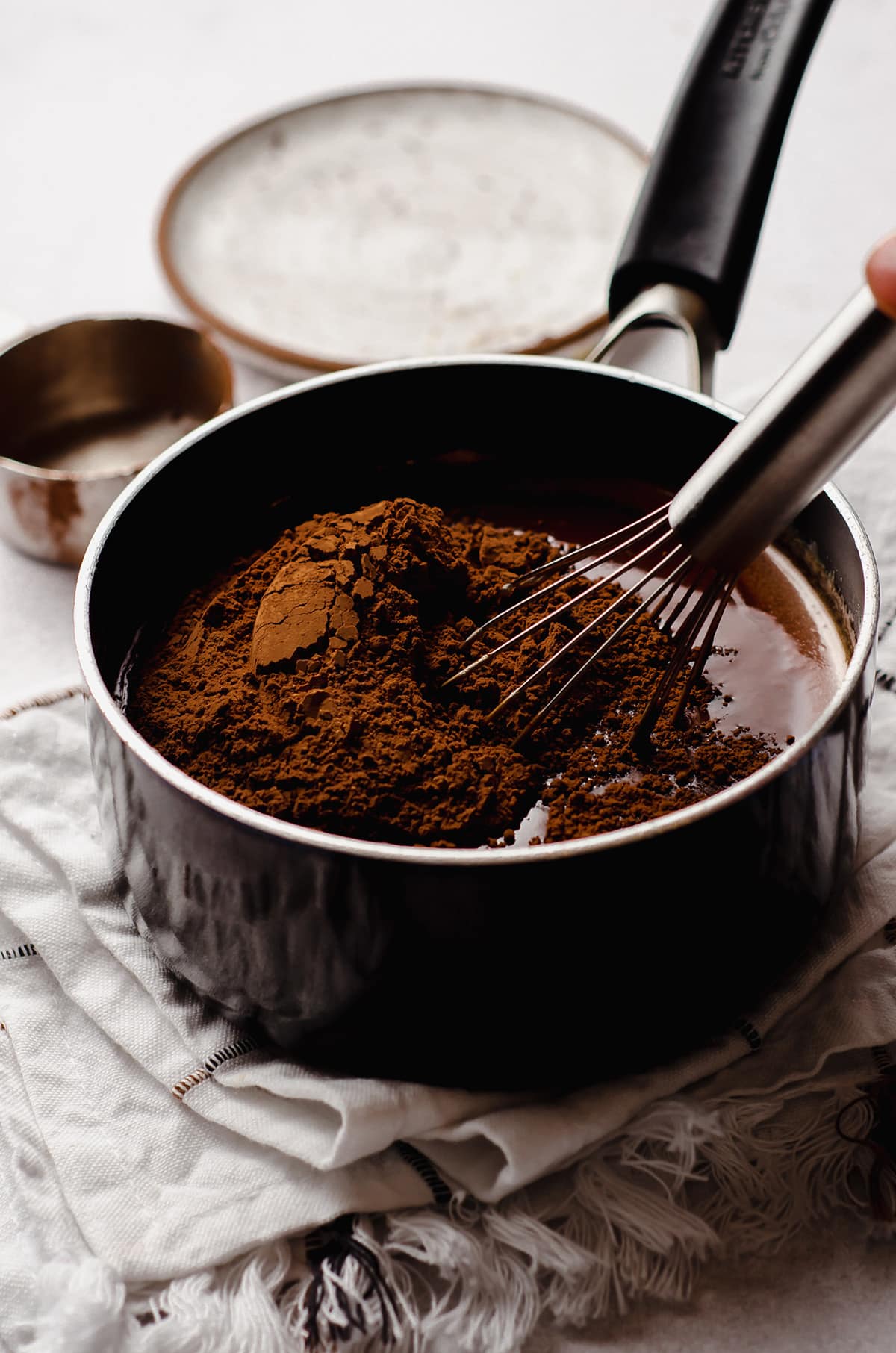 As you whisk it in, it will start to make small clumps. Just keep whisking, semi-vigorously, while keeping it over heat to cook it for an additional minute.
Once all of the cocoa powder is incorporated, remove it from the heat. You can whisk the mixture some more if there are any additional lumps remaining, but at this point, your hot fudge sauce recipe is largely complete!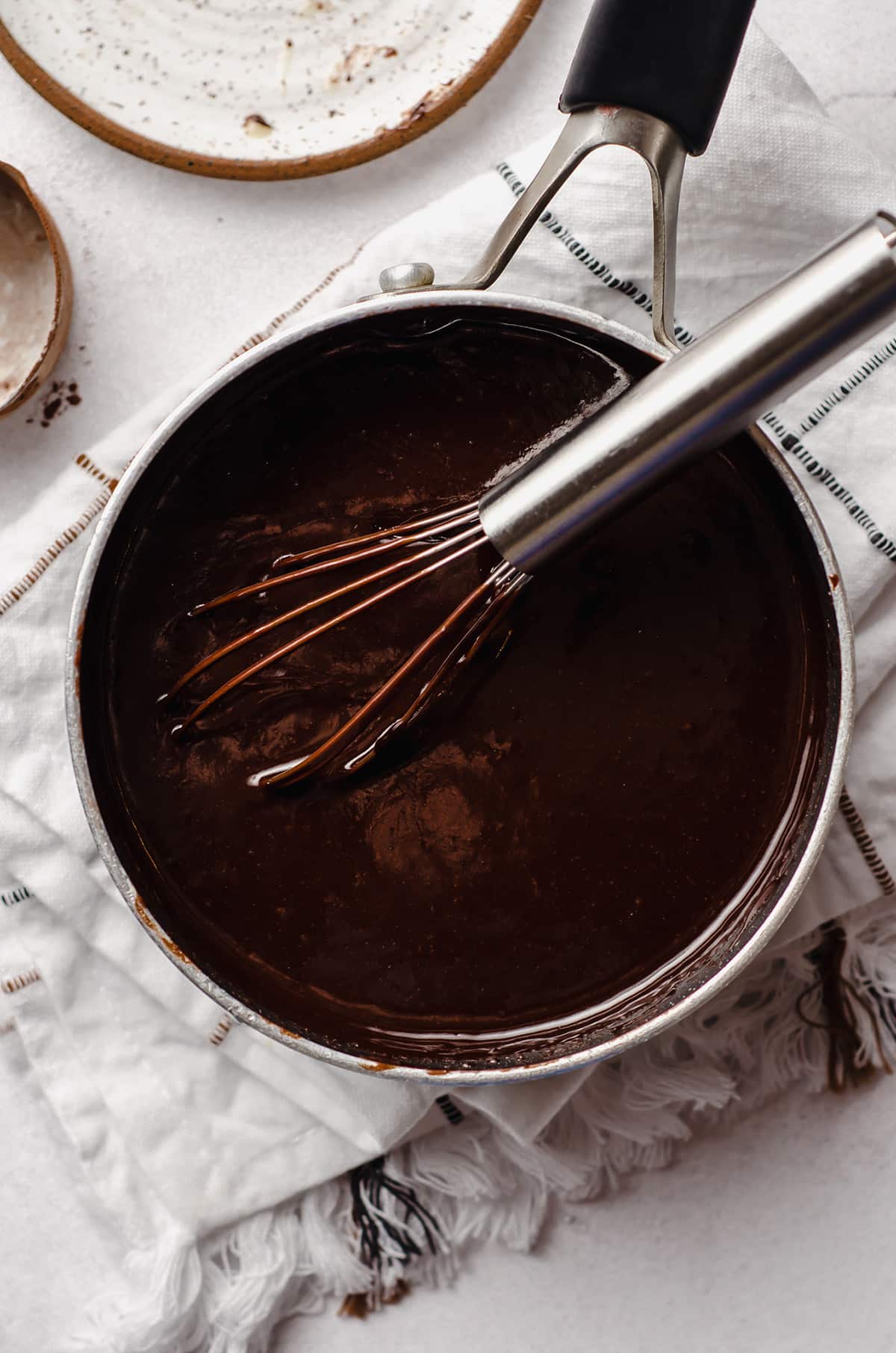 You can use your chocolate fudge sauce right away or you can let it cool and jar it up for later. It will keep in the refrigerator for about a month, but remember there are no preservatives, so you'll have to keep an eye on it.
You can also freeze your hot fudge sauce for up to 3 months.
See? Isn't that super easy?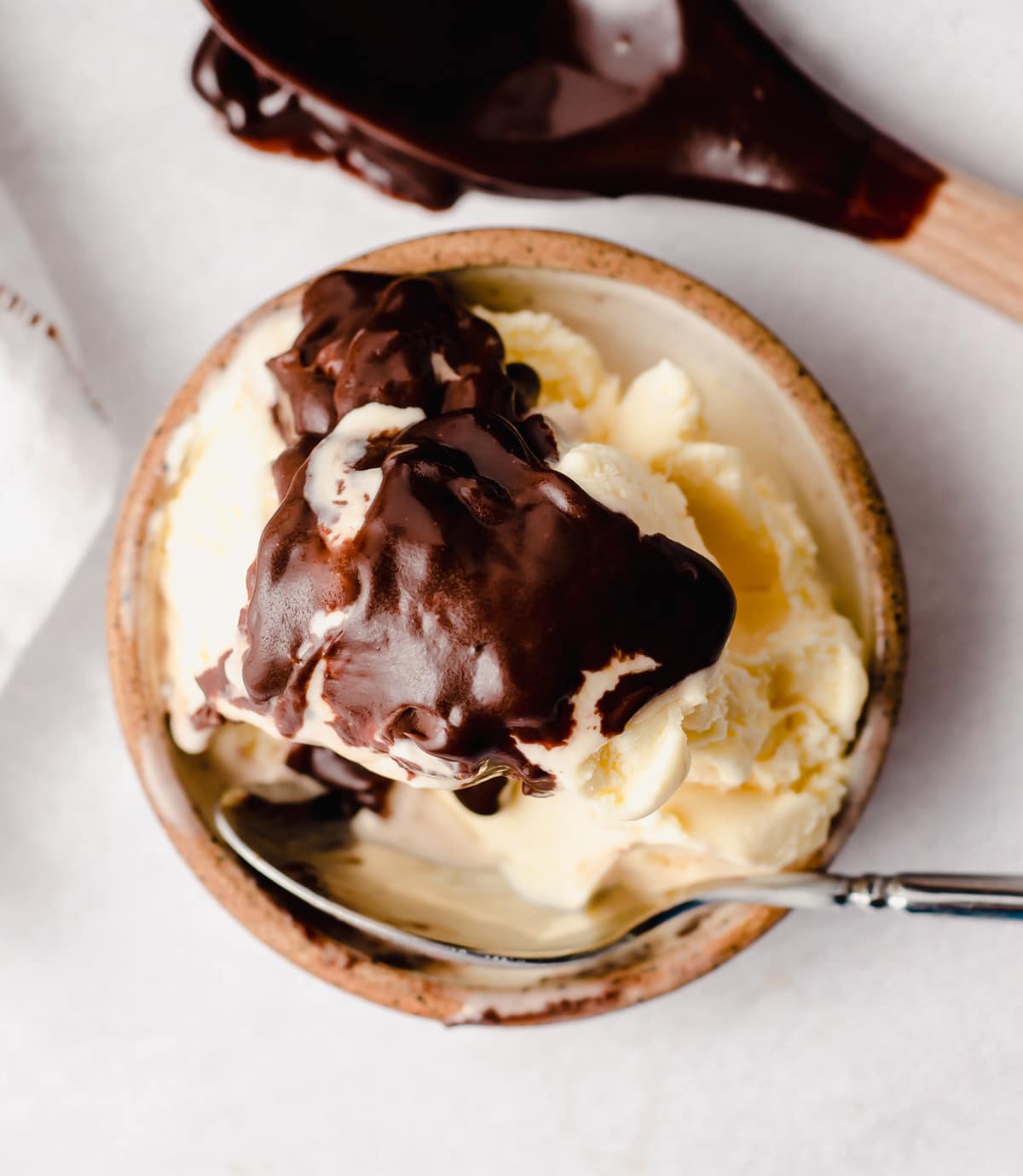 Now that you have the best hot fudge sauce in your repertoire, let's explore some of the things you can put it on top of right away! Try my homemade fudgy brownies, chocolate bundt cake, or ice cream sheet cake are great places to start!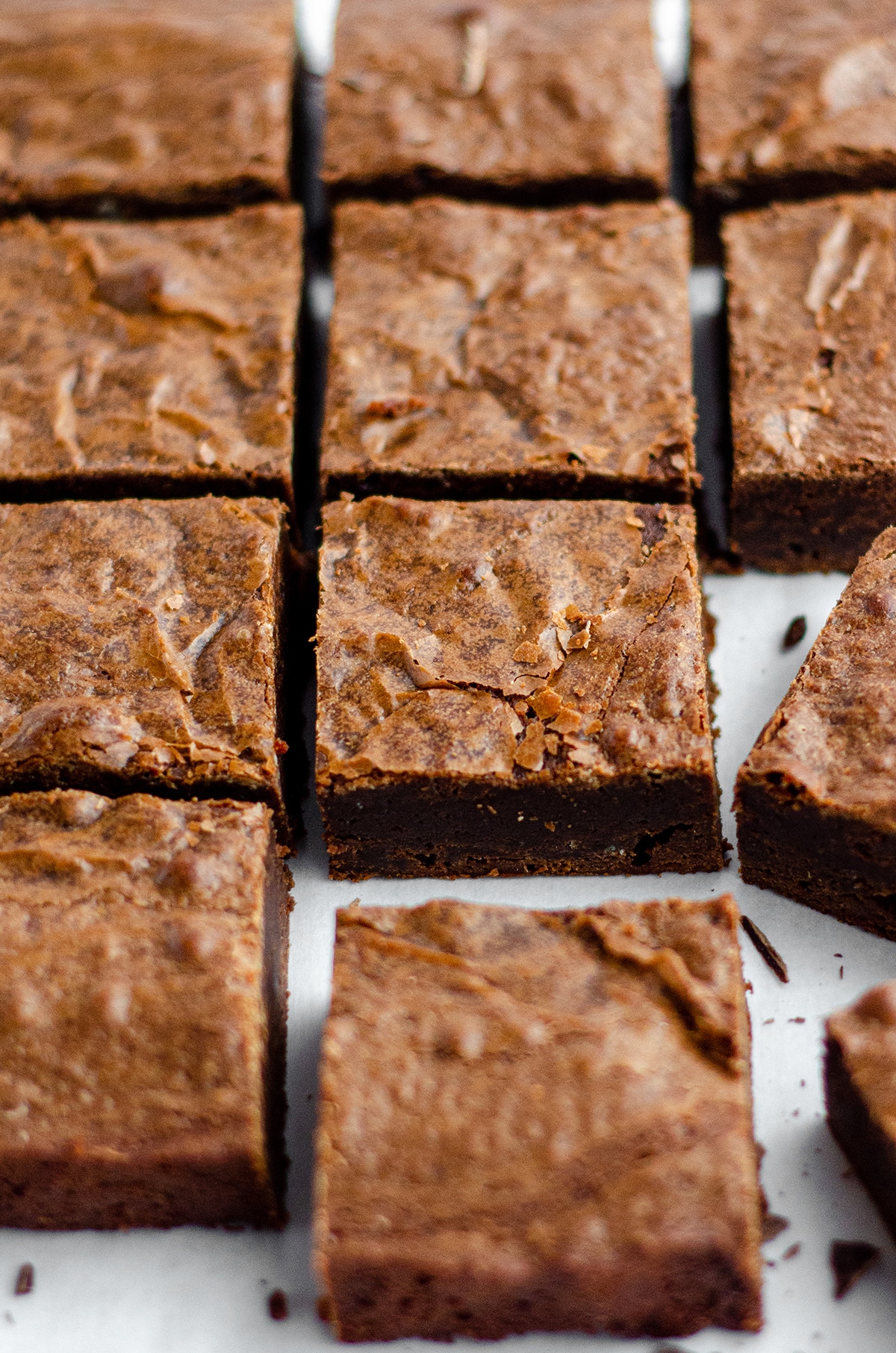 And don't miss out on the hot fudge layer in my cookies and cream ice cream cake. It melts in your mouth alongside the ice cream and it is the perfect touch between bites of crunchy Oreos!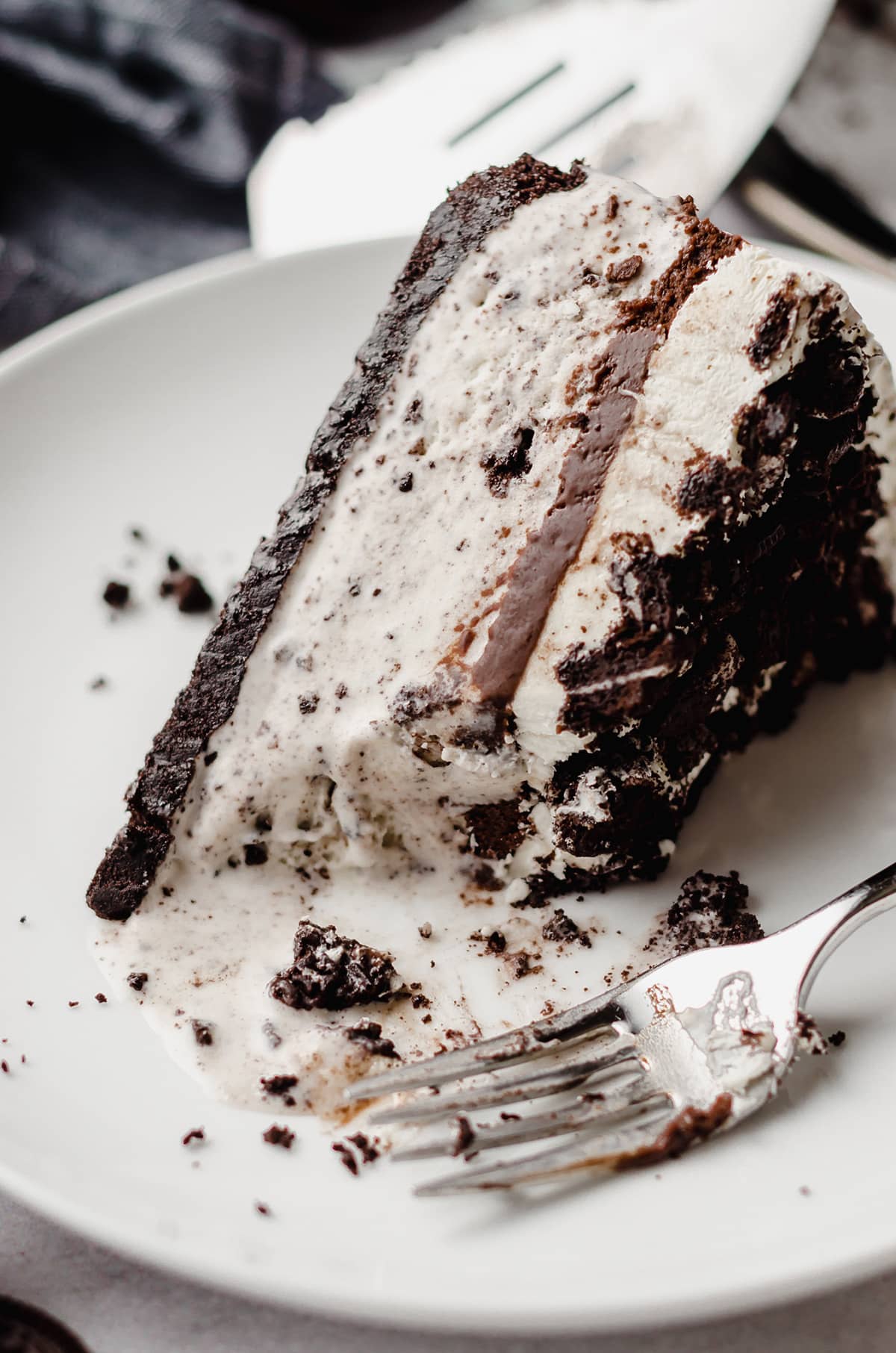 Hot Fudge Sauce
You only need five major ingredients and less than 10 minutes to make your own rich and thick hot fudge sauce at home. Use as an ice cream topping, on top of your favorite baked goods, or to make chocolate milk or hot chocolate!
Ingredients
1

cup

(240mL) heavy cream

½

cup

(113g) unsalted butter

cut into 6-8 slices

½

cup

(100g) firmly packed light brown sugar

¼

teaspoon

salt

6

ounces

(170g) bittersweet chocolate

coarsely chopped

⅓

cup

(27g) unsweetened or Dutch processed cocoa powder
Instructions
In a small saucepan, combine the cream, butter, brown sugar, and salt. Heat over medium heat, stirring frequently until the butter is melted and the mixture just starts to simmer.

Allow the mixture to simmer for 1 minute, then reduce the heat to low and add the chopped chocolate. Whisk or stir until chocolate is completely melted.

Add the cocoa powder then whisk or stir until mixture is smooth. Allow to cook while whisking for an additional 1 minute. Mixture should be smooth and glossy.

Remove the saucepan from the heat, allow to cool a bit, then use. Sauce will thicken as it cools. Pour the leftovers into a jar and store in the refrigerator for about 1 month. When you are ready to use the sauce, you can reheat it in a small saucepan over medium-low heat or in the microwave (just be sure your jar has no metal parts on it). Hot fudge sauce freezes well, up to 3 months. Thaw in the refrigerator or reheat in saucepan.
Nutrition Disclosure
All nutritional values are approximate and provided to the reader as a courtesy. Changing ingredients and/or quantities will alter the estimated nutritional calculations.
Serving:
2
cups
|
Calories:
1546
kcal
|
Carbohydrates:
110
g
|
Protein:
12
g
|
Fat:
124
g
|
Saturated Fat:
76
g
|
Polyunsaturated Fat:
5
g
|
Monounsaturated Fat:
33
g
|
Trans Fat:
2
g
|
Cholesterol:
262
mg
|
Sodium:
356
mg
|
Potassium:
900
mg
|
Fiber:
12
g
|
Sugar:
88
g
|
Vitamin A:
3210
IU
|
Vitamin C:
1
mg
|
Calcium:
209
mg
|
Iron:
8
mg