As an Amazon Associate I earn from qualifying purchases.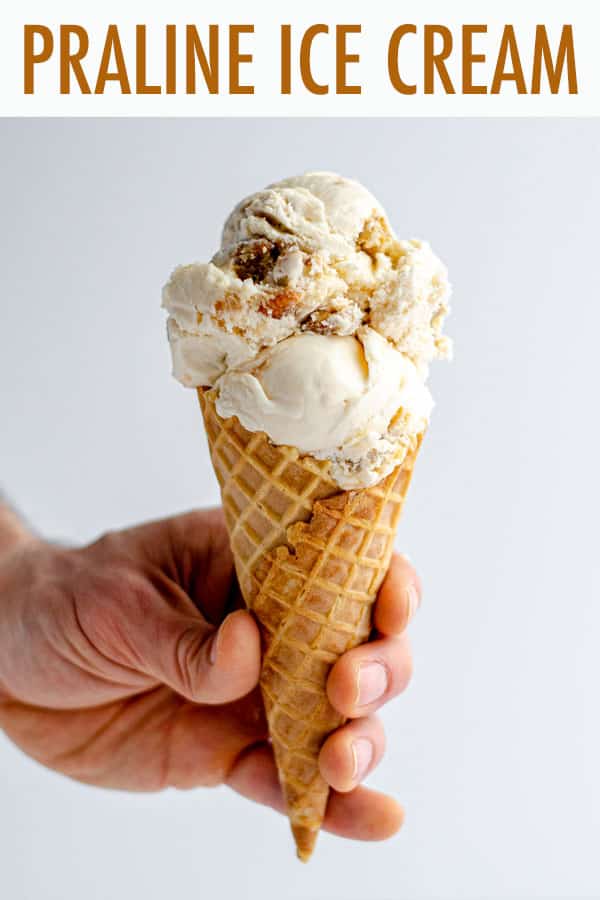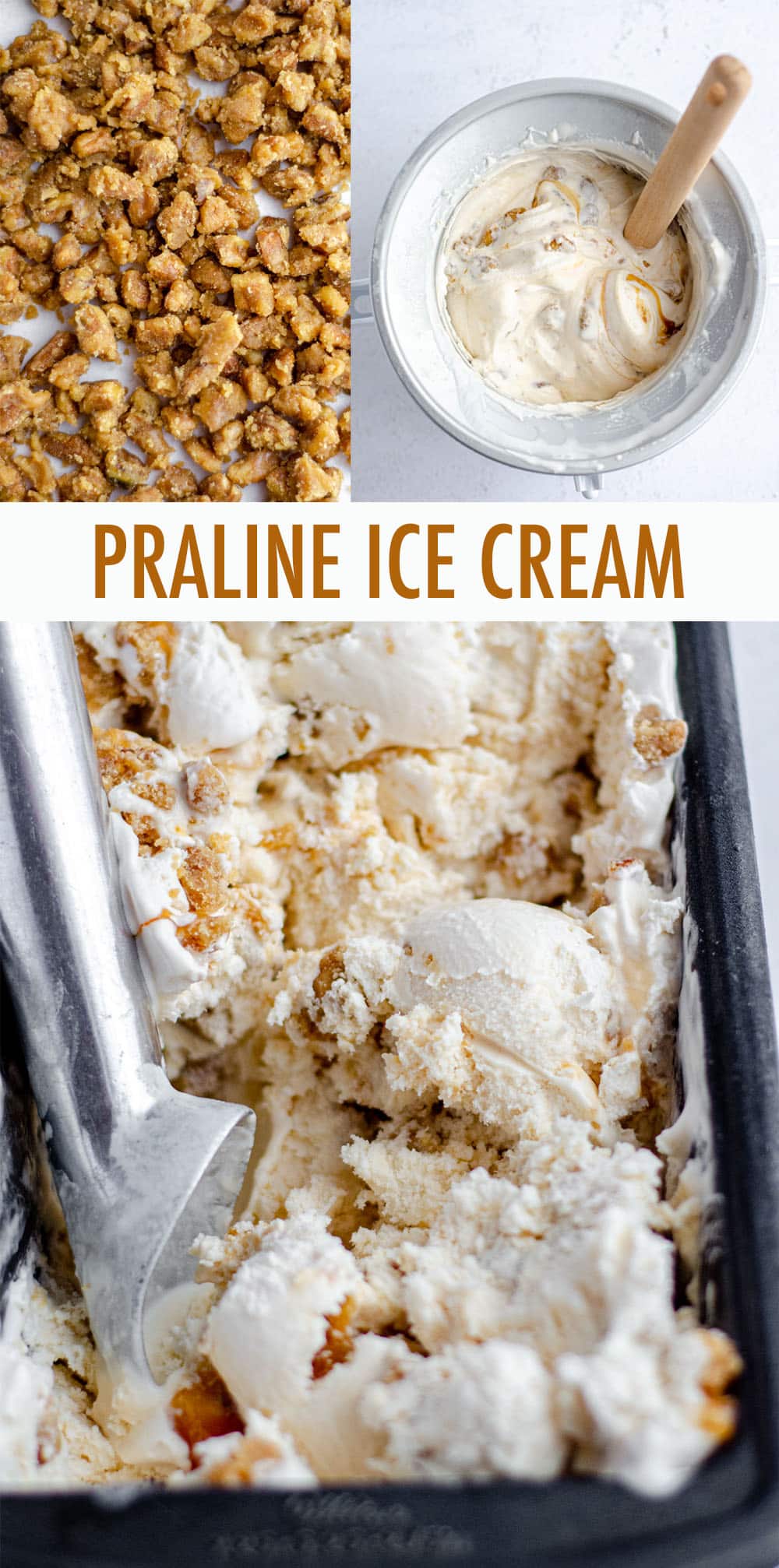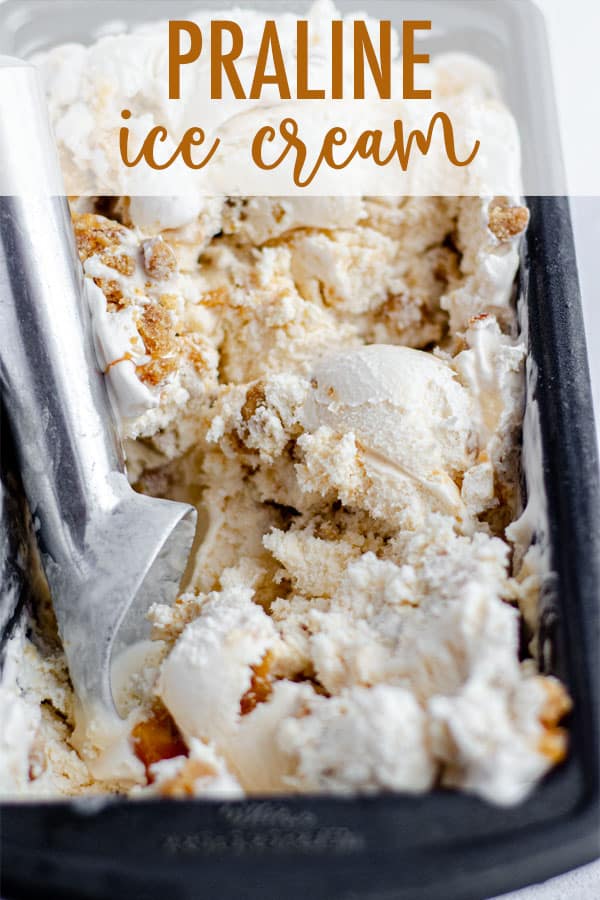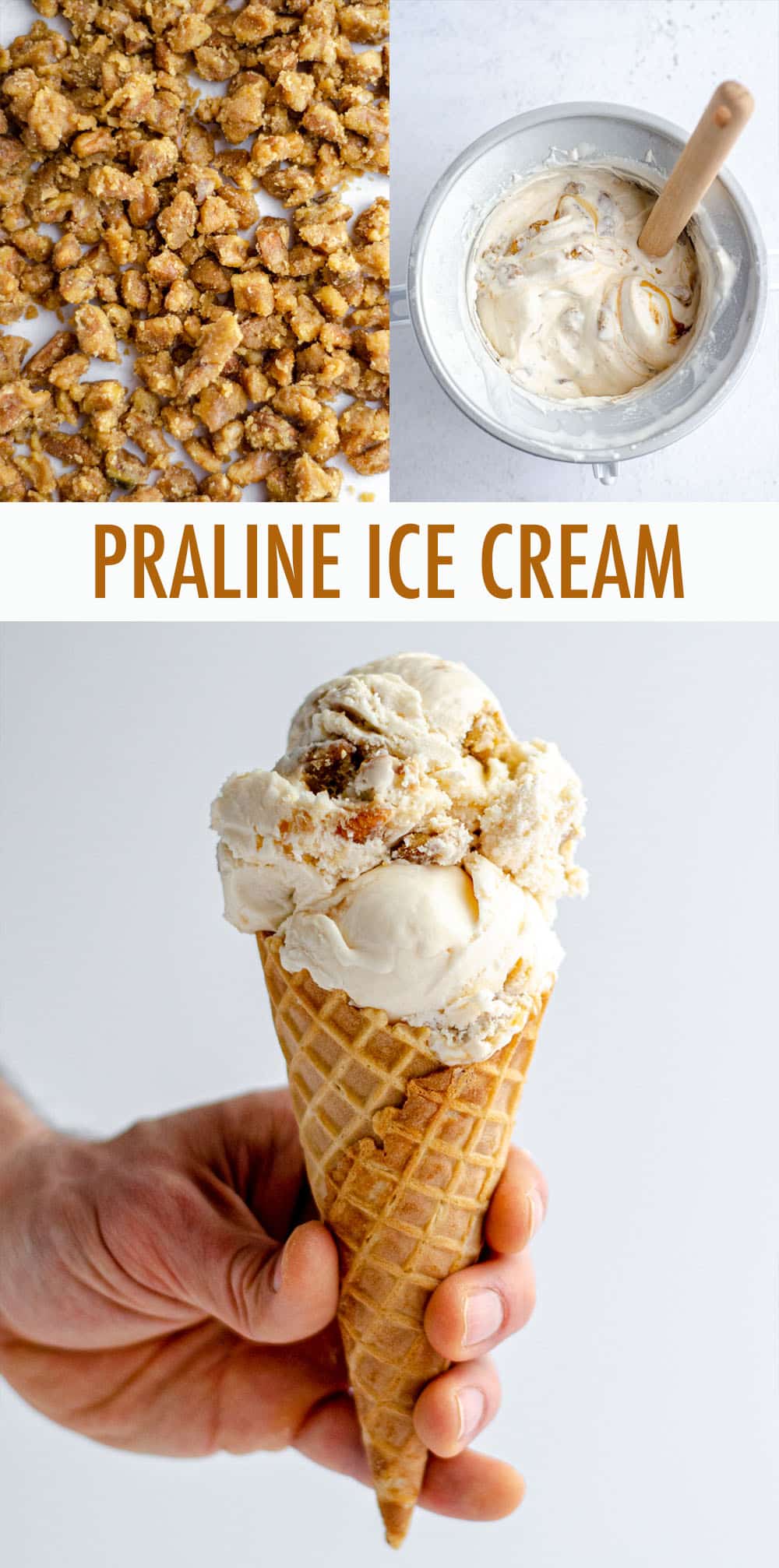 This post is sponsored in conjunction with #SpringSweetsWeek. I received product samples from sponsor companies to help in the creation of the #SpringSweetsWeek recipes. All opinions are my own.
An easy homemade vanilla ice cream base swirled with salted caramel sauce and crunchy pecan praline pieces.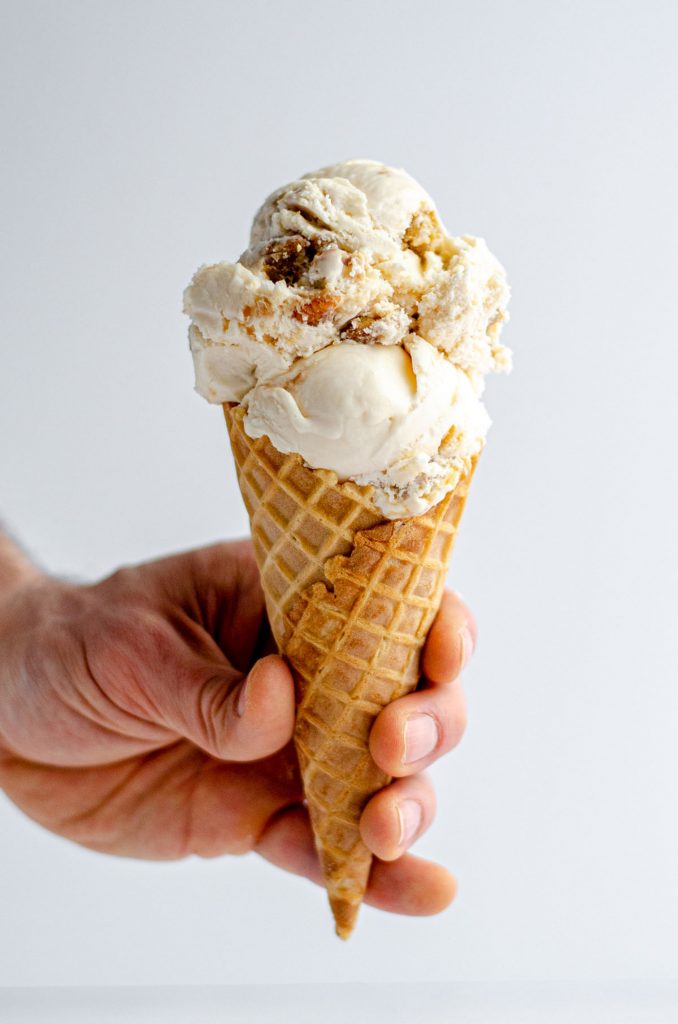 Welcome to #SpringSweetsWeek 2020 hosted by Heather from Hezzi-D's Books and Cooks! What better way to celebrate the warmer weather and flowers blooming than with food and a fun giveaway? 27 bloggers from around the country have come together to share over 100 sweet recipes perfect for spring! So stop thinking about cold and snow and get ready to enjoy the best spring sweets like cupcakes, cookies, brownies, pies, and even beverages! Our #SpringSweetsWeek sponsors are helping us give away some great prizes. Thank you so much to Dixie Crystals, Millican Pecan, Door County Coffee, Anolon, Deiss Cookware, Adams Extract, and Fresh April Sprinkles for your generosity. We have an incredible giveaway below and would love if you would take a moment to read about it and the prizes you can win!
I have been looking forward to this week for months, and it's totally coming at the best time possible as our world seems to need something uplifting. Lucky for you, I've teamed up with some amazing brands and 27 other bloggers to bring you nothing but SWEETS all week this week.
From ice cream to cakes to cookies to beverages, we've got you covered for all things sweets. Recipes you can use for everyday, for Easter that's just around the corner, or tuck in your back pocket for a birthday party sometime in the future.
I'm super excited for what I've brought you, and I'm excited to see what my fellow bloggers have come up with, too!
So let's get cracking, because today's kickoff recipe is one of my favorite things to come out of my kitchen recently (a close second is my red velvet brownies!).
Today's recipe is coming to you thanks to Millican Pecan. They sent me 2lbs of their pecan halves and pecan pieces, and since homemade pralines had been on my list for a long time, I thought what better way to share them than to combine them with a homemade ice cream.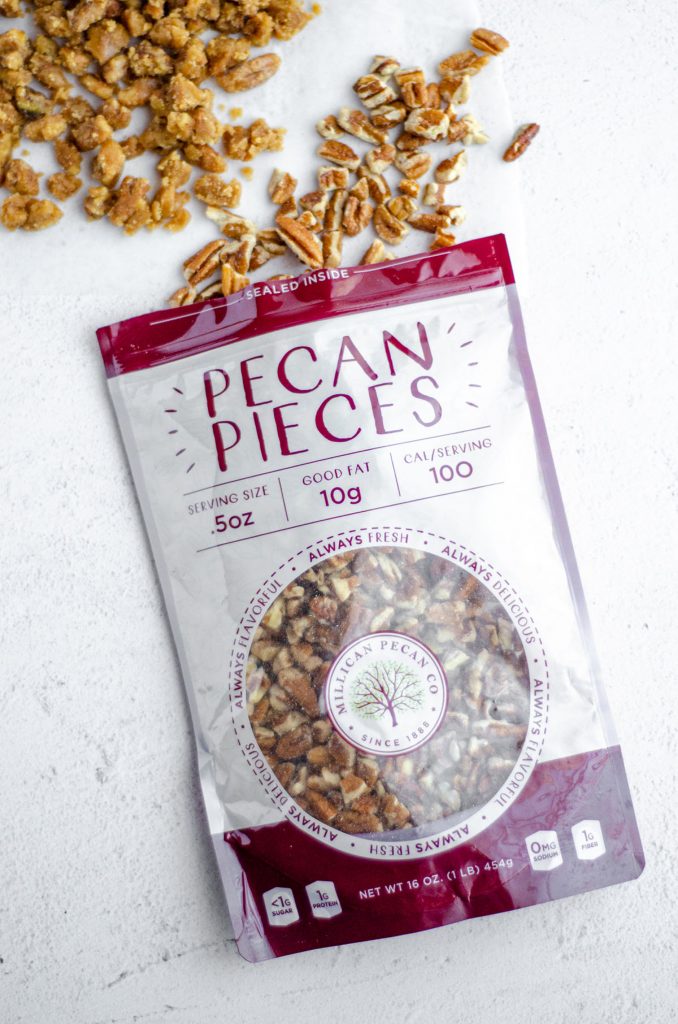 WHAT ARE PRALINES?
Before we get to the bulk of the recipe, maybe we should discuss exactly what pralines are, because until I got into my kitchen to really make pralines (rather than just eating them during our trip to Nashville or visiting our hometown candy shop), I couldn't exactly tell you what they were.
Pralines are simply a candied pecan– the candy is made up of sugar, butter, and cream. This means that it's essentially a creamy caramel covered pecan. And nothing about that sounds bad.
While traditional pralines are usually poured into disc shapes, we're making pralines that turn out more like a scattering of individually candied pecans. We'll achieve this finished product with the same execution as disc pralines, but the drying method will be a little different.
To make homemade pralines, you'll start by adding brown sugar, heavy cream, butter, and salt to a saucepan. You'll bring it to a boil, allow it to caramelize a bit, and then add pecan pieces.
As you stir everything around, the pecans will get covered in the candy coating, and as everything cools in the saucepan, the coating will stick to the pecans and you'll be able to pour them out as individual candied nuts.
A beautiful sight, isn't it?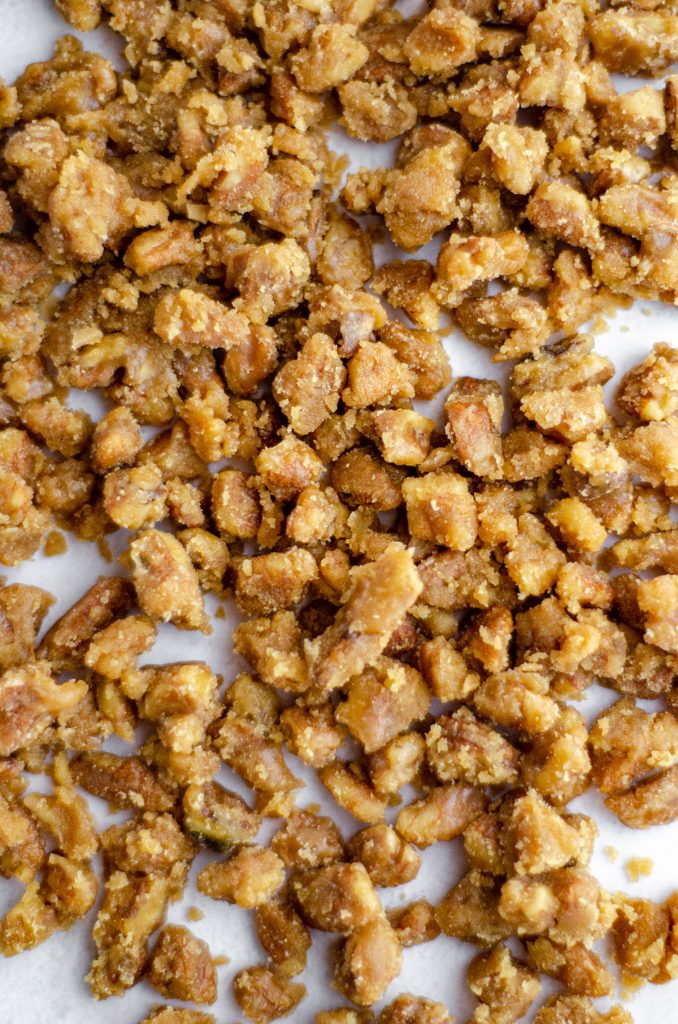 Once your pralines are cooling, you can get started on the ice cream.
One thing you'll want to do before starting any of this, though, is make sure your ice cream maker is ready to go. I use the KitchenAid ice cream maker attachment because I use a KitchenAid stand mixer. It took about 2 hours for my ice cream maker to be completely frozen, but check the instructions on your maker in order to be fully prepared.
The basic vanilla ice cream recipe for this praline ice cream is very simple: heavy cream, whole milk, sugar, vanilla, and a little salt (notice– no egg yolks, so extra easy!).
All of these ingredients go into a bowl, get all mixed together, and then go straight into the prepared ice cream maker. Turn it on and let it go!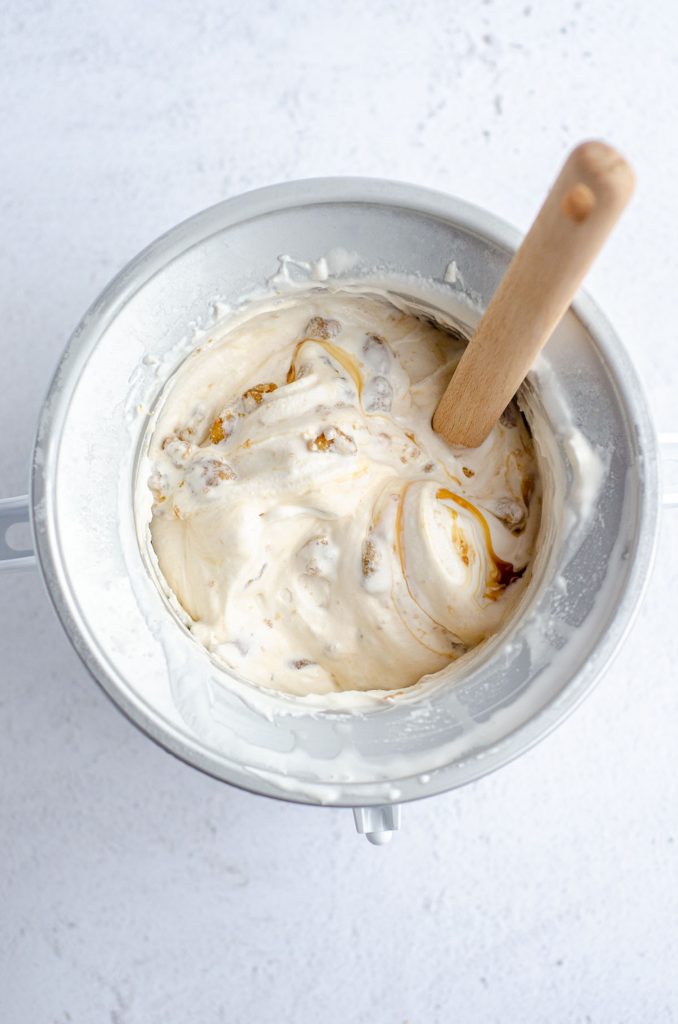 It only took about 25-30 minutes for my ice cream to be completely ready, and you'll know it's ready when it looks like, well, ice cream, and no longer liquid.
Remove the bowl (with the ice cream in it) from the mixer, stir in the prepared pralines (reserving some for sprinkling on the top, if you'd like) until distributed evenly, and then, the best part of it all…
Drizzle in some salted caramel sauce and stir around a few times so that you're left with thick swirls of caramel all around those crunchy pralines and smooth ice cream.
A note on the salted caramel sauce: you can make your own at home or use store bought. Both are totally fine, though of course, I am partial to encouraging you to make your own.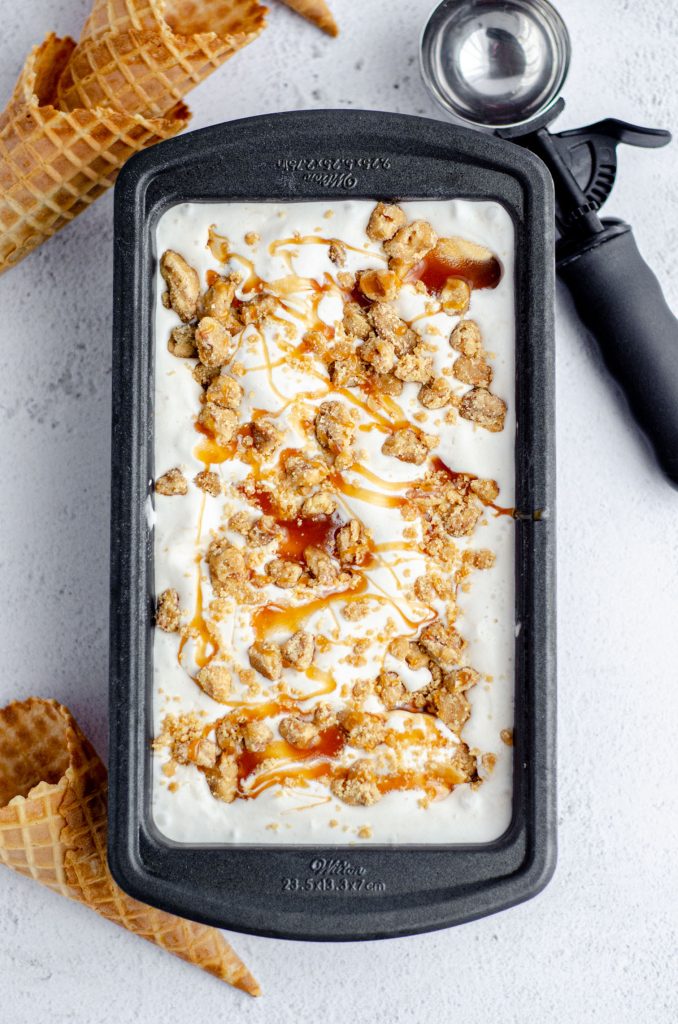 My homemade bourbon caramel sauce can be made with or without bourbon. Spike at your own risk!
You'll need to let your ice cream set up completely in the freezer, and it will take about 2 hours. Of course, it can stay in there longer, if you have the will power to allow it to do so!
The end result is one of the greatest bowls (or cones) of ice cream you'll have ever had. I've had my fair share of praline ice cream before, BELIEVE ME (such a sucker for chunky ice cream and anything with caramel), and this blew all of those out of the water.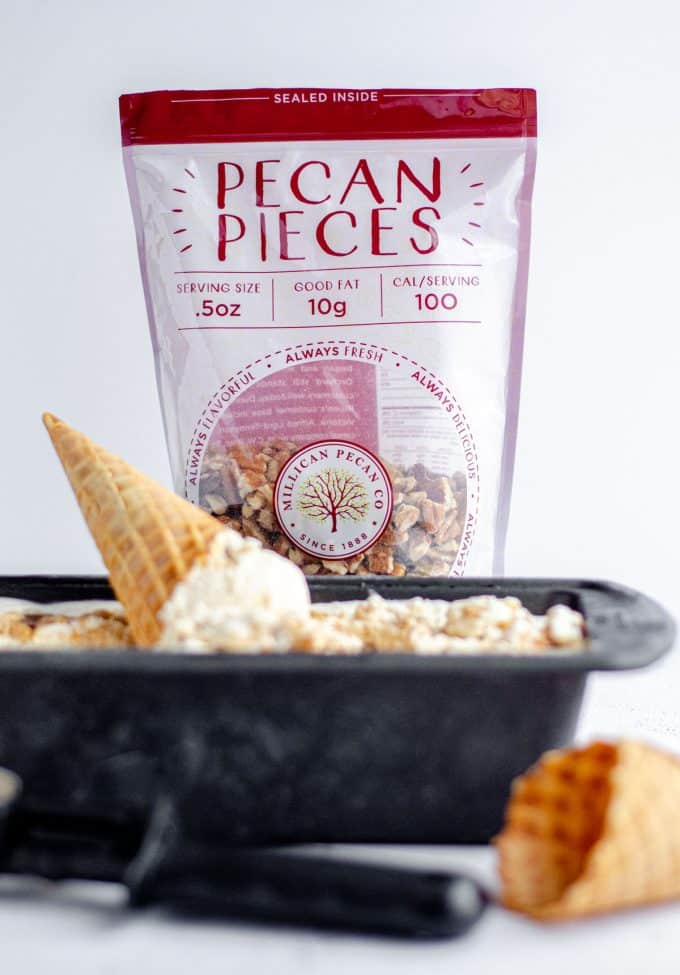 The homemade pralines are the perfect texture and saltiness up against that velvety smooth vanilla ice cream. And the gooey swirls of salted caramel sauce just take every bite to a whole new salty sweet.
This is definitely a recipe we will be making again ASAP (you know, once we have room in our freezer to prep our ice cream maker– hello, all the reserved dino nuggets and frozen meat) and one that I can't wait for you to try at home.
We've had the ice cream maker attachment for our mixer for almost as long as we've had the mixer (over 10 years!), and I am sad to admit it has remained unused for many of those years. BOY were we missing out!
Seriously, homemade ice cream is my new favorite thing, so between it and homemade salted caramel sauce, I think we will be indulging in praline ice cream many times this summer!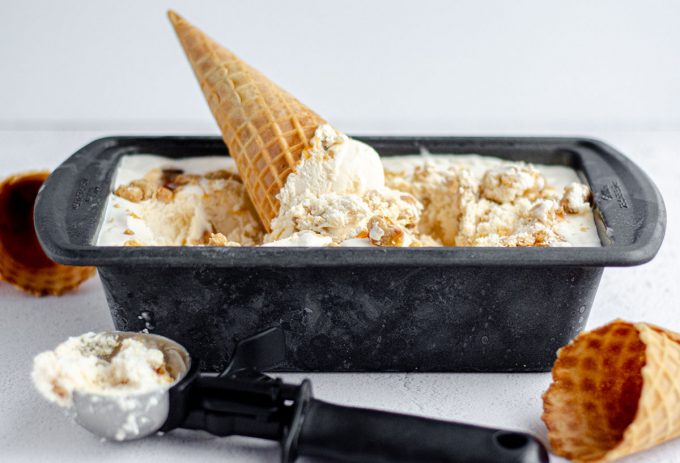 And now, as mentioned, here are the details for #SpringSweetsWeek! Below you'll find all 7 sponsors and what they're giving away to winners. Enter the raffle via the Rafflecopter form below! Giveaway ends 3/29/2020.
Check out the amazing prizes you can win in our #SpringSweetsWeek Giveaway!
Prize #1: Millican Pecan is giving one winner a Tower of Treats! The Tower of Treats is a beautiful and unique gift for that special friend, family member, client or associate. The tower includes 3 decorative gift tins stacked on top of each other. The bottom tin includes our 2 lb. Chocolate Pecan Sampler, the middle tin is our Flavored Pecan Sampler and the top tin is a 8 oz. tin of Milk Chocolate Caramillicans (similar to Turtles).
Millican Pecan began when E.E. Risien, founded the West Texas Pecan Nursery in the late 1800's at the junction of the San Saba and Colorado Rivers. He received much recognition for his experiments that altered the course of the pecan industry and helped to establish San Saba as the "Pecan Capital of the World." From this location, they developed many great pecan varieties, as well as a prosperous orchard that serves our customers well, even to this day. Today Millican Pecan is being run by the 5th generation, the one that launched the Millican Pecan website in 2002. Visit https://millicanpecan.com/ to learn more about pecans, find delicious recipes, and buy their amazing pecans and pecan products.
Prize #2: Door County Coffee is giving one winner 20 full-pots of coffee and a Door County Coffee mug. Full pots will consist of seasonal flavors, flavored coffee, and non-flavored coffee.
Door County Coffee & Tea Co. was founded in 1993 in Door County, Wisconsin. It is a small, family-owned business, roasting coffee the old-fashioned way – in small batches to exacting specifications. The mission has always been to produce some of the best-tasting and highest quality coffee. They have over 100 types of coffee, all of which are roasted right on site. Visit https://www.doorcountycoffee.com/ to see their selection of coffees and teas as well as to find some fabulous recipes.
Prize #3: Dixie Crystals is giving one winner a set of Nordic Ware Bundt Pans. This set contains one Chiffon Bundt Pan and one Vaulted Cathedral Bundt Pan perfect for decorative baking.
Since 1917, Dixie Crystals® has been the South's choice for high-quality sugar and sweeteners. Our pure cane sugar products are all natural, non-GMO and provide consistently delicious results. Visit www.dixiecrystals.com for hundreds of recipes, holiday ideas, great ways to get kids baking in the kitchen, and plenty of baking videos.
Prize #4: Anolon is giving one winner an Anolon Advanced 5 piece Bakeware set. This nonstick bakeware set includes two 8 inch round cake pans, one 8 inch square cake pan, a 10 x 15 cookie pan, and a 9.25 x 14 cooling rack! It's the perfect set for any baker.
Established in 1950's, Meyer Manufacturing started by making and selling flashlights. In 1971 they started their journey into selling cookware and by 1986 they released the world's first hard-anodized nonstick cookware that would revolutionize the world of home cooking because the nonstick surface didn't flake or scratch easily. Today they sell bakeware with nonstick interior and exterior that is made with a special blend of sapphire-reinforced nonstick that is triple coated. Visit https://anolon.com to see their selection of cookware, bakeware, tools, and to get amazing recipes.
Prize #5: Fresh April Sprinkles is giving one winner their choice of three 4 ounce bags of sprinkles! Winner can choose from favorites like the Birthday Party Blend, Cotton Candy Blend, Pink Lemonade Blend, and so many others!
Fresh April Sprinkles was founded in the summer of 2019 by Lynn April who runs the food blog Fresh April Flours. They produce small batch, hand blended sprinkles in a suburb outside of Philadelphia. Our sprinkle blends are carefully crafted with beautiful desserts in mind and can be custom blended just for you! Visit https://freshaprilsprinkles.com to see the collection of sprinkles available or to find recipes from Lynn!
Prize #6: Adams Extract is giving one winner an Adams baking pack with 4-6 items including their amazing 4oz Adams Best® Vanilla Flavor. This prize package is great for anyone who loves to bake!
John A. Adams began making and selling his Green Plant Sarsaparilla extract in 1888 in Battle Creek, Michigan. In 1905, he moved his family to Beeville, Texas. Working with just $6.71 worth of materials on top of an old icebox, John A. Adams created a new formula for vanilla. His wife tested it by whipping up a cake and announced, "John, this is the BEST flavoring I have ever used." "Well, that's old man Adams BEST," he responded. The name stuck, and Adams Best was born! Today, Adams manufactures and markets under several Adams Brand banners, including Adams Best®, Adams Extract®, Adams® Seasoning & Spice, and many more. To learn more about Adams Extract, to shop their products, or to find delicious recipes visit https://www.adamsextract.com.
Prize #7: Deiss Kitchenware is giving one winner a kitchen utensil prize package! The winner will receive a digital thermometer, a grater, an apple slicer and corer set, and a 5 piece utensil set!
Deiss Kitchenware is a small, family driven company that believes it's easy to cook with pleasure when you have the right tools. This company will bend over backwards to make you happy and the president of the company will even answer your letters! They create easy to use, innovative, and reliable products for use in your kitchen. To learn more about the company and the products they sell visit https://deisskitchenware.de/.
Monday #SpringSweetsWeek Recipes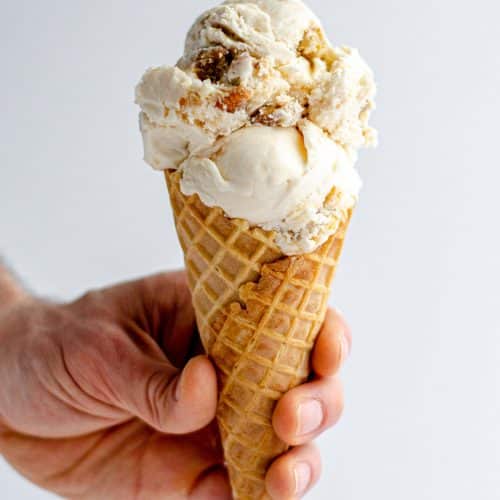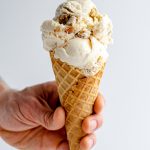 Print Recipe
Praline Ice Cream
An easy homemade vanilla ice cream base swirled with salted caramel sauce and crunchy pecan praline pieces.
Ingredients
PRALINES
3/4

cup

loosely packed brown sugar

1/4

cup

heavy cream

2

Tablespoons

unsalted butter

you may also use salted butter and omit additional salt

1

cup

chopped pecans

1/8

teaspoon

salt
ICE CREAM
2

cups

heavy cream

1

cup

whole milk

3/4

cup

granulated sugar

2

teaspoons

vanilla extract

1/8

teaspoon

salt

1/4

cup

homemade caramel sauce
Instructions
Before beginning anything, make sure your ice cream maker is frozen and prepped!
PRALINES
Combine the brown sugar, heavy cream, butter, and salt in a heavy bottomed saucepan over medium heat. Bring mixture to a boil and allow to boil for about 3 to 4 minutes to lightly caramelize the sugar.

Remove saucepan from heat and, using a wooden spoon or rubber spatula, stir in the pecans. Continue stirring until the candy starts to cool and the pecans are completely coated. Allow to cool for about 10 minutes in the saucepan, then spoon coated pecans onto a parchment lined baking sheet until ready to use.
ICE CREAM
Place prepared ice cream maker attachment onto stand mixer fitted with the dasher.

In a large bowl, combine the heavy cream, milk, sugar, vanilla, and salt and whisk until everything is combined and the sugar starts to dissolve.

Turn on the mixer so dasher is rotating and slowly pour ice cream mixture into the canister. Process according to manufacturer's directions (it should take about 20 to 30 minutes).

When ice cream is finished churning, remove the ice cream maker from the mixer, add the cooled pralines, and stir to distribute evenly, reserving some to sprinkle on top, if desired. Pour in the caramel sauce and stir a few times to create caramel swirls.

Transfer the ice cream to a freezer-safe container (like a metal loaf pan), garnish with additional pralines (if desired), and freeze for at least 2 hours. Serve with additional caramel sauce drizzled on top.
Thank you #SpringSweetsWeek Sponsors: Dixie Crystals, Millican Pecan, Door County Coffee & Tea Co., Anolon, Fresh April Sprinkles, Deiss Kitchenware, and Adams Extracts for providing the prizes free of charge. These companies also provided the bloggers with samples and product to use for #SpringSweetsWeek recipes. All opinions are my own. The #SpringSweetsWeek giveaway is open to residents of the United States who are 18 years of age or older. All entries for the winner will be checked and verified. By entering you give the right to use your name and likeness. The number of entries received determines the odds of winning. Seven (7) winners will be selected. The prize packages will be sent directly from the giveaway sponsors. The #SpringSweetsWeek Bloggers are not responsible for the fulfillment or delivery of the prize packages. Bloggers hosting this giveaway and their immediate family members in their household cannot enter or win the giveaway. No purchase necessary. Void where prohibited by law. This promotion is in no way sponsored, endorsed or administered by, or associated with Facebook, Instagram, Pinterest, Twitter or any other social channel mentioned in the #SpringSweetsWeek posts or entry.