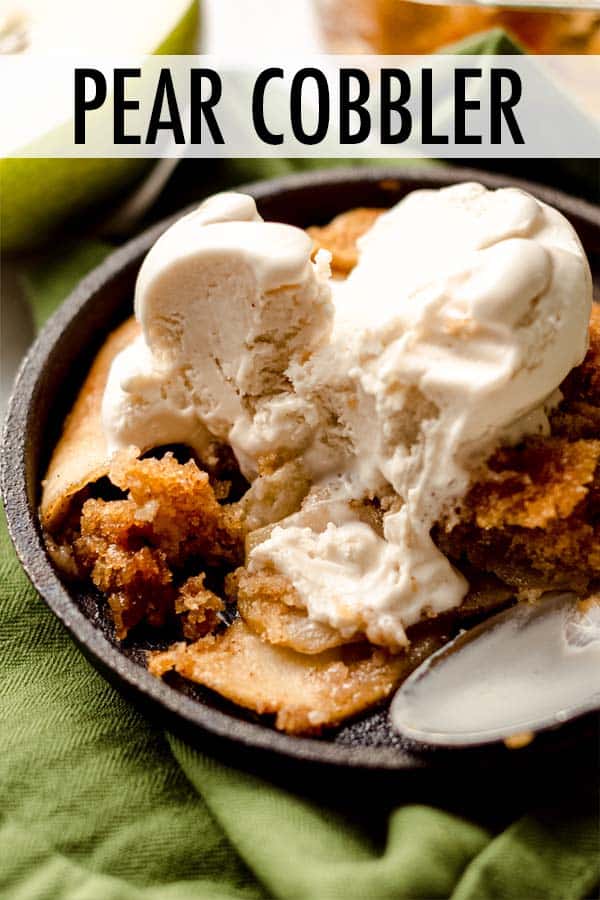 As an Amazon Associate, I earn from qualifying purchases. Read the full disclosure here.
Tender, spiced pear slices baked into soft cinnamon biscuit dough, perfect with a scoop of ice cream or dollop of whipped cream.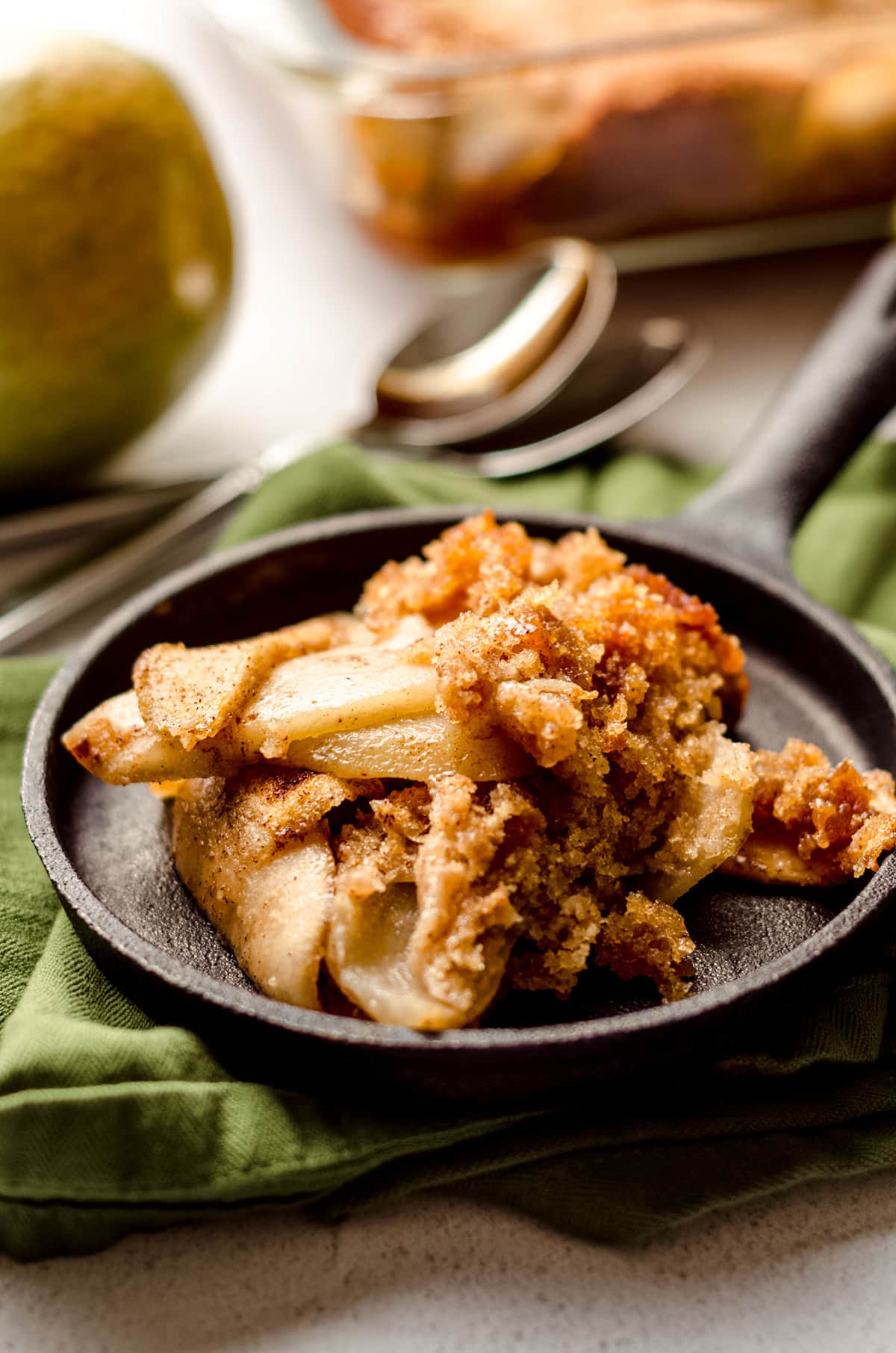 Welcome to #FallFlavors where more than 25 food bloggers are sharing recipes with favorite fall flavors. Our sponsors (Millican Pecan, Dixie Crystals, Melissa's Produce, Taylor & Colledge, Nairn's, and Republic of Tea) have furnished participating bloggers with complimentary product to use in their recipe creations that they will be sharing this week. Be sure to follow our Fall Flavors Pinterest account for more inspiration.
You will love this Easy Pear Cobbler Recipe!
If there's an underrated fall flavor/ingredient at least in my neck of the recipe world, it's pears. I don't utilize them nearly enough, and whenever I have a dessert that includes pears, I remember how tender and flavorful they are when baked and paired with the perfect blend of spices.
So when I sat down to think of recipes to create for a collaboration with other bloggers and fall flavors, I knew that somehow baking with pears had to happen.
Not only that, but I knew that the brown sugar I so generously received from Dixie Crystals would make a great sweetener for those slightly caramelized pears and soft biscuit dough that gives those tender baked pears the perfect dessert hug.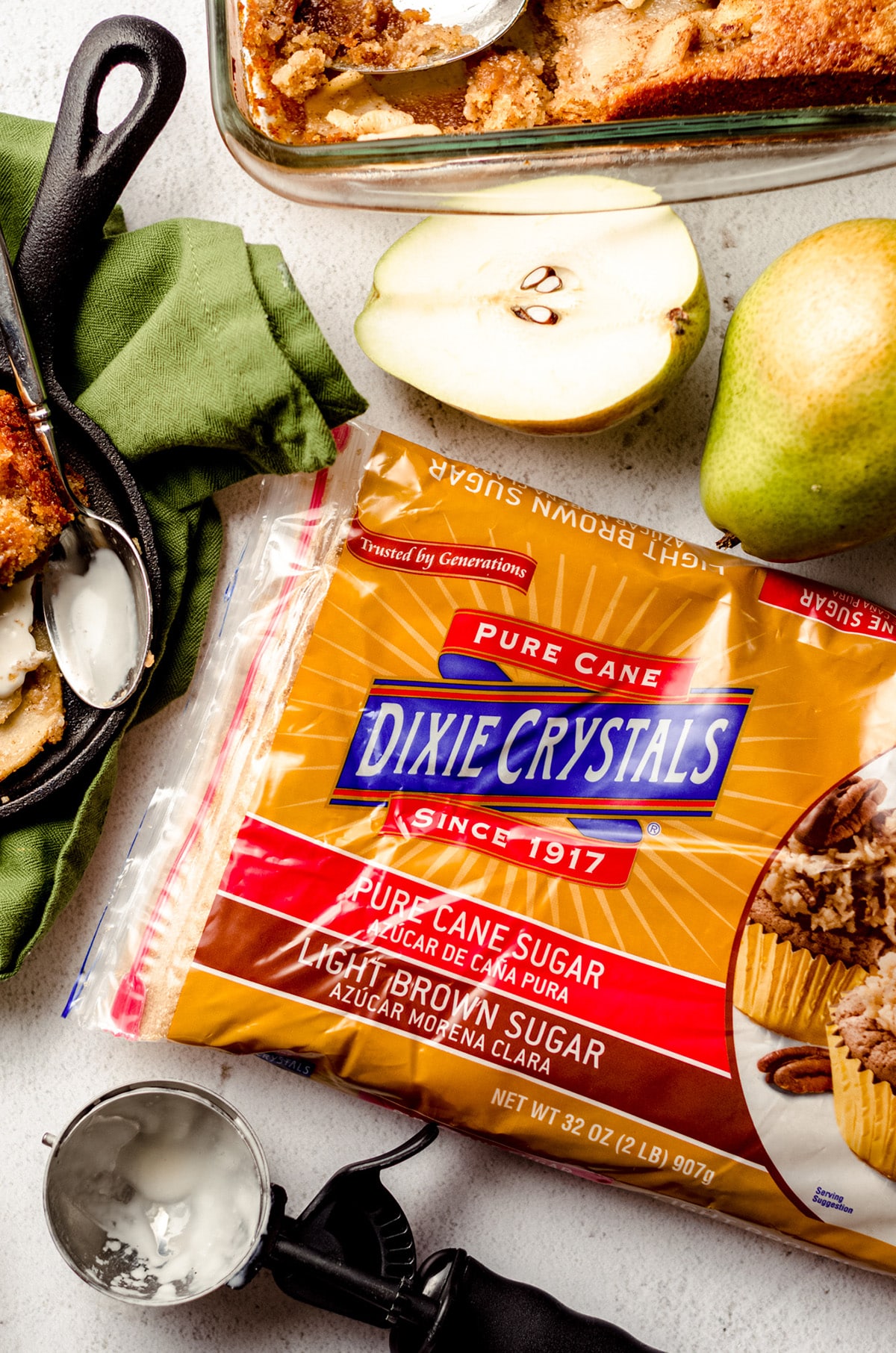 But before we get to the good stuff, perhaps it's best to clear the air on exactly what a cobbler is and how it differs from crumbles, crisps, and buckles.
WHAT EXACTLY IS A COBBLER?
Folks often think that cobblers, crumbles, crisps, and buckles are mostly interchangeable, but they're really not. Some subtle differences make each of these baked desserts distinguishable from the others.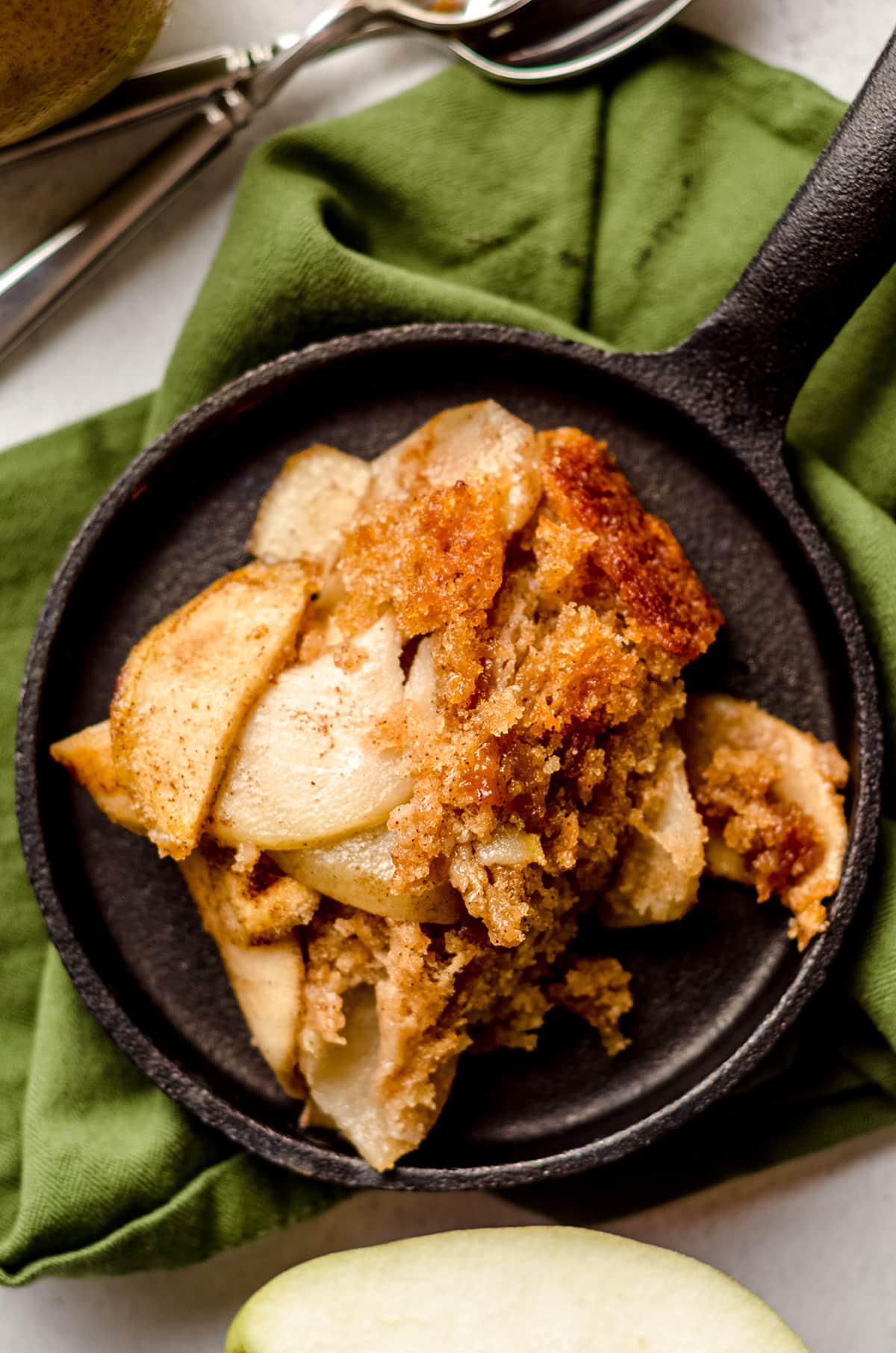 A cobbler is typically a baked fruit dish that has drops of biscuit dough on top of it, which resemble cobblestones. The method we're using in this pear cobbler recipe involves a bit of a different preparation, but the result (chunks of dough on top of the fruit) is the same.
A crumble is a baked fruit dish with a streusel topping and differs from a crisp in that it does not have oats in the streusel. Crisps contain oats in the streusel, just like my apple goat cheese crisp.
And lastly, a buckle is a single layer dessert that has pieces of fruit baked right into the batter, creating what looks like little dents and crevices in the top, so "buckle" refers to bending and collapsing in this instance.
What you'll need for Easy Pear Cobbler
The ingredient list for pear cobbler is relatively short and fairly simple.
For this easy pear cobbler, you will need:
• pears
• brown sugar
• ground cinnamon
• salt
• butter
• all-purpose flour
• baking powder
• milk
• vanilla extract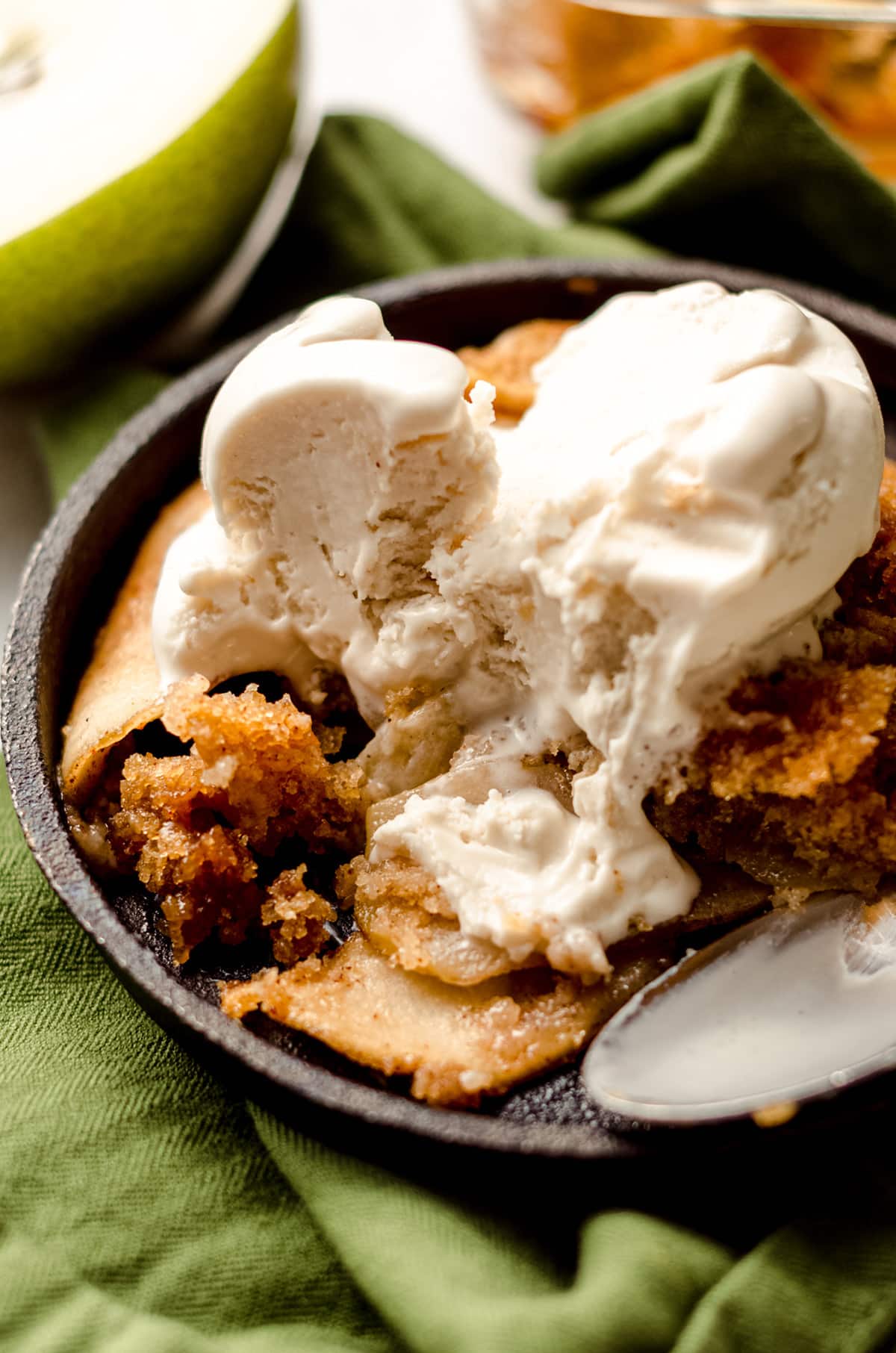 How to make Pear Cobbler
As I mentioned, the preparation of this easy pear cobbler recipe is a bit different from the traditional dropping of dough on top of the fruit, and I've simplified the method to make it incredibly simple.
PREPARE THE PEARS
STEP #1
Before getting to the biscuit portion of this pear cobbler, we'll prepare the pears and allow them to sit for a bit, just like we do with the peaches for homemade peach ice cream. We want to allow some of the juices to release from the pears while also allowing them to soak up the brown sugar and cinnamon flavors before going into the oven.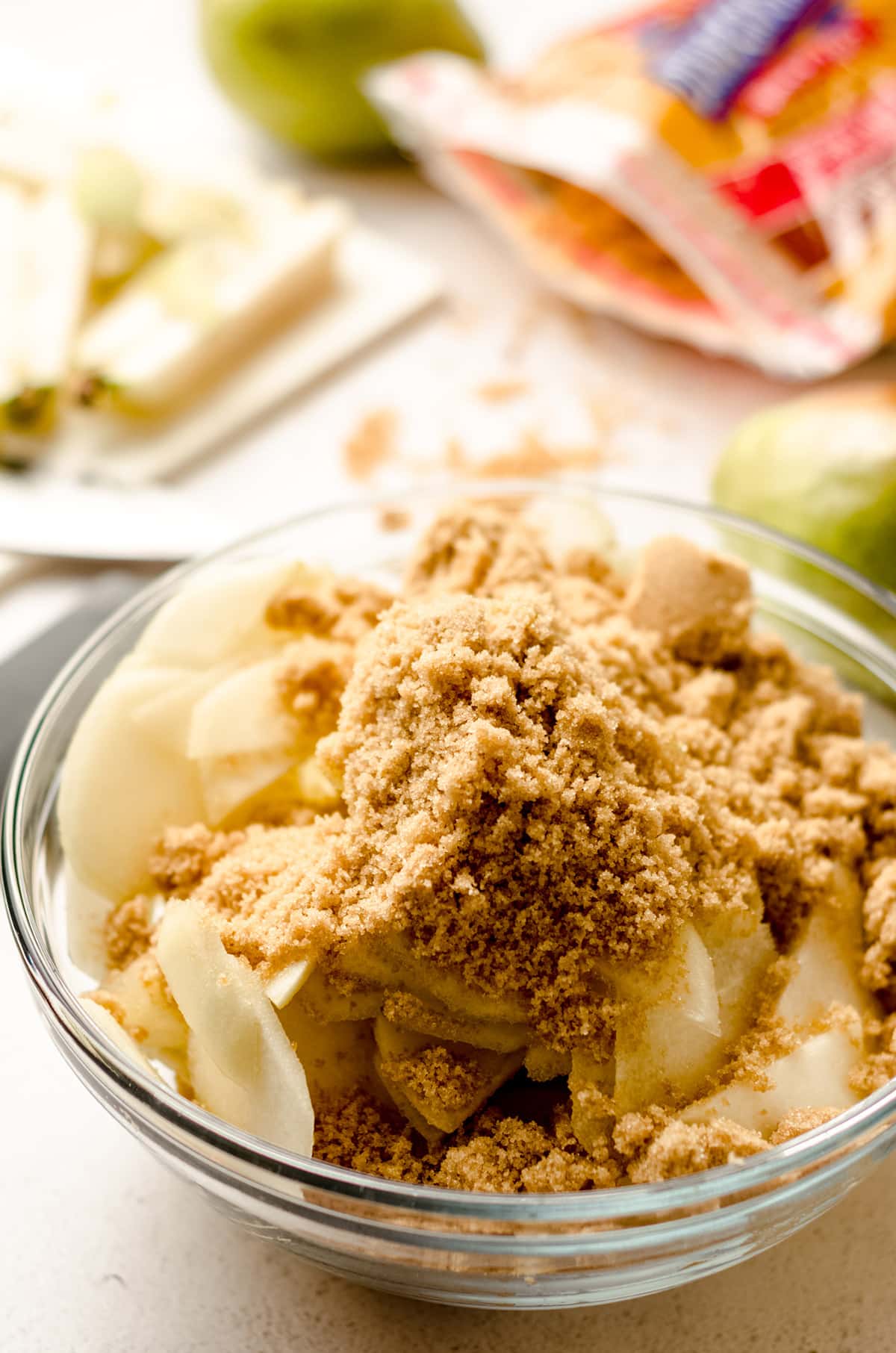 STEP #2
Slice up the pears, then toss them in a mixture of brown sugar, cinnamon, and salt. It's a super simple flavor profile that allows the pears to really shine through all those warm flavors, and the salt complements and brings out the natural sweetness of the fruit.
STEP #3
If you want to turn this into a canned pear cobbler, choose sliced or halved pears in 100% juice. You'll want two 15oz cans to get the equivalent amount of fresh pears (4 pears equals about 4 cups of sliced pears).
PREPARE THE BAKING PAN
STEP #4
While the pears marinate for a bit, you'll prepare the rest of the components of this pear dessert. First, add melted butter to the bottom of a baking dish. I used a 7″ x 11″, but a 9″ x 13″ works great, too. You can even split this into two 8″ x 8″ square baking dishes. There's a lot of flexibility here!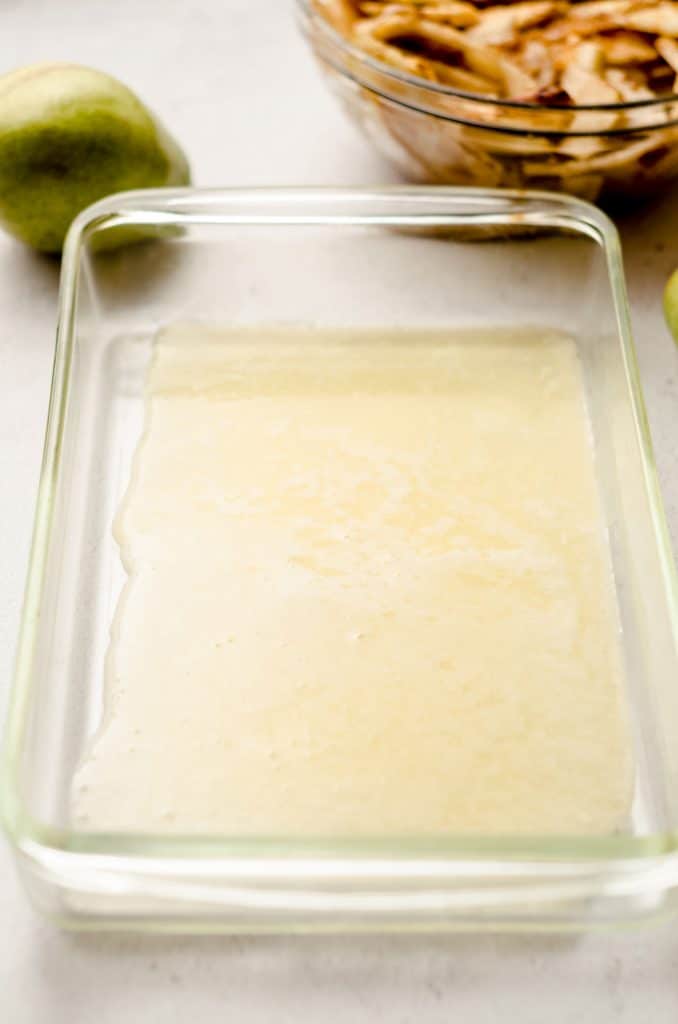 STEP #5
Seriously, just pour it right in. You won't have to spray the pan with nonstick spray or anything else. Easy peasy!
PREPARE THE BISCUIT BATTER
STEP #6
Great news! You only need one bowl for the biscuit batter. Whisk together your dry ingredients, then add milk and some vanilla extract and mix until just combined.
STEP #7
You'll pour this biscuit batter directly on top of the melted butter then spread it out evenly into the pan. You're creating a biscuit bed for the spiced pears, which will allow the batter to bake up into the crevices, creating those "cobblers" on top. This is much easier than dropping dollops on top of the fruit and insures lots of biscuit bites between all the pears.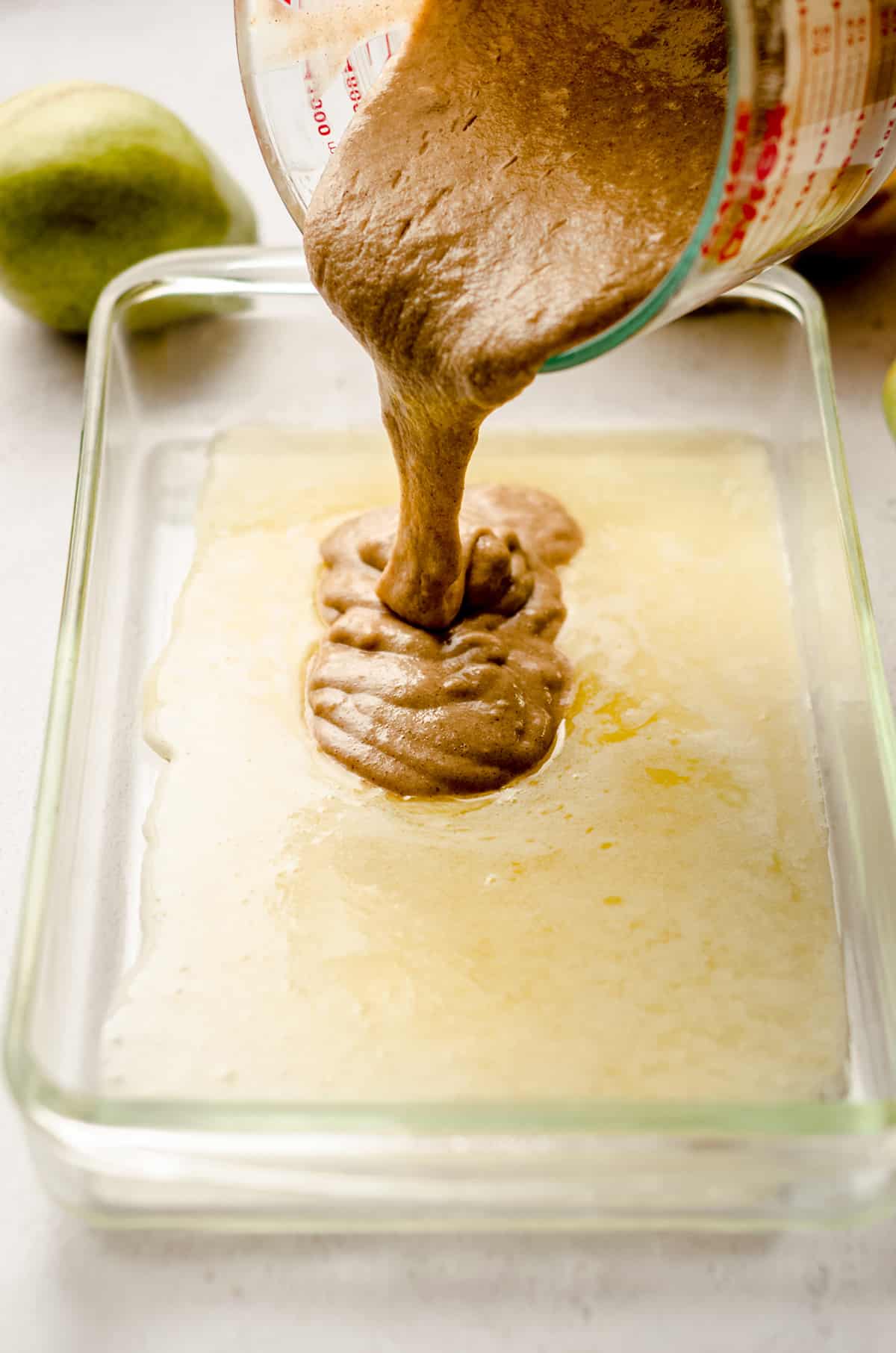 ADD THE PEARS
STEP #8
After all of the biscuit batter is in the dish, layer in the pears and any juice that collected in the bottom of the bowl. Spread them out evenly, and the rest of the magic of this pear cobbler happens in the oven!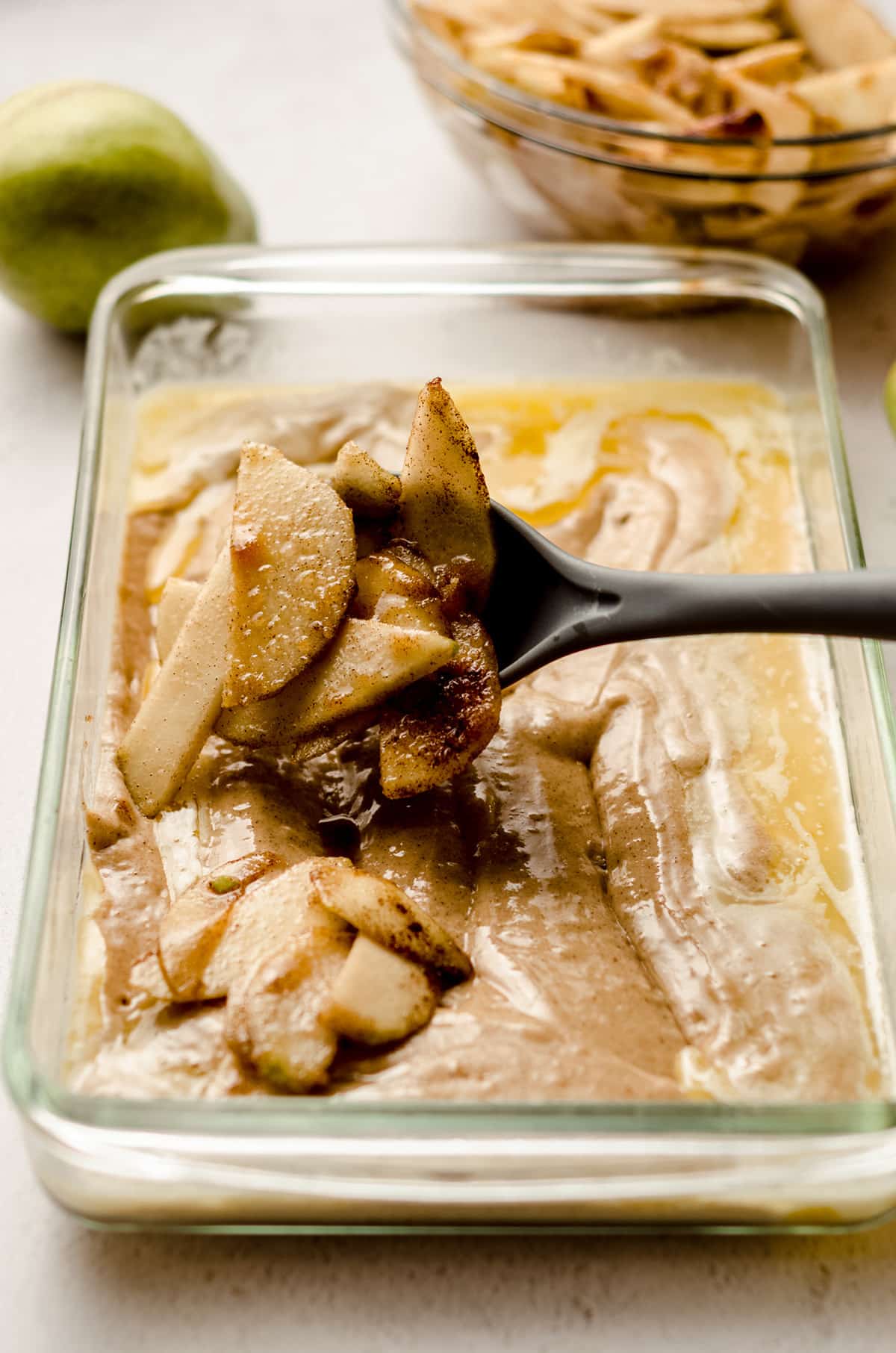 STEP #9
Once out of the oven, you'll need to let it cool for a bit, but it is best enjoyed warm with a scoop of ice cream or homemade whipped cream.
Since this recipe for pear cobbler is pretty simple, there is room for some nuts if you'd like to include those, plus any other warm spices you enjoy for the fall. Consider adding a dash of nutmeg or ginger when you add the cinnamon or add some additional spices before serving.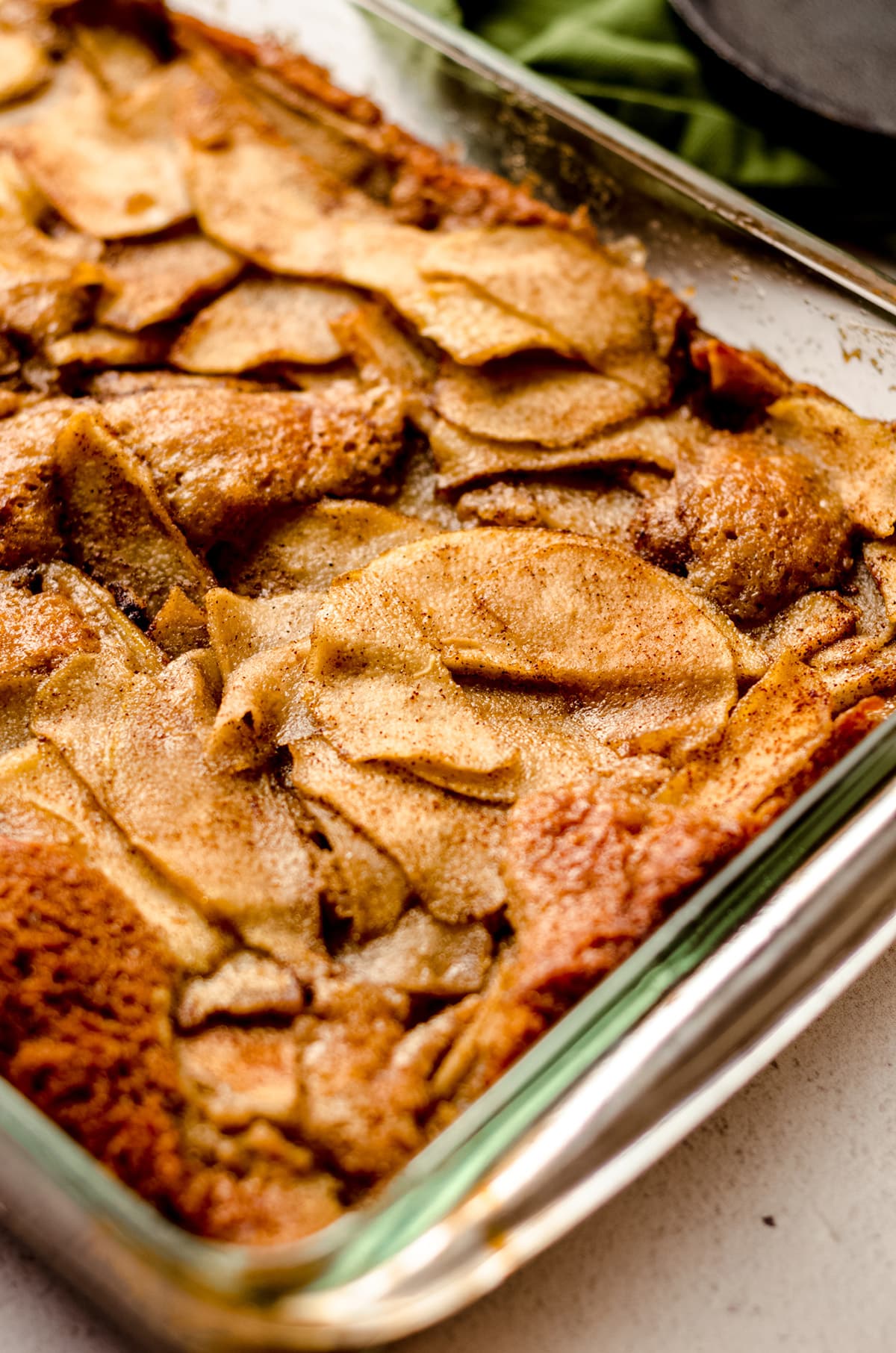 You could even turn this into an apple pear cobbler by replacing some of the pears with apples. Seriously, flexibility to the max!
Whatever you do, you need to add some pear baking to your to-do list ASAP. The pears get so tender in the oven and the juices add caramelized spots and edges in every single bite.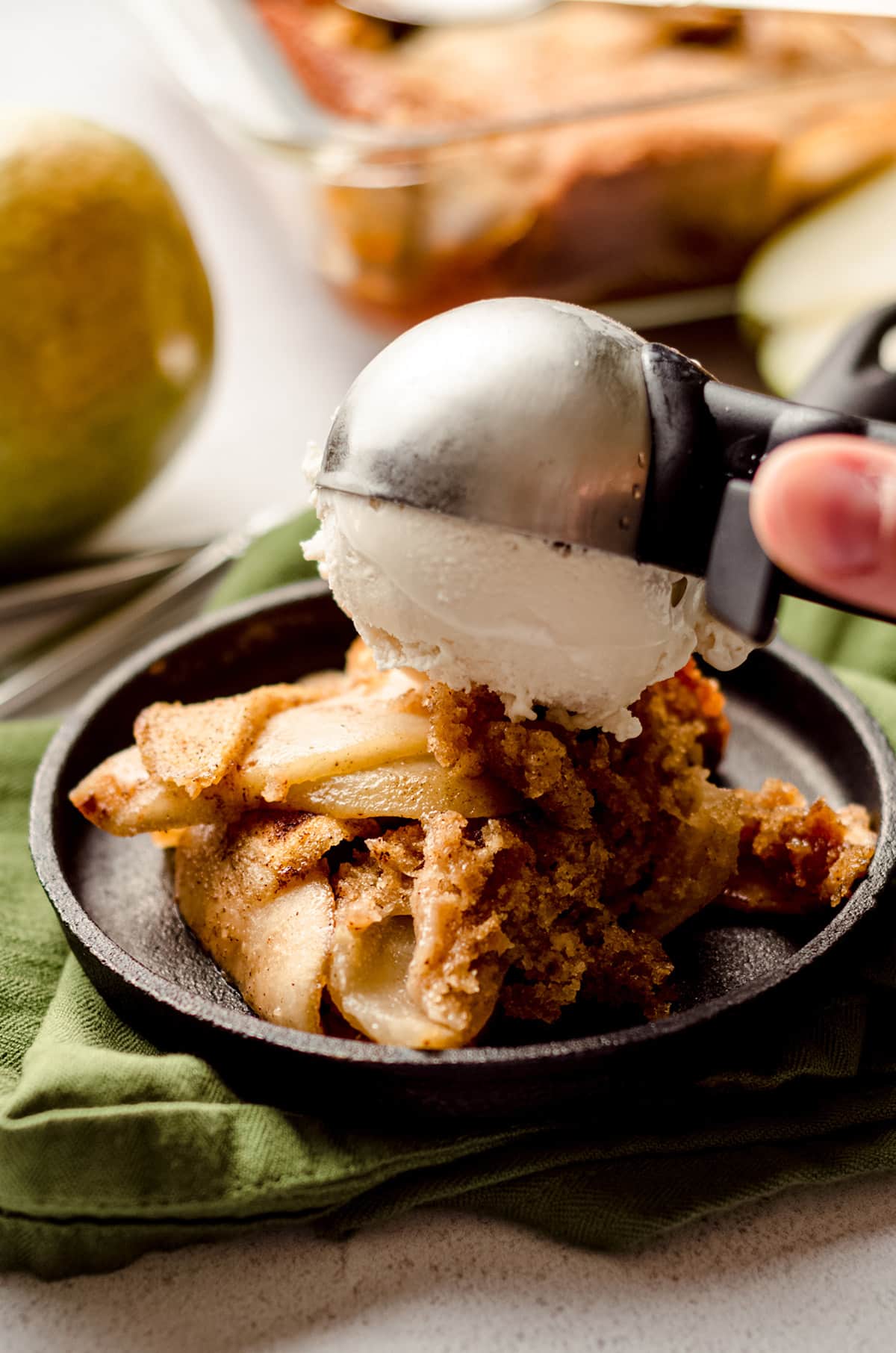 How to serve Fresh Pear Cobbler
Pear cobbler can be eaten as is without any topping, or my favorite, warmed with a scoop of ice cream. This pear cobbler would also be really delicious with a dollop of fresh homemade whipped cream right on top!
We enjoyed this spiced pear cobbler with vanilla ice cream, whipped cream, AND straight up without any kind of topping. It was a top notch dessert in all instances, and I can probably even confidently say there is no bad way to eat it. But you don't have to take my word for it– get to baking and see for yourself!
How to store this recipe for Pear Cobbler
Store leftover pear cobbler covered tightly in the refrigerator for up to 5 days. Baked pear cobbler can be frozen, up to 3 months. Simply thaw in the refrigerator then warm as desired.
More #FallFlavors Recipes
Beverages
Breakfast and Baked Goods
Side Dishes
Main Dishes
Desserts
Easy Pear Cobbler Recipe
Tender, spiced pear slices baked into soft cinnamon biscuit dough, perfect with a scoop of ice cream or dollop of whipped cream.
Ingredients
4

medium to large pears1

peeled and sliced (about 4 cups)

¾

cup

(150g) firmly packed brown sugar

2

teaspoons

ground cinnamon

divided

¼

teaspoon

salt

6

Tablespoons

(85g) unsalted butter

melted

1

cup

(120g) all-purpose flour

1

cup

(200g) firmly packed brown sugar

2

teaspoons

baking powder

¼

teaspoon

salt

¾

cup

(180mL) milk

½

teaspoon

vanilla extract
Instructions
Preheat the oven to 350ºF (177ºC).

Add the sliced pears, brown sugar, 1 teaspoon of ground cinnamon, and salt to a large bowl. Stir to coat completely. Set aside.

Pour the melted butter into the bottom of a 9" x 13" baking dish2. Set aside.

In a medium size bowl, whisk together the flour, brown sugar, remaining 1 teaspoon of ground cinnamon, baking powder, and salt until everything is combined.

Add the milk and vanilla extract to the dry ingredients, then stir gently until just combined. Pour the mixture into the pan over the melted butter, then smooth it into an even layer.

Spoon the pears evenly into the pan on top of the butter/batter mixture, including any juice that has accumulated in the bottom of the bowl.

Bake the cobbler for 40-45 minutes or until golden brown. Remove from the oven and allow to cool at least 15 minutes before serving warm with homemade whipped cream or a scoop of ice cream. Store leftovers covered tightly in the refrigerator up to 5 days. Baked cobbler can be frozen, up to 3 months. Thaw in the refrigerator then warm as desired.
Notes
Pears: you can make this pear cobbler with canned pears, if necessary. Use sliced pears or pear halves in 100% juice, and drain completely. Reduce brown sugar for the pears to

½ cup.

Baking dish: this also works in a 7″ x 11″ baking dish or can be split into two 8″ x 8″ square baking pans.
Nutrition Disclosure
All nutritional values are approximate and provided to the reader as a courtesy. Changing ingredients and/or quantities will alter the estimated nutritional calculations.
Serving:
1
serving
|
Calories:
310
kcal
|
Carbohydrates:
59
g
|
Protein:
2
g
|
Fat:
8
g
|
Saturated Fat:
5
g
|
Polyunsaturated Fat:
0.3
g
|
Monounsaturated Fat:
2
g
|
Trans Fat:
0.3
g
|
Cholesterol:
20
mg
|
Sodium:
221
mg
|
Potassium:
168
mg
|
Fiber:
3
g
|
Sugar:
45
g
|
Vitamin A:
261
IU
|
Vitamin C:
3
mg
|
Calcium:
116
mg
|
Iron:
1
mg
Disclaimer: These posts and recipes are part of the week long event (#FallFlavors). All opinions are my own. Thank you to our amazing sponsors for providing the prize packs for our giveaways and also products to the #FallFlavors bloggers to use in their recipes.