Two Crust Chicken Pot Pie
As an Amazon Associate, I earn from qualifying purchases. Read the full disclosure here.
This old fashioned chicken pot pie recipe has tender chicken and flavorful vegetables that come together in a creamy gravy and sit between two buttery flaky crusts. True classic comfort food at its finest! Includes directions for turning this into a freezer meal.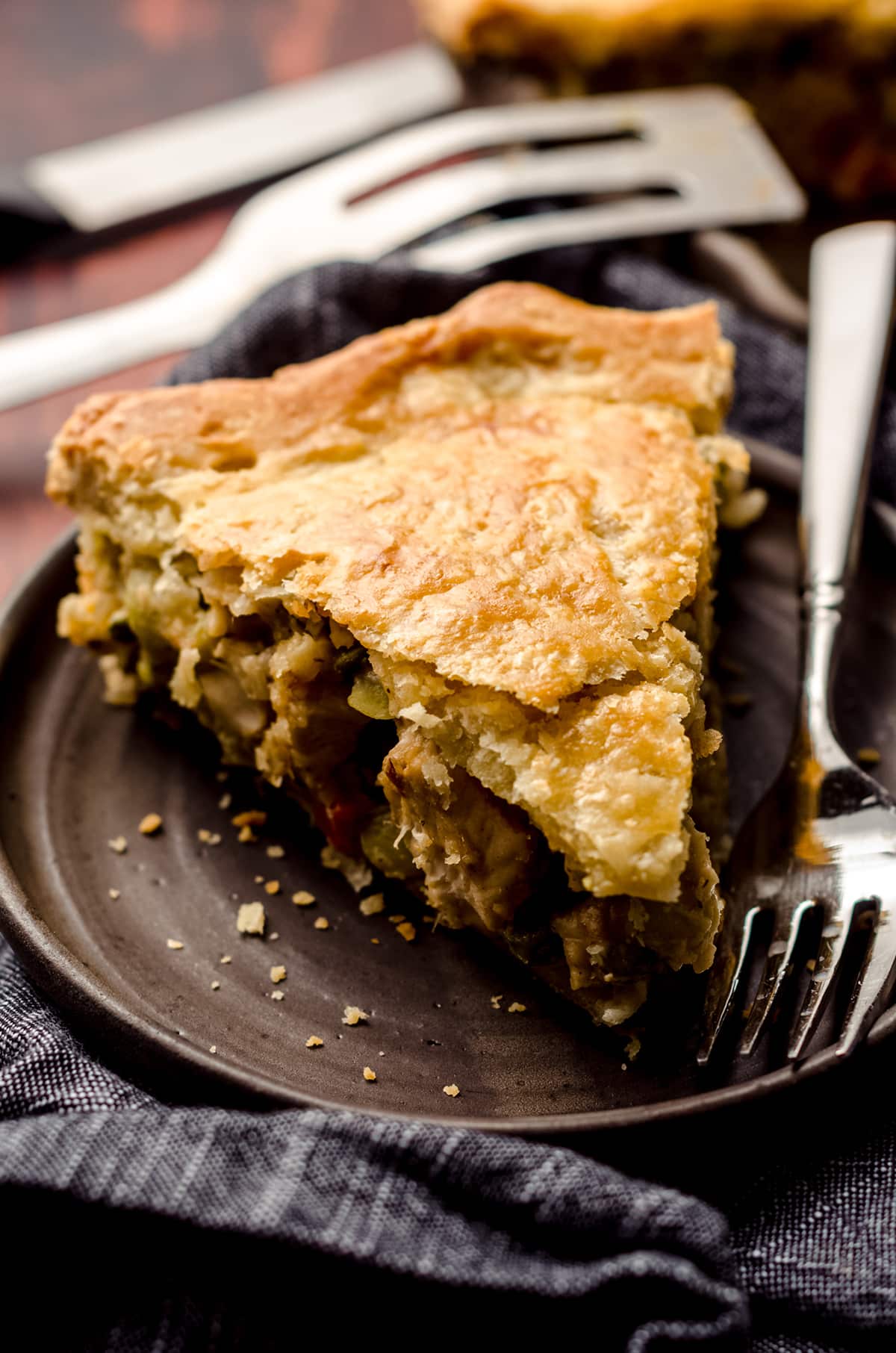 While I mostly feature my favorite dessert recipes here at Fresh April Flours, I also love sharing a few family favorite meals every now and then.
I have a real soft spot for comfort foods during those colder months, and prefer something lighter for the warmer months. I think that's probably true of most of my readers, too!
As the winter comes to an end, and we begin welcoming the first signs of spring (hopefully), I feel compelled to share some of my favorite hearty meals that carried me through the colder months.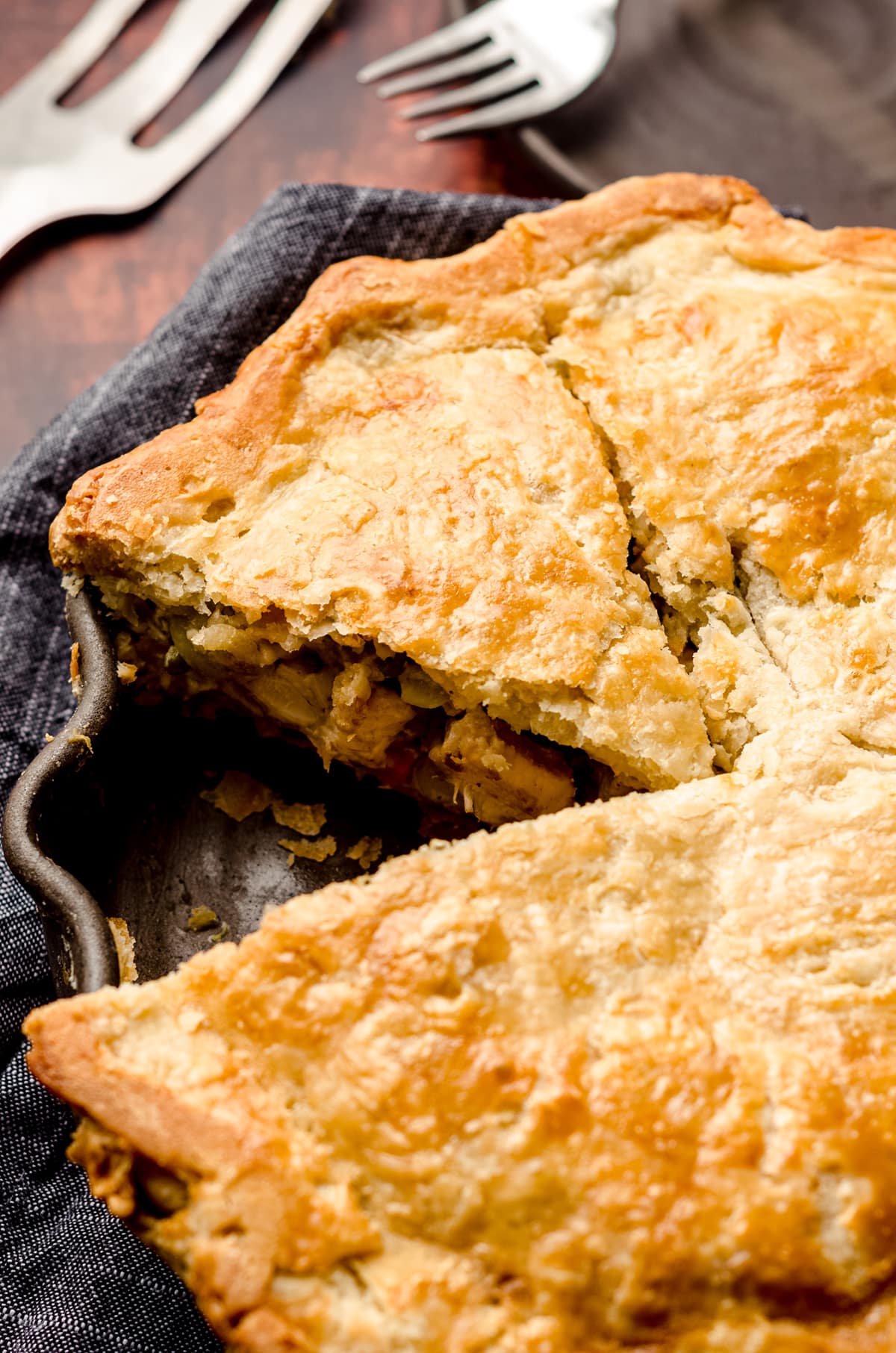 Some recent favorites include sausage tortellini soup, baked turkey and cheese sliders, and now this flaky double crust chicken pot pie.
Chicken Pie vs Two Crust Chicken Pot Pie
You probably think that chicken pie and chicken pot pie are one in the same, but you may be surprised to know that they are completely different.
Chicken pie is a classic Southern recipe that includes chicken, pastry, and very few (if any) vegetables.
Chicken pot pie, comparatively, is a hearty and substantial savory pie that includes chicken as well as vegetables, and a thick, savory gravy or sauce to hold it all together.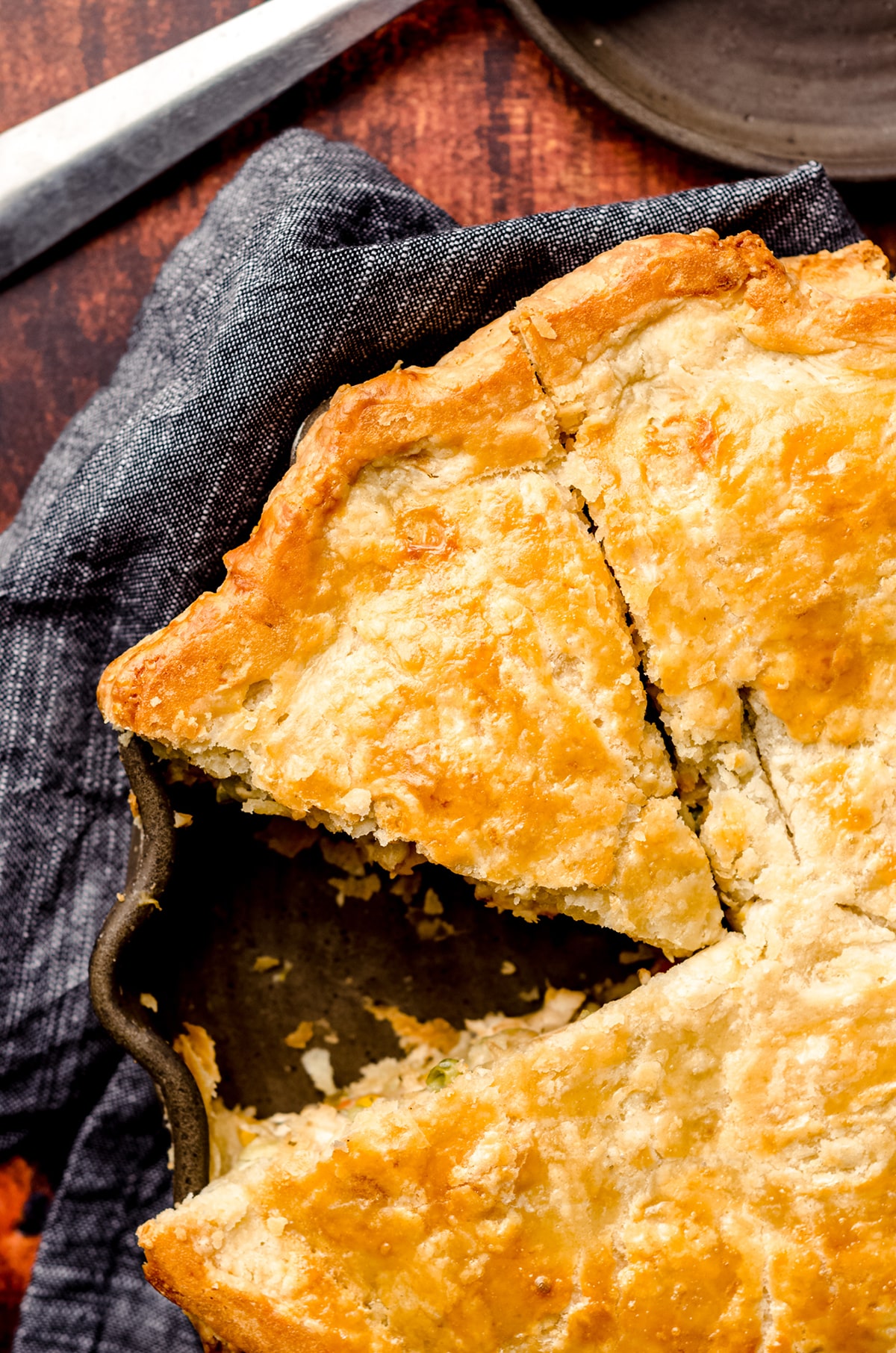 What is Double Crust Chicken Pot Pie?
Chicken pot pie may have a double crust, or it may have a single crust. It's all up to the cook and how much buttery, flaky goodness they want in every bite.
Me? I want ALL the pie crust, which is why I've opted to share with you this recipe for double crust chicken pot pie with a creamy gravy.
Oh, and while you're at it, be sure to check out some of my favorite recipes using homemade pie crust like my chocolate chess pie, chocolate chip pecan pie, pie crust cookies, and pecan pie tarts.
Chicken Pot Pie with Pie Crust ingredients
You might be surprised that this comfort food classic doesn't involve more ingredients. I know I was!
Thanks to a homemade gravy base, this chicken pot pie recipe has true from-scratch flavor without the extra steps of peeling and chopping a ton of veggies or picking meat off of a whole chicken.
It's all the flavor with just a fraction of the ingredients.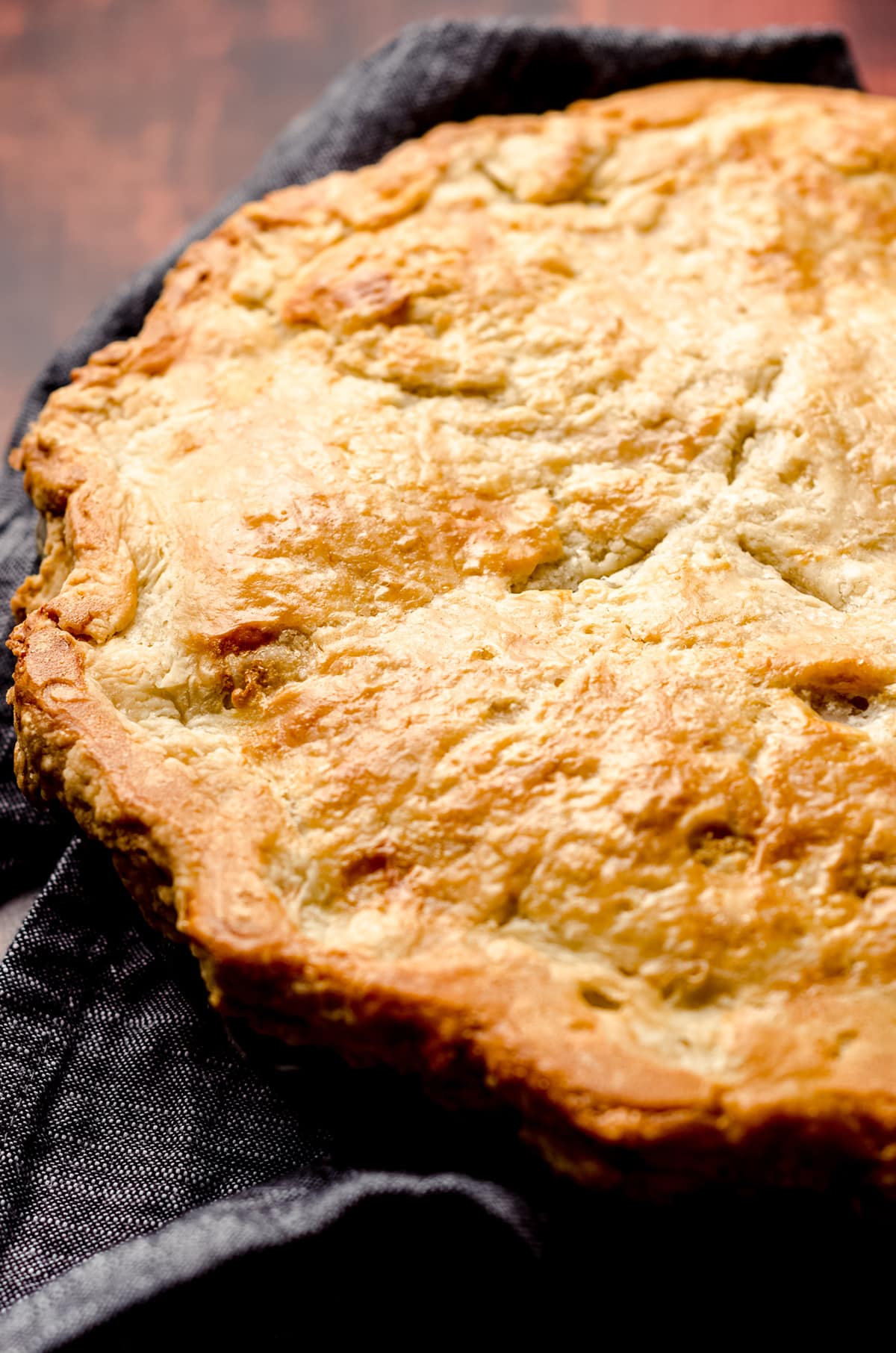 In fact, all you'll need to make this classic recipe is some chicken breast, a bag of frozen veggies, some butter, flour, onions, garlic, seasonings, chicken broth, milk, and (of course) a double crust batch of pie dough.
While I made my crust from scratch, you can totally use a store-bought frozen crust to make this recipe ultra easy.
How to make Chicken Pot Pie with Pie Crust on Top and Bottom
Once you've decided whether you want to use homemade or store bought pie dough, you're ready to get started making the components of this comforting chicken pot pie. Like I've said before, it's super simple. All you have to do is make the filling, line the pie plate with pie dough, fill, top, and bake!
THE CRUST
One of the best parts of any chicken pot pie is the buttery, flaky, and totally addictive crust.
For the chicken pot pie crust, I use my favorite homemade pie crust recipe. This is the crust I make when I want a reliable base for all of my favorite pies (sweet and savory alike– see my asparagus quiche for another savory use of pie crust).
While you can easily use a store-bought pie crust if you want to, I promise that making your own pie crust is SO easy once you have the basic techniques mastered. And the texture? Well, you just can't beat it.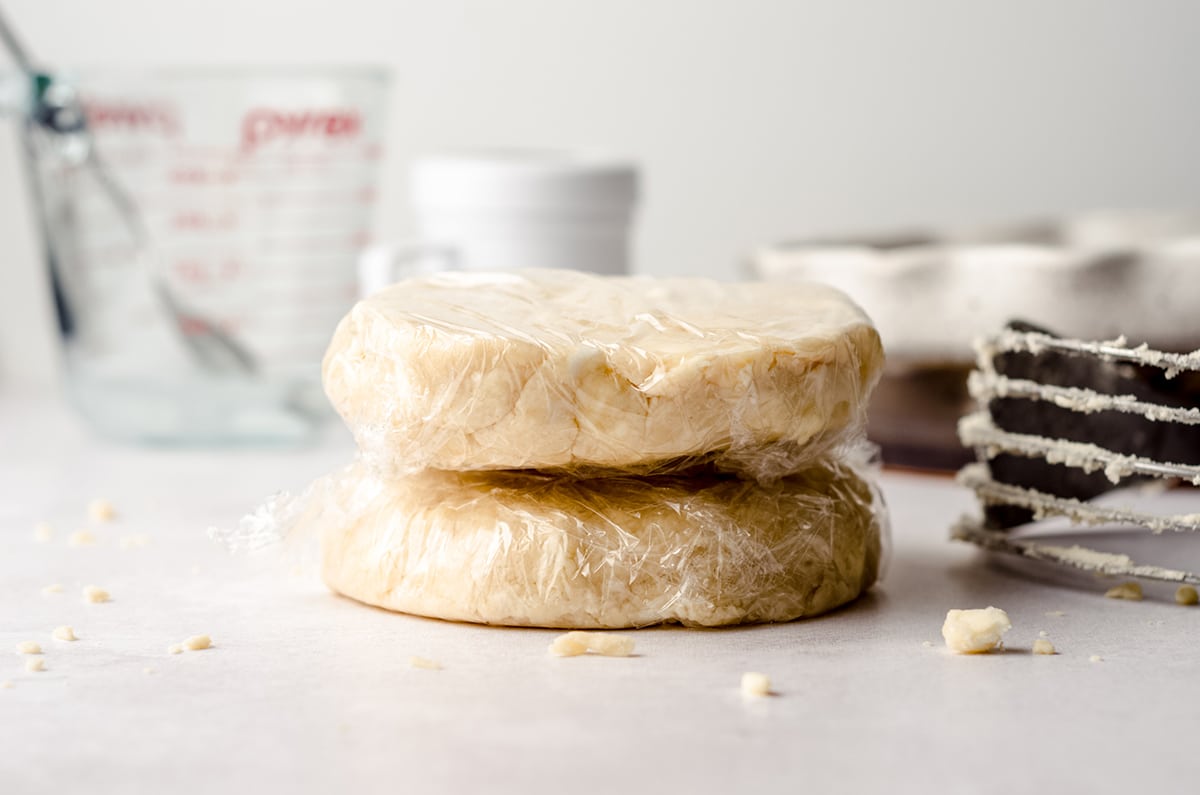 PIE CRUST RECIPE NOTES
If you choose to go the homemade pie crust route, you'll need some flour, sugar, salt, cold butter, cold shortening, and some ice water. Yes, that's it!
Since my pie crust recipe makes a double crust (meaning for both top and bottom, or for using one and saving one, in other non-double crust instances), you won't need to double the recipe or fiddle with any measurements. Talk about easy!
If you decide against a homemade crust for chicken pot pie and go with store bought, make sure that you purchase a brand that includes two crusts, otherwise you'll need to purchase two packages to make sure you have enough.
2 Crust Chicken Pot Pie: Making the Filling
What would this chicken pot pie recipe be without a silky, creamy, and hearty chicken and vegetable filling? Preparing the base of the filling is totally simple.
COOK THE CHICKEN AND SOFTEN THE VEGETABLES
One of the best things about this double crust chicken pot pie recipe is how easy it is to make.
STEP #1
All you need to do is add the chicken and the vegetables to a large pot and add enough water to cover everything completely.
STEP #2
Bring your water, vegetables, and chicken to a boil over medium-high heat, and cook for 3-4 minutes, or until the chicken is no longer pink on the outside.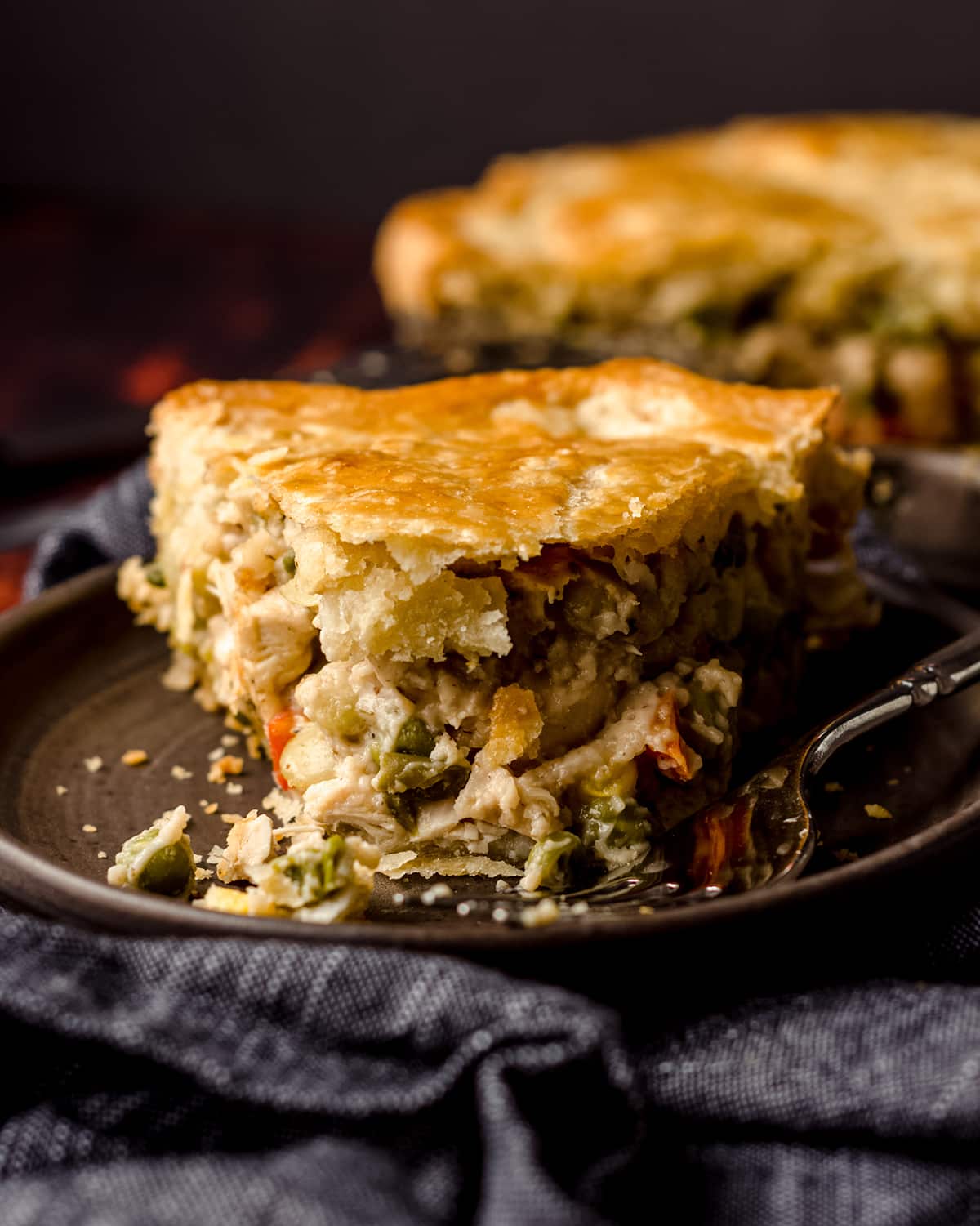 STEP #3
Then remove the pot from the heat and drain off the excess water. Set your chicken and vegetables aside while you get started on the glue that holds it all together: the luscious gravy.
MAKE THE GRAVY
There is some surprising debate when it comes to gravy. Some folks are convinced that gravy should be made by mixing in cornstarch or flour to pan drippings (or broth), while some of us are on team roux.
Can you guess what team I'm on?
START WITH A ROUX
Of course I'm on team roux! A roux is the best, most reliable way to create a delicious and silky gravy.
Starting your gravy with a roux (just a fancy way of saying a paste made from butter and flour) makes it so that you can have complete control over the consistency.
If you use the cornstarch method, it's very easy to accidentally add too much and end up with a sticky, gluey gravy rather than a smooth and creamy one.
STEP #4
To get started, just melt some butter in a large skillet over medium heat.
STEP #5
Once the butter is melted, add in your chopped onions and sauté until tender and translucent. This should take about 5 minutes or less.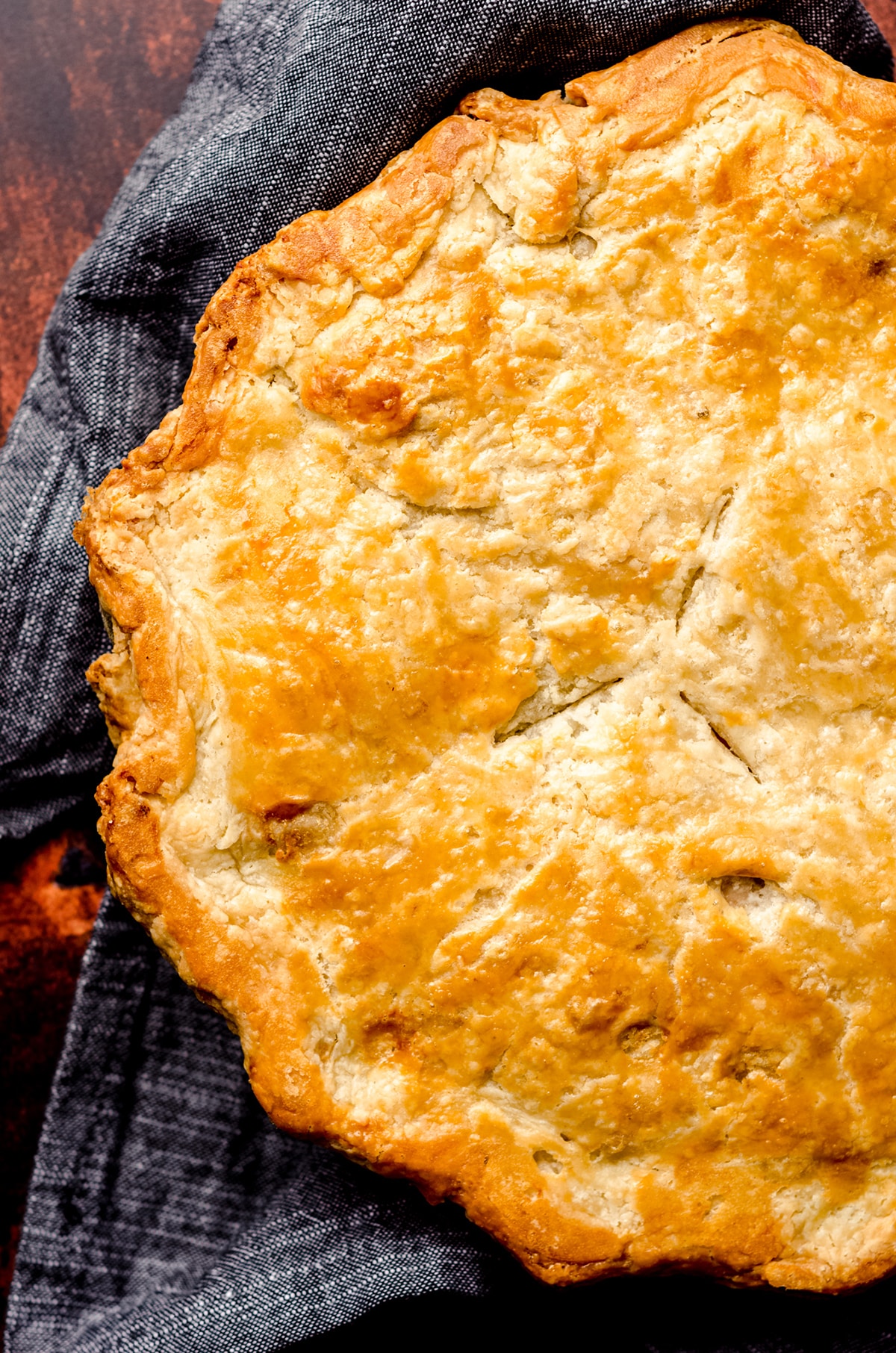 STEP #6
Once the onion is soft, sprinkle in the flour and seasonings. Whisk to combine, ensuring that no dry flour remains.
STEP #7
Once a thick paste has formed, add the chicken broth in two additions. Make sure you give it a good whisk in between each addition, as this is what makes your gravy free from lumps.
STEP #8
Once all of the chicken broth has been added, slowly pour in the milk while whisking.
STEP#9
Bring your gravy to a boil while whisking constantly, just until it thickens. Once it's thick, remove it from the heat and set aside as you get ready to pull everything together.
ADD THE CHICKEN AND VEGETABLES
STEP #10
The final step in preparing the filling is simply bringing everything together. Add the chicken and vegetables directly to your gravy, and stir them well to coat them in that thick, delicious gravy.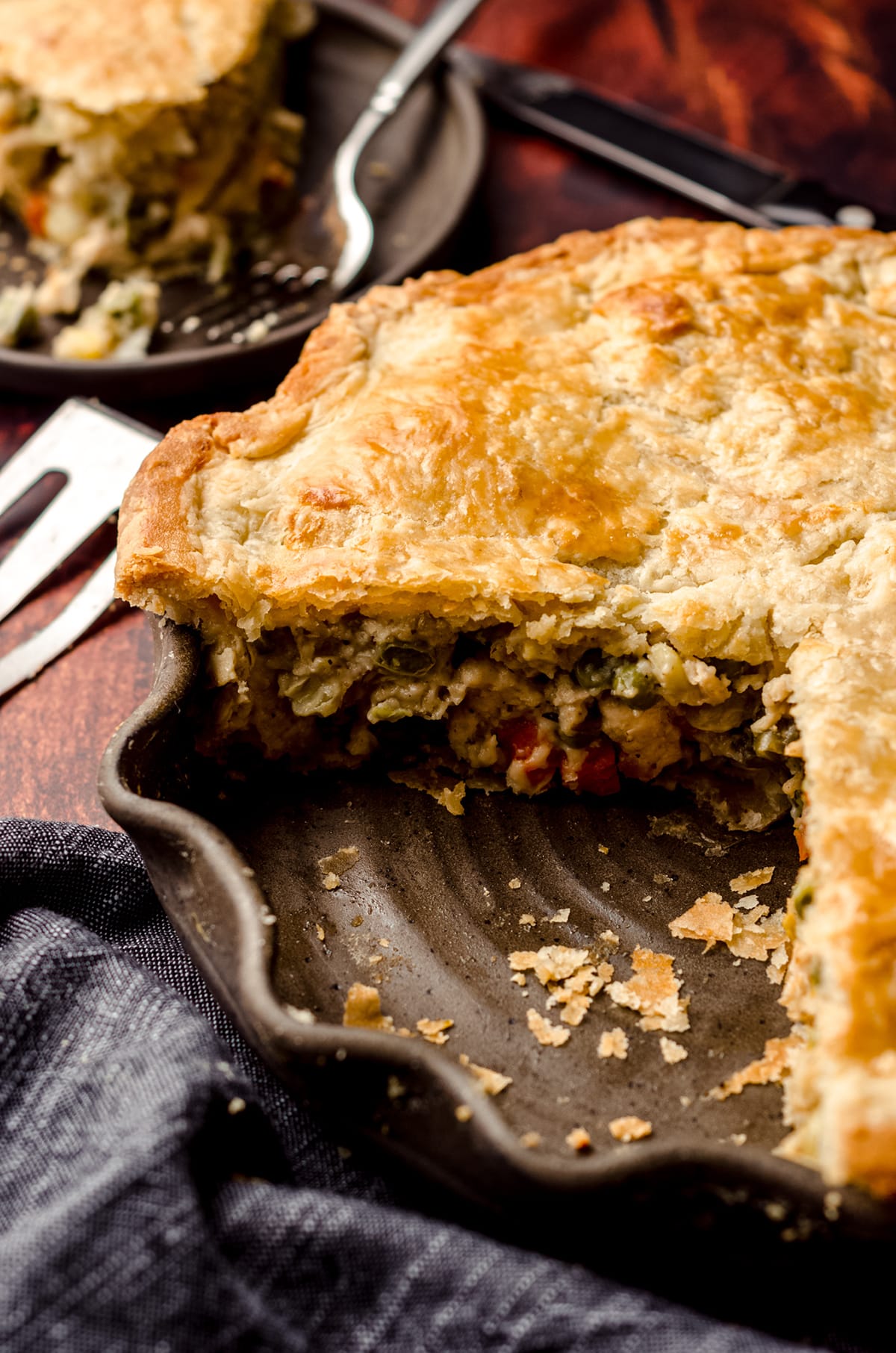 STEP #11
Once everything is coated, set the filling aside and allow to cool for at least 20 minutes before assembling the double crust and chicken pot pie filling.
Chicken Pot Pie Recipe with Pie Crust on Top and Bottom assembly
STEP #12
While your filling is cooling down, it's time to roll out your pie crust. Make sure it has had enough time to chill.
STEP #13
Roll out each half of the dough, turning it ¼ turn between each roll. This should help you achieve a mostly round shape, but be sure to check out my step-by-step instructions if you need some help on getting that beautiful round shape on the first try.
STEP #14
Once your one half of your double crust is rolled out, fit it into your pie plate. Don't worry about crimping the edges right away, we'll take care of that later.
STEP #15
Roll the remaining half of your dough and set it aside.
STEP #16
Once your pie plate has been lined with the bottom crust and the filling has cooled down, spoon the filling into the crust and spread it out evenly.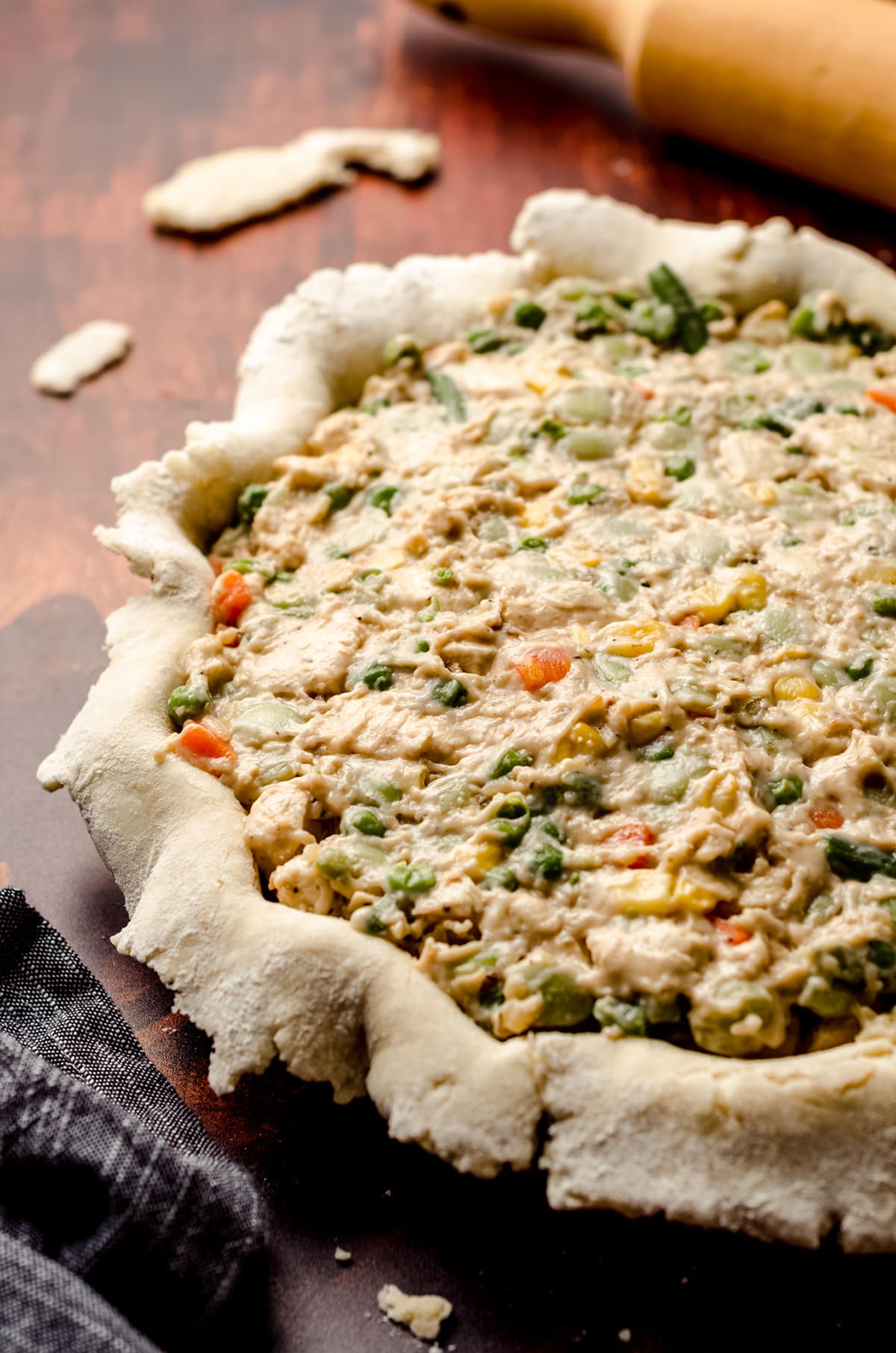 ADD THE TOP CRUST
STEP #17
Brush the edges of the bottom crust with a little bit of water, and carefully drape the top over the filling. Press down on the edges lightly to seal the top and bottom crusts together.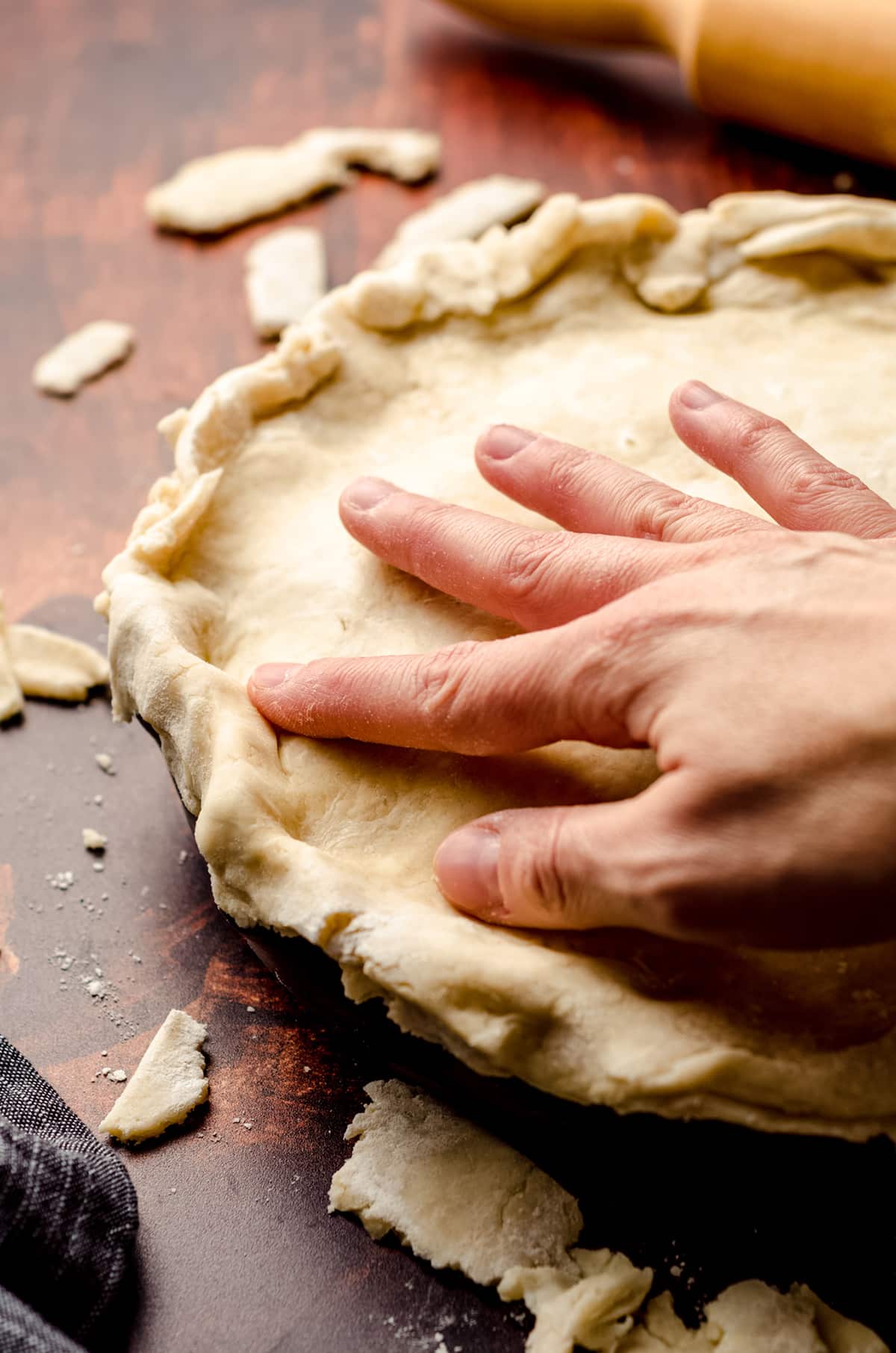 STEP #18
Trim off any excess pastry and crimp the edges together to form a tight seal. Then, use a sharp knife to cut three slits in the top of the pie to allow steam to vent during the baking time.
BAKING
Once your double crust chicken pot pie is assembled and ready to party, it's time to get to the good stuff: baking and (eventually) eating. Yum!
I like to use a pie shield to protect the edges of my pies from overbaking, but you could also use a strip of aluminum foil in a pinch.
STEP #19
Brush your pie with some egg wash to encourage a deep, golden color, and place in an oven with the rack placed in the bottom third of the oven.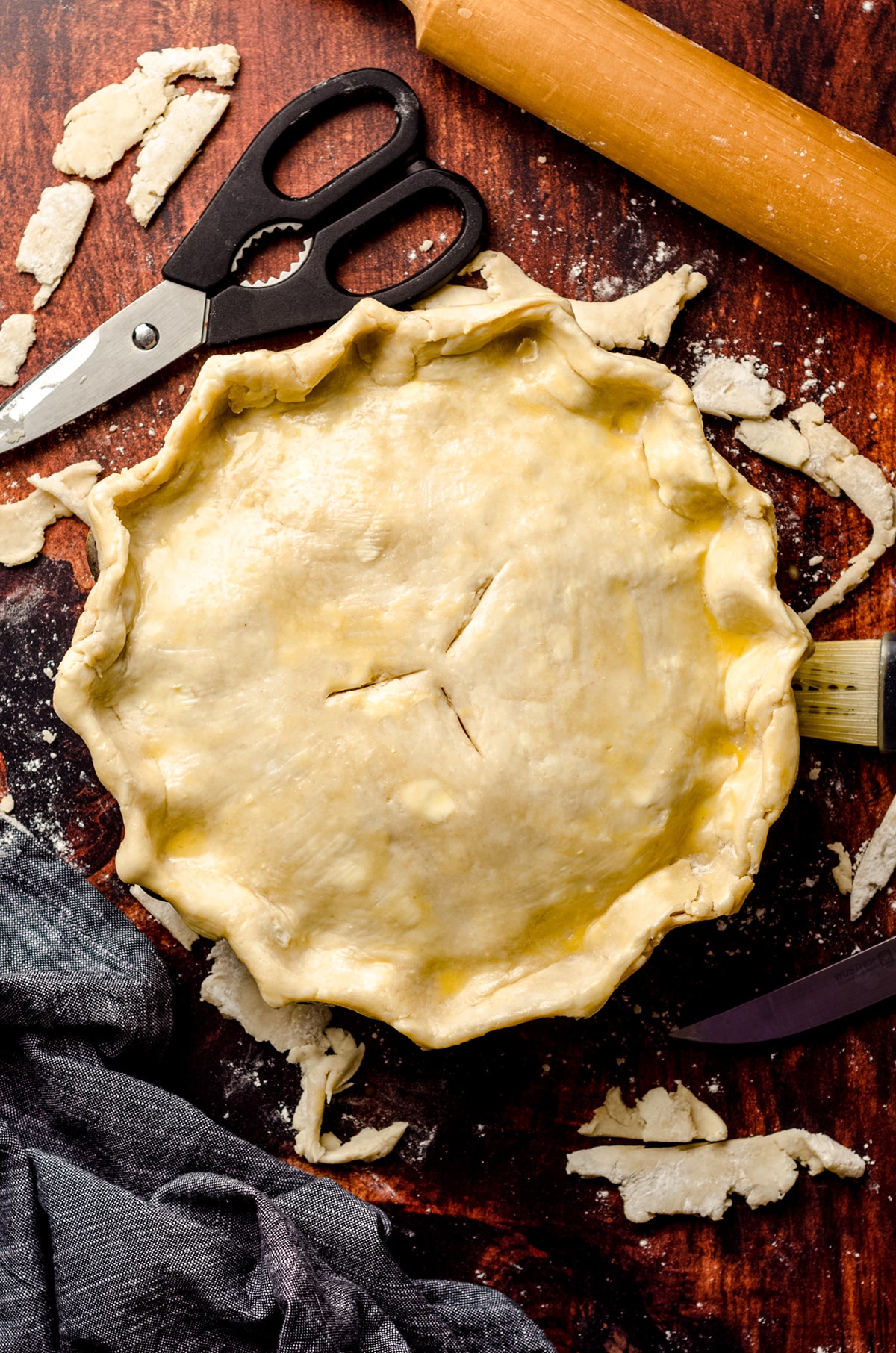 STEP #20
Bake for 1 hour, making sure to remove your pie shield (or homemade version) 15 minutes before the end of baking. This will give the outer edge of your crust a chance to brown up a little bit.
STEP #21
Once the baking time is up, remove your chicken pot pie from the oven and allow to cool for at least 20 minutes before slicing and serve. I know, the wait is HARD, but I promise it is totally worth it!
STEP #22
Once your pot pie has cooled down, slice it and serve it immediately. While you can serve it with roasted veggies, salads, or any of your favorite side dishes, I consider this a meal all on its own!.
You have protein, carbs, and vegetables all in one crusty, rich, and decadent pot pie. What more could you ask for?
Old Fashioned Chicken Pot Pie Recipe Tips and Variations
While this recipe makes one chicken pot pie big enough for a meal, you can easily double the recipe to get two pot pies.
The original recipe from my friend Heather makes two right off the bat, intended to be a freezer recipe.
I love doing this, since I can bake one and freeze one for later. This means I get two meals for the work of one, and it's a great way to fill your freezer with some easy (yet homemade) meals– check the notes section of the recipe card for detailed freezing instructions.
Even better, you could double the recipe and bake one and gift one.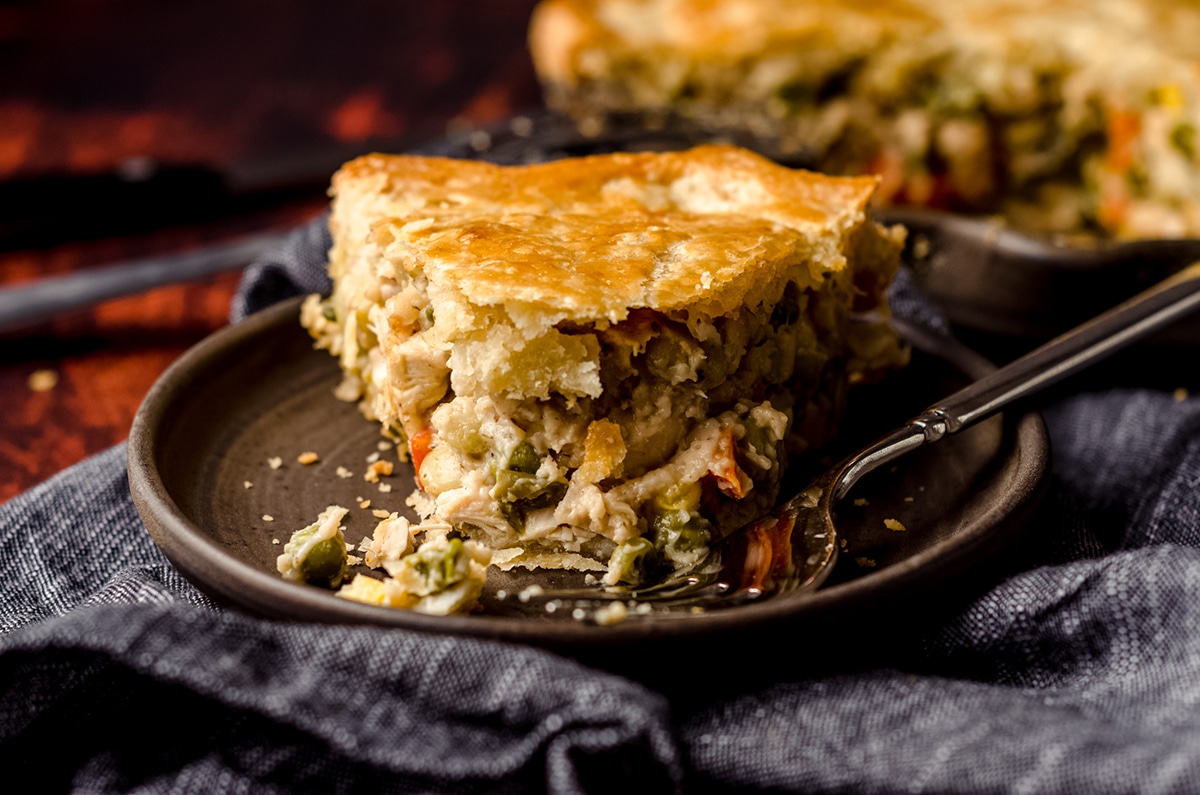 This is how I did it the first time I made it– we kept one and gifted the other to a family in need of some support.
What to serve with Chicken Pot Pie
Chicken pot pie is fabulous on its own, since it's full of protein and vegetables, but consider a side of additional roasted vegetables or a tossed salad.
Two Crust Chicken Pot Pie FAQs
Now that you have your chicken pot pie ready to eat (and maybe one in the freezer), don't forget to check out some of my favorite comfort food recipes: jalapeno popper mac and cheese, slow cooker creamy chicken and rice soup, skillet pizza dip, or my dreamy caramel rolls.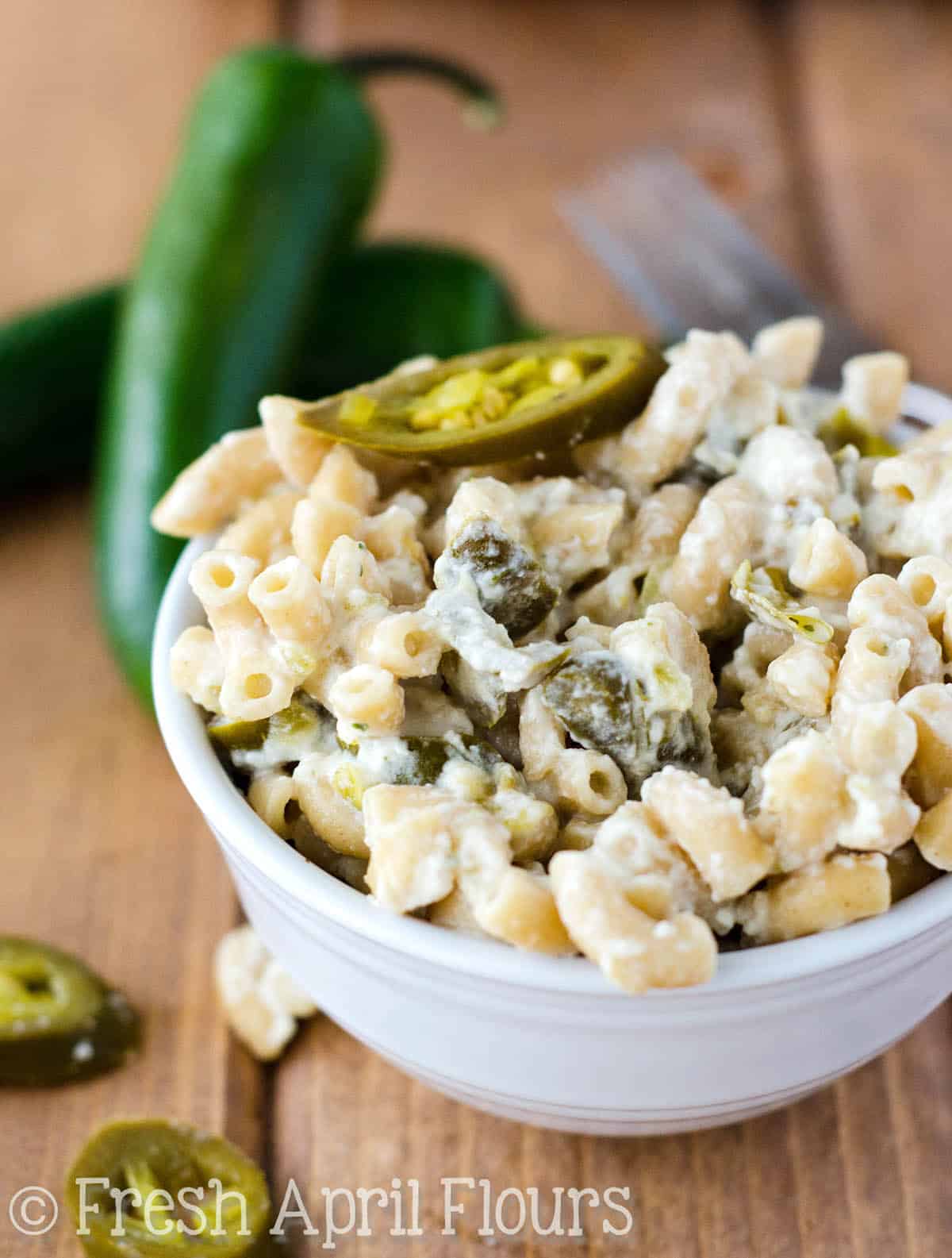 Two Crust Chicken Pot Pie
This old fashioned chicken pot pie recipe has tender chicken and flavorful vegetables that come together in a creamy gravy and sit between two buttery flaky crusts. True classic comfort food at its finest! Includes directions for turning this into a freezer meal.
Ingredients
1

pound

(454g) chicken1

cut into 1 inch pieces

1

pound

(454g) frozen mixed vegetables2

2

cups

(480mL) water

2

Tablespoons

(28g) unsalted butter

1

small onion

chopped

2

garlic cloves

minced

⅓

cup

(40g) all-purpose flour

½

teaspoon

salt

½

teaspoon

black pepper

½

teaspoon

oregano

1

cup

(240mL) chicken broth

1

cup

(240mL) milk
homemade pie crust

store-bought is fine; you will need 2 crusts

EGG WASH: 1 large egg3

beaten
Instructions
In a large pot combine the chicken and frozen vegetables. Add the water and bring to a boil over medium-high heat. Boil until chicken is no longer pink on the outsides (about 3-4 minutes), remove from heat, drain, and set aside.

In a large skillet over medium heat, melt the butter. Add the onions and sauté until tender, about 5 minutes. Stir in the flour, salt, pepper, and oregano and mix until it forms a paste.

Add the chicken broth in two additions, stirring after each addition, until a thick gravy forms. Slowly add the milk and bring the mixture to a boil, stirring constantly, until it thickens. Remove from heat and set aside.

Add the chicken and vegetables to the gravy and mix well. Allow to cool at least 20 minutes4 while you prepare the crust.

Arrange a rack in the lower third of the oven, then preheat it to 375ºF (191ºC).

Roll out each pie crust, then prepare a pie plate with the bottom crust. Press the crust into the bottom of the pie plate, but do not crimp the edges yet. Set the top crust aside.

Spoon the filling evenly into the prepared pie plate, brush the rim of the bottom crust with a little water, then drape the top crust over the pie. Press down lightly to seal the crusts and trim off the excess pastry. Crimp the edges, then cut 3 slits in the top of the crust to allow for venting.

Place a pie crust on top of each pot pie and press the edges together to seal. Cut 2-3 slits in the top of each crust to allow venting while cooking.

Attach a pie shield or wrap the edges of the crust in foil, brush with egg wash (if using), then bake for 1 hour, removing the pie shield/foil about 15 minutes before pie is done baking, until the crust is golden brown. Allow to cool at least 20 minutes before serving. Store leftovers covered tightly in the refrigerator up to 5 days.

Make ahead: prepare pot pie through step 8, then wrap tightly in plastic wrap and foil and freeze for up to 3 months. Remove from freezer and bake frozen at 375ºF (191ºC) for 75 minutes.

Bake one/freeze one: this recipe doubles nicely so you can make one now and make one later with just one prep. You can either double the chicken and veggies or add 2 medium Russet potatoes in place of additional chicken and vegetables. To do this, cube the potatoes and boil them along with the chicken and veggies in step 1. Increase boiling time to 10 minutes. Continue with the recipe as written.
Notes
Chicken: use whatever kind of chicken you prefer. I like chicken tenderloin or chicken thighs. You can also use a rotisserie chicken. If using a rotisserie chicken or any pre-cooked chicken, do not add to step 1 and simply add to the vegetables in step 4.
Frozen vegetables: you can find this in the freezer section of your grocery store. I like to use a mix of

corn, carrots, peas, lima beans, and green beans.

Egg wash: this is totally optional and purely for aesthetics. Adding an egg wash will give a golden shine to the crust, and leaving it unwashed will give you a matte look.
Filling: you can prepare the filling up to 1 day in advance. Store covered tightly in the refrigerator then proceed with step 5.
Adapted from Hezzi-D's Books and Cooks
Nutrition Disclosure
All nutritional values are approximate and provided to the reader as a courtesy. Changing ingredients and/or quantities will alter the estimated nutritional calculations.
Serving:
1
slice
|
Calories:
184
kcal
|
Carbohydrates:
12
g
|
Protein:
12
g
|
Fat:
10
g
|
Saturated Fat:
4
g
|
Polyunsaturated Fat:
2
g
|
Monounsaturated Fat:
4
g
|
Trans Fat:
0.1
g
|
Cholesterol:
43
mg
|
Sodium:
269
mg
|
Potassium:
249
mg
|
Fiber:
2
g
|
Sugar:
2
g
|
Vitamin A:
2479
IU
|
Vitamin C:
6
mg
|
Calcium:
56
mg
|
Iron:
1
mg