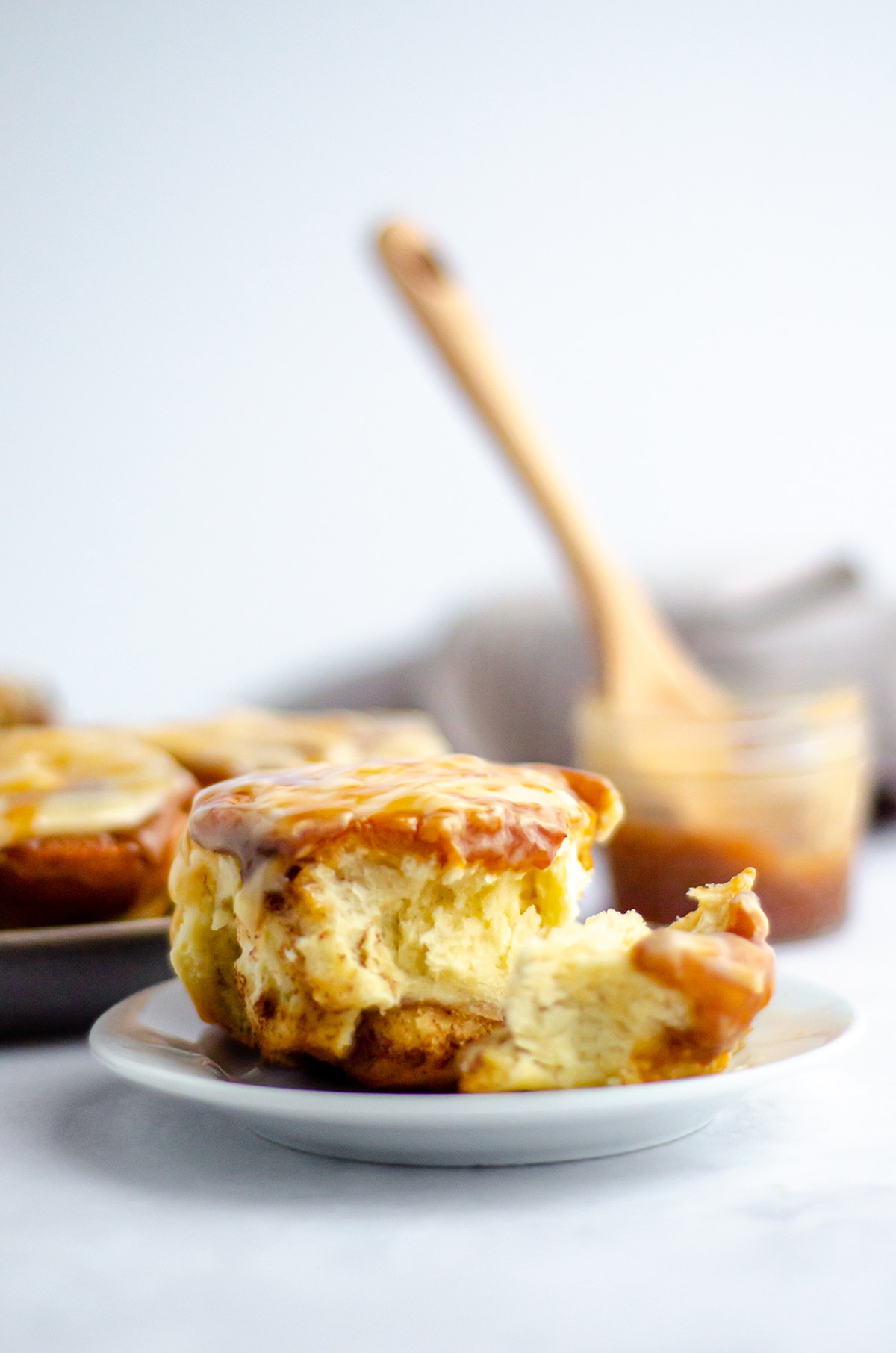 As an Amazon Associate, I earn from qualifying purchases. Read the full disclosure here.
Easy small batch caramel cinnamon rolls drenched in salted caramel sauce and topped with a creamy salted caramel cream cheese frosting.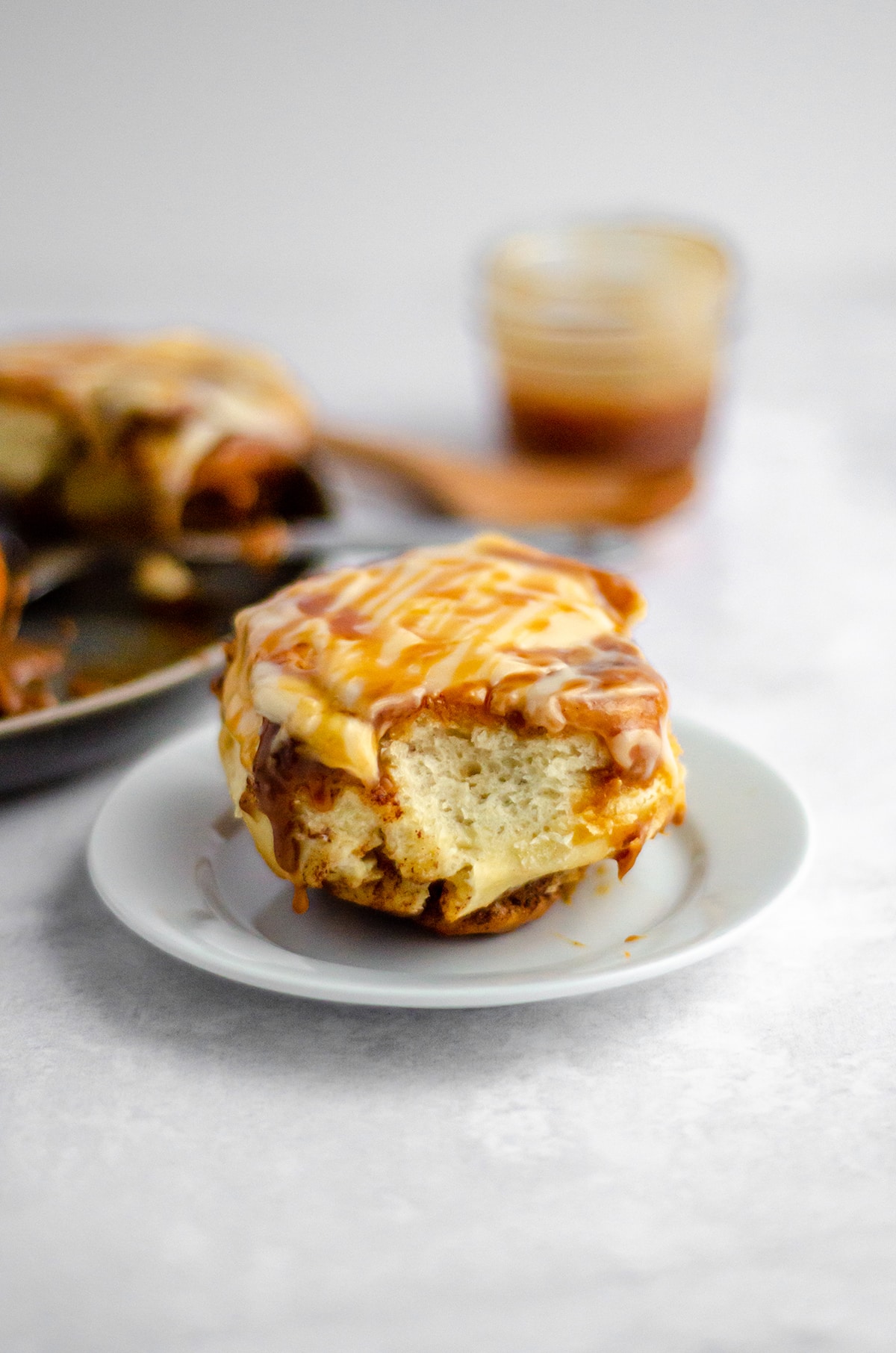 When you think of caramel cinnamon rolls, does your mouth immediately start watering? Because I will tell you what, editing these photos has been tough for me.
I made these caramel rolls and slapped that gorgeously creamy salted caramel cream cheese frosting on them on Tuesday last week and have been mourning the last crumb, which lasted until approximately Thursday at lunch time, since.
Get ready for the most delectable cinnamon roll your breakfast has ever seen!
Do you remember when I posted my homemade bourbon caramel sauce in November? Since then, I've been determined to get more recipes on my blog that feature homemade caramel sauce, now that I've shown you how to master it.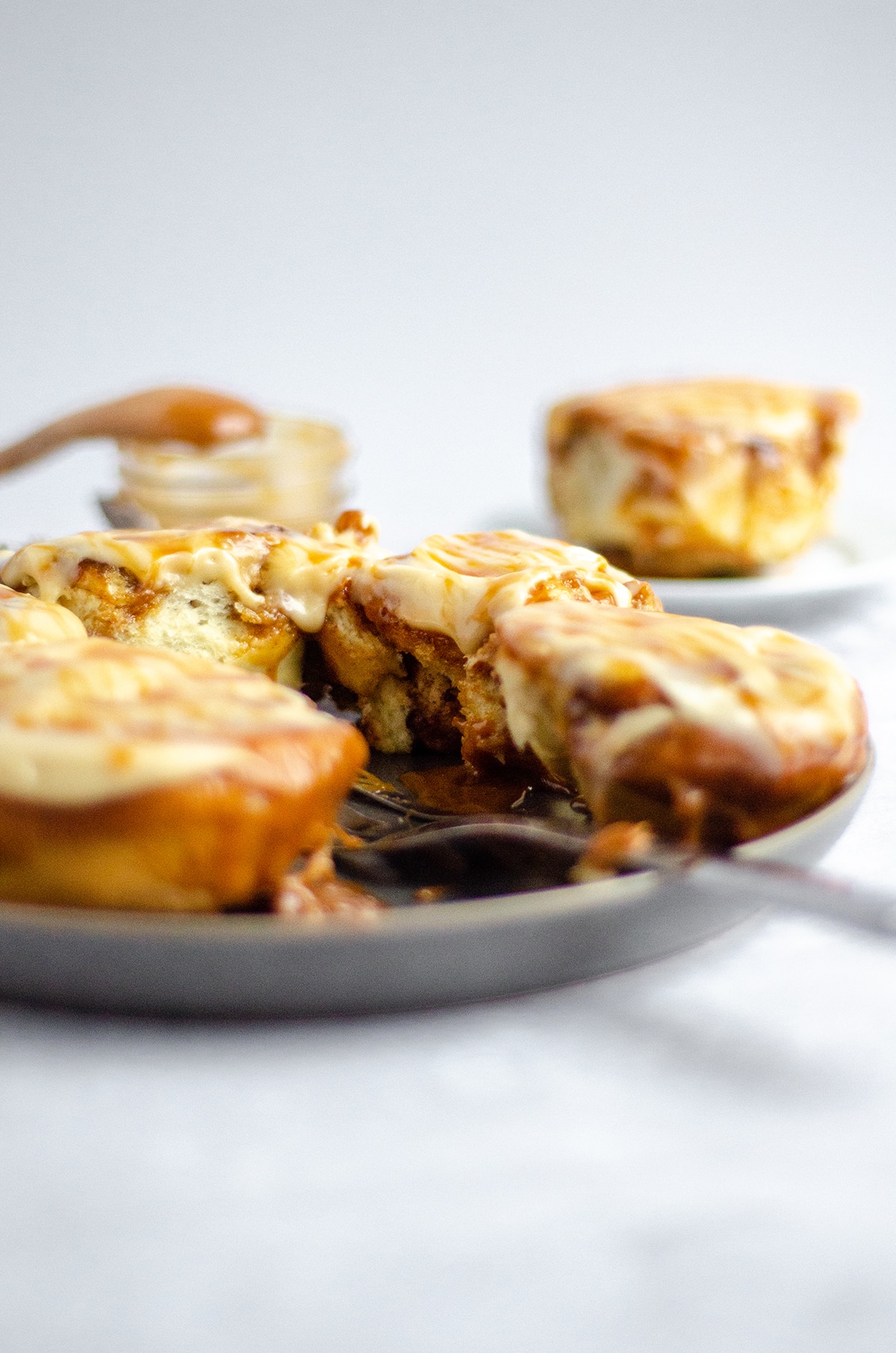 That recipe as written is so versatile– while I love it with the addition of bourbon, I realize this is not everyone's jam. But– SCORE– if you just leave the bourbon out, the method is completely the same.
Prefer regular caramel sauce to salted caramel sauce? That's simple. Just leave the additional salt out.
It can truly be whatever kind of caramel sauce you'd prefer, and today, we're using whatever homemade caramel sauce you'd like to use– bourbon, salted, or otherwise– on these decadent caramel cinnamon rolls.
And in a big, giant way.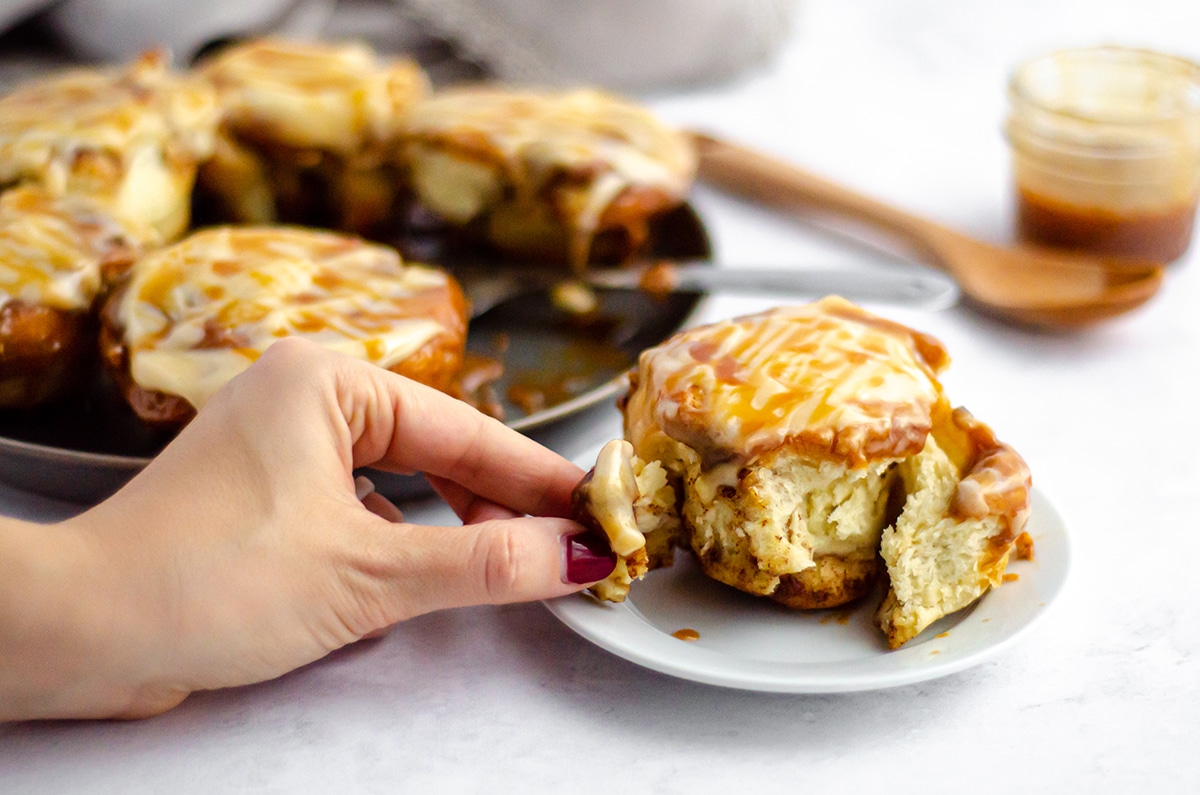 The kind of big, giant way that convinced me to consolidate my base cinnamon roll recipe (featured here in my funfetti cinnamon rolls) down to just 6 rolls.
If you're feeling a full dozen, go for it. Really. The difference is a simple doubling of the recipe and making sure you have a larger baking pan. Instructions for doubling in the recipe notes.
To be perfectly honest, I used to be afraid of homemade cinnamon rolls. And then I really really started getting comfortable with yeast breads, and when I finally dove into those funfetti rolls, I realized just how simple they were.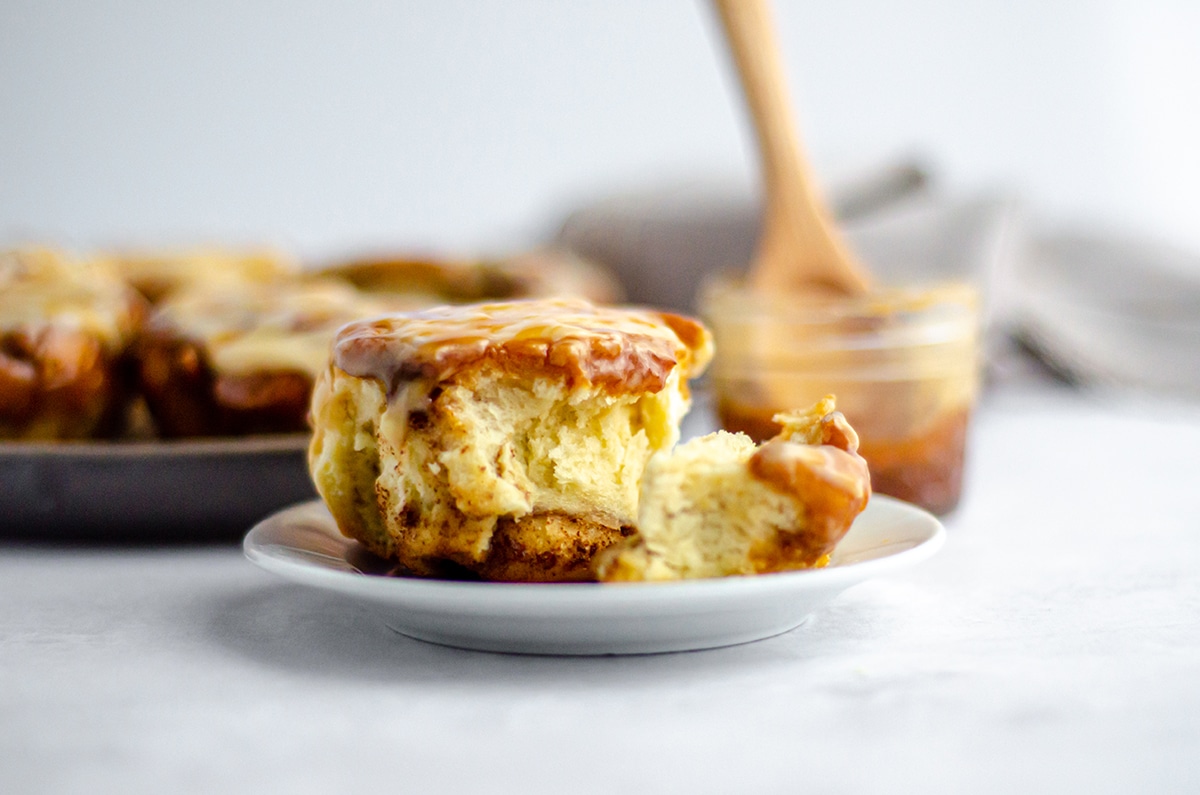 The cool thing about these caramel rolls, and simply cinnamon rolls in general, is that they only take one rise time. Traditional yeast breads have two rises.
WHY DO WE ONLY HAVE ONE RISE FOR CINNAMON ROLLS?
When you're making a loaf of bread, like my Italian anise bread, my cinnamon babka, or my white sandwich bread, you're looking to make a soft, small crumb. And you're also looking for a fluffy interior. You're also looking for that classic dome, which is referred to as an "oven spring."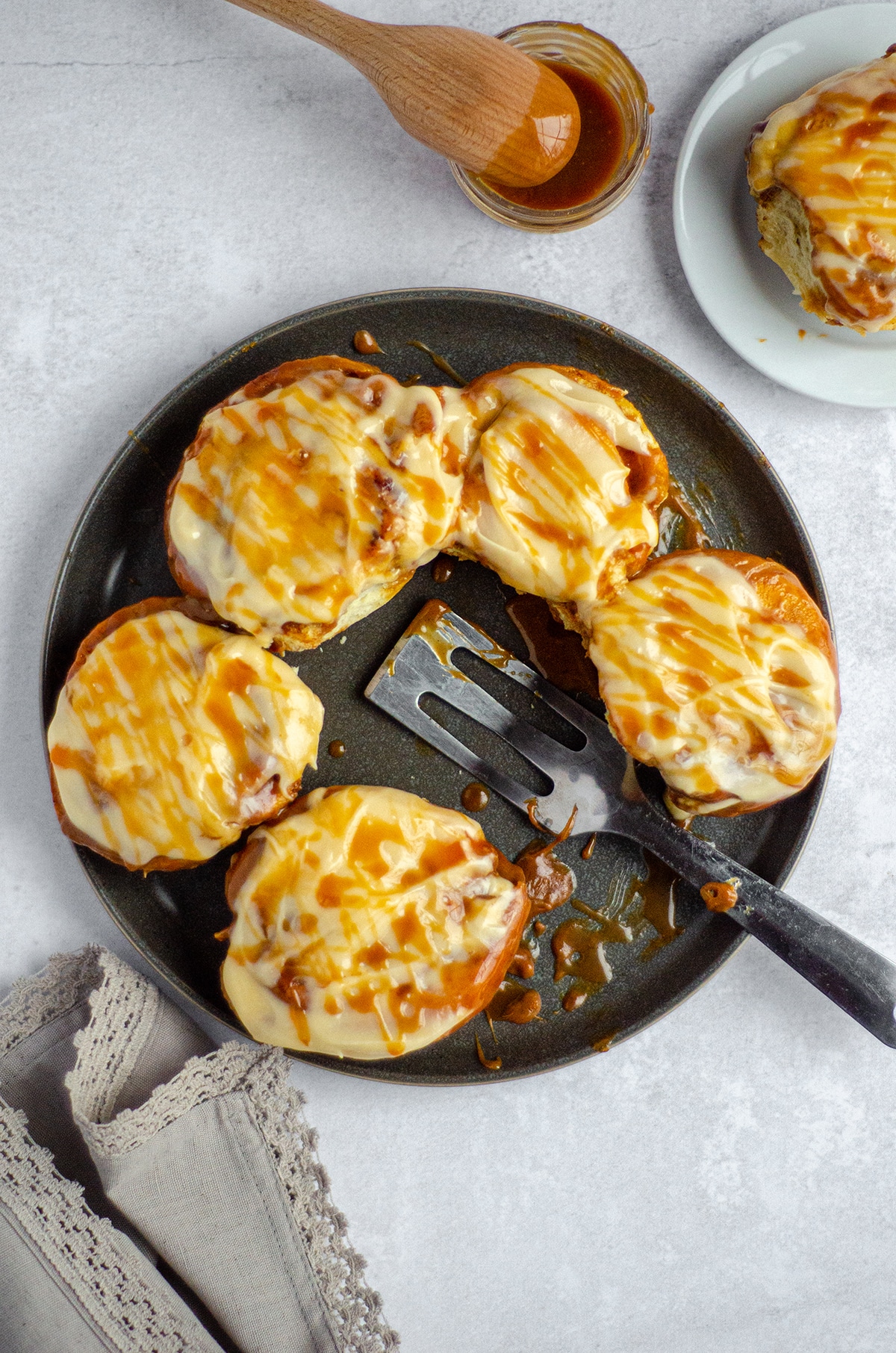 WHAT IS AN OVEN SPRING?
Another thing you're looking for in a classic yeast bread is an oven spring, which refers to the rise that breads get from expanding air bubbles in the dough once they're heated.
Oven temperatures can only do so much, so an additional rise helps bring lift to the loaf.
When you're making cinnamon rolls, you're not too concerned with lift, and while a soft and fluffy crumb is definitely a desirable characteristic, you won't completely miss this mark if you don't let them rise a second time.
Another reason we're not too concerned with how much lift we get in these caramel rolls is because we are drenching these puppies in caramel sauce.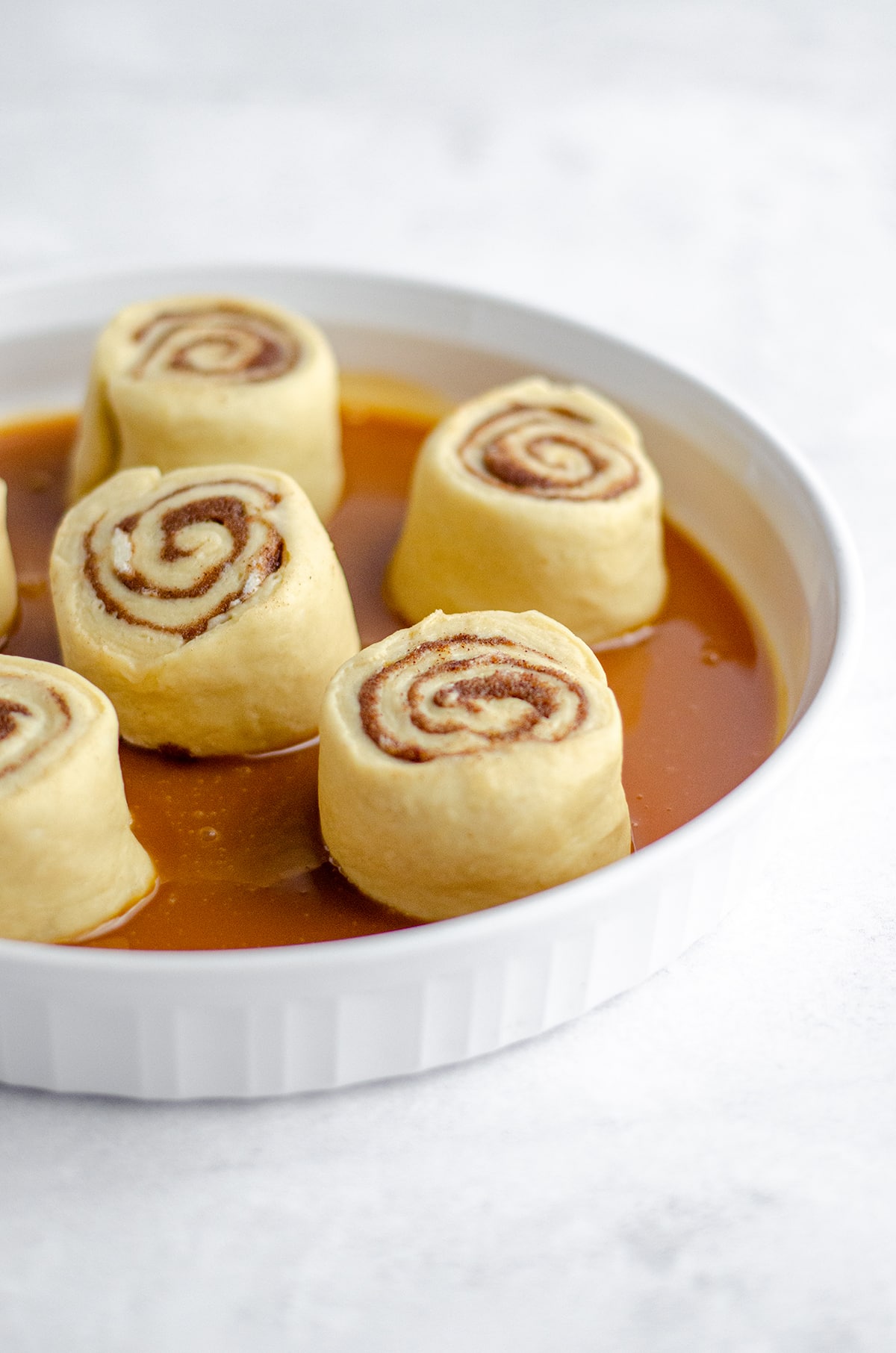 That's right– before we put the sliced rolls into the pan to have their only rise, we're filling the bottom of that pan with caramel sauce.
Once the rolls are baked, we'll carefully flip the rolls out of the pan, so the soaking caramel bottoms will now be the soaked caramel tops.
Yeah. Things just got amazing.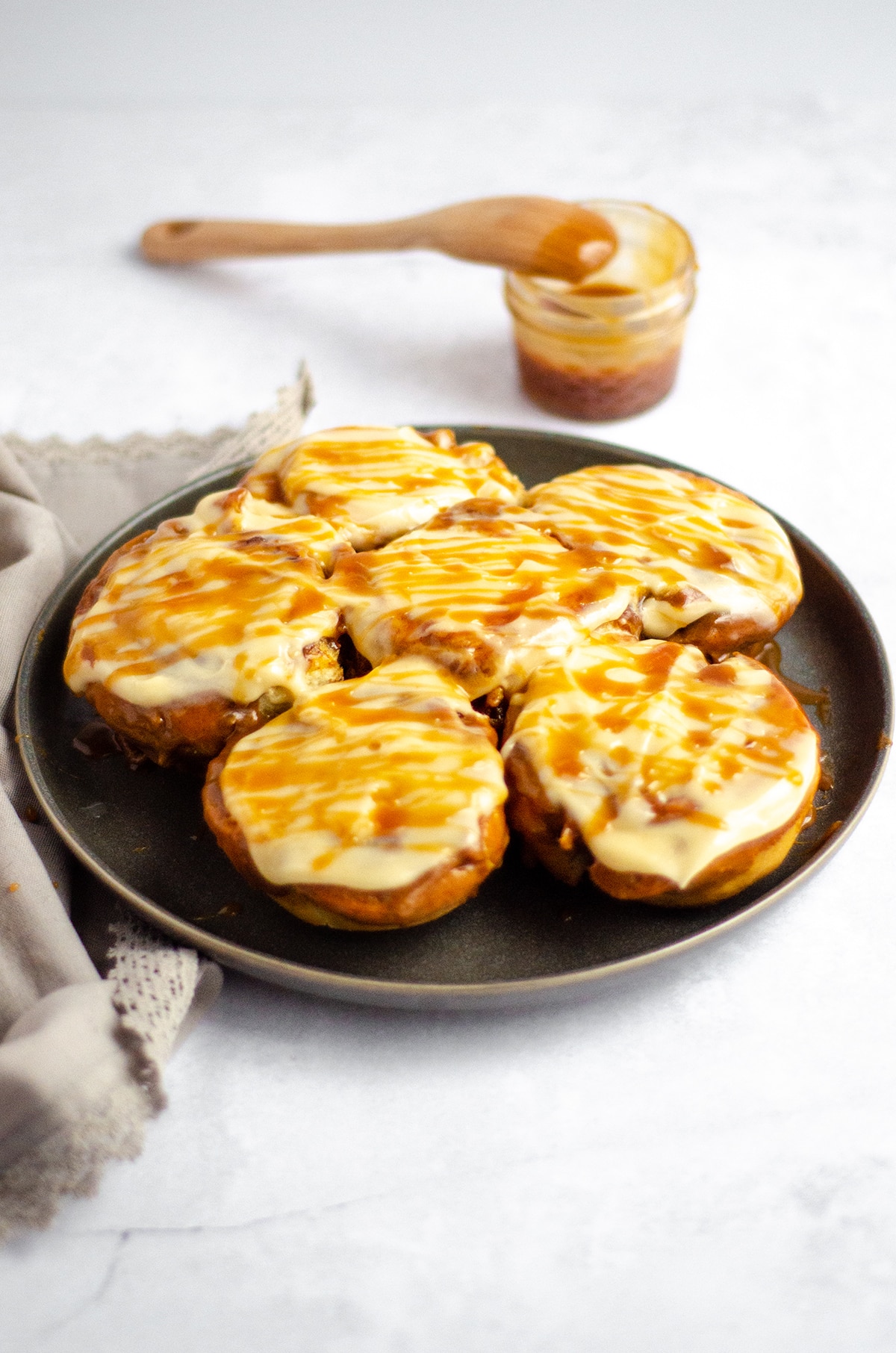 While the rolls are still warm, you'll cover them in caramel cream cheese frosting, which is my basic cream cheese frosting with a little extra pizazz by the addition of just a touch of extra caramel sauce.
Because if we're not going big, we might as well be going home… Am I right or am I right?
Feel free to leave the caramel cream cheese frosting off, but… Are you insane?!
USE HOMEMADE CARAMEL SAUCE INSTEAD OF STORE-BOUGHT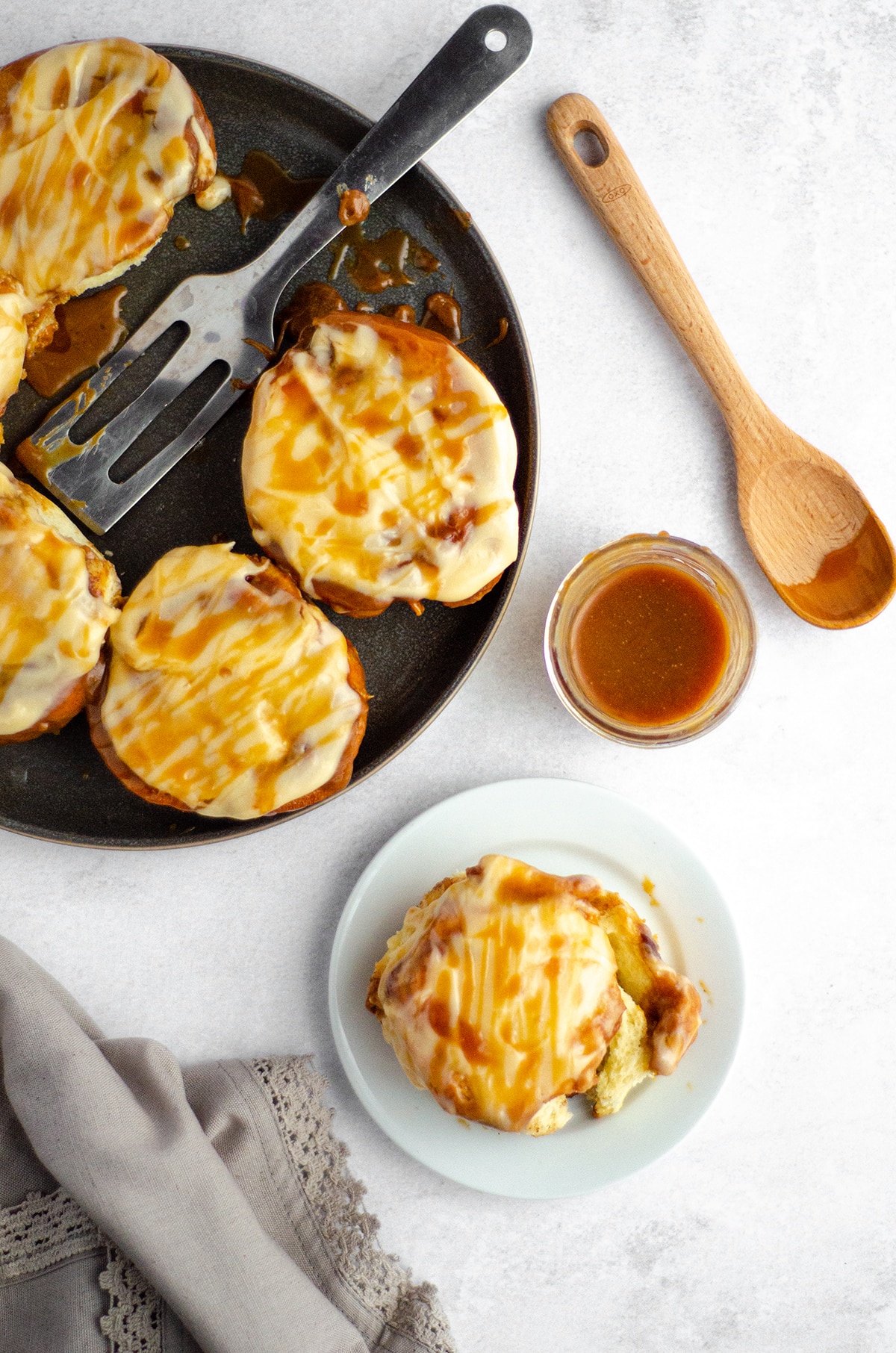 I do have to note, I strongly encourage homemade salted caramel sauce here. Store bought is totally fine, but it's often made with corn syrup, which can become chewy and hard in the oven.
If you have to use store bought, just try to find something made without corn syrup. Or, seriously, try my homemade version. I promise, you can do it!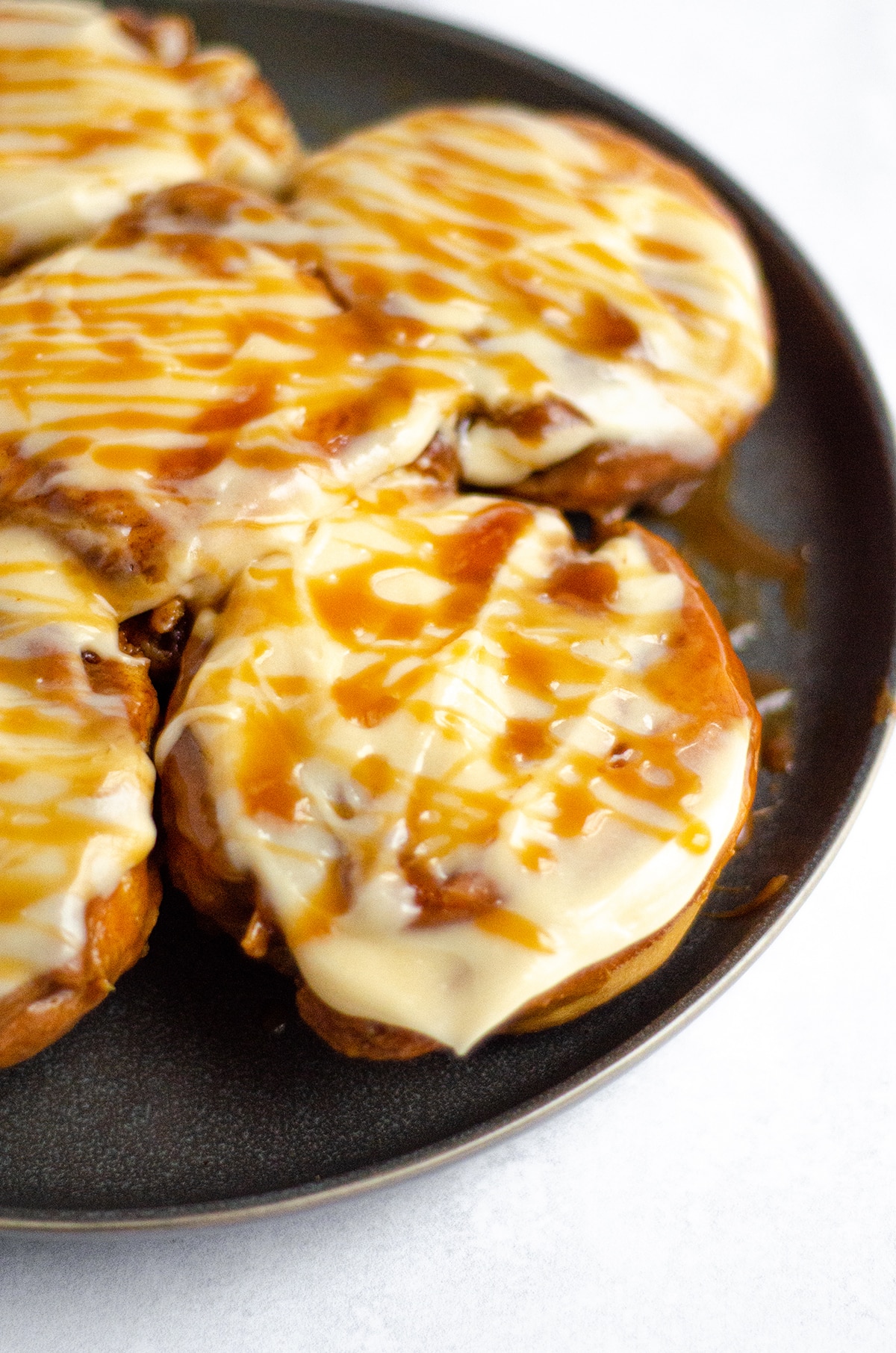 Friends… These caramel rolls will knock your caramel-loving, cinnamon roll-craving socks off. They are full of caramel flavor, and that cinnamon spice complements the sweetness so nicely. Cinnamon + caramel may be my new fav combo.
And the creamy caramel cream cheese frosting slathered on top takes them to a whole new level. And there's juuuust enough of it to seal the sweet deal without making you feel like you just ate a slice of cake with too much frosting on it.
And those parts soaked in caramel sauce are just toooo dieeeee forrrrrr. So much flavor. So much texture. So much chew.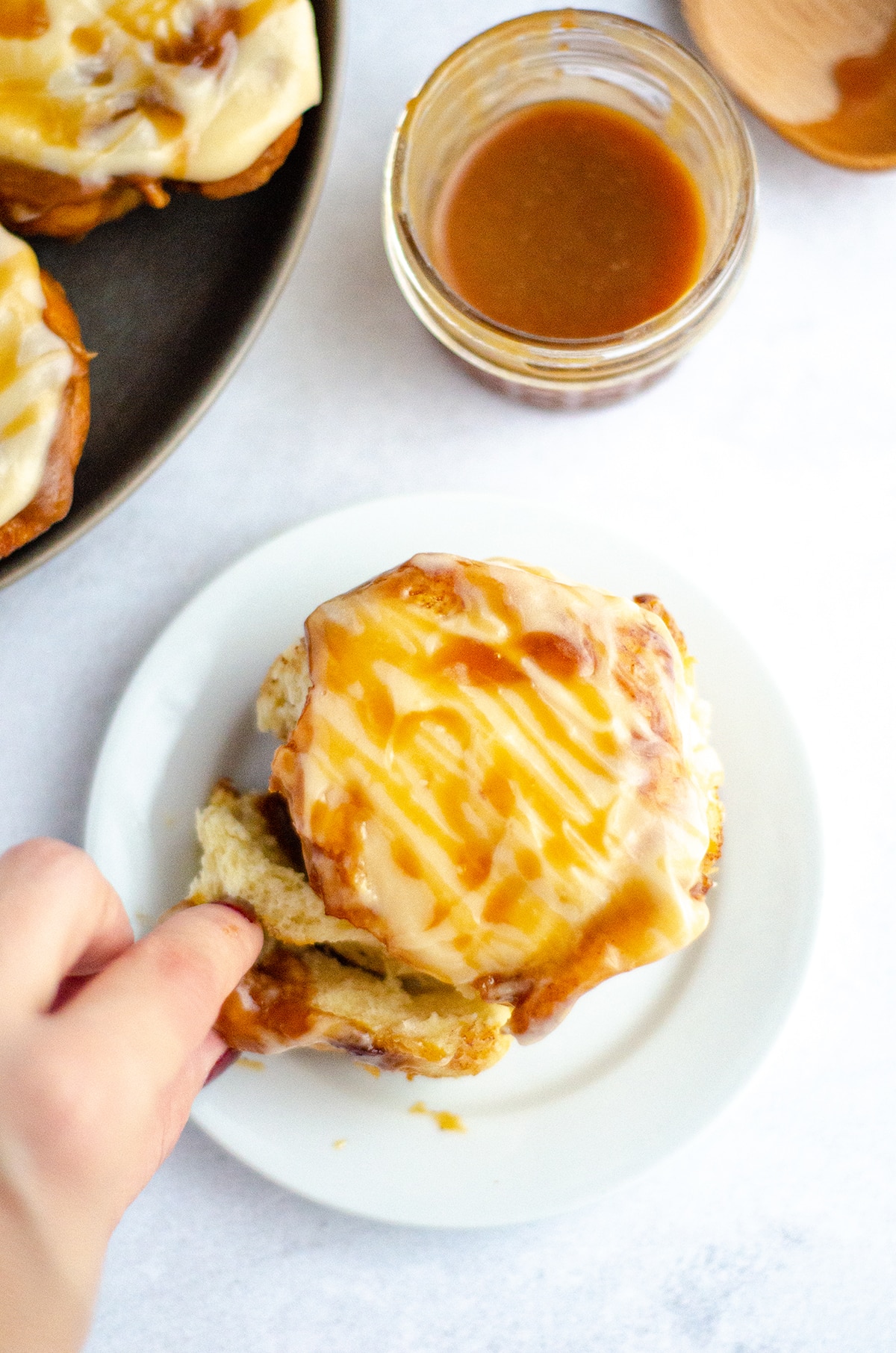 Let's revolutionize cinnamon rolls today, shall we? I guarantee these will impress and return.
More variations on a theme? Try my traditional homemade cinnamon rolls (a small batch version as well as a mini version!), coffee rolls, lemon poppy seed sweet rolls, or sourdough cinnamon rolls next!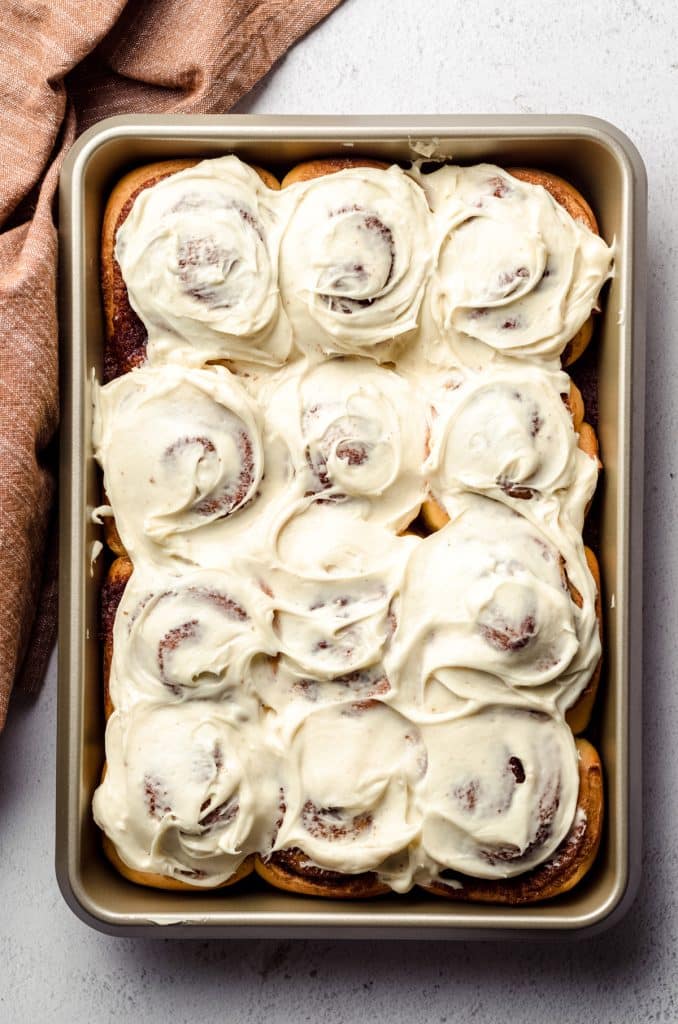 Caramel Rolls
Easy small batch caramel cinnamon rolls drenched in salted caramel sauce and topped with a creamy salted caramel cream cheese frosting.
Ingredients
Instructions
Pour salted caramel sauce into the bottom of an 8" or 9" baking dish (like a pie plate or cake pan). Set aside.
DOUGH
Place warm water in a small bowl. Sprinkle the yeast on top of the water. Stir around with a fork or spoon and allow to rest and activate for 10 minutes.

In a large mixing bowl (or the bowl of a stand mixer) with a wooden spoon, blend the milk, sugar, salt, and vanilla extract. Add the egg and yeast mixture and mix again.

Gradually stir in flour. If using a stand mixer, use your dough hook. If mixing by hand, continue to use a wooden spoon. Add 1 and ½ cup of flour, allow dough to come together, then add the softened butter and continue to blend. When butter is mostly incorporated, add the remaining 1 cup of flour and blend until dough has completely come together. It should easily pull away from the sides of your bowl and dough hook or spoon.

Turn out dough on a lightly floured surface and knead until smooth and elastic. Your dough should feel like PlayDoh to the touch and "snap" when you pull it apart. Allow dough to rest for 10 minutes while you prepare the filling.
FILLING
In a medium size bowl, combine the butter, sugars, cinnamon, and caramel sauce. Stir with a spatula until mostly combined– some larger chunks of butter are ok. Set aside.

Using a rolling pin, roll the dough out into a rectangle 9" x 12" in size. Dough will be very elastic, so be patient and keep rolling. Using a spatula, spread the filling evenly over the dough, all the way to the edges of the rectangle on all four sides. If you're having trouble spreading the filling, scrape it off and heat it in the microwave for a few seconds to soften the butter further.
ASSEMBLE AND BAKE THE DOUGH
Starting with one of the short sides, roll the dough up into a tight 9" log. Using a sharp serrated knife, cut the log into 6 even slices. Place the slices cut side down in the prepared pan (one in the center and 5 around it), then cover loosely with foil or a kitchen towel and allow to rise for 1 and ½ hours.

When rolls have risen, preheat the oven to 350ºF (177ºC). Place baking dish on a baking sheet, or place a baking sheet on the oven rack under the rolls, as some caramel sauce may bubble over. Bake the rolls for 25-30 minutes or until rolls just start to brown on top. Remove from oven and allow to cool for 5 minutes while you prepare the cream cheese frosting.
CARAMEL CREAM CHEESE FROSTING
In a large bowl with a handheld mixer or the bowl of a stand mixer fitted with a paddle attachment, beat the butter and cream cheese on medium-high speed until smooth.

Turn the mixer speed down to low and add the powdered sugar. Add the salt and caramel sauce and continue mixing until smooth. Set aside.
SERVE THE ROLLS
Get out a serving platter or dinner plate. Being very careful, turn the warm rolls over and out onto the plate. To do this: invert the plate on top of the warm rolls. Using oven mitts, flip everything over (plate is now on the bottom), and allow rolls to settle upside down for a few minutes before removing the baking dish (which is now on top). You may need to shake the baking dish a bit to loosen some parts of the rolls.

Spread cream cheese frosting onto slightly cooled rolls and serve rolls immediately. Drizzle with more caramel sauce, if desired. Leftover rolls stay fresh in an airtight container at room temperature up to 3 days or in the refrigerator up to 5 days. Reheat in the microwave for 8-10 seconds before serving.
Notes
Caramel sauce: I strongly encourage homemade caramel sauce here as store bought is typically made with corn syrup which can become chewy and hard in the oven. If you must buy it, look for something without corn syrup.
Make ahead: this dough can be made the ahead of time through step 1 of the "assemble and bake dough" instructions. Cover rolls with plastic wrap and allow to rest in the refrigerator overnight. In the morning, remove from the refrigerator and allow to rise in a warm environment, about 1 hour. Continue with step 2 in the "assemble and bake dough" instructions.
To freeze: baked rolls freeze well, up to 2-3 months. Thaw overnight in the refrigerator and warm before enjoying.
To freeze unbaked rolls: bake the rolls in step 2 in "assemble and bake dough" instructions for 10 minutes at 350°F (177ªC). Allow to cool completely, cover tightly, then freeze. Remove the rolls from the freezer and allow to thaw in the refrigerator overnight. Finish baking for the remaining 20 minutes before icing and serving.
To double this recipe: instead of using an 8″ baking dish, use a 9″ x 13″ or larger, roll dough to 12″ x 18″, and flip out onto a baking sheet or larger platter.
To clean everything with hardened caramel on it, soak in warm soapy water to dissolve the sugar.
Nutrition Disclosure
All nutritional values are approximate and provided to the reader as a courtesy. Changing ingredients and/or quantities will alter the estimated nutritional calculations.
Serving:
1
roll
|
Calories:
505
kcal
|
Carbohydrates:
85
g
|
Protein:
10
g
|
Fat:
15
g
|
Saturated Fat:
9
g
|
Polyunsaturated Fat:
1
g
|
Monounsaturated Fat:
4
g
|
Trans Fat:
1
g
|
Cholesterol:
65
mg
|
Sodium:
429
mg
|
Potassium:
161
mg
|
Fiber:
2
g
|
Sugar:
43
g
|
Vitamin A:
494
IU
|
Vitamin C:
0.2
mg
|
Calcium:
85
mg
|
Iron:
3
mg