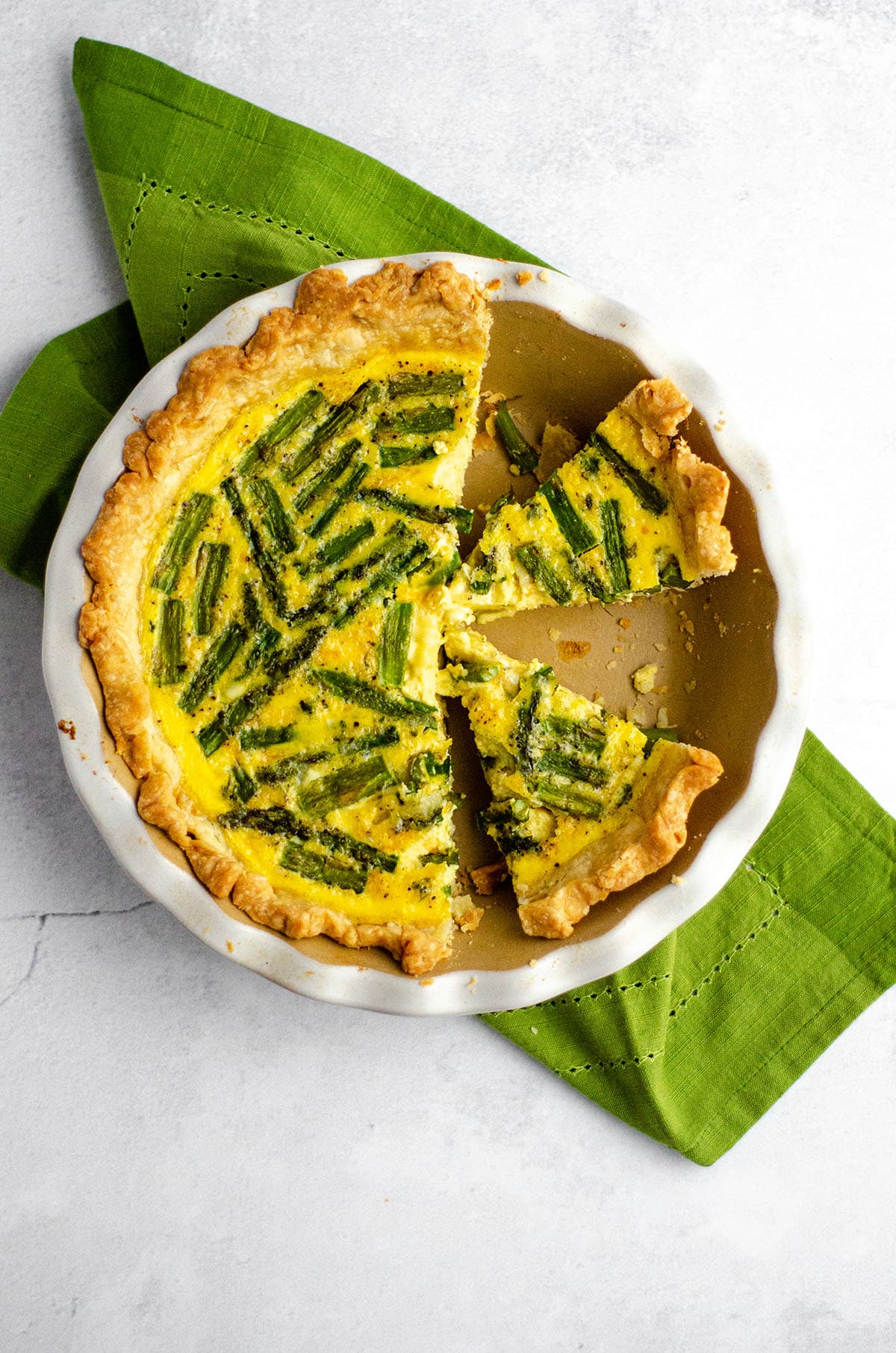 As an Amazon Associate, I earn from qualifying purchases. Read the full disclosure here.
A simple egg quiche loaded up with asparagus and cheese. Pair with my favorite homemade pie crust or go crustless!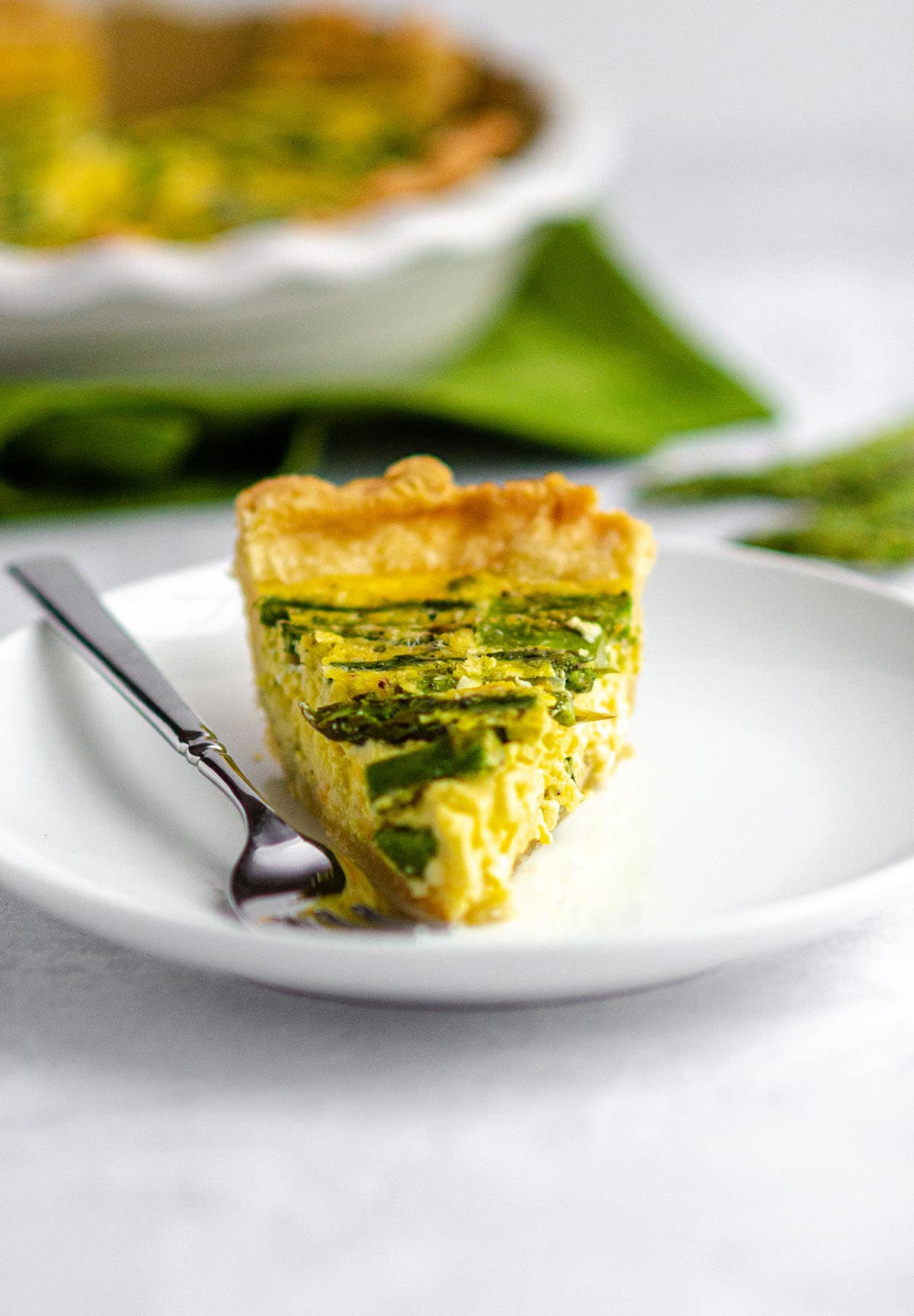 I don't know about you, but I am completely and 100% sugared out.
And this asparagus quiche post coming to you on January 1st has absolutely nothing to do with any kind of "diet" or whatever, but really and truly because this family was craving veggies.
Between all the cookies and chocolates and cakes we consumed over the holiday season, we found ourselves really wanting some greens and it turned out our bodies needed it in a bad way.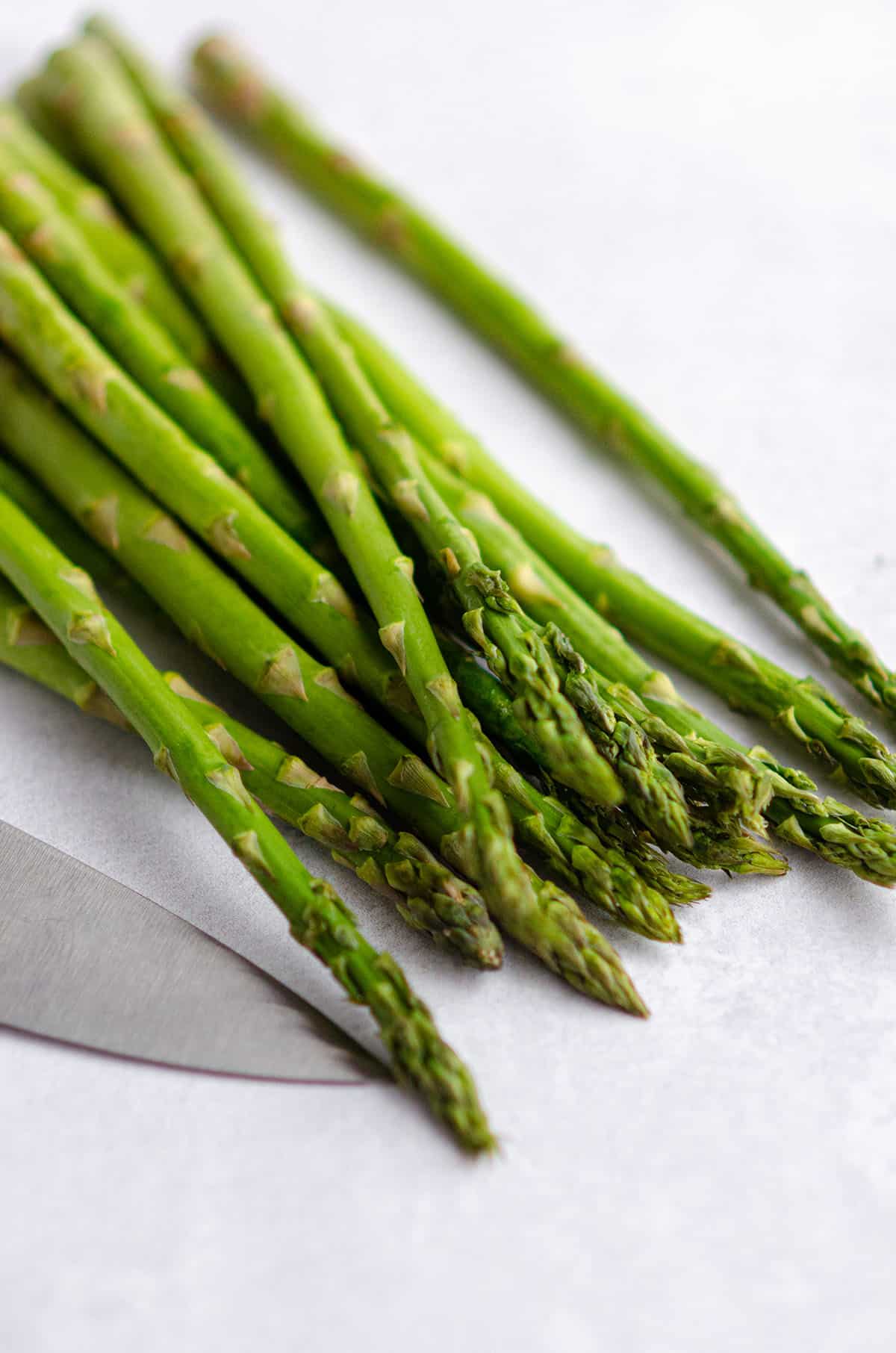 I whipped up this quiche on Sunday afternoon and it was completely gone by Monday after breakfast.
Yep. Savory eggs and veggies is what we needed after the sugar rush.
Now before I get to what exactly this asparagus quiche entails, I feel it necessary to say… My bringing this recipe to the blog is in no way a judgement to you if you're still eating cookies and chocolates and cake.
We are whole-heartedly a "balance is everything" kind of household (helloooo, I have brownies in the oven as I'm typing this), and if right now, this quiche is just not what you're all about, you do you, friend. FOR REAL.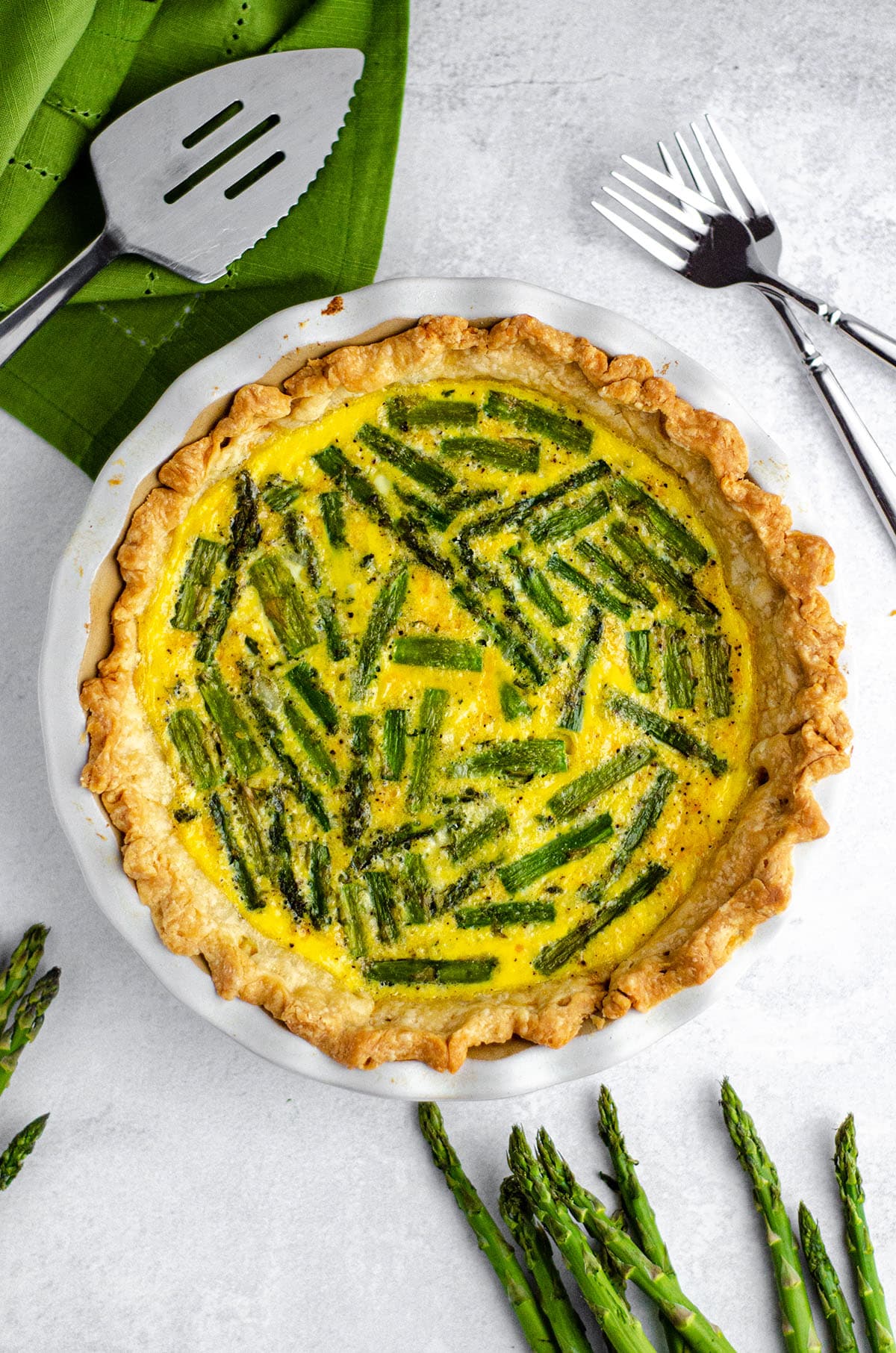 But for those of you who are down with something other than sugar right now, this asparagus quiche is going to rock your socks off, because when I tell you that we were "oh my gosh, this is so good"ing after every bite, I mean it.
So let's start with the basics. And let's get the basics out of the way, in case your basics wants to look different than mine.
This particular quiche starts with a homemade pie crust. My favorite homemade pie crust, to be exact. It's a winner, a keeper, a staple… Grab that recipe and never let it go!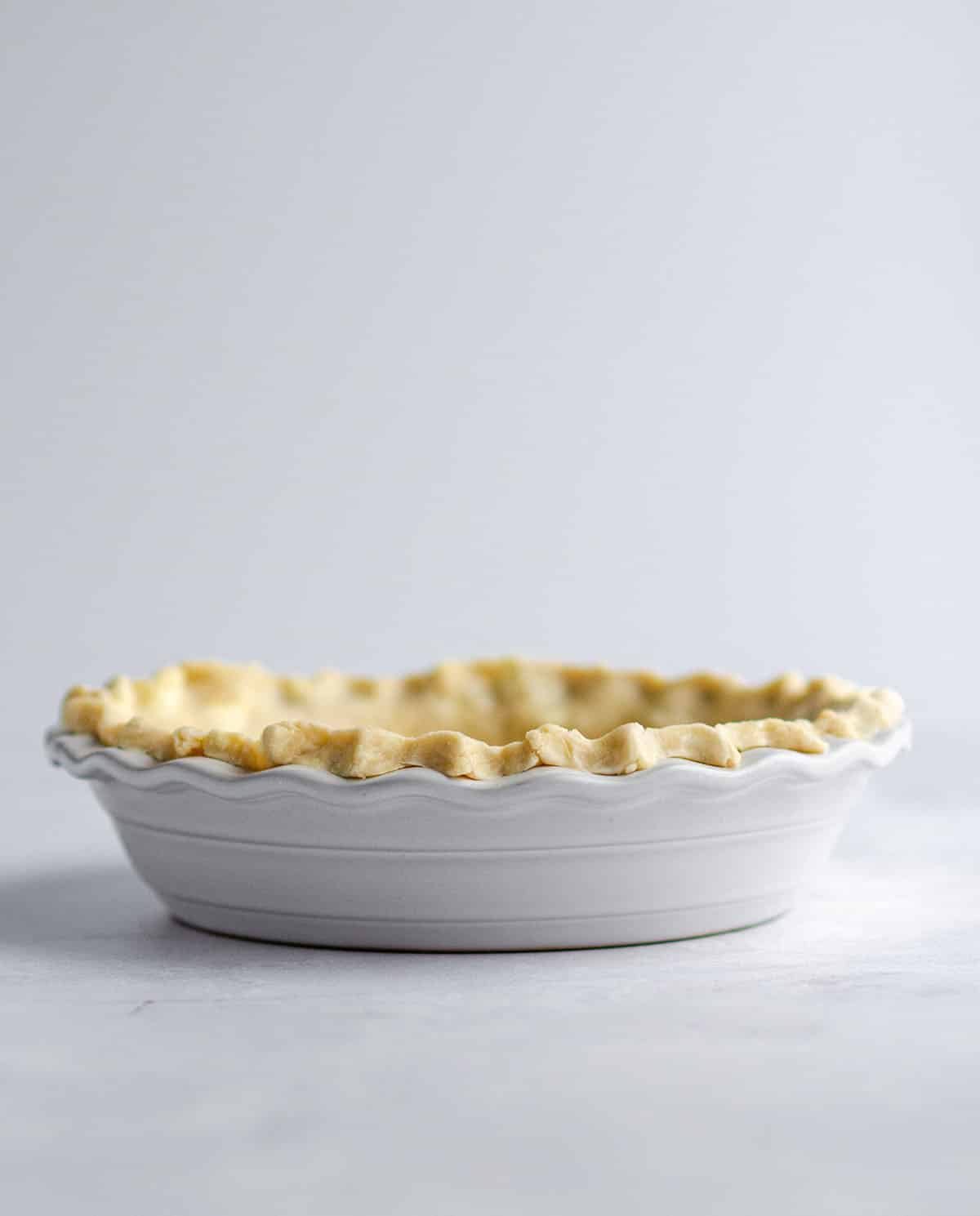 But if you're not feeling the pie-crust-from-scratch situation, then absolutely take a shortcut with store bought. You'll know where to pick up in the recipe's instructions.
And, of course, you always have the option of going crustless for this asparagus quiche recipe. In fact, this crustless caprese quiche is one of the most popular recipes on my blog. I am totally down with no crust.
But I was feeling something different and I really wanted the flaky, buttery texture of a pie crust to go with my eggs and asparagus. Ya feel me?
You do your quiche howeverrrr you please.
For those of you who are into my homemade pie crust, though… You'll be blown away.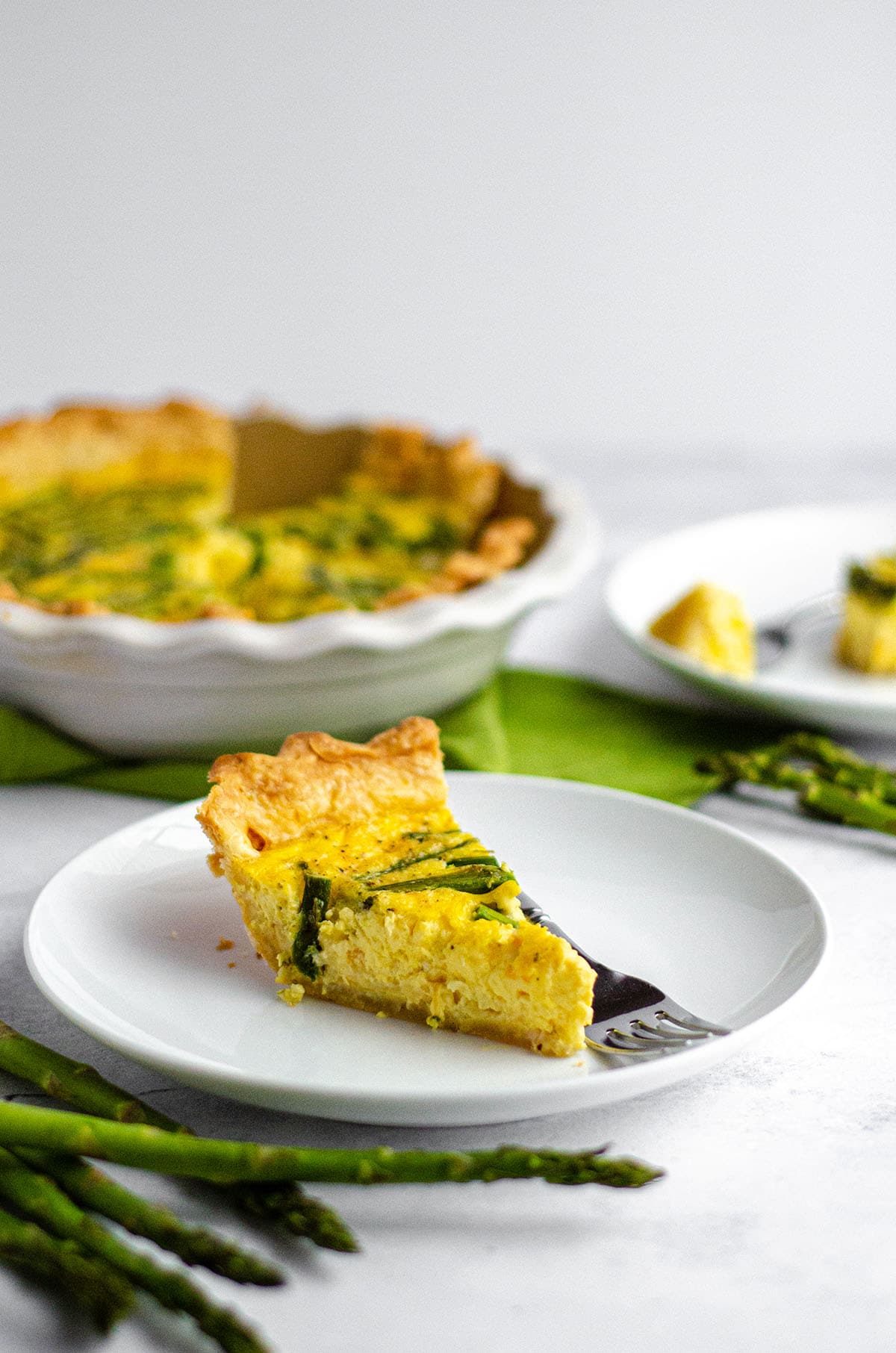 It's crazy easy to put together, I have all the photos and clear instructions written out for you, and the end result is amazeballs and the perfect foundation for any filling– fruity, pumpkin-y, or savory alike.
We use shortening and butter in our pie crust to give the perfect texture and structure. And you'll need about 2 hours for it to chill before using it, so plan ahead if you're going that route.
The filling for this quiche is super simple, and I wanted to keep it such because sometimes, recipes can get a little crazy with spices and seasonings and all the little add-ins.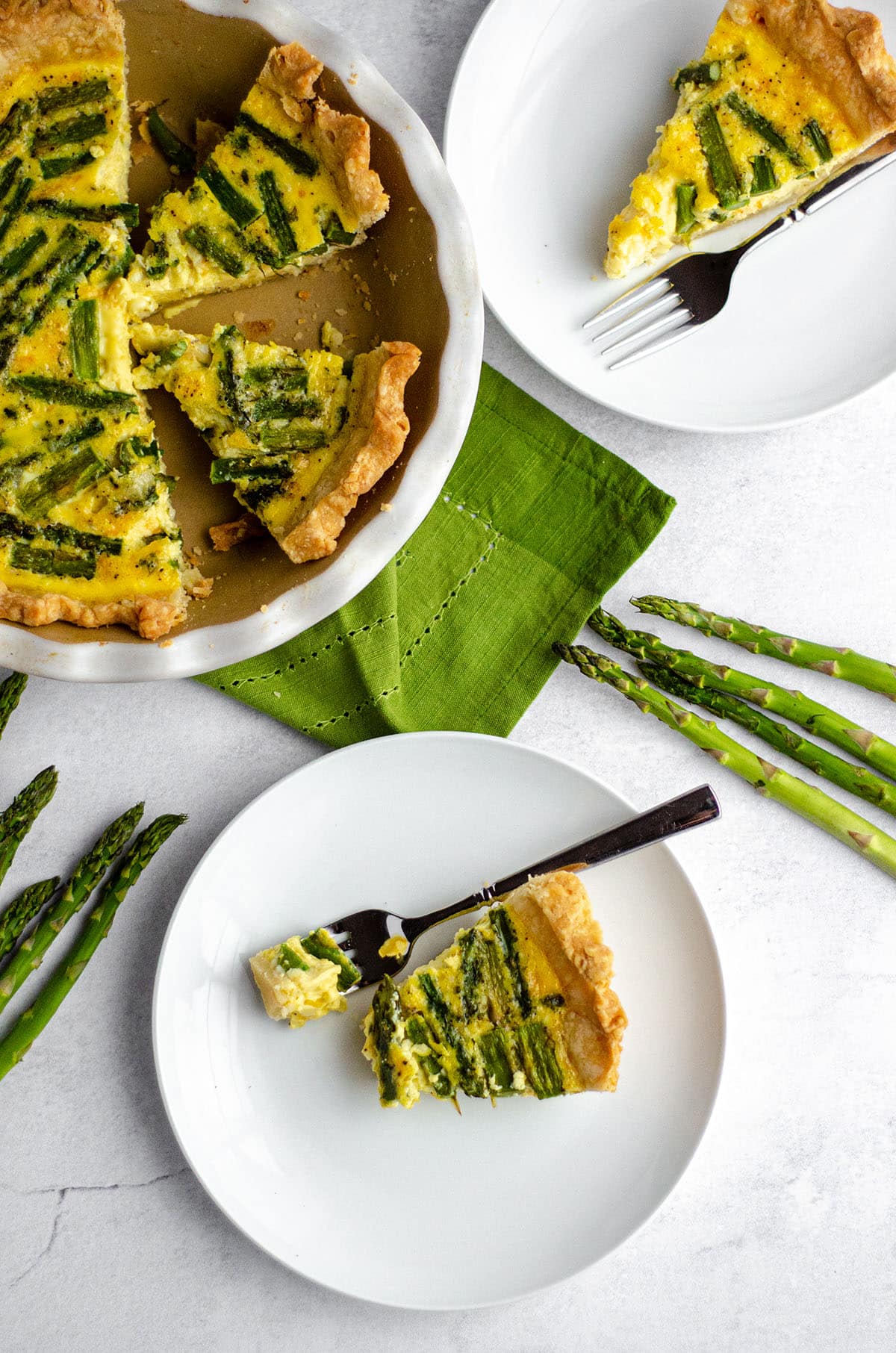 The only thing going on in this quiche is asparagus sautéed with garlic, some cheese of your choice (we went with mozzarella), and some salt and pepper.
SIMPLE!
The asparagus and garlic cook for only about 5-7 minutes, just enough time for the asparagus to start softening, but not turning it to mush. I consulted my household cooking expert on this part, because I was just going to throw them in raw (seriously, this is why I don't cook).
His suggestion to par cook was perfect. You can thank Mr. Muscles for that one!
If you don't have a pie shield, I suggest that you get one. It goes around the crust while it bakes and prevents it from over-browning and drying out.
If you don't have a pie shield, foil works just as well!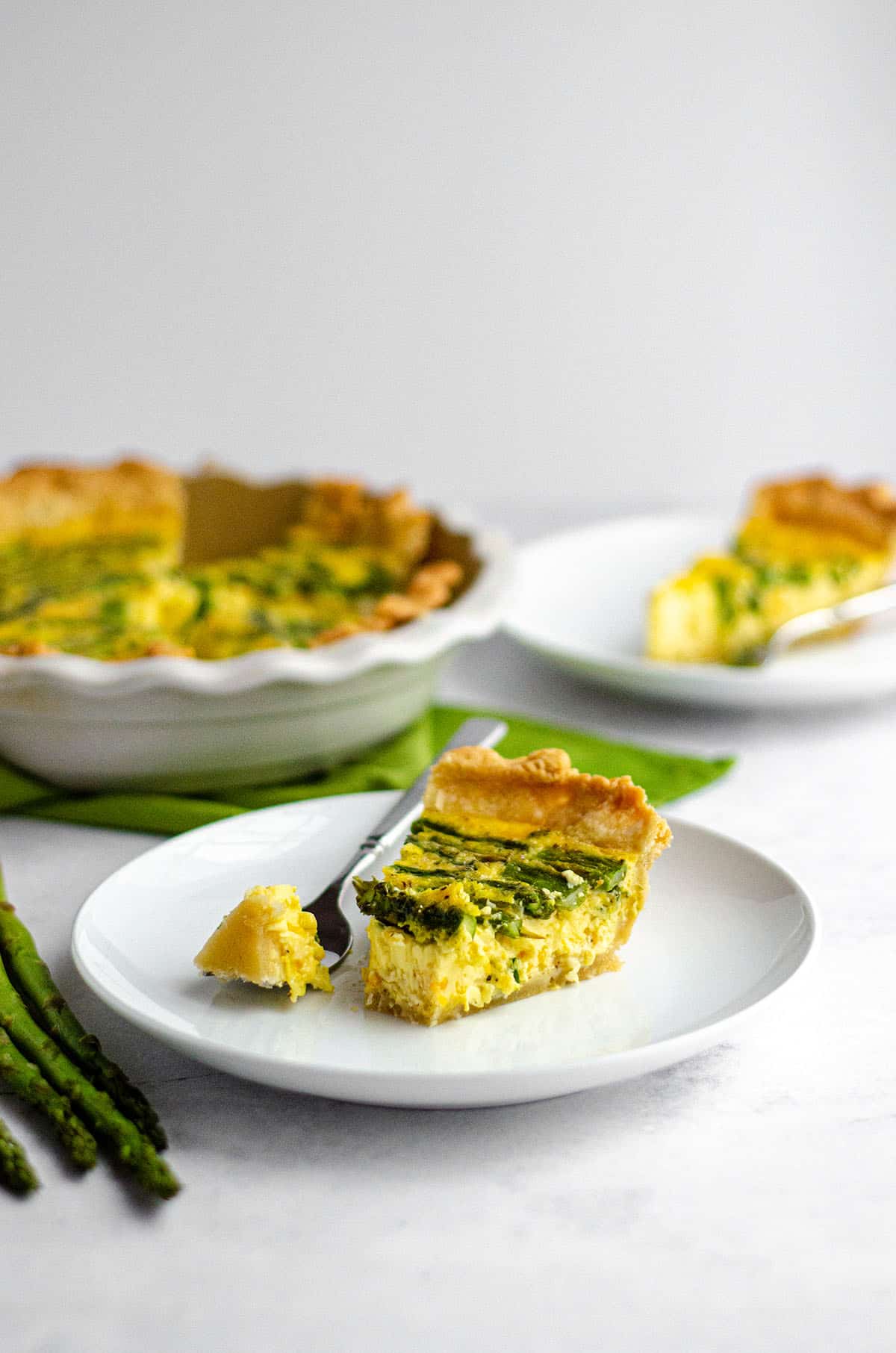 About 50ish minutes in the oven, and this asparagus quiche is all yours to devour just as quickly as we did.
I am not kidding when I use the word "devour." I served this for dinner on Sunday night, after it had just been baked that afternoon, and between Matt and myself, we ate 4 slices.
The kids picked at half a slice between the two of them, but they're in a phase, never mind the fact that they will eat pie, eggs, and asparagus all separately (?!). EYE ROLL.
We were practically fighting for the rest of this quiche at breakfast on Monday, and then POOF! It was gone.
Ridiculously and simply delicious without much going on but asparagus and eggs. Really.
The cheese is there, but it's an afterthought and more or less for texture and "glue." The crust is a wonderful texture addition and the butter in it just complements the whole dish.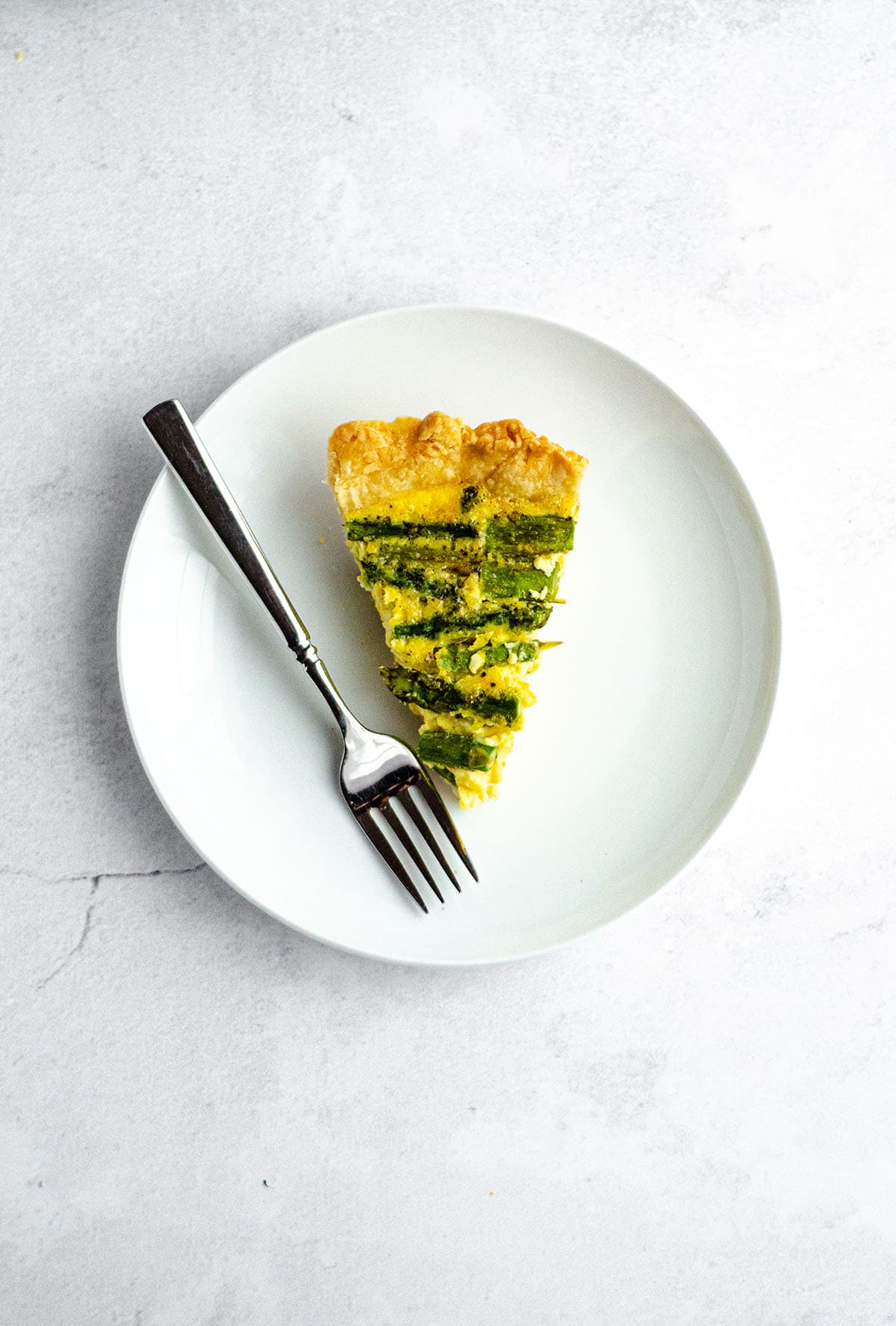 Perfection!
I think my favorite part is how the asparagus is slightly crunchy and lends well to everything else going on. Too soft, and there would just be stringy vegetable mush going on, too hard and you might as well be eating celery. Juuuuust right.
If you're searching desperately for veggies after the holiday buzz, this is it. And if you just really love asparagus and want to change up the way you're eating it, this easy asparagus quiche is also for you.
I will definitely be back next week with all.the.sugar, so thank you for allowing this savory quiche idea into the ever-popular collection between the sugar bits.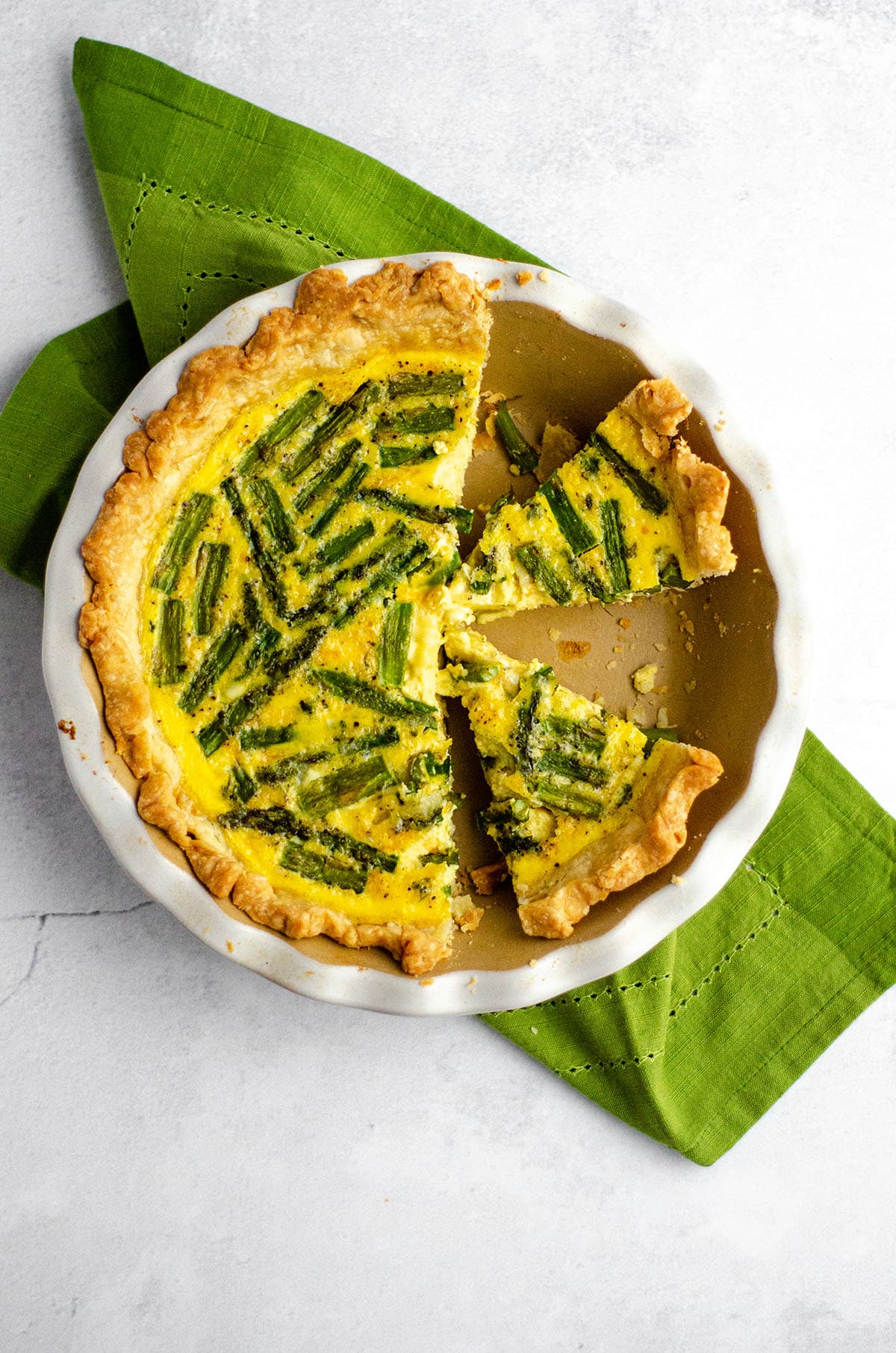 Here's to 2020, lots of balance (in food and in life), and all the occasional veggie cravings.
Asparagus Quiche
A simple egg quiche loaded up with asparagus and cheese. Pair with my favorite homemade pie crust or go crustless!
Ingredients
½

recipe

homemade pie crust

store bought is fine; thawed and chilled

1

Tablespoon

(13mL) olive oil

2

cloves of garlic

minced

14

medium size asparagus spears

approximately 12 ounces untrimmed

6

large eggs

1

cup

(240mL) milk

4

ounces

(113g) cheese

I used mozzarella

½

teaspoon

salt

¼

teaspoon

black pepper
Instructions
Preheat the oven to 350ºF (177ºC). Set out a 9" x 2" pie dish.

On a floured work surface, roll out the chilled pie dough. Turn the dough about one quarter of a turn after every few rolls until dough is in a circle approximately 12" in diameter. Carefully place the dough into the pie dish. Use your fingers to tuck it in and make it smooth. If you need to trim the edges, use a small paring knife to do so. Flute the edges with your pointer finger knuckle of one hand and thumb and pointer finger of the other. Place pie plate in the freezer while you cook the asparagus.

Remove the bottom third of the asparagus stalks and discard. Cut the remaining ⅔ of the stalks into 4 pieces. You will have about 1 cup of sliced asparagus.

Heat a large skillet over medium heat. When it is heated, pour in the olive oil, garlic, and asparagus, and cook until asparagus just starts to get tender, about 5-7 minutes. Remove from heat and set aside.

Remove pie crust from the freezer. Prick the crust a few times with a fork, then line the crust with parchment paper and dried beans or a pie chain/pie weights. Bake the crust for 10 minutes. While the crust bakes, prepare the rest of the filling

In a large bowl, whisk together the eggs and milk until smooth. Stir in the cheese, salt, and pepper. Set aside.

When crust is done baking, remove from oven, remove pie weights and parchment, and place asparagus on the bottom of the pie crust. Pour the egg and cheese mixture over the asparagus, then place a pie shield around the crust to prevent over-browning. You may also use foil. Bake the quiche for 50-55 minutes or until egg is set in the center. Allow to cool 20 minutes before serving. Store leftovers covered tightly in the refrigerator up to 5 days. Quiche freezes well, up to 2 months. Thaw in refrigerator overnight.
Nutrition Disclosure
All nutritional values are approximate and provided to the reader as a courtesy. Changing ingredients and/or quantities will alter the estimated nutritional calculations.
Serving:
1
slice
|
Calories:
260
kcal
|
Carbohydrates:
16
g
|
Protein:
11
g
|
Fat:
17
g
|
Saturated Fat:
7
g
|
Polyunsaturated Fat:
2
g
|
Monounsaturated Fat:
7
g
|
Trans Fat:
0.01
g
|
Cholesterol:
141
mg
|
Sodium:
399
mg
|
Potassium:
187
mg
|
Fiber:
1
g
|
Sugar:
2
g
|
Vitamin A:
582
IU
|
Vitamin C:
2
mg
|
Calcium:
169
mg
|
Iron:
2
mg