Gordon Ramsay's Caramelized Apple Pie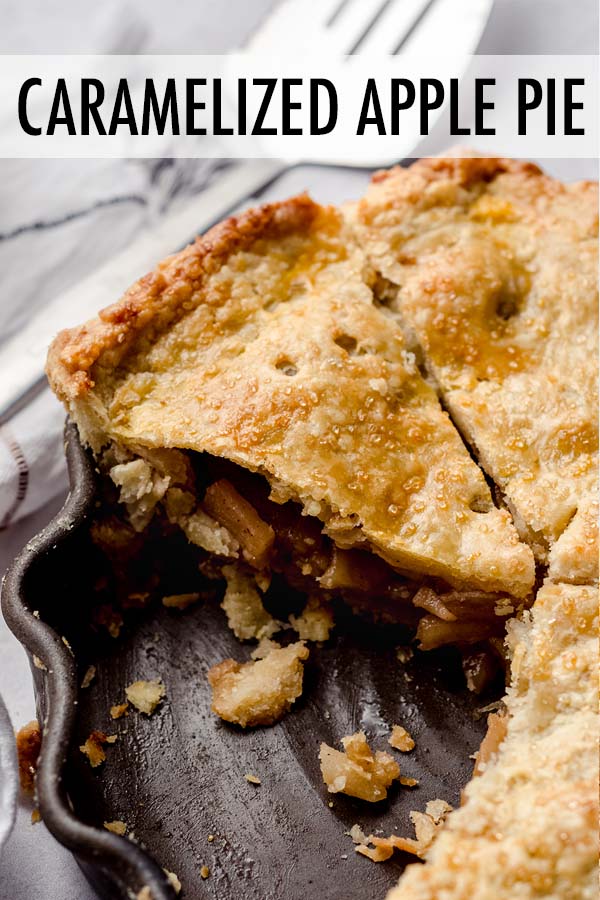 As an Amazon Associate, I earn from qualifying purchases. Read the full disclosure here.
This caramelized apple pie is like no apple pie recipe you've tried before. Going the extra step to pan fry the apples in butter and brown sugar takes the flavor to a whole new level. Use a flaky double crust to seal in all the flavor and texture, then serve slightly warm with ice cream or as is.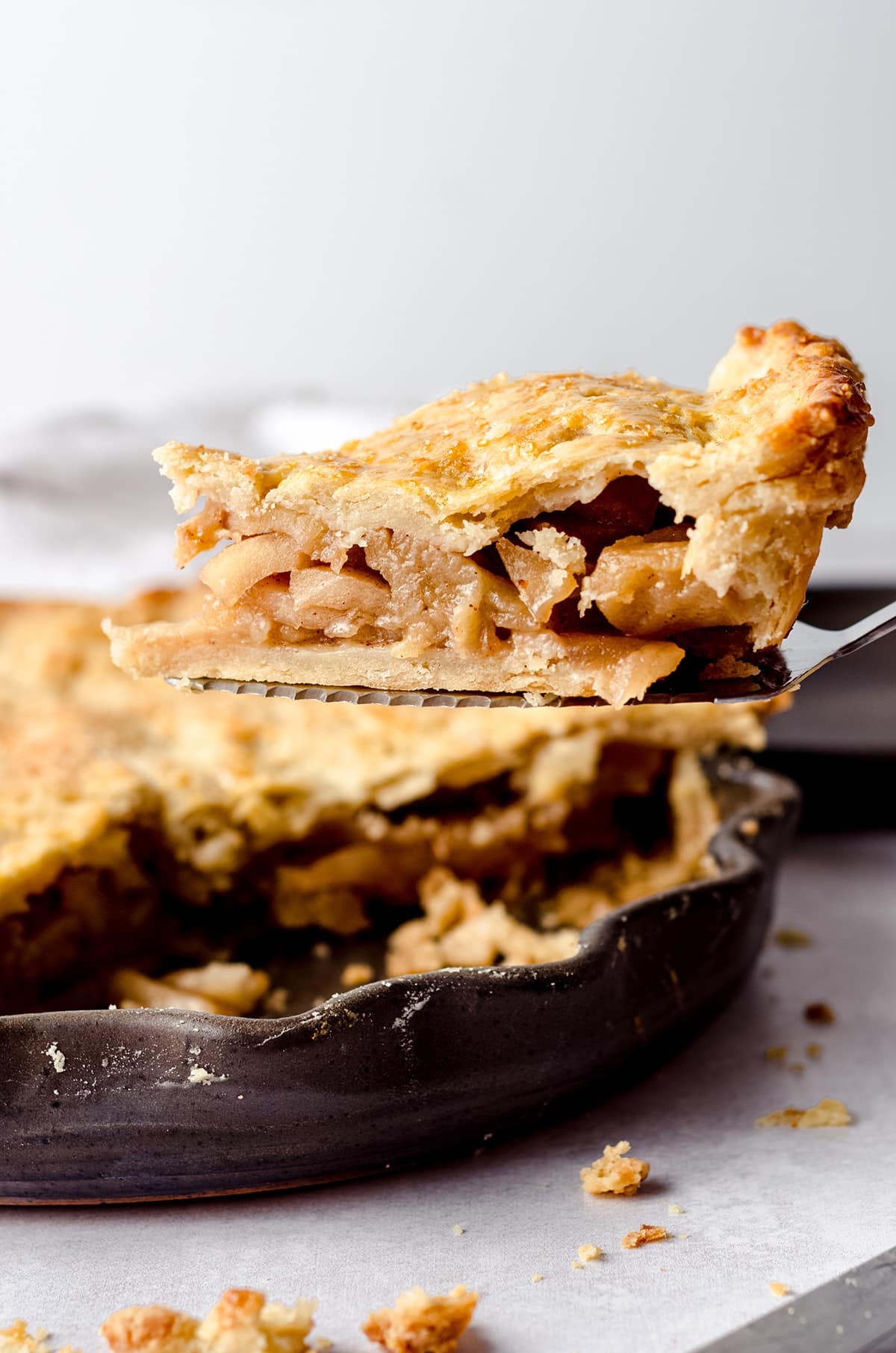 Every year I pick a theme to feature, and each month I share a recipe centered around that theme. This year it is all about pies, and while I love bringing you all the Pie of The Month recipes, this Gordon Ramsay inspired apple pie has to be one of the recipes I'm most excited about!
Apple pie is a classic standard, and has a top position in the Pie Hall of Fame (if that were a thing, which I think it should be). So I knew that I had to share a recipe with you that encompassed all of the tradition and familiarity of a classic apple pie, but with a tasty twist.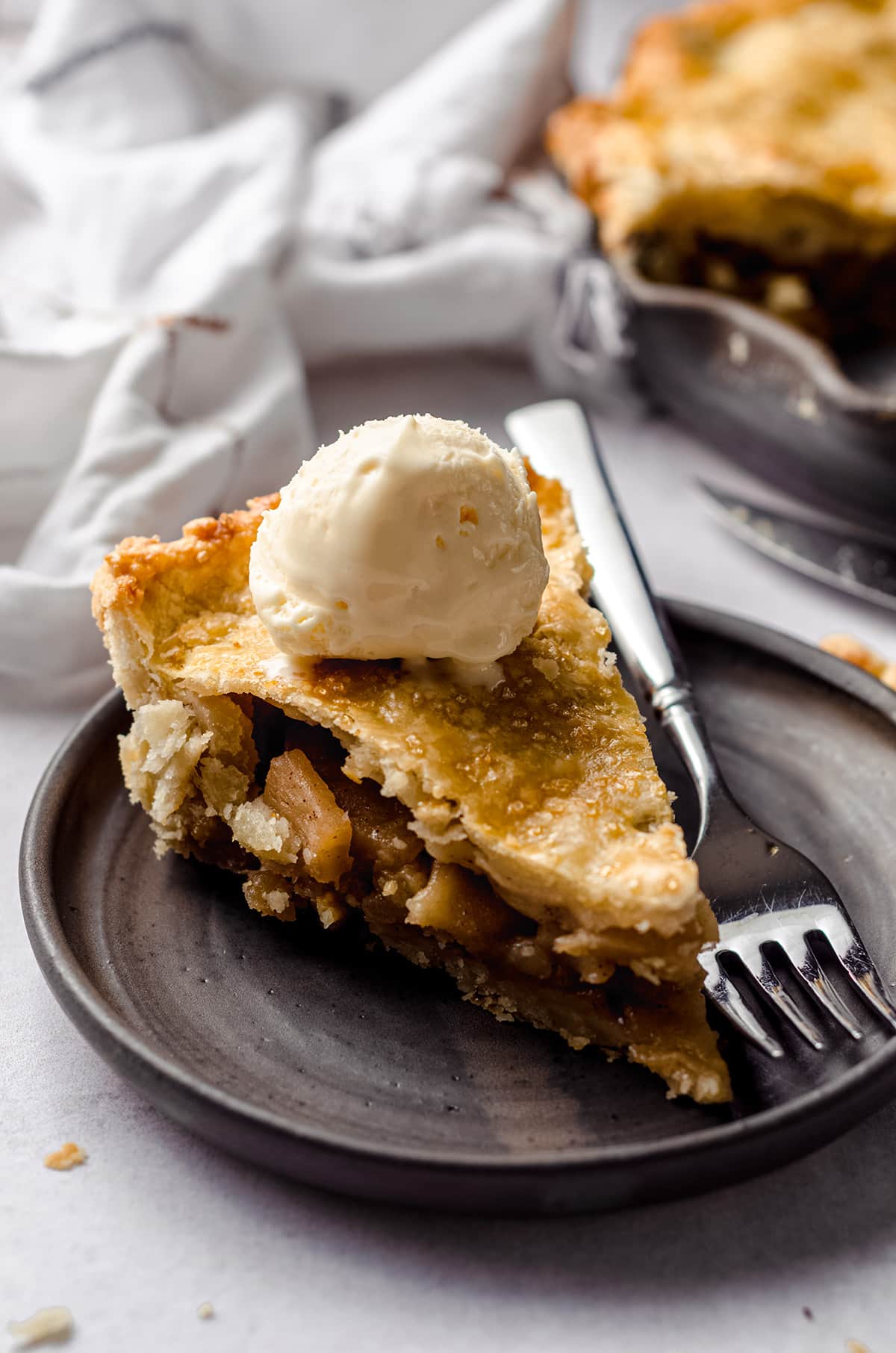 Thankfully, I found just what I was looking for!
WHY GORDON RAMSAY APPLE PIE?
I went searching for the best apple pie recipe, and it seemed many folks were raving about Gordon Ramsay's apple pie recipe. I had to see what the hype was all about and test it for myself, and when I tell you I was blown away, I'm not kidding.
I was shocked that such a simple apple pie recipe could be taken to the next level by doing one additional simple step. But then again, after over 10 years of baking, I should have known better!
Often times, it's the subtle changes that make a big difference. And such is the case with Gordon Ramsay's apple pie.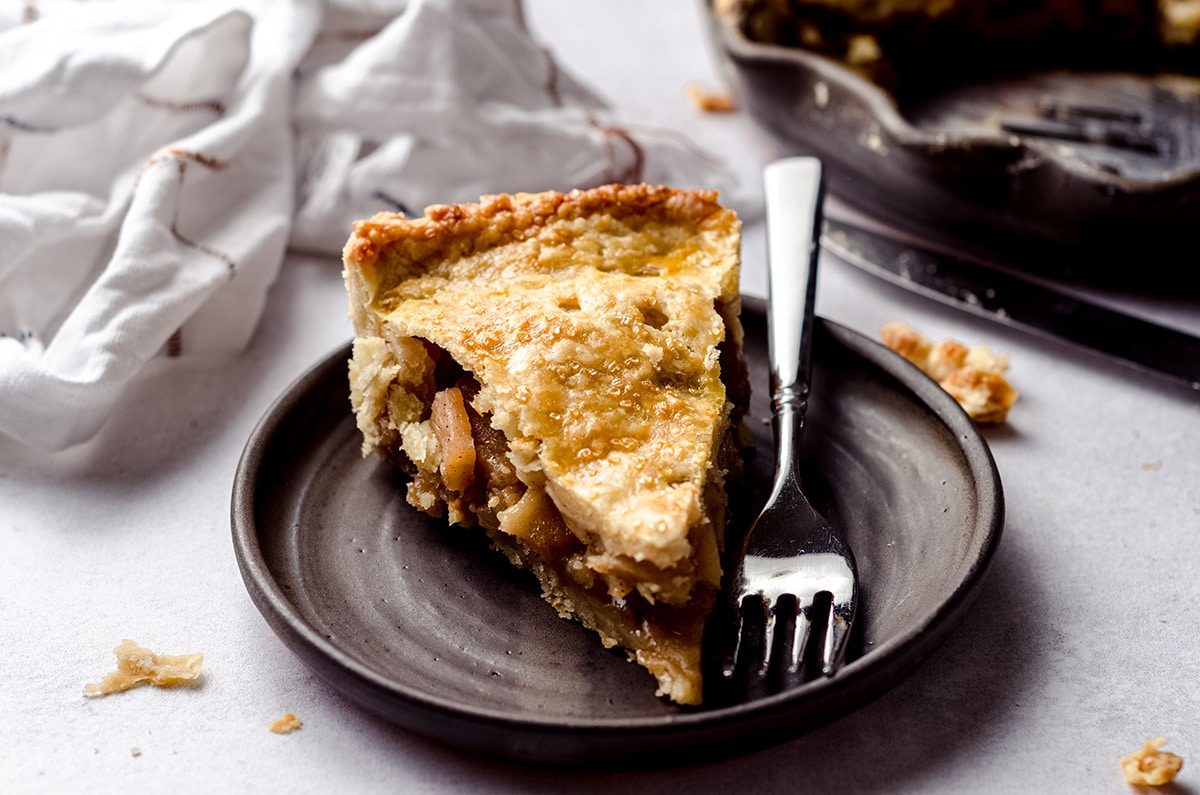 A gentle caramelization of the apples adds SO much flavor, and brings a traditional apple pie recipe to the next level. While Gordon Ramsay uses a short crust, I stuck with my buttery homemade pie crust and LOVED the results.
WHAT KIND OF APPLES SHOULD I USE?
Though the best apples for apple pie are typically Granny Smith, I like to add a few sweeter ones to the mix alongside the tart ones. A mix of varieties adds a complex flavor to your apple pie, and I highly recommend doing so if you can!
Other apples that work well in baking include Honeycrisp, Jonagold, Braeburn, Pink Lady, Cortland, Northern Spy, and Gala. I'm sure a mix of several of these varieties would make a super delicious apple pie (looks like you're going to have to make multiple pies to test this theory!).
HOW TO MAKE CARAMELIZED APPLE PIE
An apple pie filling recipe should be pretty simple. We want to showcase the apple flavor and not mask it with a bunch of ingredients nor do we want to fuss with the apples too much before we bake the apple pie.
We want to let the apples speak for themselves and hold the spotlight, essentially.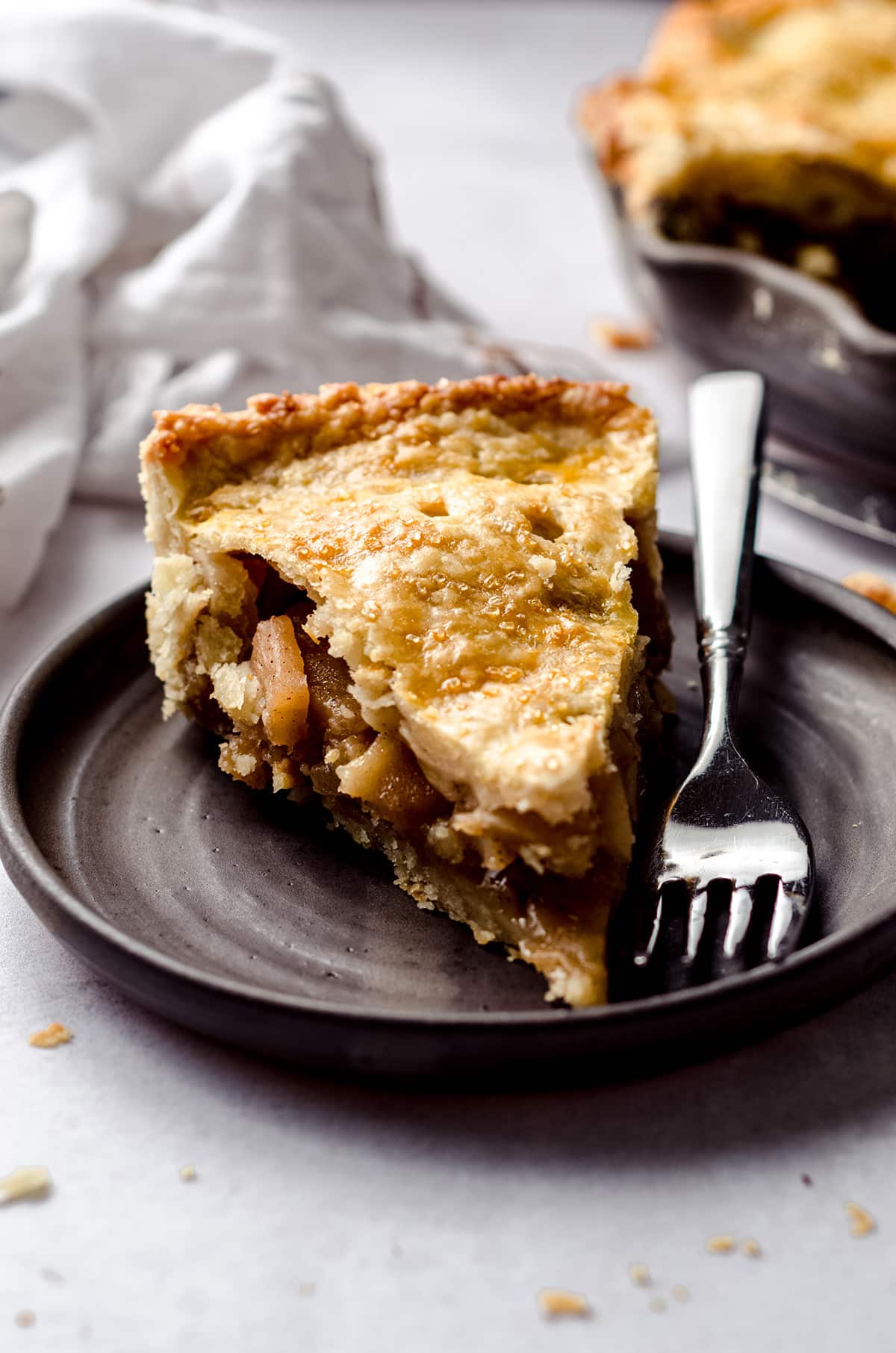 Before we get to the apples, though, it's important to make sure we have our crust in place.
PIE CRUST
I chose to use my own homemade pie crust recipe after reading that some people didn't love Ramsay's saying it was difficult to work with.
My homemade pie crust never lets me down, and works great for ALL kinds of recipes, both sweet and savory.
Some of my favorites include my chocolate chess pie, pecan pie tarts, apple hand pies, and this double crust chicken pot pie. But you don't have to stop there, you can use this versatile pie crust in pretty much any recipe that calls for a standard pie crust.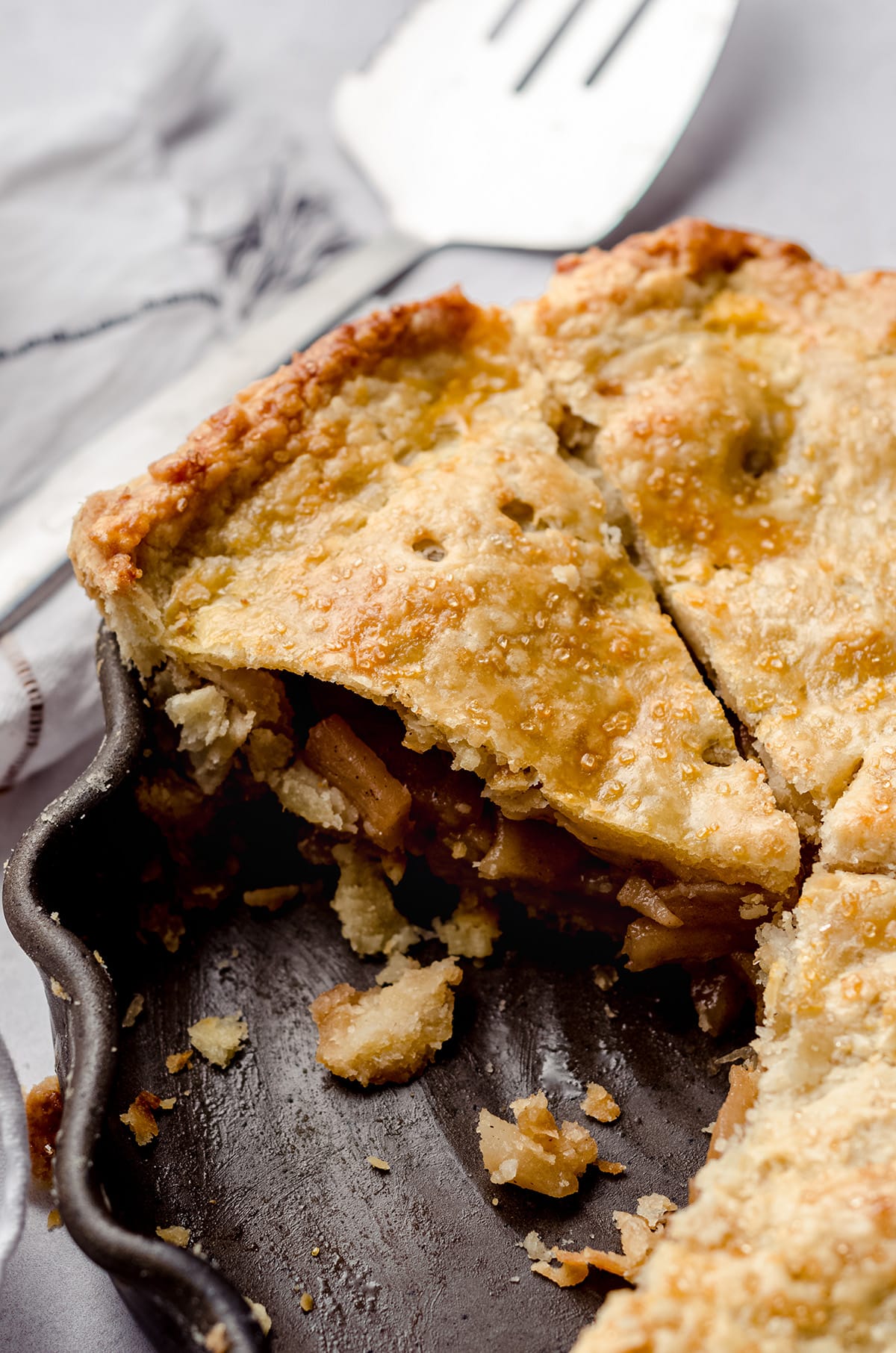 I love my homemade pie crust because it's buttery, flaky, and totally easy to roll out. If you want a step-by-step guide to making the perfect pie crust, be sure to check out the full recipe.
It's very simple to make, though, if you've had experience with making a pie crust before.
All you need to do is whisk together your dry ingredients, and then add in (very cold) cubed butter and vegetable shortening.
Cut all of the fat using a pastry blender until it resembles coarse crumbs.
And then add in some ice water to bring it all together.
Chill your pie dough for at least 2 hours before rolling out, but you can totally make it in advance if you want! I've done it up to 5 days ahead of time with great results.
PLACE THE BOTTOM PIE CRUST BEFORE MAKING THE FILLING
I strongly encourage you to get your pie crust ready to go before starting on the apples.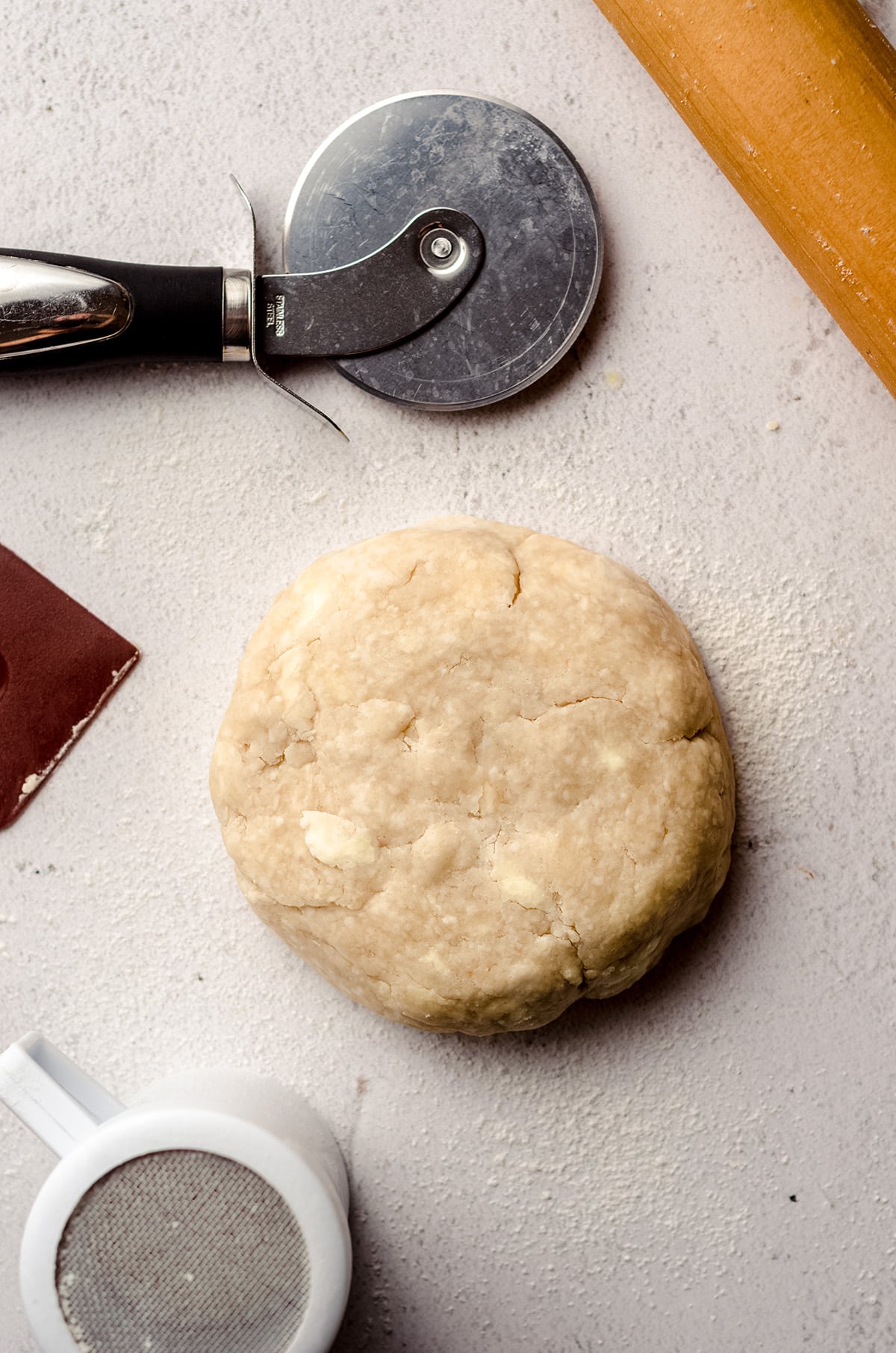 I always get the best flaky results from a pie crust that has been chilled as long as possible, so lining the plate, preparing the filling while the bottom crust chills, then adding the finishing touches before baking allows us to keep the fats as cold as possible before they start doing their thing in the oven.
You can keep the second pie crust disc in the refrigerator until it's time to bake the pie. We'll talk about what to do with that in a bit.
PREPARE THE APPLES
Ramsay's recipe calls for chunking the apples, but many reviewers said it could be done just as easily the traditional way.
This apple peeler/corer/slicer is my very favorite tool for preparing apples for things all the way from this apple pie to apple hand pies to homemade apple butter and homemade applesauce.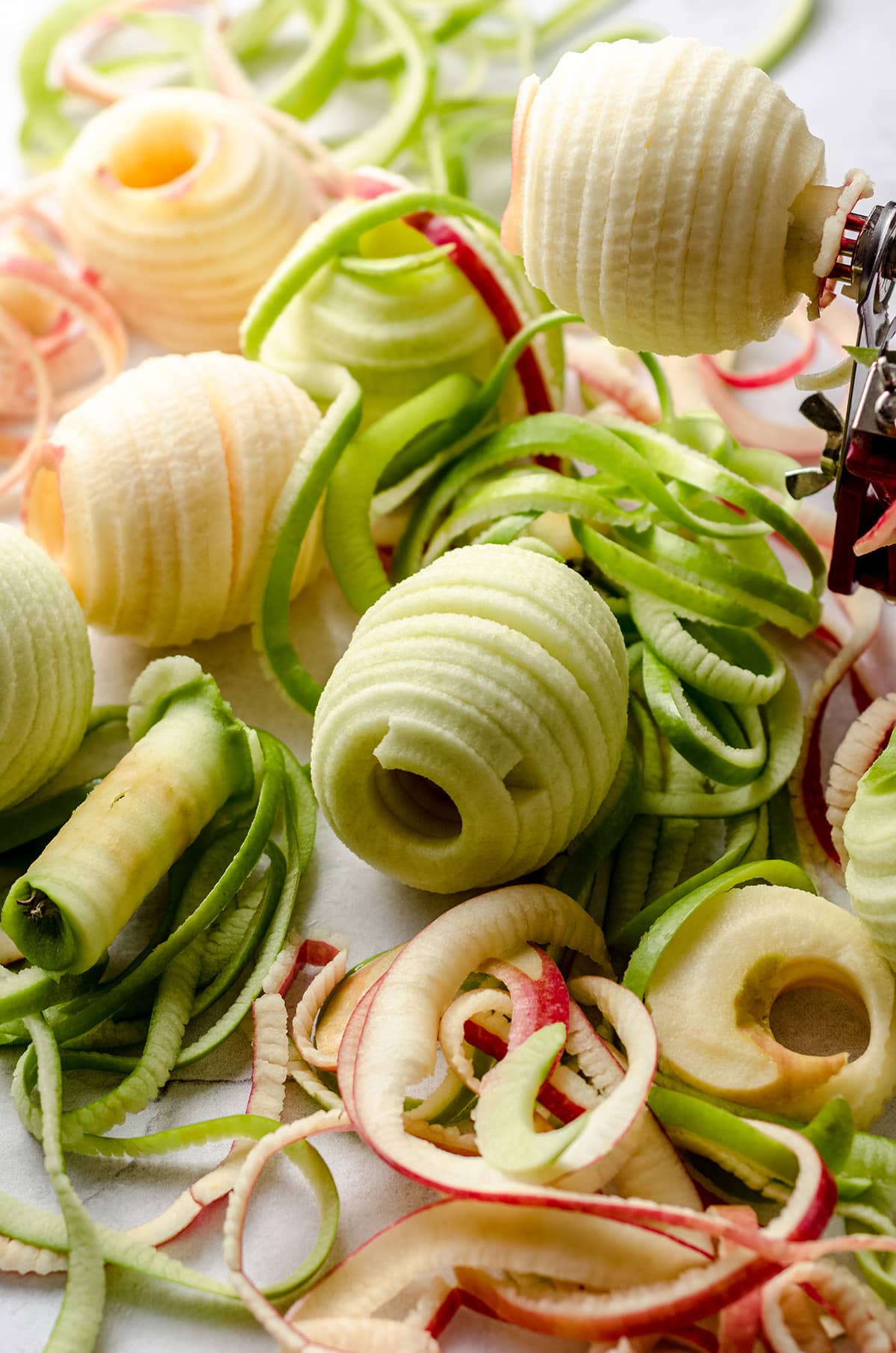 If you don't have a fun gadget like I do, you can absolutely do things the old fashioned way with a handy dandy peeler and a cutting board. It may take you a while longer, but just one slice of this sweet, caramel-y apple pie and you'll forget all about it.
All you have to do is peel and core the apple using a knife, and then cut the apples into large chunks. You can opt for traditional slices if preferred. Just watch the pan carefully during caramelization, as apple slices will cook faster than apple chunks.
HOW TO CARAMELIZE APPLES
The thing that really sets Gordon Ramsay's apple pie apart from the rest, is the sweet, sugary caramelized apples. The best thing is that this extra step is SO easy, and the pay off is totally worth it!
To get started, add your apple chunks to a large bowl and sprinkle brown sugar, cinnamon, and salt right on top. Toss it all together with a wooden spoon or silicone spatula, and then get ready for the good part: caramelization.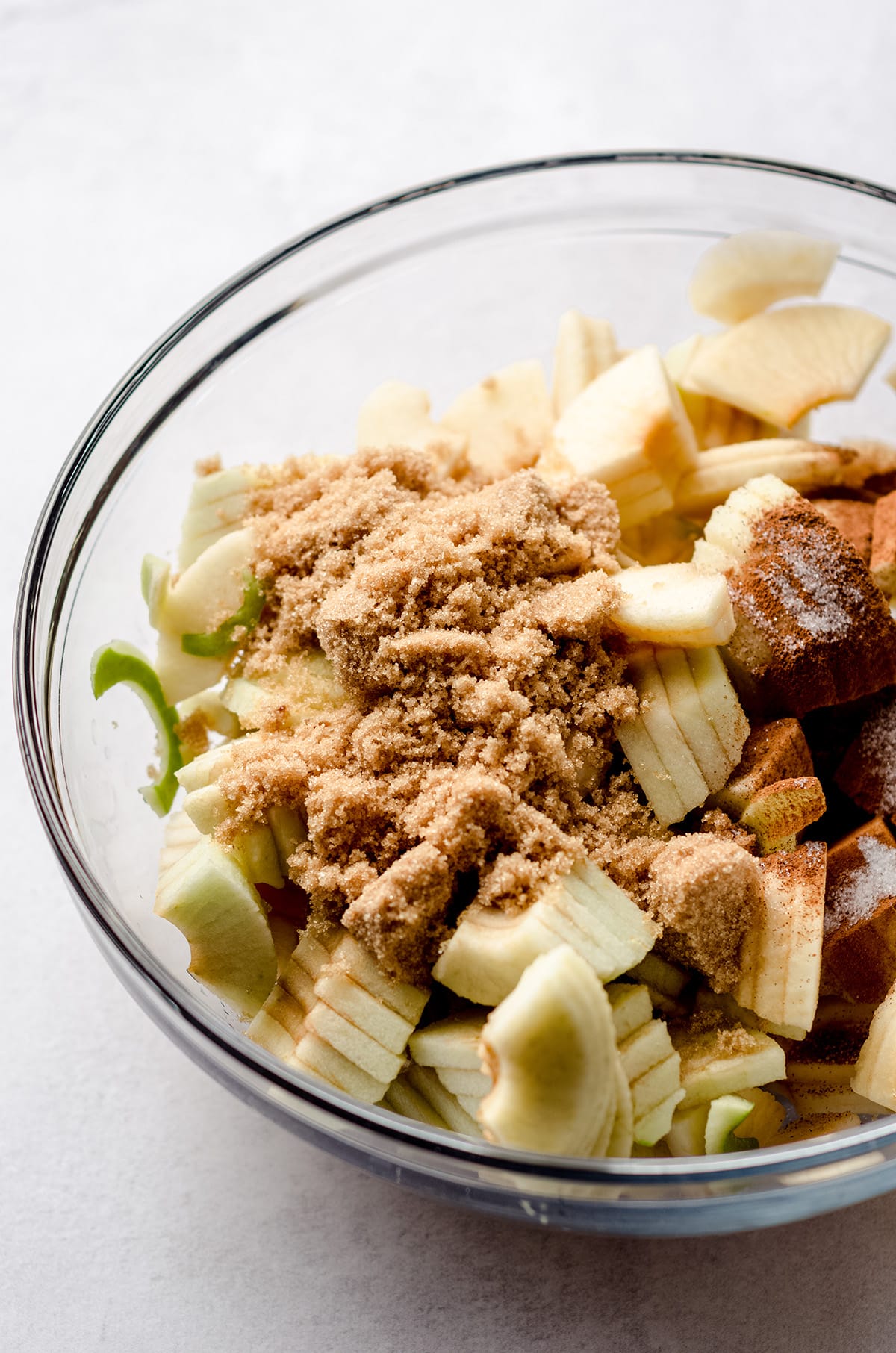 You'll have to work in two batches to make sure that your apples get properly caramelized, but it's a really quick and easy process.
All you have to do is melt some butter in a nonstick frying pan, add in half of the apples, and fry over high heat until everything is golden brown.
After about 5 minutes, your apples should be deeply browned and have caramelized edges. Once this happens, remove the apples from the pan, place them in another bowl, and start again with the remaining half of the sugar coated apples.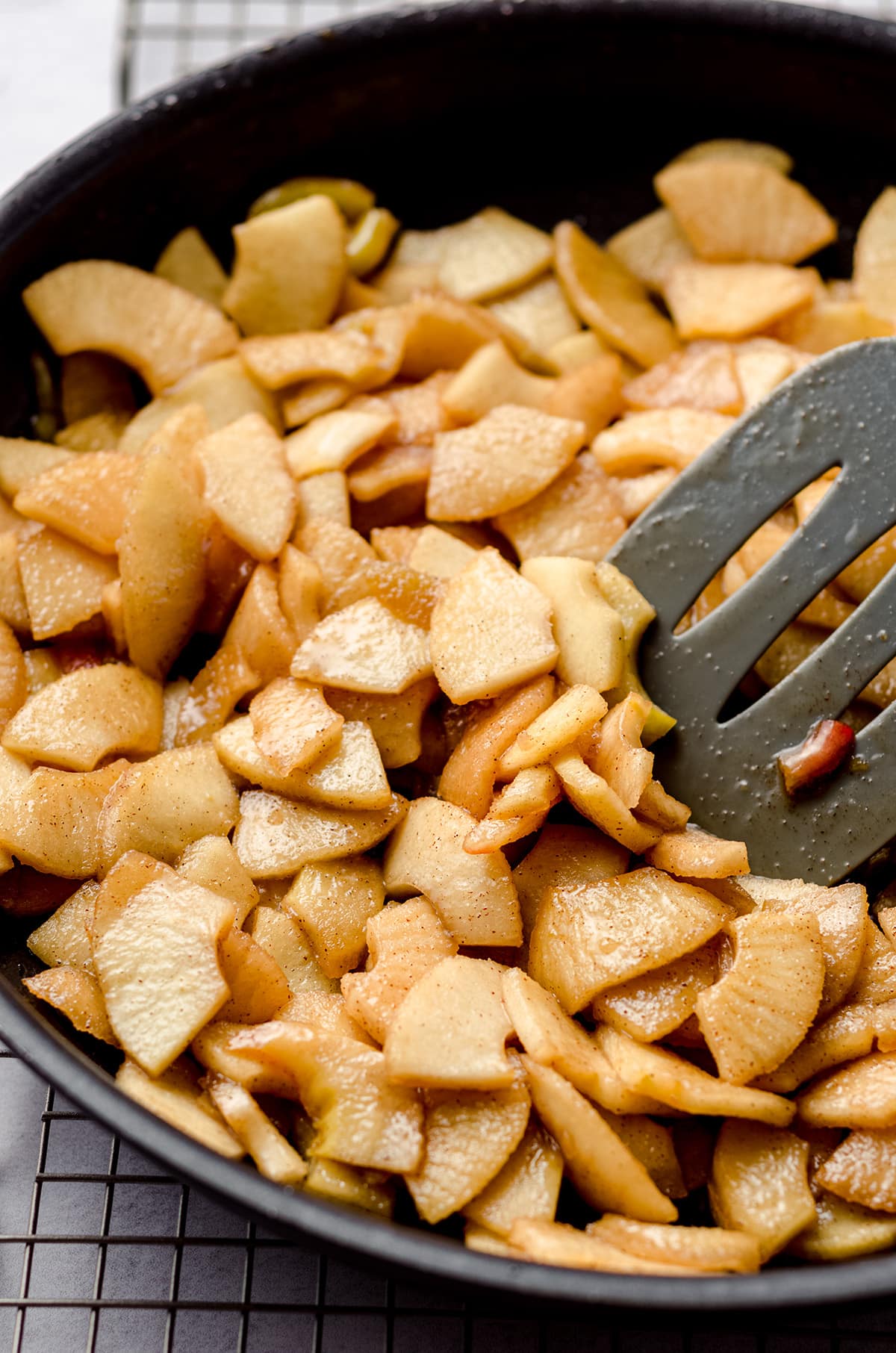 Transfer all of your caramelized apples to a large bowl and allow to cool completely before adding to your buttery homemade pie crust.
BRINGING IT ALL TOGETHER
Once your caramelized apples have completely cooled, and your pie crust has chilled, it's time to assemble the pie.
Grab your chilled bottom pie crust from the refrigerator and spoon in your cooled caramelized apples. Do so as evenly as possible, but don't worry about it being absolutely perfect. Apple pie is supposed to be a bit rustic!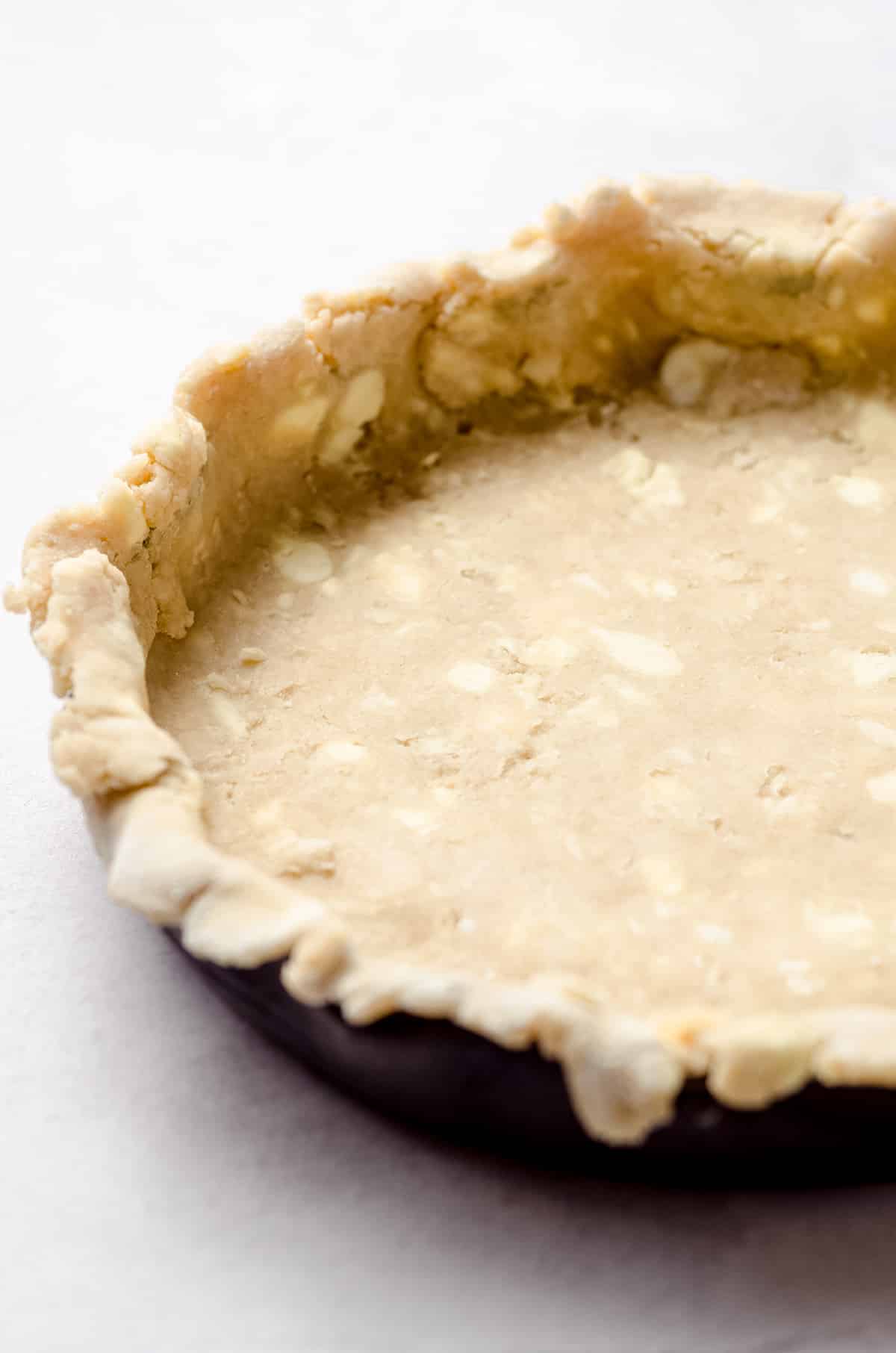 Brush the rim of the bottom crust with a bit of water, then roll out the top crust.
While Ramsay's pie is a traditional double crust apple pie, which is the method I went with, don't miss my tutorial on how to make a lattice pie crust if you'd like to go that route. Either method works great!
Once your top crust is rolled out to about 12″ in diameter, gently drape the top crust over the apples. Press the two layers of crust together at the edge to seal, gather and pinch together the excess, then crimp/flute the edges of the pie.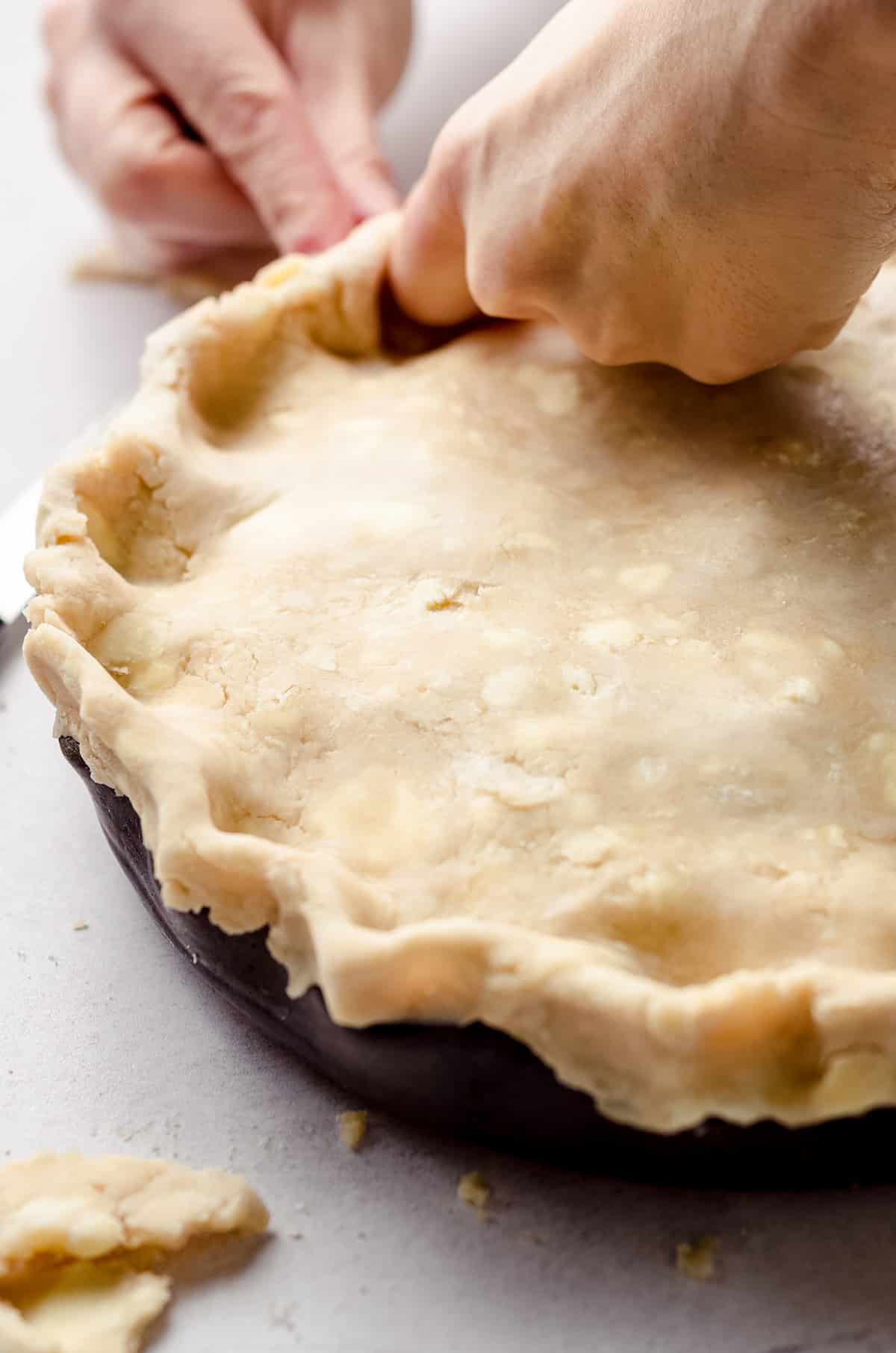 Brush the top crust with an egg wash. This will help the pie brown evenly, and add a beautiful glaze.
Use a sharp knife to cut a cross in the center of the pie. This will allow steam to escape as the caramelized apple filling cooks and releases moisture.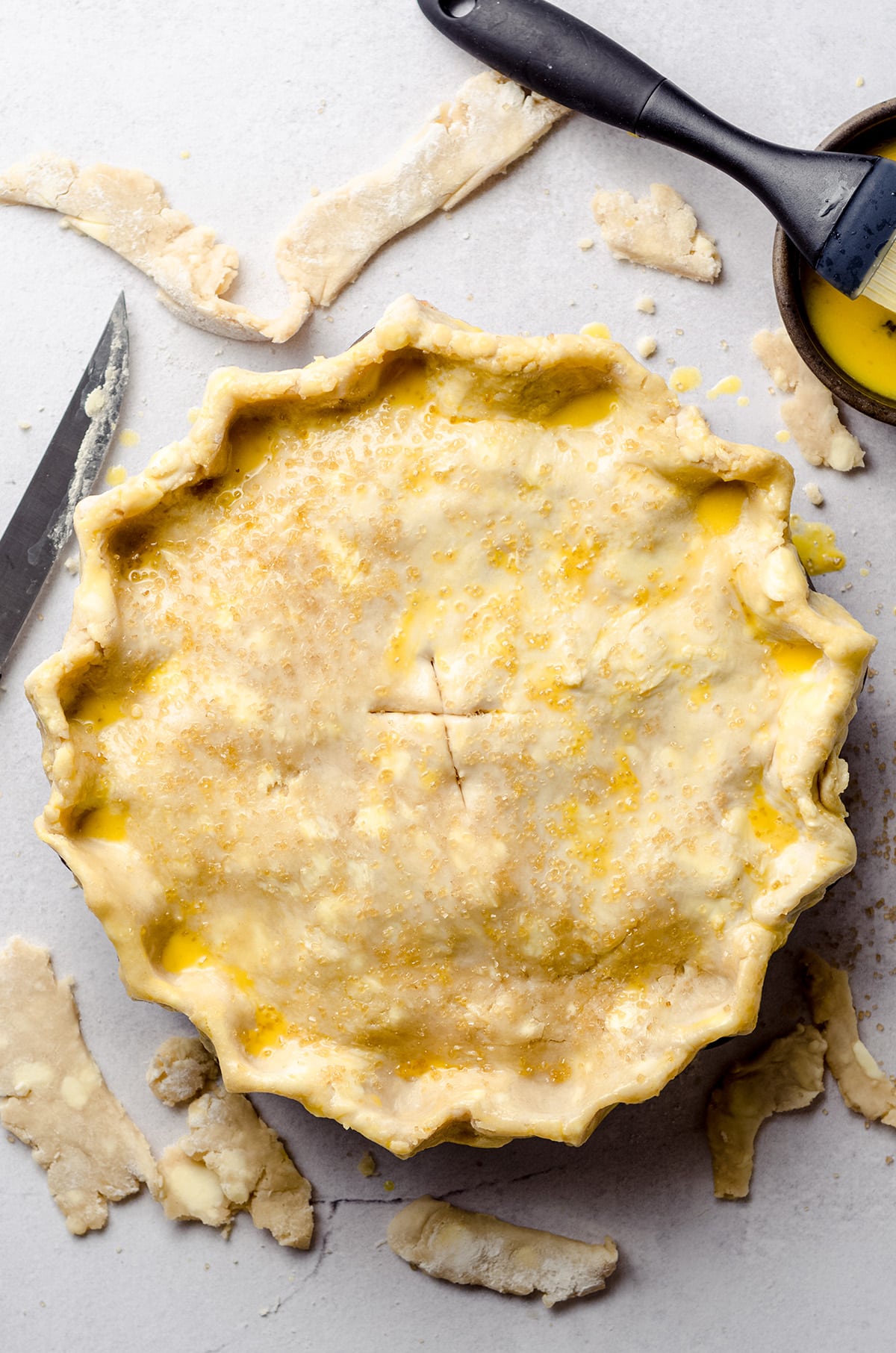 Sprinkle the pie with coarse sugar, and then place in the preheated oven to bake for 50-60 minutes, or until the crust is crisp and golden brown.
Make sure you let your pie stand and cool for at least 30 minutes before slicing and serving. You don't want all that precious caramelized filling to run out!
Then go ahead and top your pie with a generous scoop of vanilla ice cream. I'm sure you've had apple pie à la mode, but I doubt you've had it like this.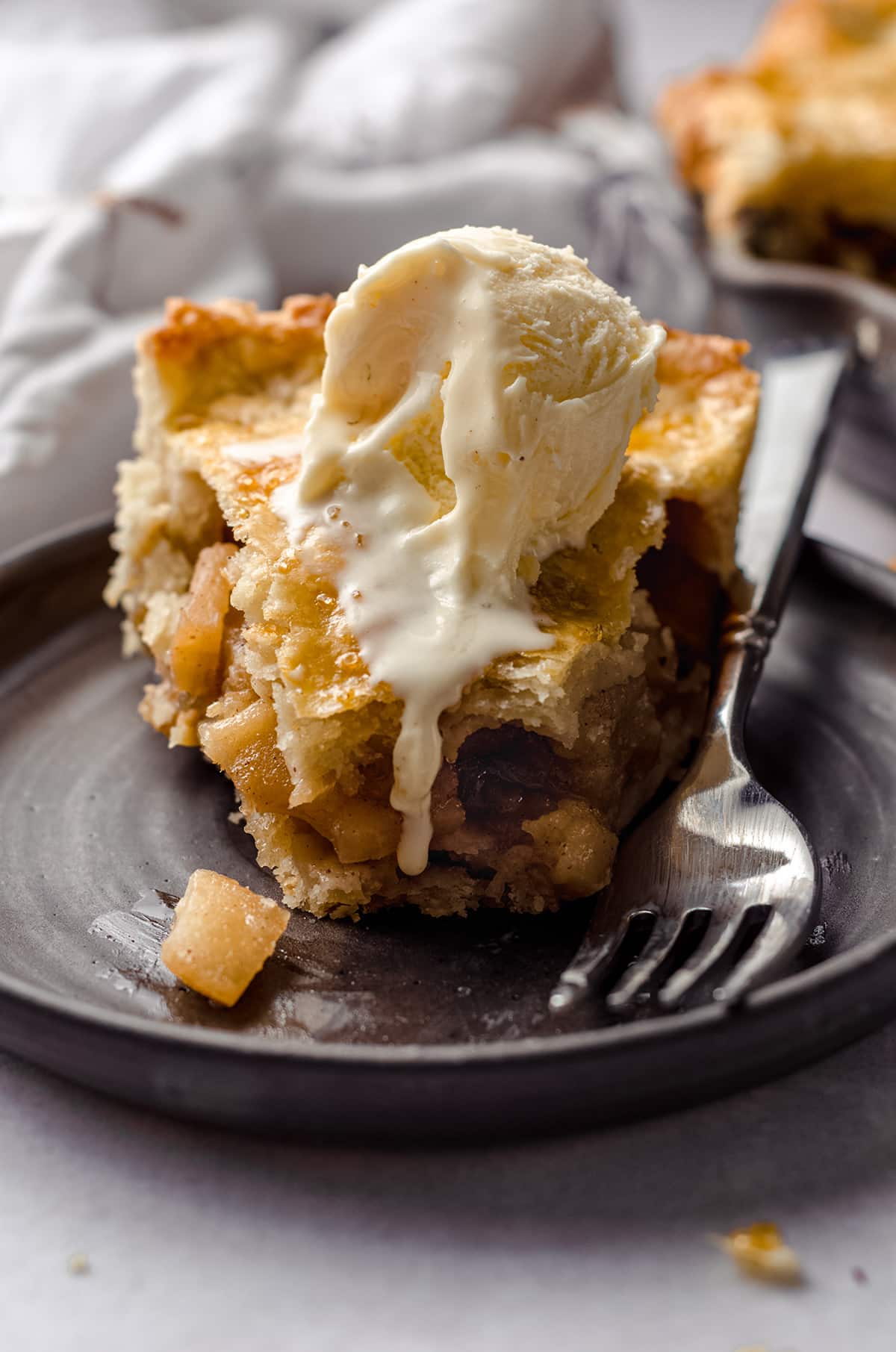 The caramelized apples and buttery crust pair with cold, sweet vanilla ice cream for a match made in heaven, and 10/10 dessert eaters highly recommend this timeless combo (we tried it among neighbors for a unanimous vote).
And if you're still in the apple mood after all of this delicious apple pie, you have to try some of my favorite apple recipes. Whether you're in the mood for homemade apple butter, apple cinnamon muffins, apple hand pies, or even an apple pie smoothie, I've got you covered!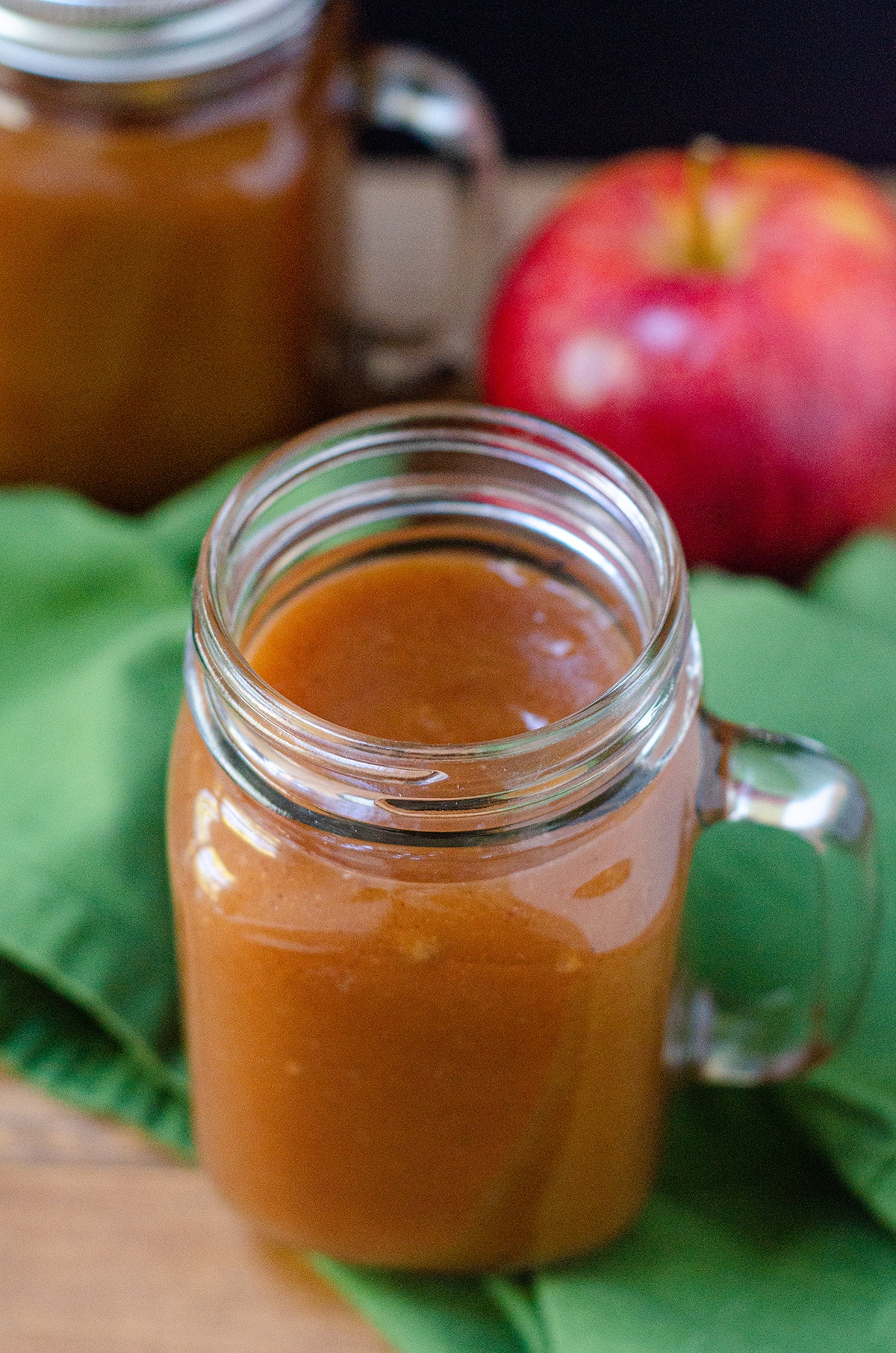 Caramelized Apple Pie
This caramelized apple pie is like no apple pie recipe you've tried before. Going the extra step to pan fry the apples in butter and brown sugar takes the flavor to a whole new level. Use a flaky double crust to seal in all the flavor and texture, then serve slightly warm with ice cream or as is.
Ingredients
3

pounds

(1360g) apples1

peeled, cored, and sliced

½

cup

(100g) firmly packed light brown sugar

½

teaspoon

ground cinnamon

¼

teaspoon

salt

¼

cup

(57g) unsalted butter

divided

EGG WASH: 1 large egg yolk + 2 teaspoons water
Instructions
Prepare a homemade pie crust2 and be sure it is fully chilled before you begin. Line a pie plate with one disc of the crust (the other disc can stay in the fridge for now). Place in the refrigerator to chill while you prepare the filling.

In a large bowl, combine the apples, sugar, cinnamon, and salt. Toss to coat completely.

In a large saucepan over medium-high heat, melt 2 Tablespoons of the butter. Add half of the apple mixture, then fry the apples until golden and caramelized around the edges, about 5 minutes. Transfer the cooked apples to a large bowl.

Repeat the same process with the remaining butter and apples, then transfer to the same bowl with the previously cooked batch of apples. Allow cooked apple mixture to cool completely3 at room temperature.

When your apples are cool enough to work with, move a rack in the oven to the bottom position, then preheat the oven to 375°F (191ªC).

Roll out the second disc of pie crust4 to about a 12" circle. Set aside.

Spoon the cooled apples evenly into the prepared pie crust. Brush the rim of the bottom crust with a little water, then carefully drape the top crust over the apples.

Press down lightly on the top crust to seal, but don't trim any excess. Instead, gather and pinch the crust together, then crimp the edges. Brush the top with the egg wash, then cut a small cross in the center of the top of the crust with a sharp knife to vent. Sprinkle with coarse sugar, if desired.

Please the pie on a large baking sheet, then bake until the crust is golden brown and crisp, 50-60 minutes. Allow to cool at least 30 minutes before serving, or allow to cool completely to room temperature. Leftovers can be stored at room temperature up to 3 days, or in the refrigerator up to 5 days. Unbaked pie freezes well, up to 3 months. Thaw in the refrigerator overnight, then bake cold.
Notes
Apples: I used 7 medium size apples, and a mix of tart and sweet. I used 4 Granny Smith apples and 3 Pink Lady.
Homemade pie crust: you can absolutely use a store-bought pie crust, but homemade is always better. You will need to chill your homemade pie crust at least 2 hours before using it, so make sure you plan ahead.
Cooled apple mixture: you can speed this process up by putting the cooked apples on a large platter or baking sheet. It will take about 15-20 minutes for them to cool in a bowl.
Top pie crust: if you prefer, you can lattice top the pie crust.
Adapted from Hell's Kitchen Recipes
Nutrition Disclosure
All nutritional values are approximate and provided to the reader as a courtesy. Changing ingredients and/or quantities will alter the estimated nutritional calculations.
Serving:
1
slice
|
Calories:
153
kcal
|
Carbohydrates:
30
g
|
Protein:
0.4
g
|
Fat:
5
g
|
Saturated Fat:
3
g
|
Polyunsaturated Fat:
0.2
g
|
Monounsaturated Fat:
1
g
|
Trans Fat:
0.2
g
|
Cholesterol:
12
mg
|
Sodium:
63
mg
|
Potassium:
162
mg
|
Fiber:
3
g
|
Sugar:
25
g
|
Vitamin A:
216
IU
|
Vitamin C:
6
mg
|
Calcium:
20
mg
|
Iron:
0.3
mg