Best Chocolate Chess Pie Recipe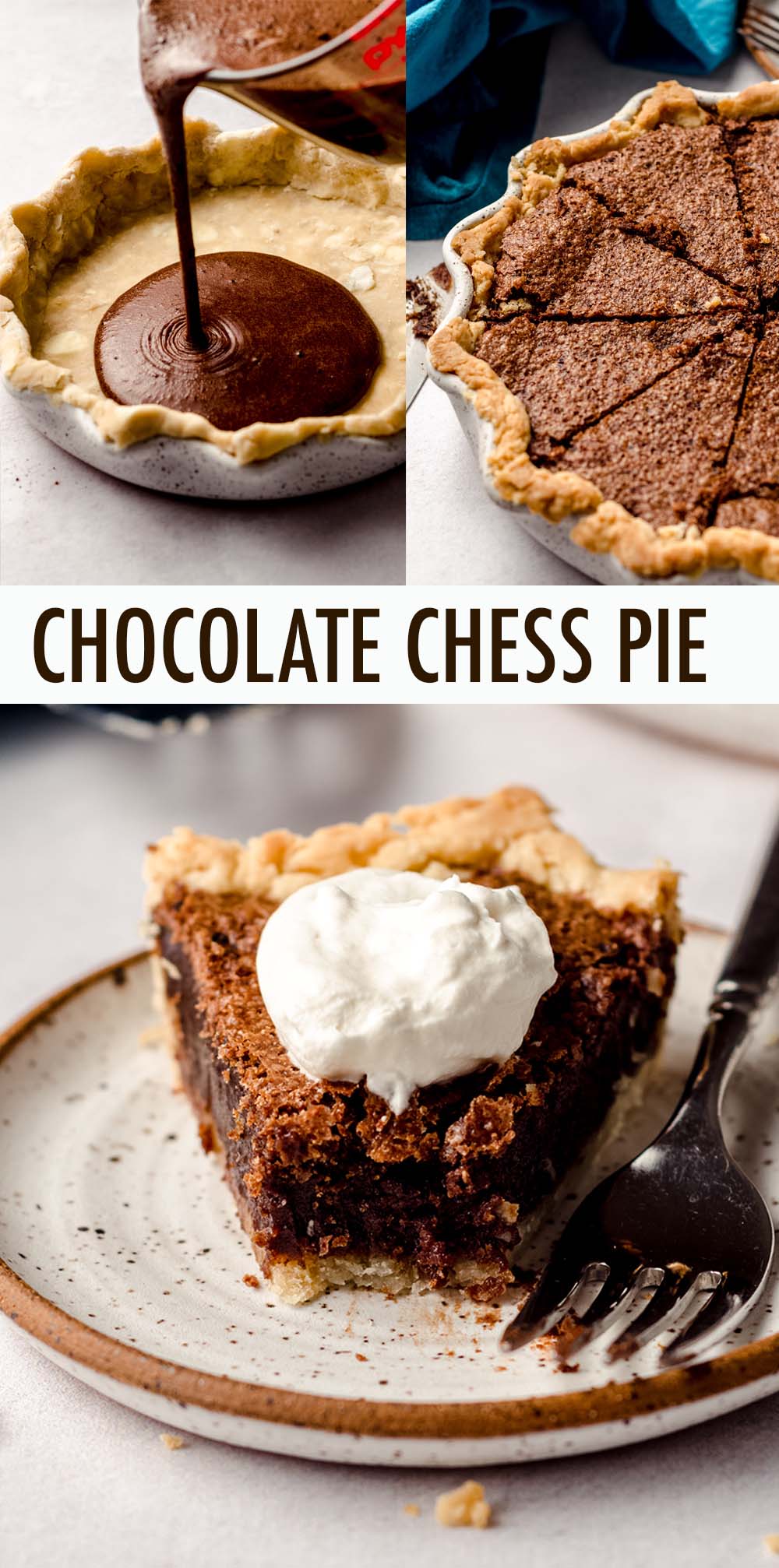 As an Amazon Associate, I earn from qualifying purchases. Read the full disclosure here.
Chocolate chess pie is a traditionally Southern dessert with a slightly crisp and crackly top layer that leads to a rich and luscious brownie-like center. Serve this perfectly chocolatey pie just a touch warm with whipped cream, ice cream, or as is.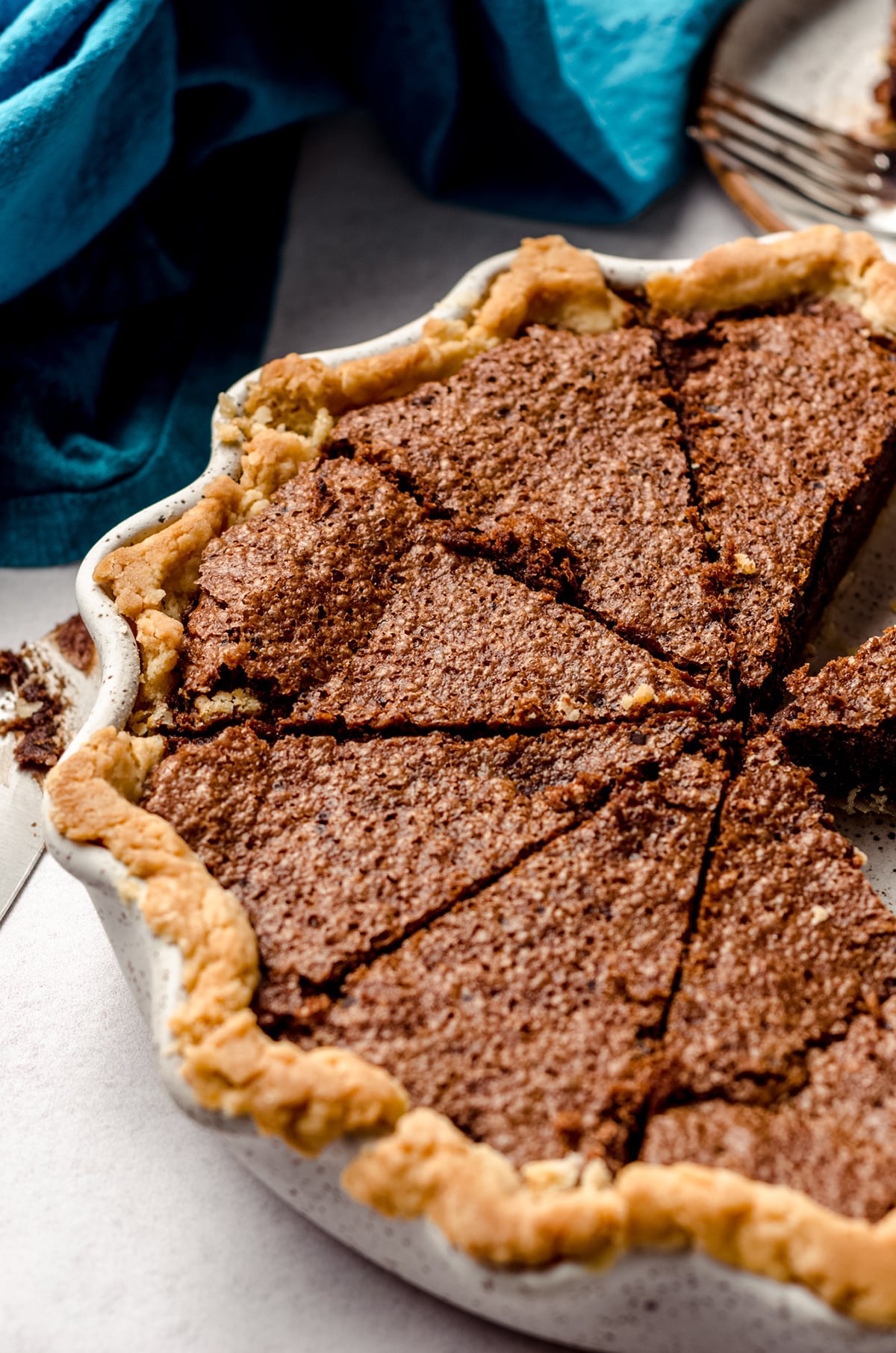 Every year, for the past 6 years, I've hosted a monthly recipe around a central theme.
In 2017, I featured a monthly cake recipe. In 2018, muffins were on the menu. In 2019, it was all about the breads. In 2020, I featured 12 delicious brownie recipes. Then, in 2021 the theme was all things no bake.
Now, in 2022 I'm featuring a new pie every single month. So far, I've shared banoffee pie and now, this chocolate chess pie.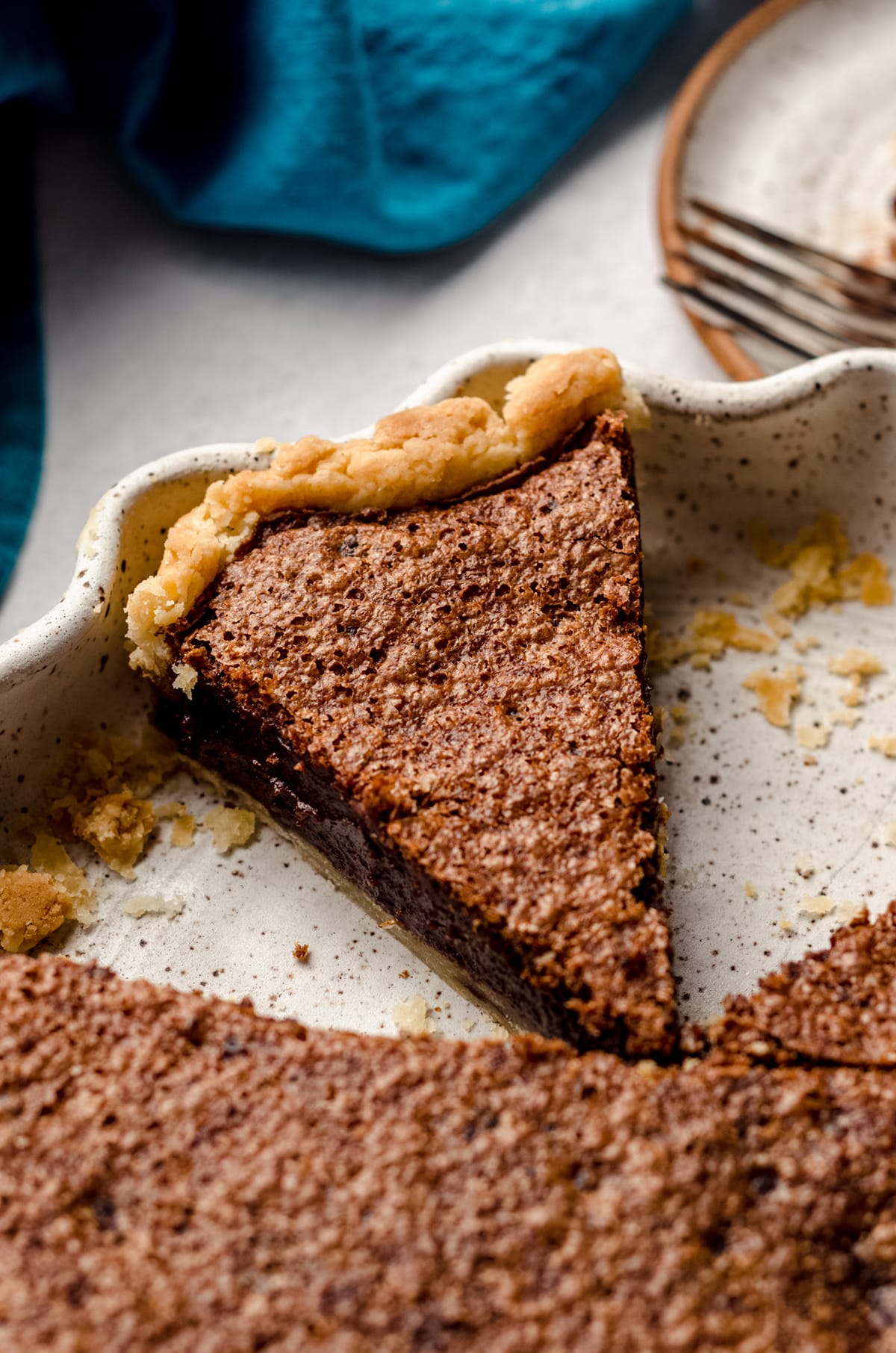 Easy Chocolate Chess Pie
I noticed a serious misrepresentation of pies on my site, so the only remedy of course was to bring you more fantastic pies to delight in every month.
Second on the docket is this rich, fudgy, and totally easy chocolate chess pie. Let's get started!
WHAT IS CHOCOLATE CHESS PIE?
Chocolate chess pie is a classic Southern dessert with an intense chocolatey flavor, rich texture, and a perfectly crackly top.
Like so many traditional Southern recipes, chocolate chess pie is made with just a few basic ingredients and is what you think of when you hear the idiom "easy as pie." As a heads up, not all pie is easy. But this one? It's a total cinch!
Chess Pie Origin – Why is it called Chess Pie?
There are several stories that claim to tell us how this decadent pie earned its name, but we don't really know for sure.
One legend goes that when someone asked what the pie was called, its baker replied (in her thick Southern accent), "jus' pie," which was mistaken for "chess pie."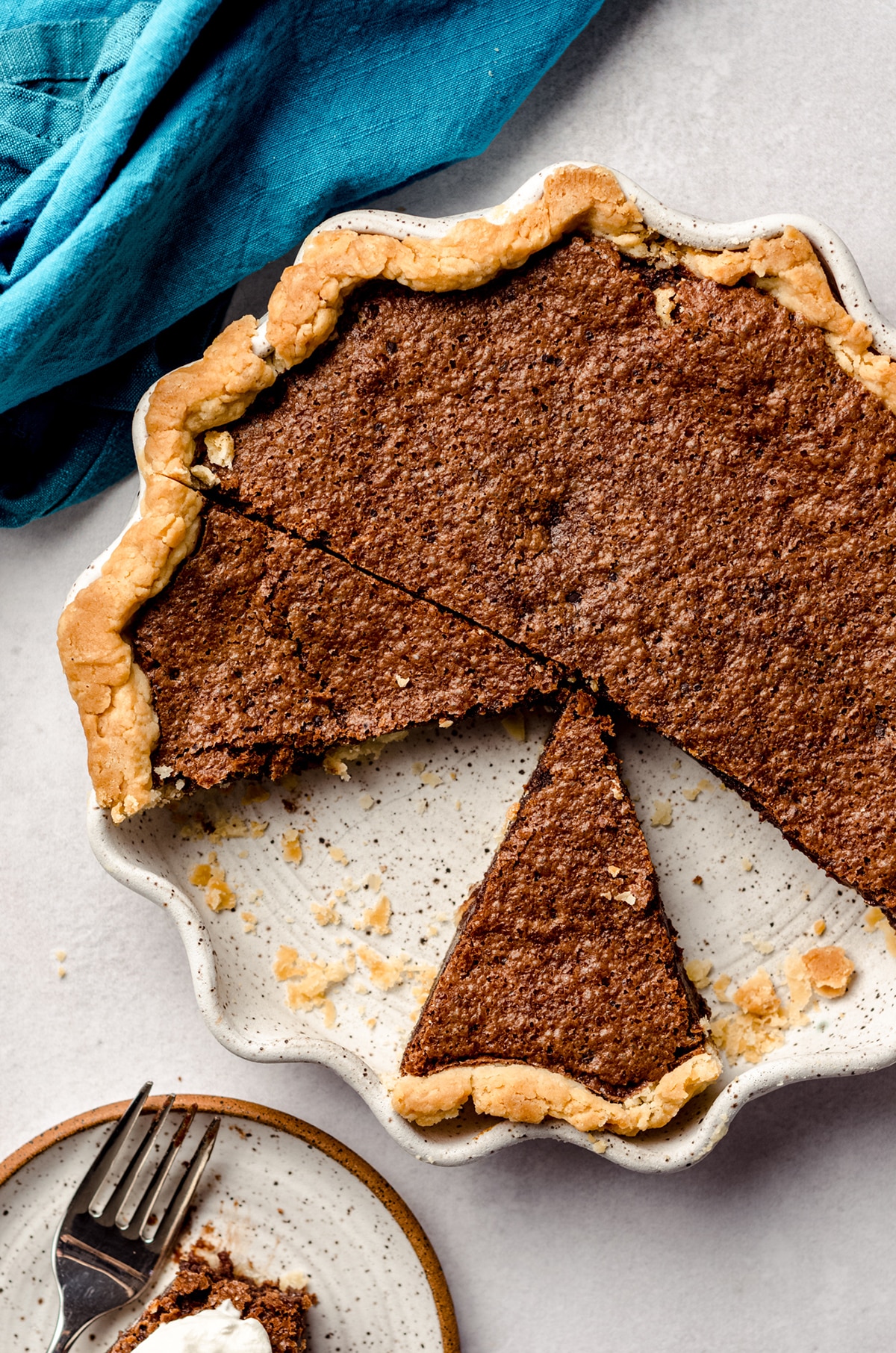 Another story claims that the original pie was named chess pie after the word "chest," which was in reference to the pie and ice chests used at the time. Since the ingredients were mostly shelf-stable and easily available, the pie could be stored in a for a good while without spoiling.
Ice chests were not at all like our modern freezers, and instead held the temperature of a slightly warm fridge, so having a tasty dessert that would store well in one of these was a real treat!
Yet another version claims that the pie was given its name from its place of origin, which was Chester, England. Since the pie resembles so much of England's custard-based desserts, it was assumed that the Southern classic must have made its way over the ocean.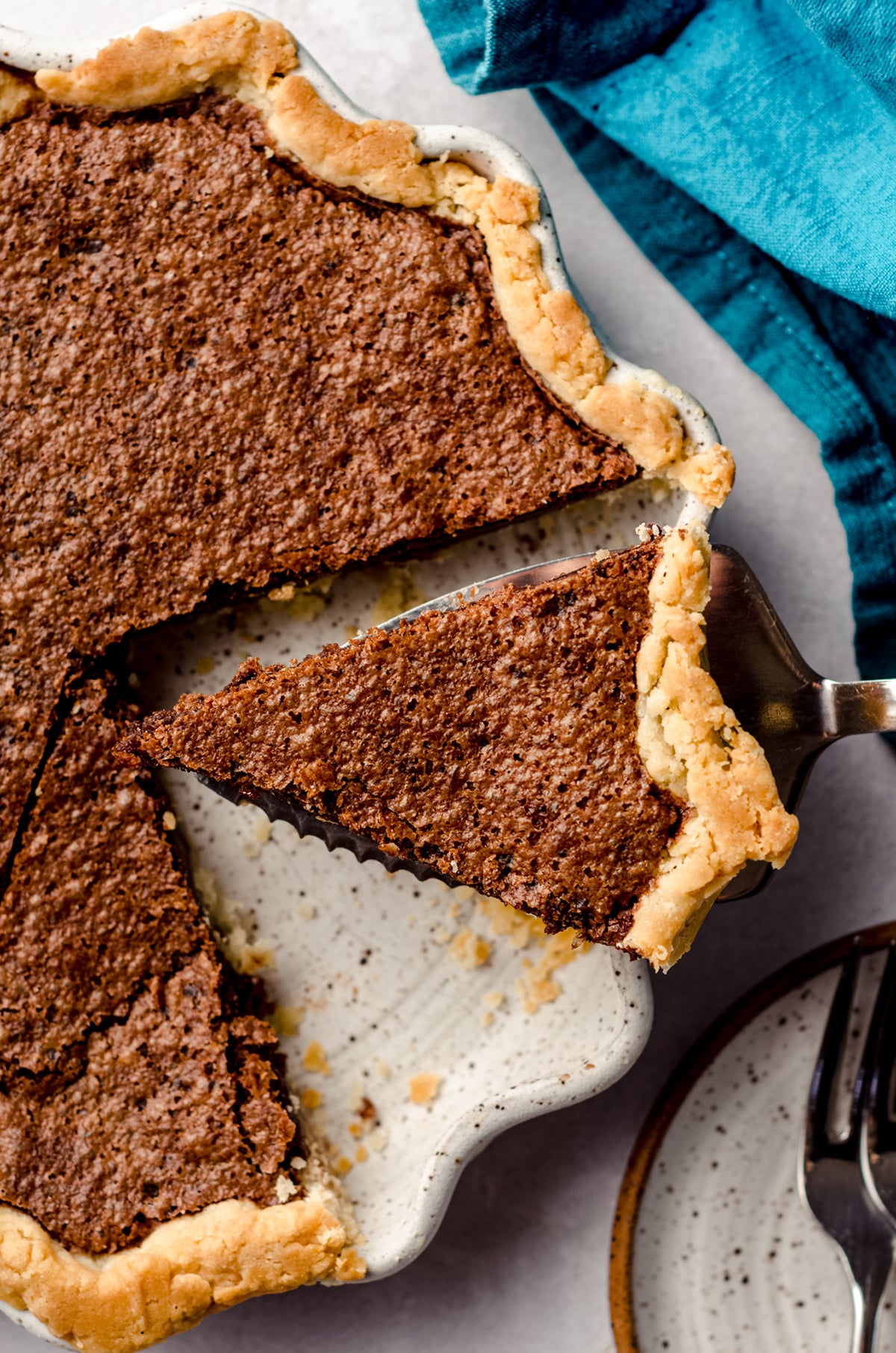 And finally, a fourth story claims that the original pie used chestnut meal in place of the cornmeal, which has been used as a thickener in some recipes, the lemon version in particular.
This version, a decadent chocolate rendition, is one of the many flavors that were inspired by the original chess pie. Its custard-like filling and rich, chocolatey decadence bring it into a league of its own, while still keeping its humble chess pie roots.
Chocolate Chess Pie ingredients
The hallmark of a classic chocolate chess pie is the simplicity of the ingredients, as well as the preparation. You'll find all of these items in your local grocery store, and you are likely to have them on hand in your own pantry already!
PIE CRUST
For the pie crust, I use my standard (and much loved) homemade pie crust recipe. Buttery, flaky, and oh-so-delicious, this is my go-to recipe whenever I need a pie crust.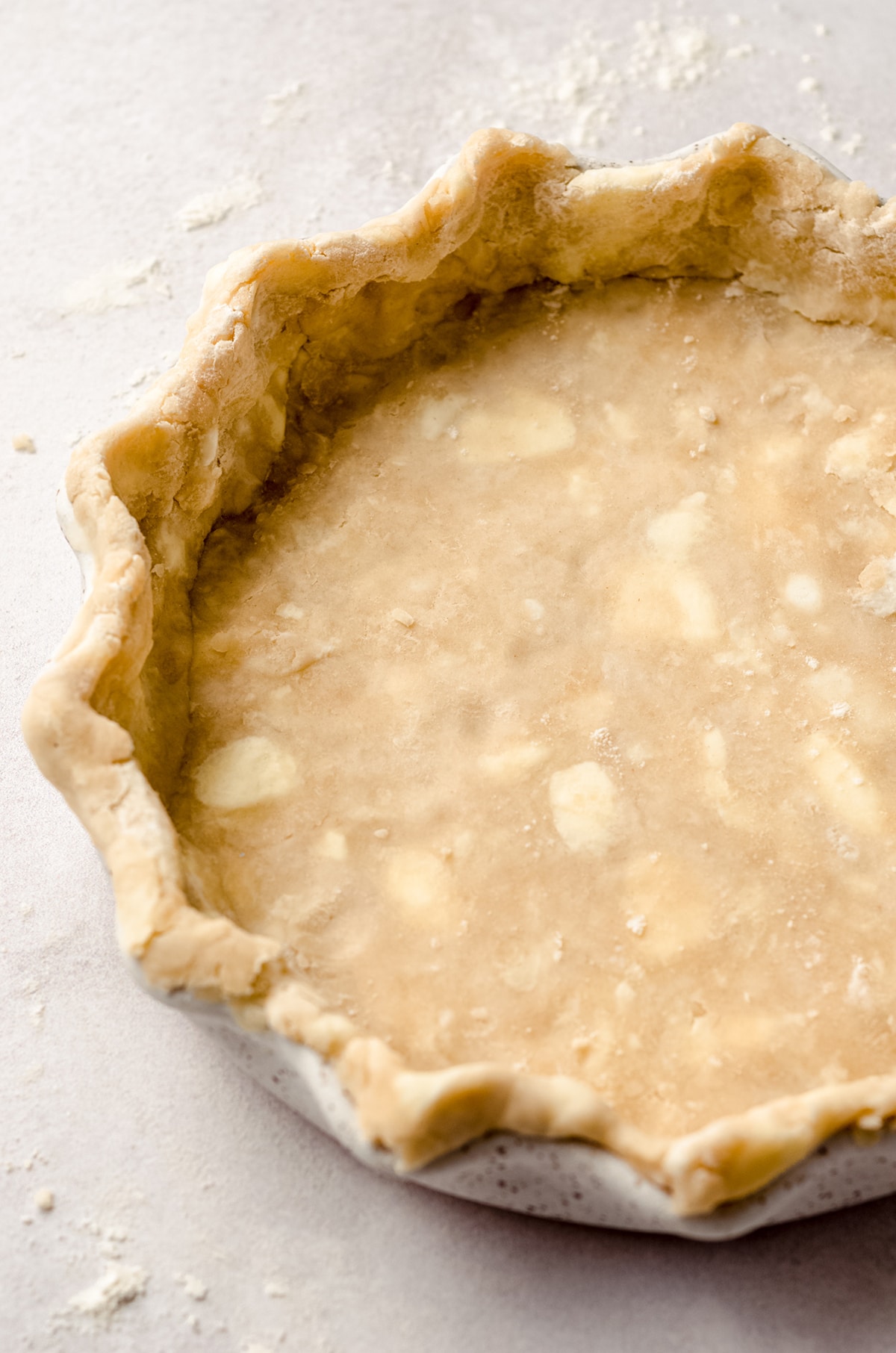 While you can totally use store bought pie crusts if you want to, I promise you that making your own pie crust is actually SO simple once you have the technique down. And the taste? Well, you just can't beat it!
For your homemade pie crust you'll need some:
flour
sugar
salt
cold butter
cold shortening
and some ice water
And since my pie crust recipe makes a double crust pie, you'll have to find a way to use up that extra pie dough. While you could totally freeze the other half for later, I can't recommend my pie crust cookies enough. Or you could always make a batch of my pecan pie tarts, which are perfect year round (no matter what anyone else tries to tell you).
FILLING
For the filling, you'll need some pretty basic ingredients like:
sugar
eggs
unsalted butter
flour
salt
and vanilla extract
These are all things you probably already have on hand.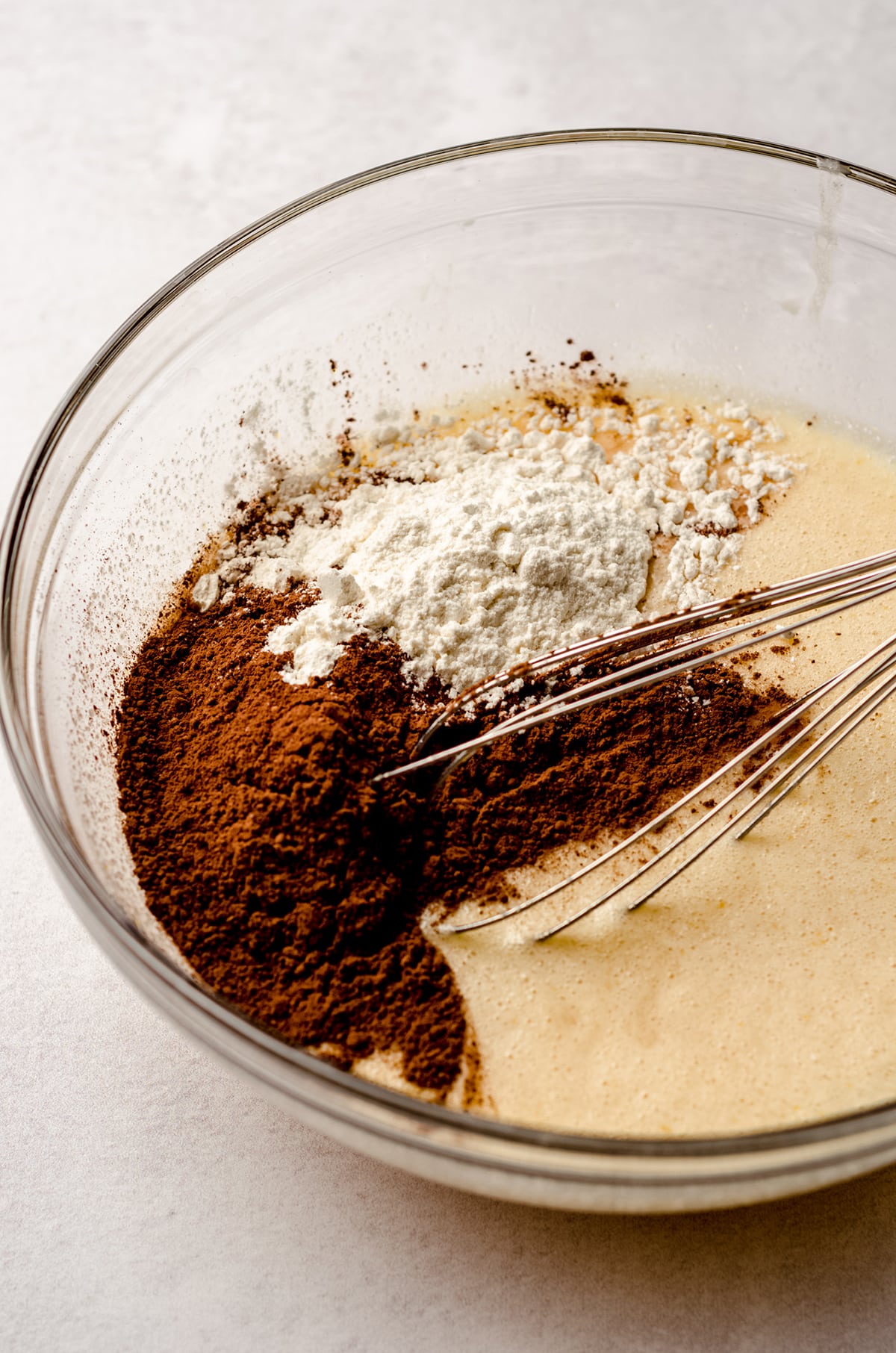 To make our chocolate chess pie, well, chocolate, we use a some cocoa powder. That's right, no gentle tempering of baking chocolate required. This is a really simple and economical pie!
USING EVAPORATED MILK
One unique ingredient to the filling is evaporated milk. While this is likely no stranger to you if you bake frequently, it's an ingredient that is sometimes used in chess pies, and sometimes it is not. While you can definitely make chocolate chess pie without evaporated milk, I happen to think it makes for a super silky chocolate custard filling that just can't be beat.
Some people even make their chocolate chess pie with sweetened condensed milk, but that's a little too thick for my liking. Plus, it's really hard to control how sweet your pie is when you use a presweetened ingredient like that.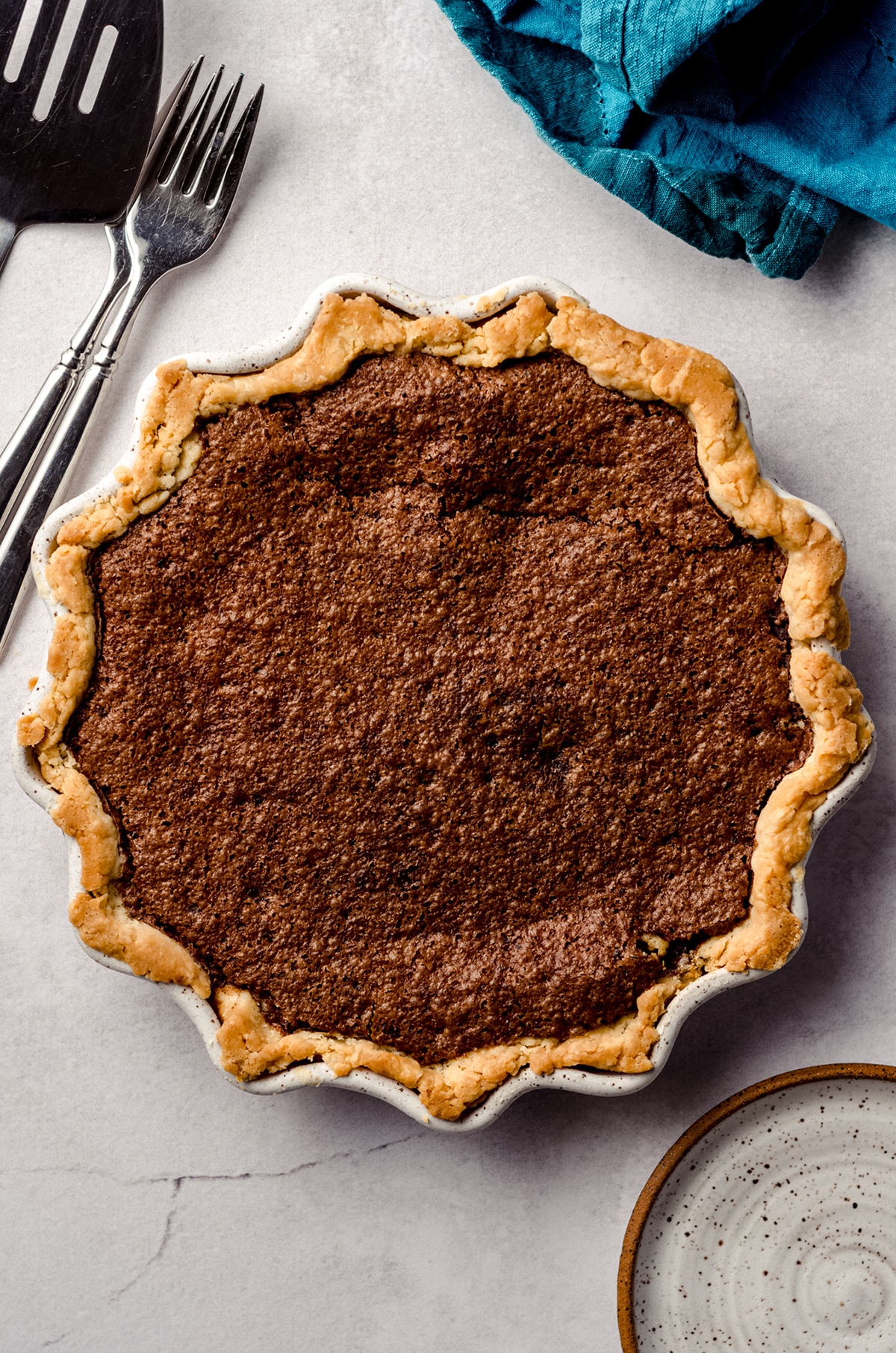 Yet another option is to make chocolate chess pie with buttermilk, which is a staple in Southern style cooking.
Since every baker likes to put their unique twist on a recipe, there are countless variations of the basic chocolate chess pie recipe. I'm sold on using evaporated milk, since it results in that just right consistency that can't be found with versions made with thinner buttermilk, or thicker sweetened condensed milk.
HOW TO MAKE CHOCOLATE CHESS PIE
Once you have your pie crust chilled, you're ready to get started making the actual chocolate chess pie. And like I've said before, it's super simple. This Southern chocolate pie recipe is as easy as mix, fill, and bake.
Chocolate Chess Pie Crust
While most pies require you to blind bake the pie crust before adding the filling, this super easy chocolate chess pie recipe does not. All you have to do is roll your pie crust, fit it into the pie plate, and pour the filling in. Totally easy!
Once your pie crust is filled, you'll want to cover the edges with some aluminum foil or a pie shield. This will prevent the edges from burning during baking, which can easily happen if they are left exposed to the heat of the oven for an extended period of time.
Chocolate Chess Filling
In a large bowl, whisk together your sugar, eggs, butter, evaporated milk, and vanilla extract until smooth. Then, add the cocoa powder, cornstarch (or flour), and salt.
Give it a good whisk until everything is combined, smooth, and free from lumps.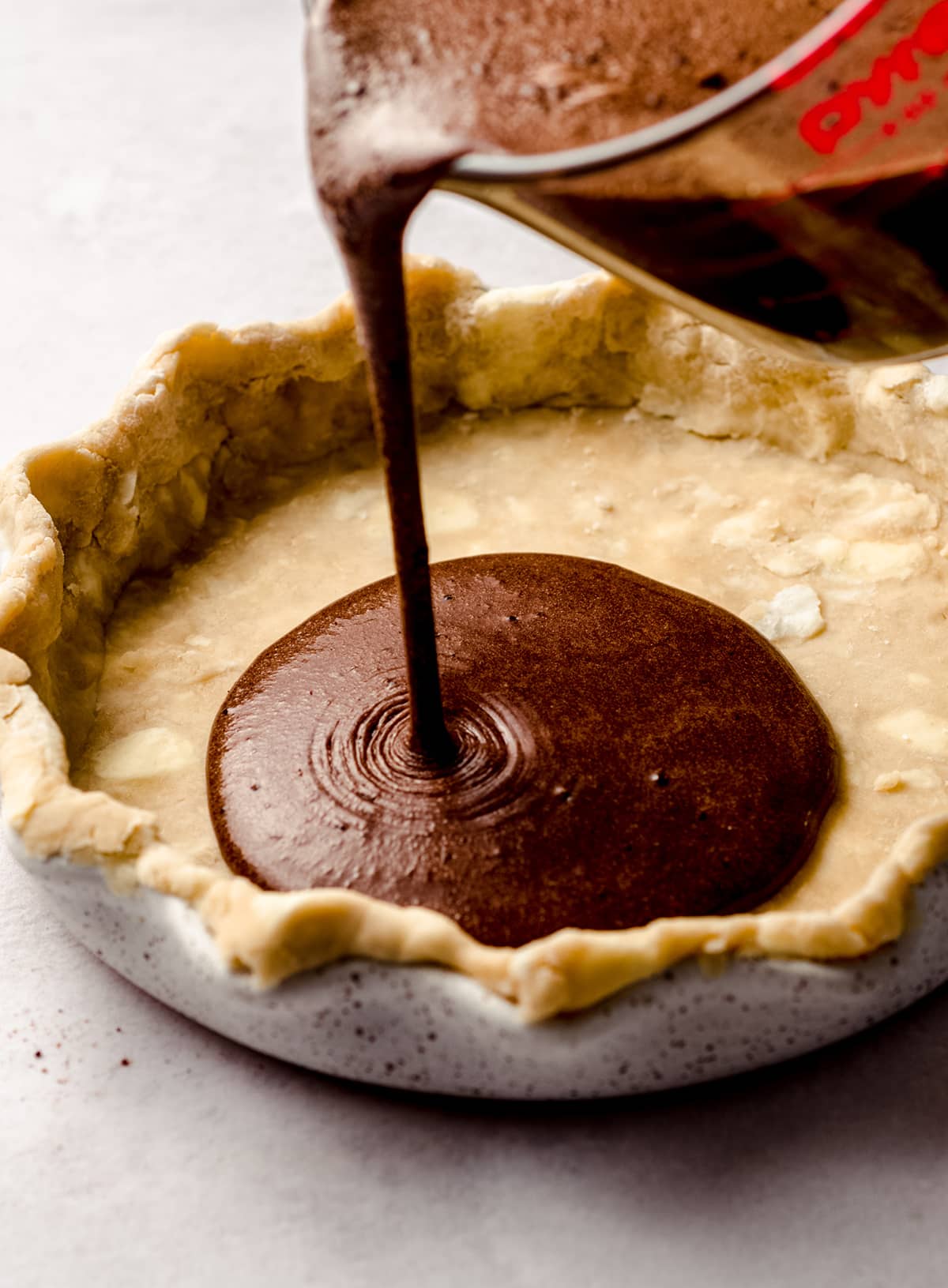 Then go ahead and pour that decadent yumminess into the prepared pie crust and add some foil or a pie shield to the edge of the crust.
Then, place the pie on the center rack of the oven and bake for 50-55 minutes, ensuring to remove the foil/shield during the last 15 minutes of baking to give the crust a chance to get that beautiful golden brown color.
How to tell when Chocolate Chess Pie is done?
Since chocolate chess pie has a fudgy, slightly gooey consistency, it can be hard to know when your pie is done baking and everything is set up. You'll know your pie is completely done when the top forms a crackly, shiny layer and the surface is set.
Don't worry about a toothpick coming out clean. You'll just want to examine the pie on the surface level, since the filling itself won't be completely firm like other pies. It will firm up a bit during the cooling time, but think of it as a sort of fudgy brownie consistency and you'll understand what I mean.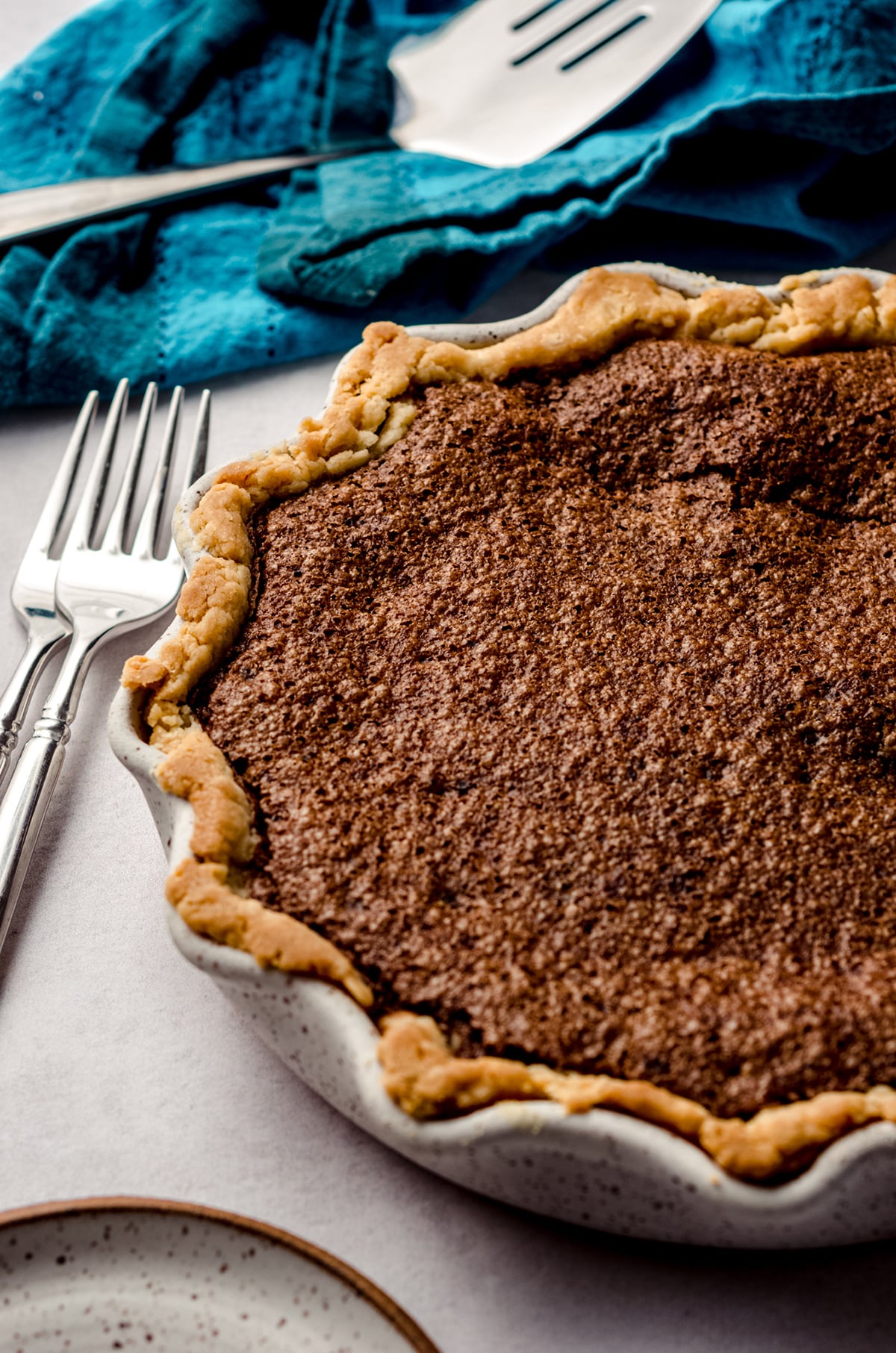 Once the chess pie is done baking, remove it from the oven and allow it to cool on a wire rack until it has completely cooled to room temperature.
If your Southern chess pie is a little too liquidy for your liking, you can place it in the fridge for a few hours, which will help the filling thicken up. This is just a matter of preference, so do whatever you like!
I happen to like mine ultra fudgy and rich, but if you prefer something on the firm side, go ahead and chill it for a few hours first.
How to serve this recipe for Chocolate Chess Pie
Once your pie is cooled, go ahead and dive into a slice of this delicious Southern classic.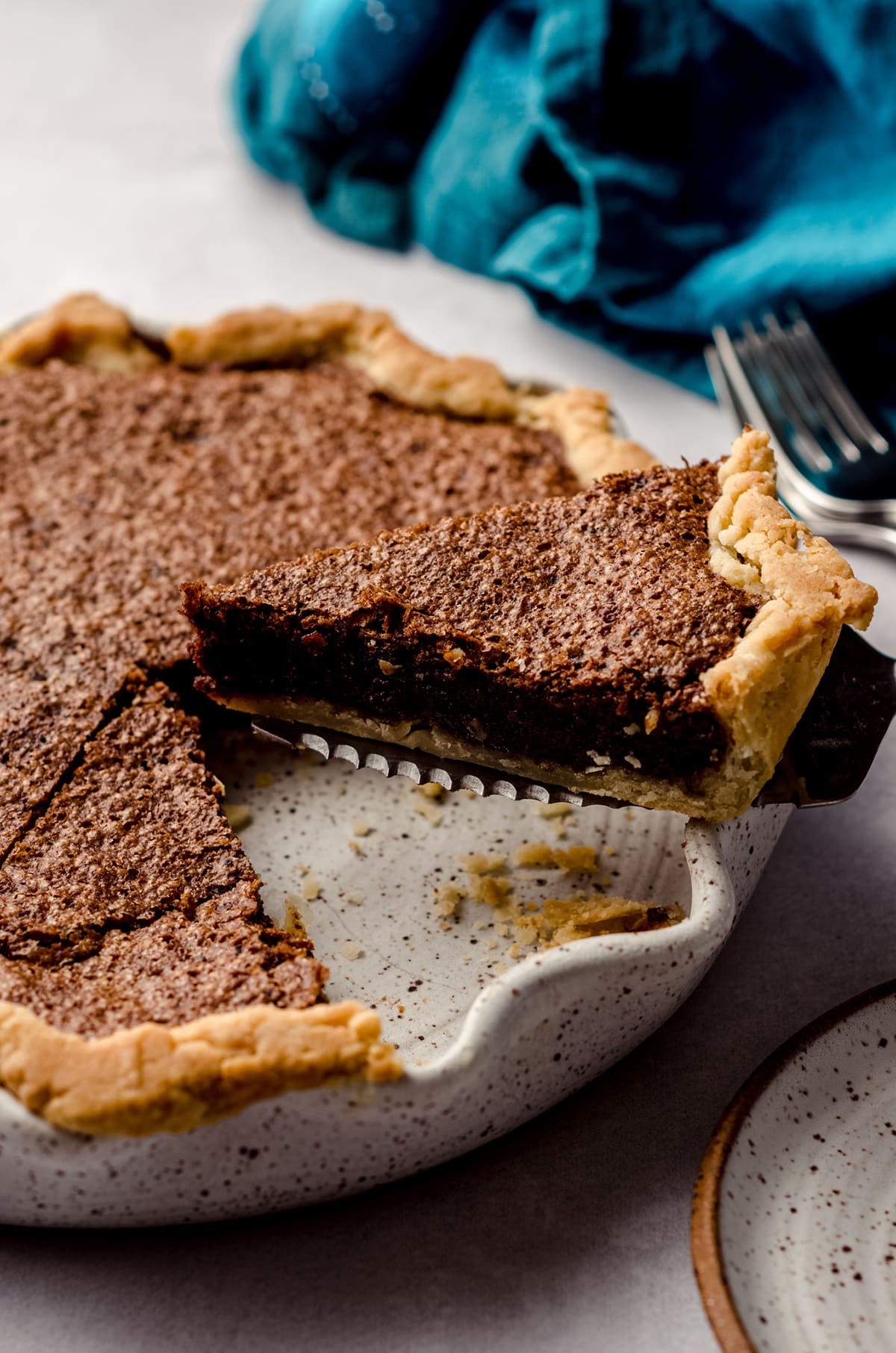 Serve it with a big dollop of homemade whipped cream, some vanilla ice cream, or a big glass of cold milk. Or, if you're like me: all of the above!
If you love the winning combo of chocolate and pecan, I highly (highly) recommend serving it with a big scoop of my homemade praline ice cream. You will not be disappointed, I promise.
Ways to store Easy Chocolate Chess Pie
Once your pie has cooled completely, and you've enjoyed a slice (or two), you may be wondering how you can store your pie for later. One of the best things about this Southern chocolate pie is how easy it is to store. Keep it covered on the counter for up to 3 days, in the fridge for up to 5, or store it in the freezer for up to 3 months!
Can you freeze chess pie?
To freeze your chess pie, wrap it tightly in plastic wrap and place it in a large freezer bag. Remove the air, and store towards the back of the freezer. Then, when you're ready to serve, let it thaw in the refrigerator overnight. Go ahead and slice and serve as you would with the freshly baked version.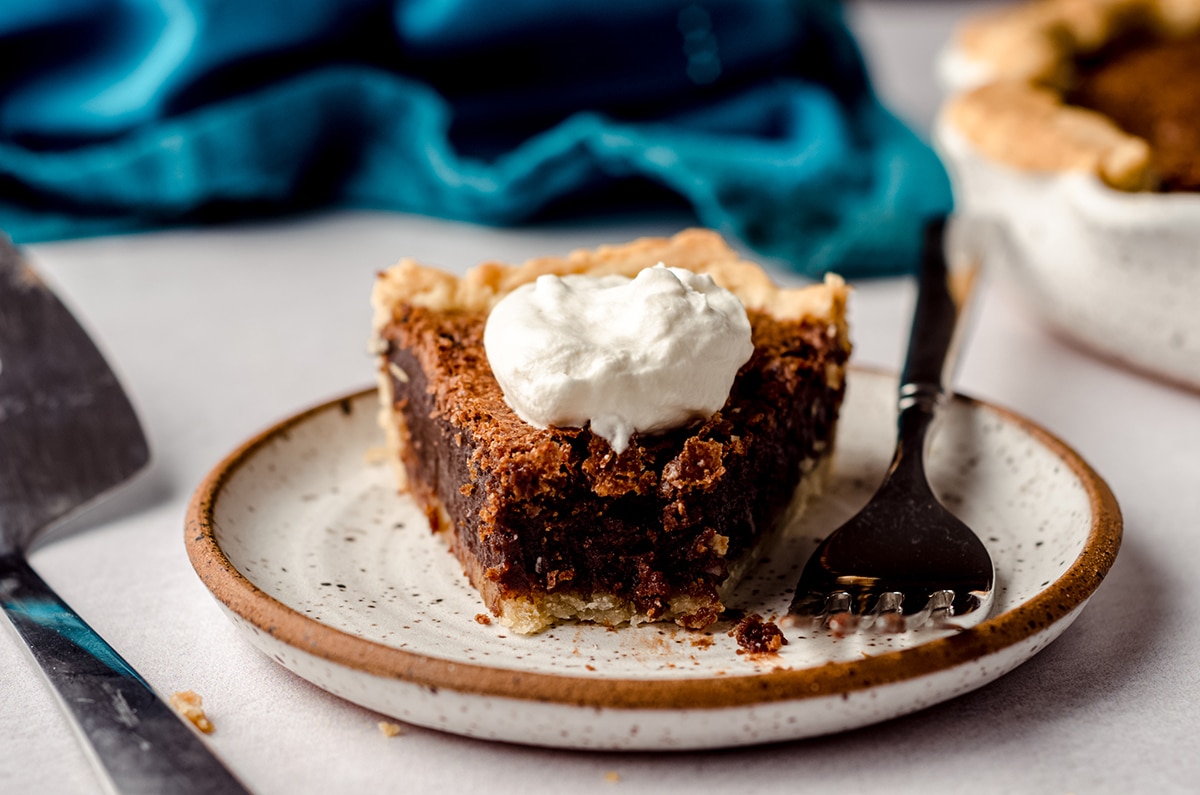 I hope you're enjoying my year of pies thus far, I know I am! We kicked the year off with banoffee pie, and now we are in chocolate pie heaven with this recipe for chocolate chess pie. The year is just getting started, and we have lots of deliciousness ahead.
Best Chocolate Chess Pie Recipe FAQs
What is the difference between chess pie and regular pie?
Chess pie is a very specific type of custard pie that can be made easily by simply whisking together ingredients for the filling and poured into a crust to bake. Many traditional pies (like fruit pies) require cooking of the filling beforehand.
Does Chocolate Chess Pie need to be refrigerated?
Chocolate chess pie can be kept at room temperature for up to 3 days or in the refrigerator for up to 5 days. If your kitchen seems extra warm, it's best to store it in the refrigerator to be safe.
More Pie and Pie-Inspired Recipes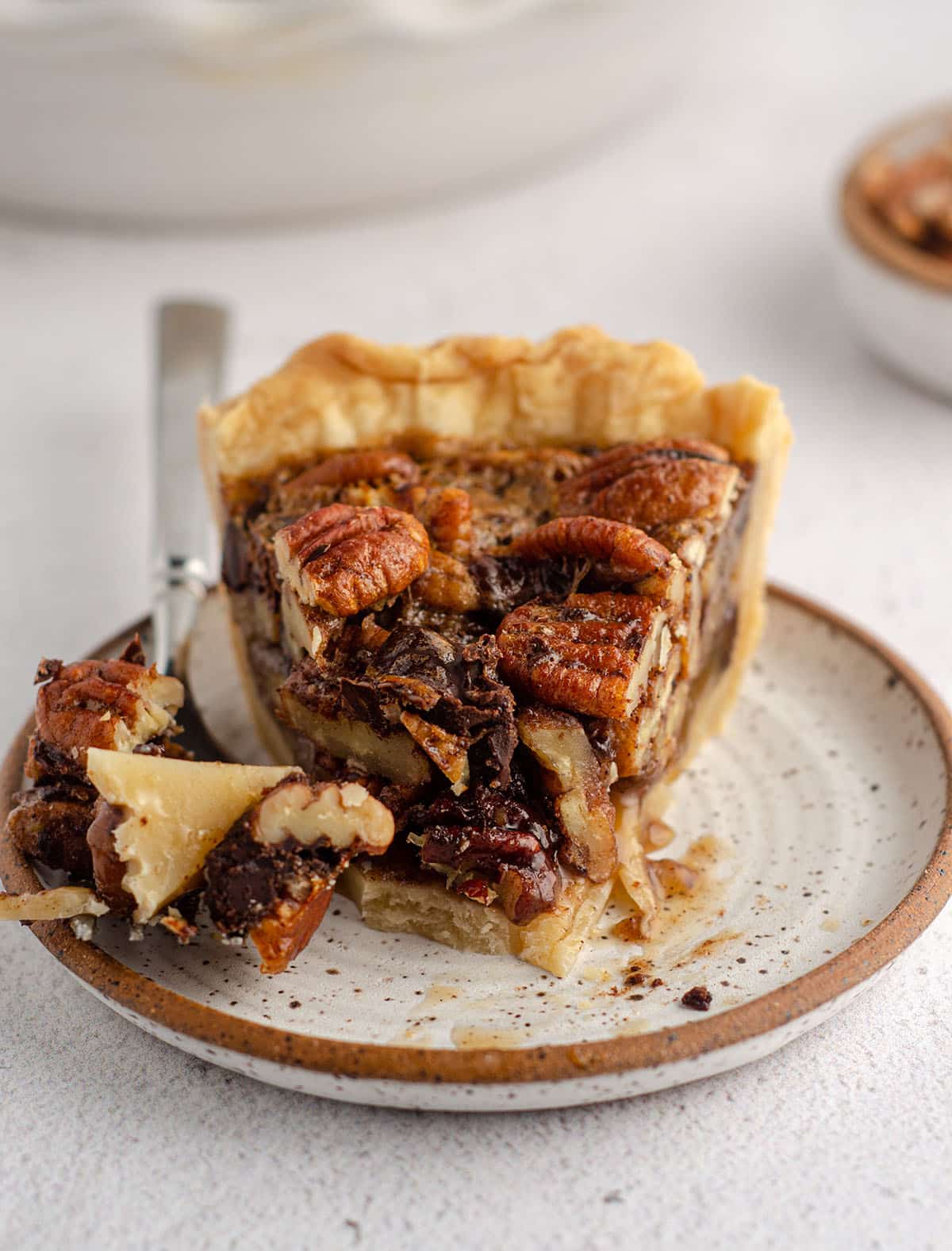 Best Chocolate Chess Pie
Chocolate chess pie is a traditionally Southern dessert with a slightly crisp and crackly top layer that leads to a rich and luscious brownie-like center. Serve this perfectly chocolatey pie just a touch warm with whipped cream, ice cream, or as is.
Ingredients
½

recipe1 homemade pie crust

1 and ½

cups

(300g) granulated sugar

2

large eggs

¼

cup

(57g) unsalted butter

melted

1-5oz

can

(148mL) evaporated milk

1 and ½

teaspoons

vanilla extract

¼

cup

(24g) unsweetened cocoa powder

3

Tablespoons

cornstarch or all-purpose flour2

⅛

teaspoon

salt
Instructions
Prepare my homemade pie crust recipe through step 6, or begin with a store-bought pie crust.

When your pie crust is thoroughly chilled and ready to use, prepare a pie plate with the pie crust. Adjust the oven rack to the center position and preheat the oven to 350°F (177°C).

In a large bowl, whisk together the sugar, eggs, butter, evaporated milk, and vanilla extract until smooth. Add the cocoa powder, cornstarch or flour, and salt, and whisk again until everything is combined.

Pour the mixture into the unbaked pie shell. Attach a pie shield or wrap the edges of the crust in foil.

Bake pie for 50-55 minutes, removing the pie shield/foil about 15 minutes before pie is done baking. You will know the pie is done when a crust has formed on top of the pie and the surface is set. Remove from the oven and allow to cool completely on a wire rack before serving3. Top with homemade whipped cream or ice cream. Store leftovers covered tightly at room temperature up to 3 days, or in the refrigerator up to 5 days. Chocolate chess pie freezes well, up to 3 months. Thaw in the refrigerator or at room temperature.
Notes
Homemade pie crust: my recipe makes a double pie crust. You can freeze the second pie crust, or just halve the recipe. Pie dough can also be made up to 5 days in advance and sit wrapped tightly in the refrigerator until you are ready to use it.
Cornstarch/flour: this is solely for giving structure to the pie. Cornstarch is gluten free, if you're using a gluten free pie crust and want to keep the whole pie free of gluten. Weight measurements are 24g of cornstarch or 23g of all-purpose flour.
Cooled pie: if you find the pie to be too liquidy after cooling, chill it in the refrigerator for a few hours to solidify to your liking.
Nutrition Disclosure
All nutritional values are approximate and provided to the reader as a courtesy. Changing ingredients and/or quantities will alter the estimated nutritional calculations.
Serving:
1
slice
|
Calories:
232
kcal
|
Carbohydrates:
37
g
|
Protein:
4
g
|
Fat:
9
g
|
Saturated Fat:
5
g
|
Polyunsaturated Fat:
0.4
g
|
Monounsaturated Fat:
2
g
|
Trans Fat:
0.2
g
|
Cholesterol:
55
mg
|
Sodium:
81
mg
|
Potassium:
157
mg
|
Fiber:
1
g
|
Sugar:
34
g
|
Vitamin A:
274
IU
|
Vitamin C:
1
mg
|
Calcium:
102
mg
|
Iron:
1
mg