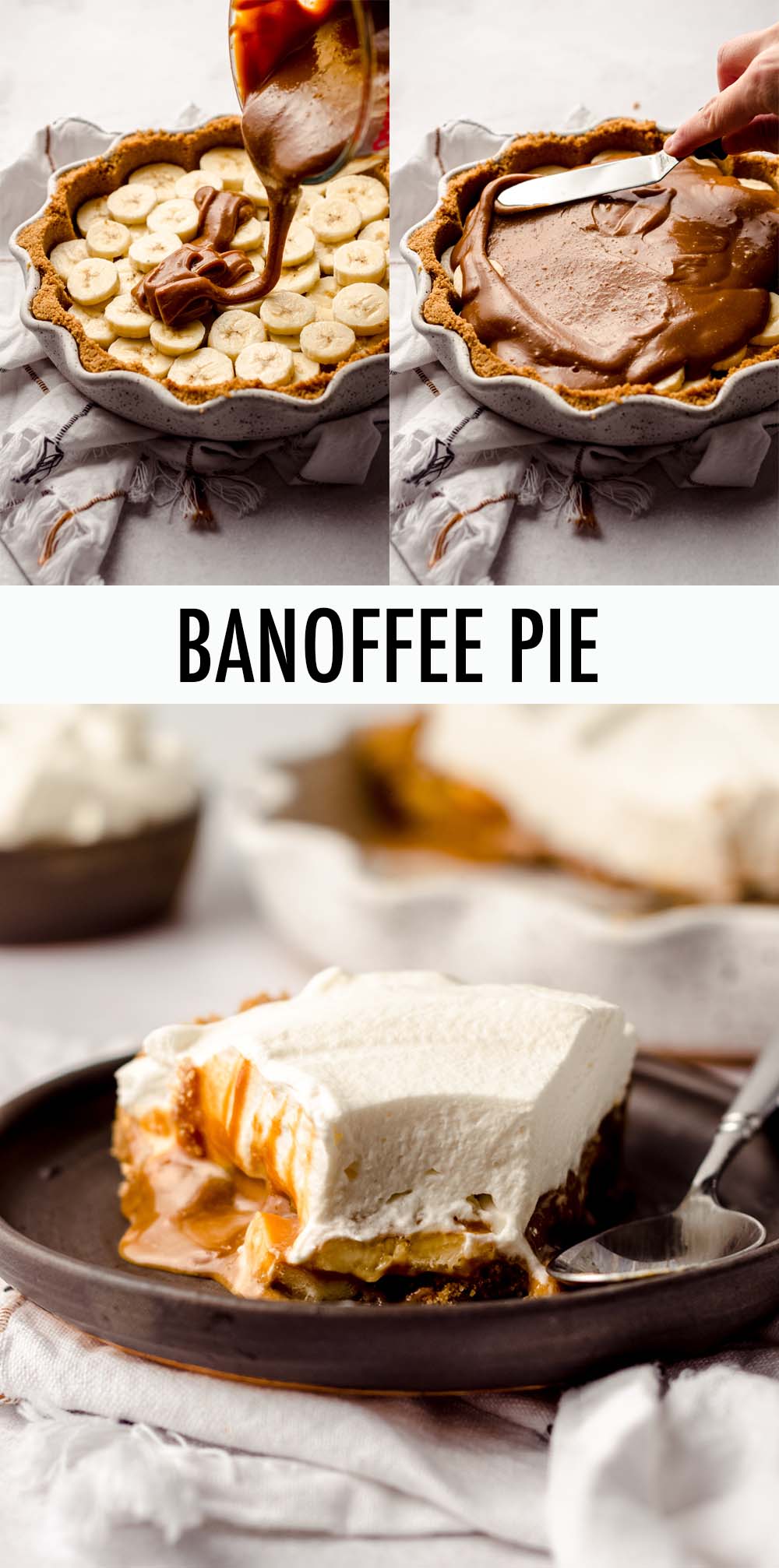 As an Amazon Associate, I earn from qualifying purchases. Read the full disclosure here.
A traditional English dessert made with bananas, dulce de leche, and whipped cream atop a crunchy graham cracker crust.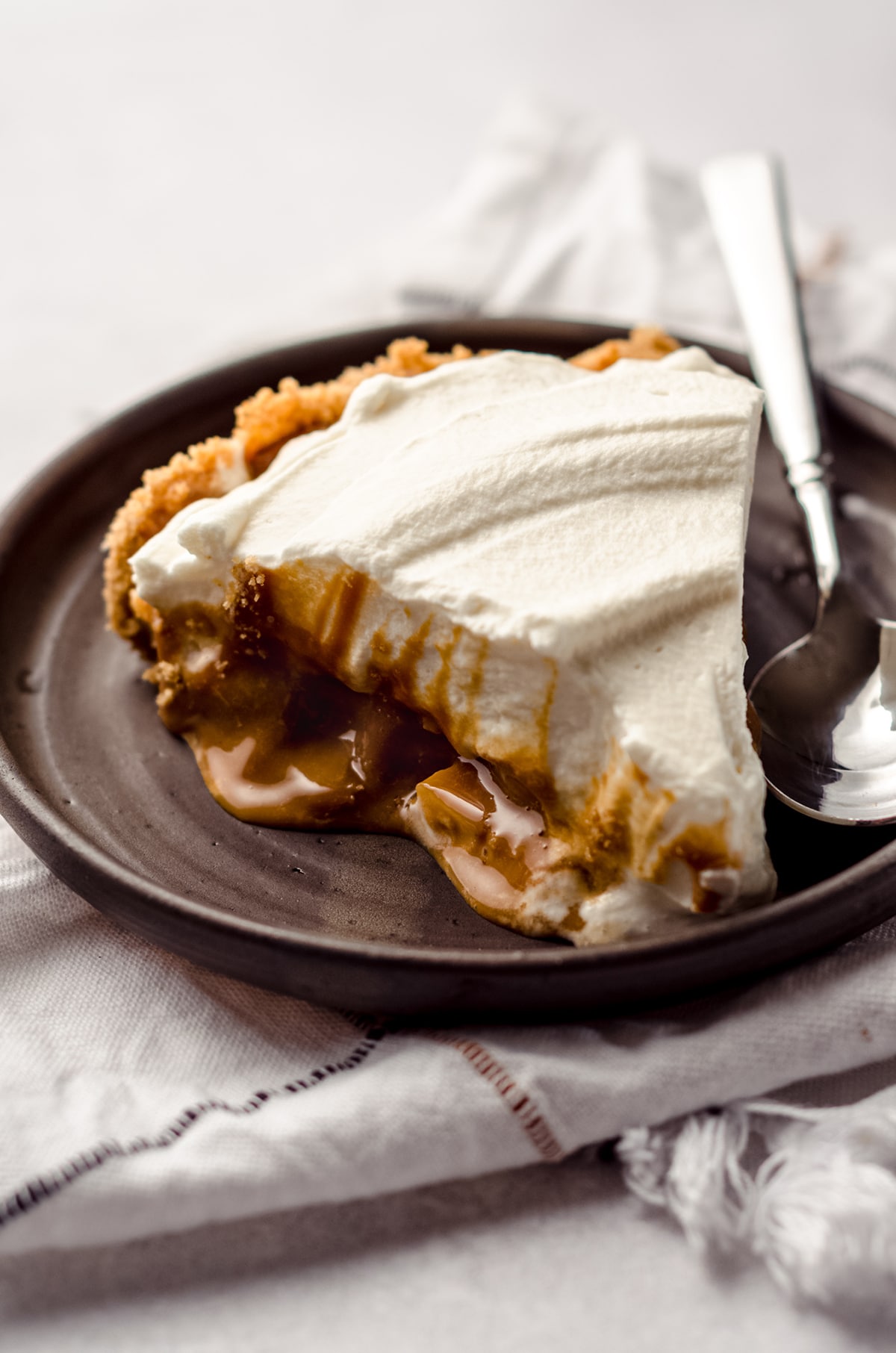 A new year, a new monthly recipe.
That's right– 2022 will be the year of pies.
For 6 years now, I have hosted a monthly recipe based around one theme.
In 2017, it was cakes. We did muffins in 2018. In 2019, it was all about bread. In 2020, we did brownies. And in 2021, we did all the no bakes!
I don't have nearly enough pie recipes on my site, so we're remedying that, gathering all our pie supplies, and gearing up for a year full of all different kinds of pies in all kinds of crusts with all kinds of fillings and with all the delectable toppings.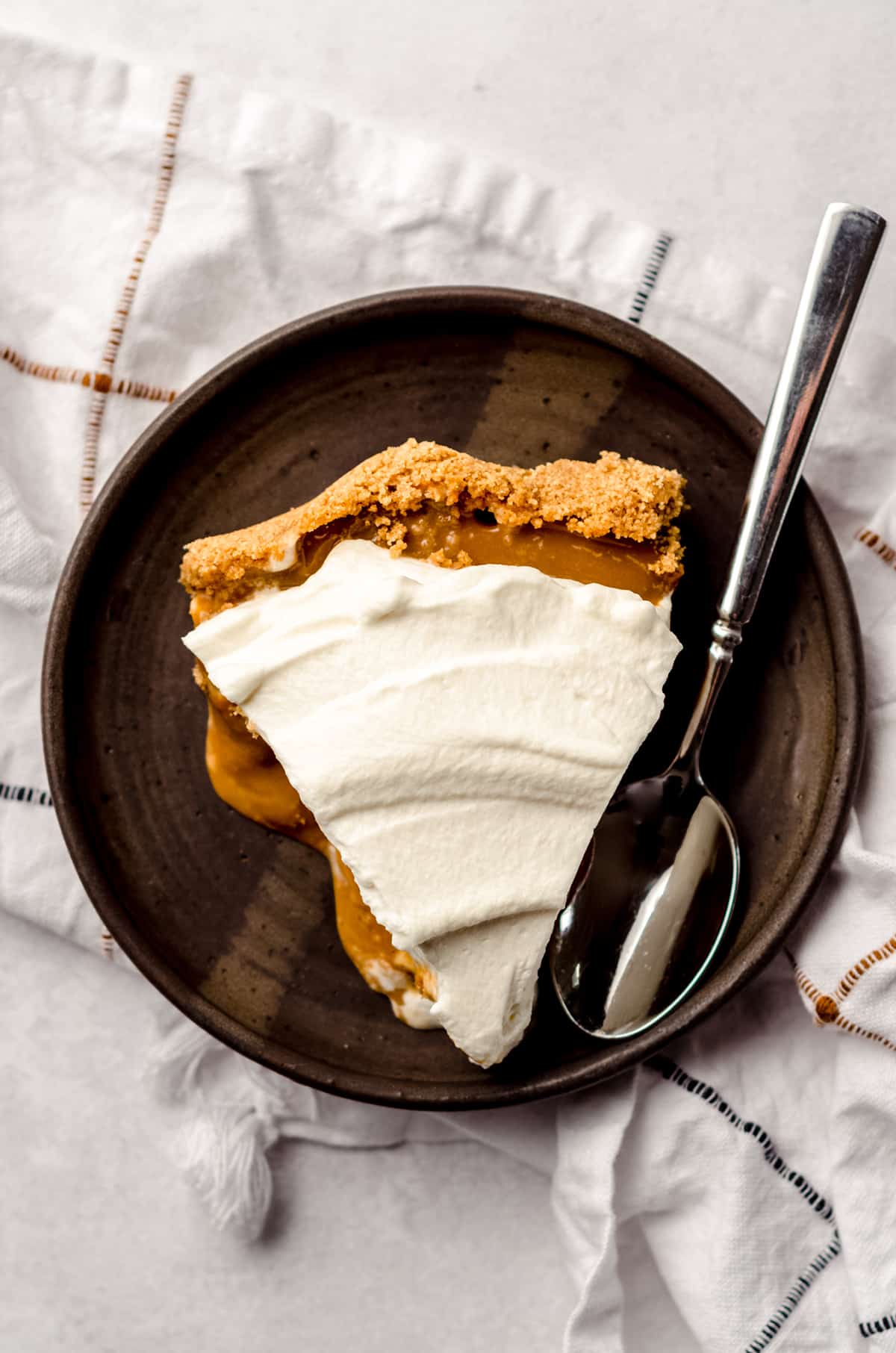 So let's kick this off with a banoffee pie recipe, something you all asked for almost as quickly as I was able to decide on all this pie business!
WHAT IS BANOFFEE PIE?
Banoffee pie is a classic English dessert that is made from just a few simple components: a graham cracker crust, banana slices, decadent dulce de leche, and a generous amount of light and fluffy whipped cream.
The word banoffee comes from a combination of the words "banana" and "toffee" which of course, are two of the most important elements of the pie!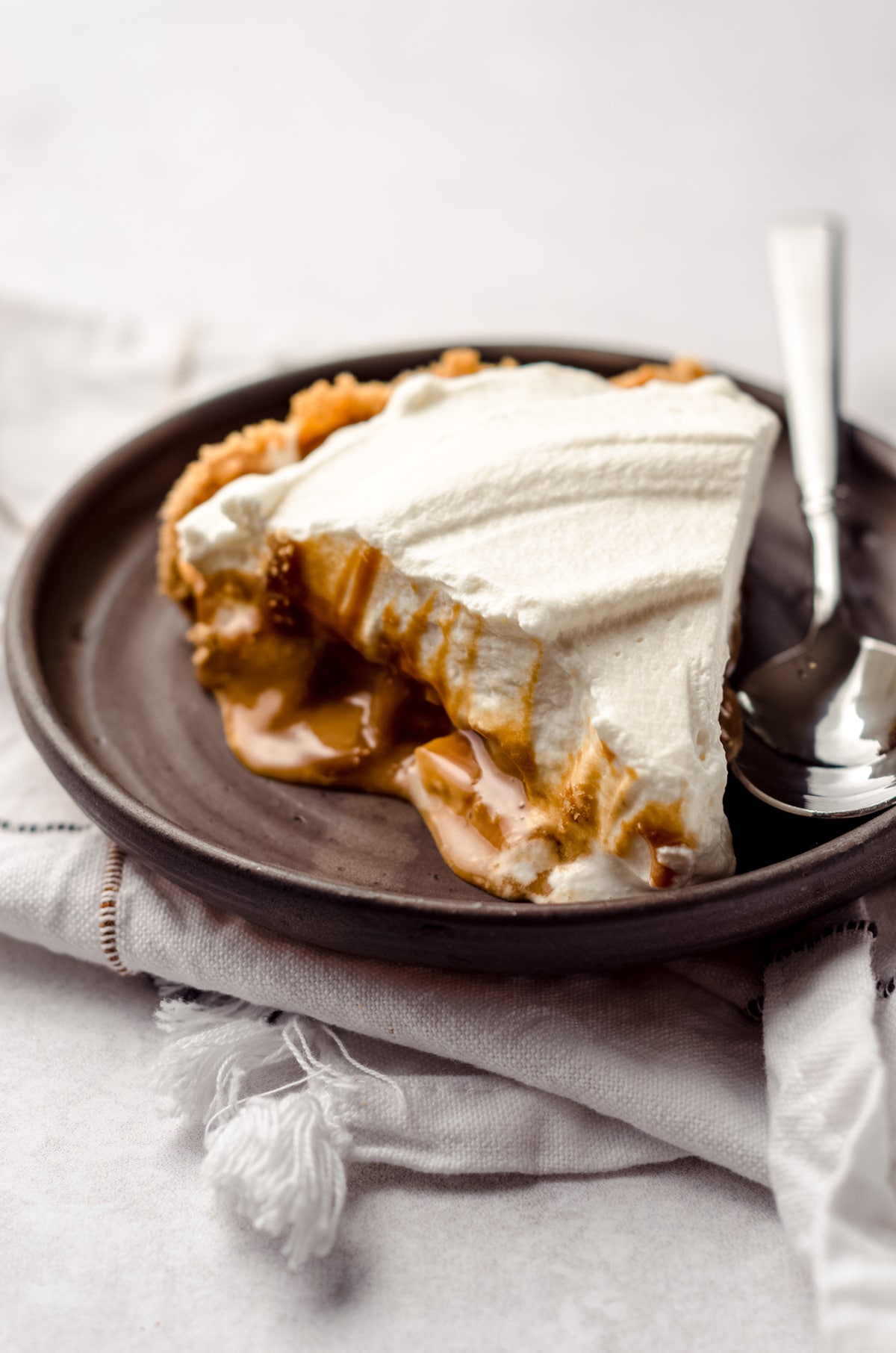 You're probably thinking, "hold up. You just said dulce de leche. What is this toffee business?" And (I promise) I'm not trying to throw you for a loop here.
In the UK, toffee refers to a wide variety of desserts involving caramelized sugar. And so, since dulce de leche is a cooked and caramelized sweetened milk, we have an end product that falls into the "toffee" category in the UK.
You learn something new every day, huh?
INGREDIENTS
When it comes to the ingredients for this easy banoffee pie, they are pretty basic. With the exception of dulce de leche (we'll get to that in a minute), you should have all the ingredients you need for banoffee pie in your pantry and fridge.
For the base of the pie, you'll need graham cracker crumbs, butter, and sugar.
Then, for the filling you'll need bananas and a can of dulce de leche.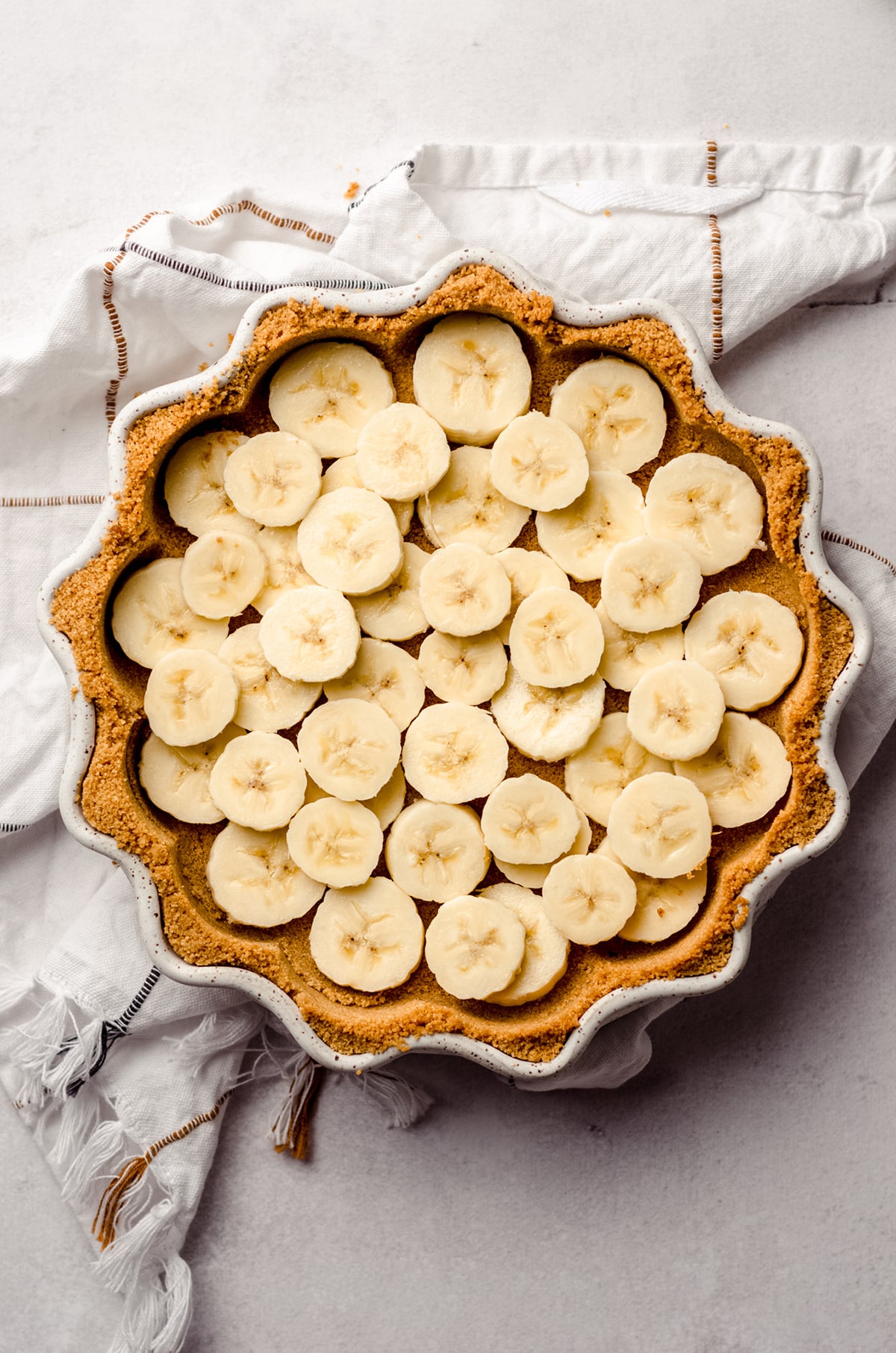 Finally, you'll craft a pillowy topping of whipped cream with heavy cream, sugar (powdered if possible), and a touch of vanilla extract.
I know. Soooo simple, right?
COMPONENTS
Now that we've got our ingredients straightened away, let's talk a little more about the various components of the classic banoffee pie.
There are essentially 4 layers of the pie: graham cracker crust, banana slices, dulce de leche, and whipped cream.
GRAHAM CRACKER CRUST
First, we've got our graham cracker crust.
Who doesn't love a thick, buttery graham cracker crust? I don't know about you, but sometimes I think I could just eat the crust all by itself!
If you're looking for a complete how-to, I go into detail in my graham cracker crust recipe, giving you ALL my tips and tricks for getting the perfect graham cracker crust.
But the basic rundown is this: combine your graham cracker crumbs with butter and sugar, either by hand or in a food processor.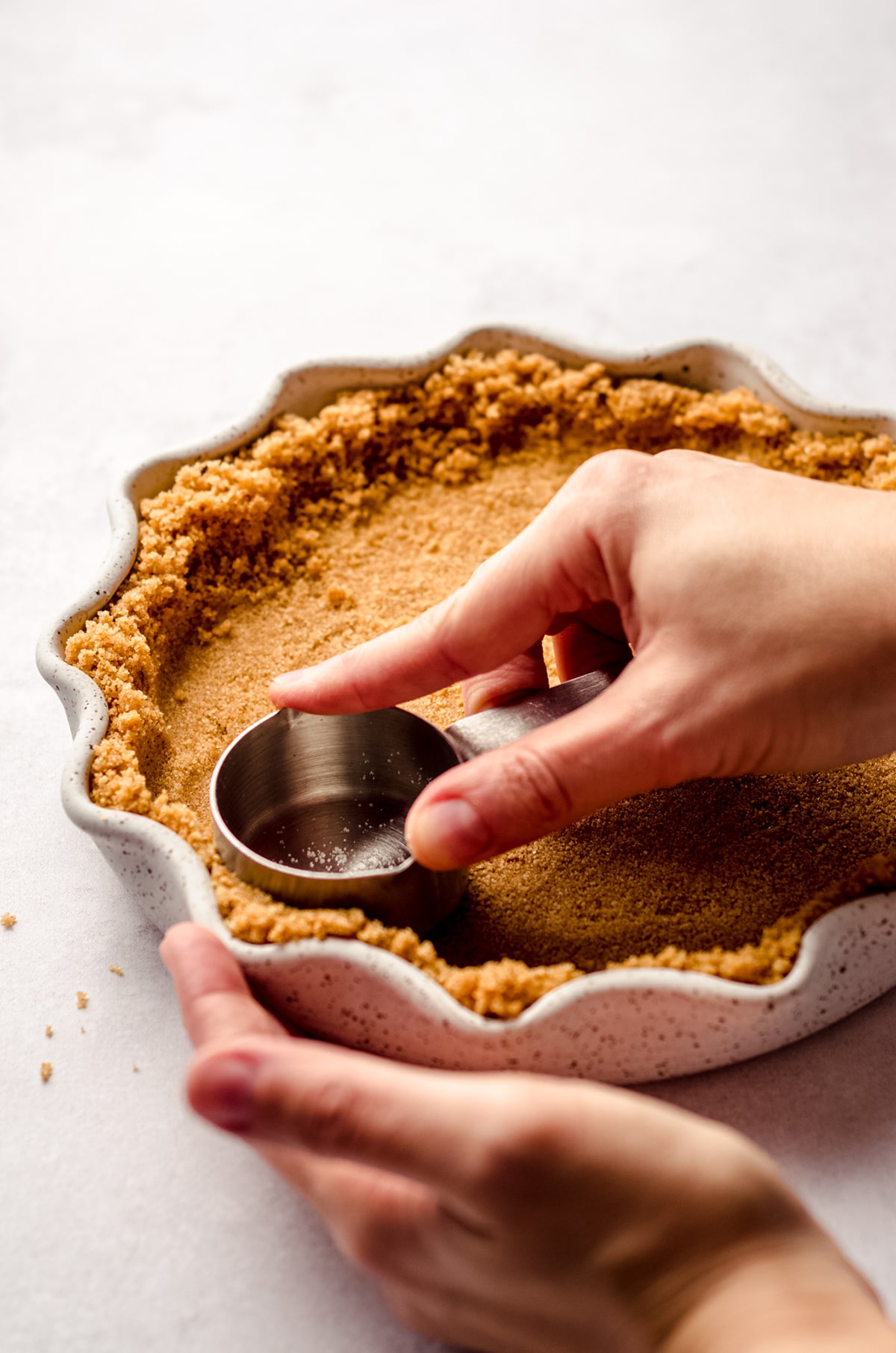 Then, press the mixture into the bottom and up the sides of your pie dish. I like to use the bottom of a measuring cup to pack the crumbs in tightly, ensuring that the crust doesn't crumble when I go to cut a slice of this decadent banoffee pie.
Then, you're going to bake the crust, which binds it together and gives the crust some added structure.
As a side note, if you can't find graham crackers, you can make your own, OR use 1 and ½ cups of crushed digestive biscuits in place of the graham cracker crumbs in the recipe. So simple!
BANANA LAYER
If you LOVE banana desserts, you're going to be obsessed with banoffee pie. It features an entire layer of sliced fresh banana, drizzled with a thick layer of dulce de leche.
Since we're using fresh banana, there are some things we need to consider when purchasing and selecting the bananas used in the recipe.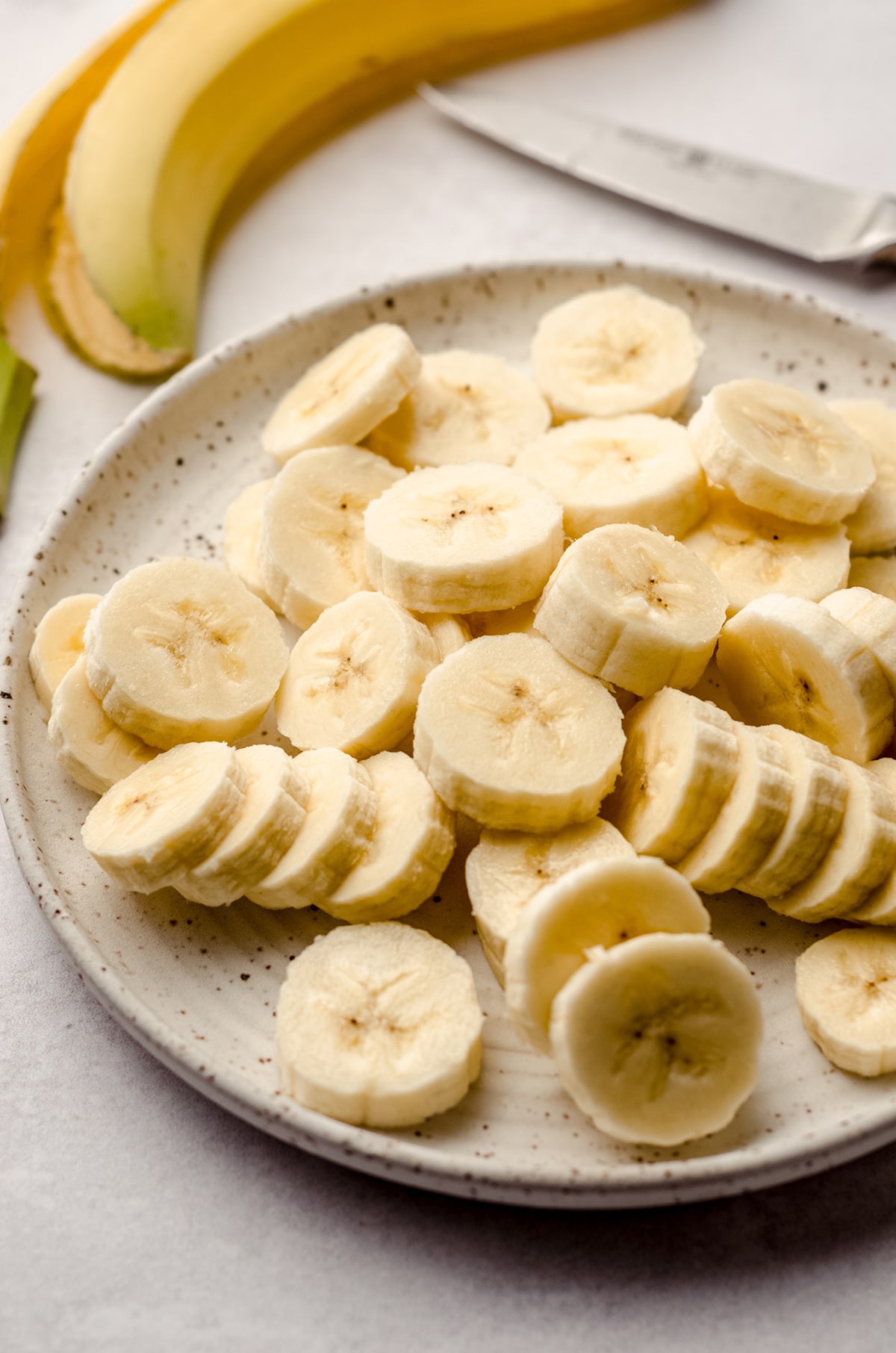 Firstly, make sure your bananas are newly ripe. That means your bananas should have little (if any) green, but absolutely no black spotting.
This can be a delicate balance to strike, but there is some wiggle room. It's better to buy your bananas a little under ripe, and allow them to ripen on the counter, than to buy them just ripe enough, since bananas can go downhill quickly.
Bananas that have spotting will release liquid into the pie much more rapidly than just-ripe bananas, meaning that the quality and storage time of your banoffee pie will go down considerably.
For the best results, make sure to use bananas that are still firm, mostly yellow, and free from spots.
Save any spotted bananas for recipes like my Bananas Foster cake, banana bread pudding, salted caramel banana bread, and banana nut muffins. And of course, the classic banana bread, which is perfect for making and stashing in the freezer if you have too many bananas to contend with.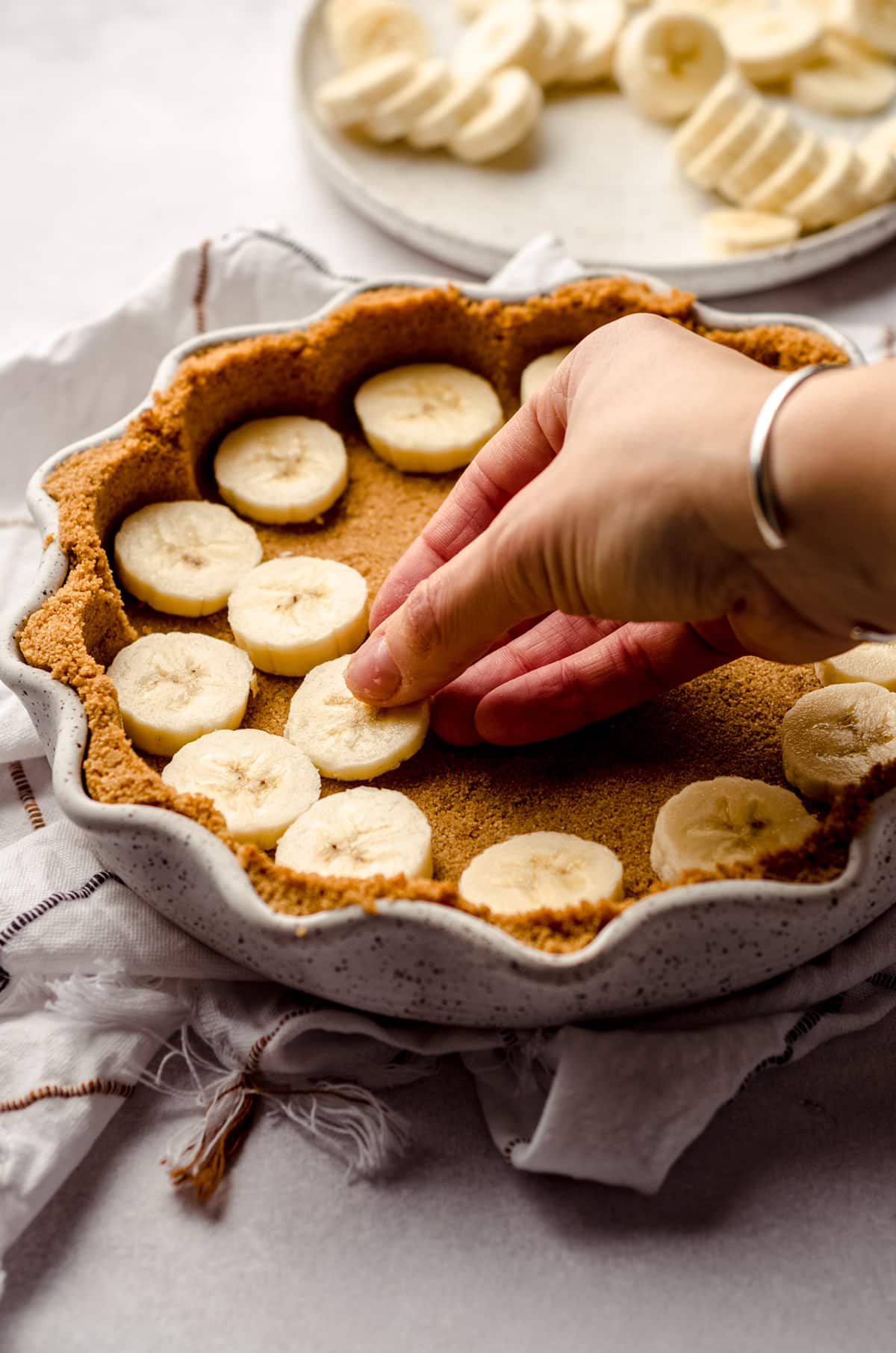 Once you've selected the best quality bananas from your bunch, slice them and arrange them in overlapping layers on top of your baked and cooled graham cracker crust.
DULCE DE LECHE LAYER
Now we're ready to move onto the good stuff. That's right, it's dulce de leche time!
WHAT IS DULCE DE LECHE?
Dulce de leche is a decadent, rich, and delightfully sweet concoction that is popular in Latin America, and across much of the United States.
Dulce de leche translates to "candy made of milk" and is exactly that! It's created by slowly heating a sweetened milk mixture (most often sweetened condensed milk) until it is caramelized, thick, and spreadable.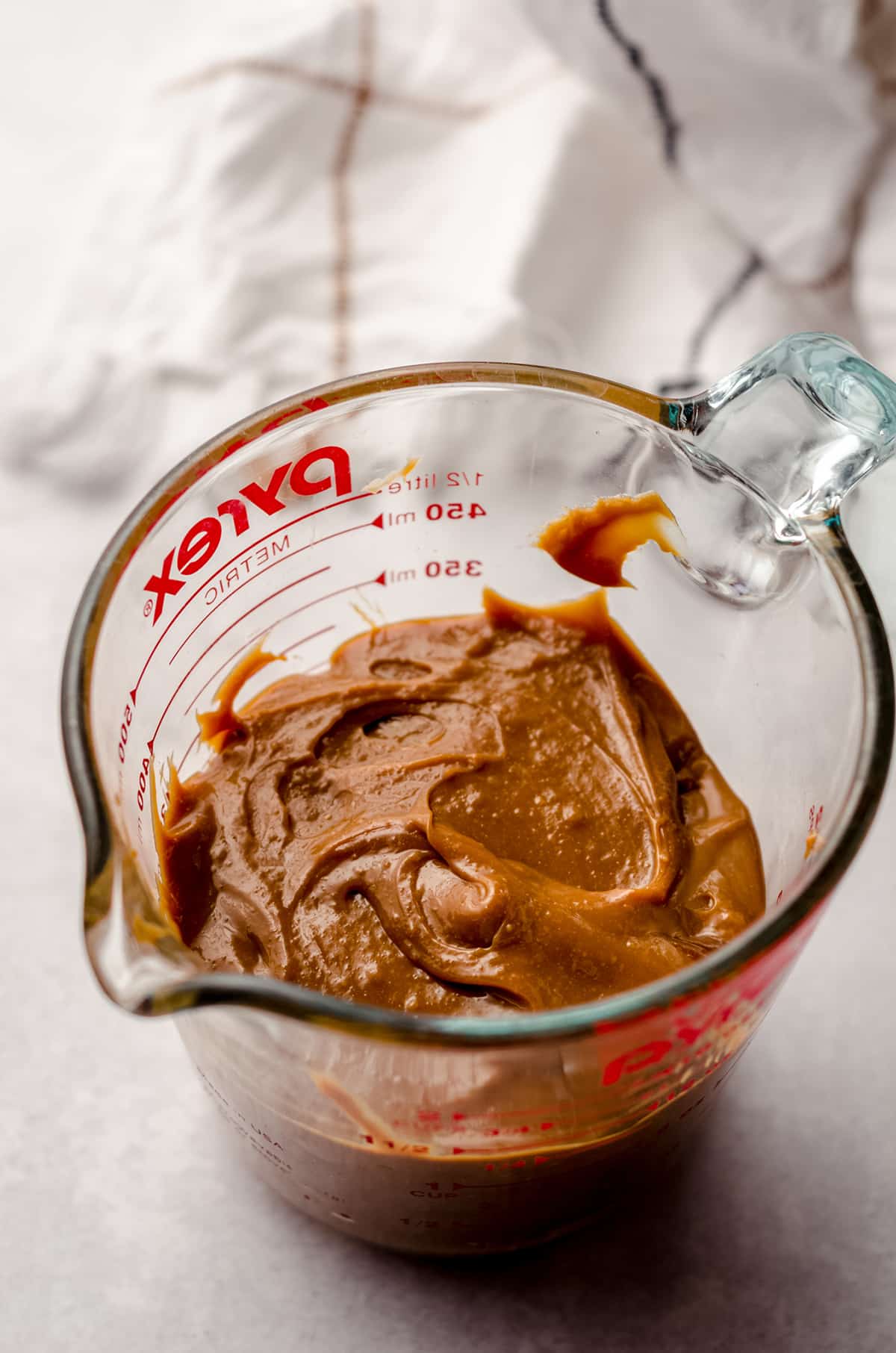 As amazing as it is, it can actually be difficult to find in smaller grocery stores and rural areas. Even some bigger cities are lacking this sweet delicacy. But don't despair! You can totally make your own dulce de leche with just ONE ingredient.
In fact, I have an entire post dedicated to showing you how to make your own homemade dulce de leche. So if you can't find it, or want to try your hand at making it from scratch, that's always an option.
ADDING THE DULCE DE LECHE LAYER
Once your bananas have been layered on top of the graham cracker crust, and there are no holes showing through to the bottom of the pie, it's time to add your dulce de leche. Whether you're using store bought or homemade, the process is the same.
Simply pour the dulce de leche on top of the banana layer, and spread it out evenly with a spatula. If you're having trouble pouring your dulce de leche, simply warm it in the microwave for a few seconds to loosen it up.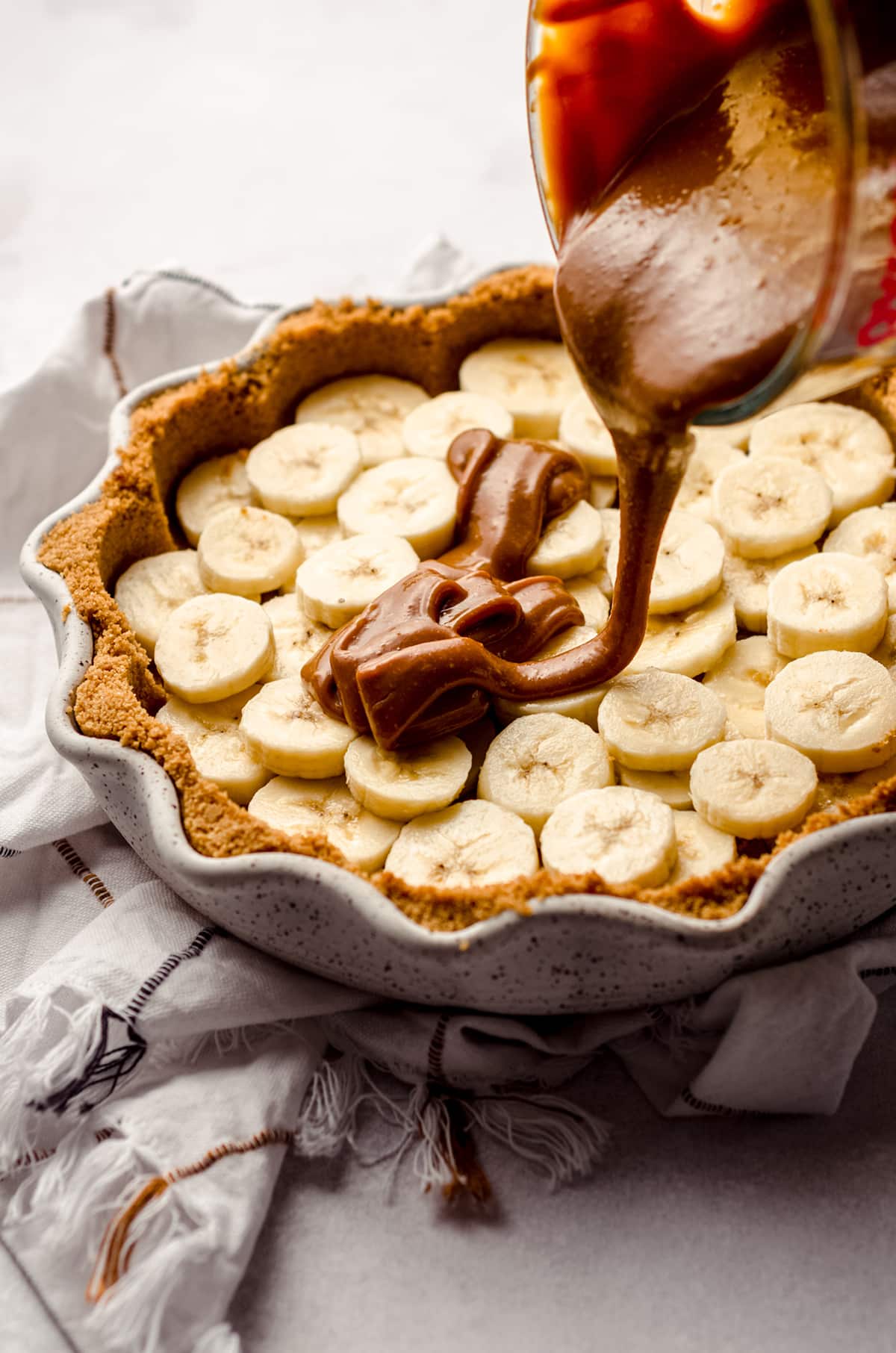 Once your dulce de leche is evenly spread, pop it into the fridge for at least an hour before proceeding to the whipped cream layer. This chilling step gives it a chance to firm up, meaning that the whipped cream has a solid foundation and won't sink or blend into the banoffee pie filling.
WHIPPED CREAM TOPPING
Once your pie has been chilling for at least an hour, you're ready to finish it off with a generous mound of heavenly whipped cream.
Now, I like to make my whipped cream with powdered sugar. Not only does this make for an ultra smooth, silky result, but it also acts as a stabilizer. Whipped cream that has been stabilized stores better, and for longer periods of time without becoming runny.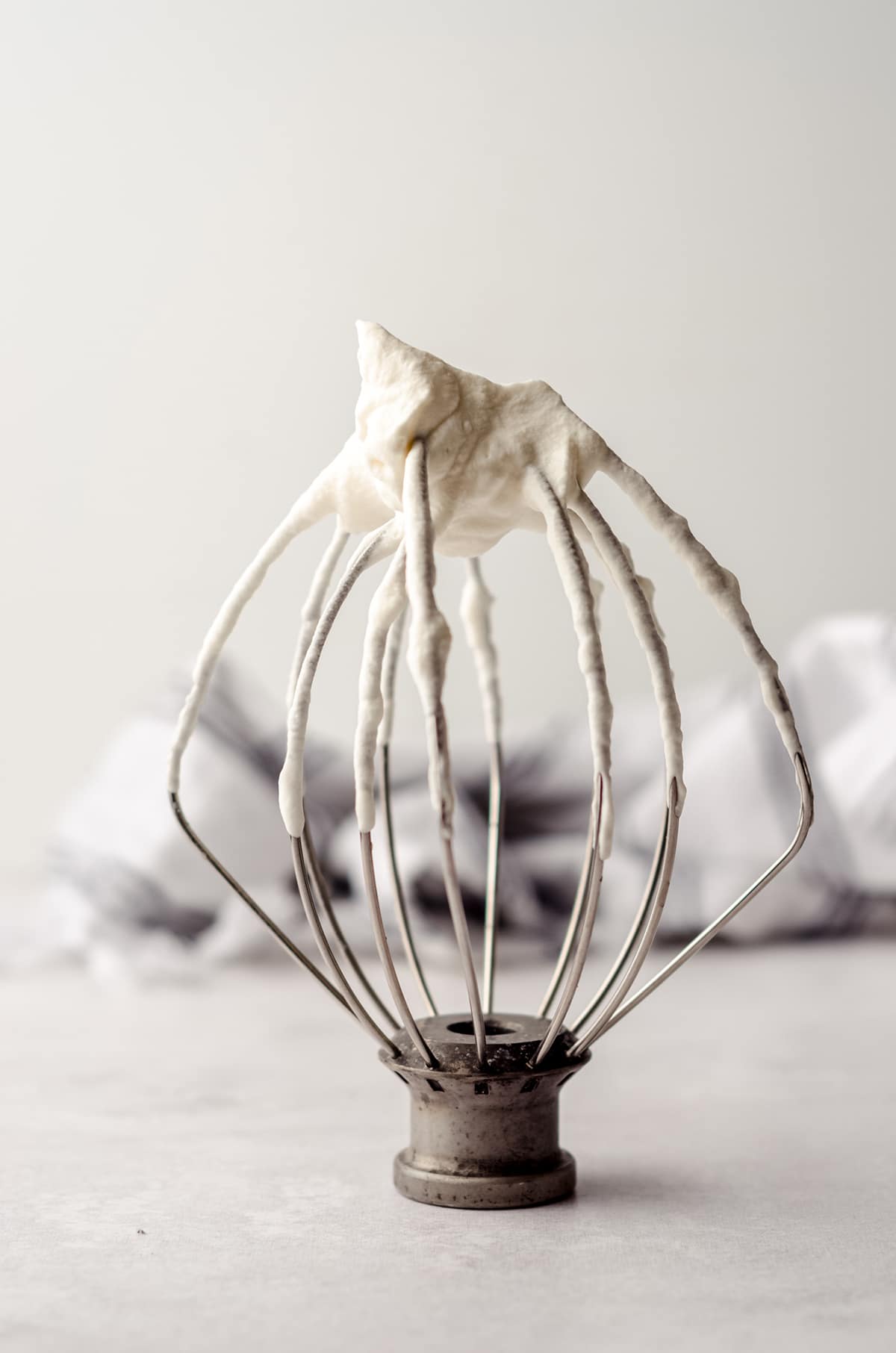 To make the whipped cream layer of the banoffee pie, add your heavy cream, sugar, and vanilla extract to a stand mixer or medium bowl. Using the whisk attachment (for the stand mixer) or an electric hand mixer, whip until medium peaks form, or about 4-5 minutes. It couldn't be easier!
If you've never made your own whipped cream before, be sure to check out my homemade whipped cream post detailing the step-by-step instructions to getting perfect whipped cream every single time. I promise, it's so easy, and the results (and taste testing opportunities) are worth it!
WHIPPED CREAM FOR BANOFFEE PIE
Once your whipped cream is ready, you're all set to finish up the final layer of your banoffee pie.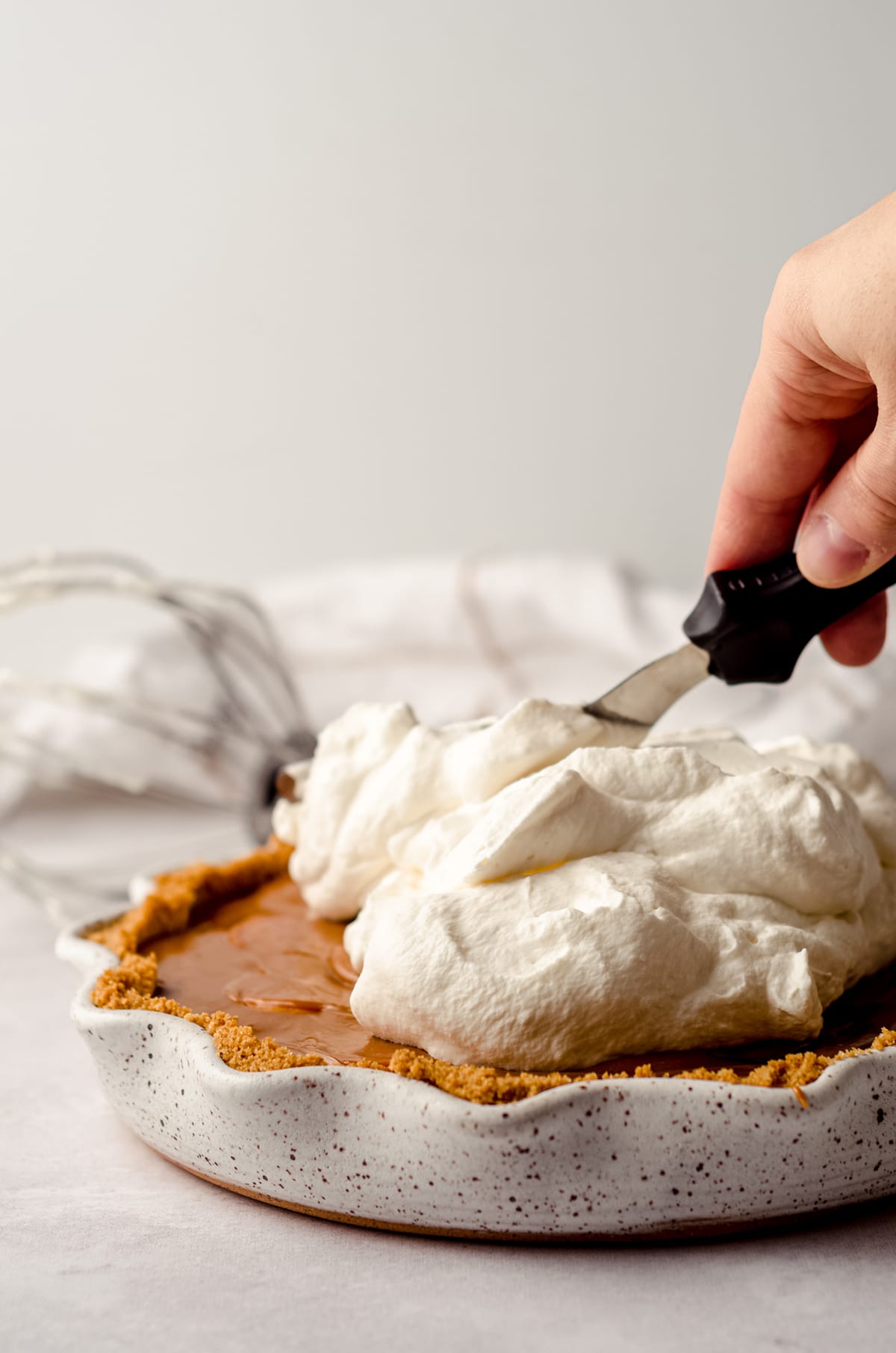 Using an offset spatula or knife, spread your whipped cream on top of the chilled dulce de leche.
Once the whipped cream is evenly distributed over the pie, place it back in the fridge to chill for at least 1 hour.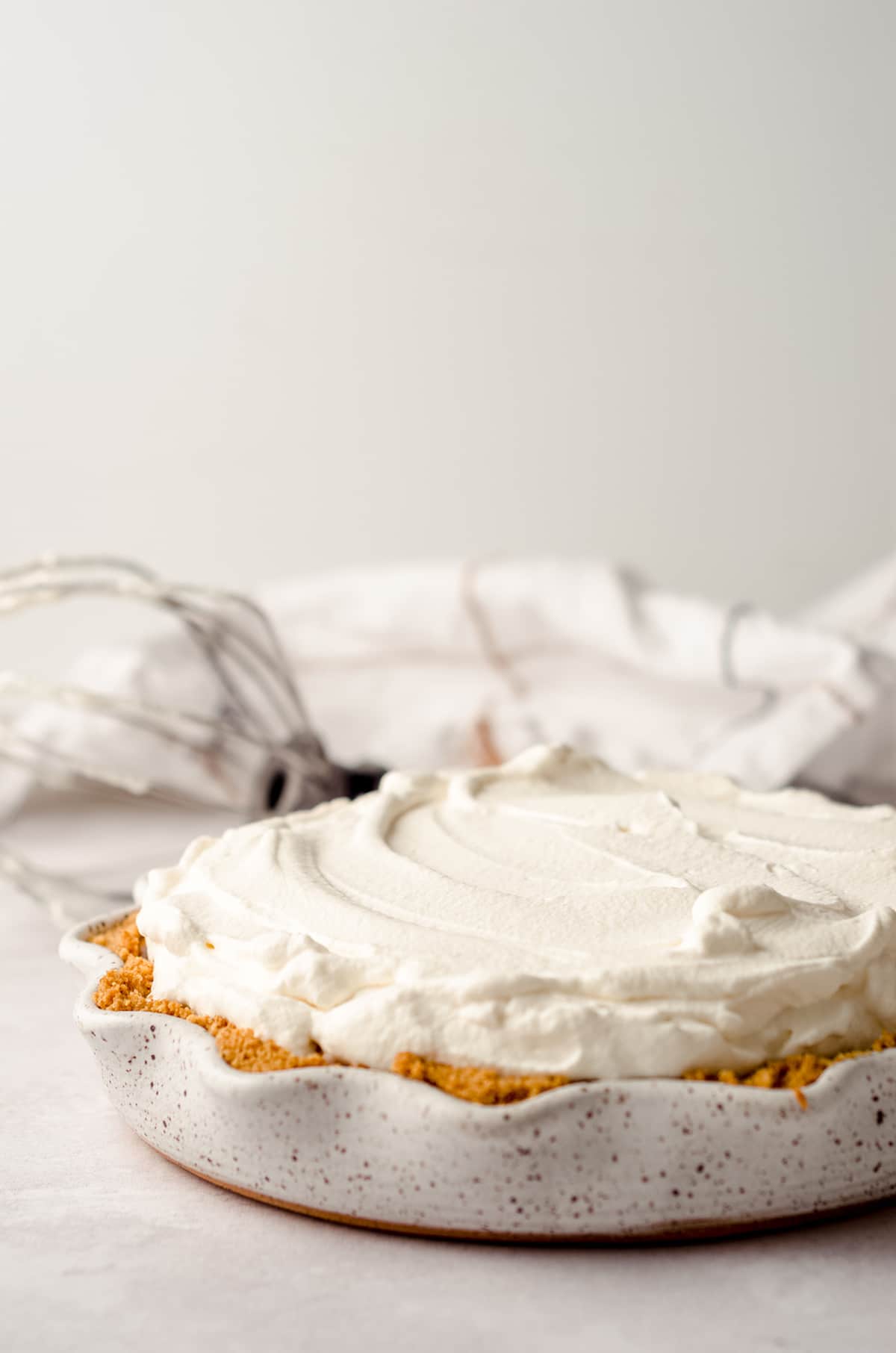 Once your pie has finished chilling, you're ready to get to the BEST part of all: eating!
WHAT DOES BANOFFEE PIE TASTE LIKE?
When I went into this pie adventure, I was not quite sure what to expect the end product to taste like.
I knew I liked all the components separately, but I didn't really know how it would all come together and whether or not it would impress me, wow me, or just "yeah, ok, yum" me.
I was actually completely blown away by just how good this pie was. It reminded me of a slightly sweeter (in a good way) banana cream pudding.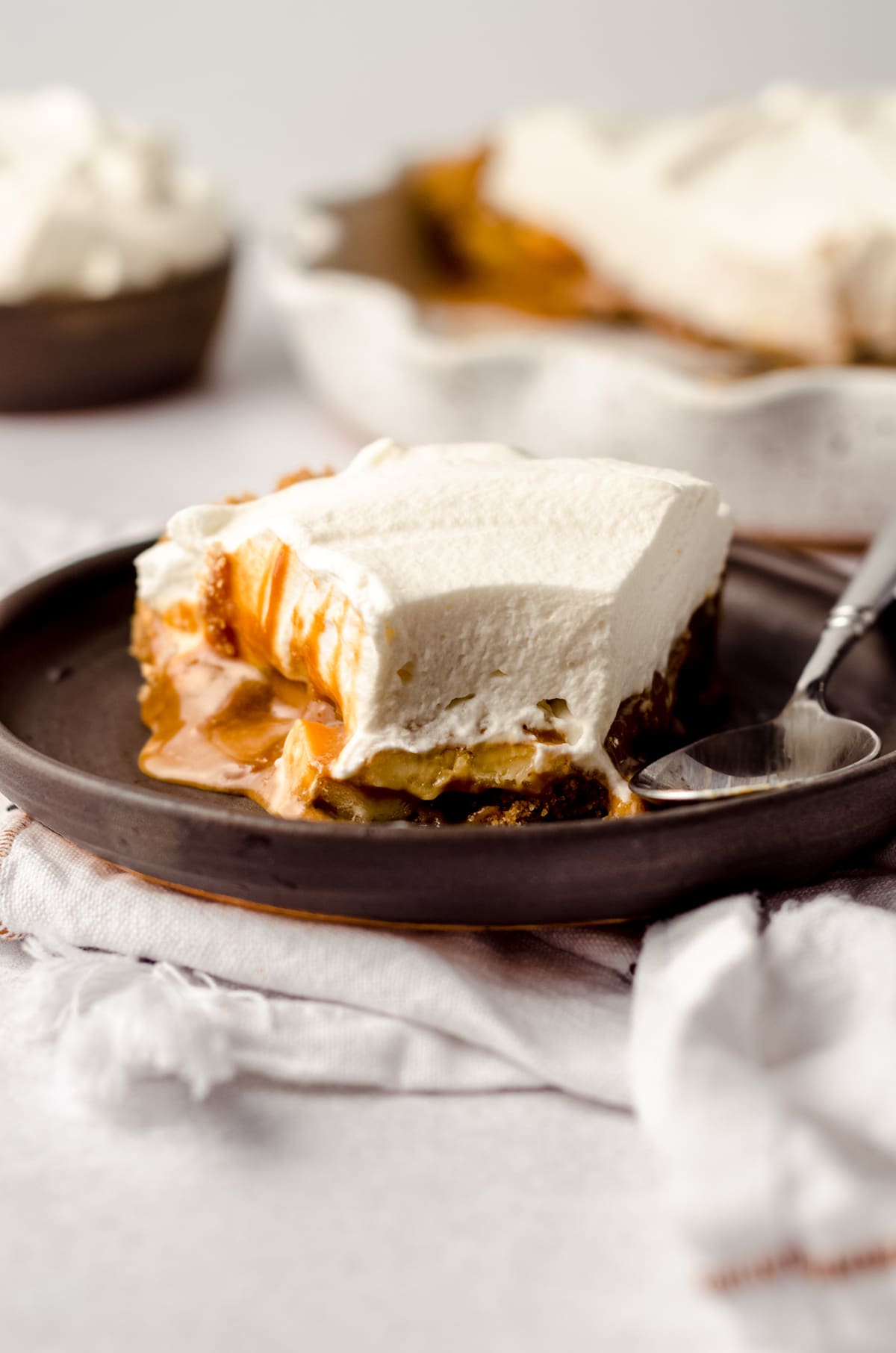 All those textures happening at one time, the smooth bananas and whipped cream, the crunchy and buttery graham cracker bits, and the creamy dulde de leche that got into every bite… It blew me away with how good it was. It may even be in my "top 10 desserts of all time" list now.
ADDITIONAL TOPPINGS
While you can totally eat this pie as is, it's not at all uncommon to add toppings for both presentation and flavor.
Some popular toppings I've seen are shaved chocolate, banana slices, toffee bits, peanuts, and even a warm drizzle of additional dulce de leche. If you want to get crazy, you can pick any combination of those toppings to enjoy with your banoffee pie.
If you're serving this to company, you could even set up a topping station with bowls of crushed peanuts, toffee bits, banana, chocolate, or anything else your heart (and tastebuds) desires!
HOW BANOFFEE PIE IS DIFFERENT
While many pies (like my chocolate chip pecan pie) give a neat, clean slice with clearly defined layers, banoffee pie is not in that category. Instead, banoffee pie is in the gooey and decadent camp.
Your slices will definitely shift around a little bit, meaning it is less picture-perfect than most pies. But what it lacks in presentation, it makes up for in taste. Because oh boy, is it delicious.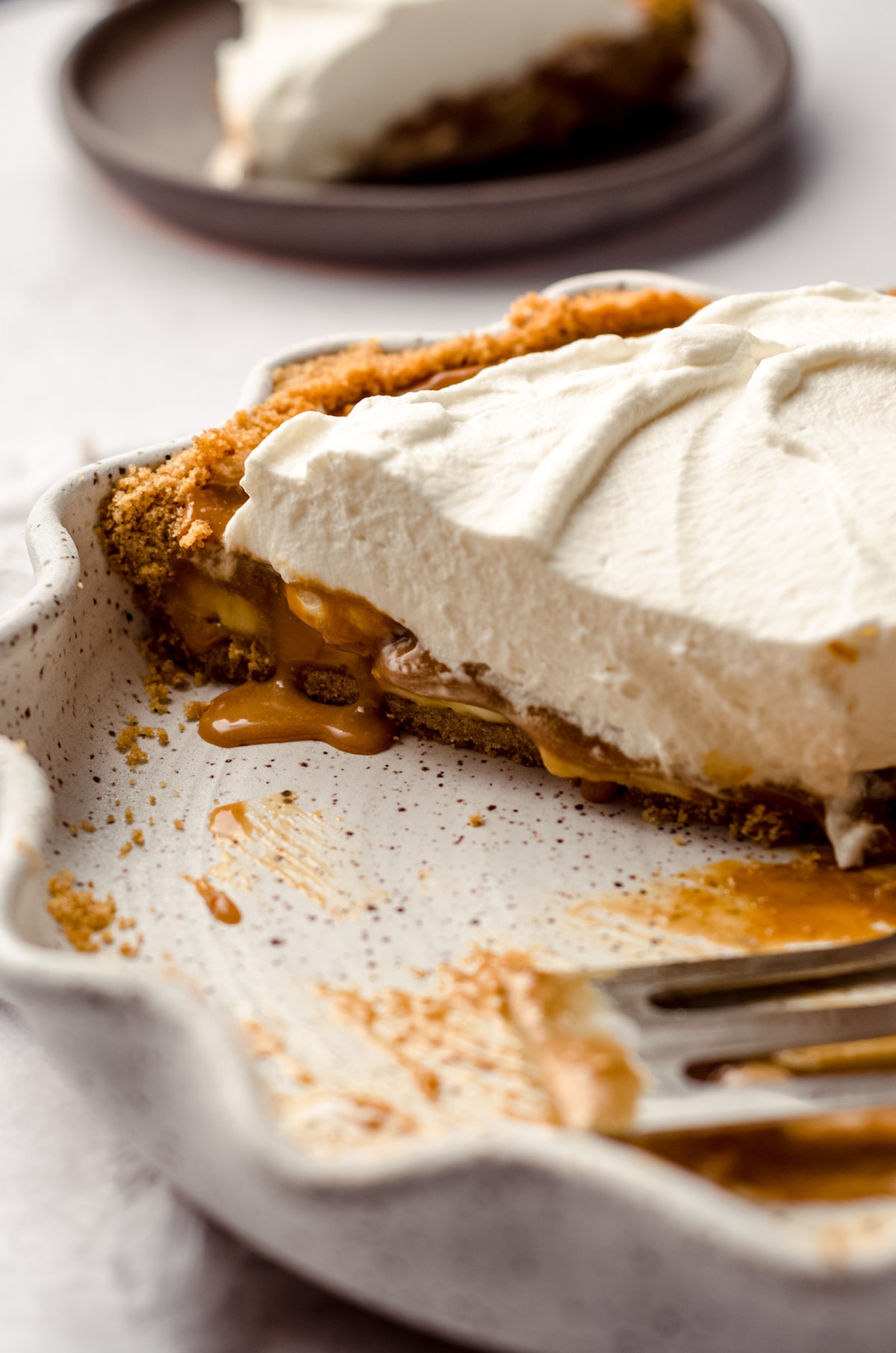 This shloopy, creamy, and sweet pie is soft, pillowy, and an absolute JOY to eat. I wouldn't make it stiff and upright even if I could, but if you really want a pie that is more on the firm side, you could always make your dulce de leche a bit thicker.
Even with a thicker dulce de leche, banoffee pie will always be a little bit on the gooey side, since that is the nature of dulce de leche and is a traditional feature of the pie. In my opinion, it's better to just roll with it and dive right in… With a napkin close by, of course.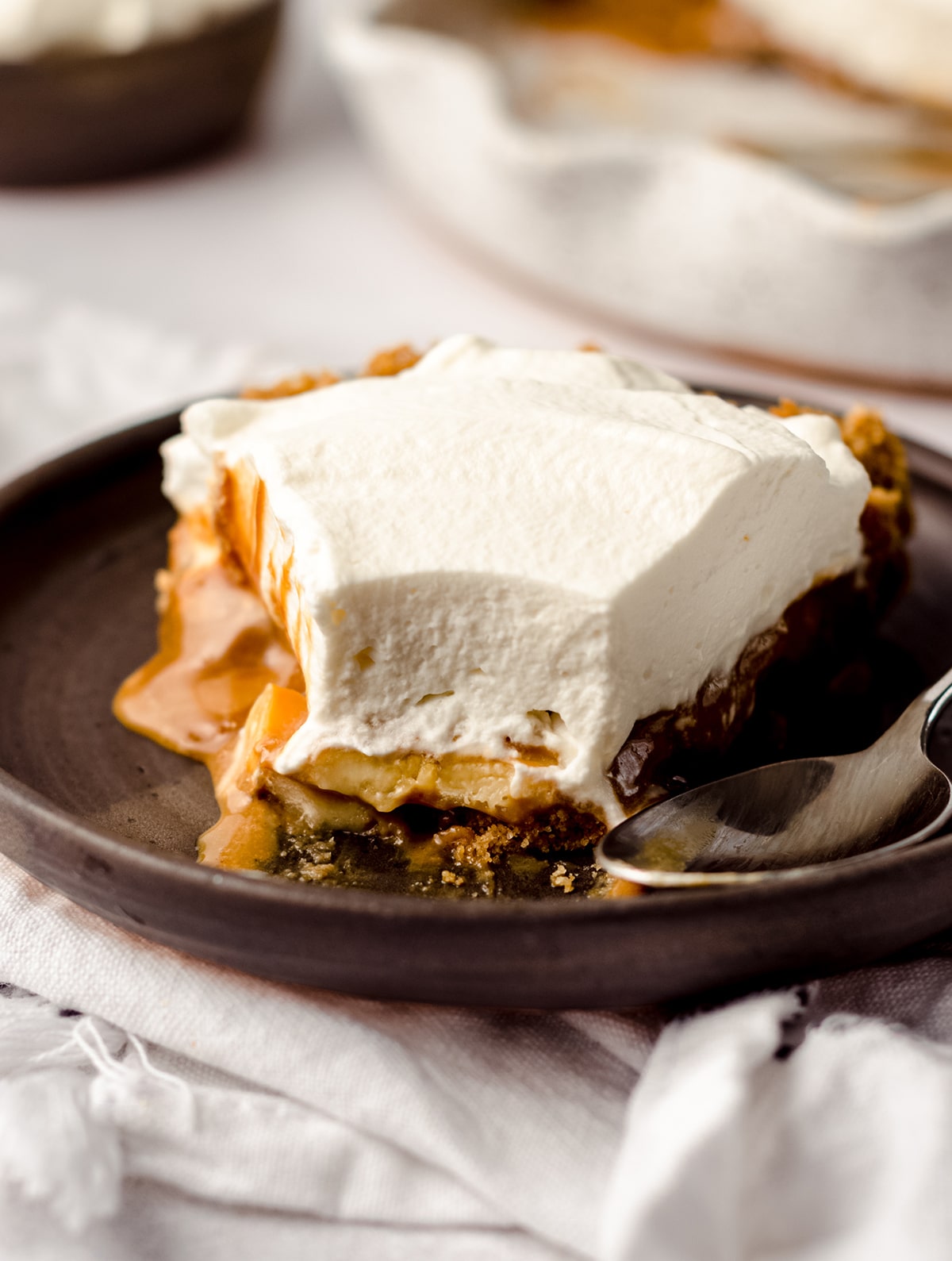 I'm anxious to share more of my pie recipes with you, so stay tuned to see what I'll be sharing each month. I know one thing for sure: it's going to be one delicious year!
If you love this banoffee pie, you'll love these pies, too: cranberry curd tart, shoofly pie, apple pie, fresh peach pie, and Butterfinger pie.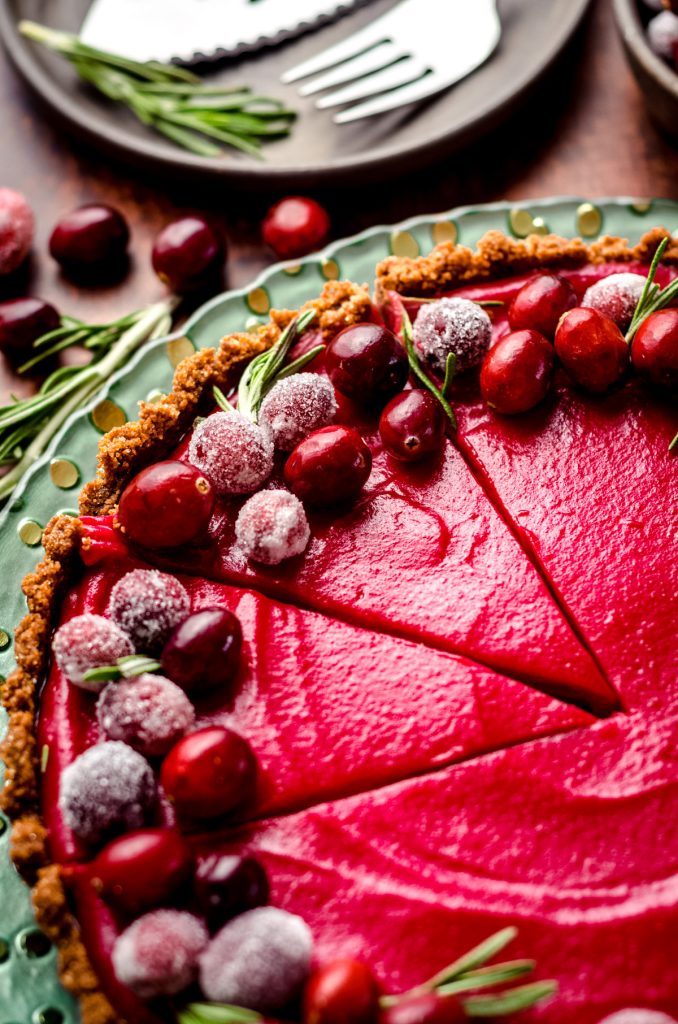 Banoffee Pie
A traditional English dessert made with bananas, dulce de leche, and whipped cream atop a crunchy graham cracker crust.
Ingredients
GRAHAM CRACKER CRUST
1 and ½

cups

(150g) graham cracker crumbs

about 10 full graham cracker sheets

5

Tablespoons

(72g) unsalted butter

melted

¼

cup

(50g) granulated or firmly packed brown sugar
BANOFFEE PIE FILLING
2 to 3

large bananas

cut into approximately ¼" slices

1

jar/can

(about 13oz/369g) dulce de leche1
WHIPPED CREAM TOPPING
1 and ½

cups

(360mL) cold heavy whipping cream

1 and ½

Tablespoons

powdered sugar or granulated sugar2

1 and ½

teaspoons

vanilla extract
Instructions
Preheat the oven to 350°F (177°C).
GRAHAM CRACKER CRUST
If you're starting out with full-sheet graham crackers, use a food processor or blender to grind them up. You can also crush them in a zipped top bag with a rolling pin. If you're starting with pre-crushed graham cracker crumbs, place them in a medium size bowl.

Add the melted butter and sugar to the food processor or blender and pulse a few times until mixture is coarse and sandy. If you used a bowl, add the melted butter and sugar to the bowl and stir until everything is combined.

Press the mixture into the bottom and up the sides of a 9 or 10 inch pie dish, using the bottom of a flat measuring cup to insure the crust is tight and compact.

Bake the crust for 8-10 minutes. Remove from the oven and allow to cool for at least 15 minutes (and up to 2 days, covered in the refrigerator) before adding the filling.
BANOFFEE PIE FILLING
Arrange banana slices in 1-2 layers in the cooled graham cracker crust. Try to make it so that there are no holes and you can't see to the bottom of the crust.

Pour the dulce de leche on top of the bananas, then use a spatula to spread it out evenly. If you're having trouble pouring your dulce de leche, simply warm it in the microwave for a few seconds to loosen it up.

Chill the pie for at least 1 hour before adding the whipped cream topping.
WHIPPED CREAM TOPPING
When you are ready to top the pie, use a medium size bowl with a handheld mixer or the bowl of a stand mixer fitted with the whisk attachment to make the whipped cream.

Pour the heavy cream, sugar, and vanilla into the bowl. Turn the mixer to medium-high speed and whip until medium peaks form (about 4-5 minutes). For more detailed instructions on this step, see my homemade whipped cream post.

Spread the whipped cream evenly over the top of the chilled dulce de leche layer, then chill for at least 1 more hour before serving.

Cover and store leftover pie in the refrigerator for up to 5 days. I do not recommend freezing this pie.
Notes
Dulce de leche: you can use store-bought dulce de leche, but it is so simple to make it yourself. See my homemade dulce de leche for instructions on how to do that.
Sugar: I prefer powdered sugar for my homemade whipped cream as it dissolves more quickly, but granulated sugar works just fine, too. The weight for 1 and

½ Tablespoons of

powdered sugar would be 12g and granulated sugar would be 19g.
Nutrition Disclosure
All nutritional values are approximate and provided to the reader as a courtesy. Changing ingredients and/or quantities will alter the estimated nutritional calculations.
Serving:
1
slice
|
Calories:
273
kcal
|
Carbohydrates:
23
g
|
Protein:
2
g
|
Fat:
20
g
|
Saturated Fat:
12
g
|
Polyunsaturated Fat:
1
g
|
Monounsaturated Fat:
5
g
|
Trans Fat:
0.2
g
|
Cholesterol:
55
mg
|
Sodium:
95
mg
|
Potassium:
151
mg
|
Fiber:
1
g
|
Sugar:
13
g
|
Vitamin A:
715
IU
|
Vitamin C:
2
mg
|
Calcium:
41
mg
|
Iron:
1
mg