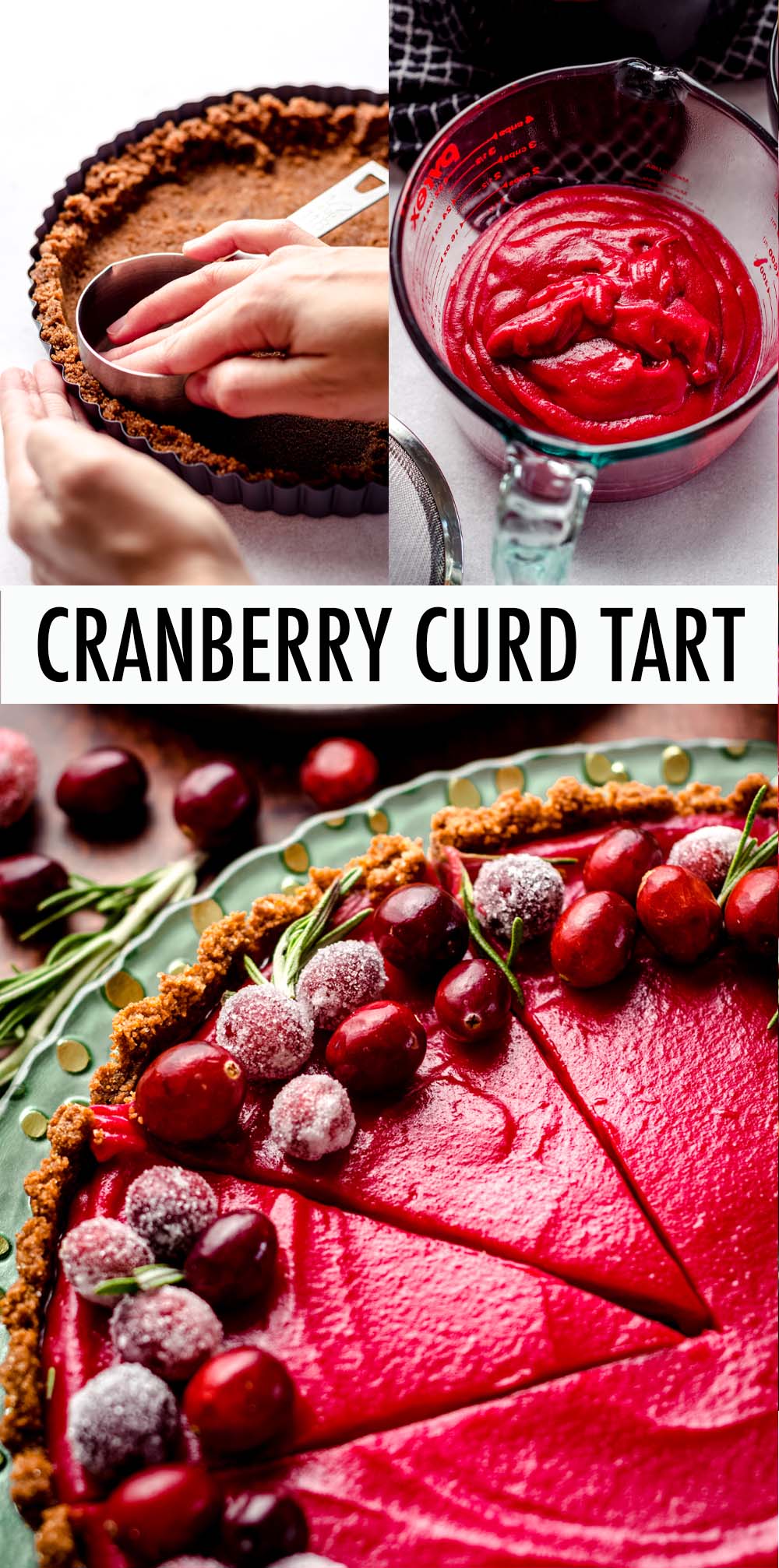 As an Amazon Associate, I earn from qualifying purchases. Read the full disclosure here.
This gorgeous tart is made entirely of cranberry curd made with fresh cranberries and orange juice atop a spiced gingersnap crust. Top your cranberry curd tart with sugared cranberries, whipped cream, or your favorite seasonal topping.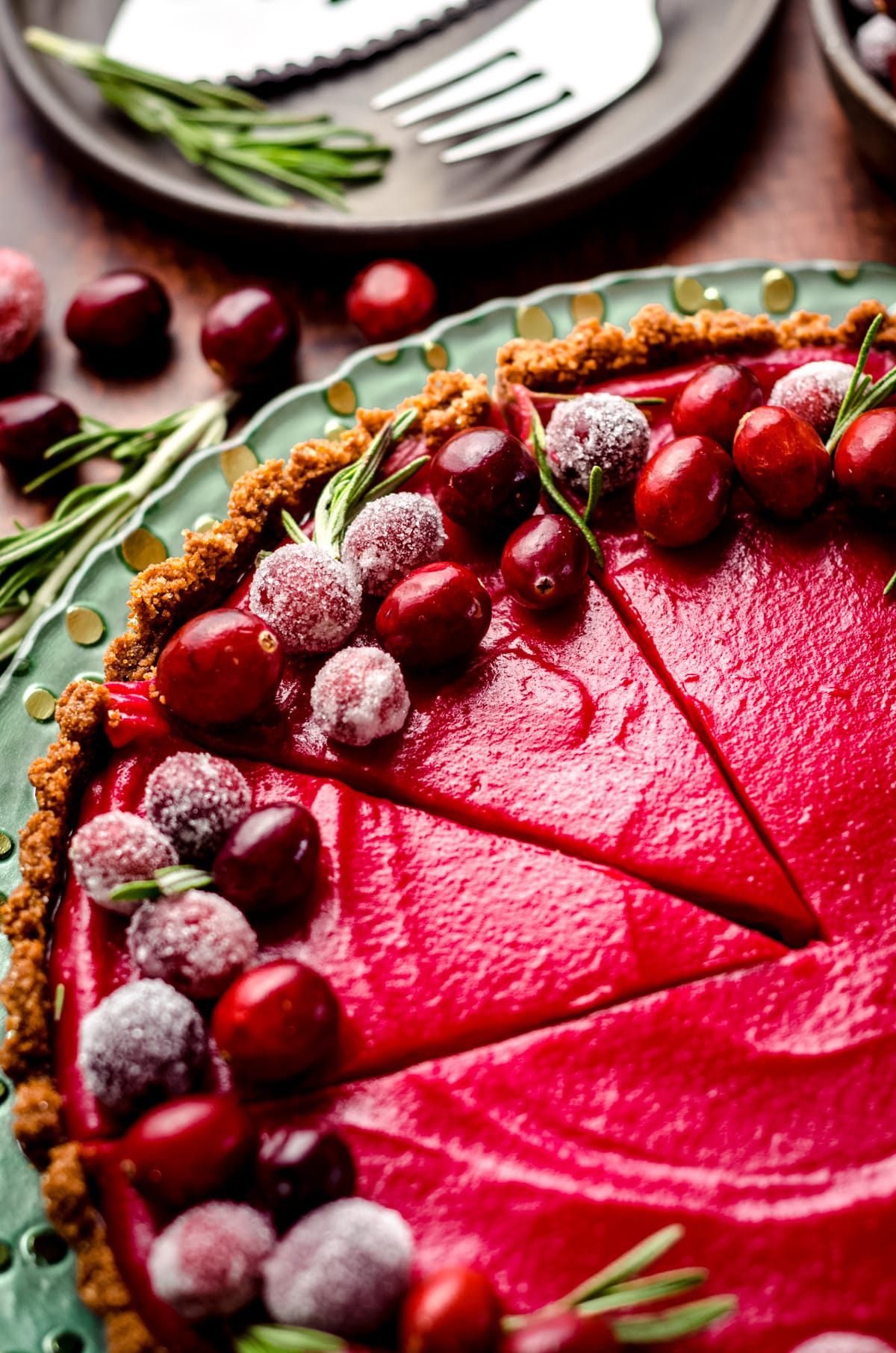 When it comes to winter desserts, it seems that those very specific holiday-centric recipes get the spotlight. And while I love an adorable crew of gingerbread cut-out cookies as much as anyone, there is something that is just so cozy about some of the more subtle elements of winter baking.
Take this cranberry curd tart for example. It's elegant, it's impressive, and it's shockingly easy.
All of this while using the very best the season has to offer: tart cranberries, tangy citrus, and a gorgeous garnish of candied cranberries and sprigs of fresh rosemary.
I mean, who can resist a slice of this?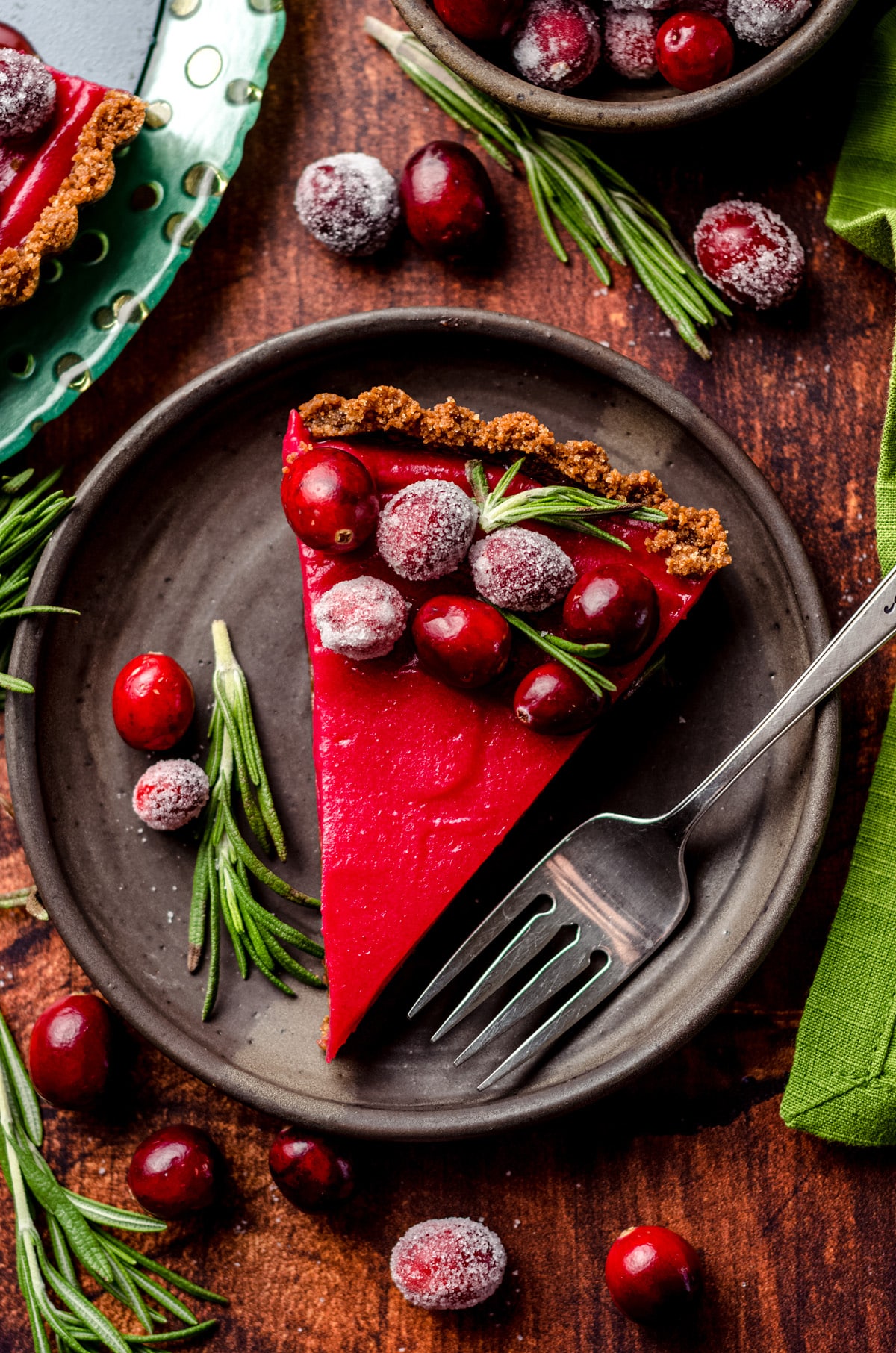 INGREDIENTS
While the ingredient list might look long, you'll repeat some ingredients throughout each component of this tart, and aside from the cranberries and gingersnaps, you likely already have everything else you need on hand most of the time.
GINGERSNAP CRUST
One of my favorite things about this cranberry curd tart recipe (who am I kidding, it's all my favorite) is the gingersnap crust.
While it's pretty common to see something like a shortbread or a graham cracker crust as a tart crust, the spiced gingersnap flavor really ups the ante for this recipe.
When the warm gingersnap crust combines with tart cranberries and bright citrus, you get something that is quintessentially winter.
Just as we celebrate the warmer seasons, this snowy and cozy time of year needs celebrating as well. What better way to do it than a gingersnap crust filled with silky cranberry curd and topped with sugared (ahem… *Snow-dusted*) cranberries?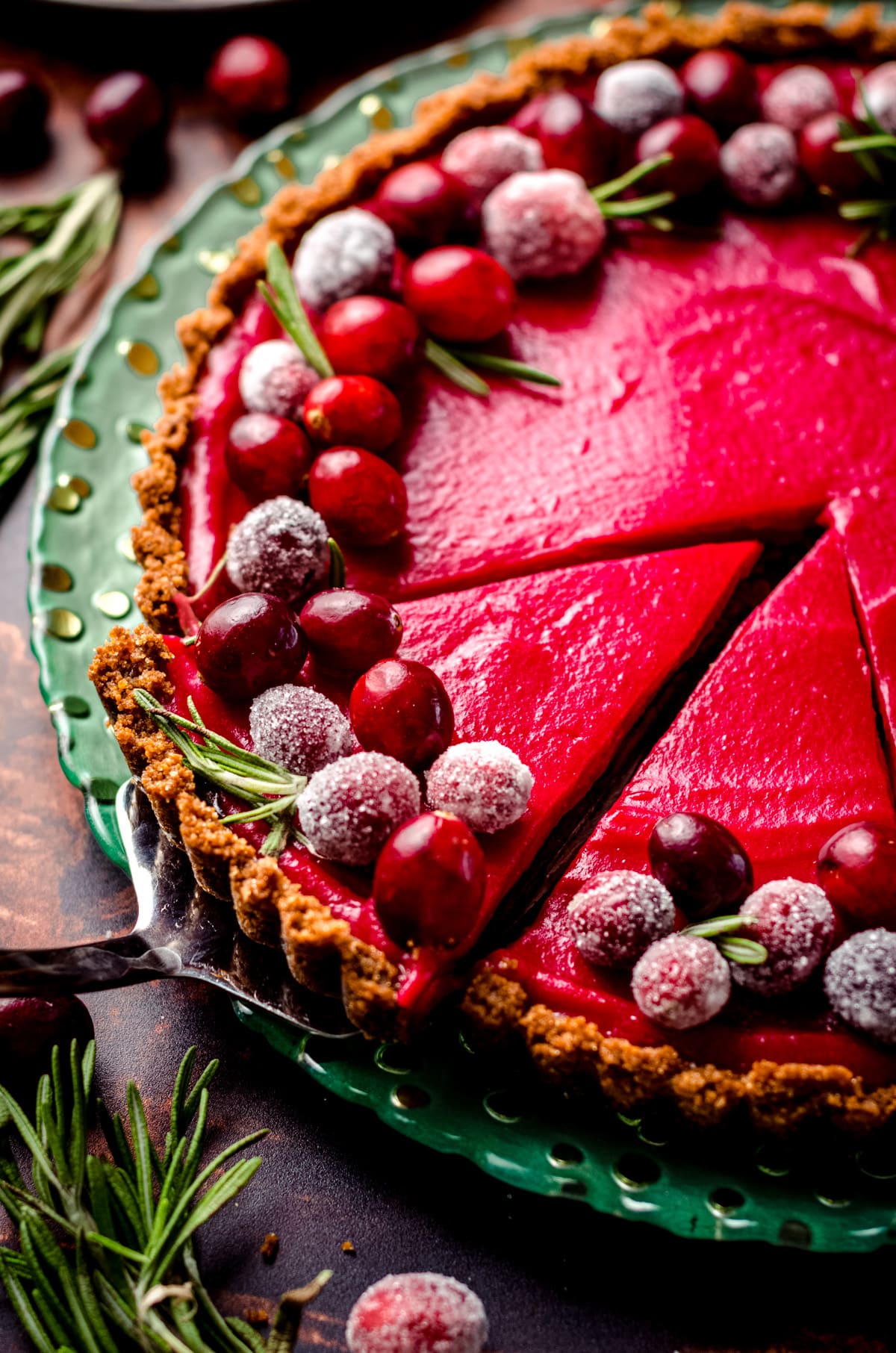 CRANBERRY CURD
The next ingredient on our list is homemade cranberry curd, and it's the shining star of this tart. I mean, it is called a cranberry curd tart for a reason.
I'm sure you've heard of the ever-popular lemon curd, and perhaps even peach curd (the perfect way to capture the peach season in a jar).
Curd is a delicious, silky, and giftable item that can adorn anything from cookies to a luscious layer cake. But me? I like to get a generous spoonful right out of the jar and pop it into my mouth. Talk about yummy!
This cranberry tart recipe uses homemade cranberry curd for the filling, complete with a complementary orange flavor. It makes for a tart, yet tangy and sweet filling that is bold enough to stand on its own, but subtle enough to work with the other elements in the recipe.
OPTIONAL SUGARED CRANBERRY GARNISH
Finally, I submit for your approval the optional ingredient that is only sort of optional: sugared cranberries.
By sort of optional, I really mean totally optional, but the little bit of extra effort, elbow grease, and time really is worth it just for the pure gorgeousness of these tasty pops of sweetness.
While sugared cranberries take about an hour's worth of time, almost all of that is passive. It really just takes about 15 minutes or so to get everything together, and you need just 3 simple ingredients, which you're already working with for the curd and the tart anywa.
Oh, and seriously… One of those 3 ingredients is water, ok? We are talking easy peasy here.
So while you can absolutely skip over the sugared cranberries and instead top your tart with some pillowy homemade whipped cream, I highly recommend going the candied cranberry route.
Any leftovers can be used to garnish cakes, cupcakes, and even your favorite holiday cocktails (or a batch of my winter sangria).
HOW TO MAKE CRANBERRY CURD TART
This cranberry curd tart recipe is comprised of the three elements I mentioned above: a gingersnap crust, a cranberry curd filling, and a spectacular garnish of sugared cranberries.
Once you have each of these elements completed, it's really just about bringing it all together and assembling the tart. Then after some chilling time, you'll be ready to garnish and serve.
It may seem complicated at first glance, but you're going to be blown away by how easy it really is.
MAKE THE CRANBERRY CURD
Before we get started on that tempting gingersnap crust, we need to tackle the cranberry curd. Although this recipe is actually pretty simple, it does require about 45-60 minutes of cooling time.
If we take care of the cranberry curd first, that leaves us plenty of time to make the crust (and sugared cranberries) while we wait. I'm all about good time management, especially when it comes to baking!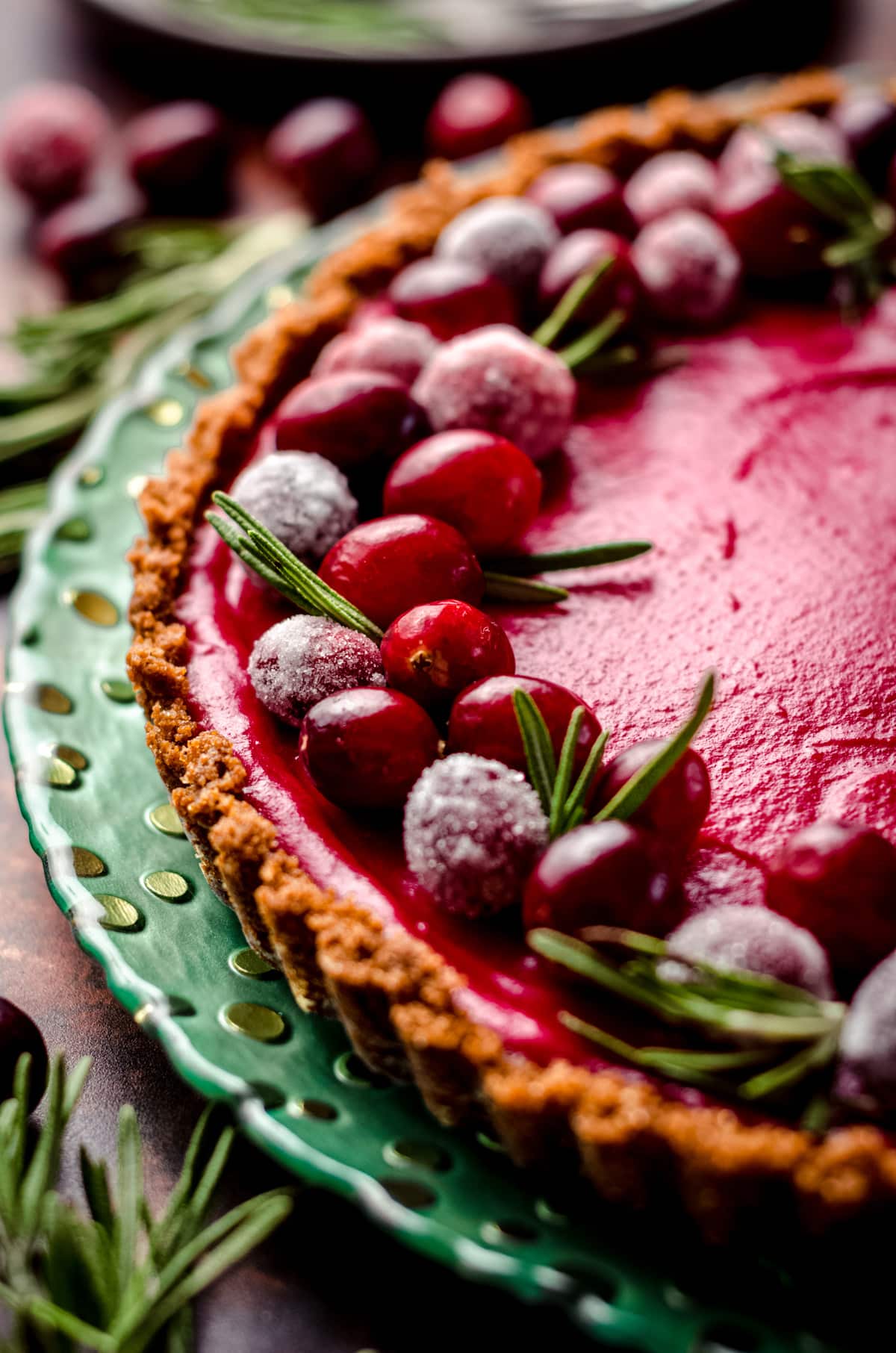 You can find the detailed instructions for the cranberry curd in both the recipe card, as well as my recipe for cranberry curd.
While we are using the curd as a filling for this recipe, it is delicious enough to stand on its own and can be served in the same way as you would a classic lemon curd.
Here's the gist of how to make it, just so you can see how simple it is:
Add the cranberries into a medium-sized saucepan. Then add in the orange juice, orange zest, and sugar and stir to combine. Bring this mixture to a boil, and simmer while stirring occasionally.
Keep simmering and stirring until the cranberries are macerated and the sugar has fully dissolved. It should also thicken slightly with a somewhat jam-like consistency. Once this happens, remove it from the heat.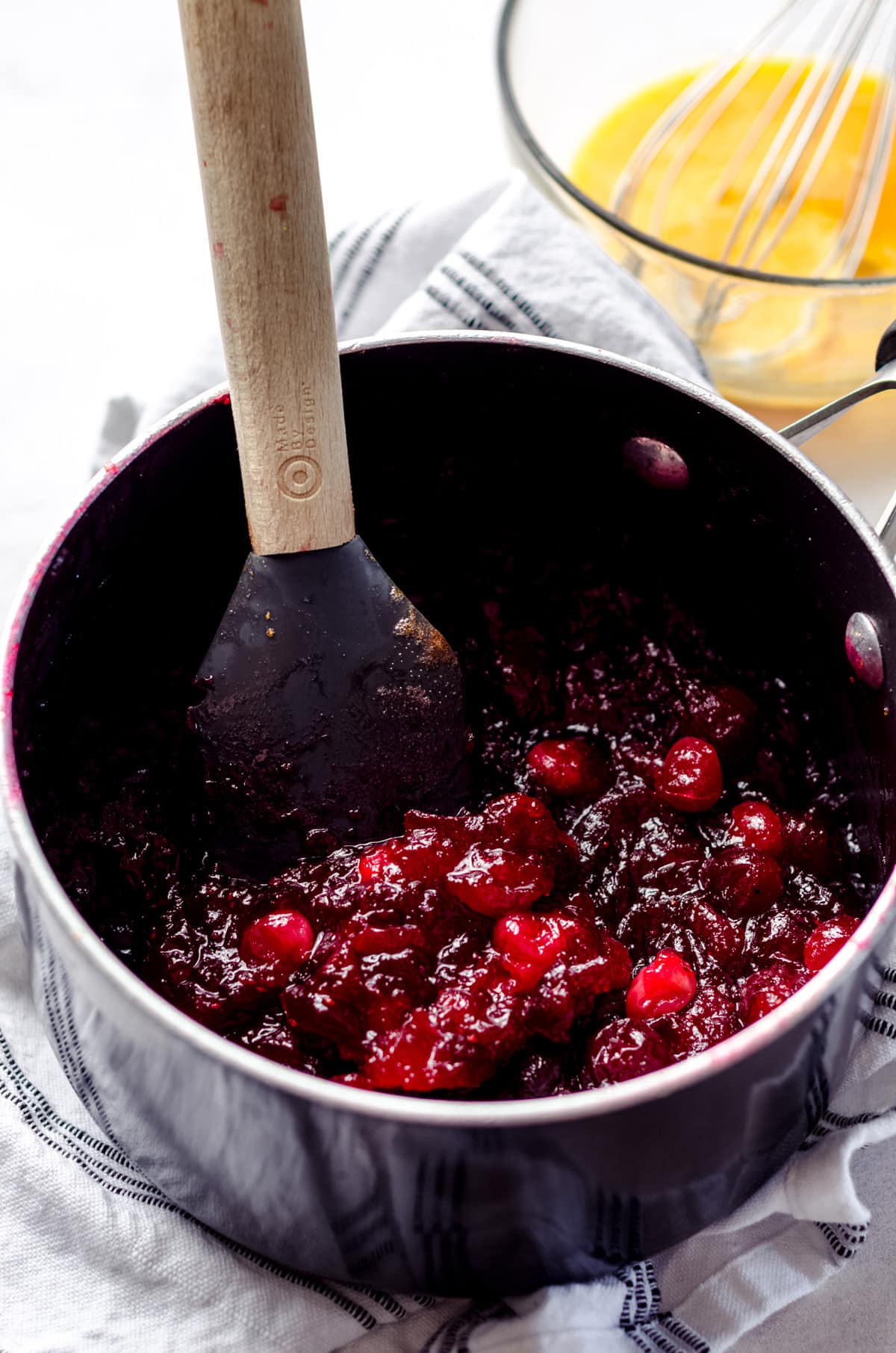 Add your macerated cranberries and sugar mixture to a blender (or a food processor), but make sure not to wash the saucepan! We will need that in just a minute.
Purée the sugar and cranberry mixture in the blender until no large cranberry pieces remain.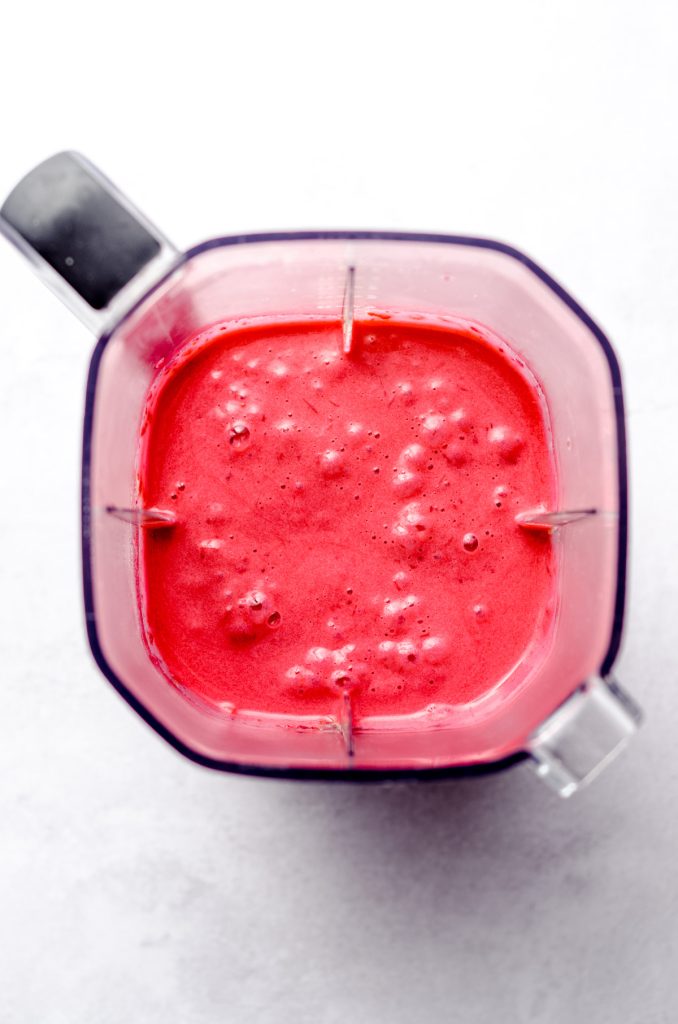 Then, add both the eggs and egg yolks to a medium-sized bowl and whisk them to combine.
Add roughly 2 tablespoons of the cranberry purée to the egg mixture and whisk to temper the eggs— this basically ensures that the eggs are gradually warmed and don't immediately cook (and therefore curdle) when added to the cranberry mixture.
Add the cranberry purée from the blender back into the saucepan, along with the tempered eggs. Whisk to combine.
Cook the cranberry and egg mixture while stirring constantly over medium-low heat. Cook until the temperature reaches 160ºF, which works out to about 3-5 minutes. It's imperative to get the temperature correct, so I recommend using a digital instant-read thermometer to check.
Finally, add the butter and salt and stir until all of the butter is melted and incorporated into the cranberry curd.
ALLOW TO COOL
Once the cranberry curd is assembled, allow it to cool right inside of the saucepan for about 45-60 minutes while you prepare the gingersnap crust and sugared cranberries (if using).
If you run out of time, you can always do the sugared cranberries while the assembled tart is chilling, so no need to rush! Or, you could totally skip the sugared cranberries and opt for a big dollop of my homemade whipped cream instead.
MAKE THE CRUST
While I'll forever be a fan of the classic graham cracker crust, as well as this decadent Oreo crust recipe, this gingersnap crust is perfect when paired with winter flavors. That's why it's the perfect crust to use for this cranberry curd tart.
Best of all though? It's stinking simple to make!
To get started, preheat the oven to 325ºF (162ºC) and coat a 9″ tart pan (make sure it has a removable bottom!) with a light layer of nonstick cooking spray.
Then add your gingersnaps to a food processor and crush them until they become fine crumbs (similar to graham cracker crumbs).
Then add in some sugar, cinnamon, ginger, and melted butter and pulse to combine.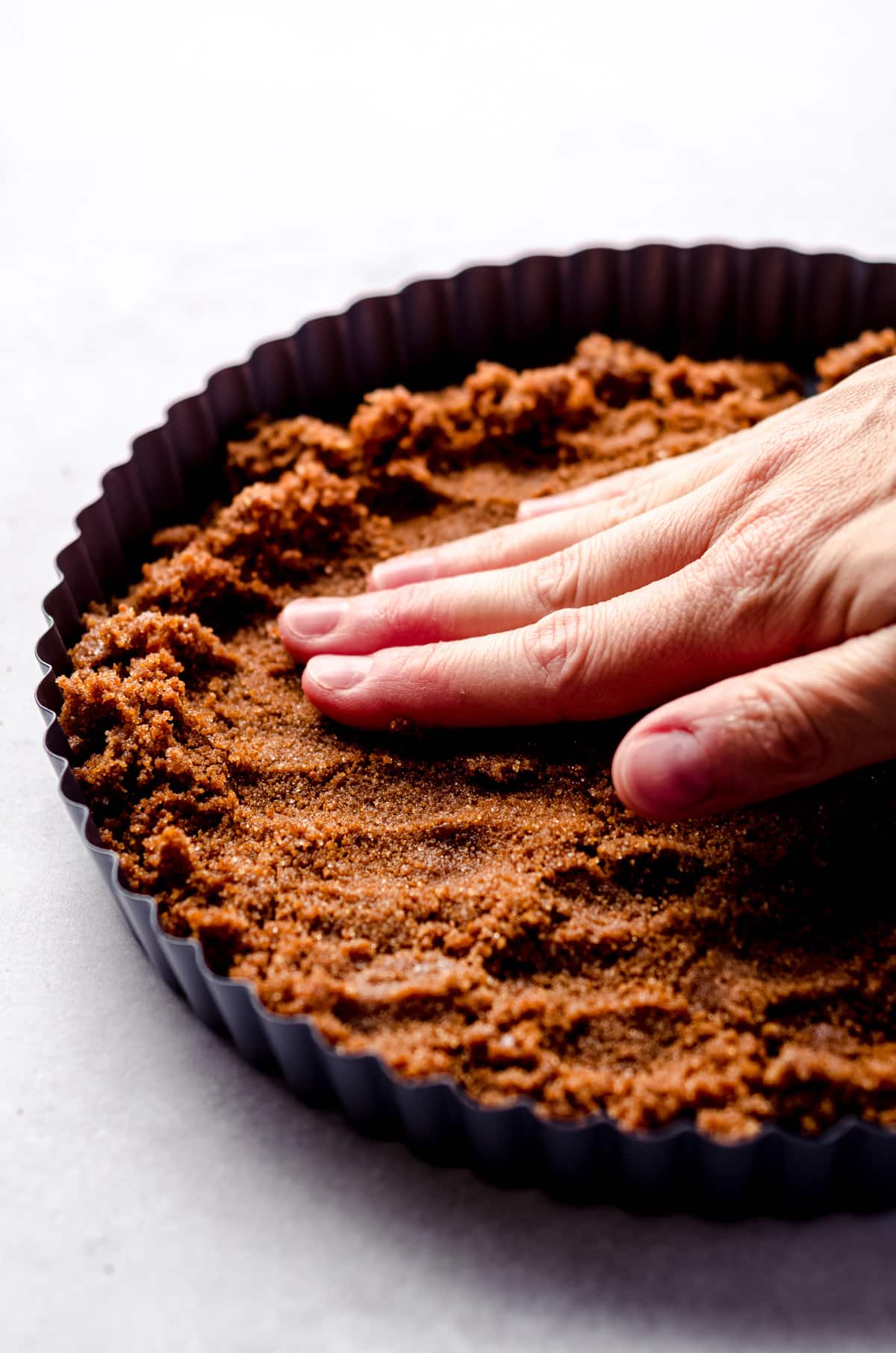 Press the buttery gingersnap crumb mixture into the bottom of your prepared tart pan, first using your hands, and then using the bottom of a measuring cup to get a compact crust.
Bake your packed gingersnap crust for 5 minutes, which is enough time to see some slight browning. Then set it aside to cool as you finish off your cranberry curd.
If your crust has shrunken during the baking time, quickly use the bottom of a measuring cup to press the crust back into place while it is still hot from the oven.
Make sure to work quickly, as a cooled crust will not be as easy to push back into place as a hot one.
FILL BAKED CRUST
Before you proceed with finishing your cranberry curd, first make sure it has cooled down enough. You want the temperature to be below 125ºF (52ºC). This cooler temperature causes a film to form on top, which is actually a good thing!
The appearance of this film means it's a go-ahead to strain the cranberry curd, making for a silky and smooth end result.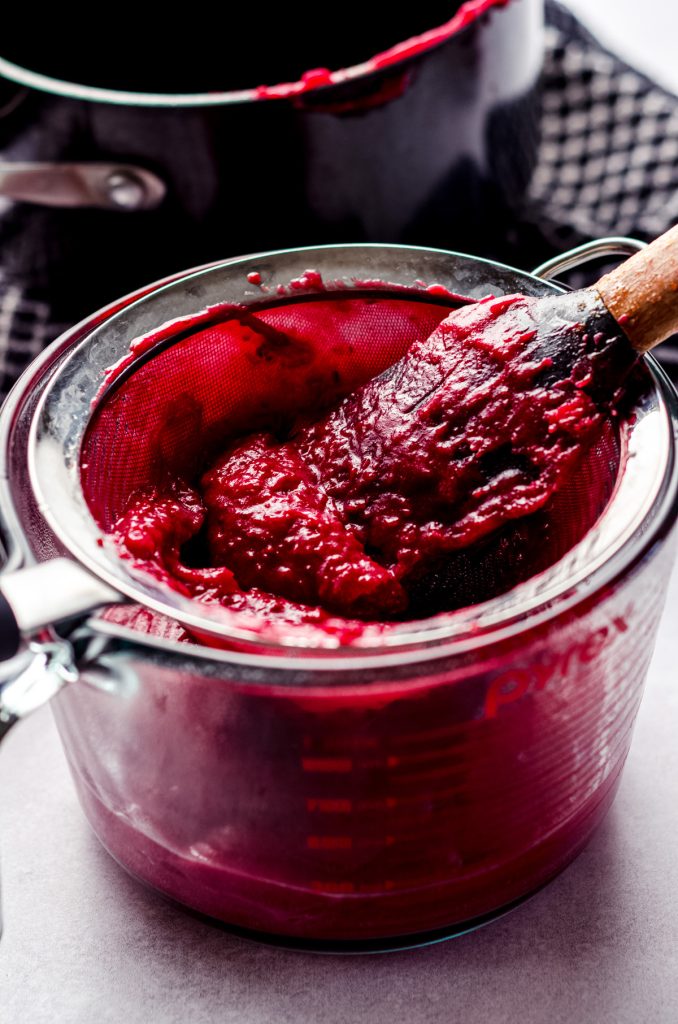 So once your curd has reached that magical range below 125ºF, you're ready to strain it to remove any solids, seeds, and pulp. I do this by setting a fine sieve over a large glass measuring cup (or you can use a small bowl) and working it through with a small silicone spatula.
The smooth curd collects in the measuring cup below, with the solids remaining in the strainer. I recommend working in 3-4 batches so that the strainer does not have too many solids at once, making it difficult to press the curd through.
You also may need to give your strainer a rinse in between batches, depending on the consistency of your curd.
If your cranberry curd has cooled too much, you may find it hard to pass through the strainer. In that case, reheat it over medium heat just until it thins out once more (shouldn't take more than 1-2 minutes). Then proceed with the straining step– it should be much easier now!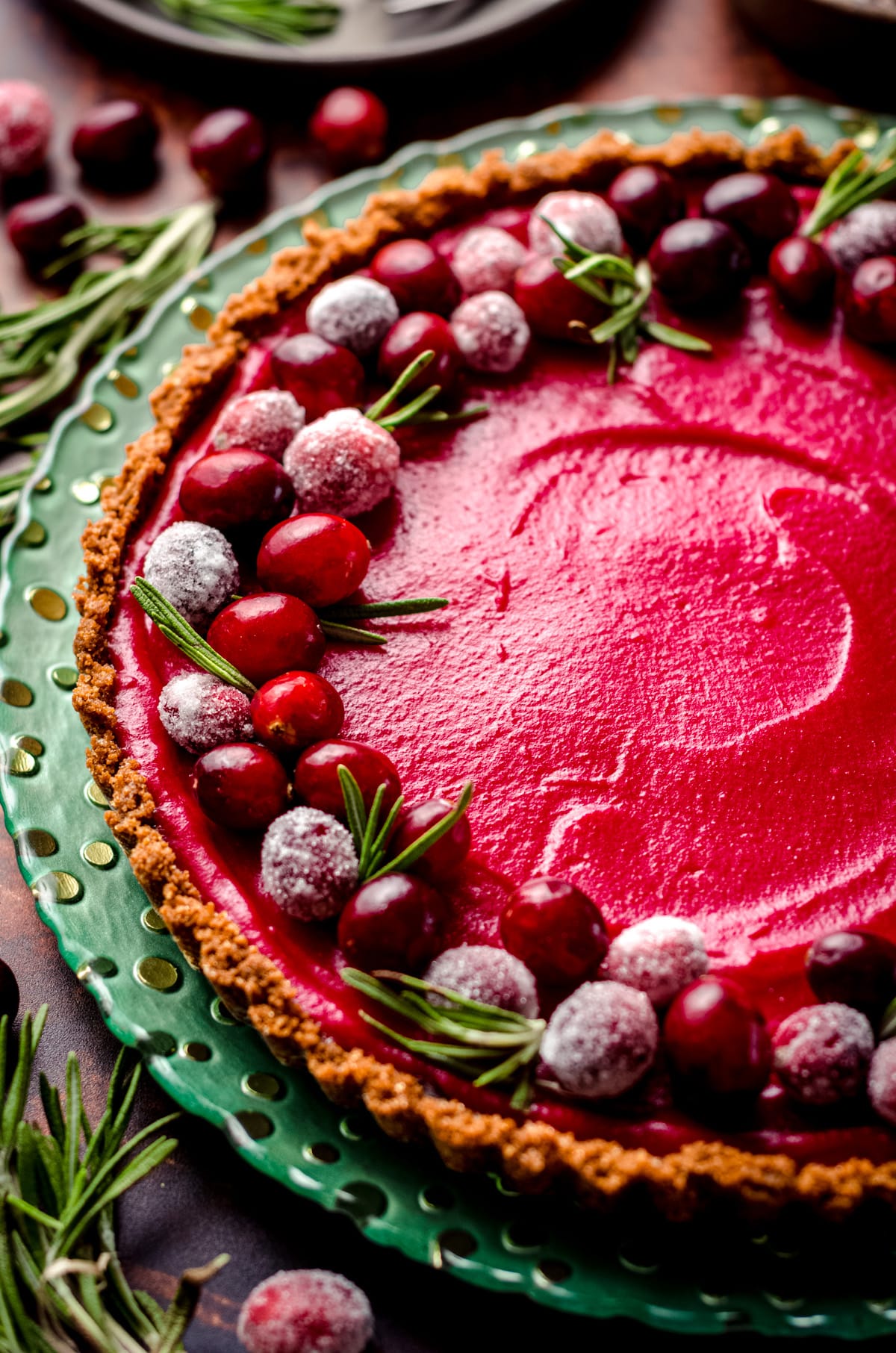 Once all of the cranberry curd has been strained, pour it into the prepared gingersnap tart (it's totally ok if it's still warm from the oven) and spread it out evenly with an offset spatula.
Go right to the edges of the tart, smoothing everything into an even layer.
ALLOW TO CHILL
Once the tart is filled, allow it to chill in the refrigerator for at least 4 hours before serving. This gives it a chance to set, so that first slice will be a glorious one with a stable crust and a firm filling.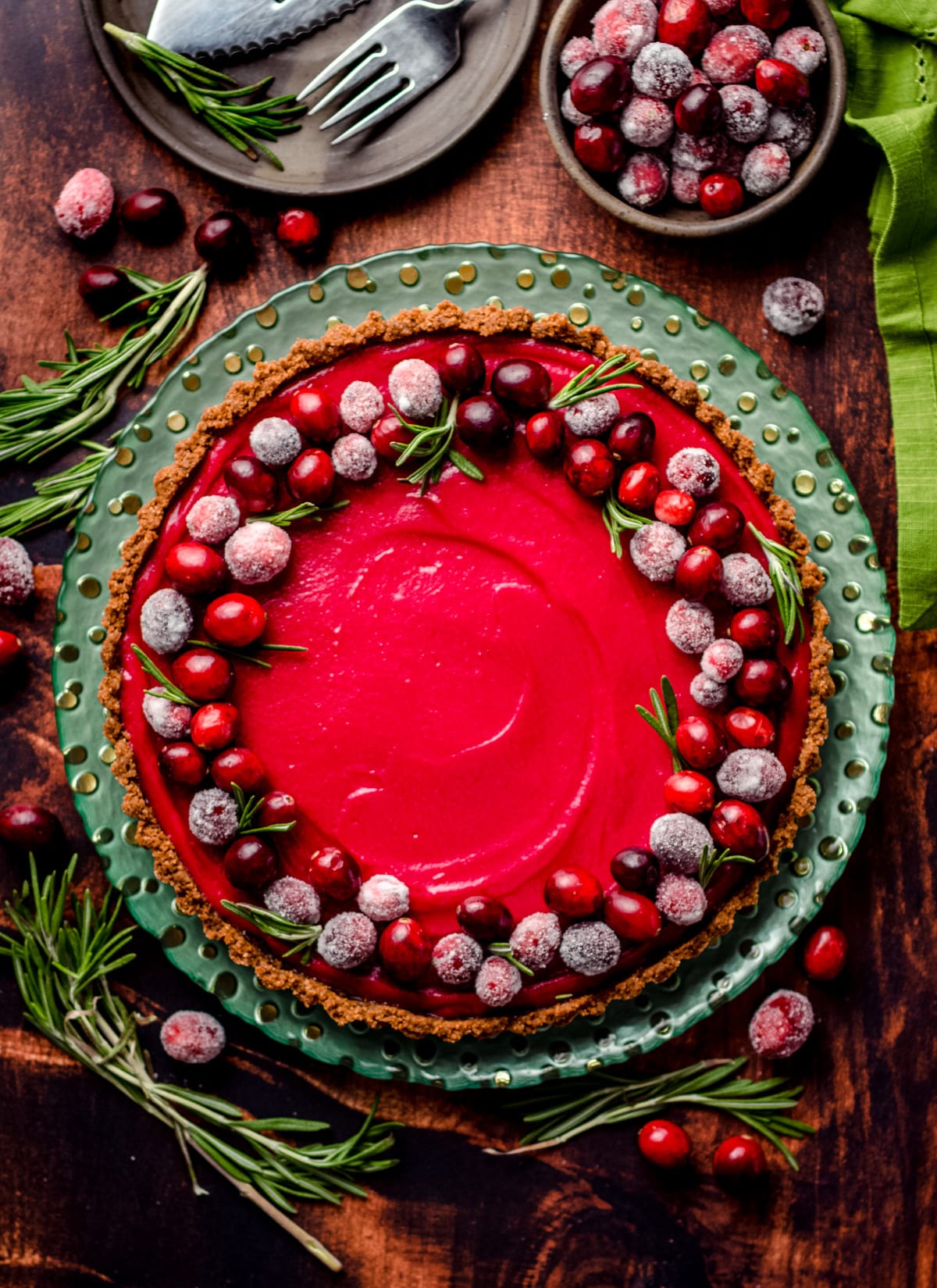 GARNISH AND SERVE
While your tart is chilling, you have the perfect opportunity to work on some delicious sugared cranberries for garnishing. It's totally optional but highly recommended.
I mean, who can resist the gorgeousness of cranberries that look as if they have been dusted with a fine layer of snow? I know I can't!
As I mentioned earlier, you could go for a nice dollop of some of my homemade whipped cream, which is just as delicious as the sugared cranberries (in all honesty).
Better yet, you could go for both, and add a few sprigs of fresh rosemary for the ultimate winter dessert. Now that would really knock the socks off your family and guests!
Whatever you do with it, it totally deserves a special place on your holiday table.
STORING
Any leftovers can be stored in the refrigerator for up to 5 days, so long as they are covered tightly.
If you prefer, you can even freeze the tart (once completely cooled) for up to 3 months. I like to wrap it in a few layers of plastic wrap or foil, then stick it in a labeled freezer bag.
When you're ready to serve, just allow the tart to thaw in the refrigerator. Then garnish and serve, as simple as that!
TROUBLESHOOTING TIPS
While I do consider this a fairly easy recipe, it can take some concentration and patience to follow it exactly and things certainly can (and probably will!) come up.
Lucky for you, I've experienced some of these snafus, so you'll know what to do when it comes time for you to make this gorgeous cranberry curd tart yourself. They're easy fixes!
SHRINKING GINGERSNAP CRUST
You may notice the gingersnap crust shrinking in size or slipping after you take it out of the oven. Even though this seems like a big deal, it's actually pretty easily fixed– you just need to work quickly.
Use the bottom of a measuring cup to quickly pack the crust back into the edges and bottom of the tart pan, working while the crust is still hot. If you wait for the crust to cool, it is less malleable and will resist taking the shape of the pan.
CURD COOLED TOO MUCH
If your curd is stiff and not straining or pouring properly, it may have cooled too much. While we definitely want the curd to be 125ºF or below before we work with it, being too cool will make it difficult to work with.
The good news is that this is an easy fix. Just warm the curd in a saucepan on medium heat for about 1-2 minutes, just enough time to thin it out. Then rinse your strainer and proceed with straining the curd. This should make it much easier to strain and/or pour now that the curd is warm.
CAN I MAKE THIS TART AHEAD OF TIME?
The whole tart itself can be made up to 1 day in advance. It is best served within 3-5 days, after which, the cranberry curd will start to dry out.
If you want to make this ahead of time, I suggest making and baking the crust, then covering and chilling it. Make the cranberry curd, then allow it to chill after it has cooled off.
You will need to warm the curd up a bit to make it pourable into the crust, so warm it in a saucepan for 1-2 minutes, just to loosen the butter, then pour into the prepared crust.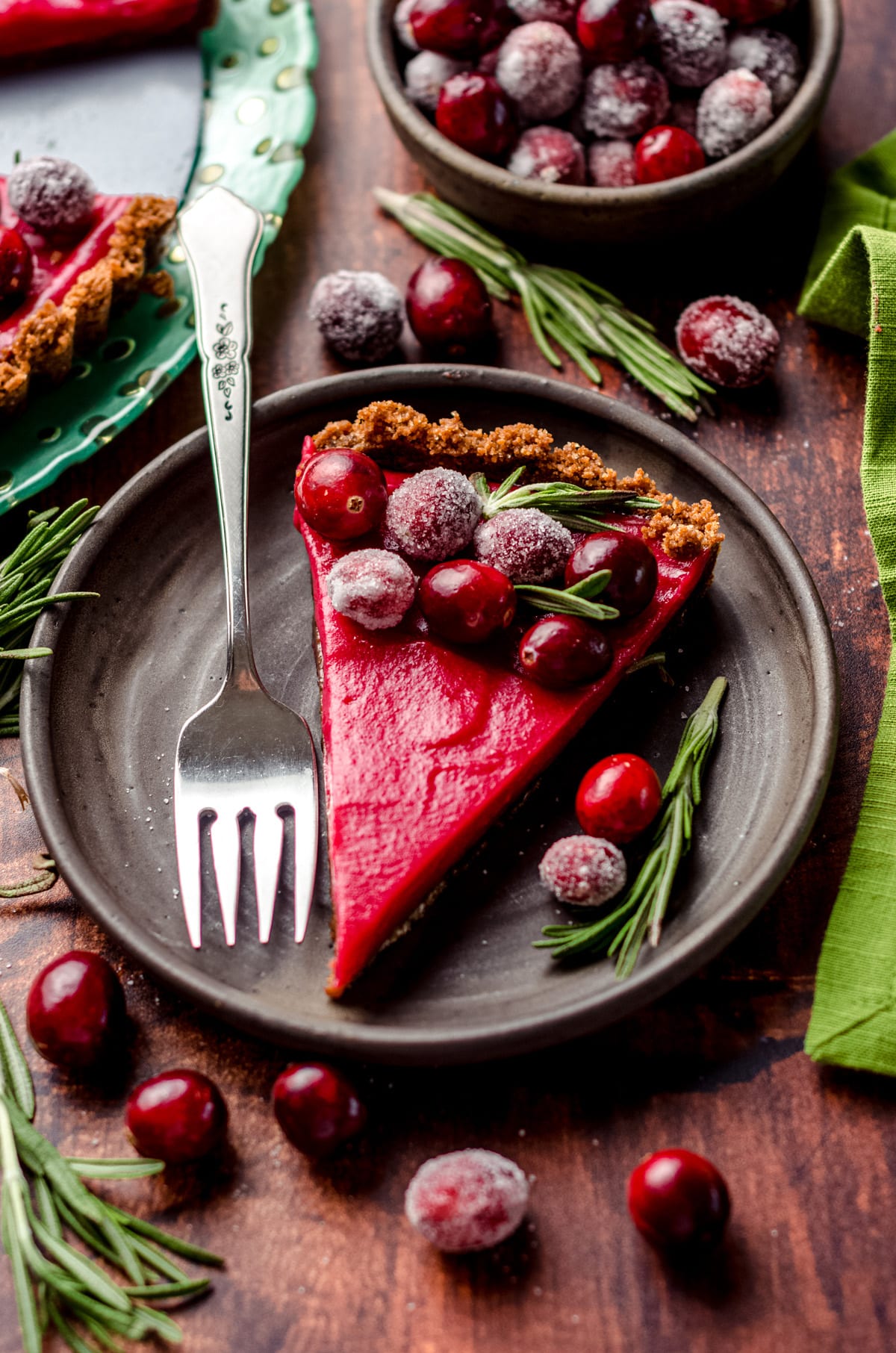 We loved this tart so much. I was hesitant to add a tart to my monthly Pie of The Month series, but as soon as I made that tart cranberry curd, I knew that it was going to be the perfect cherry cranberry on top of a perfect year of pies.
We enjoyed every bite of smooth, buttery, tart, and sweet cranberry curd against the spicy and crunchy gingersnap crust, and I, for one, could not stop eating it.
I had 3 slices to myself the day I photographed the final product! It really is a special recipe and I hope you'll add this festive dessert to your holiday season at some point (it's fair game November through January).
Looking for more delicious cranberry recipes? Try these ones next: spiced cranberry sauce, cranberry gingerbread, winter sangria, or white chocolate cranberry oatmeal cookies.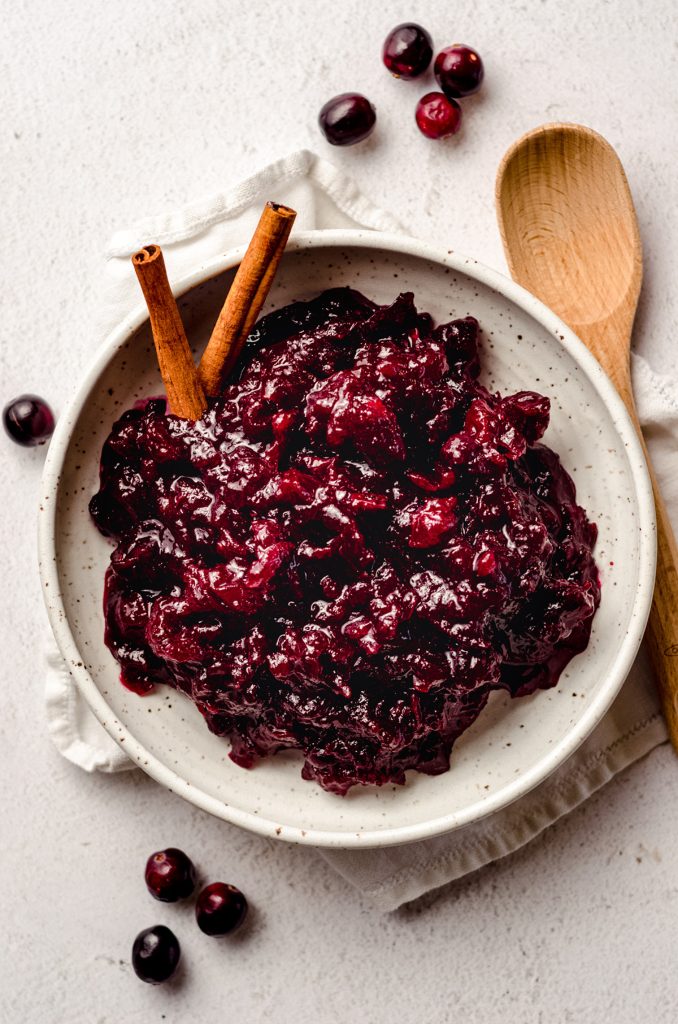 Cranberry Curd Tart Recipe
This gorgeous tart is made entirely of cranberry curd made with fresh cranberries and orange juice atop a spiced gingersnap crust. Top your cranberry curd tart with sugared cranberries, whipped cream, or your favorite seasonal topping.
Ingredients
CRANBERRY CURD FILLING
12

ounces

(340g) fresh cranberries

½

cup

(120mL) fresh orange juice1
zest of one orange

1

cup

(200g) granulated sugar

2

large eggs

2

large egg yolks

¼

cup

(57g) unsalted butter

softened to room temperature and cut into 4 slices

⅛

teaspoon

salt
GINGERSNAP CRUST
1 and ½

cups

(150g) crushed gingersnap cookies

about 25 cookies

⅓

cup

(67g) firmly packed light or dark brown sugar

¼

teaspoon

ground cinnamon

¼

teaspoon

ground ginger

5

Tablespoons

(71g) unsalted butter

melted
Instructions
CRANBERRY CURD FILLING
In a medium saucepan, combine the cranberries, orange juice, orange zest, and sugar. Bring to a boil then simmer while stirring occasionally until cranberries are macerated, sugar has fully dissolved, and the mixture thickens slightly. Remove from heat.

Pour the cranberry mixture into a blender (my preference) or a food processor. Don't wash the saucepan yet. Purée mixture until there are no large cranberry pieces remaining. Set aside.

Add the eggs and egg yolks to a medium size bowl then whisk to combine. Add about 2 Tablespoons of the cranberry mixture (does not have to be measured or perfect) to the egg mixture then whisk again to temper2 the eggs. Add the tempered eggs and the cranberry mixture that's still in the blender back into the saucepan.

Cook the cranberry mixture + eggs over medium-low heat while stirring constantly until the mixture reaches 160ºF (71ºC), about 3-5 minutes. I use my digital instant-read thermometer to check the temperature quickly. Add the butter and salt then stir until all of the butter is melted. Allow the cranberry curd to cool in the saucepan about 45 to 60 minutes while you prepare the crust.
GINGERSNAP CRUST
Preheat the oven to 325ºF (162ºC). Spray a 9" tart pan3 lightly with nonstick spray. Set aside.

In a food processor, crush the gingersnaps until they become a fine crumb. Pour the crushed gingersnaps into a large bowl, add the sugar, cinnamon, ginger, and melted butter, and stir to combine (you can also just add all of these ingredients straight to the food processor to blend them there).

Press the gingersnap crumb mixture into the bottom of the prepared tart pan, using the bottom of a measuring cup to help you really press the crumbs together to make a tight and compact crust. Bake the crust for 5 minutes. Remove from the oven and allow to cool while you finish the filling. If your tart crust has shrunken or slipped, fear not! Use the bottom of a measuring cup to press the crust back into place while it is still hot. Work quickly but carefully, as the crumbs will still be quite malleable while hot and start to set as they cool.
ASSEMBLE THE TART
When your cranberry curd has cooled significantly, check to be sure it is below 125ºF (52ºF). This will insure a film has formed and moving forward, your curd will stay nice and smooth.

When your curd is at the appropriate temperature, press it through a fine mesh sieve into a medium size bowl or a large measuring cup with a spout. If it has cooled too much, it may be harder to work with. Just reheat it over medium heat until it has thinned out a bit (no more than 1-2 minutes– you don't need to cook it any more, just looking to loosen the butter). Work in 3 to 4 batches and remove the skin/seeds/chunks that don't pass through the sieve before adding another batch of curd. You may need to rinse it.

Pour your cranberry curd into the prepared tart (it's ok if it's still warm) then spread the filling evenly to the edges of the tart crust with an offset spatula. Allow to chill in the refrigerator for at least 4 hours before serving. Tart will not be "set" in a sense that it will be hard to cut through. It will still be quite soft, but should hold its shape when you cut it. Garnish with sugared cranberries and/or homemade whipped cream. Store leftovers covered tightly in the refrigerator up to 5 days. Tart freezes well, up to 3 months. Thaw in the refrigerator.
Notes
Fresh orange juice: you may not get a full

½ cup of fresh orange juice from one orange, depending on the size. That's ok! Just add water to the ½ cup mark. You could even use another citrus juice if you wanted to.

Tempering the eggs: this just means you're adding a portion of your hot liquid (in this case, the cooked cranberries) to eggs to heat them up slowly so they don't cook when you add them to the whole batch of hot liquid.
Tart pan: you will want a tart pan with a removable bottom. If you don't have a tart pan, you can also use a springform pan. If you use a pie plate, your slices will be very difficult to remove.
Recipe adapted from America's Test Kitchen
Nutrition Disclosure
All nutritional values are approximate and provided to the reader as a courtesy. Changing ingredients and/or quantities will alter the estimated nutritional calculations.
Serving:
1
slice
|
Calories:
312
kcal
|
Carbohydrates:
46
g
|
Protein:
3
g
|
Fat:
14
g
|
Saturated Fat:
8
g
|
Polyunsaturated Fat:
1
g
|
Monounsaturated Fat:
4
g
|
Trans Fat:
0.4
g
|
Cholesterol:
99
mg
|
Sodium:
142
mg
|
Potassium:
141
mg
|
Fiber:
2
g
|
Sugar:
33
g
|
Vitamin A:
462
IU
|
Vitamin C:
11
mg
|
Calcium:
37
mg
|
Iron:
2
mg