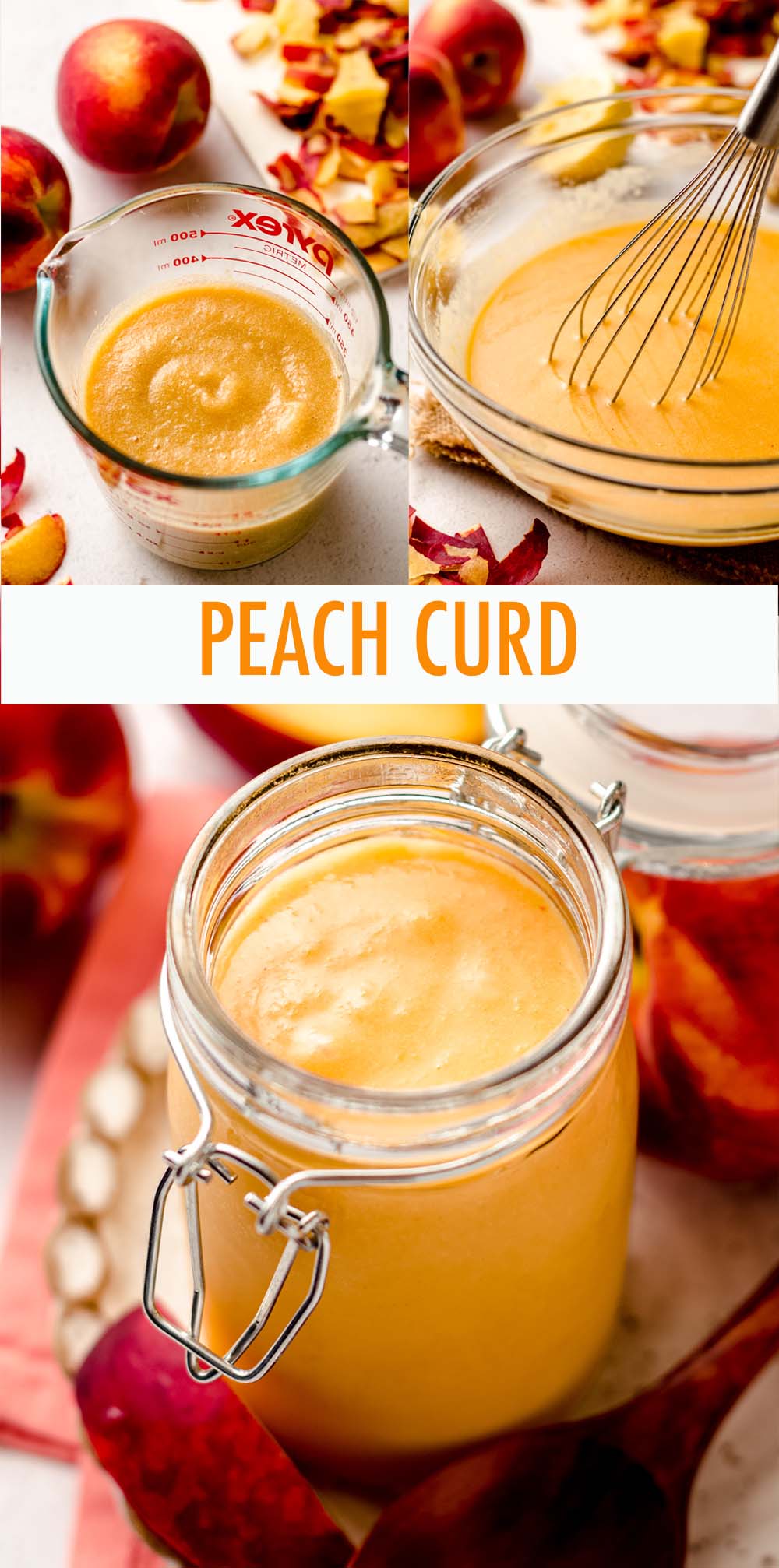 As an Amazon Associate, I earn from qualifying purchases. Read the full disclosure here.
Sweet and creamy peach curd made from fresh peaches and a few simple ingredients. Perfect for filling cakes, pies, and cupcakes, or using as a spread or topping.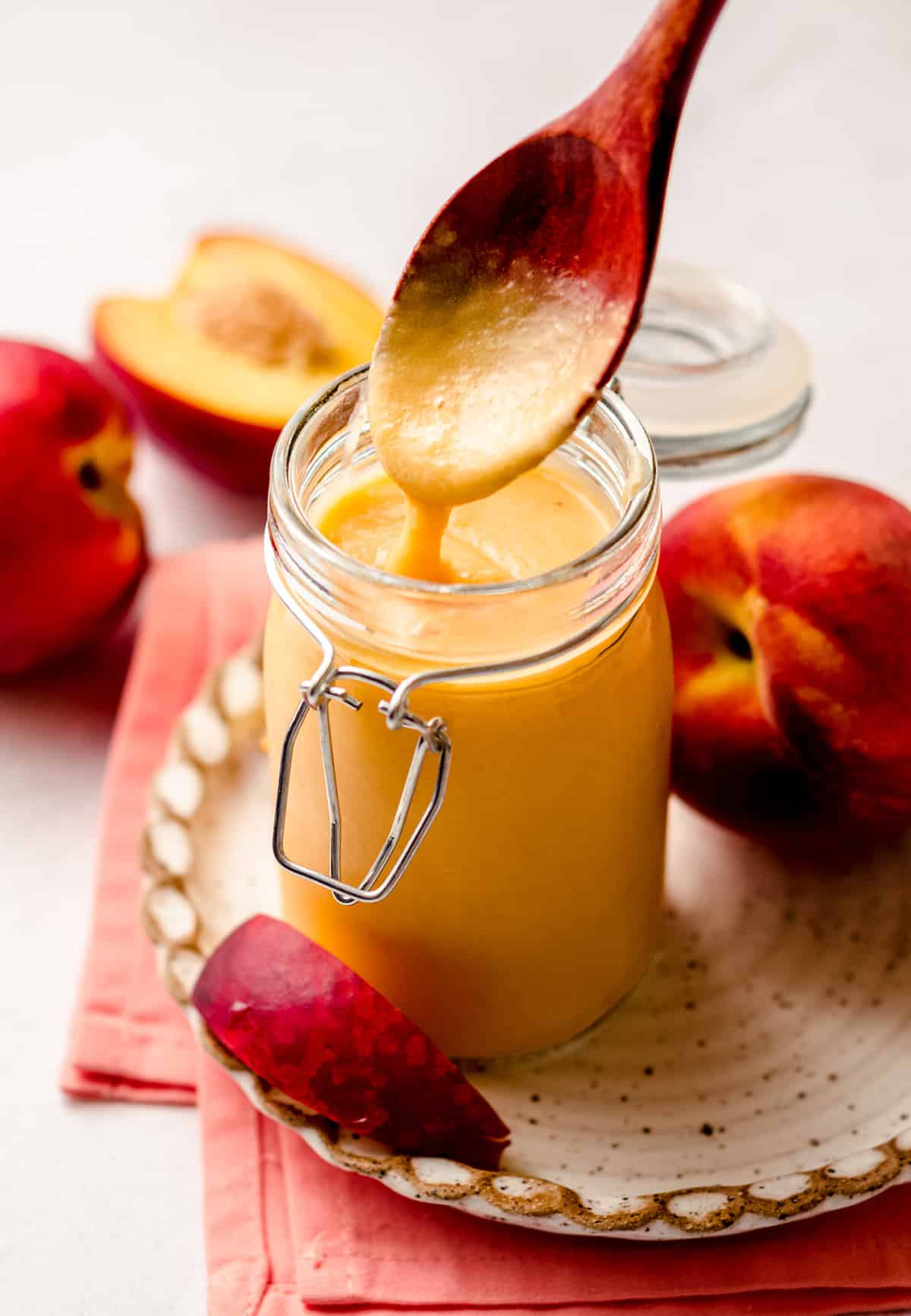 I am fully on the curd train, people. FULLY. Ever since I republished my homemade lemon curd, I have been making it or this homemade peach curd every few weeks to go on, well, everything.
Toast, pancakes, waffles, rolls, ice cream, spoons… All of it. Everything. Can I have some curd at all of my meals forever more?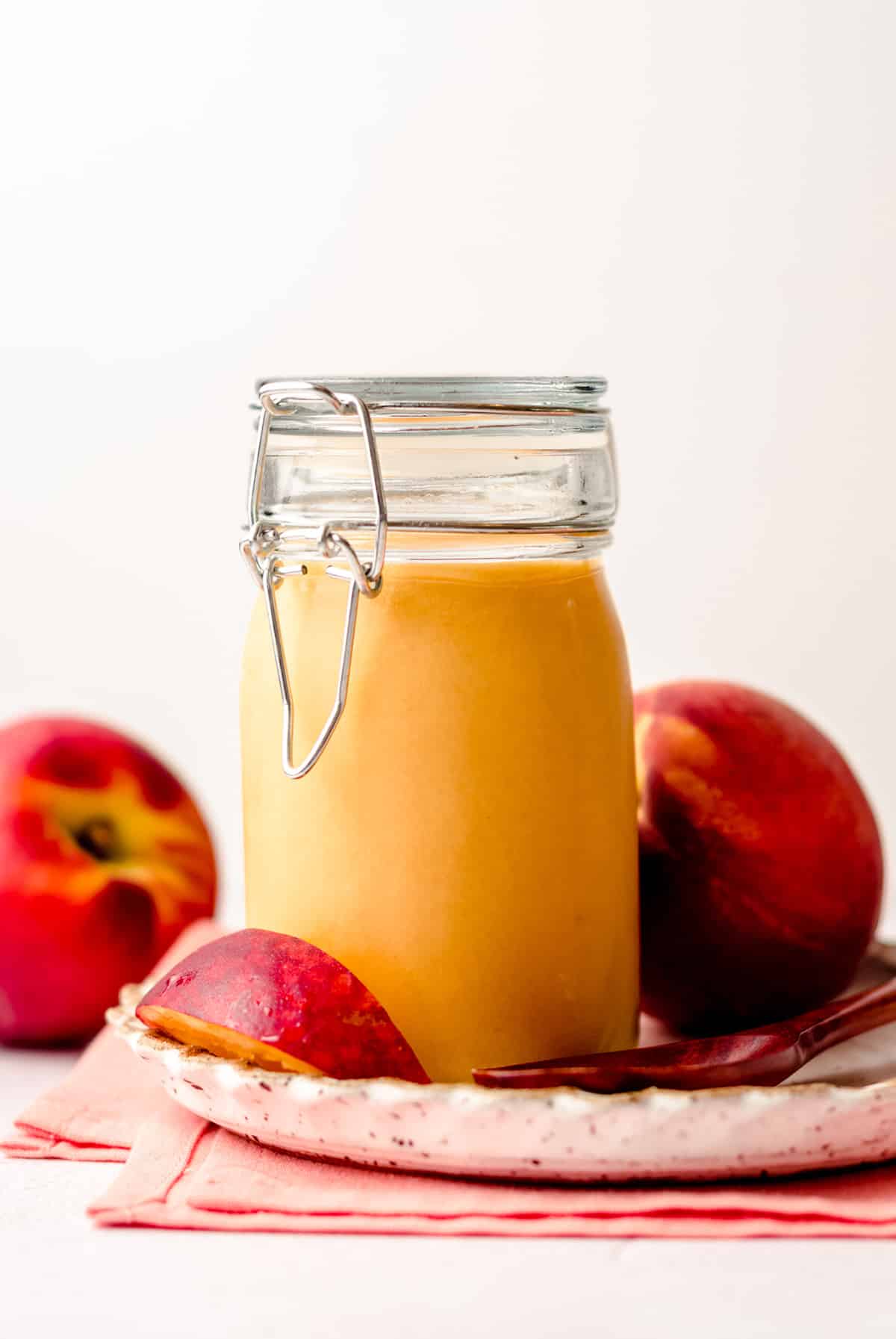 Have you tried (or made) curd before? It's pretty simple, as it's just a fruit custard made with fruit juice, egg yolks, sugar, and butter.
When we made lemon curd, we used straight up lemon juice, but when it comes to peach curd, we're doing something a little different, which yields a bit different of a texture from lemon curd.
This peach curd recipe actually starts with peach purée, so we're getting actual fruit all up in this curd and not just the juice.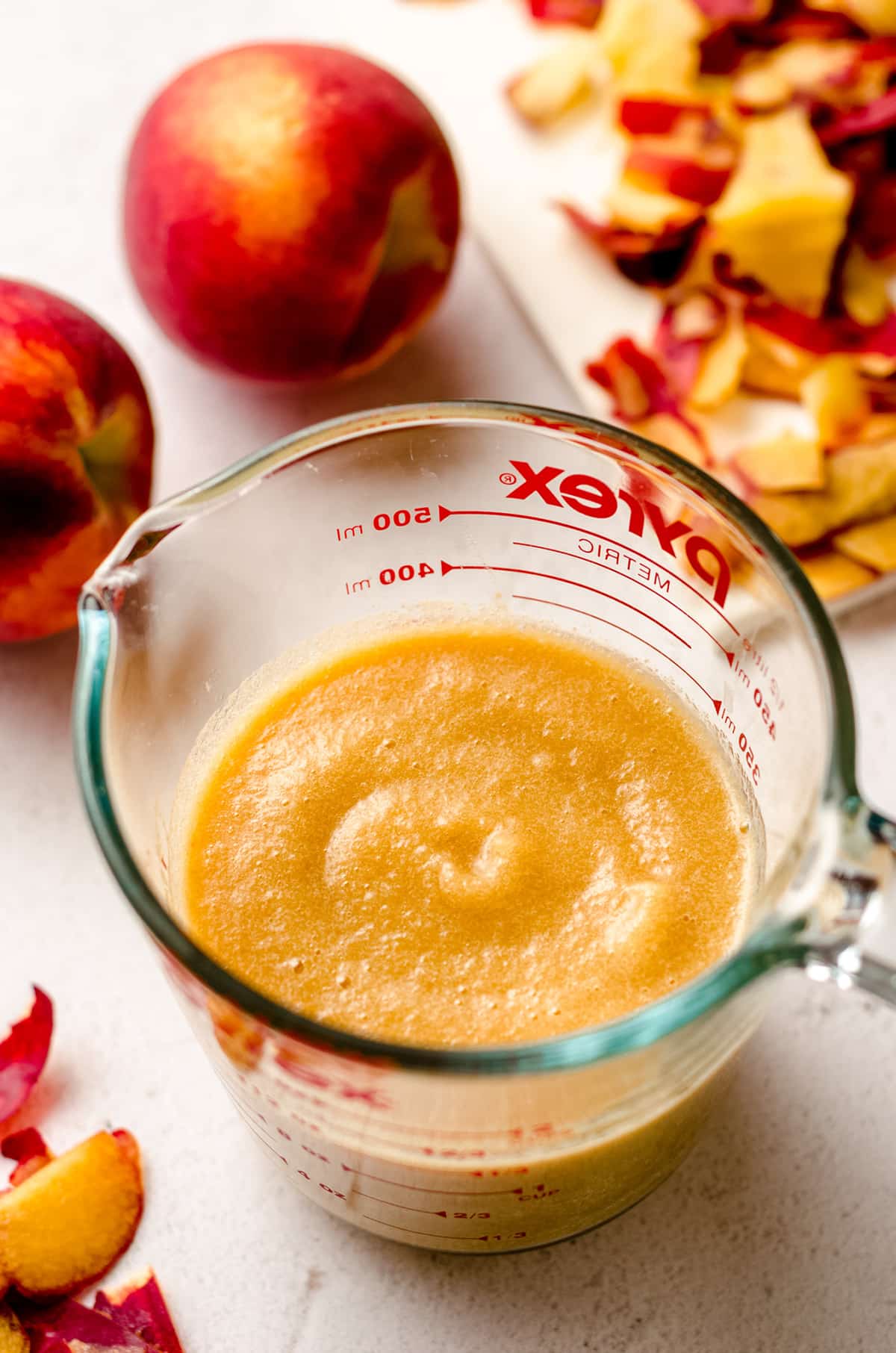 This is headed wonderfully peachy places, friends.
HOW TO MAKE PEACH CURD
You'll start with 3 large peaches. Peel and pit them, and then purée them in a blender or food processor until nice and smooth.
You're going to add this purée, egg yolks, sugar, some lemon juice, and a tiny bit of salt to a double boiler, or a heat-proof bowl over a pot of simmering water.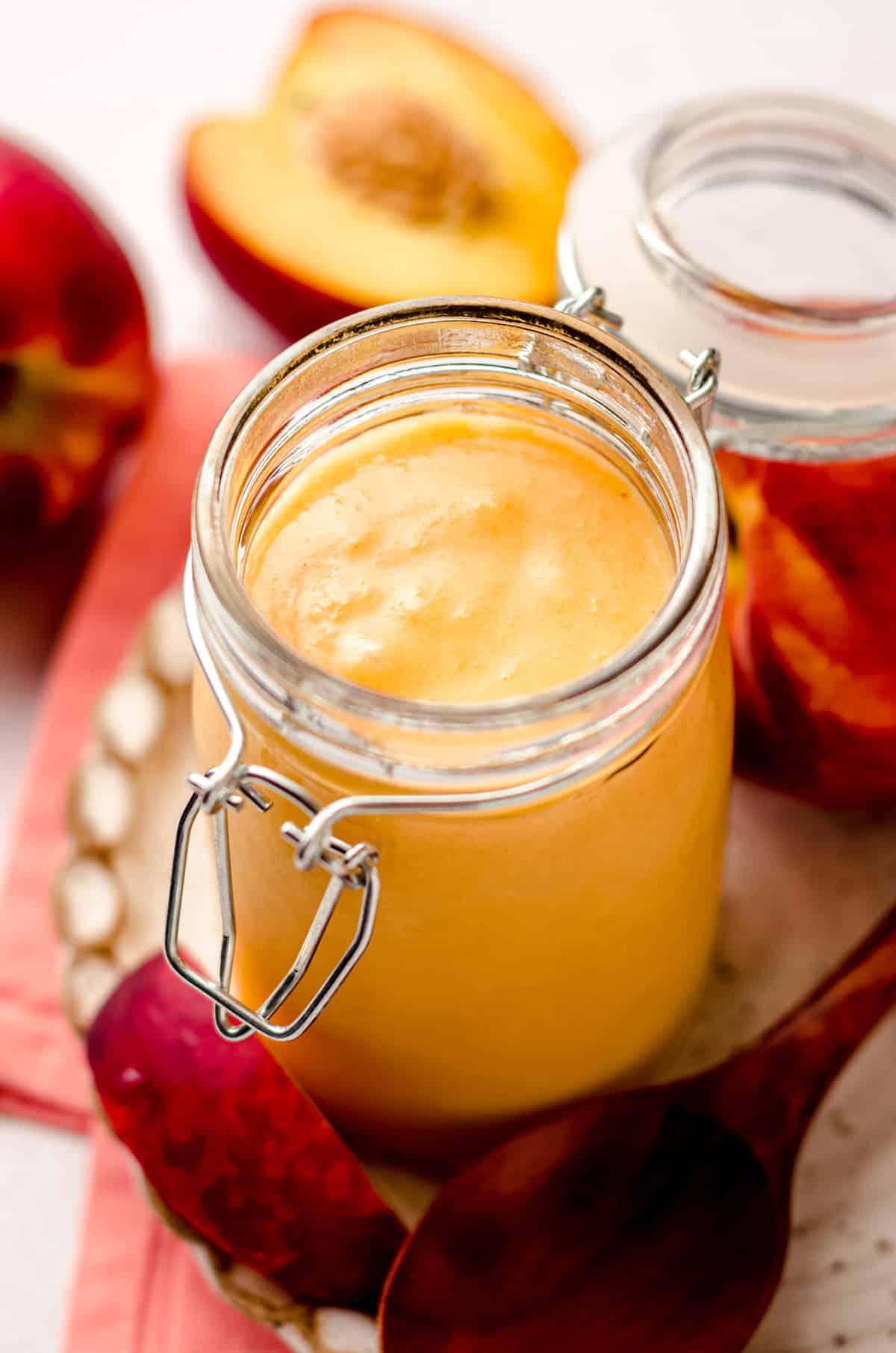 Cook the mixture while whisking it constantly in the double boiler. The reason you want to keep it moving is to prevent the eggs from cooking completely or curdling.
After about 15 minutes, the peach mixture will be thick and foamy, and you can remove it from the double boiler/pot of water. If you want to test the temperature of your lemon curd, check for at least 170ºF (77ºC) with an instant read thermometer.
After removing from heat, you're going to whisk in one stick of butter, which you've cut into 8 pieces. You'll add 2 pieces at a time, adding the next 2 pieces when the previous 2 pieces are mostly melted.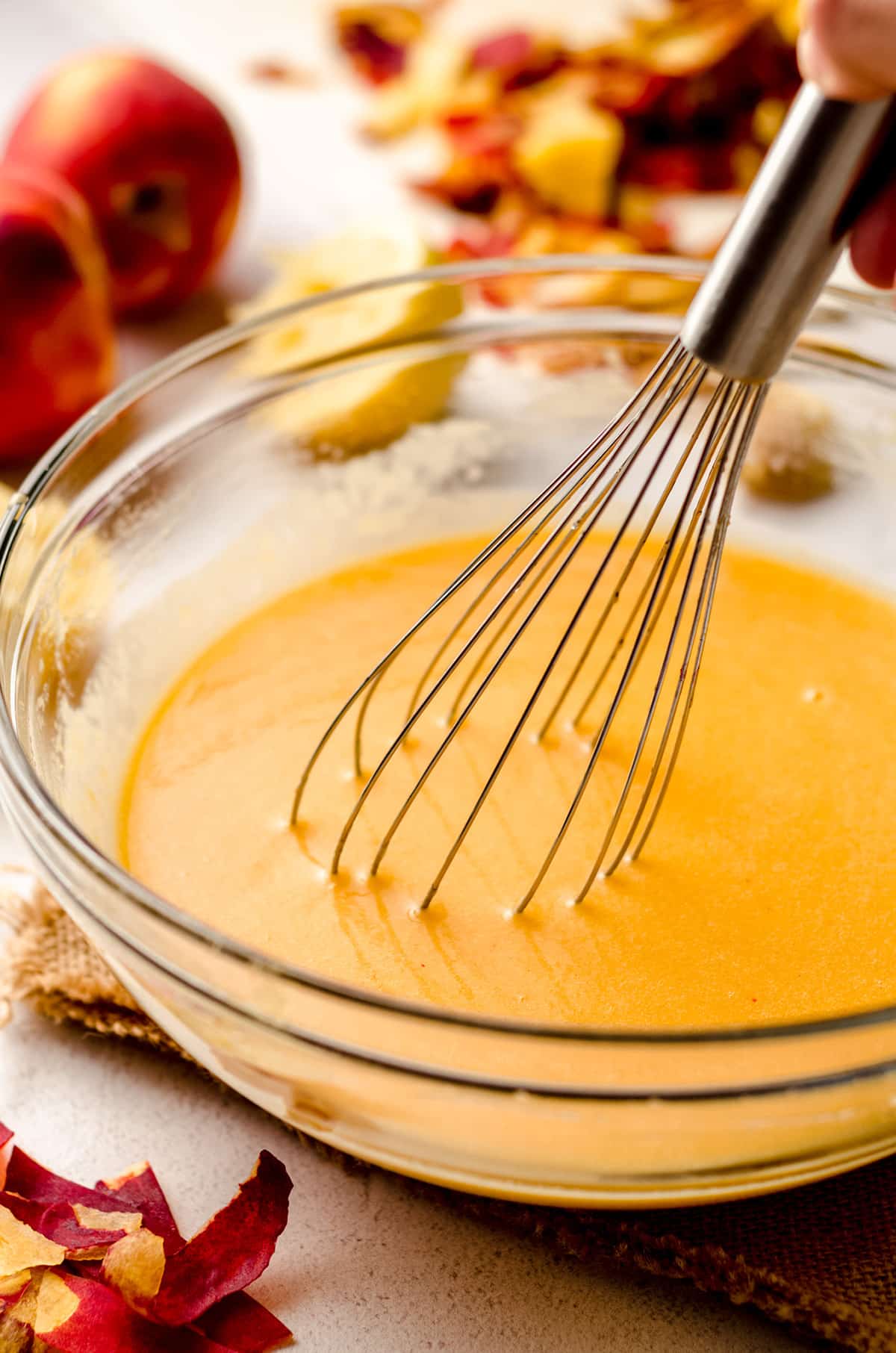 Side note: you can also make this homemade peach curd with salted butter. Simply omit the added salt.
After you've whisked in all of the butter, press some plastic wrap onto the surface of the peach curd to ensure a film doesn't form on the curd itself.
Make sure all of the air is pushed out of the seal between plastic and peach curd. The film that can develops is a little funky, and although it's absolutely safe to eat, it's just a bit unappealing and can make your curd chunky. We want to keep this curd smooth, so press with care!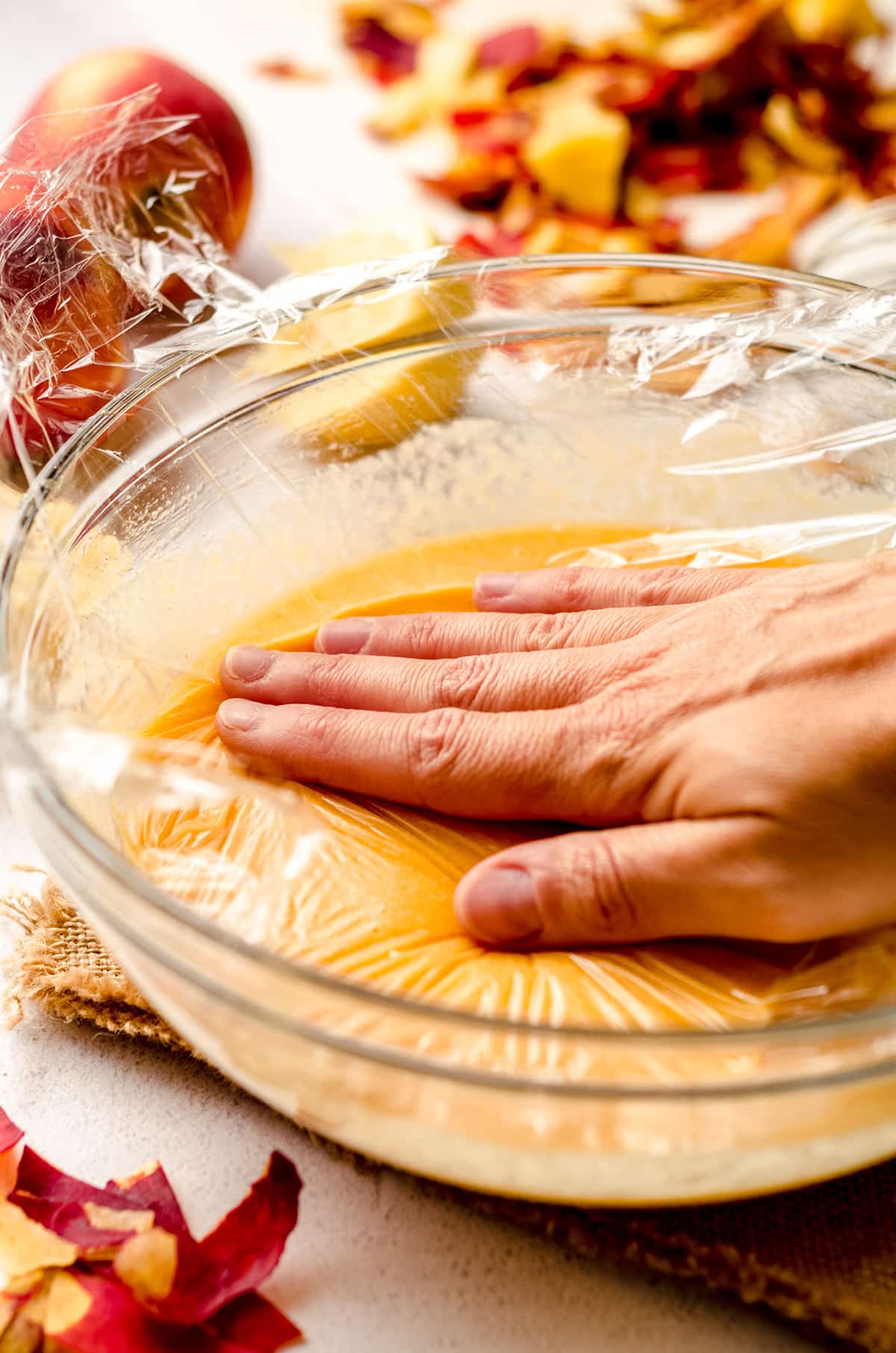 Allow the peach curd to chill completely in the refrigerator, then remove the plastic wrap, and it's ready to go!
What really surprised me about this treat is how buttery it was and how well that buttery taste paired with peaches. Buttery peaches may sound a little strange at first, but think about warm peach cobbler or peach crisp, or a peach almond streusel muffin. See? Delightful.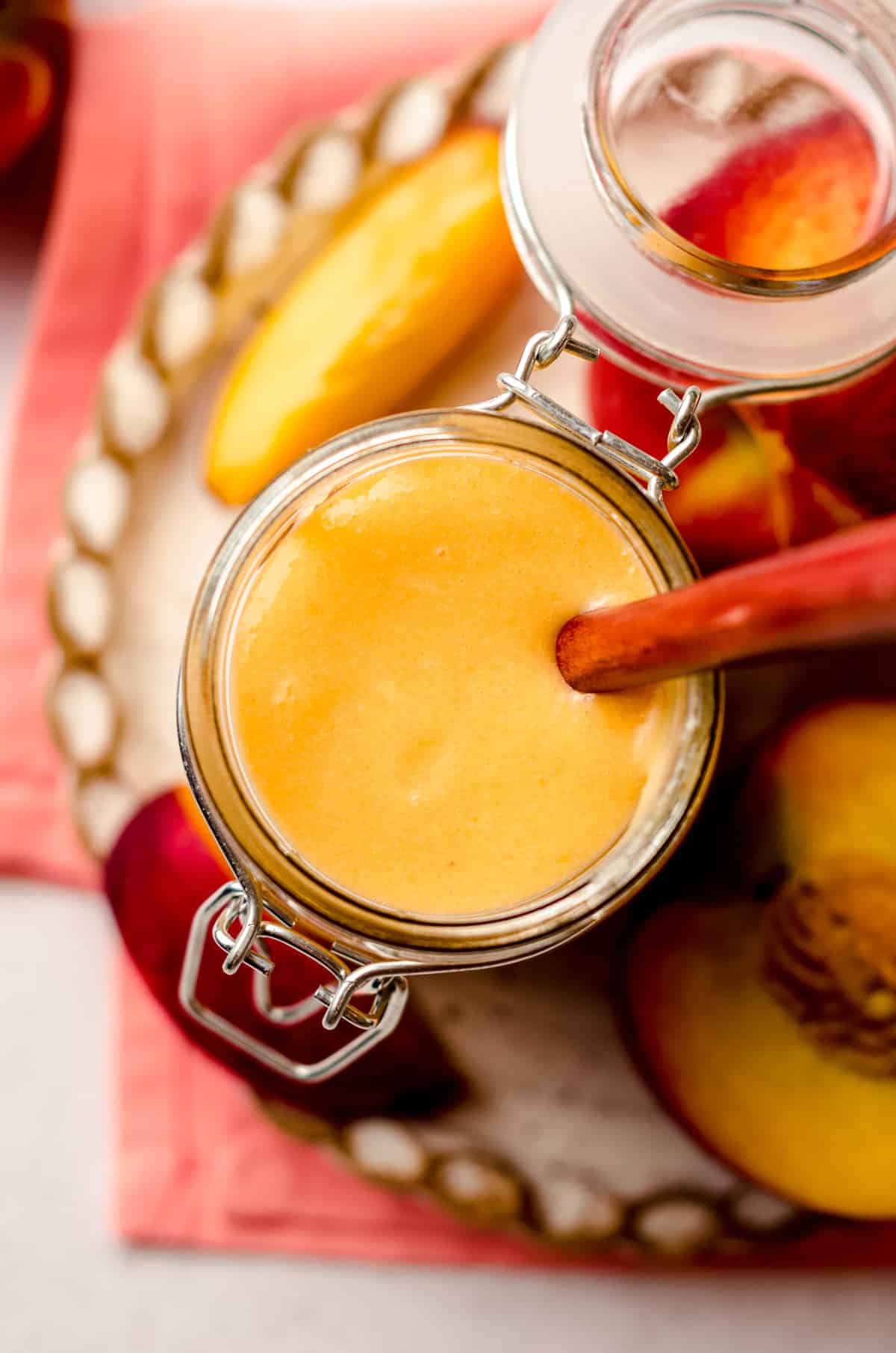 I also love how this peach curd differs so much from lemon curd– while lemon curd is super smooth and creamy, this peach curd has teeny bits of peach pulp which give it incredible texture.
We LOVED this peach curd on homemade peach ice cream, which is quite possibly my favorite vehicle for it. Because who doesn't love a quality bowl of ice cream?
This is the perfect non-traditional way to use up one of summer's best fruits and great for freezing to have on hand for winter months.
And if you're one of those who likes to end the summer with some fresh peach picking, I say add this to your recipe list so you can continue to enjoy your peaches year round!
Peach Curd
Sweet and creamy peach curd made from fresh peaches and a few simple ingredients. Perfect for filling cakes, pies, and cupcakes, or using as a spread or topping.
Ingredients
3

large peaches1

4

large egg yolks

½

cup

(100g) granulated sugar
juice of 1 lemon2

⅛

teaspoon

salt

½

cup

(113g) unsalted butter3

softened to room temperature and cut into 8 pieces
Instructions
Peel and slice the peaches and place them in a blender or food processor, then purée until smooth. You should wind up with about 1 cup of purée. Set aside.

Fill the bottom pot of a double boiler with 3-4" of water and turn heat to high. Bring the water to a boil, then reduce to a simmer. You may also use a pot with a heatproof bowl3 on top instead of a double boiler. Prepare the water the same.

Combine the egg yolks, sugar, lemon juice, salt, and peach purée in the top pot of the double boiler. Use a silicone whisk4 to continuously whisk the mixture as it cooks. It is important to keep the mixture moving so the eggs don't cook or curdle. Continue whisking the mixture until it becomes thick and foamy, approximately 15 minutes. If you want to check the temperature of the curd with an instant read thermometer to be safe, it should reach 170ºF (77ºC).

Remove double boiler or top bowl from heat and whisk in butter pieces 2 at a time, adding the next pieces after previous pieces have mostly melted.

When all of the butter has melted, place a piece of plastic wrap directly on top of peach curd, making sure the plastic wrap is touching the surface of the curd. Allow peach curd to cool in the refrigerator (it will thicken as it cools), about 2 hours. Remove plastic wrap when you are ready to use it. Leftover peach curd stays fresh in the refrigerator, covered tightly, up to 1 month, or in the freezer, up to 1 year. Thaw in the refrigerator overnight.
Notes
Peaches: be sure you're using fresh, very ripe peaches to insure a deep peach flavor.
Fresh lemon juice: do not use bottled lemon juice.
Unsalted butter: you may use salted butter. Do not add additional salt.
Bowl and whisk: do not use a metal bowl or a metal whisk, or you run the risk of your peach curd tasting metallic.
Recipe adapted from homemade lemon curd
Nutrition Disclosure
All nutritional values are approximate and provided to the reader as a courtesy. Changing ingredients and/or quantities will alter the estimated nutritional calculations.
Serving:
2
cups
|
Calories:
810
kcal
|
Carbohydrates:
74
g
|
Protein:
8
g
|
Fat:
56
g
|
Saturated Fat:
33
g
|
Polyunsaturated Fat:
3
g
|
Monounsaturated Fat:
16
g
|
Trans Fat:
2
g
|
Cholesterol:
511
mg
|
Sodium:
199
mg
|
Potassium:
328
mg
|
Fiber:
3
g
|
Sugar:
69
g
|
Vitamin A:
2671
IU
|
Vitamin C:
9
mg
|
Calcium:
70
mg
|
Iron:
2
mg