Peaches and Cream Cheesecake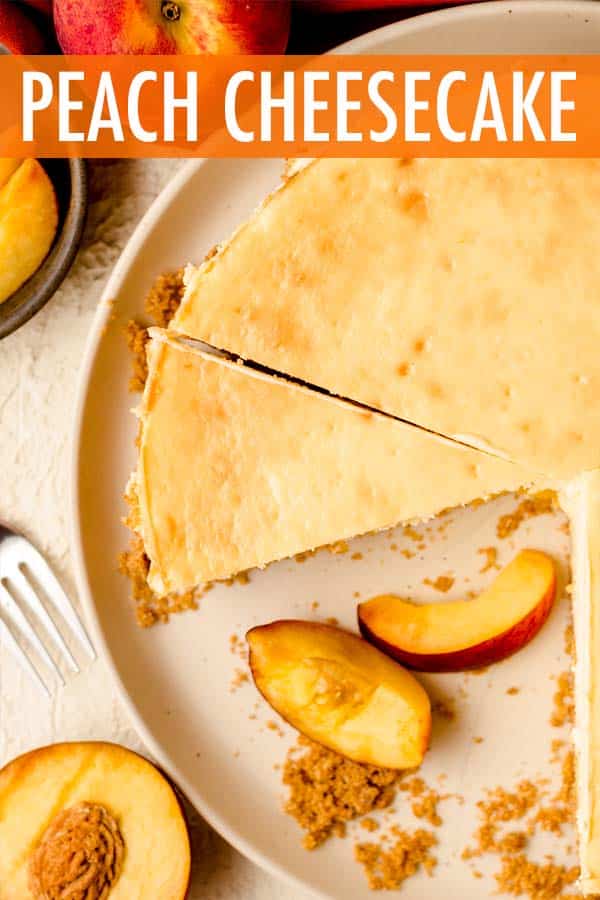 As an Amazon Associate, I earn from qualifying purchases. Read the full disclosure here.
Smooth and creamy homemade cheesecake filled with a ribbon of fresh cooked peaches.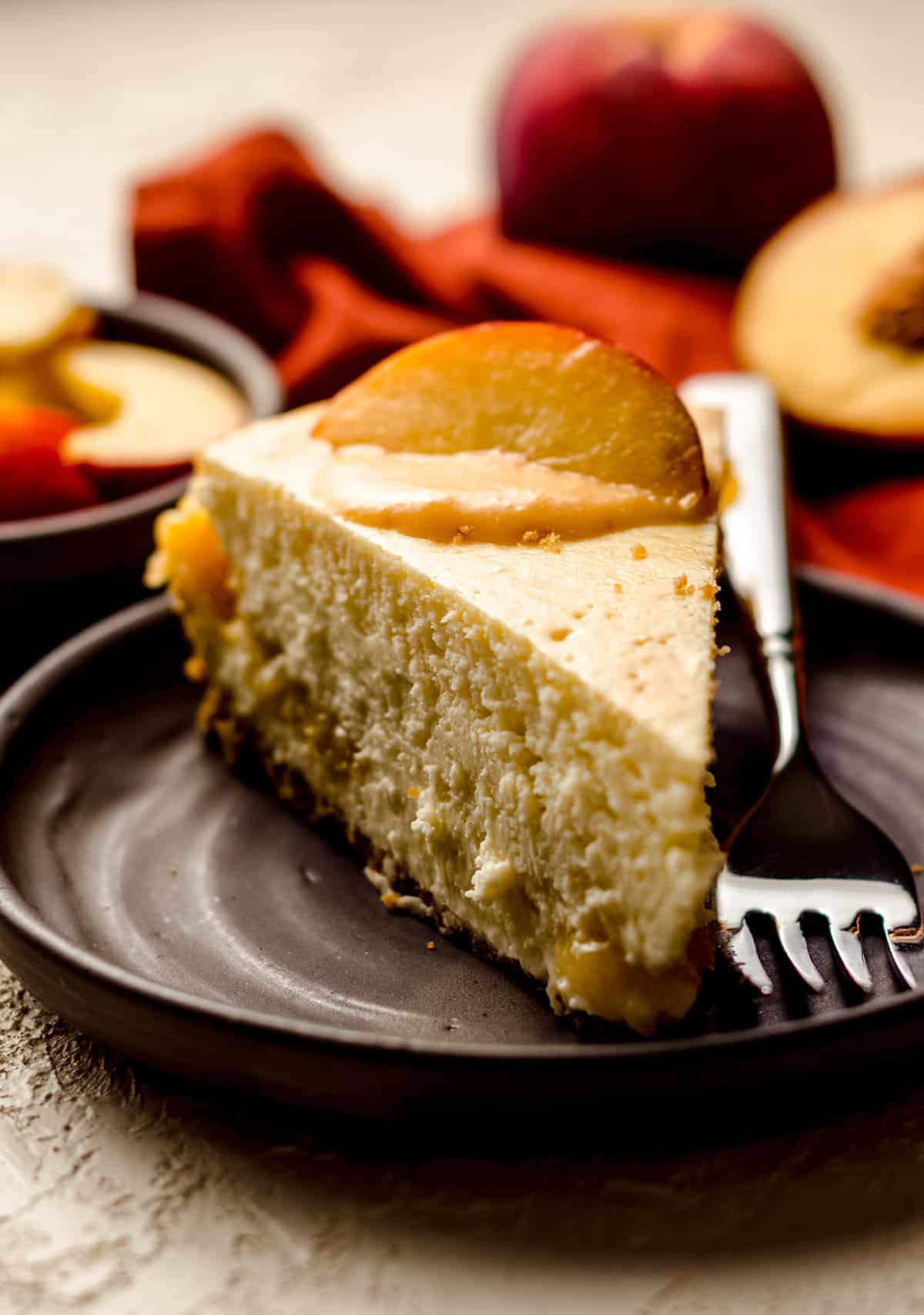 Happy #NationalCheesecakeDay 2021 hosted by, well, me! Let's celebrate this delicious day with our favorite cheesecake recipes– from fruity to chocolatey and mini to InstantPot, we've got you covered for your next cheesecake need! See below for lots of other tasty cheesecake recipes from my friends around the blogosphere.
If you are even remotely a cheesecake fan, I'm going to need you to drop everything, run to your local fresh produce store/stand/whatever, and grab some fresh peaches.
And if it's not peach season for you right now, either geographically or seasonally, you can absolutely use frozen (thawed) peaches, and there are instructions for that in the recipe.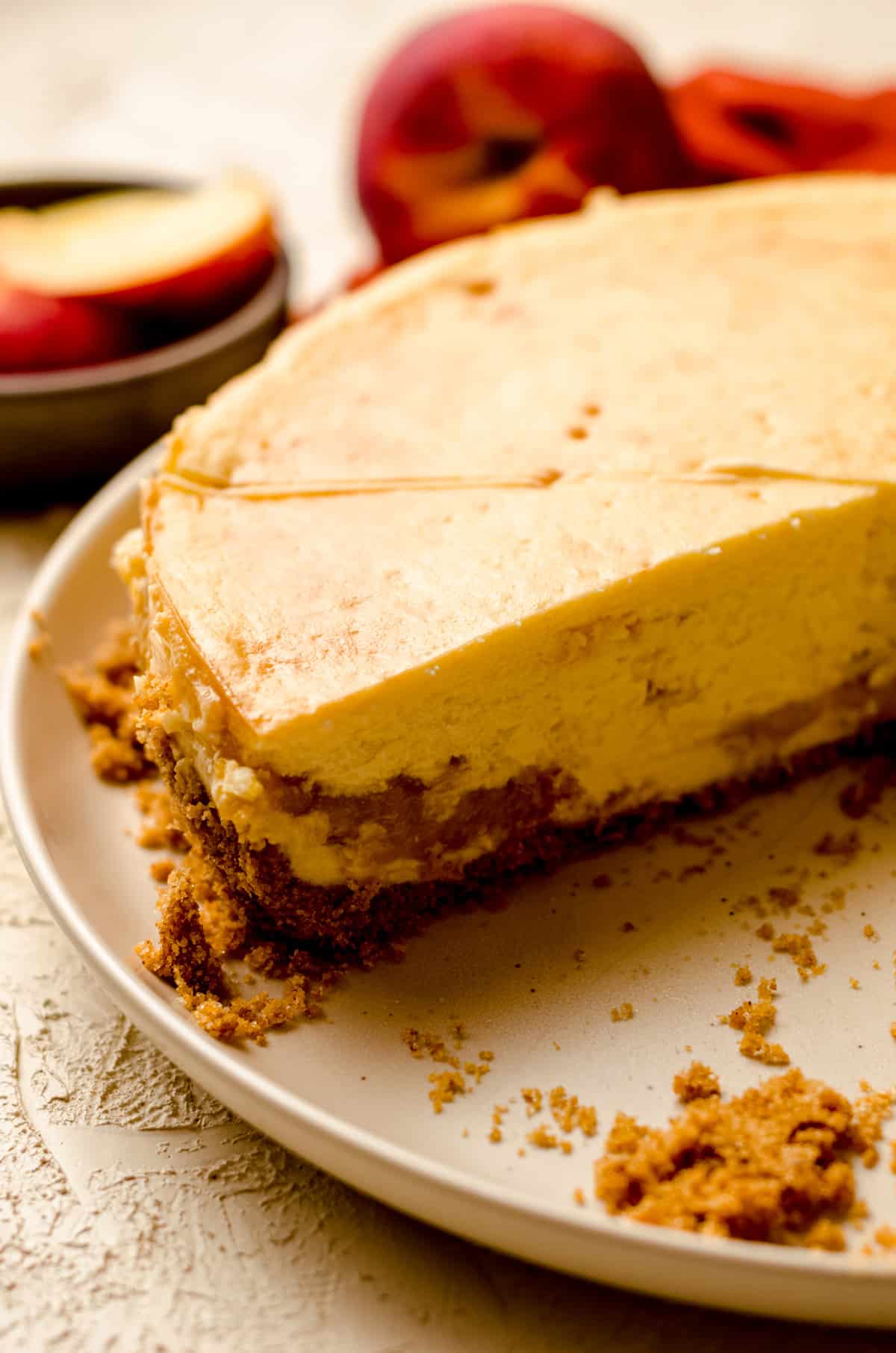 But fresh peaches you're looking to use? This homemade peach cheesecake recipe is what you need to make next, alongside my peach curd and homemade peach ice cream, but we'll get to those parts, too!
Ever since my first encounter with a cheesecake from scratch (hello, funfetti cheesecake!), I feel like I always have cheesecake on the brain now. I was totally intimidated by water baths and cracks and craters and thought it was a really scary thing to make.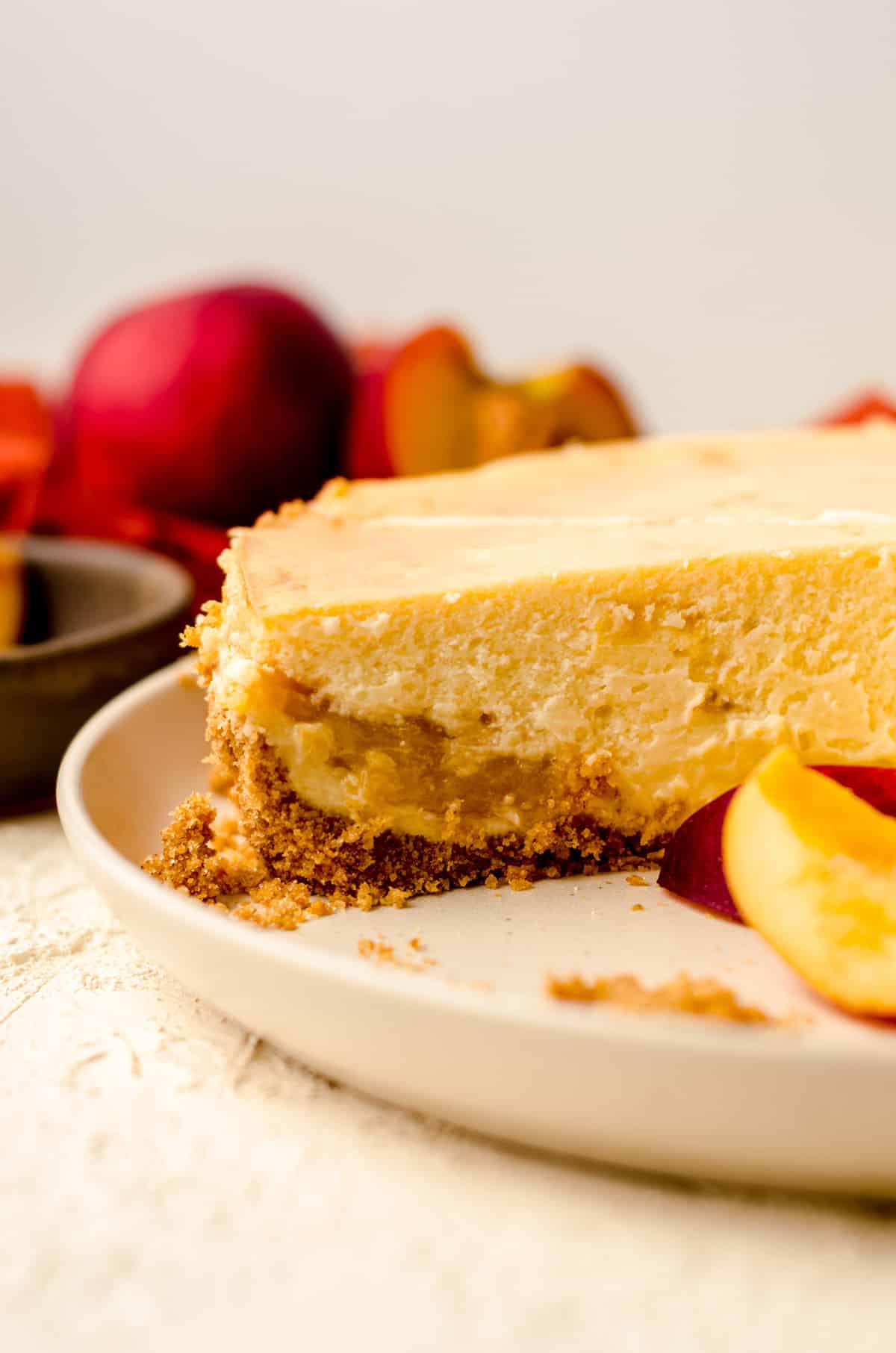 It turns out that it's very simple, and many things that I learned while making that funfetti cheesecake have served me well through more scratch cheesecake recipes, so we'll be making this peaches and cream cheesecake like pros in no time!
---
Peach Cheesecake Recipe ingredients
This peaches and cream cheesecake recipe has three distinct parts: a fresh peach mixture, a graham cracker crust, and a peach cheesecake filling.
For the peach filling, you will need:
• fresh peaches
• unsalted butter
• granulated sugar
• lemon juice
• vanilla extract
• cornstarch
For the graham cracker crust, you will need:
• graham cracker crumbs
• granulated sugar
• unsalted butter
For the peach cheesecake filling, you will need:
• full-fat block cream cheese
• granulated sugar
• heavy whipping cream
• Greek yogurt or sour cream
• vanilla extract
• eggs
• egg yolks
How to make Peach Cheesecake
PEACH FILLING FOR PEACHES AND CREAM CHEESECAKE
In this particular peach cheesecake, we're giving the cheesecake its peachiness via a cooked peach concoction.
This simple peach filling is made with fresh peaches, butter, sugar, vanilla extract, and lemon juice which you'll combine into a saucepan and bring to a boil.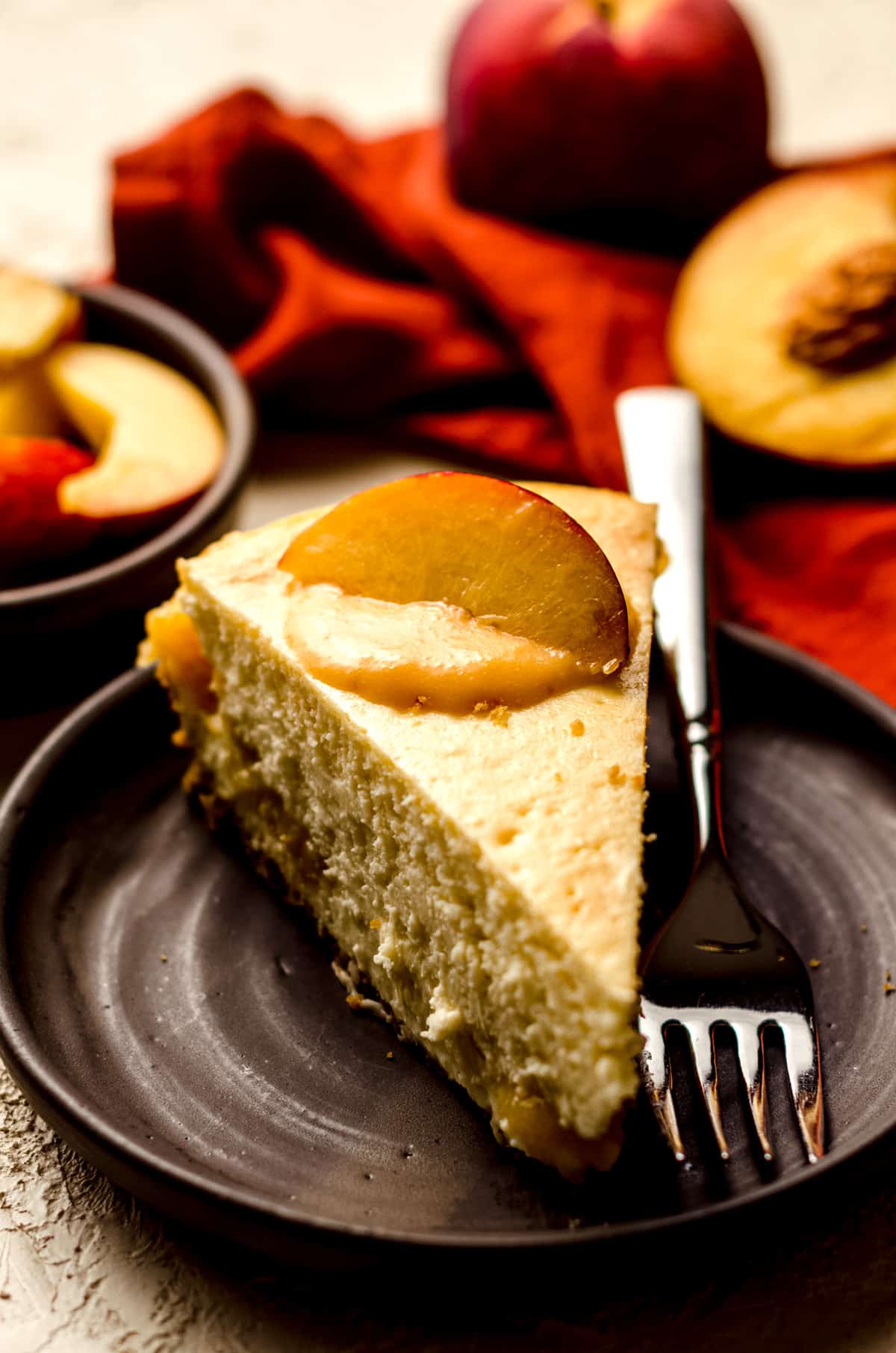 Once boiling, you'll remove some of the juice to combine with cornstarch, which will thicken the cooked peaches into a sturdy filling. Simply remove some of the warm liquid, add it to a bowl with the cornstarch, stir it up until it's smooth, and then add it back into the sauce. Simple!
This cooked peach mixture will be the filling for the cheesecake, but if you also want to use some of it as additional topping so you've got some peach cheesecake with peach topping, there are instructions for how to scale the filling in the recipe.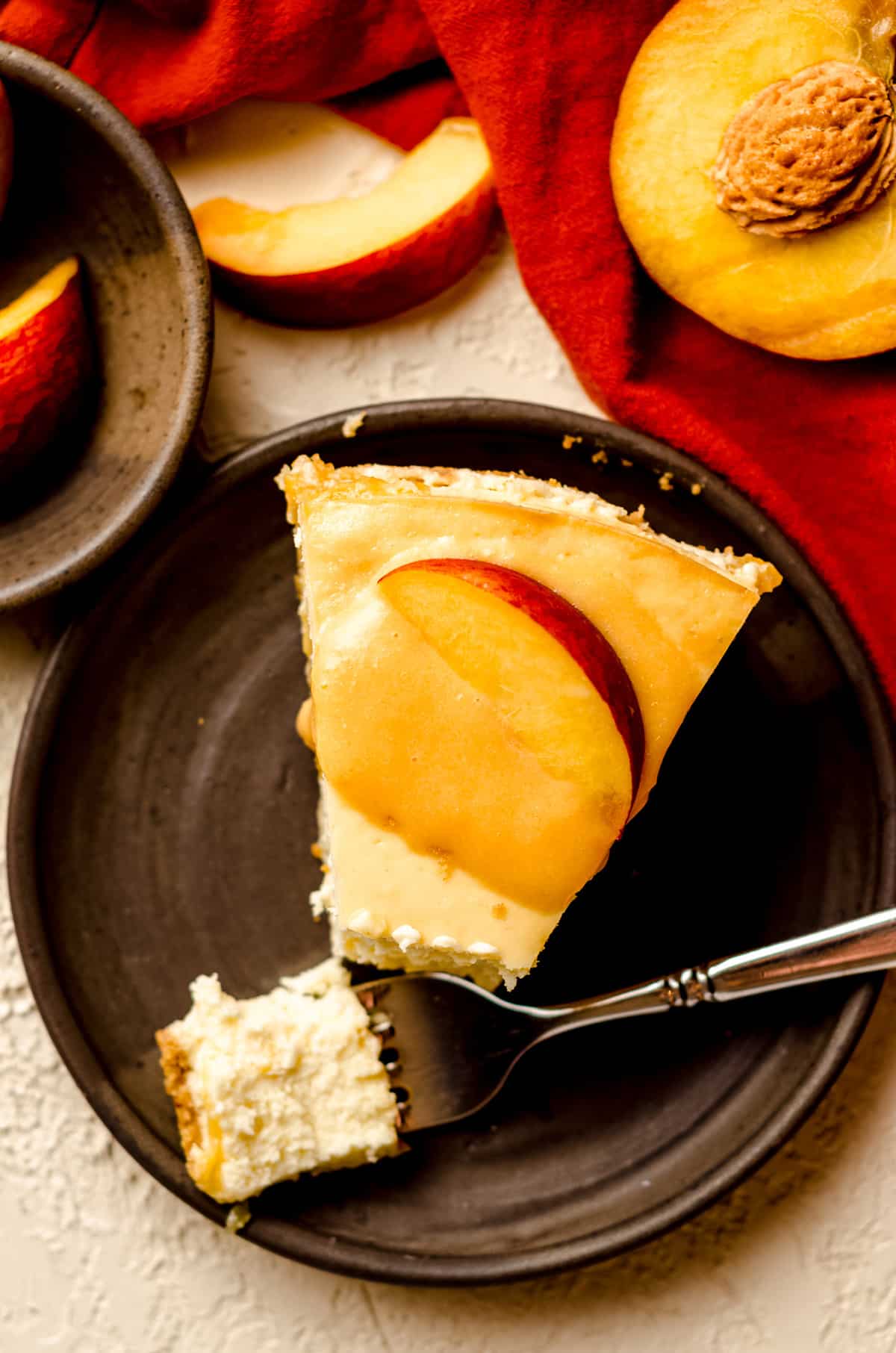 Now that we're all settled with the filling, it's time to start building the actual cheesecake.
HOW TO MAKE GRAHAM CRACKER CRUST FOR PEACH CHEESECAKE
Every good cheesecake starts with a good solid crust. In the case of this peach cheesecake, I chose a traditional graham cracker crust. Nothing fancy and nothing out of the ordinary.
Press that into the pan, then bake it while you prepare the cheesecake filling.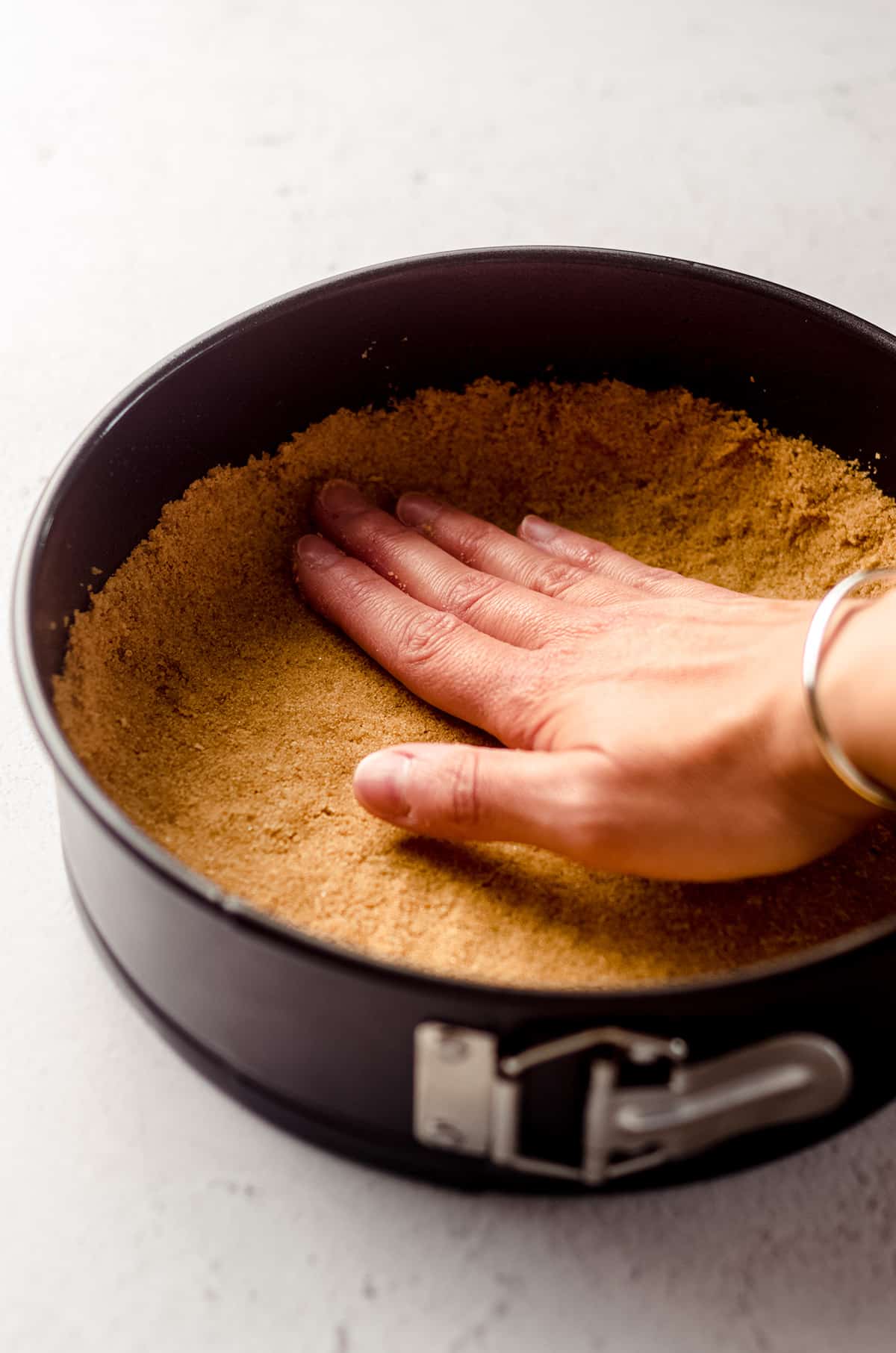 USE ROOM TEMPERATURE INGREDIENTS FOR FRESH PEACH CHEESECAKE
You'll want all of your ingredients to be totally room temperature. If anything is a little too chilled, you risk getting bumps in your cheesecake filling. We want everything nice and smooth, so plan ahead so that your ingredients have enough time to warm up.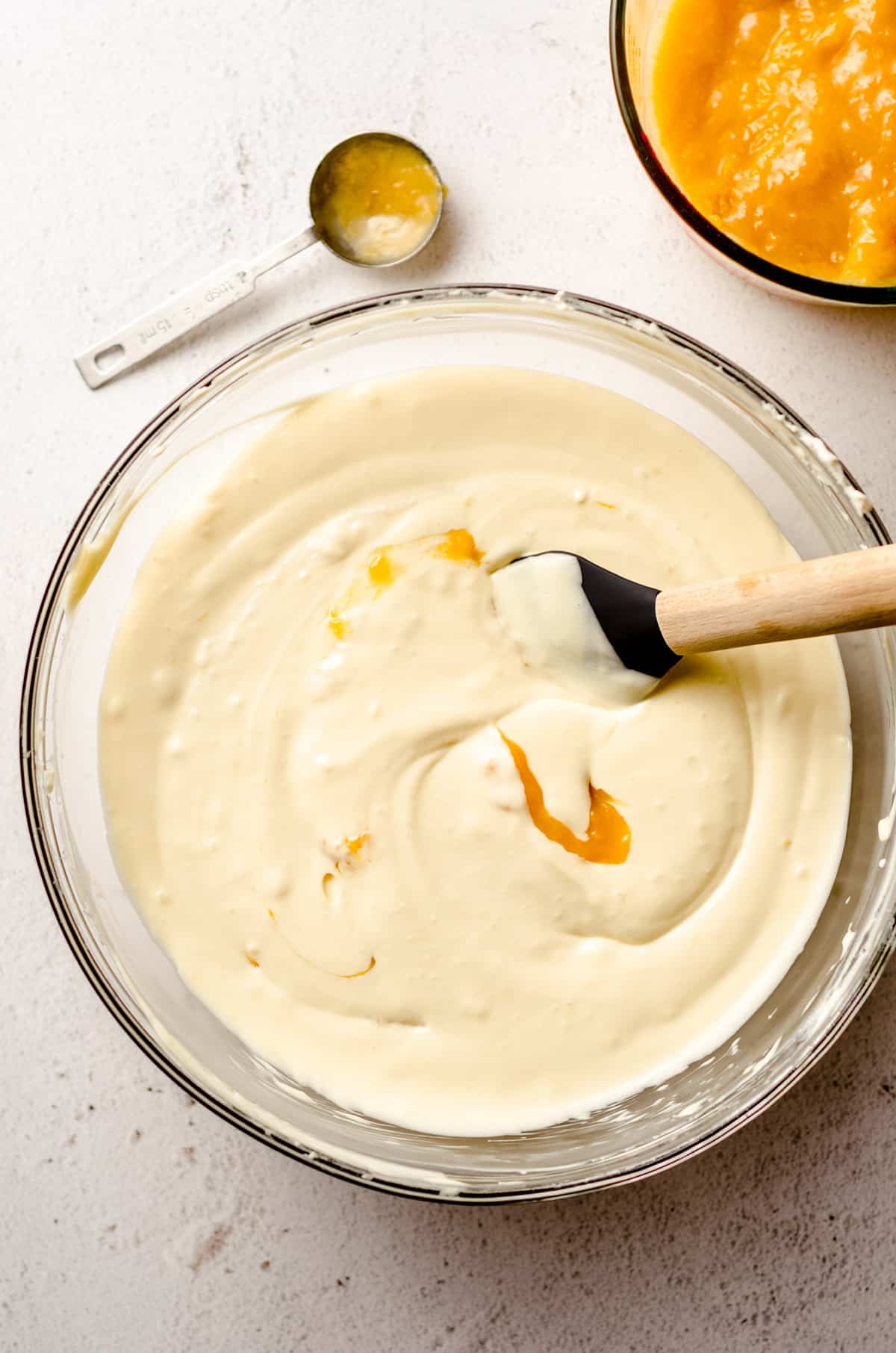 While the majority of the peach filling will be used to make a ribbon of peaches throughout the whole cheesecake, we will use some of it to flavor the cream cheese portion of the cheesecake. Just 3 Tablespoons of the peach filling will be enough to lightly flavor the cheesecake and distribute some peachy bites.
How to Assemble Peach Cream Cheese Cake
Once the cheesecake batter is ready, it's time to assemble this epic peach cheesecake situation, and I promise, it's simple.
You'll pour about ⅓ of the cheesecake filling into the pre-baked graham cracker crust.
On top of that, you'll evenly layer the remaining peach filling. This does not have to be perfect or beautiful, just try to spread it out as evenly as you can.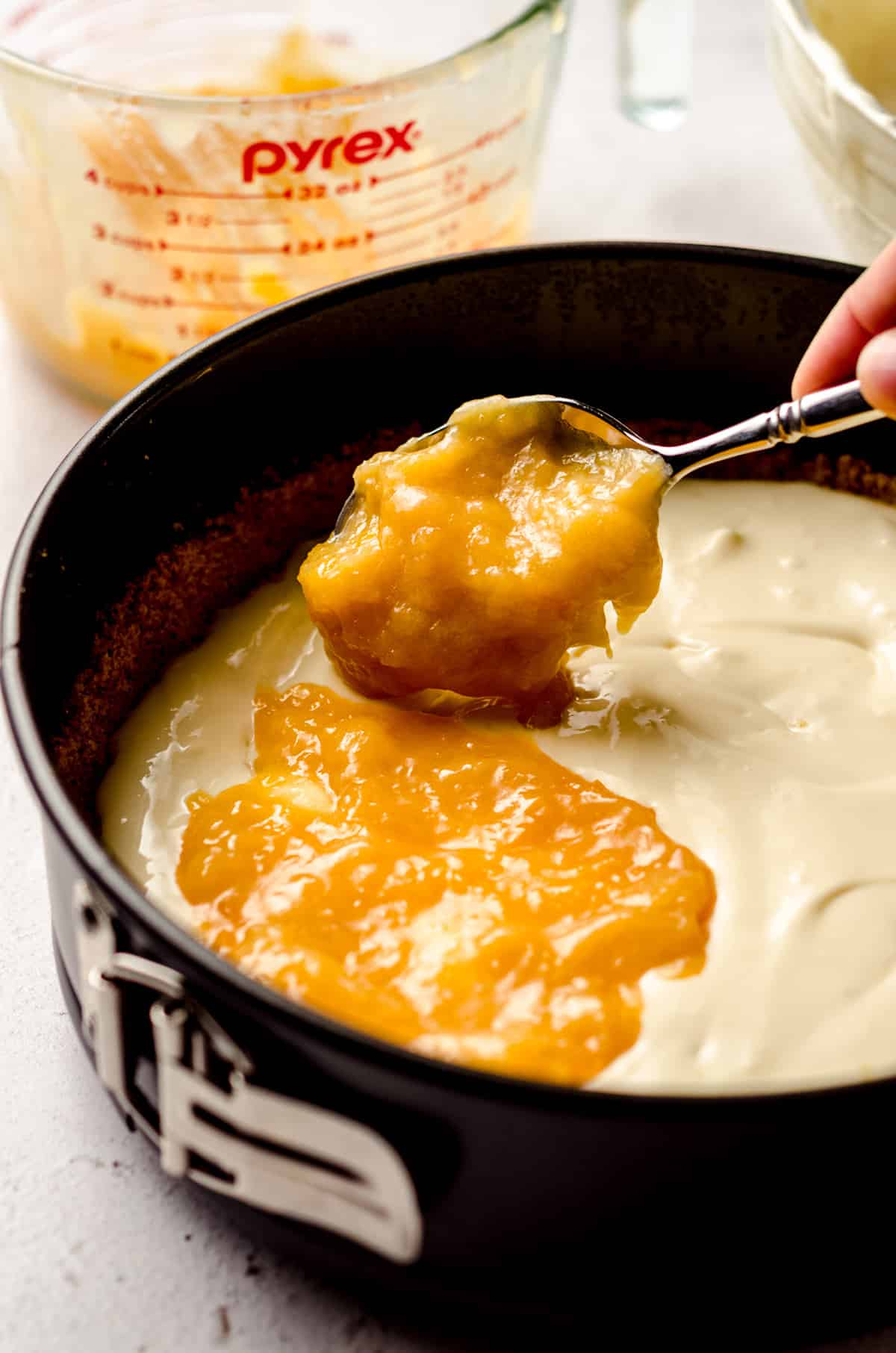 Next up, pour the rest of the cheesecake filling on top of the layer of peach filling, cover any peaches that may be peeking out, and then you're ready to bake!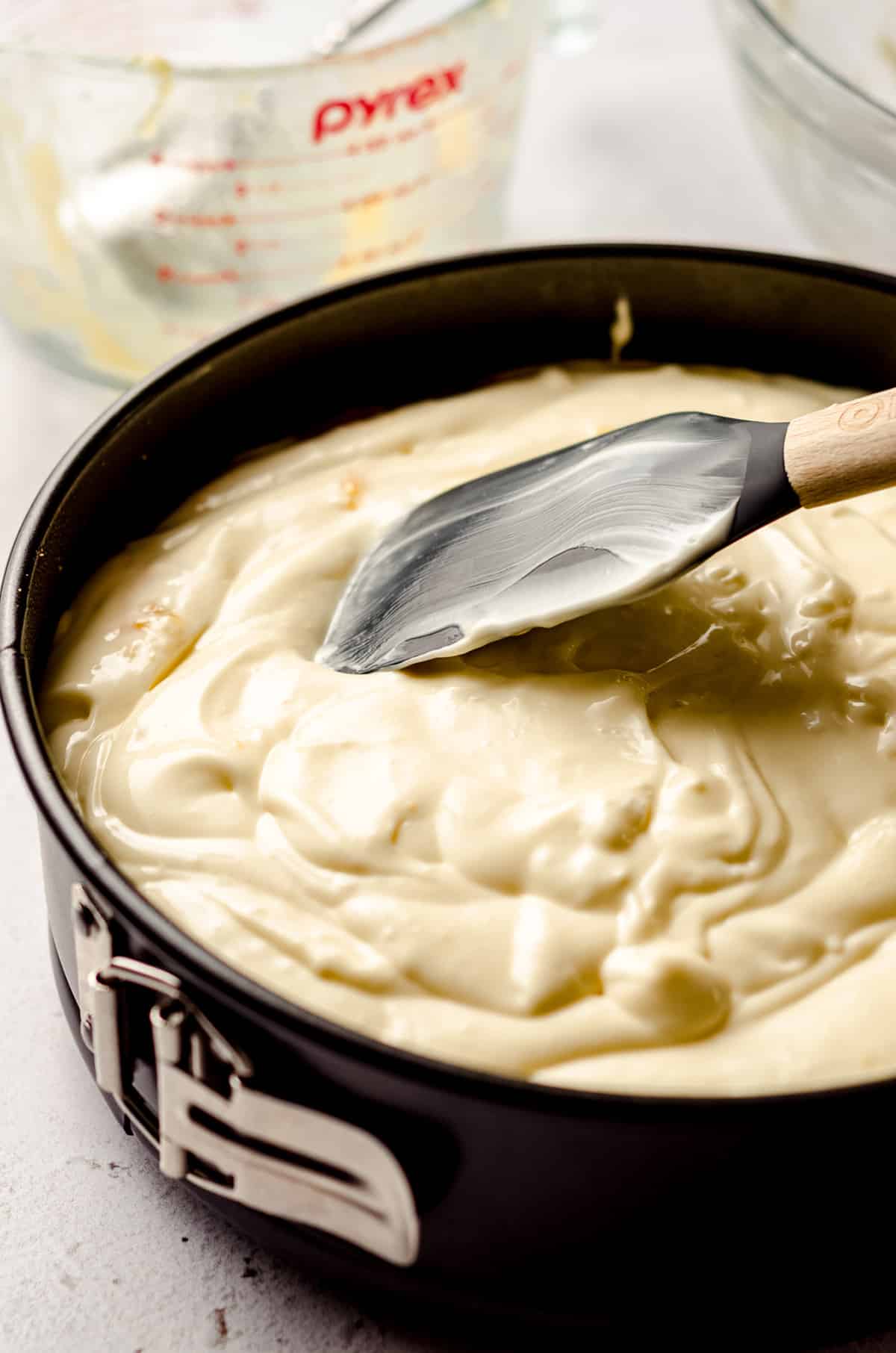 HOW TO MAKE A SIMPLE WATER BATH
A water bath does not need to be complicated, and I learned this tip about putting together a water bath that makes it SO simple.
I go into a bit more detail in the recipe (and provide a link to the exact pans I use), but the 9″ springform pan goes into a 10″ cake pan, which all goes into a 12″ cake pan that holds the water.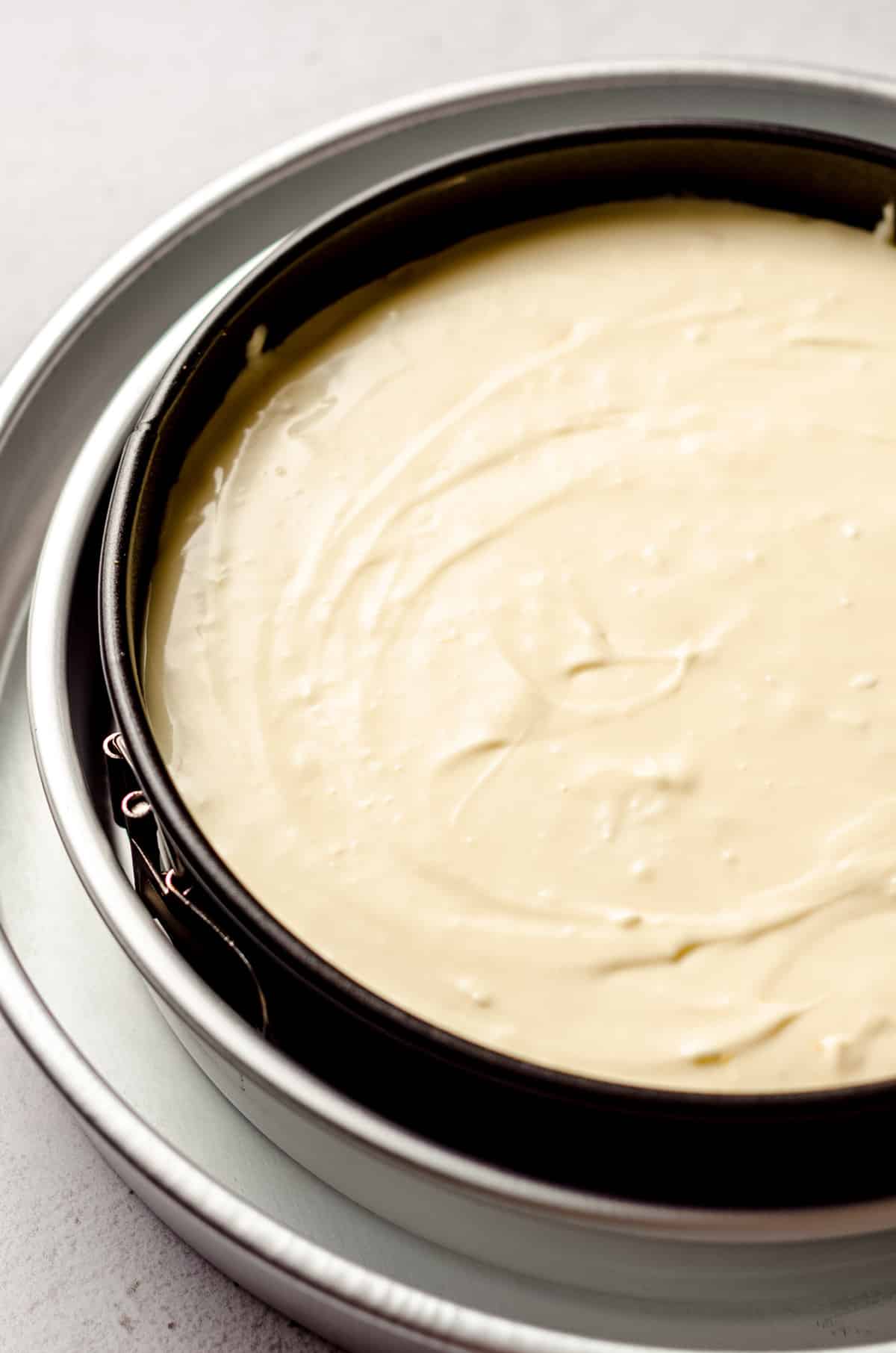 No foil, no large roasting pans. Easy peasy!
Low and slow is the name of the cheesecake baking game, and this will take about 90 minutes to fully bake.
Once it's done, you'll turn off the oven and allow the peach cheesecake to cool with the oven door cracked, then again for a couple hours on the counter.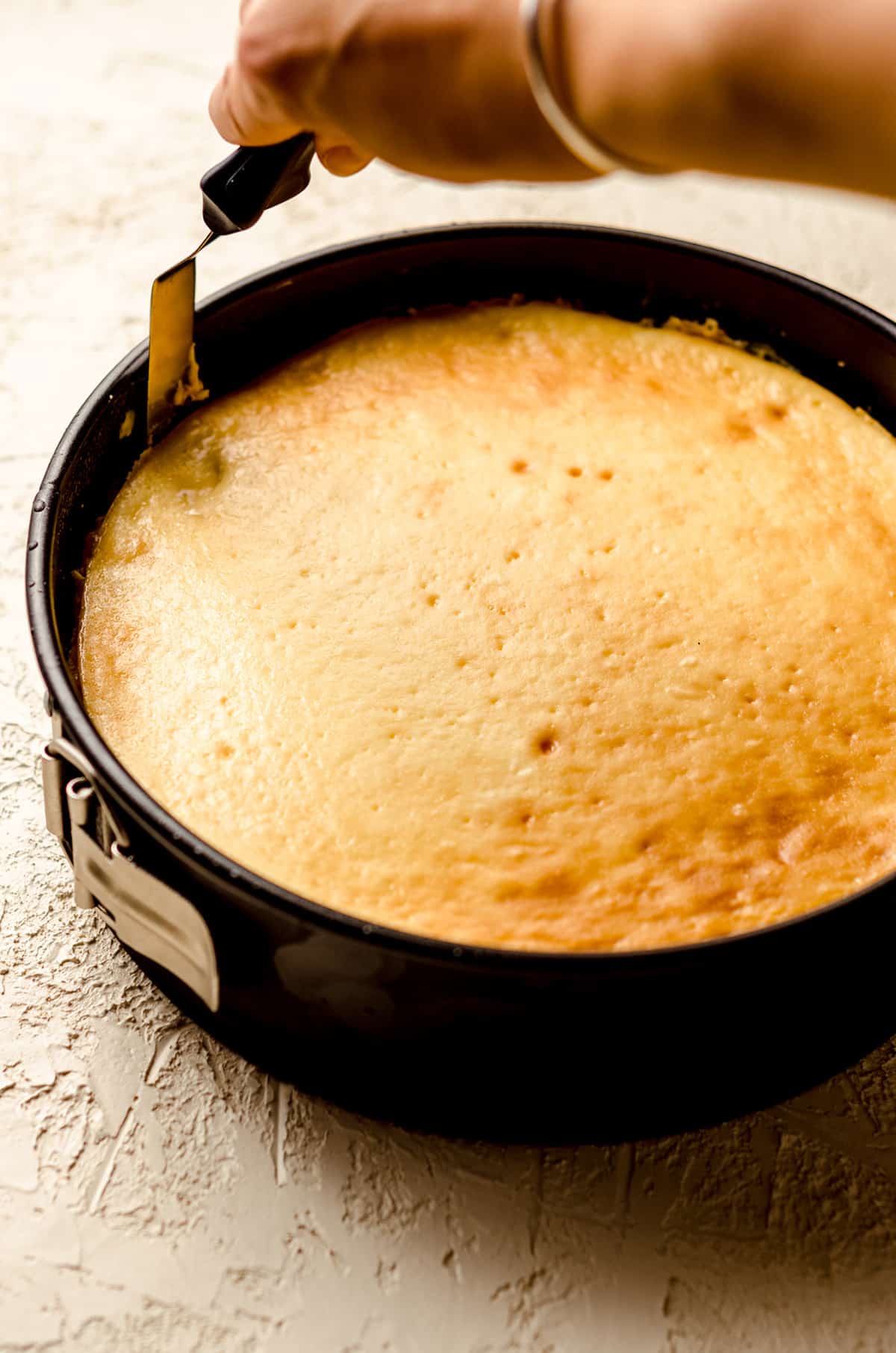 This slow cooling process almost 100% insures no cracks or craters in your cheesecake, so I promise, the time and patience is worth it!
How to store your Peaches and Cream Cheesecake
Store your cheesecake covered tightly in the refrigerator.
You'll love this Peaches and Cream Cheesecake Recipe
My gosh, y'all– this peach cheesecake was UNREAL good. The cheesecake filling is smooth and flavorful, and the ribbon of peaches going in and out of each bite was such a fun texture for this texture lover.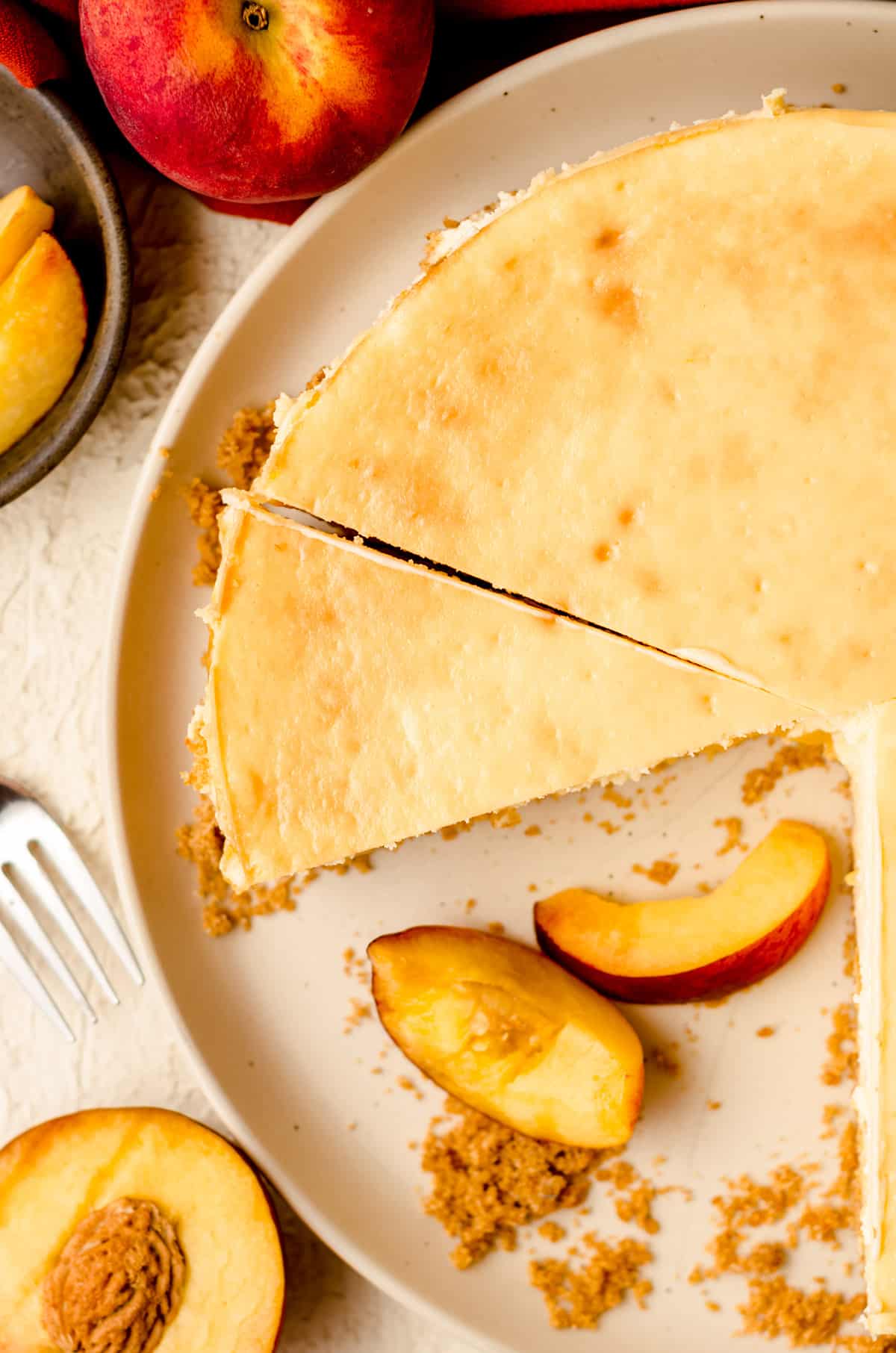 Up against that slightly salty graham cracker crust, this cheesecake had almost a peach cobbler- or peach crisp-esque taste to it. And of course, the perfect peach cheesecake topping was my peach curd, because if we're going all out with peaches in a dessert, we're going ALL OUT with peaches.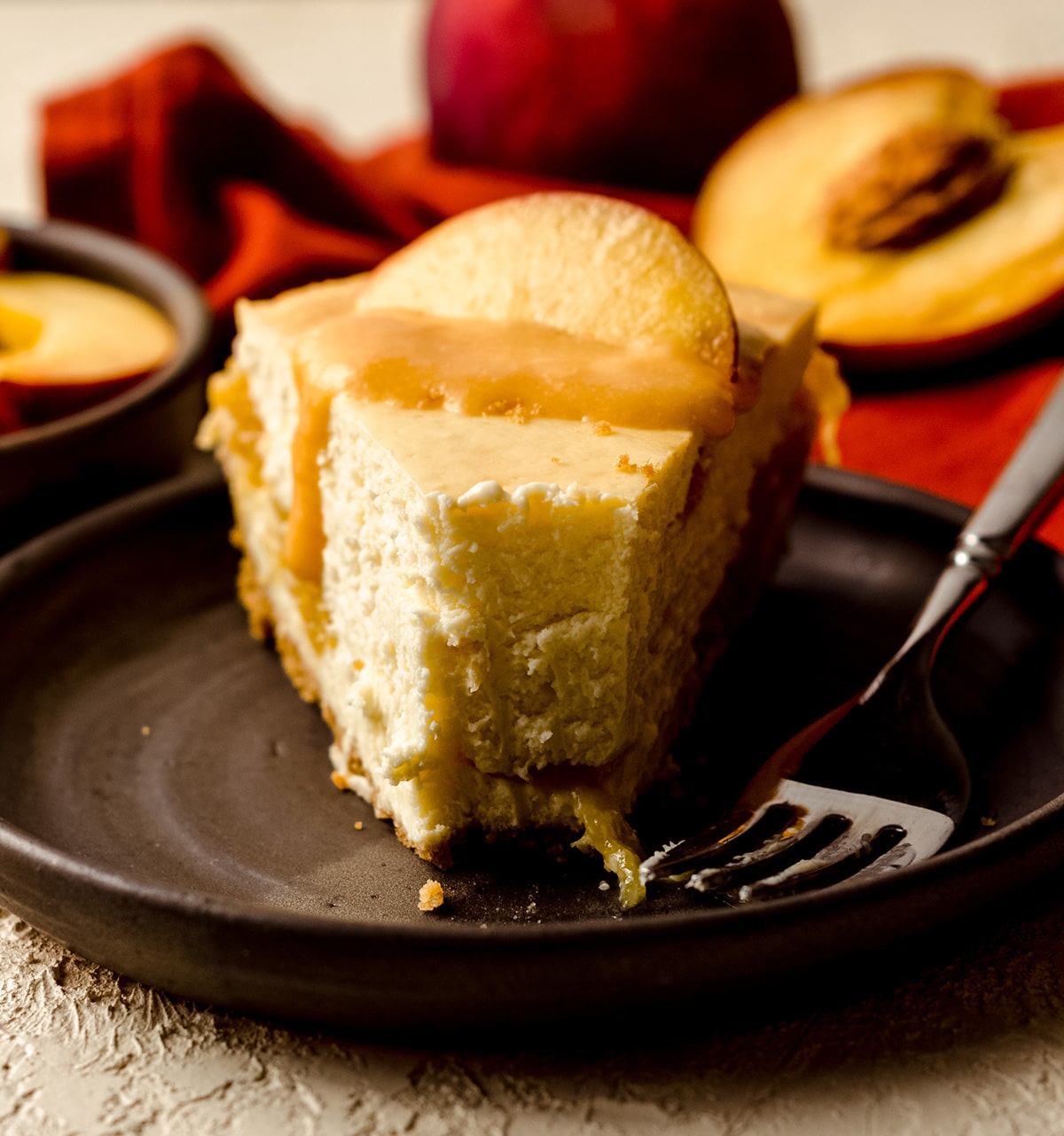 This was loved by all who tried it, and I think it's the perfect summer cheesecake to feature one of summer's best fruits. I know it can be hard to want to turn on the oven when it's hot out (hello, no bake mini cheesecake bites!), but I would not steer you wrong– this peach cheesecake is worth every bead of sweat!
Peach Cream Cheese Cake FAQs
More #NationalCheesecakeDay Recipes
More favorites from Fresh April Flours
Peaches and Cream Cheesecake Recipe
Smooth and creamy homemade cheesecake filled with a ribbon of fresh cooked peaches.
Ingredients
PEACH FILLING
3

cups

sliced peaches1

about 4 large peaches

2

Tablespoons

(28g) unsalted butter

⅓

cup

(67g) granulated sugar

1

teaspoon

lemon juice

1 and ½

teaspoons

vanilla extract

1

teaspoon

cornstarch
GRAHAM CRACKER CRUST
1 and ½

cups

(155g) graham cracker crumbs

approximately 10 full rectangles

2 and ½

Tablespoons

(31g) granulated sugar

¼

cup

(57g) unsalted butter

melted
PEACH CHEESECAKE
24

ounces

(675g) full fat block cream cheese completely softened to room temperature

¾

cup

(150g) granulated sugar

3

Tablespoons

(45mL) heavy whipping cream

4

ounces

(140g) Greek yogurt or sour cream

about ½ cup

1

Tablespoon

vanilla extract

3

large eggs

at room temperature

2

large egg yolks

at room temperature
Instructions
Notes
Fresh peaches: if you want to use frozen peaches, thaw completely and discard any excess water.
Preparing the peaches: I prefer to do this ahead of time to cut down on waiting for the peaches to chill. Peach filling can be made up to 1 day in advance and kept covered tightly in the refrigerator.
Mixer speed: it's important not to go above low (or low-medium) speed after you've beaten the cream cheese. Incorporating too much air will create bubbles and potential cracks in your finished cheesecake.
Water bath pans: here is

a bundle

that includes all the pans I use. Using this method eliminates the need to wrap anything in foil.

Cool the cheesecake: I like to prop the oven door open with a wooden spoon or spatula.
Peach filling as topping: you can double the recipe for the peach filling and only layer half of it into the cheesecake, reserving the other half of the peaches for topping. Store in the refrigerator until ready to use.
Adapted from funfetti cheesecake
Nutrition Disclosure
All nutritional values are approximate and provided to the reader as a courtesy. Changing ingredients and/or quantities will alter the estimated nutritional calculations.
Serving:
1
slice
|
Calories:
375
kcal
|
Carbohydrates:
45
g
|
Protein:
15
g
|
Fat:
15
g
|
Saturated Fat:
8
g
|
Polyunsaturated Fat:
1
g
|
Monounsaturated Fat:
4
g
|
Trans Fat:
0.3
g
|
Cholesterol:
126
mg
|
Sodium:
593
mg
|
Potassium:
314
mg
|
Fiber:
1
g
|
Sugar:
36
g
|
Vitamin A:
658
IU
|
Vitamin C:
2
mg
|
Calcium:
280
mg
|
Iron:
1
mg