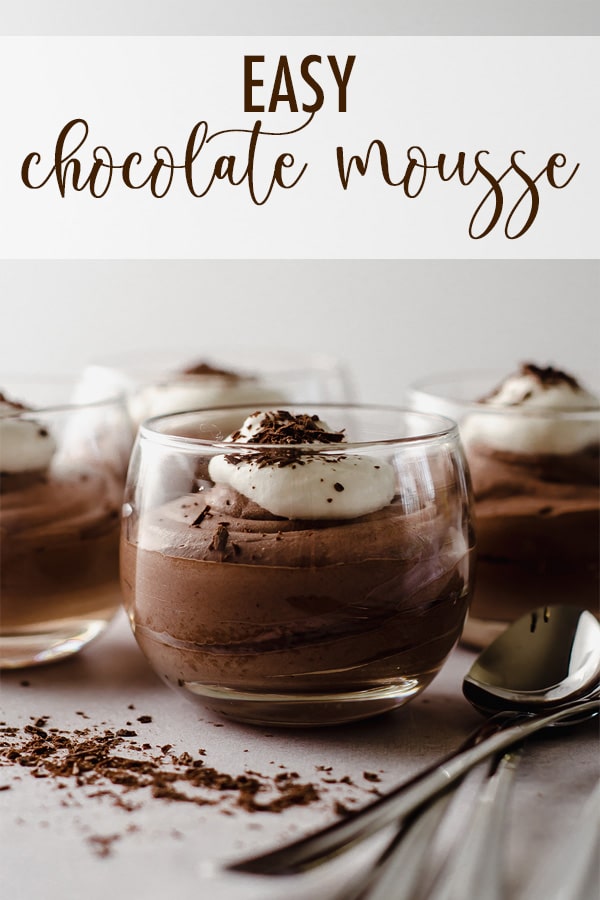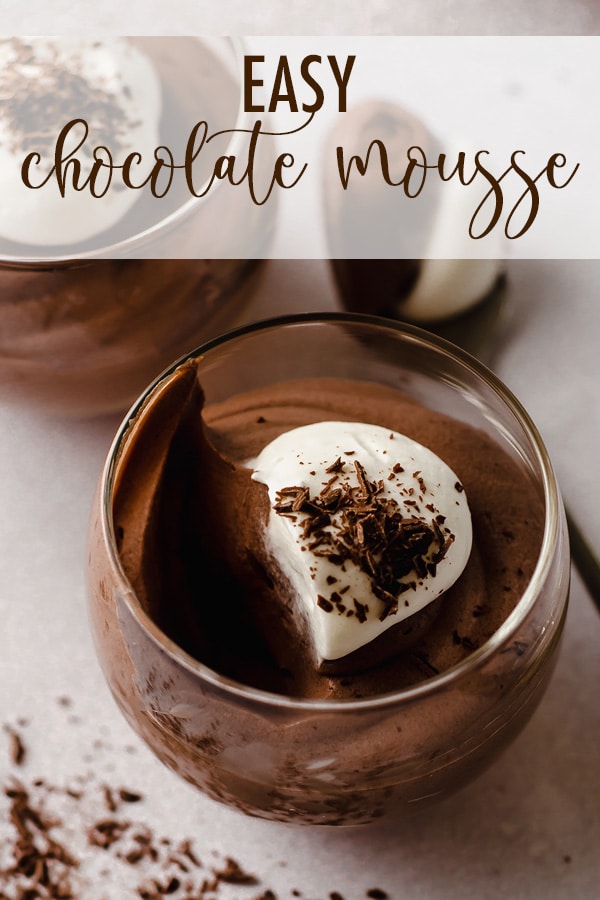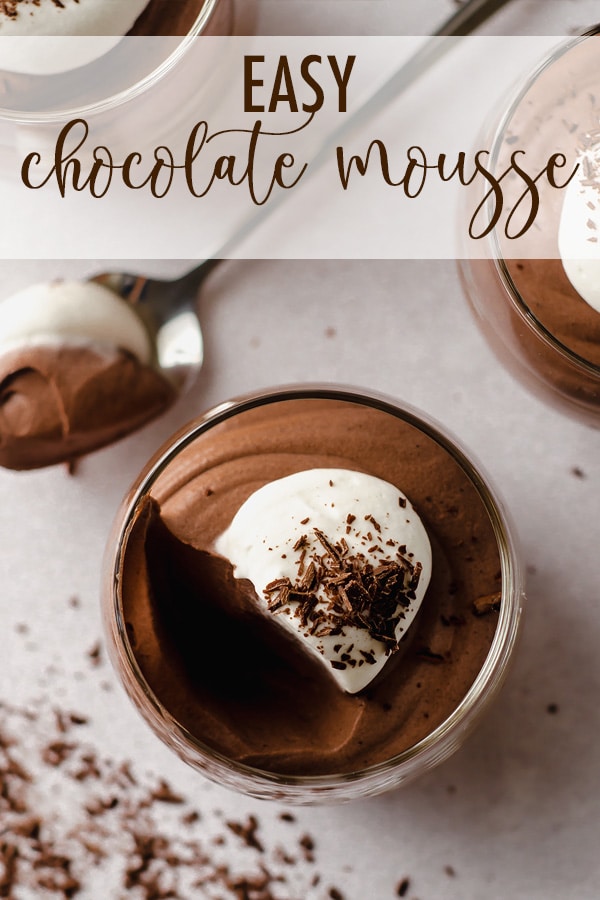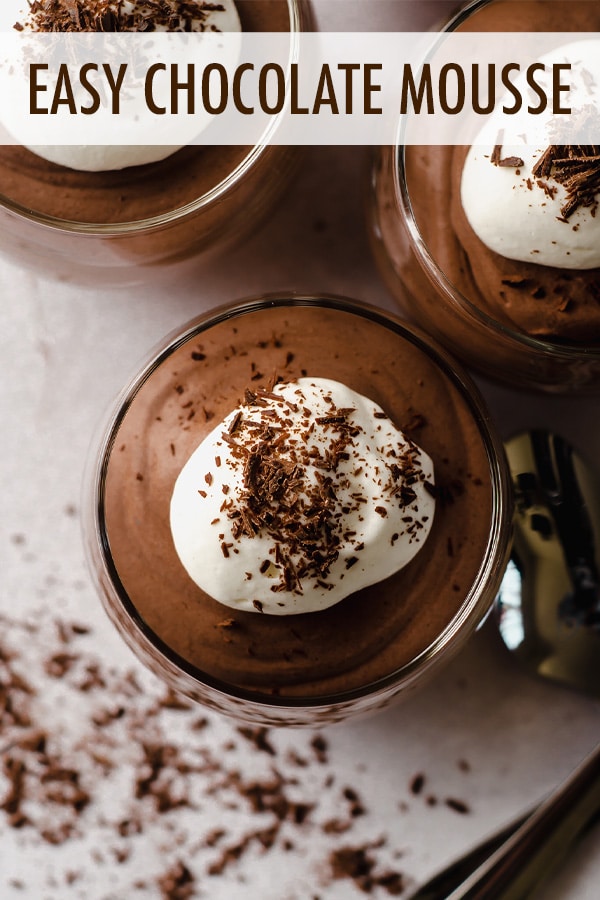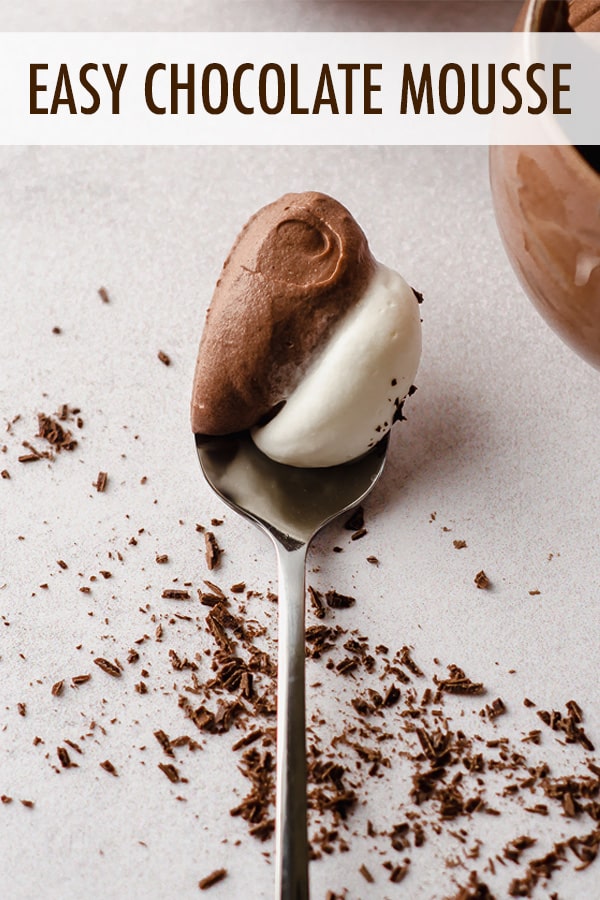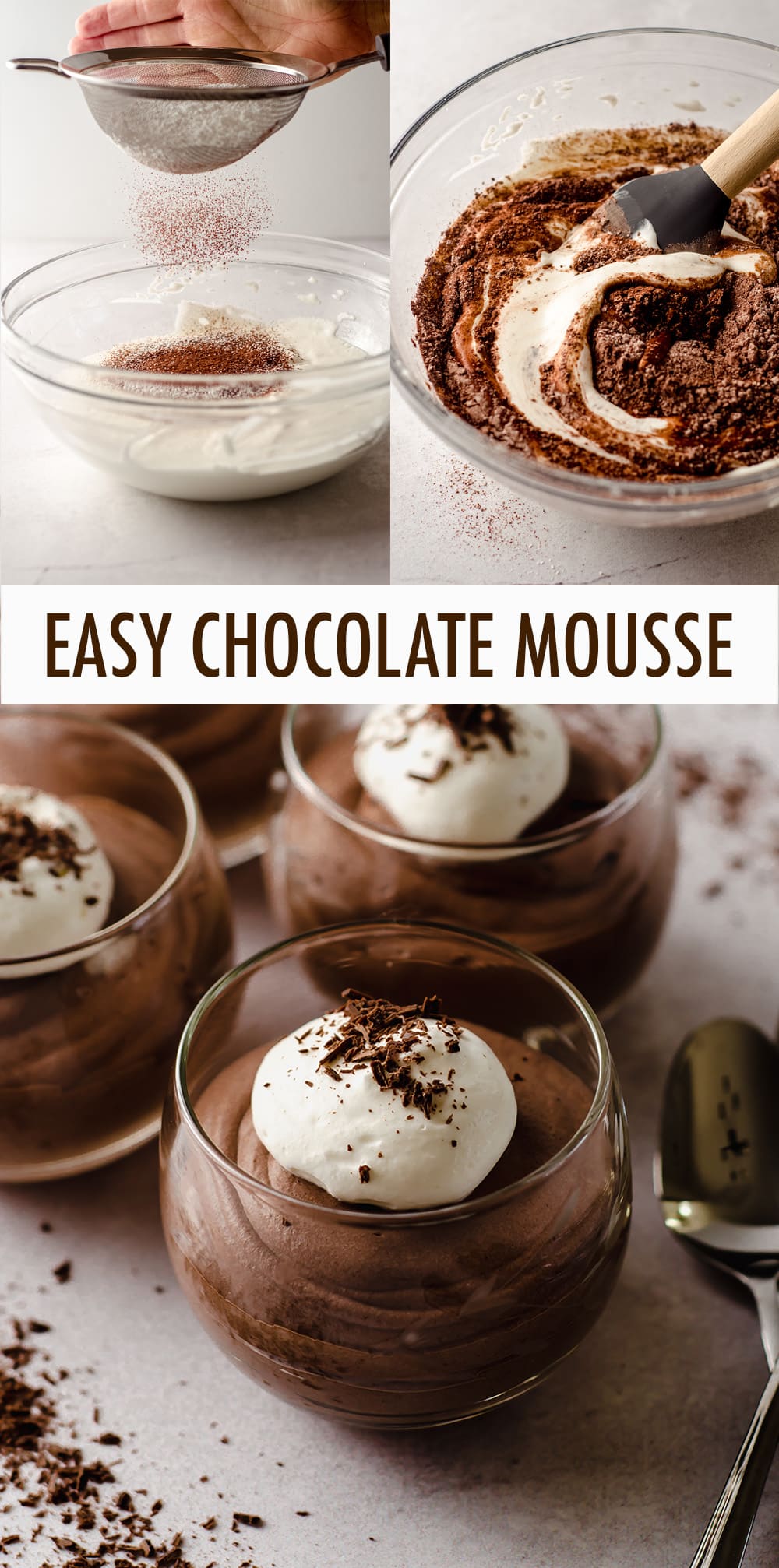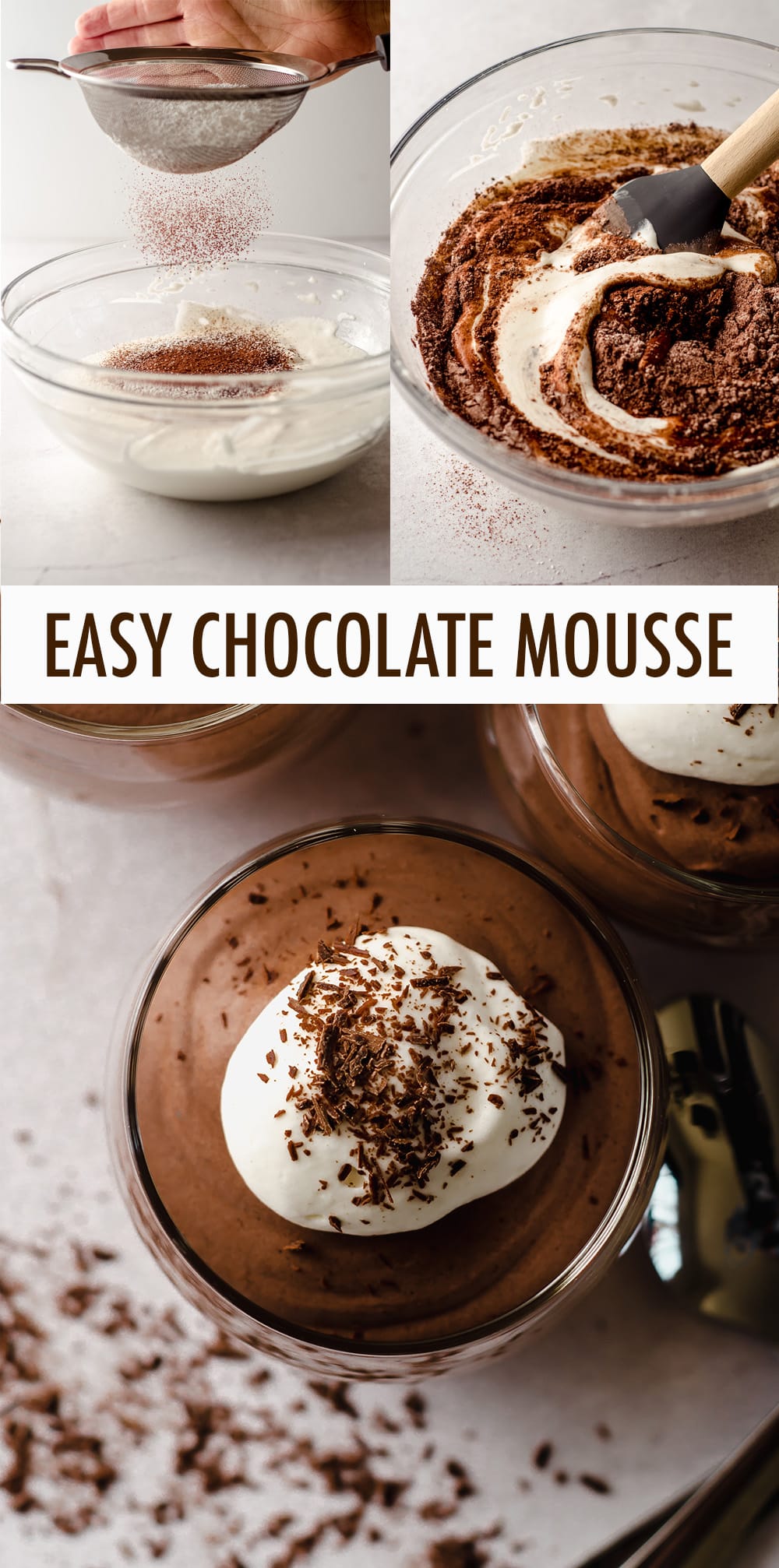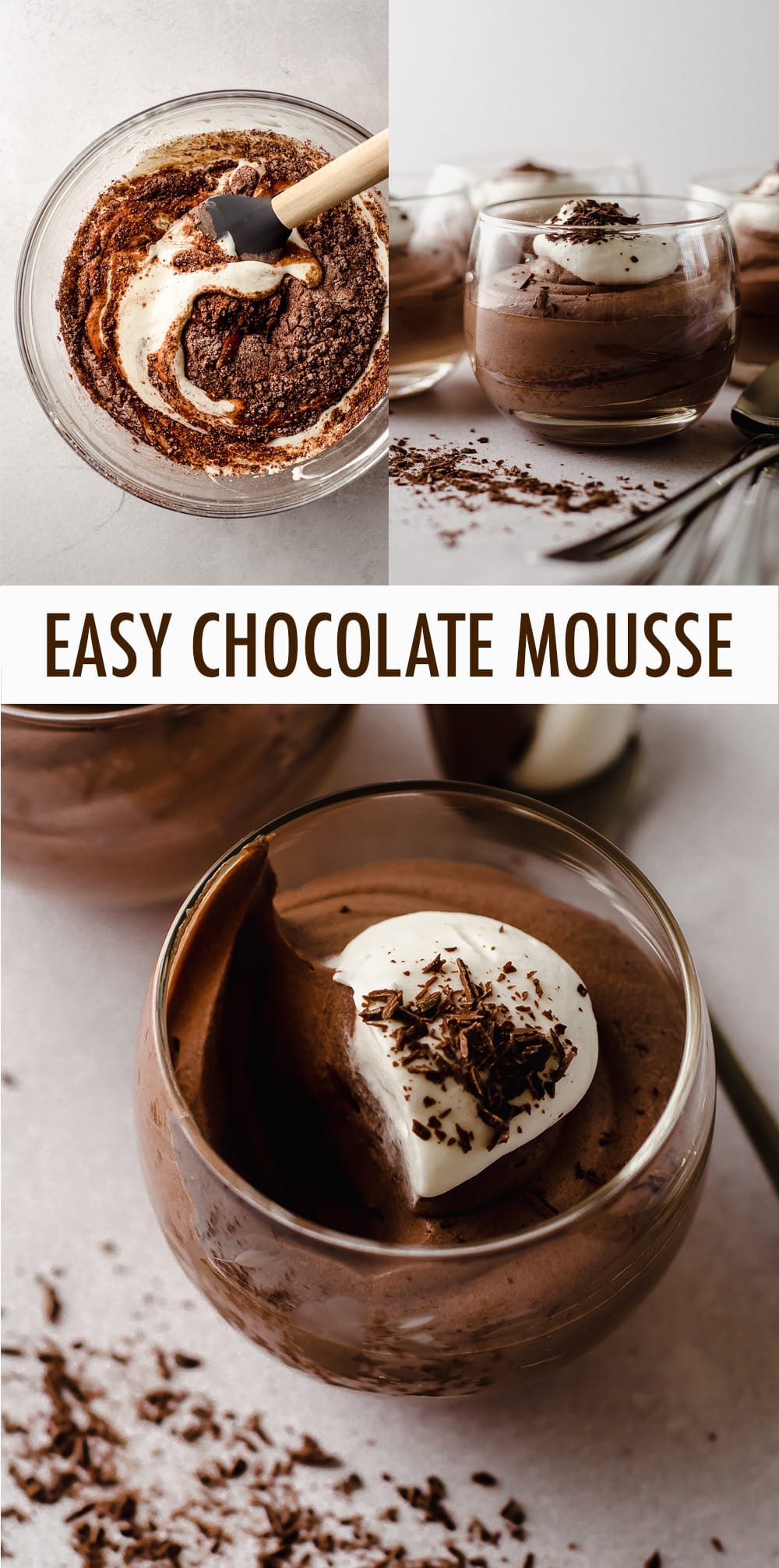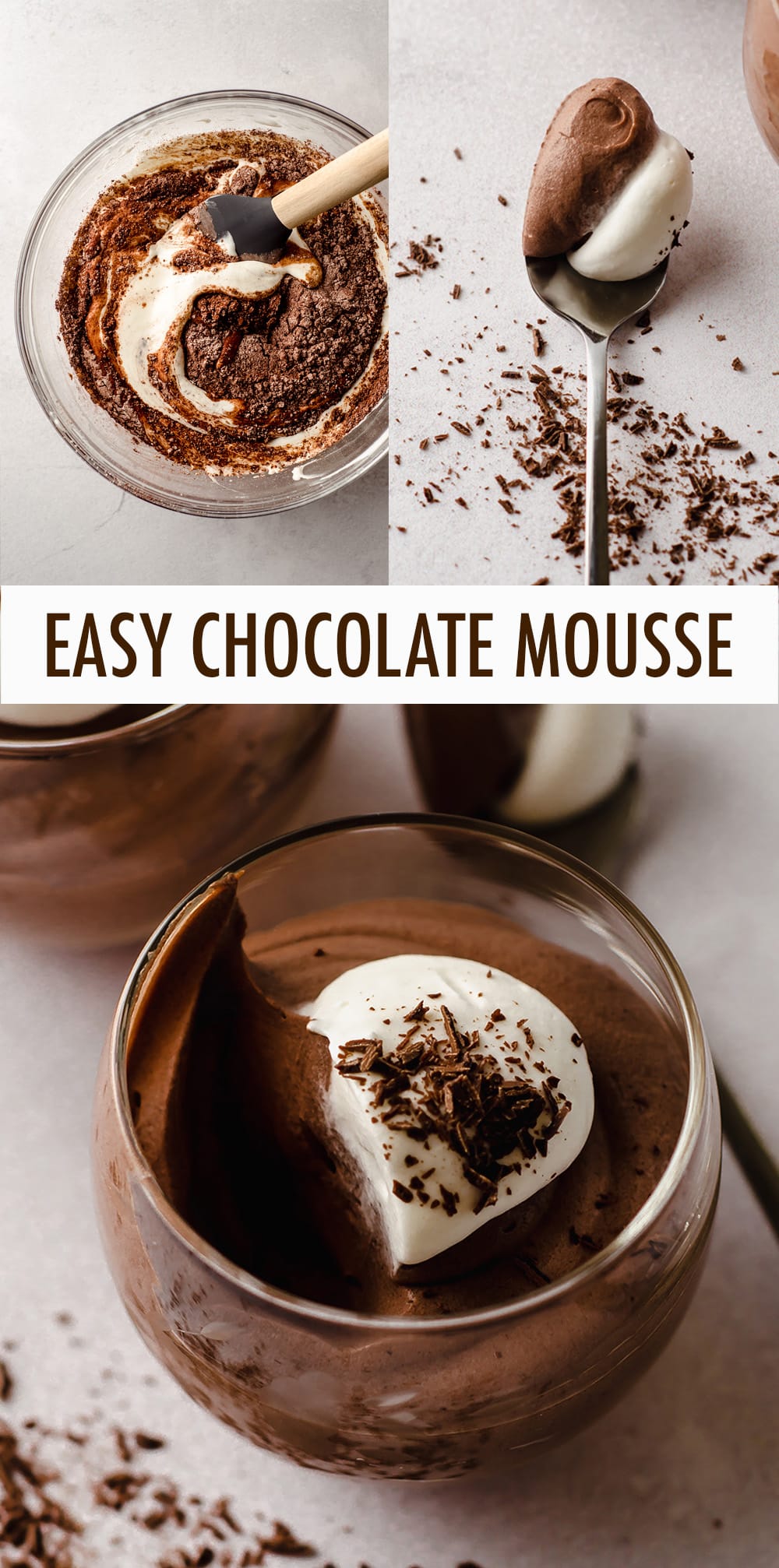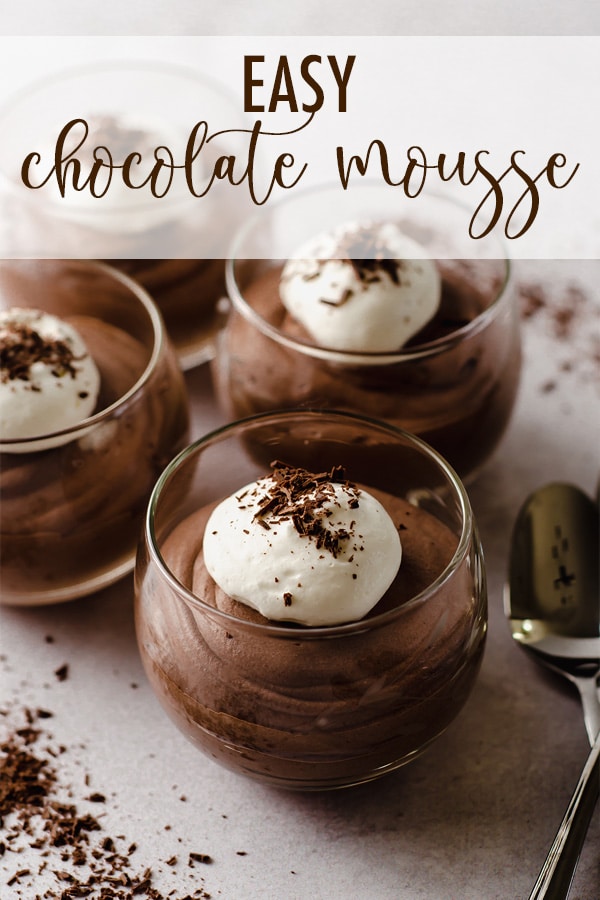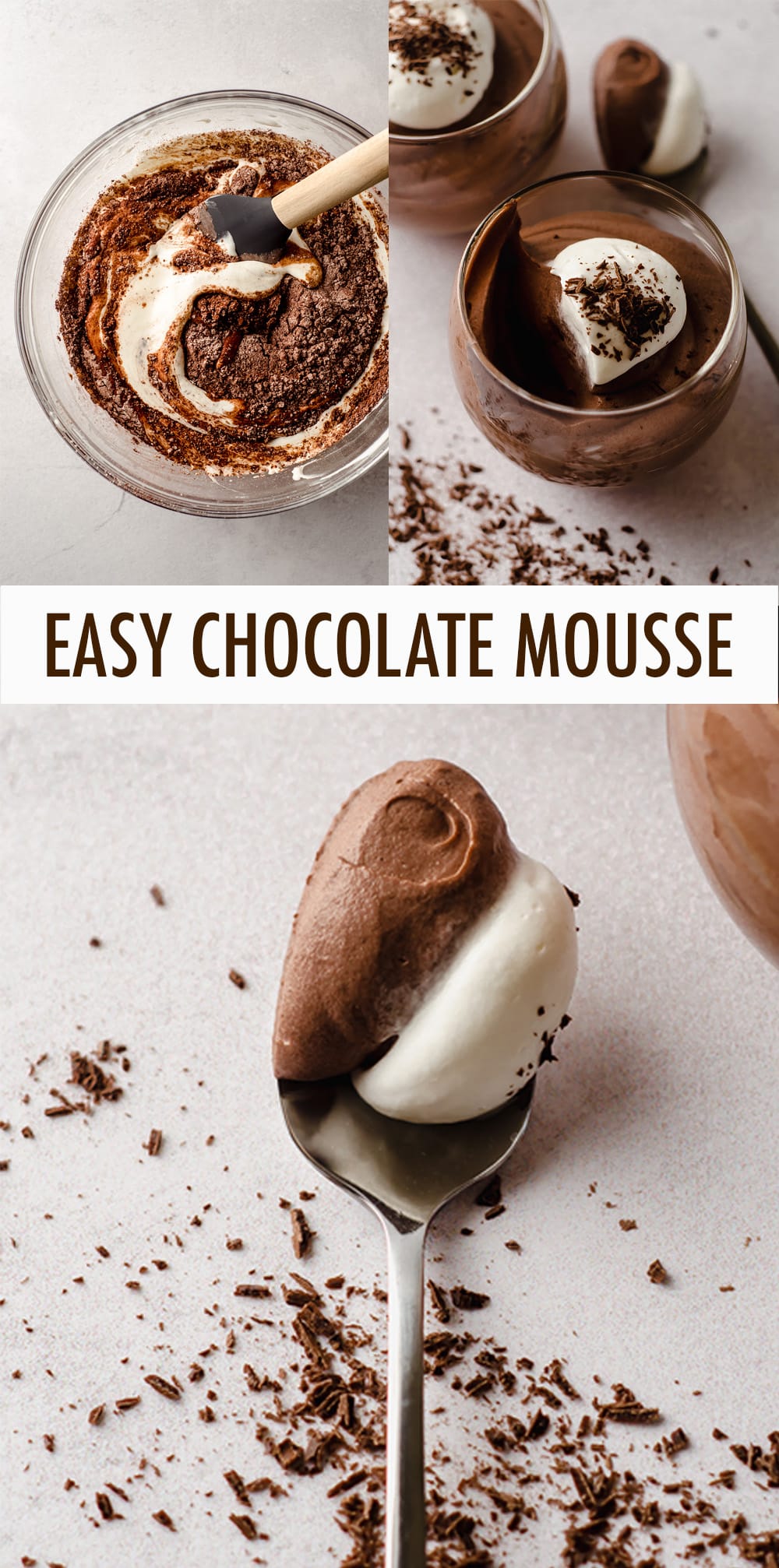 As an Amazon Associate, I earn from qualifying purchases. Read the full disclosure here.
This simple and quick chocolate mousse comes together in less than 10 minutes and is made without any eggs. Top with whipped cream or berries for a light and refreshing dessert!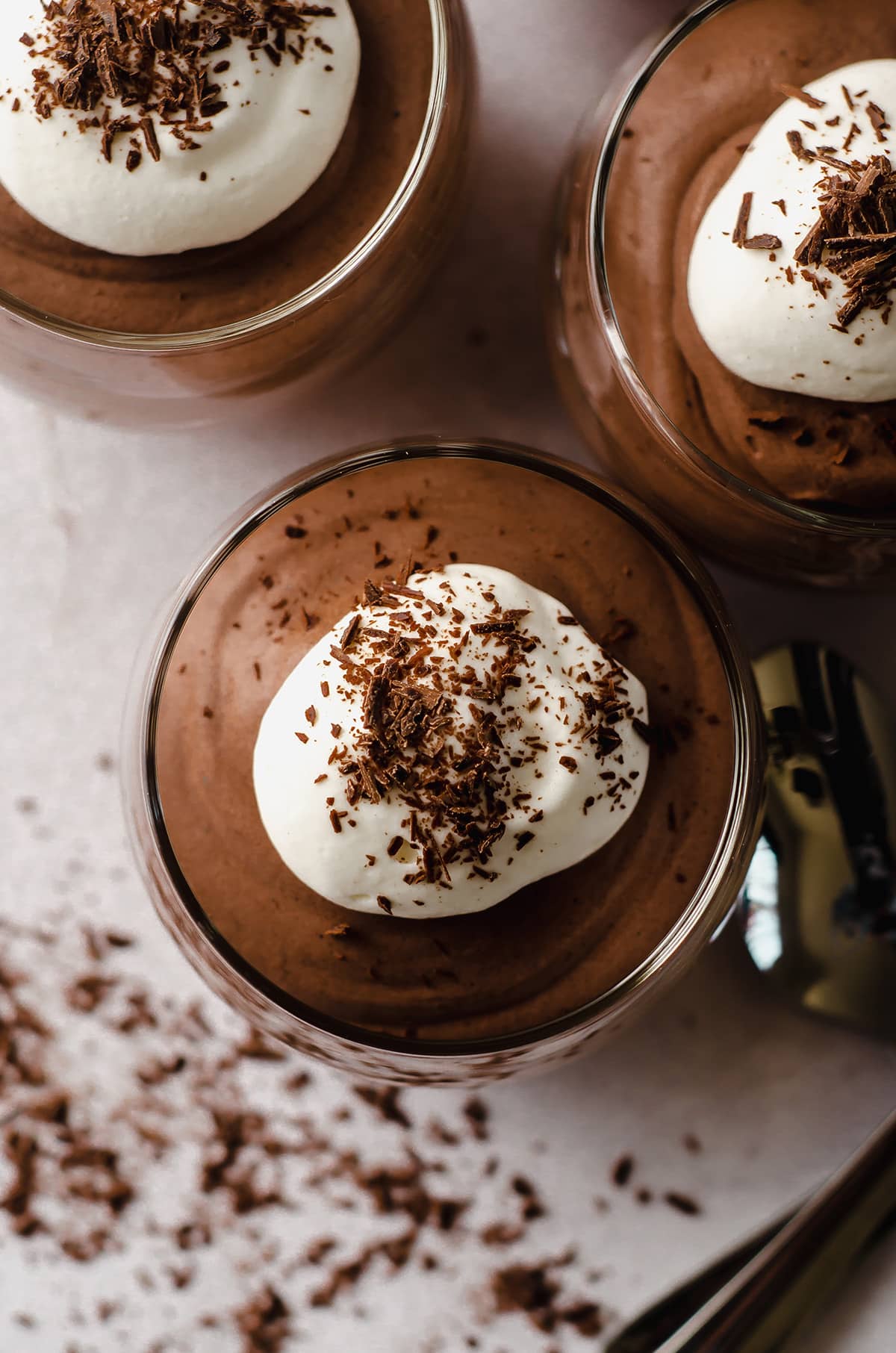 You are in for a treat today with this recipe for easy chocolate mousse, my friend. A TREAT.
Welcome to the quickest and simplest way to get chocolate mousse on the (dessert) table in less than 10 minutes and with 3 ingredients (well, 4 ingredients if we count vanilla extract).
If salt, pepper, and water are "free" ingredients, I think vanilla extract should be too. So… For all intents and purposes, let's call this 3 ingredient chocolate mousse, deal?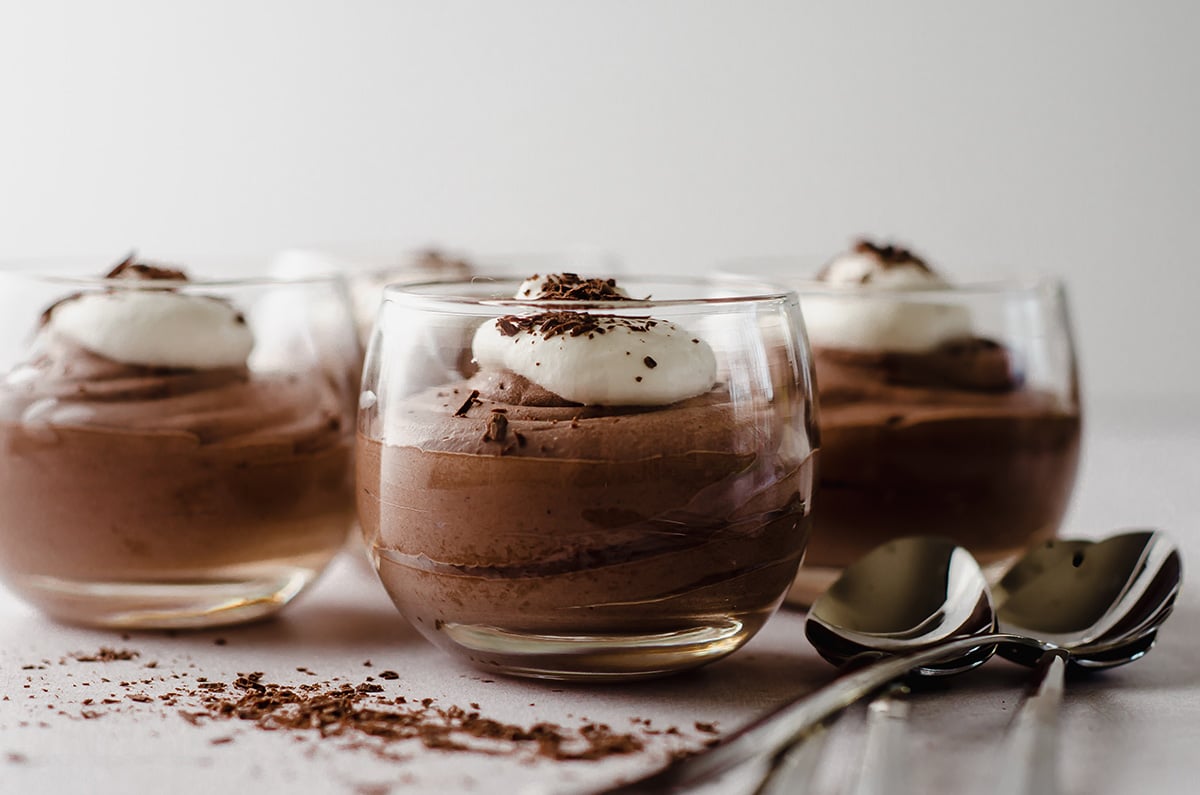 Glad we settled that.
Now, I've seen a lot of "easy" chocolate mousse recipes out there, some starting with pudding, some containing eggs which need to be cooked somehow (usually a double boiler of some sort), but what truly constitutes something as "easy" for me is just that– ease of both ingredients and method.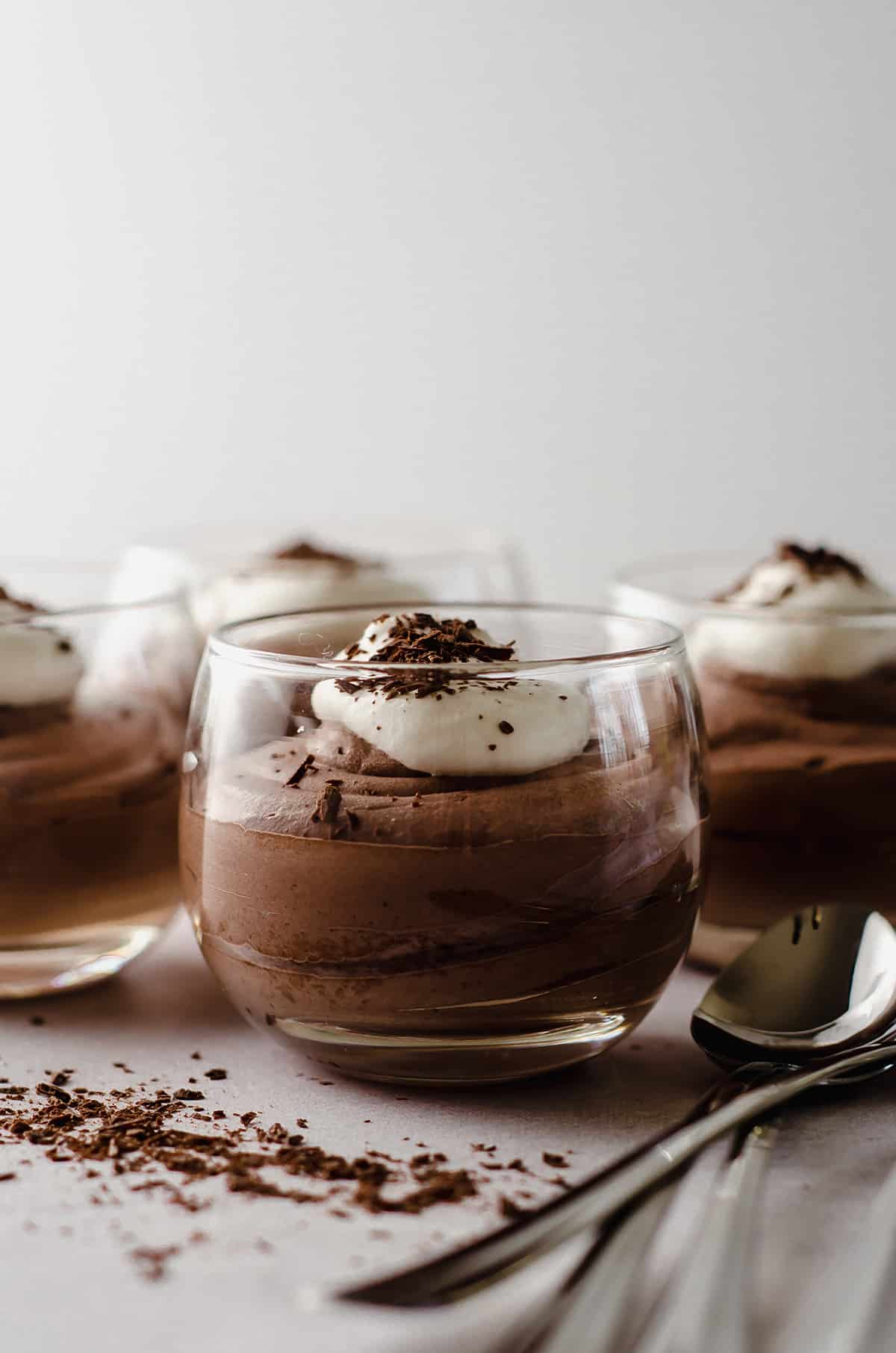 Traditional mousse is a light and airy dessert made from whipping cream and egg whites folded together with some sort of other flavor. It's pretty simple.
But since I'm on a no bake kick for this year (hello, No Bake of The Month!), I wanted to create a chocolate mousse recipe that indeed needed no baking, and even cooking something on the stove top eliminates something from this category for me!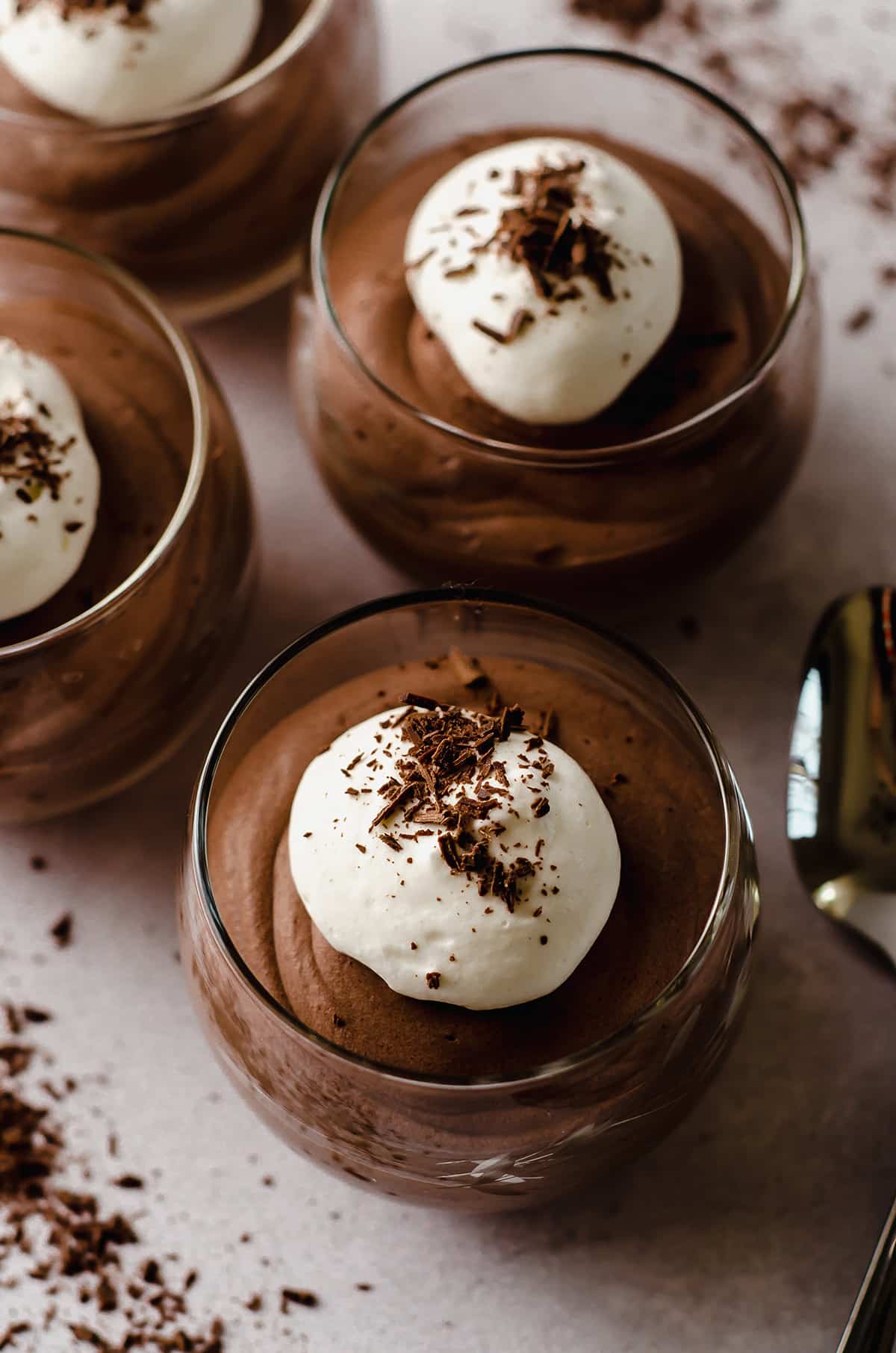 So this easy mousse recipe uses a very simple base of whipping cream, gets its chocolate flavor from cocoa powder, is sweetened with powdered sugar, and the vanilla is just a tiny little cherry on top to accentuate the chocolate flavor (like most things it goes into).
If you've made my homemade whipped cream, you can totally do this, because we're essentially creating chocolate whipped cream, though it's a bit heavier than classic whipped cream and we're eating it with a spoon.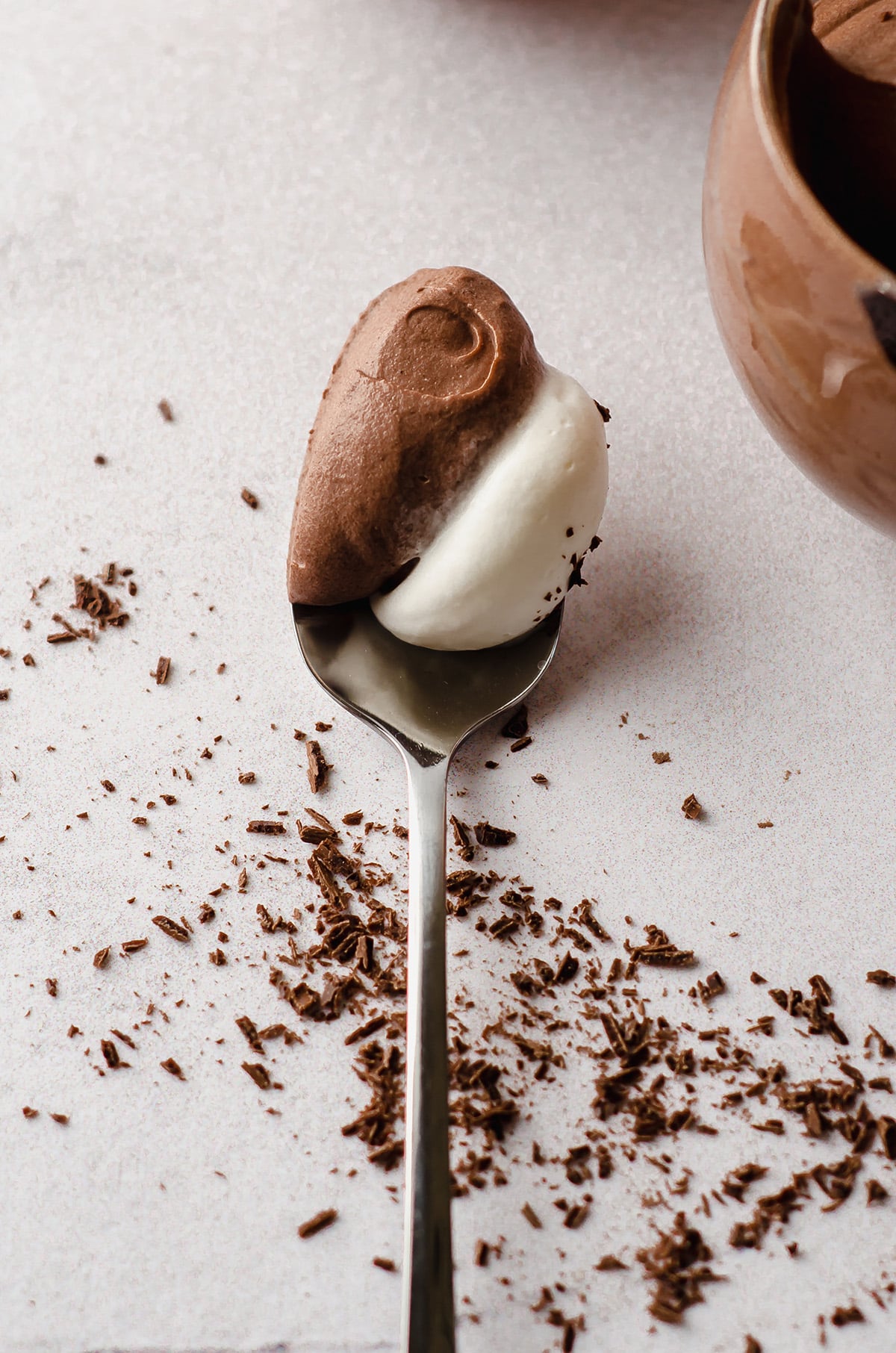 Sometimes it's all about the presentation/method of consumption that classifies something.
HOW TO MAKE EASY CHOCOLATE MOUSSE
You're going to start by whipping the cream until it's frothy and thick. It shouldn't be giving any peaks yet, but it should start to be gathering some volume.
Next, we'll sift in the cocoa powder (Dutch processed preferred) and powdered sugar to eliminate as many chunks of these ingredients as possible.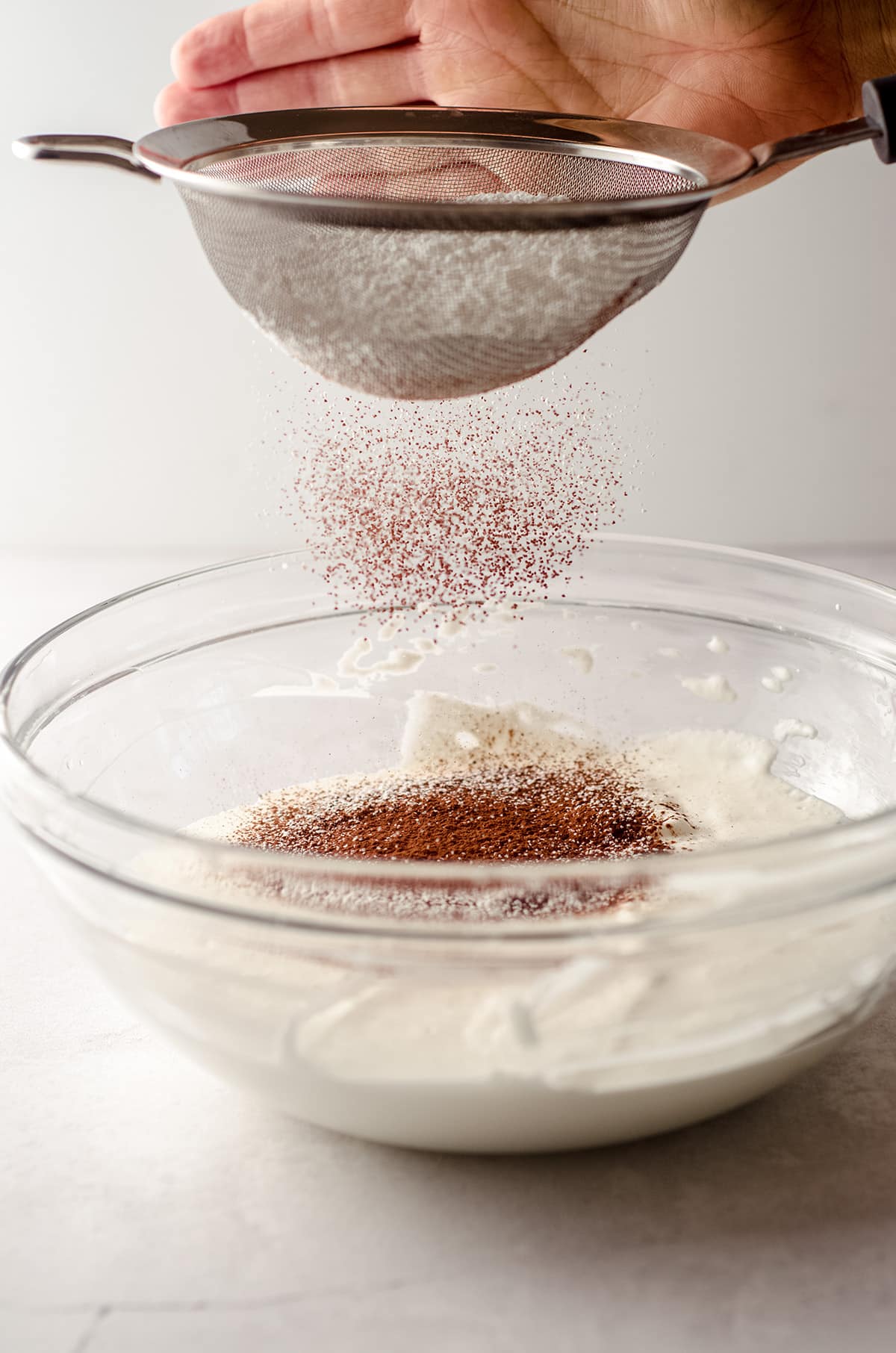 Add in the vanilla extract, and then gently fold the mixture with a spatula or mix with your mixer on the lowest speed possible.
We want to slowly incorporate these powdered ingredients in so as not to create chunks of powder and to keep the chocolate mousse nice and smooth.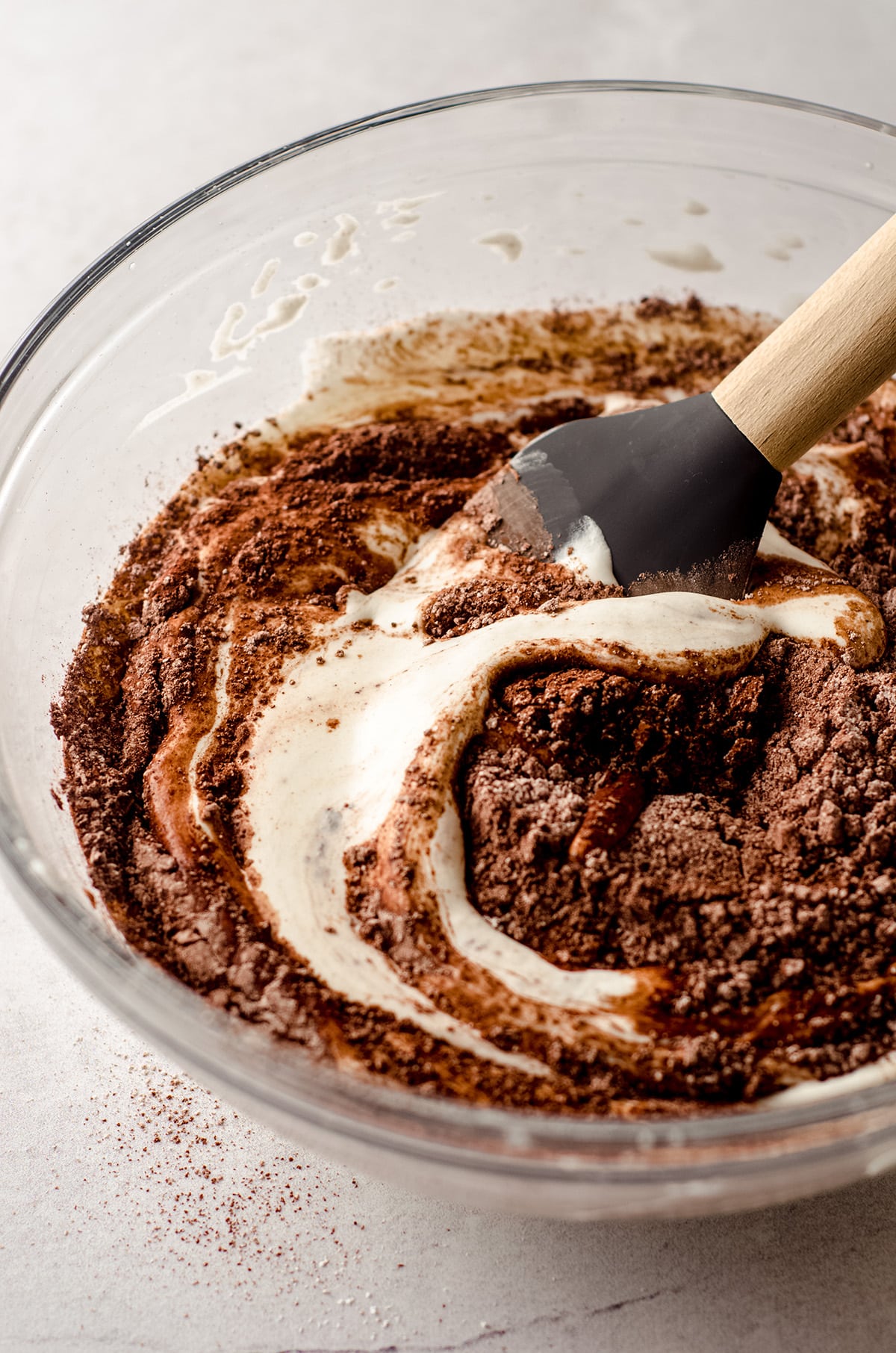 Once it's mostly incorporated in, you can turn up the speed and get to whipping to the peaks we're after.
You're looking for medium peaks, on the stiffer side. A beautiful example of this is the stiffness we whip to when making traditional homemade whipped cream.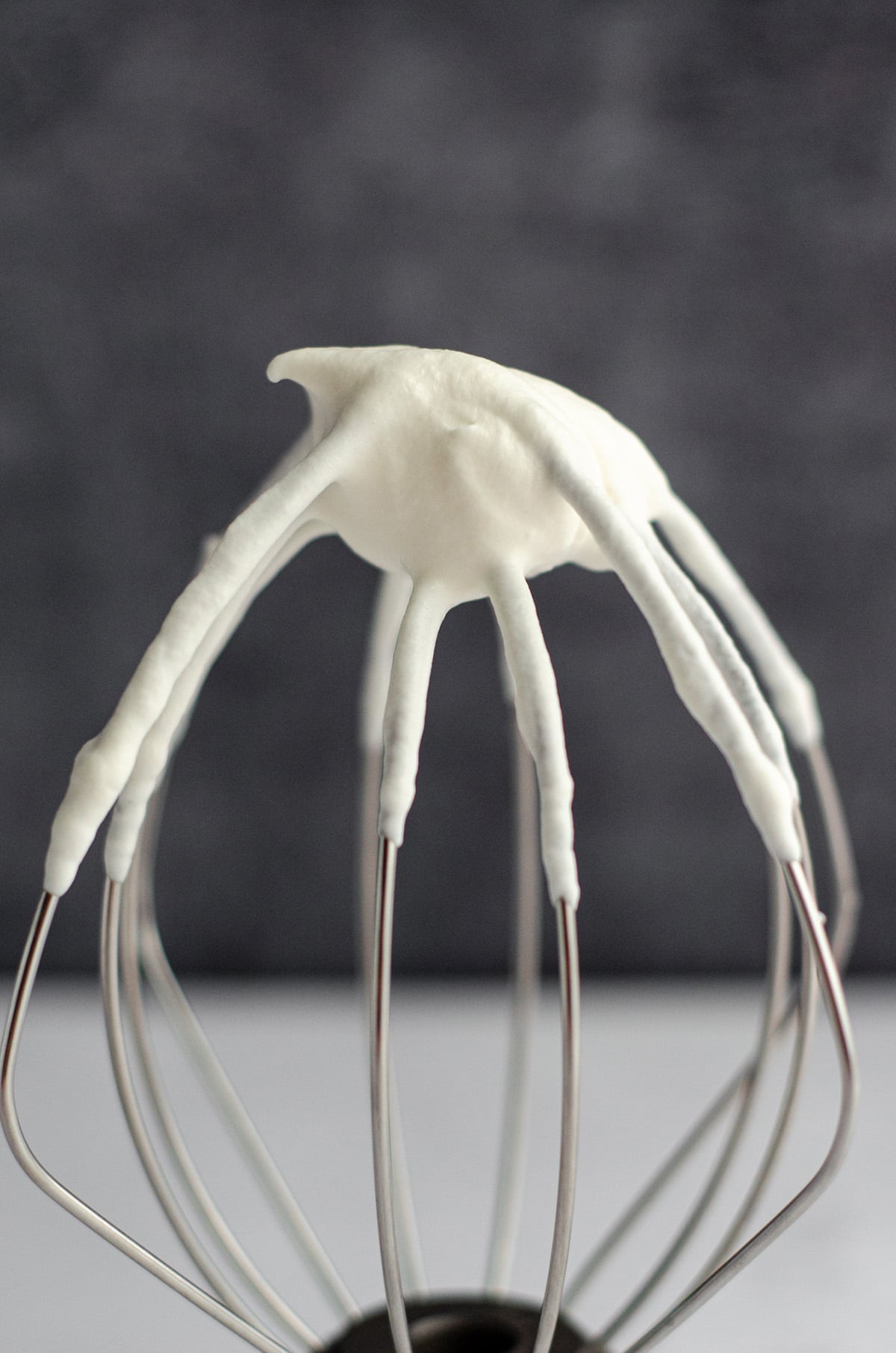 The peak should stand up with a slight droop that stays put, and not a drastic droop that keeps falling. If it's drastically drooping, it still needs a touch more whipping.
Once you've reached peak (ha!) peaks, it's ready to eat, or ready to chill until serving time. Chilling is not necessary, but where it should sit until you're ready to serve it.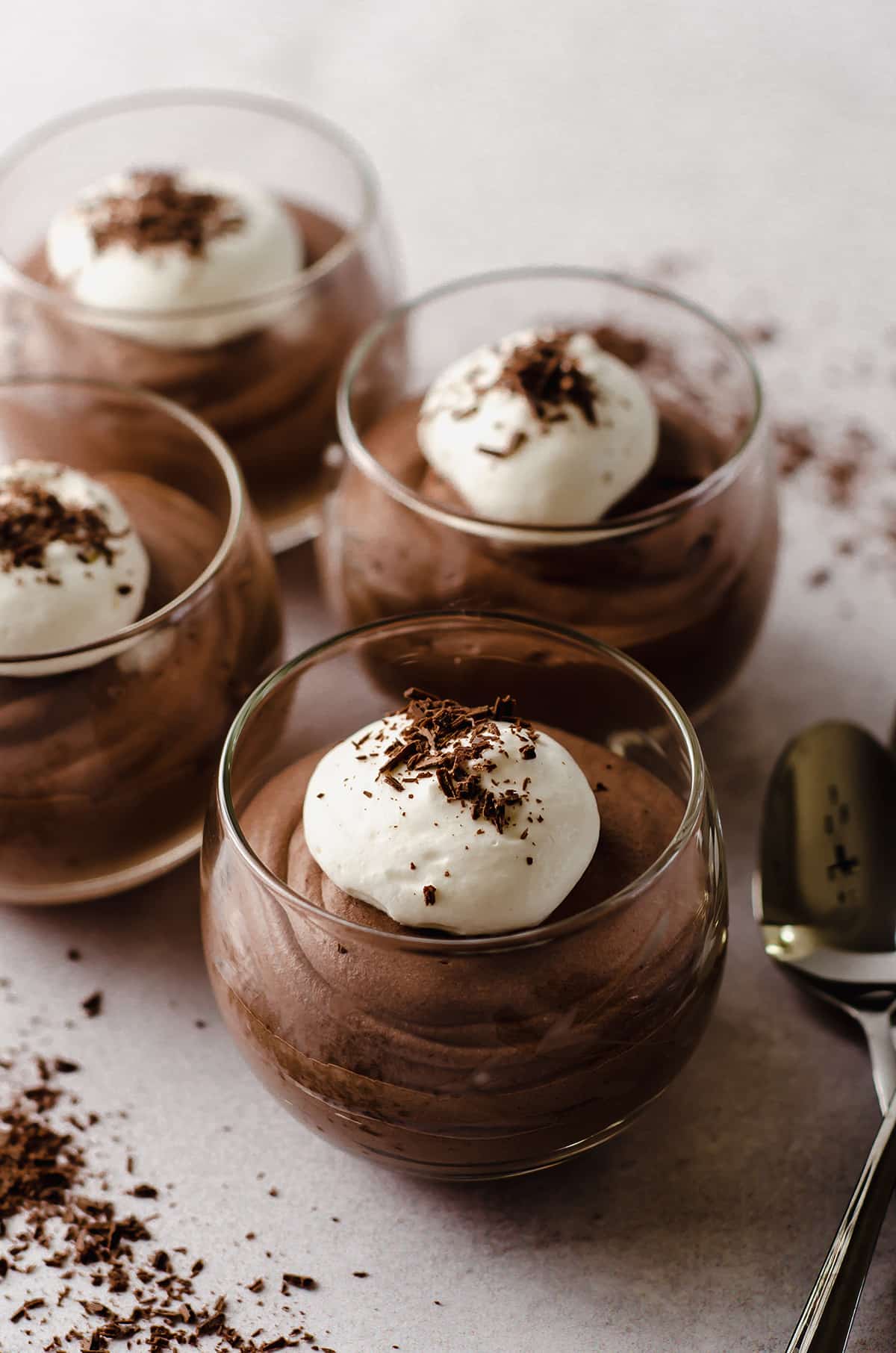 We topped with homemade whipped cream (bonus points: 1 carton of heavy whipping cream can make one batch of this easy chocolate mousse recipe and another of homemade whipped cream) and shaved chocolate, but this would also be great with fresh berries, extra chocolate sauce, homemade caramel sauce, whatever your chocolate loving heart desires.
I believe there is a time and place for real, traditional, cooked mousse, and that time is with my lemon mousse, but for now, let's do this easy peasy style.
Plus, when you find yourself with an easy recipe of chocolate mousse (much like an easy recipe of small batch chocolate chip cookies), it's hard to resist the urge to make it ASAP.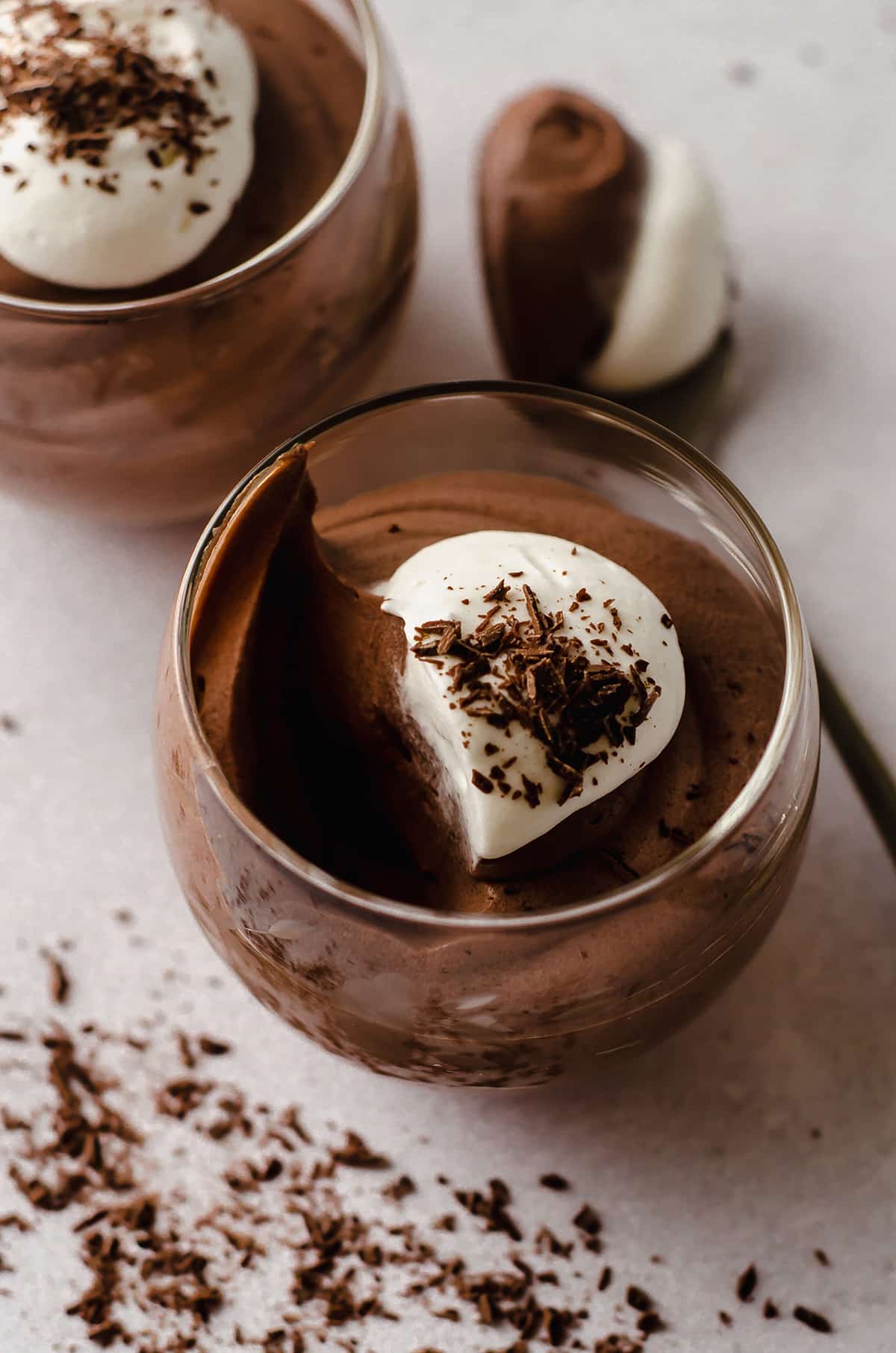 So I think no matter who you are, where you are, or what time it is… Chocolate mousse needs to be the next thing you eat. I know you won't regret it.
More chocolate recipes? Look no further than these gems right here: hot cocoa cookies, chocolate white chocolate chip cookies, chocolate caramel thumbprint cookies, and homemade fudgy brownies.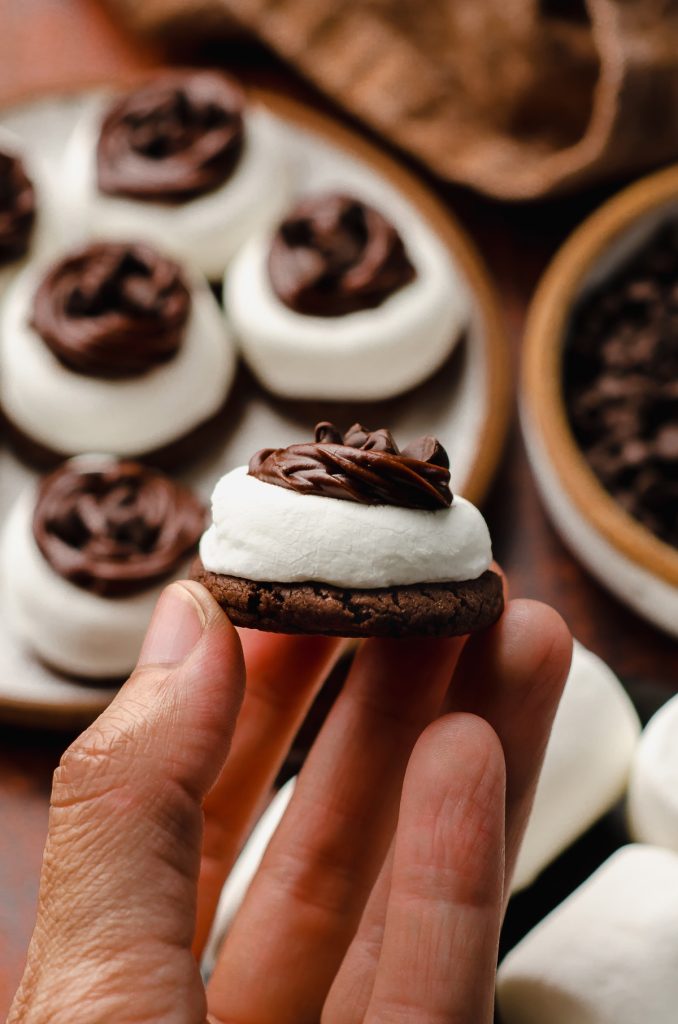 Easy Chocolate Mousse
This simple and quick chocolate mousse comes together in less than 10 minutes and is made without any eggs. Top with whipped cream or berries for a light and refreshing dessert!
Ingredients
1

cup

(240mL) heavy whipping cream

¼

cup

(24g) Dutch processed cocoa powder1

5

Tablespoons

(38g) powdered sugar

¼

teaspoon

vanilla extract
Instructions
In a large bowl2 with a handheld mixer or the bowl of a stand mixer fitted with the whisk attachment, whip the heavy cream on high speed until thick and frothy.

Stop the mixer and sift in the cocoa powder and powdered sugar. Add the vanilla, then beat again on low until cocoa powder and powdered sugar are mostly incorporated. You may also opt to fold the mixture with a spatula instead of whipping on low.

Increase the mixer speed to high again and whip until medium peaks form. Use immediately or chill until ready to use. Portion into dessert cups and add toppings (I suggest homemade whipped cream and/or berries) before serving. See notes3 for freezing instructions.
Notes
Dutch processed cocoa powder: this is preferred, but unsweetened cocoa powder will do just fine.
Bowl temperature: if you're in a warm environment, you may want to freeze your mixer bowl and whisk attachment in order to keep the whipped cream chilled enough to reach peaks.
Freezing: freezing and thawing leftover chocolate mousse will diminish some of the "fluff" factor. Thaw in the refrigerator and rewhip in increments of 15 seconds to desired consistency.
Nutritional information: all nutritional values are approximate.
Serving:
2
cups
|
Calories:
508
kcal
|
Carbohydrates:
30
g
|
Protein:
5
g
|
Fat:
44
g
|
Saturated Fat:
28
g
|
Polyunsaturated Fat:
2
g
|
Monounsaturated Fat:
11
g
|
Cholesterol:
134
mg
|
Sodium:
35
mg
|
Potassium:
278
mg
|
Fiber:
4
g
|
Sugar:
23
g
|
Vitamin A:
1749
IU
|
Vitamin C:
1
mg
|
Calcium:
93
mg
|
Iron:
2
mg