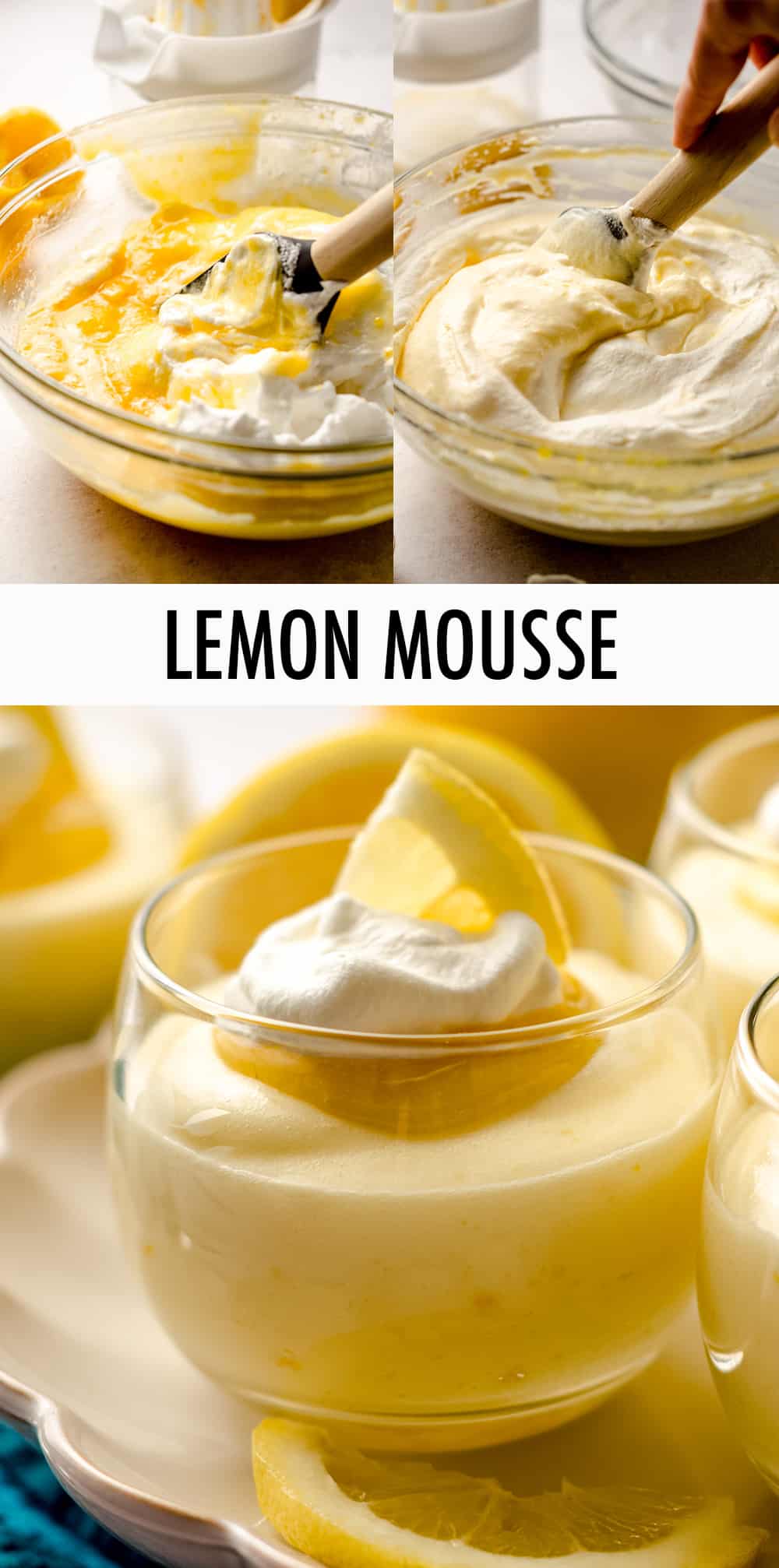 As an Amazon Associate, I earn from qualifying purchases. Read the full disclosure here.
A traditional easy lemon mousse recipe made with just five simple ingredients. The perfect way to use fresh lemons for a light and refreshing dessert.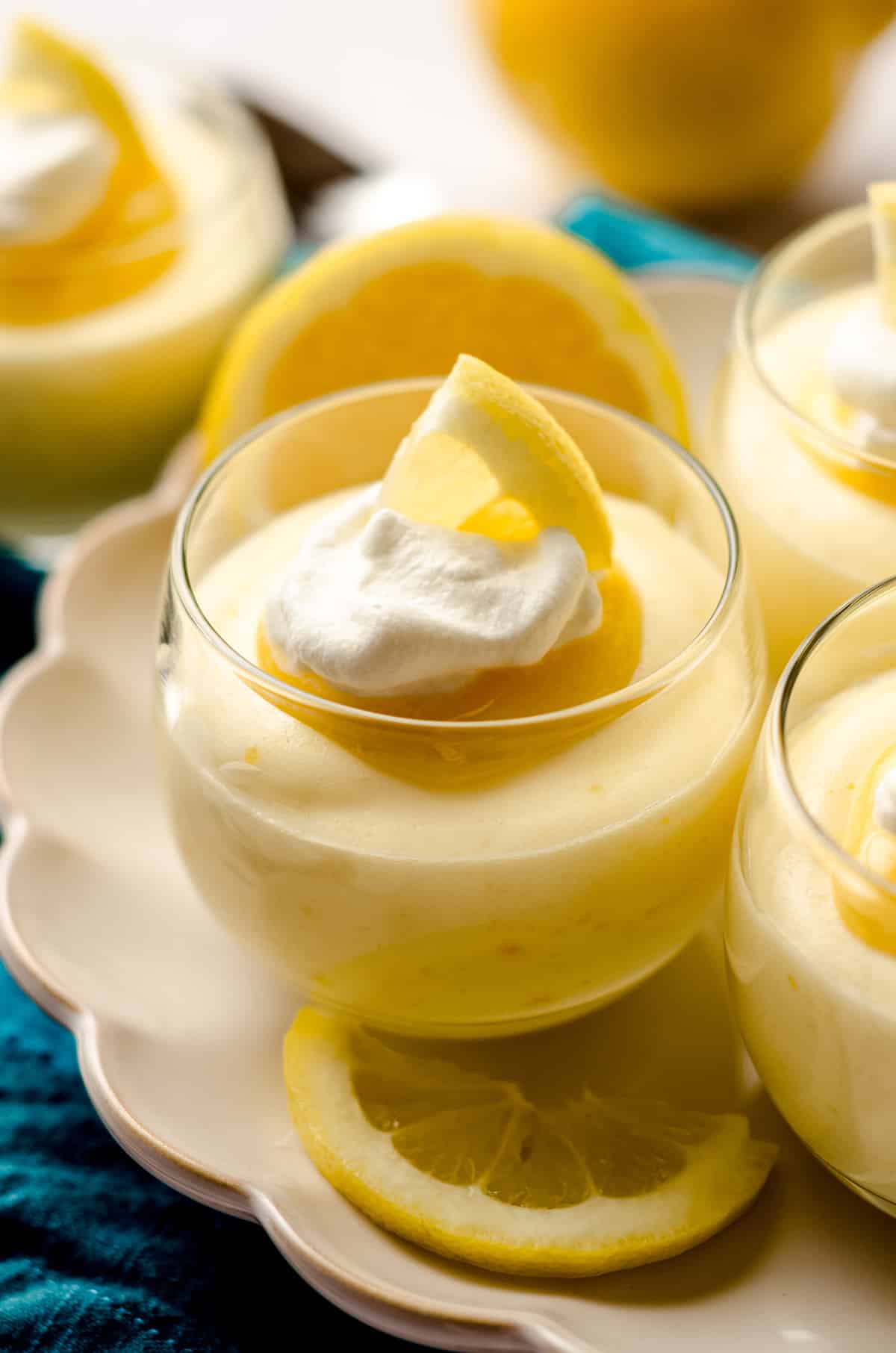 Welcome to #LemonWeek 2021 hosted by me! What better way to welcome summer than with over 50 recipes featuring bright and sunny lemons? Come join me and my fellow Lemon Week bloggers as we bring you recipes from appetizers to drinks to entrées and desserts!
When I sought out ideas for lemon week, I wanted to branch out from my traditional cakes/cookies/basics, which is where my lemon truffles came from.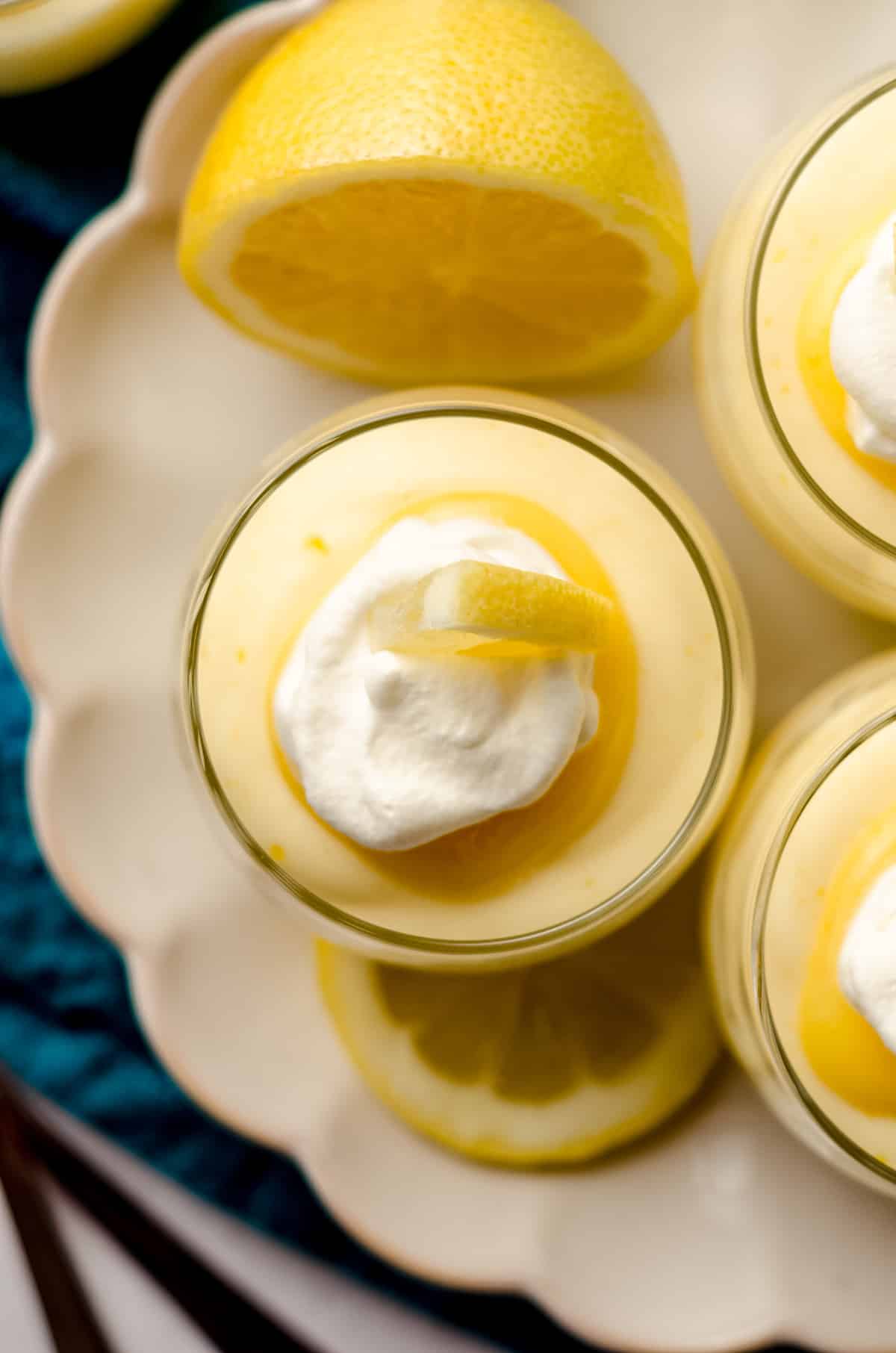 Today's lemon mousse recipe was the next on my list of ways to branch out, my interest in which was piqued when I made my easy chocolate mousse a bit ago.
I mentioned in that post (which was March's No Bake of The Month) that there was a time and place for traditional, cooked mousse, and today's lemon mousse dessert is it.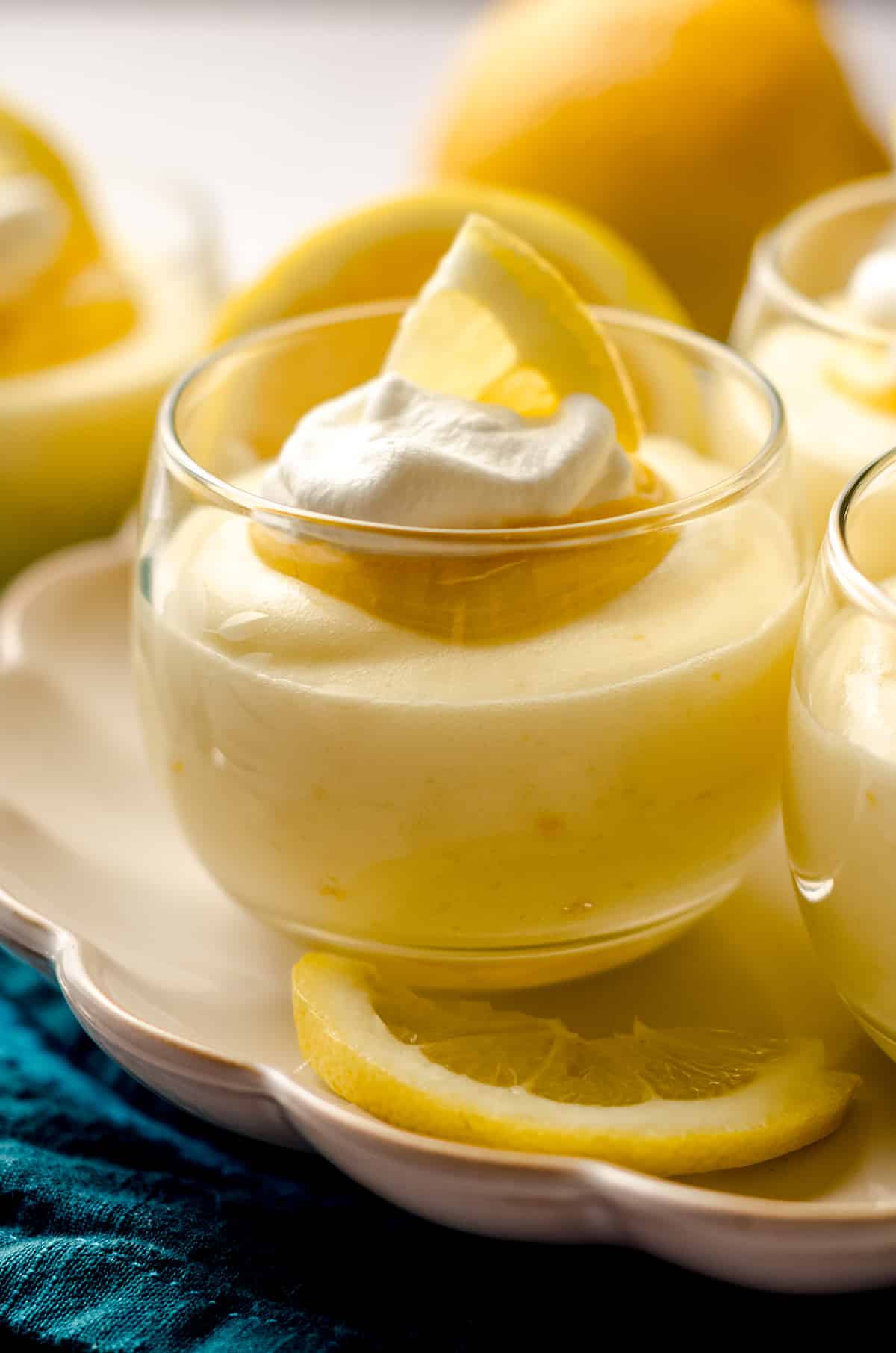 Since I didn't know anything about traditional mousse, I did some research and consulted my favorite famous chef, Ina Garten, to see what lemon mousse was all about.
I took Ina's recipe and made it my own, but the reason I picked hers was because it included lemon curd in the recipe, which is something I was already sharing during this celebratory lemon week. And I love me a good recipe to use up another recipe (hello, homemade apple butter and apple butter pull-apart bread).
Not only did we see my homemade lemon curd in my triple lemon cupcakes from earlier this week, but we can also use it in today's lemon mousse… Or leave it out! We'll get to all that good stuff, I promise.
WHAT IS MOUSSE?
Mousse is a custard based dessert, which means it begins with a cooked egg base. Because we're not looking to make scrambled eggs here, we're making this simple lemon mousse the same way we made lemon curd— with a double boiler.
Cooking the whole eggs + egg yolks + sugar + fresh lemon juice + lemon zest over simmering water cooks the eggs slowly so that they're safe to eat. I use my digital thermometer to check to make sure my egg mixture reaches 150ºF (66ºC).
What you're left with after that is a lemon custard, to which you'll add the other components.
HOW TO MAKE LEMON MOUSSE
Once you have finished cooking and properly chilled your lemon custard (it only takes about 2 hours to chill), we'll be adding two other components: whipped egg whites (we saved some of these from the yolks we added to the base) and homemade whipped cream.
You'll want to take the egg whites to stiff peaks and then fold them in to the lemon custard base.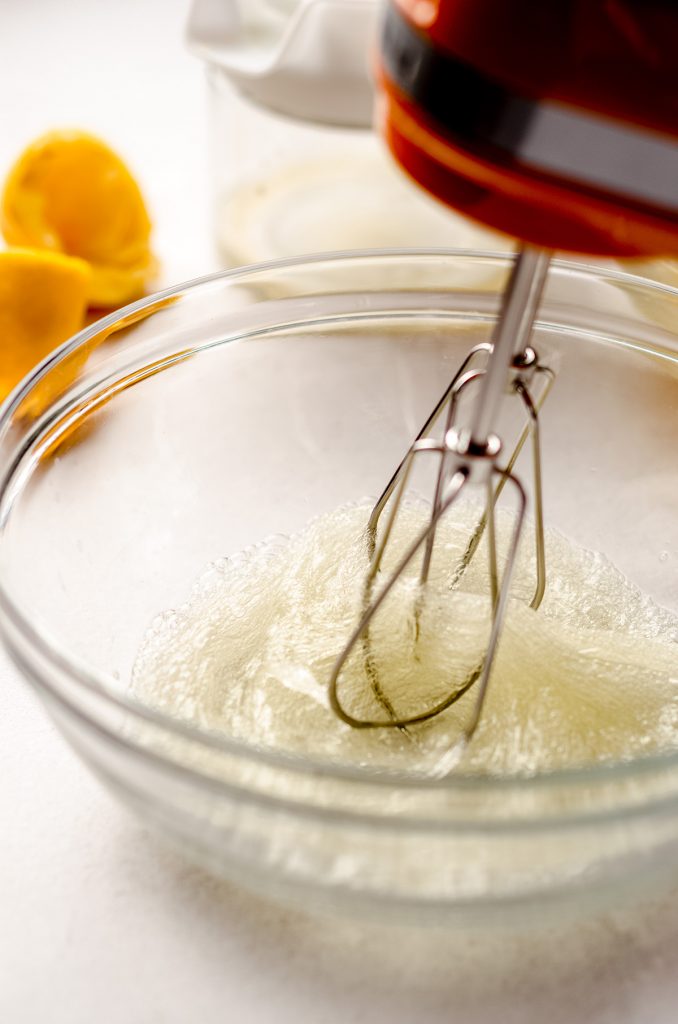 Once the egg whites are in, you'll add the final component, which is homemade whipped cream.
Both the whipped egg whites and the whipped cream add volume and lift to the lemon mousse which turns it from a dense and heavy lemon custard to a fluffy, airy lemon mousse.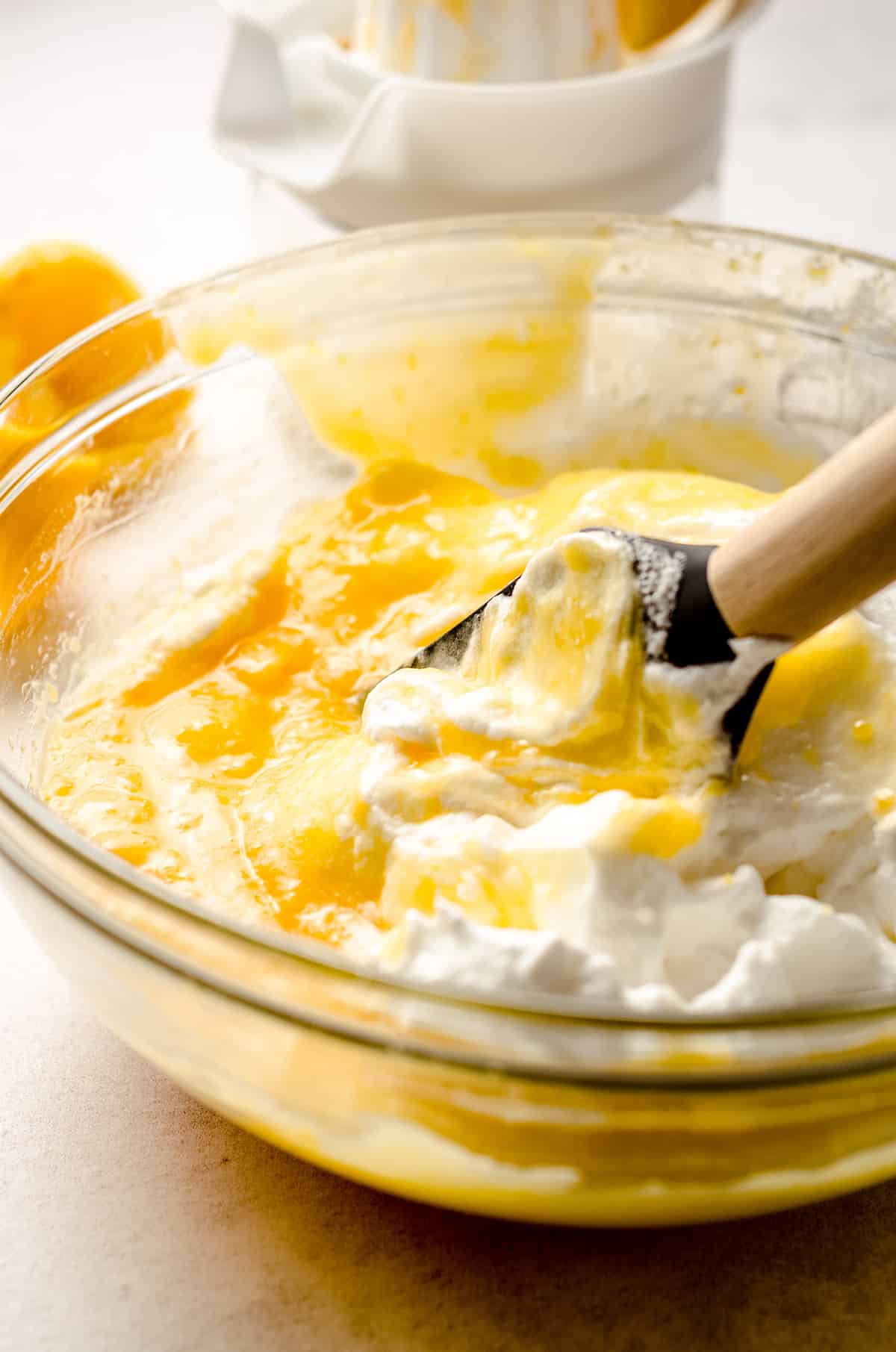 By folding the egg whites and whipped cream in (rather than stirring them in), we keep them inflated. If we were to just stir them in, we'd run the risk of deflating all that hard work we did whipping everything to peaks.
Ok, ok, all joking aside… Folding something in goes like this:
1) use a spatula to cut down the center of the mixture.
2) scoop up one half of the mixture and carefully flip it onto the other half.
3) turn the bowl ¼ of a turn and repeat.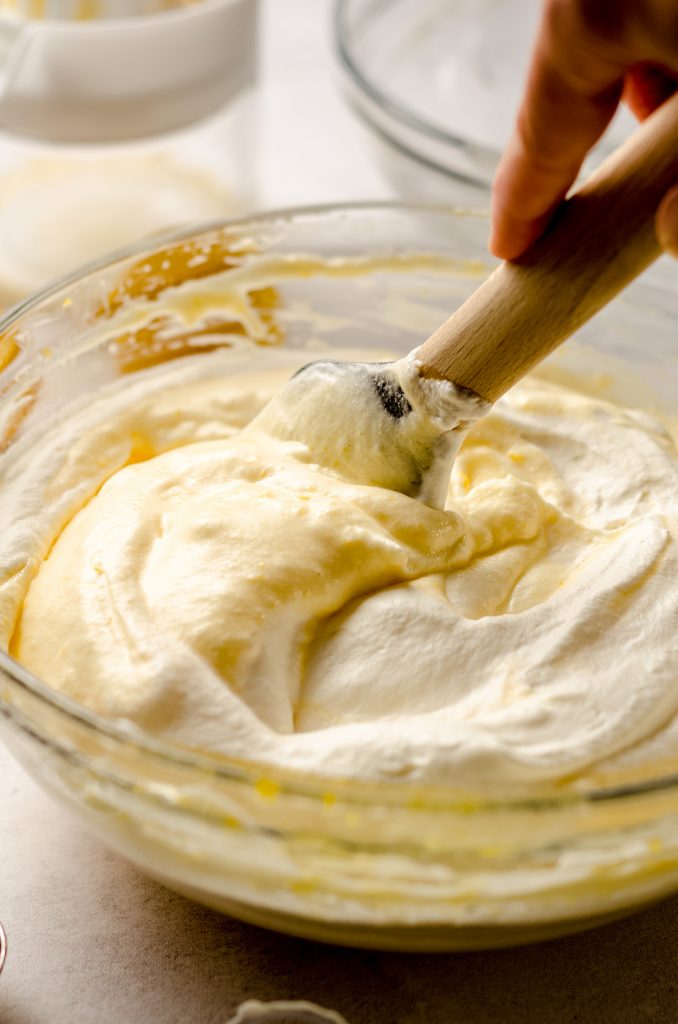 Folding in can be a slow process, but it's worth it to keep things nice and light.
We also do this with lemon macaron batter, again, so we don't deflate it.
HOW TO SERVE LEMON MOUSSE
After you've finished folding in the whipped egg whites and whipped cream, you have a couple choices. You can either spoon it into individual serving cups or keep it in a large bowl and serve it "spoon" style, where each portion is scooped out as needed.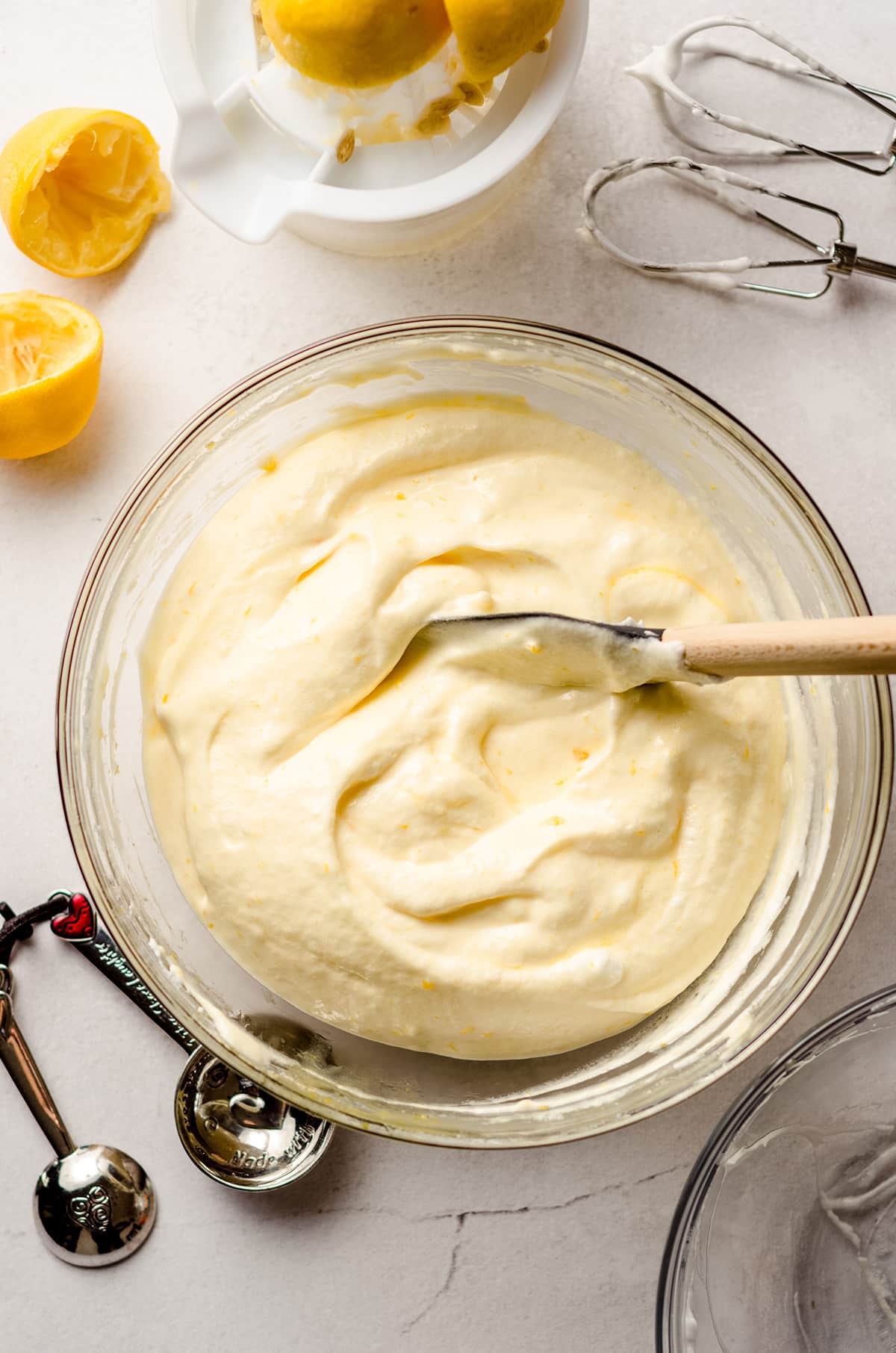 I actually served our lemon mousse both ways and only preferred the individual cups to the larger bowl because who doesn't love individually portioned desserts you can take into another room so that your children are none the wiser?
(You're welcome for the tip.)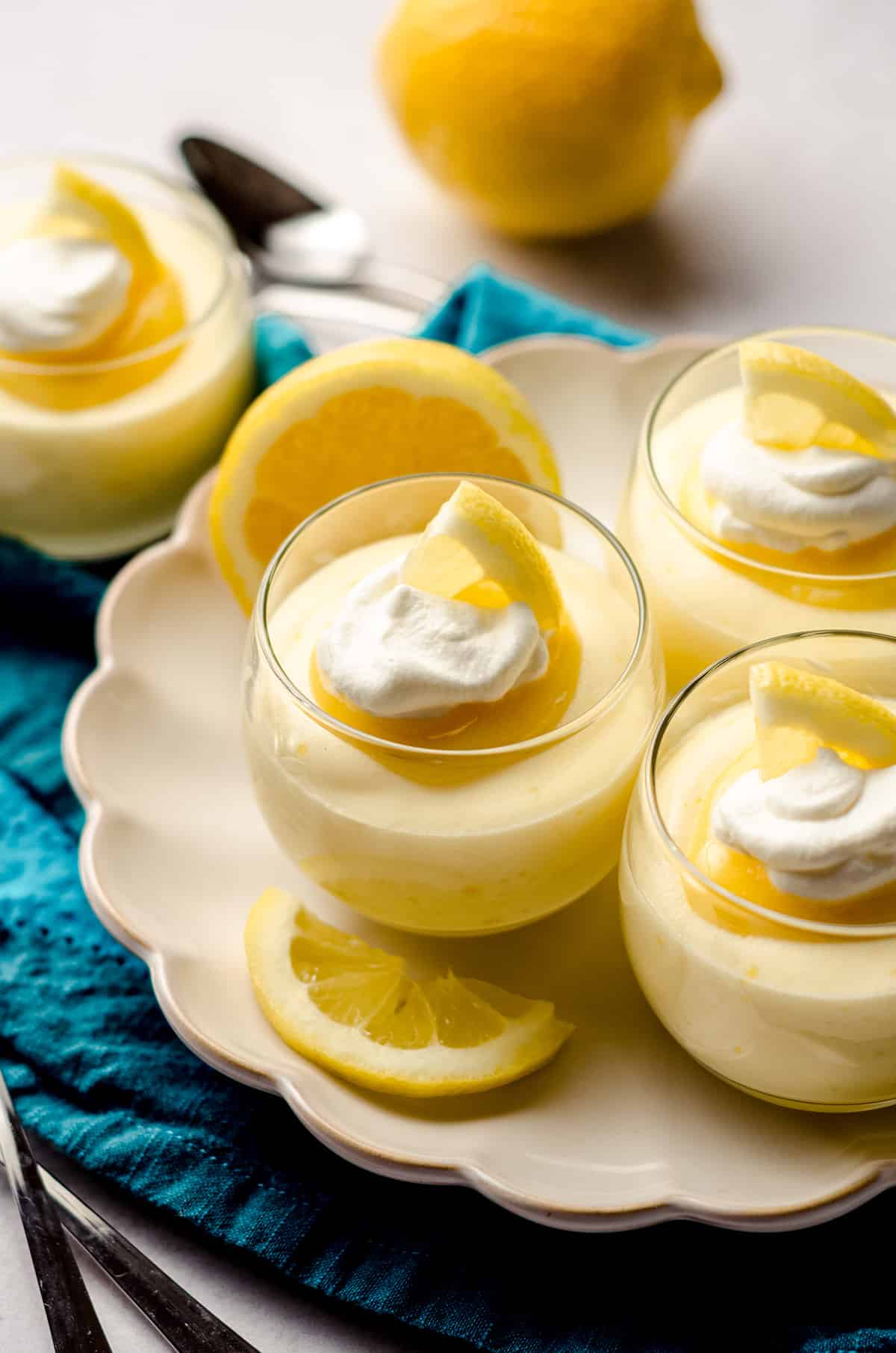 I served my lemon mousse with dollops of lemon curd and whipped cream on top, but you have the option of adding lemon curd directly to the lemon mousse. I'd recommend this if you either want to amp up the lemon flavor even more or if you need to stretch your lemon mousse farther.
Ina actually added the lemon curd to hers in the original recipe, but I liked it just fine without it and opting for the lemon curd dollops was perfect for me!
I hope you'll give lemon mousse from scratch a try and discover that aside from patience, you don't need to have any super fancy skills to make this seemingly fancy dessert.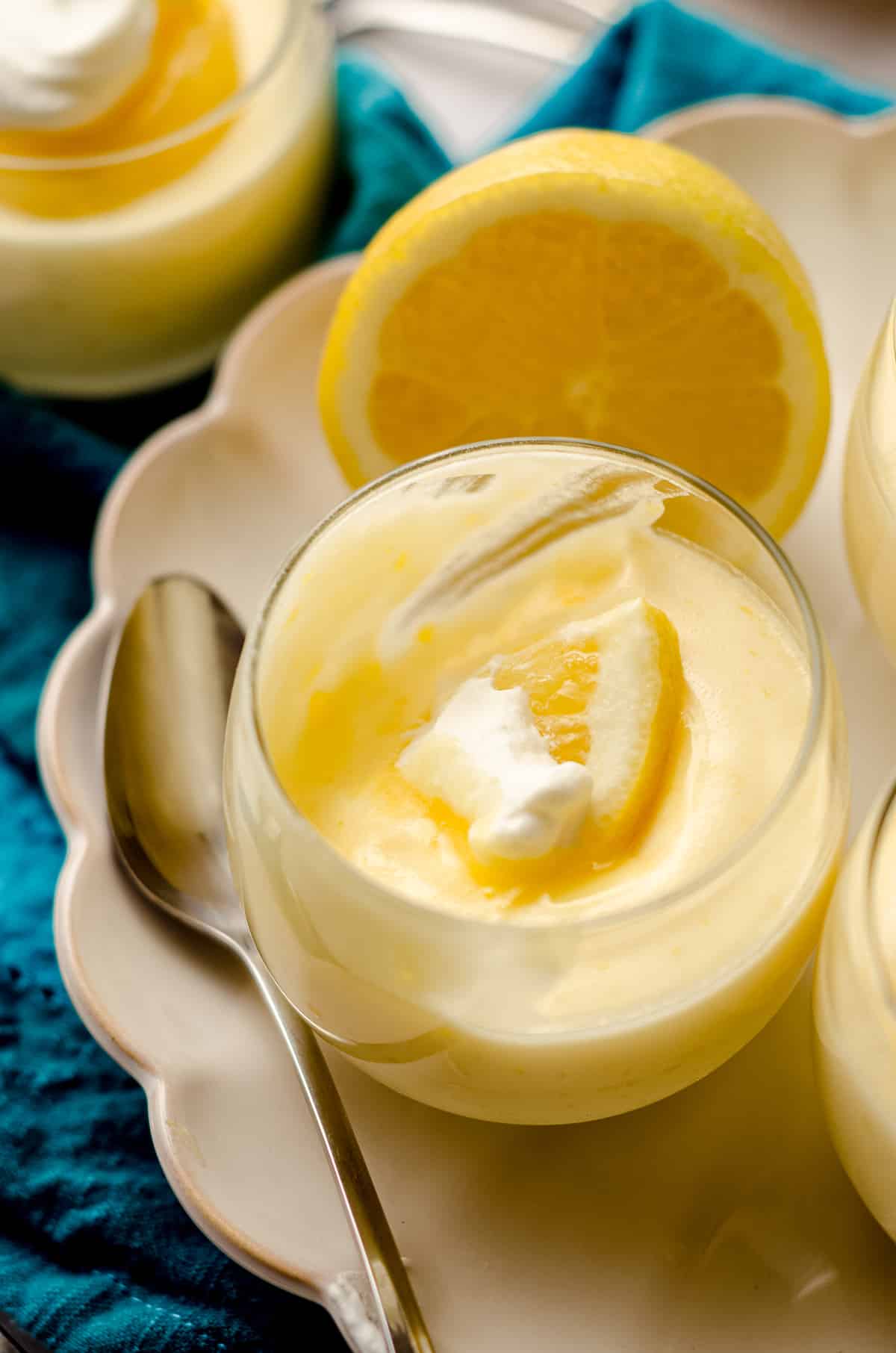 Thank you for joining me for this #LemonWeek! I can't wait to hear about all of your lemon dessert adventures!
Friday #LemonWeek Recipes
Lemon Mousse

A traditional easy lemon mousse recipe made with just five simple ingredients. The perfect way to use fresh lemons for a light and refreshing dessert.

Ingredients

6

large eggs three separated1

1

cup

+ 2 Tablespoons (215g) granulated sugar

divided

zest of 1 lemon

½

cup

(120mL) fresh lemon juice

about 3 or 4 lemons

⅛

teaspoon

salt

½

cup

(120mL) heavy whipping cream
OPTIONAL: ½ cup homemade lemon curd

Instructions

In a large heat-proof bowl, whisk together 3 whole eggs, 3 egg yolks (reserve the whites in a separate bowl), 1 cup of the granulated sugar, lemon zest, lemon juice, and salt. Set aside.

Fill a large saucepan with a few inches of water and bring to boiling. Reduce to a simmer.

Place the bowl of ingredients over the pan of simmering water and cook, stirring constantly with a wooden spoon, for about 15 minutes, or until mixture starts to thicken. I use my digital instant-read thermometer to check the temperature has reached 150ºF (66ºC).

Remove bowl from heat and set aside for 15 minutes. Place a piece of plastic wrap directly on the surface of the mixture and refrigerate for at least 2 hours, or until completely chilled.

Place the 3 remaining egg whites into a medium size mixing bowl or the bowl of a stand mixer fitted with the whisk attachment and beat on high speed for 1 minute. Add the remaining 2 Tablespoons of granulated sugar and continue to beat until the egg whites reach stiff peaks.

Carefully fold the beaten egg whites into the cold lemon mixture (don't get rid of the bowl), going slowly and being careful not to deflate the egg whites. Set aside.

Add the heavy cream to the bowl you used for the egg whites, and beat on high speed until stiff peaks form.

Fold the stiff whipped cream into the lemon mixture, again going slowly and being careful not to deflate the mixture. Optional: if you'd like to stretch your lemon mousse further and/or amp up the lemon flavor even more, gently fold in homemade lemon curd.

Spoon the lemon mousse into individual parfait cups or leave in one bowl (to be scooped out per serving) and chill for at least 30 minutes. Top with homemade whipped cream2 and/or homemade lemon curd and serve cold. Store in the refrigerator, covered tightly, for up to 5 days.

Notes

Eggs: keep three eggs whole, and separate three other eggs. The three yolks will go in with the three whole eggs. Reserve the three egg whites in a separate bowl.
Homemade whipped cream: one pint of heavy whipping cream will be enough for this recipe + a half batch of my homemade whipped cream for topping.

Adapted from Ina Garten

Nutrition Disclosure

All nutritional values are approximate and provided to the reader as a courtesy. Changing ingredients and/or quantities will alter the estimated nutritional calculations.

Serving:

3

cups

|

Calories:

526

kcal

|

Carbohydrates:

71

g

|

Protein:

12

g

|

Fat:

23

g

|

Saturated Fat:

12

g

|

Polyunsaturated Fat:

2

g

|

Monounsaturated Fat:

7

g

|

Trans Fat:

0.03

g

|

Cholesterol:

372

mg

|

Sodium:

234

mg

|

Potassium:

202

mg

|

Fiber:

0.1

g

|

Sugar:

69

g

|

Vitamin A:

1061

IU

|

Vitamin C:

16

mg

|

Calcium:

79

mg

|

Iron:

2

mg