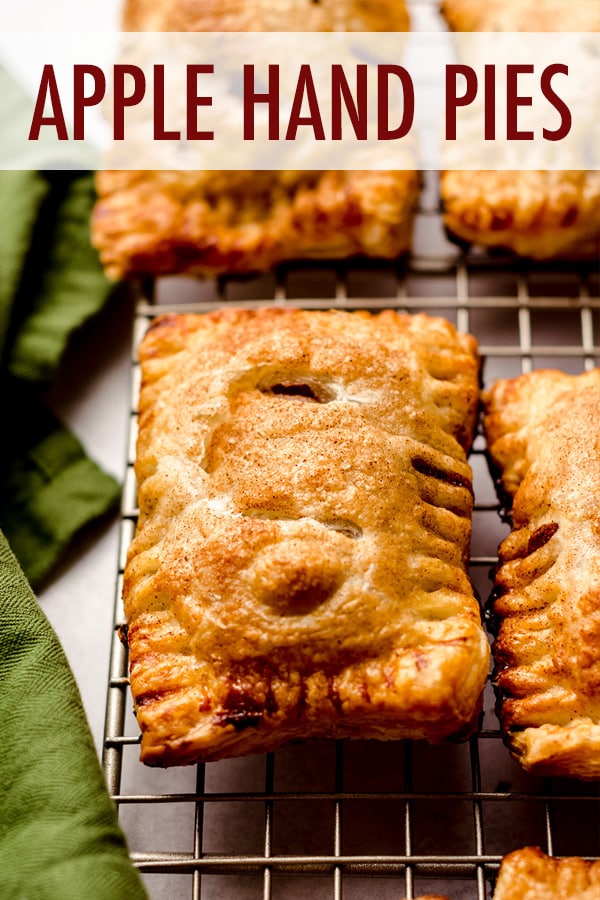 As an Amazon Associate, I earn from qualifying purchases. Read the full disclosure here.
Simple handheld pies filled with spiced apples and made with puff pastry for an easy assembly and even easier eating!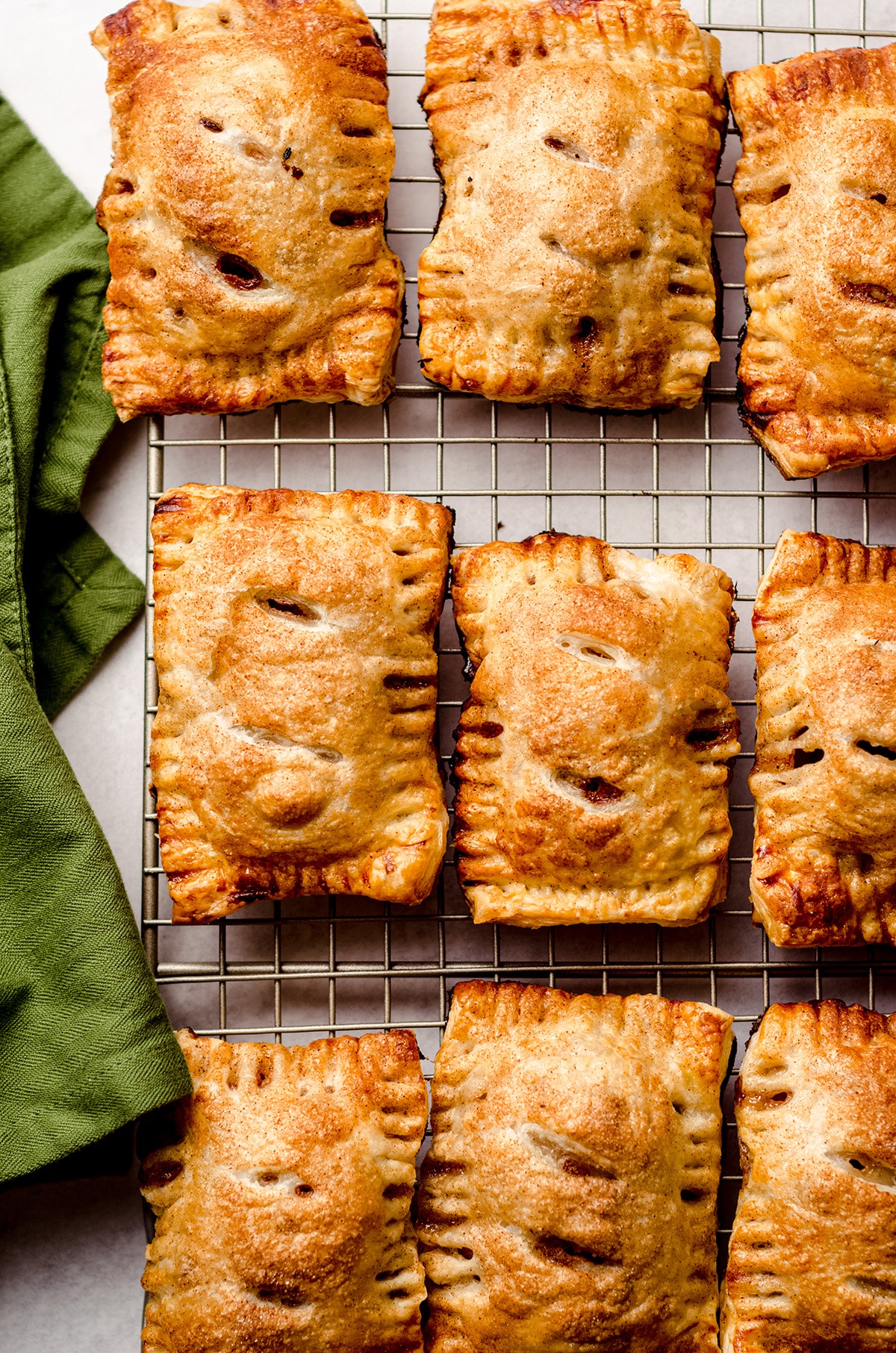 I have a confession on top of a confession: this post was originally published in 2015, and I had prefaced the whole thing by saying that I wasn't all that into pies.
That I'd rather eat a brownie, or a cookie, or ICE CREAM, but that pies just didn't really do it for me.
HOWEVER, I have totally come around on pie, thanks to years of my classic pumpkin pie gracing my Thanksgiving dessert plate and discovering that chocolate chip pecan pie was a thing this past holiday baking season.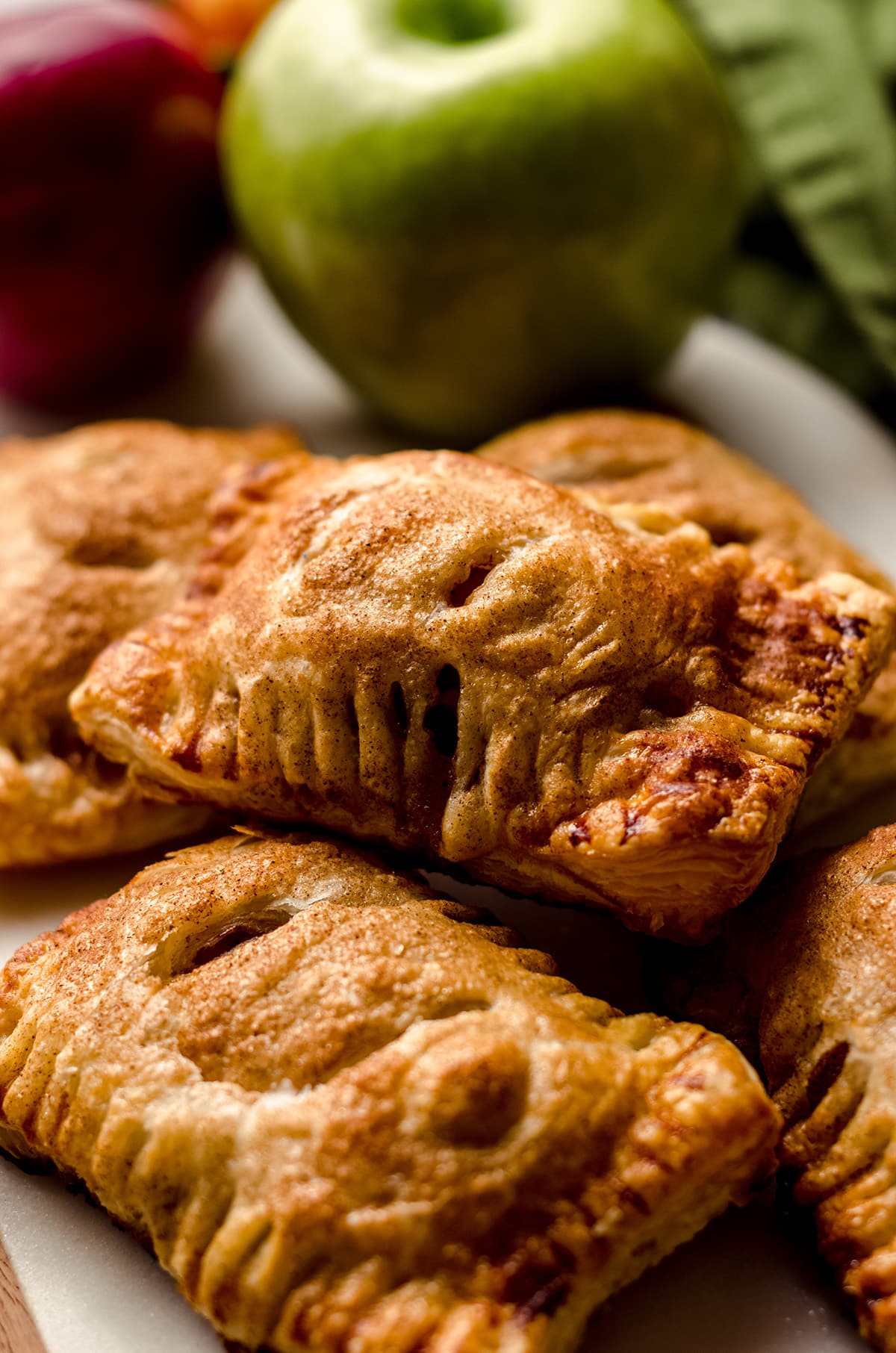 Previously, pies didn't quite do it for me, but the more I bake, the more I branch out with what I make, and the more I see what my readers enjoy on my blog, the more I tend to inch a little more toward the "I like pie" side of the dessert spectrum.
So, my FAF friends, this republished/revamped/rephotographed/all dolled up hand pie recipe is here for your apple pie enjoyment, in the form of a portable, simple, handheld dessert made with pre-made puff pastry and a whole slew of perfectly chosen spices.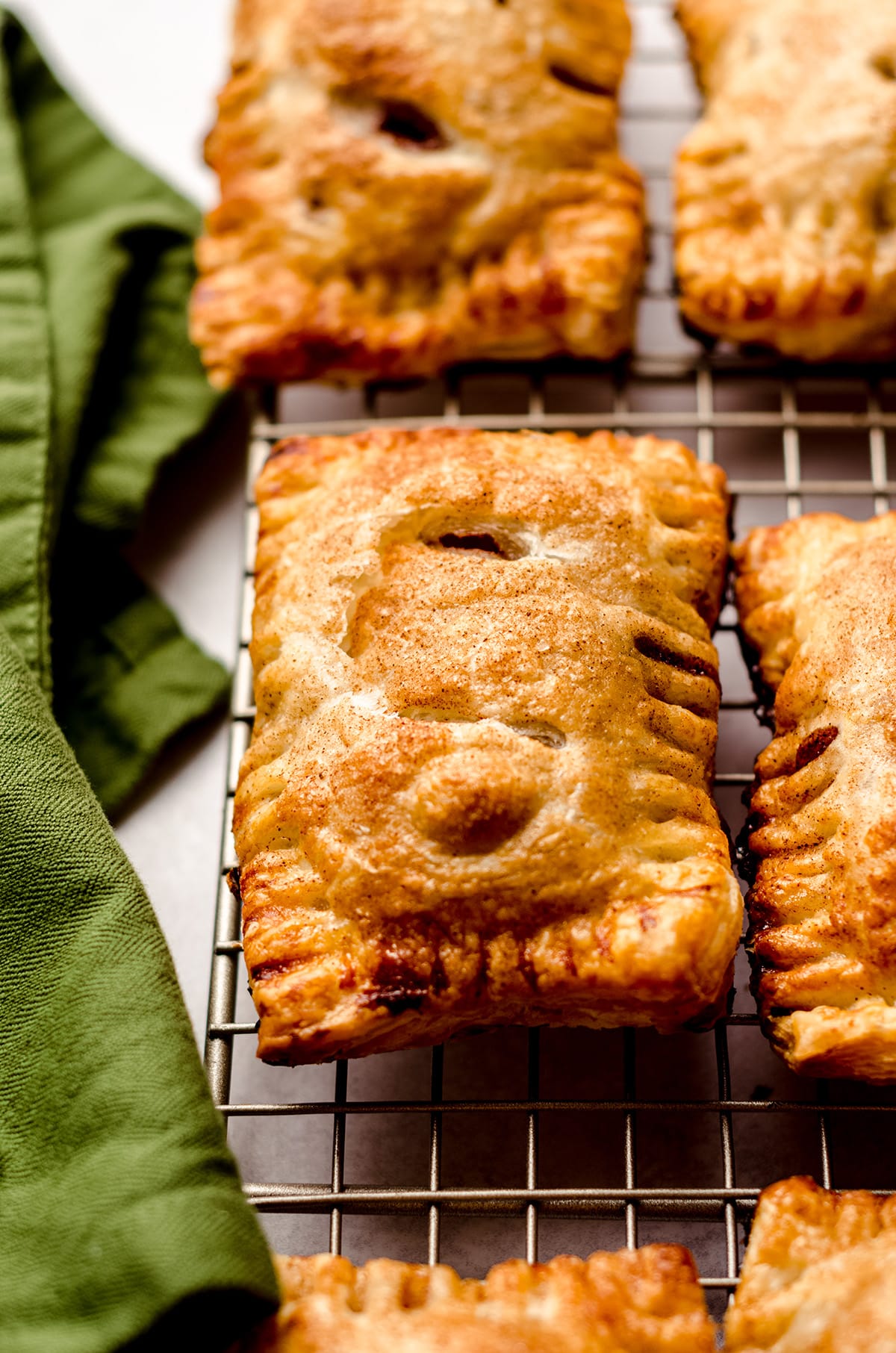 As I mentioned, this apple hand pies recipe was born on my blog back in 2015. At that time, I made a large batch of them to celebrate the retirement of the (now late) CEO of the company I worked for prior to taking the blog on full time.
His favorite dessert was apple pie, and rather than making pies for 50+ people, I decided that a sort of mini apple pie would be an easier way to get the apple pie job done for a large crowd.
I also wanted something that was easy to store if there were leftovers.
And guess what? I wasn't expecting to go ga-ga over these apple hand pies, but I totally did. And so did my large group of taste testers!
CHOP AND FLAVOR THE APPLES
Whenever I make these mini apple hand pies, I typically choose 1 large Granny Smith apple and another smaller red apple, like Gala.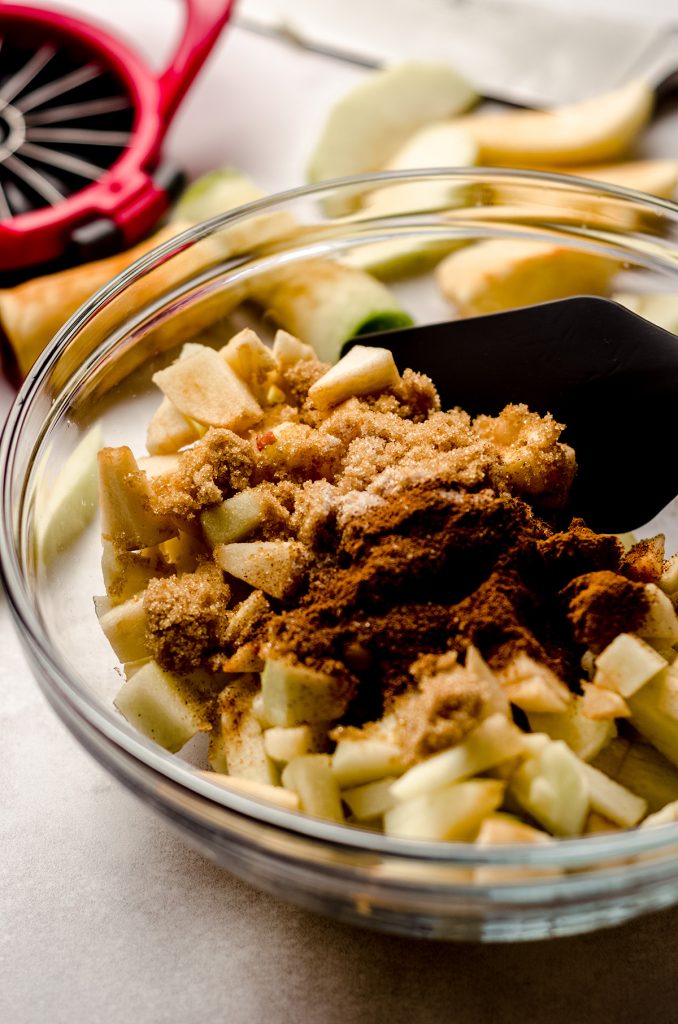 We sweeten with brown sugar and season with cinnamon, nutmeg, and cloves. I love cloves, but not everyone does. Reduce or omit if the taste is too strong for you (or if you're serving to kids– cloves tend to be a little over-powering for them).
USE PUFF PASTRY FOR QUICK AND EASY
Made with pre-made frozen (thawed) puff pastry, these mini-pies are similar to turnovers and also remind me of Toaster Strudels. Surely you were a fan of Toaster Strudels growing up? Oh yeah. Memories.
The puff pastry makes for super flaky apple hand pies. I love me some homemade pie crust, but nothing flakes quite like puff pastry!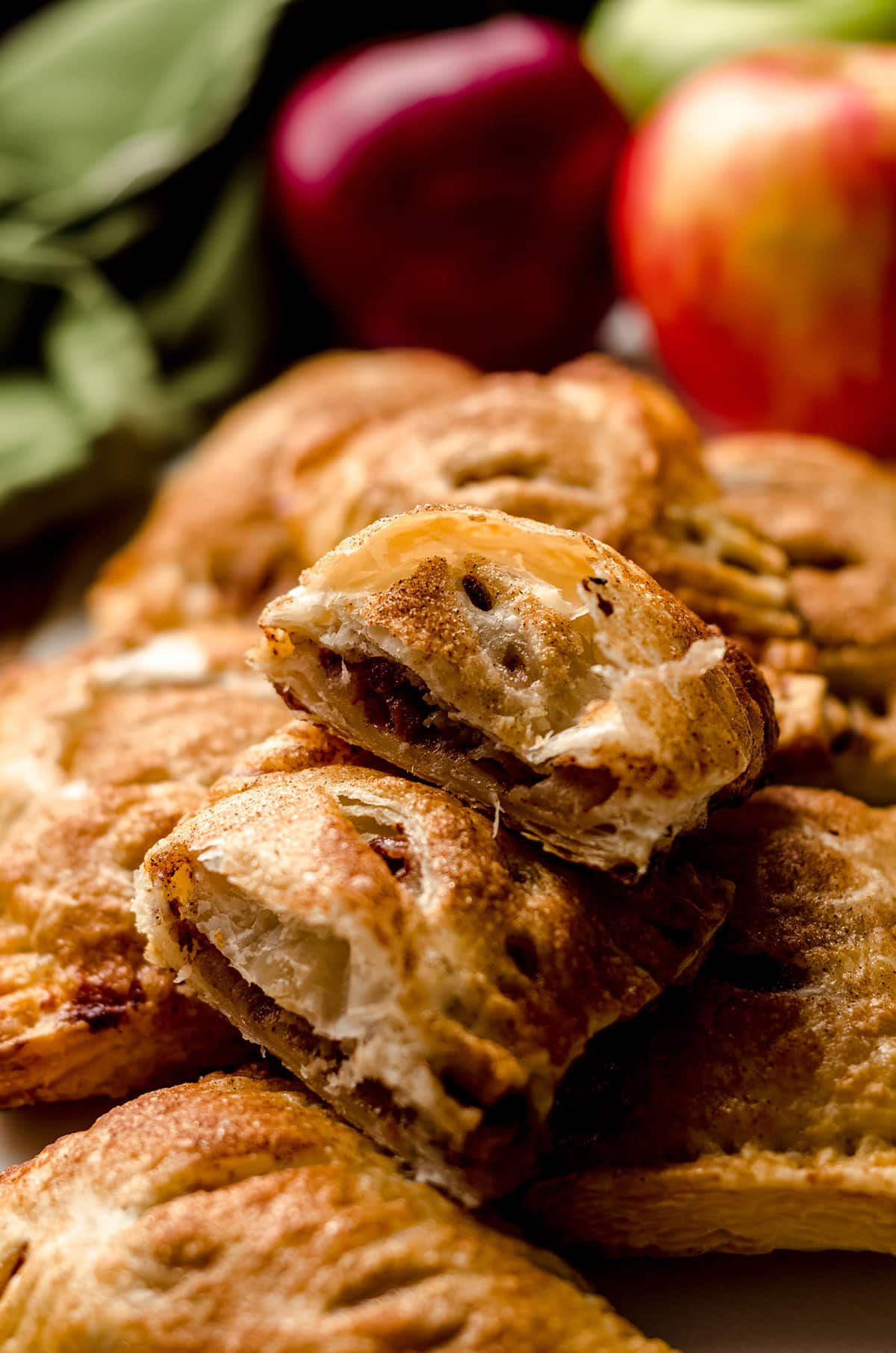 AND, since we're working with pre-made puff pastry, the hard work is basically done for you.
HOW TO MAKE APPLE HAND PIES
After you prepare your apple chunks, you'll prepare your pastry shell. Each box of puff pastry contains 2 sheets, which will give you 12 pies (24 rectangles total). Use a pizza cutter to cut your dough into 12 rectangles.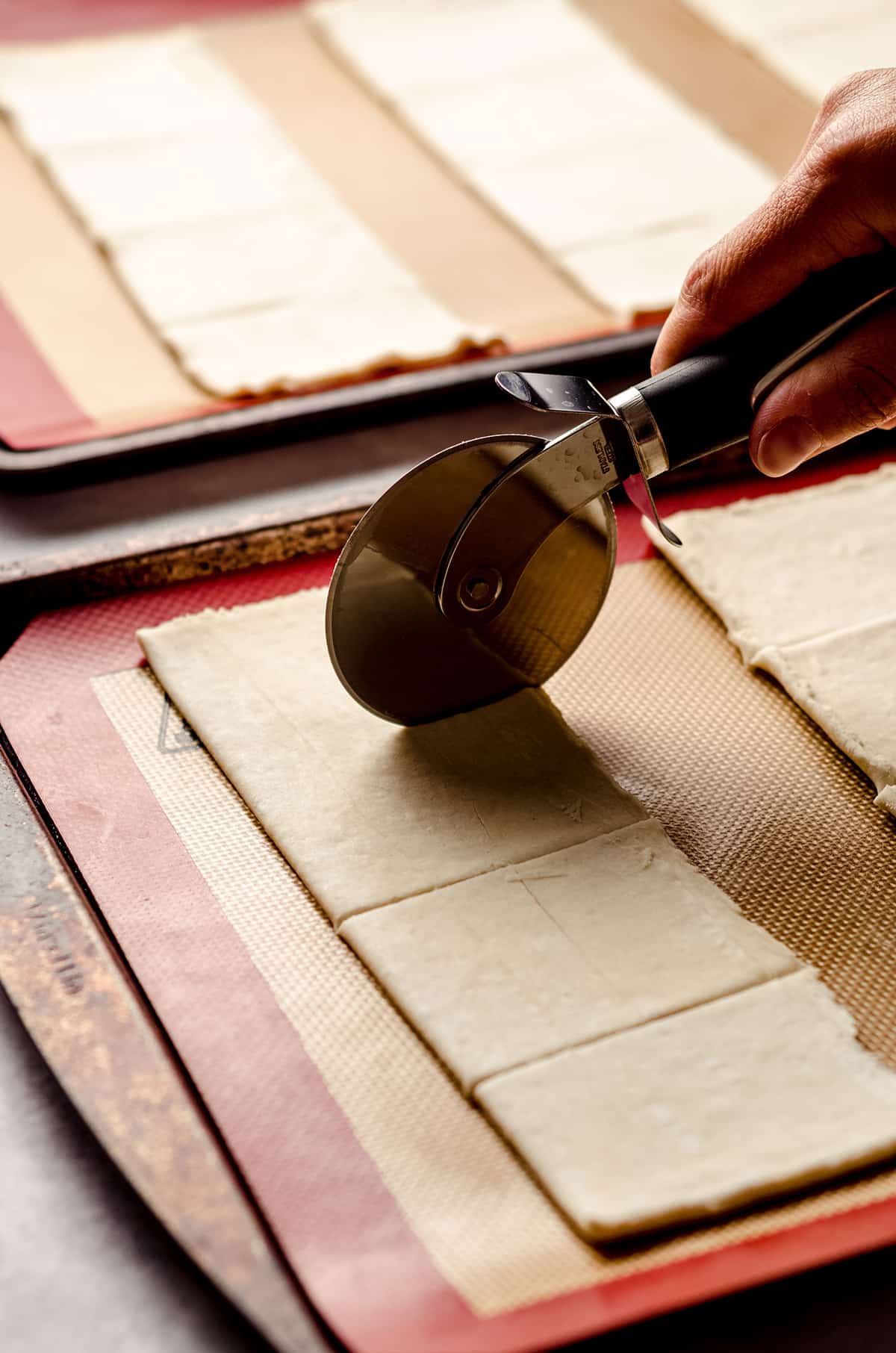 You've just created your hand pie bottoms. Wasn't that easier than rolling out a big pie crust?
And don't worry if you forgot to thaw your puff pastry overnight in the fridge: frozen puff pastry will thaw at room temperature in about 45 minutes. Just be sure to refrigerate to firm them back up if you notice they're took hard to work with.
Next, fill each pie with about 2 Tablespoons of your spiced apple filling, leaving a bit of a margin around the edge for crimping.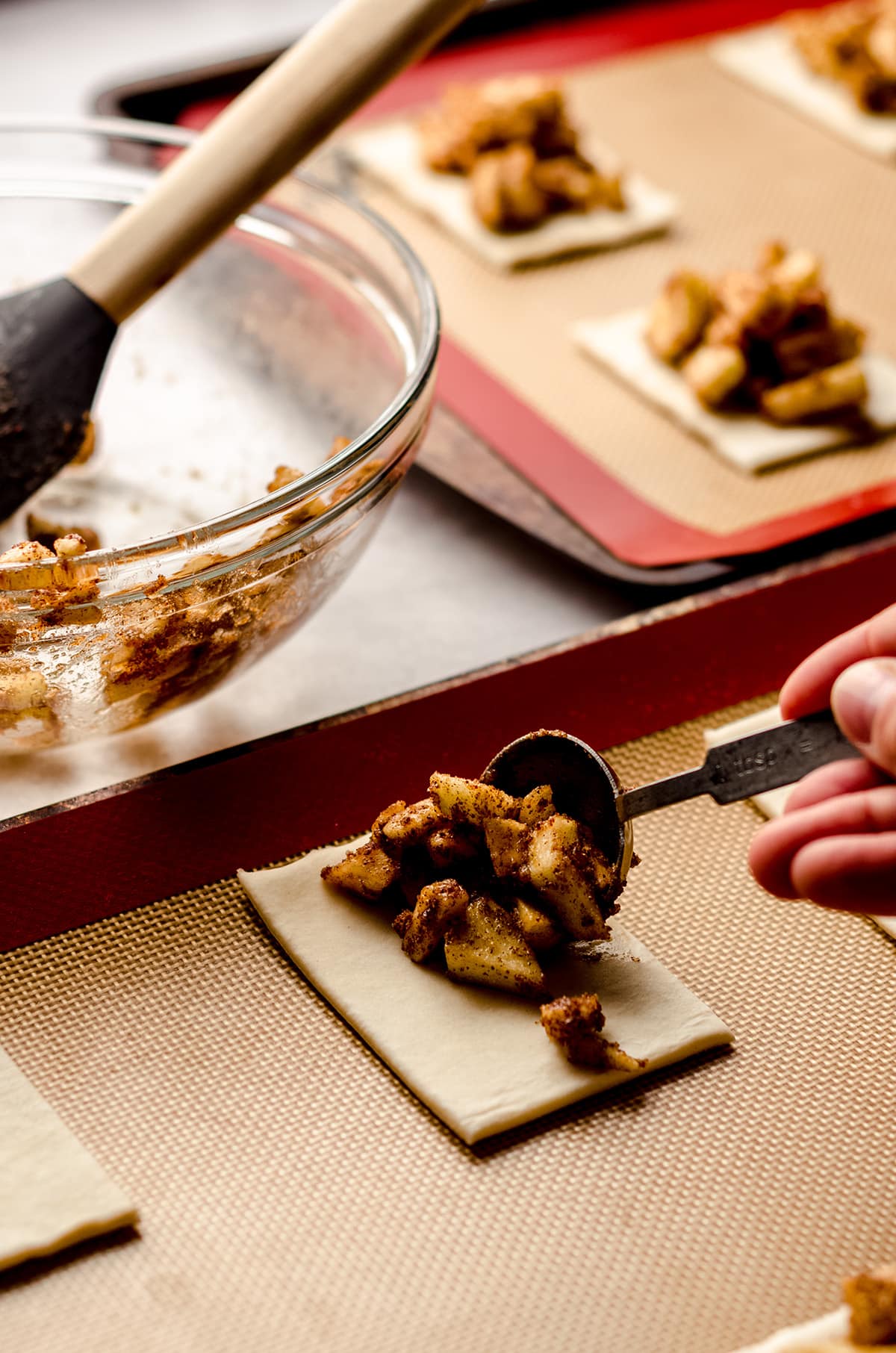 Cut the other sheet of puff pastry into 12 more rectangles, pop those babies on top of the filled bottoms, and crimp the edges with a fork.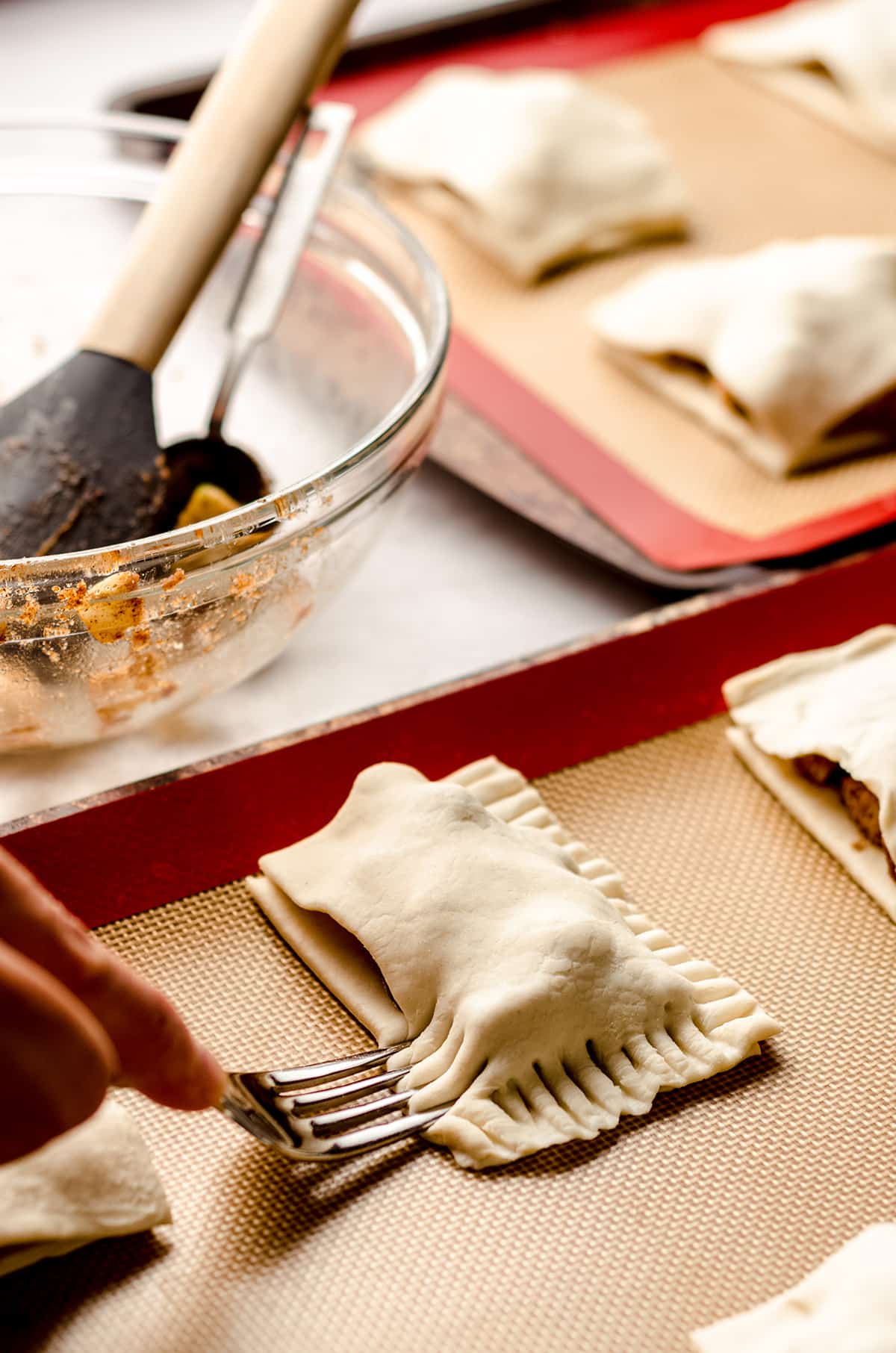 You'll likely have some apple chunks fall out or get crimped into the sides of the pie. This is totally ok. And totally encouraged.
Cut a couple slices into the tops of each pie, brush with an egg wash, and sprinkle with more cinnamon + sugar.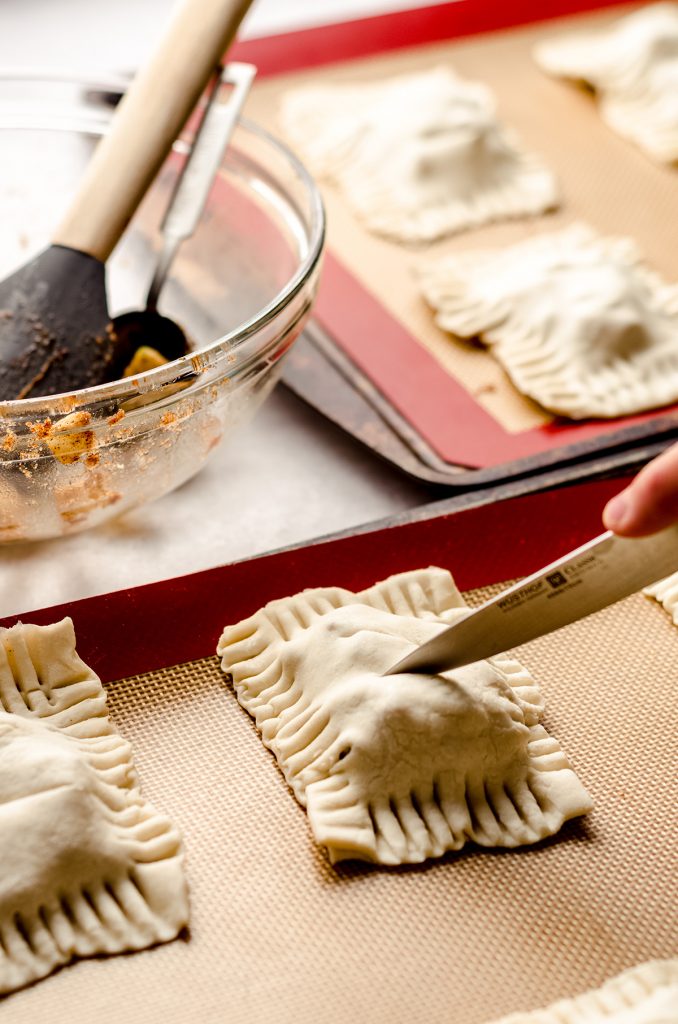 Bake. Enjoy.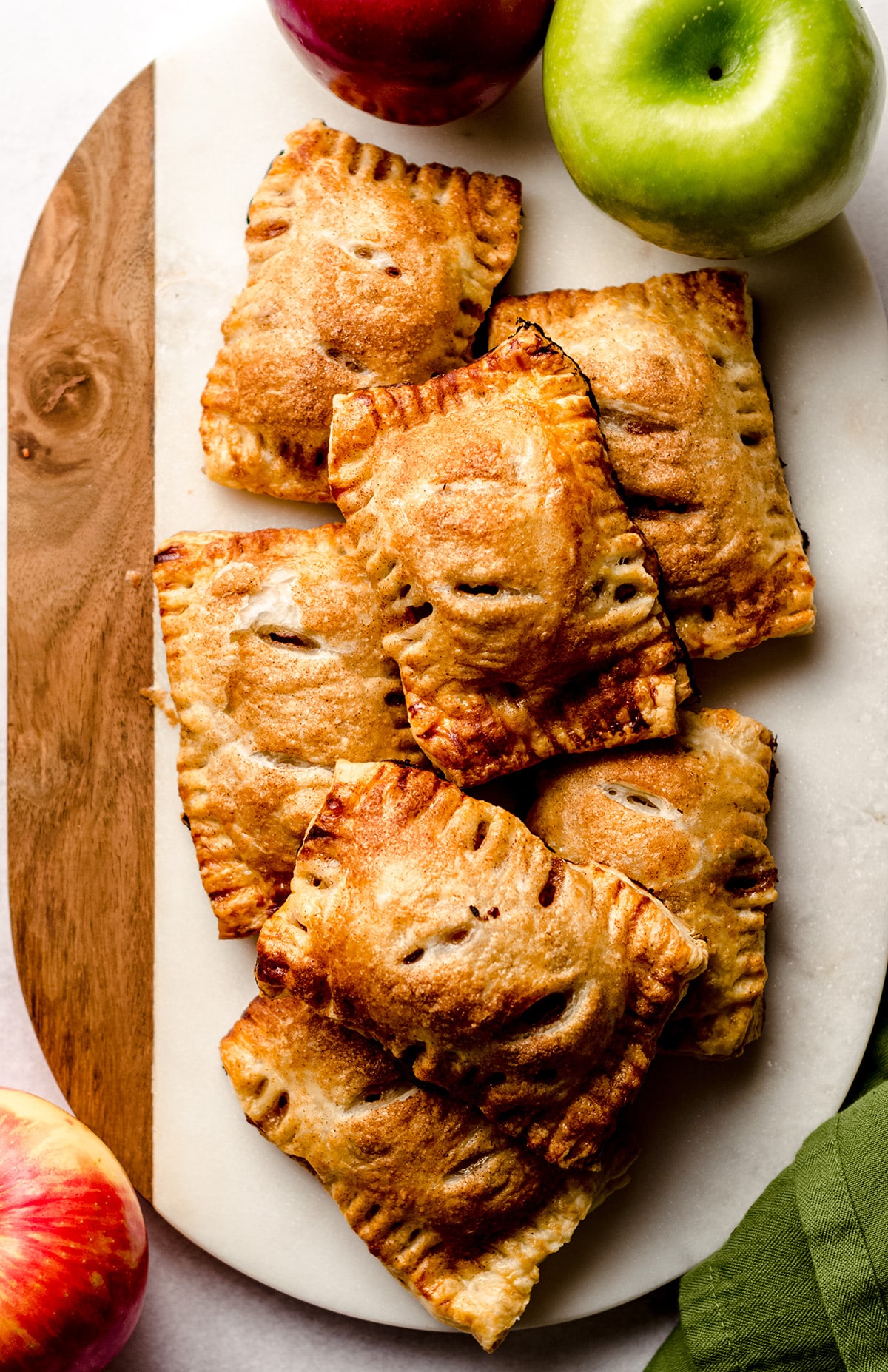 Easy, right?
HOW TO FREEZE APPLE HAND PIES
Remember how I said I wanted something that could be easily stored if there were leftovers? So simple– just refrigerate, then either microwave as needed or toss in a toaster oven for a few minutes before enjoying. If you want to freeze them, thaw in the refrigerator overnight.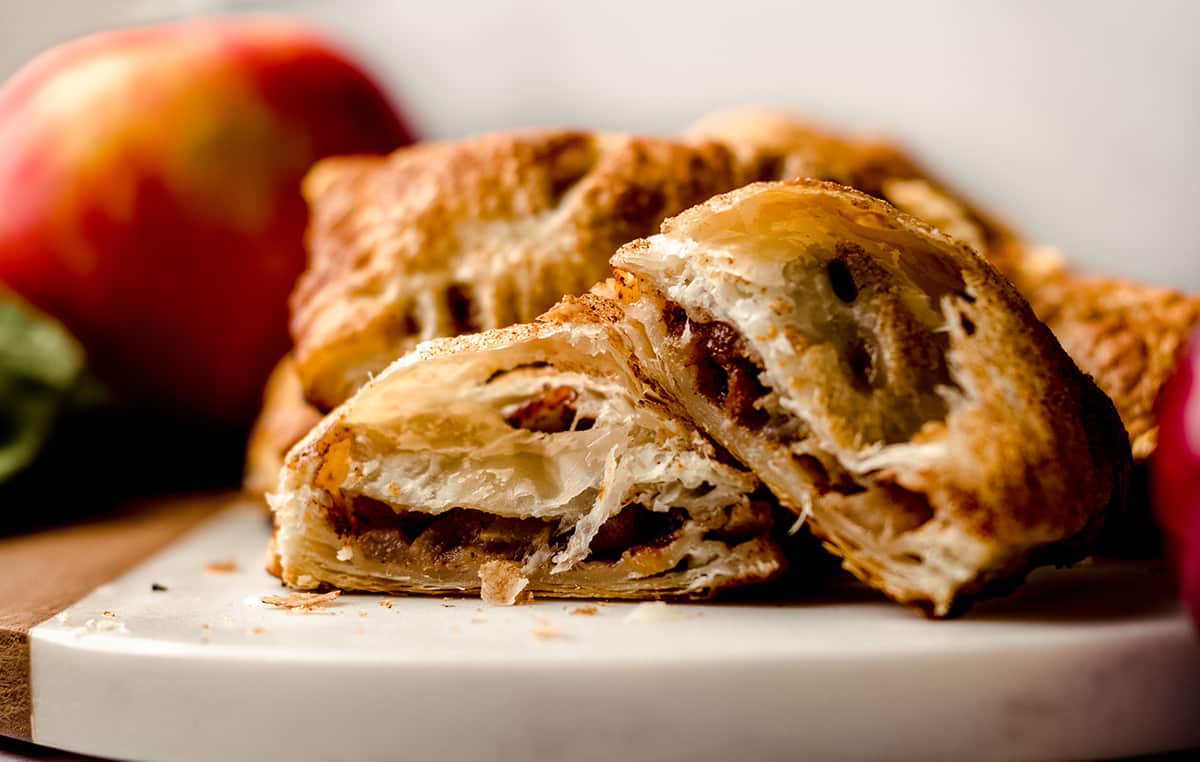 Buttery, flaky, perfectly spiced, and full of natural, sweet/tart apple flavor… These pies are definitely something that should go on your rotating baking list. I promise, they're much easier than you probably originally thought at first glance.
Plus… No fork necessary! That's my kind of dessert!
Apple Hand Pies
Simple handheld pies filled with spiced apples and made with puff pastry for an easy assembly and even easier eating!
Ingredients
FILLING
2

cups

(240g) chopped apples1

1

Tablespoon

(14g) unsalted butter

melted

¼

cup

(50g) firmly packed brown sugar

1

teaspoon

ground cinnamon

¼

teaspoon

salt

¼

teaspoon

ground nutmeg

⅛

teaspoon

ground cloves2
CRUST
1

box

(2 sheets) frozen puff pastry

thawed

1

large egg beaten with 1 Tablespoon (15mL) water

1 and ½

teaspoons

granulated sugar

1

teaspoon

ground cinnamon
Instructions
FILLING
Place the chopped apples in a large bowl. Drizzle melted butter over apples and stir to coat.

In a small bowl, toss together the brown sugar, cinnamon, salt, nutmeg, and cloves. Sprinkle mixture over buttered apples and stir until apples are evenly coated3 with the spices. Set aside.
CRUST
Preheat the oven to 400°F (204ºC). Line two large baking sheets with parchment paper or silicone baking mats. Set aside.

On a lightly floured surface, roll out one pastry sheet. Using a pizza cutter or sharp knife, cut the sheet evenly into 12 rectangles. These will be the bottoms of your pies. Place 6 pie bottoms on one baking sheet and 6 on the other.

Spoon 1 to 2 Tablespoons of apple mixture onto each of the 12 bottom rectangles. You may have a little bit of filling leftover, but can certainly use it all up by overfilling the crusts.

Roll out the second she of puff pastry. Cut into 12 rectangles. Place the top rectangles over the filled bottoms, slightly stretching the top layer if necessary (puff pastry is very sturdy and forgiving). Crimp the edges with a fork to seal.

Cut two small slits in the top of each hand pie, then brush with egg wash and sprinkle with the cinnamon sugar mixture.

Place baking sheets side-by-side in the oven. If they can't fit, bake one at a time, allowing the other to chill in the refrigerator. Bake pies for 20 minutes, or until the tops are desired golden brown color. Rotate the baking sheets once during bake time. Remove pies from the oven and allow to cool on the baking sheet until safe to handle and serve. Leftover hand pies can be stored in the refrigerator, wrapped tightly in plastic wrap, up to 5 days. Reheat in microwave or in a 300°F (149ºC) oven for 10-15 minutes.

Make ahead: you can prepare the hand pies up to 12 hours in advance. After cutting slits into the tops of the pies, cover tightly and store in the refrigerator. Brush with egg wash and sprinkle with cinnamon sugar mixture before baking.
Notes
Apples: you'll want to

peel and core your apples before chopping. I like to use 1 Granny Smith apple + another smaller red apple, like Gala.

Cloves: this is a very strong spice. If you don't like cloves, simply omit.
Seasoning the filling: I strongly recommend tasting the filling before spooning onto your puff pastry. Adjust spices to your liking.
Nutrition Disclosure
All nutritional values are approximate and provided to the reader as a courtesy. Changing ingredients and/or quantities will alter the estimated nutritional calculations.