Cinnamon Pinwheel Cookies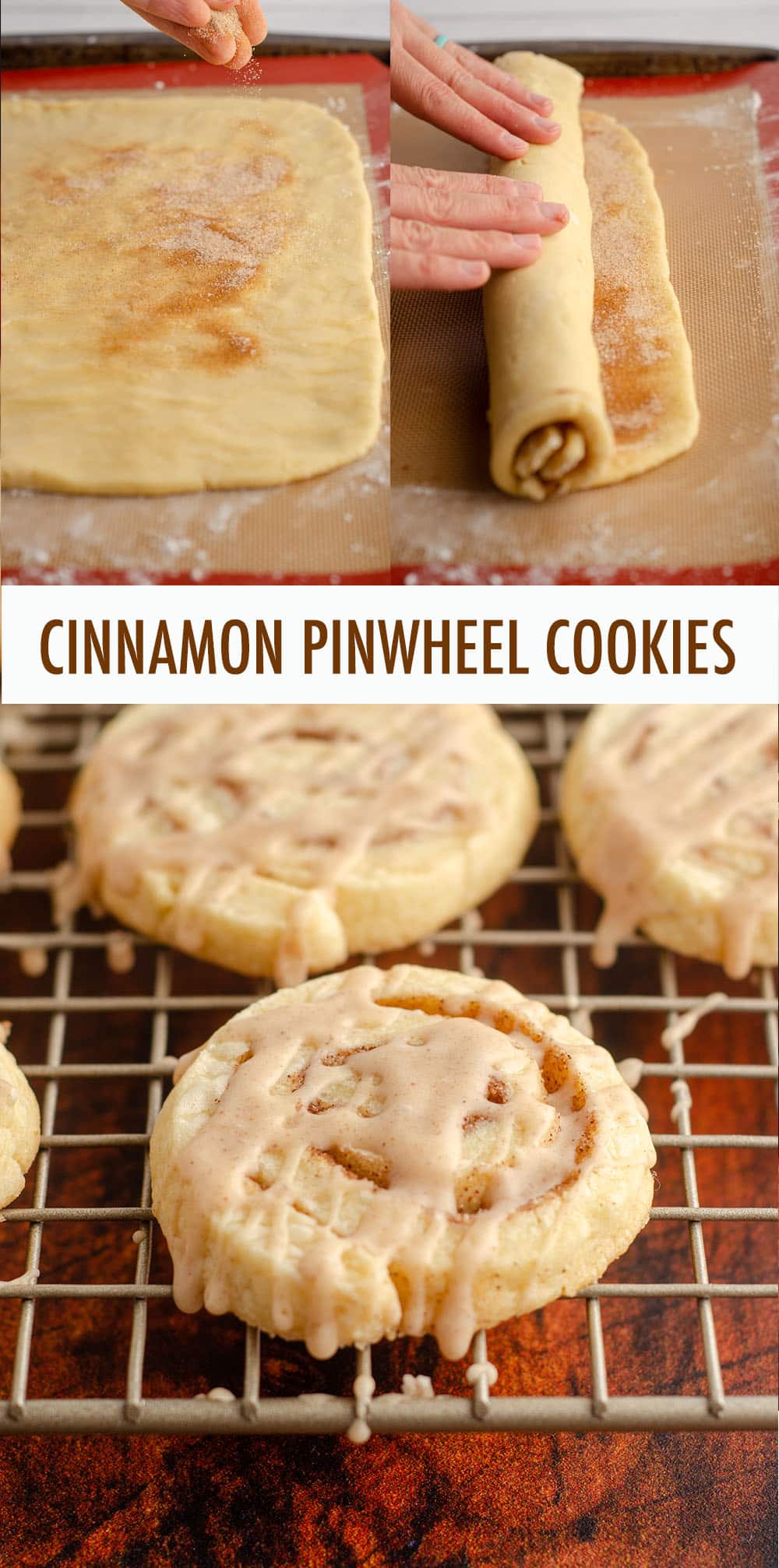 As an Amazon Associate, I earn from qualifying purchases. Read the full disclosure here.
Simple sugar cookie dough filled with spicy cinnamon sugar and rolled into pinwheels. Top them off with a cinnamon icing and you've got yourself sweet and buttery cinnamon roll cookies!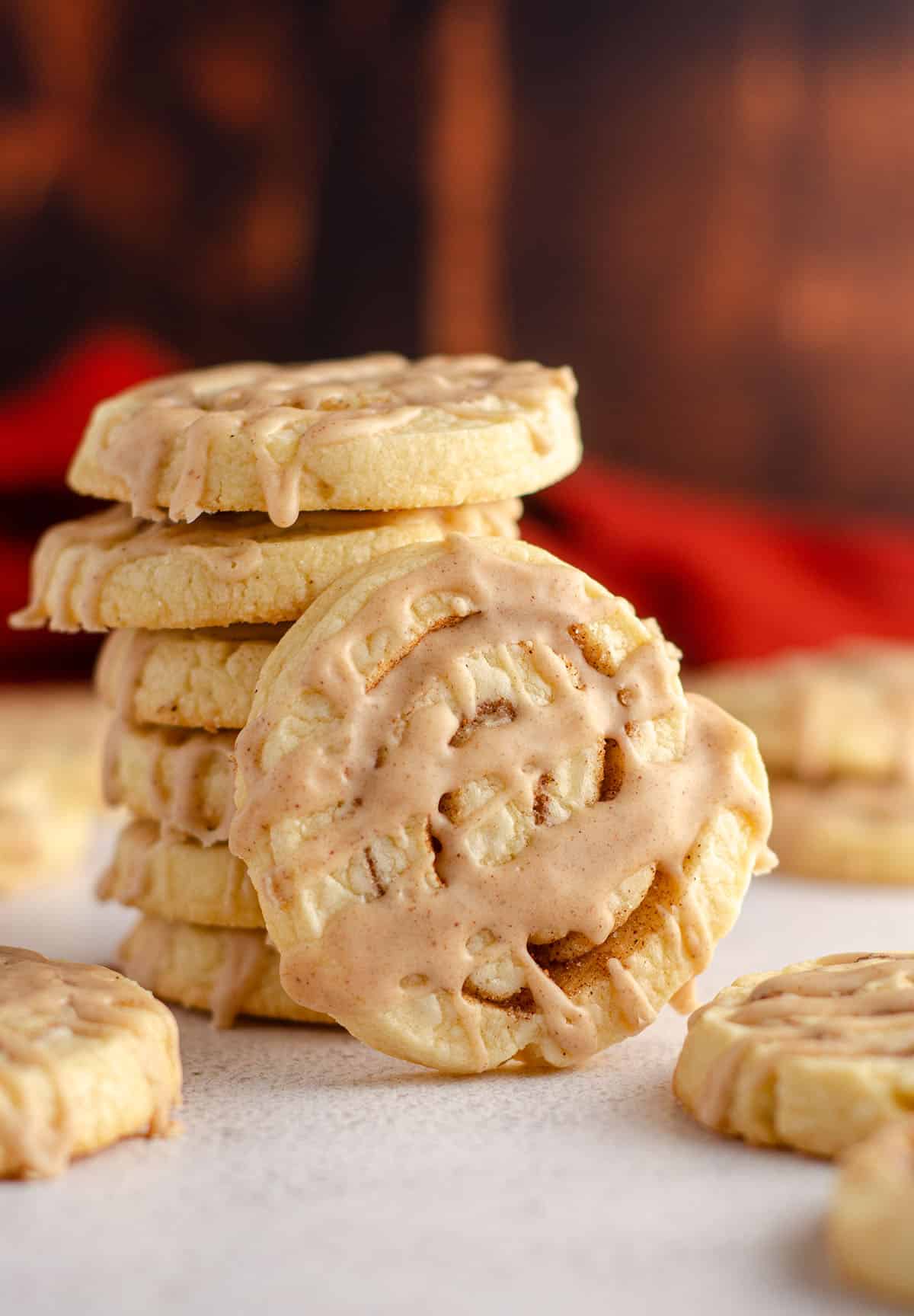 It has been one heck of a cookie party in my corner of the internet this year!
I am so happy to have been able to get back to my 12 Days of Christmas Cookies tradition, a tradition I skipped in 2018 (in favor of 12 Dips of Christmas) and 2019 (in favor of 10 "staple" recipes).
It is my hope to bring it back again next year, so if you have any cookie suggestions, send them my way! You know from this week that I do love me a recipe passed on to me by someone else.
Ok, so about these cinnamon pinwheel cookies. You're gonna need 'em, trust me.
I have many wonderful things to say about these cookies, but one thing to get out of the way is how the slice and bake cookie method is very seriously and truly underrated in the cookie baking world.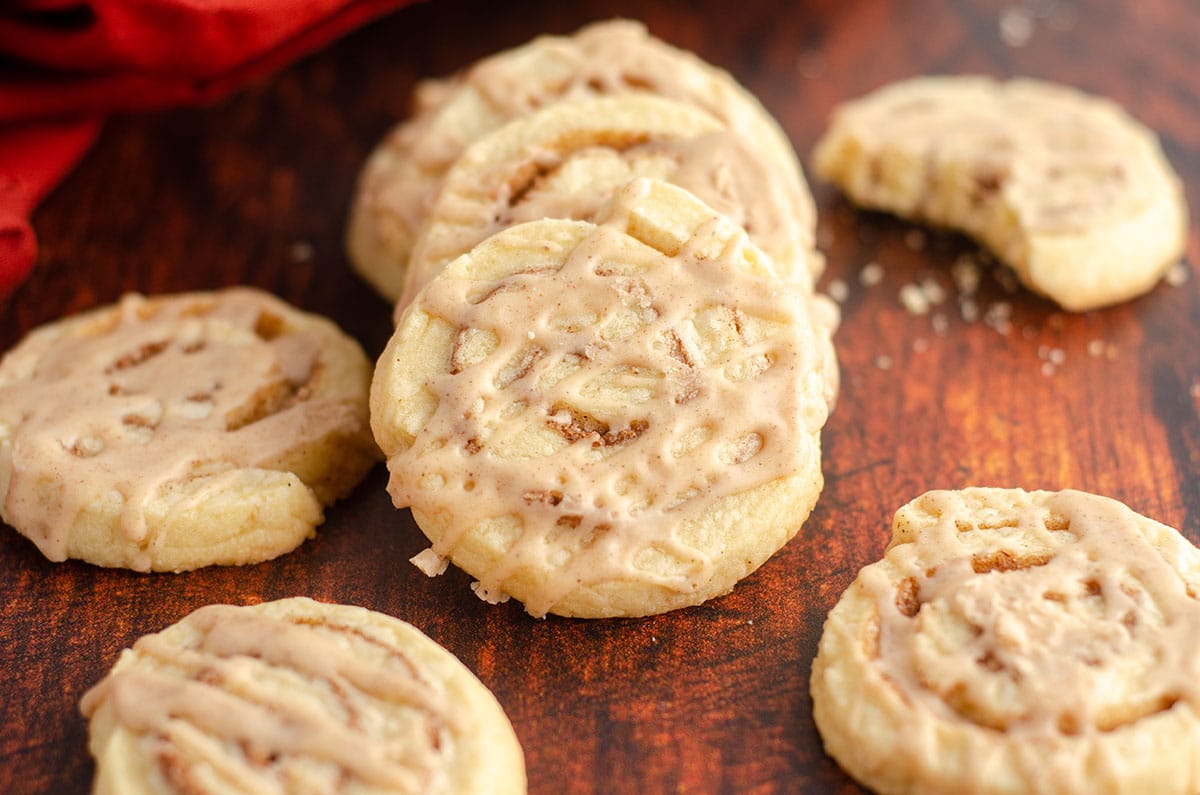 This is the second cookie of its kind to grace our party this year (the first being World Peace Cookies), and only the third slice and bake cookie to exist on my blog (the only other one being these lemon pepper cookies).
Make, shape, chill, slice, bake.
IT'S TOO EASY. WHY DON'T WE DO THIS MORE?
Don't get me wrong, rolling cookie dough is fine by me when I know the end result is a delish chocolate chip cookie or oatmeal raisin one, but whipping up a dough, chilling it, and then being able to pop it out of the fridge and slice it up and toss it on a baking sheet is WHERE. IT'S. AT!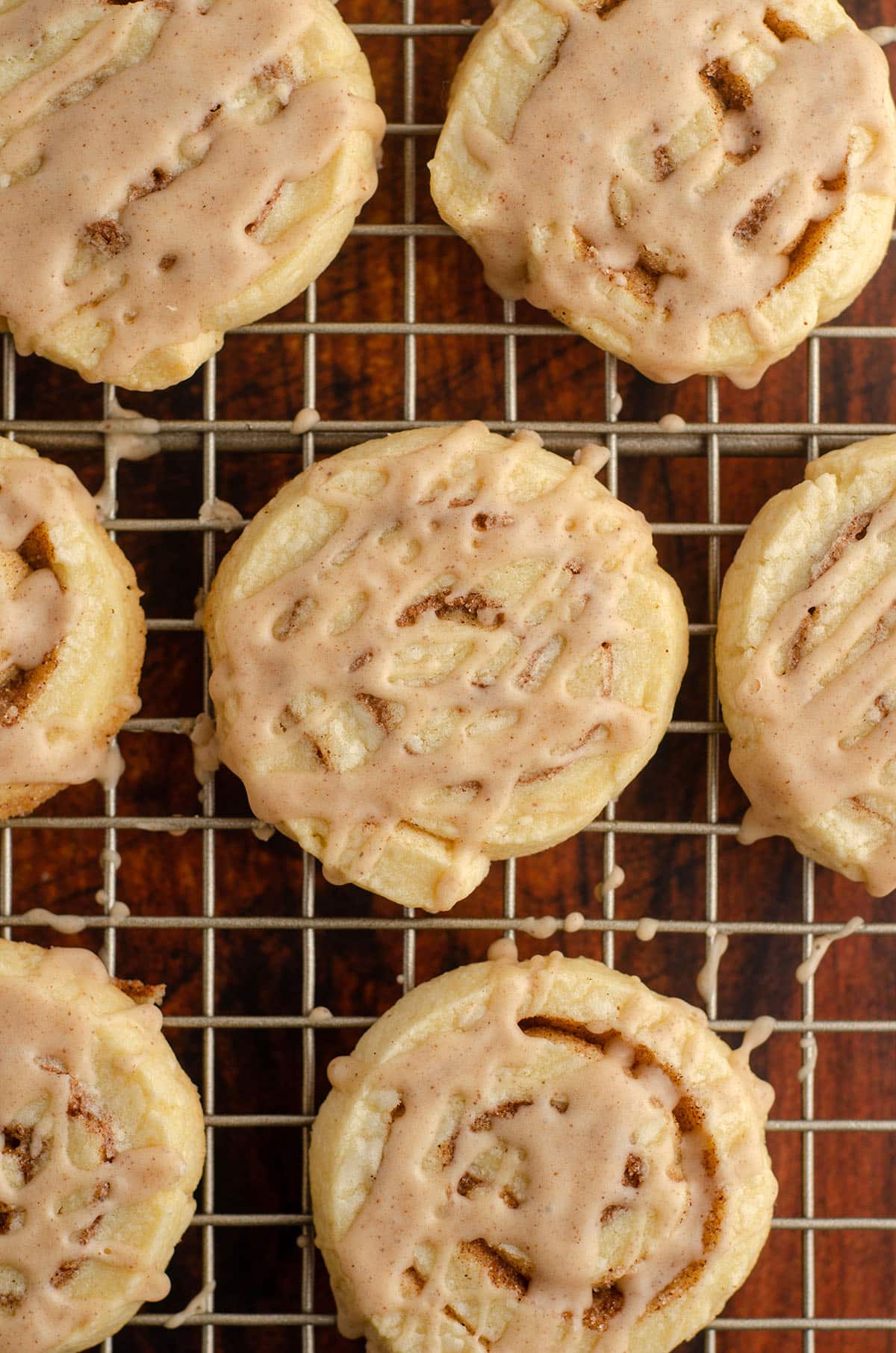 These cinnamon pinwheels are quite simple, but I will give a little PSA… The rolling/shaping takes a little patience. But don't worry, I've broken it down in the instructions about exactly how to do this.
I took the sugar cookie model (with some tweaks) from my easy cut-out sugar cookies. That dough doesn't require any chilling, and instead of using granulated sugar for sweetness, I use powdered sugar.
The result is a slightly less sticky dough that can stand up to just being put together and then formed.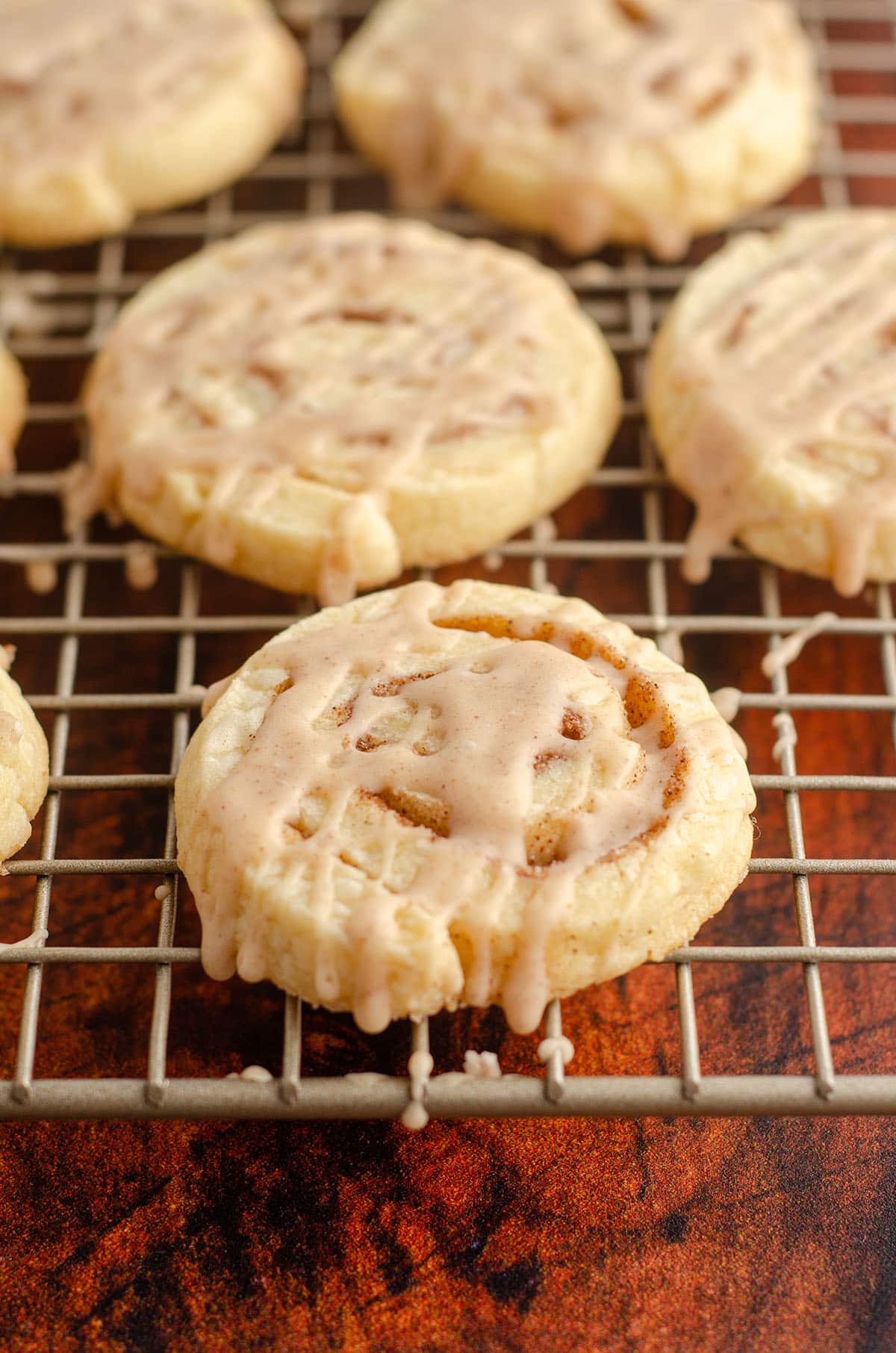 HOWEVER, melty/warm butter will not fly here, so if you bring your dough together, form it into the rectangle, and it's difficult to roll up, you can chill it for 5-10 minutes to help it firm up.
Too firm and it won't roll, so just a few minutes can be a game changer.
Another great tip is to roll it out onto a portable flat surface. As you can see here, I lined a baking sheet with a silicone baking mat and dusted that with powdered sugar (always dust with powdered sugar, as additional flour can lead to too much spreading).
That way, if it needs to pop in the fridge, it's easy to do that.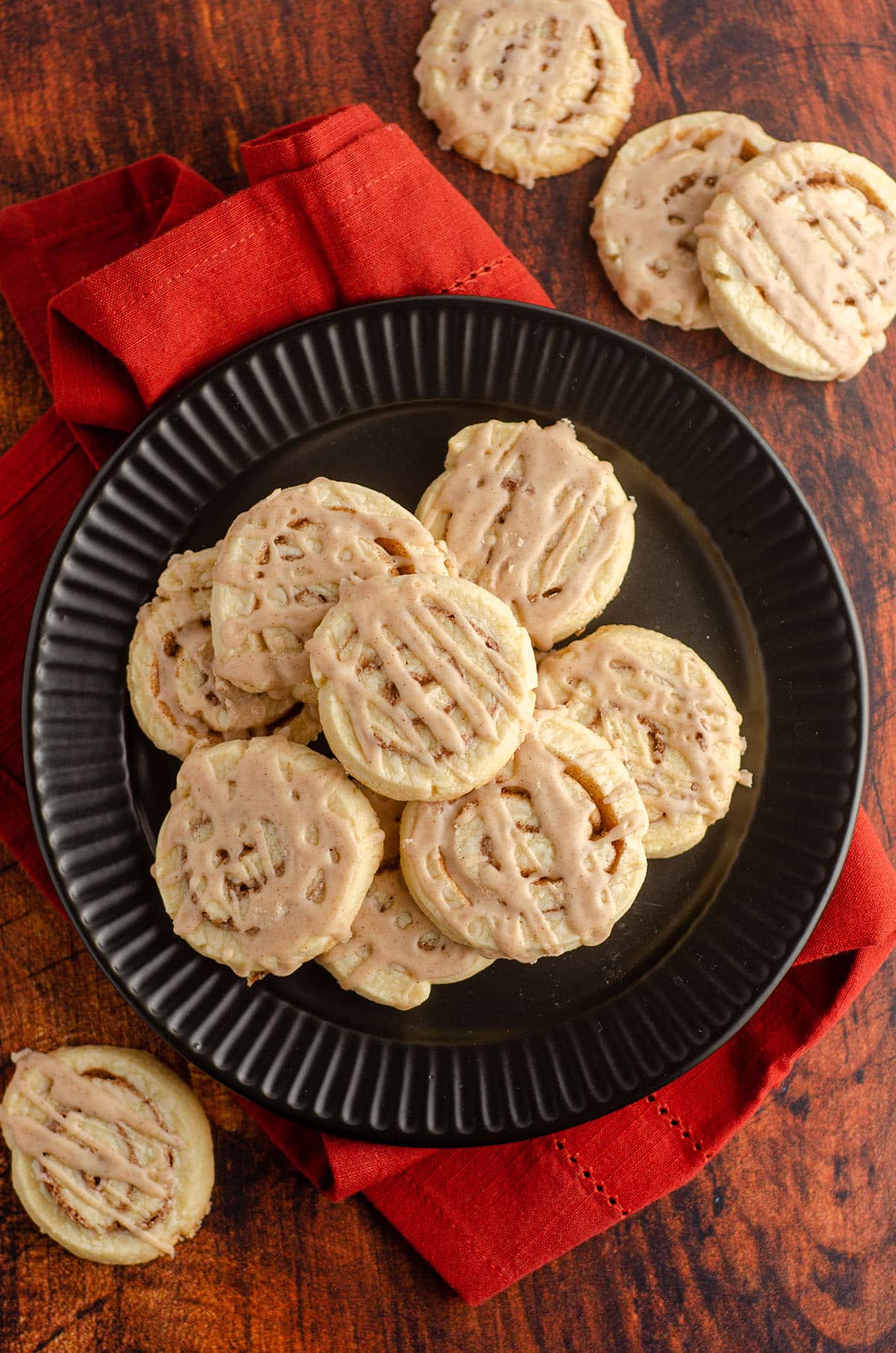 Of course, if you're making these in the winter, you may be totally fine. But if you're in the baking zone and your kitchen is warm, there's a chance your butter may be a little too soft. Let the dough tell you what it needs– you'll know if it's too soft to roll as soon as you go to roll it!
A bench scraper or large cake lifter works wonders with getting the edge started to roll it up.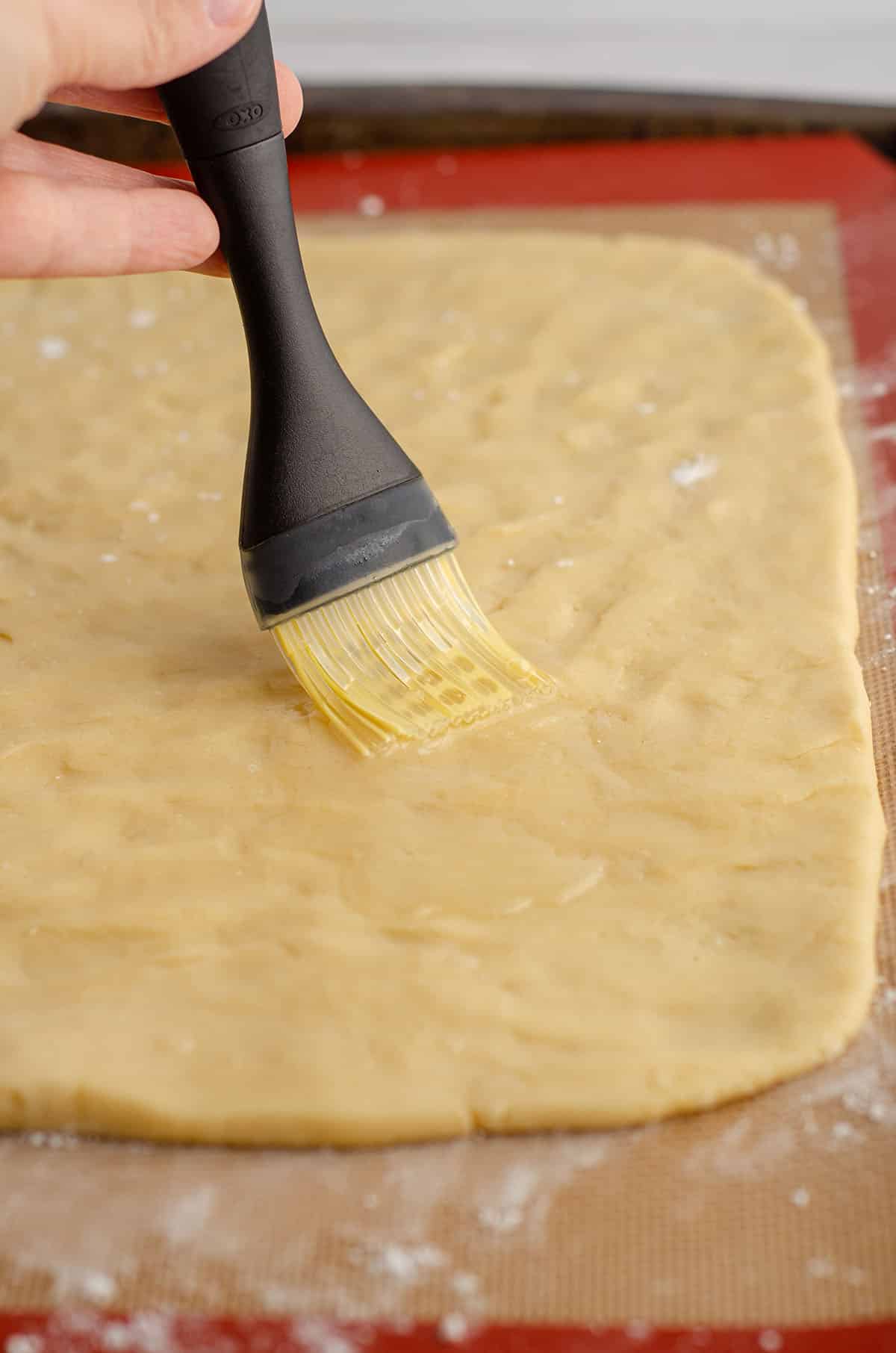 But let's back up a bit– once your dough is in a rectangle, it just gets a simple egg white wash (you've reserved the egg white from the egg yolk that went into the dough) and a generous sprinkle of cinnamon sugar.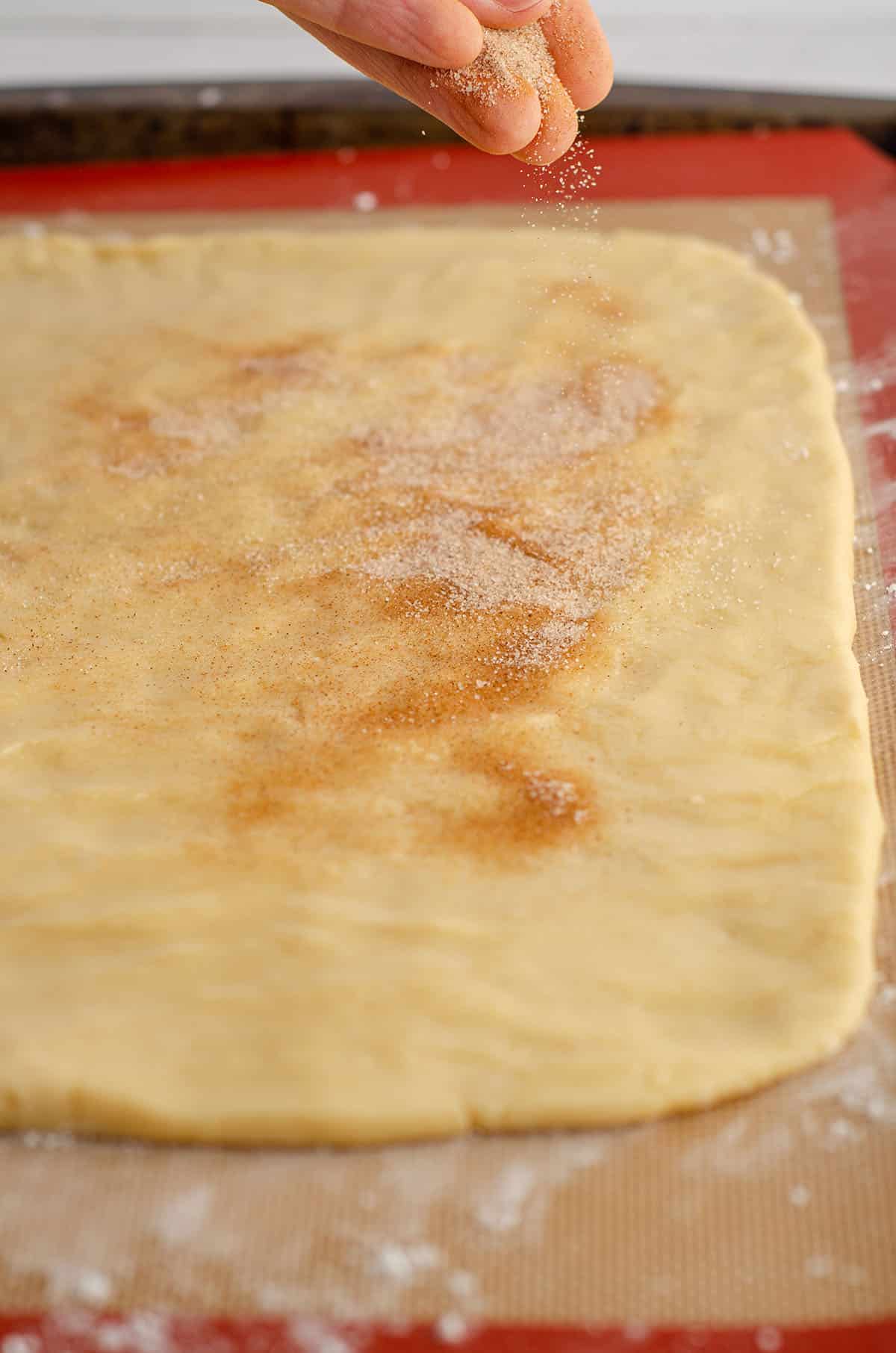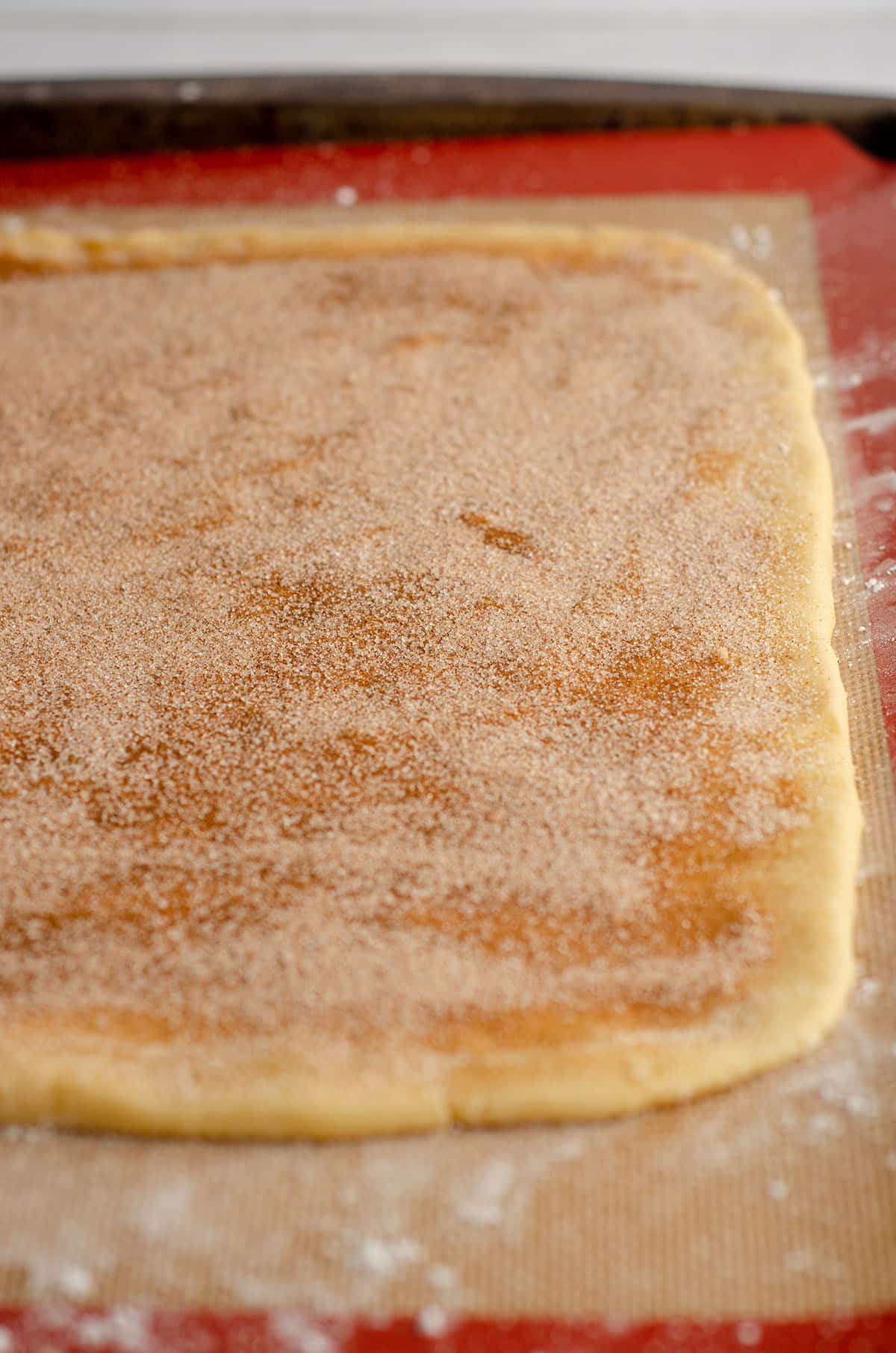 As you roll the dough up into a log (gently, slowly, patiently), you create a little pinwheel of this cinnamon sugar so that when sliced, the cookies looks like little mini cinnamon rolls!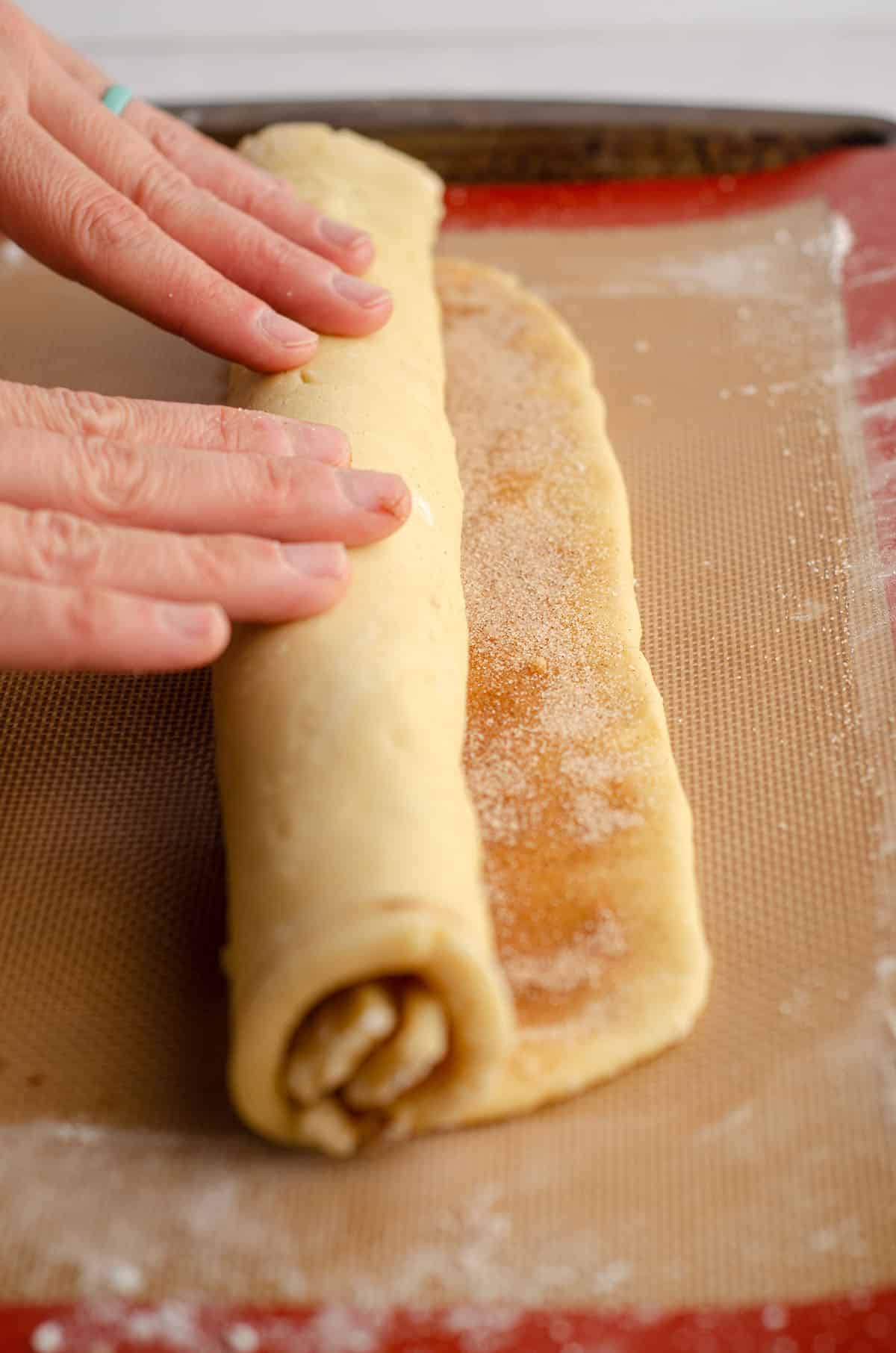 How cute!
A quick slice with a sharp knife, and 12-14 minutes in the oven, these adorable and easy cinnamon pinwheels are ready for the best part: cinnamon icing.
This is super simple: powdered sugar, milk/cream, vanilla, and cinnamon.
Drizzle it on, let it set, and devour.
Simple!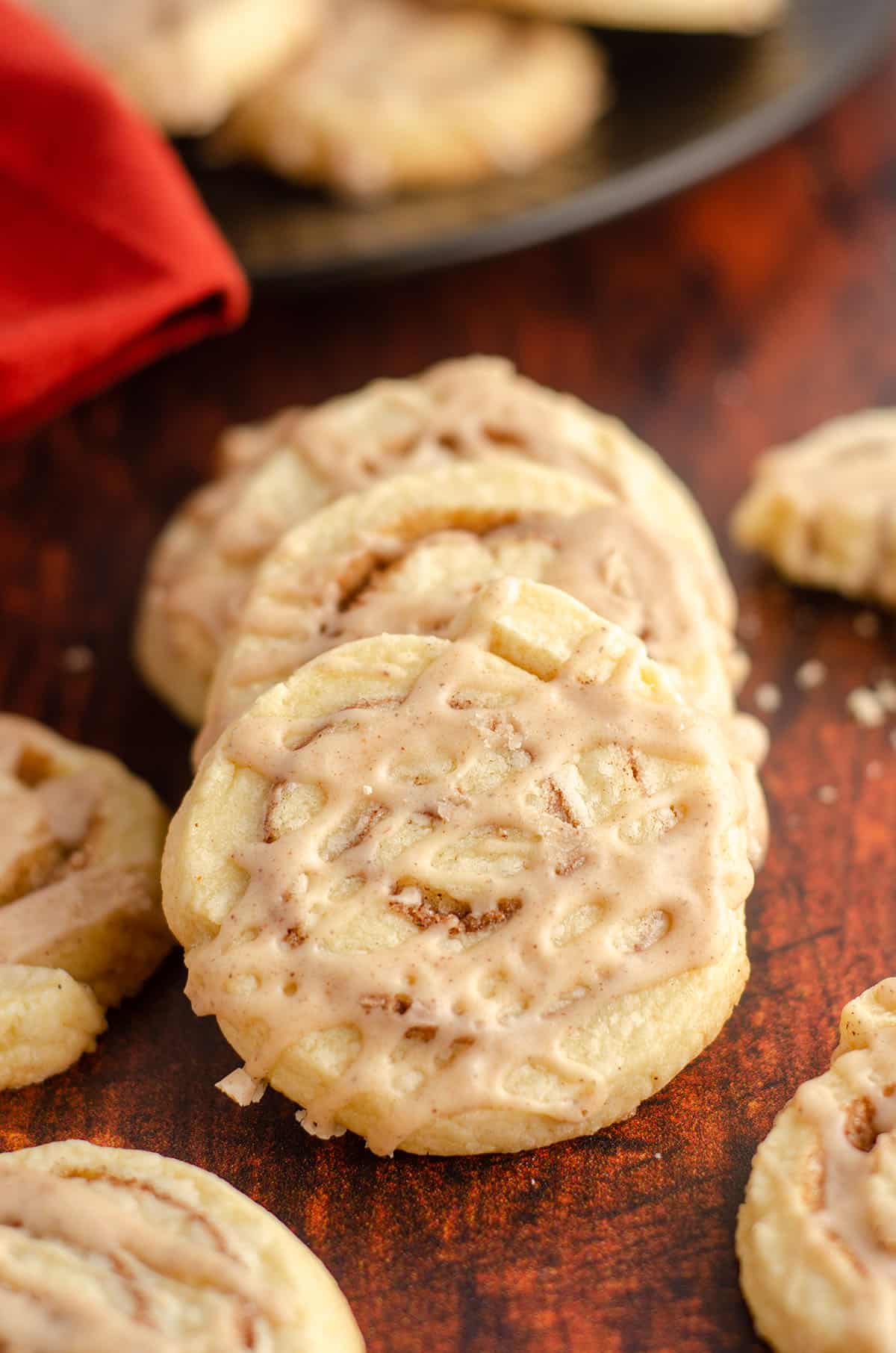 These cookies were one of the favs among taste testers. That buttery sugar cookie is unbeatable, and though I am serious cinnamon lover so a little biased, it's hard to resist that sweet cinnamon filling, especially because in some spots, the filling gets a little caramelized and chewy texture to it.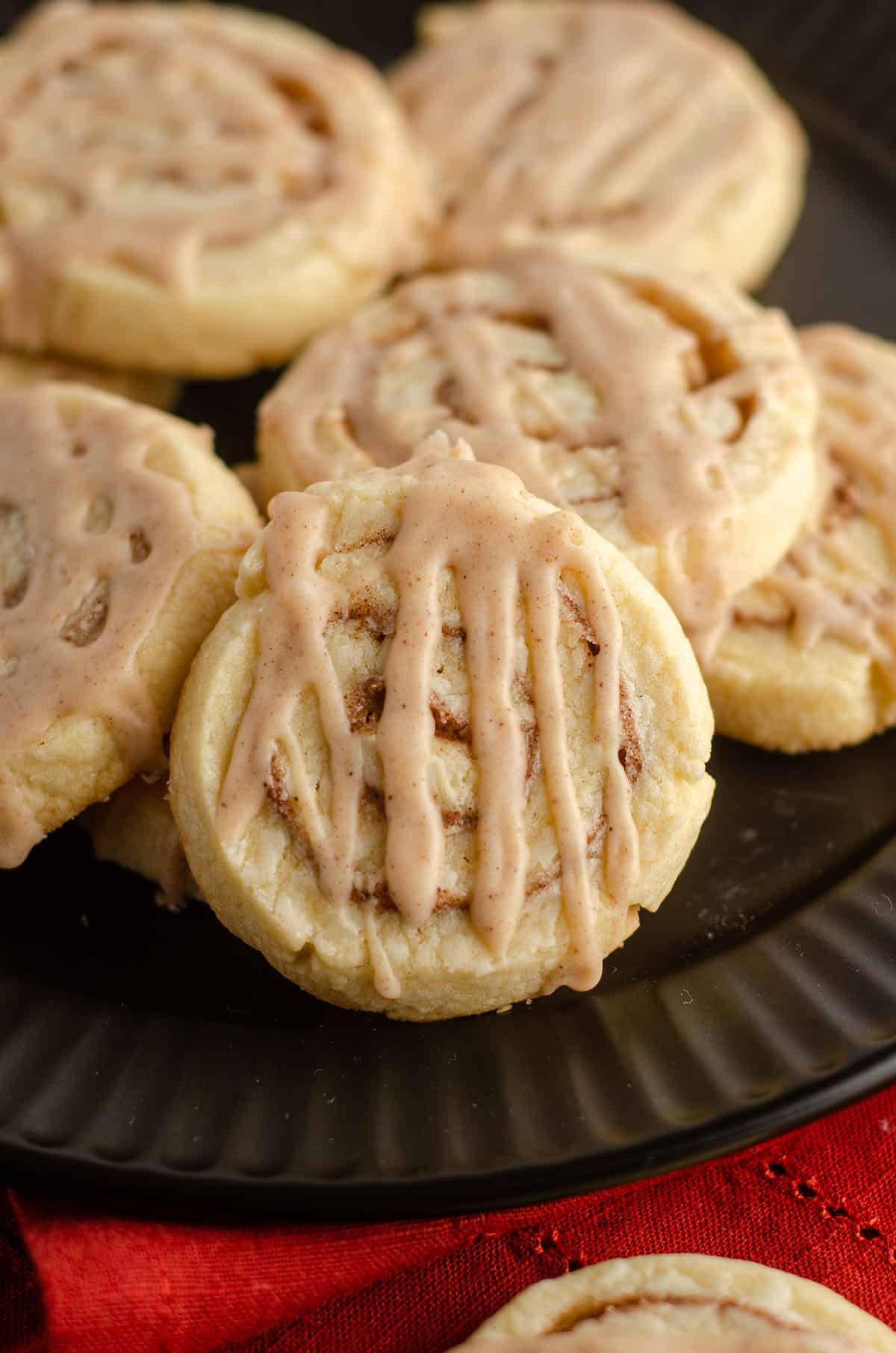 Again, the slice and bake method simplifies a lot of things here. And remember, if you're having trouble rolling it up into a log, take a step back, take a deep breath, and remember they're just cookies.
And if you can get it into a log shape, the pinwheel pattern will emerge however it happens to! That's the beauty of baking. Put your own little twist on it. Or… Wheel, rather!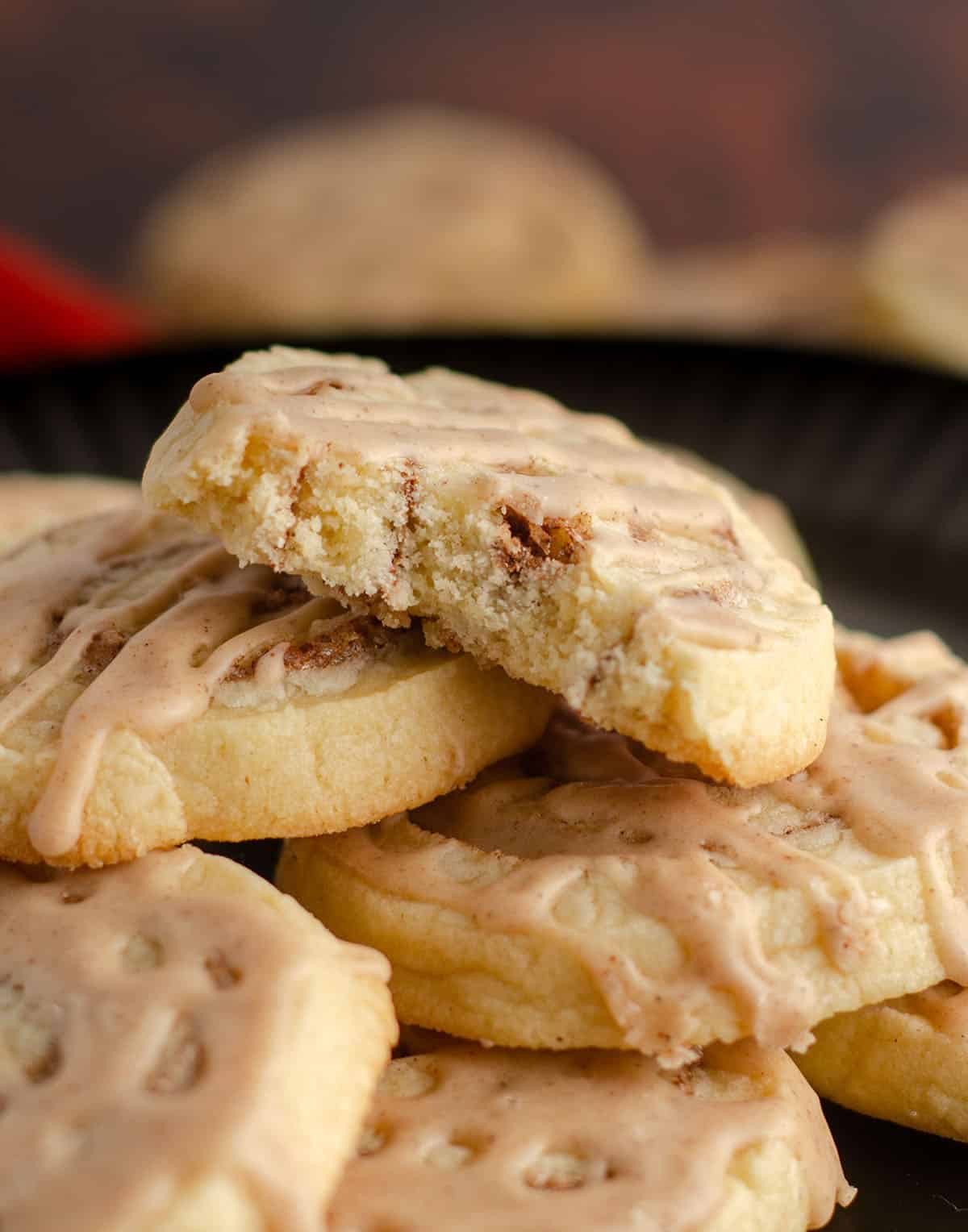 Thank you for joining me for these 12 days of cookies.
Have you made any?
Which was your fav?
Did you add any to your permanent baking list?
I want to hear all the cookie things!
Cinnamon Pinwheel Cookies
Simple sugar cookie dough filled with spicy cinnamon sugar and rolled into pinwheels. Top them off with a cinnamon icing and you've got yourself sweet and buttery cinnamon roll cookies!
Ingredients
COOKIE DOUGH
1 and ¾

cups

(210g) all-purpose flour be sure to measure properly

½

teaspoon

salt

¼

teaspoon

baking powder

¾

cup

(170g) unsalted butter

softened to room temperature

¾

cup

(90g) powdered sugar

1

large egg yolk

reserve the egg white for the filling

2

teaspoons

vanilla extract
CINNAMON FILLING
reserved egg white

½

Tablespoon

(8mL) water

¼

cup

(50g) granulated sugar

1

Tablespoon

ground cinnamon
CINNAMON ICING
½

cup

(60g) powdered sugar

2

Tablespoons

(30mL) milk or cream

½

teaspoon

vanilla extract

½

teaspoon

ground cinnamon
Instructions
COOKIE DOUGH
In a medium size bowl, whisk together the flour, salt, and baking powder. Set aside.

In a large bowl with a handheld mixer or the bowl of a stand mixer fitted with the paddle attachment, cream the butter and powdered sugar until light and fluffy, about 2-3 minutes. Add the egg yolk (reserving the egg white) and the vanilla and beat until everything is incorporated, scraping down the sides as necessary.

With the mixer on low, slowly add the dry ingredients to the wet ingredients until it just comes together.

Liberally dust a portable flat surface, like a baking sheet or large cutting board, with powdered sugar, then flatten the dough into a 9" x 12" rectangle, about ¼" in thickness.
CINNAMON FILLING
Whisk together the reserved egg white and the water, then brush over the flattened cookie dough.

Toss together the granulated sugar and the cinnamon until evenly combined, then sprinkle evenly over the brushed cookie dough.
SHAPE/CHILL/BAKE
Working with the 12" side, slowly and gently roll the dough into a tight log. I like to use a large bench scraper or large cake lifter to help me do this. If your dough is too soft to roll, stick it in the refrigerator for about 5-10 minutes to stiffen the butter (this is why it is on a portable flat surface).

When you have formed the log, cover the log with plastic wrap or a clean kitchen towel, then chill in the refrigerator at least 2 hours and up to 2 days. This is easiest if you place it on something flat that fits in the fridge.

When you are ready to bake the cookies, preheat the oven to 350ºF (177ºC). Line a large baking sheet with parchment paper or a silicone baking mat. Set aside.

Remove the dough from the refrigerator and, using a sharp knife, cut into ½" slices and place on prepared baking sheet.

Bake the cookies for 12-14 minutes, until edges just start to brown. Remove from the oven and allow to rest on the baking sheet at least 5 minutes before transferring to a wire cooling rack to cool completely before icing.
CINNAMON ICING
In a small bowl, whisk together the powdered sugar, milk, vanilla, and cinnamon until smooth.

Drizzle the icing over cooled cookies, then allow to icing to set (about 1 hour). Cookies stay fresh covered tightly at room temperature up to 5 days. Baked cookies (iced or not iced) freeze well, up to 3 months.

Make ahead: rolled dough log can be wrapped tightly and frozen up to 3 months. Thaw in the refrigerator overnight, then proceed with recipe.
Nutrition Disclosure
All nutritional values are approximate and provided to the reader as a courtesy. Changing ingredients and/or quantities will alter the estimated nutritional calculations.
Serving:
1
cookie
|
Calories:
122
kcal
|
Carbohydrates:
16
g
|
Protein:
1
g
|
Fat:
6
g
|
Saturated Fat:
4
g
|
Polyunsaturated Fat:
0.3
g
|
Monounsaturated Fat:
2
g
|
Trans Fat:
0.2
g
|
Cholesterol:
24
mg
|
Sodium:
55
mg
|
Potassium:
17
mg
|
Fiber:
0.4
g
|
Sugar:
8
g
|
Vitamin A:
191
IU
|
Vitamin C:
0.01
mg
|
Calcium:
12
mg
|
Iron:
0.5
mg