How To Make Candied Almonds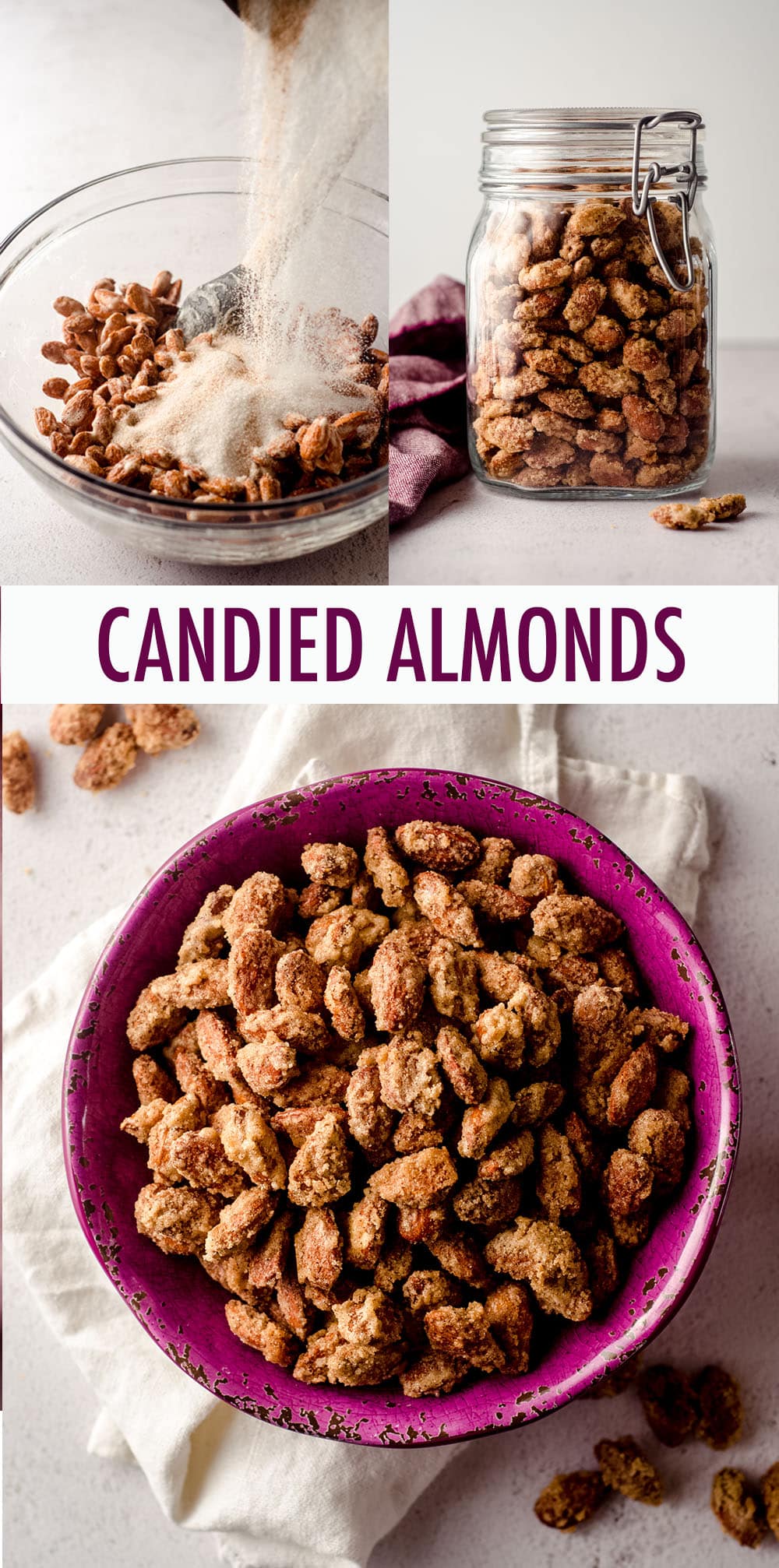 As an Amazon Associate, I earn from qualifying purchases. Read the full disclosure here.
These easy oven baked candied almonds are flavored with vanilla and cinnamon for a sweet, salty, and crunchy exterior, perfect for topping salads or ice cream sundaes or simply snacking.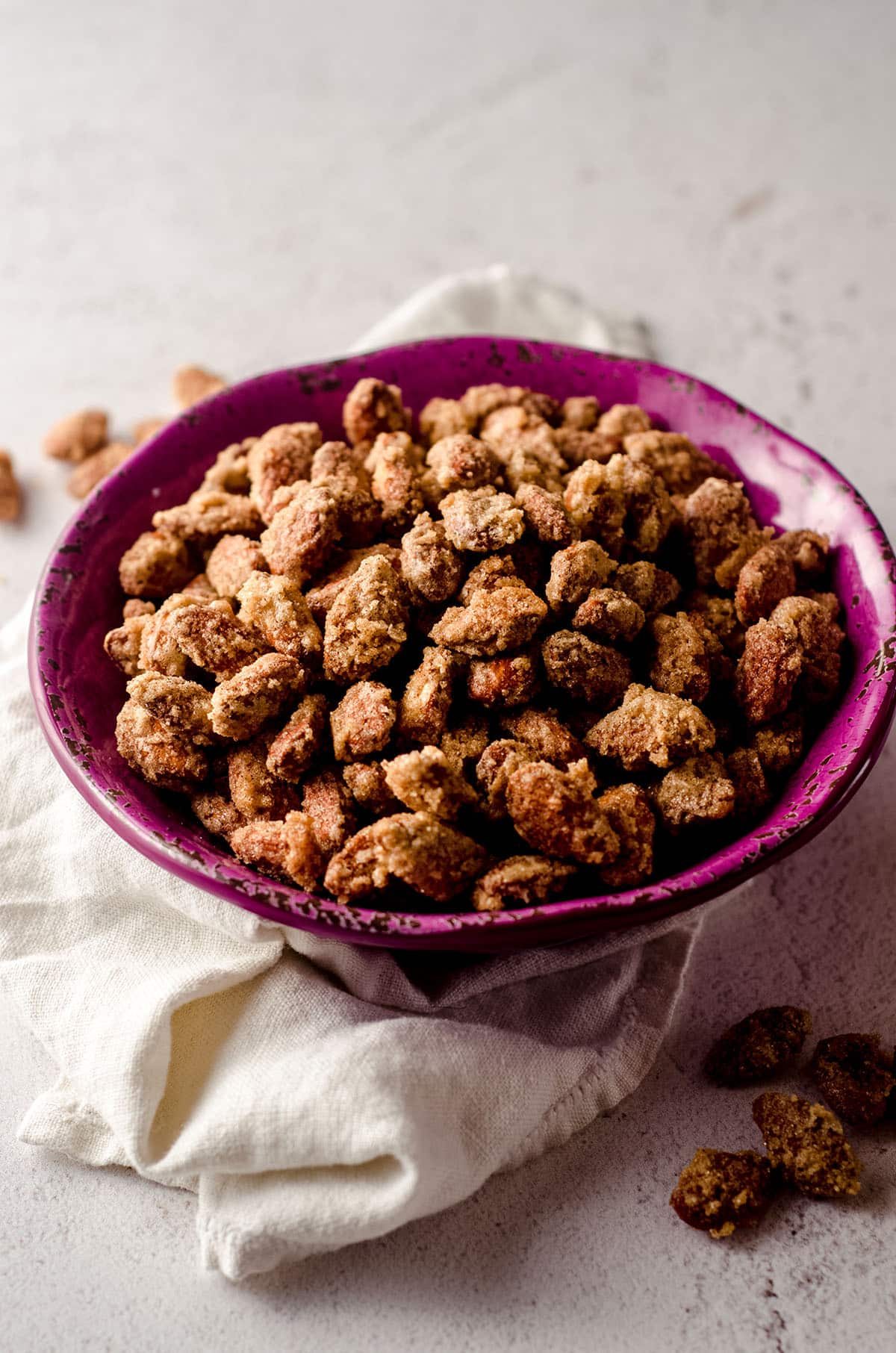 This recipe for Candied Almonds brings delicious nostalgia
When you look at this picture, you can taste it… Right?
A carnival, a fair, the boardwalk, a mall even… Remember those things? (#LOLsob)
You've had these candied almonds before, I know it. And if you haven't had them in almond style, you've had them in peanuts or cashews. Tell me I'm right!
This is one of those snacks that you can sniff out, isn't it? You walk into a carnival, a fair, or the boardwalk and one sniff of those warm sugared almonds and you know you're in for the good stuff.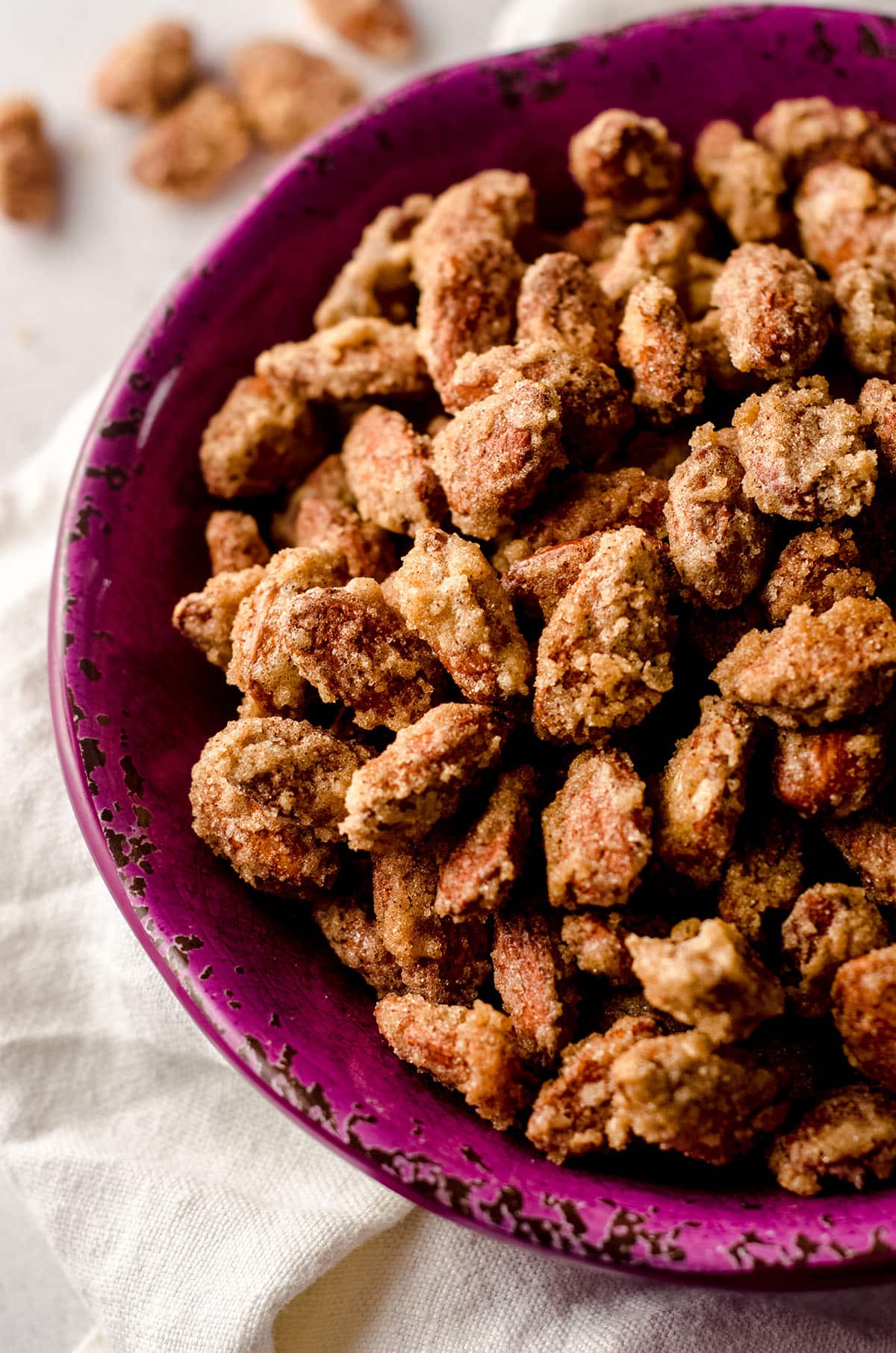 And now, you can bring that smell into your home! Hooray!
No joke, ya'll– one pound of these sugar coated almonds, delightfully spiced with vanilla and cinnamon and just begging to be eaten, lasted about 30 hours in our house.
THAT'S IT.
Lucky for you, they're as simple to make as they are to eat, so we're in good shape for making these happen for your snack probably even today, if you have the ingredients available!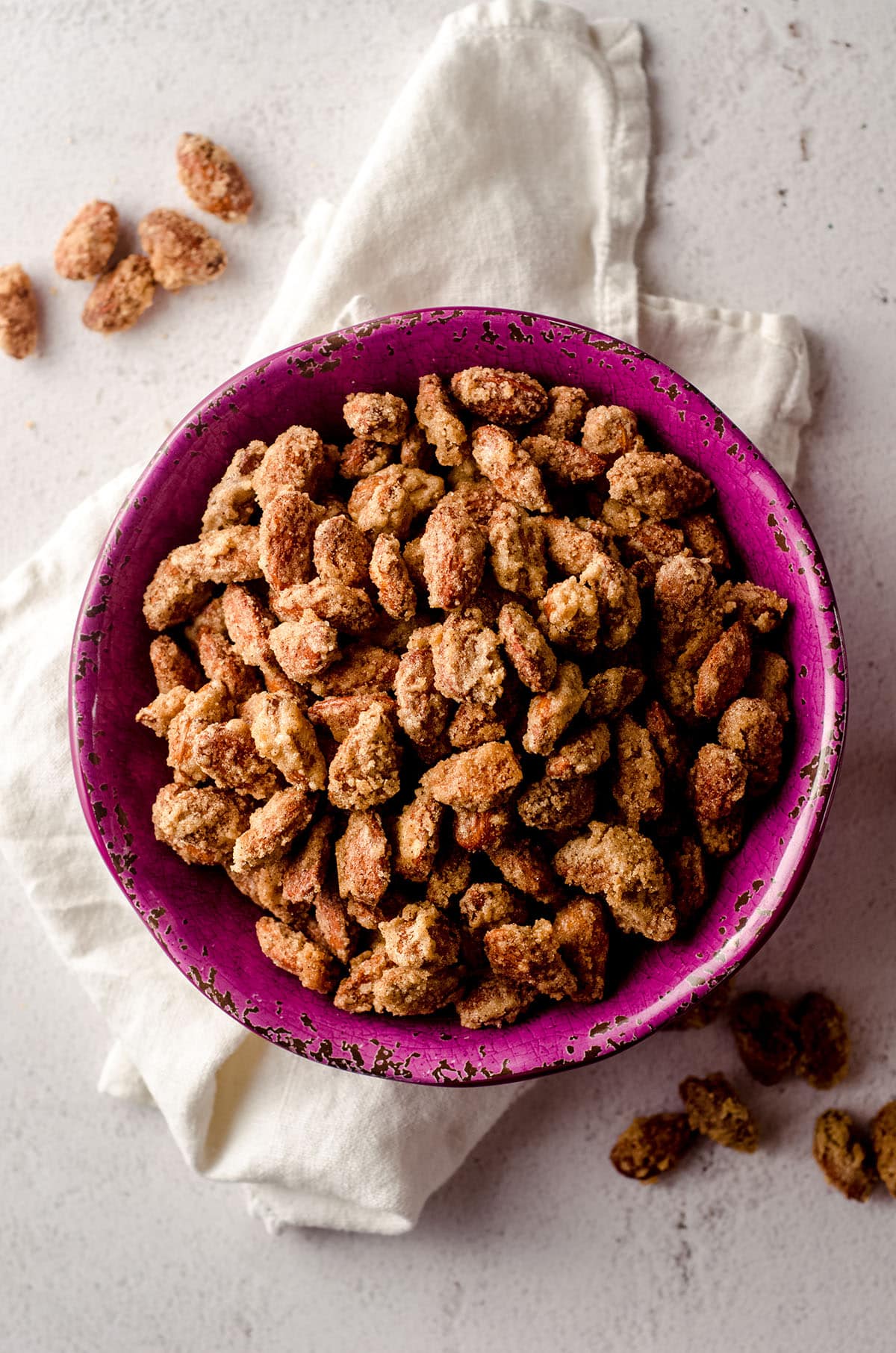 A very long time ago, I attempted to candy my own almonds and it went pretty poorly. That was before I truly understood the importance of low and slow (hello, homemade granola!) and that what appears to still be "wet" in the oven is really actually going to firm up quite a bit upon cooling.
Keep my mistakes in mind as you go through this in your own kitchen.
Needless to say, I have burned many an almond and many an other kind of nut trying to get these just right, but the report in 2021 is that we are here in all our candied almond glory.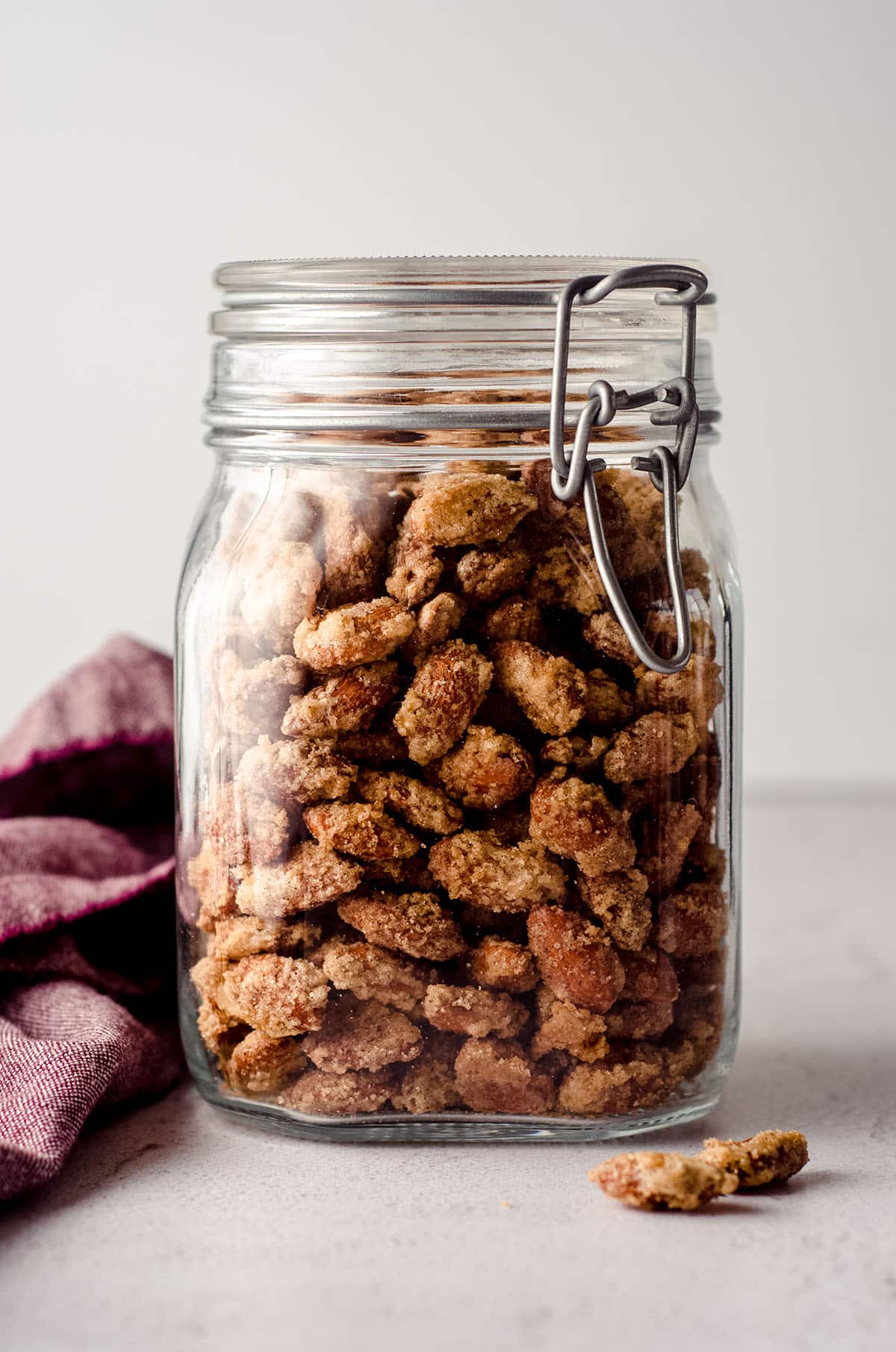 Ingredients for Candied Almonds
You only need a few ingredients here:
a pound of whole raw almonds
some granulated sugar
an egg white (which acts as the binder for the coating)
a little salt
and the stars of the show– the cinnamon and vanilla.
I opted for vanilla paste because I love the little specks, but vanilla extract will work just fine, too. Just be sure you're using pure vanilla extract (or homemade!) because the vanilla flavor is pretty prominent and we don't want it tasting fake.
How to make Candied Almonds
You'll whip the egg white before assembling anything. You can use an electric mixer or the old fashioned way with a whisk (obviously, this method takes longer), and you're just looking to make it frothy.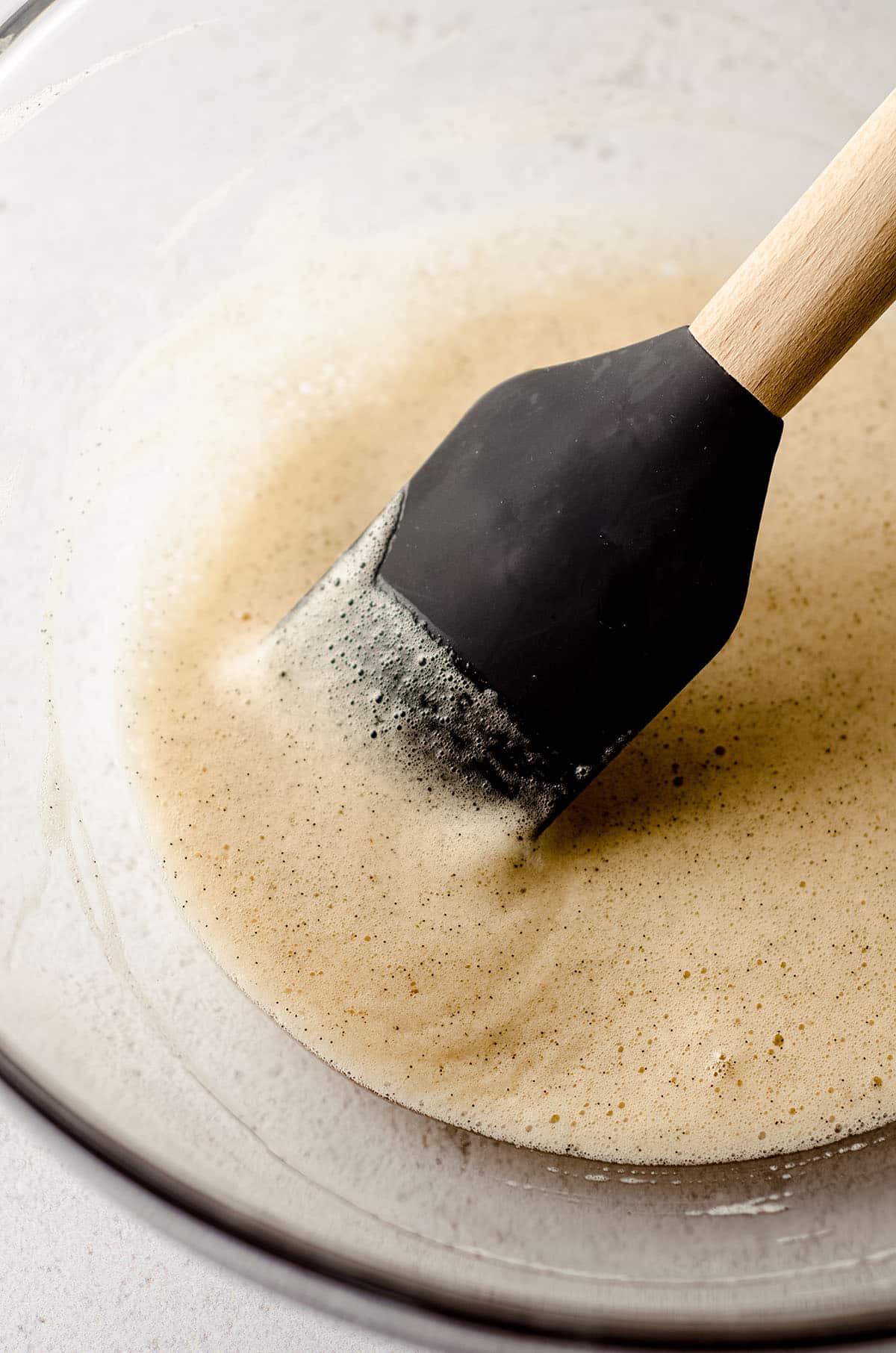 We don't need any specific kinds of peaks here, we're just looking to fluff it up a bit.
Add in the vanilla, whisk again, and you're just about off to the races.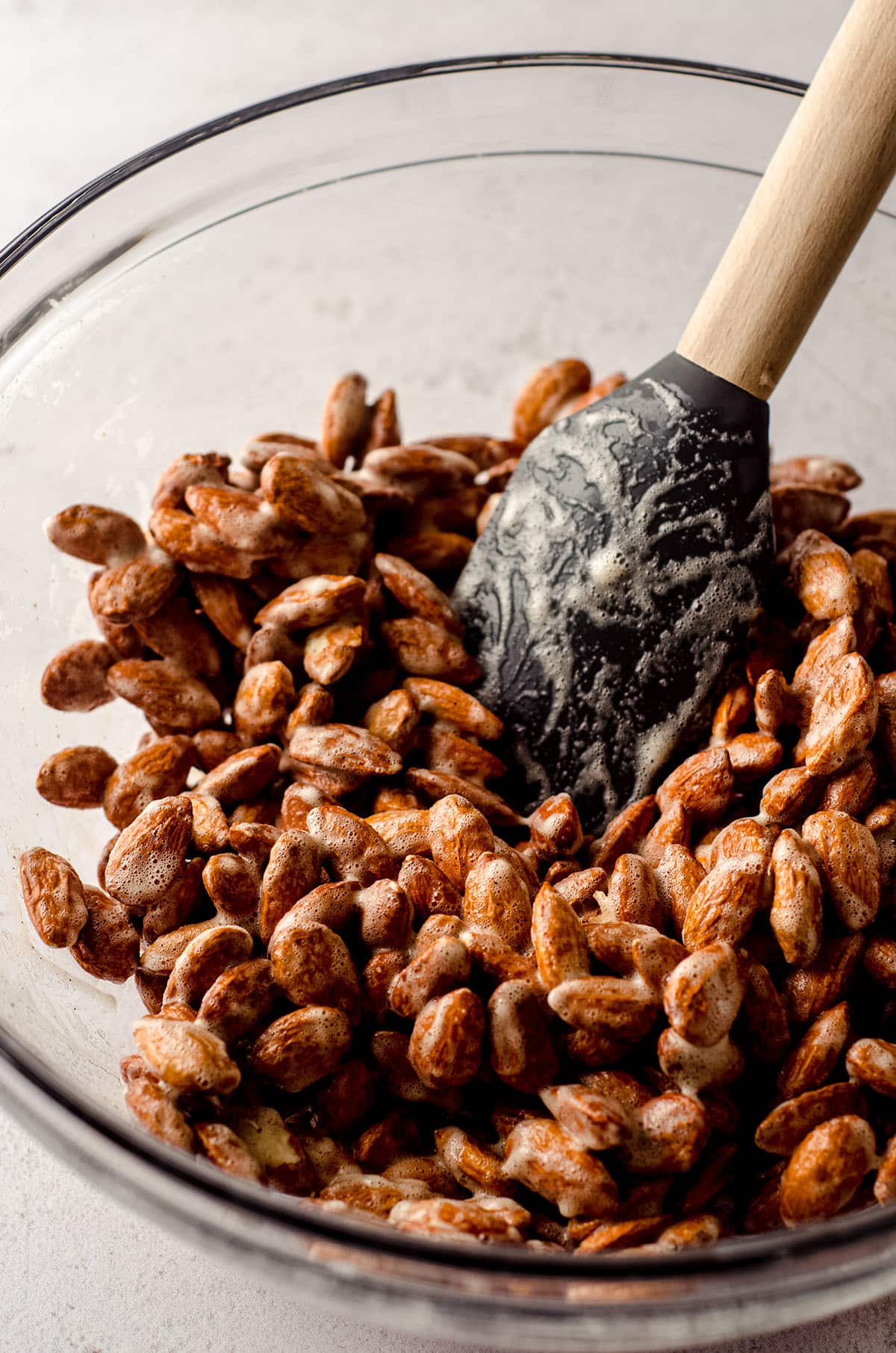 You'll use your vanilla-d (technical term) egg white to coat the raw almonds, which you'll then coat in your sugar + cinnamon + salt mixture before spreading them all out onto a baking sheet to bake.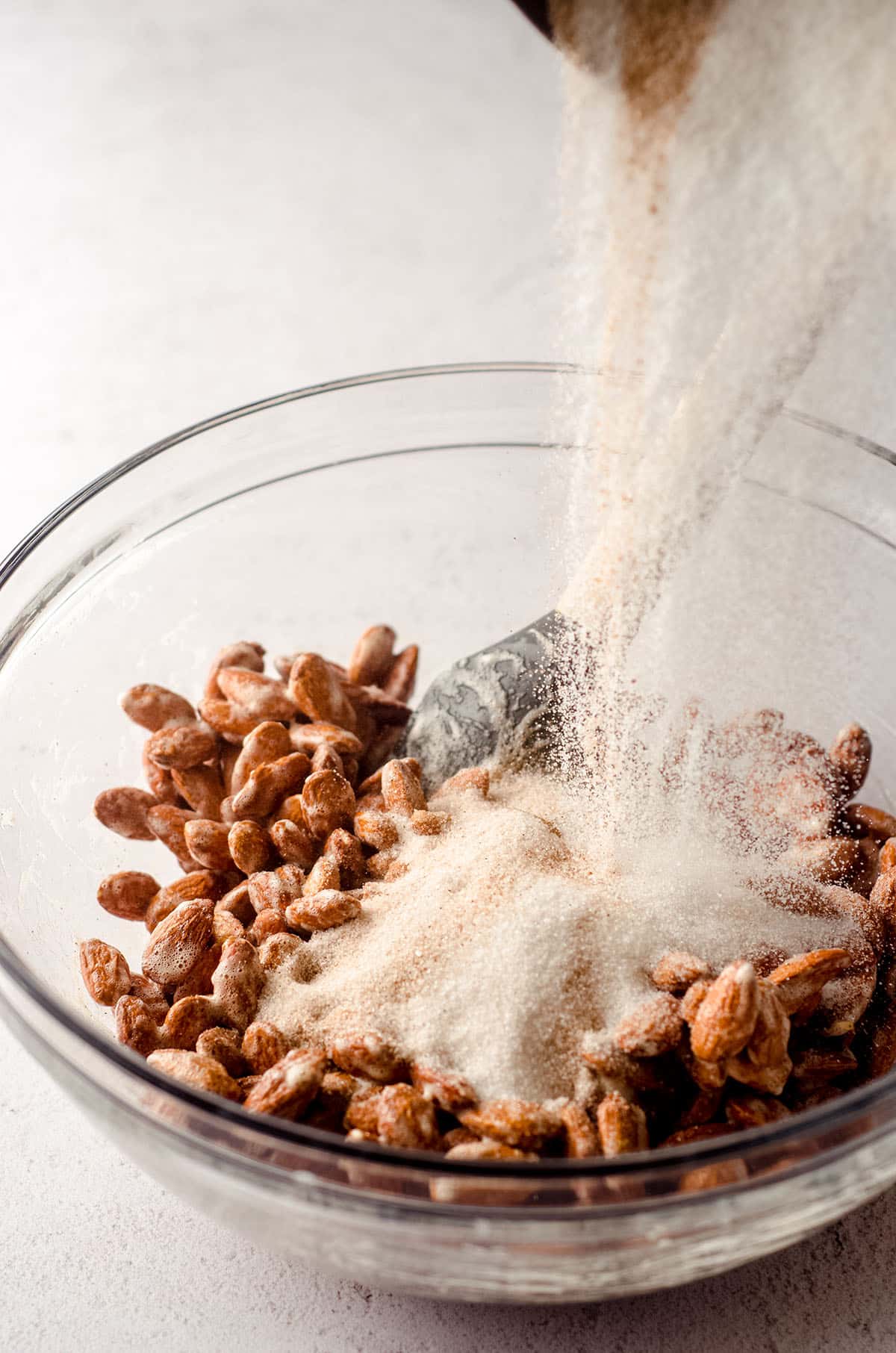 How to bake Sugar Coated Almonds: low and slow
As I mentioned, this is low and slow. We're baking these at 250ºF (121ºC) for an hour, but we're stirring every 15 minutes.
Nothing fancy, just pop open the oven, pull out the tray, and give all the nuts a simple stir/toss. We're just looking to make sure everything gets cooked and nothing clumps together too much (a few will buddy up together but for the most part, they'll all separate).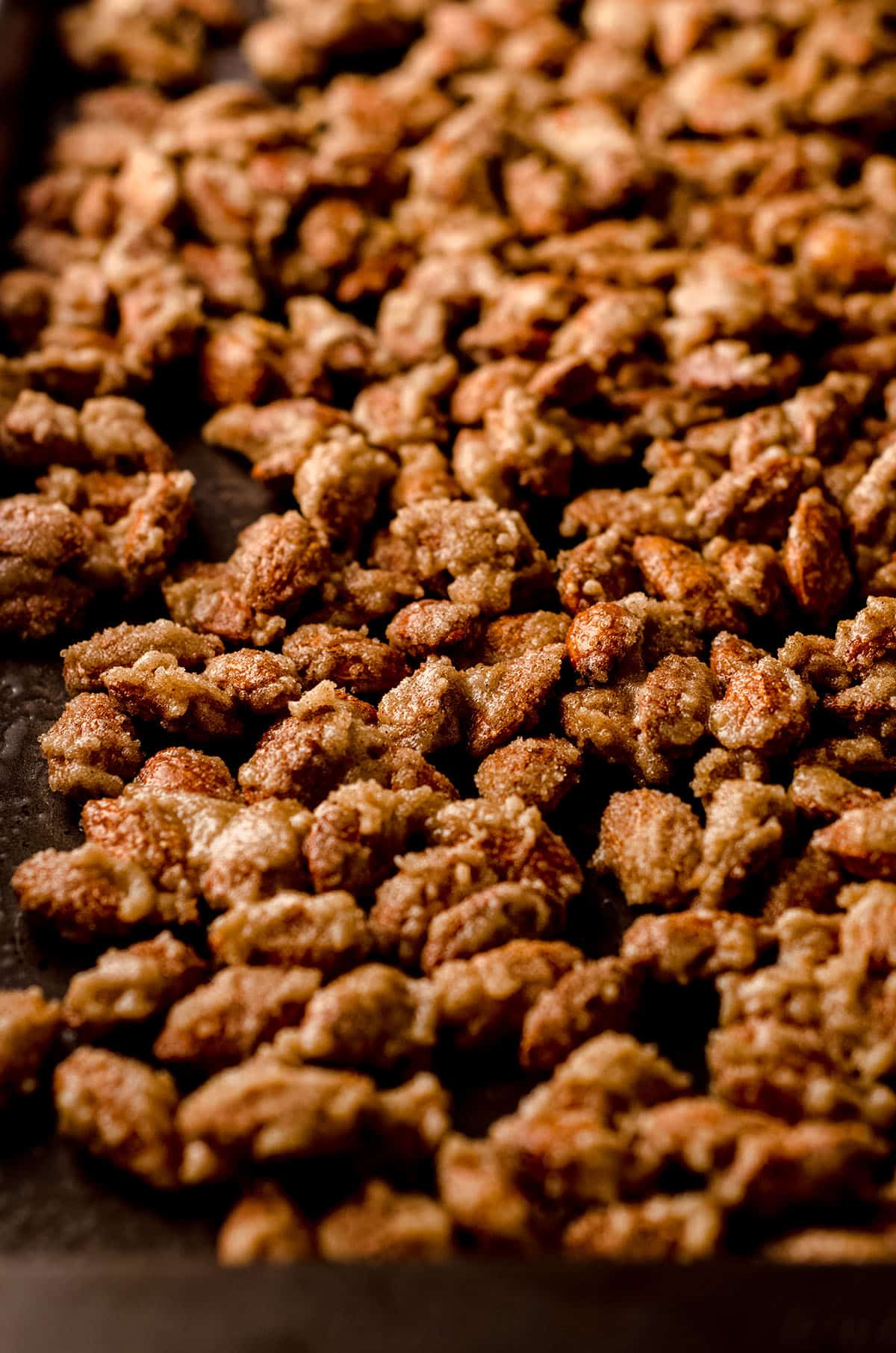 Serving this fresh and delicious Candied Almonds Recipe
After their hour bake, they just need to cool a bit before you eat them. They'll also harden quite a bit upon cooling, so don't fret if they feel a little less crunchy than you'd like.
We ate these at just above room temperature for our first taste and ohhhh man, it was JUST like how it is when you get them from the sugared nut stand.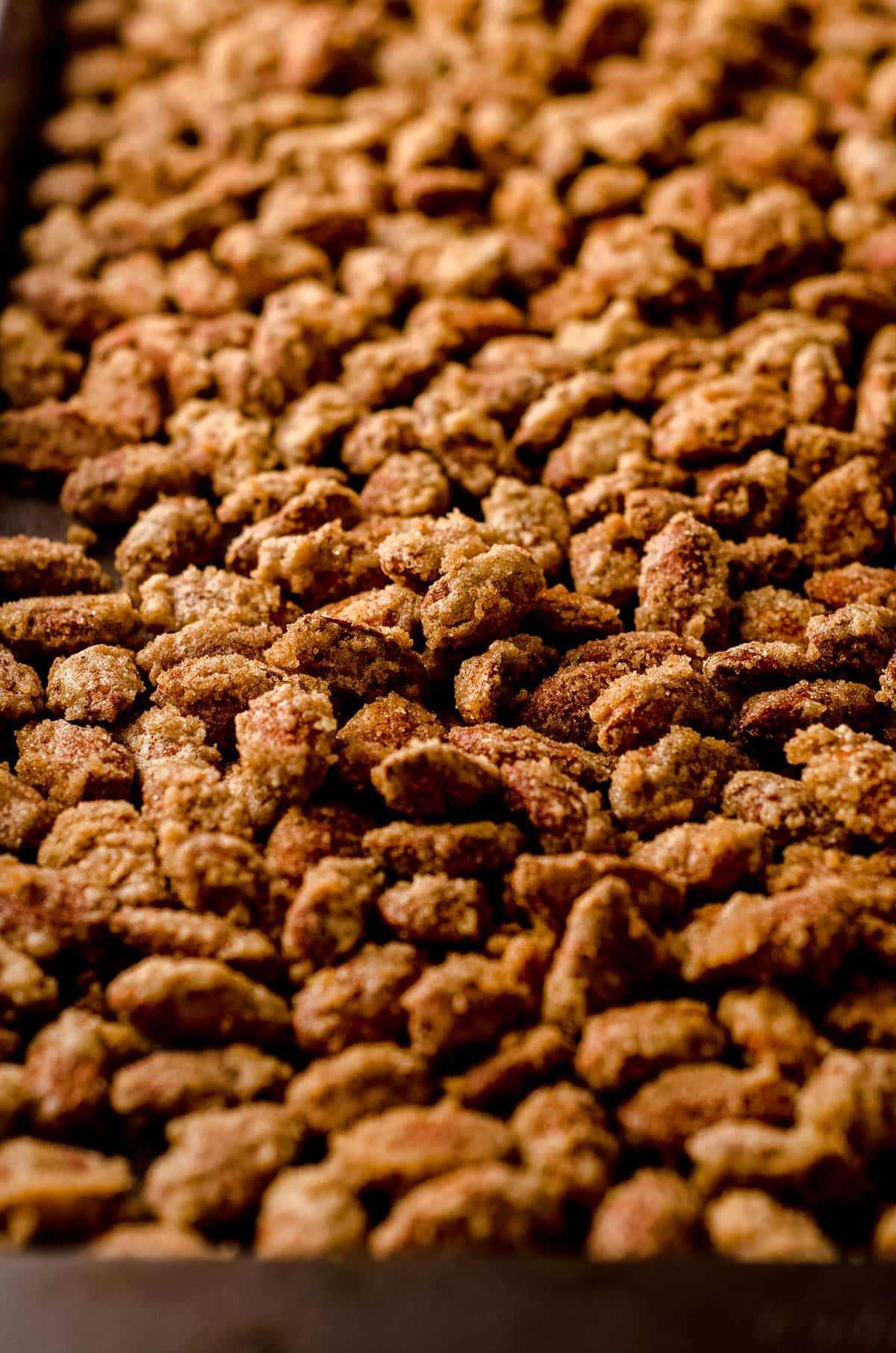 But of course, they're perfect at room temperature, too. You just can't go wrong with these snackable almonds. You just can't.
While we ate the entire batch of these straight up, these vanilla cinnamon candied almonds would be fantastic on a salad, on top of a brownie or ice cream sundae, or on top of yogurt.
They are also a lovely homemade gift for the holidays or a fun host/hostess gift.
So many possibilities.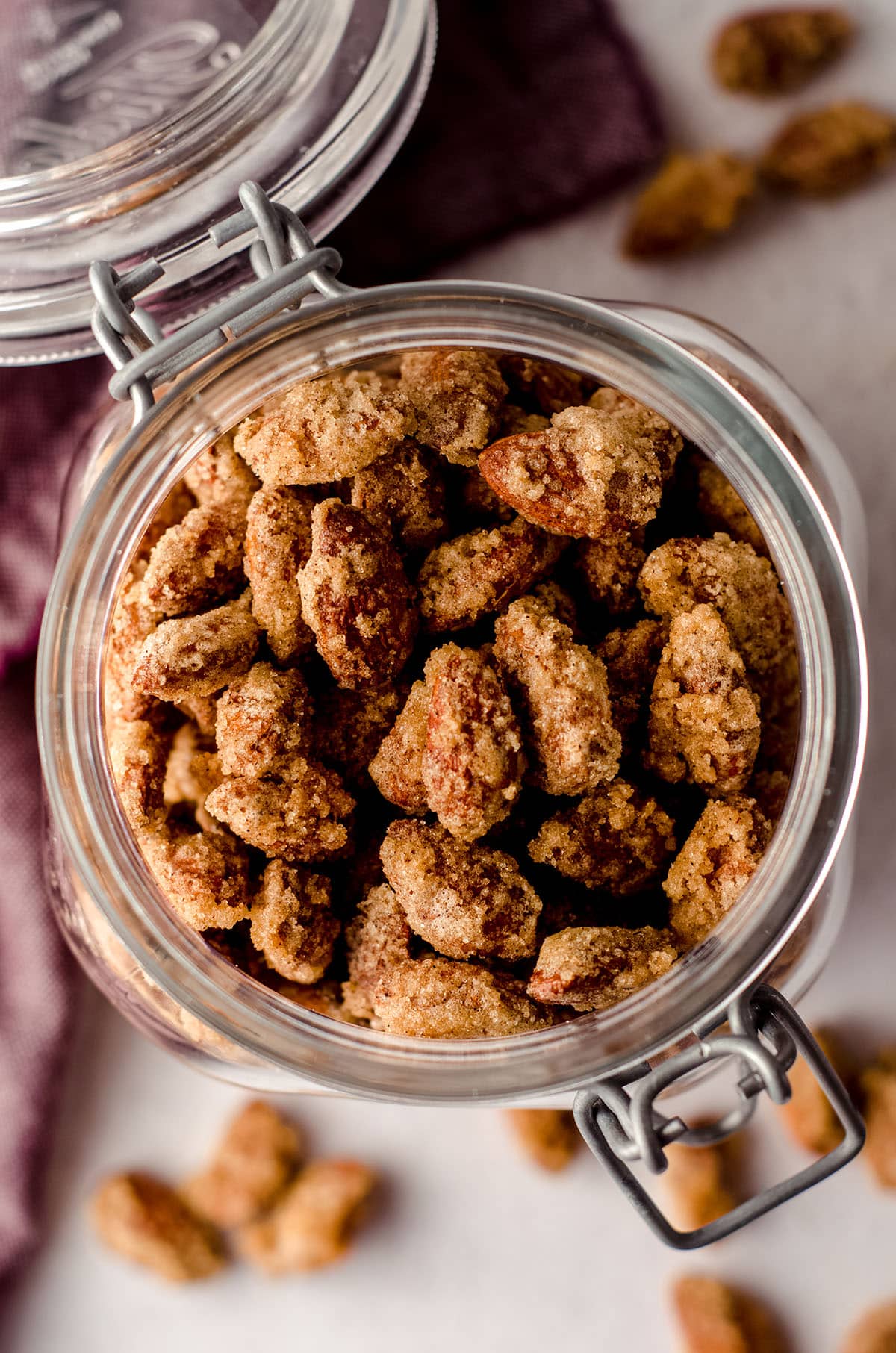 Which is why you should probably get started on a batch now and help convince me I need to make more ASAP. Though honestly… It won't take much convincing at all!
How to store Sugar Coated Almonds
The nice thing about these candied almonds is they keep for quite some time! As long as they are stored in a cool dry place in an airtight container, they will maintain their freshness. You can also freeze them if you really need to.
Love almonds as much as I do? Try any of these recipes featuring almonds: pignoli cookies, apple, quinoa, and almond kale salad, almond flour pecan sandies, and almond flour banana bread.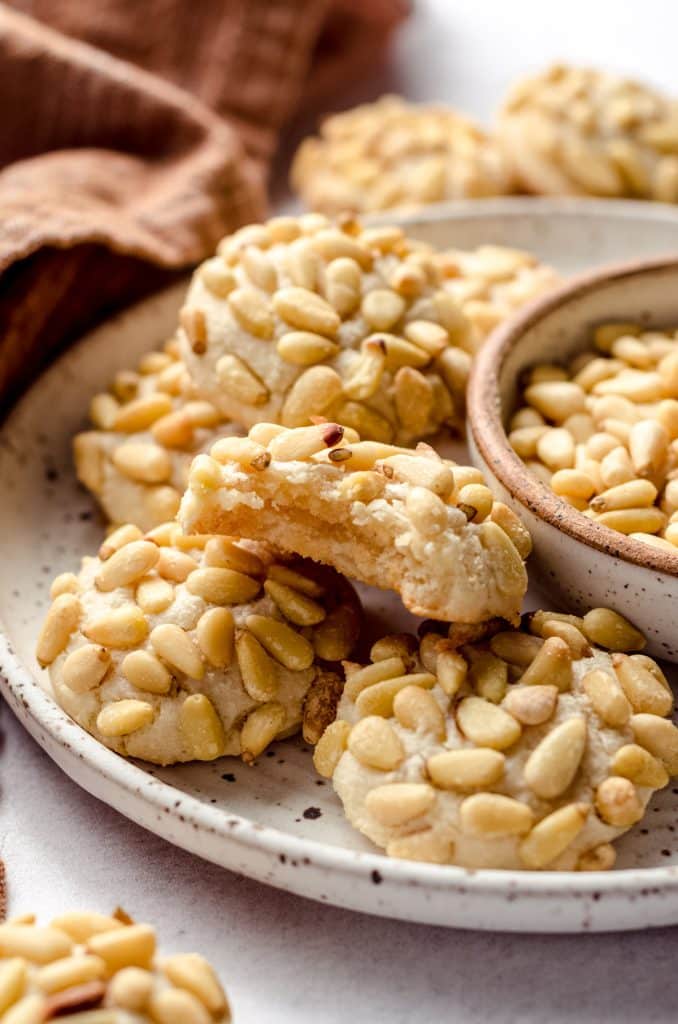 Sugar Coated Almonds
These easy oven baked candied almonds are flavored with vanilla and cinnamon for a sweet, salty, and crunchy exterior, perfect for topping salads or ice cream sundaes or simply snacking.
Ingredients
1

cup

(200g) granulated sugar

1 and ½

teaspoons

ground cinnamon

1

teaspoon

salt

1

large egg white

2 and ½

teaspoons

pure vanilla extract or vanilla bean paste

1

pound

(454g) raw whole almonds
Instructions
Position an oven rack in the center position and preheat it to 250ºF (121ºC). Spray a large baking sheet with non-stick spray (alternatively, you can line with foil, parchment, or a silicone baking mat and spray). Set aside.

In a small bowl, whisk together the sugar, cinnamon, and salt. Set aside.

In a large bowl with a handheld mixer, or the bowl of a stand mixer fitted with the whisk attachment, beat the egg white on high until frothy (you don't need to look for any peaks, just lots of white bubbles). Add the vanilla extract or paste and beat again just to combine.

Pour the almonds into the egg white and vanilla mixture, then stir with a large spatula to coat. Add the sugar mixture and stir again until almonds are coated mostly evenly (this won't be perfect).

Spread the coated almonds out in a single, even layer on the prepared baking sheet. Bake the almonds for 1 hour, stirring gently every 15 minutes. Allow almonds to cool on the baking sheet on a wire rack before serving (can be served warm or at room temperature). Candied almonds stay fresh covered tightly at room temperature up to 2 weeks.
Nutrition Disclosure
All nutritional values are approximate and provided to the reader as a courtesy. Changing ingredients and/or quantities will alter the estimated nutritional calculations.
Serving:
1
pound
|
Calories:
3448
kcal
|
Carbohydrates:
301
g
|
Protein:
100
g
|
Fat:
227
g
|
Saturated Fat:
17
g
|
Polyunsaturated Fat:
56
g
|
Monounsaturated Fat:
143
g
|
Trans Fat:
0.1
g
|
Sodium:
2383
mg
|
Potassium:
3406
mg
|
Fiber:
58
g
|
Sugar:
221
g
|
Vitamin A:
13
IU
|
Vitamin C:
0.1
mg
|
Calcium:
1257
mg
|
Iron:
17
mg