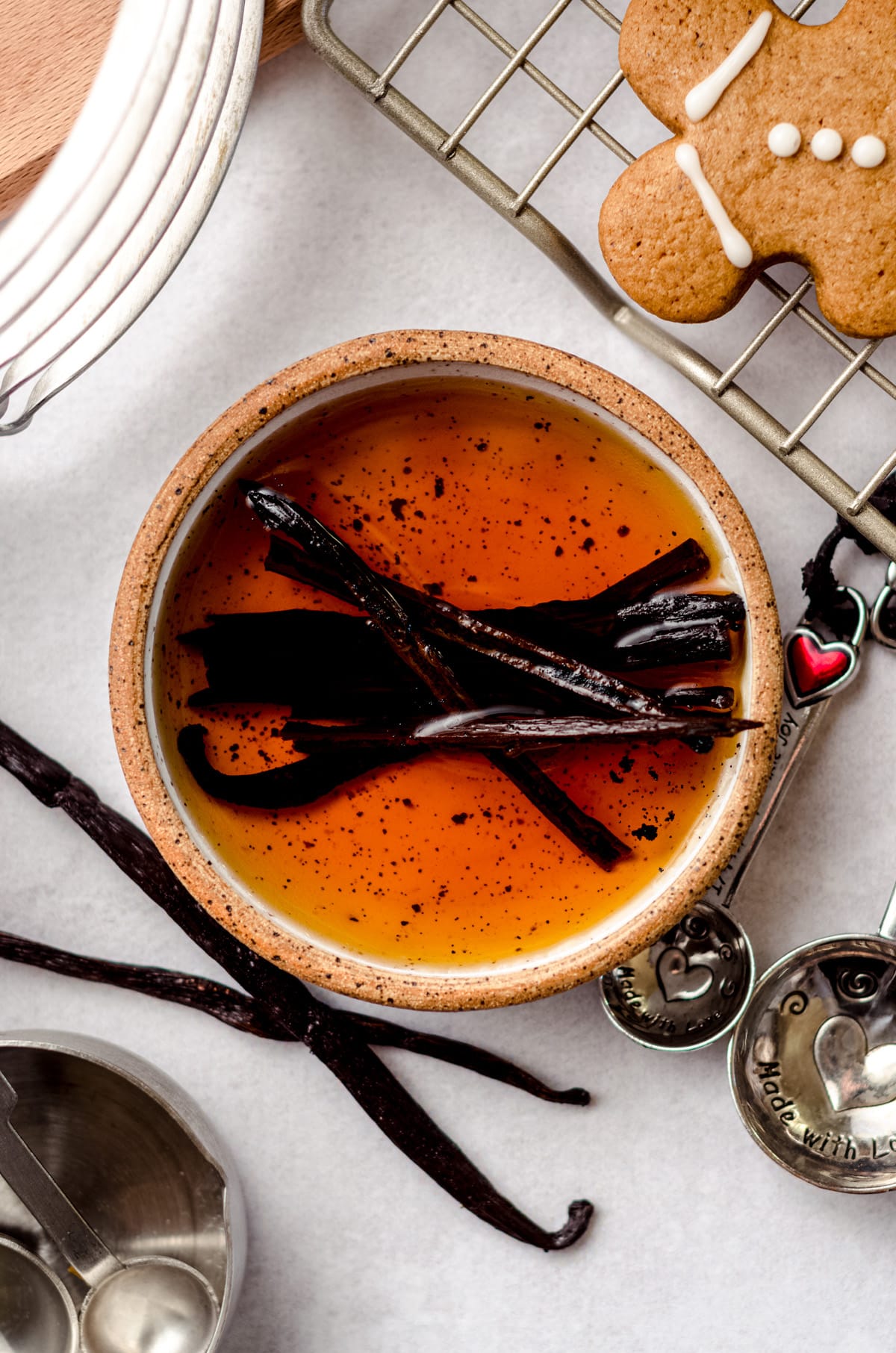 As an Amazon Associate, I earn from qualifying purchases. Read the full disclosure here.
Homemade vanilla extract is so simple. Only 2 ingredients and about 6 weeks of steeping and you're on your way to your own high-quality flavoring!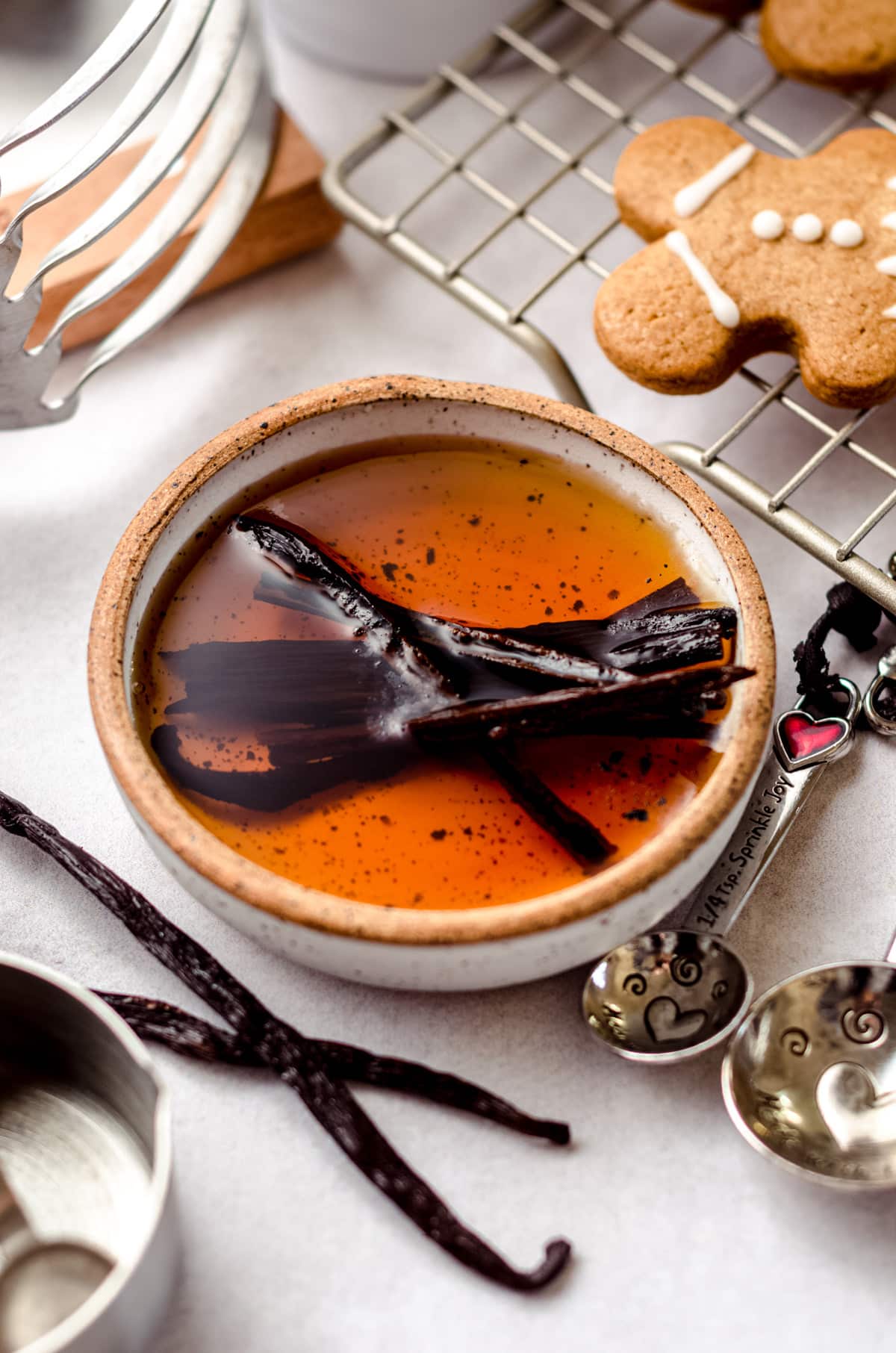 In recent years, vanilla extract has become more and more expensive as vanilla crops continue to be destroyed by natural disasters, commercial factories, and real estate in all different parts of the world.
It is a real problem for many reasons, and can be troublesome for the home baker who bakes as often as I do (umm, weekly, as you can imagine).
Making your own vanilla extract is actually so simple, and if you've never made it before, you'll read this tutorial and start to wonder why in the world you never have.
It is so laughably easy, and seriously, if you can shake a bottle… You can make your own real vanilla extract.
So friends, let's do this.
PURE VANILLA EXTRACT VS IMITATION VANILLA EXTRACT VS ARTIFICIAL VANILLA EXTRACT
Before we get to the nitty gritty, you might wonder why I feel so passionately about making this stuff at home rather than buying it, and one thing we must get straight first is that pure vanilla extract (and homemade vanilla extract) is absolutely not the same as imitation vanilla.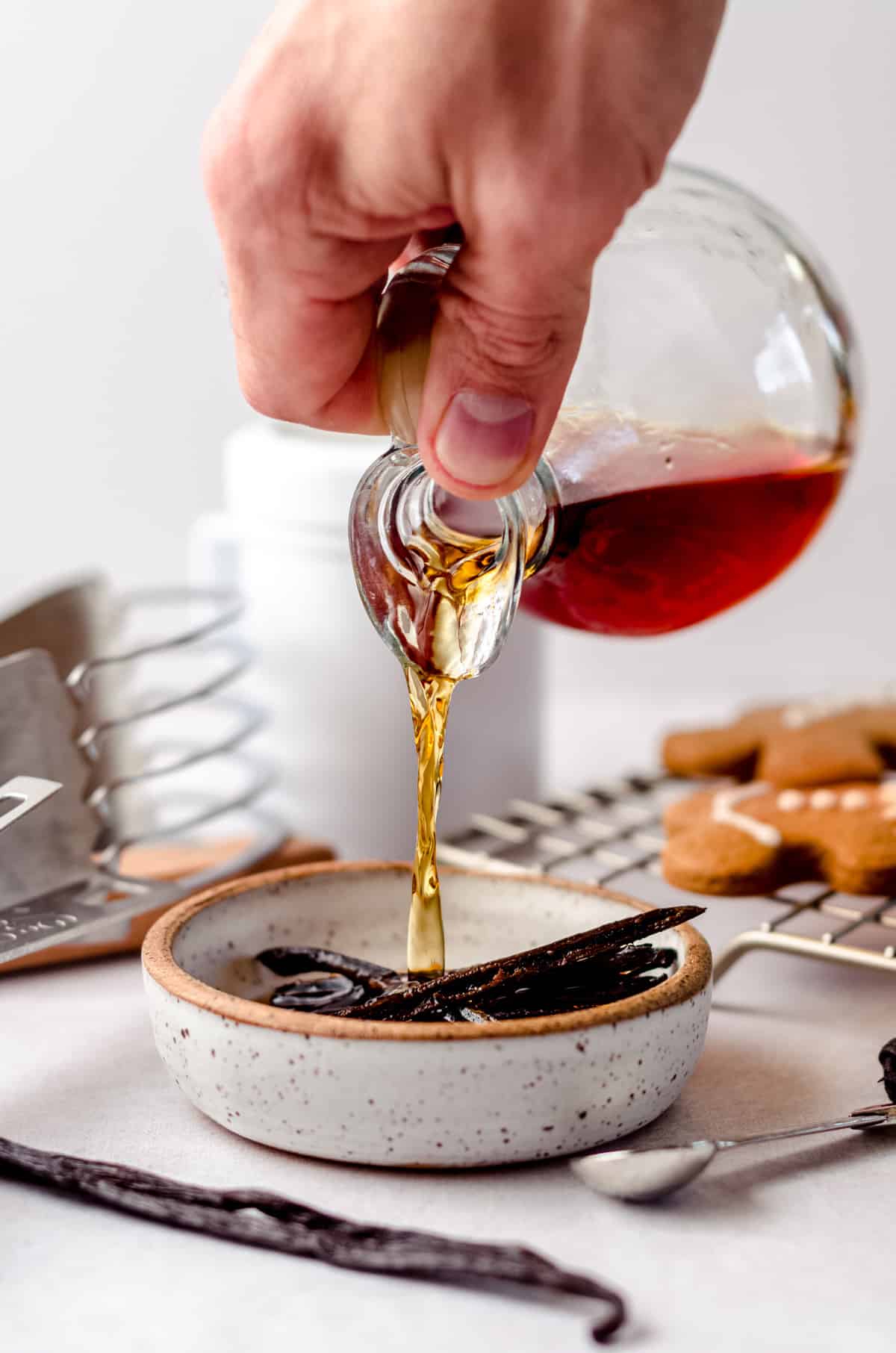 Pure vanilla extract or homemade vanilla extract is made exclusively from actual vanilla beans, and imitation vanilla is made from, you guessed it, imitation ingredients.
Artificial vanilla extract is not actually made with vanilla beans. It is made with synthetic vanillin which is extracted from wood pulp.
While the artificial nature of imitation or artificial vanilla extract does make it significantly cheaper to purchase, the taste is not nearly as wonderful and the taste is definitely discernible.
I actually think that homemade vanilla extract can, in fact, be way more cost effective than buying even pure vanilla extract for a few reasons.
WHY SHOULD I MAKE MY OWN VANILLA EXTRACT?
First: you can choose your own liquor. Homemade vanilla extract is just beans + liquor. That's all it is in the bottle you buy at the store, too, but when you can choose your own liquor, you can guide the natural vanilla flavor profile to your liking.
I almost always use rum, but I also like to use vodka, and I have also used brandy (don't forget bourbon vanilla is also pretty fancy!). Just be sure it's at least 35% alcohol, or 70 proof.
Second: you can let those vanilla beans sit in that alcohol for literally years. Just give it a good sniff every few months to make sure it still smells like vanilla. If it smells like nothing or like the strong vanilla smell is fading, it's time to replace the beans.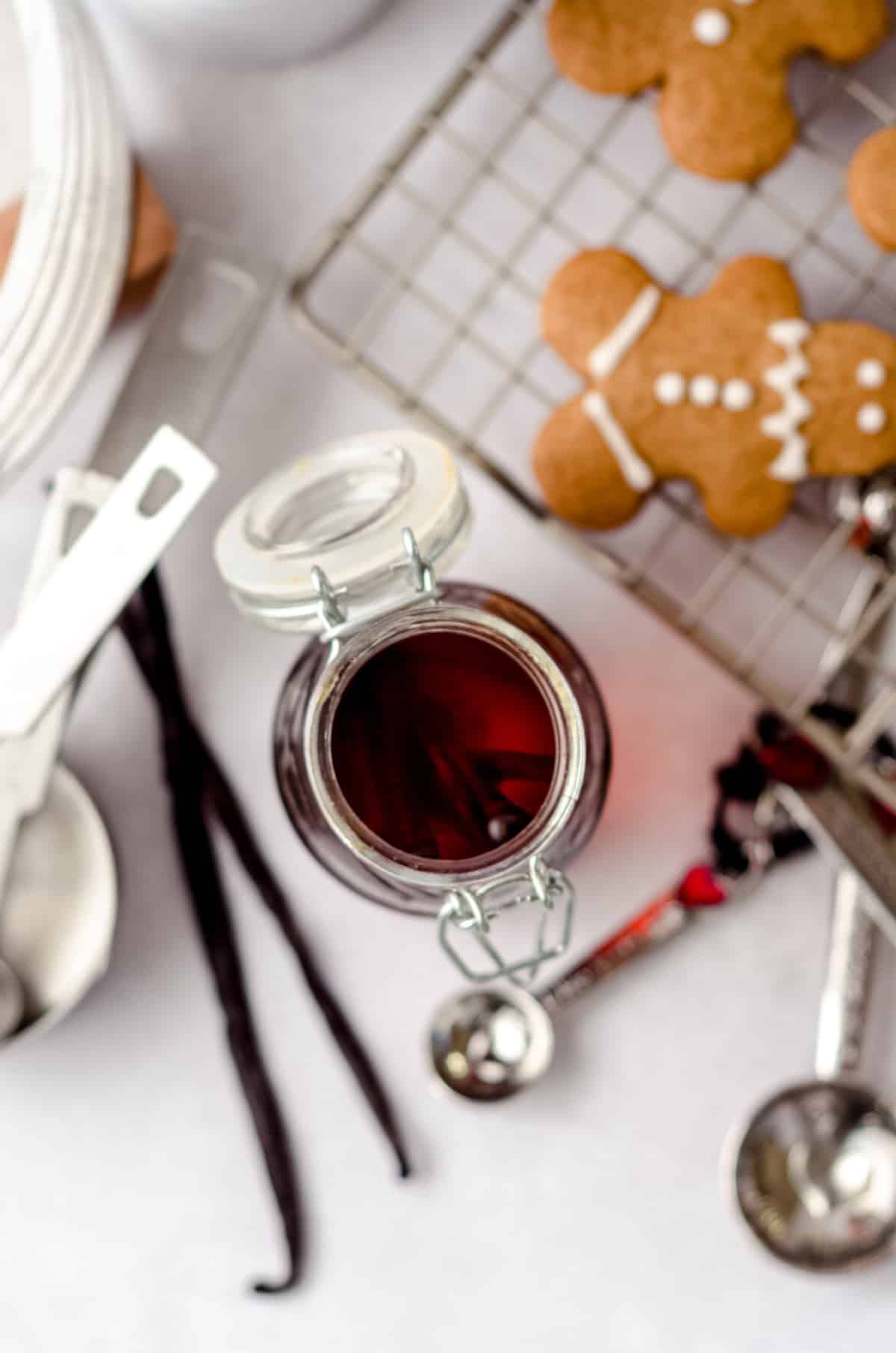 Since the beans are preserved, they won't rot or spoil (if stored properly, of course), and their deep vanilla flavor and taste just intensifies over time.
I have added a few new beans here and there over the years, but it truly is one of those things that can sit and just continue to be amazing as time goes on.
This means you have one larger purchase up front (the vanilla beans) and just have to buy liquor every once in awhile.
And guess what? The liquor can be bottom shelf. It does not have to be fancy top shelf, so the expense for keeping up with homemade vanilla extract is very very low.
WHAT IS THE PURPOSE OF VANILLA IN A RECIPE?
I get this question a lot, actually. And I like to explain it like this: vanilla extract is kind of like salt– it brings out the natural flavors of so many other ingredients, and it's in a lot more than you think it is.
I've actually left vanilla extract out of my chocolate cake once, just because I was "curious" what it would taste like…
Take it from me and don't do that. You need the vanilla notes to bring out the chocolate ones. It's the yin and yang of the baking world, you might say.
The problem I have with commercial vanilla extract is that it is so.darn.expensive.
It comes in a teeny tiny bottle that gets used up after a handful of recipes and chances are, you go to measure out the teaspoon that you need and you only have half of a teaspoon left. Womp womp. The worst!
Those bottles are so small, and in a heaving baking season, you can find yourself buying bottle after bottle of that stuff. Because of course, it's hard to find more than just a tiny bottle of it.
Then, what feels like $5,478 later, you might realize that you don't want to take out a loan to fuel your baking habits, so you start to wonder… "Can I do this myself??"
Hi, yes, you can. Welcome to my vanilla extract recipe. Or, "recipe." It's more or less an iPhone note.
WHAT YOU NEED FOR MAKING VANILLA EXTRACT
As I mentioned, the list of vanilla extract ingredients is a whole big TWO.
That's right… You only need 2 things for homemade vanilla extract.
Ok, 3 if you include "a bottle" as something you need.
Oh, and 6 weeks.
Which could be one thing, or 6 things, depending on how you're looking at this.
Ok, ok, we're way off topic.
Vanilla.
Va-nill-a.
VANILLA BEANS
First, duh, you need some vanilla beans. You can get these plenty of places, but for this particular batch, I just bought McCormick's at the grocery store. They were on sale, and I paid $9.99 for 2 of them.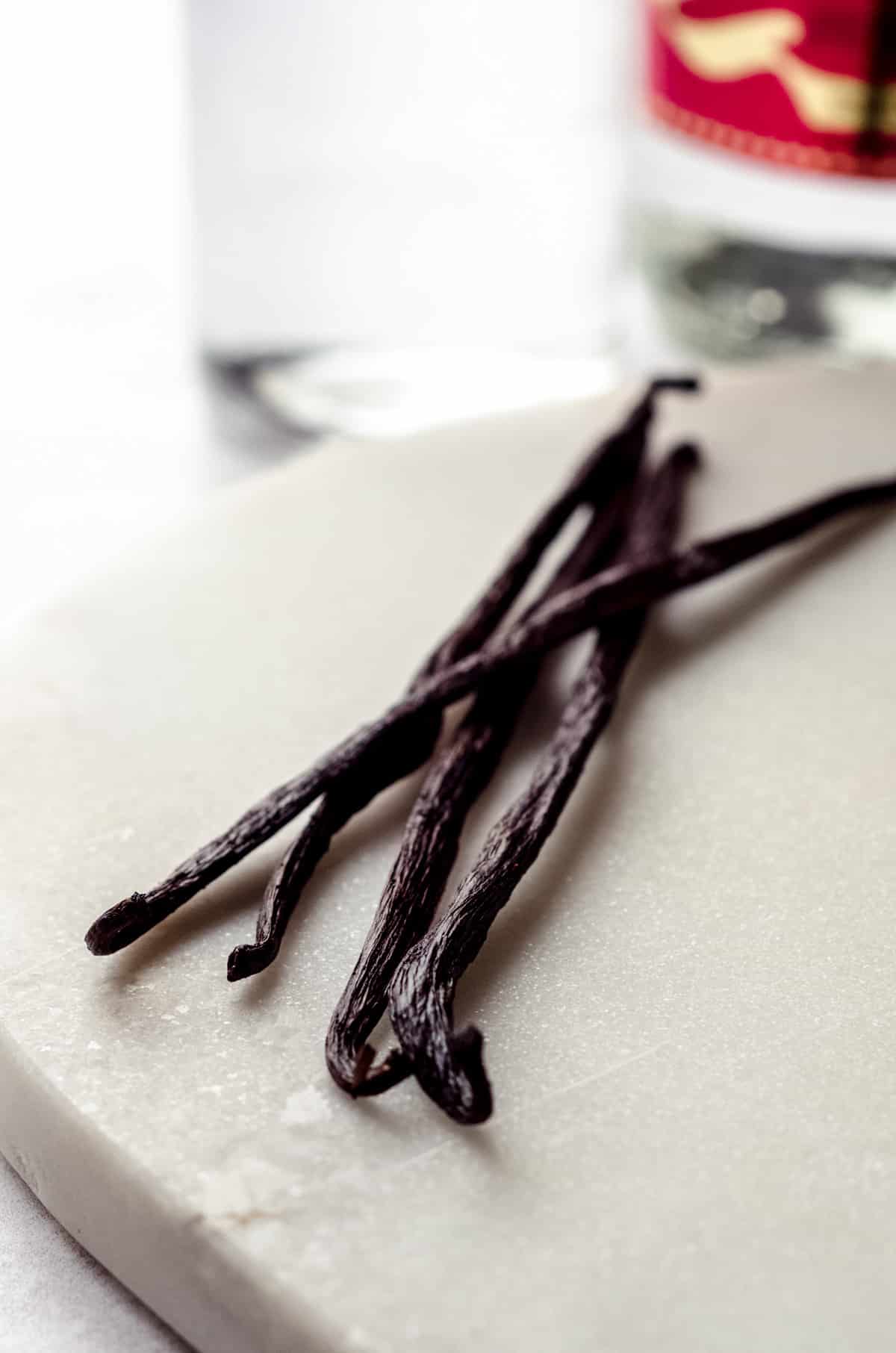 Not bad in a pinch, but not the best deal. Consider Rodelle or Beanilla if you think you're going to want a larger quantity.
You have several vanilla bean flavors to choose from.
WHAT ARE THE VARIOUS TYPES OF VANILLA BEANS?
My favorite are Madagascar vanilla beans because they produce a rich and creamy flavor (think French vanilla).
Others include Mexican vanilla beans, Tahitian vanilla beans, Tongan vanilla beans, and Indian (there is also a whole slew of other varieties– read more than you ever wanted/needed to know about them all from Rodelle).
Each of these beans brings along with is different flavor profiles. No two types of vanilla beans produce the same results, so you are making a good choice regardless of the beans you choose.
WHAT GRADE OF BEANS DO I NEED?
Then there is the decision between grade A and grade B.
Both are fine to use. Grade B just aren't as pretty and are used mainly for extracts.
You'd choose grade A if you wanted them to look nice, but honestly, please don't spend the extra money on grade A. Grade B (or lower grade A) is completely fine for homemade vanilla extract. The vanilla flavoring will be the same regardless of the grade.
USE LIQUOR TO STEEP YOUR BEANS
Next, you need some kind of alcohol. My first original bottle of vanilla extract was steeped in vodka, but over the years, I have found I prefer my extract steeped in rum. You may also use brandy or bourbon.
Typically, you'll want to use a neutral flavored alcohol, but I have used vanilla flavored liquor in the past.
Like I already mentioned, It does not need to be top shelf.
Plus, you're probably not going to be taking shots of your own homemade vanilla, so do some squats and check out that bottom shelf selection.
BOTTLES
Next, find a bottle with a tight fitting lid. It can be whatever size you want it to be.
I suggest at least a 6 ounce bottle, but if you're going to make a giant batch and distribute it into smaller bottles, you can choose any size, really.
Just do yourself a favor if you're going to make one single bottle: measure how much liquid your bottle can hold before you start throwing beans and liquor together.
BEANS TO LIQUID RATIO
My general rule is about 2-3 beans per 6oz of liquor. I will use 3 if I'm using one of the milder flavored beans.
That said, you might be wondering how many vanilla beans to use for a 750mL bottle of liquor. Since this is about 25 ounces, you're looking at 8 to 12 beans.
I have seen some people cut their bean pods linearly, but I prefer just to snip off the ends and then cut them in half, allowing the alcohol to make its way through the entire length of the beans.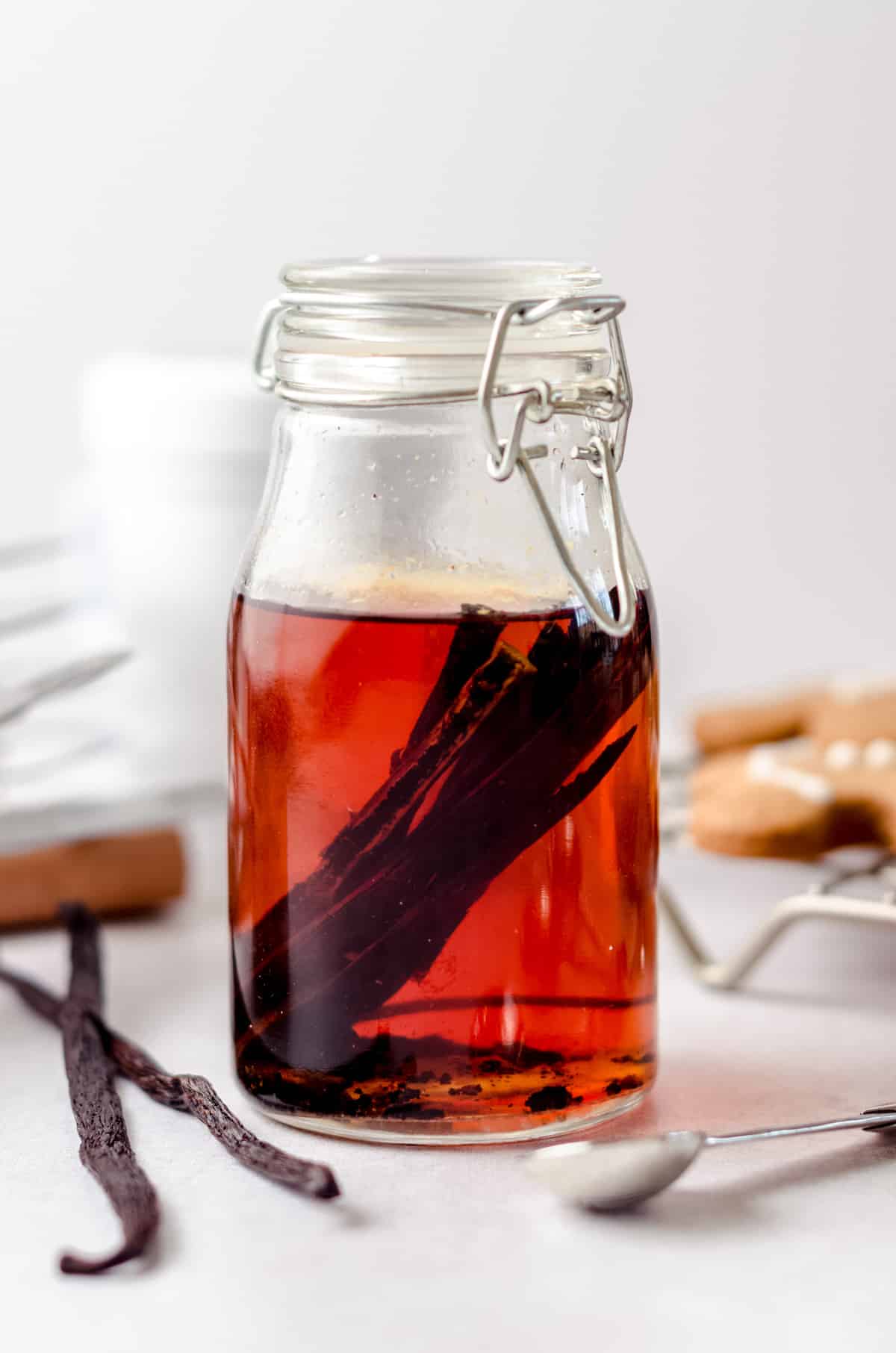 Just don't use whole vanilla beans that haven't at least been punctured. We want those vanilla beans to get all up in that liquid for stronger flavor!
Over the course of the 6 weeks, your pods might start to break down and some of the little seedy specks will start coming out.
This is completely fine and what you want to happen. You can always strain your DIY vanilla extract once it's finished if you want a nice, clean look.
Personally, I love the little specks! They're like vanilla freckles in my desserts (see my vanilla bean sugar cookies that use vanilla paste and display all those beautiful specks!).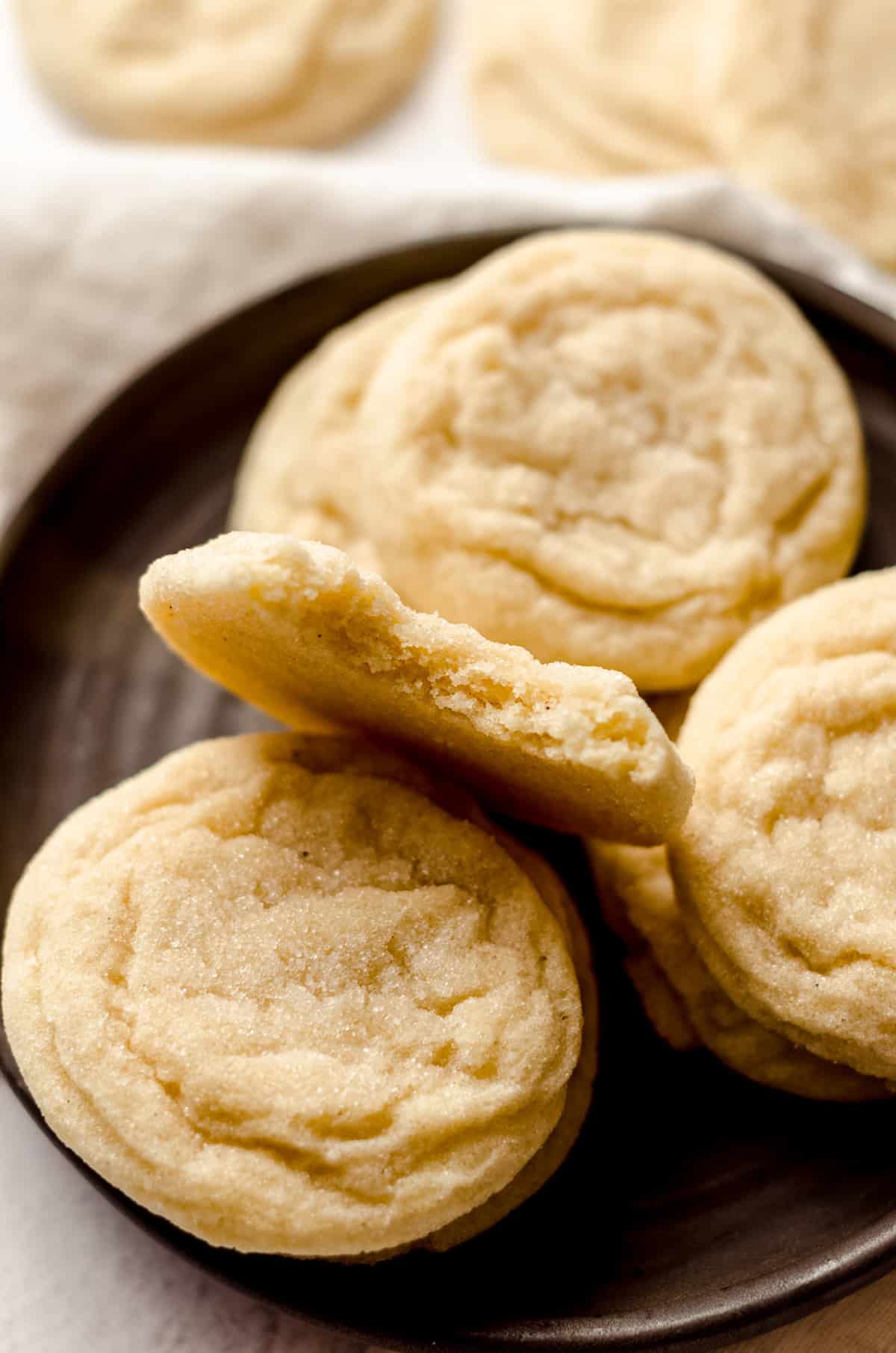 HOW TO MAKE VANILLA EXTRACT
Are you ready for this long list of steps?
Measure out your alcohol, throw in your beans (I throw in the ends I snipped off as well), and give it a nice shake to get things going.
Then… Put it in a cool, dark place and… Wait.
After 1 week, shake it up.
Then wait another week and shake again.
After 6 weeks, your extract is ready to use, and it only gets better and better as it steeps longer.
You just want to make sure it stays in that cool, dark place so that it doesn't spoil. If you have an amber bottle, you might want to keep it in that.
HOMEMADE TASTES BETTER
I find that homemade vanilla extract really takes my desserts to a whole new level. While you can get good quality vanilla extract at the store, it is much more cost-effective to make the real stuff in the comfort of your own home.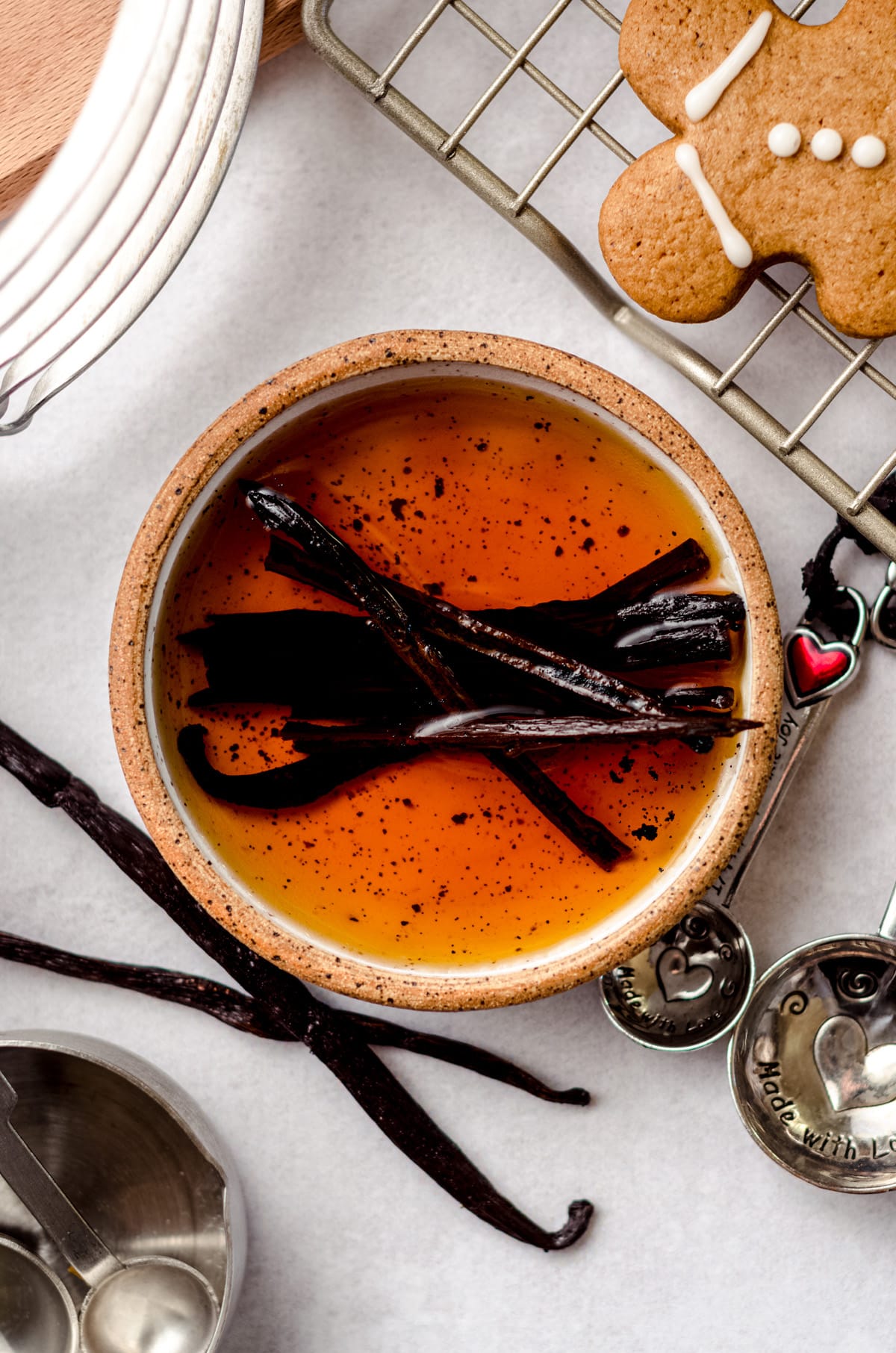 First of all, there's just something that tastes better about homemade desserts to begin with, but when you throw homemade pure vanilla extract into the mix, we're talking a whole different ball game.
Plus, it's your own little blend! That puts true meaning to "personal touch" when it comes to the love-labor of a homemade dessert (I promise, it'll turn your chocolate chip cookies into a whole new level of amazing!) or a gift to fellow home bakers.
(Vanilla infused cream for vanilla bean cupcakes, vanilla bean buttercream for 6 inch vanilla bean cake, and vanilla bean sugar cookies)
I hope that you'll consider making your own extract at home!
The sooner you start, the closer you are to the best vanilla extract your tastebuds have ever tasted. Also… Those adorable vanilla freckles!
Over the course of 6 weeks, this is what happens inside that bottle!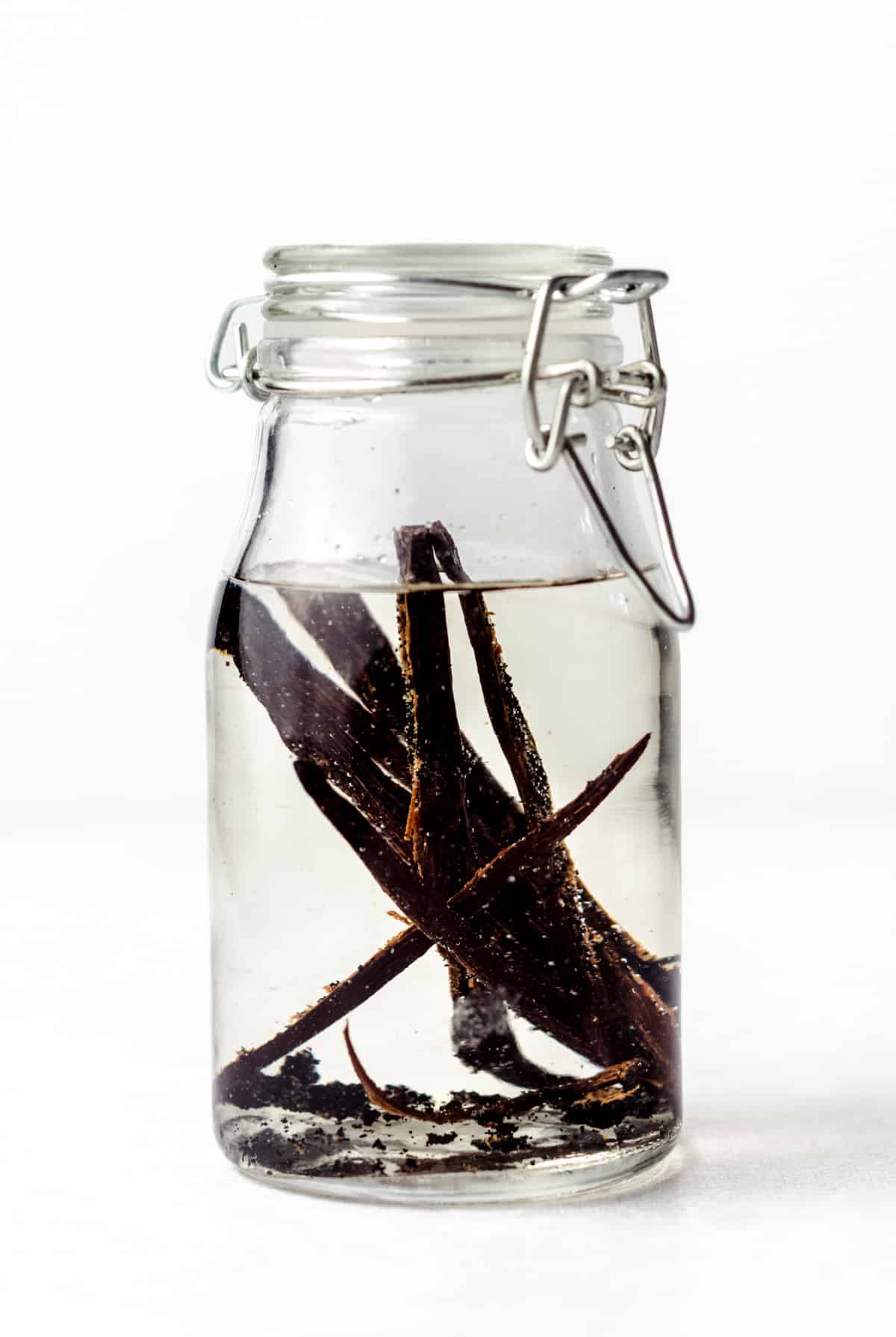 My favorite recipes featuring vanilla bean flecks found in my homemade vanilla extract or vanilla bean paste: vanilla bean cupcakes, vanilla bean layer cake, and French vanilla coffee creamer!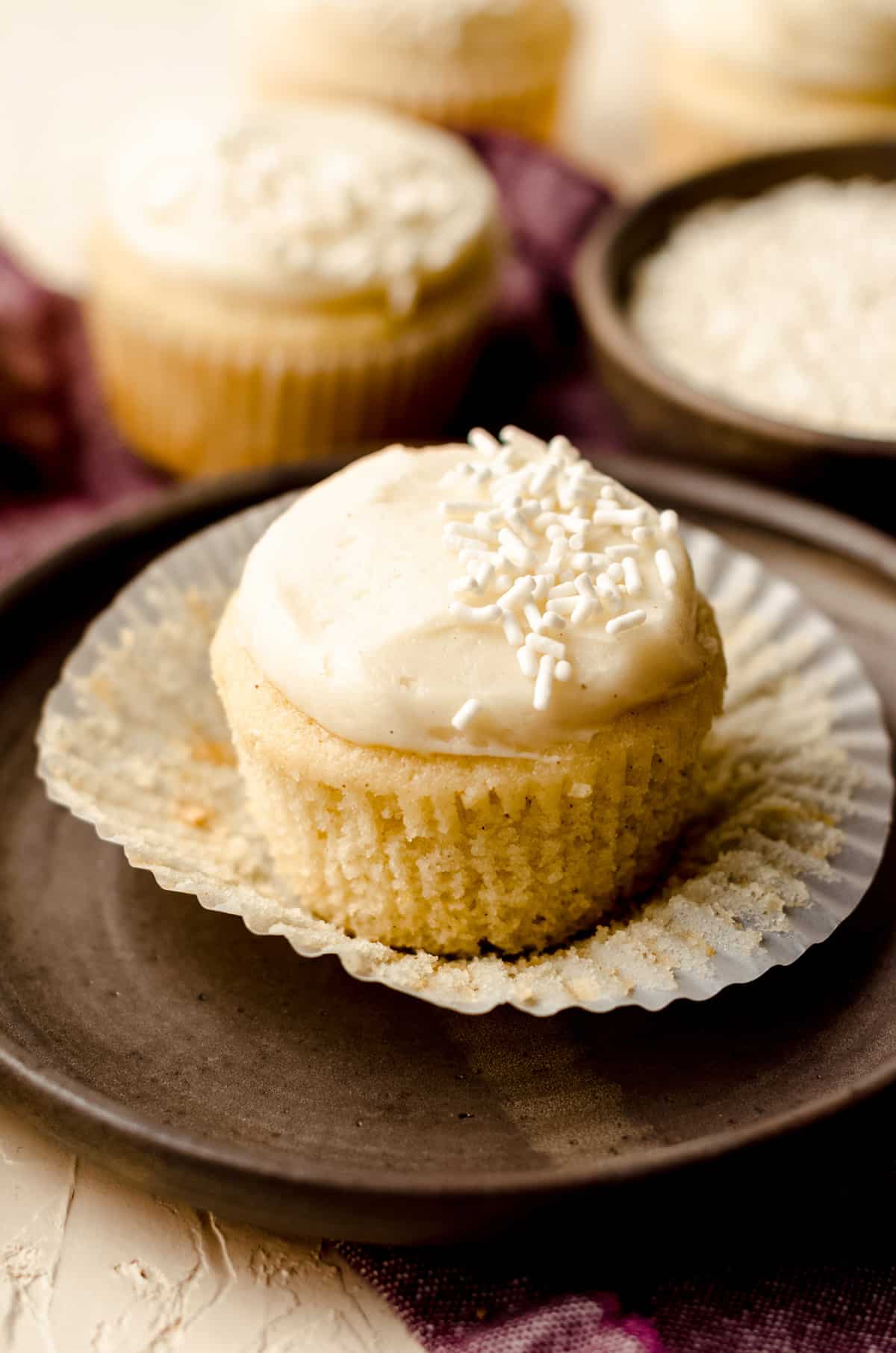 Homemade Vanilla Extract
Homemade vanilla extract is so simple. Only 2 ingredients and about 6 weeks of steeping and you're on your way to your own high-quality flavoring!
Ingredients
6

ounces

(170mL) high-proof neutral flavored alcohol1

2 to 3

high quality vanilla beans
a jar2
Instructions
Snip the ends off of your vanilla beans with scissors or a knife. I also like to cut them in half.

Fill your bottle with alcohol and submerge beans.

Gently shake bottle and store in a cool, dark place. Repeat this step once a week for 6 weeks.

Once your vanilla is done with its initial 6 weeks, add more liquor when the liquid is about halfway gone, allow to sit for another week, then it is ready to use again. Homemade vanilla extract has an indefinite shelf life if kept in a cool, dark place.

To scale your batch: you can make a much larger batch of homemade vanilla extract to distribute to smaller bottles to gift, just use the ratio of 6 ounces of liquor to 2 to 3 beans. I like to include 1 small bean in each bottle I gift and instruct (or attach a note) the recipient to add more liquor to the bottle when it has half of the liquid remaining.
Notes
Alcohol: choose something that is

at least 35%/70 proof. I like vodka, rum, or brandy

(vanilla flavored alcohol is also fine).
Jar: preferably glass and one with a tight fitting lid. These are my favorite glass bottles and favorite amber bottles for homemade vanilla extract.
Nutrition Disclosure
All nutritional values are approximate and provided to the reader as a courtesy. Changing ingredients and/or quantities will alter the estimated nutritional calculations.
Serving:
1
ounce
|
Calories:
52
kcal
|
Carbohydrates:
0.3
g
|
Fat:
0.2
g
|
Sodium:
0.2
mg
|
Potassium:
0.4
mg
|
Iron:
0.01
mg