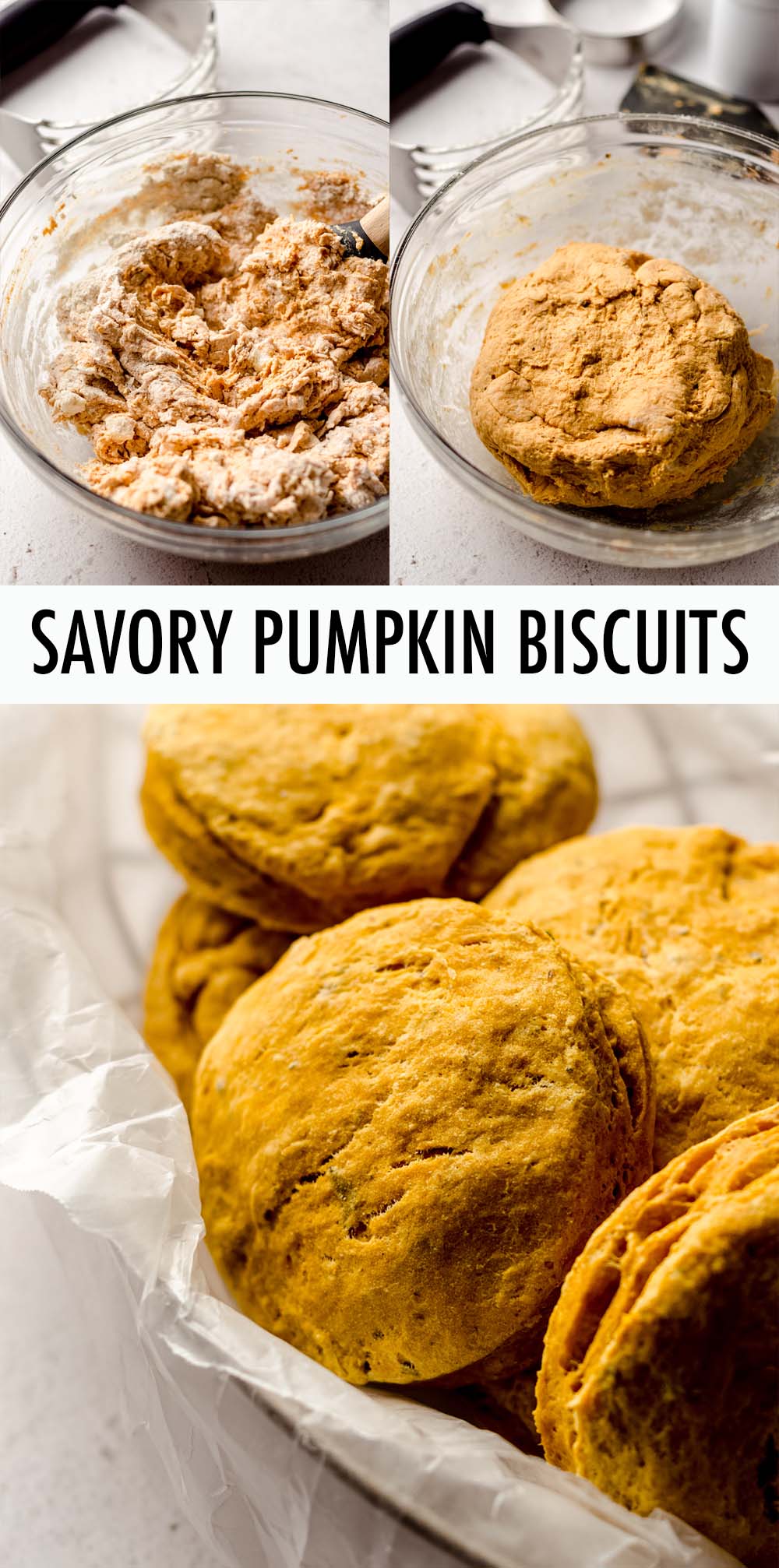 As an Amazon Associate, I earn from qualifying purchases. Read the full disclosure here.
Flaky, buttery, savory biscuits made with real pumpkin and spiced with sage, thyme, and ginger.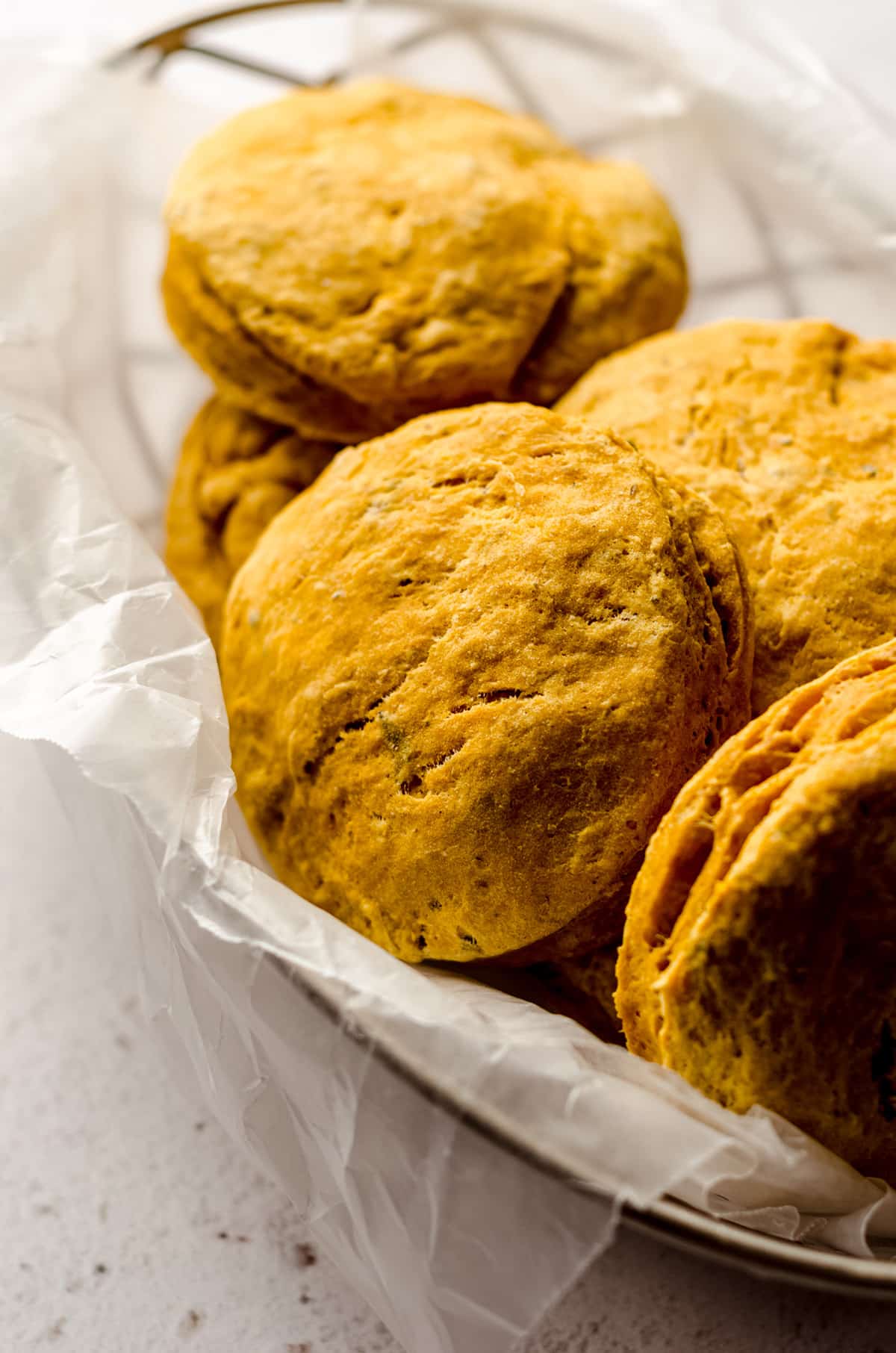 Because not everything in pumpkin land can be or has to be dessert, this pumpkin biscuit recipe is all about celebrating the savory world of pumpkin.
And since this is one of those recipes that has existed on my site for a long time, I would be remiss if I didn't mention this was September 2019's installment of my monthly series– FAF's Bread of The Month.
Not only was it in need of a major glow-up, but I also make these easy pumpkin biscuits every fall (alongside my inaugural pumpkin streusel muffins) and I have loved adding something unique to our Thanksgiving spread, so I thought you might be curious about adding some pumpkin sage biscuits to your spread, too.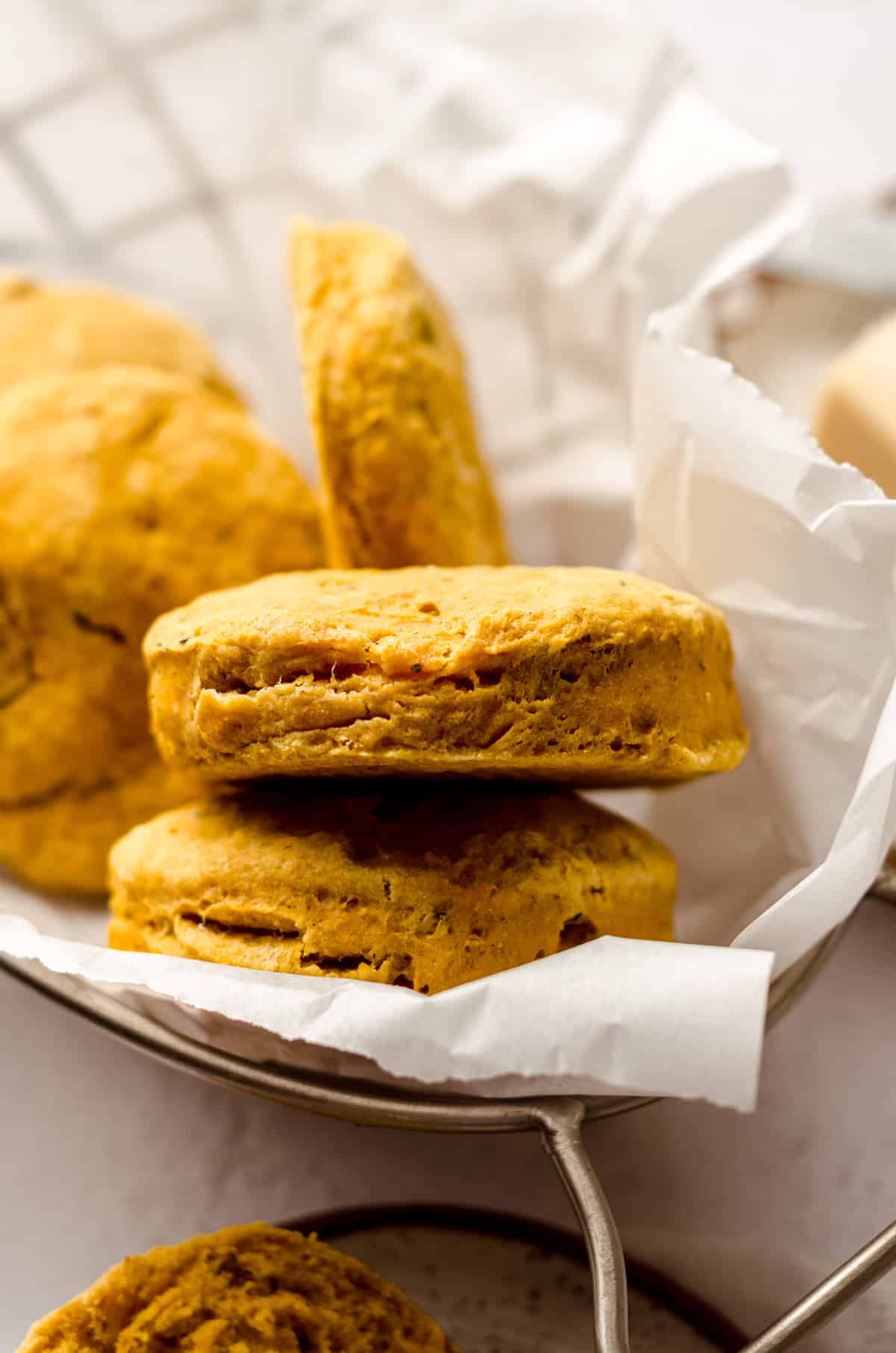 Pumpkin is a really great ingredient. It is so versatile and can take the place of oil in a recipe, much like applesauce does (just like it did in my pumpkin spice biscotti). I've even used it as the base for toddler muffins a.k.a. hidden veggies!
While I've used pumpkin a million times in dessert here at Fresh April Flours, this recipe was the first time I ever branched into the savory world, and it is glorious!
Set aside that cinnamon, nutmeg, cloves, and allspice. We're swapping them out for sage and thyme!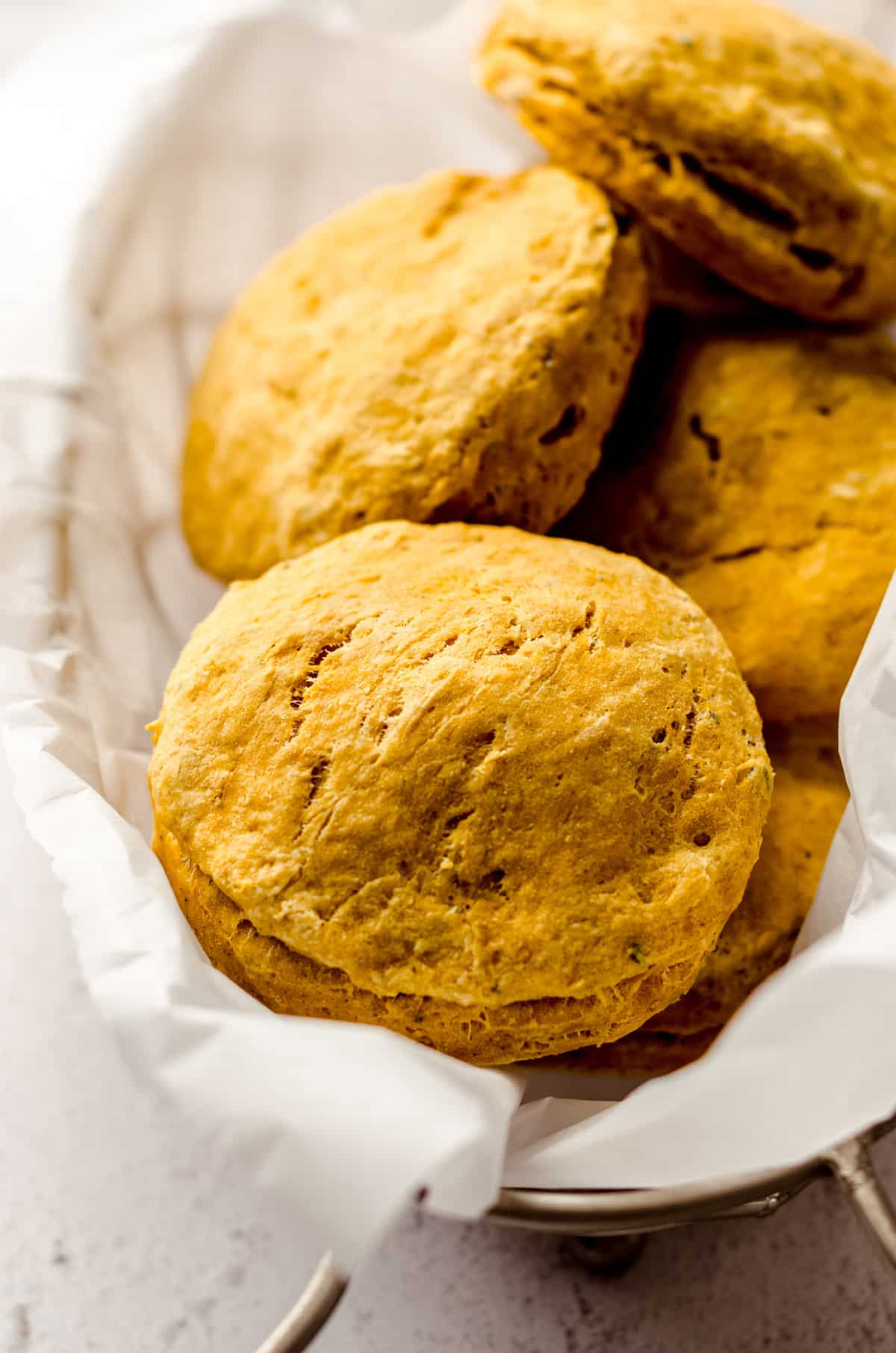 I have to preface this with another statement: at the time of first publishing this recipe, these were the first successful biscuits I had ever made. The first time I tried to make biscuits, I failed MISERABLY. Maybe it was the luck of the pumpkin, but whatever it was… I'm so glad these guys finally made my biscuit heart happy!
Biscuits have a little bit of science to them, and that's important to know when you're assembling your dough. The soft and flaky texture of biscuits doesn't just happen. It has to be finessed a bit!
WHAT MAKES BISCUITS FLUFFY?
In order to get flakiness, biscuits need chunks of butter, much like a pie crust. As the butter melts, it leaves behind pockets of air that, in turn, create a layer which = flakes.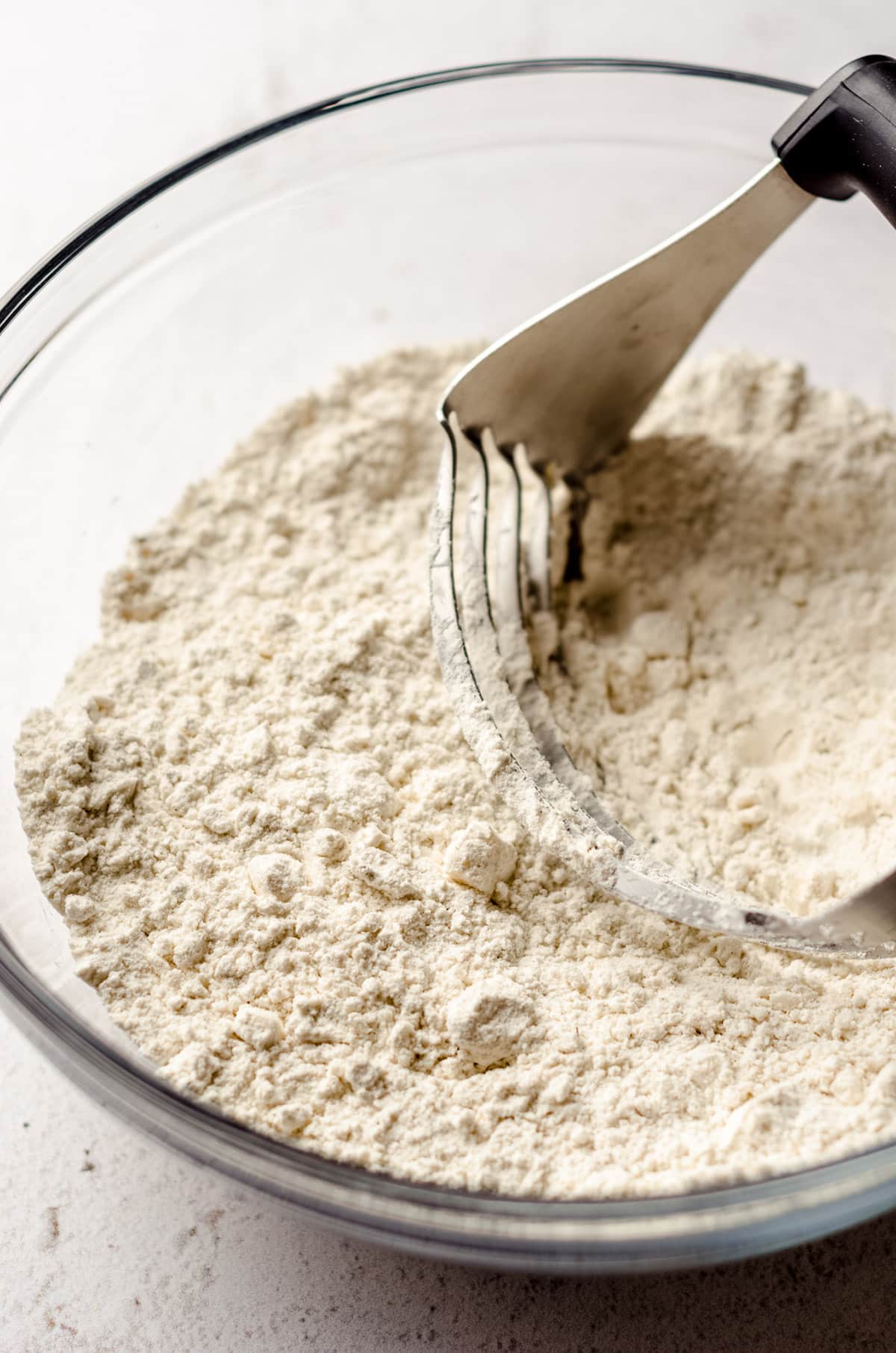 Cutting butter into biscuit dough with forks or a pastry cutter (like we use in scones) gets us that signature biscuit flakiness.
You'll cut the butter into the flour mixture until you reach coarse crumbs, some the size of peas and smaller.
PUMPKIN = MOISTURE
Along with those chunks of butter, these biscuits boast a moist and tender interior thanks to sour cream or Greek yogurt and, of course, plenty of real pumpkin.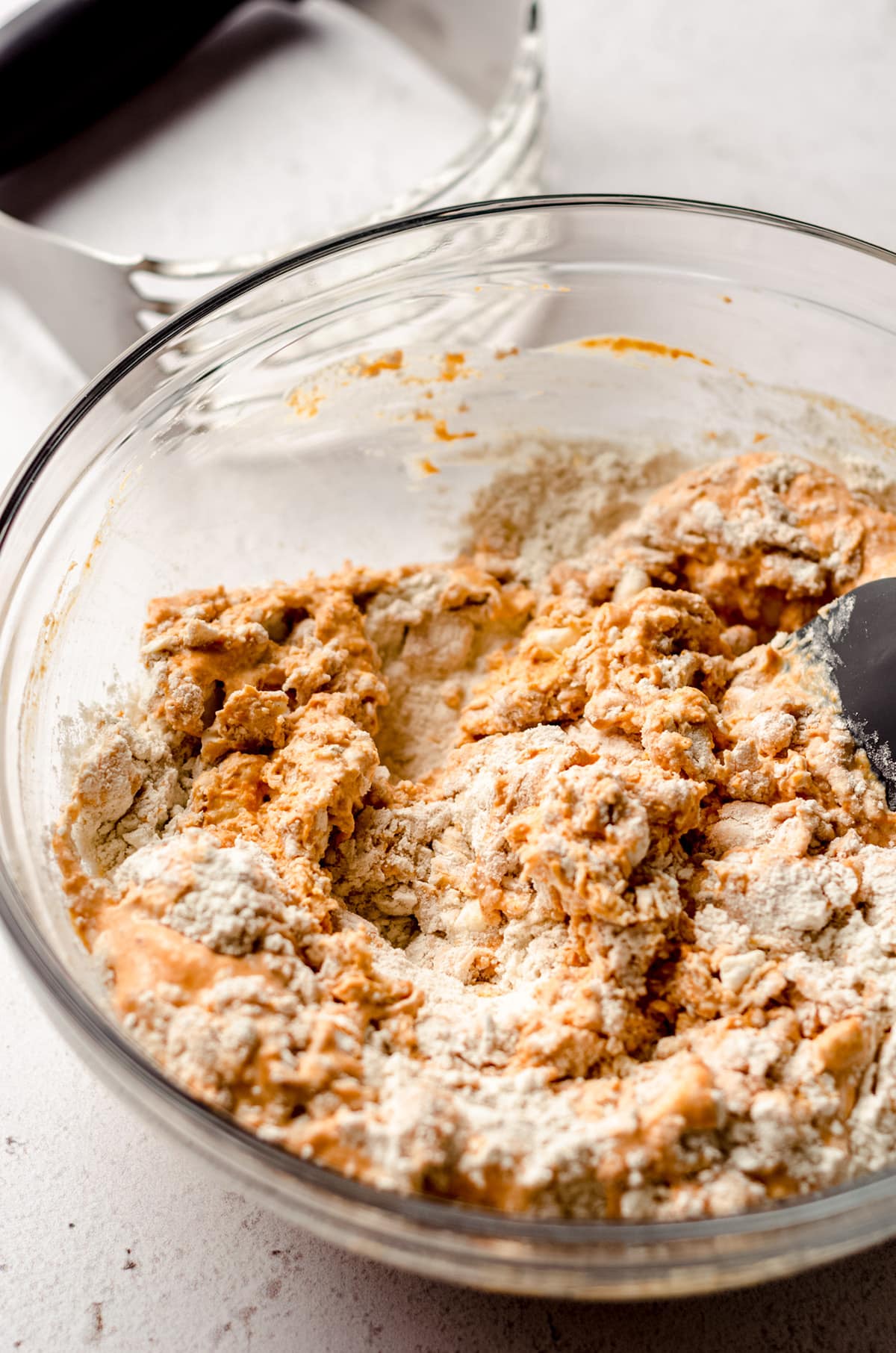 SAVORY SPICES
As I mentioned, the spices we're working with today are sage, thyme, and a little ginger. These spices are amazing together and complement that earthy pumpkin flavor so nicely.
These are similar to the herbs you'll find in traditional bread stuffing. They supplement the pumpkin so nicely, and I think you'll be really surprised how pumpkin can serve as a base for both that sweet, cinnamon flavor profile and this herby, earthy one.
Pumpkin, you are so fancy!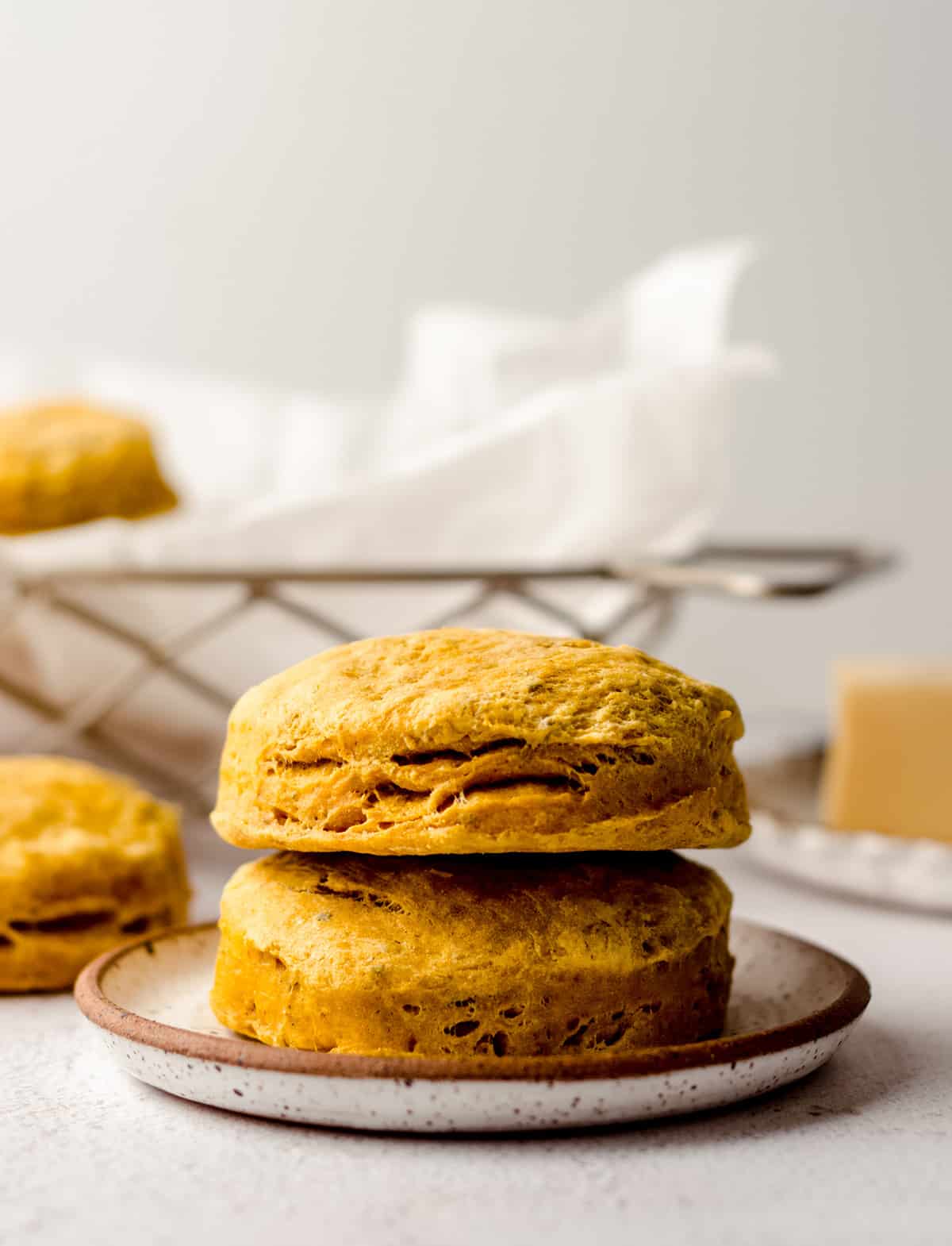 No eggs in these biscuits! They're light and fluffy. The pumpkin and butter act as the "glue" for these savory scones.
And since there are no eggs in these biscuits, you can absolutely turn these into vegan pumpkin biscuits by using vegan butter and a non-dairy alternative in place of the sour cream or yogurt.
HOW TO KEEP BISCUITS LIGHT AND FLUFFY
In order to keep these spiced pumpkin biscuits light and fluffy, it's imperative to keep the edges of the dough intact.
When you use a cutter (I use a 3″ cookie cutter, but you can also use the rim of a thin drinking glass!), press down into the dough and then pull up WITHOUT TURNING the cutter. Turning the cutter squishes the dough together, smashing the biscuit down before baking.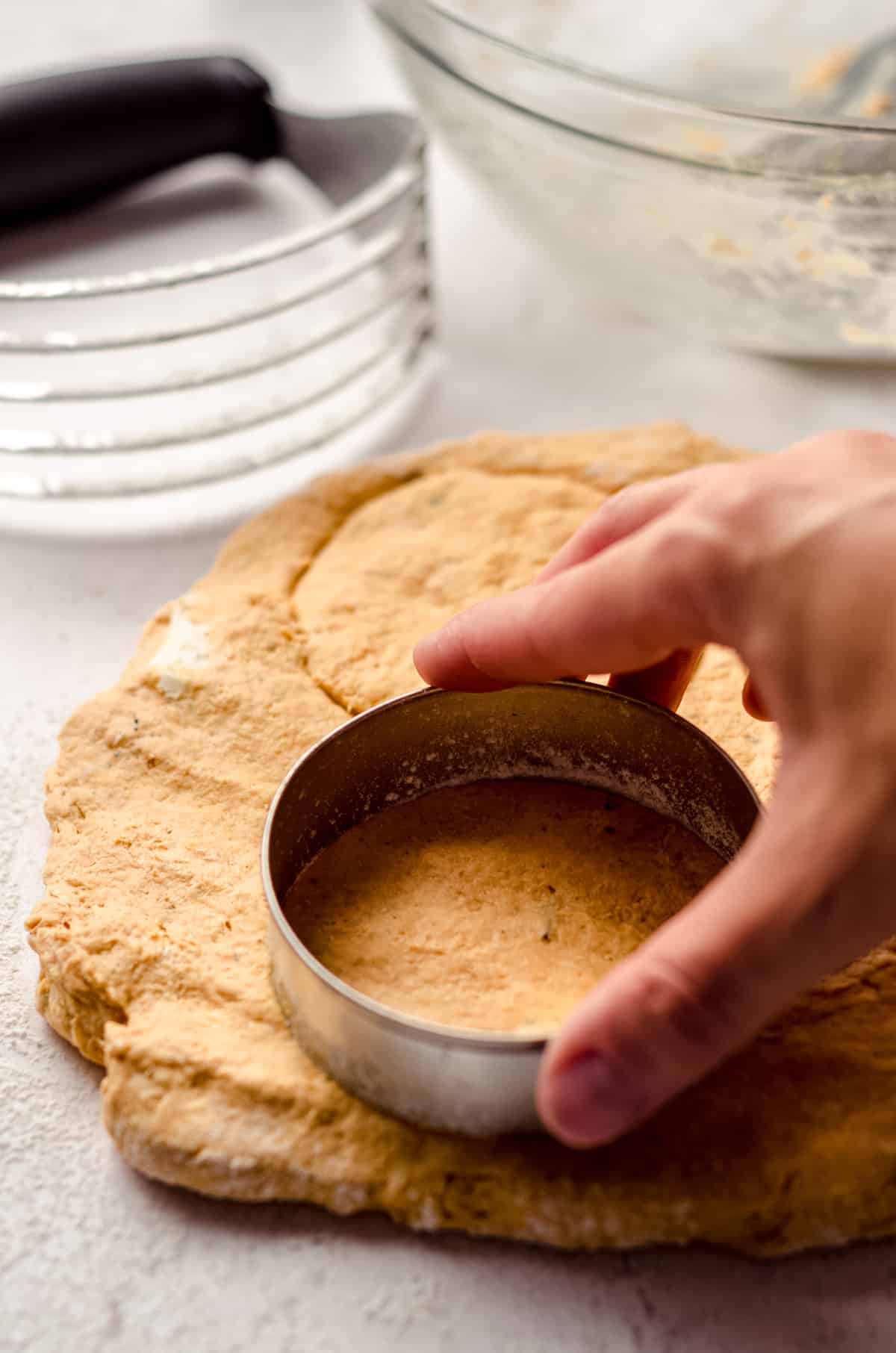 This method of carefully cutting out biscuit dough insures the edges of the dough are intact and able to bake upward as best as possible.
BRUSH WITH BUTTER
A little butter brushed on top of the biscuit dough, and these not-actually-so-butter-laden biscuits have all the buttery flavor you need from a biscuit alongside that savory pumpkin overload.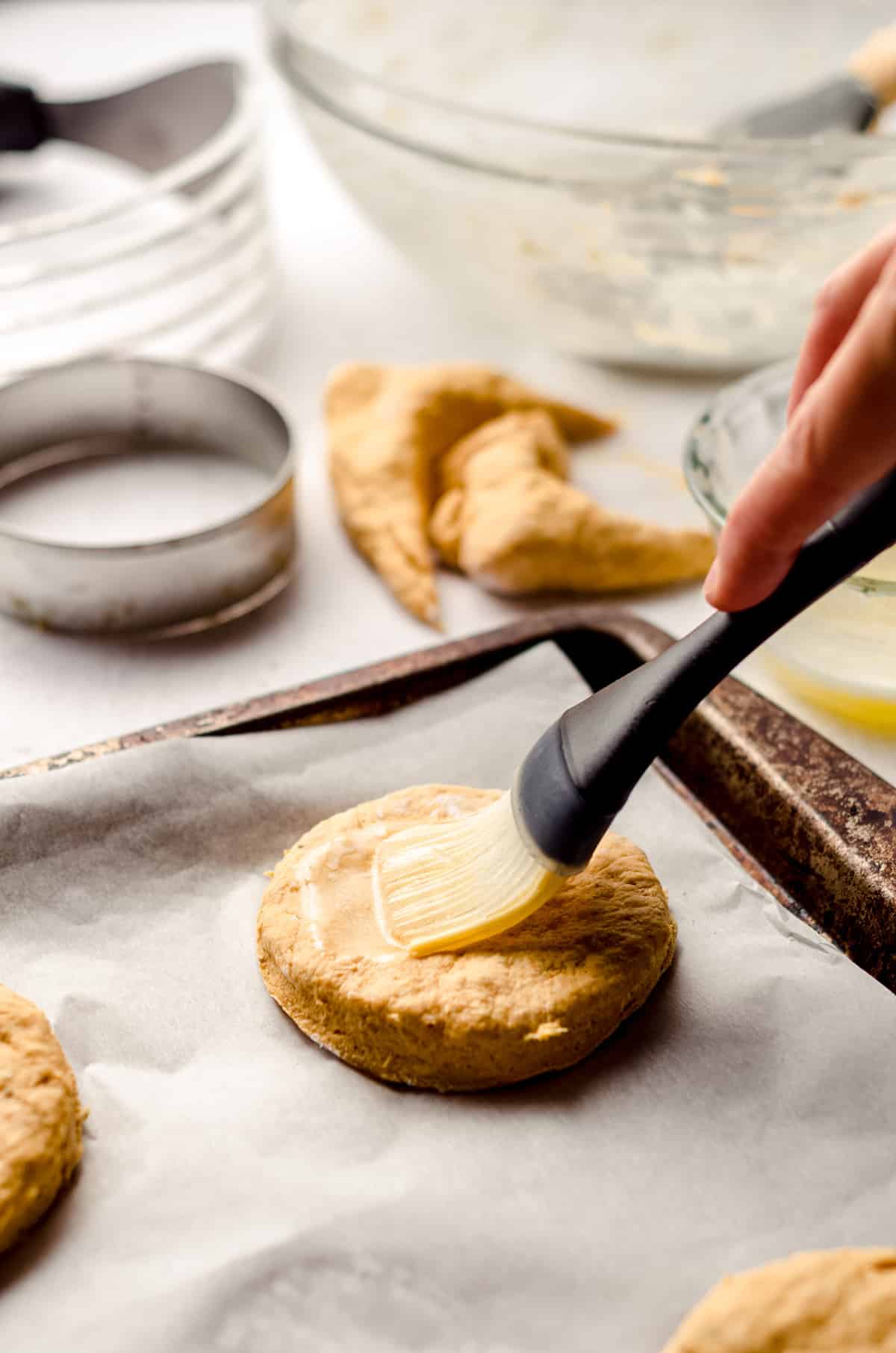 Just a quick 14 to 16 minute bake in the oven will yield 6 amazingly flavorful and buttery herbed pumpkin biscuits. We can barely let them cool down the whole way before eating them, which is great! Because biscuits are typically best served warm.
Whenever I have this pumpkin biscuits recipe baking in the oven, the house always smells a bit like pizza dough. And heating one up in the microwave or toaster oven before eating always gets some curious noses around our house saying "mmm, what's that smell?"
A treat for the tastebuds and the nose!
THE BEST WAY TO SERVE SAVORY HERBED PUMPKIN BISCUITS
I think that my favorite way to consume these savory herbed pumpkin biscuits is as the vehicle for a breakfast sandwich. I love eating these biscuits with just an egg, just some sage breakfast sausages, or with both + a slice of sharp cheddar for a real treat.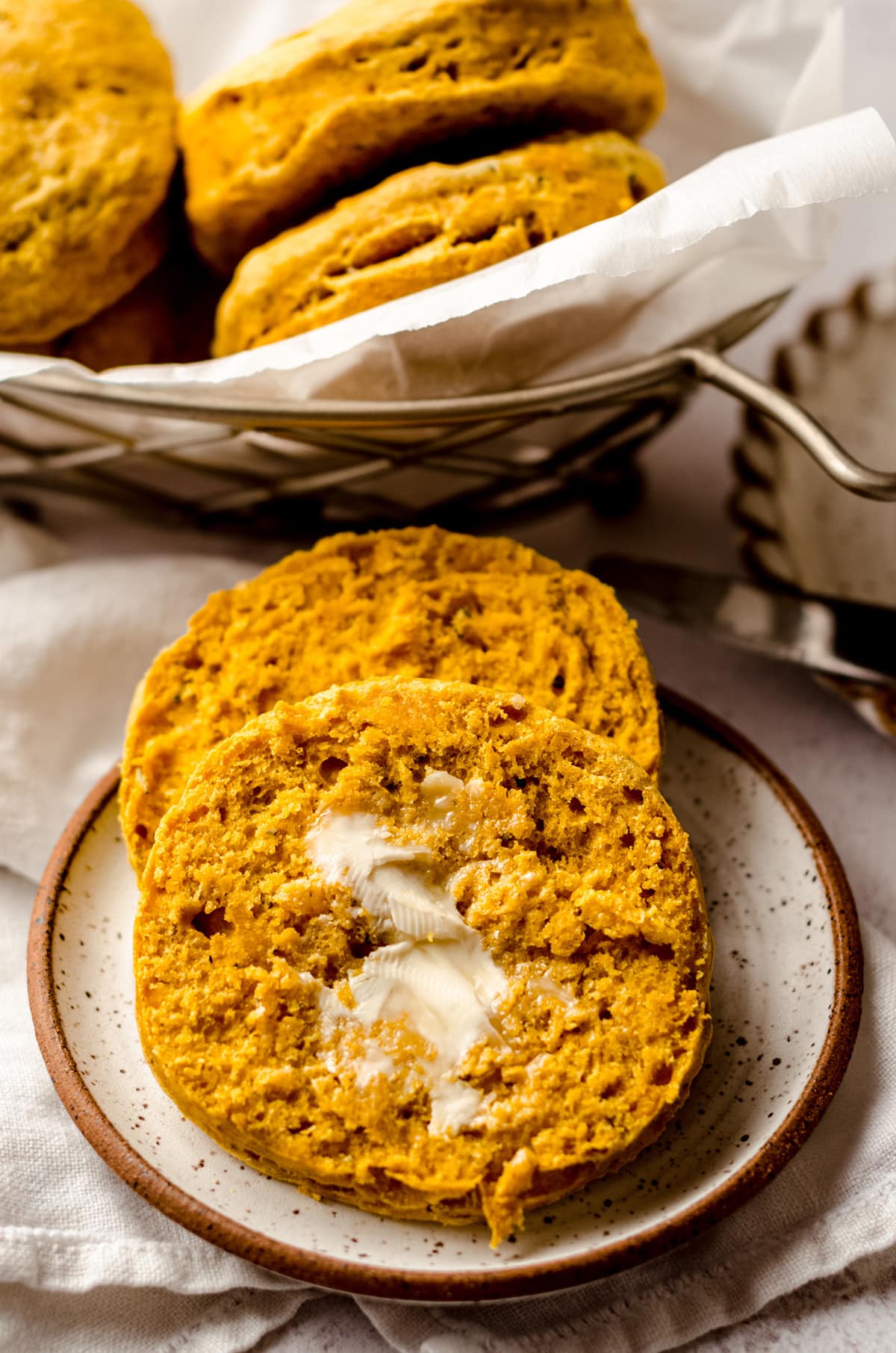 AMAZING. Try that.
I am always so happy with these biscuits that I started serving them at Thanksgiving, and it's such a fun addition to our spread. I think they're the perfect bread to make for a whole meal based around those earthy herbs.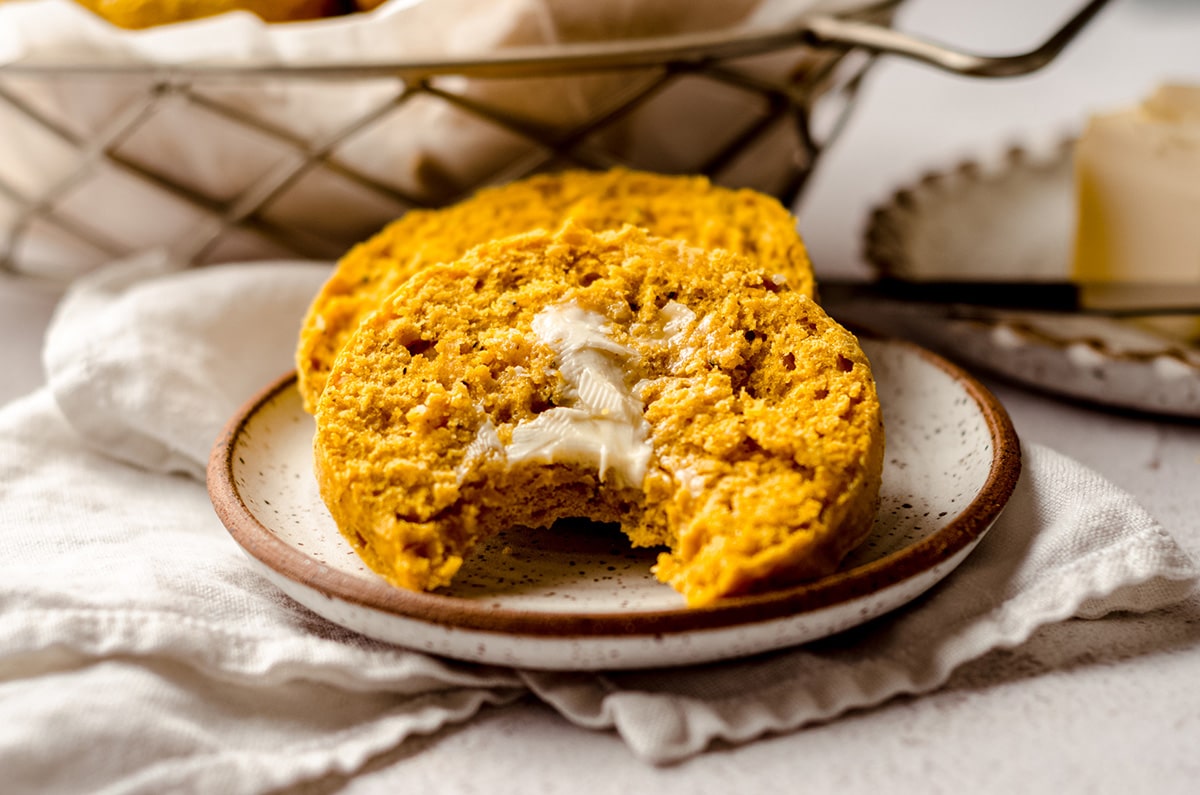 I hope you'll give these savory pumpkin biscuits a try, because pumpkin needs some savory love all up in this season of sweet pumpkin spice. I guarantee you won't be disappointed!
Pumpkin Biscuits
Flaky, buttery, savory biscuits made with real pumpkin and spiced with sage, thyme, and ginger.
Ingredients
2 and ⅛ to 2 and ¼

cups

(255-270g) all purpose flour1 be sure to measure properly

2

teaspoons

baking powder

½

teaspoon

baking soda

½

teaspoon

salt

2

teaspoons

dried sage

1

teaspoon

dried thyme

½

teaspoon

ground ginger

¼

cup

(57g) unsalted butter

cold; divided

¾

cup

pumpkin purée2

½

cup

sour cream or plain Greek yogurt3
Instructions
Preheat the oven to 350ºF (177ºC). Line a large baking sheet with parchment paper or a silicone baking mat. Set aside.

In a medium size bowl, whisk together the flour, baking powder, baking soda, salt, and spices. Set aside.

Cut 2 Tablespoons of the butter into small pieces, then, using two forks or a pastry cutter, cut the butter into the flour mixture until you create pea-sized pieces. Set aside.

In a medium size bowl, whisk together the pumpkin and sour cream or yogurt until smooth. Pour wet ingredients into the dry ingredients and mix gently with a large spatula until dough comes together. Be patient– this will take a bit and you may need to use your hands.

Pour dough out onto a lightly floured surface and pat into a circle about ½" thick. Using a 3" round cookie cutter (or other round cutter like the rim of a thin drinking glass), press straight down into the dough. Without turning the cutter, lift out of the dough and keep re-rolling and cutting until you have used all of the dough. Place cut out dough onto prepared baking sheet.

When you have cut out all of the biscuits, brush the tops with butter. Bake biscuits 14-16 minutes or until biscuits look set. Allow to cool 15 minutes before serving. Store leftovers3 covered tightly at room temperature up to 3 days. Biscuits freeze well, up to 3 months. Thaw in the refrigerator overnight.
Notes
Flour: start with 2 and

⅛ cup and add additional flour by the Tablespoon. Do not exceed 2 and ¼ cup total of flour.

Pumpkin: I always measure pumpkin purée with measuring cups as the moisture content can wildly change the weight measurements, depending on the brand.
Sour cream/yogurt: either is fine, but full fat is preferred.
Leftovers: these biscuits get very moist as they sit. Leftovers are best served sliced and toasted in a toaster or toaster oven.
Nutrition Disclosure
All nutritional values are approximate and provided to the reader as a courtesy. Changing ingredients and/or quantities will alter the estimated nutritional calculations.