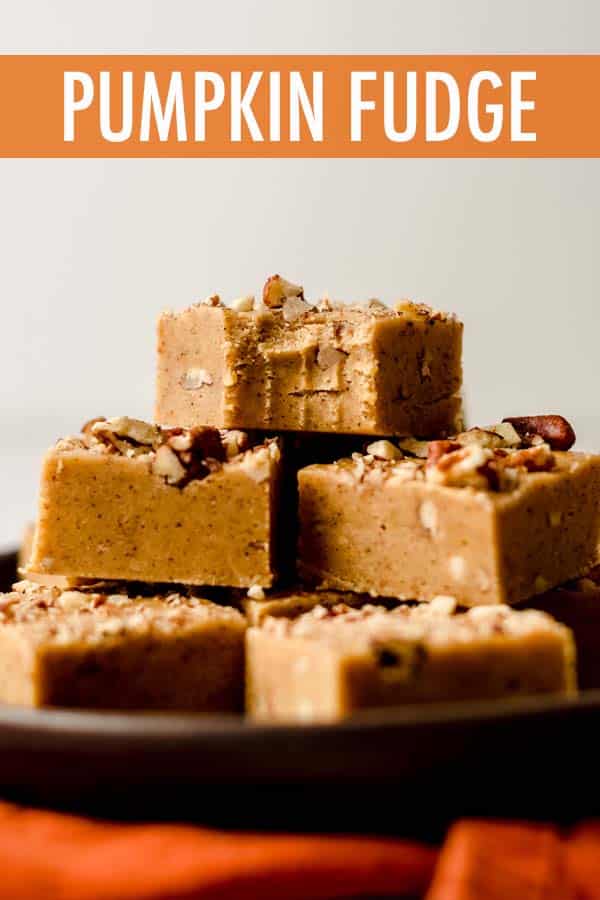 As an Amazon Associate, I earn from qualifying purchases. Read the full disclosure here.
This easy pumpkin fudge is rich, smooth, and loaded with pumpkin flavor. No candy thermometer necessary, and only 15 minutes of hands-on work!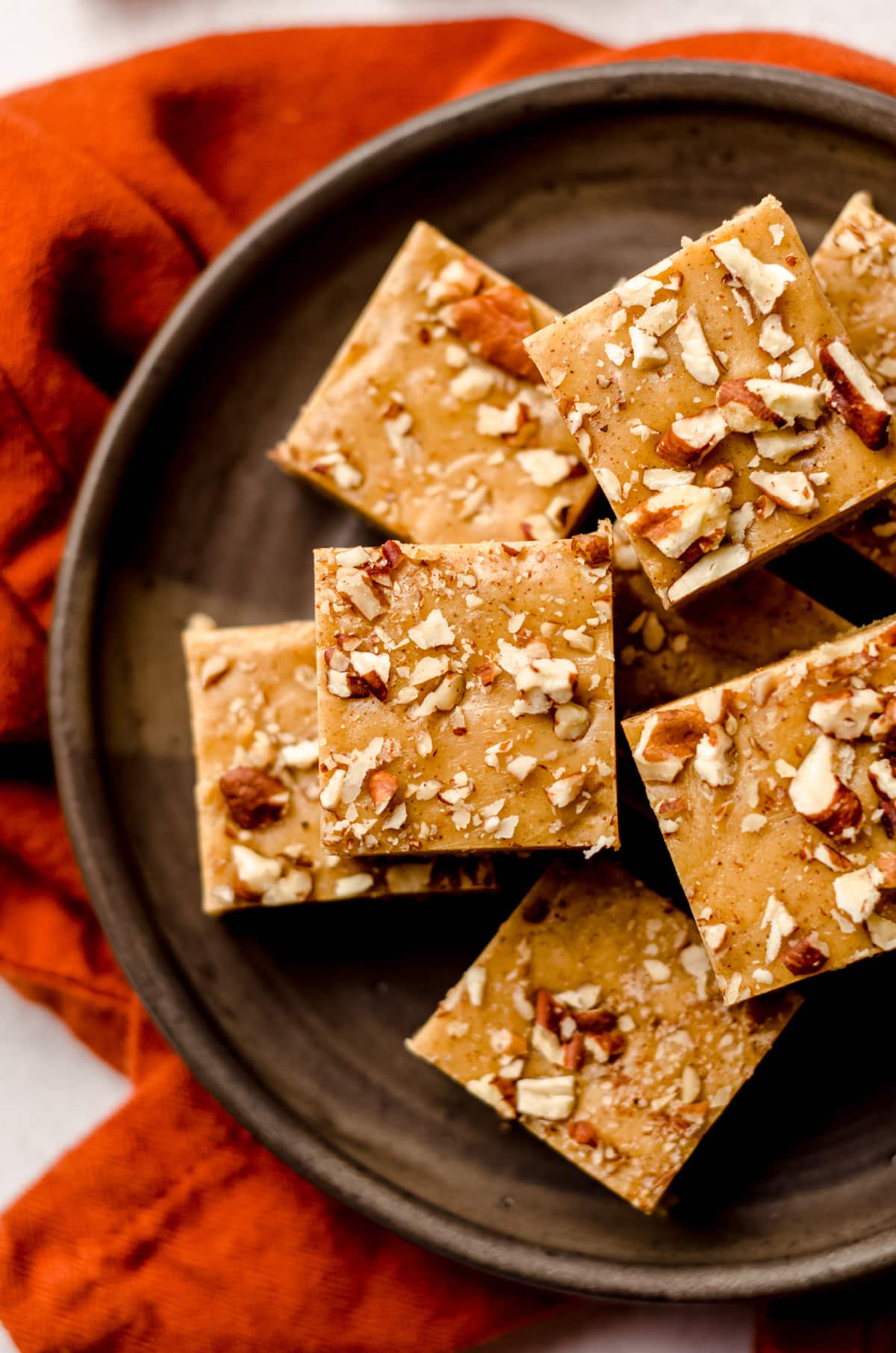 Quite some time ago (back in 2014, actually), I developed this incredible pumpkin fudge recipe.
Since then, it has graced our kitchen so often that it is probably in the top 10 most frequented recipes in my own personal kitchen, which is saying a lot given that those other frequented recipes are homemade whipped cream, tortilla pizza, and easy yeast rolls. You know… Non-seasonal recipes.
I will get to exactly why this easy fudge recipe shows up so often at our house, but first, let's talk about what it is, what you need, and how to make it (spoiler alert: it is so crazy simple, this will be short and sweet).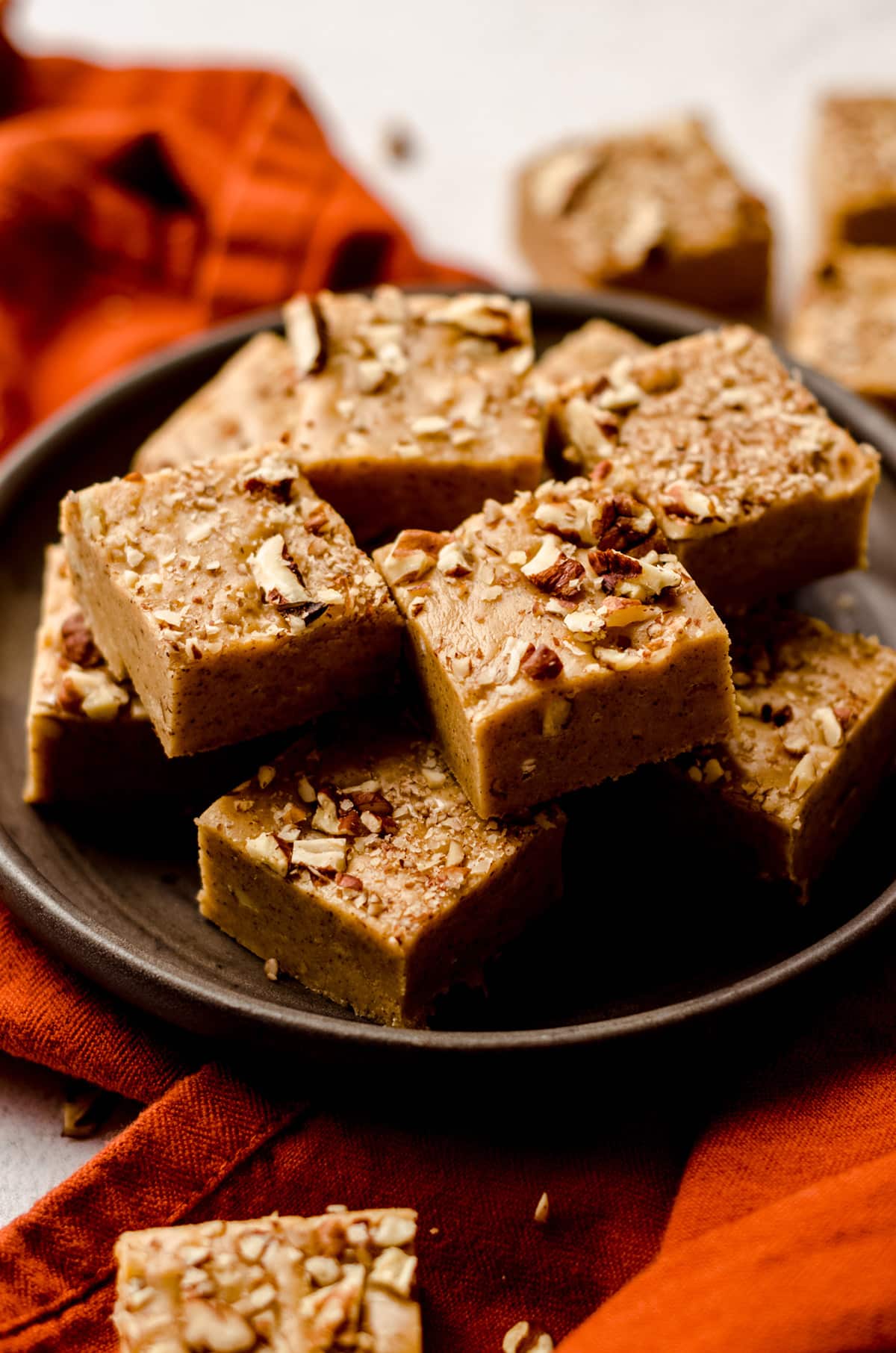 DO NOT BE INTIMIDATED BY THIS FUDGE
How do you feel about fudge? Namely making fudge. Before landing on this perfect spiced pumpkin fudge recipe, I had always been intimidated by making fudge.
Candy thermometers, boiling sugar, specific temperatures… No thank you. I wanted fudge, but I also wanted something that was quick, easy, and foolproof.
I started by looking for something someone else had made, and I found this perfect recipe for easy white chocolate fudge and went from there.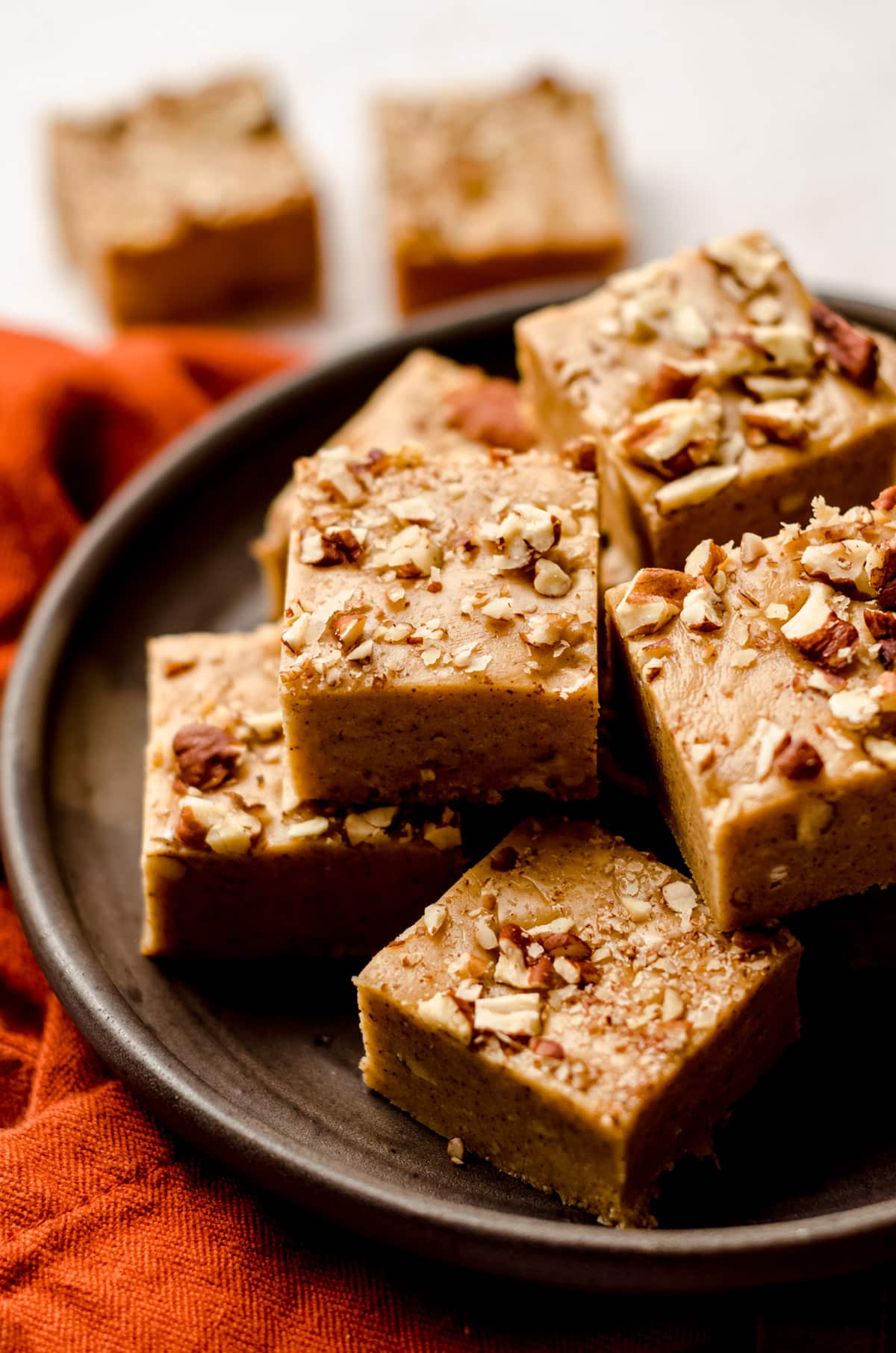 I took that basic fudge and turned into the best pumpkin fudge recipe you'll ever find, which I know is true because it took me a handful of tries to get the recipe you see here now just right. Believe me, there were a couple way too ooey gooey batches that resembled some pumpkin blobs and orange slugs. Yikes.
One of the reasons I had so much trouble getting this pumpkin fudge recipe just right was because it contains actual pumpkin. That's right– this is not just a pumpkin spice fudge recipe, but a true, authentic pumpkin fudge recipe.
INGREDIENTS FOR PUMPKIN FUDGE
The ingredient list for this fudge is pretty simple, and you probably have most them on hand already. The only thing you might need to grab from the grocery store is evaporated milk, unless you're like me and keep a can in your pantry all the time (you are my people).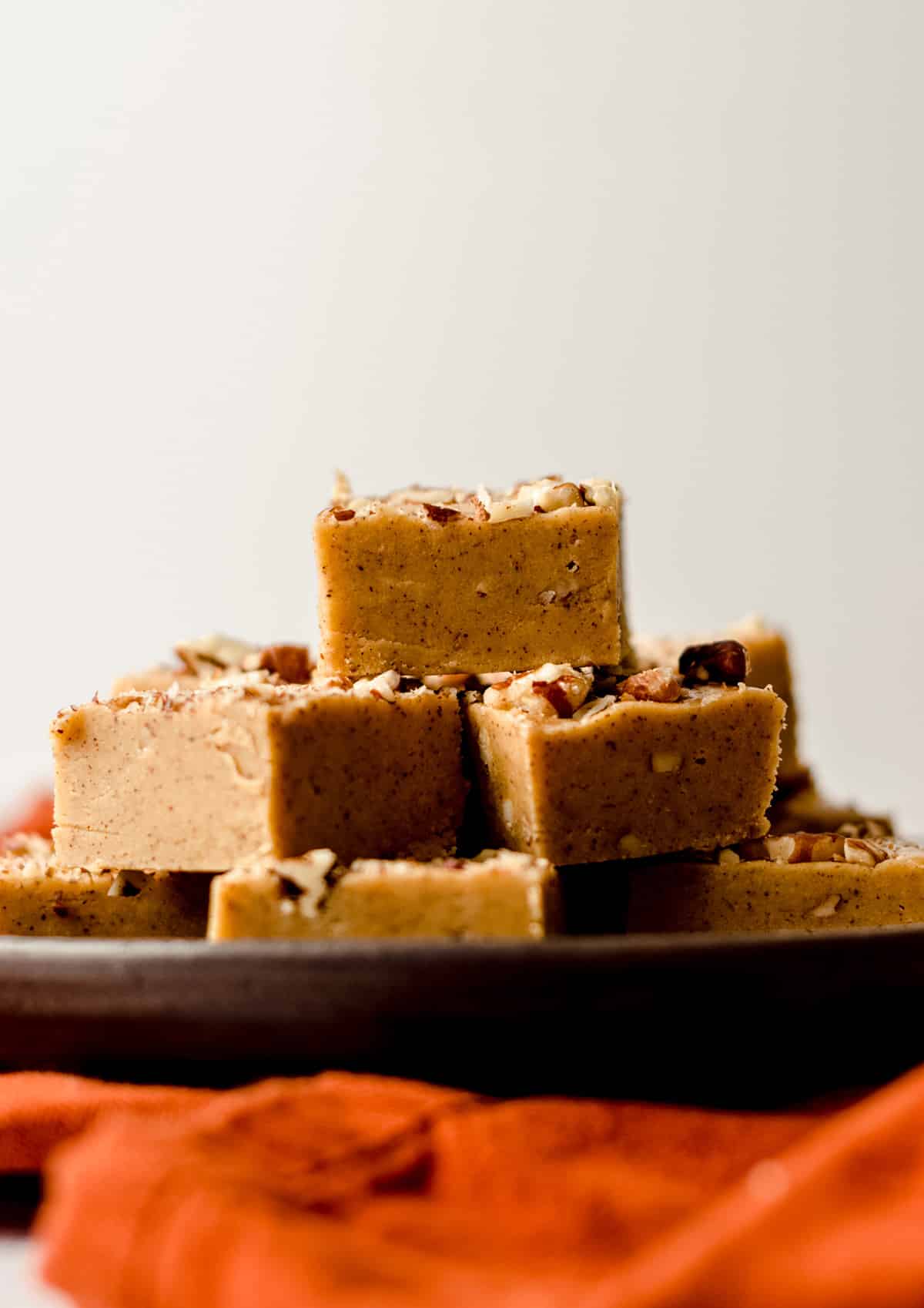 Other staple ingredients you will need for this easy pumpkin fudge recipe are granulated sugar, pumpkin purée, butter, pumpkin pie spice, white chocolate chips, and mini marshmallows. Optional: nuts– my preference, pecans. Also, I urge you to keep them in… Because texture (!!!).
HOW TO MAKE PUMPKIN FUDGE
This fudge begins its delicious pumpkin-y journey by boiling the sugar, evaporated milk, pumpkin purée, butter, and spices for about 8-12 minutes.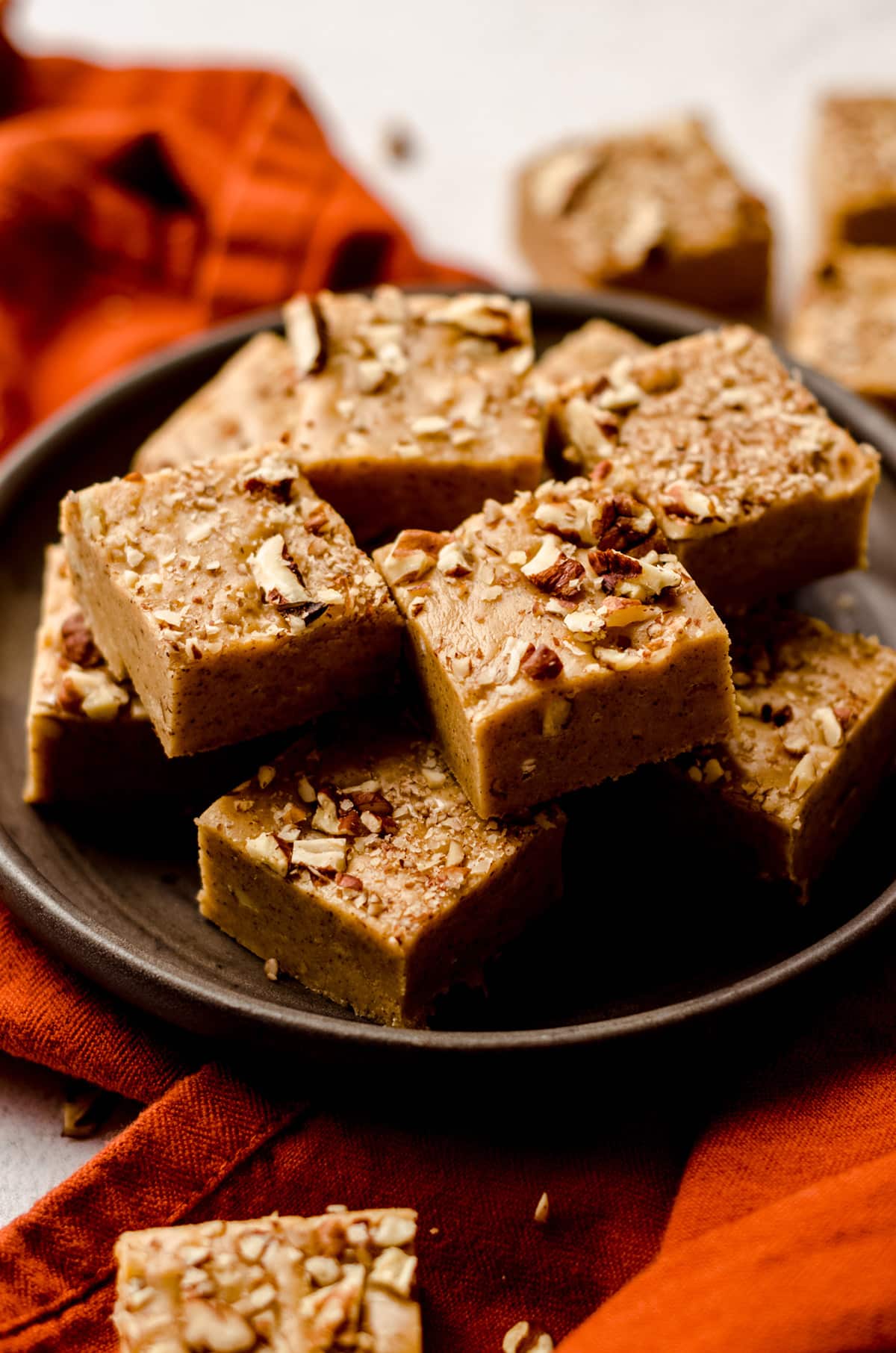 That "8-12 minutes" part is very important, because every time I make this, I have felt it was time to remove the mixture from the heat at different times within that window.
PAY ATTENTION WHEN BOILING THE SUGAR
That being said, you'll want to go by timing plus a visual cue. You're looking for a mixture that pulls away from the sides and bottom of your saucepan as you stir it.
Since you'll be stirring this mixture almost constantly during the boiling process, you'll be able to tell when this step happens. Just don't let it get too far past this stage, because then you'll be well on your way to hard candy. And that's a project for a different day!
After that step, you'll add in white chocolate chips and marshmallows (and chopped nuts, if you're using them) and stir vigorously until everything is melted.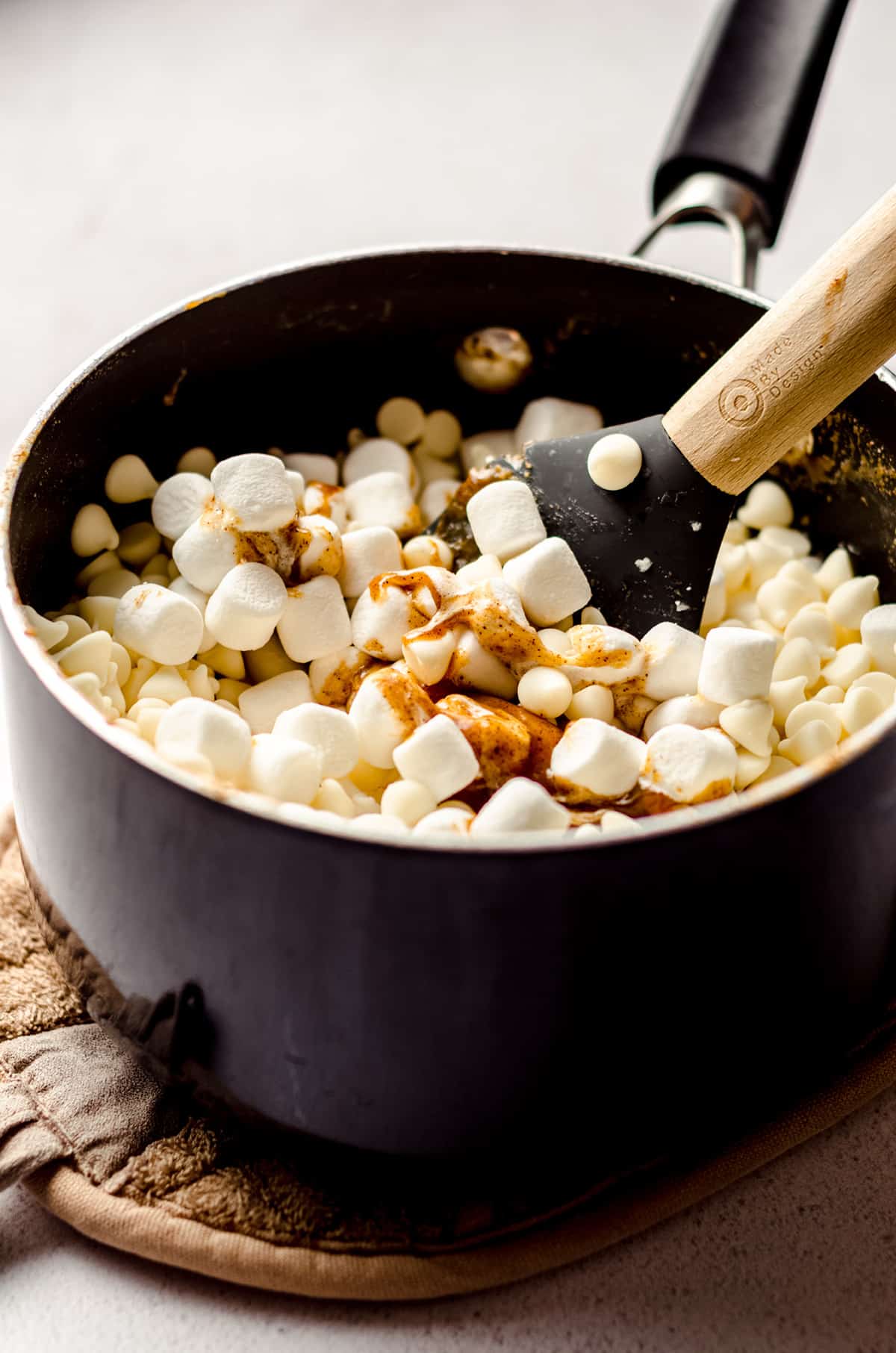 Once everything is melted, you're only about 30 minutes away from devouring the whole pan enjoying a little piece of pumpkin heaven.
Over the years, I have shared this creamy pumpkin fudge recipe with dozens and dozens of people. And it always always gets rave reviews. It disappears in no time, and I have to say that even in this house, it stands next to no chance of making it to its final destination.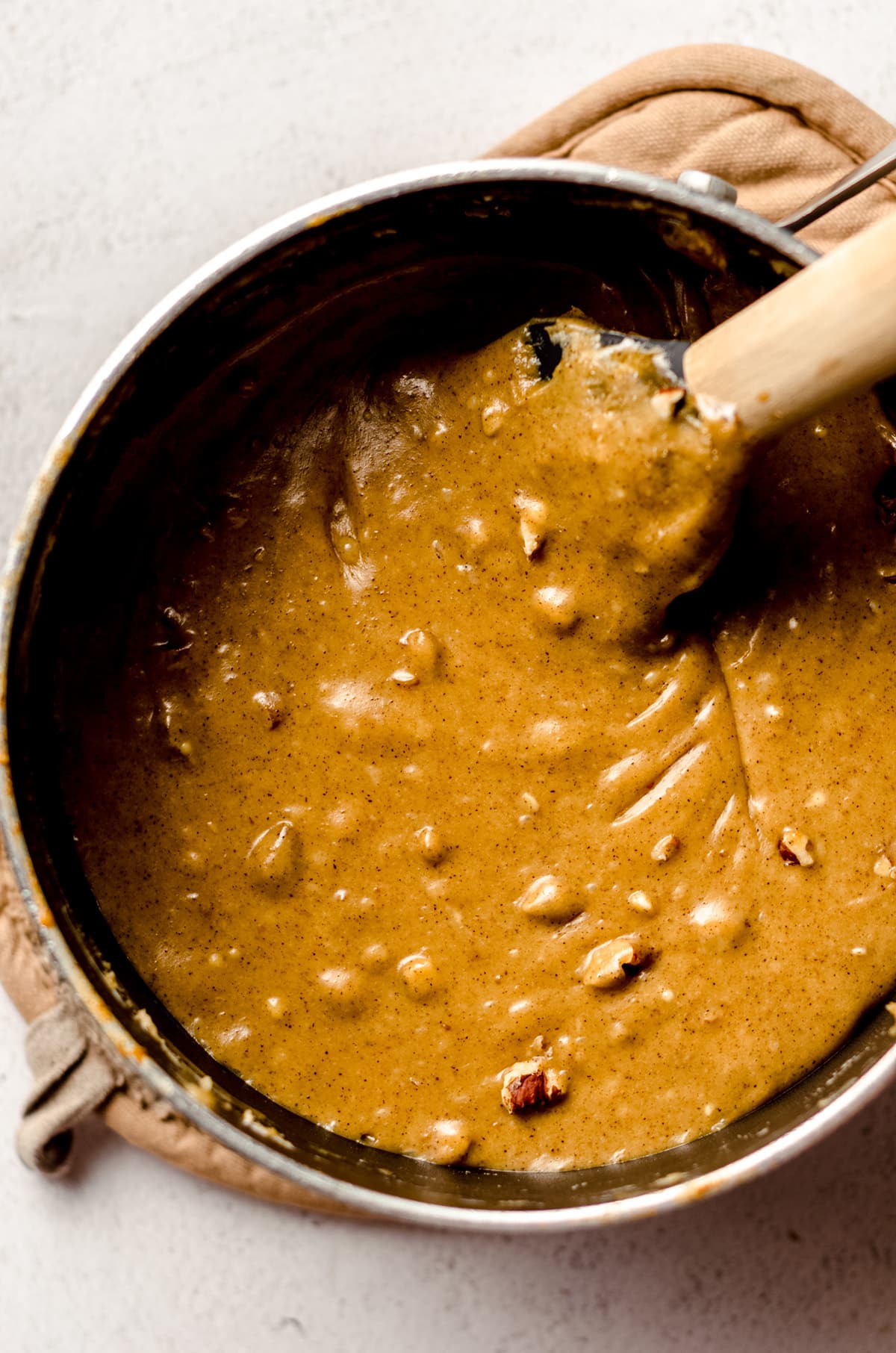 It's sweet, soft, spicy, and irresistible. It will last quite some time in the fridge and even at room temperature, but a little bird once told me she saved some in the freezer and I can't say that isn't one of the best ideas I've heard about one of my recipes EVER.
If you're looking for a non-traditional pumpkin treat to share during your fall baking season, this treat is it. It takes so little time to prepare, it is a no bake recipe, and why wouldn't you want an excuse to make easy pumpkin fudge vs breaking out a thermometer or some other fancy candy making tools??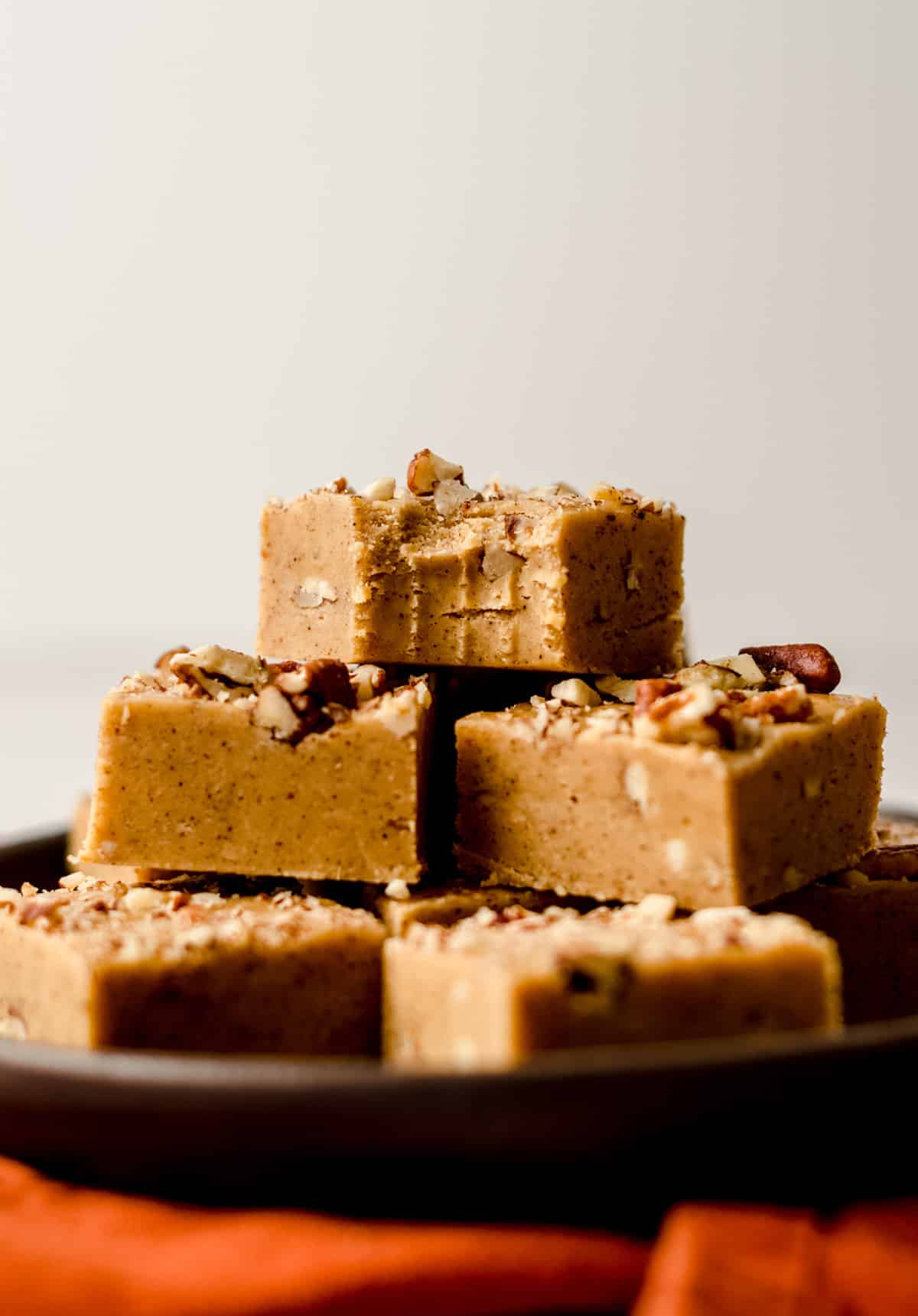 You, my friend, have got to try this fudge, and when you're done with this, be sure to check out my easy s'mores fudge so you can flip back and forth between fall and summer vibes all year long!
Pumpkin Fudge
This easy pumpkin fudge is rich, smooth, and loaded with pumpkin flavor. No candy thermometer necessary, and only 15 minutes of hands-on work!
Ingredients
1 and ½

cups

(300g) granulated sugar

1-5 ounce

can

(147mL) evaporated milk

½

cup

pumpkin purée1

2

Tablespoons

(28g) unsalted butter

1

teaspoon

salt

1

Tablespoon

pumpkin pie spice

12

ounces

(340g) white chocolate chips

2

cups

(90g) mini marshmallows

¼

cup

(30g) finely chopped pecans

optional
Instructions
Line an 8″ x 8″ baking dish with foil, leaving an overhang on the sides, and spray with non-stick spray. Set aside.

In a medium size saucepan, combine the sugar, evaporated milk, pumpkin purée, butter, salt, and spice. Heat over medium heat and bring to a boil. Allow to boil for at least 8 minutes and up to 12 minutes, stirring often, and stopping when mixture pulls away from sides and bottom of saucepan as you stir. Remove from heat.

Add the white chocolate chips and mini marshmallows to the saucepan and stir vigorously until completely melted. Stir in pecans (if using). Pour mixture into prepared pan, sprinkle with more chopped pecans (if desired), and allow to chill in refrigerator for at least 30 minutes.

When fudge is completely set, lift from pan using foil overhangs and cut into desired size squares. Fudge can be stored in an airtight container at room temperature up to 1 week or in the refrigerator up to 2 weeks. Fudge freezes well, up to 3 months.
Notes
Pumpkin: I always measure pumpkin purée with measuring cups as the moisture content can wildly change the weight measurements, depending on the brand.
Recipe adapted from Taste of Home
Nutrition Disclosure
All nutritional values are approximate and provided to the reader as a courtesy. Changing ingredients and/or quantities will alter the estimated nutritional calculations.