As an Amazon Associate I earn from qualifying purchases.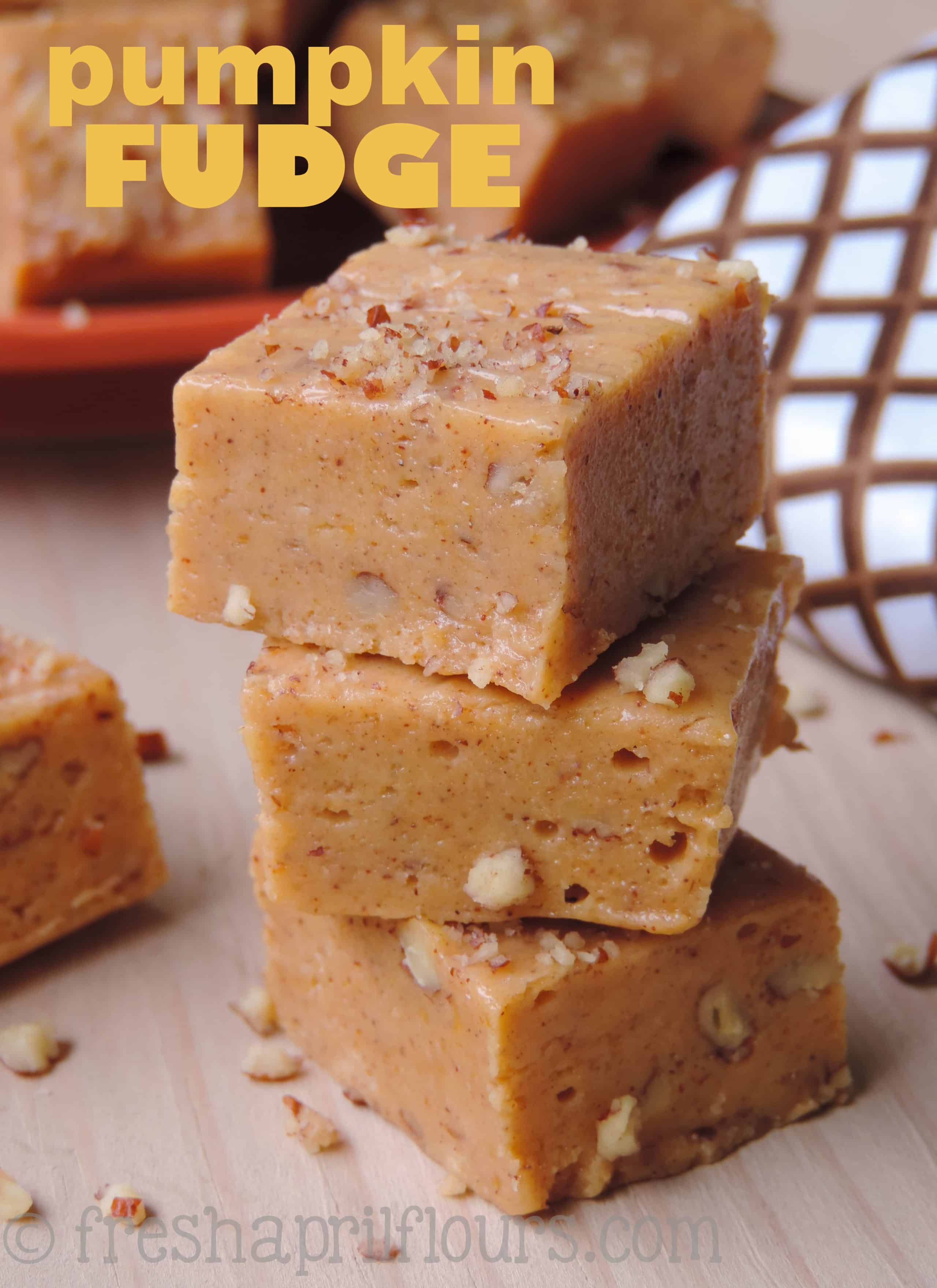 This easy pumpkin fudge is rich, smooth, and loaded with pumpkin flavor. No candy thermometer necessary, and only 15 minutes of hands-on work!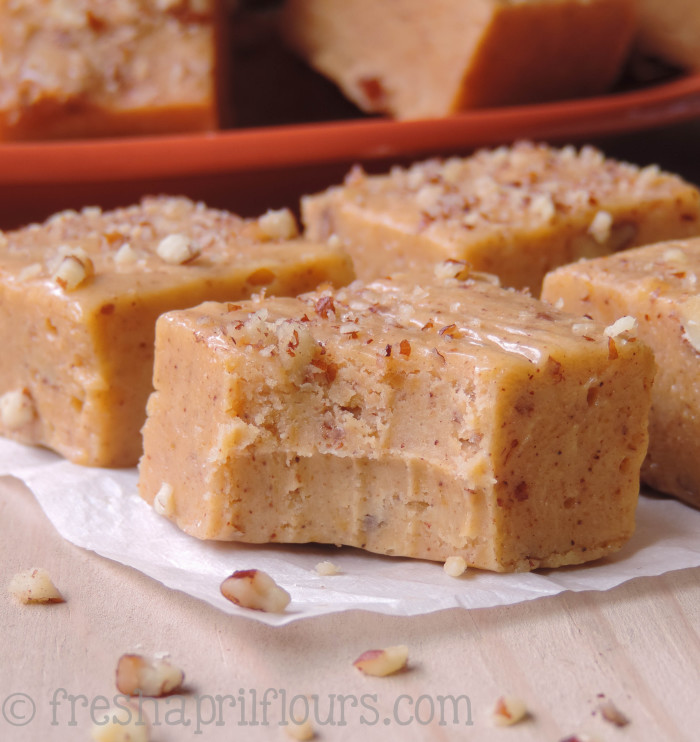 I have been waiting for the right time to share this recipe, because I actually developed and shot this amazing little treat back in August! It was one of those rainy Saturdays that felt like fall, so I went for it.
It turns out it was a great choice on my part, and I am happy to say I've made this fudge 2 more times since August.
Don't judge me. One taste of this and you'll understand. I might even be willing to say this is the best treat I've ever made.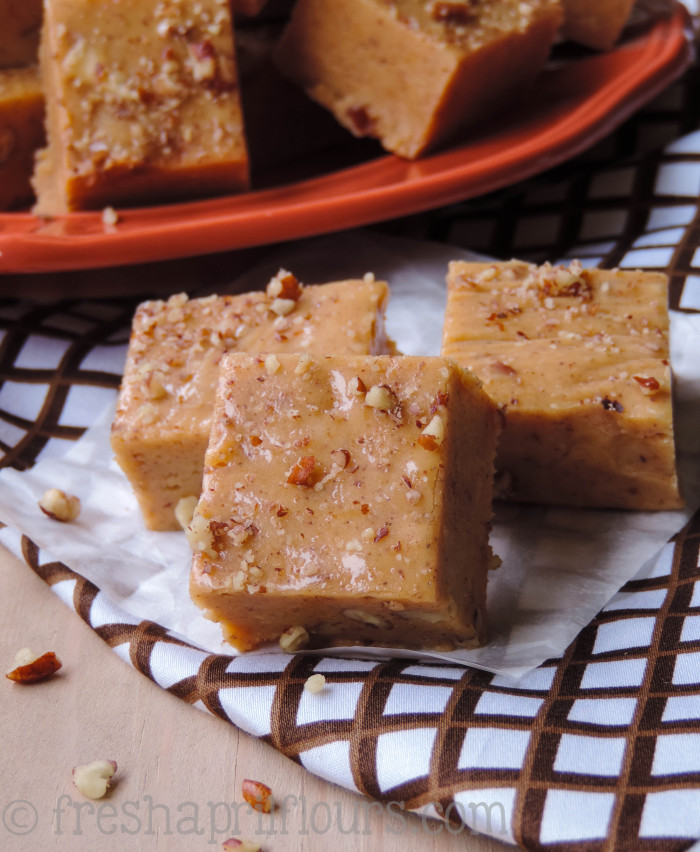 DO NOT BE INTIMIDATED BY FUDGE
I have had fudge on my mind for a long time. I've always wanted to make it, but the desire to make it was always outweighed by the intimidation factor.
Candy thermometers, boiling sugar, specific temperatures… No thank you. I wanted something that was quick, easy, and foolproof.
I found this recipe for white chocolate fudge (by using "easy" in my search terms, duh) and went from there.
It took a few tries to get the consistency right since I wanted to add actual pumpkin purée and not just the spices, but the perfect ratios came to me by my third ooey gooey time around (but not too ooey gooey– that time was a complete disaster).
The ingredient list for this fudge is pretty simple, and you probably have most them on hand already. The only thing you might need to grab from the grocery store is evaporated milk. I personally keep a can in my baking pantry regularly, but remember, I'm a little bit baking crazy.
This fudge begins its delicious pumpkin-y journey by boiling sugar, evaporated milk, pumpkin purée, butter, and spices for about 10-12 minutes.
After that, you'll stir in your white chocolate chips and marshmallows (and chopped pecans, if you're using them) until they're melted. After that, you're only about 30 minutes away from devouring the whole pan enjoying a little piece of pumpkin heaven.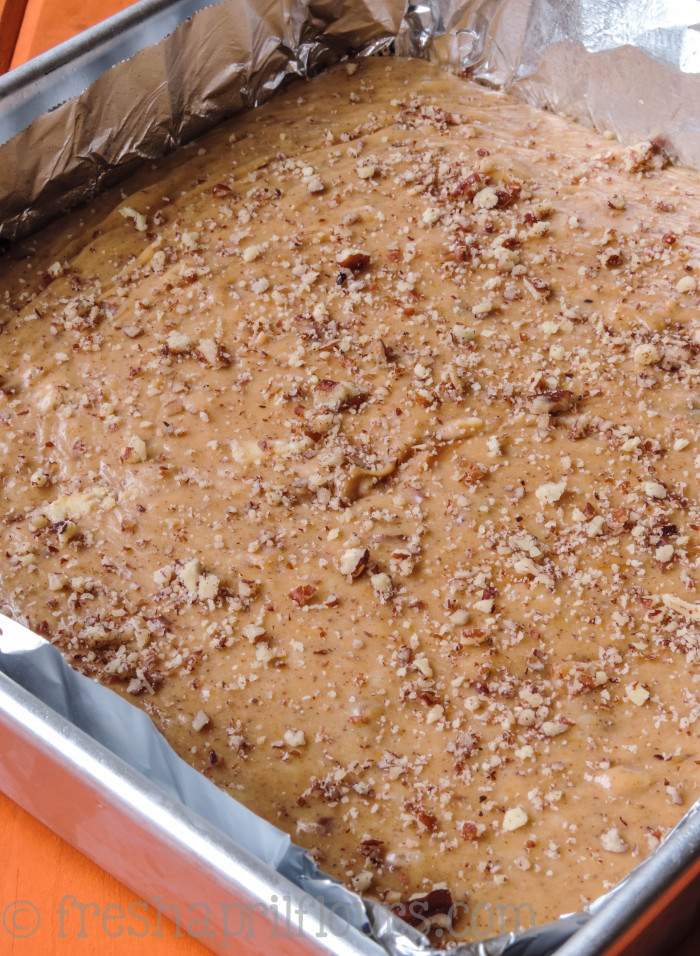 Let's chat really quick about the boiling part… I say 10-12 minutes because all 3 times I've made this, I felt it was time to remove the mixture from the heat at 3 different times.
PAY ATTENTION WHEN BOILING SUGAR!
That being said, you'll want to go by timing plus a visual cue. You're looking for a mixture that pulls away from the sides and bottom of your saucepan as you stir it.
Since you'll be stirring this mixture almost constantly during the boiling process, you'll be able to tell when this step happens. Just don't let it get too far past this stage, because then you'll be well on your way to hard candy. And that's a project for a different day!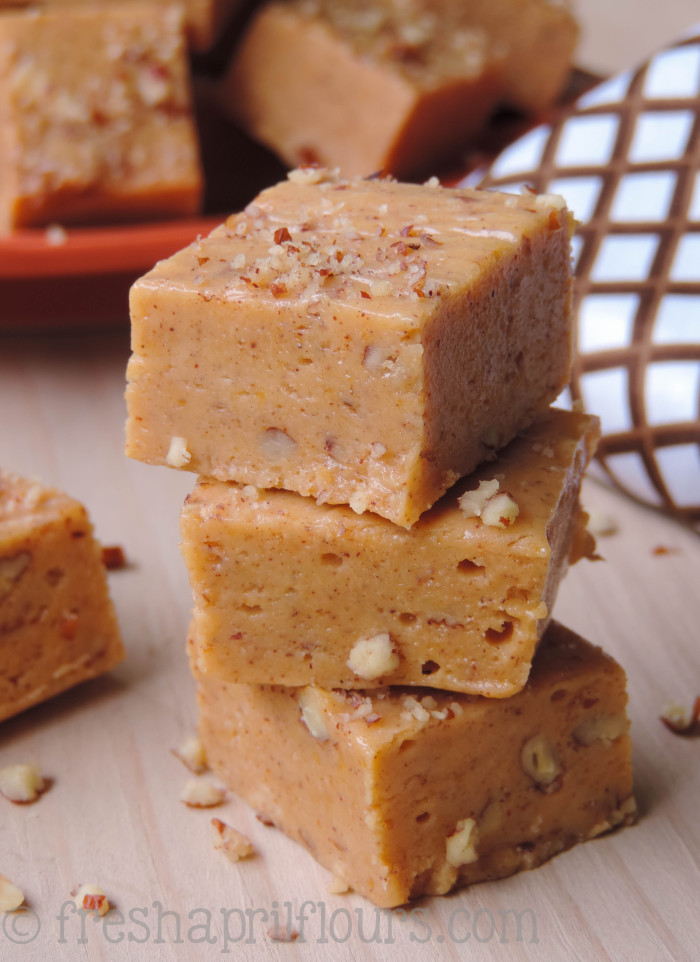 I mentioned in my pumpkin peanut butter pretzel bites post that my husband is a pumpkin hater, but he would not stop eating this stuff. I cut it up into teeny tiny pieces (in preparation for putting all of it in the kitchen at work), covered it with foil, and kept it in our fridge for 2 days.
Over those 2 days, I heard many a crinkling foil and saw many a "oh my gosh this is so good" faces from my darling husband. He's lucky he works out so much, otherwise he would be one big piece of pumpkin fudge (and all the other treats I make him sample).
This fudge disappeared in no time at work, another time at a surprise birthday party, and the last time when we had a dinner party with some friends.
It's sweet, soft, spicy, and irresistible. It will last quite some time in the fridge, but a little bird told me she saved some in the freezer and I can't say that isn't one of the best ideas I've heard in awhile.
Frozen pumpkin fudge sounds like something I need to try right now…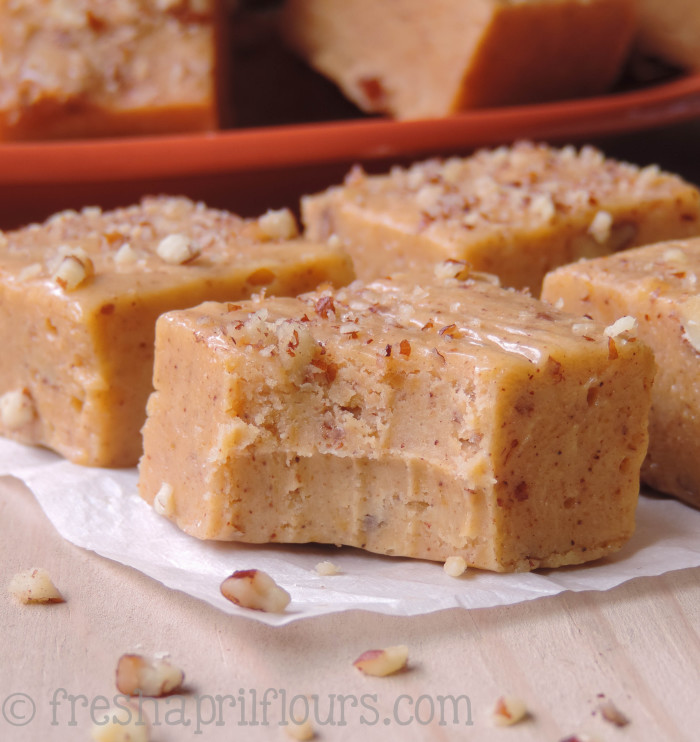 Anyone willing to sample the fourth batch in 6 weeks?
Pumpkin Fudge
This easy pumpkin fudge is rich, smooth, and loaded with pumpkin flavor. No candy thermometer necessary, and only 15 minutes of hands-on work!
Ingredients
1 and 1/2

cups

granulated sugar

1-5 ounce

can of evaporated milk

1/2

cup

pumpkin purée

2

Tablespoons

unsalted butter

1

teaspoon

salt

1

Tablespoon

pumpkin pie spice

12

ounces

white chocolate chips

2

cups

mini marshmallows

1/4

cup

finely chopped pecans

optional
Instructions
Line an 8" x 8" baking dish with foil, leaving an overhang on the sides, and spray with non-stick spray. Set aside.

In a medium saucepan, combine sugar, evaporated milk, pumpkin purée, butter, salt, and spice. Heat over medium heat and bring to a boil. Allow to boil for 10-12 minutes, stirring often, and stopping when mixture pulls away from sides and bottom of saucepan as you stir. Remove from heat.

Add white chocolate chips and mini marshmallows to the saucepan and stir until completely melted. Stir in pecans (if using). Pour mixture into prepared pan, sprinkle with more chopped pecans (if desired), and allow to chill in refrigerator for at least 30 minutes.

When fudge is completely set, lift from pan using foil overhangs and cut into desired size squares. Fudge should be stored in an airtight container in the refrigerator.