As an Amazon Associate, I earn from qualifying purchases. Read the full disclosure here.
Crunchy, flavorful biscotti get a fall makeover with real pumpkin purée and pumpkin pie spices.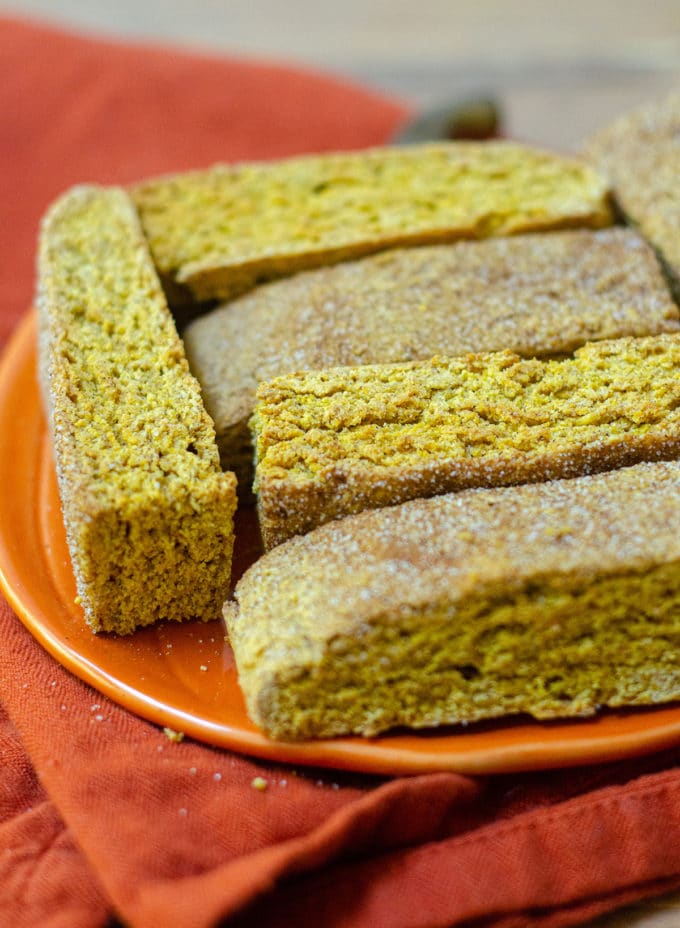 My love seriously knows no boundaries when it comes to biscotti.
In fact, it's my blogger life's mission to make biscotti in every freaking flavor I can think of. I'm slowly growing my biscotti recipe collection, and so far I've got:
•funfetti biscotti
•lemon poppy seed biscotti
•chocolate peppermint biscotti
•pistachio white chocolate chip biscotti
•gingerbread biscotti
•red velvet biscotti
•snickerdoodle biscotti
•traditional Italian anise biscotti
I am SEVERELY overdue for a pumpkin flavor, considering it's only fall's #1 fav, and I am and always will be a #basicbitch and love the crap out of all things pumpkin.
Relatedly, to kick off this week of the season officially being fall, I'm bringing you 5 pumpkin recipes in a row. It's all about pumpkin this week, and we're calling it #FAFpumpkinweek.
Follow along. We've got ALL the pumpkin this week: sweet, savory, not all for humans…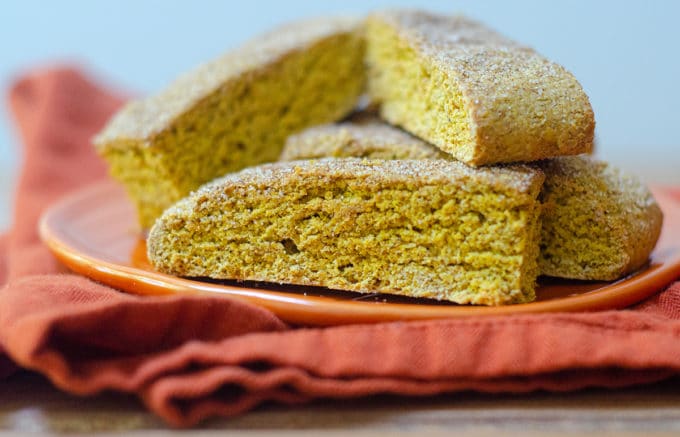 Are you intrigued? Is it getting weird? GOOD. Stay tuned for all the pumpkin goodies.
Since I've published so many biscotti recipes on my blog before, I've got a whole collection of in-progress photos to share with you that are not at all pumpkin flavored. Just stay with me and you'll be well on your way to pumpkin spice biscotti in a snap.
All of my biscotti recipes have the same base: a very simple combination of flour, a little bit of butter, oil, sugar, and an egg. Since we're using actual pumpkin puree in this recipe, we're omitting the oil.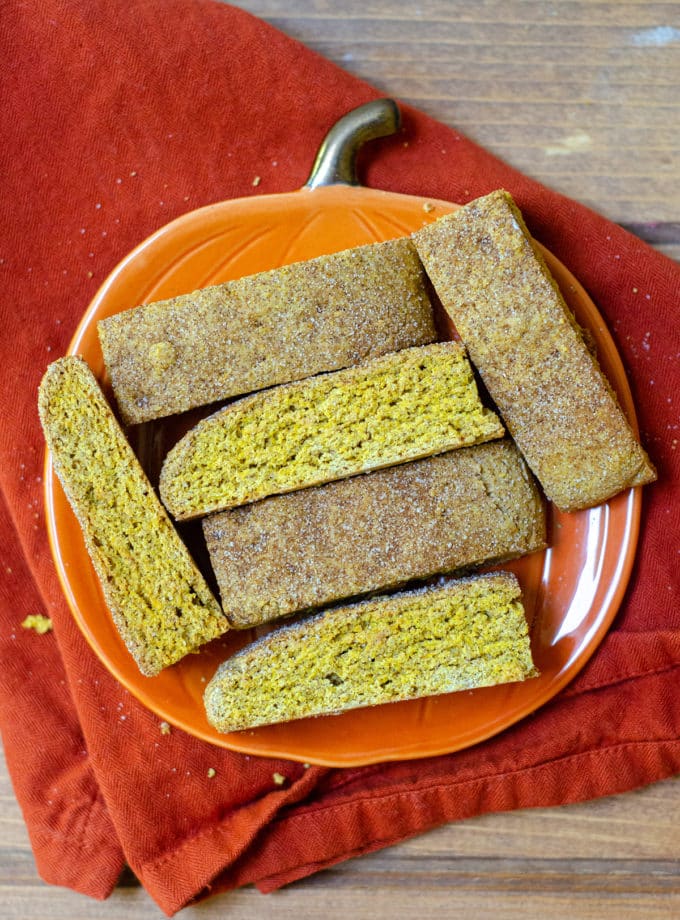 Pumpkin puree brings all the moisture along with lots of flavor to these biscotti, and we'll enhance the natural flavor with additional pumpkin pie spice.
Now I have to say, trust my process. You'll think this dough isn't coming together and it's not working, but it is. Give it time, be patient with it, and you'll be a biscotti connoisseur before you know it!
Once your dough is together, you'll press it all into a what I call a slab, the least glamorous name for something that's about to be delicious, but that's what it is. It should be about 6″ wide by 7.5″ long.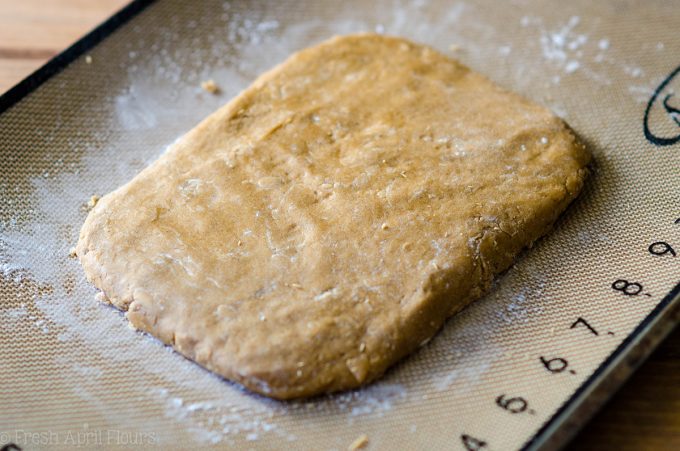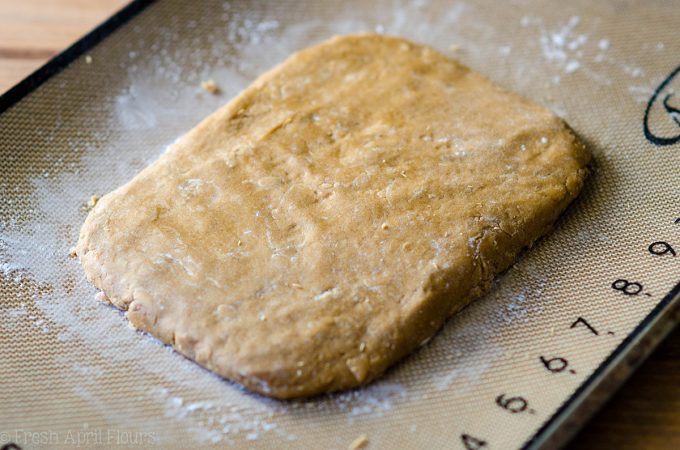 This pumpkin spice biscotti slab gets a little extra sparkle and flavor with a dusting of pumpkin pie spice + sugar. This is the same treatment my snickerdoodle biscotti get, and it's the best biscotti treatment out there.
You'll bake the slab, let it rest, and then slice it up into 12 cookies. That's 7 short slices and 1 long slice. The ends make teeny tiny slivers that don't count as cookies but 100% count as "scraps" used for "taste testing."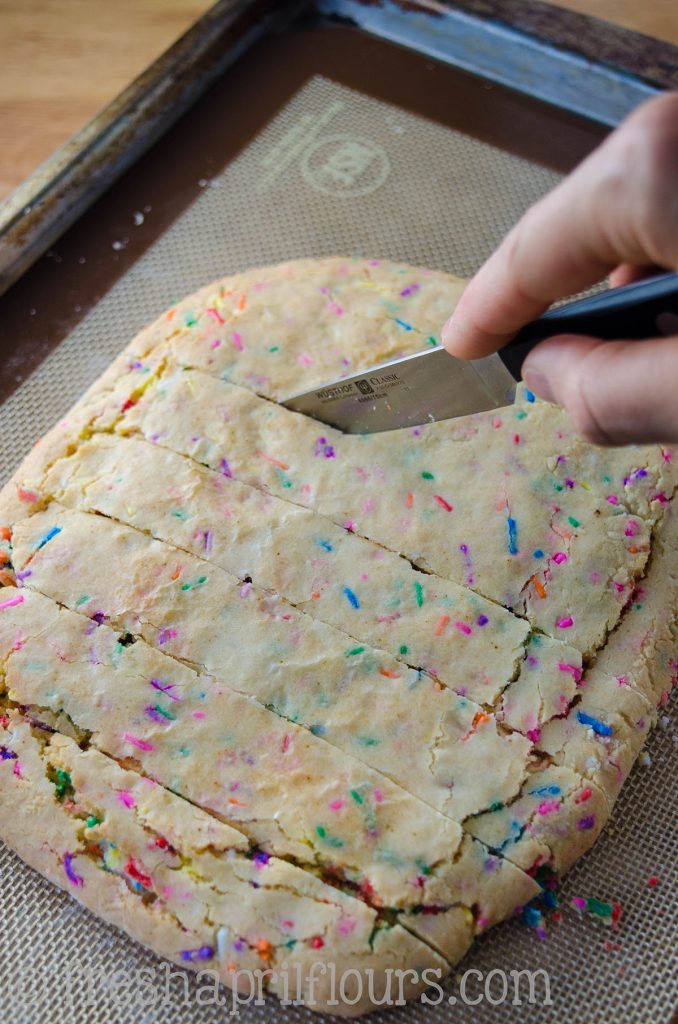 Flip each of those slices onto its side. This is where the magic happens.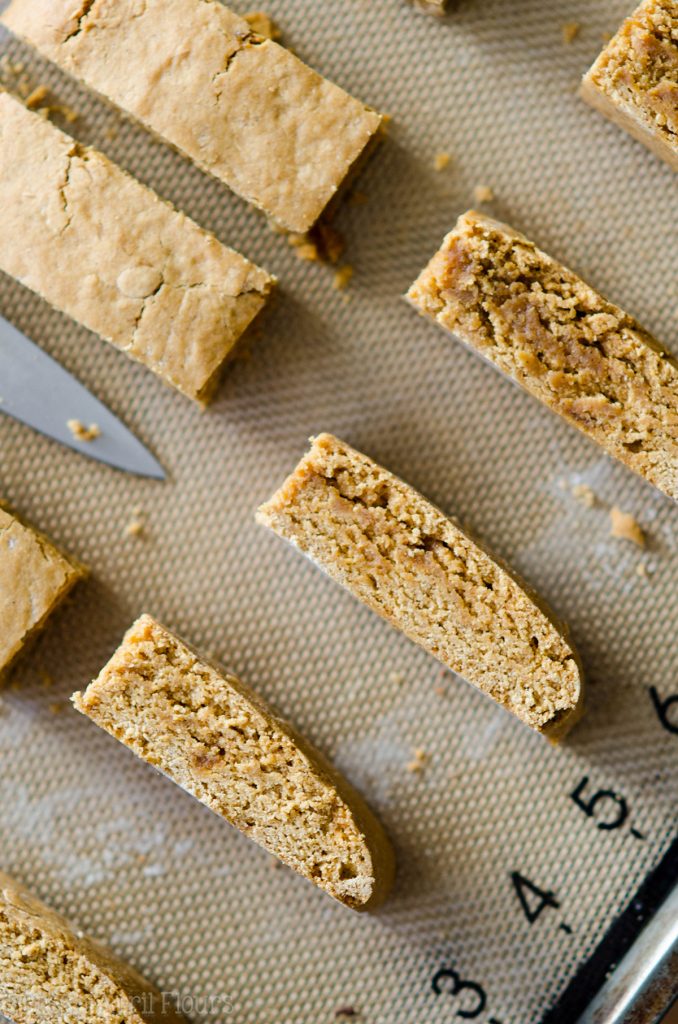 Bake each side of the biscotti for 9 minutes, flipping completely over between the two sets of 9 minute bakes.
Then that's it! Presto change-o, you're done!
I've mentioned before that Matt isn't a huge pumpkin fan (though I'm fairly certain I'm converting him recipe by recipe) and he loved these. It said it tasted like he was eating crunchy pumpkin bread, which is great, because my chocolate chip pumpkin quick bread is another one of his favs.
This is just the beginning of a beautiful week of pumpkin, friends. If you're a biscotti lover, this recipe is for you. If you're a pumpkin lover, this recipe is for you.
If you already think you'll love pumpkin biscotti, preheat that oven, because if there's pumpkin in your pantry, you've definitely got the rest of the ingredients to make these.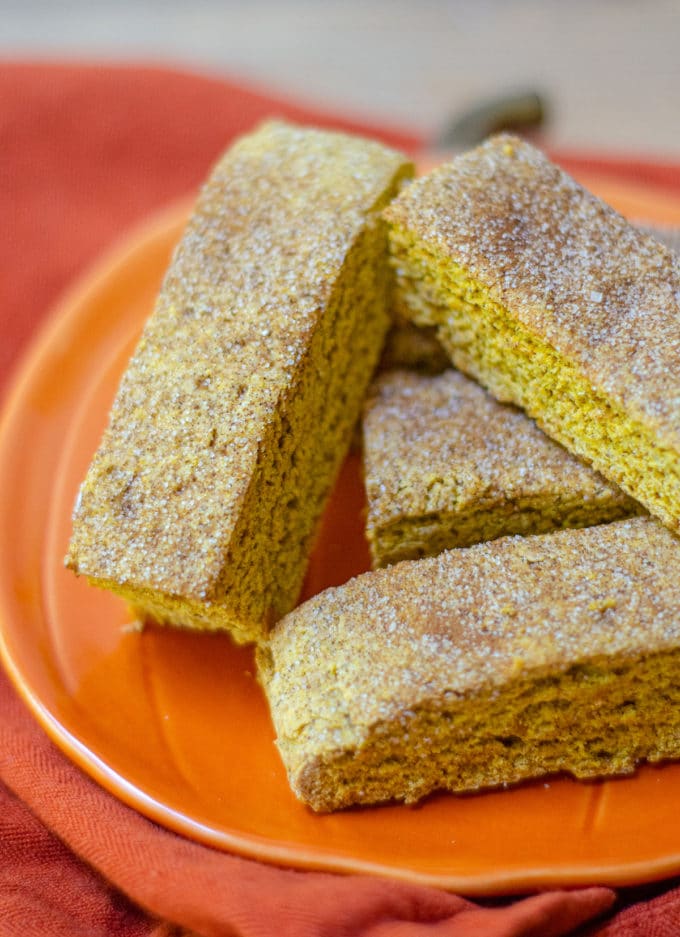 Crunchy, bursting with pumpkin flavor, and the greatest way to kick of #FAFpumpkinweek. Your PSL needs these dunk partners.
Pumpkin Spice Biscotti
Crunchy, flavorful biscotti get a fall makeover with real pumpkin purée and pumpkin pie spices.
Ingredients
BISCOTTI
1

Tablespoon

unsalted butter

melted

¼

cup

pumpkin purée

1

large egg

room temperature

½

cup

granulated sugar

1 and ¾

cup

+ 1 Tablespoon all-purpose flour

be sure to measure properly

1

teaspoon

baking powder

¾

teaspoon

pumpkin pie spice

¼

teaspoon

ground cinnamon

¼

teaspoon

salt
COATING
1

Tablespoon

granulated sugar

¼

teaspoon

pumpkin pie spice
Instructions
Preheat the oven to 350ºF degrees. Line a large baking sheet with parchment paper or a silicone baking mat. Lightly flour the baking sheet. Set aside.

In a medium size bowl, whisk together the butter, pumpkin, egg, and sugar until combined. Set aside.

Add the wet ingredients to the dry ingredients and gently mix with a large wooden spoon or sturdy rubber spatula until everything starts to come together. Mixture will be crumbly. This is ok. It will come together in the next step.

Check out this Instagram reel to see how I make my biscotti. Turn dough out onto lightly floured baking sheet and, with floured hands, pat dough into a rectangle about 1/2" thick. My rectangle was 6" wide and 7 and 1/2" long (using a ruler or a ruled silicone baking mat is helpful here). Sprinkle with prepared sugar/spice coating.

Bake dough slab for 20-22 minutes, or until the top and sides of the slab are lightly browned. Remove from the oven, but do not turn off the heat. Place baking sheet on a wire rack and allow to cool for 10 minutes.

Once the dough is cool enough to touch, cut into 1" thick slices using a sharp knife. Cut these 1" slices in half, making a perpendicular slice down the entire slab. Set slices cut sides up on the baking sheet.

Return to the oven to bake for 6 minutes. Remove from oven, turn biscotti over, and bake the other side for 6 minutes. Remove from the oven and allow to cool for 3 minutes on the baking sheet (cookies will become crunchy as they cool). Transfer biscotti to a wire rack to cool completely. Cookies stay fresh covered tightly at room temperature up to 7 days. Cookies freeze well, up to 2 months. Thaw at room temperature.
Nutrition Disclosure
All nutritional values are approximate and provided to the reader as a courtesy. Changing ingredients and/or quantities will alter the estimated nutritional calculations.