Pumpkin Cheesecake Swirl Sheet Cake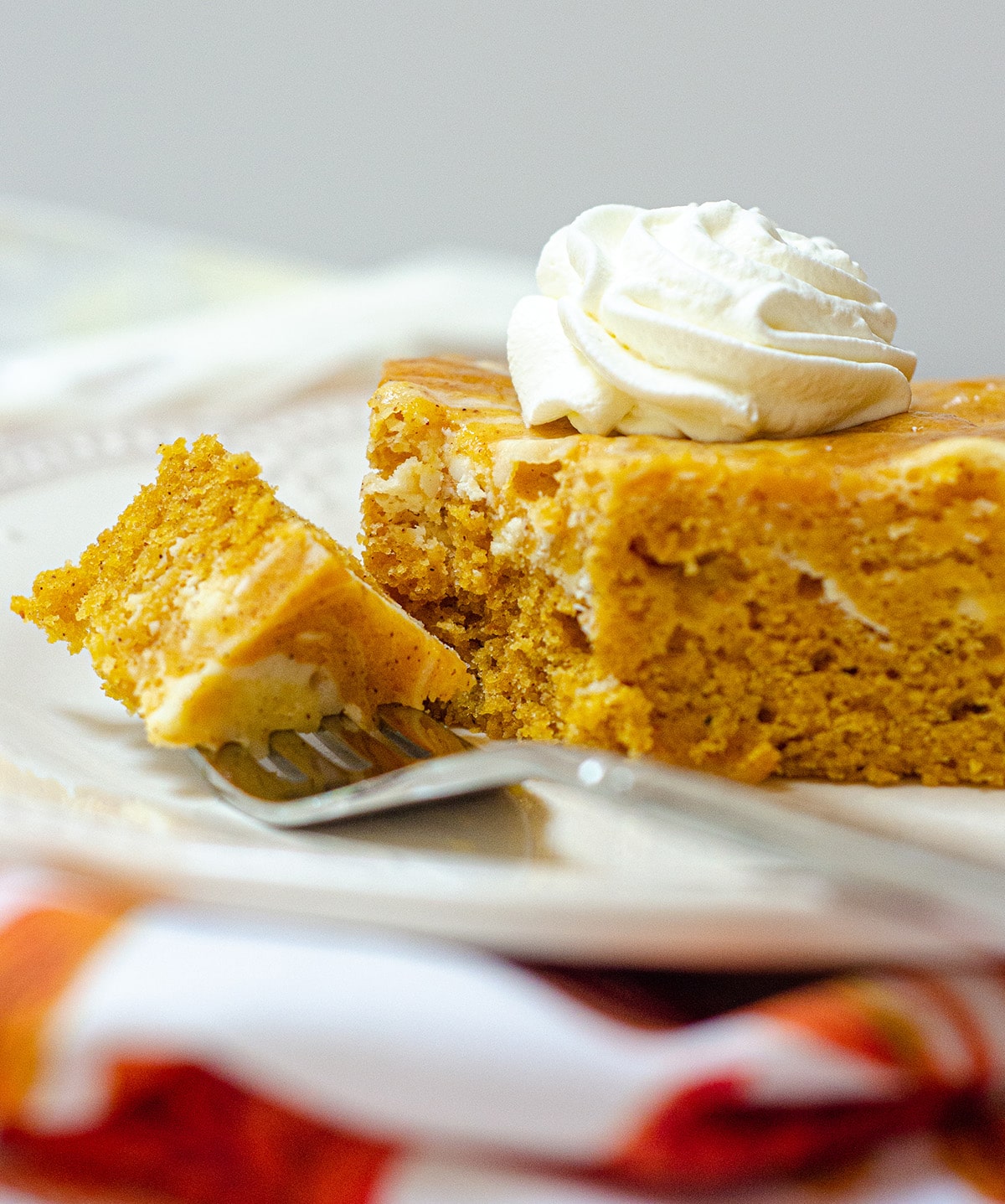 As an Amazon Associate, I earn from qualifying purchases. Read the full disclosure here.
Dense and flavorful pumpkin cake swirled with sweet and creamy cheesecake.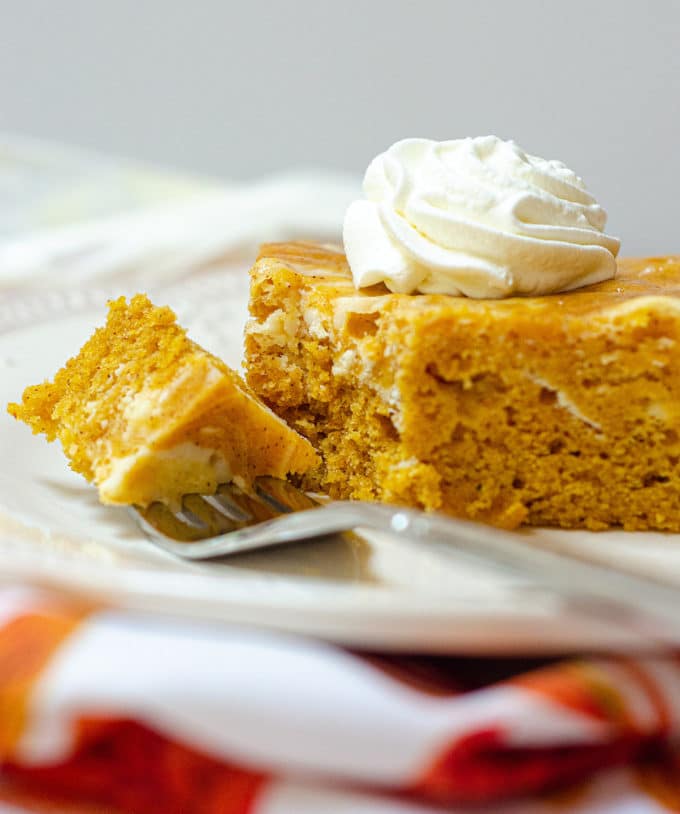 Welcome to recipe #2 in #FAFpumpkinweek!
This one is a doooooozy!
But, believe it or not, this fancy looking, swirly twirly sheet cake could.not.be.easier! Don't let the word "cheesecake" trip you up.
Let's get real for real for a second: I do not love cheesecake. It's just never wowed me. And unless it's got fruit or chocolate or other goodies on it, I won't really gravitate towards it.
Now if it's an accent flavor like the filling of a truffle or swirled into a cake (hi, today's recipe!), I can be all about it. The creaminess, the flavor… Sign me up!! But just alone? Nah. You can keep that.
Pass me a slice of this strawberry cake cake instead. Or these peanut butter cookies. Orrrrr these blueberry lemon cupcakes.
Ok, let's get back on track. PUMPKIN.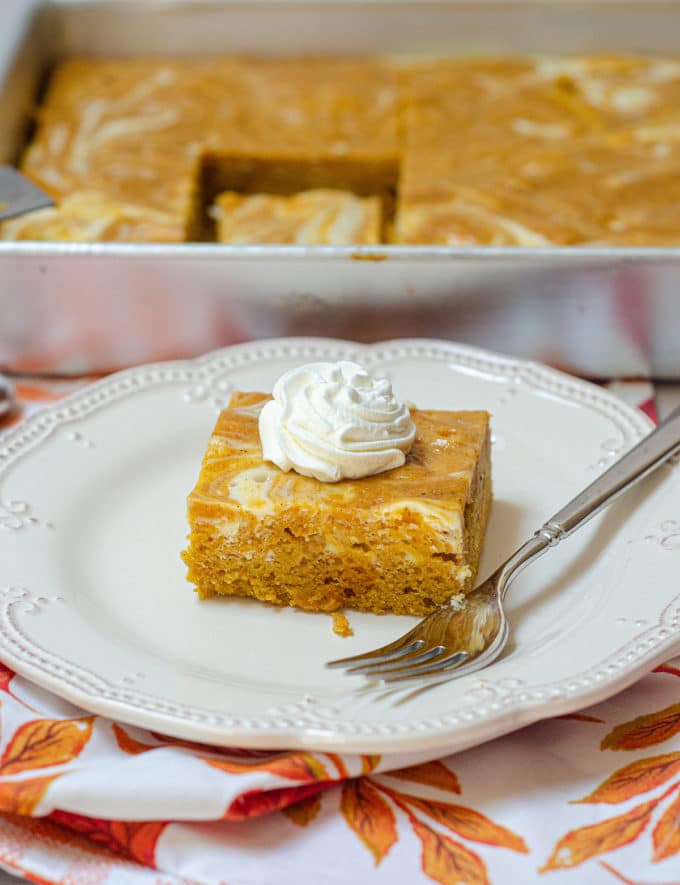 So this pumpkin cheesecake swirl sheet cake sounds complicated, but it's really not. Not even a little bit. In fact, if you've made my brown butter pumpkin layer cake, you can make this swirled cheesecake, because it's that recipe minus a lot of steps.
And if you haven't made that recipe, save it for another day and know that this particular sheet cake is easy peasy pumpkin squeezy.
What I did with my original pumpkin layer cake recipe is I removed the brown butter step. Since we're not focusing 100% on the deep, rich flavor of pumpkin but rather complementing it with sweet and creamy cheesecake, I decided putting the extra effort into that step was completely unnecessary.
Plus, sheet cakes are meant to be easy. They're supposed to be the kind of thing you just dump into one pan, bake, and are done with it.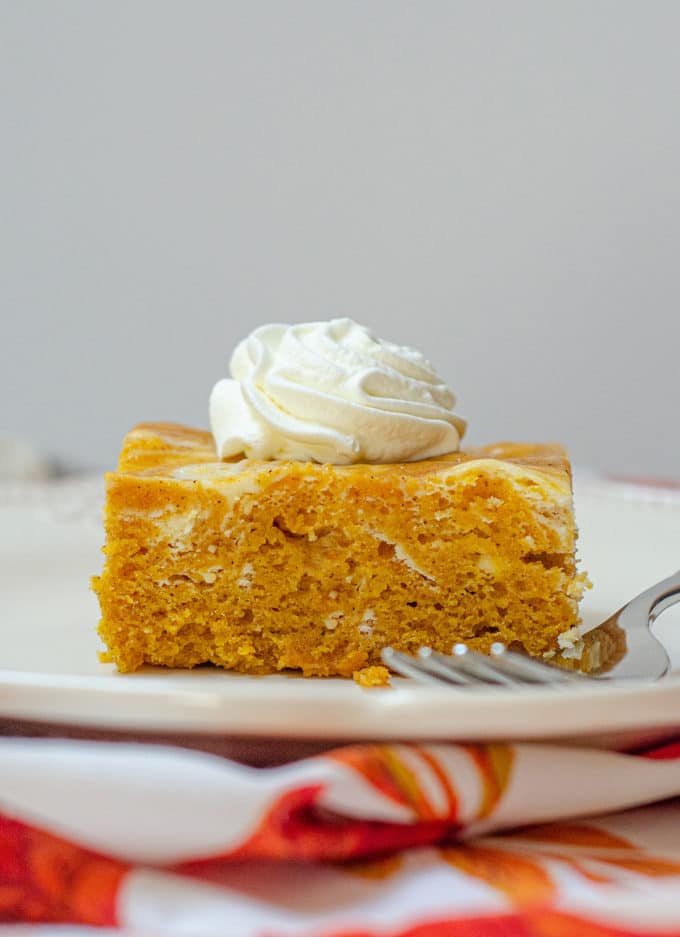 While yes, you're going to have to do some swirling here, the hands-on time is minimal.
You'll start by putting your cheesecake portion together. Cream cheese, sugar, an egg… Simple.
As I've already mentioned, the pumpkin cake part is also simple. And when you're done whipping it up, you'll pour 2/3 of it into a prepared 9×13 baking pan.
Next up, dollops of the cream cheese portion of your sheet cake.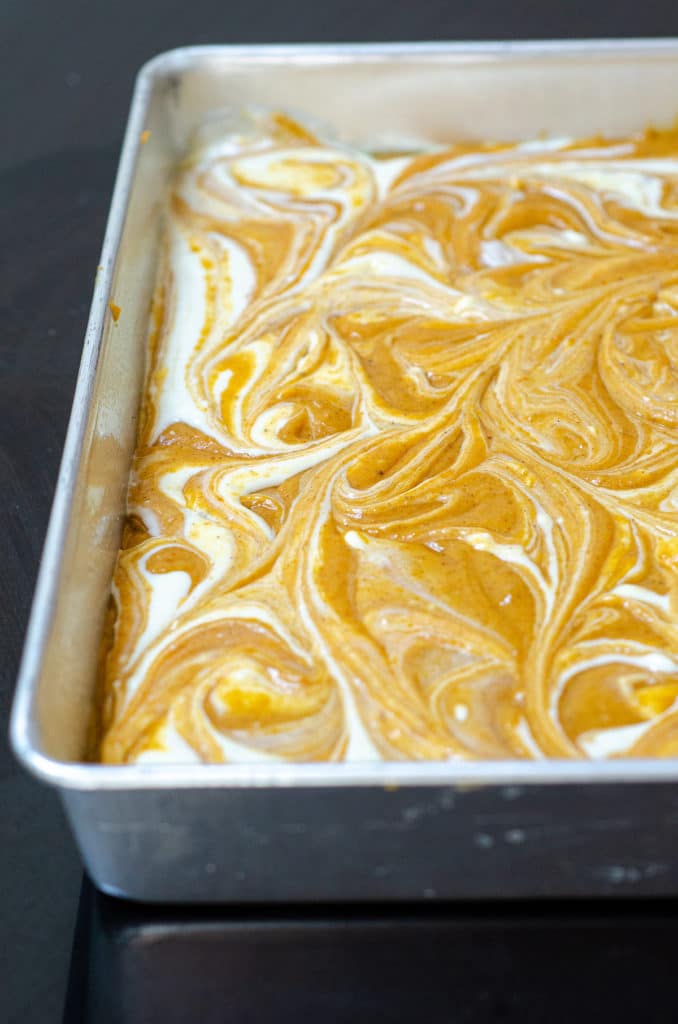 Lastly, the remaining 1/3 of your pumpkin batter goes on top.
This thing won't exactly be beautiful yet, and that's ok. Putting that last 1/3 of the batter on top will feel futile, but it will all work out in the end. Pinky promise!
Some swirlage with a knife, and you're good to go!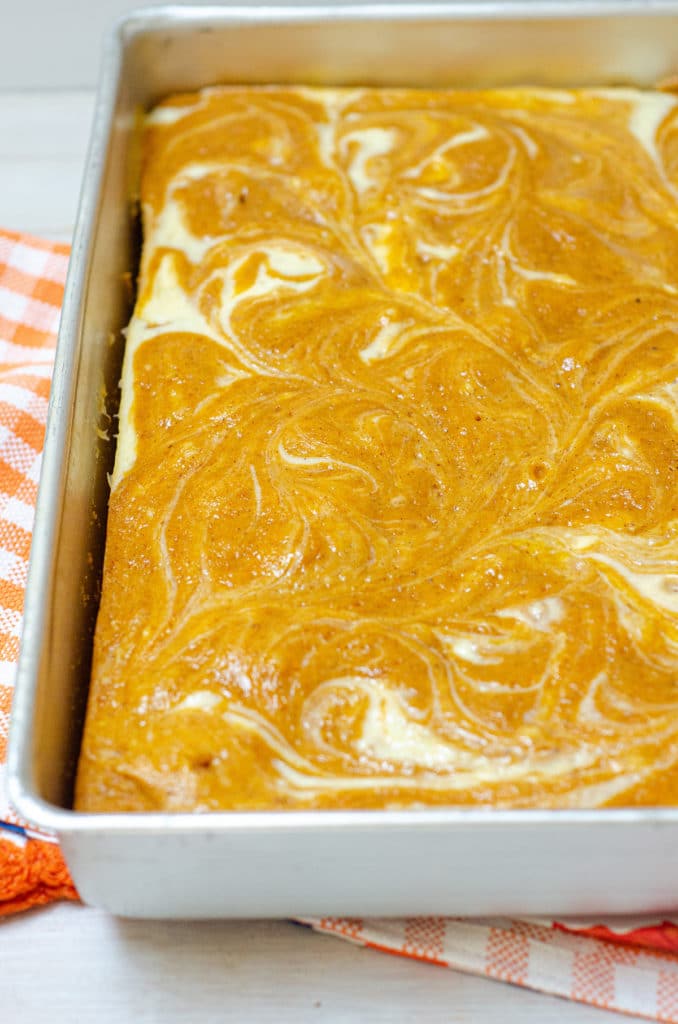 This cake is best served cold, though you're welcome to try it room temperature. Just don't try it warm, unless you've reheated it. This cake must cool completely in order for the cheesecake portion of the pumpkin swirl cheesecake business to be fully set.
We absolutely loved this cake, and it was nice to have a cheesecake-y cake that wasn't as time consuming as a whole cheesecake. The texture is soft and dense at the same time, and creaminess + pumpkin is never a bad thing in my book.
I topped individual slices with homemade whipped cream, though you're welcome to leave it off, throw some cream cheese frosting on the whole thing, or just add a dash of cinnamon. Just do what feels right in your dessert world.
I hope you'll add this pumpkin cheesecake swirl sheet cake (despite its mouthful name) to your kitchen this fall and share it with all your fellow pumpkin lovers! It's great as a take along to a pumpkin carving party or fuel for your late-night DIY Halloween costume assembling event.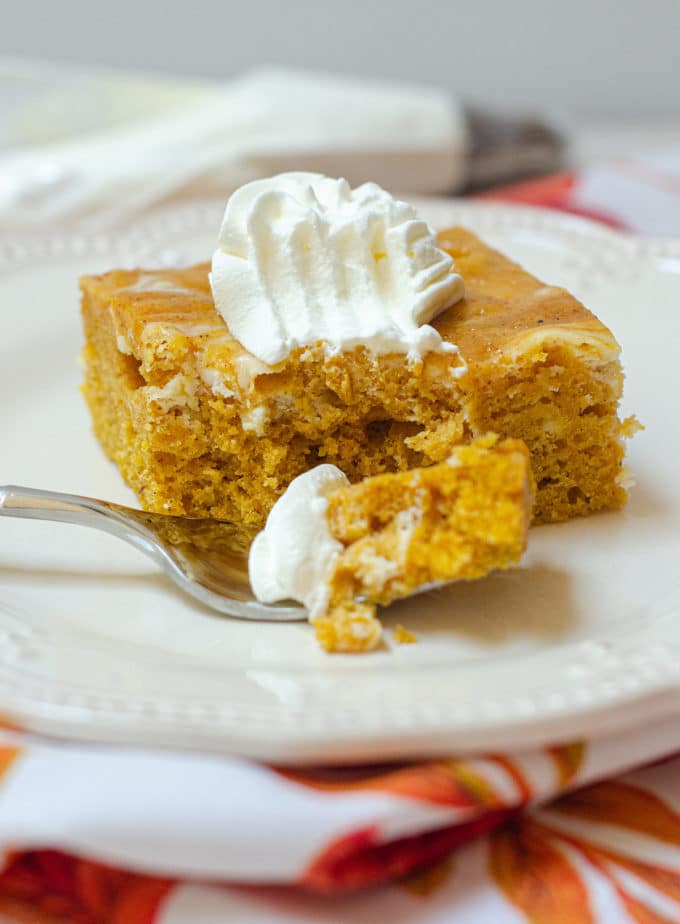 Swirly, pretty, tasty, pumpkiny, fally, and necessary. Get to baking, pumpkin bakers!
Pumpkin Cheesecake Swirl Sheet Cake
Dense and flavorful pumpkin cake swirled with sweet and creamy cheesecake.
Ingredients
CHEESECAKE SWIRL
8

ounces

(1 block) full fat cream cheese

softened to room temperature

1/4

cup

granulated sugar

1

large egg

1

teaspoon

vanilla extract

1/4

teaspoon

salt
PUMPKIN CAKE
2 and 1/4

cup

all purpose flour

2

teaspoons

baking soda

2

teaspoons

ground cinnamon

1

teaspoon

ground ginger

1/2

teaspoon

ground nutmeg

1

teaspoon

salt

1/2

cup

(1 stick) unsalted butter

melted

1 and 1/2

cups

pumpkin purée

1 and 1/2

cups

granulated sugar

2/3

cup

firmly packed brown sugar

2

large eggs

1/3

cup

milk (any)
Instructions
CREAM CHEESE SWIRL
Preheat the oven to 350ºF. Spray a 9" x 13" baking sheet with non-stick spray. Set aside.

In a small bowl with a handheld mixer or whisk, combine the cream cheese and sugar. Beat or whisk until combined. Add the egg, vanilla extract, and salt and mix again until smooth. Set aside.
PUMPKIN CAKE
Bake at 350 for 30-35 minutes. 2/3 of batter in, cream cheese, last 1/3.

In a large bowl, whisk together the flour, baking soda, cinnamon, ginger, nutmeg, and salt. Set aside.

In another large bowl, whisk together the butter and pumpkin purée until combined. Add both of the sugars and whisk again until smooth. Finally, whisk in the eggs and milk until everything is incorporated.

Pour the wet ingredients into the dry ingredients and stir gently with a large spatula until no more flour pockets remain. Pour approximately 2/3 of the batter into the prepared pan.

Using a spoon or large spatula, dollop the cheesecake mixture onto the pumpkin cake batter. I did 5 large dollops.

Pour the remaining 1/3 of the pumpkin batter onto the dollops of cheesecake, then, using a butter knife, slowly swirl everything together until white and orange swirls on the surface are to your liking.

Bake the cake 30-35 minutes or until a toothpick inserted in the center comes out clean. Remove from oven and allow to cool completely on a cooling rack before refrigerating at least 4 hours to serve. Top with homemade whipped cream, if desired. Store leftovers covered tightly in the refrigerator, up to 5 days. Cake freezes well, up to 2 months. Thaw overnight in refrigerator.
Nutrition Disclosure
All nutritional values are approximate and provided to the reader as a courtesy. Changing ingredients and/or quantities will alter the estimated nutritional calculations.