Chocolate Chip Pumpkin Quick Bread

As an Amazon Associate, I earn from qualifying purchases. Read the full disclosure here.
An easy bread spiced with real pumpkin and spices and sweetened with brown sugar and chocolate chips.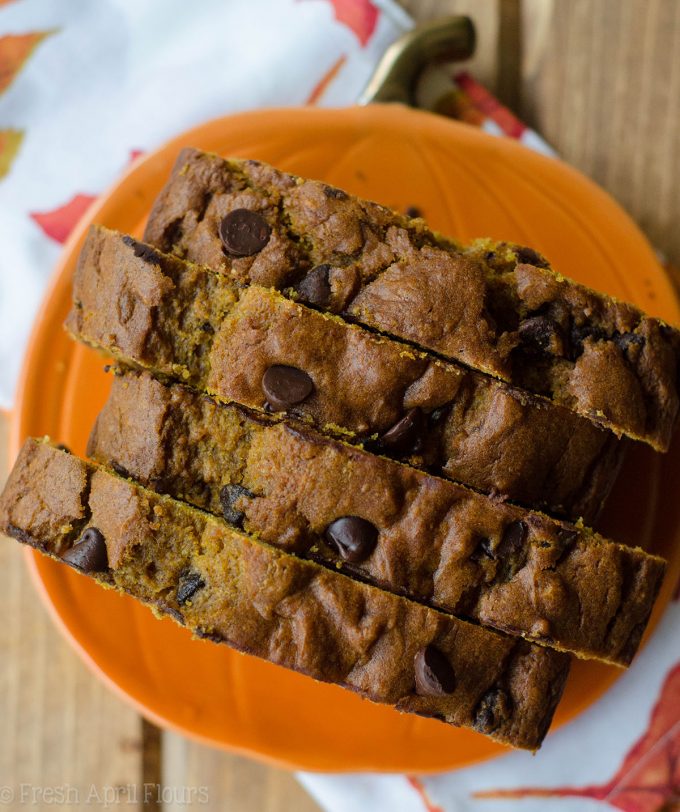 Uhh, anyone else in complete disbelief that Thanksgiving is freaking next week? I swear we were just getting rolling on the pumpkin train and I feel like the peppermint mocha and gingerbread will be making their way into our kitchens before we know it.
So before that happens, I am tossing one more pumpkin recipe into this month before I throw some Thanksgiving recipes your way for that holiday that is way too soon for comfort. Deal?
But before we get to this ridiculously amazing chocolate chip pumpkin quick bread, I have to address one little thing… If you follow me on IG, you might have seen my unofficial announcement that we are expecting another baby in May!
While this is so crazy exciting, I am recalling just how exhausting it is being pregnant, but this time, I can't take naps, I can't even really rest unless my husband is home, because there is this, you know, TODDLER that I have to chase after/feed/entertain/love up on/figure out what he's trying to tell me/allofthethings, and that just makes being pregnant a million times more exhausting.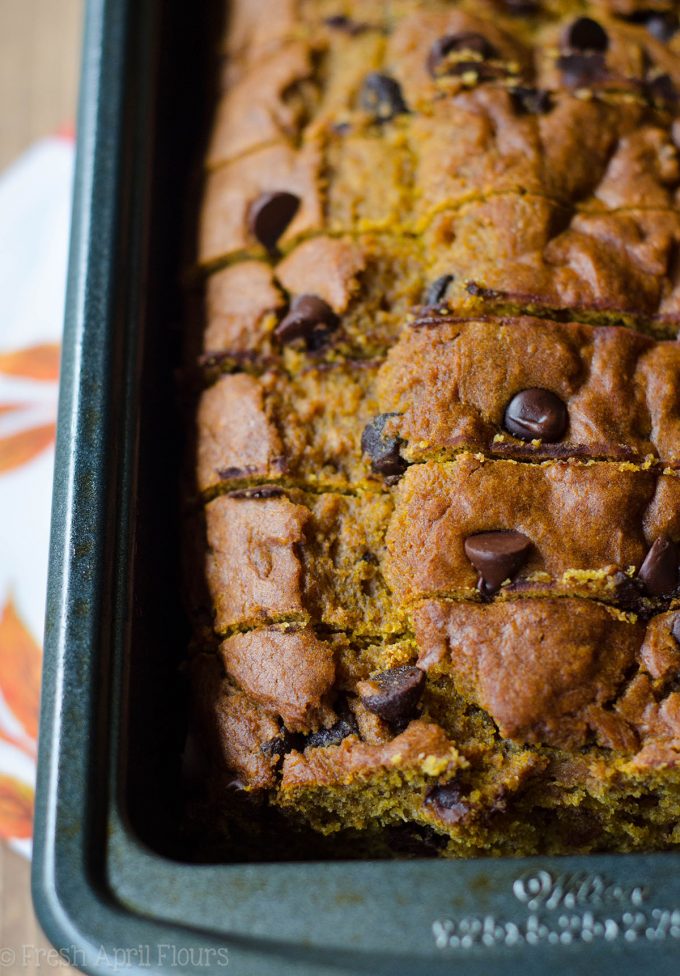 Lucky for me, I remember that this is temporary. But then it's followed by the awful newborn stage, which I'm trying to completely wipe from my memory with the hope I don't dread May when this little boy (yes, another boy!) arrives.
So until then, please bear with me, because when I sit down at the end of the night after my kiddo is in bed, blogging is nearly the last thing on my mind lately.
Also recall my child goes to bed at 7pm. Yes. I'm that exhausted.
BUT! I have content lined up for the rest of November and of course, the 12 Days of Christmas Cookies are slowly coming together, despite my wanting to sleep more than I want to eat cookies.
At this point, I have 7 of the 12 done! I'm majorly patting myself on the back for this one, by the way, considering I still have 3 weeks until its debut!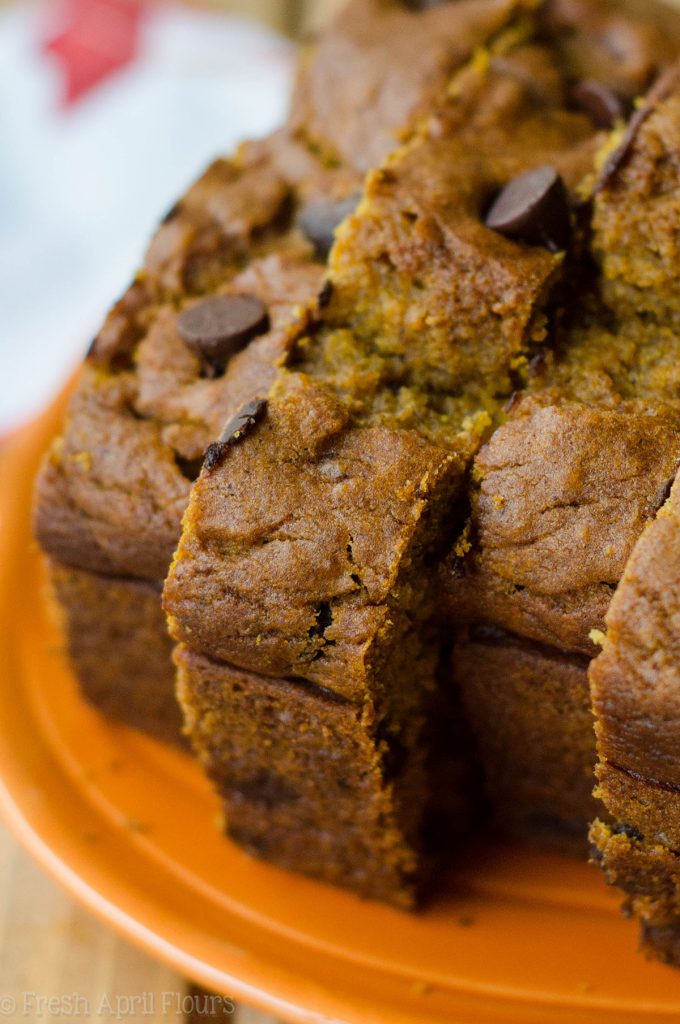 So now that I've taken up a bunch of your Wednesday with all that's happening in my crazy life, let's talk about this new quick bread you might want to have in your back pocket for next week when you plan out that Thanksgiving dessert menu.
(Wait… Do you have your meal or menu together yet? Because we don't! #oops)
This bread was brought to you by tips from my toddler muffins, lactation quick bread, and chocolate chip zucchini bread recipes, so you can say I took some things from each recipe to put this delightful little number together.
And it.is.magical!
Nothing special, at all. We're using real pumpkin, but we're also adding some pumpkin pie spice and cinnamon to really bring out the flavor. Brown sugar for depth of sweetness and moisture, of course, and a little vanilla to round it all out.
And then… The chocolate chips. You could even do white chocolate chips, cinnamon chips, BUTTERSCOTCH CHIPS (OMG), or no chips at all with this pumpkin bread. All of those flavor combinations sound like the perfect match along with that spicy pumpkin, so if you try one, let me know!
And invite me over for a sample, yeah?
Like I said, easy peasy/quick, so perfect for last minute planning for any occasion, be it a Thanksgiving celebration, something to take to a friend or relative who could use a little something to make their day, or even carry it into December and keep that pumpkin train rolling right through the whole holiday celebration.
The more the merrier, right?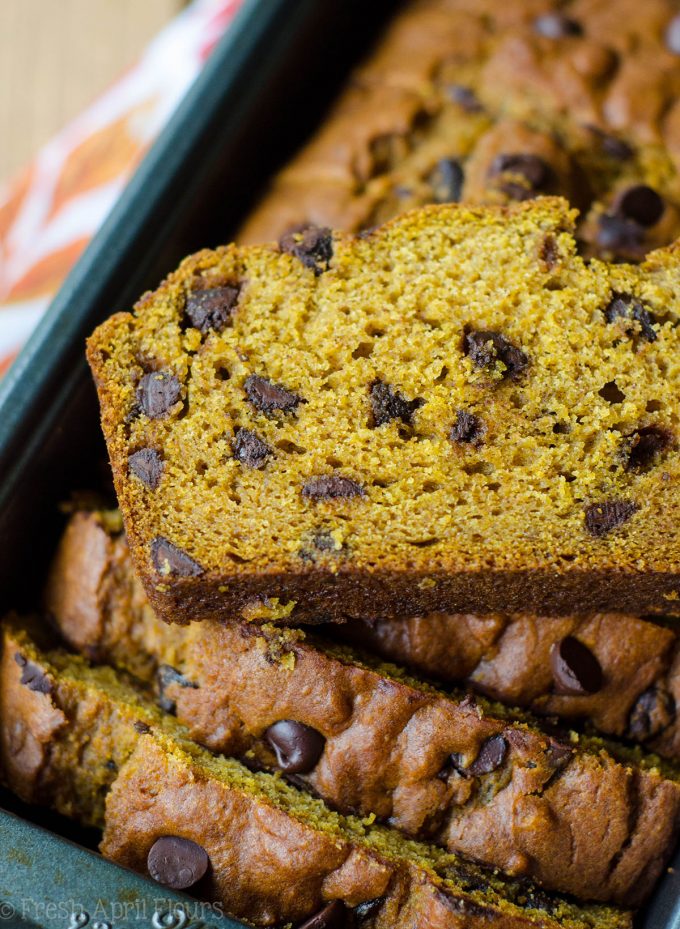 Oh, and if at any point here you've been wondering if pumpkin and chocolate chips go together, they absolutely do, so trust me and whip this up ASAP. And get working on those different chips, please?!
Chocolate Chip Pumpkin Quick Bread
An easy bread spiced with real pumpkin and spices and sweetened with brown sugar and chocolate chips.
Ingredients
1 and 3/4

cups

all purpose flour

be sure to measure properly

1 and 1/2

teaspoons

baking powder

1

teaspoon

baking soda

2

teaspoons

pumpkin pie spice

1

teaspoon

ground cinnamon

3/4

teaspoon

salt

⅔

cup

packed brown sugar

½

cup

(1 stick) unsalted butter

melted

2

large eggs

1

cup

pumpkin puree

⅓

cup

milk

any

1 and 1/2

teaspoons

vanilla extract

2/3

cup

chocolate chips
Instructions
Preheat oven to 350ºF. Spray a loaf pan (9" x 5") with non-stick spray. Set aside.

In a large bowl, whisk together the flour, baking powder, baking soda, pumpkin pie spice, cinnamon, and salt. Set aside.

In a medium size bowl, whisk together the brown sugar and butter until no sugar lumps remain. Add the eggs, pumpkin, milk, and vanilla and whisk until smooth. Pour the wet ingredients into the dry ingredients and stir gently until just combined. Add the chocolate chips and stir to disperse evenly.

Pour the bread into the prepared loaf pan and bake for 55-60 minutes, or until a toothpick inserted in the center comes out mostly clean. Tent foil over the top of the loaf pan halfway through the baking time to prevent too much browning. Allow bread to cool completely in the loaf pan on a wire cooling rack before serving. Leftovers stay fresh at room temperature up to 4 days or in the refrigerator up to 1 week. Loaf may be frozen, up to 3 months. Wrap tightly in plastic wrap and foil before freezing. Thaw overnight in refrigerator.
Nutrition Disclosure
All nutritional values are approximate and provided to the reader as a courtesy. Changing ingredients and/or quantities will alter the estimated nutritional calculations.