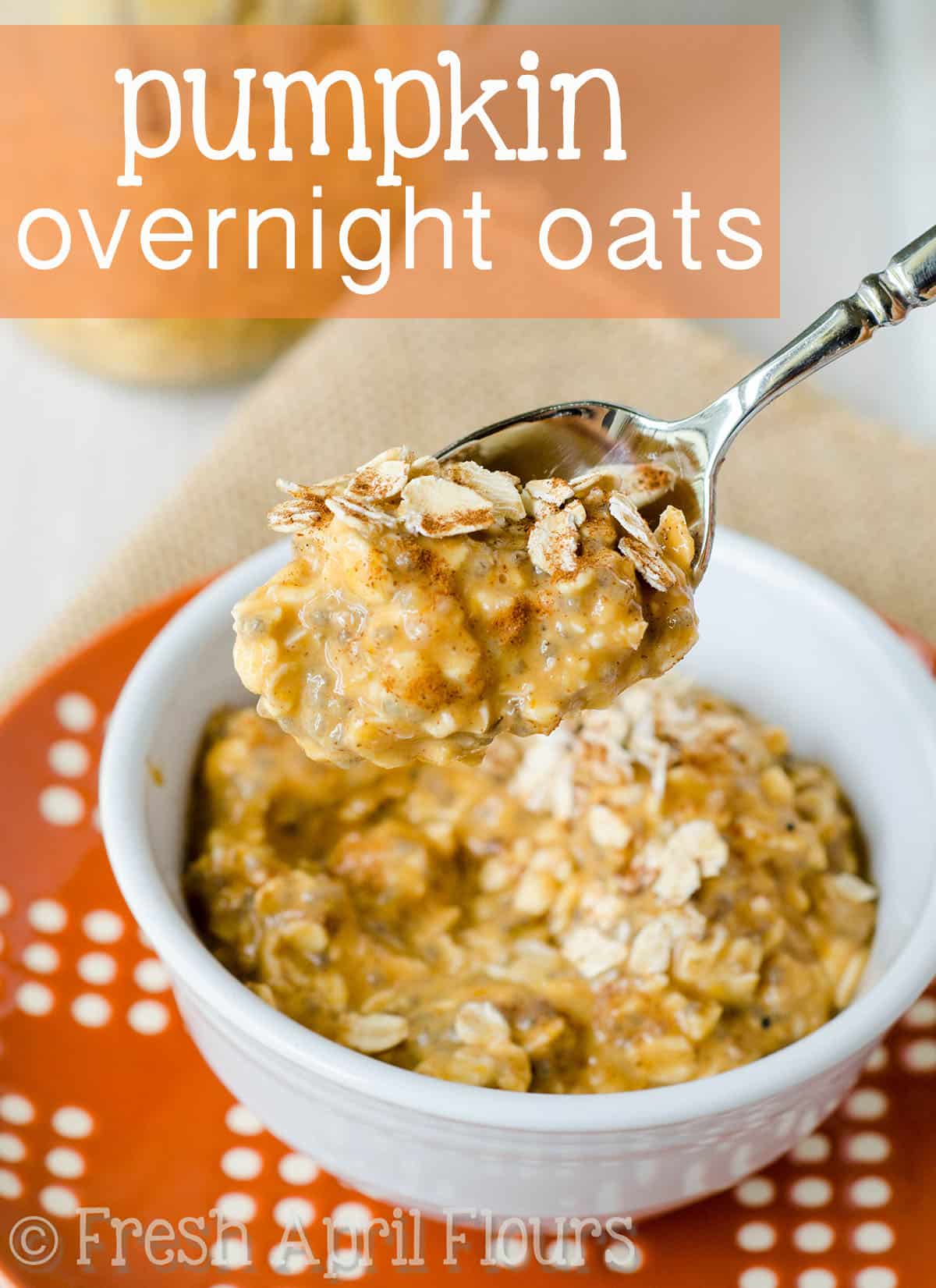 As an Amazon Associate, I earn from qualifying purchases. Read the full disclosure here.
Hearty spiced oats that don't require any cooking!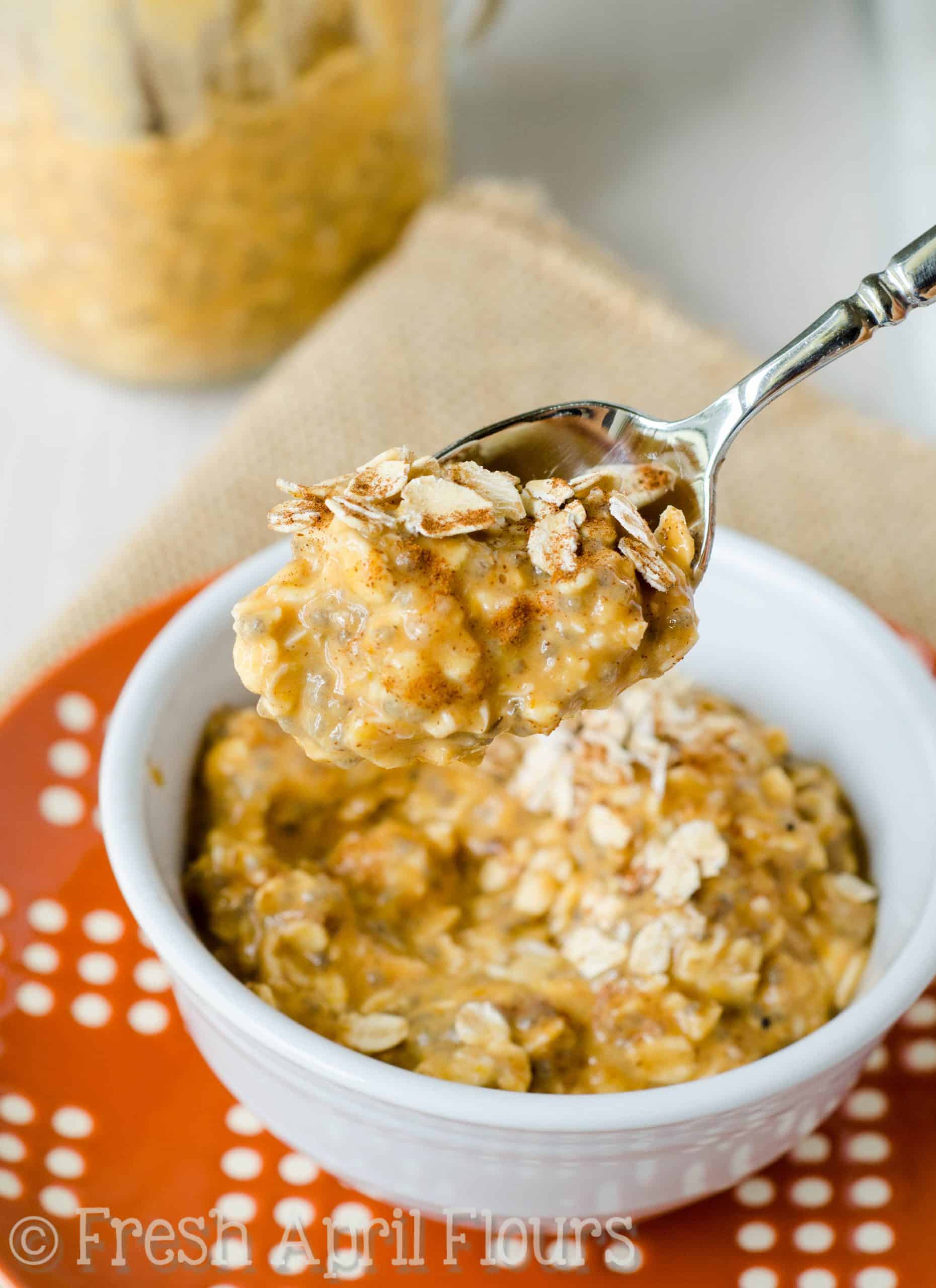 I did it. I jumped on the bandwagon. I didn't think that I was going to, but I did. Did you even know there was a bandwagon? Filled with old fashioned oats, milk, nuts, seeds, spices, even CHOCOLATE CHIPS?
Hop aboard the overnight oats express, people! It's all the rage right now!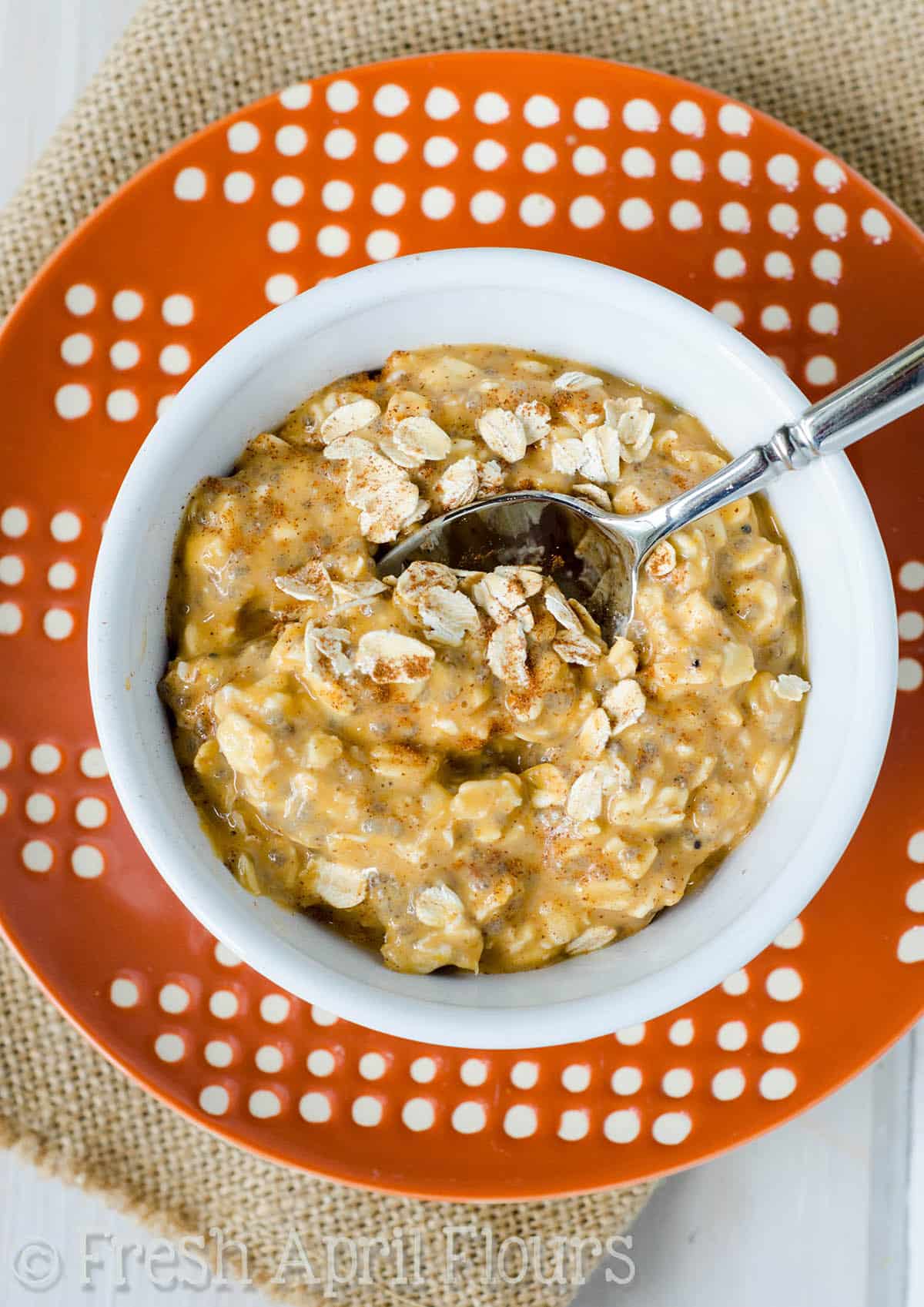 Ok, actually, it may have been "all the rage" this summer, but whatever. I'm late to the game because I just didn't think I was going to like soggy oats for breakfast. But it turns out… I LOVE soggy oats for breakfast (more specifically, post workout). Doesn't that sound so appealing?
Let me clear the air… While overnight oats are, in fact, soggy, I like to think of them more as… Flavor soaked? Yeah, that sounds tastier. My overnight oats? Pumpkin soaked. Now how does that sound?
I made these pumpkin overnight oats a few weeks ago, and since I photograph everything I make/bake/eat (welcome to the life of a food blogger) *just in case*, I thought "why the heck not?" share it on the blog. Because
1) if you haven't tried overnight oats, you need to and
2) PUMPKIN.
Overnight oats are so simple to put together. And they do the work for you! In the refrigerator! Overnight (shocking)!
What you need for my pumpkiny variety:
•pumpkin puree
•old fashioned oats (not quick)
•pumpkin pie spice
•chia seeds
•almond milk (sweetened or unsweetened, or milk of your choice)
•vanilla extract
•honey or agave
Plus, a Mason jar or some kind of 16oz container with a lid (or at least covered in plastic wrap or foil) to mix it all up and store it in.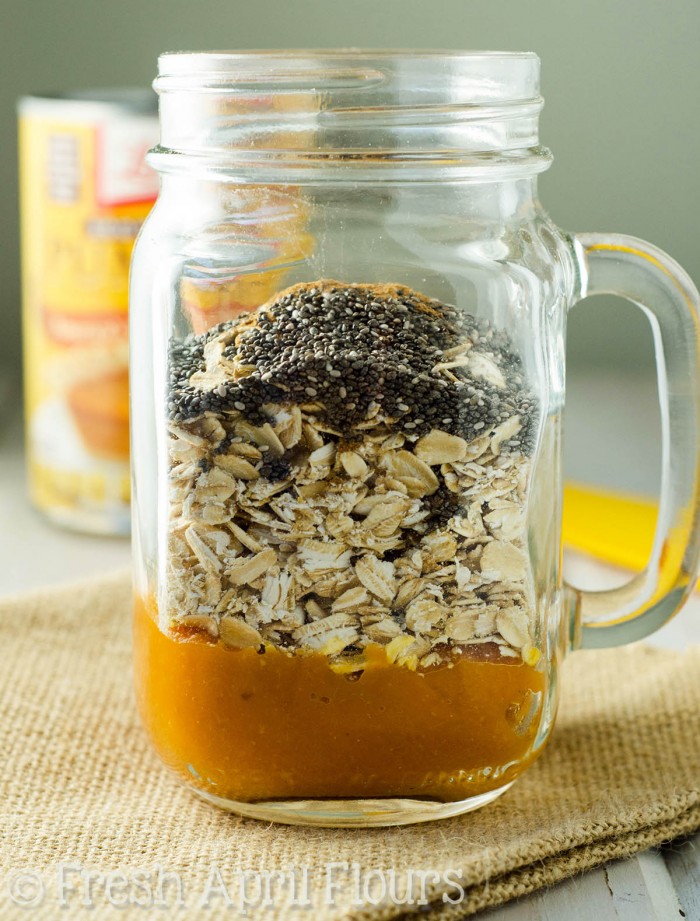 Pour all of those ingredients into your jar, put the lid on, and shake shake shake! Or stir. I stirred and then realized I totally had a lid at my disposal and could have made life even easier for myself.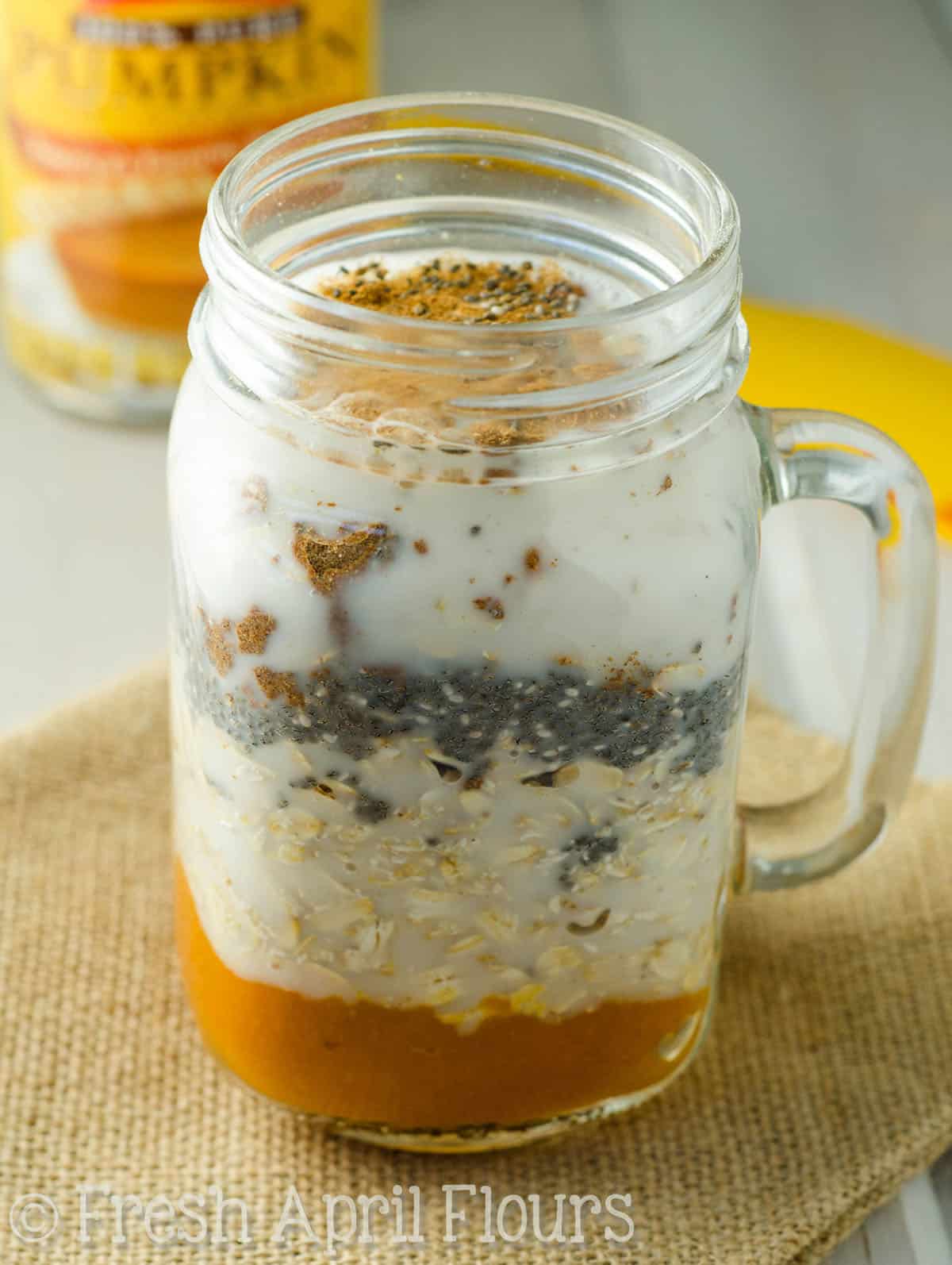 Allow it to sit in the refrigerator overnight or at least 8 hours, and then you have yourself a tasty, filling breakfast or post workout/mid-morning/any-time-you-feel-like-it snack!
Eat right out of the jar or put some in a bowl, sprinkle with fresh oats and a little cinnamon… Oh yes. Pumpkin oatmeal deliciousness!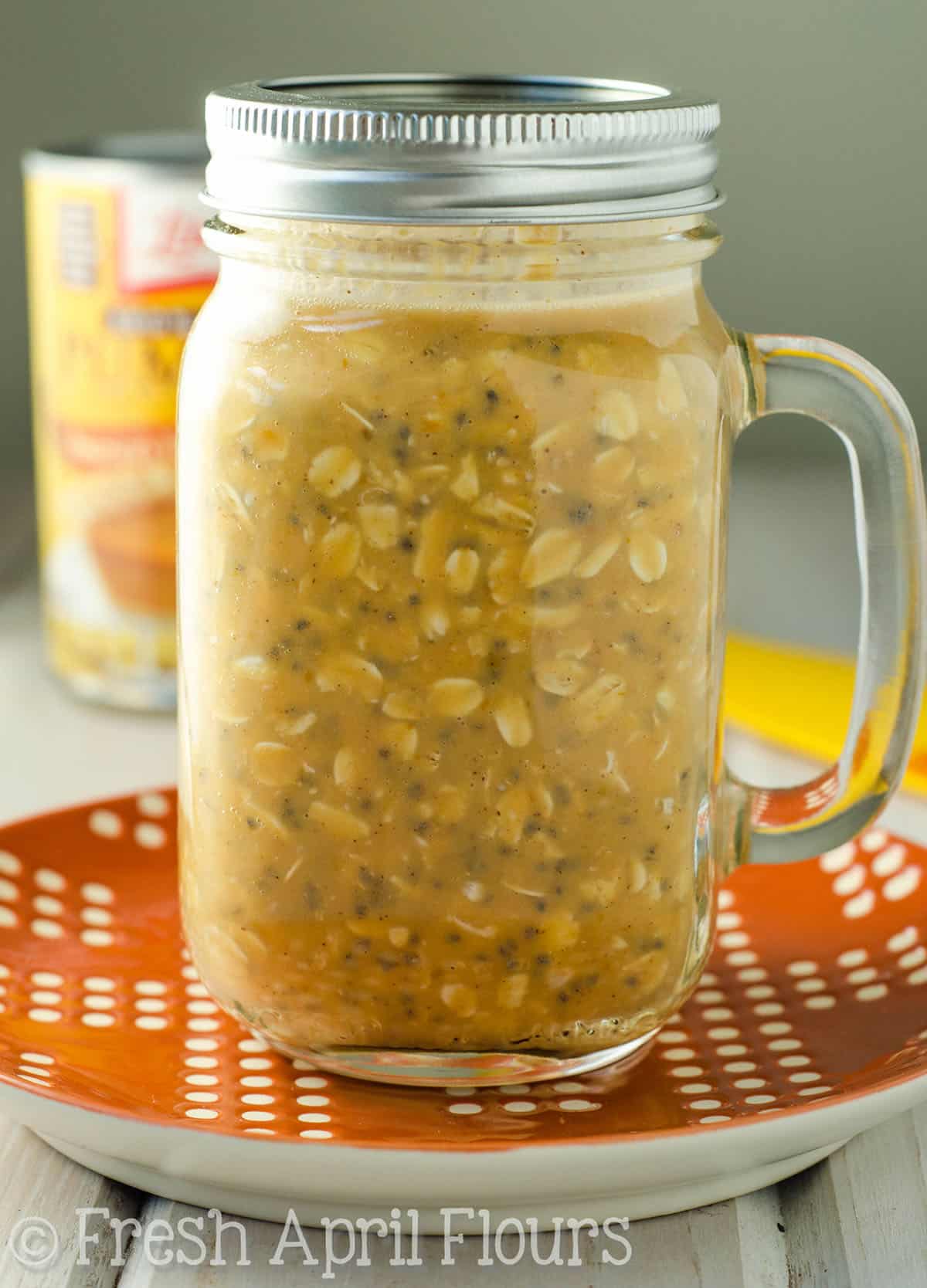 What I think I love most about these pumpkin overnight oats is that they are actually full of real pumpkin. When fall rolls around, you can find pumpkin spice everything. EVERYTHING. Not that I'm complaining. Obviously.
But I like pumpkin recipes that actually have real pumpkin in them. Like my homemade coffee creamer. Or my oatmeal cookies with pumpkin seeds! Let's get back to basics and remember what pumpkin actually tastes like, ok?
I ate this whole jar in about 3 and 1/2 servings, and it was the perfect post-workout for me.
Full of hearty, good-for-you ingredients, with a chew factor (thanks to the flavor soaked oats), a crunch factor (thanks, chias!), a creamy factor, and packed with so much pumpkin flavor you'll be reminded why we all love pumpkin in the first place.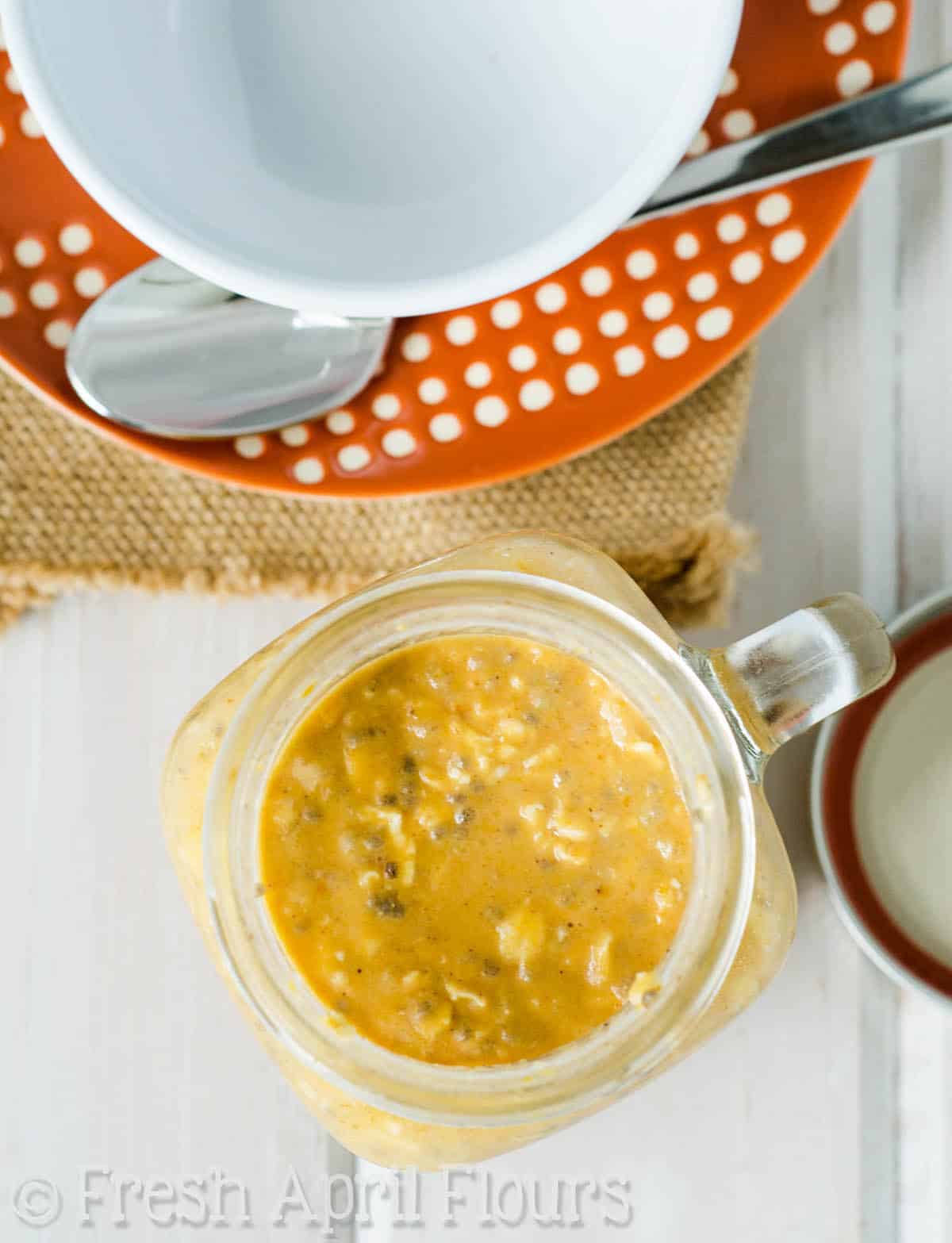 So please… Join me on the bandwagon! Easy, convenient, and tasty. Three things I love when it comes to recipes. How can you disagree with that?
Love breakfast? Try some of my easy breakfast recipes next: sheet pan pancakes, homemade instant oatmeal, homemade cinnamon rolls, make ahead breakfast casserole, crustless caprese quiche, and asparagus quiche.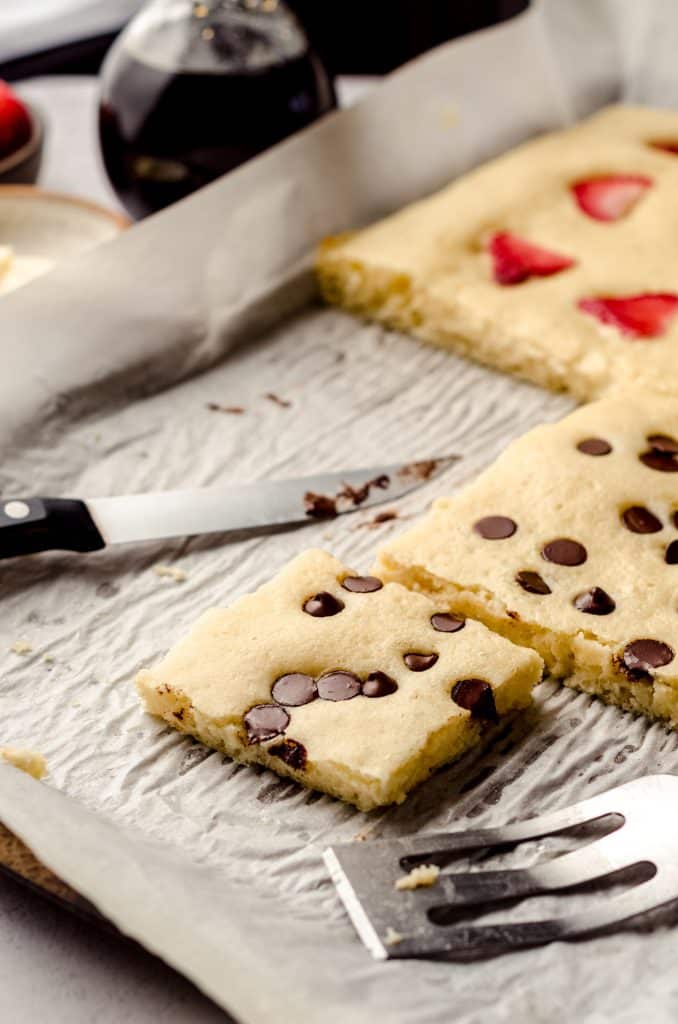 Pumpkin Overnight Oats
Hearty spiced oats that don't require any cooking!
Ingredients
1/3

cup

pumpkin puree

1

cup

old fashioned oats

not quick

1/2

teaspoon

pumpkin pie spice

1

Tablespoon

chia seeds

1

cup

almond milk

sweetened or unsweetened, or milk of your choice

1/2

teaspoon

vanilla

1/2

Tablespoon

honey

or agave or other preferred liquid sweetener
Instructions
Pour ingredients into 16 ounce Mason jar or large container with a lid. Stir or shake until completely combined. Allow to sit in the refrigerator overnight, or at least 8 hours.

When oats are ready, eat right out of the jar or spoon into a bowl. Sprinkle with extra oats and spices, if desired. Store leftovers in the refrigerator up to 3 days.
Nutrition Disclosure
All nutritional values are approximate and provided to the reader as a courtesy. Changing ingredients and/or quantities will alter the estimated nutritional calculations.