How Many Sprinkles Do I Need?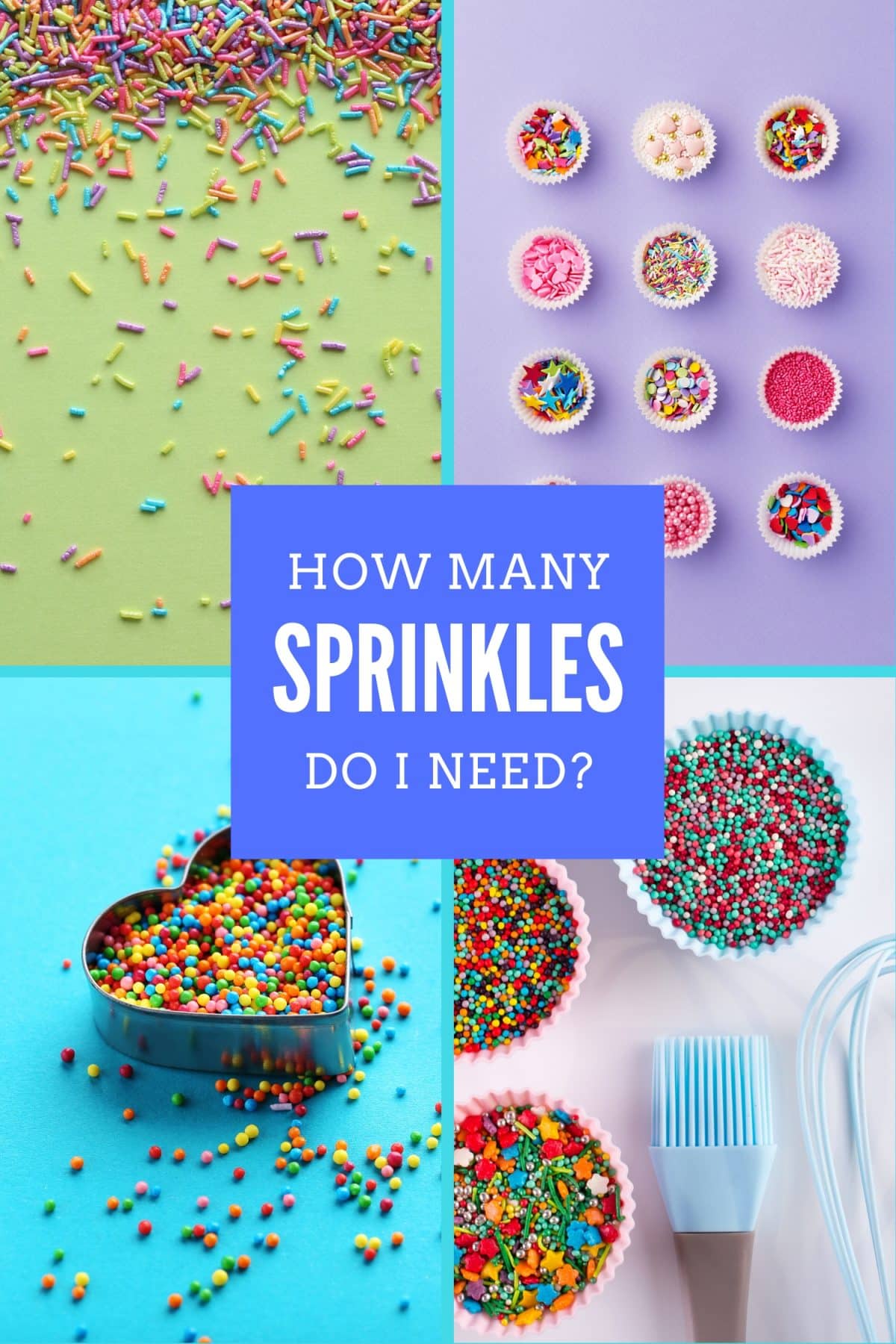 As an Amazon Associate, I earn from qualifying purchases. Read the full disclosure here.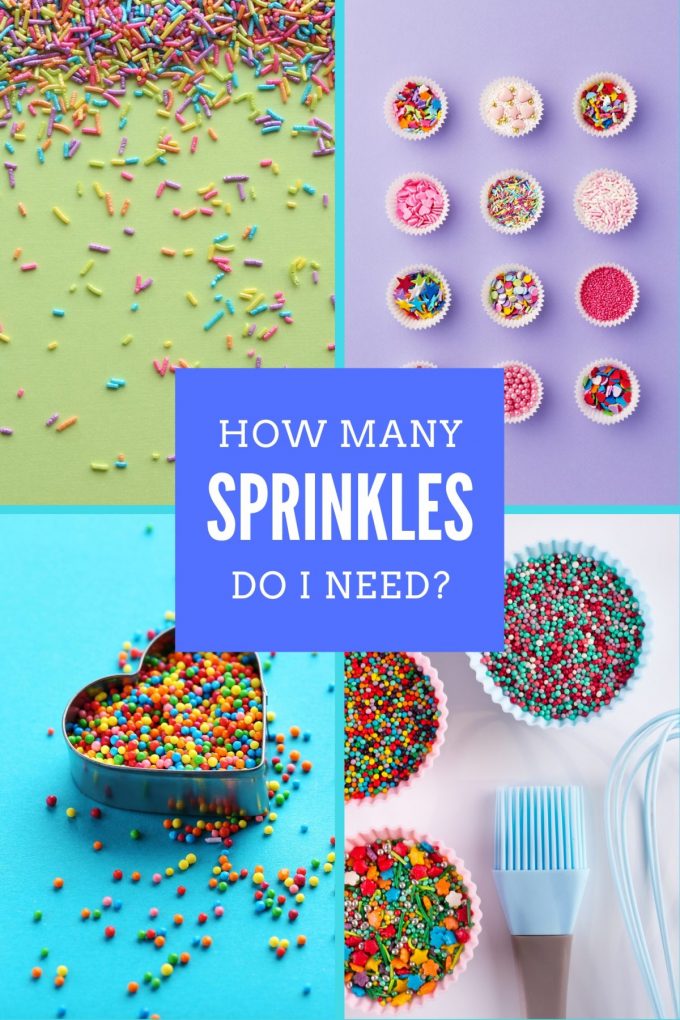 I'm here to help you answer this question in the simplest way possible, because I get this question all.the.time!
One of our most frequently asked questions at Fresh April Sprinkles is "how many sprinkles do I need for a dozen cupcakes?" with my many follow-up questions about how exactly the cupcakes will be decorated, or whether or not they're mini-cupcakes, jumbo cupcakes, or standard cupcakes.
Lots of sprinkle questions, friends!
I've put together this handy guide to help you answer the question yourself, with plenty of visuals combined with descriptions of exactly how to achieve the sprinkle decor you see here in my photos.
And, just as a reference, the blend you see pictured in this guide is our Sassy Scrunchie Sprinkle Blend.
If at any time you have a question about sprinkles that I haven't been able to answer for you in this guide or in my Guide To Baking and Decorating With Sprinkles, feel free to email me at info@freshaprilsprinkles.com ♥
Now let's get sprinkling!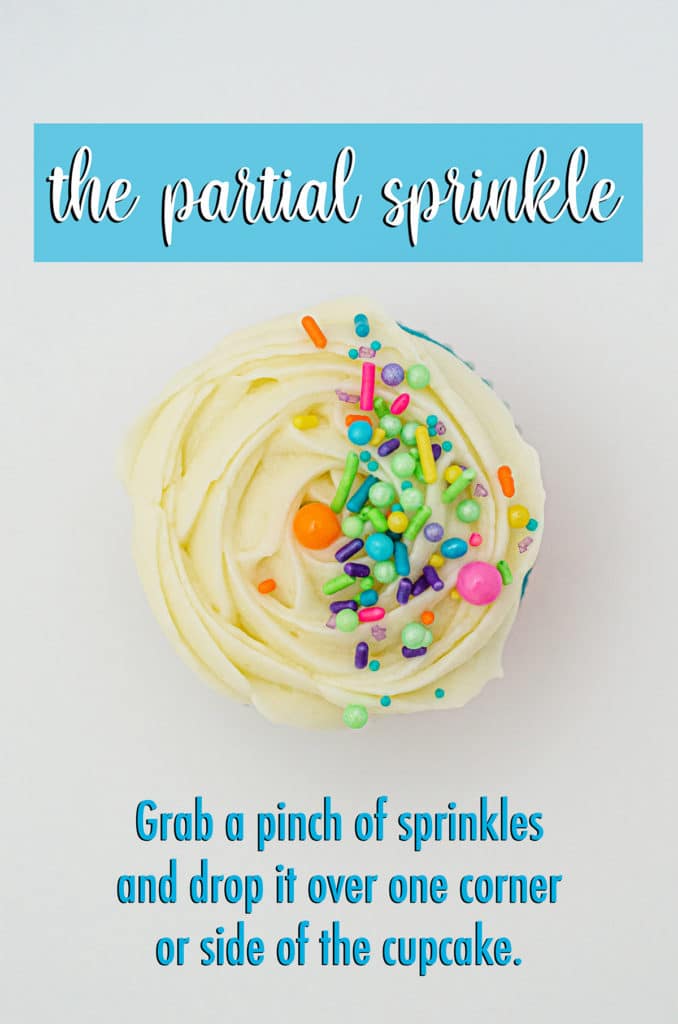 The first sprinkle method I am seriously loving lately is what I like to call the partial sprinkle. This is sometimes seen in a corner or quadrant of a single cupcake, and can bring a little more of a "classy" kind of sprinkle to your cupcake.
It boasts a delicately decorated cupcake that can still feature your beautiful pipe work.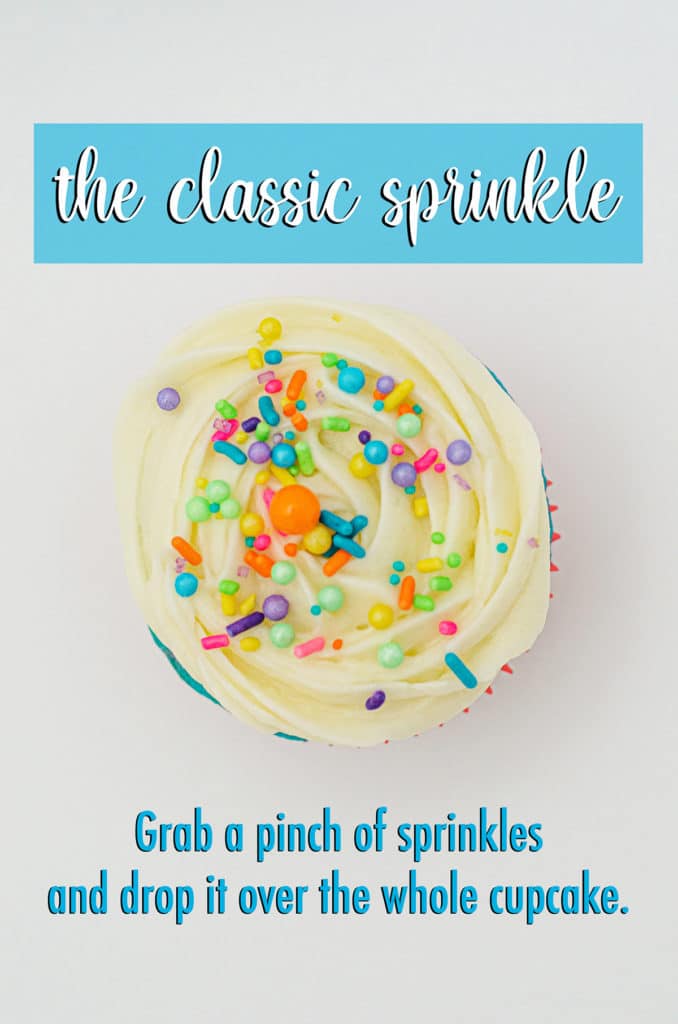 The classic sprinkle, or a "normal" or "regular" sprinkle, is what you've probably done for most of your cupcake decorating life. This is an even coating of sprinkles and it doesn't require much in the way of effort to get the job done.
Believe it or not, the partial sprinkle and the classic sprinkle use approximately the same amount of sprinkles.
For both classic and partial styles of decorating, you'll need 2oz of sprinkles per 12 cupcakes.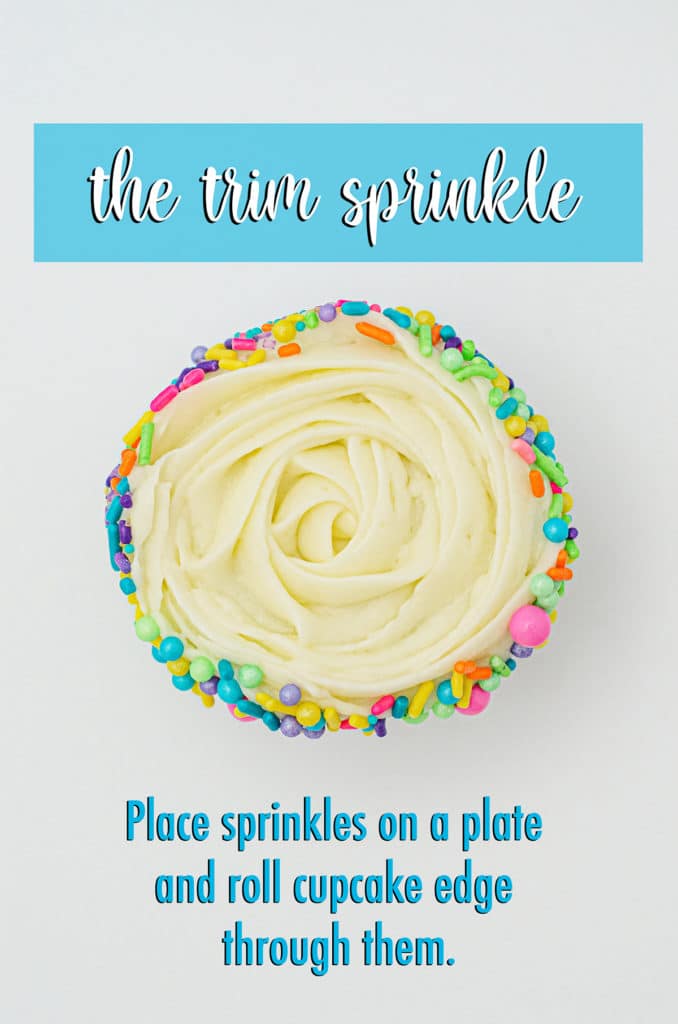 The trim sprinkle is an incredibly underused method of sprinkling a cupcake. It's so cute! And it accents the beautiful swirl of frosting on the top without covering it up.
This method of decorating uses a bit more sprinkles than the previous classic and partial sprinkle methods, but you'll be able to get away with 3oz for every 12 cupcakes (so buy a 4oz bag from us if you want to decorate 12 cupcakes in this fashion).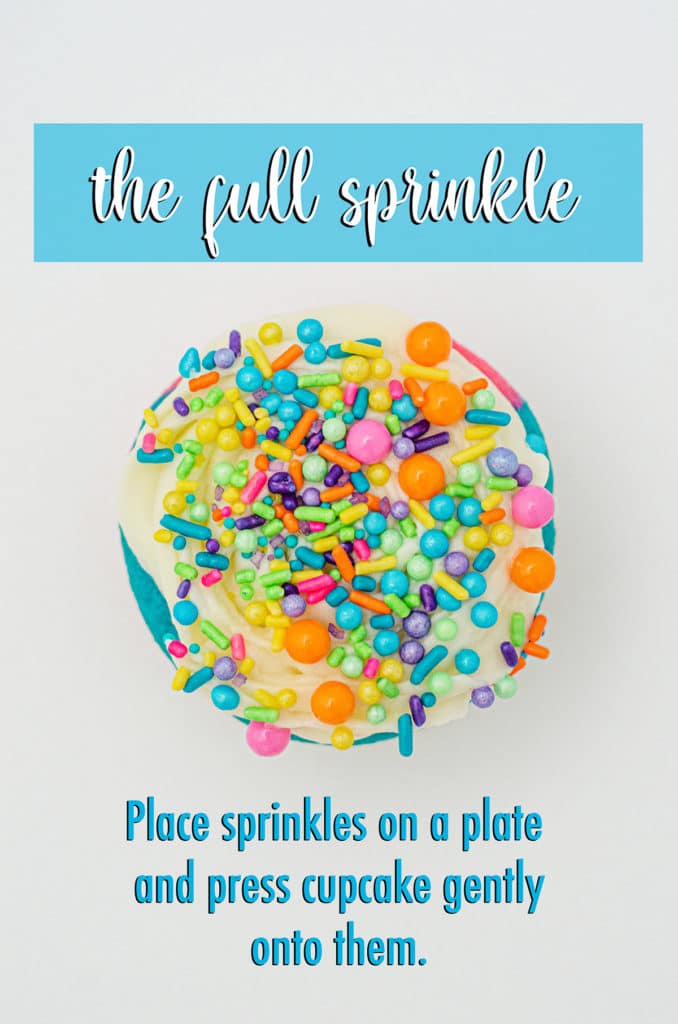 Last but certainly not least is the full sprinkle. This is the real deal sprinkle coverage, and it's full-throttle to the max. It's actually the easiest, too, because you just press the top of your cupcake into a pile of sprinkles. Easy peasy!
Interestingly enough, trimming a cupcake with sprinkles and covering a cupcake with them completely both use the same amount of sprinkles.
For both trim and full styles of decorating, you'll need 3oz of sprinkles per 12 cupcakes.
And because it's a million times easier to see everything in one spot, this infographic should be your new best cupcake decorating friend.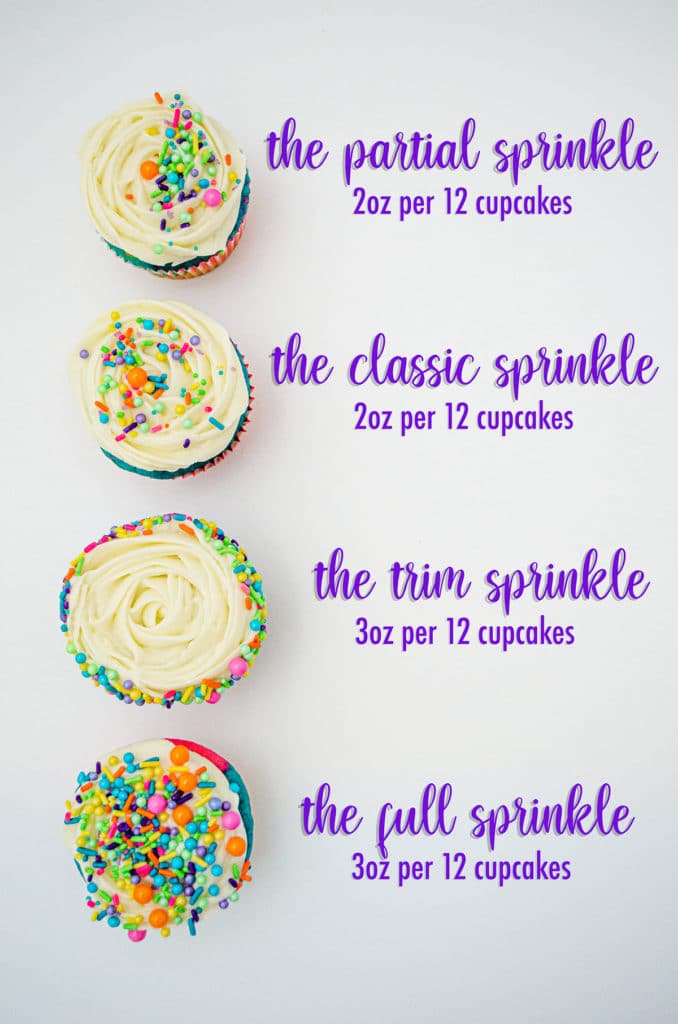 We hope this guide has been helpful for you to choose how many sprinkles you'll need from our shop!
Remember, if you have any additional questions, feel free to reach out to me personally (info@freshaprilsprinkles.com) or comment below! You might help someone else with the same question!
One last thing…
We sell our sprinkle blends in 2oz, 4oz, and 8oz pouches. We sell 16oz portions for our custom blends.
In general:
2oz = 1/4 cup of sprinkles
4oz = 1/2 cup of sprinkles
8oz = 1 cup of sprinkles
16oz = 2 cups of sprinkles
Happy sprinkling, sprinklers!