A Guide to Baking and Decorating With Sprinkles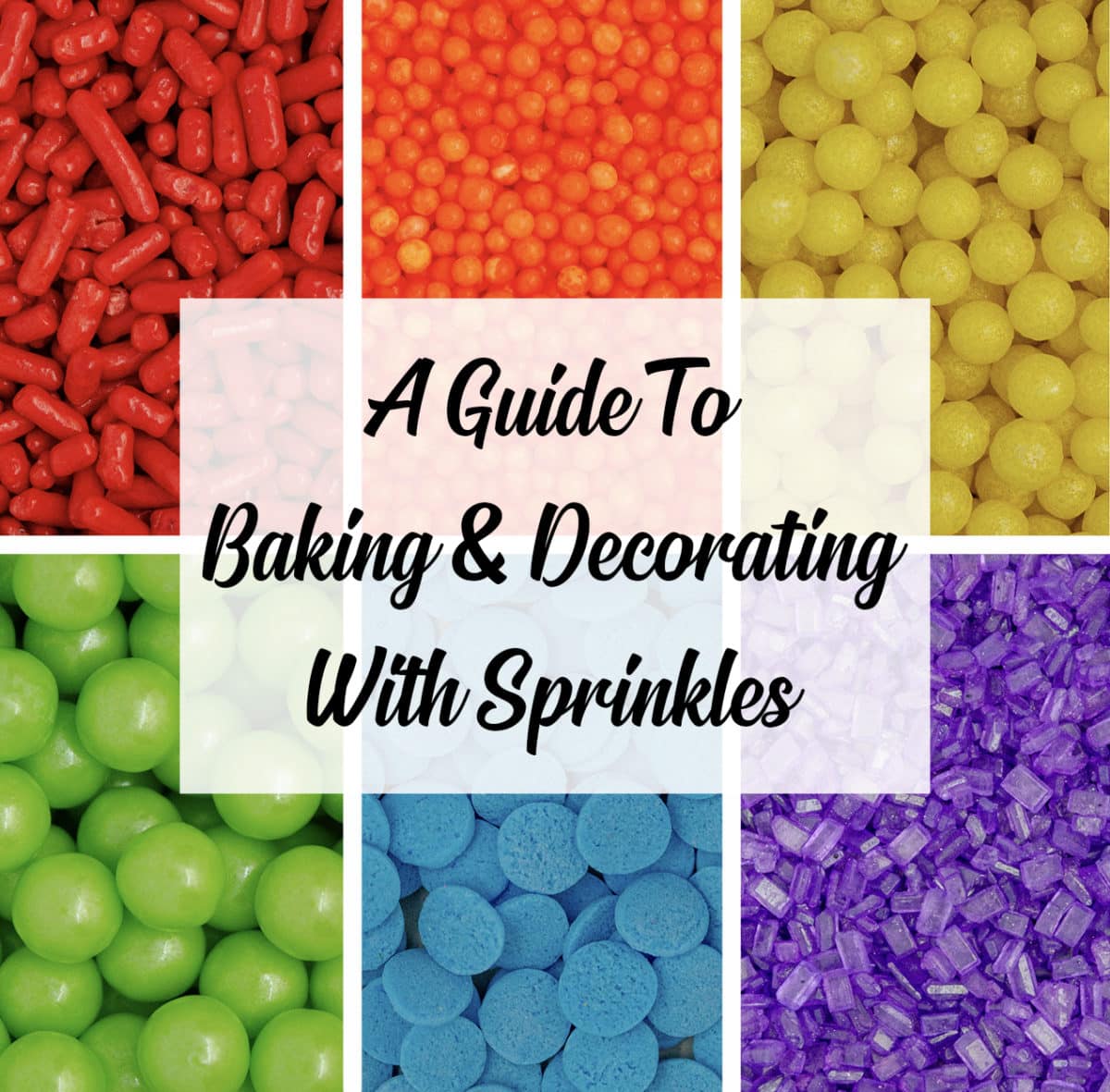 As an Amazon Associate, I earn from qualifying purchases. Read the full disclosure here.

Welcome to everything you never knew you needed to know about sprinkles! So happy to have you here. I really think you're going to enjoy this handy guide.
Up until about 3 months ago, I thought I knew a lot about sprinkles: how to bake with them, how to decorate with them, where to get them, how they worked in and on top of treats…
But then I started my own premium sprinkle blend line and learned SO many things: that some colors are really hard to find, that some components of sprinkle blends are not great for certain aspects of baking, that there are way more types of sprinkles out there than I have ever seen, and that as a sprinkle blend creator, I have to think about seasonal sprinkle blends 6 months in advance. Crazy.
So I'm here to share with you everything I've learned about sprinkles to
1) inform you
2) help you better understand exactly what's going on in your sprinkle blends and
3) help you select the best sprinkle blend to insure you get the best results when baking and decorating with your next batch of sprinkles.
You definitely want to know your sprinkles before you use them, especially if you're going to use some inside batter. One of the worst things during baking is ruining a perfect batter with smeared colors or muddy streaks.
And, believe it or not, things can go wrong on the outside of treats, too! I'm here to help alleviate all of that potential ruining of your hard work.
In order to get the most out of this guide, I think it's important to identify and define the 7 different types of sprinkles that exist in our sprinkle blends. You might be wondering how there could possibly be a need to define a type of sprinkle, but after you're done going through this guide, I'm sure you'll be looking at your sprinkle collection a little differently and, hopefully, be able to make the best sprinkle choices for your needs in the future!
So let's start with the basics.
What are the different types of sprinkles?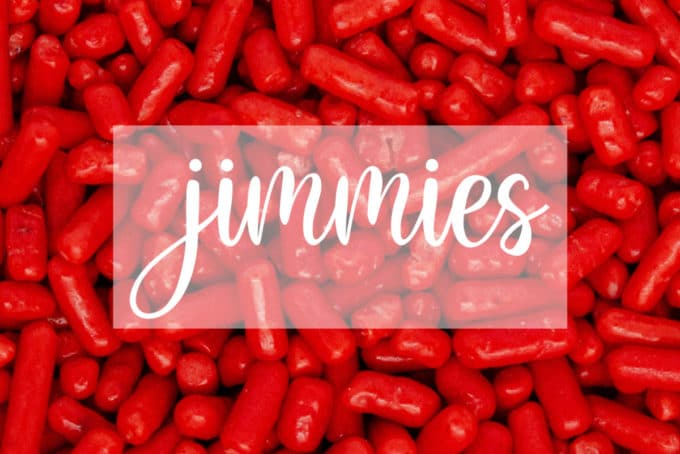 I have a bone to pick with "jimmies." I was very anti-"jimmie" before starting my sprinkle line. But, as it turns out, the word "jimmie" is what the candy manufacturing world uses to define this type of sprinkle. They're sometimes referred to as rods, but for the purposes of this guide, we'll refer to them (begrudgingly) as jimmies.
Jimmies are the most common type of sprinkle found in sprinkle blends. They're sturdy, they're hearty, and they're the base for all of our sprinkle blends. They're also the type of sprinkle most commonly found as a standalone sprinkle (think: your favorite rainbow sprinkle blend).
They're crunchy but not hard, and when made with quality ingredients, actually have a very good taste.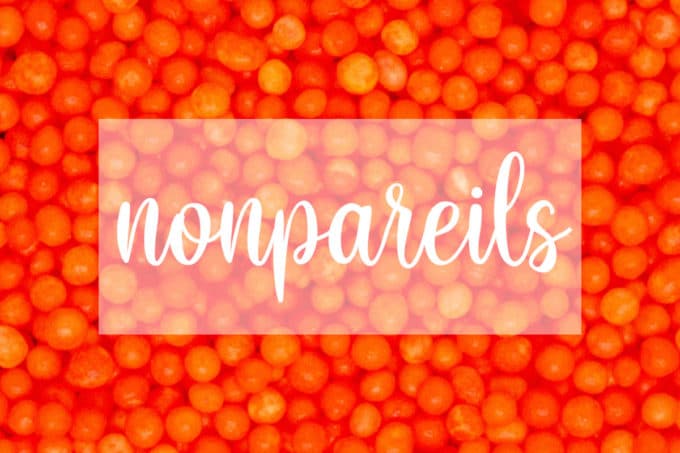 Nonpareils (also called hundreds and thousands in other countries) are the teeny tiny beads that are usually used as an accent sprinkle in our blends. They're also commonly found on their own as standalone sprinkles, but they're finicky when it comes to baking and decorating, which we will get to shortly.
I love nonpareils because they add a little something extra and can bring a pop of color as an accent or complement.
Their texture is quite crunchy in larger quantities and are my favorite sprinkle for adding to ice cream.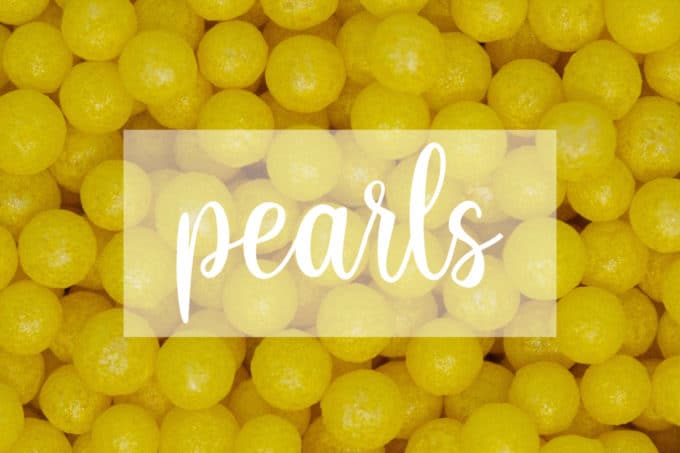 Pearls or sugar pearls are my absolute favorite sprinkle to add to sprinkle blends. They are very much a candy pearl and have a sweet almost fruity taste to them. They are approximately 3mm in diameter and have a softer crunch to them.
At Fresh April Sprinkles, we love to color these ourselves and find that they make the prettiest complement to a sprinkle blend while also adding depth and heartiness.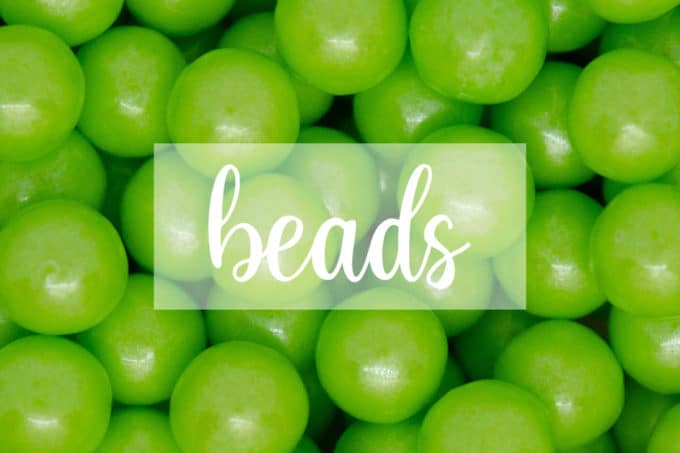 Candy beads are the biggest sprinkle we add to our blends. They are about 6mm in diameter.
Other sprinkle companies use larger Sixlets candies for their blends, which we find are too big and bulky for our liking. Sixlets are also made of chocolate, and we don't think chocolate belongs in sprinkle blends unless it's in the form of brown jimmies!
Candy beads are hard, but we liken them to the texture of Runts. They add gorgeous bold color to sprinkle blends and bring aesthetically pleasing contrasting circle sizes against nonpareils and pearls.
They're also perfect for accent pieces when placed purposefully on desserts (like a doorknob on a gingerbread house, the star at the top of a Christmas tree cookie, or the center of a snowflake sugar cookie).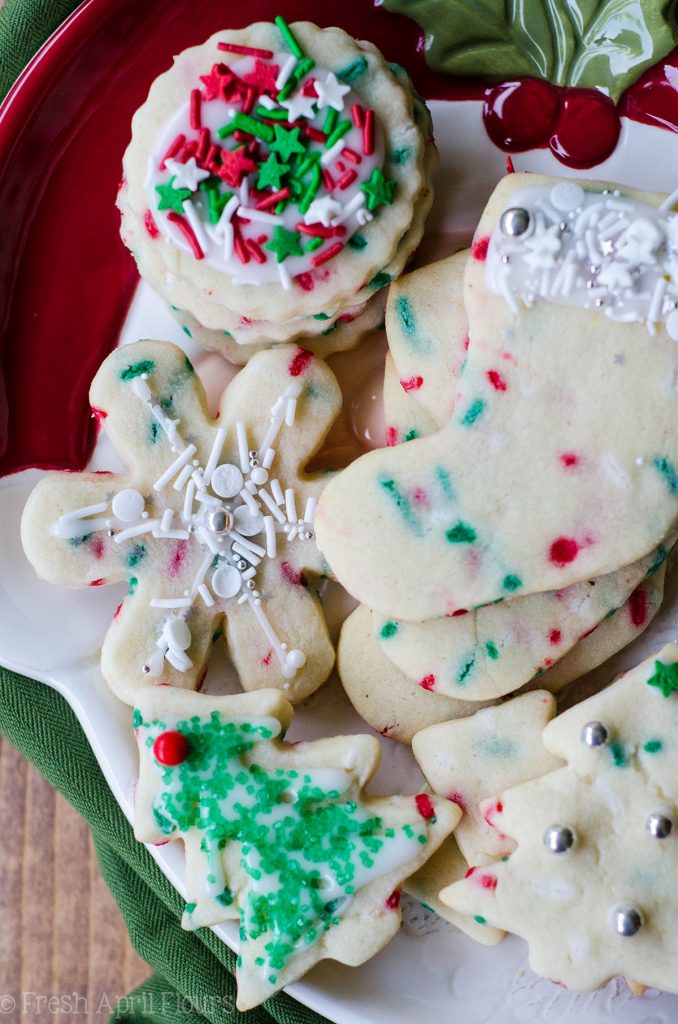 Recipe: Funfetti Cut-Out Sugar Cookies.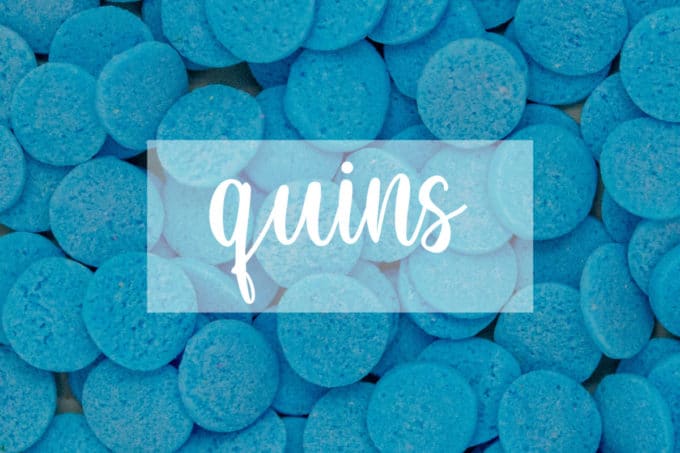 Quins are perhaps the most interesting or eye-catching sprinkles of the bunch. Quins are where you'll find your shapes, and they come in all different sizes.
They are quite soft with a tiny bit of chew to them, so they're the easiest for most folks to eat, specifically the kiddos.
We have several different shapes and sizes in our sprinkle blends including but not limited to:
Circles/Discs (as pictured in our Birthday Party Sprinkle Blend)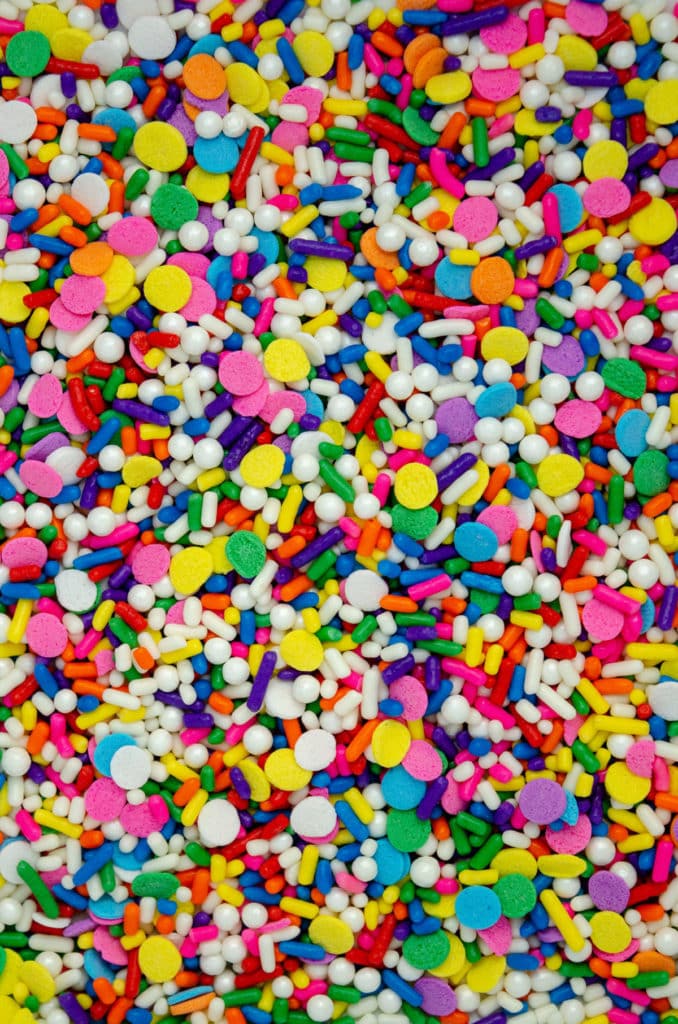 Footballs (as pictured in our For The Birds Limited Edition Sprinkle Blend for the Philadelphia Eagles)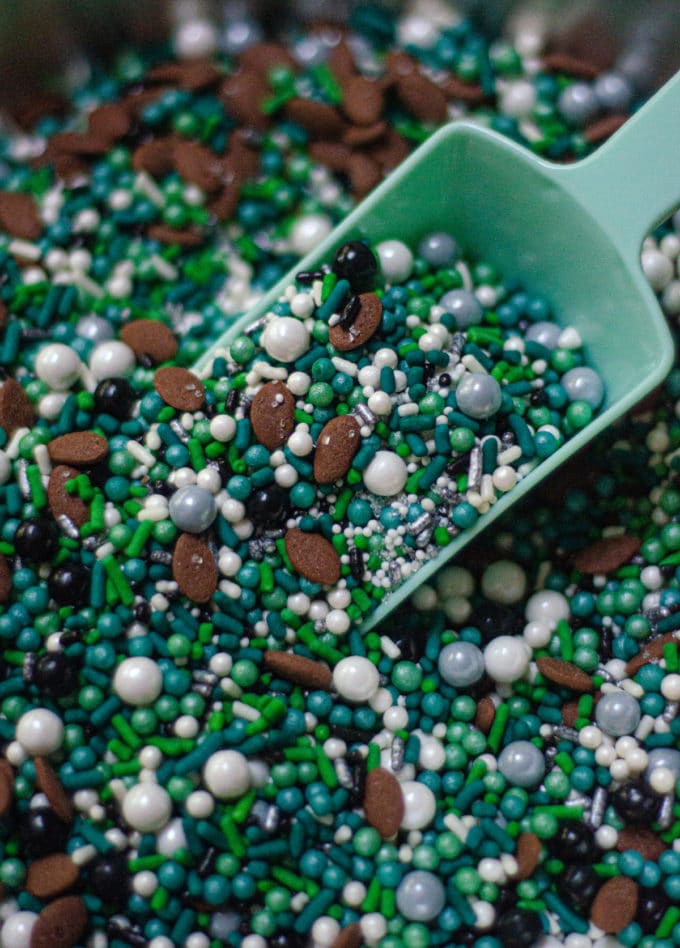 Mini Pumpkins (as pictured in our Oh My Gourd Sprinkle Blend)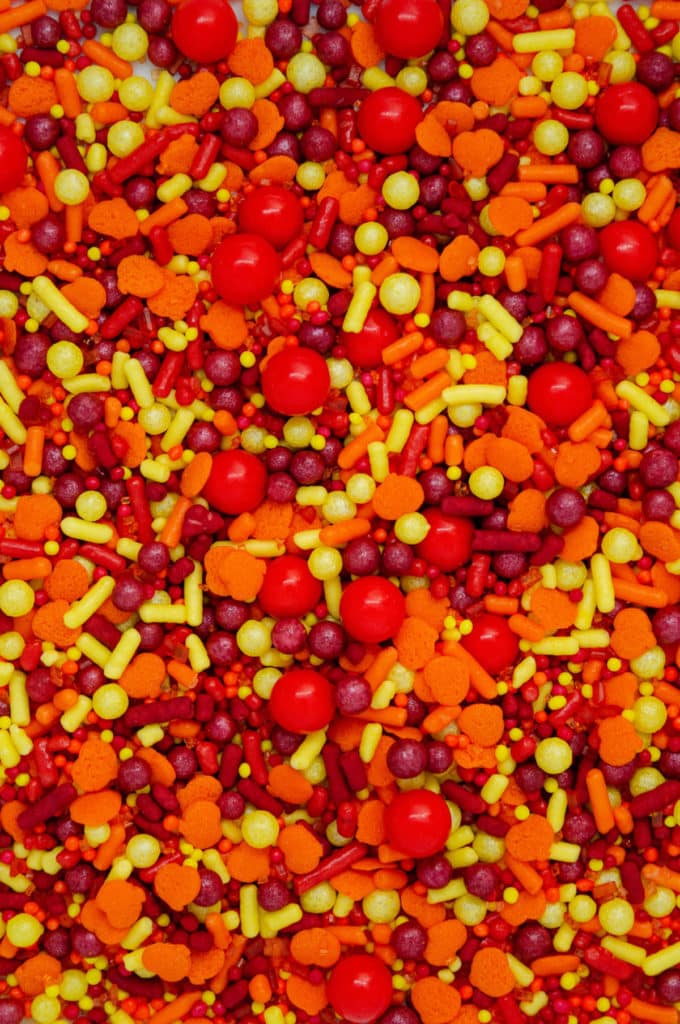 Quins add character and specific detail to those sprinkle blends that need it– they can turn a colorful blend into a holiday-specific one in no time flat!
Another type of sprinkle you'll often find in sprinkle blends is sugar. This covers anything from fine sanding sugar to coarse sugar to chunky sugar. They're all relatively the same, though some types of sugar are larger than others and have a more prominent presence, they essentially all interact with batters and as decorations the same way across the board.
Yes, it's just sugar, but when it's colored, it adds a sparkle like no other to sprinkle blends.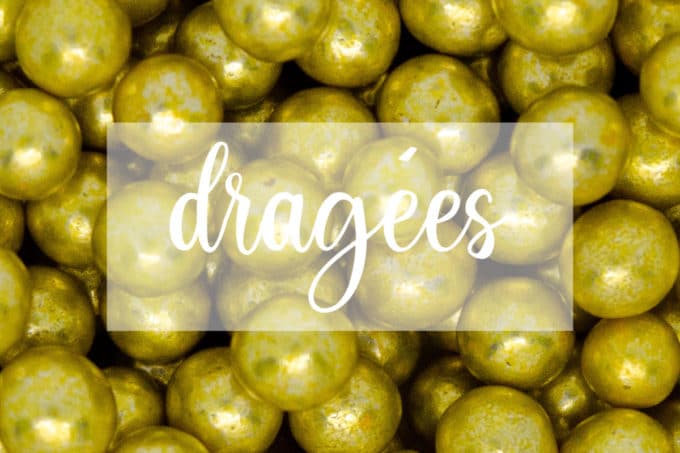 Last but certainly not least, we have dragées (pronounced drah-zhays). These are your metallic sprinkles that add a whole new dimension of sparkle to sprinkle blends.
It's important to note that gold and silver drageés are sugar coated in a non-toxic gold food color, but they have not been evaluated by the FDA in the US, so are labeled "for decorative use only."
Dragées are very hard, and the ones we use are 6mm in diameter. We sell our blends with the caveat that these sprinkles are to be used and ingested at the discretion of the consumer.
We use dragées in our swanky sprinkle blends, which are the "fancier" of our sprinkle blends, such as our Can't Sip With Us Swanky Sprinkle Blend pictured below.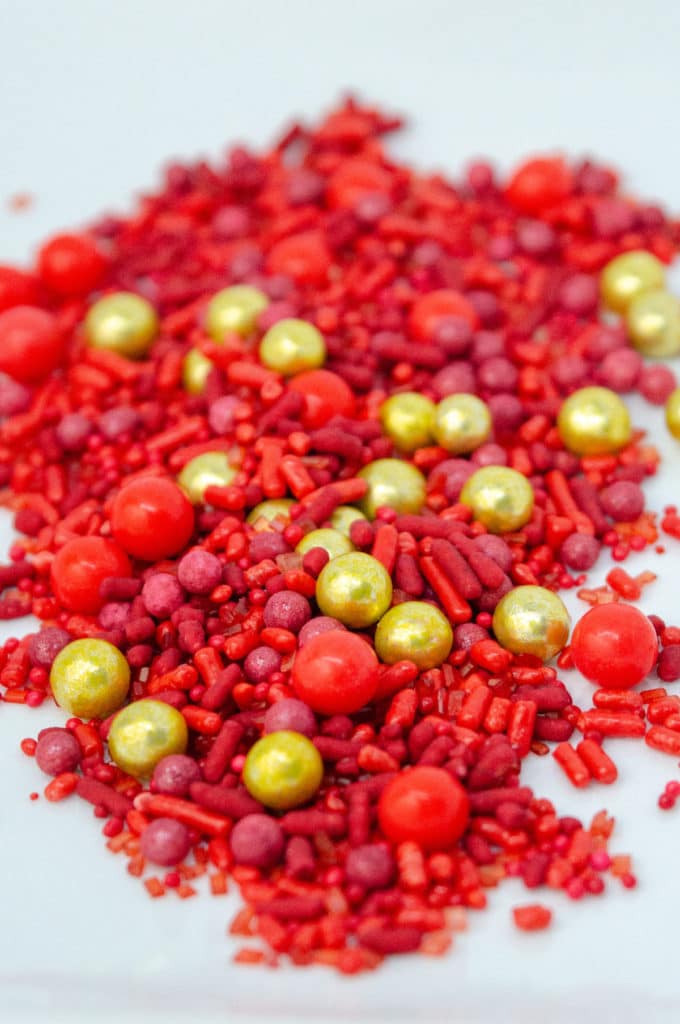 When it comes to baking with sprinkles, not all sprinkles are created equal
There are several guidelines you should follow when baking with sprinkles (baking with sprinkles meaning adding sprinkles directly to batter before baking).
√ Never put nonpareils into batter. They will bleed into the batter and leave you with streaks of color and, if you have a whole bunch of colors, maybe even leave you with muddy colored batter. Just don't do it. Nonpareils are best used as a finishing touch type of sprinkle, my favorite being as the coating of funfetti snowballs.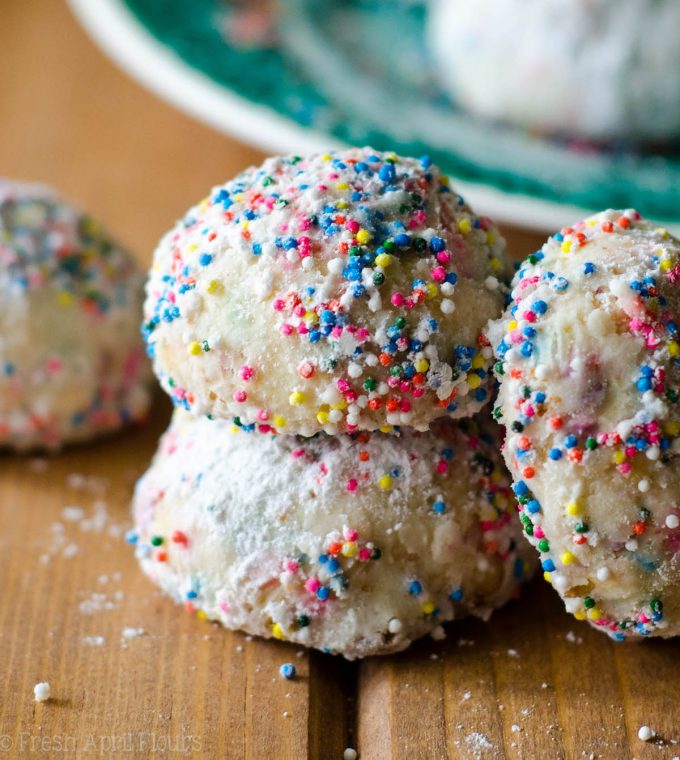 √ Never put beads or dragées into batter. They are too big and can cause a biting/chewing/choking hazard for anyone who consumes them.
√ Use your best judgment when adding pearls to a batter. It's likely fine, as I've definitely done it, but you know who will be consuming your baked goods best. It should also be noted that white pearls are the only ones guaranteed to remain the same color (pearls tend to bleed like nonpareils do, though admittedly not as bad).
√ Quins typically lose their shape during baking, but are usually fine to use in batter. If the shape doesn't matter to you inside your baked good, know that quins will likely just dissolve and leave a colored spot. I have used our signature Birthday Party Sprinkle Blend in my funfetti cinnamon rolls with no issue. In fact, they made pretty cool colored streaks on the inside!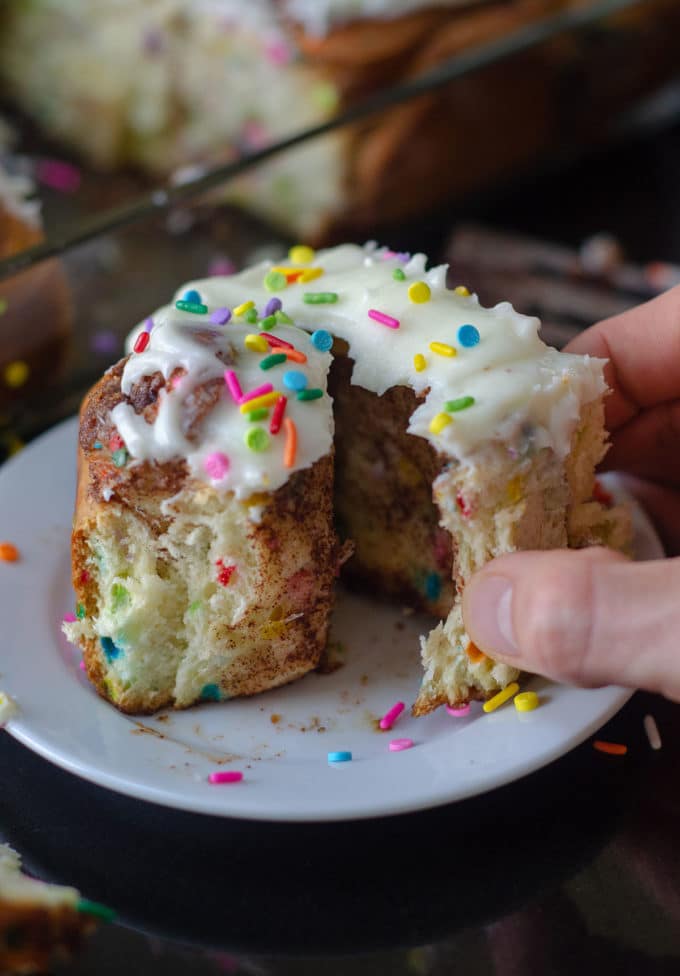 √ Sugar will act the same as quins, but has the potential to bleed and spread a bit like nonpareils do. I don't love putting colored sugar in my baked goods, but if there aren't too many colors going on, it's typically ok.
√ Jimmies are the safest bet with it comes to adding sprinkles to your baked goods, but only bold, shiny colors. These jimmies are coated in a sugar coating which locks in the color. Jimmies with a matte coating are likely custom colored, and their coloring is very likely to come off in batter.
Lucky for you, if you need a bold, beautiful rainbow sprinkle blend, Fresh April Sprinkles has you covered!
Consider our Over The Rainbow Just Jimmies Blend, which features all the bright colors of the rainbow along with white and NO brown (because whoever decided brown jimmies belonged in rainbow sprinkles is cray cray!).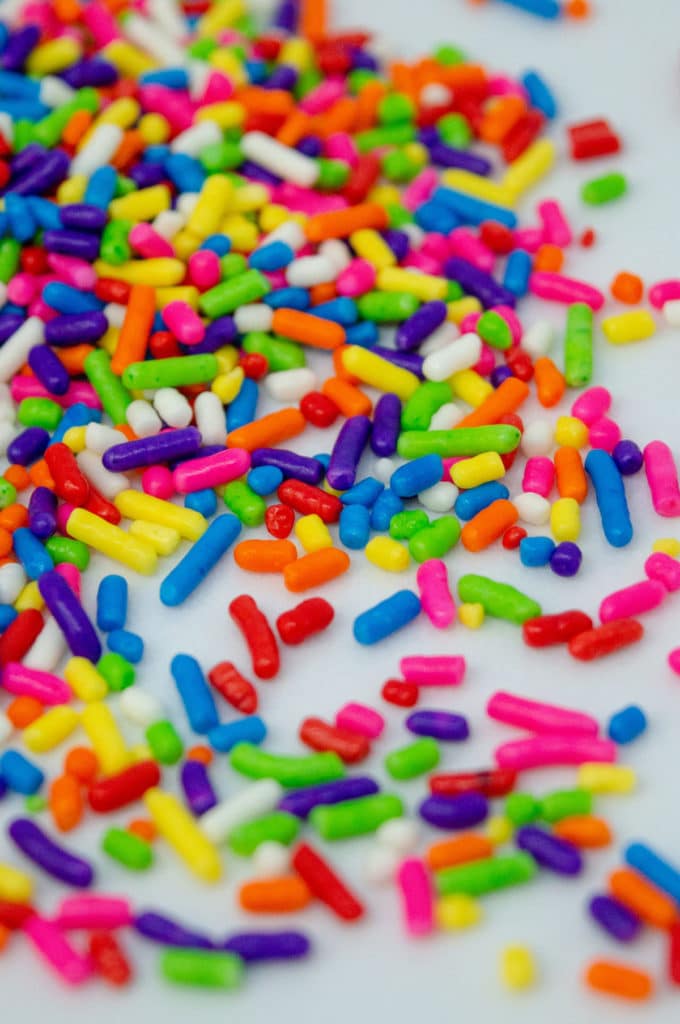 Pictured below is the batter for my funfetti quick bread. I used classic rainbow sprinkles.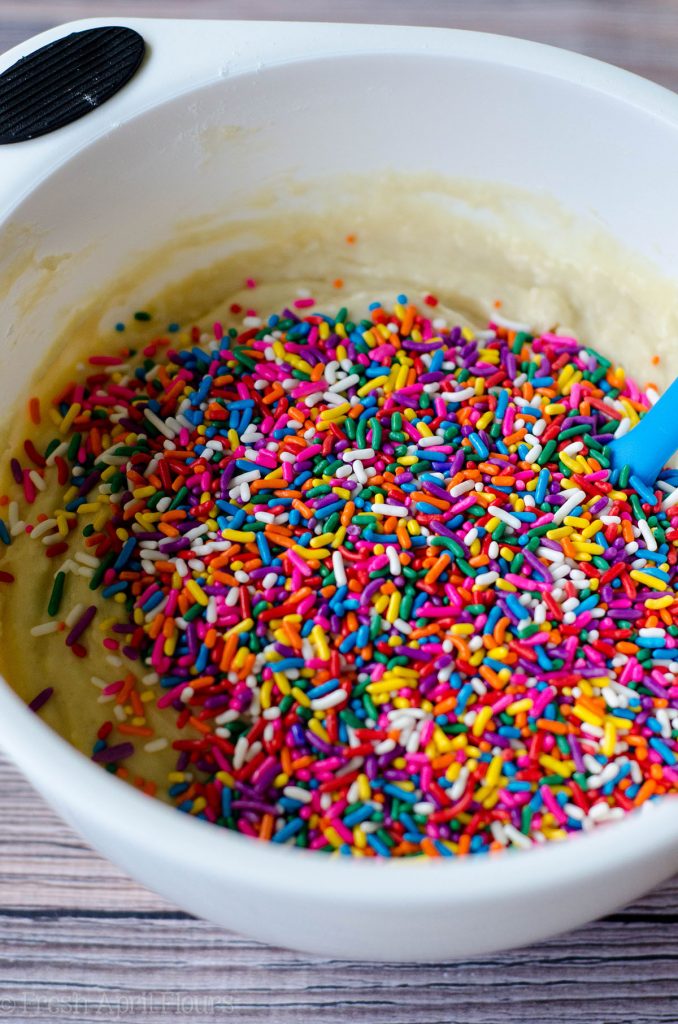 The result was perfect with little to no color bleed.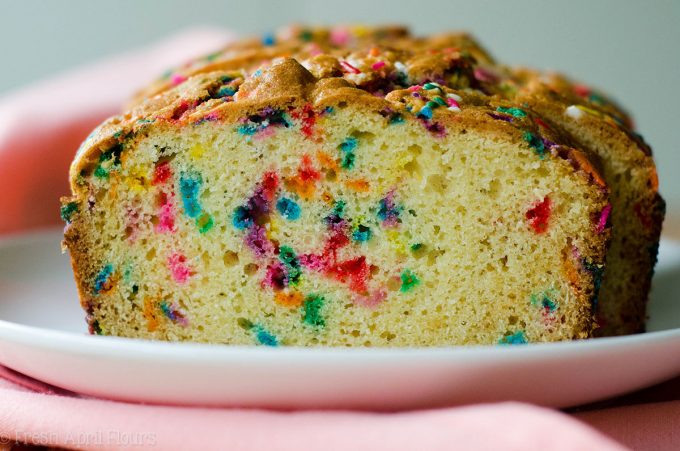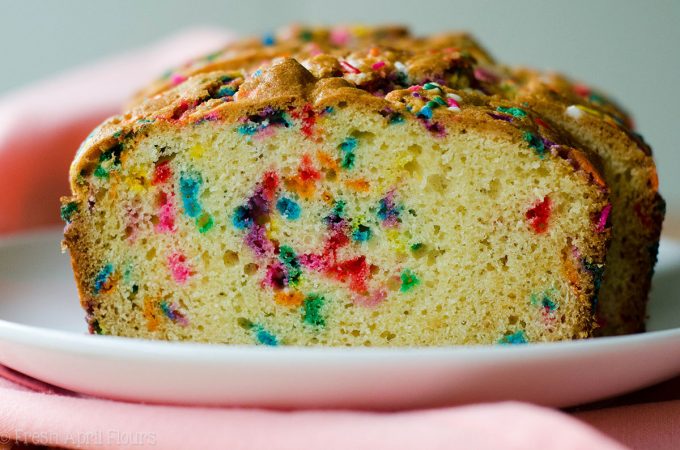 And, as a contrast, below is a photo of our Cotton Candy Sprinkle Blend, which is made up of almost 100% custom colored sprinkles. I would definitely not use this inside of a batter, as the majority of the color on these jimmies, pearls, and nonpareils would come off.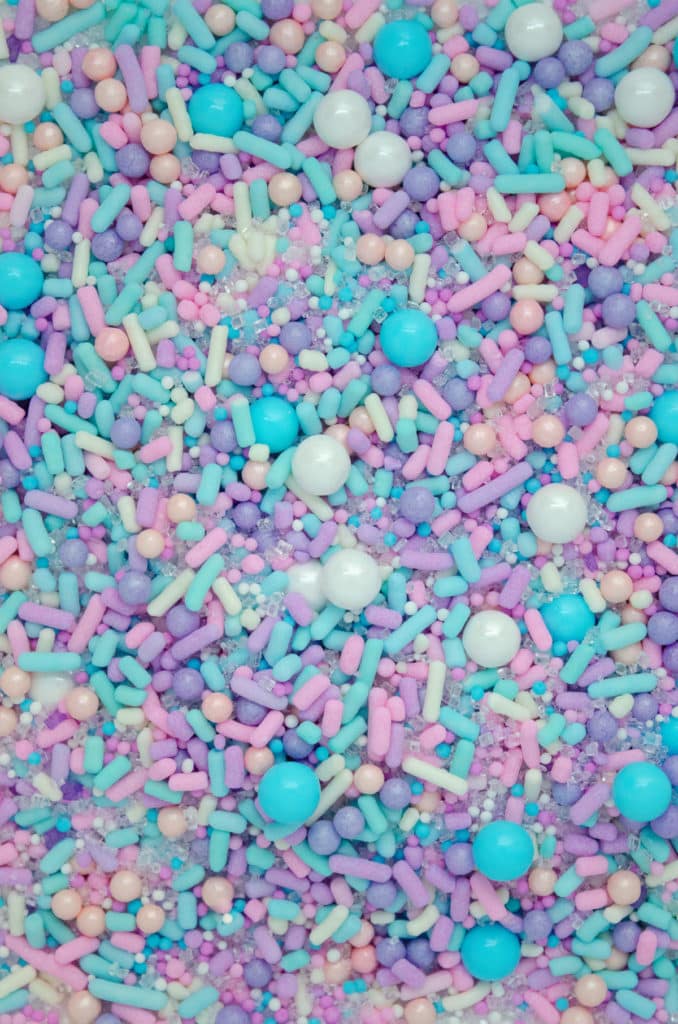 When decorating with sprinkles, most are created equal
If you want to add sprinkles to cookies, cupcakes, breads, or cakes before baking, that is totally and completely ok. Add sprinkles to the tops of these baked goods right before they go into the oven. Adding sprinkles to "wet" batter is the only way to get them to stick without an additional "glue" like frosting.
If you'll be adding frosting, icing, or glaze to baked goods but also want to add sprinkles, do this while the frosting, icing, or glaze is still wet. It will be impossible to get sprinkles to adhere to these things after they've dried or hardened.
As anything goes when serving food, use your best judgement when choosing to include larger sprinkles like beads and dragées. I often tell customers to use these larger sprinkles as decoration but remove them if needed before serving (this goes especially for children).
It should also be noted that sprinkles added to the outside of baked goods have a tendency to bleed into whatever they're added to. It is best not to decorate cupcakes or cakes any earlier than 12 hours in advance of serving them.
This rule does not apply to sprinkles added to icing that will dry, such as sugar cookies.
Did you learn anything new?
I hope this guide has been helpful to you in answering all of your baking and decorating with sprinkles questions. Refer to this guide whenever you wonder how to approach a recipe or a decoration.
And, as a parting gift, here are some of the recipes of mine that feature sprinkles inside the batter. I recommend using classic rainbow sprinkles or bold colored jimmies or Fresh April Sprinkles' Birthday Party Sprinkle Blend.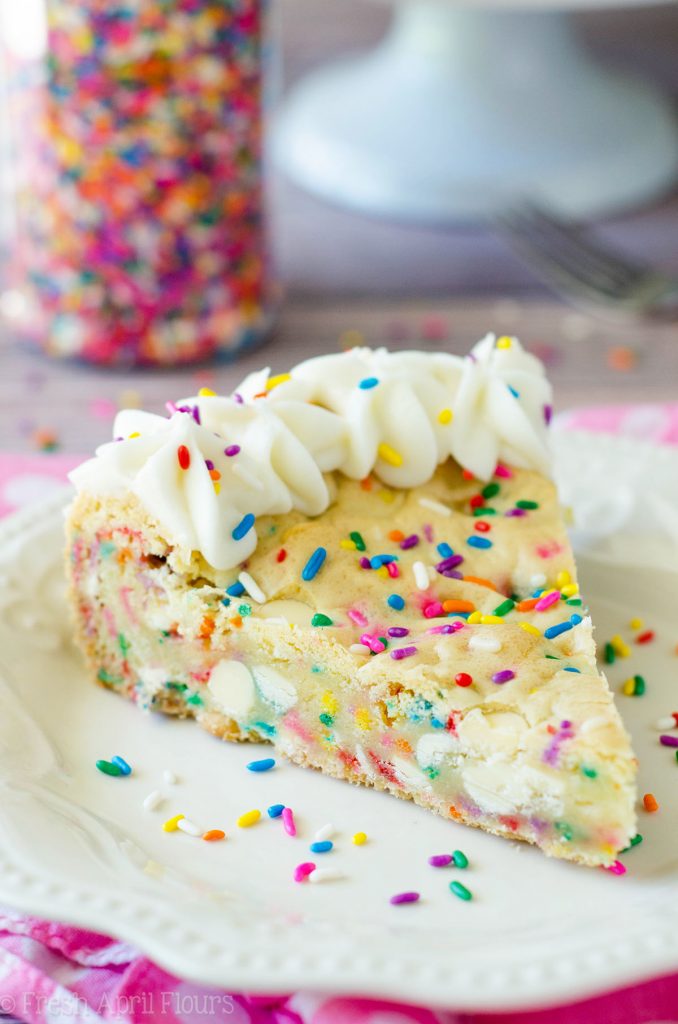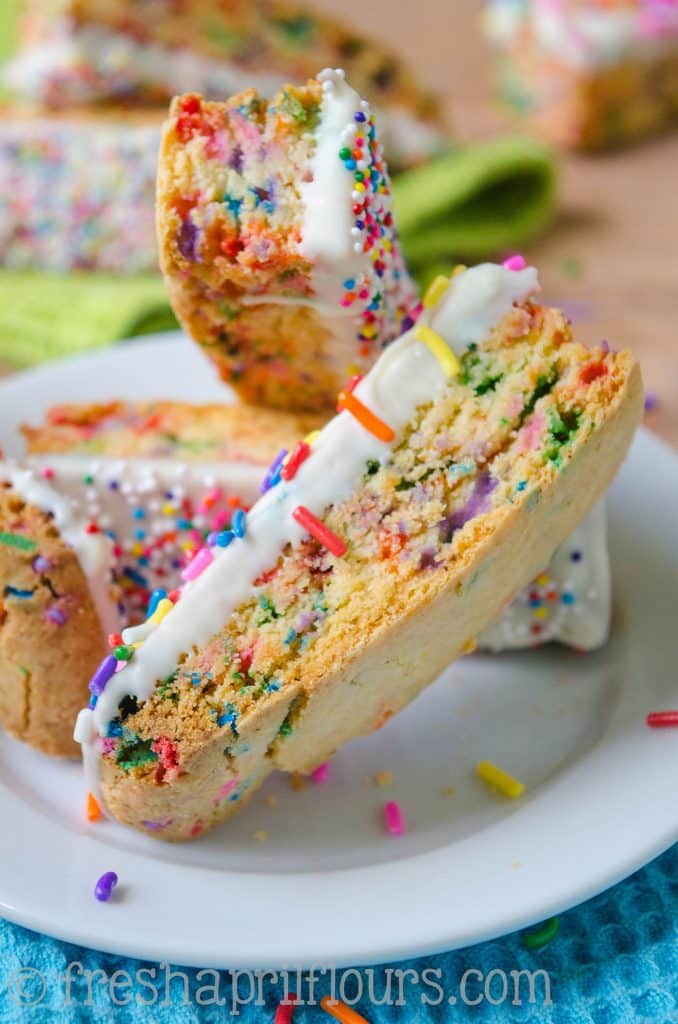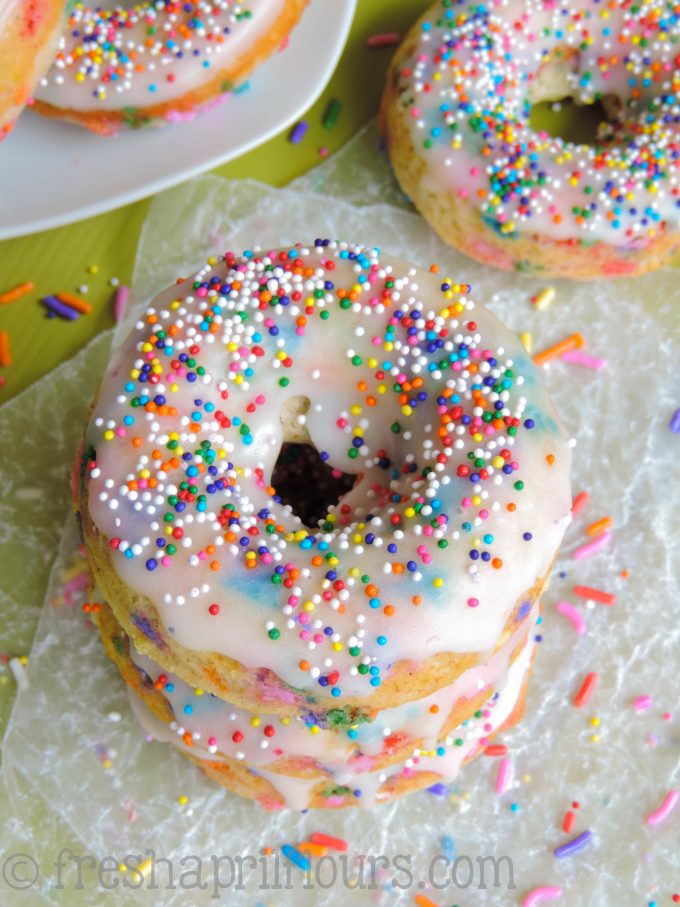 Funfetti Bundt Cake with Whipped White Chocolate Ganache Buttercream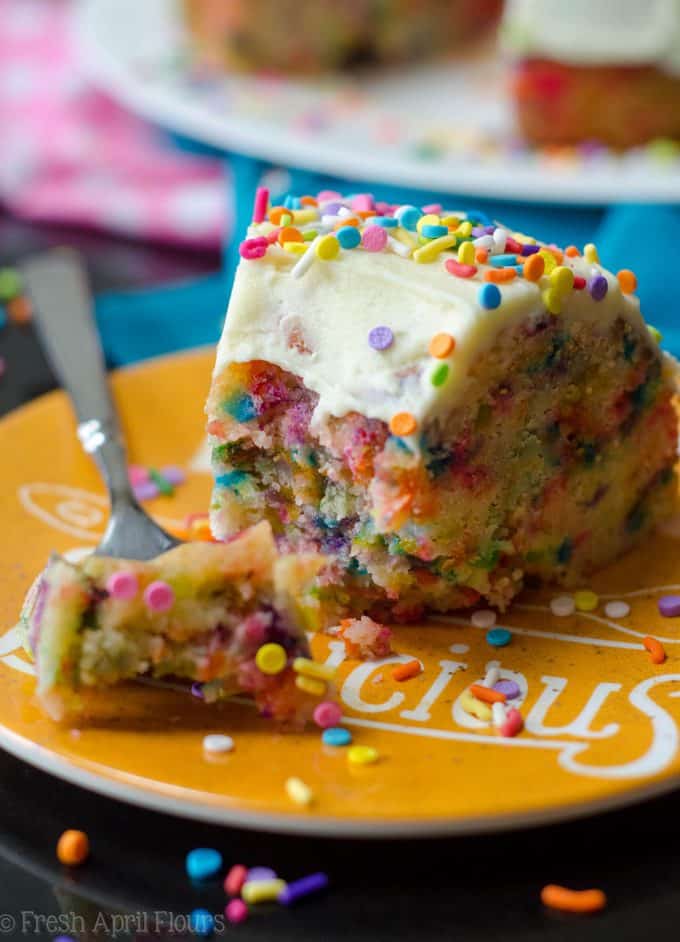 Funfetti Cut-Out Sugar Cookies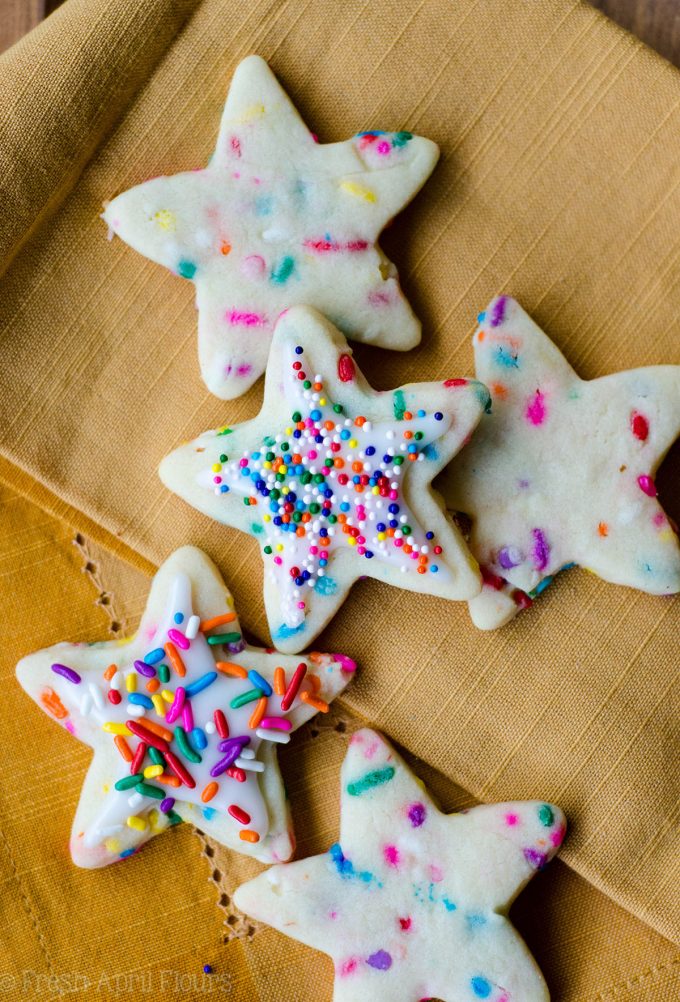 Funfetti White Chocolate Chip Oatmeal Cookies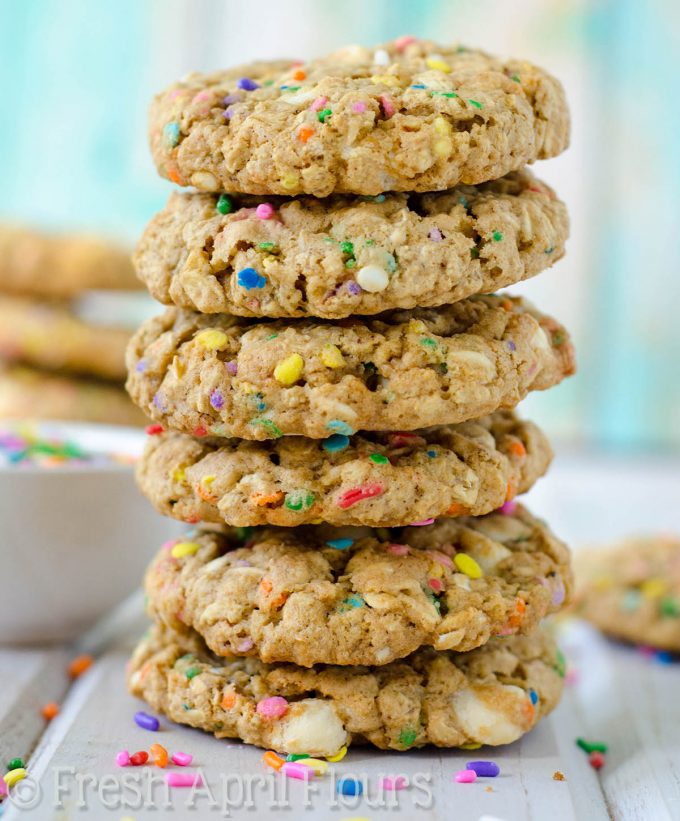 And, of course, the crème de la crème… My pride and joy…
Cake Batter Puppy Chow (check out my puppy chow cookbook– The Chow Down!)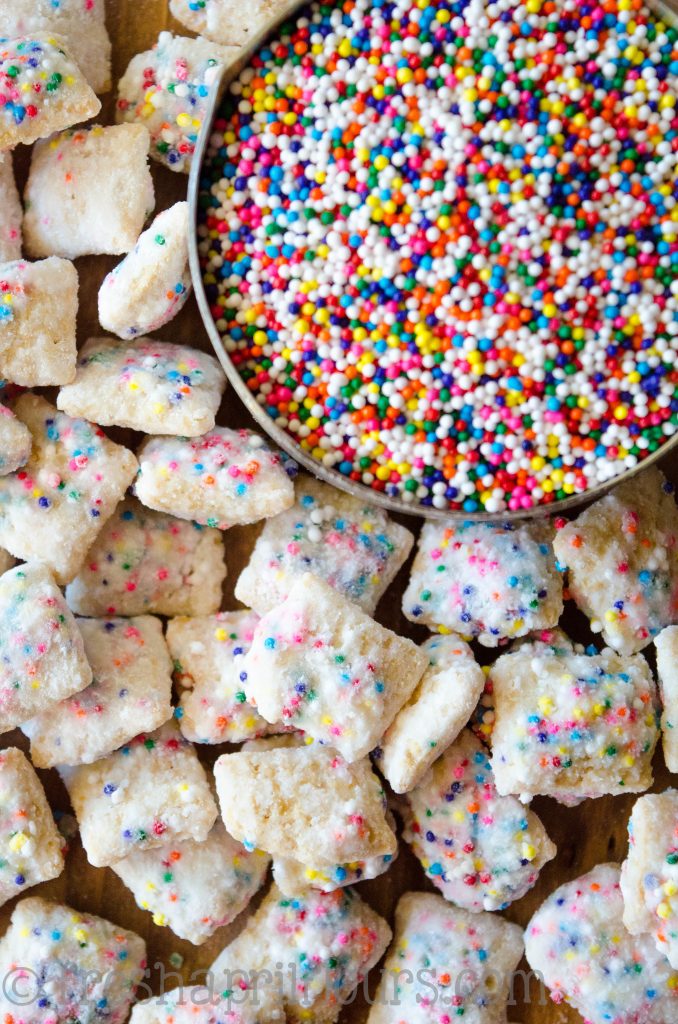 More Favorites from Fresh April Flours