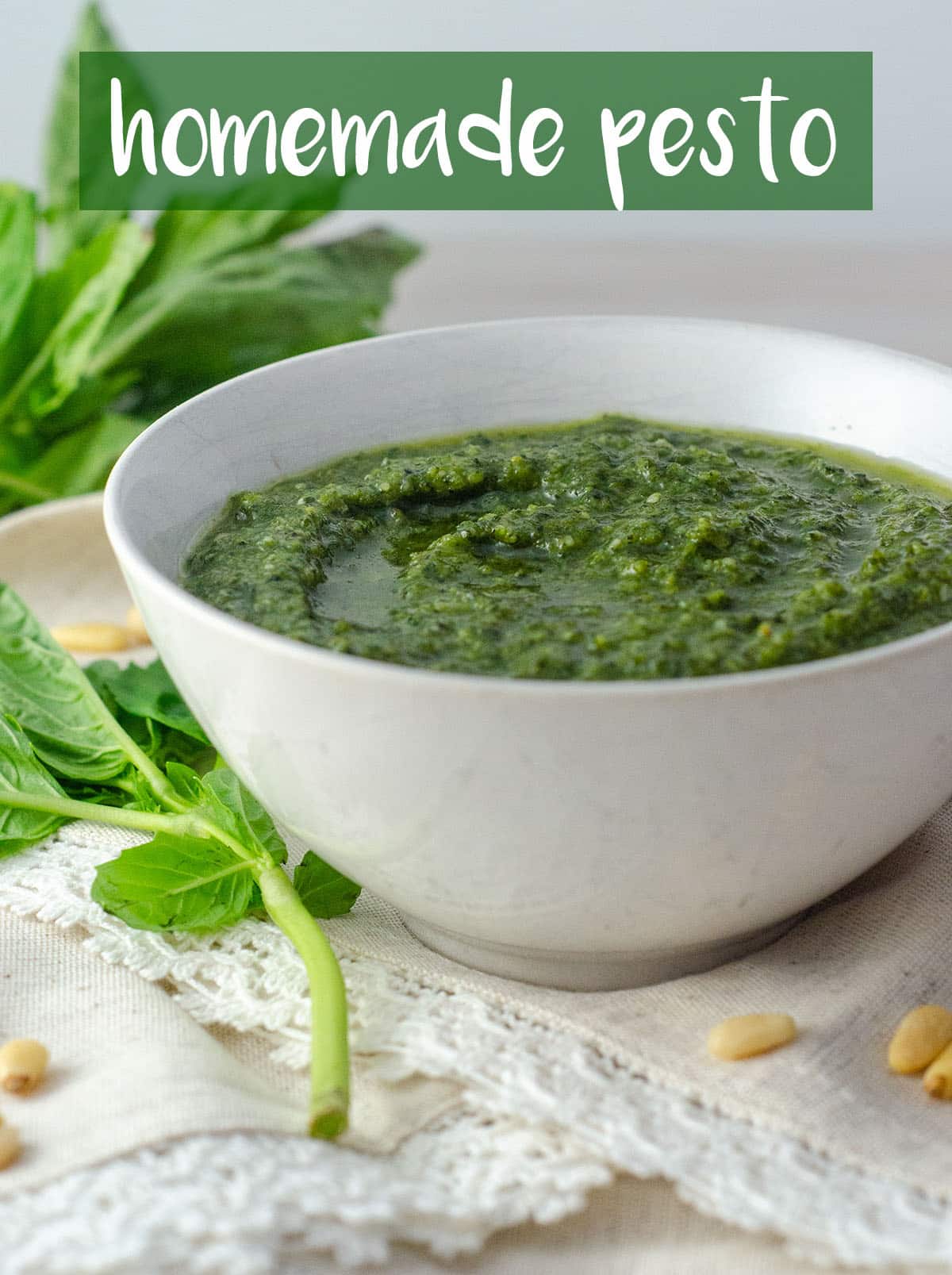 As an Amazon Associate, I earn from qualifying purchases. Read the full disclosure here.
Making your own herby, garlicy pesto at home is as easy as throwing FIVE ingredients into a food processor.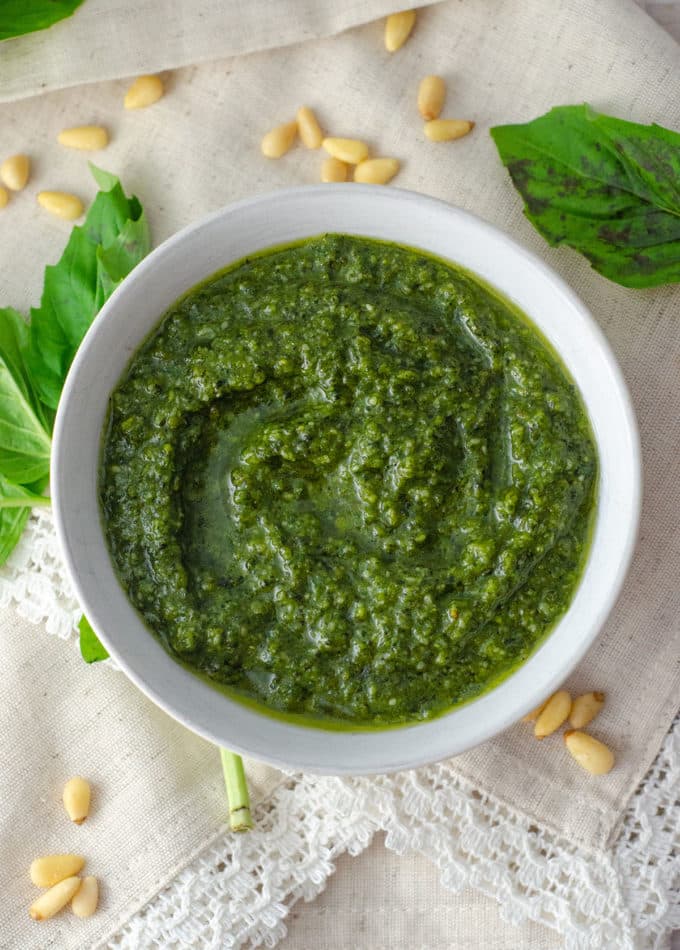 I'm going to preface this whole entire post with "I am not a gardener." I've never been one, probably never will be, and, admittedly, get most of my summer produce from coworkers, neighbors, and gym members whose gardens are overflowing with zucchini, peppers, tomatoes, and herbs this time of the year.
In fact, thanks to a certain gym member of ours, I've been eating nightly snacks for about 2 weeks of sliced tomato with olive oil, balsamic, and mozzarella, and can I just tell you I AM IN HEAVEN.
There's nothing quite like homegrown produce, and it just tastes downright amazeballs.
Aside from the mint that is taking over our front greenery area, we're not inundated with herbs right now. I have, however, gotten some emails and DMs from readers and friends asking for recipes that include BASIL, so here you have it, folks.
Those of you who asked, you shall receive. And those of you who didn't ask, you get to bask in the good fortune of others' gardens too with this homemade pesto recipe.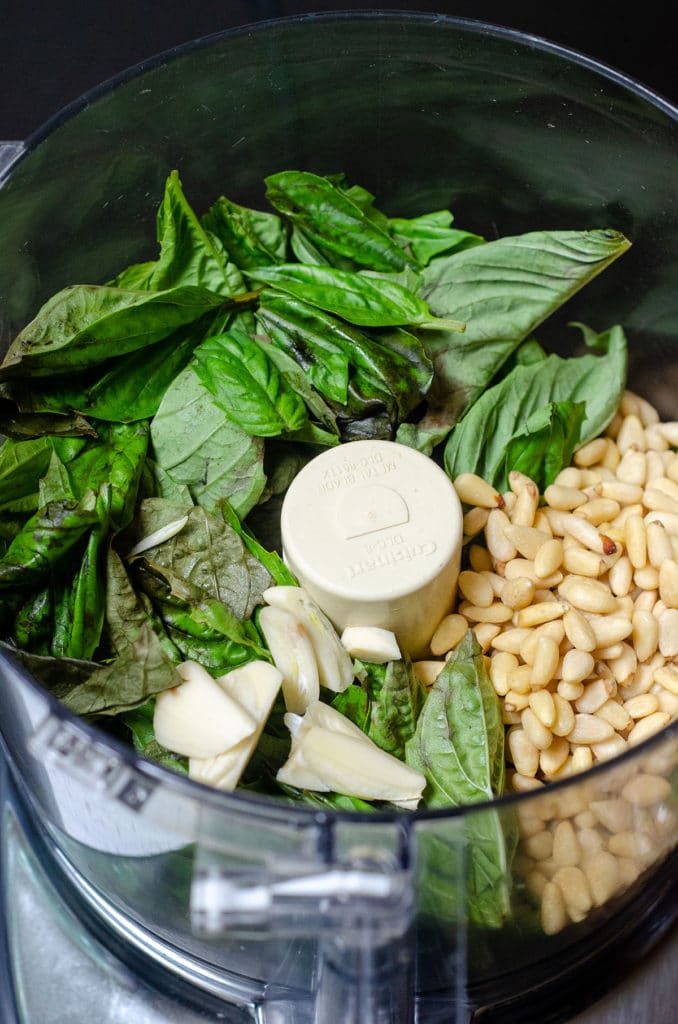 ANDDDD, if you stick around for next week, I have an absolutely amazing bread recipe to share with you that got me more excited about bread than I was when I made this babka beaut. And that's saying something.
In the meantime, and before I get to the goods, I currently have 2 recipes on my blog that feature basil that may also interest you.
This herbed tomato quick bread also uses tomatoes, so really, kill two garden gnomes with one stone with that guy. Plus, MEGA YUM.
And this crustless caprese quiche is one of THE most popular recipes on my blog, BY FAR. Who knew? It's a keeper. Make that.
If you're just here for the homemade pesto, let's get to it. And I promise, this won't take long, because pesto is, umm, stupid easy.
Oh wait, before we get to the pesto… Raise your hand if you cannot think about pesto without thinking about Phoebe and Monica's sous chef Tim.
Yeah? No?
If your hand is still down, that's ok, we can still continue to be internet friends.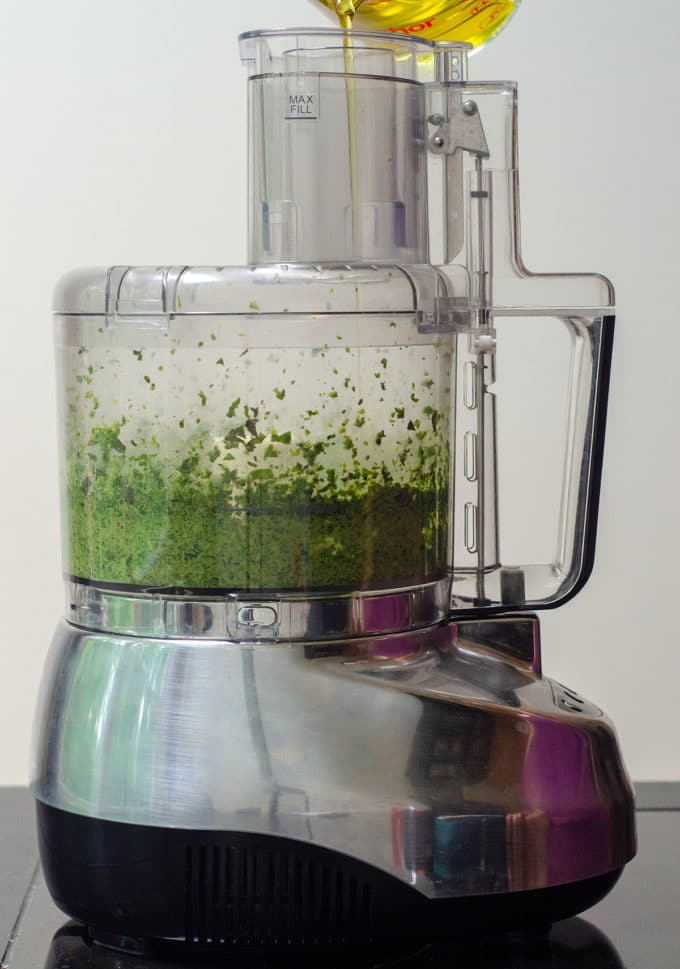 Like I said, homemade pesto is as simple as adding some ingredients to a food processor. FIVE ingredients, actually. Ok, SIX if we count salt, but… We don't. S&P are givens in cooking and often baking, so… FIVEEEE! You can totally do this.
Pesto is obviously made from lots of basil, but what gives it its texture, density, spreadability, and body is lots and lots of fat. Traditionally, pine nuts are used for the nut base, but you can also use walnuts.
If you've got a nut allergy, apparently sunflower seeds are a good alternative (thanks for the tip, Ashley!). The taste isn't really important– it's more about what the oily nuts bring to the pesto. Lots and lots of texture and OOMPH.
Olive oil + garlic are the flavor makers behind the basil. They bring depth and zest to the spread. SO MUCH ZEST. What I really love about pesto is that it's got a little zing but it's not spicy. It's just chock full of herby flavor which comes across as a little zing on the tongue and in the back of the throat.
It's pesto's signature move and it is heavenly.
The Parm cheese smooths things out and brings another level of tang to the pesto. Zest, zing, and tang… How can you not love pesto?!
If you're not a regular pesto user, you may be wondering what to use it on… Lucky for you I'll be sharing that amazing bread recipe I spoke about earlier, but if you can't wait until then…
Pasta, bread, eggs, pizza, salad dressing, veggies, bruschetta, tomatoes, crackers, as a sandwich spread, in tuna or chicken salad, on a spoon?? Too far?
Yeah, maybe too far. But hey, if that's how you roll… Go for it, friend!
If you simply want to use up your basil and don't have an immediate use for pesto, you'll be happy to know it freezes really well. You'll just want to make sure it's covered tightly and/or pressed with plastic wrap because air is the enemy of pesto!
Similar to guacamole, it will darken as it oxidizes. It still tastes the same, but it just isn't nearly as beautiful.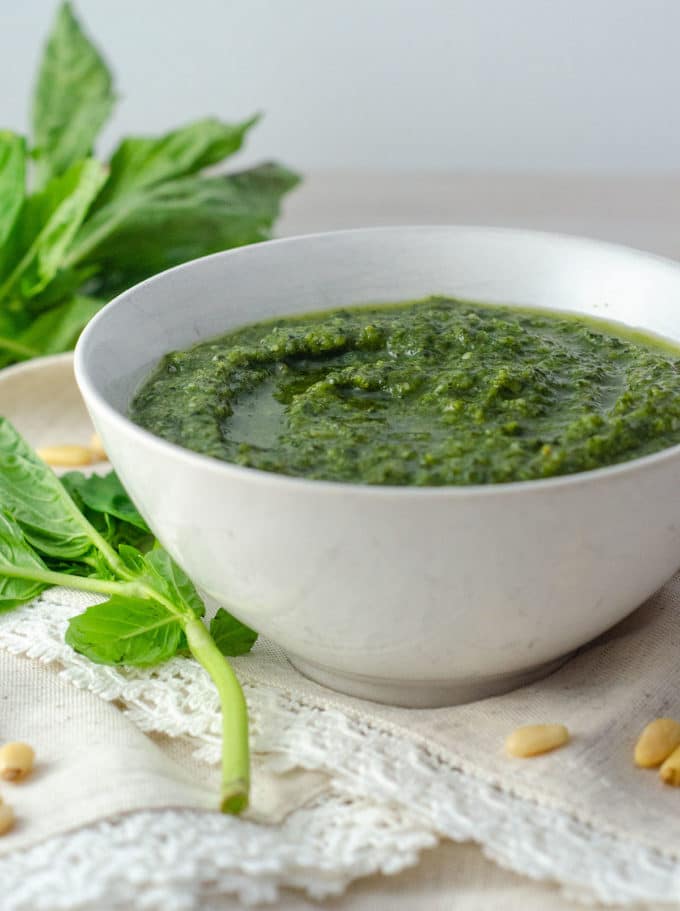 Now… Power up that processor and start spreading that pesto! You'll be painting the town green in no time!
Homemade Pesto
Making your own herby, garlicy pesto at home is as easy as throwing FIVE ingredients into a food processor.
Ingredients
2

cups

fresh basil leaves

1/2

cup

pine nuts or walnuts

3

cloves

garlic

1/2

cup

extra virgin olive oi

1/3

cup

grated Parmesan cheese

1/4

teaspoon

salt
Instructions
In the drum of a food processor, combine the basil leaves, pine nuts, and garlic. Process until everything is combined (it will still be chunky). Stop the processor, remove the lid, and scrape down the sides of the drum.

Replace the lid and remove the plug in order to pour the olive oil into the mixture. Slowly drizzle the olive oil and continue to process until all of the oil is incorporated.

Stop the processor and add the Parmesan cheese and the salt. Pulse a few times to combine, then use pesto immediately. Pesto says fresh, covered tightly with plastic wrap pressed to the surface in the refrigerator up to 4 days. Pesto freezes very well. Wrap tightly with plastic wrap pressed to the surface, up to 3 months. Thaw in the refrigerator.
Nutrition Disclosure
All nutritional values are approximate and provided to the reader as a courtesy. Changing ingredients and/or quantities will alter the estimated nutritional calculations.