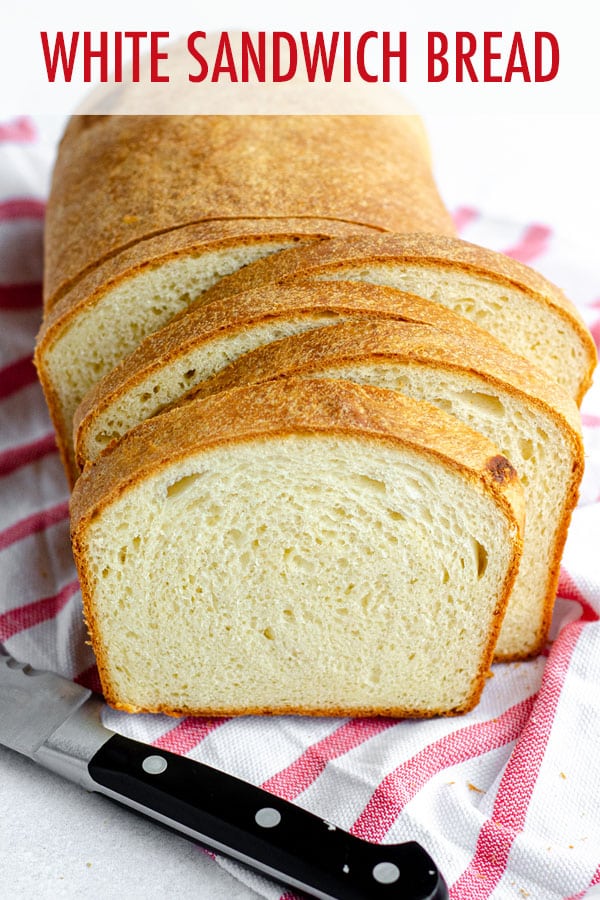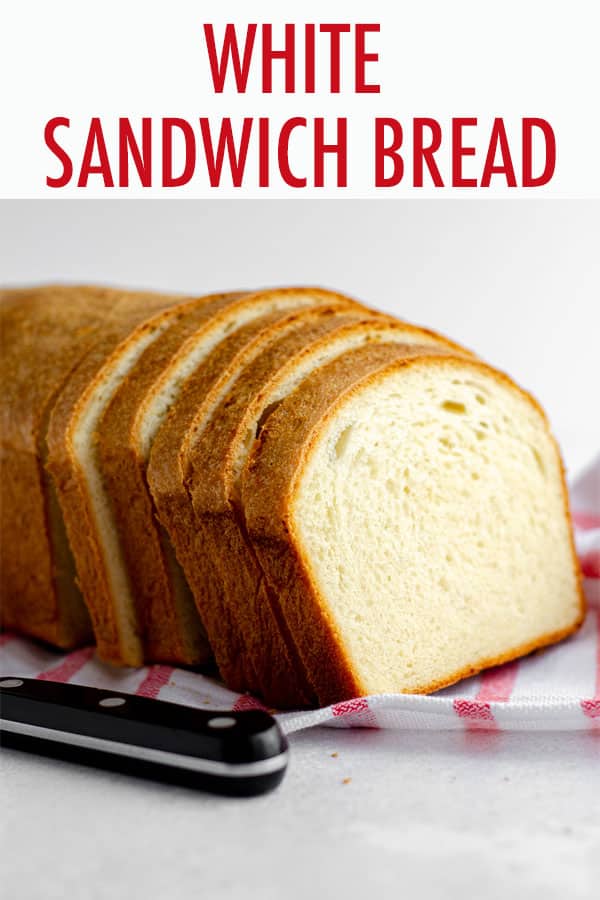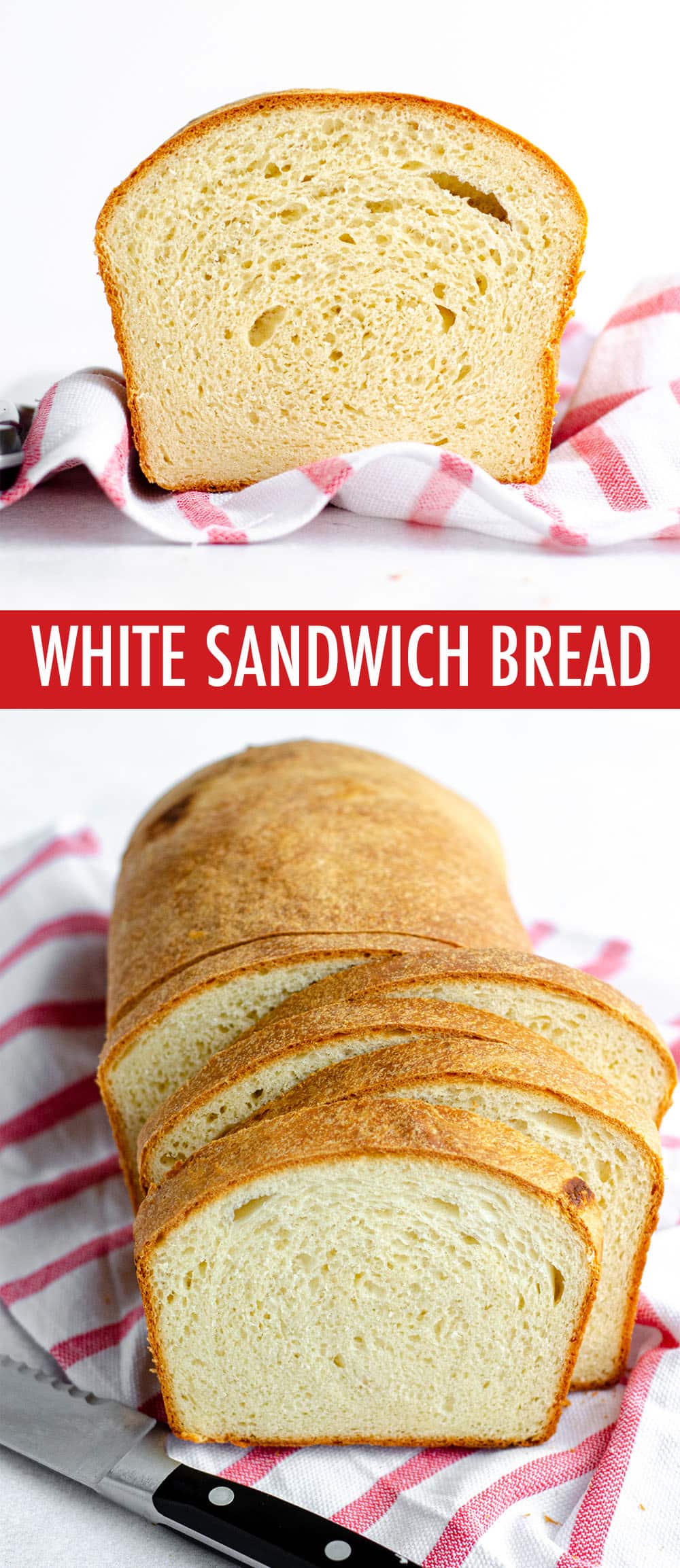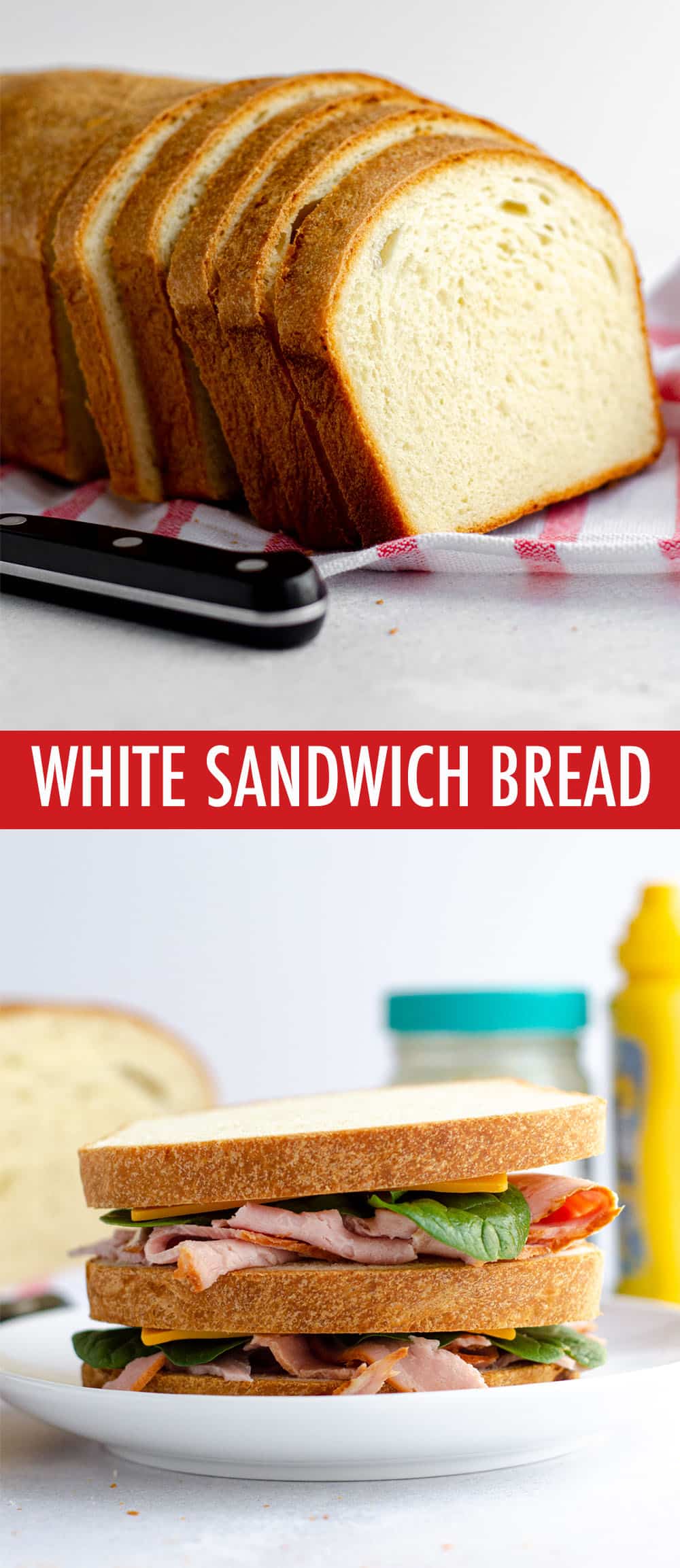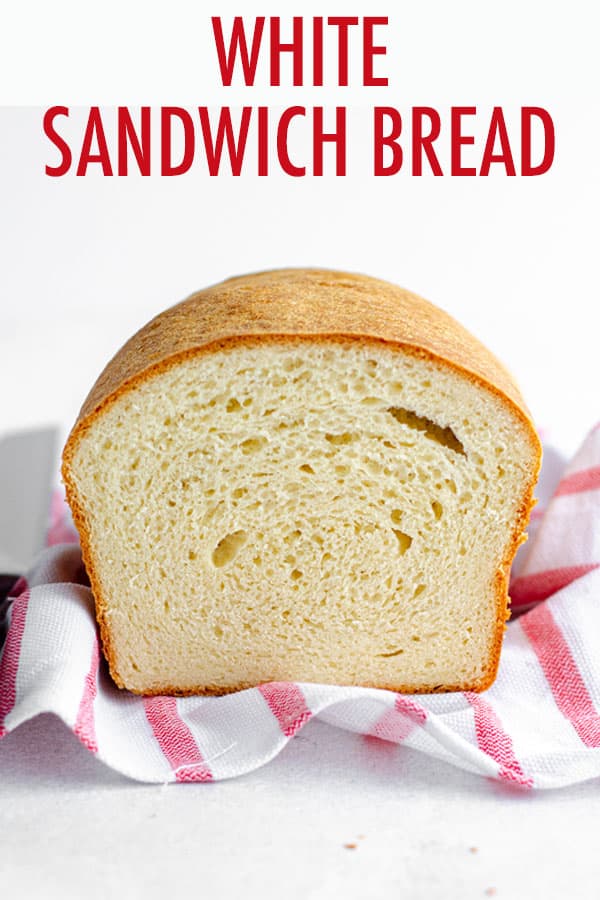 As an Amazon Associate, I earn from qualifying purchases. Read the full disclosure here.
Fluffy, sturdy sandwich bread made right in your own kitchen.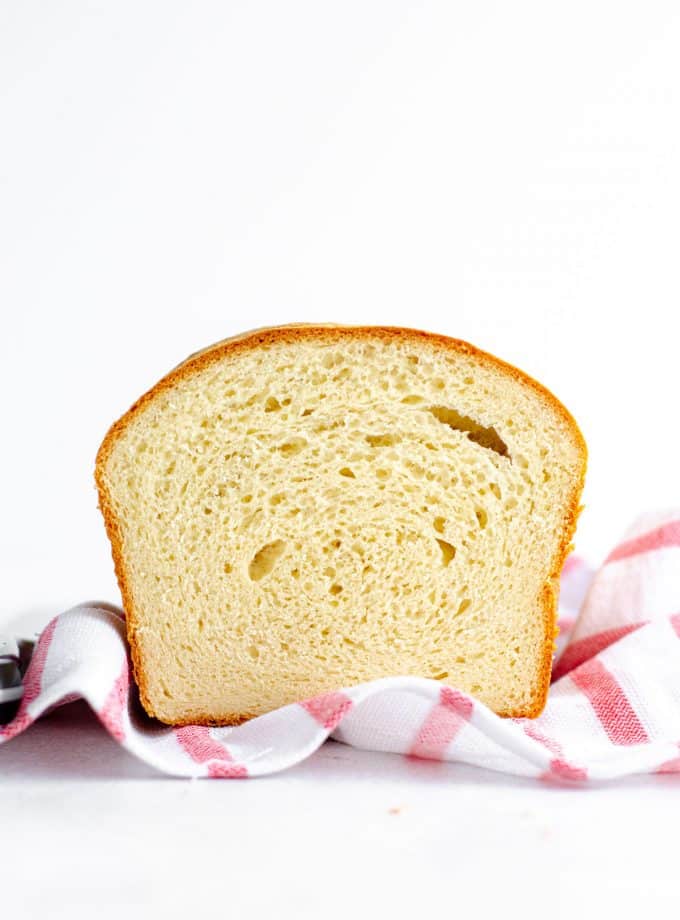 JUNE! Uhhh, where did you come from, bro?
It's hard to believe that we're already halfway through 2019, which around here is the year of the breads, so this means that today's recipe (which is so fabulously brought to you by Bob's Red Mill!!) is #6 in our Bread of The Month series!
Today's white sandwich bread recipe is something I've been wanting to make for a reallyyyyy long time, and when Bob's Red Mill asked if I'd be interested in using their UNBLEACHED ENRICHED ARTISAN BREAD FLOUR, I couldn't say yes fast enough.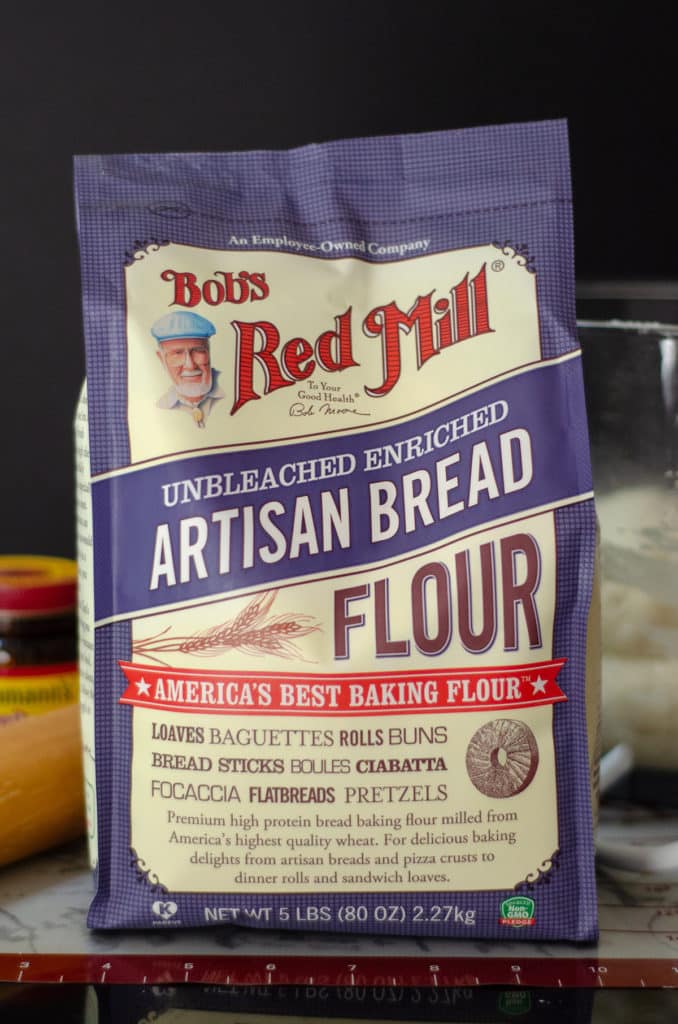 So let me ask you this… Are you a sandwich kind of person/household? We're not, really, as the parents, but our kids? Um, YEAH. A/PB&J and egg/cheese/bacon/sausage sandwiches are huge with the kids, and we probably serve at least 1 sandwich a day to each kiddo.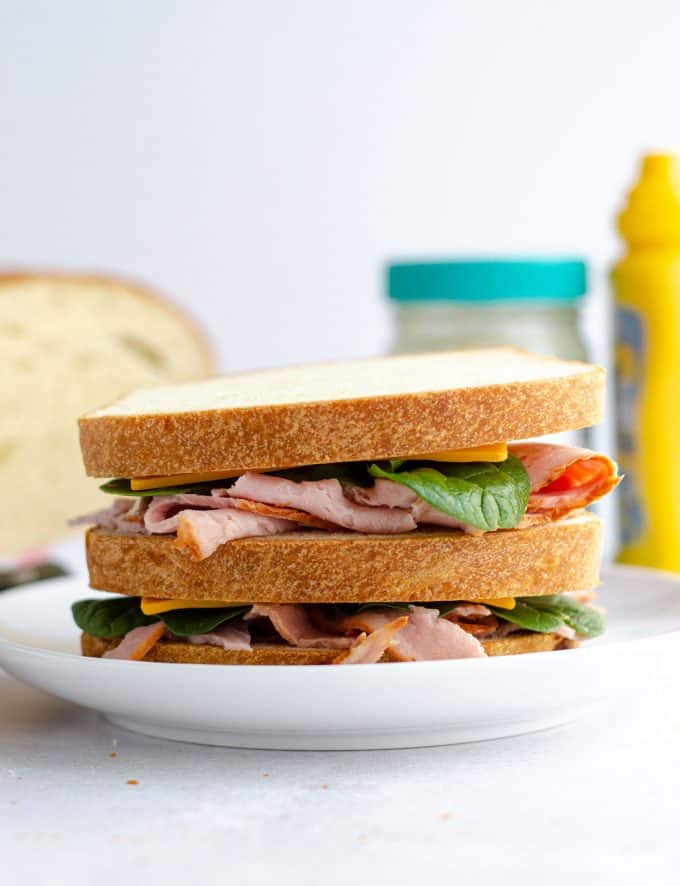 They're easy, they're portable, they're usually (USUALLY) on the less messy side (though let's talk about how the 13m old can turn one crumb into eleventybillion of them right now), and when you find a bread that's hearty, wholesome, and super deliciously tasty, sandwiches feel like more than just a food item.
They can be a whole experience.
And that, my friends, is what homemade sandwich bread is like.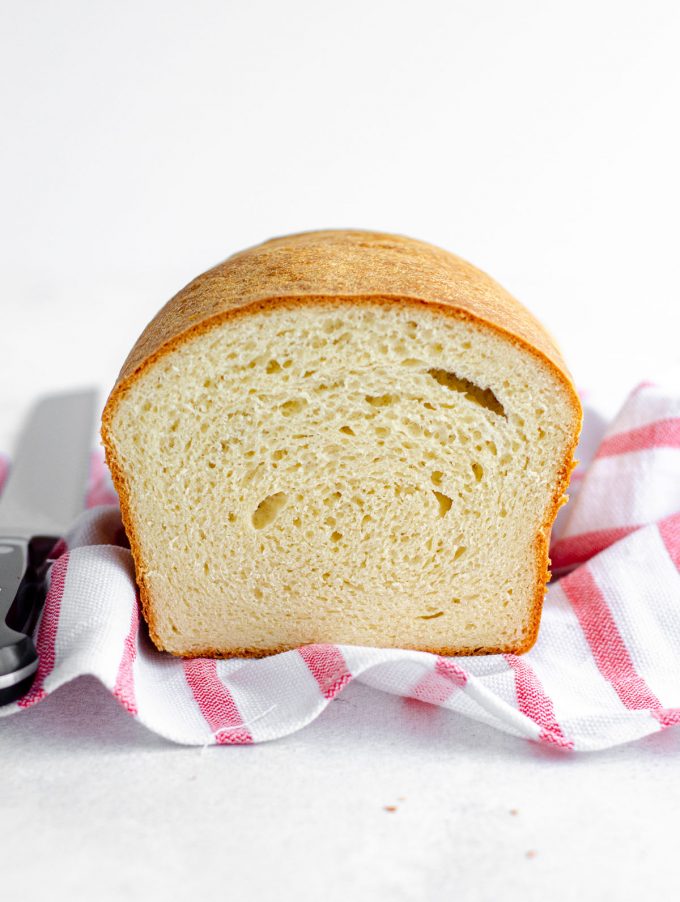 I was absolutely floored at how much I enjoyed this bread. When we buy bread from the store, it's typically whole grain, has minimal ingredients, and has some sort of "oomph" on the outside.
The current sandwich bread we love from Wegman's has oatmeal, sunflower seeds, and chia seeds on it. SO GOOD. So I was prepared to be happy with making homemade bread, but my expectations were far exceeded by this beaut.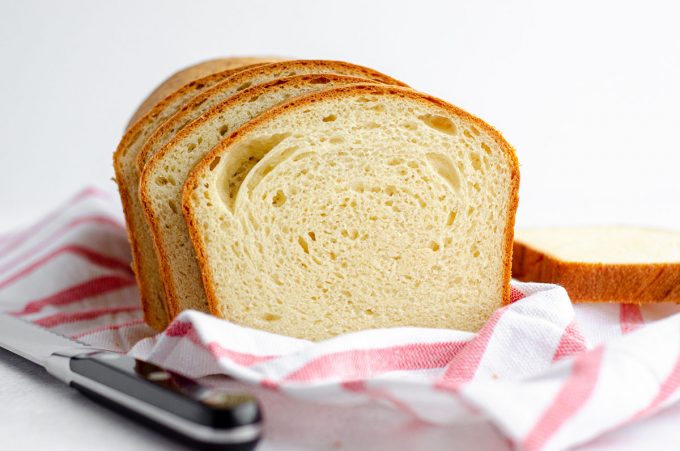 When I think back to bites of this bread, I remember thinking "wow, this bread is so soft," which I feel is a common thing in white bread, but not in that squishes-when-you-bite-it kind of way. In an it-springs-right-back-up kind of way.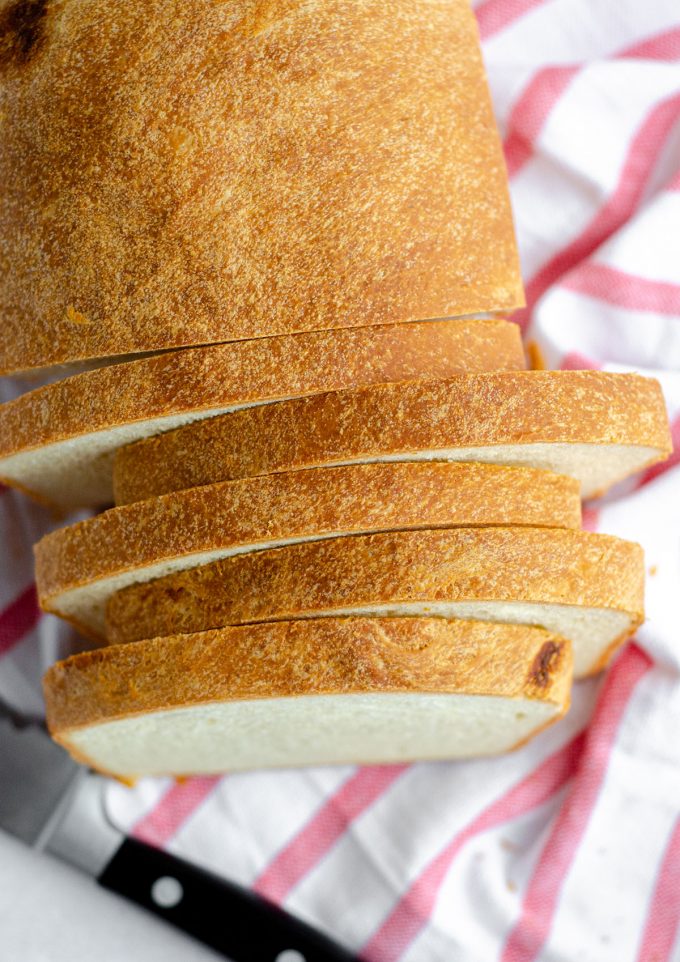 This bread is surprisingly hearty. It held up to various spreads and fillings. And though we didn't actually use it to make French toast, it felt like the perfect bread to use for that.
Not only was the final product absolutely perfect, the process of making this bread gave me bread baking experiences I never had before… And I've made a LOT of yeast bread.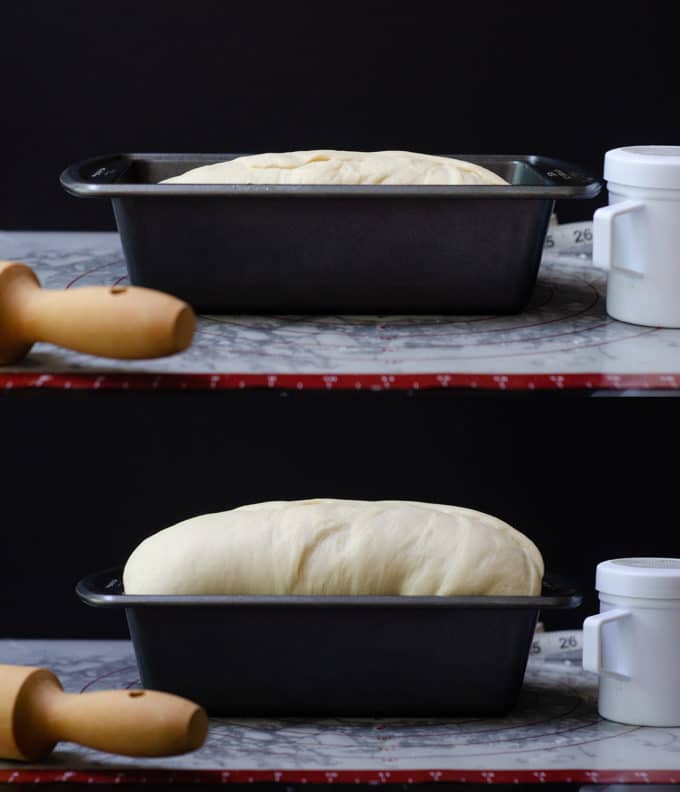 Can we just take a look at this incredible rise? GUYS. THIS IS UNREAL. I covered my bread and went to do something else for an hour. When I returned, the kitchen towel was up so high, and my jaw dropped when I uncovered the beauty that was this sky high loaf of bread ready to go in the oven.
This flour from BRM is no joke!
Now before you get overwhelmed with thinking about making sandwich bread, let's step back a bit. We've worked with yeast bread here so many times before, and nothing in the process has changed.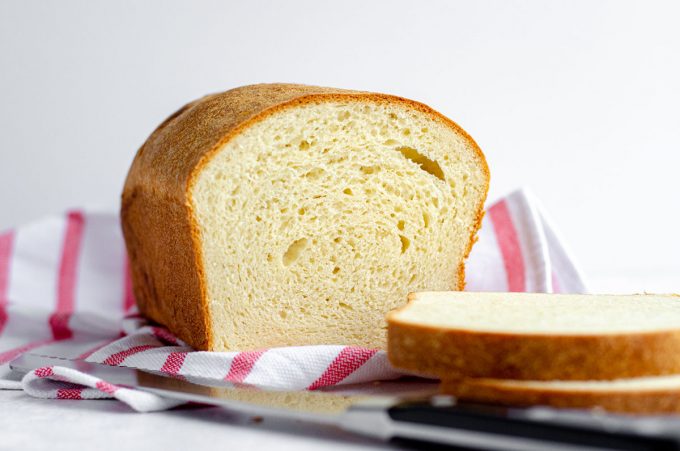 In fact, this sandwich bread is much easier than my already easy yeast breads in that there is no twisting or filling or shaping of anything.
This is straightforward dough making and simple prep. And I promise, this is a quick homemade sandwich bread. Most of the time, it's resting or baking. SO simple.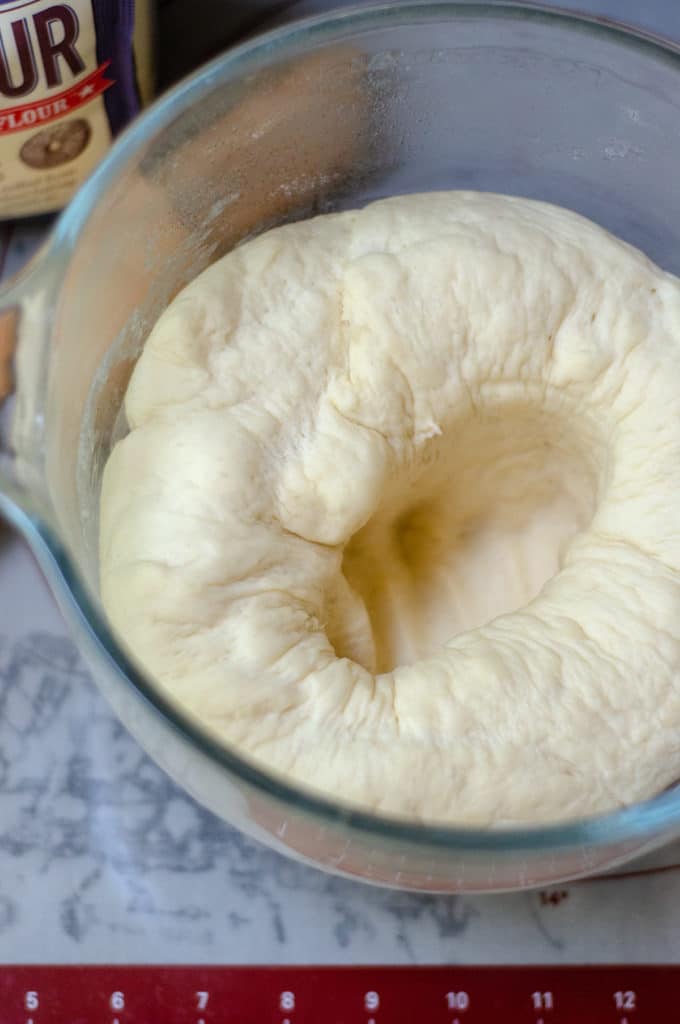 HOW TO MAKE WHITE SANDWICH BREAD
Once your dough has been through its first rise, you'll pat it into a rectangle. You don't even need to use a rolling pin, though you can if you're looking for some help. This dough is soft and supple, and responds well to gentle pushes with palms and fingers.
Once it's in a solid rectangle, you'll roll it up into a log, which goes right into your loaf pan.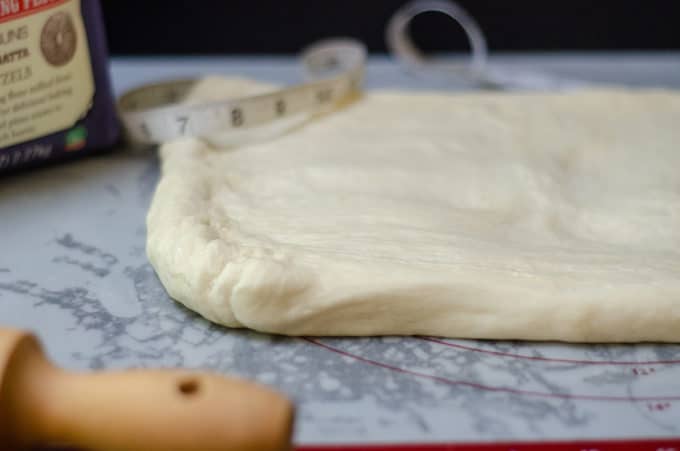 The finishing touch to this bread before it goes into the oven is a coating of melted butter. Why, you ask? Because it will give the outside of your bread incredible texture that is slightly crunchy, but soft enough that biting into a sandwich made with it isn't going to slice the roof of your mouth.
This is not a dense sandwich bread, but rather a light and soft white bread recipe that has some sturdiness. There is a major difference, and I really believe that BRM's artisan bread flour had a lot to do with it.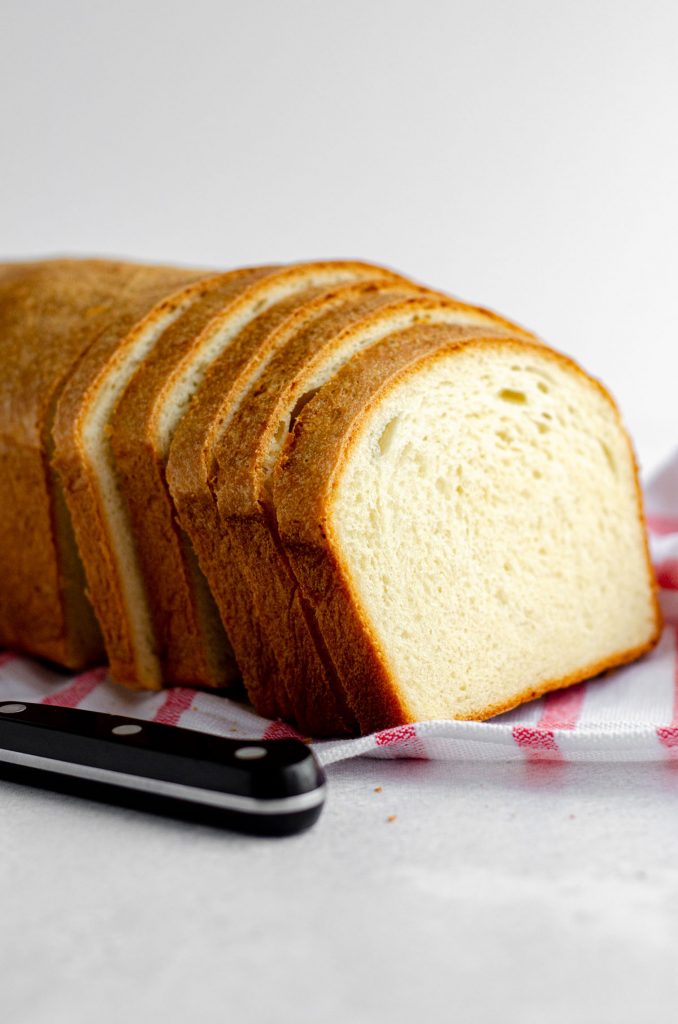 Try it for yourself! Did you ever think that making your own bread for sandwiches at home could be super simple and well worth the time it takes to make it (which, might I add, is really not much time at all)?
Home bake your next loaf of sandwich bread and tell me you prefer to buy it… I challenge you!
Because if you're looking for a hearty sandwich bread recipe or the best white sandwich bread you can make in your kitchen, this is it, folks!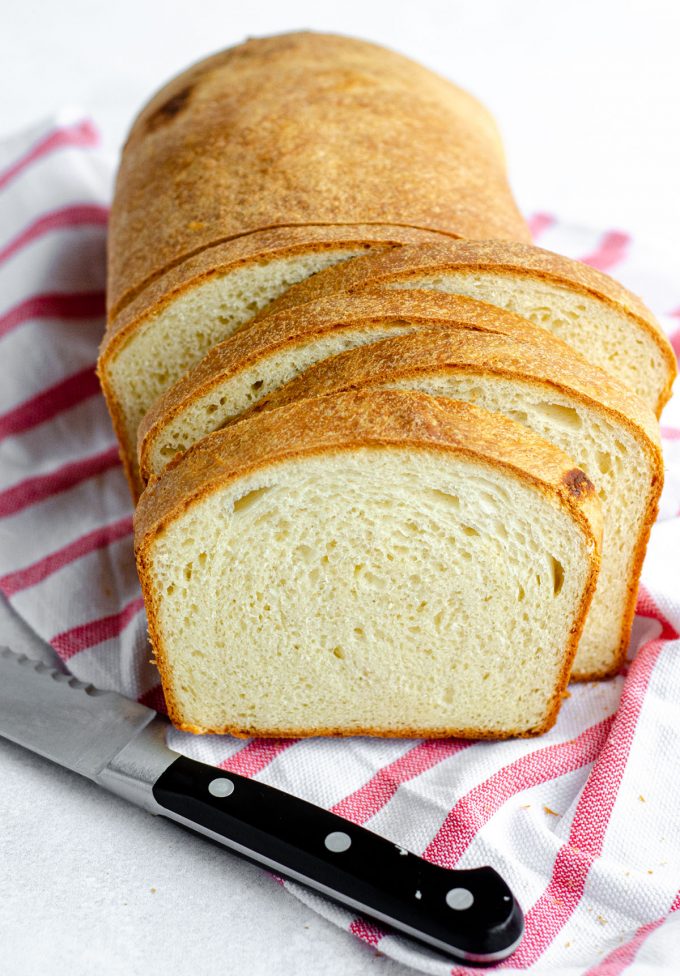 Thanks, Bob's Red Mill, for bringing this flour into my kitchen! I can't wait to use it again.
White Sandwich Bread
Fluffy, sturdy sandwich bread made right in your own kitchen.
Instructions
Place warm water in a small bowl. Sprinkle the yeast on top of the water. Stir around with a fork or spoon and allow to rest and activate for 10 minutes.

In the bowl of a stand mixer or a large bowl, combine the yeast mixture, warm milk, sugar, salt, cubed butter, and 2 cups of the flour and stir with a wooden spoon or rubber spatula to combine.

Attach the dough hook and mix on low speed. Gradually add the remaining flour until the dough is soft and tacky, but not sticky (it should feel like fresh PlayDoh). Continue to mix until a soft ball of dough forms and pulls away from the sides of the bowl. This should take several minutes.

Place the dough in a lightly oiled bowl and flip it over so the ball of dough is completely coated in oil. Cover lightly with a kitchen towel and set in a warm place to rise until doubled in size, about 1 hour.

When the dough has risen, spray a loaf pan with nonstick spray and set aside. Turn the dough out onto a lightly floured surface. Gently pat and press the dough into a 9" x 12" rectangle. You may also use a rolling pin, but be gentle.

Starting at the short end, roll the rectangle up into a tight log. Pinch the ends to seal and tuck the ends of the roll under the bread. Place into prepared loaf pan, and cover again loosely with a kitchen towel and allow to rise until doubled in size, about 45 minutes to 1 hour.

Position an oven rack to the middle setting and preheat the oven to 400ºF.

Brush the loaf with the melted butter, then bake for 30 to 35 minutes, rotating the loaf halfway through. Loaf is done with it is golden brown and makes a hollow sound when you tap on it.

Remove from the oven and allow to cool in the pan for 10 minutes. Remove loaf from the pan and allow to cool completely on a wire rack before slicing. Bread can be stored in an airtight bag or wrapped tightly in plastic wrap at room temperature for up to 4 days. Bread freezes well, up to 1 month. Thaw in refrigerator before consuming.
Notes
*If you don't have Bob's Red Mill brand, any bread flour will do. 
Nutrition Disclosure
All nutritional values are approximate and provided to the reader as a courtesy. Changing ingredients and/or quantities will alter the estimated nutritional calculations.
Bob's Red Mill supplied me with the flour to make this bread. All opinions are 100% my own.