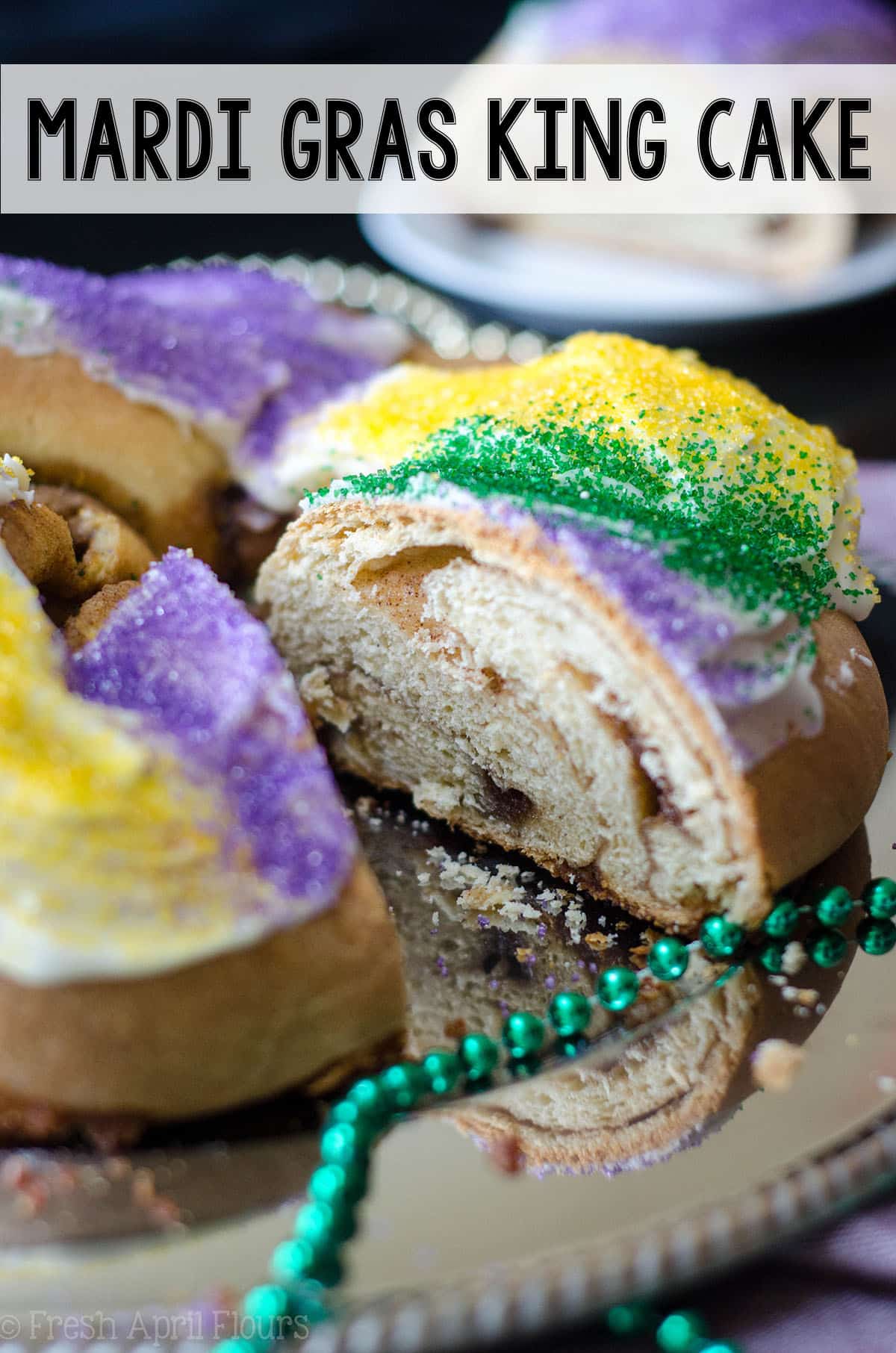 As an Amazon Associate, I earn from qualifying purchases. Read the full disclosure here.
This traditional Mardi Gras King cake is worlds better than anything you can buy at the grocery store. This simple spiced yeast dough gets filled with a cinnamon sugar filling, twisted into a ring, and adorned with colored sugar. Add a tiny plastic baby to pull the tradition full circle!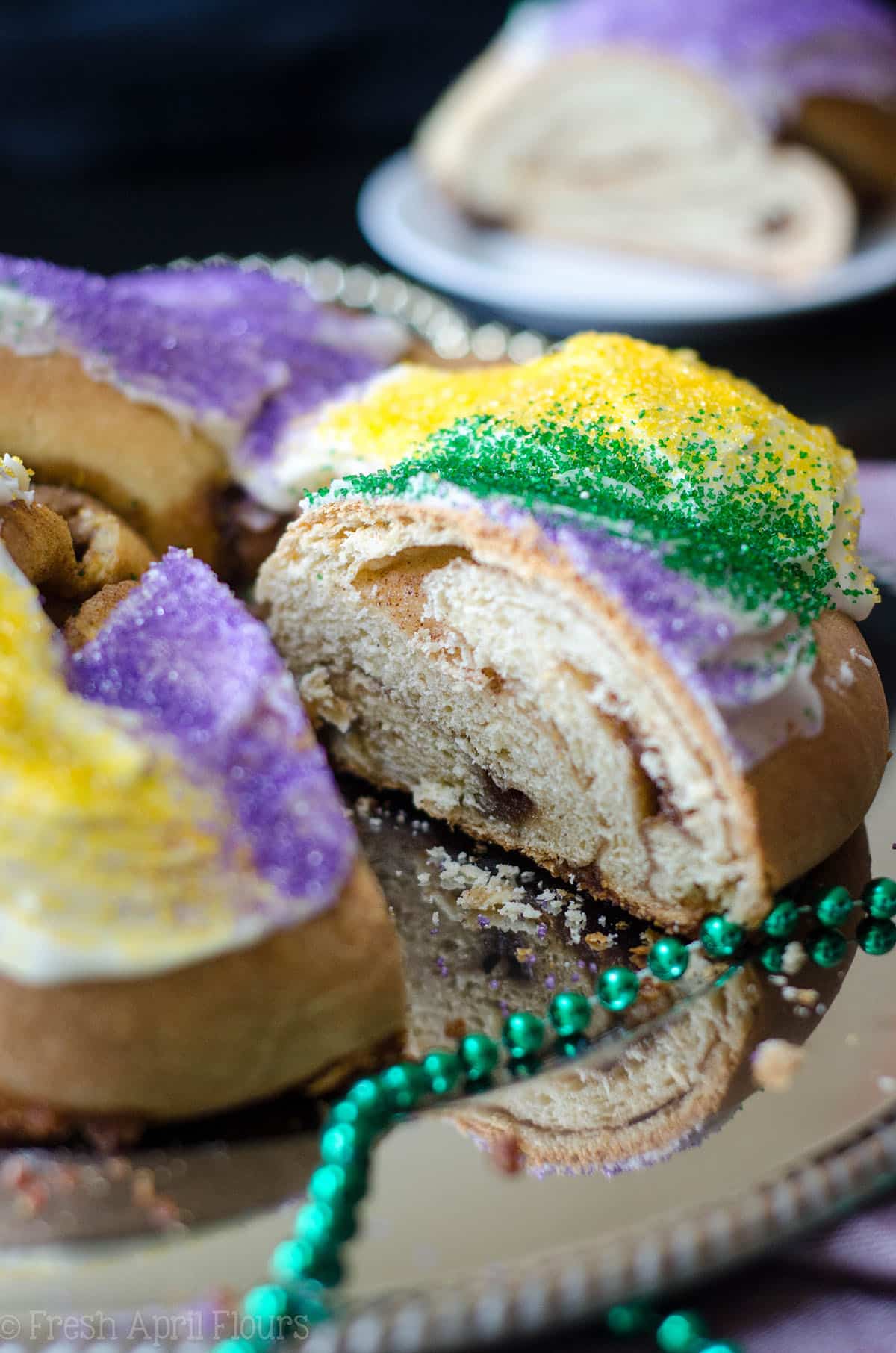 Today's recipe is brought to you by my former super persistent coworkers. Like, the most persistent coworkers can be to pressure you into baking something that is kind of a big deal and is not taken lightly around its consumers.
This, my friends, is a tradition that goes back several years where I used to work– are you familiar with it?
KING CAKE ORIGIN
The king cake tradition is believed to have originated in France and brought to New Orleans in 1870. The French version of king cake is made of puff pastry with an almond filling and typically features a decorative pattern and is occasionally topped with a paper crown.
The New Orleans style cake, which is similar to the versions found in Spain and Latin America, is ring shaped, and topped with icing and colorful sanding sugar in yellow, purple, and green.
The yellow color represents power, the purple represents justice, and the green represents faith. The ring shape of the cake symbolizes the unity of all of these things.
WHY IS THERE A BABY IN THE CAKE?
A miniature plastic baby, which represents baby Jesus, gets placed inside of the king cake to signify the Epiphany (the day that Jesus made himself known to the three wise men).
It is said that the person who received the slice with the baby inside it is known as the king and receives good luck for the coming year. That person is then left with the responsibility of bringing a king cake to the celebration the following year, so it's fun to do this exchange with groups of people like coworkers.
That said, every Mardi Gras, someone at my former job brings in a traditional King Cake, and everyone waits patiently all day to see who retrieves the baby from inside of it.
Sound weird? It kind of is.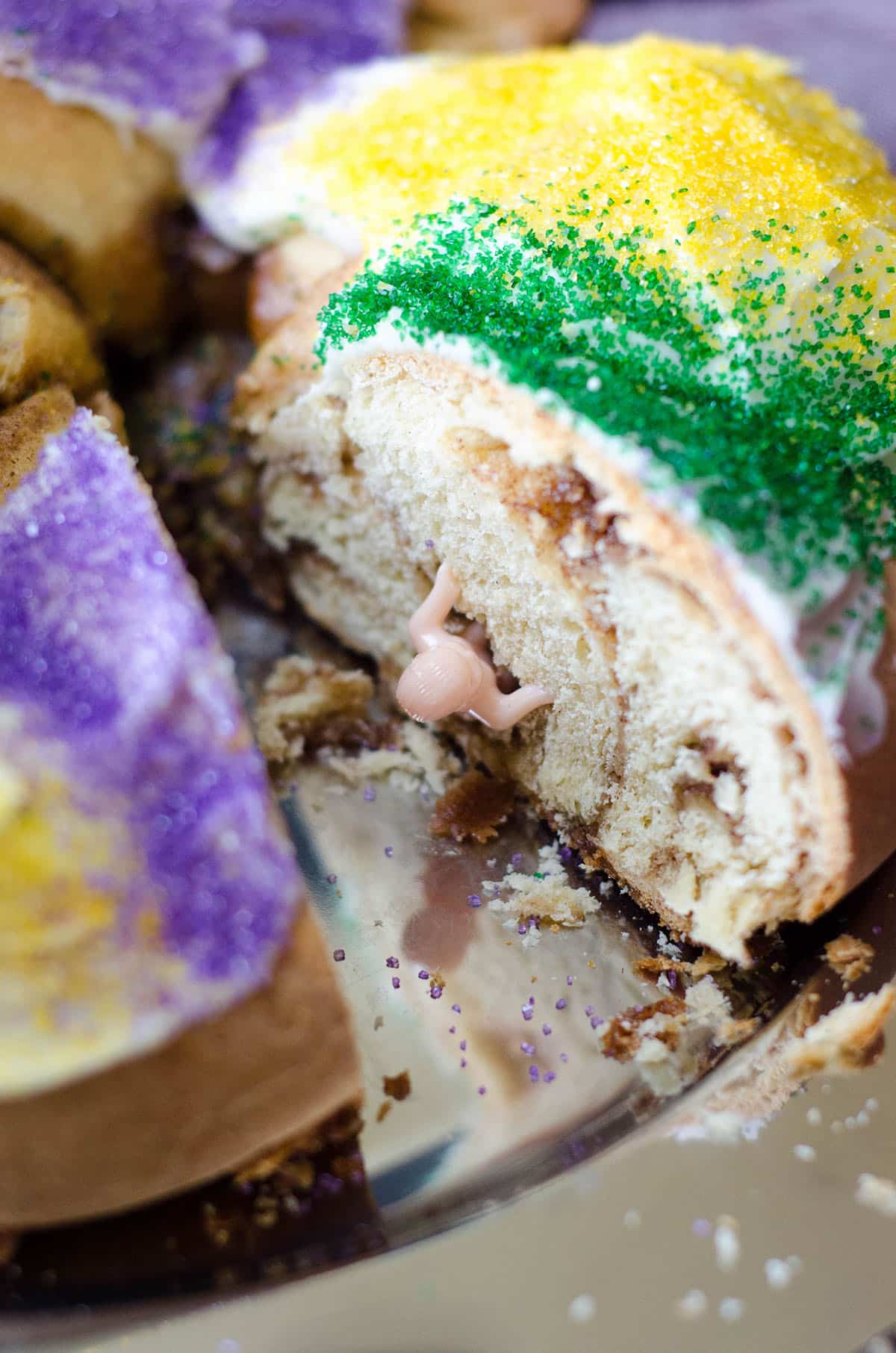 This easy Mardi Gras king cake recipe came from years and years of my coworkers saying "Lynn! You could make this so much better at home!" so in 2019, I made good on my promise to eventually do it.
It was 2019 that I hosted my monthly themed recipe of bread, so it fit right into the bread lineup.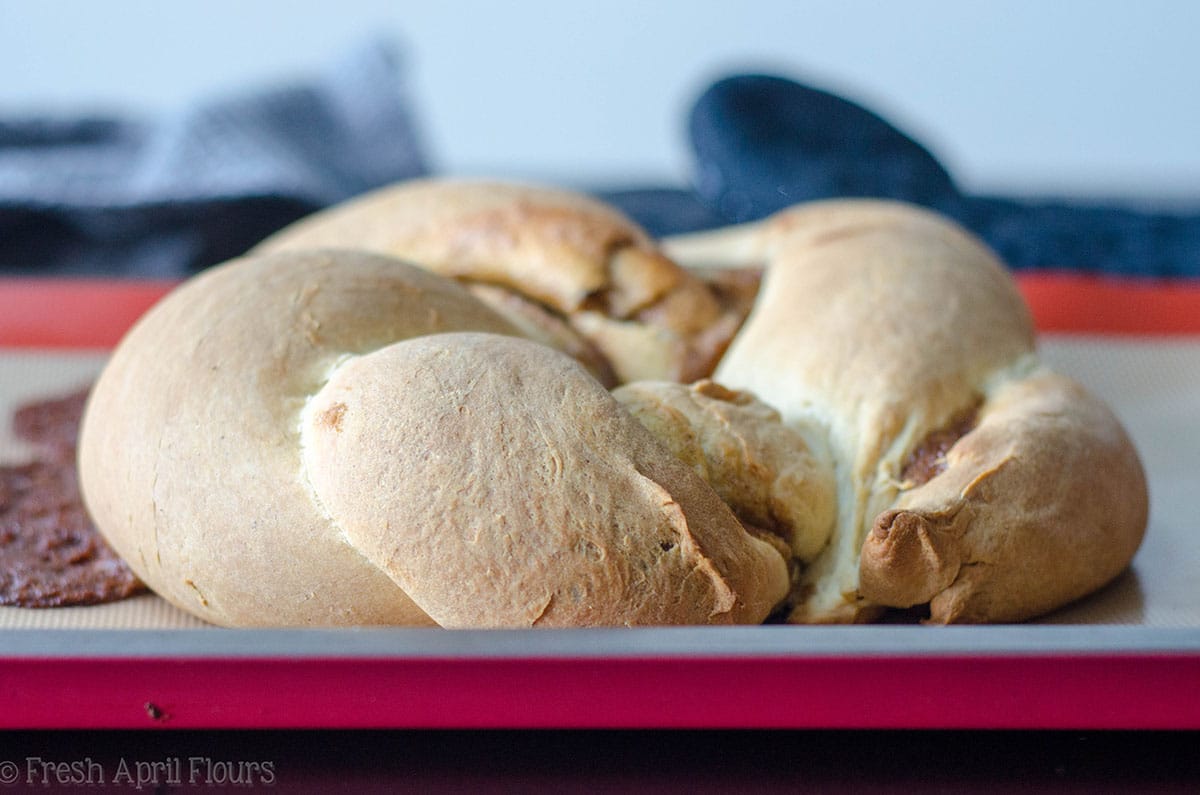 INGREDIENTS
What's really cool about this king cake recipe is you've seen this recipe before. Twice, actually. The base of this bread stems from my Italian anise bread, which I then used again with a little pizzaz in the form of brown sugar and cinnamon for my cinnamon babka.
This king cake is that babka dough split into two logs and twisted together and shaped into a circle.
SO. EASY.
Don't let the ingredient list scare you– you use a lot of the same ingredients in the bread that you do the filling, so just be sure to read everything carefully so you remember to separate your eggs into yolks and whites.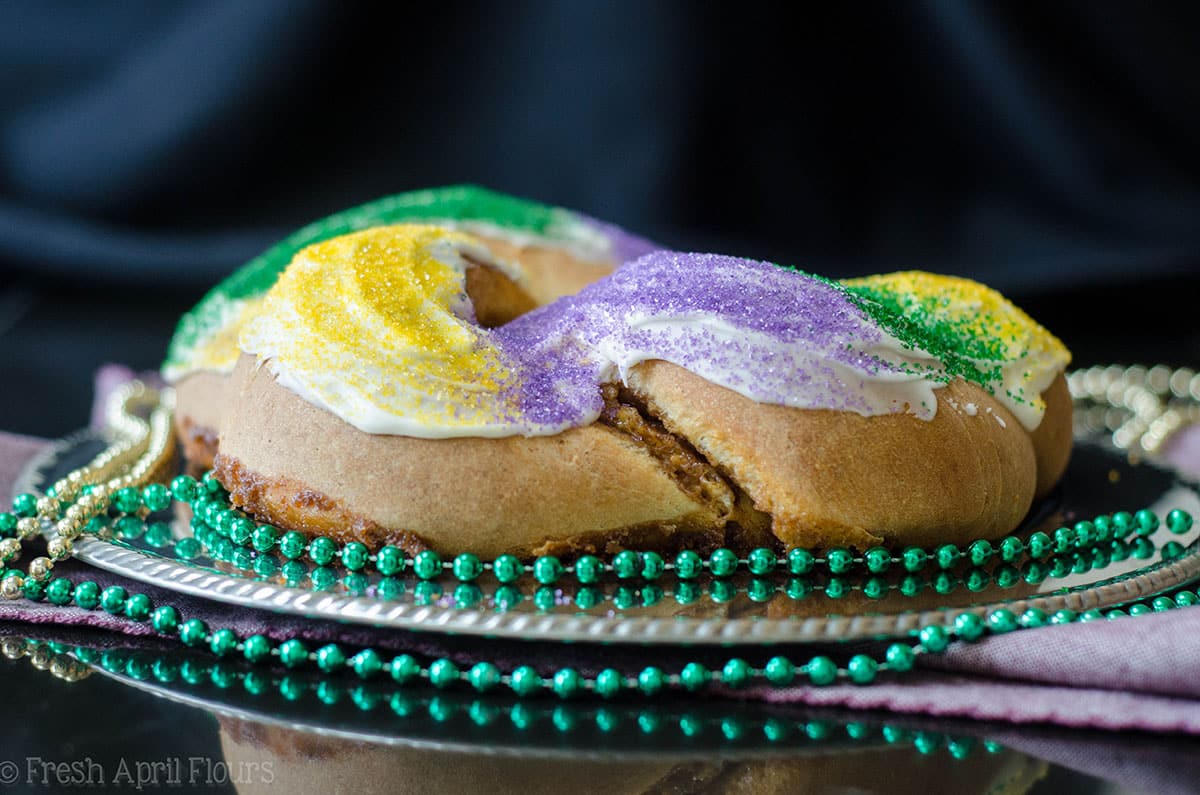 And if you don't believe me, I even made a video for you so you can see for yourself exactly what I mean in my instructions.
HOW TO MAKE A KING CAKE
If you're thinking to yourself that actually tackling the yeast bread component of this king cake is what's holding you back from making one yourself, give my Italian anise bread post a read. That post is actually a re-make of the first post I ever made on Fresh April Flours but with better photos, better instructions, and a better lesson about yeast bread.
I wouldn't lie to you– yeast bread is not hard. And I make it super simple to understand in that post. So, really, give it a read if the whole yeast bread thing is intimidating to you. And then come back here and apply all your new knowledge to this king cake.
You'll be the talk of the town at work come Fat Tuesday this year!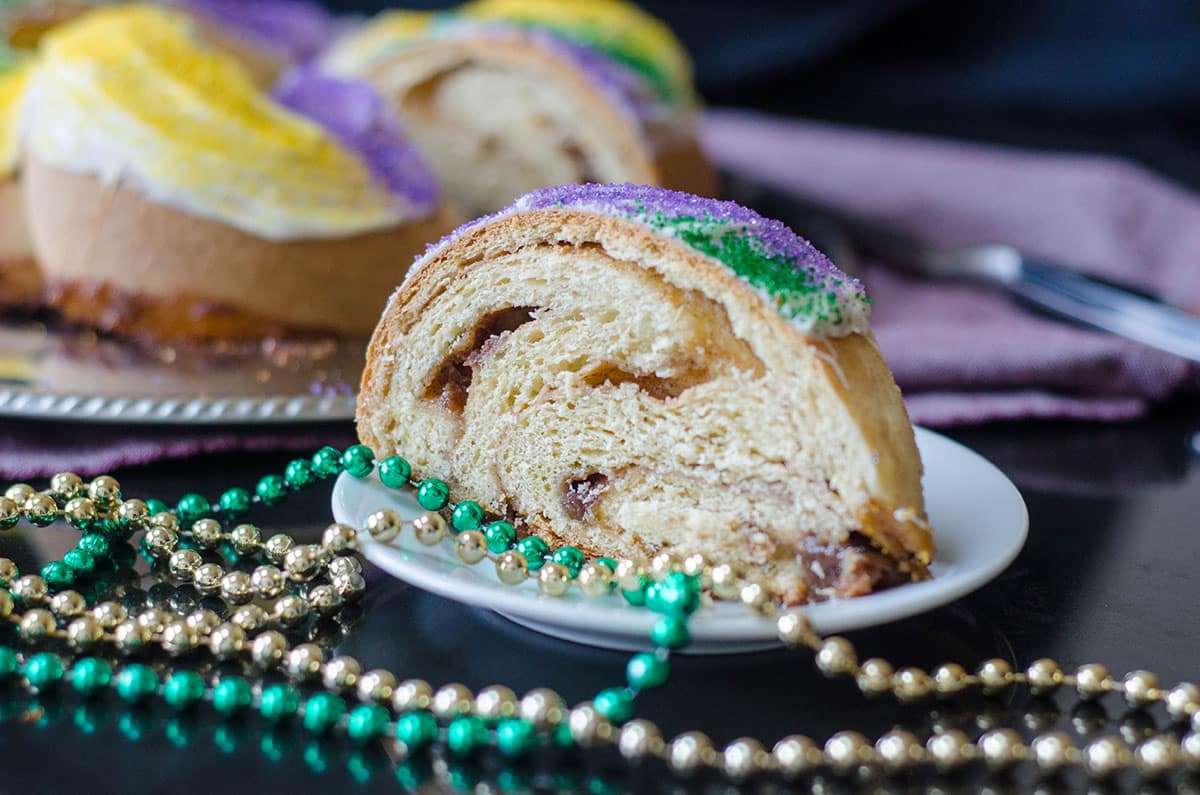 This bread is quite the spectacle, once you cover it in those yellow, green, and purple sprinkles. But under it all is the cinnamoniest (technical term) yeast bread that is pillowy yet crunchy in some spots and approximately one million times better than one you can make from a box mix or buy from the grocery store.
If you're not feeling the icing, you can thin it out and drizzle it on, but I highly suggest keeping it.
Yeah, it's super sweet, but the bread itself is not overly sweet at all, so they complement each other nicely, and you'll be surprised how creamy dreamy that icing stays.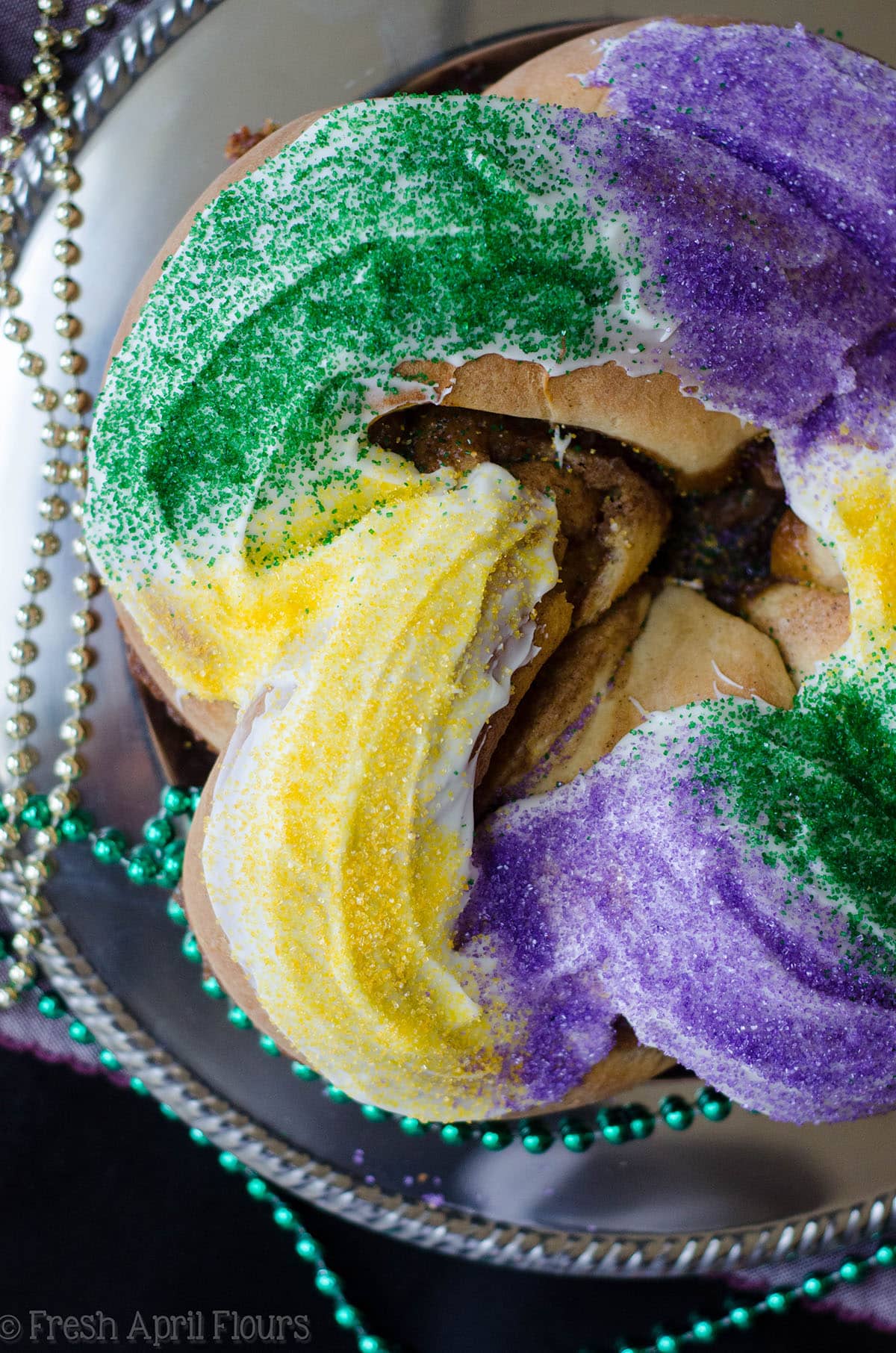 I should note that when you bake up your bread ring, there's a very good (like 100%) chance some of the cinnamon filling will spill out. This is completely ok. It will look like a mess and like you lost a ton of your filling, but you didn't.
Plus, it will harden on the underside of the cake and leave you with ultra crunchy pieces that are, in my opinion, the best part of the whole thing. So don't worry too much about seams sticking out.
Do you feel well-equipped to tackle your own king cake for Mardi Gras this year? I totally believe in you.
And if you're adding your king cake to Insta, don't forget to tag me (@freshaprilflours // #freshaprilflours) so I can see your creations!
Mardi Gras King Cake
This traditional Mardi Gras King cake is worlds better than anything you can buy at the grocery store. This simple spiced yeast dough gets filled with a cinnamon sugar filling, twisted into a ring, and adorned with colored sugar. Add a tiny plastic baby to pull the tradition full circle!
Ingredients
BREAD
¼

cup

(60mL) warm water

2 and ¼

teaspoon

(7g) active dry yeast

or 1 packet

½

cup

(120mL) warm milk

I prefer whole milk

⅓

cup

(67g) granulated sugar

¾

teaspoon

salt

½

cup

(113g) unsalted butter

melted

½

teaspoon

vanilla extract

½

teaspoon

ground cinnamon

2

large egg yolks

room temperature (reserve both whites, each in a separate bowl)

4

cups

(480g) bread flour1 be sure to measure properly
CINNAMON FILLING
1

cup

(200g) firmly packed brown sugar

¼

cup

(30g) all-purpose flour

2

teaspoons

ground cinnamon

⅛

teaspoon

salt

1

reserved egg white

2

Tablespoons

(28g) unsalted butter

melted and allowed to cool
ICING
2

cups

(240g) powdered sugar

3

Tablespoons

(45mL) milk or cream

½

teaspoon

vanilla extract
ADDITIONAL DECOR
sanding sugar or sprinkles in yellow, green, and purple
small plastic baby2
Instructions
BREAD
Sprinkle yeast over warm water. The best way to test the temperature of your water is to take it from the tap and run your wrist in the stream. If you can't feel the temperature of the water, it's perfect. Stir yeast in with a fork until it is dissolved and set aside.

In a large mixing bowl with a wooden spoon, blend the milk, sugar, salt, vanilla extract, and cinnamon. Stir in the butter, 2 egg yolks, and yeast mixture.

Gradually stir in flour. If using a stand mixer, use your dough hook. If mixing by hand, continue to use a wooden spoon. Add bread flour until your dough is soft enough to handle, usually when it can easily pull away from the sides of your bowl.

Turn out dough on a lightly floured surface and knead until smooth and elastic. You may need to add the last cup or so of bread flour by hand. Your dough should feel like PlayDoh to the touch and "snap" when you pull it apart.

Place in a warm, greased bowl, turning the dough to coat the top. Cover with a towel and allow to double in size, about 2 hours.

After dough has doubled, punch down dough and turn out onto a floured surface, then make the cinnamon filling.
CINNAMON FILLING
In a medium size bowl, whisk together brown sugar, flour, cinnamon, and salt.

Add one reserved egg white and the butter and stir until everything is combined.
ASSEMBLE THE DOUGH
Line a baking sheet with parchment paper or a silicone baking mat. Set aside.

Roll out the dough onto a surface safe for cutting into a 14″ by 18″. Using a sharp knife or pizza cutter, cut the rectangle in half long ways so you now have two long rectangles of dough, approximately 7″ by 18″.

Using a spatula, spread the filling evenly over each rectangle of dough, leaving about a 1″ border around the edges.

Working from the long side, roll each rectangle of dough into a tight log. Gently roll the logs back and forth until they are about 20″ long.

Transfer the logs to the prepared pan. Pinch one end of each log together and alternate the logs over and under each other (similar to a braid) to form a twisted loaf of bread. Connect the starting and ending pieces together and form the logs into a circle.

Cover with a towel and allow to rest and rise again for 1 hour.

When you are ready to bake the bread, preheat the oven to 350ºF (177ºC).

Bake the bread for 38-42 minutes. The loaf is done when it produces a hollow sound when you tap on it. Allow to cool completely on the baking sheet before decorating.
ICING
In a medium size bowl, mix together the powdered sugar, cream or milk, and vanilla extract. Stir until everything is combined. Mixture will be thick. If you want it thinner, add more liquid ½ Tablespoon at a time until you reach desired consistency.

Spread icing over cooled bread and decorate with sanding sugar or sprinkles. Insert baby from the underside of the bread for someone to find! Bread stays fresh covered at room temperature up to 5 days or in the refrigerator up to 1 week. Un-iced bread freezes well, up to 2 months. Thaw at room temperature before decorating and serving.
Notes
Bread flour: you can use all-purpose flour here, but I find the softest texture with bread flour.
Baby: here you can find a plastic baby in the skin color of your choice.