Bacon Wrapped Dates with Goat Cheese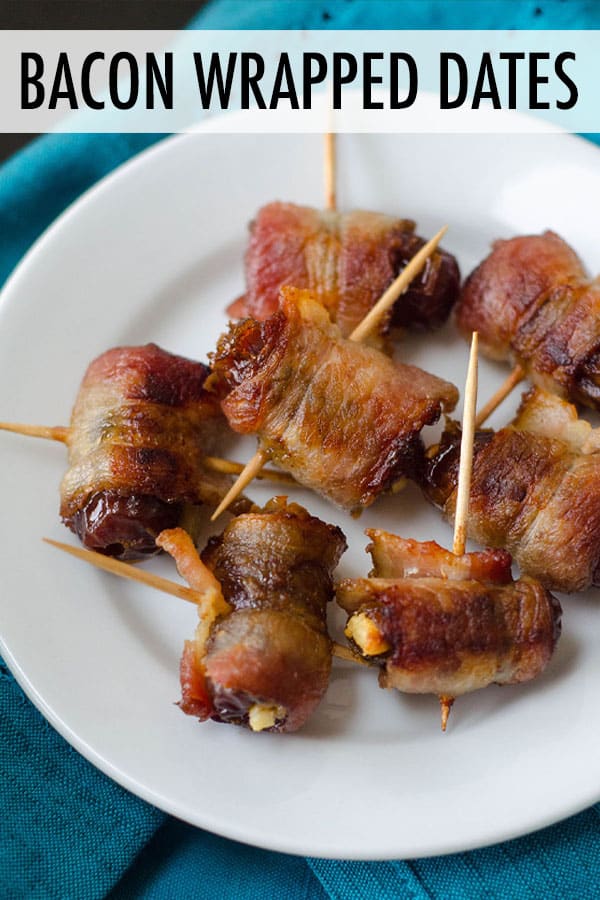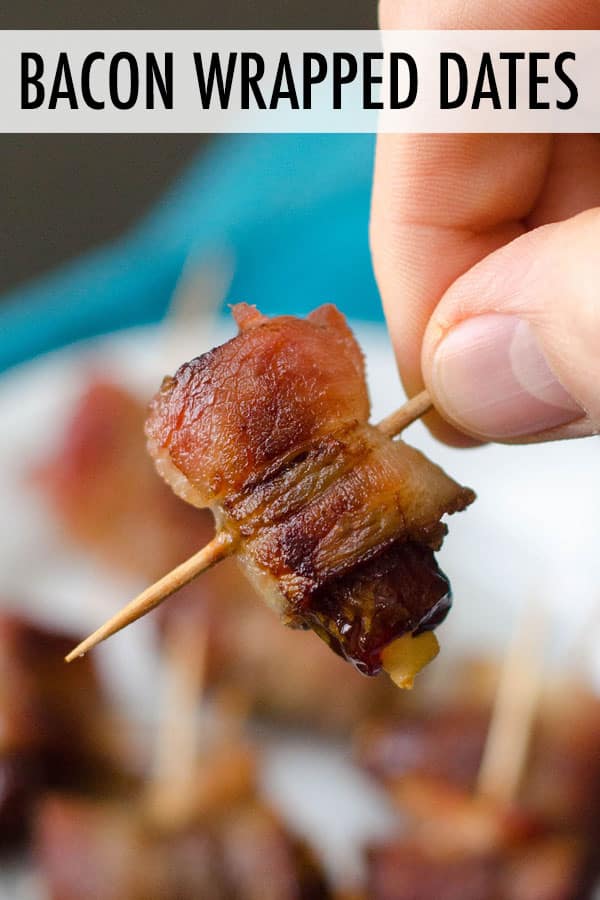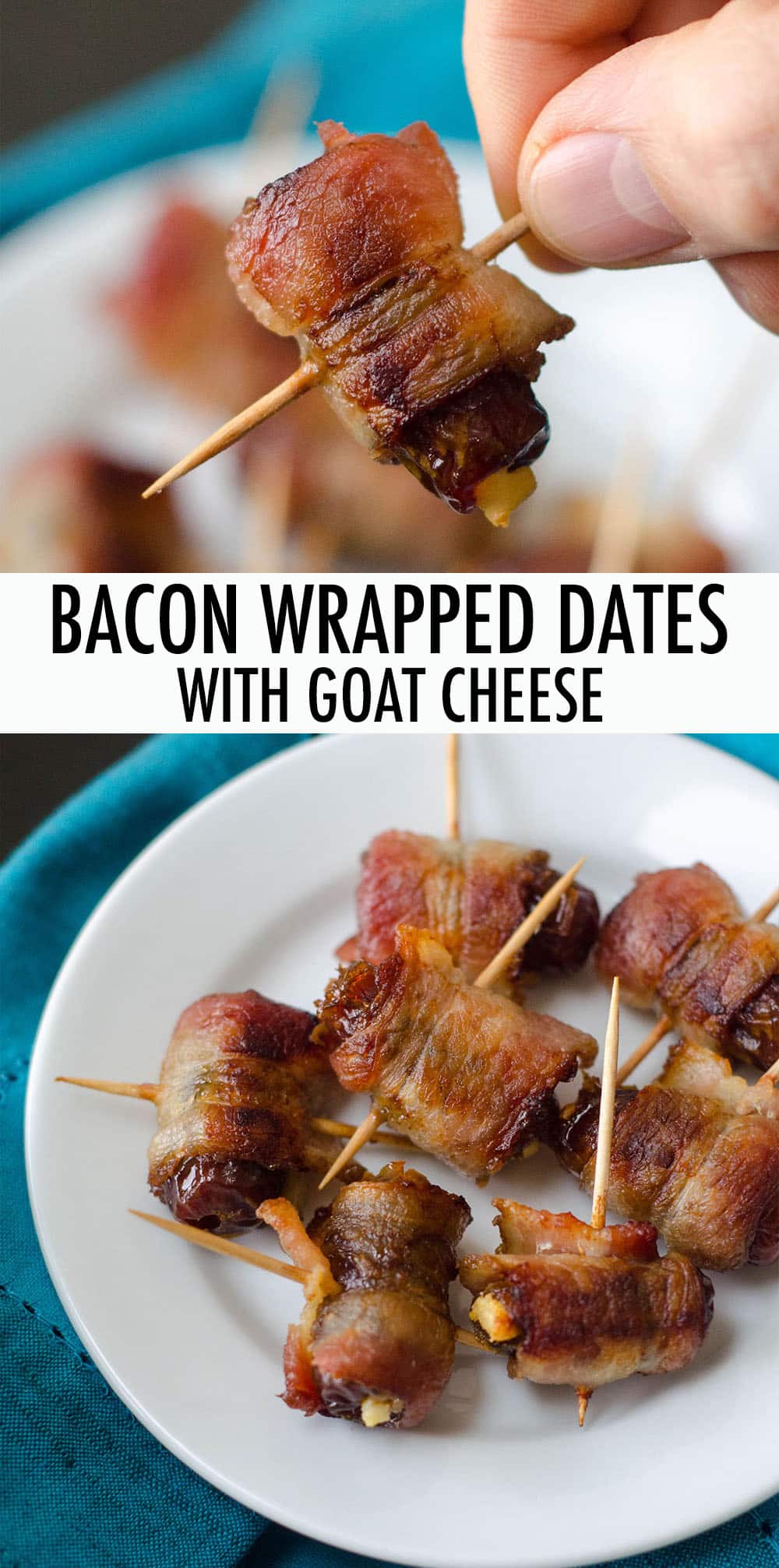 As an Amazon Associate, I earn from qualifying purchases. Read the full disclosure here.
A simple 3-ingredient appetizer that's sure to become a favorite at your next gathering!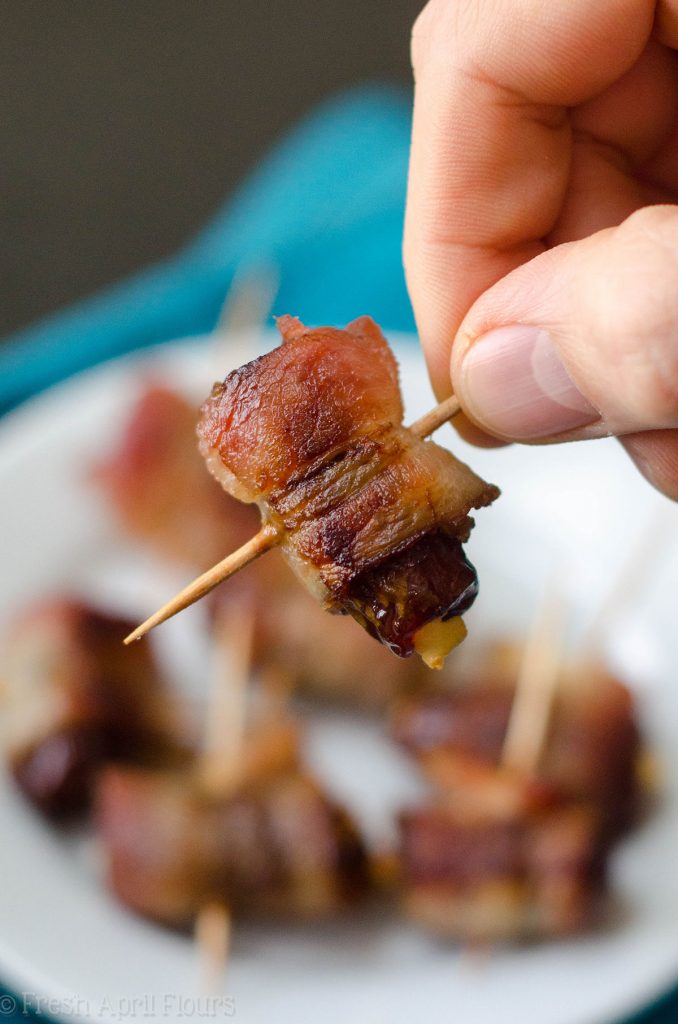 I'm going to be up front in saying… Will you still help me swoon over this recipe, despite it being one of the ugliest things I've ever had to photograph??
YIKES.
But for real, sometimes the hardest part of this job is making absolutely delicious food LOOK as pretty in pictures as it tastes.
Some foods do the legwork for me, like pretty much anything involving sprinkles, or cookies with all kinds of textures and depth. But these bacon wrapped dates made my job a tiny bit difficult, because, well…
They're just not beautiful by any definition of the word.
Deliciously jam-packed with flavor? Absolutely. But nice to look at? No way.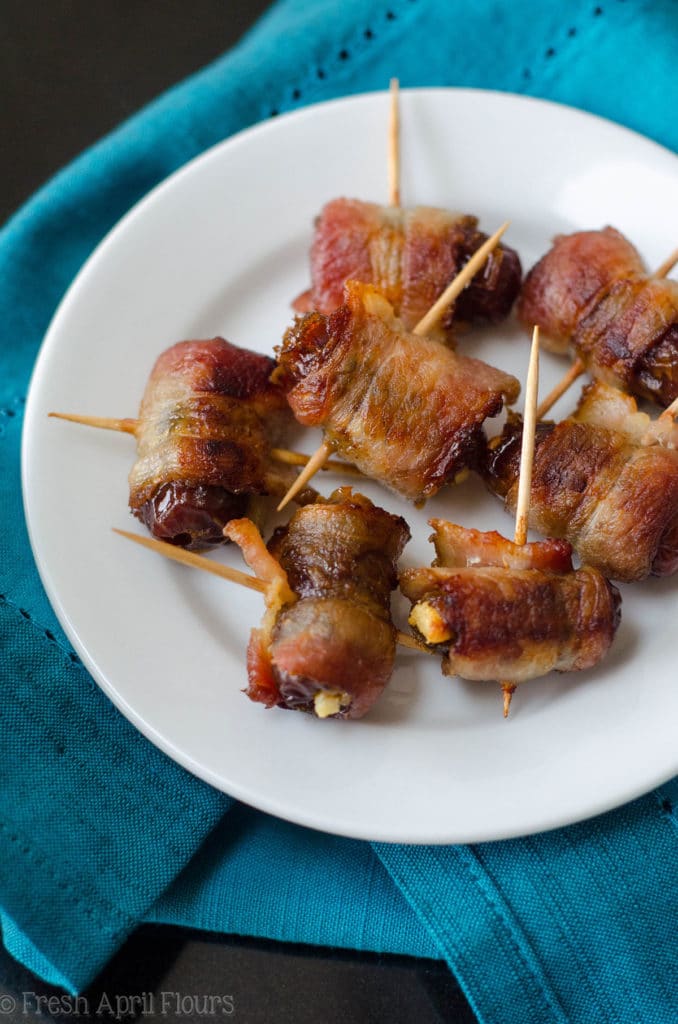 I found 7 of them that were worth photographing, and the recipe made 36. That's a terribly low fraction.
But alas, today is all about love and sharing the joy of food with someone you love, and I've got a few other bloggers around the blogosphere helping me do that today.
Welcome to our virtual dinner party for 2!
Laura brought the cocktail: a strawberry gin (!!!) spritzer!
I brought the app!
Julie brought the main course: balsamic mushroom pork chops with truffle risotto!
And Jennifer brought the dessert: vanilla panna cotta with white wine sauce!
Quite a lovely little collection we have going on here today, but let's chat about these goat cheese stuffed dates that are all wrapped up in a beautiful blanket of BACON.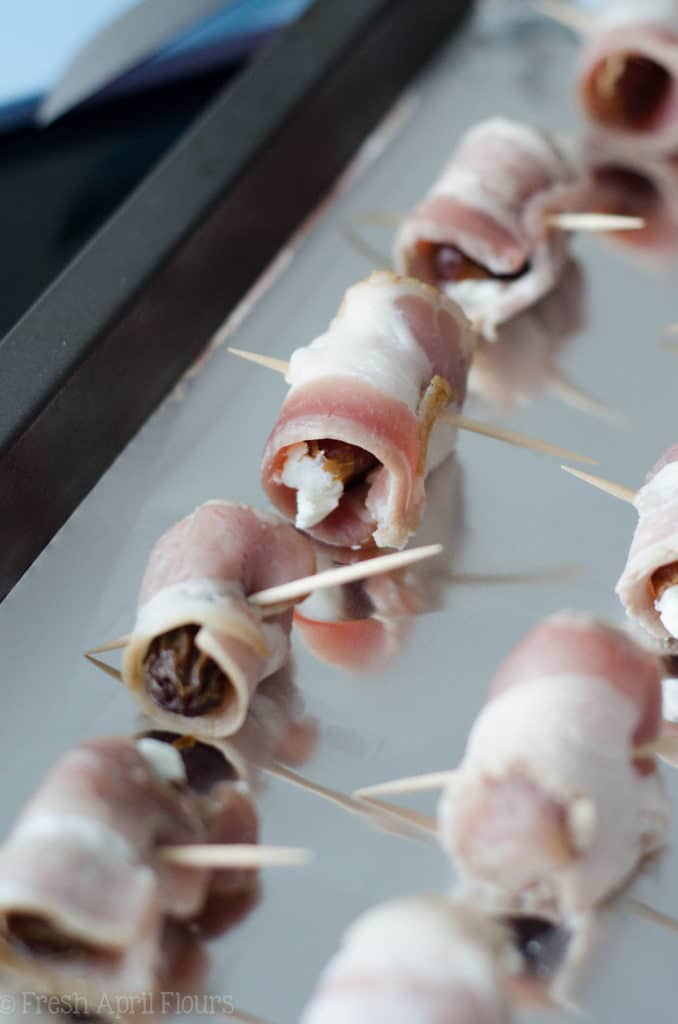 I got this recipe from a woman named Daria. She's a member at my husband Matt's gym.
She brought these dates to a gym gathering last year and after one taste, she was my favorite person ever. She is so amazing, actually, that she dropped off a small batch on our porch a couple weeks ago.
Like… FIND PEOPLE WHO DO THAT FOR YOU AND KEEP THEM FOREVER.
So I'm here today sharing Daria's recipe, with a little twist to make them crazy easy.
USE A PIPING TIP TO MAKE FILLING DATES EVEN EASIER
First of all, these are insanely simple. But I've simplified the method even MORE with a little help from my Wilton #230 tip, which is actually a croquette/cream puff filling tip.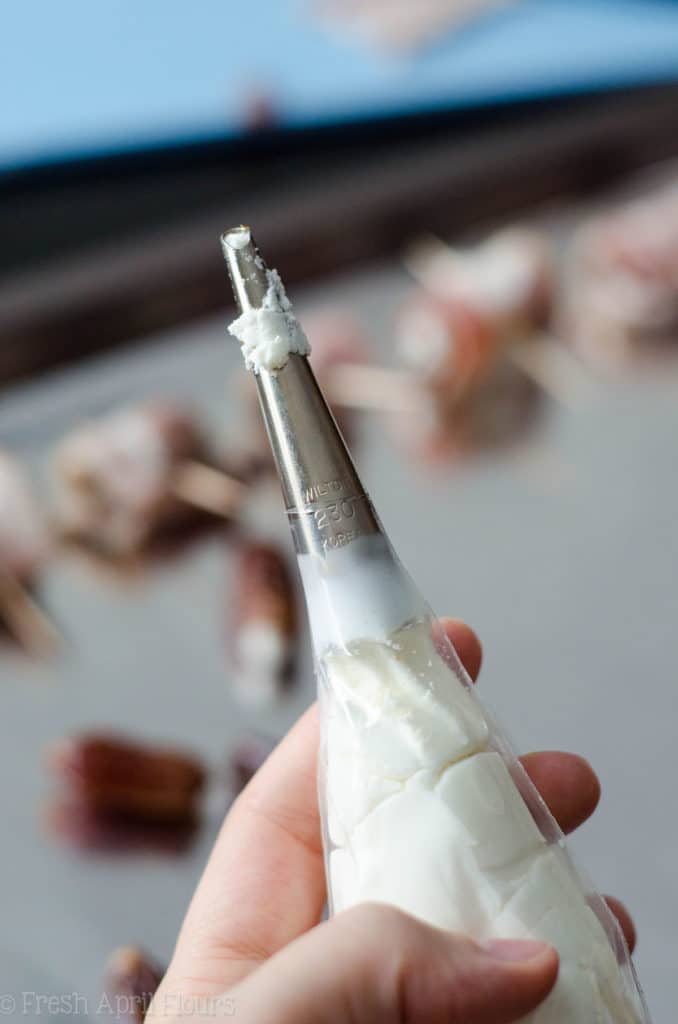 Friends, this tip made filling the dates a BREEEEEEZE! I just popped it into my piping bag and filled my pitted dates right up.
If you're going to use dates with the pits in them and you decide to pit them yourself, this step will take longer. You'll have to cut the dates and pull the pit out, and you'll be left with a sliced date that you can either stuff with goat cheese using a spoon, OR you can still use this fancy little tip.
Always use the method that makes your life easier… Ok? This tip is gold here.
Just make sure you put the tip in to both sides of the date to ensure you're getting goat cheese into the entire date.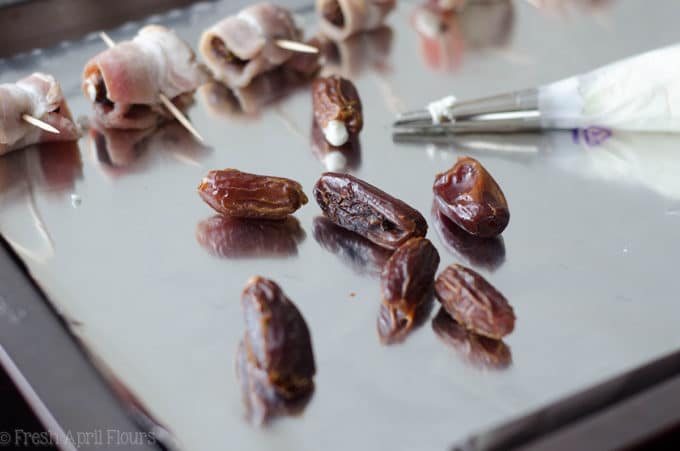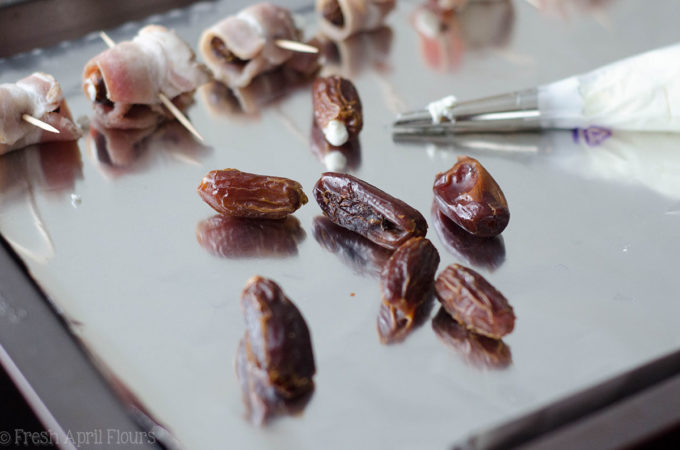 The bake time on these cuties is about 20 minutes total, though you may want to keep them in longer or shorter than that based on the way you like your bacon.
I browned mine an additional 2-3 minutes per side after they were done because we like crispy bacon in our house. Just watch the dates closely so you don't burn them!
CAN BE PALEO IF YOU USE GRASS-FED GOAT CHEESE
These bacon wrapped dates with goat cheese are a lovely appetizer. They're different, they don't require any utensils, and a little bird (Daria) told me she put a few on a salad with some chicken and a balsamic dressing and it sounds like I need that in my life ASAP.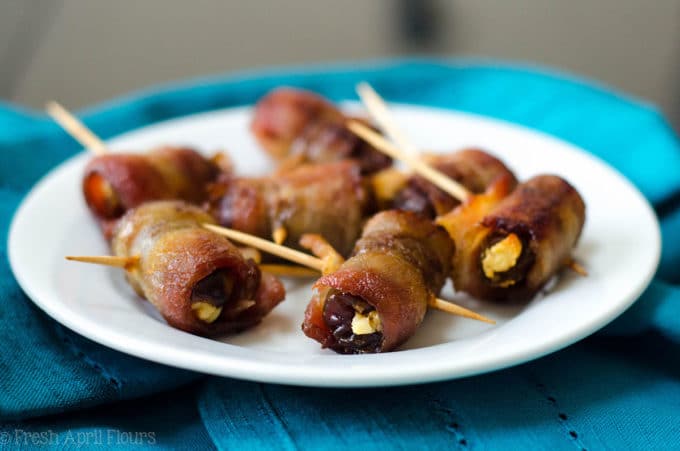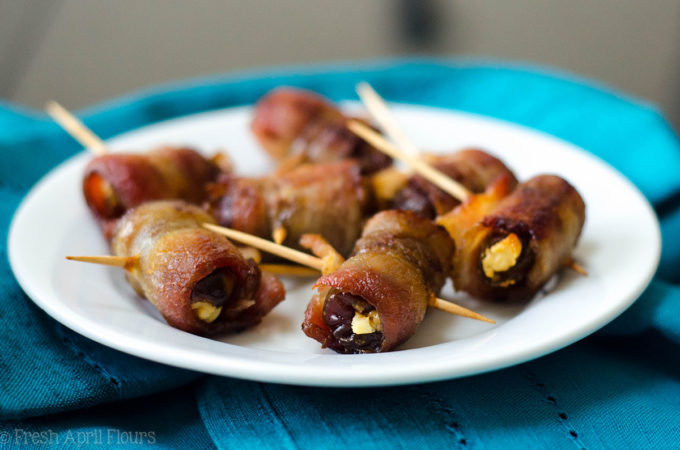 If you're looking for an app that's easy peasy and will add a nice little "fancyish" touch to your Valentine's Day dinner with your sweetie, consider these sweet, savory, and creamy dates! You certainly won't regret it and I imagine your sweetie will be wanting to keep you around forever too.
Bacon Wrapped Dates with Goat Cheese
A simple 3-ingredient appetizer that's sure to become a favorite at your next gathering!
Ingredients
1-8

ounce

package pitted dates*

4

ounces

goat cheese

room temperature

1-12

ounce

package of bacon

NOT thick cut
Instructions
Preheat the oven to 350ºF. Line a large baking sheet with parchment paper or foil. Set aside.

Line a plate with paper towels. Set aside.

Cut bacon slices into thirds. Set aside.

Using a piping bag fitted with a

coquette tip

, insert the tip into the hold on one end of each pitted date, filling with goat cheese. You may want to insert the tip into the opposite side to ensure full filling. Alternatively, cut each date in half lengthwise to create an opening (if using pit-in dates, remove the pit and discard), and pipe or spoon goat cheese into the center of the date. Set aside.

When all of the dates are filled, wrap each date in bacon and secure with a toothpick through the entire date.

Place finished dates on prepared baking sheet. Bake dates for 10 minutes, remove from oven, and, using the toothpicks as a handle, flip the dates to cook the other side of the bacon. Bake dates an additional 8 to 10 minutes or until bacon is browned to your liking. Remove from the oven and place finished dates on the prepared paper towel lined plate. Store leftovers covered tightly in the refrigerator up to 5 days. Remove toothpick and reheat in microwave or leave the toothpick in and broil for a couple minutes in oven or toaster oven.
Notes
*If using pit-in dates, remove pits when you slice the dates in half.
Nutrition Disclosure
All nutritional values are approximate and provided to the reader as a courtesy. Changing ingredients and/or quantities will alter the estimated nutritional calculations.
Love goat cheese? Try my truffle goat cheese risotto next.