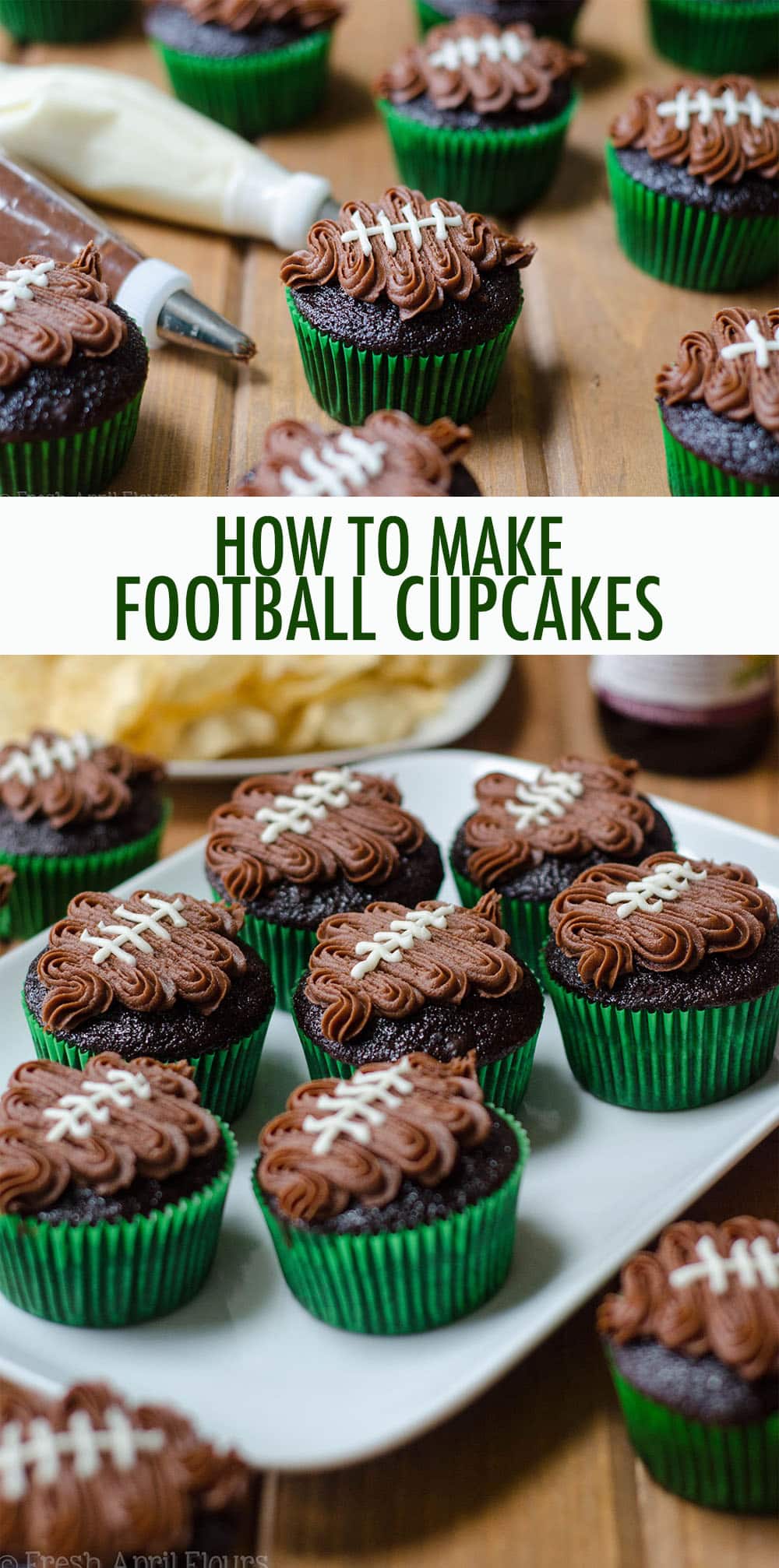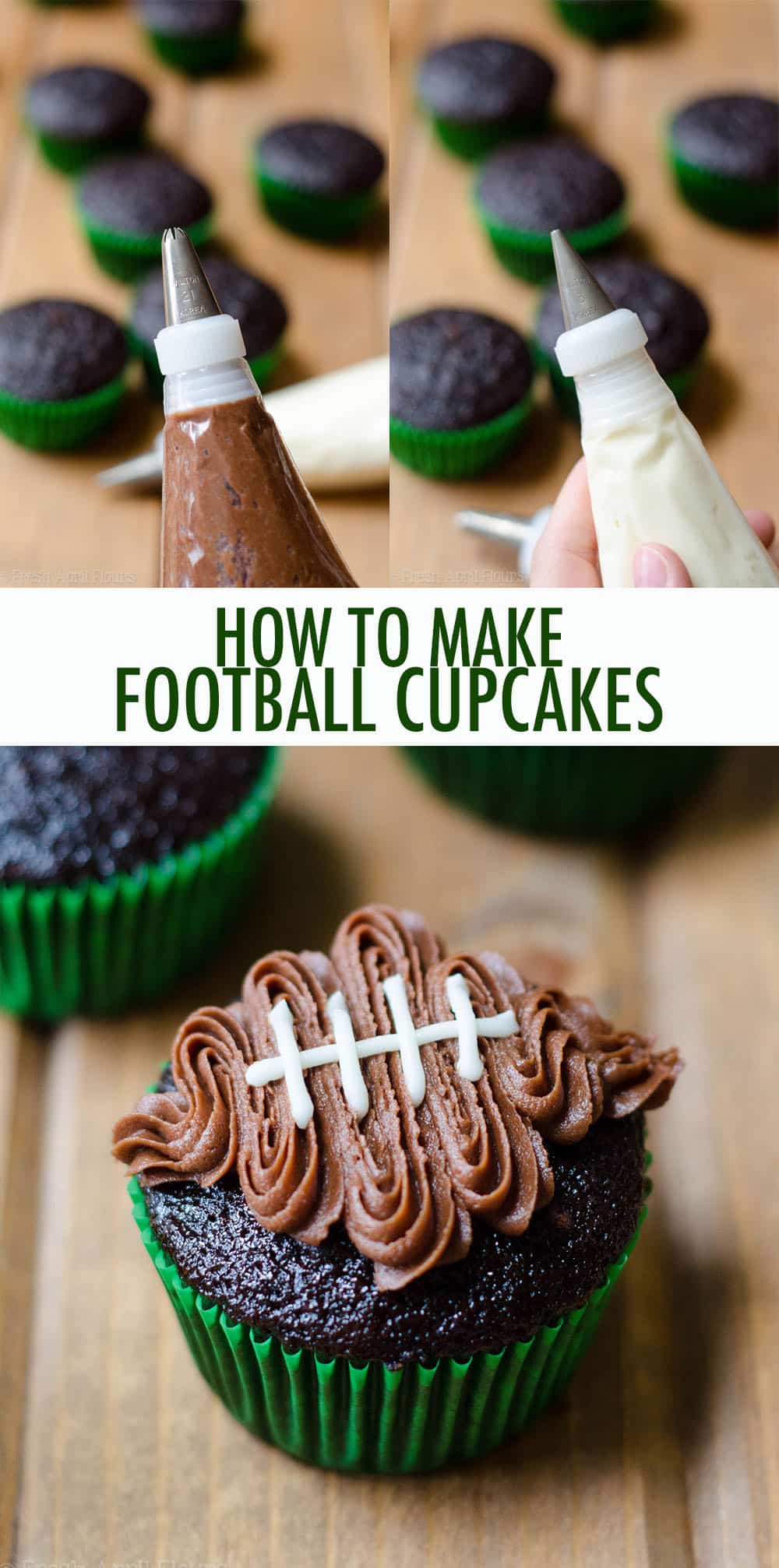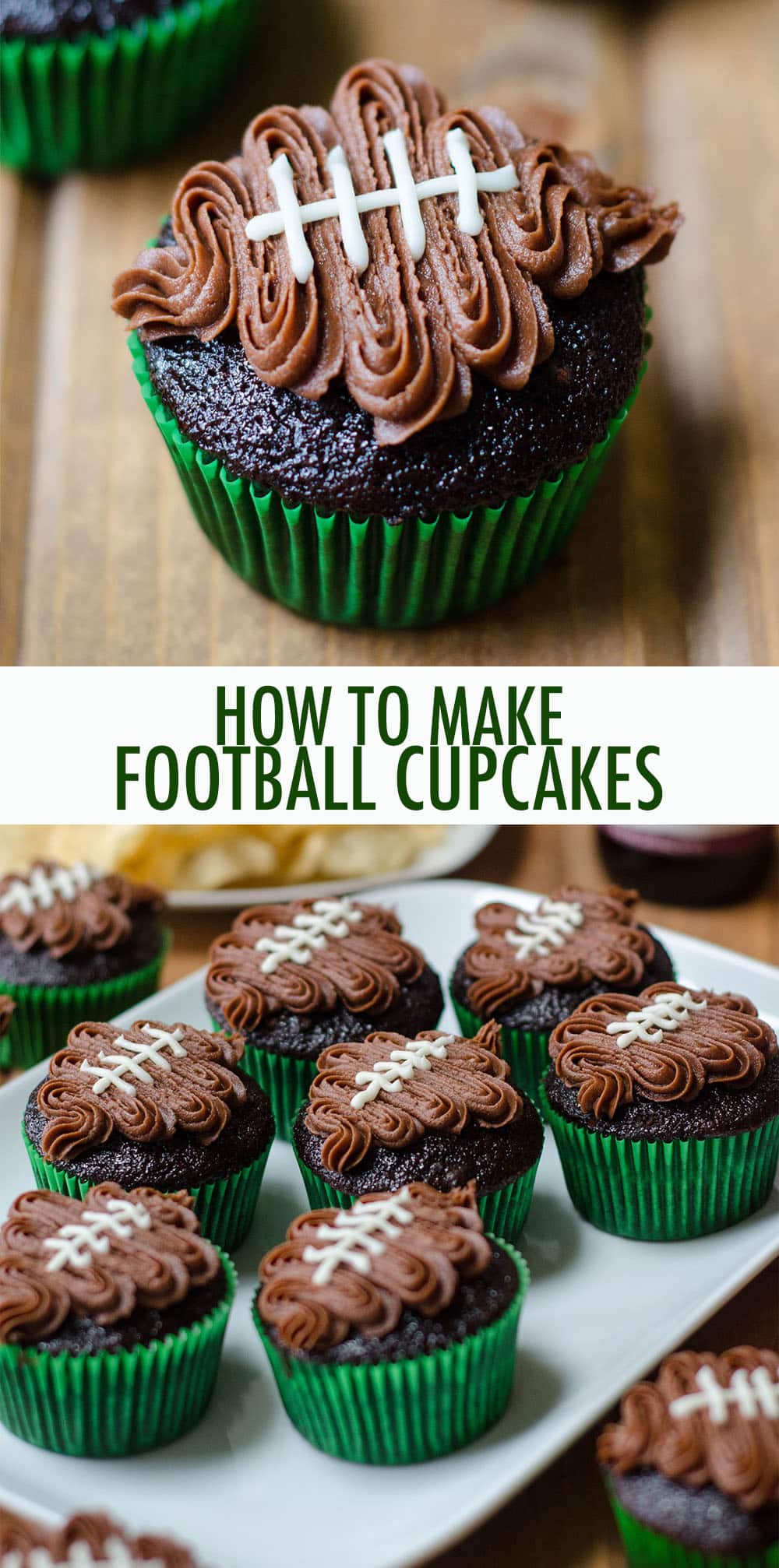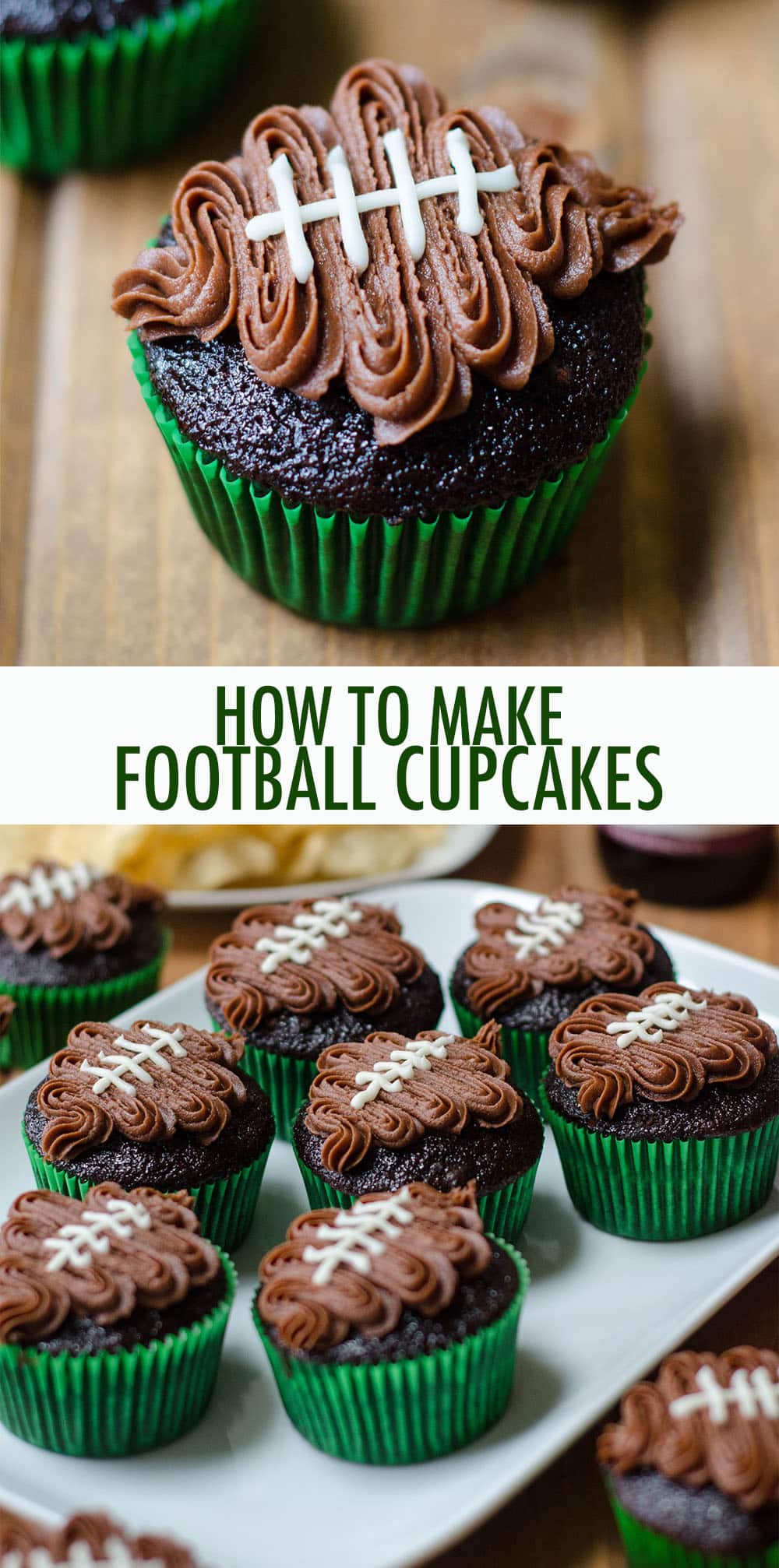 As an Amazon Associate, I earn from qualifying purchases. Read the full disclosure here.
Turn any batch of cupcakes into adorable football cupcakes with this easy tutorial and video. It's a touchdown every time!
It's that time of year again when anything you turn into a football tastes a million times better. Right? It's totally logical– brownies into mini footballs are exponentially tastier than their plain square counterpart.
The truth is, these easy football cupcakes have lived on my website since just before the Super Bowl in 2019, and every year, without fail, they see a giant spike in traffic Super Bowl weekend.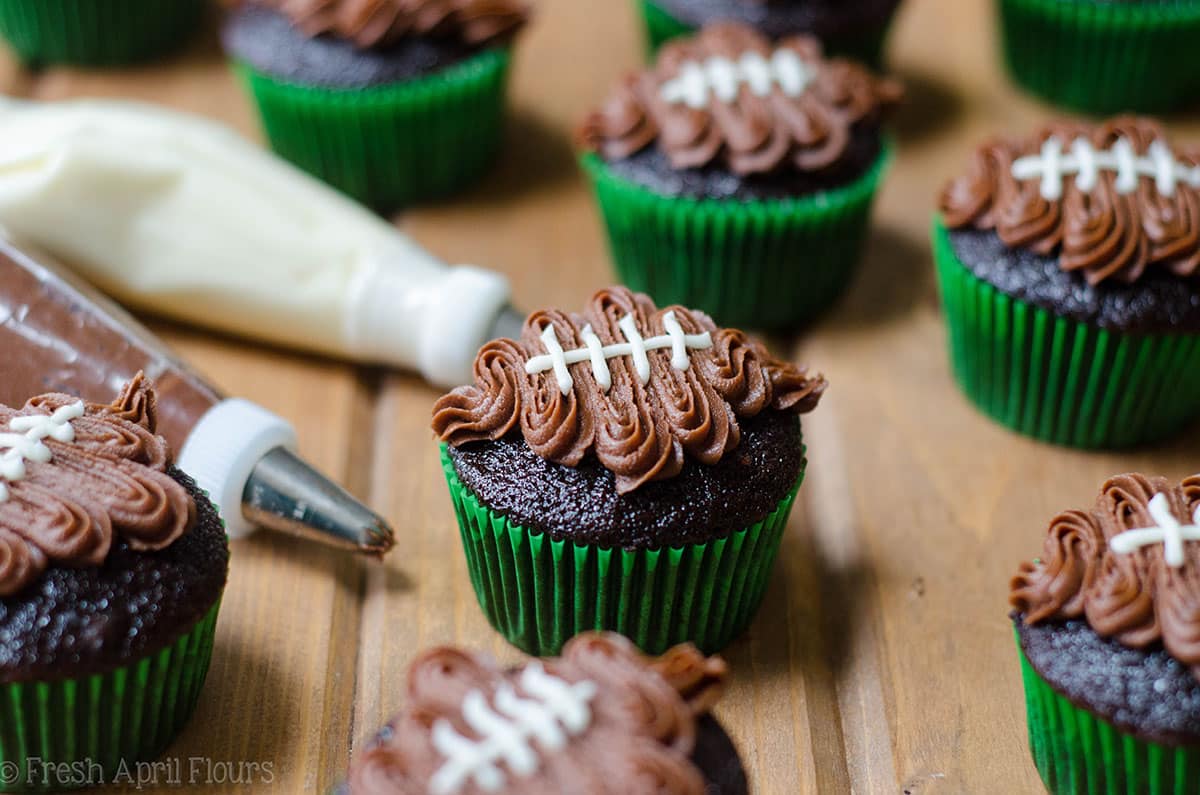 They also see some action every fall throughout the start of football season, because it's no surprise folks are looking for fun football cupcake ideas to eat while cheering on their team (or, you know, just because it's fun to watch no matter if you have a team or not).
In fact, I'm pretty sure you send your team more good juju when you're munching on chocolate football cupcakes. I'm a (former) scientist. I trust it.
INGREDIENTS
To be perfectly honest, you can use literally any cupcake recipe your football-loving heart desires, so your ingredient list will vary depending on what you choose.
This particular cupcake recipe is my go-to chocolate cupcake recipe (which is the base for my mint chocolate chip cupcakes just without the chocolate chips).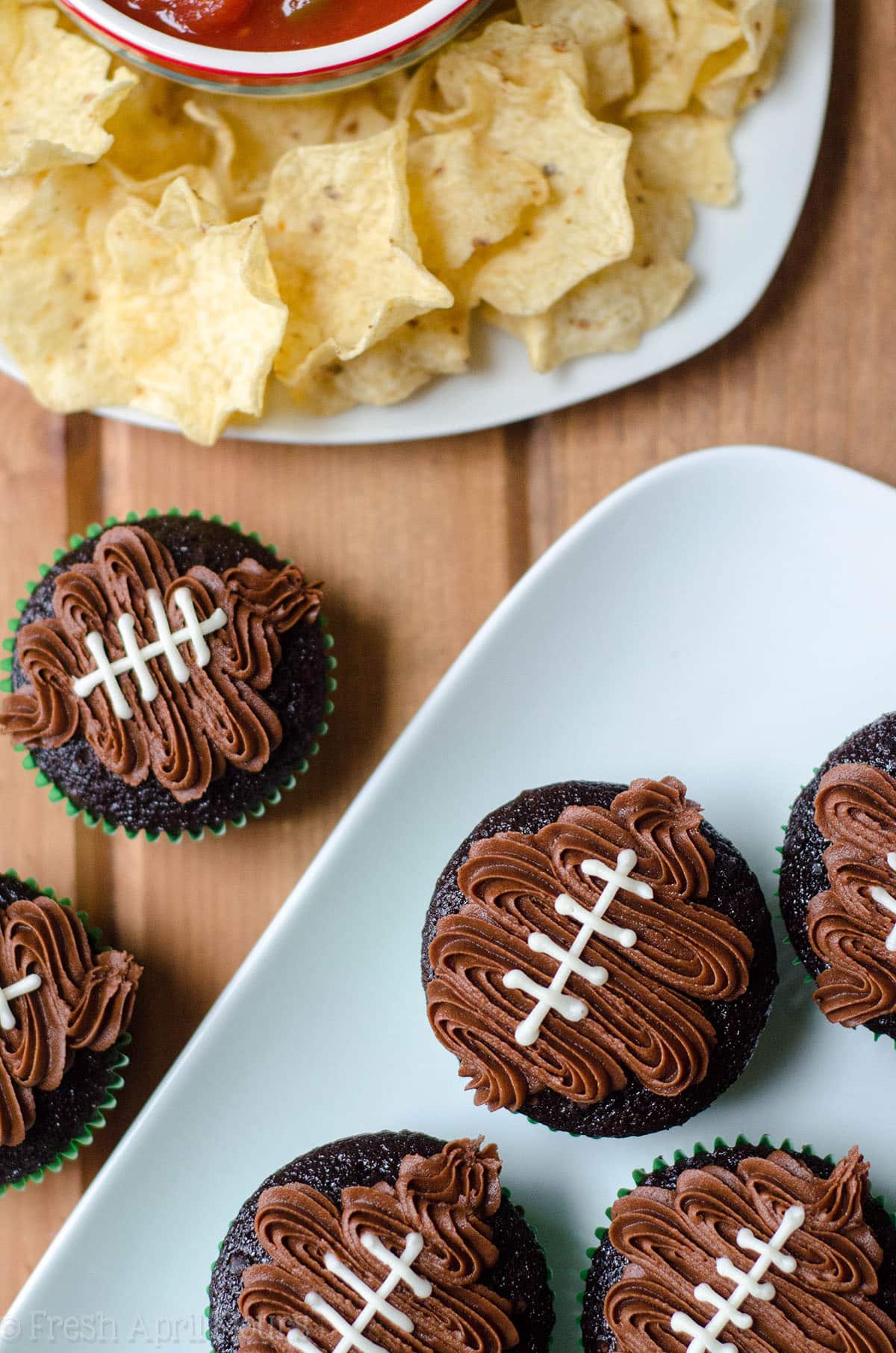 CUPCAKE RECIPE
Check out any of my various cupcake recipes to choose which one you'd like to go with.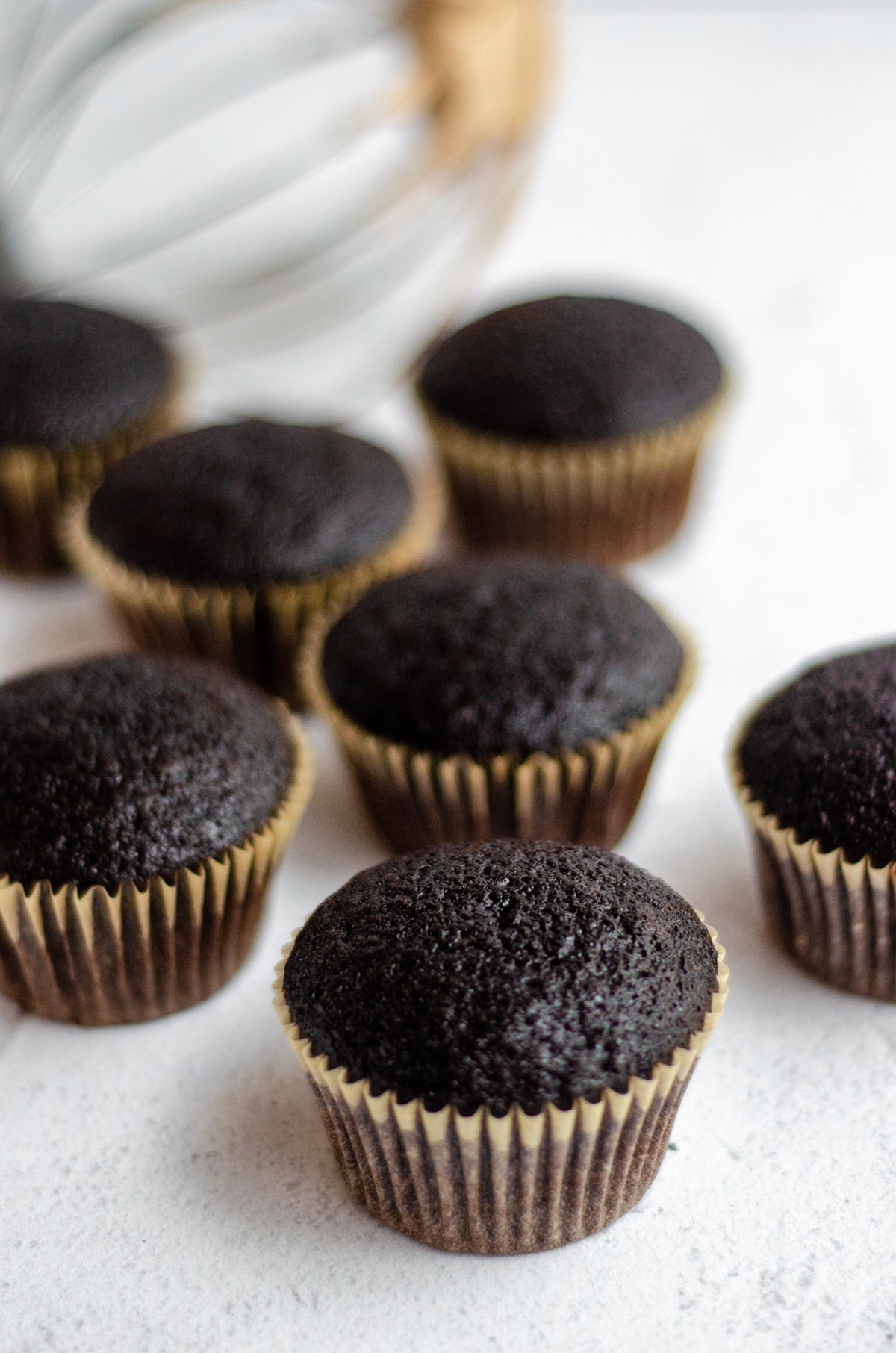 Or if you're here with your own cupcake recipe and just looking for how to make football cupcakes, go ahead and skip that part and just get to decorating!
FROSTING RECIPE
It's more likely you're here looking for how to get that cute football design on top of your cupcakes, so let's talk about the two different frostings you will need to get that done.
Don't worry, lots of options here and in the recipe card, so if you don't want to make everything from scratch, you don't have to!
CHOCOLATE FUDGE FROSTING
The chocolate fudge frosting I use for my Super Bowl cupcakes is one that is all over my site. I originally used it in my chocolate chip cookie cake and then on my triple chocolate cookie cake, and it has since made its way into so many recipes around here, because it's GOOD.
If you don't want to make your chocolate frosting from scratch, you don't have to. Something from the can at the grocery store will work just fine! Just be sure you adjust the texture if it's giving you trouble when you try to pipe it.
VANILLA BUTTERCREAM
The vanilla buttercream recipe is one that's in, like, a million places around my site. It was first shared with my chocolate layer cake recipe, and it is my go-to whenever I need a basic vanilla frosting (helloooo, frosted sugar cookies!).
For these football laces, we're just using ¼ of the recipe, so it's scaled way down.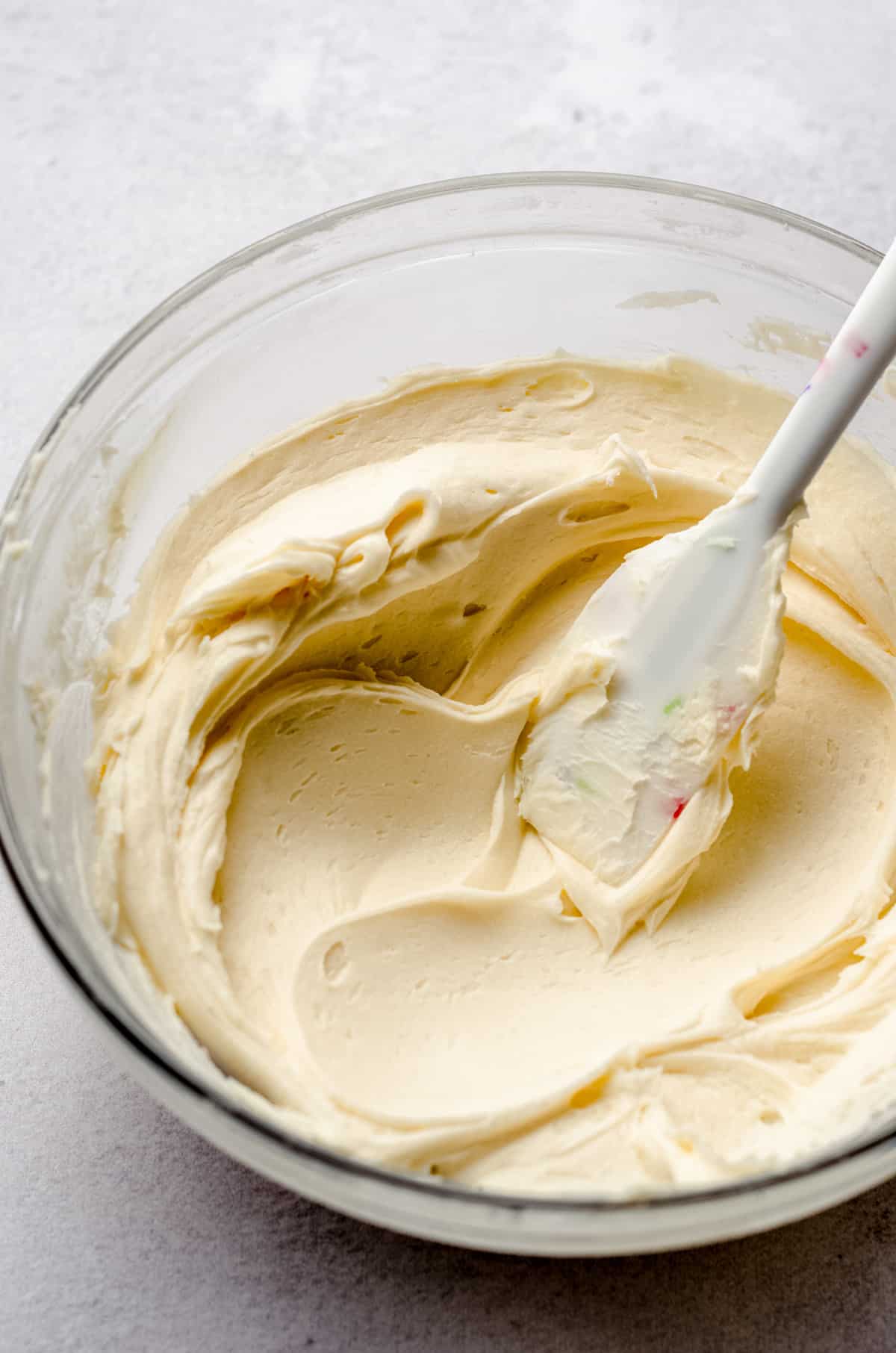 You can also use my easy royal icing recipe, if you're looking for something that doesn't use any butter, or just want something that's going to harden a bit more than traditional vanilla buttercream would.
Again, store-bought is fine. You do you, cupcake friend.
HOW TO MAKE THESE EASY FOOTBALL CUPCAKES
While I have directions and instructions for how exactly to do this little football design, the easiest way to learn how to do it is might just be to watch the video.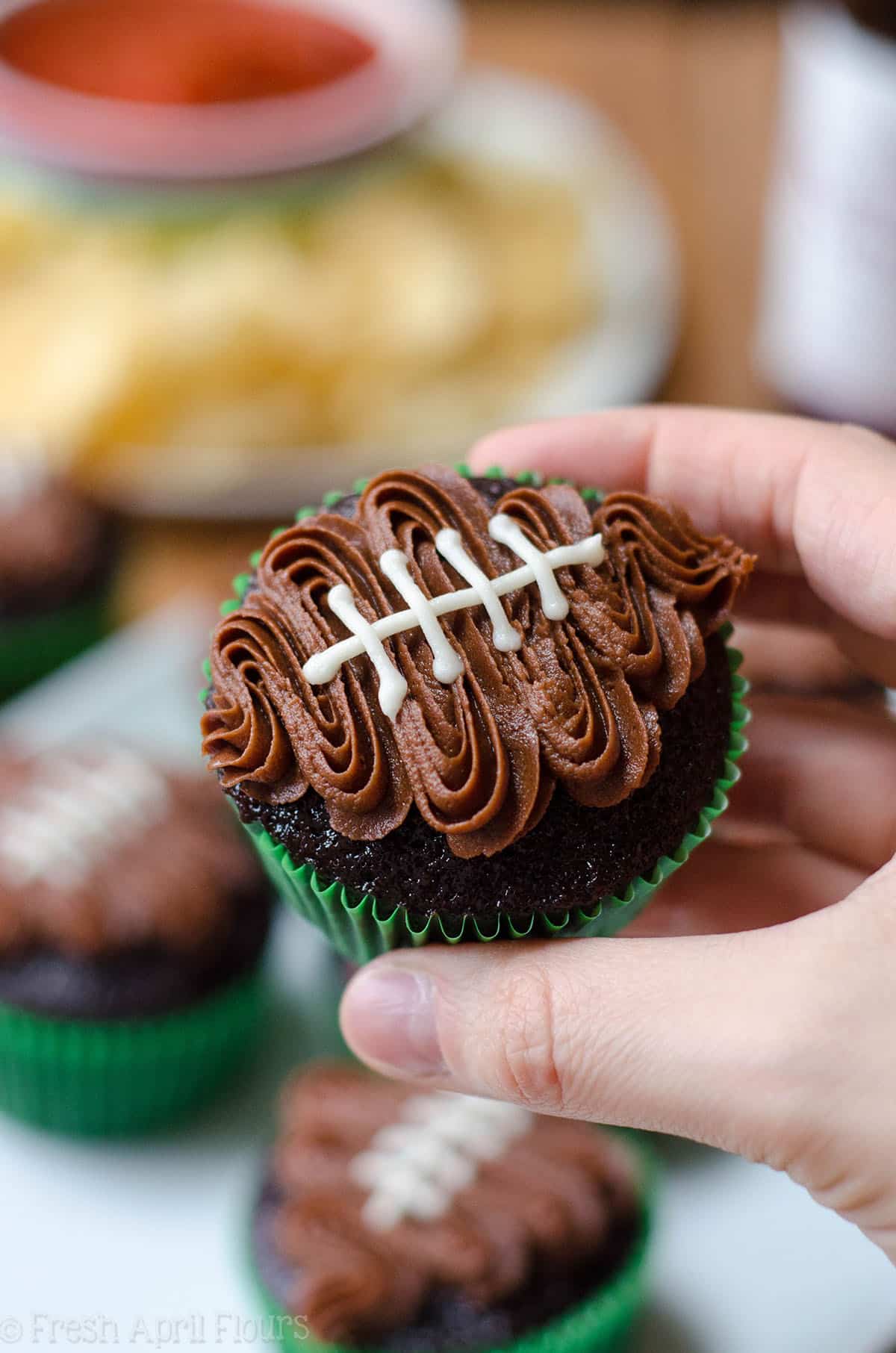 Be sure to check that recipe video in the recipe card below if you need a visual!
You're essentially making a squiggle with purpose. And the lines are as simple as a straight line and then a few lines overtop of it in the opposite direction.
Seriously, it could not be simpler to make Superbowl cupcakes, you're going to laugh at how easy it is once you do it.
EQUIPMENT FOR FOOTBALL CUPCAKES
The only "special" equipment you'll need are two specific icing tips.
Wilton #21 star tip (or an equivalent) will get you the football and a Wilton #3 (or an equivalent) will get you the football laces.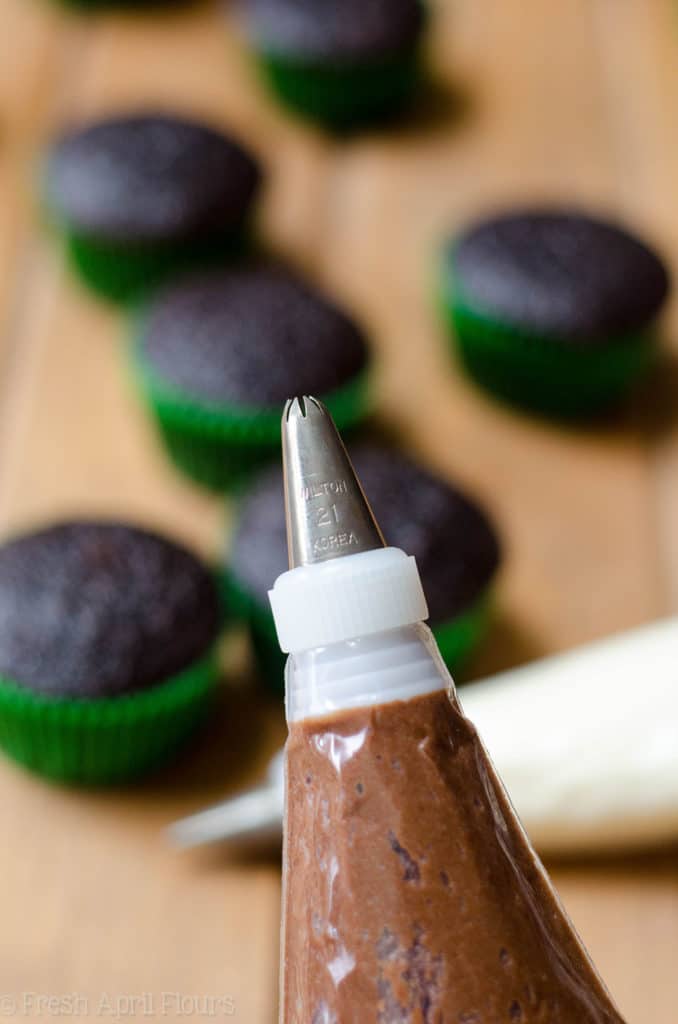 As I mentioned, you can really use any cupcake recipe you'd like, but the chocolate fudge frosting on top is the kicker (HA! I didn't even try that!), so try to pick a cupcake base that will go well with chocolate.
You might even consider making my homemade funfetti cupcakes and using your team's colors in place of the rainbow sprinkles. Any cupcakes will do. And a green cupcake liner seals the deal and just brings it all together with some grass-like representation happening.
Try these football cupcakes out! They're a perfect complement to a Super Bowl spread and they will be the hit of any dessert table. They're definitely the epitome of "Super Bowl cupcakes" if I've ever seen some!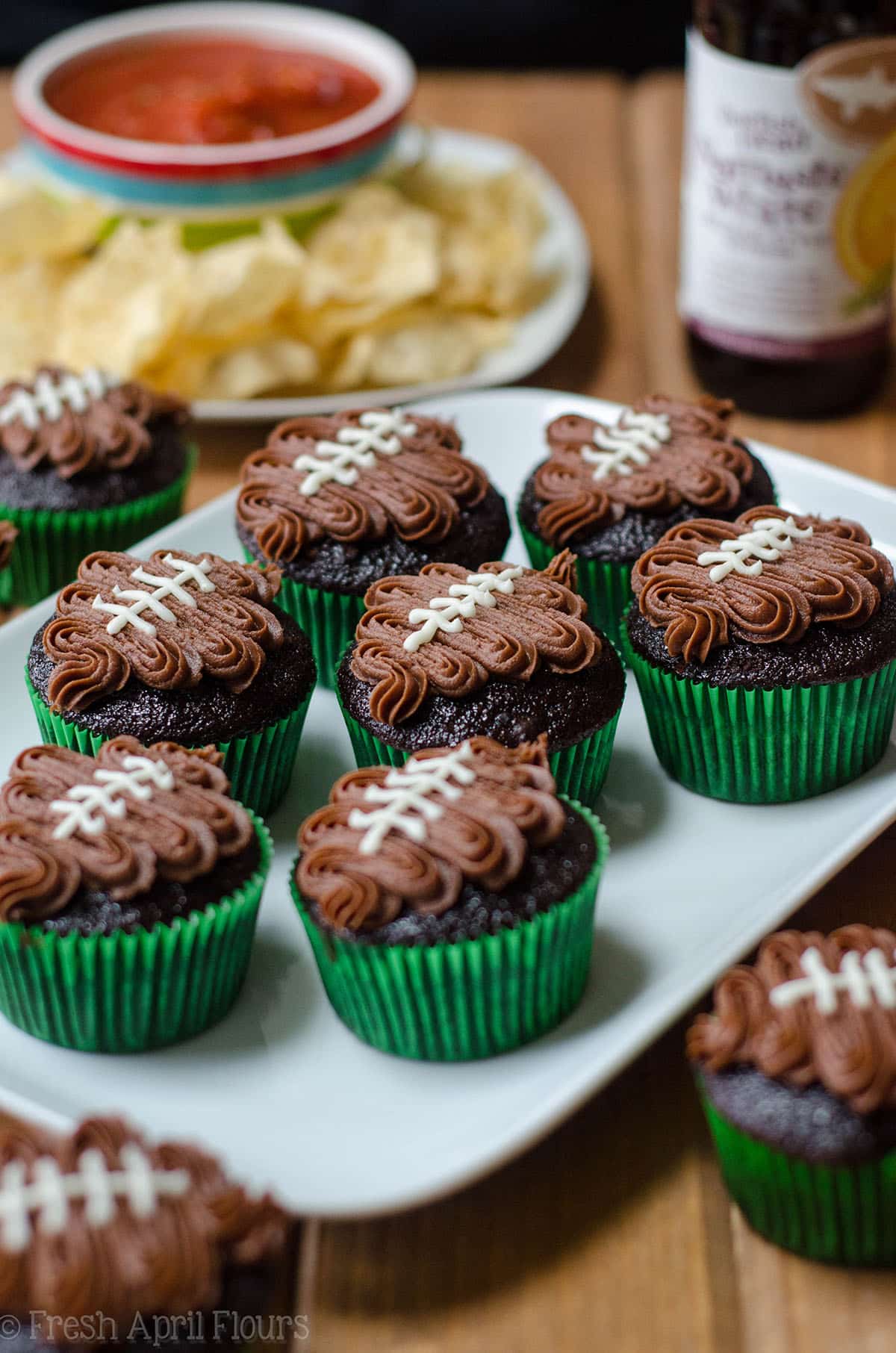 They are so freaking adorable I can't even stand it. CAN YOU? I can't wait to see your footballs!
Looking for more Super Bowl (or just football) desserts? Check any of these touchdown recipes: game day football brownie bites, cake batter dip (change the color to match your team!), chocolate chip cookie dough dip, or classic fruit dip.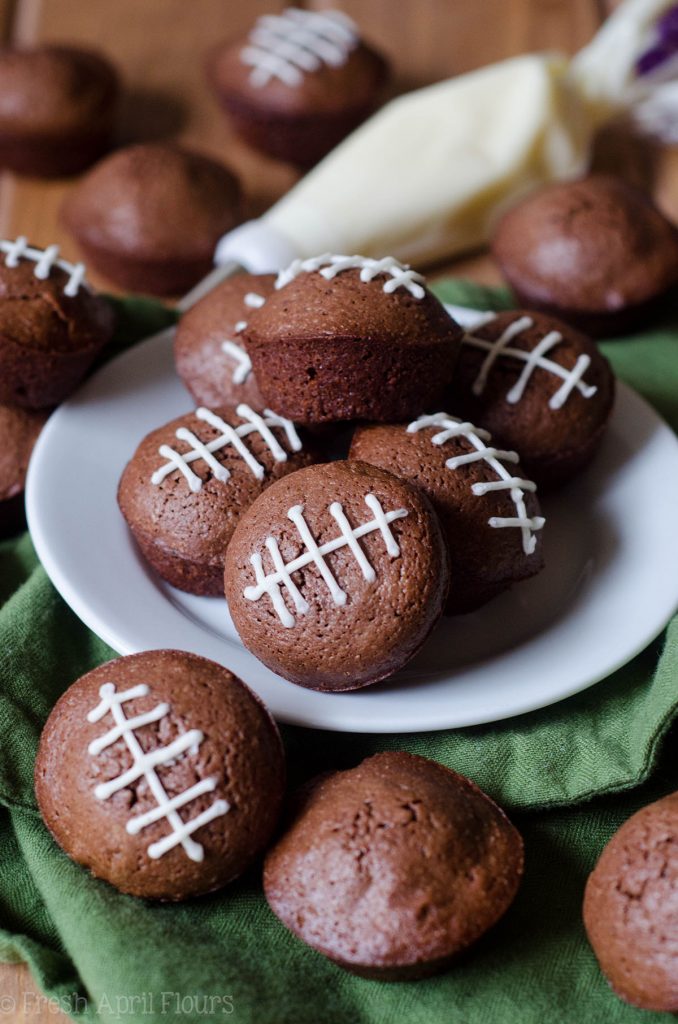 Football Cupcakes
Turn any batch of cupcakes into adorable football cupcakes with this easy tutorial and video. It's a touchdown every time!
Ingredients
DARK CHOCOLATE CUPCAKES
1

cup

(200g) granulated sugar

1

cup

(200g) packed light brown sugar

2

cups

(240g) all-purpose flour be sure to measure properly

¾

cup

(72g) Dutch processed cocoa powder

2

teaspoons

baking powder

½

teaspoon

baking soda

1

teaspoon

salt

4

large eggs

½

cup

(109mL) vegetable oil

2

teaspoons

vanilla extract

1

cup

(240mL) coffee + water to 1 and ¼ cup (300ml) liquid
you may also use any cupcake recipe you like see all of my cupcake recipes
CHOCOLATE FUDGE FOOTBALL FROSTING
2

ounces

(58g) unsweetened baking chocolate

coarsely chopped

¼

cup

(57g) unsalted butter

1

teaspoon

vanilla extract

3-4

Tablespoons

(45-60mL) milk or cream

2

cups

(240g) powdered sugar

pinch

of salt
VANILLA BUTTERCREAM LACES
2

Tablespoons

(29g) unsalted butter

softened to room temperature

½

cup

(60g) powdered sugar

½

Tablespoon

(8mL) milk or cream
DECORATING TOOLS
Instructions
DARK CHOCOLATE CUPCAKES
Preheat the oven to 350ºF (177ºC). Line the wells of two 12 count cupcake pan with cupcake liners. Set aside.

In a large bowl, whisk together the granulated sugar, brown sugar, flour, cocoa powder, baking powder, baking soda, and salt. Set aside.

In a small bowl, whisk together the eggs, vegetable oil, and vanilla extract until completely combined. Pour the wet ingredients into the dry ingredients, add the coffee, and whisk or stir the batter until everything is combined.

Spoon batter evenly into the cupcake liners filling ½ to ⅔ of the way full (I like to use an ice cream scoop with a trigger– one scoop full). Bake for 13-14 minutes or until a toothpick inserted in the center comes out clean. Allow to cool in the pan for a few minutes, then transfer to a wire cooling rack to cool completely.
CHOCOLATE FUDGE FOOTBALL FROSTING
In a small saucepan over medium heat, melt the unsweetened baking chocolate and the butter. Allow to cool for 15 minutes.

In a medium bowl with a handheld mixer or the bowl of a stand mixer fitted with the paddle attachment, combine cooled chocolate/butter mixture, vanilla extract, and milk or cream (starting with 3 Tablespoons). Turn the mixer onto low and slowly add the powdered sugar. Increase mixer speed to medium and beat until completely combined, scraping down sides as needed. Add salt to taste.
VANILLA BUTTERCREAM LACES
In a medium size bowl, carefully stir together the butter and powdered sugar. It will take awhile for the mixture to come together and thicken up.

Add the milk or cream and stir until frosting is smooth.
DECORATE THE CUPCAKES
Fill a piping bag fitted with a #21 tip with the chocolate frosting. Set aside.

Fill a piping bag fitted with a #3 tip with the vanilla frosting. Set aside.

Working with one cupcake at a time, hold the chocolate frosting bag with your dominant/decorating hand. Starting at the middle of the opposite side of the cupcake from your hand, use gentle pressure on the bag to create a tight zigzag pattern, gradually getting wider, with the widest part being at the middle of the cupcake. Continuing in a fluid motion, gradually make the zigzag smaller after you pass the middle zigzag until you reach the middle of the side of the cupcake closest to your hand. Release pressure.

Working with the vanilla buttercream, make a line across the center of the football you created with the chocolate frosting. Draw 4-5 perpendicular lines over the center line to create laces. Cupcakes can be enjoyed immediately. Store leftovers covered at room temperature up to 5 days. Undecorated cupcakes may be frozen, up to 2 months. Thaw in refrigerator overnight and allow to come to room temperature before decorating.
Nutrition Disclosure
All nutritional values are approximate and provided to the reader as a courtesy. Changing ingredients and/or quantities will alter the estimated nutritional calculations.
Serving:
1
cupcake
|
Calories:
250
kcal
|
Carbohydrates:
40
g
|
Protein:
3
g
|
Fat:
10
g
|
Saturated Fat:
4
g
|
Polyunsaturated Fat:
3
g
|
Monounsaturated Fat:
3
g
|
Trans Fat:
0.1
g
|
Cholesterol:
35
mg
|
Sodium:
171
mg
|
Potassium:
104
mg
|
Fiber:
2
g
|
Sugar:
30
g
|
Vitamin A:
132
IU
|
Calcium:
43
mg
|
Iron:
2
mg